Backpacking for Beginners: 101 Basics & Tips You Should Know
The backcountry is waiting! Here's your beginners guide to backpacking so you can pick a trail, pack your gear, and go.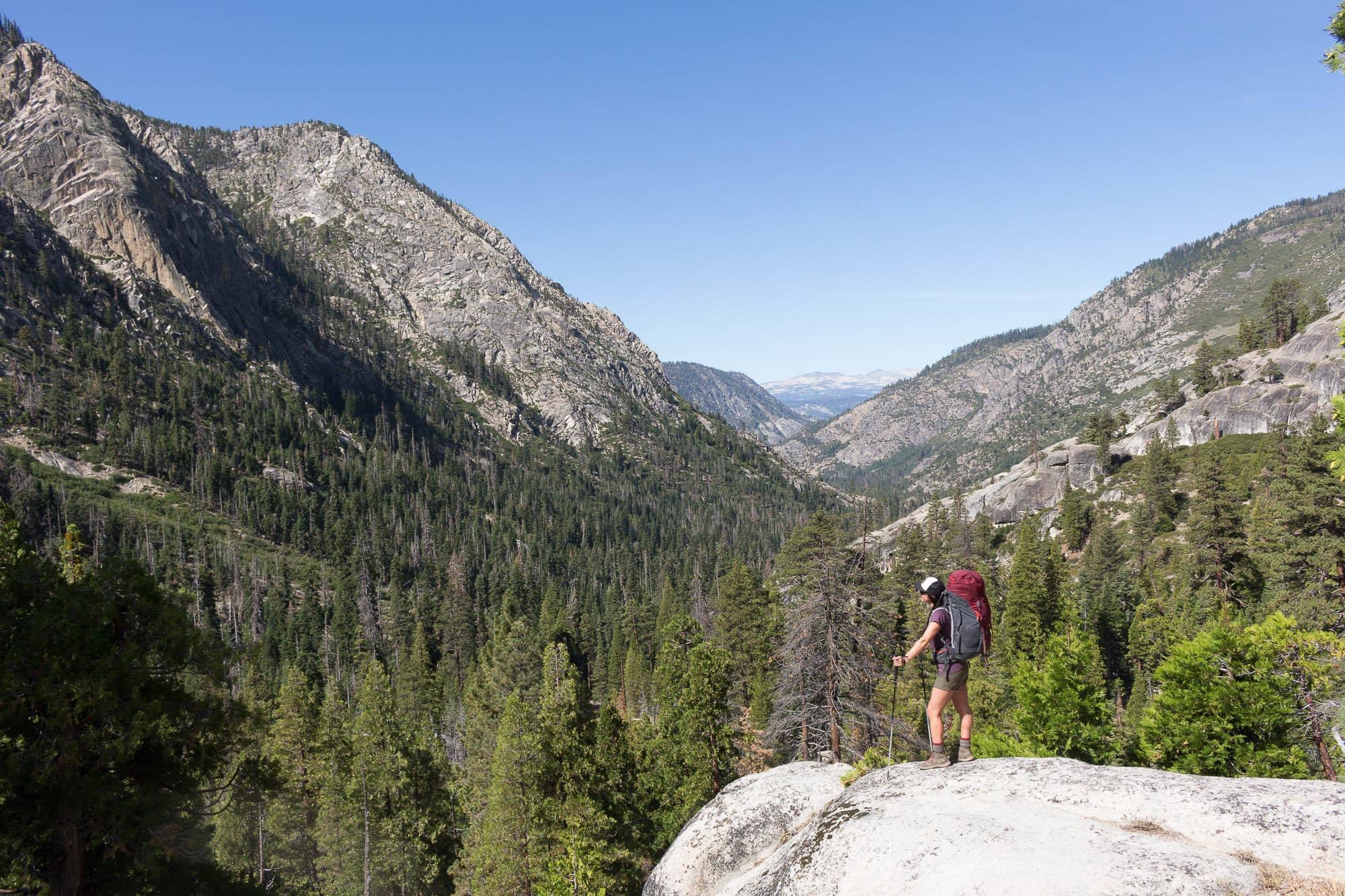 As a beginner backpacker, there are a number of questions that are probably swirling through your head: What gear do I need? Where should I go? Do I need a permit? What should I eat? Below you'll find the answers to those questions and more!
I went on my first backpacking trip in 2005 and even though it was full of beginner mistakes, I still had a great time. Spending time outdoors is an empowering activity that makes a positive impact no matter your age, ability, or experience. And backpacking is one of the most rewarding ways to get out there!
In this blog post, we break down everything involved in planning a backpacking trip so you feel more organized, confident, and less overwhelmed as you get ready for your adventure.
Use this beginner backpacking 101 guide to easily plan your backpacking trip from start to finish, knowing that you haven't forgotten any important details.
---
How to Physically Prepare for Backpacking
When getting started with backpacking, we recommend choosing trails and trips that are in line with your current fitness levels. Just like hiking, backpacking is a great way to kick-start your exercise routine and get in shape, but trying to tackle a super challenging trail might not be fun and could discourage you from going again.
We'll talk more about how to find the right backpacking trail down below, but prior to your first multi-day trip, doing some physical preparation and establishing a healthy awareness of your body will help grow your confidence as a first-time backpacker.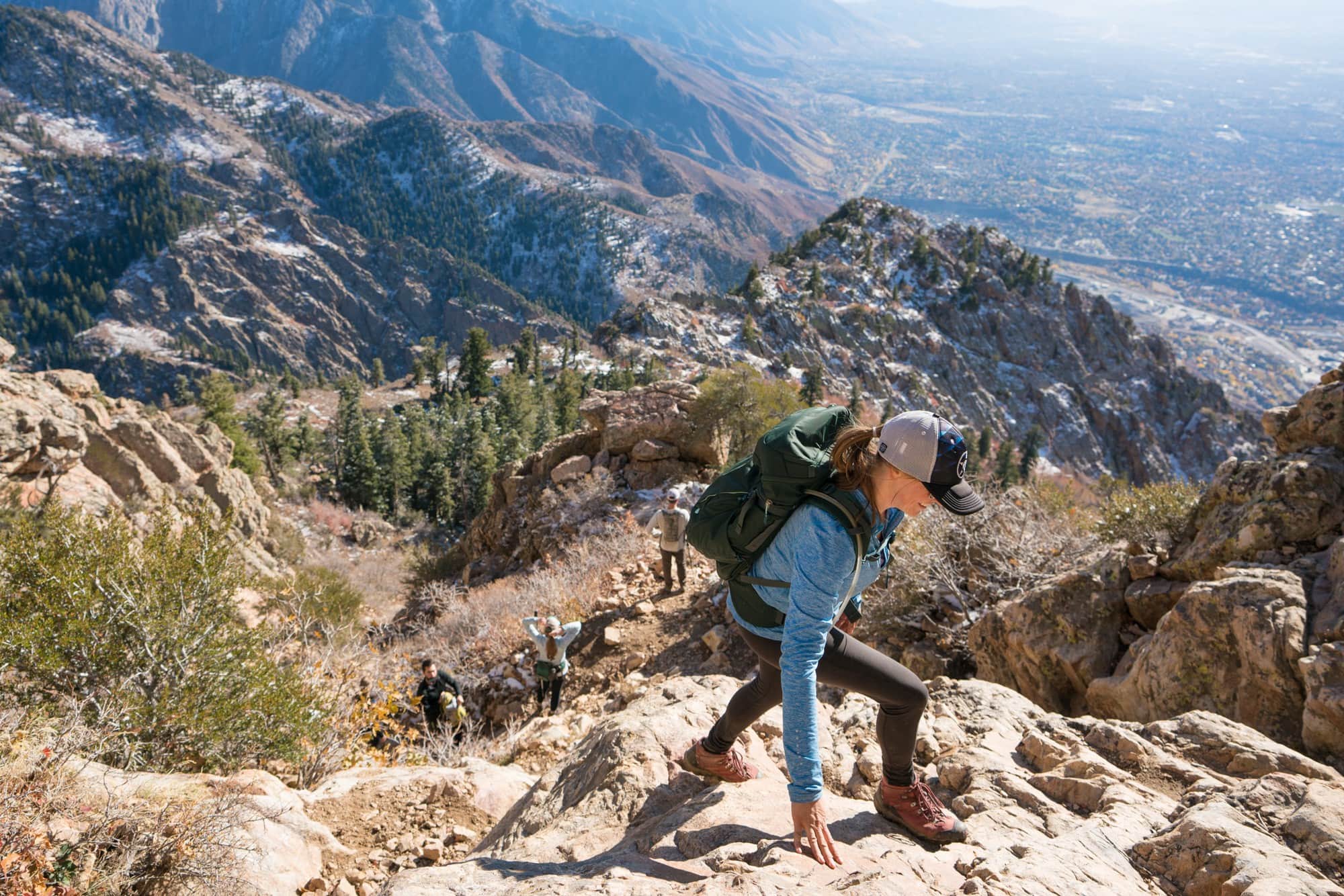 Training and stretching
The best way to get in shape for backpacking is to get moving.
Whether it's local hikes, going for a long walk or a run in the neighborhood, incorporating hiker yoga poses into your routine, or doing at-home workouts – whatever gets you active is a great way to start.
Train for hiking as you'd train for a 5K run, by creating a plan that starts slow while ramping up your distance and intensity as you progress.
Be sure to work a few gentle stretches and exercises into your normal routine to help build the strength you need to successfully hit the trail without feeling self-conscious or "out of shape". Plus, stretching prevents injuries!
Remember to always listen to your body and any pain signals, as this can be great training for knowing when to push yourself or call it a day on bigger and more challenging backpacking trips.
Dealing with aches and pains
Backpacking is hard work, and it can leave your body and joints tired and achy. If you have weak knees or sensitive feet, there are proactive steps you can take to take to prevent multi-day hikes from taking a big toll on your body.
The last thing you want is to be out on the trail for days and be in pain so learn how to protect your knees while hiking and eliminate hiker foot pain to better enjoy the trails.
Improving your lung capacity
Another thing that used to bother me when I was a beginner hiker and first getting into backpacking was I'd always be so out of breath on the trail. I felt embarrassed, and it prevented me from hiking with people who I knew were in better shape than me.
Over 15 years later, I still get out of breath very easily, even at my peak fitness levels. The point is for many people, getting out of breath is completely normal, but if it bothers you or you find it uncomfortable, check out these simple exercises and steps you can take to improve your lung capacity.
Read More
How To Physically Prepare for Backpacking
---
How To Plan a Backpacking Trip
A key lesson for backpacking 101 is to take the time to properly prepare for your trip. This is a huge factor in helping you feel confident and have a great experience.
Give yourself enough lead time to choose your backpacking destination, the dates that you're going, the gear that you need, and other logistical details that will help make it a success.
After your first trip, you'll be able to answer a lot of questions for next time: What gear worked or didn't work; did you bring the right amount of food; was your pace fast enough to make the mileage, and more.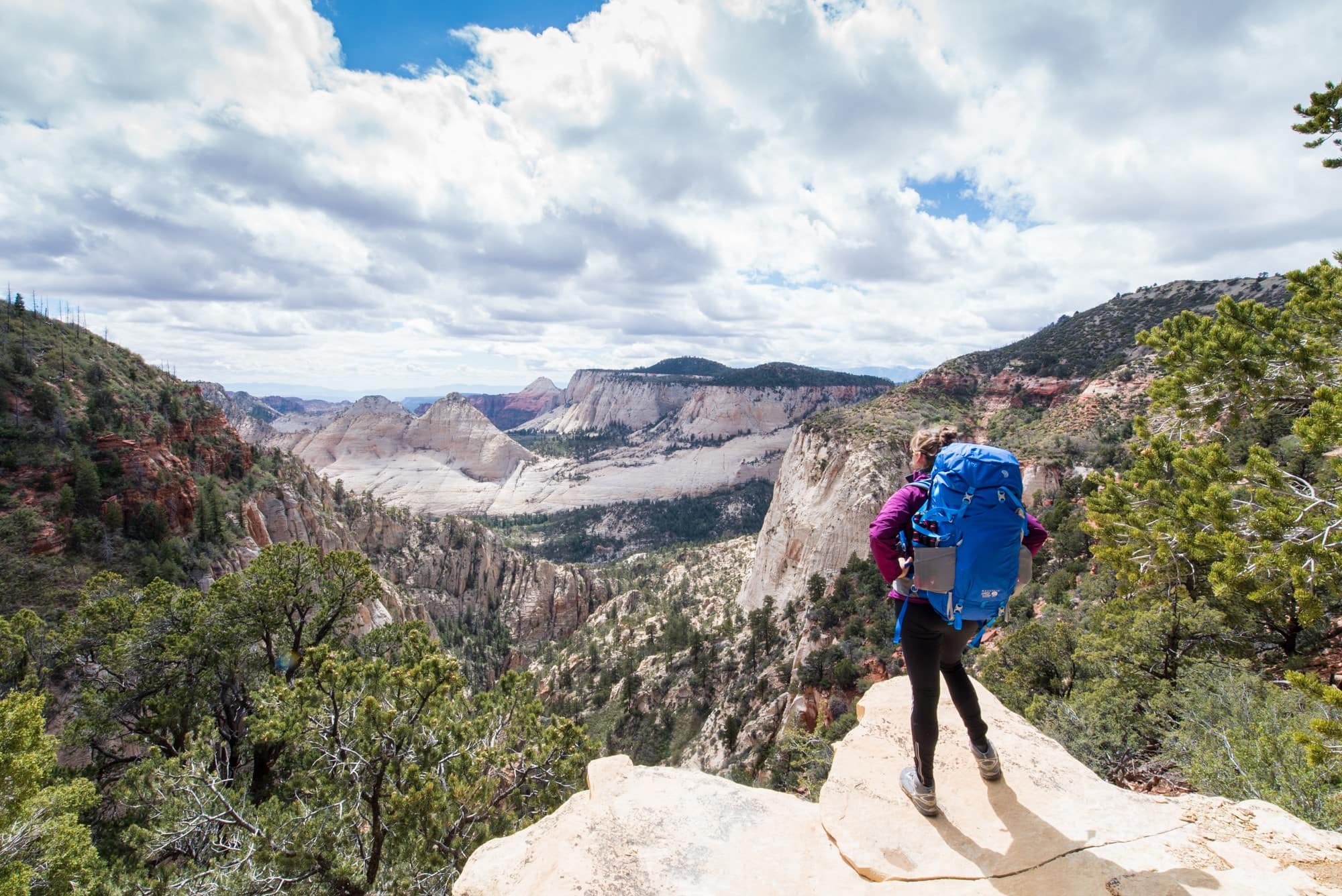 Pick dates for your backpacking trip
Your dates will dictate where you can go due to the weather. If where you plan to backpack requires advance permits, that will also help determine the dates of your trip.
Typically, mid-summer to early fall is great for planning a backpacking trip to the mountains, whereas desert backpacking trips are usually best in fall or spring when temps aren't scorching hot.
As a beginner backpacker, plan a trip for 1-2 nights to get some good experience under your belt. Shorter trips are a great way to get comfortable carrying your pack, setting up your gear, and learning the ropes without overextending yourself.
Do a little research on the area to find out the best time to go backpacking in that location. Avoid going during the cold, windy, or stormy months, and even look for things like bug season.
In many places, early summer may mean the trail is still being cleared from winter storms, so always check current trail conditions using your favorite hiking app before you hit the trail.
Pick a trail for your backpacking trip
We love using trail finder apps for picking backpacking trails because you can see photos, read hiker reviews, and get all important trail info in one place.
Pick a trail that is manageable for you as a beginner backpacker and will give you a great experience without being too challenging. Try to pick a shorter trail that's close to home.
A good goal for beginner backpackers is 5-6 miles a day, especially if you aren't used to carrying a lot of weight. Avoid trails with a lot of elevation gain or technical features like rock scrambling, stream crossings, ice, or snow.
Stick to a well-marked trail with relatively flat and even surfaces, and of course, a good campsite with the amenities you want, e.g. shade, privacy, and an unbeatable view.
Check permit requirements and get a permit if you need one
After you've chosen where and when you're going backpacking, check to see if a permit is required. This is an easy step that many backpackers tend to overlook — experienced or not.
Many trails, especially popular trails in National Parks, require wilderness permits that need to be reserved months in advance.
In some cases, a number of permits are held on a first-come, first-serve basis but for popular trails and dates such as weekends, you'll need to arrive before the ranger station opens and should have a backup plan in case you're not able to get a permit.
Depending on where you are backpacking, your permit may have additional requirements. For instance, if you are traveling in bear country (Sierra Nevada, Montana, Wyoming, etc), it's likely that you'll be required to carry your food and scented items in a bear-proof container or bag.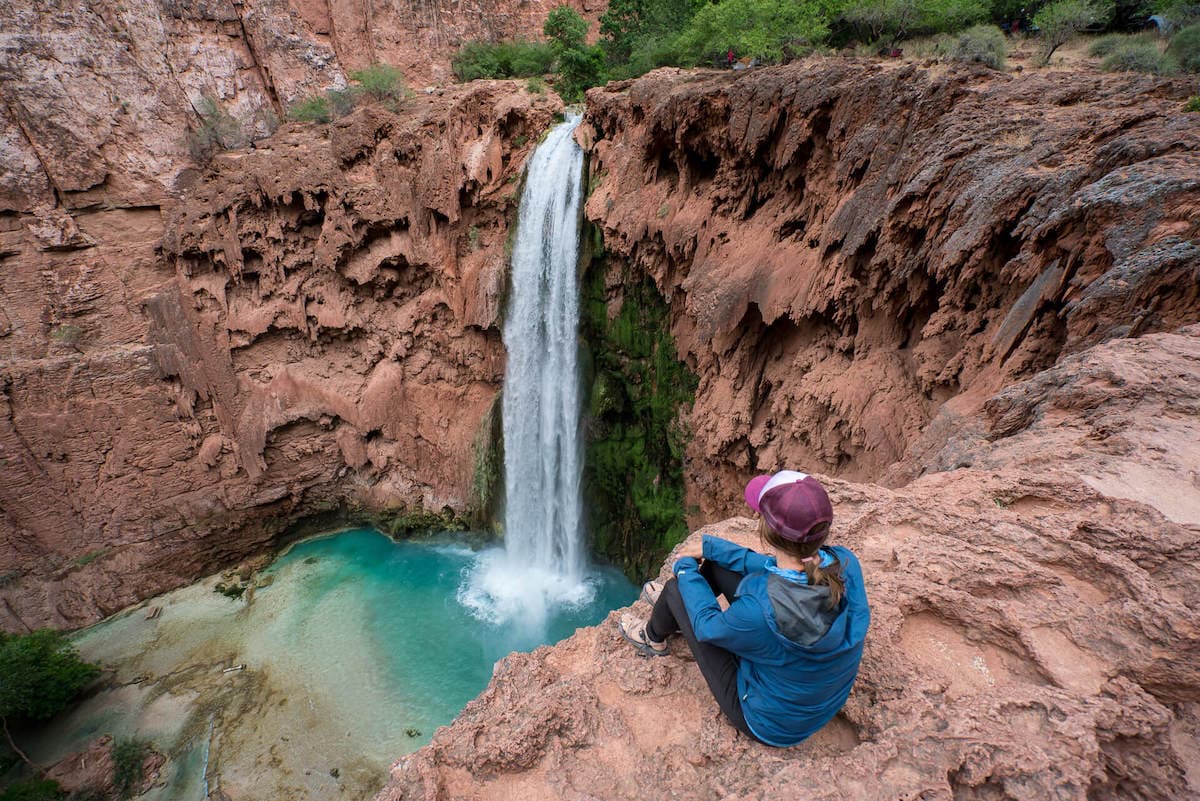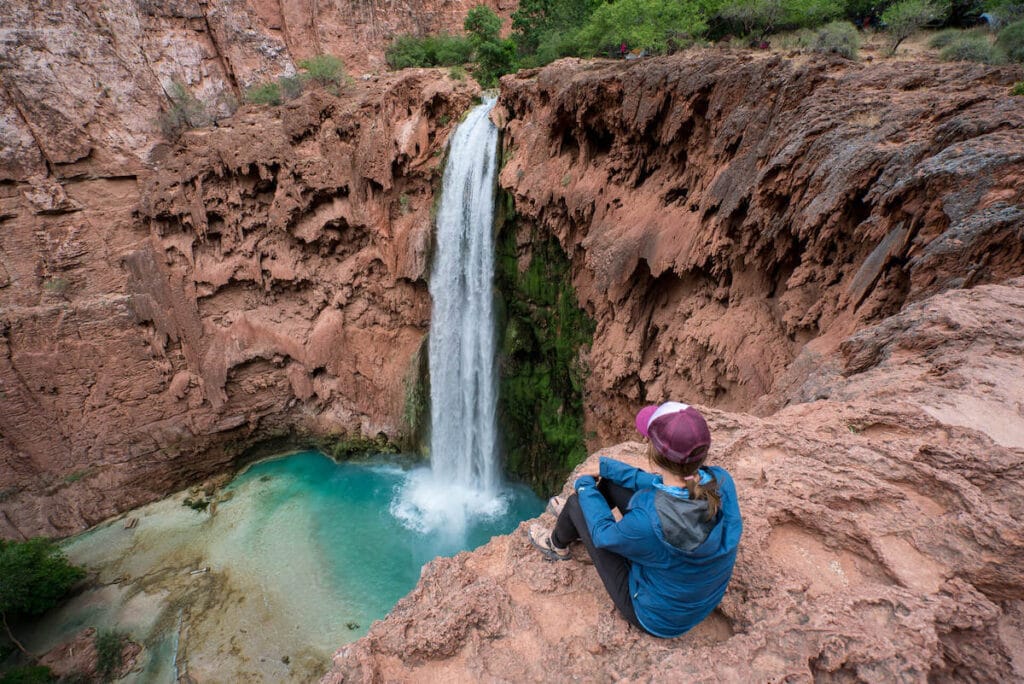 Plan your transportation
Transportation depends largely on what kind of trail you're doing, and whether you are backpacking solo or going with a group. Look at a topographic map to find the trailhead and designated parking areas.
For beginner backpackers going on a loop trail or out-and-back trip, you won't need an additional car, however, if you've chosen to hike point-to-point, you'll have to drop a second car off at the other end of the trail before beginning your hike or arrange for a shuttle service.
If you're flying out to your backpacking trip, plan your transportation much further in advance.
---
What Gear to Bring Backpacking
Arguably the most critical part of backpacking 101 is for beginner backpackers to nail down before the first overnighter is the packing list.
Start early and do a little research, as backpacking gear can be expensive, and you might want to reach out to friends to borrow their gear or look into buying used gear.
Some retailers, like REI, even offer backpacking gear rental which is perfect for beginner backpackers not ready to invest in their own setup just yet.
Another great way to go about this is to figure out what gear you need in advance so you have time to keep an eye on sales through your favorite outdoor stores and brands, then snag the gear you're eyeing at a discounted price.
Start packing by using our 3-day backpacking checklist to get an idea of what you need to pack.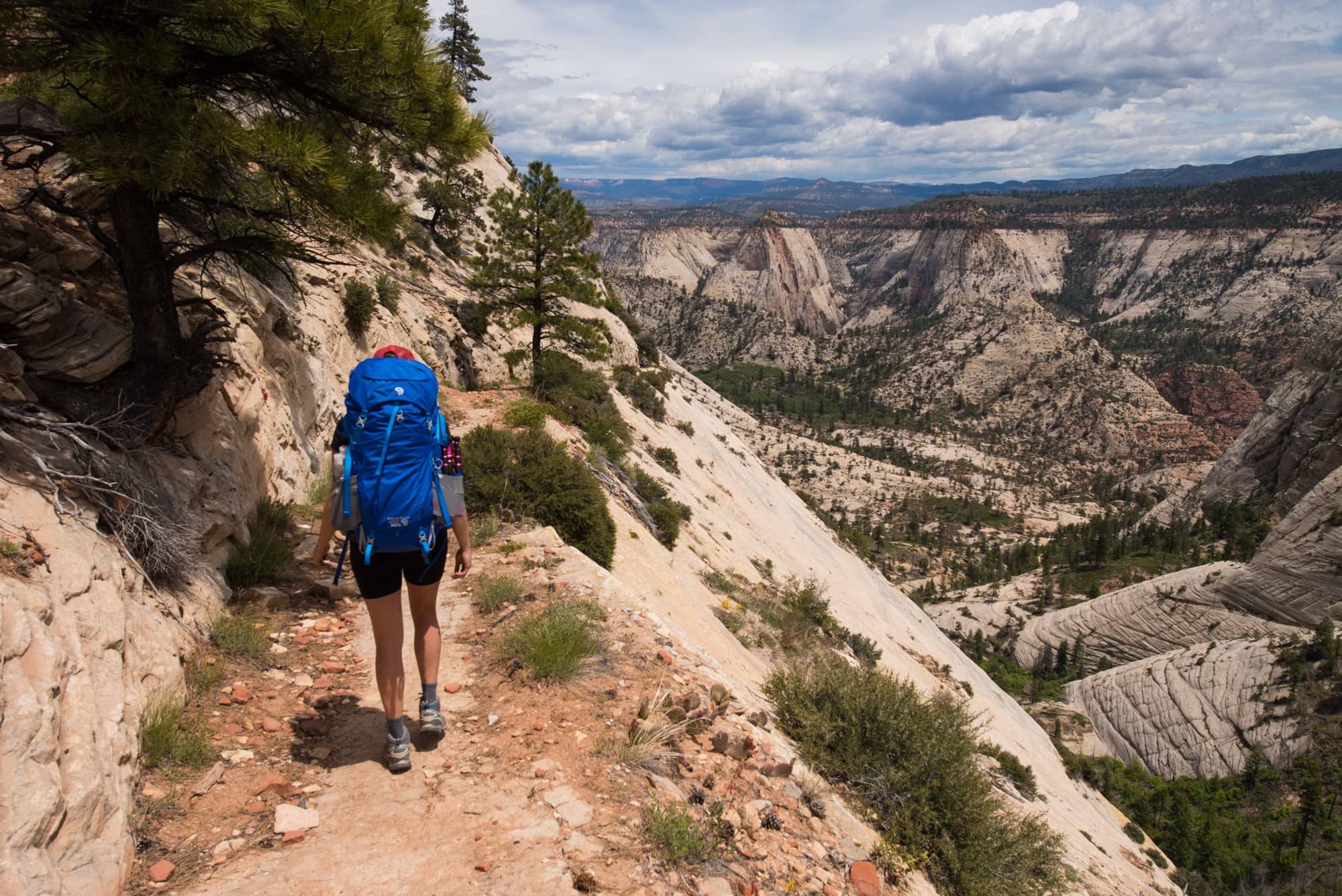 The Ten Essentials
Use the Ten Essentials packing list — a tried and true list of the top ten things you'll want to carry with you that applies for hikes and backpacking. The Ten Essentials cover everything from food and water to navigation tools, first aid, and other safety items.
Remember that you can use this list as a guide to choosing day hiking gear for beginner hikers, and simply tailor it to whatever you're doing.
Backpacking Pack
A properly-fitting backpack means even weight distribution, comfort, and greater functionality overall, and it's definitely something you want to get right as a beginner backpacker.
You'll also want to factor in the length of your trip, climate, and activities you're doing to know which pack is the best one for you.
There's a lot of options out there, luckily we've got a guide to the Best Backpacking Packs & How to Choose The Best One to help you figure it out.
Backpacking Tent
Although this is a big-ticket item, choosing the right backpacking tent is crucial to having a good trip. Your tent will take a good beating in the elements so you don't have to!
When selecting the right one, keep in mind that a good tent should be lightweight, durable, weather-proof, and easy to set up or break down. Stick around 3-4 pounds and practice both setting up and packing it down before you spend your first night outside.
Looking for more options? Use our guide to the Best Backpacking Tents to narrow down what you want.
Sleeping Pad
Sleeping pads are important for both comfort and warmth. They come in a range of styles and sizes, plus specific features that work better for certain outdoor activities (winter camping, longer hikes, bike packing, etc.).
As a beginner backpacker, you'll want to go for a lightweight, cushioned pad that packs down small and holds up to some wear and tear.
Read our guide to the Best Sleeping Pads for Backpacking to find additional options for you.
Sleeping Bag
The best option when choosing a sleeping bag for backpacking is a lightweight mummy shape or semi-rectangular shaped sleeping bag. Like sleeping pads, a warm insulated sleeping bag is super important for staying comfortable outside.
Go for a 3-season sleeping bag that can be insulated even more in colder temps or unzipped for airflow when it's warm. The type of insulation (down or synthetic) and additional features are up to you.
Use this guide to the Best Sleeping Bags for Backpacking with tips on how to choose the right one for you.
Backpacking Stove and Fuel
Having a lightweight backpacking stove allows you to stay fueled with hot meals and beverages rather than subsisting on energy bars alone. Pick a stove that takes less time and fuel to heat things up, functions well in cold weather or high elevation, and is easy to use.
Need some more help? Check out this piece on choosing the best backpacking stove.
Headlamp
A good headlamp is an invaluable tool for a beginner backpacker. Stash it somewhere that is easily accessible in your pack for low light on the trail, or when you need to go hands-free: setting up camp, cooking, or pee breaks in the middle of the night. Go for one with an articulated lamp, adjustable band, and dimmer options.
We've rounded up our favorite hiking headlamps on the market if you're looking for more options.
Trekking Poles
Trekking poles might seem like extra gear that you don't need as a beginner backpacker, but you'll be glad to have them. Get a good pair of trekking poles that are lightweight and adjustable to help you protect your knees on the trail.
It's a great tool for staying balanced, evenly distributing weight, and keeping a good pace on varied terrain. Plus, most are easily attached to your pack, so you can go hands-free when you need.
Still need convincing? Read more about why you should use trekking poles and the best ones for the trail.
Read More
Backpacking Gear Guides
---
What to Wear Backpacking
What to wear backpacking looks a lot like what to wear hiking. For beginner backpackers, investing in a few good-quality basics that will last you a long time is key to being comfortable on the trail.
Go for breathable, moisture-wicking, and shape-retention fabrics. Avoid cotton, which will absorb sweat, chafe, and stretch out over time.
You also need to prepare for varying weather with the right layers, like a packable warm jacket and rain shell.
Be sure to check the forecast and be aware that the weather in the mountains can change very quickly. Always prepare for the worst! Read our complete guide on what to wear out on the trail to find our personal recommendations.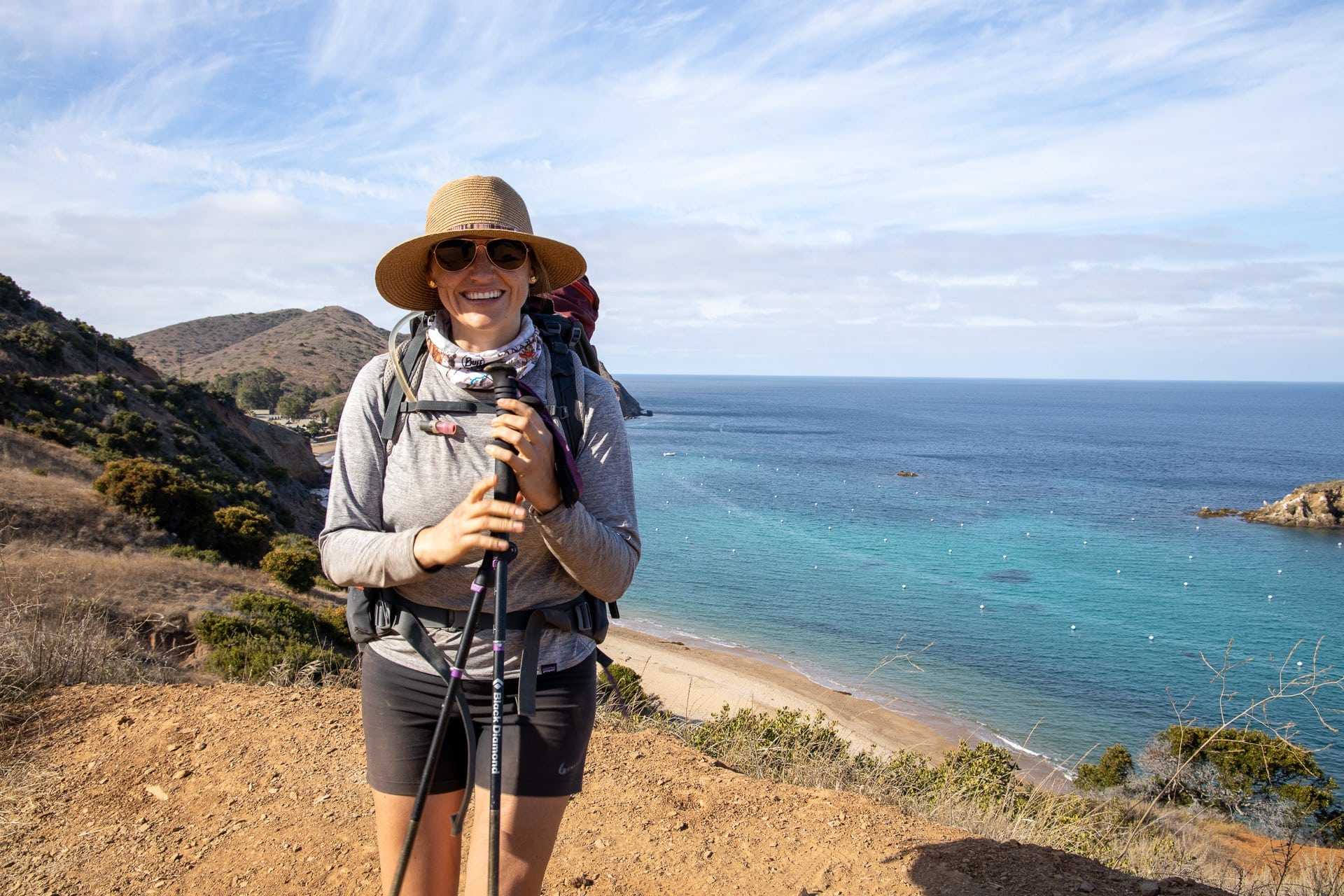 Maintaining Good Hygiene While Backpacking
Spending days out on the trail without access to bathrooms or running water can be intimidating for most beginner backpackers. Luckily, we have plenty of insight on how to stay fresh down there, avoid bacteria in bad places, and what supplies to stock up on before you head outside.
Get all our backcountry female hygiene tips here.
Read More
Backpacking Clothing Guides
---
Backpacking Food
Knowing what food to bring for a backpacking trip can be a big deterrent for a beginner backpacker. You want to eat well, but you also need it to be manageable and lightweight.
Having the right meals is a backpacking essential because you burn a lot of calories walking for hours with a heavy load on your back. This will keep your energy levels up and help you stay focused, alert, and aware. Be sure to stay hydrated as well. Fill up water bottles, hydration reservoirs, and bring a water filter so you can fill up on the trail as you go.
While pre-made dehydrated backpacking meals might not sound all that tasty, some of them are actually pretty good. They also take a lot of stress out of meal planning, allowing you to focus on other aspects of your trip.
Once you get more backpacking experience under your belt, by all means, cook from scratch. But as a beginner, relying on freeze-dried, dehydrated meals, at least for dinner, will make things a lot more simple. Here are some of my favorites:
Read More
Backpacking Food Resources
---
How to Leave No Trace While Backpacking
Part of backpacking 101 is getting to know the seven principles of Leave No Trace, so you can reduce your impact while in the wilderness. These are a set of guidelines that apply not only to backpackers but outdoor enthusiasts of all kinds to ensure the wild places you love will stay that way for years to come.
Also, take the time to familiarize yourself with the unspoken rules of the trail. Don't worry, this isn't inside information, but more like common courtesy and a basic understanding of how to keep the trails safe and enjoyable for all.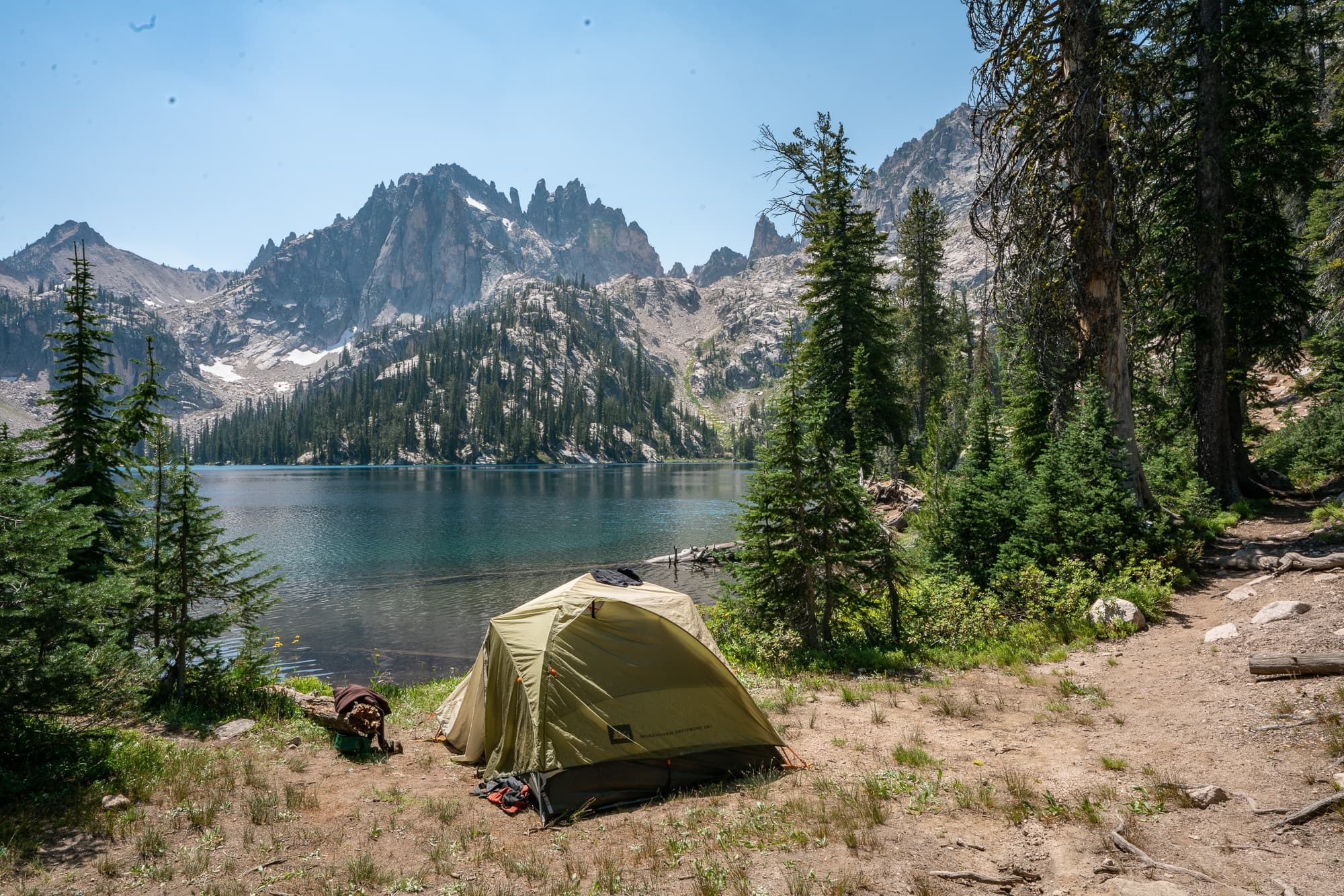 How to Leave No Trace at the Campsite
Often when camping in the wilderness, there are campsite guidelines as to where camping is and isn't allowed. It's on you to do the research ahead of time and be aware of the rules or regulations that may apply. Choosing a proper campsite when you are backpacking requires an understanding of Leave No Trace and your impacts, as well as having mutual respect for other campers who might be camping nearby. Read the Bearfoot Theory post on minimizing your impact at your campsite.
Campfire Safety
Aside from picking the right campsite, understanding campfire safety is crucial to be a responsible outdoor enthusiast, as well as info a beginner backpacker will want to brush up on before heading out. A staggering number of wildfires are human-caused, reports the National Park Service, which means it is essential to know what to do and what not to do when you're starting a campfire.
Read More
Leave No Trace Resources
Got any questions about this backpacking for beginners blog post or on how to get started as a beginner backpacker? Leave a comment below!