When it comes to staying warm in cold weather, one of the most important layers is an insulated jacket. In the past, traditional down (feather) jackets ruled the market, but thanks to advances in fabric technology, synthetic insulation is now another top choice. Synthetic down jackets offer warmth and breathability at a more affordable price – plus synthetic holds up better against wet weather.
In this blog post, we've rounded up the best women's synthetic down jackets. We hope you find the best down-alternative jacket for your money that will keep you warm no matter where you're going or what outdoor activity you're pursuing!
Best Women's Synthetic Down Jackets At A Glance
---
Best Women's Rain Jackets Comparison Table
See the comparison table below for a quick summary of each of the top women's synthetic jackets. You can click on the columns to sort by what's most important to you.
Bearfoot Theory Reader Favorite
Patagonia Nano Puff Hoodie
Key Features:
Weight: 10.8 ounces
Insulation: 60-g PrimaLoft Gold Eco 100%
Outer fabric made from recycled ripstop polyester
Price: $279
Check price: Patagonia | REI | Backcountry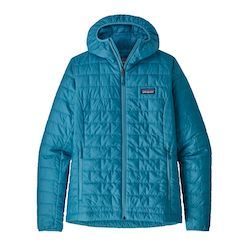 Great for: all but the coldest weather, windy conditions, crossover from everyday wear to outdoor activities, hanging out at camp, skiing mid-layer
Pros: versatile for day-to-day wear and outdoor activities, tried & tested jacket that has been on the market for years, packs down into its chest pocket & easily compressible
Cons: fabric is susceptible to tears and snags, stitching allows for water to seep in during extended periods of rain
The Patagonia Nano Puff Hoodie is one of my personal favorite women's synthetic down jackets and also the most popular jacket among Bearfoot Theory readers. The Nano Puff was one of the first-ever synthetic jackets on the market and it continues to be a best-seller year after year – with good reason. The Nano Puff is the perfect crossover jacket – easily worn around the campfire, tossed in your pack for a hike, or just running errands around town. It's lightweight, highly compressible, and gets the job done in all but the coldest of weather. It's also the perfect layering jacket underneath an outer shell because of how thin it is.
The downside of the Nano Puff is that the fabric is susceptible to tears and snags – take caution if you are wearing this jacket on overgrown hikes or while climbing. The Nano Puff also comes in a non-hooded version.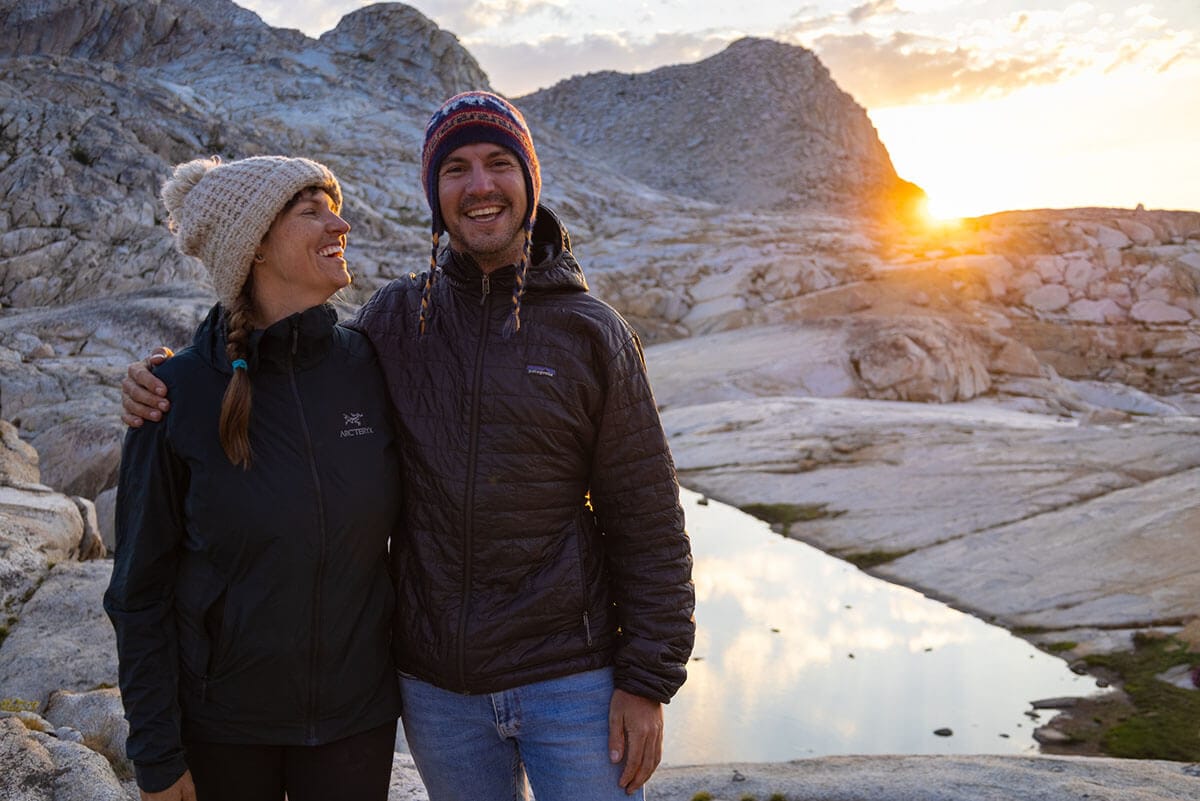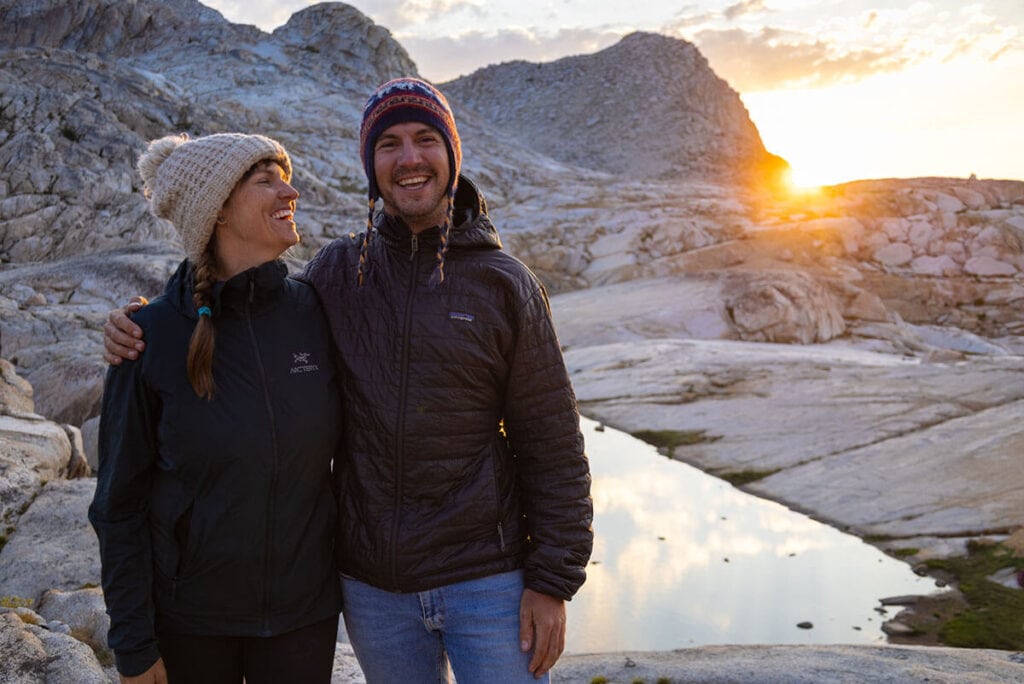 Our Personal Favorite
Arc'teryx Atom LT Insulated Hoody
Key Features:
Weight: 11.3 ounces
Insulation: 60g Coreloft Compact synthetic fibers
Price: $259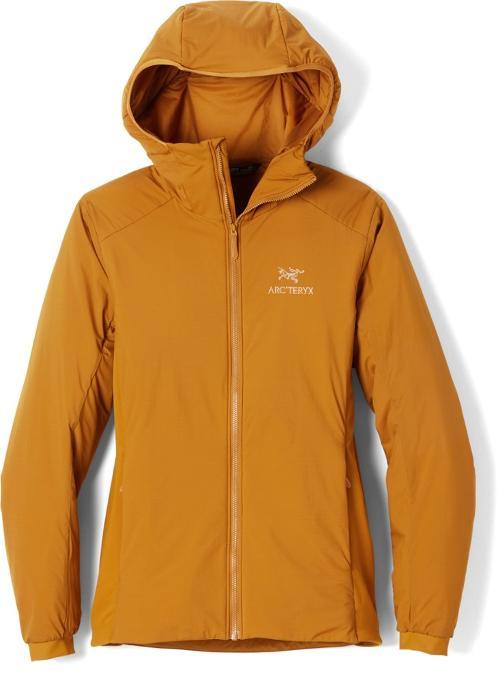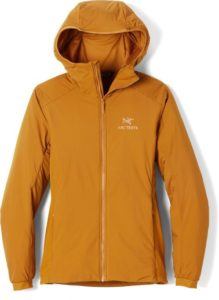 Great for: 3-season hiking, skiing mid-layer, windy conditions, day hikes and backpacking trips
Pros: durable against harsh use, sleek design, zipped hand and chest pockets, extremely comfortable liner and shell fabric, cinched hood keeps you warm and protected in windy conditions
Cons: expensive investment, not the most breathable jacket, not designed to pack down into its pocket and doesn't come with a stuff sack
A versatile synthetic down jacket that works great as a layer or as an outer shell, the Arc'teryx Atom LT Insulated Hoody is warm, breathable, and wind and rain-resistant. This is my personal favorite synthetic down jacket that comes with me on most adventures.
Thanks to the redesigned Tyono™ 20 face fabric, the Atom LT has an abrasion-resistant shell. Yep, abrasion-resistant – that means you can save that emergency duct tape for when you really need it because this synthetic down jacket is designed to stand up against scrapes and scratches in the backcountry.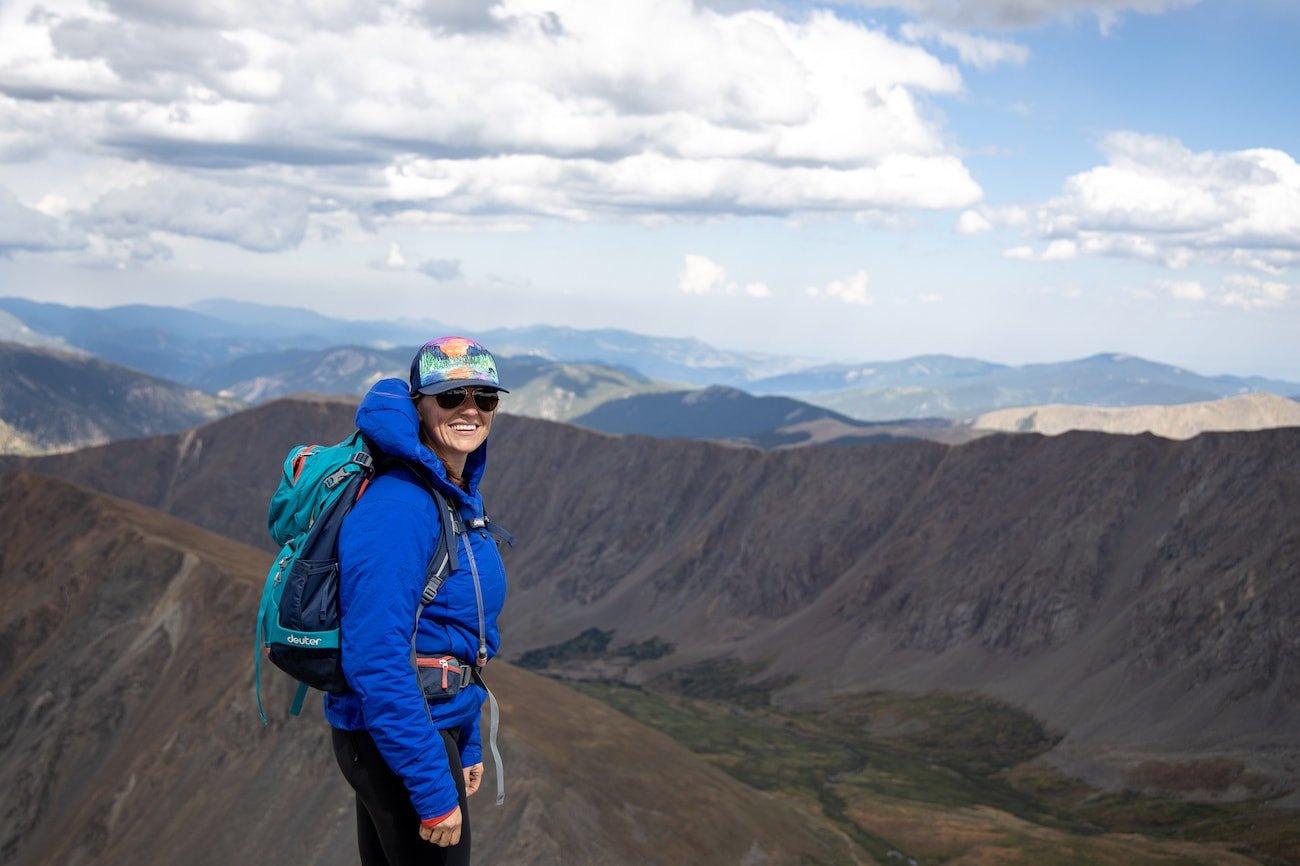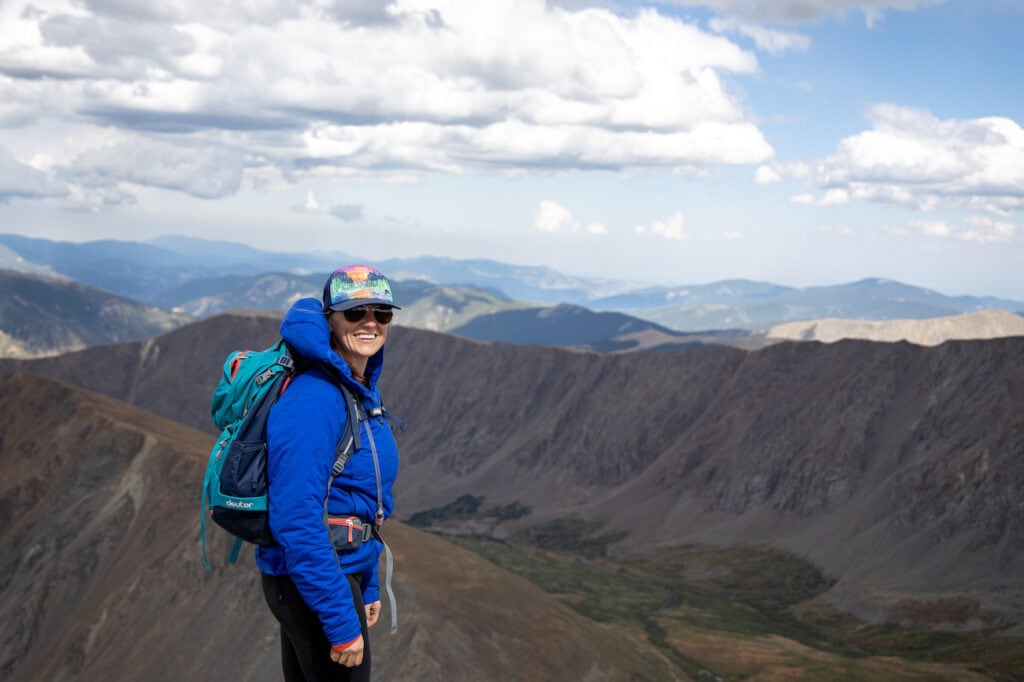 Best Synthetic Down Jacket for Summer Day Hikes
Arc'teryx Atom SL Insulated Hoodie
Key Features:
Weight: 8.3 oz
Insulation: 40g Coreloft Compact (core only)
Price: $230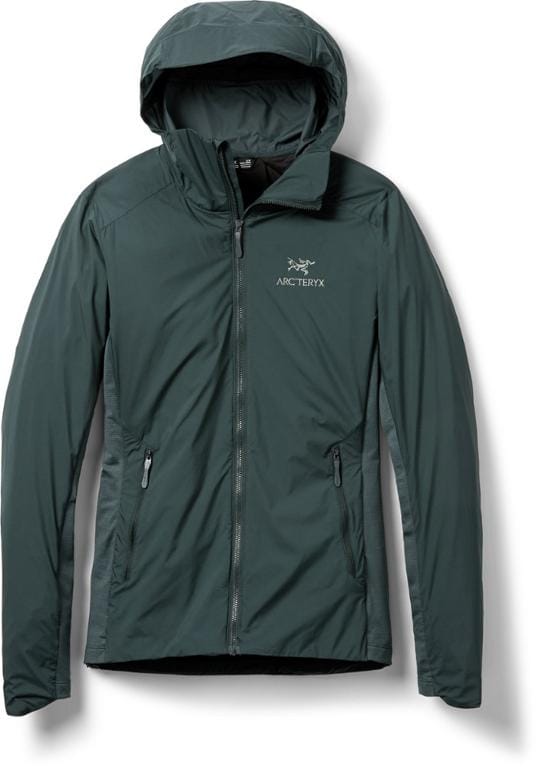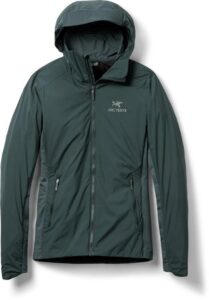 Great for: summer hikes, mild climates, using as a layering piece in cooler weather, windy conditions
Pros: one of the most lightweight jackets on our list, can be worn on longer hikes without overheating, zippered hand pockets, holds up well against the wind, breathable fabric
Cons: expensive investment for limited warmth, not designed to pack down into its pocket and doesn't come with a stuff sack
The Atom SL Insulated Hoodie is a great addition to Arc'teryx's super popular Atom series. This is the most lightweight Atom jacket available, a full 3oz lighter than the Atom LT above (SL stands for "superlight" while LT stands for "lightweight"). The Atom SL has moderate insulation in the core with fleece on the sides and minimal to no insulation along the arms. It provides a little bit of warmth without being overkill and is great for windy days and mild climates.
I wore the Atom SL while backpacking in Sequoia National Park and also while at the beach on the California Coast. The hood isn't insulated, but it helps block the wind well. Because it's not that warm, I wouldn't rely on it for cold nights, but because sometimes I'll layer it under a heavier jacket when I'm hanging out at camp in the evenings.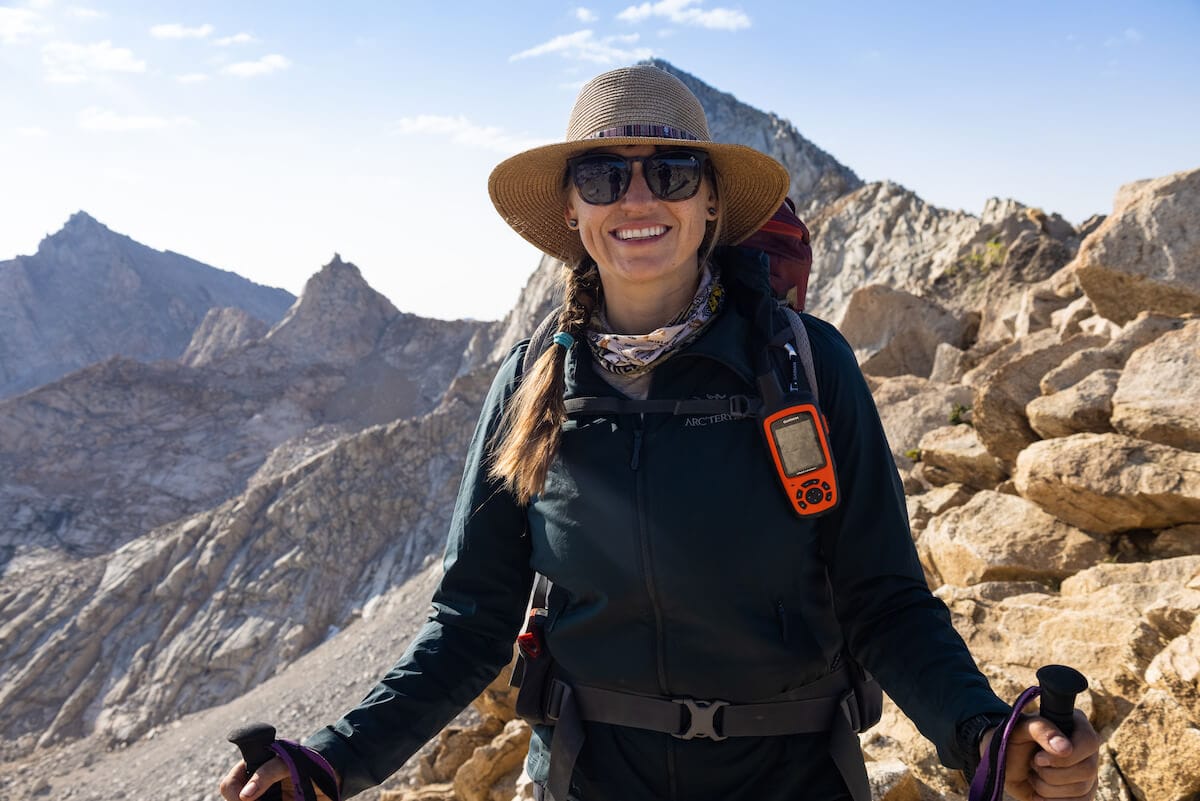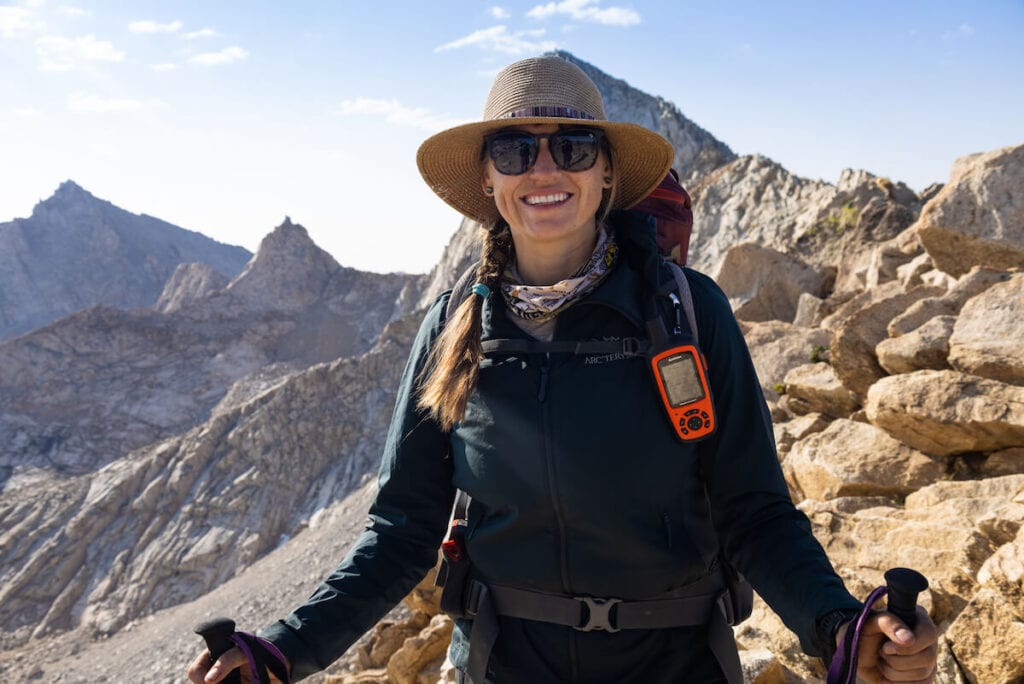 Best Ultralight Synthetic Jacket for Backpacking
Enlightened Equipment Torrid APEX Jacket
Key Features:
Weight: Starting at 7.75 ounces
Insulation: Climashield APEX
Made in the USA
Price: $185
Check price: Enlightened Equipment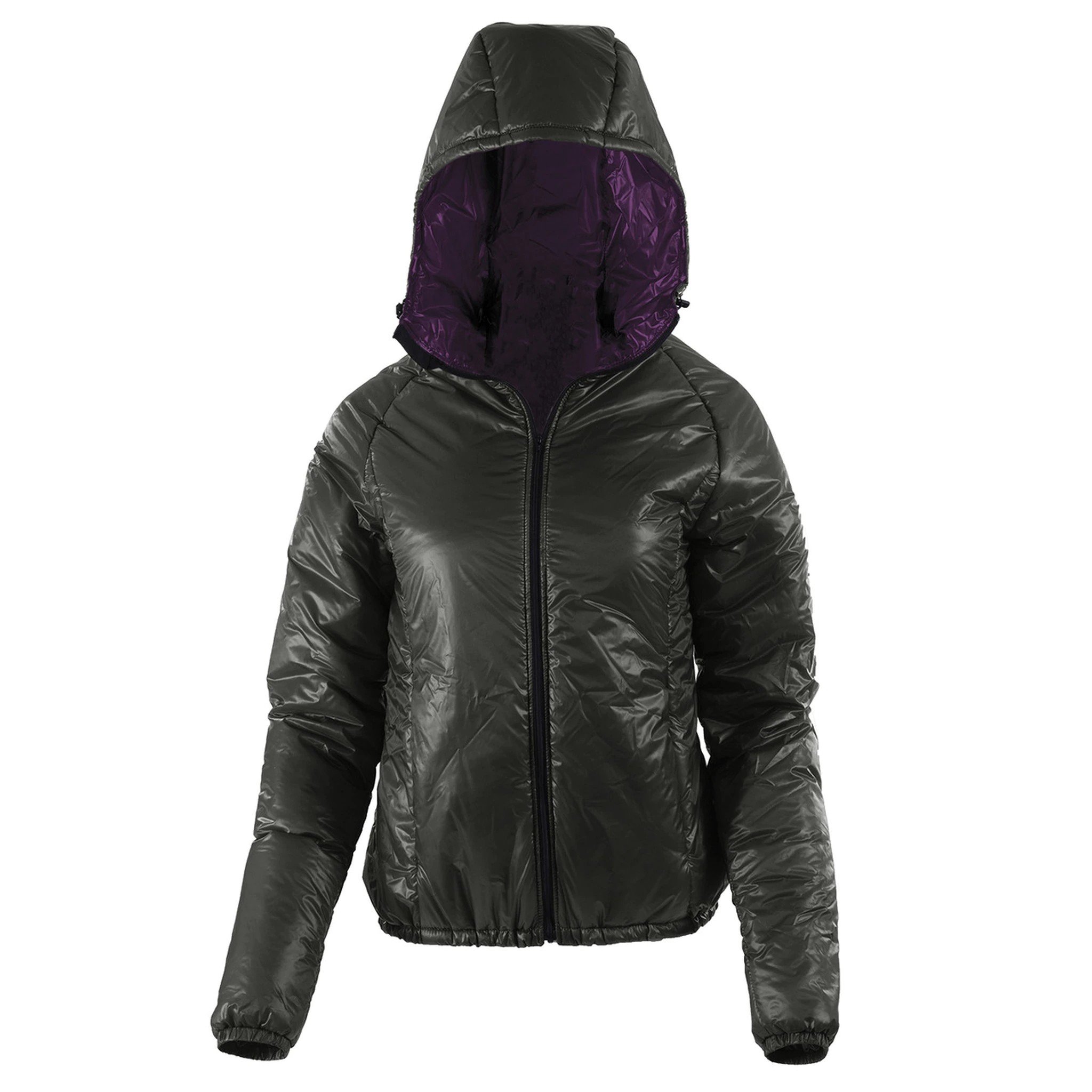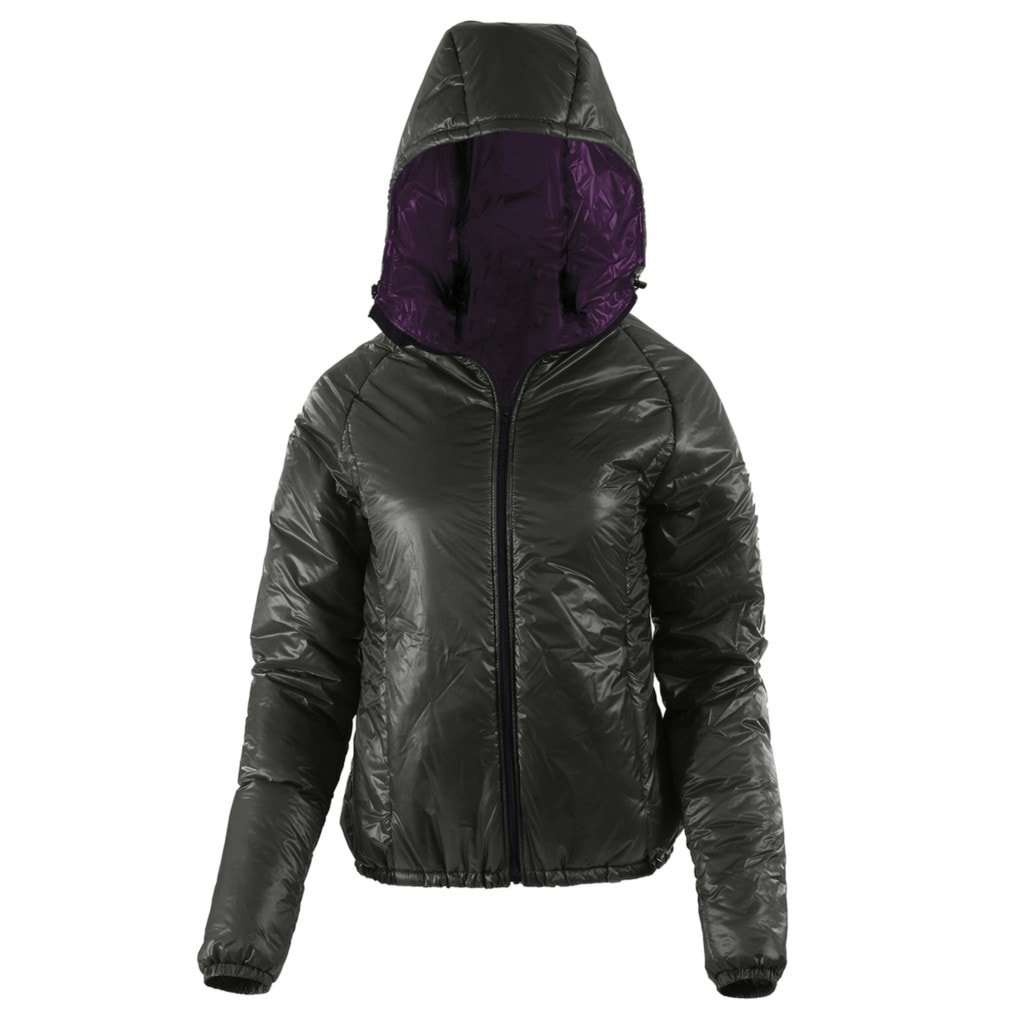 Great for: ultralight backpacking, tossing in your daypack for emergencies, 3-season use
Pros: very lightweight synthetic down jacket, can be customized to your personal needs with 16 color options and 3 different weights of fabric, zippered and insulated hand pockets
Cons: basic fit construction, small hood, custom jacket takes 8-10 weeks to arrive, not ideal for daily wear
Enlightened Equipment makes super high-quality gear and their Women's Torrid APEX Jacket is no outlier. It offers warmth, wind-resistance, and moisture-repellency all in one ultralight package. The reason why we love this jacket is that it's half the weight of other synthetic jackets on this list, making it a standout for ultralight backpacking and thru-hikes where every ounce counts. At $185, it's also one of the best-value synthetic down jackets on the market for how lightweight it is.
For fit, the APEX synthetic down jacket is designed to be slightly oversized to accommodate layers and it has raglan-style sleeves which creates a wider underarm area to allow for maximum movement. Reviewers note that that fit can feel odd – it's not tapered or tailored and doesn't have all the bells and whistles as other synthetic jackets out there. While this jacket wouldn't be our first choice for everyday wear, it's a top performer if weight is your #1 priority.
Best Value Synthetic Down Jacket
REI Co-op Flash Insulated Hoodie
Key Features:
Weight: 12.7 ounces
Insulation: 60g PrimaLoft Silver Eco Insulation
Price: $159
Check price: REI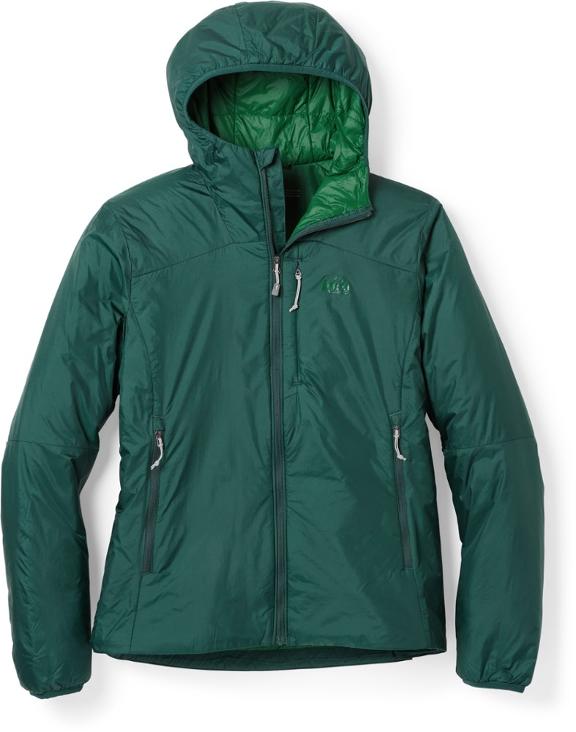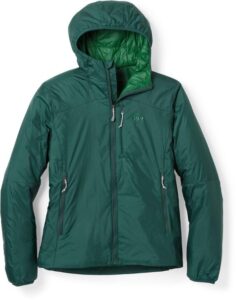 Great for: daily wear, road trips and travel, windy conditions, 3-season hiking use, skiing mid-layer
Pros: holds up well against windy and wet conditions, packs down small into its left-hand pocket, versatile for everyday wear and outdoor adventures
Cons: jacket runs short – if you have a long torso, this may not be the jacket for you
The REI Co-op Flash Insulated Hoodie is a great basic synthetic down jacket that is lightweight, super compact, and versatile enough for the trails or city wear. The 60g Primaloft Silver Eco synthetic insulation is made from 70% postconsumer recycled content in a Fair Trade Certified™ factory, which promotes safe working conditions and sustainable livelihoods. The ripstop nylon shell has been treated with DWR to repel rain and this jacket holds up well in wet weather. We recommend using it as a standalone jacket for cool days on the trail or out in town.
Best Eco-friendly Synthetic Down Jacket
Cotopaxi Teca Calido Reversible Hooded Jacket
Key Features:
Weight: 13.2 oz
Insulation: 60g recycled polyester

Price: $150
Check price: Cotopaxi | REI | Backcountry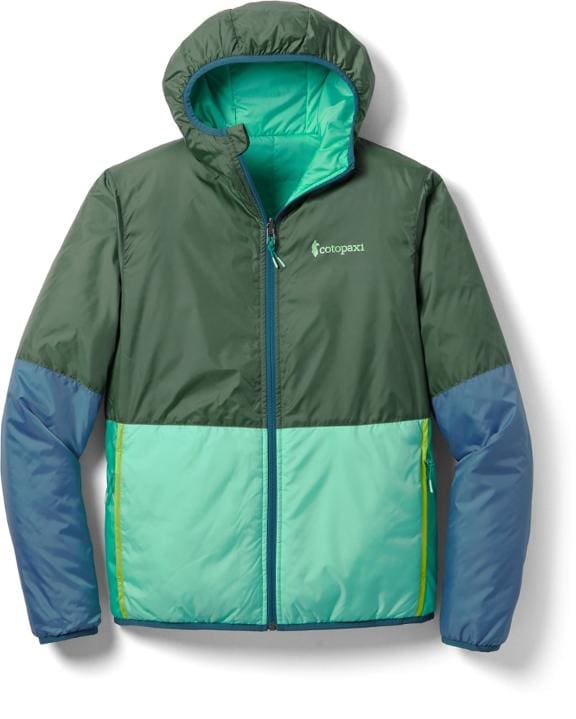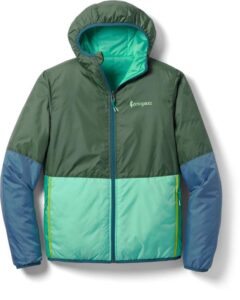 Great for: people who don't need a technical jacket, short hikes, travelers, 3-season use
Pros: most sustainable option (100% repurposed fabric, 100% recycled polyester insulation), fully reversible (color block to solid), packs down into chest pocket, zippered hand pockets
Cons: runs small (order a size up to be able to layer!)
If you are looking for an eco-friendly women's synthetic down jacket, look no further than the Cotopaxi Teca Calido Hooded Jacket. The outer shell is made of 100% repurposed fabric and the insulation is from 100% recycled polyester – plus Cotopaxi is a Certified B Corp and gives back 1% of its annual revenue to fight world poverty.
The jacket itself is fully reversible, with cute color blocking on one side and solid color on the other. With tons of pockets (on both sides of the jacket), it's extremely functional and a great value buy that colorfully stands out among the sea of women's synthetic down jackets.
Best Synthetic Down Jacket for Extreme Cold Weather
Rab Nebula Pro Synthetic Insulated Jacket
Key Features:
Weight: 1 lb 4.8 oz
Insulation: 53g/m² recycled 30D nylon
Made with recycled materials
Price: $230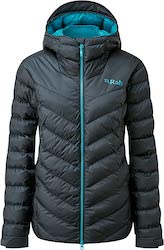 Great for: winter hikes and outdoor activities, people who live in cold weather climates, skiing mid-layer on super cold days, mountaineering
Pros: warmest synthetic down jacket on our list but still relatively lightweight, zippered hand pockets, not a ton of bulk for how insulated it is
Cons: much heavier and bulkier than other jackets on the list, 1-season use
If you are looking for the best cold weather synthetic jacket, look no further than the Rab Nebula Pro Synthetic Jacket. It's perfect for hiking in temperatures below 30F and it keeps you super warm without that heavy-jacket feel.
If you typically avoid cold weather, this jacket may be overkill. But you can't beat the warmth-to-weight ratio if you're looking for a cozy, winter synthetic down jacket!
Best Synthetic Jacket for Wet Climates
Patagonia Radalie Insulated Jacket
Key Features:
Weight: 15 oz
Insulation: 150g Thermogreen polyester fibers
Jacket shell is made of 100% recycled nylon
Price: $179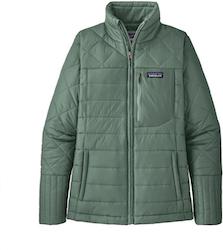 Great for: people who live in cold, rainy climates, wet and windy conditions
Pros: DWR water-resistant finish, stand-up collar offer extra warmth, handwarmer pockets
Cons: not fully waterproof
While not fully waterproof, the Patagonia Radalie Insulated Jacket is designed with a DWR water-resistant finish, making it a great choice for drizzly or wet climates. It also has a lot of other great features to keep you warm like a stand-up collar to protect your next, handwarmer pockets, and insulated zippers to prevent rain and cold from seeping through.
If you want a fully waterproof set-up, pair this – or any jacket on this list – with a lightweight rain shell.
---
Down vs Synthetic Jackets: Benefits of Alternative Materials
You may have heard that goose or duck down is the superior material when it comes to warm outdoor gear. Many jackets, sleeping bags, camp booties, and other gear essentials are filled with down insulation because it is warm, light, and packable.
However, there are instances where synthetic materials have several advantages over down.
1. Synthetic down doesn't absorb moisture as rapidly as down
When down gets wet, its ability to keep you warm is drastically reduced. Some companies combat this by treating the jacket shell with a water-resistant coating, but this isn't a fix-all solution.
Synthetic down jackets, on the other hand, perform much better in rain and snow and will continue to provide warmth even if damp or wet.
2. Synthetic down jackets dry faster than down
When down gets wet, it takes a long time for it to dry and the overall insulating properties of the jacket actually substantially decrease. On the other hand, when synthetic down gets wet, it dries out much faster without any long-term negative insulating effects.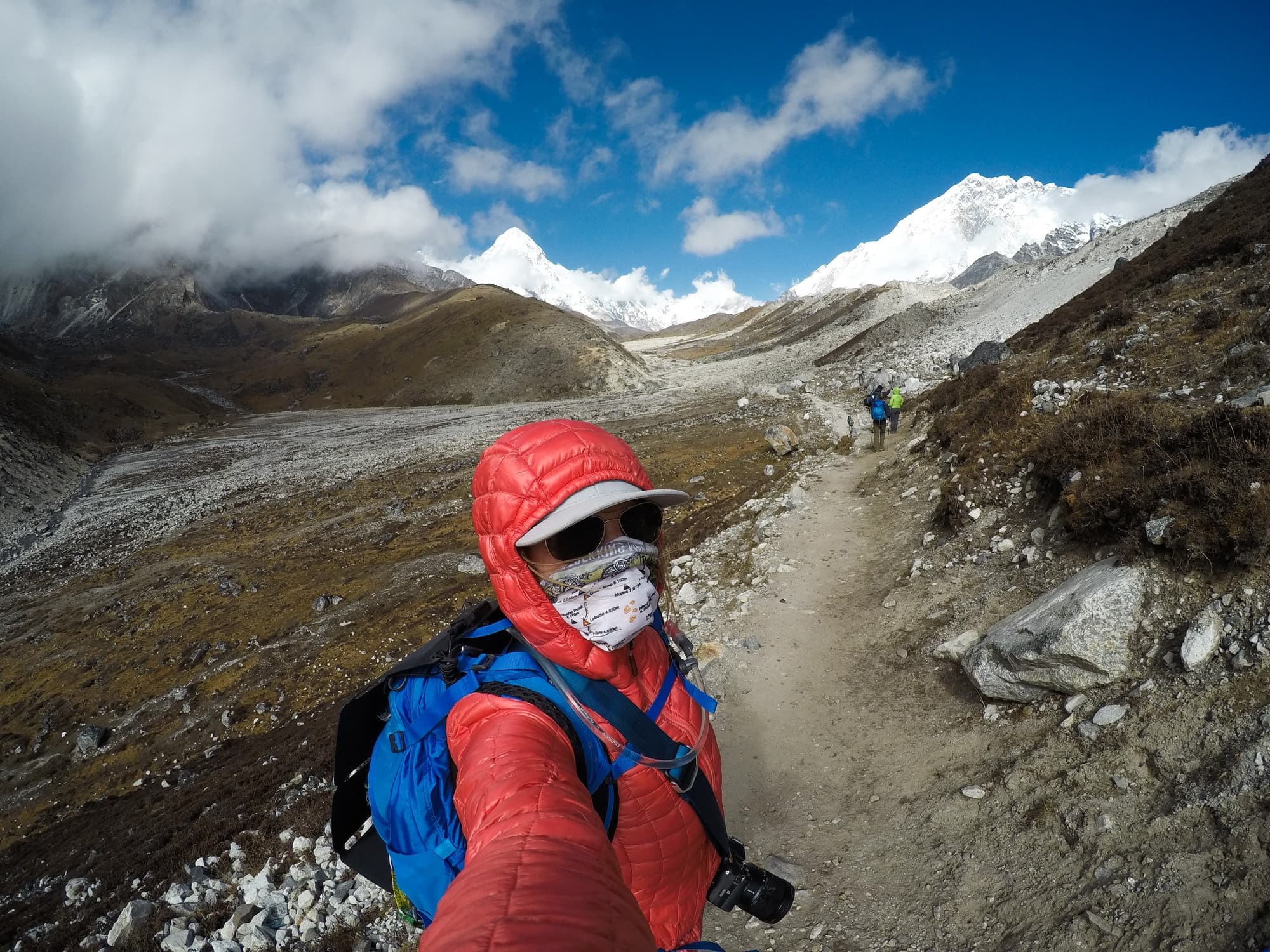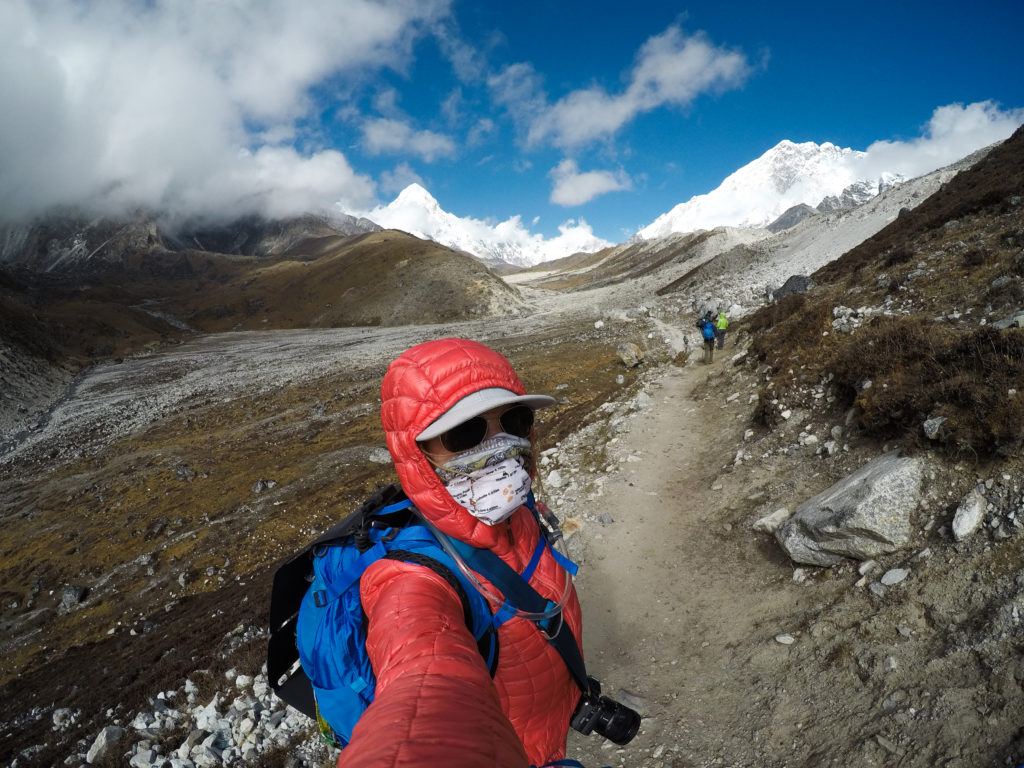 3. Synthetic down can be more affordable
Down jackets can cost upwards of several hundred dollars while basic synthetic down jackets tend to be more affordable. Of course, some synthetic insulating down jackets like the Patagonia Micro Puff are still quite pricey, but they're also as high-performing (if not more) than their down counterparts.
4. Synthetic down doesn't aggravate allergies
For some people, down can aggravate allergies. This is because dust mites love to hide out in down feathers and they can provoke a number of allergy symptoms in some people including sneezing, coughing, runny nose, itchy eyes, and more.
Switching to a synthetic down jacket can eliminate these allergy symptoms.
5. Many synthetic down jackets are made with recycled materials
We try to be as eco-conscious as we can and one of the best ways to support a more sustainable apparel industry is by buying products that utilize recycled materials (when you need new gear). Many synthetic down jackets like the Cotopaxi Teca Calido Reversible Hooded Jacket are made from post-consumer recycled fibers. Utilizing recycled materials prevents materials from going into a landfill and reduces the need to manufacture new fibers, which is often energy and water-intensive.
6. Synthetic down is vegan-friendly
I've made the switch to a plant-based diet, and since have learned about the ethical concerns around using animals to produce outdoor gear. That's why we're doing our best to recommend vegan-friendly products whenever possible.
I hope this post on the best synthetic down jackets for women helps you find the best jacket for your favorite cold-weather activities – maybe we've even convinced you that a synthetic vs down jacket is the best way to go!
What's your favorite women's synthetic down jacket and what activities do you wear it for? Tell us in the comments below!