When I first started Bearfoot Theory in 2014, backpacking was one of the ways that I became immersed in the outdoor world. Each backpacking trip I went on pushed me to grow beyond my comfort zone and I always came back with a greater perspective. I believe that these experiences in the outdoors should be accessible for all people, regardless of who you are and where you come from. So over the years, I've asked many people about what obstacles stand in their way of getting outside more. A good majority of the answers I received revolved around one thing: money.
I get it, money is a real and necessary part of our society, but I don't want it to stop you from exploring our public lands and beautiful places. So, in this blog post, I've rounded up the best cheap backpacking gear for tight budgets to help you acquire the necessary gear you need to stay safe and feel comfortable without breaking the bank.
While there are certain items necessary to stay safe and comfortable on a backpacking trip, it's not necessary to buy the newest, most high-tech outdoor gear on the market. Down below, I'll share my top suggestions for inexpensive, quality backpacking gear plus what to look for when deciding on what to get. If after going through this list of cheap backpacking gear, you want to shop around more, check out this blog post where we share a number of discount outdoor gear shops where you can score amazing deals.
Here is my list of the best cheap backpacking gear for tight budgets in 2021!
Best Budget Backpacking Tents
REI Co-op Passage 2 Tent
The REI Co-op Passage 2 Tent is a great 2-person budget option for backpacking. It has a mesh top for plenty of ventilation and for stargazing on clear weather nights with the fly off. The large vestibule provides plenty of outside gear storage space and it even comes with a footprint, which is an extra purchase for most tents. If you're planning on backpacking solo, this tent also comes in a 1-person model.
Weight: 5 lbs. 10 oz.
Capacity: 2 people
3-season compatible
Two doors + two vestibules
MSRP: $159
Check Price: REI
REI Co-op Groundbreaker 2 Tent
The REI Co-op Groundbreaker 2 tent isn't as lightweight and doesn't have all the features that other two-person backpacking tents out there have, but if you're looking to save some cash it'll do the trick. It's easy to set up and it's super durable plus it has all the basics like mesh paneling for ventilation (although reviewers note that the mesh panels are small so it can get toasty on a warm night) and a rain fly.
This tent only has one door, so if you're sharing it with a partner you'll have to climb over each other to get in and out, but that's a small price to pay for being able to get out in the backcountry.
Weight: 4 lbs 13 oz
Capacity: 2 people
3-season compatible
One door + one vestibule
MSRP: $79.95
Check Price: REI
Best Affordable Backpacking Sleeping Bags
Stoic Groundwork 20 Sleeping Bag
The Stoic Groundwork Sleeping Bag is not the lightest weight sleeping bag option on this list, but a 20°F bag at this price is hard to beat. This mummy-shaped bag has a draft collar at the neck level to help keep warmth in on cold nights and its water-repellent shell sheds dew and moisture to keep you dry.
Weight: 3 lb 3.2 oz
Fill: synthetic
Shell: polyester
Compressed size: 15.5 x 10in
MSRP: $84.95
Check price: Backcountry
Kelty Tuck 40 Sleeping Bag
The Kelty Tuck Sleeping 40F Bag is mummy-shaped yet spacious to allow you to toss and turn in your sleep. It's made of durable polyester and synthetic fill just like the other budget sleeping bag options on this list and it's lightweight and packable without breaking the bank. Rated at 40 degrees F, this sleeping bag is best for backpacking in mild weather. If you want something warmer, there's a 20-degree version that's available in a women's model as well.
Weight: 2 lbs 7 oz (regular length)
Fill: synthetic
Shell: polyester
Compressed size: 14×8″
MSRP: $79.95
Check Price: Backcountry / REI
ALPS Mountaineering Blue Springs 35 Sleeping Bag
For mid-spring to mid-fall camping adventures, the ALPS Mountaineering Blue Springs 35F Sleeping Bag is a great budget sleeping bag choice. Weighing 2 lbs 11 oz, it's not an ultralight sleeping bag, but it's a great price for the quality. It's got a cozy hood and even insulation to keep you toasty and a full-length zip on one side and a half-length zip on the other for versatility.
Weight: 2 lbs 11 oz (regular)
Fill: synthetic
Shell: polyester
MSRP: $89.99
Check price: Backcountry
Best Budget Sleeping Pads for Backpacking
Therm-a-Rest RidgeRest SOLite Sleeping Pad
The Therm-a-Rest RidgeRest SOLite sleeping pad is one of the all-time favorites for many backpackers. It's super lightweight (hence the name: SOLite) and doubles as a seat or a yoga mat. It provides moderate insulation between you and the ground and the aluminized surface is designed to reflect your body heat back onto your sleeping bag to keep you warm. For easy storage, just fold it up like an accordion and strap it to your pack. At just 30 bucks, this closed-cell foam pad is ideal for any lightweight backpacker looking to save some money on cheap backpacking gear.
Weight: 14 oz
Sleeping pad type: closed-cell foam
R-value: 2.1
MSRP: $29.95
Check price: Backcountry / REI
Therm-a-Rest Trail Scout Inflatable Sleeping Pad
If you prefer something with a bit more cushion, the Therm-a-Rest Trail Scout sleeping pad is a comfy choice. It's lightweight and has a higher R-value than the foam pad above, so it will keep you toasty on cold nights. Our former BFT Content & Community Manager, Mary Kathryn, used this sleeping pad on all of her backpacking trips for many years and loved it. While it doesn't compress as small as other pads on the market, it's a solid option for an inexpensive and comfortable sleeping pad. It also comes in three lengths: regular, long, and short.
Weight: 1 lb 6 oz (regular)
Sleeping pad type: open-cell foam
R-value: 3.1
MSRP: $54.95
Check price: REI / Backcountry / Moosejaw
Best Budget Backpacking Packs
Granite Gear Crown2 60L Backpack
Shopping for a durable, comfortable backpacking pack on a tight budget can be tough because you don't want to sacrifice quality and comfort. The Granite Gear Crown2 60L Backpack is a good affordable option. It's ultralight – weighing it at less than 2.5 lbs – with a fully adjustable hip belt, pockets for your go-to items like a map, snacks, and sunglasses, and its hydration reservoir compatible. It's a top-loading pack and the lid is removable, in case you want to go even lighter or use it for side trips. This pack is available in a women's specific version as well.
It's important to mention that this pack is made specifically for ultralight backpacking, and that means if you load it up with a non-ultralight tent and sleeping bag, it can be a bit uncomfortable due to its 35-pound weight capacity. (Once you get your backpack, check out this blog post on how to pack your backpack for a multi-day trip.)
Weight: 2 lbs 3 oz
Gear capacity: 60L
Weight capacity: 35 lbs
Material: ripstop nylon
MSRP: $199.95
Check price: Backcountry / REI / Steep & Cheap
REI Co-op Trailbreak 60 Pack
*Sustainable* If ultralight isn't ultra necessary for you, the REI Trailbreak 60 Pack is a great option. It's made with sustainably sourced bluesign® approved materials on the shell, straps, lining, and bottom. This spacious top-loading pack has plenty of room for all your backpacking gear throughout seven compartments. It has an adjustable torso, so it will fit most bodies. With a padded hip belt, back, and shoulder straps, most people will feel comfortable in this affordable backpacking pack.
Weight: 3 lbs 11 oz
Gear capacity: 60L
Material: bluesign® approved ripstop nylon
MSRP: $149
Check price: REI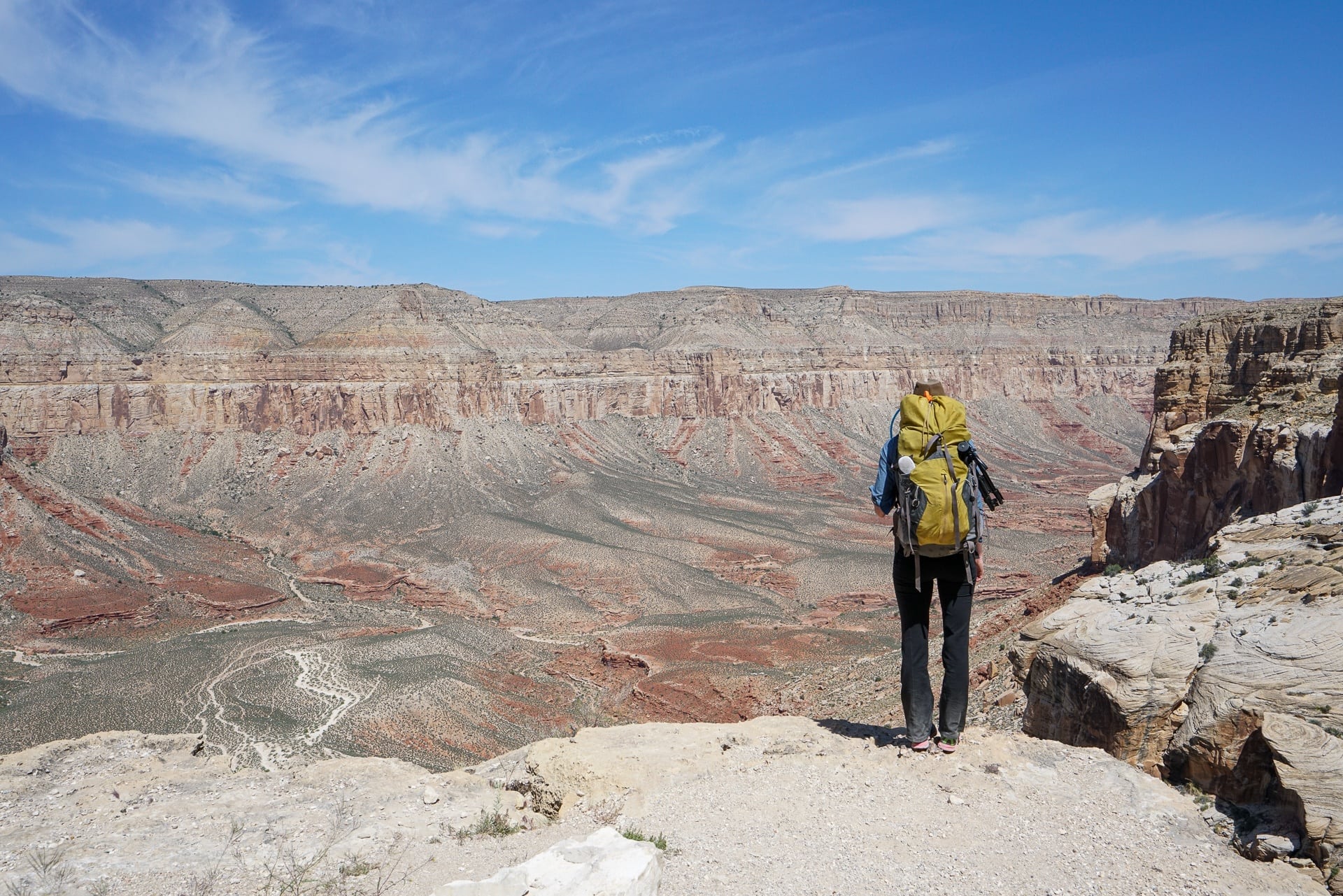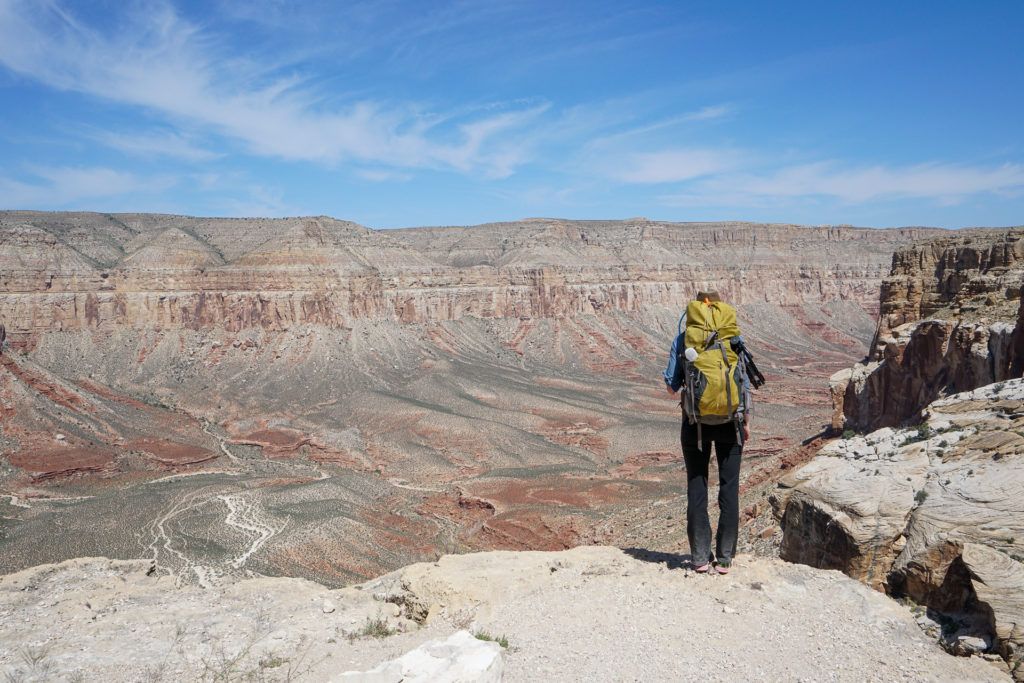 Best Budget Backpacking Stoves
MSR PocketRocket 2 Stove
The MSR PocketRocket 2 Stove isn't the cheapest out there, but it is the best backpacking stove on the market for less than $50. It is a personal favorite for a lot of backpackers because it's ultralight, compact, and easy to use. In just 3 minutes your water will be boiled and ready to brew that morning cup of coffee or tea. The PocketRocket is also compatible with most fuel canisters so you can take it on international trips. I recommend this lightweight, affordable backpacking stove for all your backcountry cooking. Plus, it fits in the palm of your hand so it's the ultimate space saver.
Weight: 2.6 oz
Fuel type: canister
Fuel: isobutane-propane
Average boil time (for 1L of water): 3 1/2 minutes
MSRP: $44.95
Check price: Backcountry / REI / Moosejaw
GSI Outdoors Glacier Camp Stove
If the MSR stove is out of the budget, the next-best option is the GSI Outdoors Glacier Camp Stove for less than $30. It's also designed for fast cooking and can hold a pot up to 5 inches in diameter. It's about twice the weight of the MSR stove but is still light enough for backpacking. One thing to keep in mind, it might not hold up well against strong winds. Otherwise, this backpacking stove will heat up your water and cook your meals on the trail for an inexpensive price.
Minimum trail weight: 5.9 oz
Fuel type: canister
Fuel: isobutane-propane
Average boil time (for 1L of water): 4 minutes
MSRP: $27.50
Check price: Backcountry / REI / Moosejaw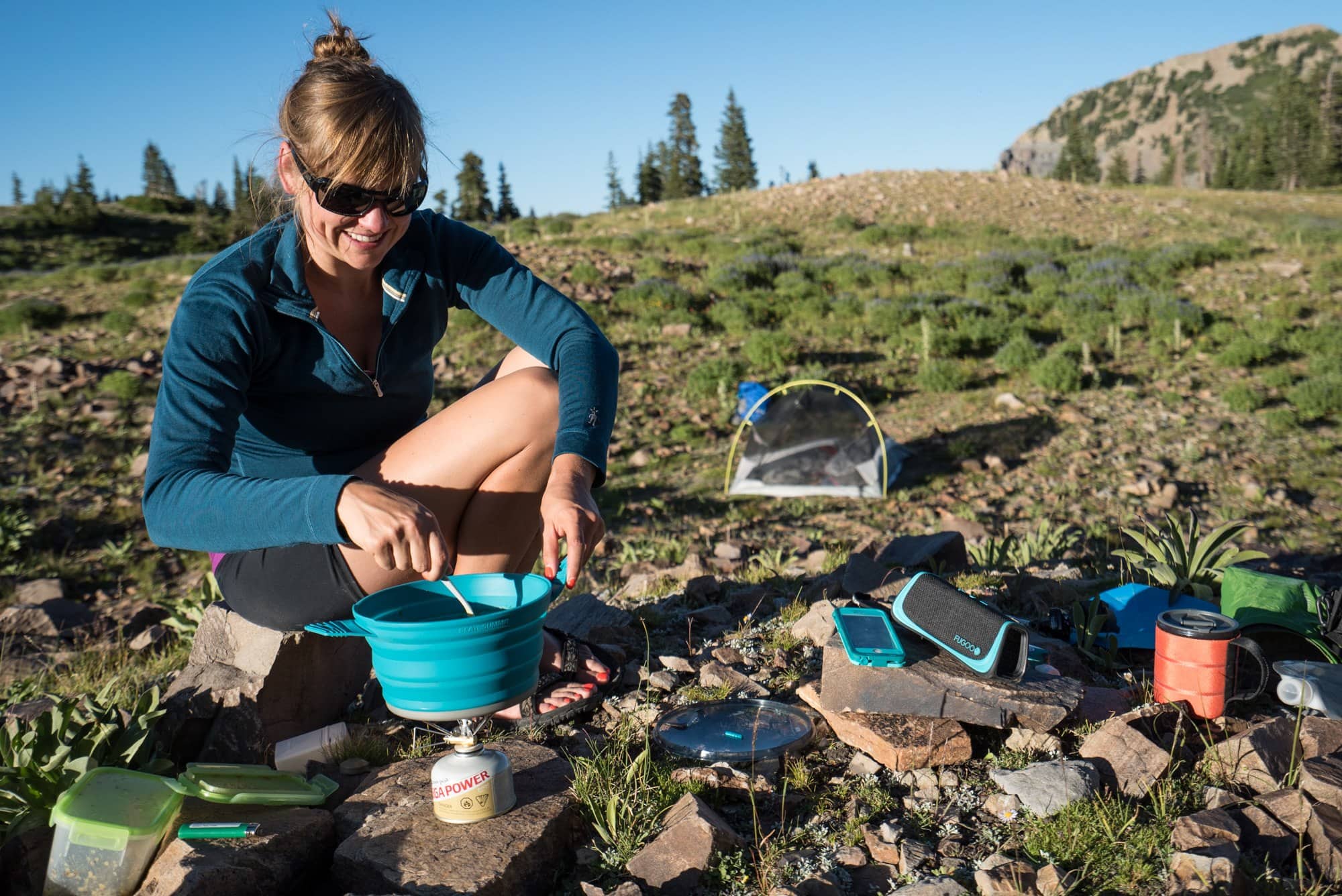 Best Budget Trekking Poles
Montem Ultra Strong Trekking Poles
The Montem Ultra Strong trekking poles are well made and built to withstand rugged adventures in the backcountry. I'm a big fan of trekking poles to maintain balance and protect my knees while hiking. It's like having four legs on the ground instead of just two. So, your bodyweight gets dispersed more evenly across the four points of contact. The Montem trekking poles are adjustable between 24″ – 53″, and have easy flip-locks so you don't have to worry about twisting them in place when your hands get sweaty. Plus, they come in a bunch of fun colors.
Weight: 1 lb 3 oz
Material: aluminum
Grip: foam
MSRP: $59.99
Check price: Montem
REI Co-op Trailbreak Trekking Poles
The REI Co-op Trailbreak Trekking Poles are another great budget option coming in at the same price as the Montem's above. They don't have many bells and whistles, but they'll protect your knees while you hike and help distribute your weight more evenly. They're adjustable, versatile, and have comfortable wrist straps which is really all you need.
Weight: 1 lb 1 oz
Material: aluminum
Grip: rubber
MSRP: $59.99
Check Price: REI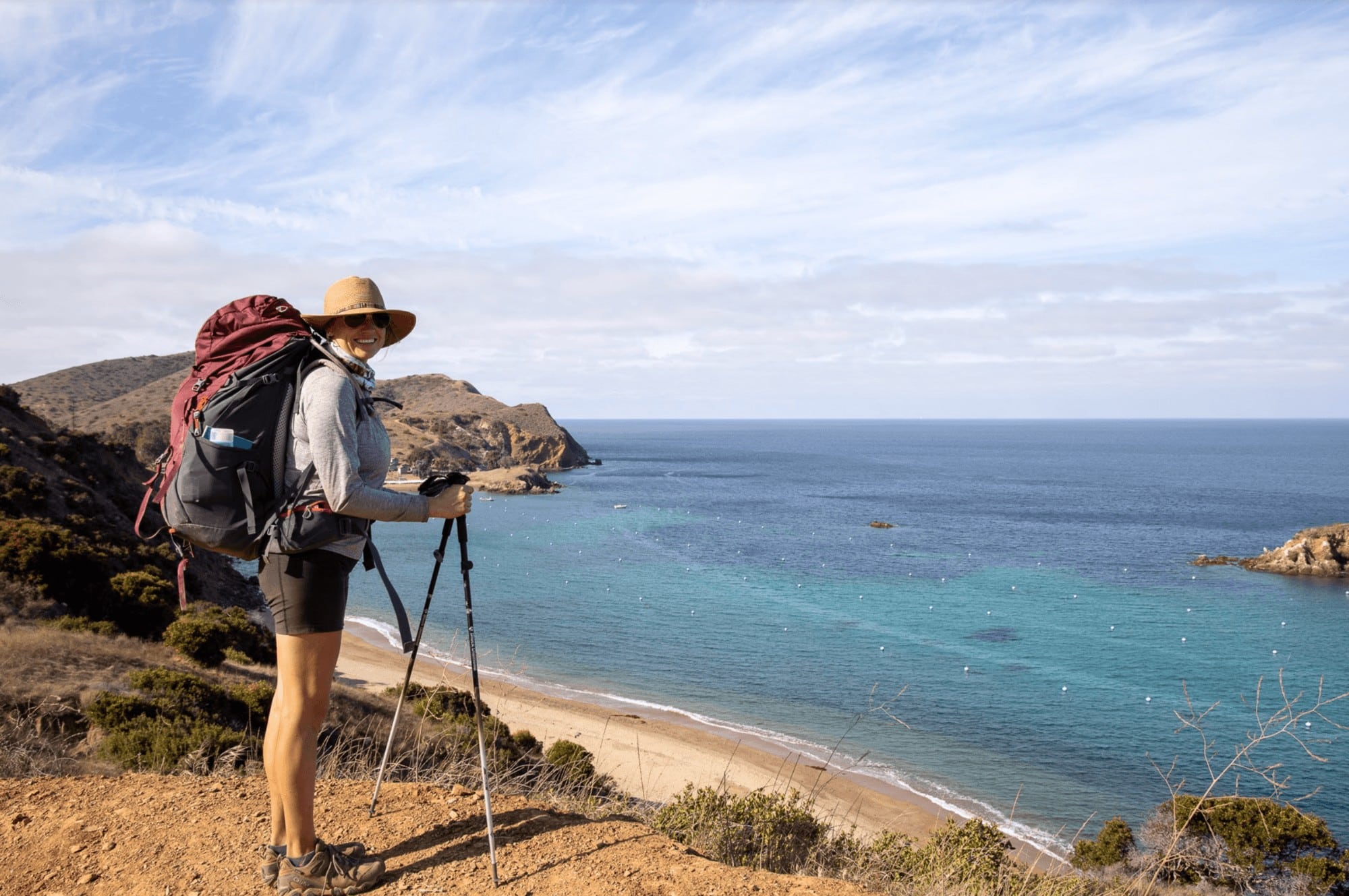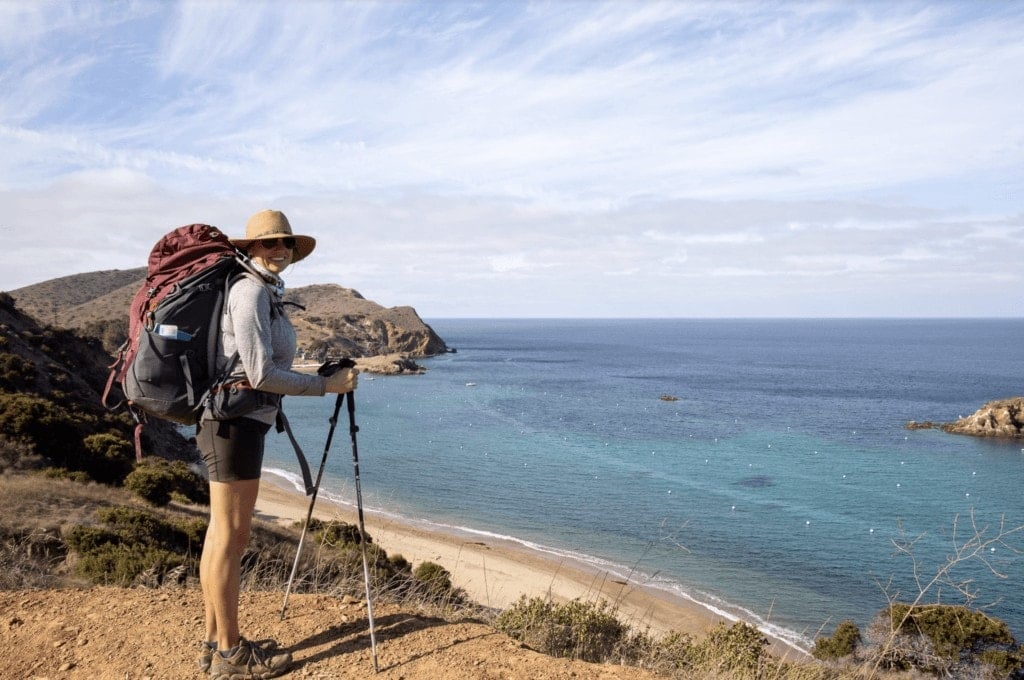 Best Budget Backpacking Water Filter
Sawyer Mini Water Filter
The Sawyer Mini Water Filter is hands-down the most affordable and efficient choice for around $20. Weighing in at just 2 ounces (yep, 2 ounces), it's super compact. This 0.1-micron filter removes 99.99% of all bacteria, including salmonella, cholera, and E.coli as well as 99.99% of all protozoa like Giardia and Cryptosporidium. The filter threads attach to most storebought water bottles, but it also comes with a 16 oz squeeze pouch. Just filter water right into the pouch and transfer it to your hydration bladder or water bottle – it's that easy.
Weight: 2 oz
Filter type: squeeze, straw
Filter membrane: hollow-fiber membrane
MSRP: $21.95
Best Budget Headlamp for Backpacking
Petzl Tikkina Headlamp
Just because the sun goes down, doesn't mean the night's over. Headlamps are essential for nighttime hangouts and that late-night bathroom run. The Petzl Tikkina Headlamp is an important addition to your backpacking gear collection. It delivers 250 lumens of brightness and has three white lighting settings: proximity, movement, and distance, and runs on AAA batteries.
Weight: 3 oz with batteries
Bulb type: LED
Max light output: 250 lumens
MSRP: $19.95
Check price: REI / Backcountry
Other Tips for Shopping for Cheap Backpacking Gear
Buying used outdoor gear is a great way to save money on your backpacking setup. Here are a few places that offer used and discounted outdoor gear:
Also, a lot of the gear mentioned in this post often goes on sale. Figure out what items you need and which one's you've got you're heart set on, then keep an eye out for sales so you can snag them when the time is right. You can save some major cash that way, especially on the bigger items like tents, sleeping pads, spleeping bags, and backpacks.
Factors to Consider While Shopping for the Best Cheap Backpacking Gear
Buying the best backpacking gear comes down to a few key factors: weight, comfort, durability, and price. Generally, the higher the quality, the lighter weight the gear will be. But, there are exceptions to this rule with a few reputable outdoor gear brands. As I said, I'm a believer that you don't need the top shelf, most expensive gear, though there are some important things to keep in mind when you're bargain shopping for affordable backpacking gear.
Weight
While this may not make much of a difference on a short walk to the campsite, it definitely makes a difference on a rigorous trail and in long-distance backpacking. What's in your pack and on your back can make or break your experience. The guideline for backpacking is that your total loaded pack weight should be no more than 20% of your body weight.
Regardless of how many nights you'll be out, you'll need to keep this in mind when it comes to what you pack. Shopping for lightweight backpacking gear is a wise thing to consider – your future self will thank you. For tips on how to shave off some weight, check out this blog post.
Comfort
This one's a no-brainer. You want to be comfortable even in uncomfortable moments, right? Buy gear and apparel that fit well and feel good not just while you're trying it on in the store, but also when you're hiking uphill or scrambling over a rocky section.
It's smart to get fitted for items that you'll be wearing on your body, like a backpack. Backpacks are not universal; each brand designs its packs differently, so what works for one person might not work for another person. Wearing a backpack that doesn't fit properly can hinder your experience and performance on the trail. To prevent this, head to the nearest outdoor gear outfitter, like REI, and get fitted for a backpack so you know what brand and size works well for your body.
Durability
Whether you plan to do short backpacking trips or you're a deep backcountry explorer, purchasing outdoor gear is an investment and you want it to last. It's vital that your gear holds up to your needs on the trail, especially if you'll be out in the backcountry. Plus, it's more environmentally sustainable to buy gear that will last for many years rather than purchasing new items year after year. Quality backpacking gear will ensure your adventures are a success, so look for products made with strong materials that can withstand wear and tear, like SilNylon, polypropylene, and polyester.
Price
I'm sure you've seen backpacking gear within a wide range of prices, and you might be wondering if cheap price = cheap gear. Price matters, and if it didn't you probably wouldn't be reading this. But, that doesn't mean that discounted or cheap backpacking gear is of poor quality. In other words, affordable backpacking gear doesn't automatically mean low quality and high-cost gear doesn't always equate to better quality. By the end of this blog post, you'll see that high-quality backpacking gear is more accessible than you might think.
First, I suggest you determine your budget for backpacking gear based on the basics you need to be safe, comfortable, hydrated, and warm. These are the basic essentials for the backcountry: a tent, sleeping bag, sleeping pad, stove, water filter, backpack, headlamp, and trekking poles. Eventually, you can integrate other items into your gear collection down the road. But for now, we'll focus on the necessities that will get you where you want to go.
It's important to note that buying new backpacking gear isn't the only option. I'm a big fan of buying used outdoor gear whenever possible. It saves you a chunk of money and keeps more stuff out of the landfill. Check out my favorite places to shop for discounted outdoor gear, and don't forget about hitting up your local gear exchange stores, thrift stores, and community forums.
Another option is to rent backpacking gear from a local shop or REI. Renting backpacking gear is a smart move if you're new to backpacking and aren't sure you're going to like it, or if you want to try out various items before making the investment.
Some of the links in this post are affiliate links which means if you make a purchase, we receive a small compensation at no added cost to you. Any purchases you make help keep this blog going and our content free. We truly appreciate your support!