What to Wear Hiking: Women's Guide to Outdoor Apparel
Learn what to wear hiking for different weather conditions and get recommendations for the best female hiking apparel.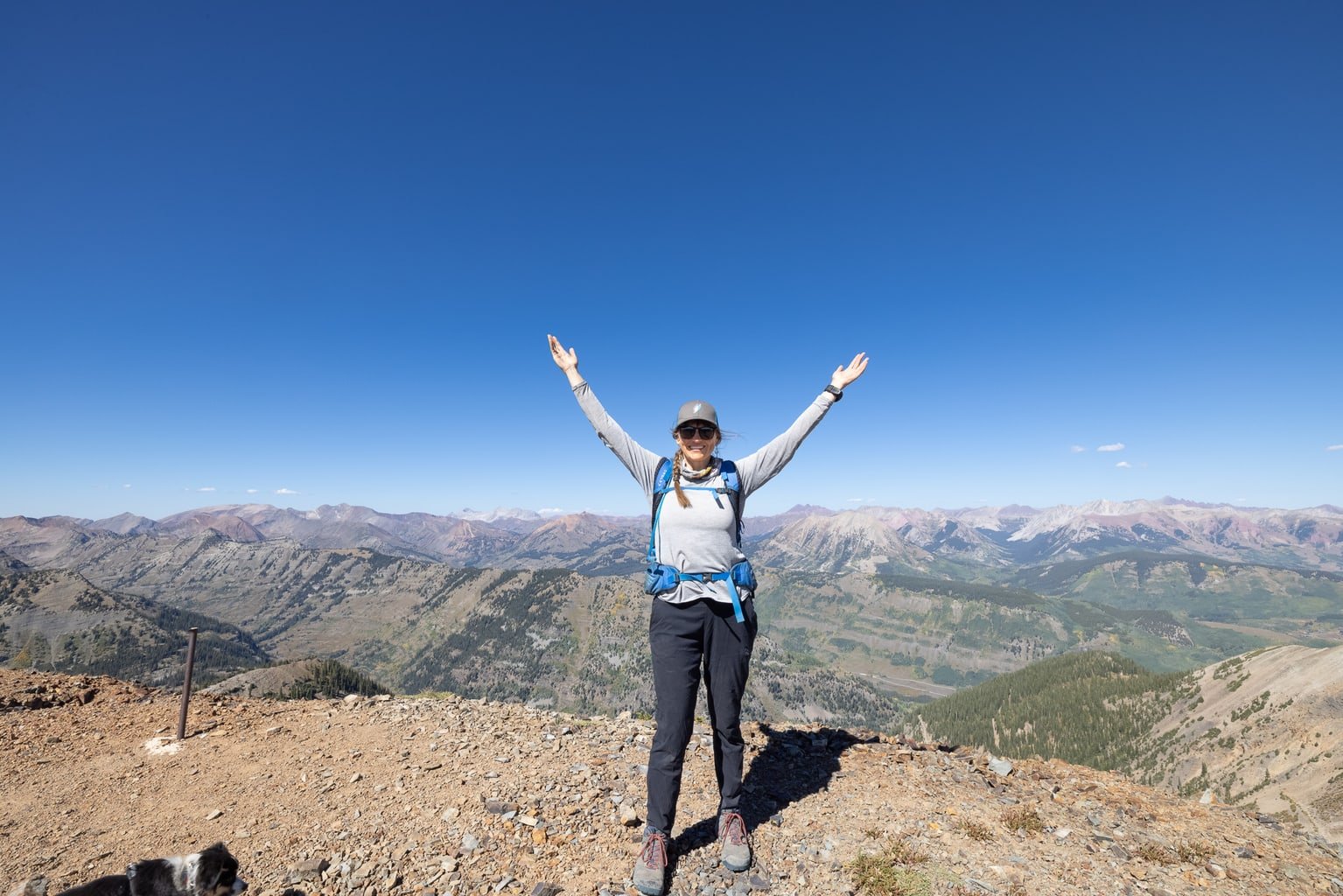 One of the most common questions I get about spending time outside is what to wear hiking. Technically, hiking doesn't require any special clothing and if you are just getting started with exploring the outdoors and choosing short, simple trails, my recommendation is to simply get out there in the clothes that you already have. Just be sure to dress in layers so you can add or subtract clothing as your temperature changes. It's also important to always bring a lightweight rain jacket when there's even the slightest chance of rain. Once you start to advance to more challenging conditions and terrain, however, what clothes you wear hiking can be the difference between having fun and being uncomfortable (and possibly unsafe) – whether that be too hot, too cold, or too wet.
Why trust me? I have over 15 years of hiking experience, and it's the outdoor activity that I'm most often found pursuing. My team and I have tried a ton of different women's hiking clothing, and over the years, I've really dialed in what to wear hiking and the hiking apparel features and materials that work best.
Wondering what to wear hiking? Below is a list of the best hiking clothes that I wear in some combination on every single hiking or backpacking trip I go on.
Note: This post links to and references some of our brand and affiliate partners. As always we only recommend products we truly love, and we greatly appreciate your support!
Quick Tips for What to Wear Hiking
Dress in layers
One of the most important tips to keep in mind when deciding on what to wear hiking is to dress in layers. When you layer your hiking clothes, you can easily add or shed pieces of clothing depending on temperature changes or how strenuous the hike is. Typically, the layer closest to your skin should be a moisture-wicking tee. Then you can add warmer layers like a long-sleeve shirt, a wind-breaker, or an insulated jacket. If you know you'll be adding or shedding layers throughout your hike, be sure to bring a daypack with you so you can easily carry extra layers.
Choose synthetic materials
Ideally, hiking clothes should be made of moisture-wicking materials that dry fast. Cotton is not a good choice for hiking because it doesn't dry quickly and can leave you feeling chilled when wet. Synthetic materials like nylon and polyester (ideally made from recycled materials) are better choices because they wick away moisture and are breathable.
Dress for different seasons
What to wear hiking may change depending on the season. Winter hiking will require more warm layers and insulated gear while hiking in the fall may mean dressing for cooler and wet conditions. For summer hiking, it's really important to protect your skin from the hot sun. For more tips on how to dress for seasonal hikes, check out these blog posts:
---
Best Hiking Shirts for Women
Moisture-Wicking Hiking Tee
For hiking, you're going to want a moisture-wicking, breathable tee. Patagonia's Cool Capilene T-Shirt is my favorite for hiking and for everyday wear. This shirt provides 50+ UPF sun protection, and it's a flattering and well-fitting shirt that won't hold onto sweat or odor as you're moving around. I also appreciate that it doesn't cling to my body. I have these in several colors and pretty much live in them during summer. Also, since I travel in my van, I look for clothing that can be worn several times before it really needs to be washed, and these shirts meet the mark. My only suggestion is to choose bolder colors over lighter colors, since the lighter colors show dirt more.
Check price: Patagonia | Backcounty | REI
The Patagonia Cool Capilene shirt is also available as a long-sleeved option. Lately, I've been choosing the long-sleeve version in order to protect my skin from the sun, especially when hiking at altitude. Even with long sleeves, it breathes well and never leaves me feeling too sweaty.
Check price: Patagonia | Backcounty | REI
If you're more of a tank top girl, that works too!…but keep in mind that if you wear a tank top when you hike, you may experience some rubbing on your shoulders when carrying a daypack. If you want a tank built for the outdoors, the lululemon Sculpt Tank Top or the lululemon Swiftly Relaxed Muscle Tank Top both offer full coverage and prevent chafing from your backpack. While I typically choose these for indoor workouts (again I like full sun protection), these two tanks are also great to hike in.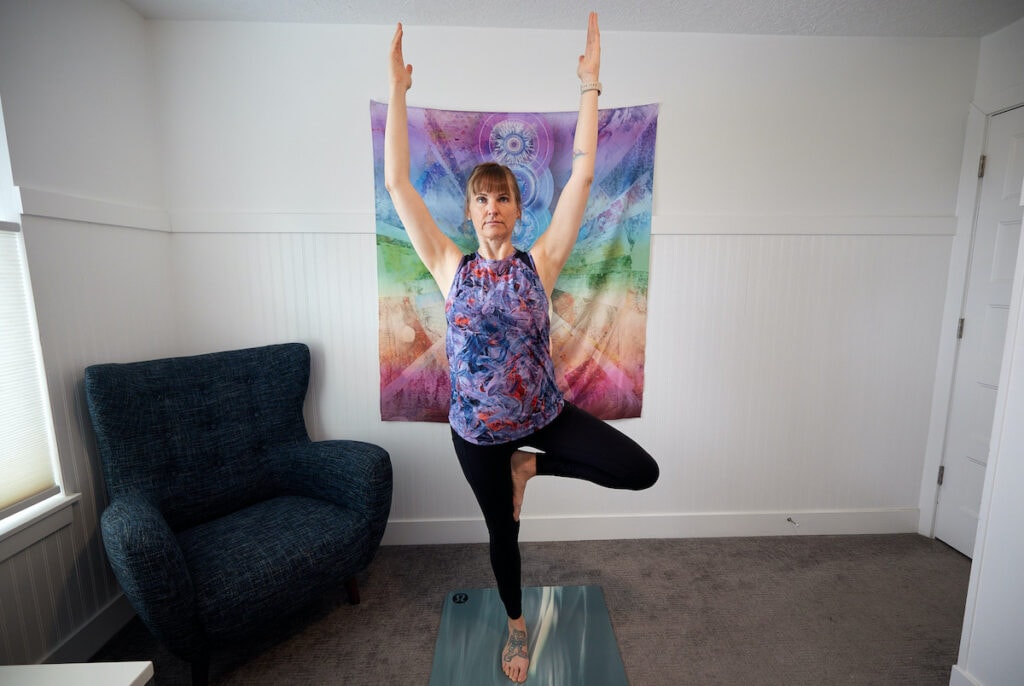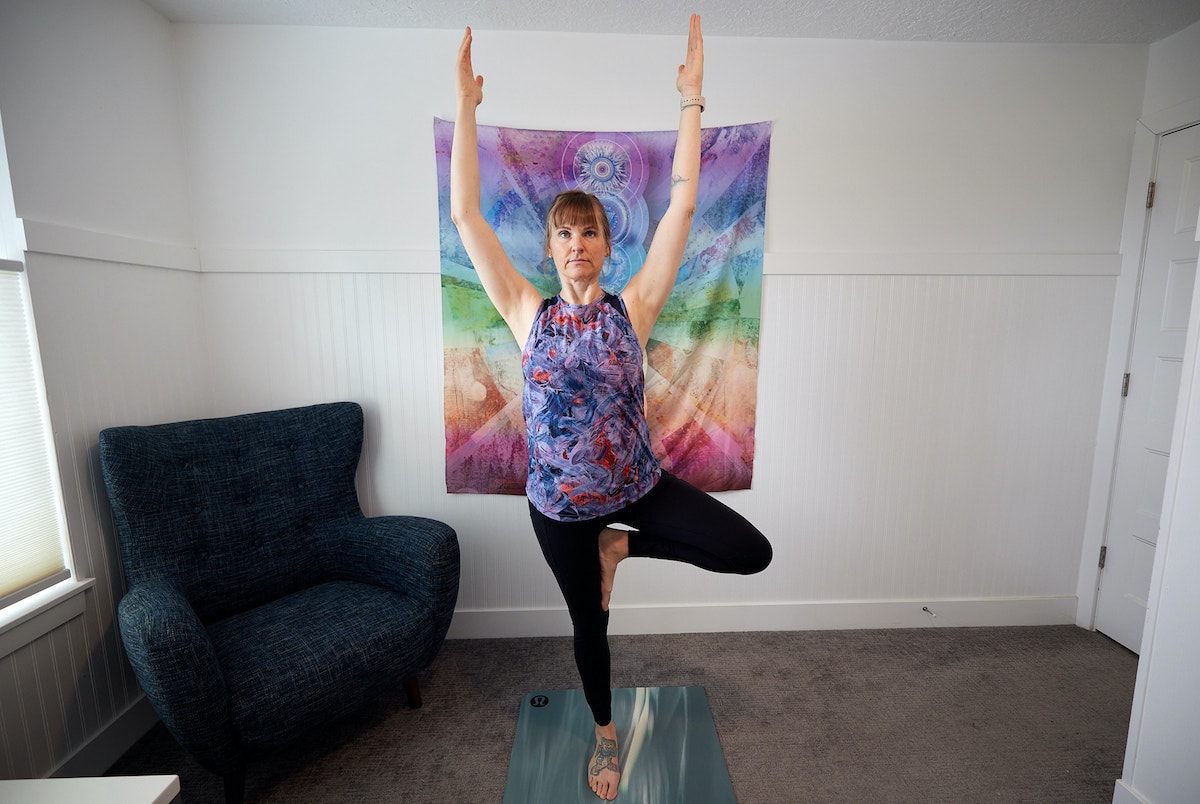 Warm Long Sleeve Layer
Layering is important so you can stay warm in changing conditions. If the weather takes a turn for the worse or you're out longer than you think you'll be and the temperatures start to drop, you'll be happy to have a midweight baselayer with you.
One of my go-to choices for a mid-weight hiking base layer is the Patagonia Capilene Thermal Zip-neck. Maybe you're seeing a trend here, but I like Patagonia because of their environmentally friendly practices (this shirt is made from 50-100% recycled content). It's warm, yet breathes well, and because of how small it packs down, I almost always bring this hiking and backpacking. I also wear it to bed on camping trips.
Check price: Patagonia | Backcountry | REI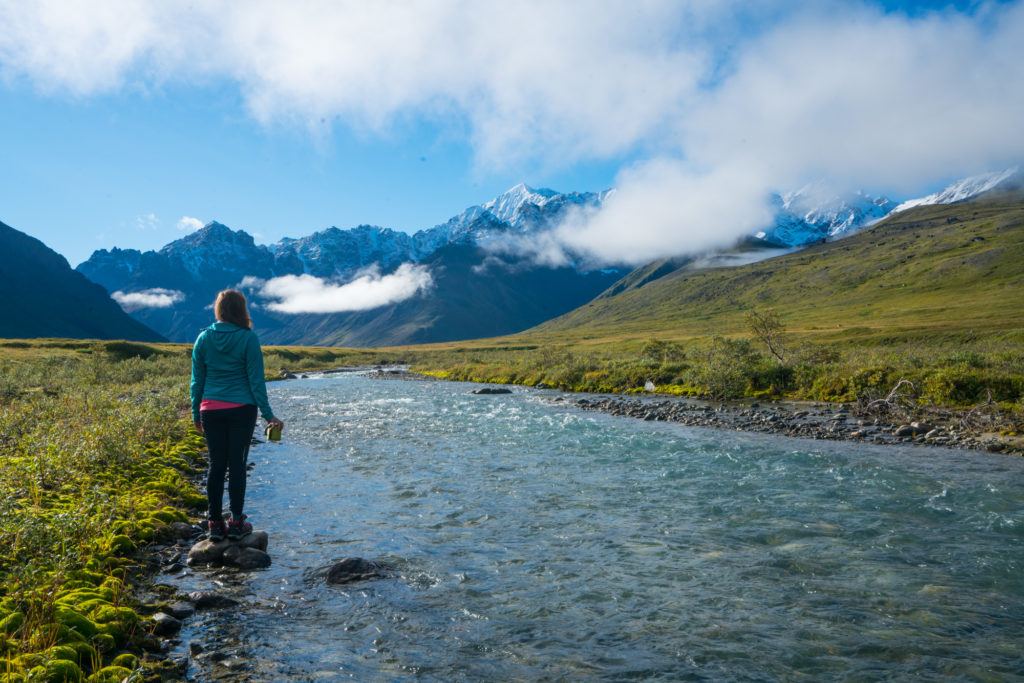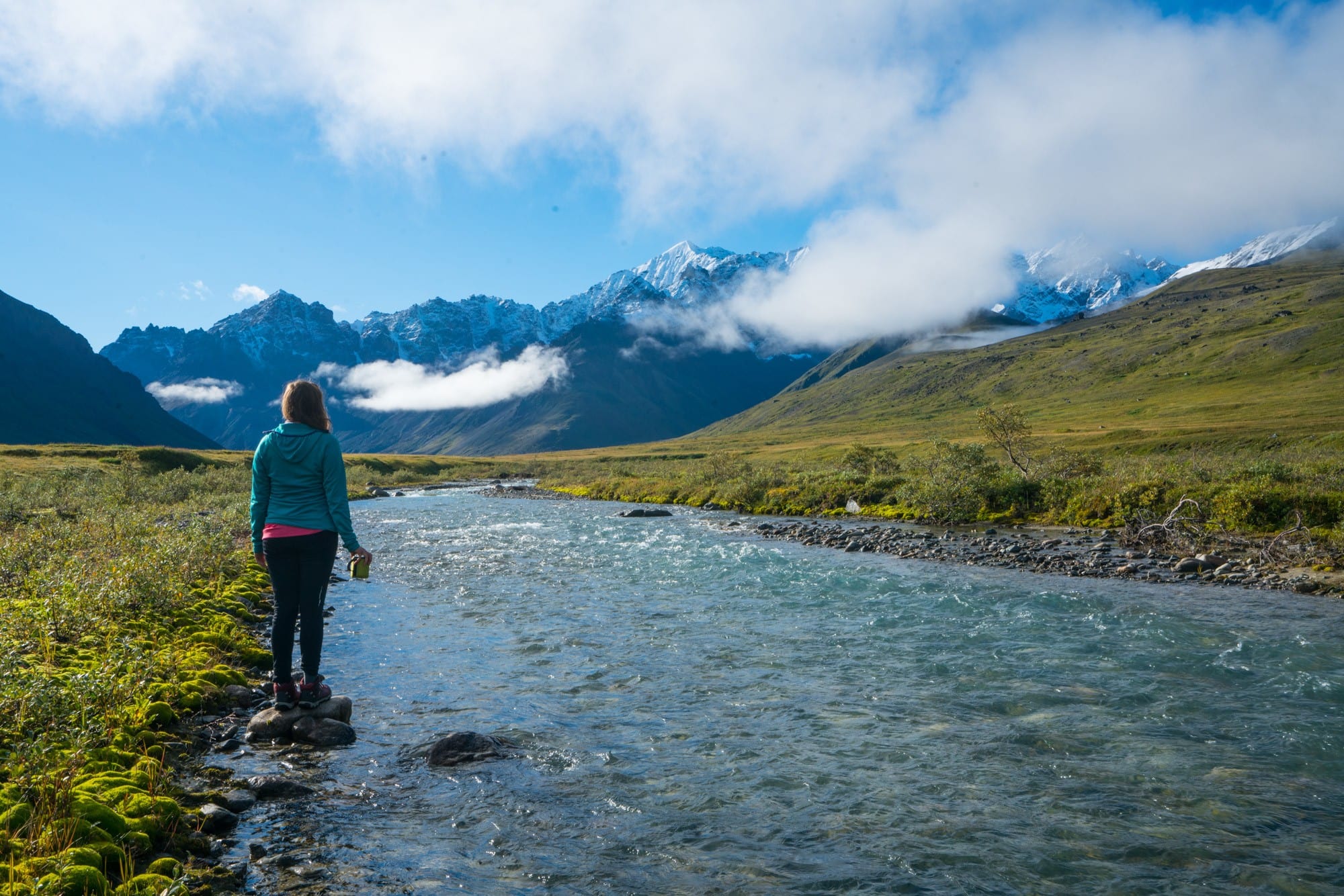 Some outdoor women prefer wool for warmer layers. Made from sustainable merino wool, this Icebreaker 200 Zone Half-Zip baselayer is incredibly soft and very warm. They are pricey, but this is one of the more durable wool layers I own and also serves as a functional layer for winter sports as well. I wear the crewneck version of this top every single day when I ski. Icebreaker has strong animal welfare standards.
Check price: REI | Backcountry
Best Hiking Jackets for Women
Whether you choose a heavier insulated jacket or a lighterweight jacket for your hike depends on the season and the climate you are are hiking in.
Heavier Insulated Jacket
If I'm hiking at altitude, during the shoulder season, or if there is a chance of cold temps, I bring my Arc'teryx Atom LT Insulated Hoody. It feels like you're wearing a cloud), and it's very warm, yet it's still quite lightweight and packable. The hood is a great addition for keeping your head warm on windy days. The cut is flattering (it doesn't make you look like a marshmallow), and it's long enough so you don't get any backdraft. This is a great jacket for cold weather hiking and camping, and it also makes an effective and comfortable layer under a ski shell.
Check price: REI | Backcountry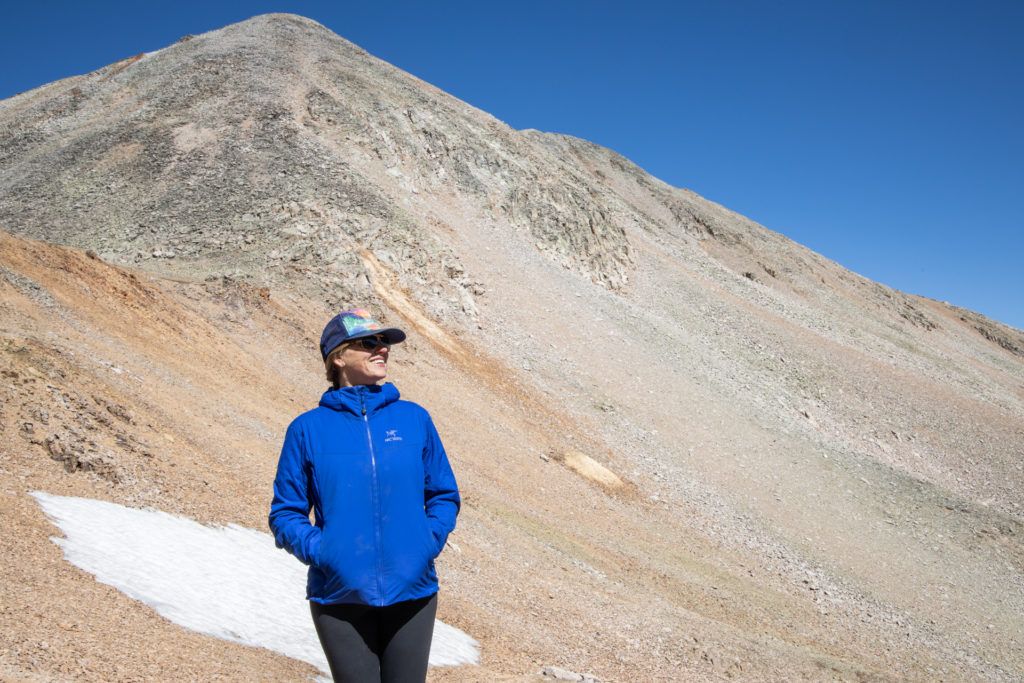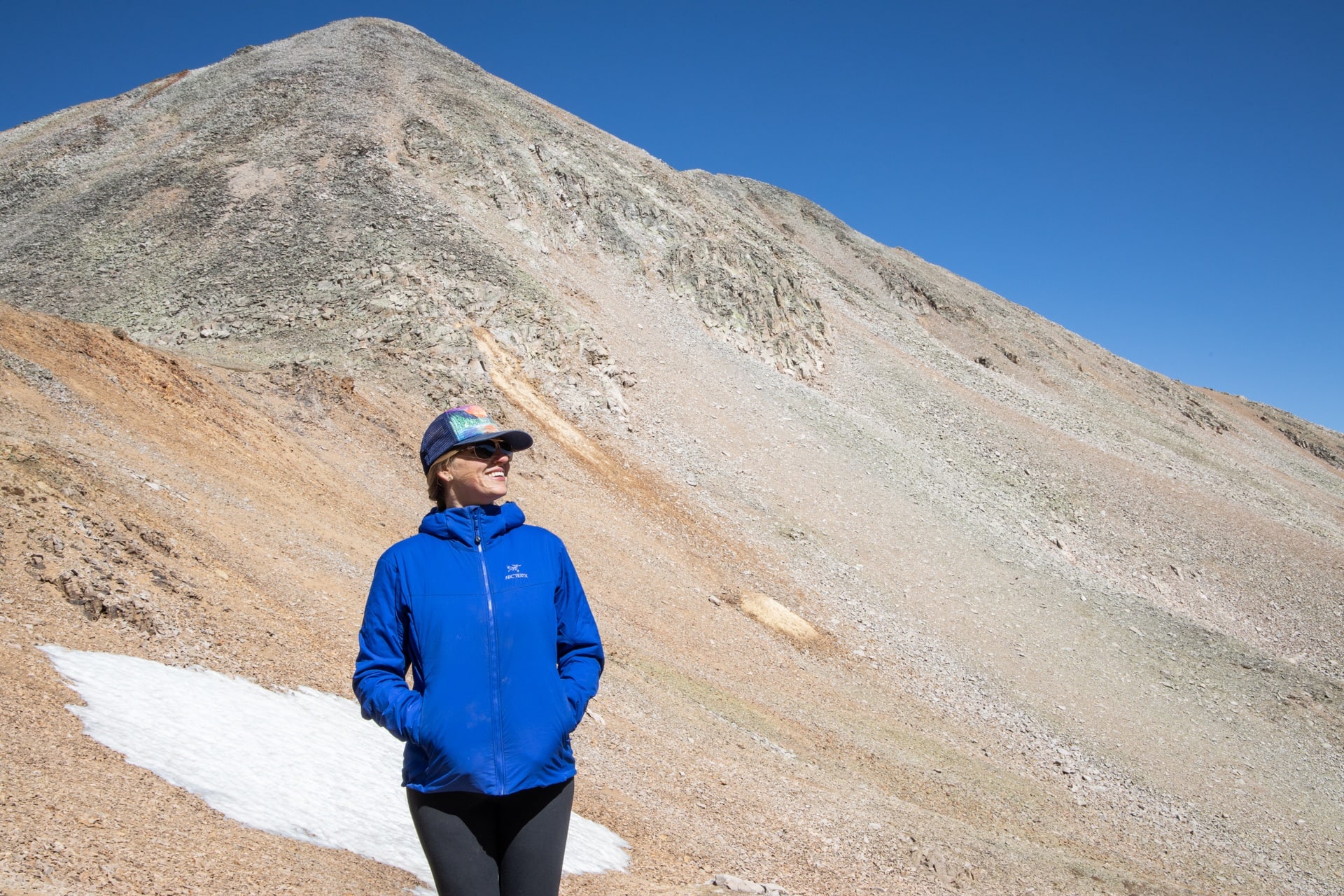 >> Check out our favorite lightweight, insulated jackets for more options
Lightweight Insulated Jacket
If I need a lighter jacket as a "just in case", the Atom SL Insulated Hoodie is a great addition to Arc'teryx's super popular Atom series. This is the most lightweight Atom jacket available, a full 3oz lighter than the Atom LT above. The Atom SL has light insulation in the core and minimal to no insulation along the arms. It provides a little bit of warmth without being overkill and is great for windy days and mild climates.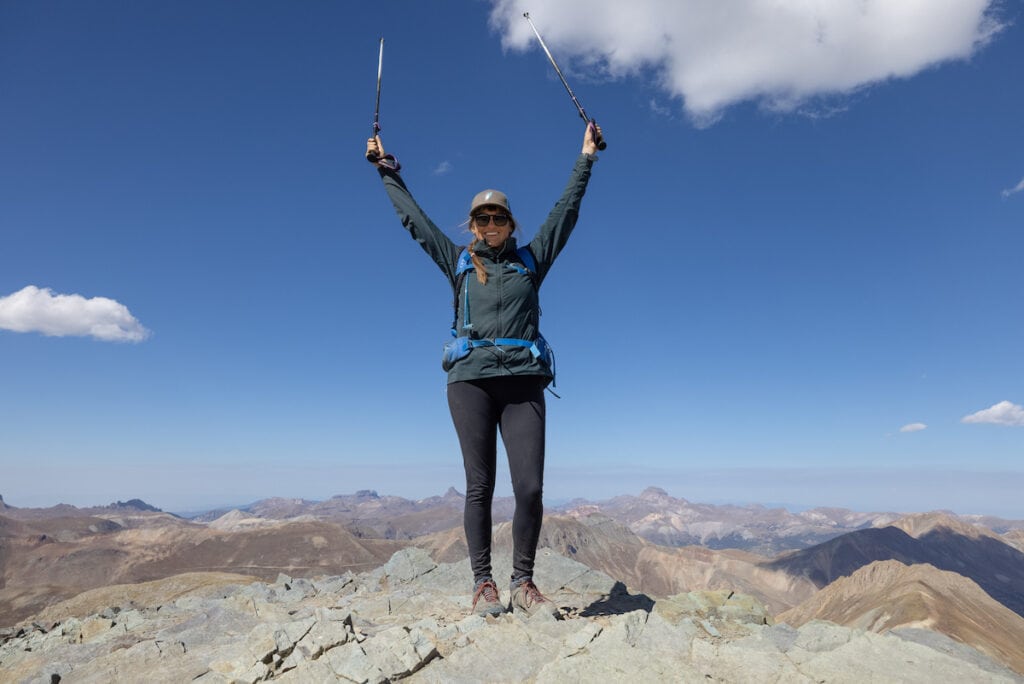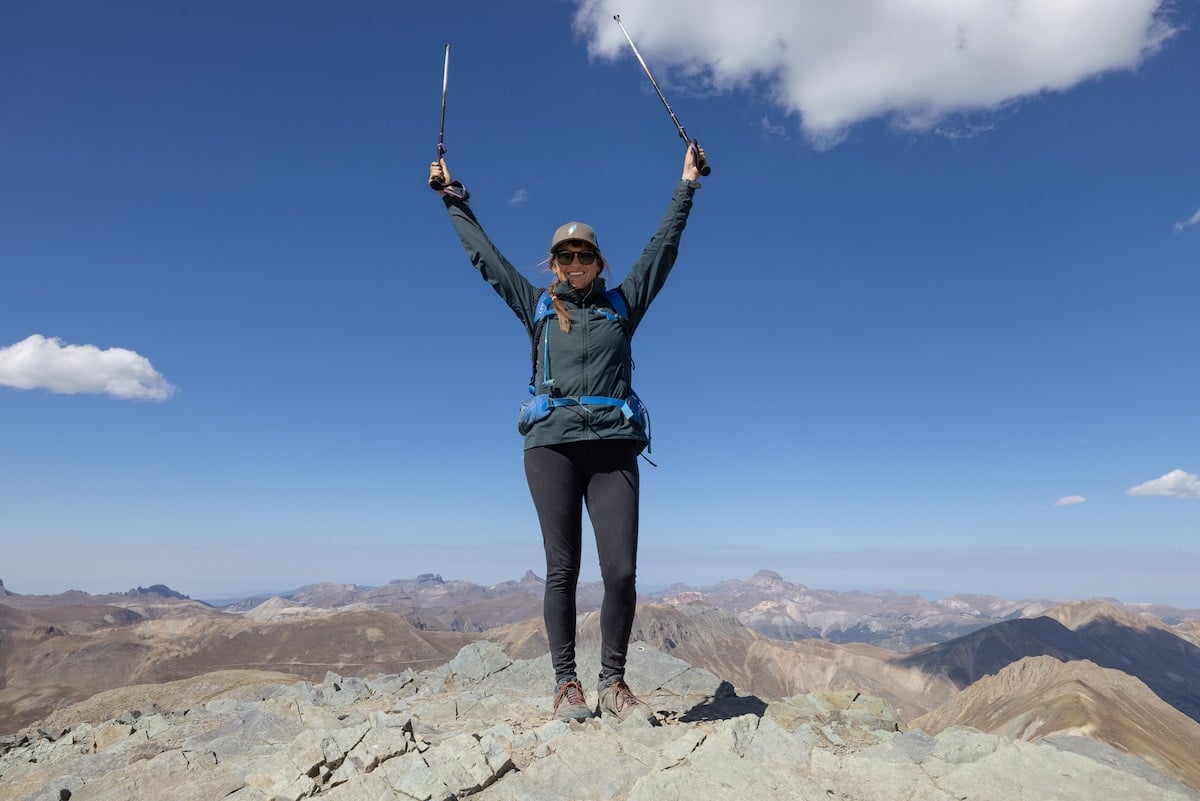 Light Windbreaker
The Patagonia Houdini is hands-down the best lightweight windbreaker I've tried. This jacket is made for warmer weather where you want some protection from wind or bugs (or even the sun). It's also water-resistant and breathable which is great if you're in a location prone to periodic light rain, but don't trust it as a rain jacket. A traditional Gore-Tex rain jacket (see below) is important if you're hiking in an area prone to lots of rain and where it can get cold. The Houdini only weighs 3.4 ounces, so it's really a no-brainer to throw in your pack if you're hiking in an exposed area.
Check price: Patagonia | Backcountry | REI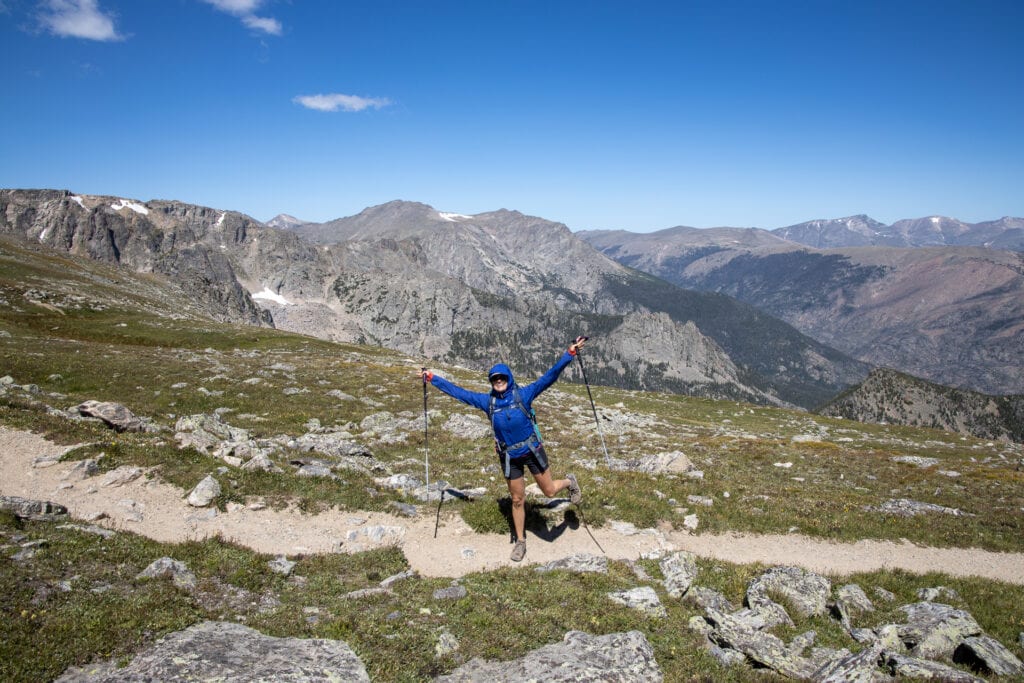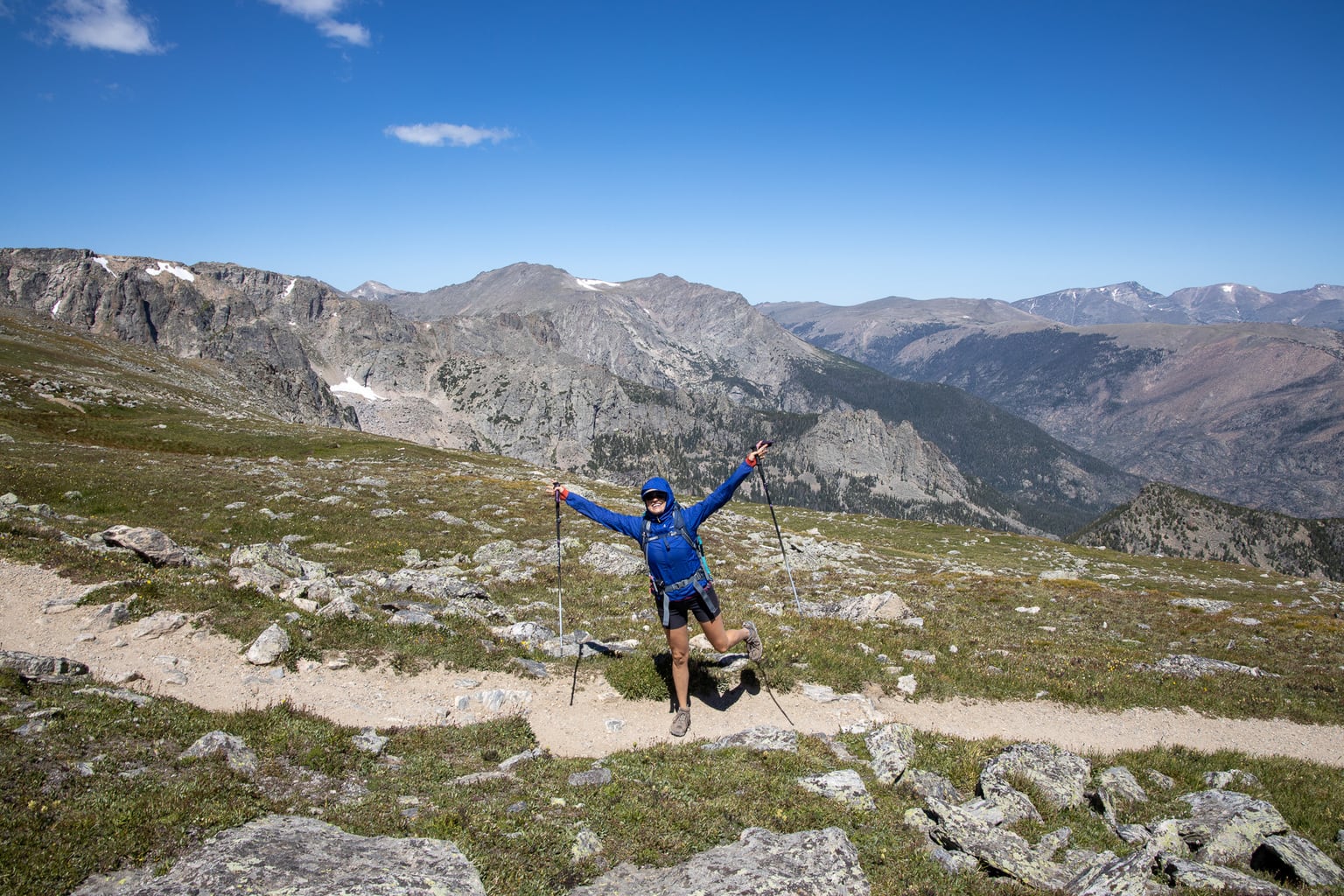 Best Women's Hiking Shorts
Any old shorts will do for hiking as long as they are comfortable. I personally like hiking in spandex/yoga shorts because they provide for the most mobility and there is no loose fabric that can get caught on branches or other obstacles on the trail. The downside of leggings is that there are typically no pockets.
Legging Shorts
Lately, my go-to legging-style shorts have been the lululemon Wundertrain 6″ High Rise Shorts. They also come in a 4″ and 8″ length depending on your preferences and height. The waistband stays put, and the material is soft yet thick enough to be durable. I personally prefer all my hiking shorts to be a dark color since you often sit on rocks or the ground when you take breaks, and darker colors don't get as dirty.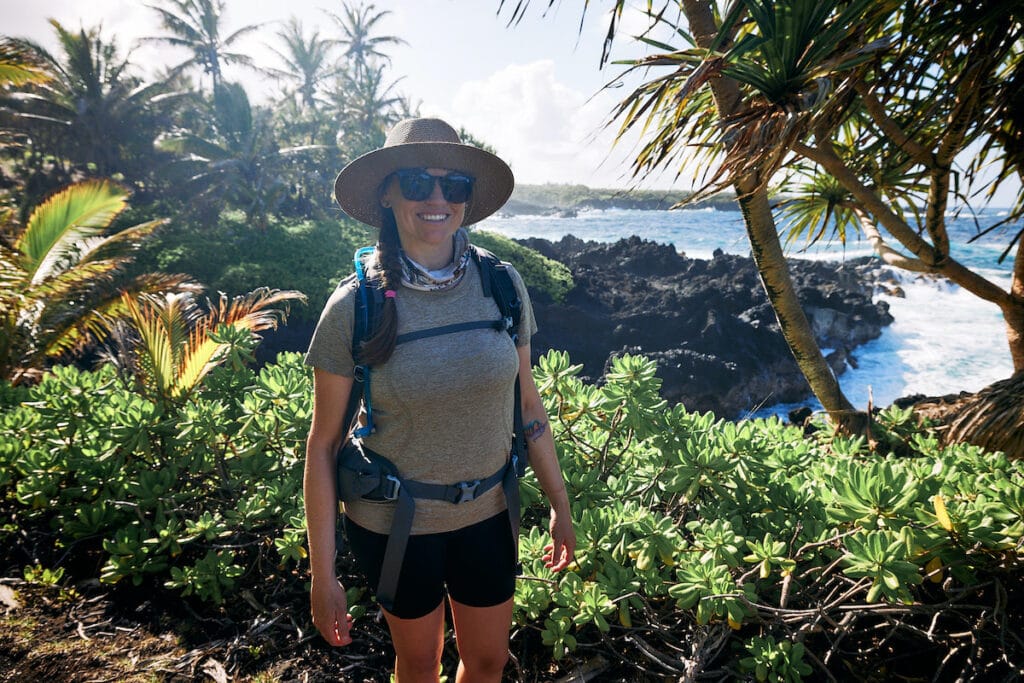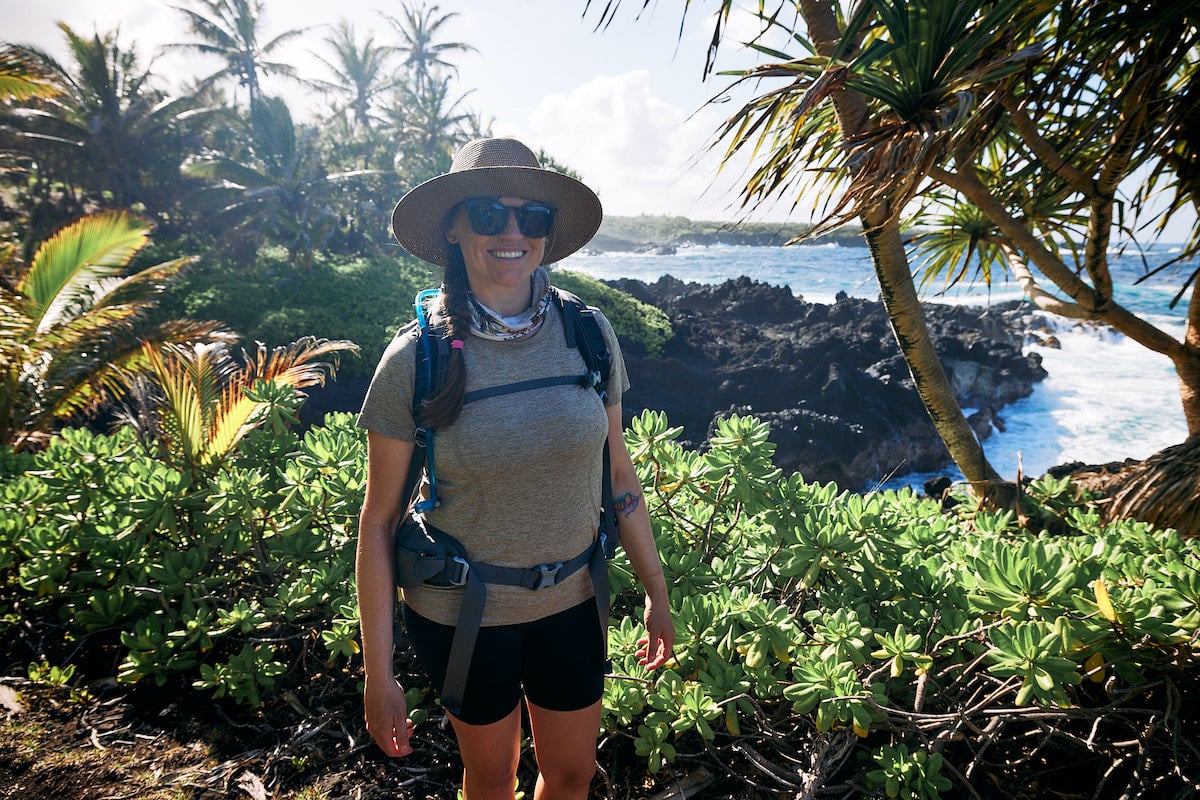 If you're not a big fan of hiking in spandex or are looking for shorts that are more versatile check out the North Face Aphrodite Shorts. Several of us ladies on the Bearfoot Theory team own these! They have an elastic waistband (COMFY!), and the shorts are loose-fitting but not baggy or saggy. My favorite feature is the pockets. I'm so used to hiking without them in my spandex, I forgot how useful pockets can be. It made it easy to access my phone for photos or to carry my ID and credit card if we were headed to the store. Finally, the material dries quickly, whether they are wet from a swim or stream crossing.
Check price: REI | Backcountry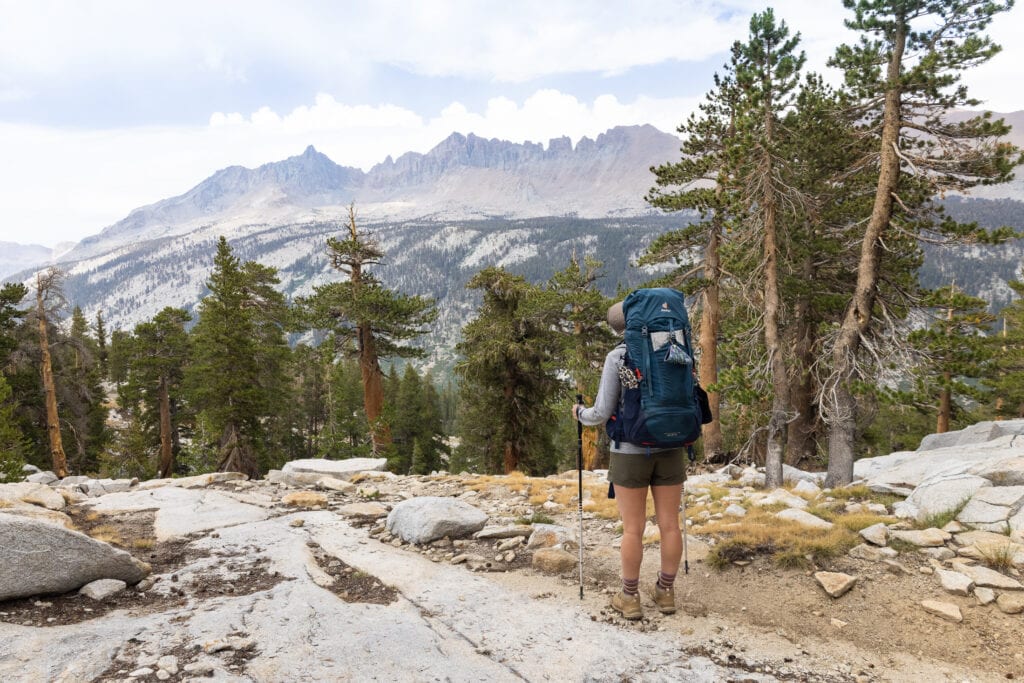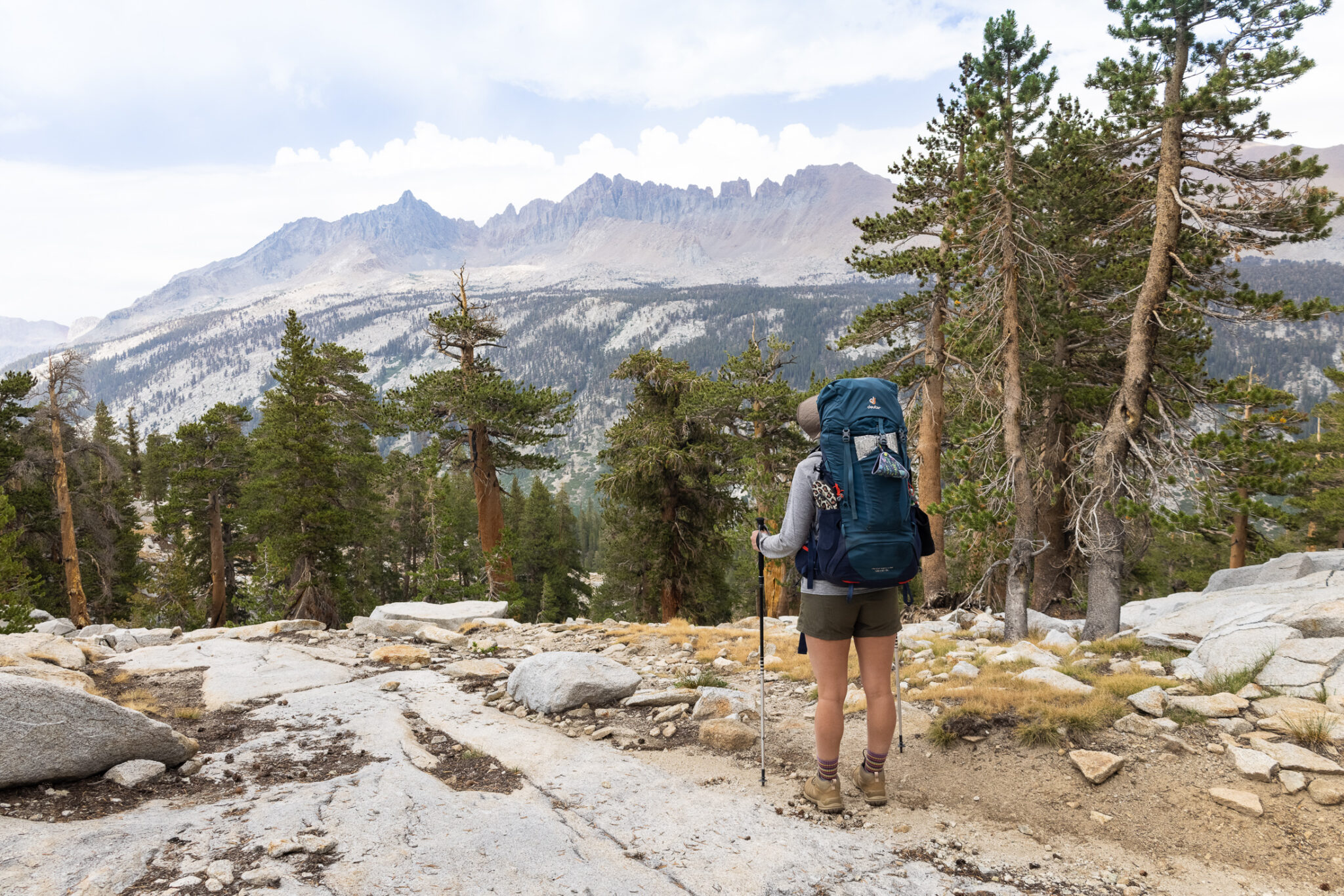 A final great pair to check out is the Patagonia Baggies. They are versatile active shorts that also look cute for walking around town post-hike. A tried and true favorite, these are water-resistant and even have mesh pockets, so you can get them wet without having to think twice. They're also lightweight and stretchy, with an adjustable drawcord to boot.
Check price: Patagonia | Backcountry | REI
Best Women's Hiking Pants
Women's Hiking Leggings
When it's cooler, you can probably guess that I swap out my spandex shorts for leggings. Not only are leggings a comfortable and multi-functional piece of clothing, but they're also super flattering and work well for almost every activity.
I LOVE the lululemon Wundertrain High Rise 25″ tights on warmer days. They are quite breathable so you don't end up too hot, and they come in lots of fun colors (I personally prefer darker colors since they don't show dirt as easily). The ones in the photo below are the 25″ length, but they also come in a 28″ length if you'd prefer them to cover your entire ankle). These are high waisted and hit me just above the belly button, and the waistband doesn't roll over when you move (which is a huge pet peeve of mine with leggings).
Another one of of my go-tos are Prana high-waisted leggings. I own three pairs of these. They are a little thicker for cooler days, and I can wear them many times before they need to be washed.
Check price: REI | Backcountry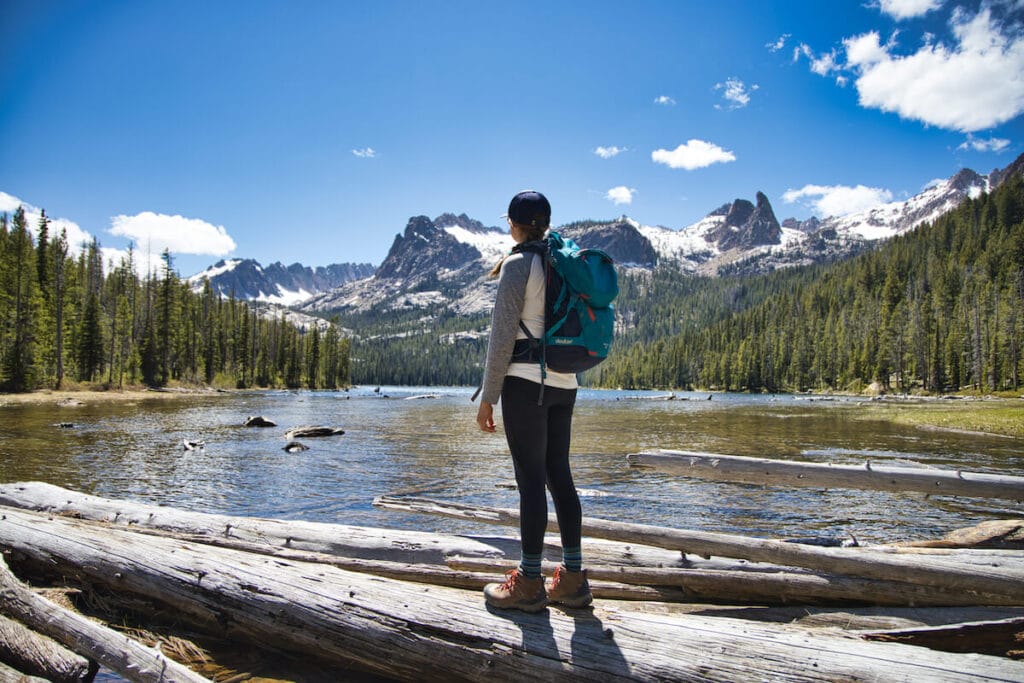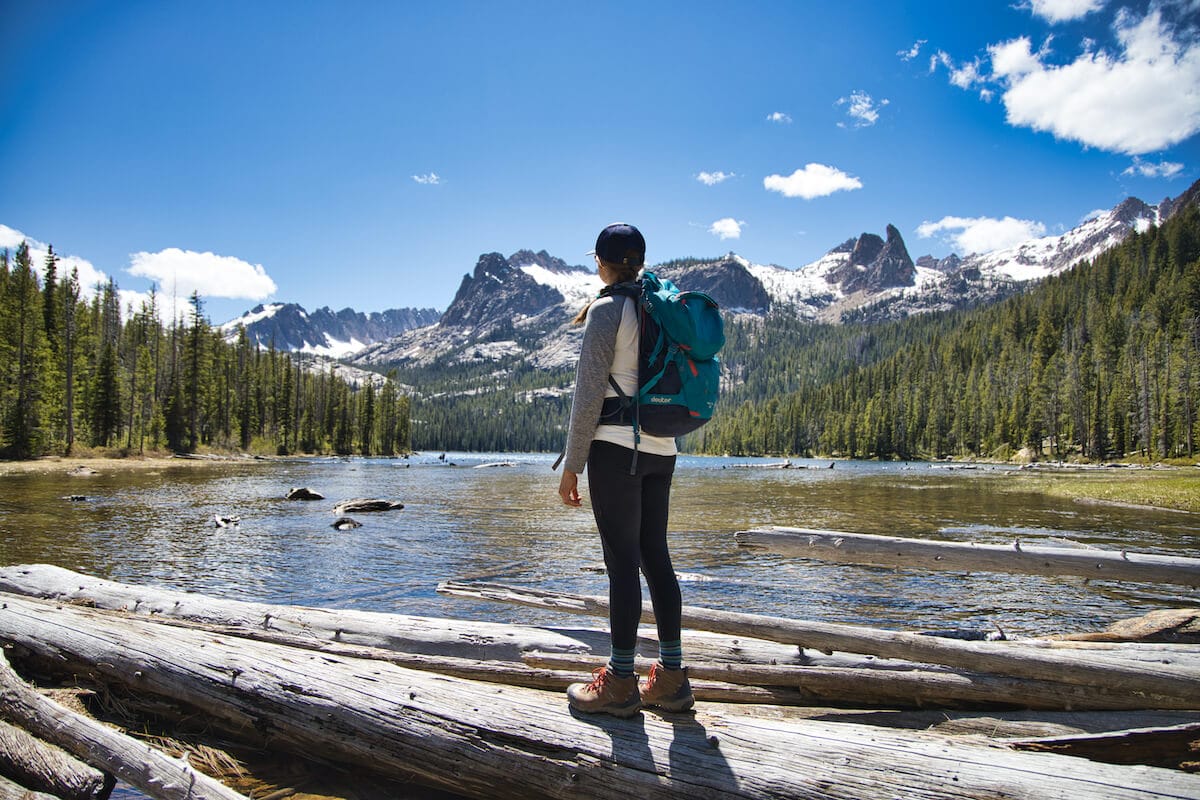 If you don't like spandex, I recommend these North Face Aphrodite 2.0 Pants, which are cute, stretchy, and lightweight and can be worn on the trail or around town. I love the elastic waistband which doesn't dig at all as you hike, and the loose fit means the pants breathe quite well.
Check price: REI | Backcountry
For those extra cold days when you need something thicker, these Brooks Momentum Thermal Pants have a thermal layer that insulates on chilly hikes. The elastic waistband is super comfortable, and they are loose enough to fit another baselayer underneath if it's really cold.
Check price: REI
>> Check out our roundup of the best hiking pants for women for more options
Best Hiking Rain Gear for Women
Rain Jacket
The weather in the mountains can be unpredictable and you need to be prepared. Getting wet can not only be uncomfortable, but it can also be dangerous. If there's a chance of rain, the REI Co-op Women's Rainier Rain Jacket is a lightweight (and budget-friendly) rain jacket that will keep you dry if you end up hiking in the rain. It's got a fully adjustable hood, vents, and packs down into its own pocket.
Check price: REI
>> Read our guide to the best lightweight rain jacket for travel and hiking for more options
Rain Pants for Hiking
I don't typically pack rain pants on day hikes unless the forecast predicts a decent amount of rain. If you are backpacking, however, it's always a good idea to have a pair of these just in case you get caught in a downpour. These REI Co-op Essential Rain Pants are great because you don't have to take your boots off to get the pants on.
Check price: REI
Best Women's Hiking Undergarments
Sports Bra
Any sports bra that you can move comfortably in and feel supported will work well for hiking. Not too long ago, I tried lululemon's sports bras, and I can never go back to wearing something that doesn't provide adequate support. The lululemon sports bras accommodate a large range of sizes (up to 40G), and they come in different support levels depending on the activity (low, medium, and high impact). They are very comfortable, wick sweat, and can also double as a bathing suit when you stumble on that perfect swimming hole. I personally prefer ones that aren't too strappy, since they are easier to put on. I'm a 36D, and I really love the lululemon All Powered Up Bra and the lululemon Run Times High Support Bra.
Quick-Dry Undies
Quick-dry undies are essential for staying cool, dry, odor-free, and clean on the trail, and there are a bunch of options to choose from. I've pretty much tried them all. To be honest, I've been pretty disappointed with a lot of underwear I've tried. They either shift around, stretch out, show panty or show panty lines. After testing out literally dozens of pairs, my favorites are the ExOfficio Give-N-Go 2.0 Full Cut Brief (for looser fitting pants) and the lululemon Invisiwear Boyshorts (for leggings).
Check price: Backcountry | REI
>> See our guide to the best hiking underwear for more of our favorites
Hiking Socks
Cotton socks aren't great on the trail because they slide around and are infamous for causing blisters, so when you are hiking, choose a hiking sock. Many hiking socks are made with wool which actually helps reduce sweating and keeps the sock snug against your foot to prevent unwanted rubbing. My preferred hiking socks are made by a company out of Vermont called Darn Tough. They are cushioned in all the right places and over 22 days with these on the John Muir Trail, I didn't form a single blister. Darn Tough also uses eco-friendly and sustainable wool, which I love, and they also make some socks without wool, including the CoolMax socks below.
Check price: Darn Tough | REI | Backcountry
---
Hiking Footwear
Hiking Shoes
Footwear is arguably one of – if not the most – important gear decisions for hiking. It's essential to have a good pair of sturdy and comfortable hiking shoes with good traction. For a low ankle, hiking shoe, I love the Sawtooth X BDry by Oboz, which is lightweight, yet sturdy and waterproof with a grippy bottom that gives you plenty of traction for hikes in all types of conditions and trails.
Check price: REI | Backcountry
Hiking Boots
If you prefer a higher ankle boot with a little more support that you can also use for backpacking, then the Oboz Bridger BDry is an excellent shoe with just the right amount of cushion and no break-in period required.
Check price: REI | Backcountry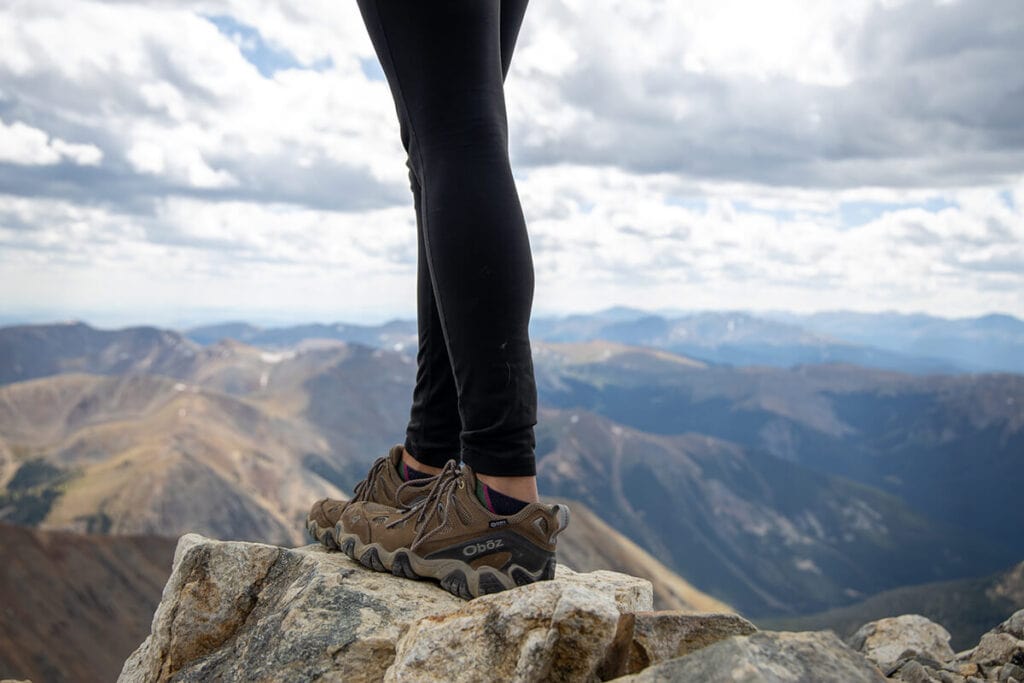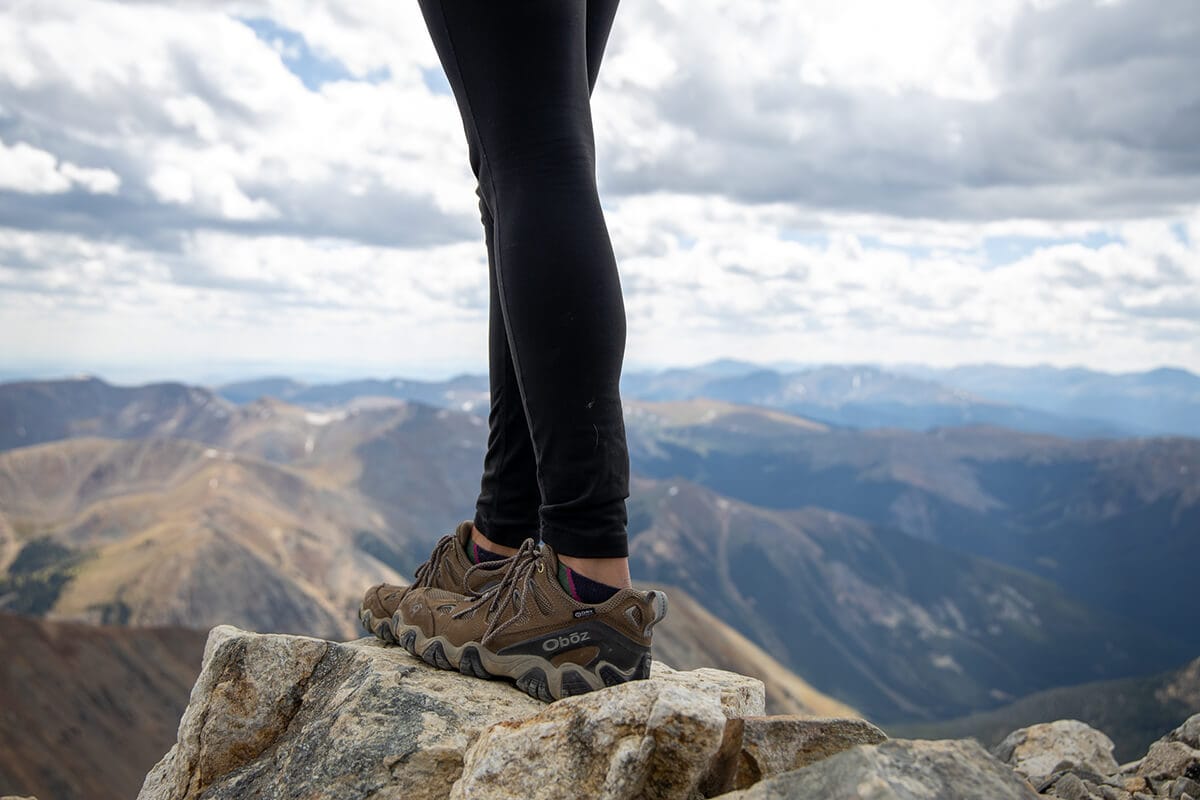 >> Read more about the best women's hiking boots & shoes in this guide to finding the right pair
---
Hiking Accessories
Sun Hat
A hat is key for being comfortable when hiking on sunny days – I almost never hike without one. Really any old hat will work as long as it's lightweight, comfortable, and protects you from the sun. I personally like wearing something that provides maximum sun coverage, and my #1 favorite sunhat is the Wallaroo Sedona Hat (Use the code BEARFOOT20 for 20% off). Alternatively, I'll hike in a regular baseball cap type of hat, like this Prana Trucker Hat.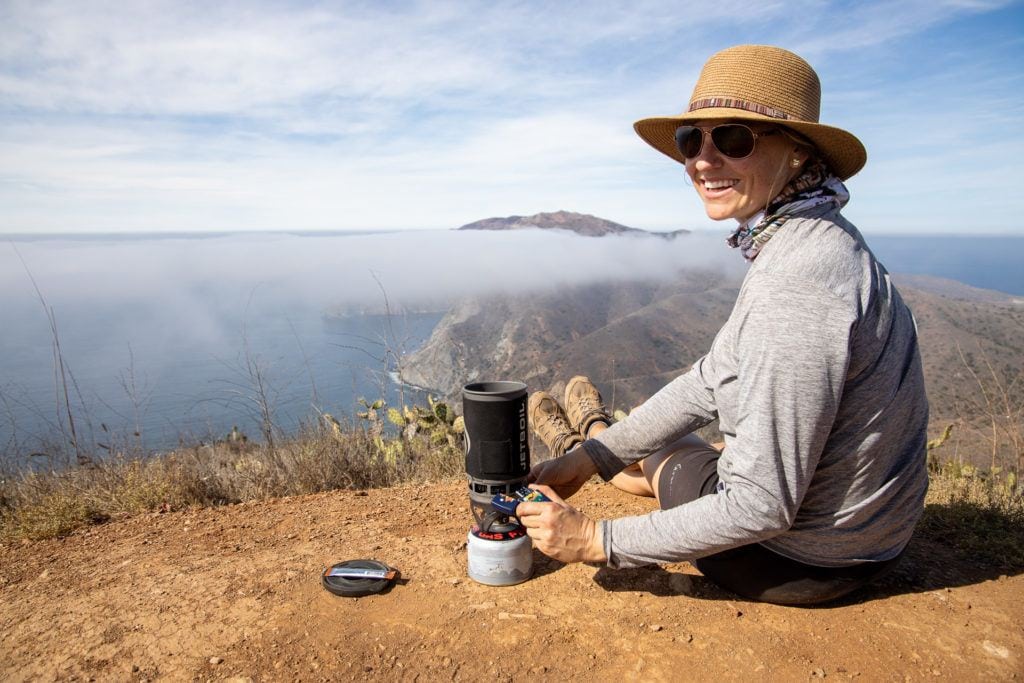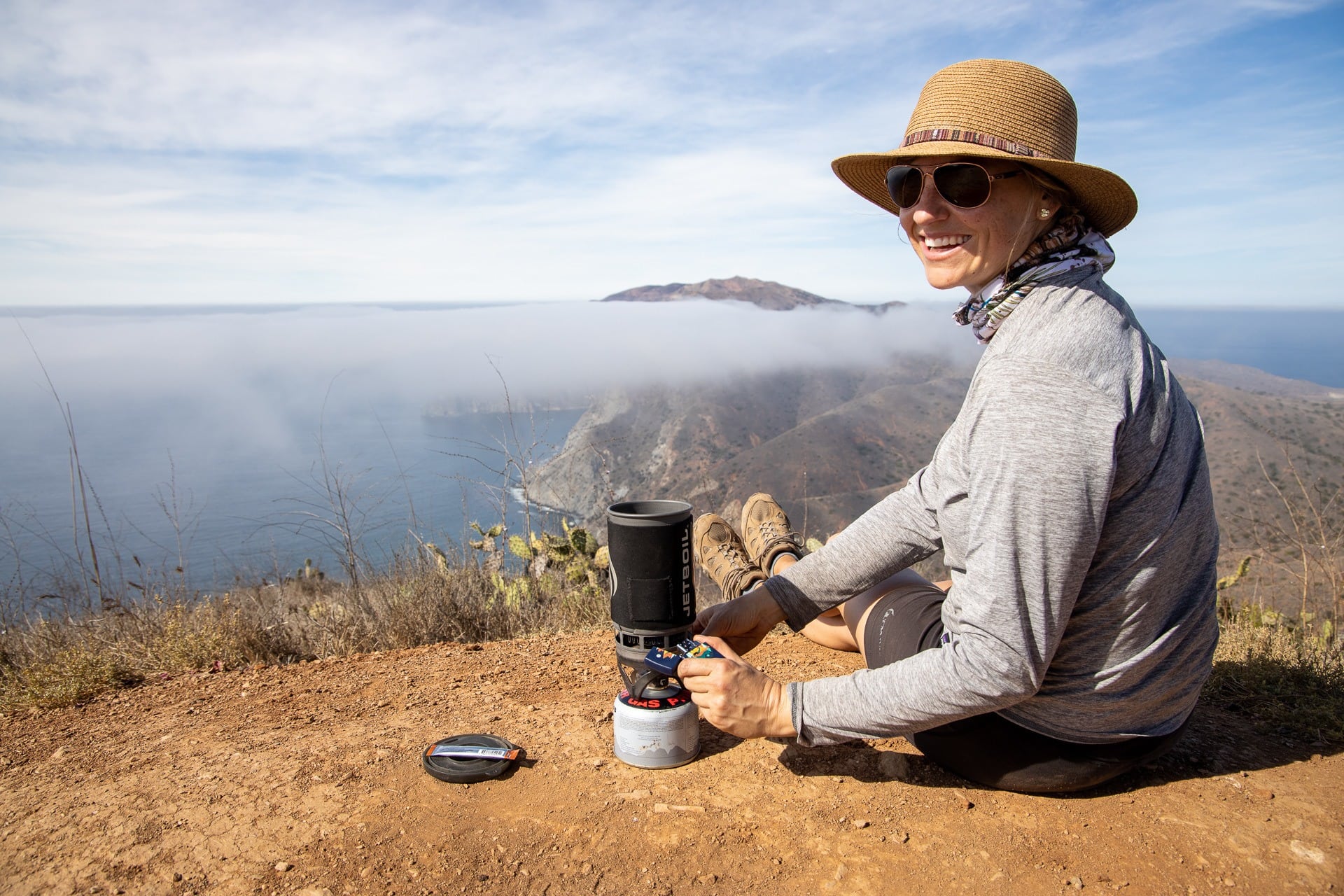 Buff
Ever since I did my Everest Basecamp Trek, I love wearing a Buff when I hike. A Buff provides extra sun protection on your neck, and they can be used to cover your face in the wind.
Check price: REI | Backcountry
Sunglasses
Any pair of sunglasses will do, but the pair I've been rocking for the last few years are the Oakley Feedback Aviators. They are lightweight and have no-snag nose pads, which means the nose pads don't get stuck on your hair! Plus they block 100% of harmful UV rays.
Check price: Backcountry | REI
Hiking Day Pack
Don't forget a daypack to carry your hiking essentials. I like the Osprey Mira 22 Liter Daypack for long day hikes so I can carry lunch, my camera, and extra layers.
>> See more options in our guide to the best daypacks for hiking
---
I hope this guide gives you a good idea of what to wear hiking so you can be comfortable and safe on the trail.
If you have a specific hiking destination in mind, here are some additional packing & gear lists to reference:
Do you have any hiking gear or clothing favorites? Let us know in the comments below!