7 Best Hiking Shorts for Women of 2023
Discover the best hiking shorts for women and features to consider such as material, breathability, and fit.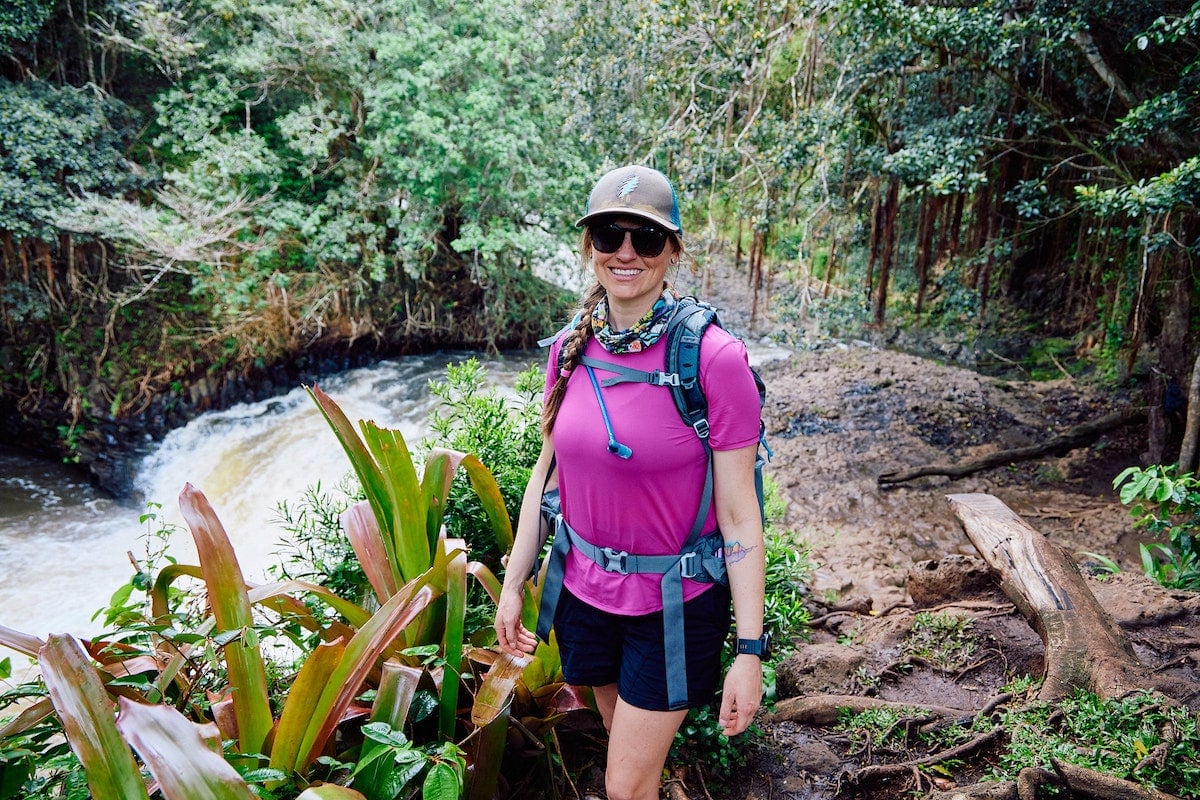 The days are warming up, the trails are calling, and it's time to trade in your trusty hiking pants for the breezy comfort of women's hiking shorts. But let's talk about why you might want to make that switch!
Hiking in shorts can give you a level of freedom and flexibility that is sometimes missed with the full coverage of pants or leggings. The breathability can also be a godsend on those hot summer hikes, keeping you cooler and more comfortable as you navigate your favorite trails. Plus, let's face it, there's something undeniably liberating about feeling the sun on your skin and the breeze on your legs.
But not all hiking shorts are created equal. In this blog post, we share our top picks for the best women's hiking shorts. At Bearfoot Theory, we're an all-women team who've spent countless hours on the trails, testing out different brands, styles, and materials, to bring you a list that features only the best of the best.
In addition, we share the key things to look for when choosing the right pair of hiking shorts. We explore features such as comfort, durability, pockets, and materials that stand up to the rugged outdoors to help you find the perfect pair of shorts for your next adventure.
---
---
The North Face Aphrodite Motion Shorts
Bearfoot Theory Team Favorite
What we like: dries quickly, great fit for all body types, wide waistband is comfortable & doesn't roll down, large pockets that fit an iPhone
What we don't like: run slightly large
The North Face Aphrodite Motion Shorts have quickly earned the top place in our hiking gear rotation for their exceptional blend of comfort, durability, and practicality.
These are the shorts that BFT founder Kristen & team member Linda often wear on their outdoor adventures. Crafted from a lightweight, quick-drying material, these shorts are designed to keep you comfortable no matter the weather conditions on your hikes.
Kristen loves that these shorts have a comfortable, wide waistband. The length is long enough to protect your thighs from uncomfortable chafing but not so long that they feel baggy or impair movement. But there's more than just comfort at play here.
With multiple secure-zip pockets, these shorts are great for keeping your essentials secure. We've put them through their paces on our most challenging hikes, and they've come out on top every time.
Mountain Hardwear Dynama 2 Shorts
Most Versatile Hiking Shorts
What we like: loose fit, abrasion-resistant fabric, comfortable waistband, designed with multiple outdoor sports in mind
What we don't like: side pockets are loose & things could fall out
When most brands design a pair of shorts, the shorts are intended for a specific use whether running, climbing, or hiking. But the Mountain Hardwear Dynama 2 Short is built to tackle everything. Plus, they're casual looking so you can easily wear them from trail to town.
While wearing these shorts, I was most impressed with their abrasion resistance. I often rock scramble or climb in shorts and they usually become unusable after a single season, but these shorts have held up better and seem like they'll last me season after season.
Equipped with a UPF 50 rating, they come with built-in sun protection. They're also lightweight, quick-drying, and have a durable water-repellent (DWR) finish, which makes them water-resistant in inclement weather.
Finally, these shorts come with an array of pockets including two front pockets, one back pocket, and a thigh-zippered pocket to keep all of your valuables safe.
REI Co-op Trailmade Shorts
Hiking Shorts with the Most Pockets
What we like: 6 functional pockets, UPF 50 sun protection, extended sizing available, great length
What we don't like: the plastic piece at the end of the elastic digs into your stomach if you are wearing a pack with a hip belt
The REI Co-op Trailmade Shorts are designed with the hiker in mind, featuring a durable, quick-drying fabric that's up to any challenge the trail may throw at you.
After BFT team member Courtney put the REI Co-op Trailmade Shorts to the test on the trails in California, we can confidently say that they're built to elevate your outdoor adventures. Plus, they're cute enough for everyday wear!
With ample pocket space, you'll have plenty of room to stash your trail essentials. These shorts have SIX pockets: 2 deep side pockets, 2 rear drop-in pockets, and 2 envelope thigh pockets.
What we really love is the incredible blend of comfort and practicality; the stretchy material allows for dynamic movement, and the adjustable waist ensures a perfect fit.
lululemon Wunder Train High-Rise Shorts
Best Biker Shorts for Hiking
What we like: high waistband that doesn't roll down, great coverage, 6″ and 8″ have large side pockets that fits your phone
If you prefer a stretchy biker-short style for hiking, we're obsessed with the lululemon Wunder Train Shorts. They're buttery soft, super comfortable, and come in a variety of lengths including 4″ (upper thigh), 6″ (mid thigh), and 8″ (lower thigh).
While the 4″ are great if you want something shorter, they do tend to roll up a bit. We recommend the 6″ for hiking because they're not too long and not too short, plus they stay in place better than the 4″ so you don't have to pull them down as you hike. If you want extra coverage that hits closer to your knee, pick the 8″.
The 6″ and 8″ Wunder Train shorts also have large pockets on the sides big enough for your phone and wallet which is super handy.
Designed with a high-rise waistband, they offer excellent coverage and comfort, staying in place as you navigate tricky terrain. Meanwhile, the four-way stretch material ensures that your movements are never restricted, whether you're climbing over a log or hiking up a steep incline.
One downside of these shorts is while the fabric is soft and comfortable, it's not super durable or snag resistant like some hiking-specific shorts. For lululemon fans, the fabric is thicker than the Align, but it's still not 100% snag-proof.
If you know the trail you're going to hike is overgrown or you're going to be brushing up against a lot of plants and rocks, you may want to wear something more durable.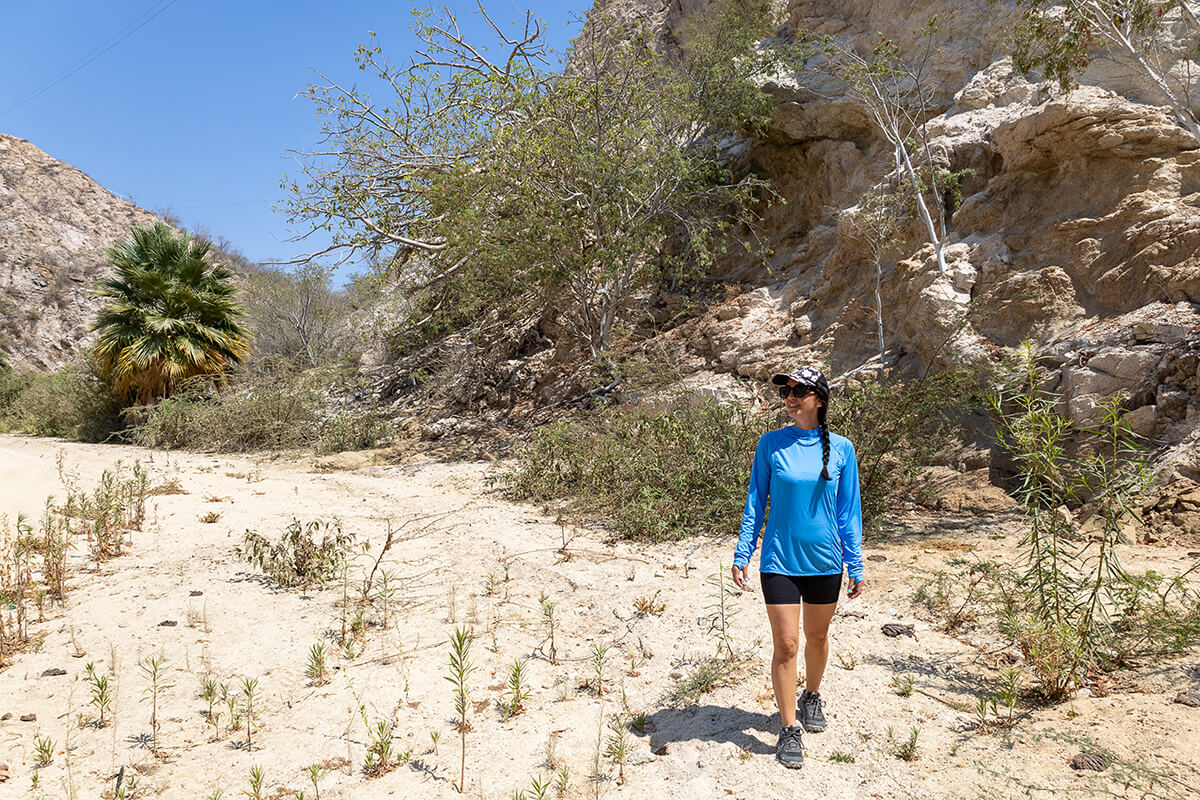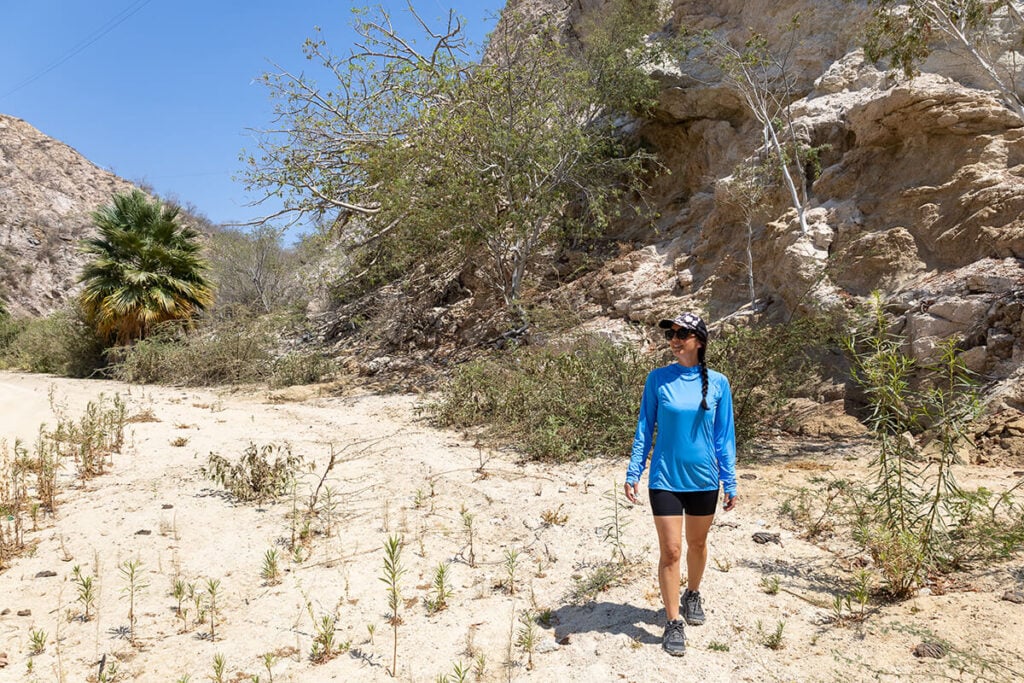 Smartwool Intraknit Active Lined Shorts
Most Chafe-Resistant Hiking Shorts
What we like: hidden pocket for your phone/wallet, the liner adds great chafe-resistance, extremely comfortable
What we don't like: longer dry times than other shorts due to double material
The Smartwool Intraknit Active Lined Short is an ideal pick for hikers that struggle with chafing (like me).
With a built-in long liner, these shorts give hiking legs another layer of thermal-regulating protection. I've worn these shorts in the gym, outdoors, and at home and their most striking feature is their comfort.
I've found that the liner, though made of wool, isn't itchy or uncomfortable at all. Instead, it's soft to the touch and naturally odor-resistant and moisture-wicking. Since I struggle with chafing, I also love that these shorts provide extra thigh coverage.
These shorts also have a regular fit with a mid-rise waist. Finally, the exterior zippered pocket is a great feature for storing my keys, ID, and phone that need to be safely packed away.
Nani Swimwear Hybrid Explorer Shorts
Best Hiking Shorts for Water Hikes
What we like: can double as swim shorts, loose-fitting & adjustable waistband, extremely uick-dry, flattering fit & cut
What we don't like: pockets are pretty small, higher cut on the side shows a lot of leg
The Nani Swimwear Hybrid Explorer Shorts truly live up to their name, seamlessly blending style, functionality, and comfort—making them a fantastic addition to your hiking wardrobe.
Kristen wore these shorts both to the beach and on waterfall hikes on her trip to Maui and loved how comfortable they were. Made from quick-drying, stretchy material, they are designed to move with you, whether you're clambering up rocky slopes or getting wet on a waterfall hike.
As they inevitably grow heavier from the saturation, you can cinch the clip on the elastic waistband to tighten and keep them in place.
Janji 3″ AFO Middle Shorts
Most Lightweight Shorts
What we like: super lightweight & quick-dry, breathable material, tons of color and print options, ideal for trail running
What we don't like: on the shorter side of shorts
There are few pairs of hiking shorts that can do it all, but the Janji 3" AFO Middle Shorts are one of them. These shorts come with a 4-way stretch material in order to support dynamic movement. While designed as running shorts, they're also ideal for hiking, trail running, and backpacking.
The first characteristic I noticed about these shorts is their bright, catchy style. They're colorful but tasteful. And when you slip them on, it quickly becomes evident that they're lightweight enough that you won't even feel them and they'll stay dry during intense hikes. Plus, weighing only 3 oz. they're perfect for backpacking trips where every ounce matters.
They are made out of a recycled polyester material that is extremely flowy and lightweight and the elastic waistband with an internal drawcord allows you to adjust the tightness as you go. One thing to note is these shorts do have a moisture-wicking liner.
Another way that these shorts stand apart from other products is in their color and print choices. These shorts are available in several different colors and prints, allowing you to take your pick from neutral colors to super creative and bold color options. Who doesn't love a little bit of creative expression with their hiking apparel?
---
What To Look For In Hiking Shorts
When you're looking to commit to a trusty pair of hiking shorts, it's all about focusing on the features that count for YOU.

Here's our guide to what you should consider when choosing a pair of shorts:
Material: Opt for quick-dry, breathable fabrics like polyester or other synthetics that can wick away sweat and keep you cool and dry. Cotton may be comfortable, but it can trap moisture and lead to some uncomfortable chafing.
Breathability: Seek out lightweight materials and styles that allow air to circulate. This helps keep things from getting, well, swampy, and cuts down on chafing too.
Abrasion resistance: The wilderness can be tough on clothes. Look for shorts that are durable and robust, able to withstand encounters with branches, rocks, or anything else the trail might throw at you.
Closure & pockets: While we love the ease of button and zipper-free shorts, don't discount the utility of a good zipper. Especially when it comes to pockets – a secure zip can make all the difference in keeping your valuables safe.
Fit: Movement is key on the trails. Look for shorts made from stretchy materials that allow you to jump, climb, and stride freely.
---
Hiking Shorts vs. Hiking Pants
Choosing between hiking pants and hiking shorts largely depends on a few key factors:
Weather Conditions: This is probably the most important factor. Shorts are excellent for warm and hot weather because they allow for better airflow, helping to keep you cool. Pants, on the other hand, are better suited for cooler temperatures, providing more insulation and protection against cold winds.
Trail Conditions: Consider the type of terrain you'll be hiking on. If you're hiking in areas with a lot of underbrush, nettles, poison ivy, or potential for ticks, pants can offer better protection. Conversely, in well-maintained or open trails, shorts should be sufficient.
Sun Protection: If you're hiking in areas with intense sun and little shade, long pants can help protect your legs from sunburn. However, many shorts are also made with UPF-rated fabrics for sun protection.
Comfort and Personal Preference: Some people simply find shorts more comfortable, while others prefer the feel of pants. Look for clothing that is comfortable and fits well. Consider factors such as how the material feels against your skin, how well it moves with you, and whether it chafes or irritates your skin.
Insect Protection: If you're hiking in areas with a high mosquito population or ticks, pants can provide better protection.
Abrasion Resistance: If you're planning on doing any scrambling or off-trail hiking, long pants can help protect your legs from scrapes and scratches.
Ultimately, the choice between hiking pants and shorts comes down to a combination of the expected conditions, your personal comfort, and the type of hiking you plan to do.
What are your favorite hiking shorts for women? Let us know in the comments!