12 Best Women's Hiking Hats of 2023
From wide-brimmed sun hats to lightweight caps, stay protected & stylish on your next outdoor adventure with the best women's hiking hats.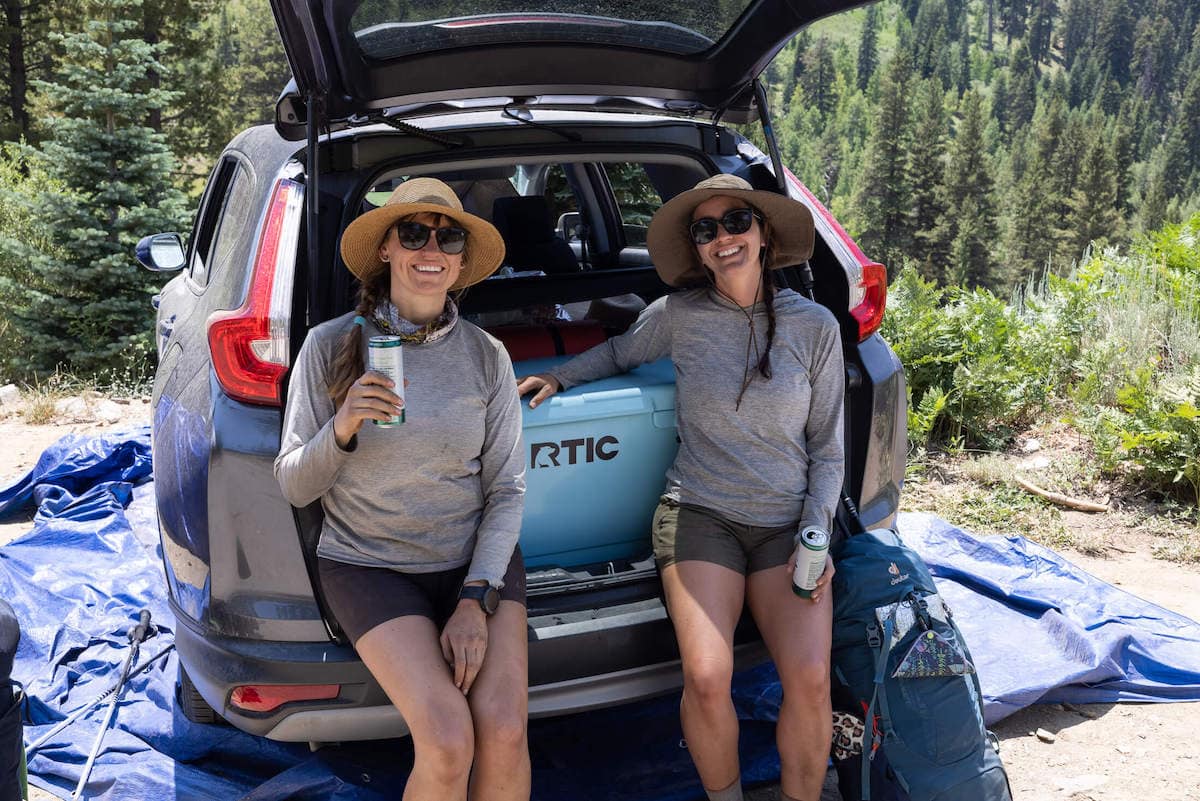 One essential piece of gear for any outdoor enthusiast is a good hiking hat, which not only protects you from the sun's harmful rays but also keeps you cool and comfortable in the outdoors.
In this blog post, we explore some of the best hiking hats for women, taking into account factors such as sun protection, breathability, and style, so you can find the perfect hat for your next outdoor adventure.
Whether you're planning a day hike or a multi-day backpacking trip, read on to discover the best hiking hats for women, handpicked by the all-women team here at Bearfoot Theory.
---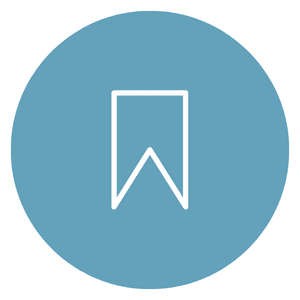 Best Women's Hiking Hats At A Glance
---
Wallaroo Sedona Hat
Bearfoot Theory Team Favorite
*Use the code BEARFOOT20 to get 20% off your Wallaroo purchase!*
Great for: Casual hiking and backpacking, trail-to-town wear
What we like: Stylish, good sun coverage, internal drawstring around the crown allows for a perfect fit, foldable brim
What we don't like: Paper braid material isn't ideal for wet or sweaty conditions, no chin cord for windy weather
The Wallaroo Sedona Hat has long been a favorite here at Bearfoot Theory. I love how stylish it is, yet it can still be worn on hikes, backpacking adventures, hanging at the beach, and on everyday activities.
I've been wearing my Wallaroo hat for years it holds up well to all outdoor pursuits and traveling. It's also my go-to hat for van life. That being said, it is made from paper braid material, so it's not the right hat choice for wet or really sweaty conditions.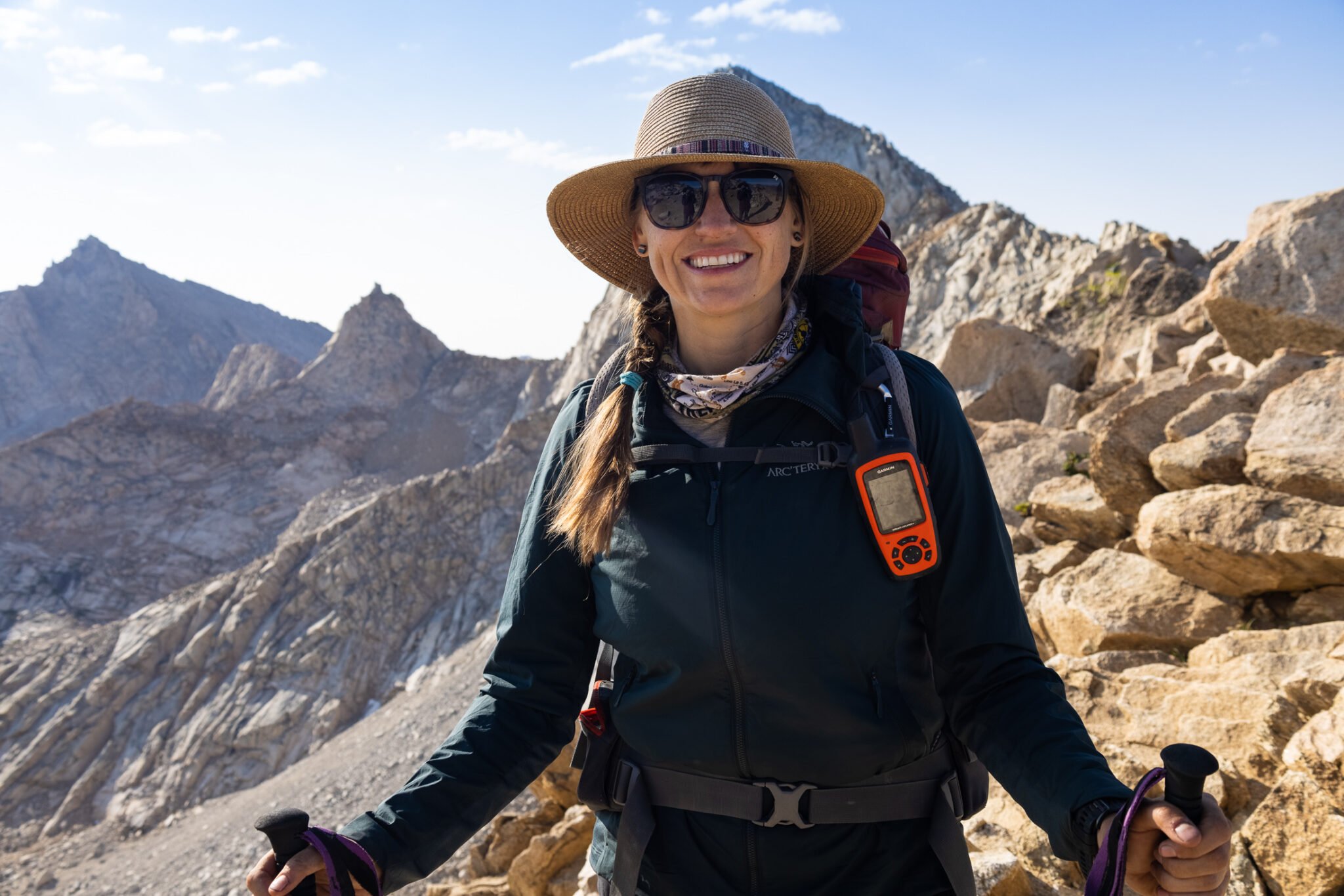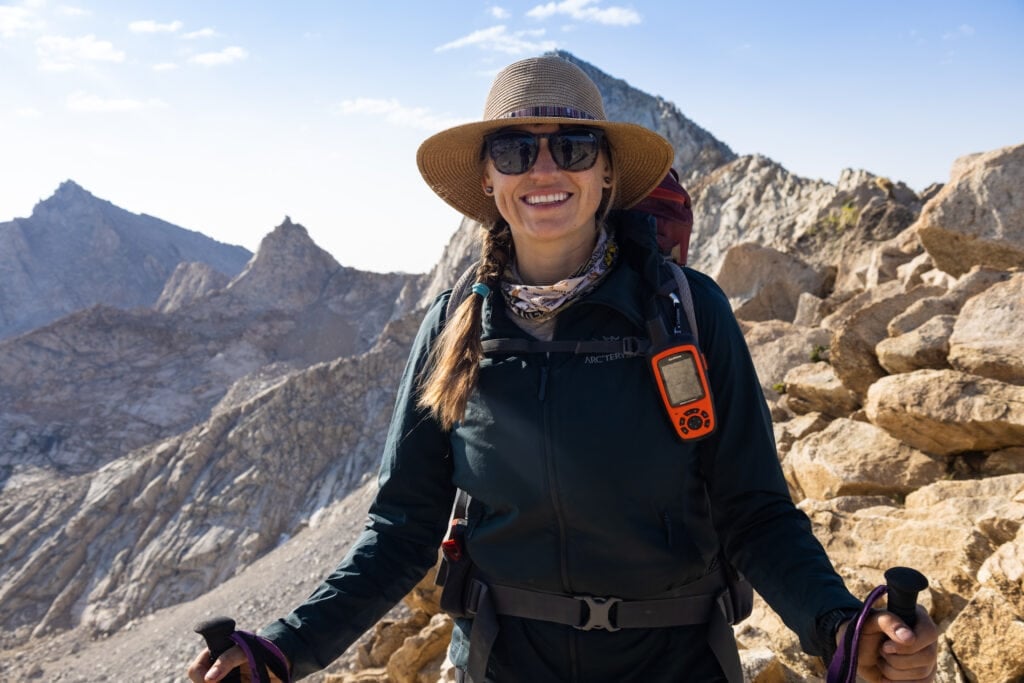 Pistil Mina Sun Hat
Best Hat for Backpacking
*Use the code BEARFOOT20 to get 20% off your Pistil Designs purchase!*
Great for: Hot, exposed day hikes, multi-day backpacking trips
What we like: Excellent sun protection, synthetic material is lightweight and dries quickly, very comfortable
What we don't like: Floppy brim doesn't stand up to wind well, several reports that the leather cord breaks after minimal use but we have not experienced that.
The Pistil Mina is the hat that Bearfoot Theory's Director Linda packs on nearly all her hiking, camping, and backpacking trips because it's so versatile, comfortable, and easy to pack. It's really cute and stylish for a hiking hat too!
The wide brim, lightweight synthetic material, and leather chin strap make it ideal for both sunny day hikes and multi-day backpacking adventures. It also packs down completely flat and doesn't lose its shape, like some other hiking hats.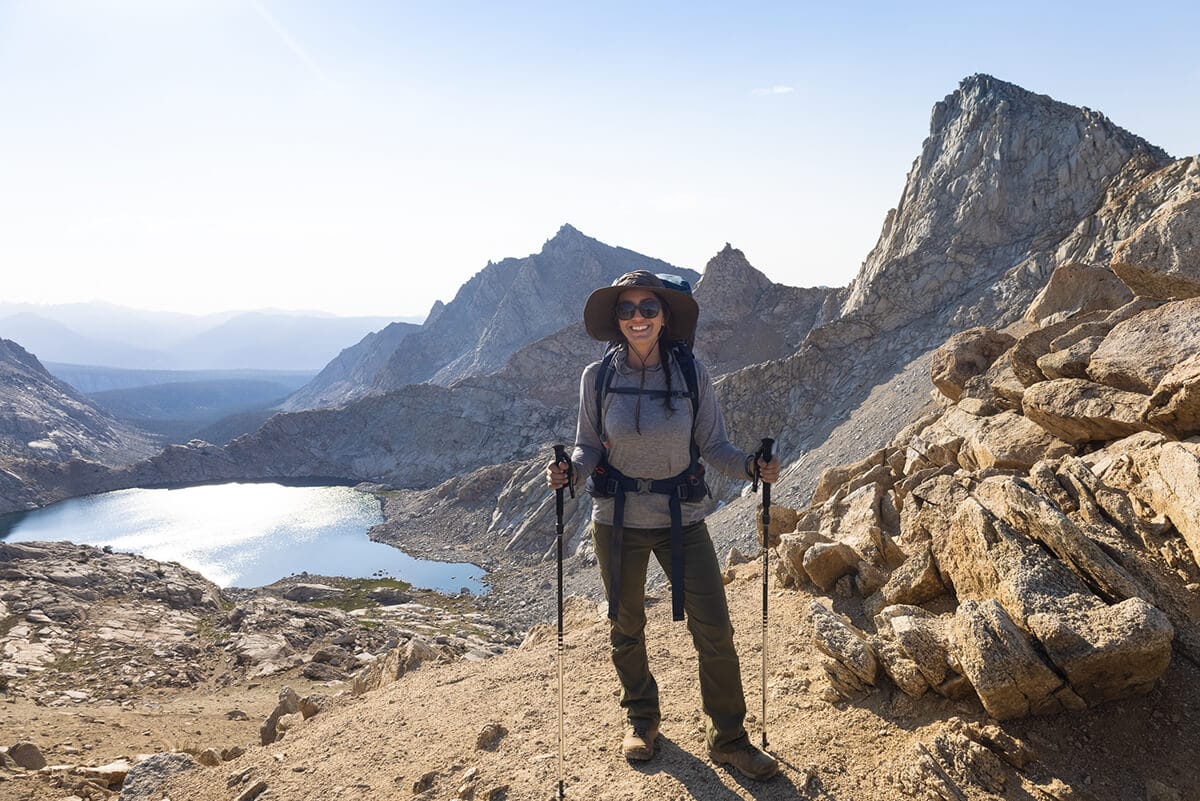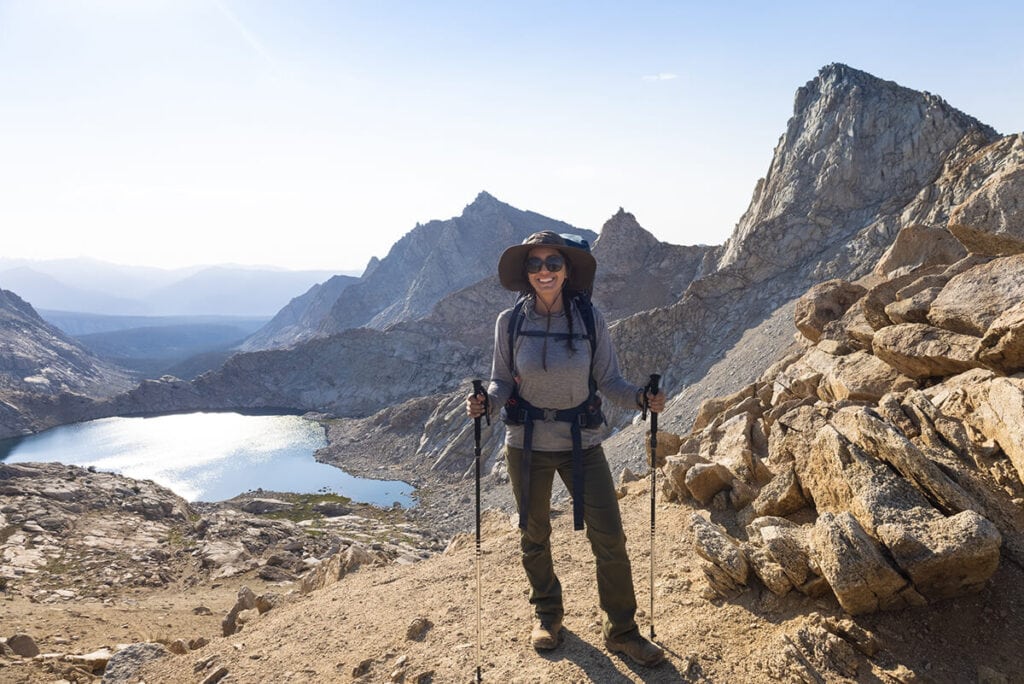 Patagonia Quandary Brimmer Hat
Most Versatile Hiking Hat
Great for: Hiking, backpacking, camping, travel
What we like: Wide brim for sun protection, lightweight, quick drying, and breathable
What we don't like: Not a large color selection
The Patagonia Quandary Brimmer hat is a great unisex, versatile hiking hat. The casual look it provides makes it great for both more strenuous activities like day hikes and backpacking trips but also walks, camping trips, travel, and other outdoor adventures.
This hat is designed to keep you cool with a breathable mesh liner and vented crown, plus it's also quick drying so sweating in it and getting it wet is no problem. The wide brim will keep the sun off your face and neck and it has a durable water-repellant finish for light rain protection.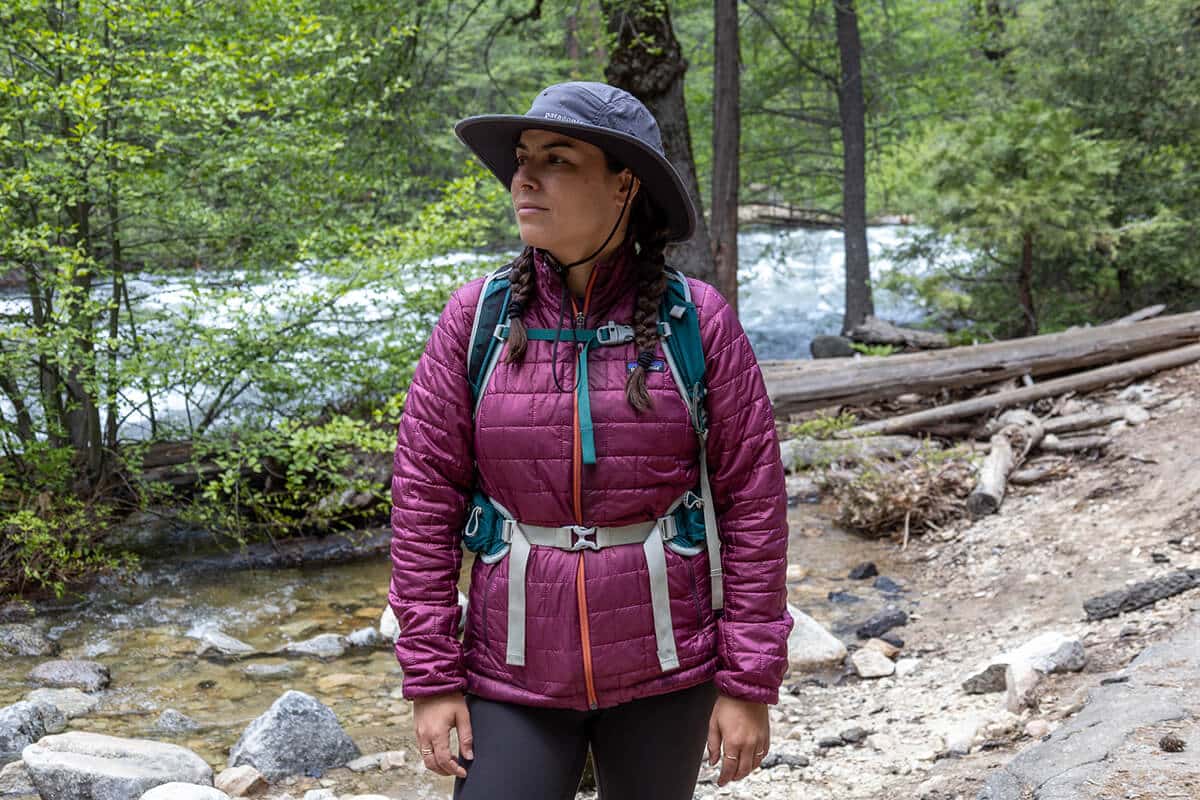 Outdoor Research Mojave Sun Hat
Best Desert Hiking Hat
What we like: Super wide brim for sun protection
What we don't like: Made from cotton, so not a great choice for strenuous hikes or humid weather
Keep your face shaded on exposed desert hikes with the wide-brimmed Outdoor Research Mojave sun hat.
Unlike the other hats on this list, the Mojave sun hat isn't a great choice for strenuous day hikes or multi-day adventures, but it does excel at casual walks in desert landscapes.
We also love that it's cute and stylish, so you can easily wear it from trail and town.
Sunday Afternoons Ultra Adventure Hat
Best Sun Hat for Neck Protection
Great for: Hot & exposed hiking and backpacking, kayaking, and other water sports where having quick dry material is best
What we like: Excellent neck protection, built-in sunglass sleeves, foldable brim
What we don't like: The sunglass lock is a little hard to use
Sunday Afternoons is known for making great adventure-ready hats and their popular Ultra Adventure Hat is no different.
Designed for long days out in the sun from hiking trails to paddling rivers, this hat protects the back of your neck thanks to its 6-inch neck cape.
It also has an integrated sweat liner to wick away sweat and two slots on either side of the crown to store your sunglasses (disclaimer: this feature can be tricky to use the first couple of times you try it).
Join our community for access to our free member resources!
Download Handy Outdoor Packing Checklists & Trip Planning Guides
Patagonia P-6 Hat
Best Trucker-Style Hiking Hat
Great for: Those who prefer a more traditional-style cap
What we like: Mesh back provides good ventilation and the brim is made from recycled fishing nets
What we don't like: Doesn't provide 360° sun protection
Patagonia is a brand favorite here at Bearfoot Theory for their commitment to fighting climate change and using recycled materials. So it's no surprise that the Patagonia P-6 cap made our list of the best hiking hats.
This trucker-style cap has a classic look for those who prefer a baseball cap over a sun hat. It also has great ventilation thanks to the mesh crown, but it does lack 360° sun protection, so you may want to pair it with a buff to protect your neck from UV rays.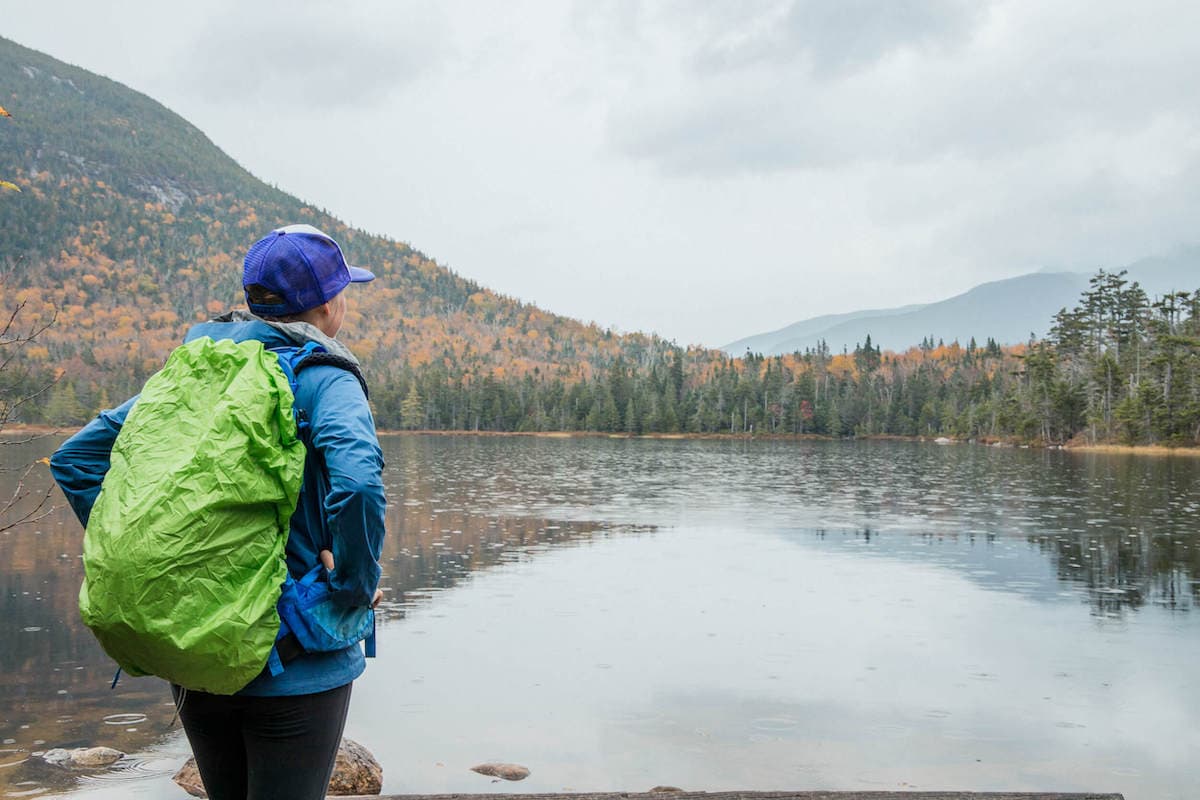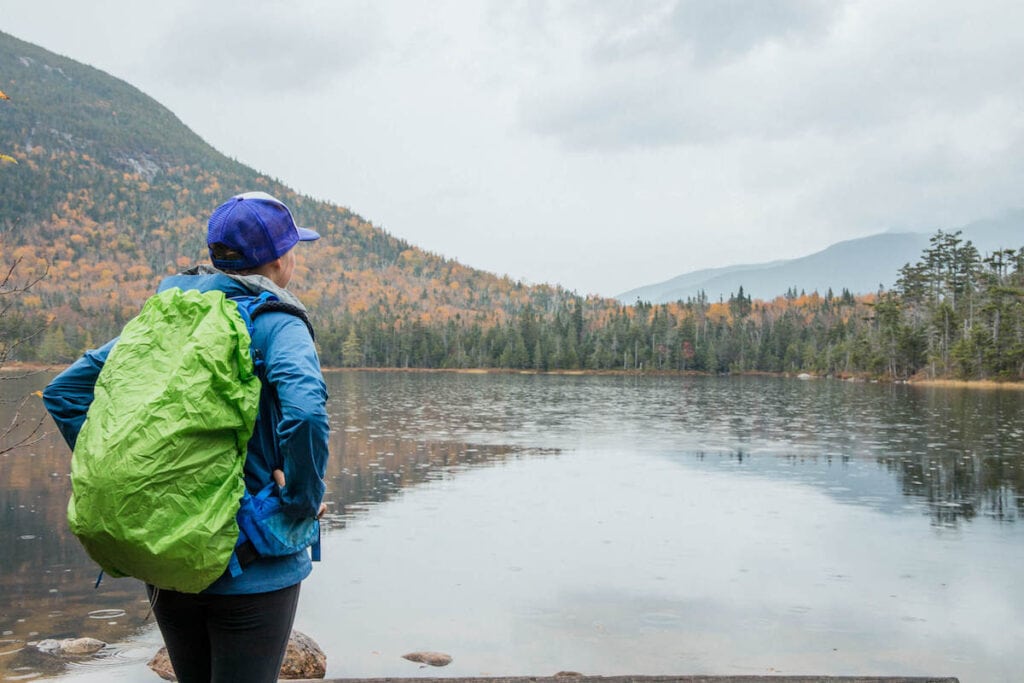 REI Co-op Sahara Rain Hat
Best Waterproof Hiking Hat
Great for: Wet weather hiking and backpacking
What we like: Fully seam-taped for full waterproofing, brim folds up on either and snaps into place for a different look, longer in the back for extra sun protection
What we don't like: Only one color choice
There's a saying amongst the outdoor community that goes "there's no such thing as bad weather, just bad clothing!"
Don't let stormy skies keep you from heading out on your hike. It's important to dress appropriately, though, with a good rain jacket, layers, and a waterproof hat to keep the drizzle from dripping into your eyes.
We love the REI Sahara Rain Hat for wet-weather hiking because it's fully waterproof, yet still quick-drying and breathable. It's also an inch longer in the back to keep raindrops from spilling down your spine, which is much appreciated.
Outdoor Research Swift Cap
Best Hiking Baseball Cap
Great for: Day hikes and multi-day backpacking trips, trail running, humid weather
What we like: Mesh panel provides great ventilation, lots of color choices, lightweight and quick-drying
What we don't like: No sun protection on the neck
For hikers that prefer a cap-style hiking hat, look no further than the Outdoor Research Swift Cap. This no-frills hat is simple yet effective. It's designed with a large mesh panel for excellent ventilation and is super lightweight and dries quickly.
If you're looking for a hiking hat that you can throw in your pack for everyday adventures, this might just be the one.
REI Sahara Bucket Hat
Best Hiking Bucket Hat
Great for: Day hikes, backpacking trips, water sports, windy conditions
What we like: Quick-drying fabric, floatable brim, good ventilation around the crown, fits larger heads
What we don't like: Not much!
The REI Sahara Bucket Hat is a good compromise for hikers who don't want a wide-brimmed hat but still want some sun protection on the face.
With a brim width of 2.5″ all around, it shades the face from direct UV rays. We also love that it's made of lightweight polyester material that dries quickly and can easily be stuffed in a pack when not needed.
Unlike a lot of hats, this one comes in two sizes (S/M and L/XL) and it has a drawstring around the crown so you can be sure to get the perfect fit.
Tilley LTM2 Airflo Wide Brim Hat
Best Stylish Hiking Hat
Key Features
Where to shop
Great for: Hikers and backpackers looking for a high-quality, stylish hat that will last a long time
What we like: Head circumference-specific sizing, Tilley's lifetime warranty, hidden pocket in the crown
What we don't like: Pricey for a hiking hat
Tilley has a bit of a cult following when it comes to their hats, and for good reason: they are extremely well-made. In fact, Tilley is so confident in their hats that they offer a lifetime warranty (you do need to register your hat within 60 days of purchase to be eligible).
Want to join the Tilley family? The Tilley LTM2 Airflo Wide Brim Hat has one of the widest stiff brims available, making it a great choice for sunny day hikes and backpacking adventures.
Patagonia Airshed Visor
Best Hiking Visor
Great for: Trail running, hikers who prefer a visor, shady or semi-shady hikes
What we like: Open-top ventilation, long bill to shade the face, moisture-wicking headband liner
What we don't like: No sun protection on the neck or shoulders, no UPF rating, no chin strap to secure hat from wind
Some hikers and trail runners prefer a visor instead of a hat because they are lightweight, low-profile, and secure.
The Patagonia Airshed Visor is our pick for hiking visors because it's specifically designed for active outdoor adventures. The 100% recycled polyester material is moisture-wicking and quick-drying and it also has an internal sweatband to keep sweat from dripping into your eyes.
The downside to visors is that they don't provide 360° UV protection, so be sure to protect your face and shoulders in other ways.
Outdoor Research Bug Bucket Hat
Best Hiking Hat with a Bug Net
Great for: Mosquito season, buggy hikes and destinations
What we like: Integrated bug screen tucks up under brim when not needed, packs down small into its own stuff sack
What we don't like: Brim isn't as wide as other options on this list, no chin strap
Mosquitos and biting no-see-ums can really put a damper on an otherwise great hike. Be prepared for annoying insects with the Outdoor Research Bug Bucket Hat.
This hat has an integrated bug screen that protects your face and neck from insects that is perfect for those extra buggy early season hikes and backpacking trips.
When not needed, the bug net tucks neatly up under the brim and the hat transforms back into a bucket-style sun hat. Magic!
If you want a wider brim, check out the Outdoor Research Bug Helios.
Kühl Alf Hat
Best Hat for Cold Weather Hiking
Great for: Cold weather hiking
What we like: Soft microfleece ear flaps, chin strap for windy days, can layer underneath a brimmed hat for sunny days
What we don't like: Not much! This is a great winter hiking hat
Don't let cold weather keep you indoors. You've probably heard that you lose a ton of heat through your head, so keep your crown nice and warm with the Kühl Alf Hat.
Made with soft microfleece material, it features long ear flaps to protect your ears from wind and cold. It also has a chin strap to keep the ear flaps secure from gusts of icy wind.
If it's a sunny winter day, the Alf hat is low-profile enough to fit under your brimmed hiking hat to protect your face from the sun and glare.
---
What to Look for In a Women's Hiking Hat
When shopping around for the best hiking hats, you'll want to take into consideration these features:
Materials
Quick-drying | Sweat-wicking | Packable
Like hiking clothes, you'll want to choose a hiking hat that is made from lightweight, quick-drying materials. Most hiking hats are synthetic, which is great for wicking away sweat, drying fast, and packing down small.
If you do choose a non-synthetic material like cotton or the paper braid of one of our favorite hats, the Wallaroo Sedona hat, it's best to use them on cool and dry-weather hikes.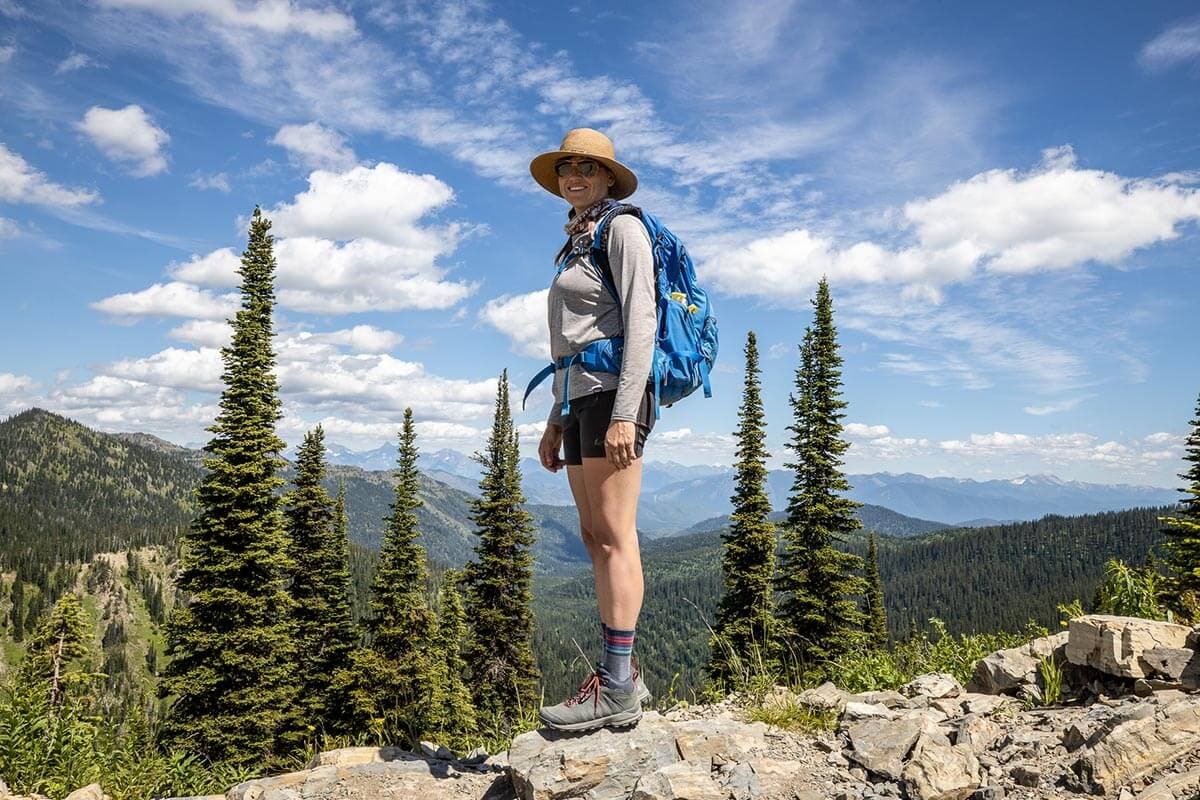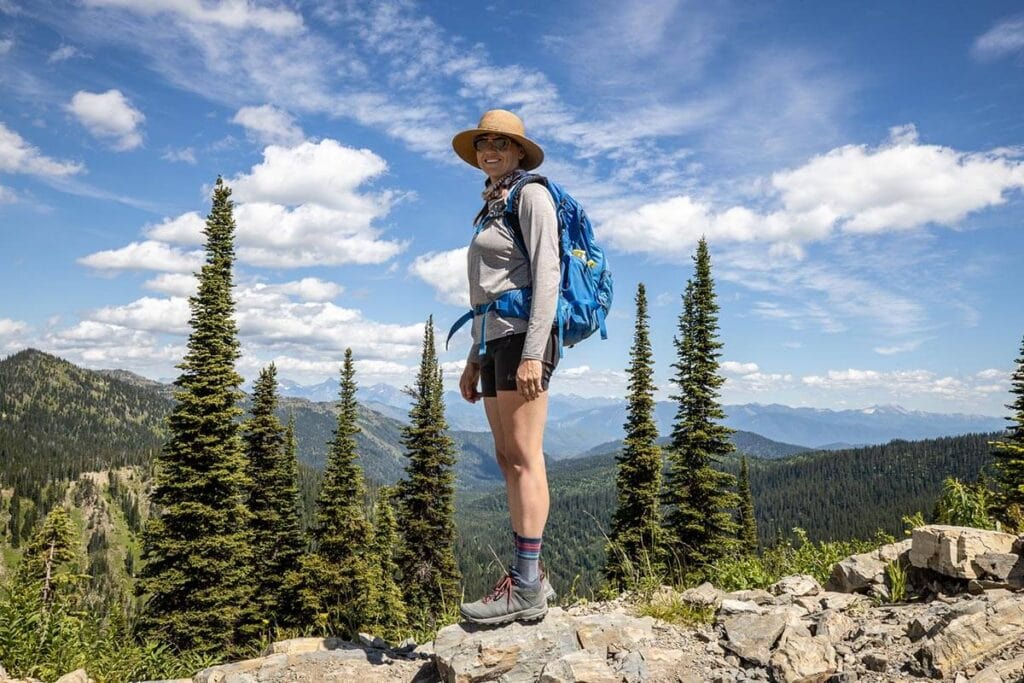 Ventilation
Mesh crowns | Breathable material
You've probably heard that we lose a lot of our body heat through our heads, so it's important to choose a hat that has good ventilation for warm days on the trail.
Many hats are designed with mesh material around the crown while others are constructed from lightweight, breathable materials.
Width of brim or length of bill
Wide brims will provide more shade
The width of the brim or length of the bill is going to determine how much sun protection your face and shoulders will get. A wide-brim hat like the Tilley LTM2 AirFlo features a 3.8″ brim in the front and back and 3.5″ brim on the sides.
If you choose a cap-style hat with just a front bill, be aware that it will not provide shade on your neck, so you may want to pair it with a lightweight buff.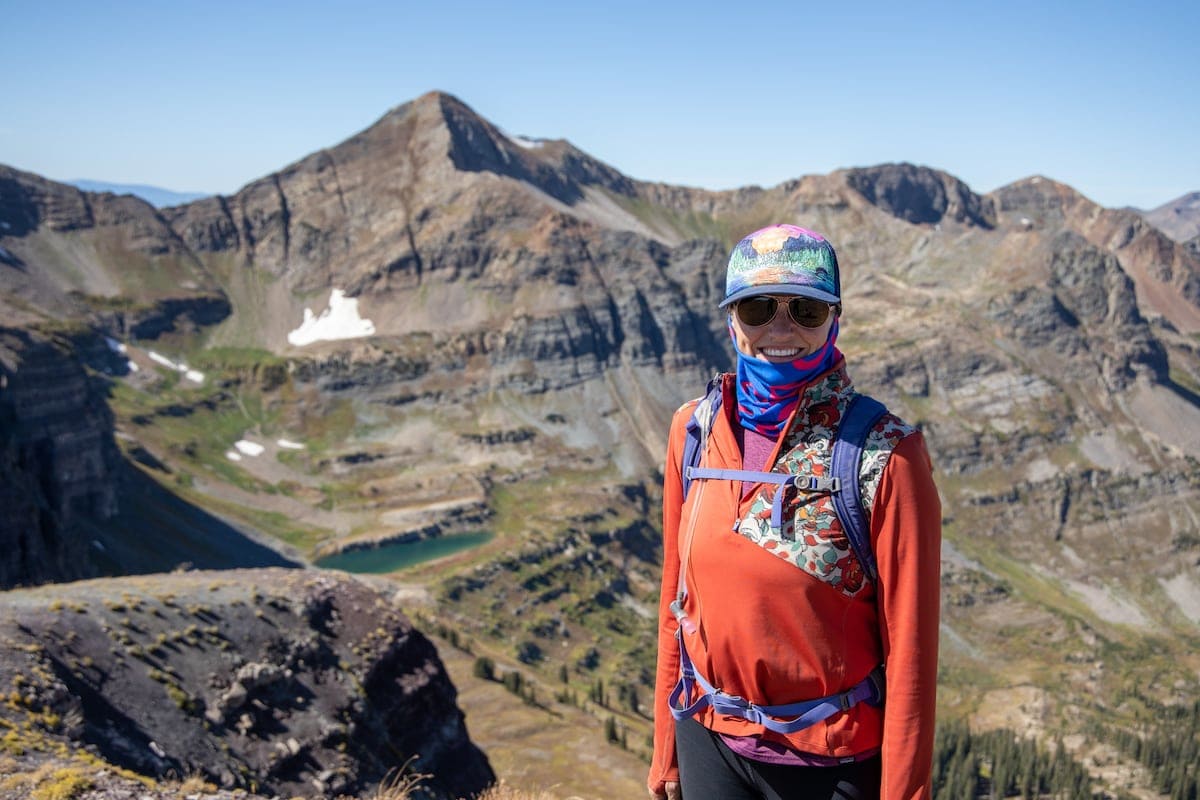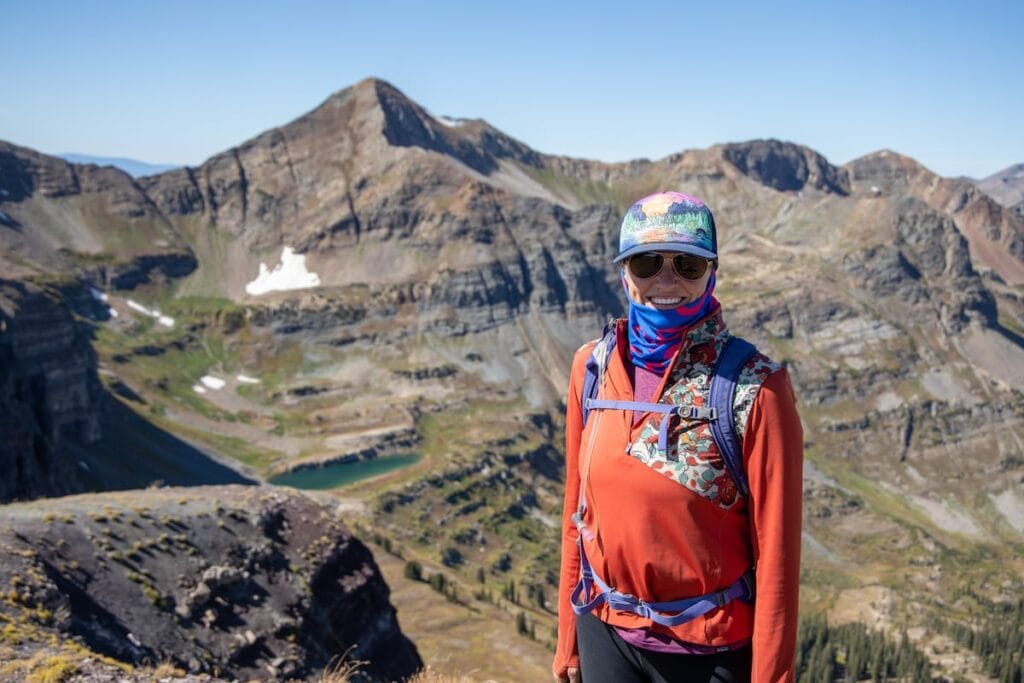 Adjustability & Chin Strap
Crown drawstring | Rear snap strap
Choosing a hiking hat that can be adjusted to fit snugly on your head is an important consideration for windy hikes or if you plan on wearing it out on the water.
Most hats will come with a chin strap to prevent it from flying off your head, but not all are designed with a crown drawstring or other mechanism to tighten it against your head.
UPF Rating
Depends on hat material
UPF ratings for hats are determined by the material it is made from. Some hiking hats have a UPF rating of 30-50+ while others are not made from the appropriate materials.
Packability
Flexible material
We recommend choosing a hiking hat that can be folded or stuffed into your pack when you're traveling or when the clouds roll in and stay.
Some hats that are made with stiff brims or bills are not meant to be folded, so be sure to read the descriptions before purchasing.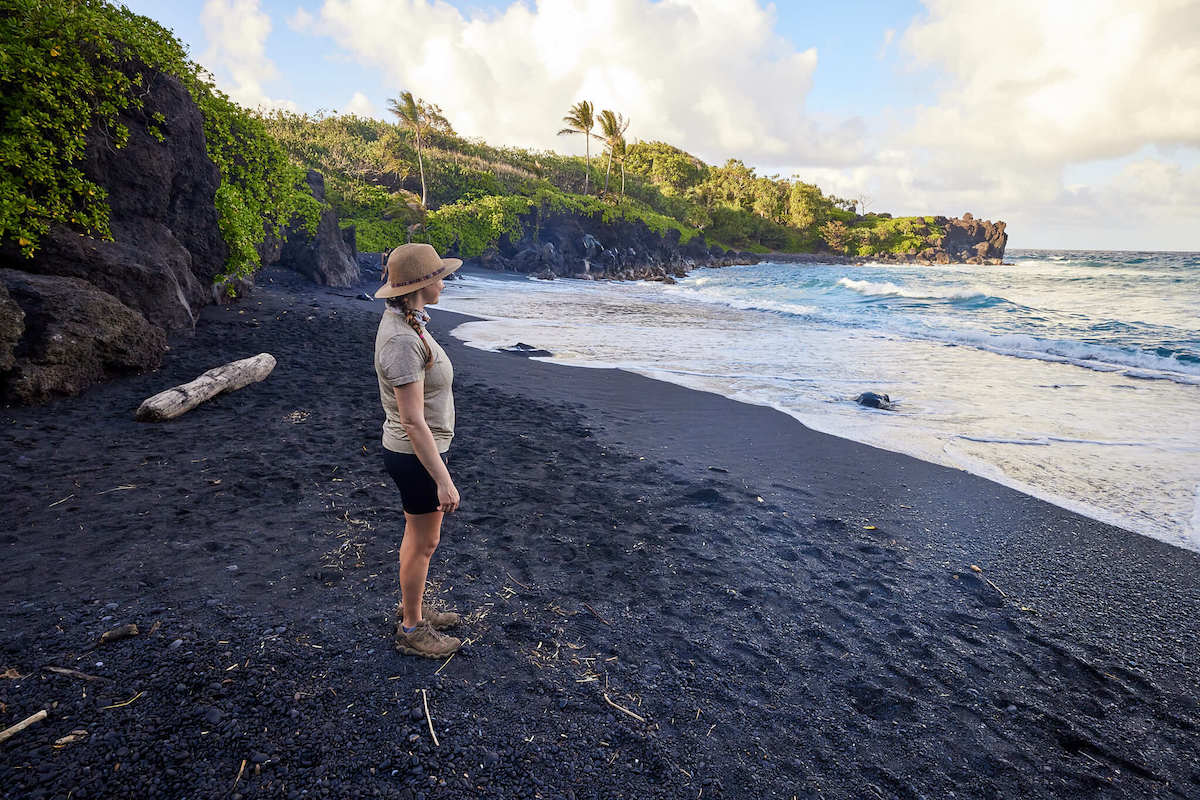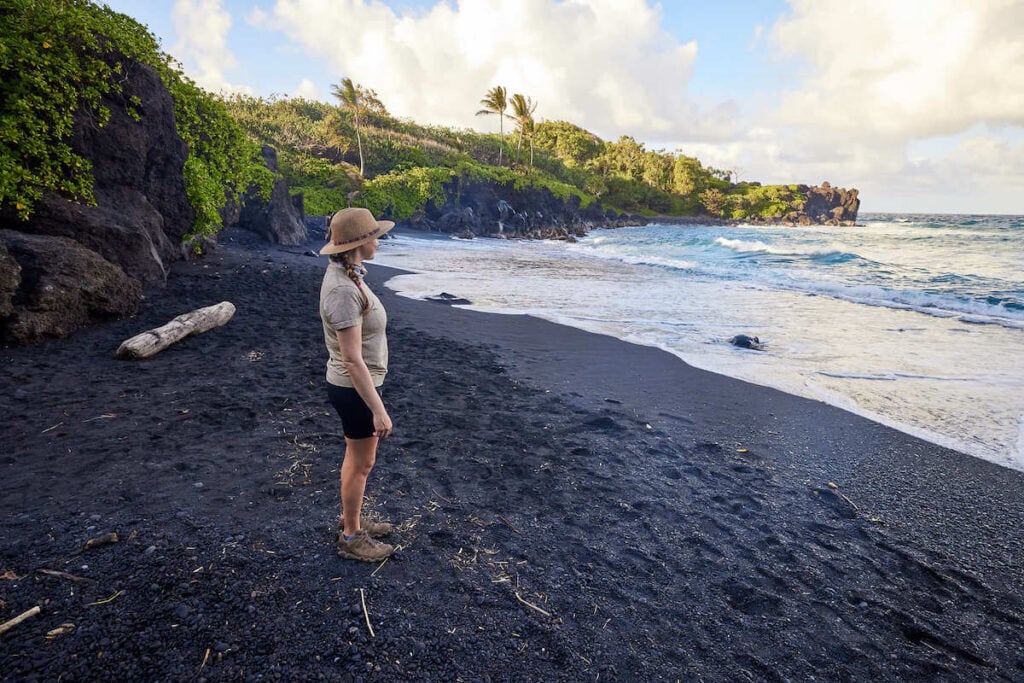 Does it float?
Foam insert | Semi-stiff brim
If you'll be spending time out on the water with your hiking hat, consider getting one that floats. The last thing you want is for your hat to blow off with a gust of wind and watch it sink to the bottom of the lake!
Hats that have a thin foam insert or a semi-stiff brim like the REI Sahara Rain Hat are designed to float on the surface of the water so you can retrieve it without getting wet.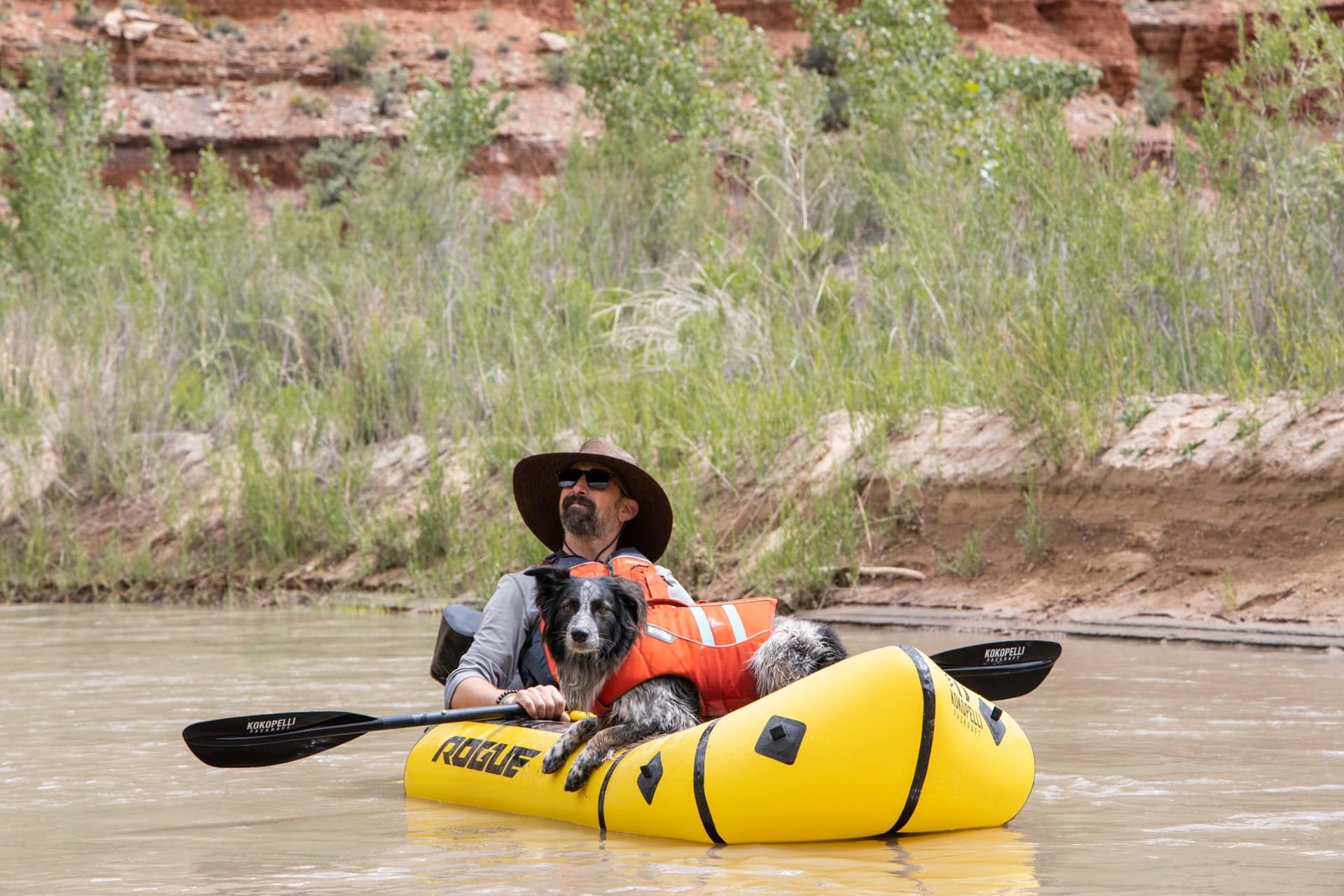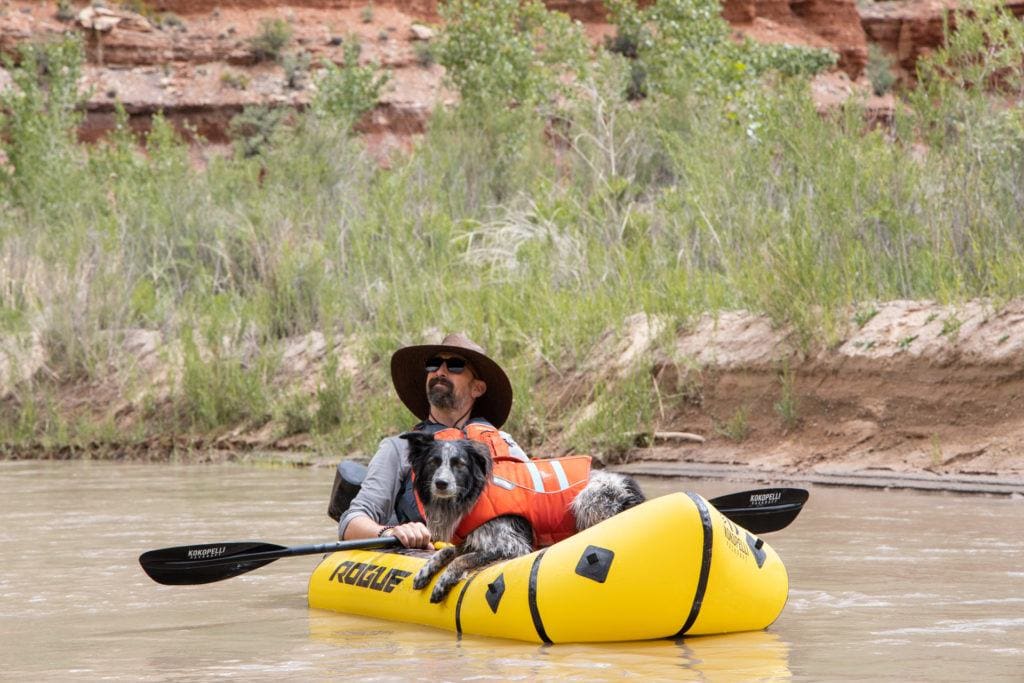 Durability
High-quality | Made to last | Warrantied
Like all the gear we recommend here at Bearfoot Theory, we want our hiking hats to be durable and high-quality so they last many seasons.
Tilley hats are expensive, but they're also guaranteed for life because they're made from durable and high-quality materials. The other hats we recommend on this list are also designed for outdoor wear and adventures, so they're made to withstand the elements.
---
Recommended Hiking Packing List
Below are a few of my favorite pieces of day hiking gear and recommendations:
Looking to upgrade your gear closet or need some new things for this hiking season? Check out our related hiking gear posts:
We hope this post helps you choose the best hiking hat for your adventures! Do you have a favorite that we didn't list? Which one is it and what do you love about it? Leave a comment below!