As many women know, finding a pair of hiking pants that fit well and perform well can be a frustrating task. There are so many different styles, brands, and fabrics to choose from. To make your search easier, we've laid out this guide to the best women's hiking pants that are comfortable to hike in and look good in a variety of different styles so you can go from the trail to town with ease.
Whether you prefer to trek in full-length hiking pants, convertible pants with zip-off legs, capris pants that fall mid-calf, or simple leggings, there is something for every hiker on this list.
Note: This post links to and references some of our brand and affiliate partners. As always we only recommend products we truly love, and we greatly appreciate your support!
Best Women's Hiking Pants At A Glance
Most Versatile Women's Hiking Pants
prAna Halle II
Key Features:
UPF 50 sun protection
Pants Rise: Mid
Leg Style: Bootcut
Inseam: 30, 32, 34 in
Price: $95
Check Price: REI | Backcountry | Moosejaw
Great for: hiking, backpacking, travel
Pros: numerous large pockets, zippered phone pocket, stretchy material that doesn't snag easily, can roll up to become capris with snap
Cons: runs slightly large (consider ordering a size down)
The prAna Halle Pant has become a very popular staple for many outdoor women and in 2022, an updated version was released, making it even better. The Halle Pant is now made from a recycled nylon performance fabric, making it incredibly durable and stretchy – plus more eco-friendly. The quick-dry material dries fast and is comfortable and easy to hike in.
There are five pockets to carry snacks and gear in and the cuffs roll up and snap into place for those warm days. The front pockets are deeper and more functional than the original version and include a zipper so you can keep valuables secure. They've also added an additional pocket on the left hip pocket (about the size of a credit card) which is good if you want somewhere to put your ID.
The Halle Pant also comes in several styles including straight leg, jogger, and plus sizes. They fit just right, not too baggy and not too tight, and with a ton of styles and sizes available, this is one of the most versatile women's hiking pants on the market.
BFT Reader Favorite
The North Face Aphrodite 2.0
Great for: hiking, travel, everyday wear, curvy women
Pros: fabric keeps you warm in cool temperatures and cool in warm temperatures, breathable & lightweight, stylish for trail-to-town, room to wear a base layer underneath in cold temperatures
Cons: No UPF sun protection
The North Face Aphrodite 2.0 is a great women's hiking pant option for those looking for something super comfortable and breathable. Using technical FlashDry XD™ fabric, these pants keep you cool and dry on the trail no matter what season. The fabric is also super durable, protecting your legs from trailside brush and helping to prevent those annoying rips and snags. You can cinch the waistband and ankles to find your perfect fit, and these pants also come in a jogger and capri. These are also the #1 pick for women's hiking pants from our BFT readers!
Full-length women's hiking pants are a great option for pretty much every type of hiking from multi-day backpacking trips to local day hikes with friends. Even during warmer weather, full-length pants provide a layer of protection that will help prevent scratches from trailside brush, keep your legs from getting sunburned, and prevent bug bites.
Best Weather-Resistant Women's Hiking Pants
Arc'teryx Gamma LT
Key Features:
Other styles: Tall
Pants Rise: Mid
Leg Style: Straight
Inseam: 30.5, 31, 31.5 inches
Price: $180
Check Price: REI
Great for: shoulder season hiking, PNW hiking, backpacking
Pros: hold up well in wet & windy conditions, deep zippered pockets, adjustable string in the waistband, water-resistant fabric
Cons: fabric pills with extended wear, no UPF protection
I own the softshell Arc'teryx Gamma LT hiking pants and they are one of my favorite pairs of women's hiking pants. They are relatively flattering and I can layer another baselayer underneath if I'm hiking in cold temperatures. I've tested them in rain and snow in Colorado, and while I wouldn't say they are totally waterproof, they will keep you dry during short bursts of weather and are the next best thing vs. rain pants.
While the pants themselves aren't too thick, they are durable and I don't worry about them snagging if I'm sitting on sharp rocks and they also protect against the wind. I like the zippered pockets that are deep enough to store a snack in. The belt and wa
istband are comfortable and don't dig into my waist. I wear an 8 and find them to be true to size.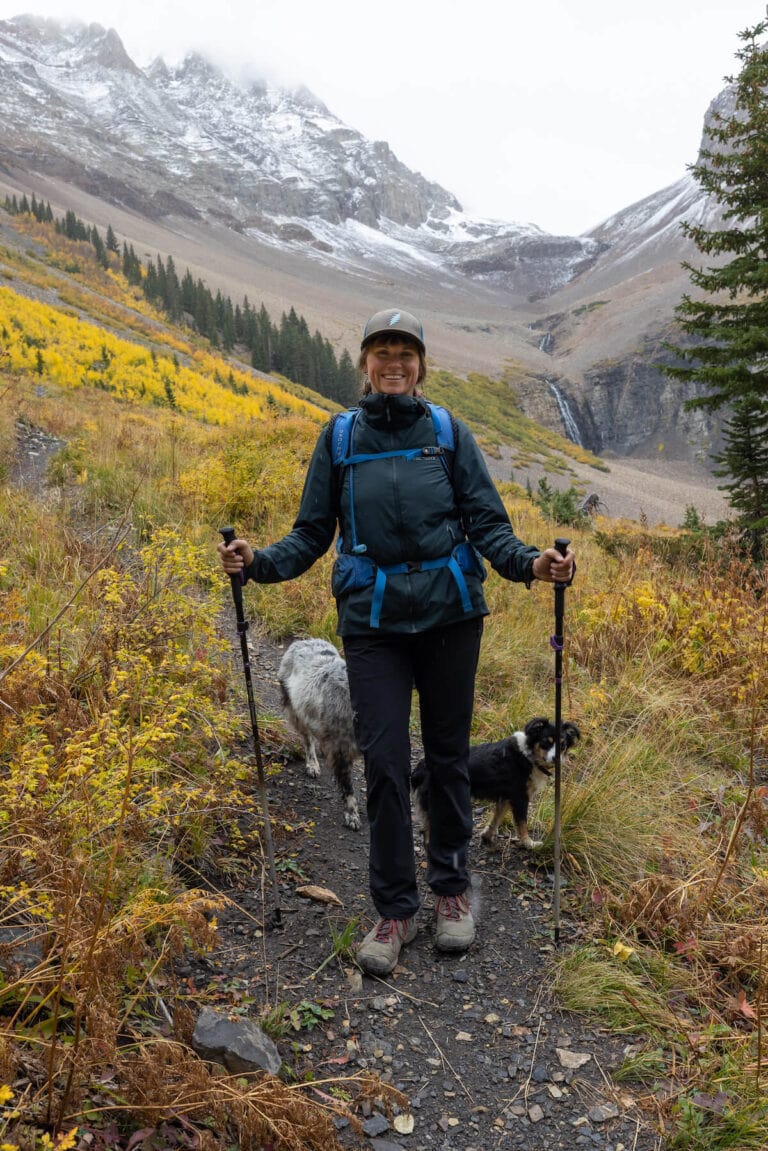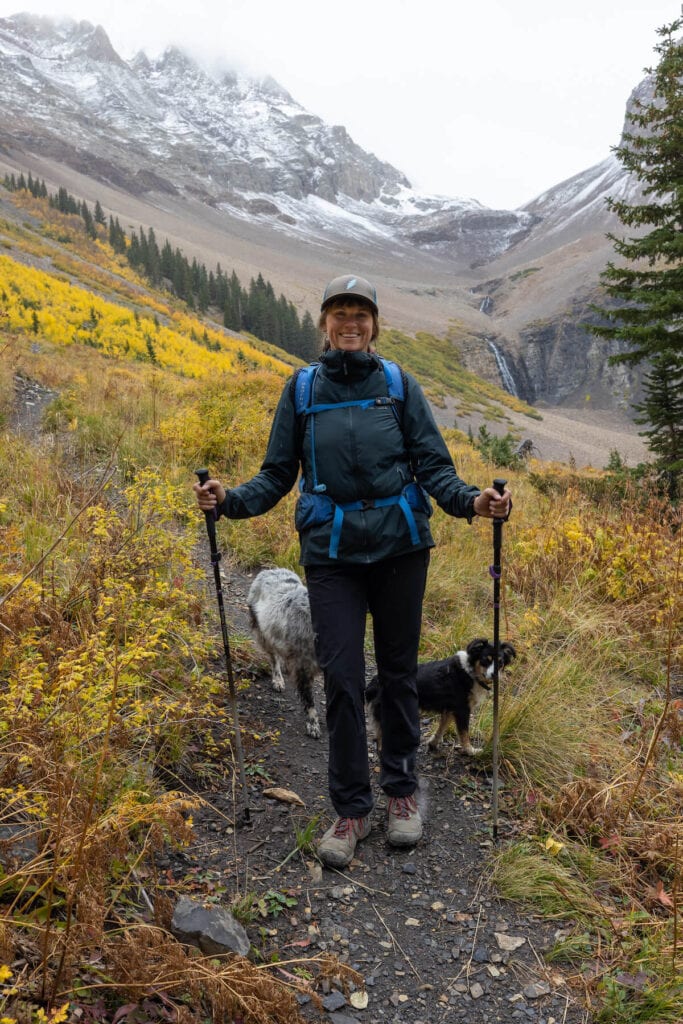 Most Lightweight Women's Hiking Pants
Mountain Hardwear Dynama/2 Ankle
Key Features:
UPF 50 sun protection
Pants Rise: Mid
Leg Style: Straight
Inseam: 32 in
Price: $79
Check Price: REI | Backcountry | Moosejaw
Great for: backpacking trips, extended hiking
Pros: lightest pair of pants on our list, elastic waistband doesn't create rub when wearing a hip belt, pack down small
Cons: a little baggy (non-flattering) in the butt
The Mountain Hardwear Dynama/2 Ankle Pants have been one of my staples for backpacking trips for several years now. The elastic waistband is so comfortable, and because there is no button, drawstring, or zipper, they work really well when you're wearing a backpack with a hip belt since there is nothing that will cause rubbing. The fabric is light and airy, allowing them to breathe well even if it's warm out. There is no drawstring, so you'll want to make sure you don't get too big of a size. I wear size 8 normally and weigh 140 pounds, and I have these in a medium.
I brought these on a 6-day backpacking trip in Sequoia National Park and had no concerns about durability and I could layer underneath at night. I also like them because they pack small and don't weigh much in case you want to bring them on a backpacking trip. If you're looking for comfortable, affordable, and flattering women's hiking pants, these just might be it!
I wrote a full review of the original Mountain Hardwear Dynama Pants a few years ago and although these are an older version of the pant, it'll still give you additional information.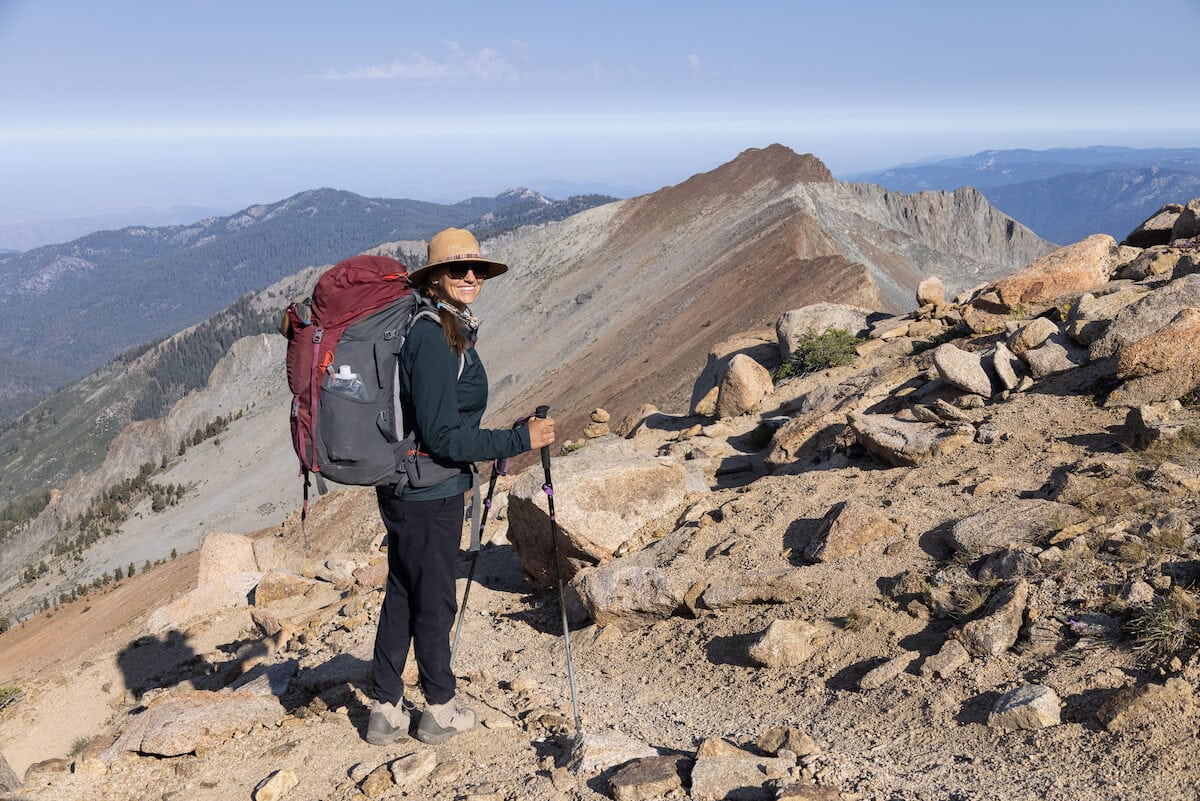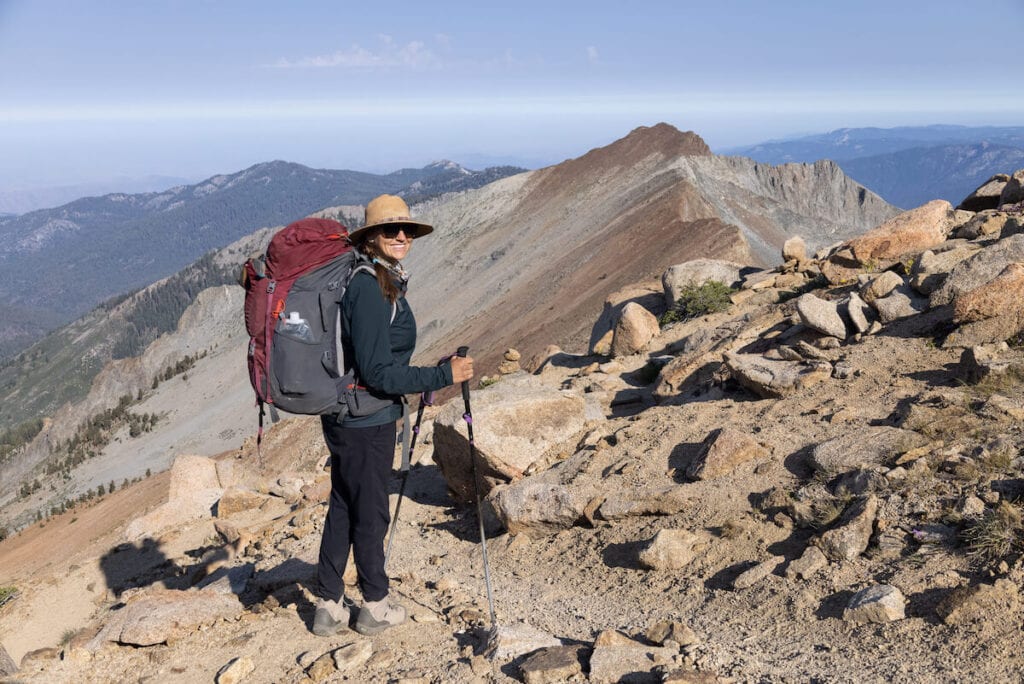 Best High Waisted Hiking Leggings
prAna Transform High Waisted Legging
Great for: easy day hikes, trail-to-town excursions, yoga, everyday wear
Pros: thick material provides warmth on cold days, durable enough to wear on most non-technical hikes
Cons: fabric pills will extended wear, generally you need to be more careful with leggings not to snag on a nearby bush or rock
The prAna Transform High Waisted Leggings are one of my favorites when I wear leggings hiking, and are great for everyday wear and van life too. The wide waistband and soft fabric provide extra comfort on the trail and they're reinforced with a triangular gusseted crotch area for enhanced range of motion. I also like the Transform leggings because they don't necessarily look like hiking leggings – you can pair them with a sweater and hit the town.
Truthfully, I do most of my hiking in leggings. Why? Because they are super comfortable and easy to hike in. But not all leggings are best-suited for hiking nor should all hikes be done in leggings. It's important to choose durable leggings made to withstand long days on the trail, like the Transform.
Best Convertible Women's Hiking Pants
REI Co-op Sahara Convertible
Key Features:
Other styles: Guide
UPF 50 sun protection
Pants Rise: Mid
Leg style: Straight
Inseam: 27.5, 30, 33
Price: $79.95
Check Price: REI
Great for: backpacking trips, hikes with variable weather or terrain, travel
Pros: can be zipped into shorts or capris, large zippered cargo pocket, comfortable & practical
Cons: pants run short and hit at the ankle vs. full length
REI's Sahara Convertible Women's Pant makes it easy to convert from hiking pants to hiking shorts in seconds. Made from stretchy, durable nylon fabric and designed for full mobility, these convertible pants are a great choice for multi-day backpacking adventures or longer hikes with variable temperatures and terrain. If temperatures are cooler or there is a lot of trailside brush, wear them as full-length pants. Or, if it's hot and sunny out and the trail is clear, zip the legs off and convert them into shorts or capris!
One of the best features of these convertible hiking pants is that the zipper to convert the pants into shorts is color-coded on the right to make the reapplication of the lower legs much easier. Convertible hiking pants are also great to pack for travel since they are super versatile with varying lengths.
Best Women's Hiking Legging with a Pocket
lululemon Invigorate High Rise Tight
Key Features:
Pants Rise: High
Leg Style: Full-length legging
Price: $128
Check Price: lululemon
Great for: three-season hiking, easy day hikes, trail-to-town excursions, yoga, everyday wear
Pros: Durable, side pockets for phone, thicker so you can't see panty lines, moisture-wicking, soft to touch, offers great compression
Cons: generally you need to be more careful with leggings not to snag on a nearby bush or rock
The Invigorate High Rise Tight is one of my must-haves from lululemon – and they've been my go-to hiking legging this year, especially in the shoulder season when the temperatures are more variable. They are durable enough to sit on rocks while you're taking a snack break and the compression fit feels nice on the trail. Another bonus of these is that they have a stretchy pocket on each leg that is big enough for your phone.
I have these leggings in the 28″ length. They are a little longer than I like, resulting in a small amount of bunching at the ankle, but they do come in a 25″ length. The waistband also sits quite high at 2-3″ above my belly button which is nice, and they provide compression at the waist that really hugs everything in while still being comfortable.
>> Read next: 12 Lululemon Must-Have's for Working Out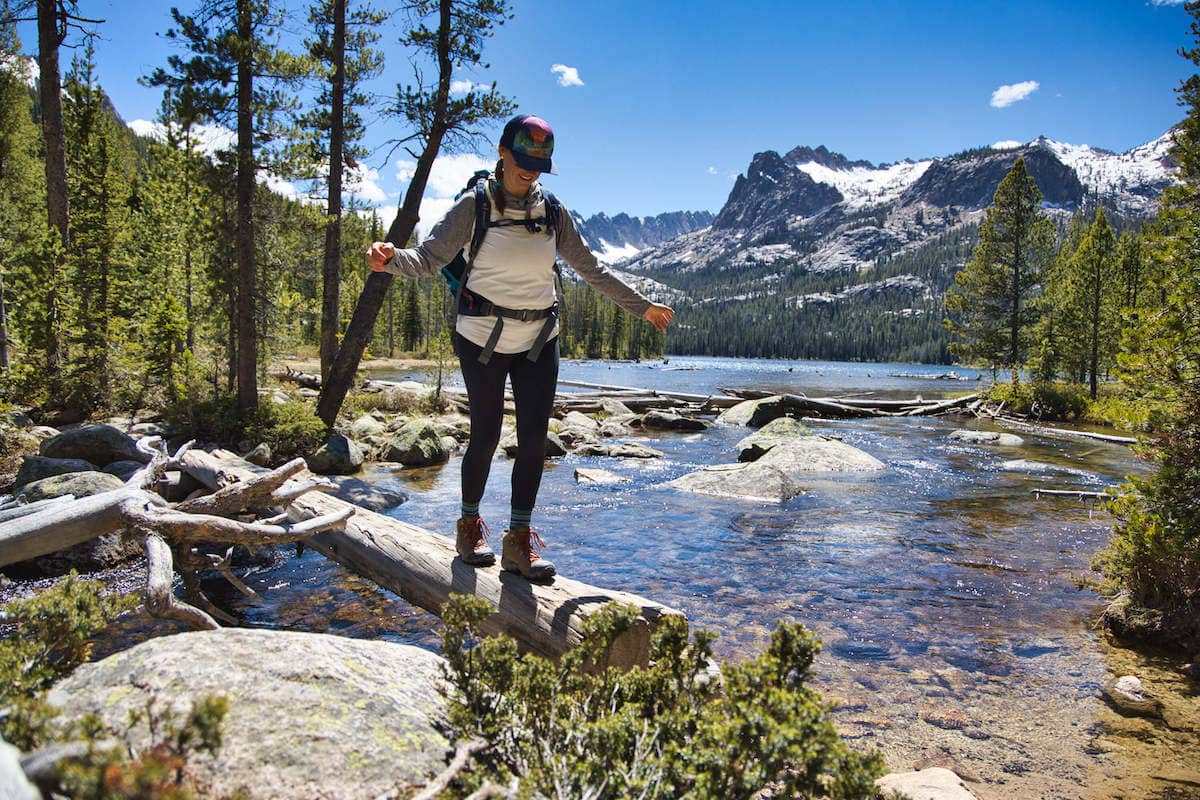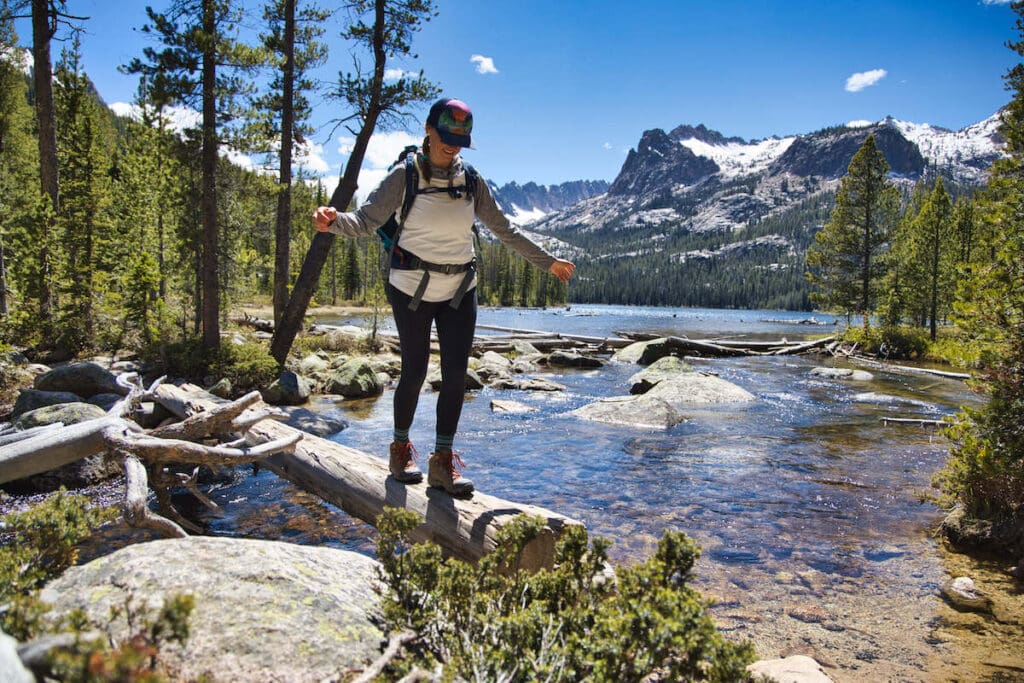 Best Women's Hiking Capris
Columbia Saturday Trail II Knee Pants
Key Features:
Other styles: Plus
UPF 50 sun protection
Pants Rise: Mid
Leg Style: Straight Capri
Inseam: 18 in
Price: $55
Check Price: REI | Backcountry | Moosejaw
Great for: summer hiking, warm climates
Pros: UPF sun protection, rain-resistant, stretchy material that is super comfortable
Cons: runs small (consider ordering a size up)
The quick-drying and super comfortable Columbia Saturday Trail II Knee Pant is a perfect companion on the trail. With UPF 50+ sun protection, a weather-resistant finish, and drawstrings at the knees to keep out dust and debris, we've found that this is one of the best – and most affordable – women's hiking pants out there! Many reviewers note that the fit of these pants runs extremely small – we recommend ordering a size up to ensure the best fit.
Best Hiking Pants for Going from the Trail to Town
Eddie Bauer Guide Pro
Key Features:
UPF 50 sun protection
Pants Rise: Mid
Leg style: Straight
Inseam: 29, 32, 35 in
Price: $85
Check Price: Eddie Bauer
BFT's Director, Linda, recently took the Eddie Bauer Women's Guide Pro Pants on a camping and hiking trip to Yosemite and they've become a new favorite. They're super comfortable and lightweight so they'll keep you cool even in warm weather and they have the perfect amount of stretch to allow for all the mobility you'll need – you could even wear them rock climbing. There are no back pockets which gives these pants a more feminine look, and we also love that these hiking pants shed moisture and are made with bluesign® certified fabrics.
>> Read Next: What to wear hiking
Related posts:
Do you have a favorite pair of women's hiking pants or leggings that works best for you? Let us know in the comments!