As many women know, finding a pair of hiking pants that fit well and perform well can be a frustrating task. There are so many different styles, brands, and fabrics to choose from. To make your search easier, we've laid out this guide to the best women's hiking pants that are comfortable to hike in and look good in a variety of different styles so you can go from the trail to town with ease.
Whether you prefer to trek in full-length hiking pants, convertible pants with zip-off legs, capris pants that fall mid-calf, or simple leggings there is something for every hiker on this list.
Here are the best quick-drying and comfortable hiking pants for women.
The Best Full-Length Hiking Pants for Women
Full-length women's hiking pants are a great option for pretty much every type of hiking from multi-day backpacking trips to local day hikes with friends. Even during warmer weather, full-length pants provide a layer of protection that will help prevent scratches from trailside brush, keep your legs from getting sunburned, and prevent bug bites. Some full-length pants even come with drawstrings at the ankles or snaps so that you can roll up the cuffs for those extra hot days. Here are our favorite full-length women's hiking pants.
prAna Halle Pants
The prAna Halle Pant has become a very popular staple for many outdoor women. It's made from durable and stretchy nylon fabric, which dries fast and is comfortable and easy to hike in. There are five pockets to carry snacks and gear in and the cuffs roll up and snap into place for those extra warm days. The Halle Pant also comes in several styles including straight leg, short, tall, and plus sizes. They fit just right, not too baggy and not too tight, and are one of our favorite pairs of hiking pants for women here at Bearfoot Theory!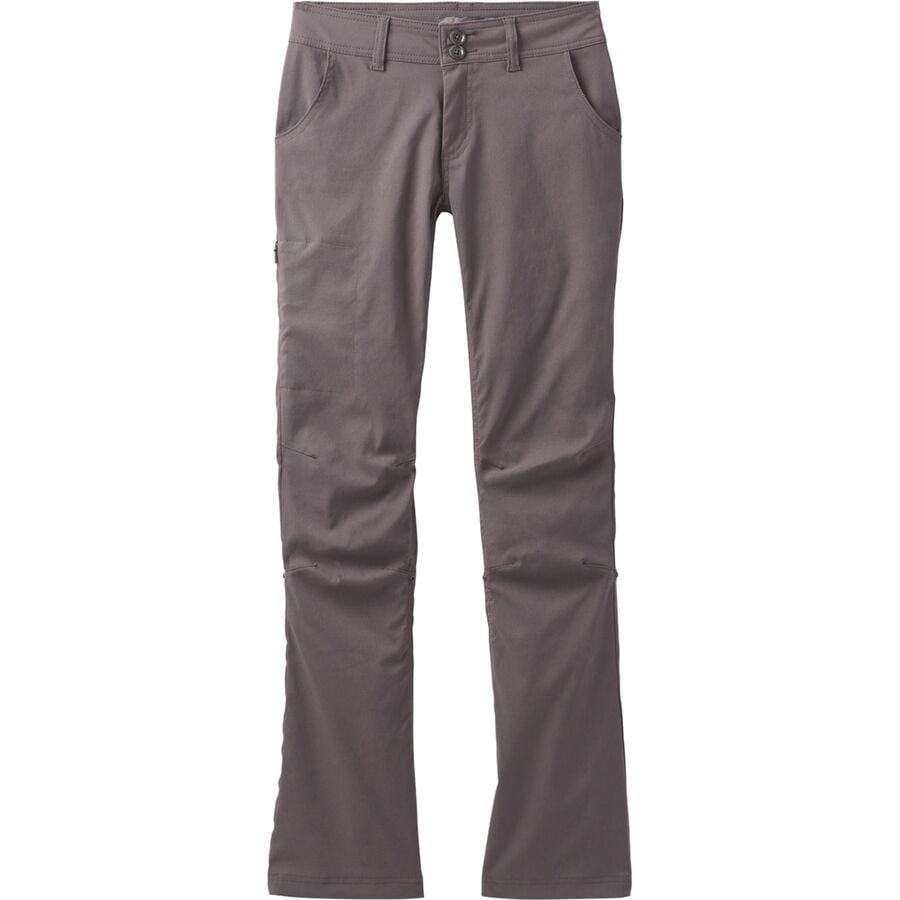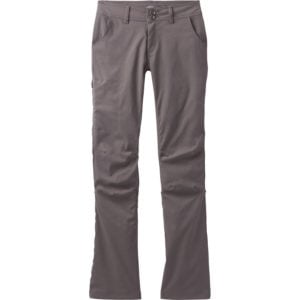 Check Price: Backcountry / REI / Moosejaw
Mountain Hardwear Dynama Pants
I wrote a full review of the Mountain Hardwear Dynama Women's Hiking Pants a few years ago and they remain one of my favorite pieces of hiking apparel. The stretchy waistband is a welcome and more comfortable change from the buttons and zippers you typically find on a hiking pant and the nylon fabric is durable and moisture resistant. If you're looking for comfortable, affordable, and flattering women's hiking pants, these just might be it!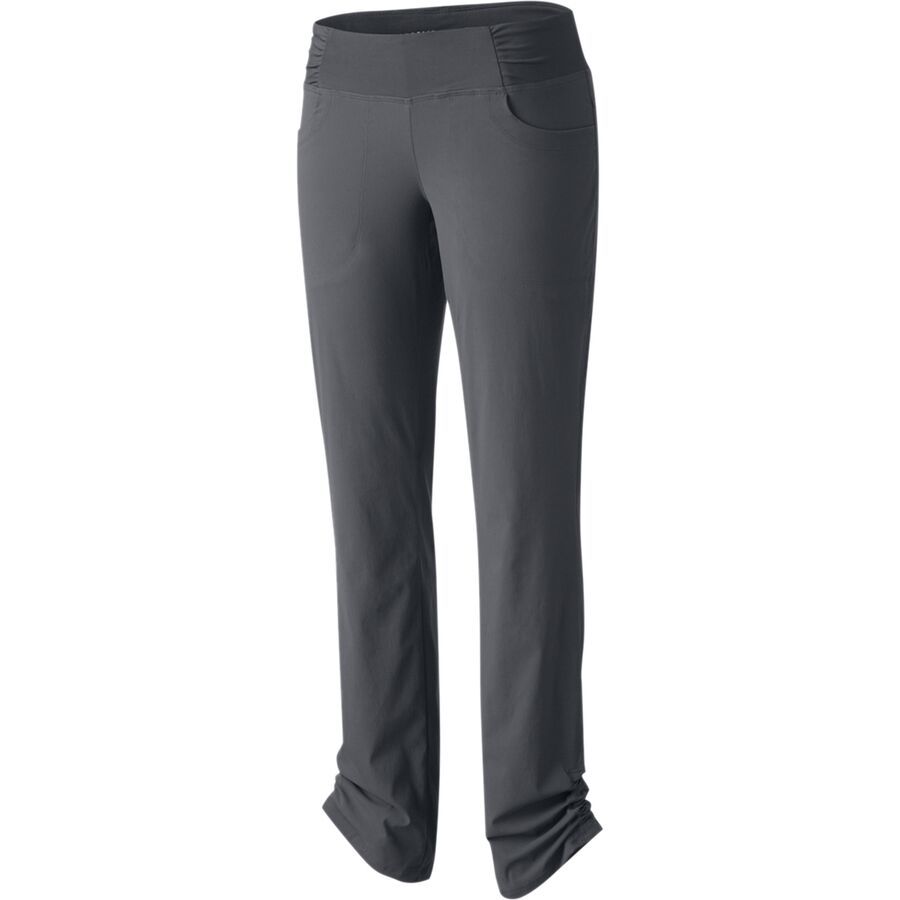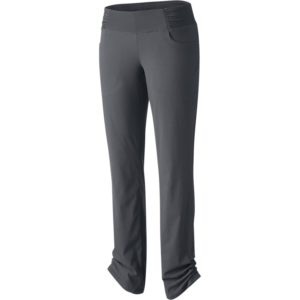 Check Price: Backcountry / Moosejaw / Mountain Hardwear
REI Co-op Taereen Pants
REI's Taereen Hiking Pant is light and stretchy and one of the best women's hiking pants on the market if you like a straight leg. They're designed to keep you cool and comfortable on the trail and they even have UPF 50 sun protection and a water-resistant finish.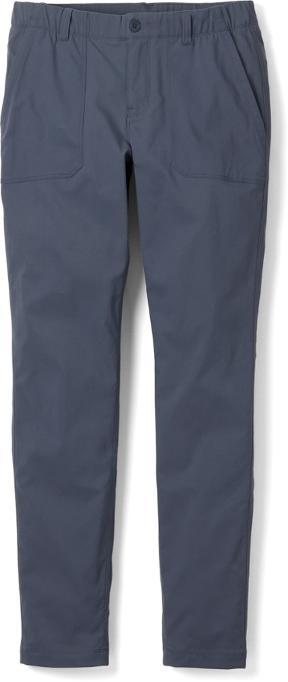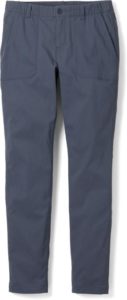 Check Price: REI
KUHL Women's Trekr Pants
Stretchy and light, KUHL's Trekr Pant is a great option for any hike. Made from woven polyester and nylon fabric, this pant is soft and comfortable yet dries fast and keeps you cool on the trail. For warmer days, sinch up the side seams to transform the Trekr Pant into capris-length.

Check Price: Backcountry / REI / KUHL
The North Face Aphrodite 2.0 Pants
The North Face Aphrodite 2.0 Pant uses technical FlashDry XD™ fabric to keep you cool and dry on the trail. The fabric is also super durable, protecting your legs from trailside brush and helping to prevent those annoying rips and snags. Cinch the waistband and ankles to find your perfect fit.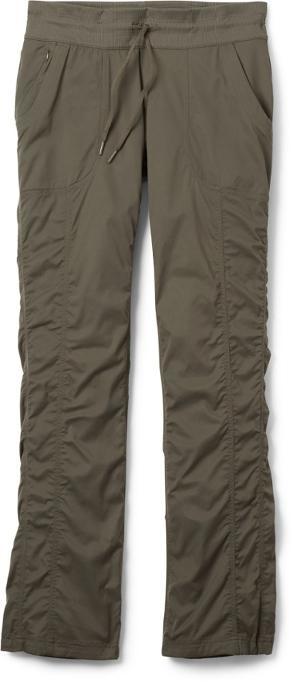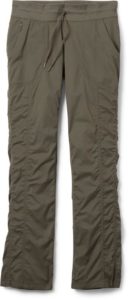 Check Price: Backcountry / REI / Moosejaw
The Best Convertible Hiking Pants for Women
Convertible hiking pants are a great option for hikes with variable weather and terrain. If temperatures are cooler or there is a lot of trailside brush, wear them as full-length pants. Or, if it's hot and sunny out and the trail is clear, zip the legs off and convert them into shorts or capris! Below are a few of the best women's convertible hiking pants that we love.
Outdoor Research Ferrosi Convertible Pants
Two pants in one! The Outdoor Research Ferrosi Convertible Pant can be worn as a full-length hiking pant or the legs can be zipped off, transforming them into shorts. The softshell fabric provides all-weather protection while staying breathable and flexible for all varieties of hiking terrain.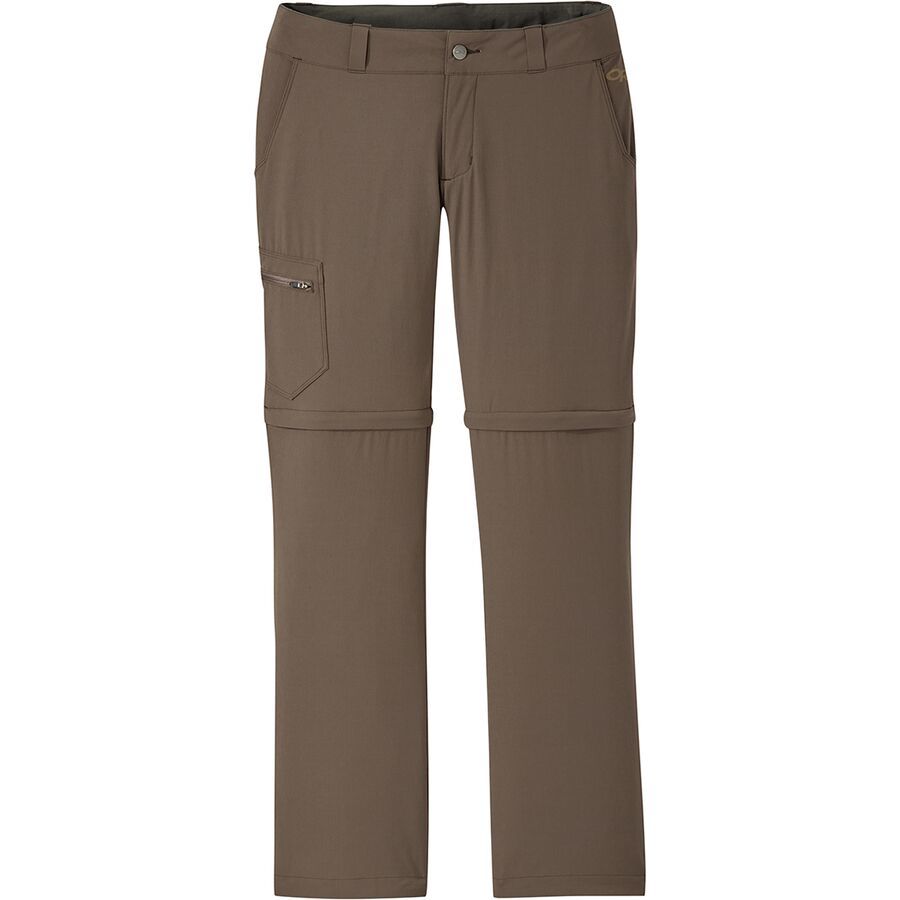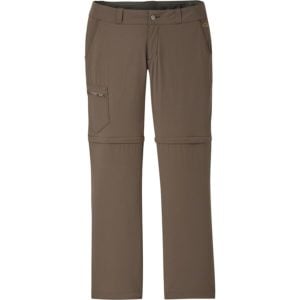 Check Price: Backcountry / Outdoor Research / Moosejaw
REI Co-op Sahara Convertible Pants
REI's Sahara Convertible Women's Pant makes it easy to convert from hiking pants to hiking shorts in seconds. Made from stretchy, durable nylon fabric and designed for full mobility, these convertible pants are a great choice for multi-day backpacking adventures or longer hikes with variable temps and terrain.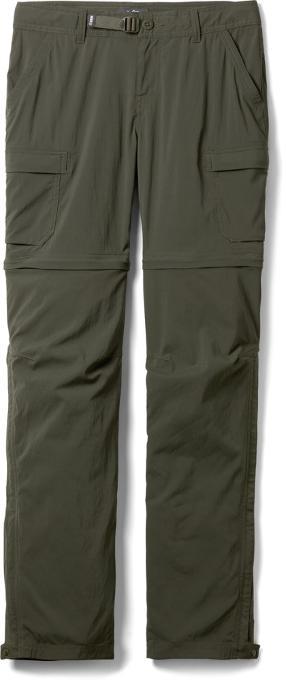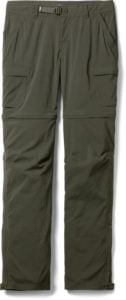 Check Price: REI
The Best Hiking Capris for Women
If you like longer leg coverage, but want something different than full-length hiking pants, capris have got you covered. These pants typically fall mid-calf and are great for a variety of hiking temperatures and terrain.
Columbia Saturday Trail II Knee Pants
The quick-drying and super comfortable Columbia Saturday Trail II Knee Pant is a perfect companion on the trail. With UPF 50+ sun protection, a weather-resistant finish, and drawstrings at the knees to keep out dust and debris, we've found that this is one of the best – and affordable – women's hiking pants out there!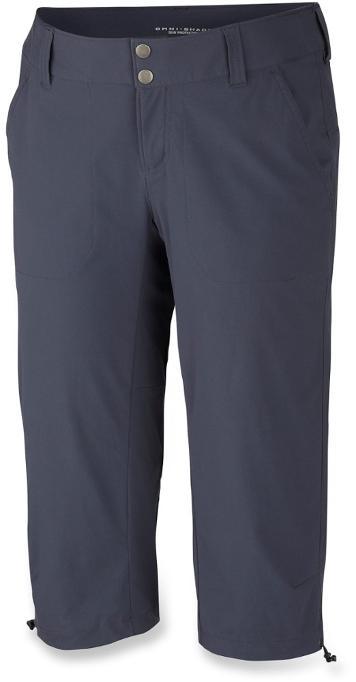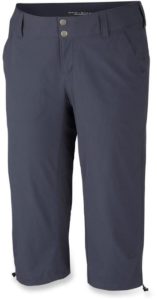 Check Price: Backcountry / Columbia / REI / Moosejaw
KUHL Trekr Kapris
A capris version of the popular KUHL Trekr Pant above, this knee-length KUHL Trekr Kapris performs just as well on the trail for those warmer days. The synthetic fabric breathes well and has a bit of stretch to them for optimal comfort and functionality.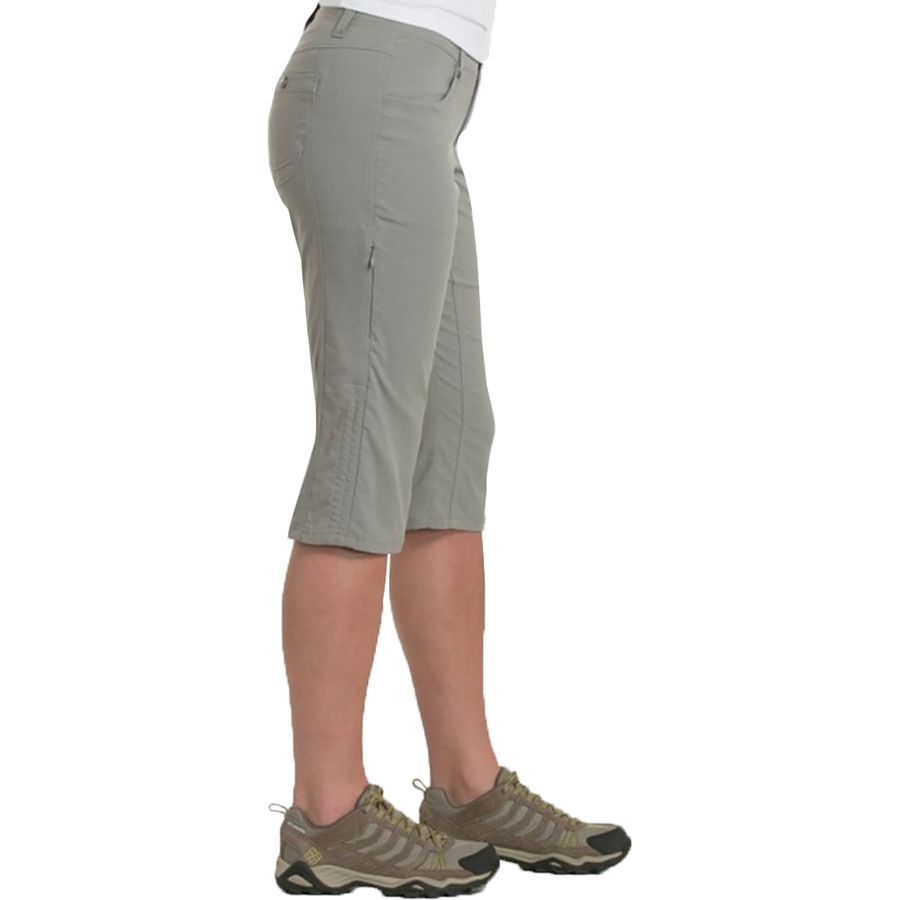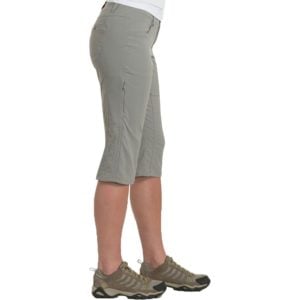 Check Price: Backcountry / KUHL
The Best Hiking Leggings for Women
Truthfully, I do most of my hiking in leggings. Why? Because they are super comfortable and easy to hike in. But not all leggings are best-suited for hiking nor should all hikes be done in leggings. It's important to choose durable leggings made to withstand long days on the trail. Many yoga pants will not withstand the wear and tear of long hikes and the potential snags that can happen along the way.
Fjallraven Women's Abisko Trekking Tights
These water-resistant and durable Fjallraven Abisko Trekking Tights are perfect for long or short days out on the trail. The pants are reinforced around the knees and rear end for extra protection against trail obstacles. They also have plenty of pockets to carry maps, a small camera, or other gear. The price may seem a bit steep at first, but the quality, comfort, and durability are worth every penny!


Check Price: Backcountry / REI / Moosejaw
REI Co-op Active Pursuits Women's Tights
REI's Active Pursuits Tights are a great choice for hiking. The stretchy fabric wicks away moisture and is breathable, keeping you cool and dry on the trail. Other features include a small zippered pocket on the waist, flatseam construction to prevent chafing, reflective tape on the calves, and UPF 50 sun protection.


Check Price: REI
prAna Transform High Waisted Legging
The prAna Transform High Waisted Leggings are our go-to when we wear leggings hiking. The wide waistband and soft fabric make them extra comfortable and they're reinforced with a triangle gusset in the crotch area for enhanced range of motion.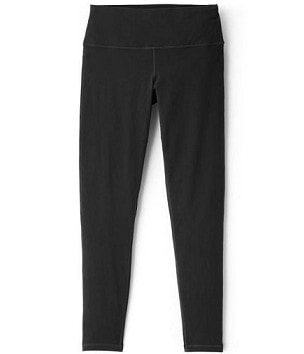 Check Price: Backcountry / REI / Moosejaw
Patagonia Peak Mission Women's Tights
While these tight are technically designed for runners (specifically trail running), the Patagonia Peak Mission Tights are great for hiking as well. Optimal as cool-to-cold weather tights, they are perfect for fall or springs hikes when you need a little bit of extra warmth. They feature odor-control fabric that wicks away sweat, keeping you warm and dry on the trail.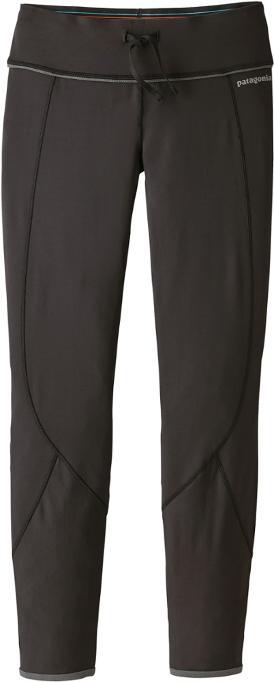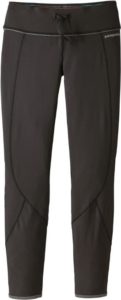 Check Price: Backcountry / REI / Patagonia
---
Do you have a favorite women's hiking pant or legging that works best for you? Let us know in the comments!
If you would like more tips on hiking apparel to go along with your hiking pants, be sure to check out our What To Wear Hiking guide!
Some of the links in this post are affiliate links which means if you make a purchase, we receive a small compensation at no added cost to you. Any purchases you make help keep this blog going and our content free. We truly appreciate your support!