10 Day Hiking Essentials: What to Bring on a Hike
Whether you are an experienced hiker or are just starting out, here are the ten day hiking essentials you should bring with you on every hike.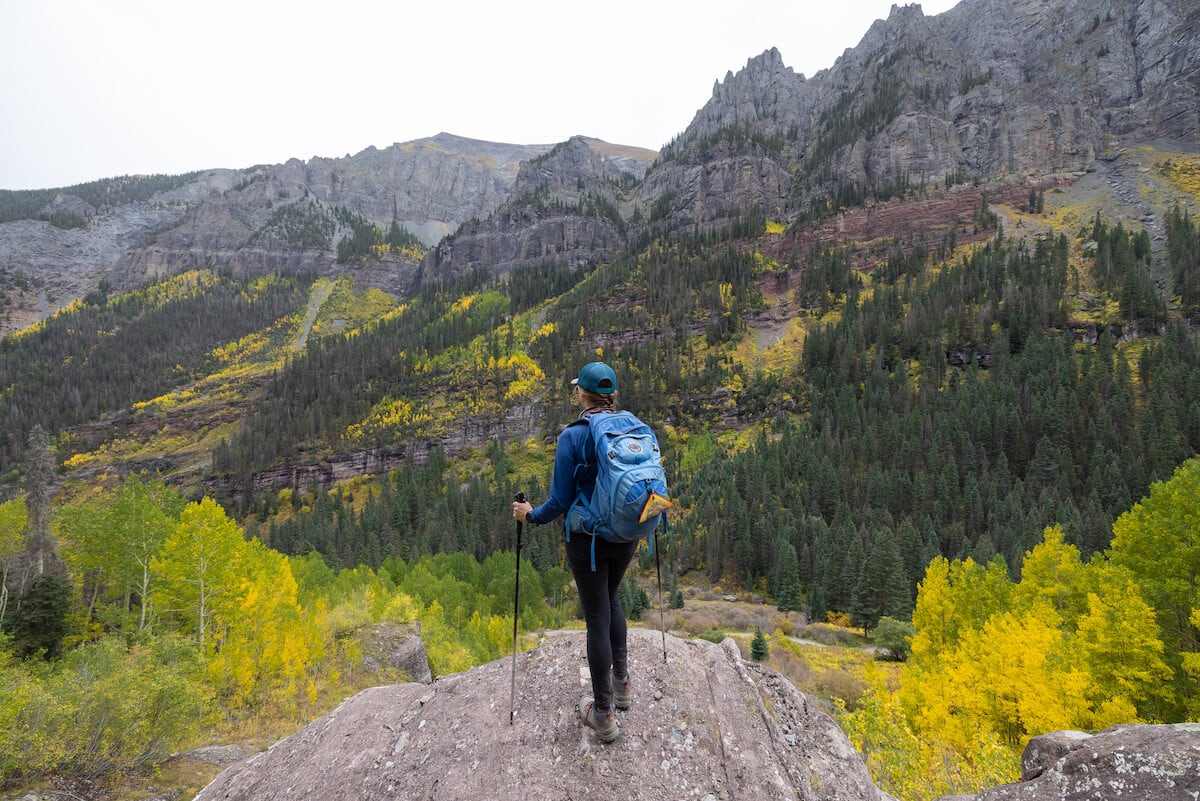 You're ready for an epic day hike. Not only have you picked out the trail, but you've also done your research and have all the important details like distance, trail conditions, elevation, and logistics.
After checking the weather and getting excited to hit the trail, it's time to gear up. The only problem is, what day hiking essentials you should bring on your hike to keep you safe and comfortable?
If you've ever wondered this, you're certainly not alone. There are dozens of hiking gear lists on the internet to answer this exact question.
But what we've found at Bearfoot Theory is that many of these gear lists have a bunch of items that most hikers never take with them on the trail. So how is our day hiking essentials list different? This is the practical stuff we at Bearfoot Theory actually bring on an average day hike. Nothing more and nothing less.
---
1) A Daypack
The first thing you'll need for your day hike is a good hiking daypack. You can get away with using an old JanSport from your closet if you're not going too far, but if you are serious about hiking and want to be comfortable on the trail, you'll want something a little more robust.
For size, a typical day hiking pack ranges from 20-35 liters. This is enough to hold your extra layers and all of the other day hiking essentials that we talk about below.
Other features you'll be looking for when you choose a day pack are:
Here are a few of my favorite daypacks that I've used over the years:
2) The Right Hiking Layers
Some of the most important day hiking gear is the kind that you wear! No matter what season you're hiking in, bringing layers along on the trail is important for both comfort and safety reasons.
Base Layers
Start with a sweat-wicking base layer that's breathable and regulates body temperature.
Avoid cotton because in cold environments, wet cotton doesn't provide insulation, is slow to dry, and can make you even colder. In the heat, cotton traps warmth, which isn't ideal either. So try to steer clear of this material if you can.
I personally wear a lightweight sweat-wicking shirt on warm summer days (long-sleeved for extra sun protection). Then, I will add an additional mid-weight layer on top when it's cooler.
Mid Layers
If there's any chance of it being chilly out or there's a possibility you'll be out longer than you expect, pack a fleece or insulated jacket. It can be surprisingly cold on summits or in the shade when you're taking a break, and the difference between mid-day temps and morning and evening temps can be significant. It's no fun being cold, throwing an extra layer in your backpack won't add much weight, and you'll be happy you have it if it does get chilly!
Outer Layers
Always pack a lightweight rain jacket that you can stuff in your pack along with a hat and gloves if you think it might get chilly.
I usually also wear a buff, which is a lightweight layer that goes around your neck. It works well for wiping off sweat, protecting you from the sun or wind, keeping your hair out of your face, or keeping your neck warm if it gets cold.
Hiking Boots
On your feet, choose a pair of sturdy hiking boots and socks that can handle whatever kind of terrain you're hiking in.
Go for lightweight trail shoes if it's an easy or moderate trail and protect your ankles on tougher, more challenging surfaces with mi- or high-rise, thick-soled boots.
3) Sun Protection
Sun protection while hiking may seem obvious, but it is often overlooked when packing day hiking essentials.
To shield your skin from the sun while you're hiking, bring:
While these essentials might be obvious for hot and sunny hikes, it's not as obvious on cloudy days where the weather could clear while you're out or on snowy hikes where the sun reflects off the snow and sends some pretty strong rays back at you.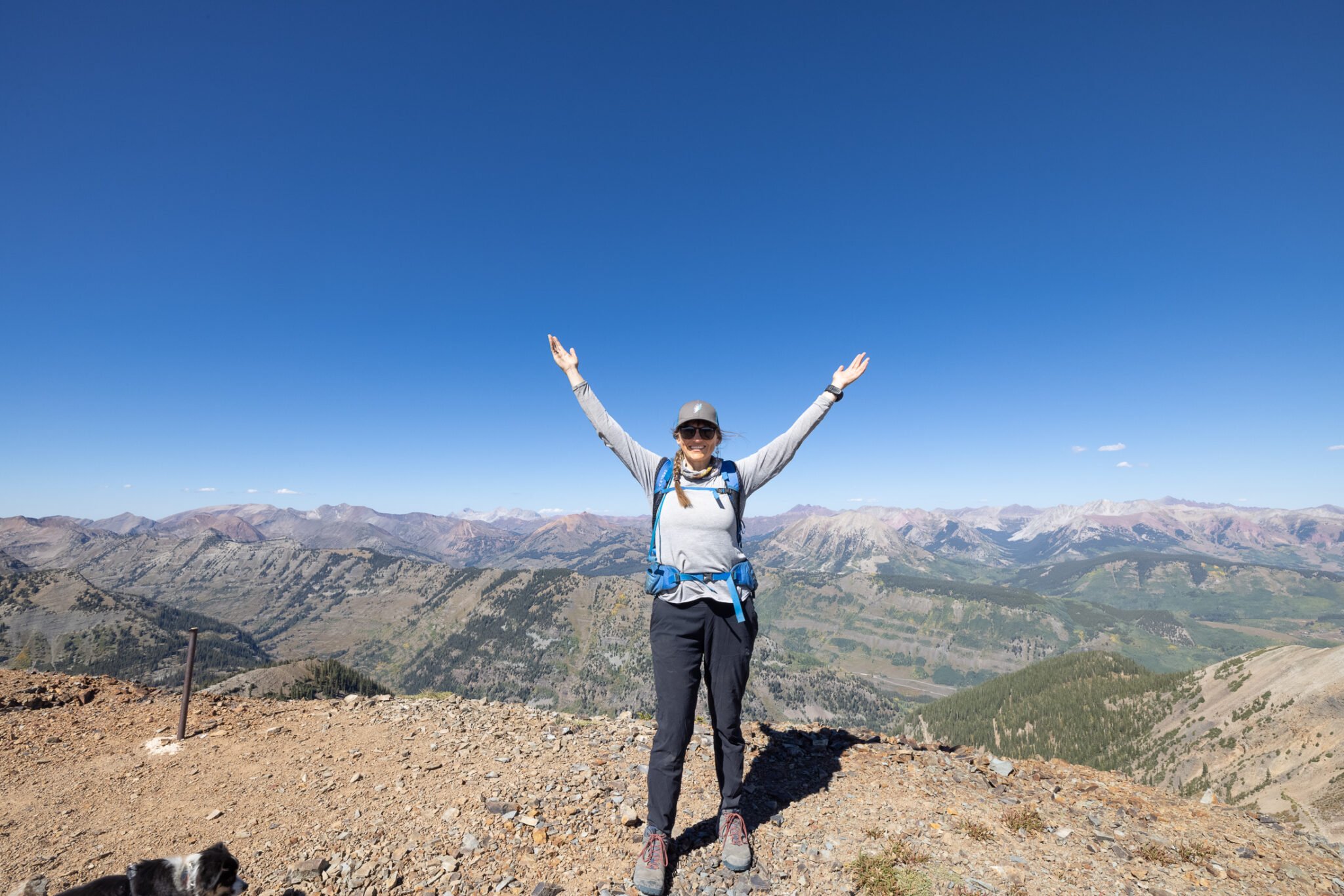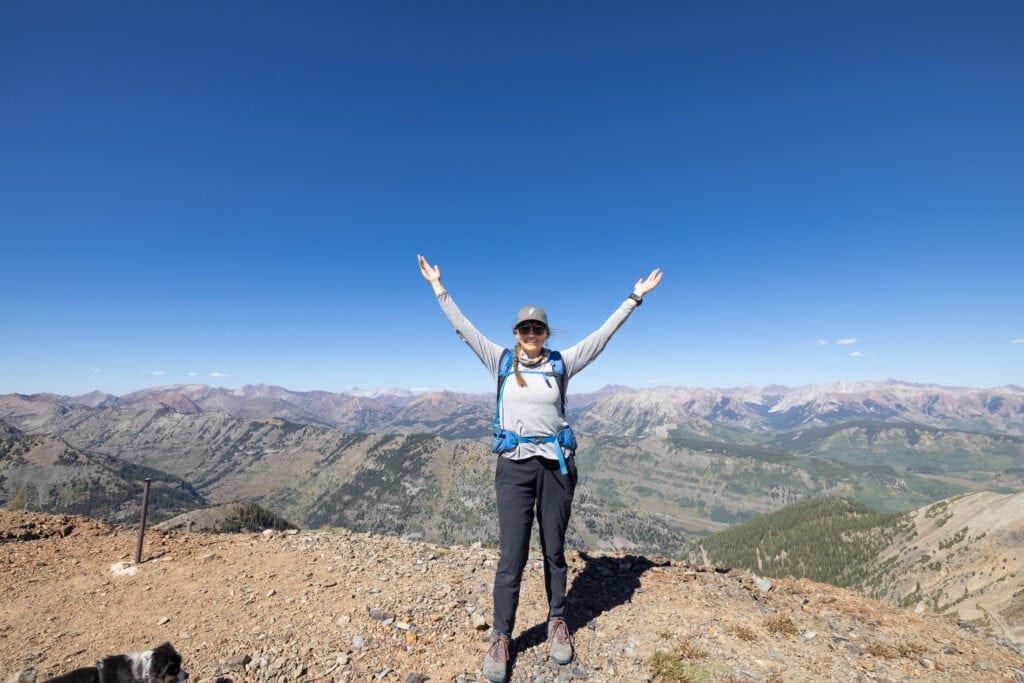 4) Map / Navigational Tools
There are a lot of great websites and apps for finding trails. We highly encourage you to have a few of these downloaded on your phone, and at least one that you're able to use offline in case you don't have service on your hike.
In the outdoors, there are plenty of places where there is no cell reception and unlike a map or a compass, the battery on your phone can die. If you happen to get lost and find yourself with a dead smartphone, that could be a real safety concern.
Unless it's a trail you're super familiar with and have hiked before, always pack the appropriate map, plus a compass to help you find your way.
If you're worried about your phone running out of battery, consider packing a portable power bank.
I also recommend packing an emergency satellite communication device, like the Garmin InReach Mini, which allows you to send text messages when you are out of cell service (note that you also need a monthly Garmin Membership to use the inReach).
Lastly, we also recommend letting someone know of your hiking plans and what time you expect to return, just in case they need to alert rescue if you don't check back in by your established time.
5) LOTS of Water
Your body needs water to function at its very best. Bringing extra water, and even a water filter for long hikes in case you run out is a really important day hiking essential to have while you're out there bagging peaks.
In any weather, staying well hydrated can help you avoid dehydration or even altitude sickness, but moreover, it simply helps you feel good and have fun.
Many daypacks have space for a hydration reservoir which can be filled with water and allows you to drink from an attached tube. Since it's nestled in between you and the pack, it's easy to carry and is a great option for staying hydrated on the go.
An alternative to a hydration reservoir is storing one or two lightweight water bottles in the side pockets of your backpack for easy access. You can even bring a water bottle with a filter built in so you can fill it from water sources on your hike.
6) Energizing Snacks
It's important to bring enough food for the day to stay full and keep your energy up. Snacks that are packed with nutrients are best, so grab some energy bars, nuts, trail mix, and dried fruit. We love these Bobo's Oat Bars for a quick breakfast on the go and Honeystinger Waffles and Energy Chews for treats.
Sturdy fruits and veggies like apples, oranges, or carrots that won't get squished in your bag are also great options.
Or you can always pack one of the classic trail snacks: a good ol' peanut butter and jelly sandwich.
It's important always to make sure you have enough food, but the point of having extra is really in case of an emergency. It's better to bring a little extra rather than not have enough. Plus you'll be burning more calories than you might be used to, so don't skimp on snacks and nutrition.
7) First Aid Emergency Kit
It's a good idea to invest in a portable and lightweight first aid kit that you can always keep in your backpack with your other day hiking essentials. While it's unlikely that you will have an emergency, things like blisters, cramps, and minor cuts can happen, plus it's always good to be prepared.
The Adventure Medical Kit Ultralight/Watertight First Aid Kit is a pre-made first aid kit that has the basics for dealing with minor injuries. If you go this route, make sure you are familiar with what's in it, and adapt the kit to your personal medical needs as necessary.
We also recommend throwing a lighter and waterproof matches into your first aid kit in case you get caught after dark and need to build a fire, as well as a small whistle that you can use to garner attention in an emergency.
8) Flashlight or Headlamp
In case you get caught on the trail after dark, you'll want a source of light to help you find your way back to the trailhead. Carry a headlamp with you for hands-free light or a small and lightweight flashlight if you don't have a headlamp. Make sure the batteries are charged, too.
9) A Multi-Tool & Mini Repair Kit
A mini repair kit will help you fix something like a tear in your backpack, a loose trekking pole, a broken strap, or any other unforeseen issues that may come up while you're out there.
While the contents of repair kits can vary between products, it's always good to have multi-purpose tools with you like a pocket knife, leatherman, repair patches, safety pins, or strips of the ever-handy duct tape.
A good tip is to wrap some duct tape around a lighter so you have it handy in case you need it in a pinch.
9) Trekking Poles
Trekking poles might not be considered a "day hiking essential," but if you are a beginner hiker or you are tackling steeper, more challenging terrain, trekking poles can be extremely helpful.
Trekking poles take the pressure off your knees, give you more power on the ups, and help maintain a rhythm while you're hiking.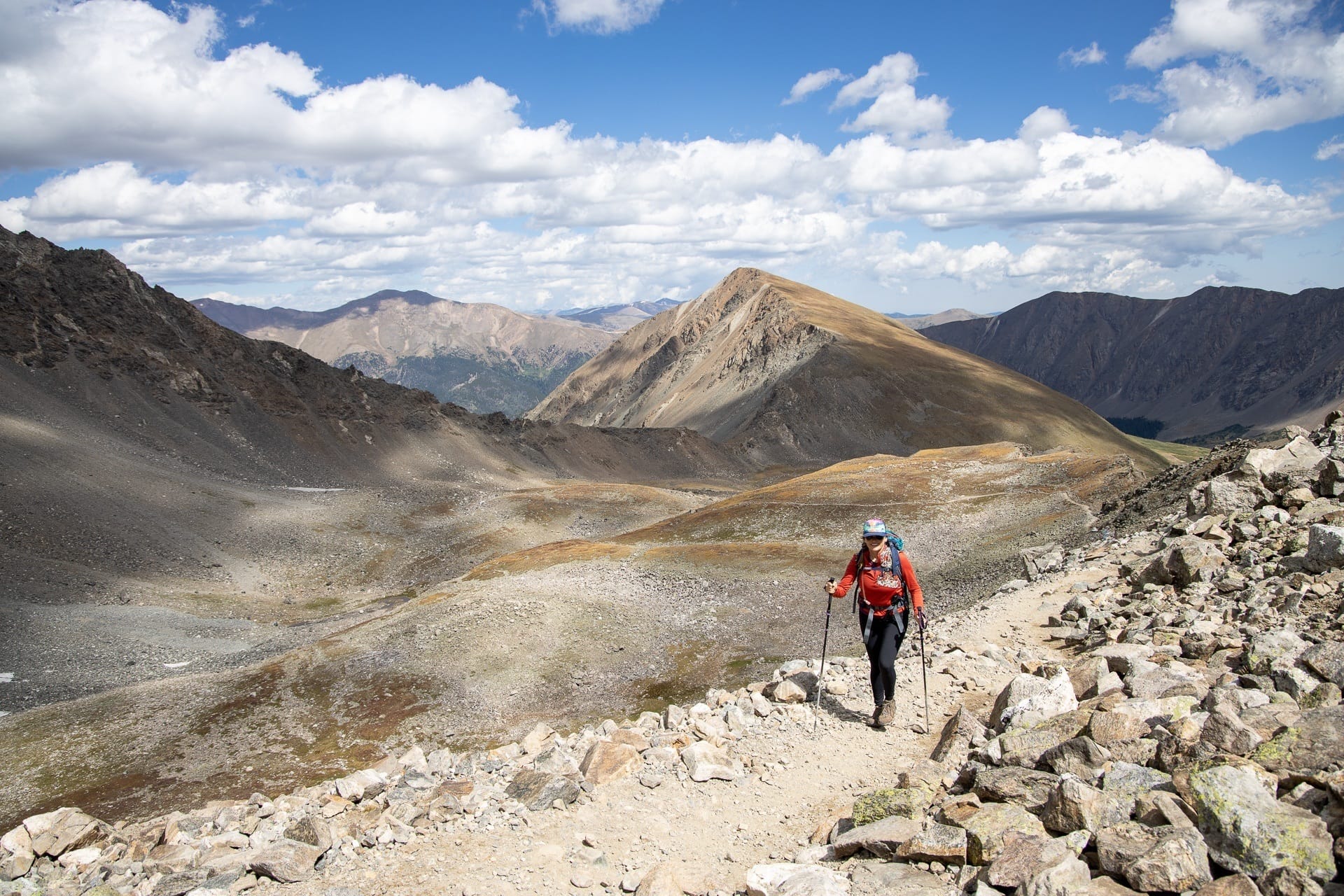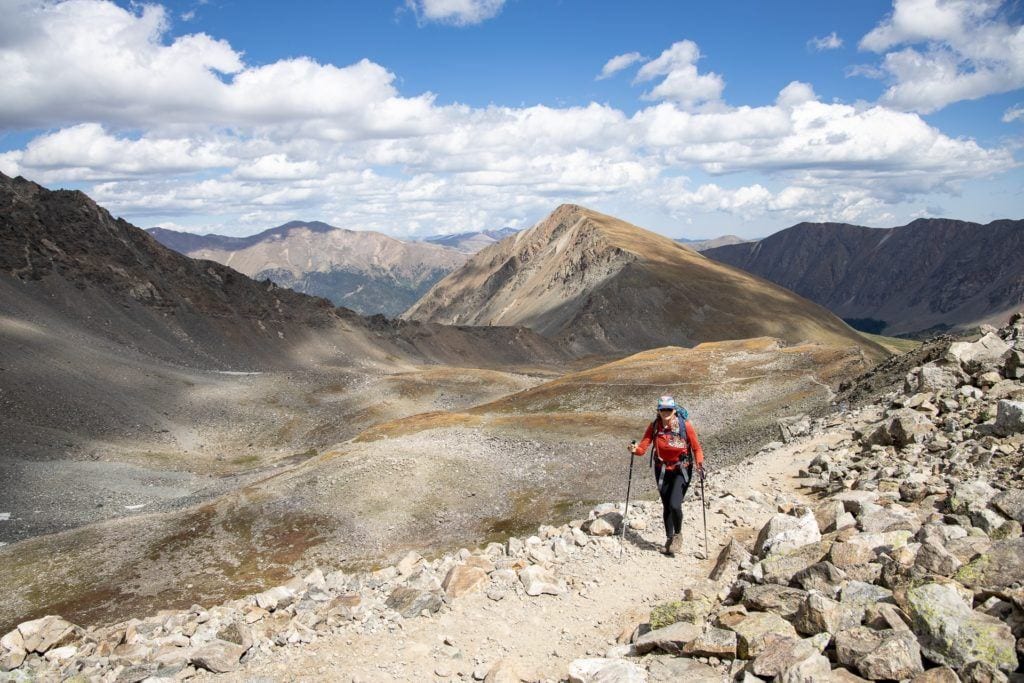 10) Toilet Paper or Pee Rag
No matter how short of a hike you're going on, you should always be prepared in case you need to use the bathroom.
First, brush up on Leave No Trace principles and make sure you know how to properly poop outside – just in case!
I always have my Kula Cloth anti-microbial pee rag attached to my daypack for #1 and travel-sized toilet paper for #2. Be sure to bring a lightweight trowel in case you have to go #2 and need to dig a hole along with a Ziploc bag to carry out your used TP.