Peak Refuel Backpacking Food Review
PEAK REFUEL BACKPACKING FOOD REVIEW This blog post is sponsored by Peak Refuel. As always, all words and opinions are my own. One…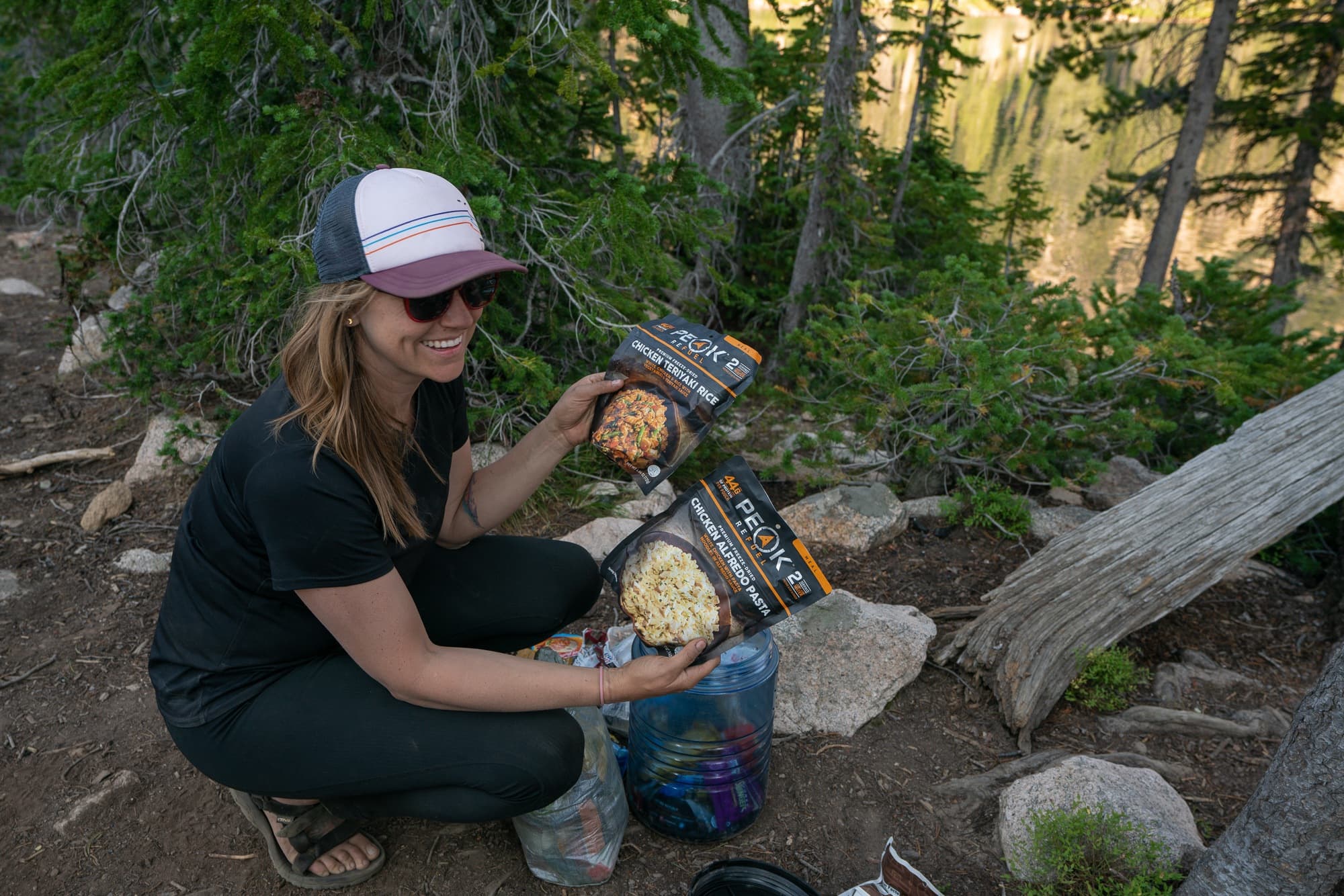 PEAK REFUEL BACKPACKING FOOD REVIEW
This blog post is sponsored by Peak Refuel. As always, all words and opinions are my own.
One of the most popular all-time posts here on Bearfoot Theory is a round-up of some of my favorite easy backpacking meals and snacks. I'm a big fan of simple, lightweight meals that require little cleanup, which often leads me to dehydrated backpacking food. Up until recently, the number of major backpacking food brands has been pretty limited, but over the last few years, we've seen some new players in the game that are focused on creating healthier, more natural backpacking food with fewer chemicals. One of these new companies, based out of Utah, is Peak Refuel.
We recently took the lineup of Peak Refuel backpacking meals on a four day trip in the Sawtooths, and I'd say Mountain House has got some new competition.
Check out my Peak Refuel backpacking food review in this new blog post, and keep an eye on my Instagram feed, where in the next couple of weeks I'll be giving away a free combo pack of Peak Refuel meals.
[separator style_type="icon" /]
Peak Refuel Taste
We all know food tastes better in the backcountry, and most seasoned backpackers have been known to eat things that they could never fathom at home (hi tuna fish and instant mashed potato wraps) 🙂
So before we left for our backpacking trip, we sampled the Sweet Pork and Rice dish at HOME, in a real kitchen. If it could pass the test at home, then imagine how good it would be while watching the sunset over an alpine lake.
After 10 patient minutes, we dug in and you seriously could have fooled me. Did Ryan (my boyfriend and personal chef) make this from scratch? The pork had a smoky flavor with a hint of brown sugar with the texture you'd expect on a pulled pork sandwich. Thrown into the mix are corn, black beans, and red peppers for a little extra pizazz.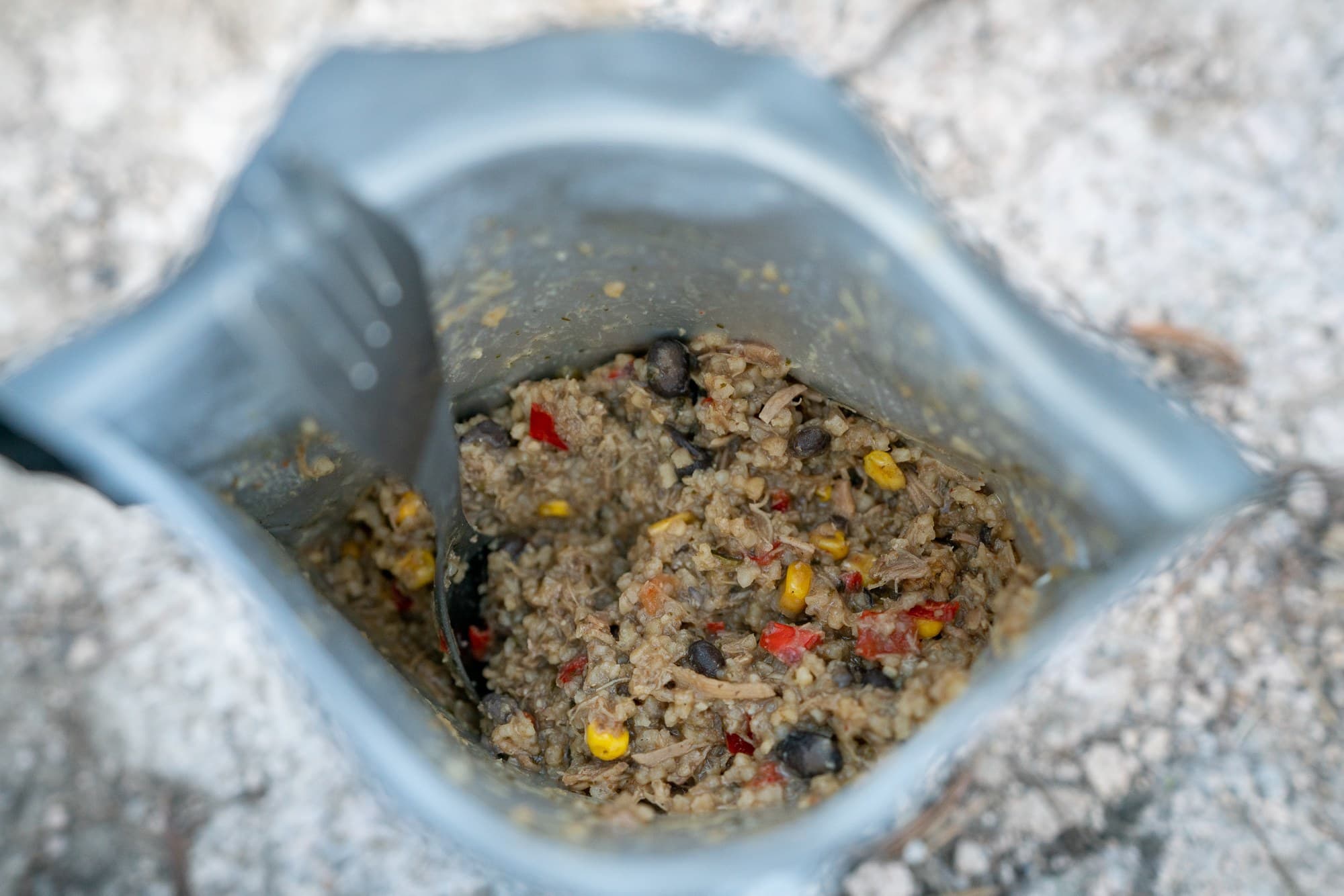 The pulled pork got a unanimous thumbs up, but how did the rest of the meals fare?
We sampled the rest of Peak Refuel backpacking meals on a recent trip in the Sawtooths, and it came down to a tie between the Chicken Alfredo and the Sweet Pork and Rice for first place. Peak Refuel really nailed the Chicken Alfredo. The sauce is just the right amount of creamy without feeling like a heavy gut bomb. It's well seasoned with a hint of pepper and garlic and had nice chunks of chicken that actually tasted like real chicken (because it is REAL) versus spongy meat chunks that are common in other backpacking meals. Not only do they use real ingredients (that you can pronounce), everything in their meals is certified non-GMO.
Other enjoyable meals were the chicken teriyaki, the spaghetti, and even the eggs. We threw the dehydrated egg skillet into some tortillas when we were car camping in Hawaii, and they made for filling and tasty breakfast burritos.
Overall, I've been really impressed with Peak Refuel, and they've made it on the list of my favorite backpacking meals.
[images_2_col image_1="34190″ image_2="34184″ /]
[separator style_type="single" /]
Peak Refuel Meal Preparation
You've just hiked all day & set up camp, you're tired and hungry! With Peak Refuel, dinner prep is fast & easy. Two specific things I noticed about Peak Refuel is they have a quick cook time (only 10 minutes), and they require less water than some other dehydrated backpacking meals (only 1 1/3 cup). This is a perk if you are camped somwhere without water.
All you have to do to cook them is add boiling water, stir, and close up the pouch for 10 minutes. After you eat, there is no dishes or cleanup, and you can utilize the meal packaging to pack out any trash you've accumulated from your day.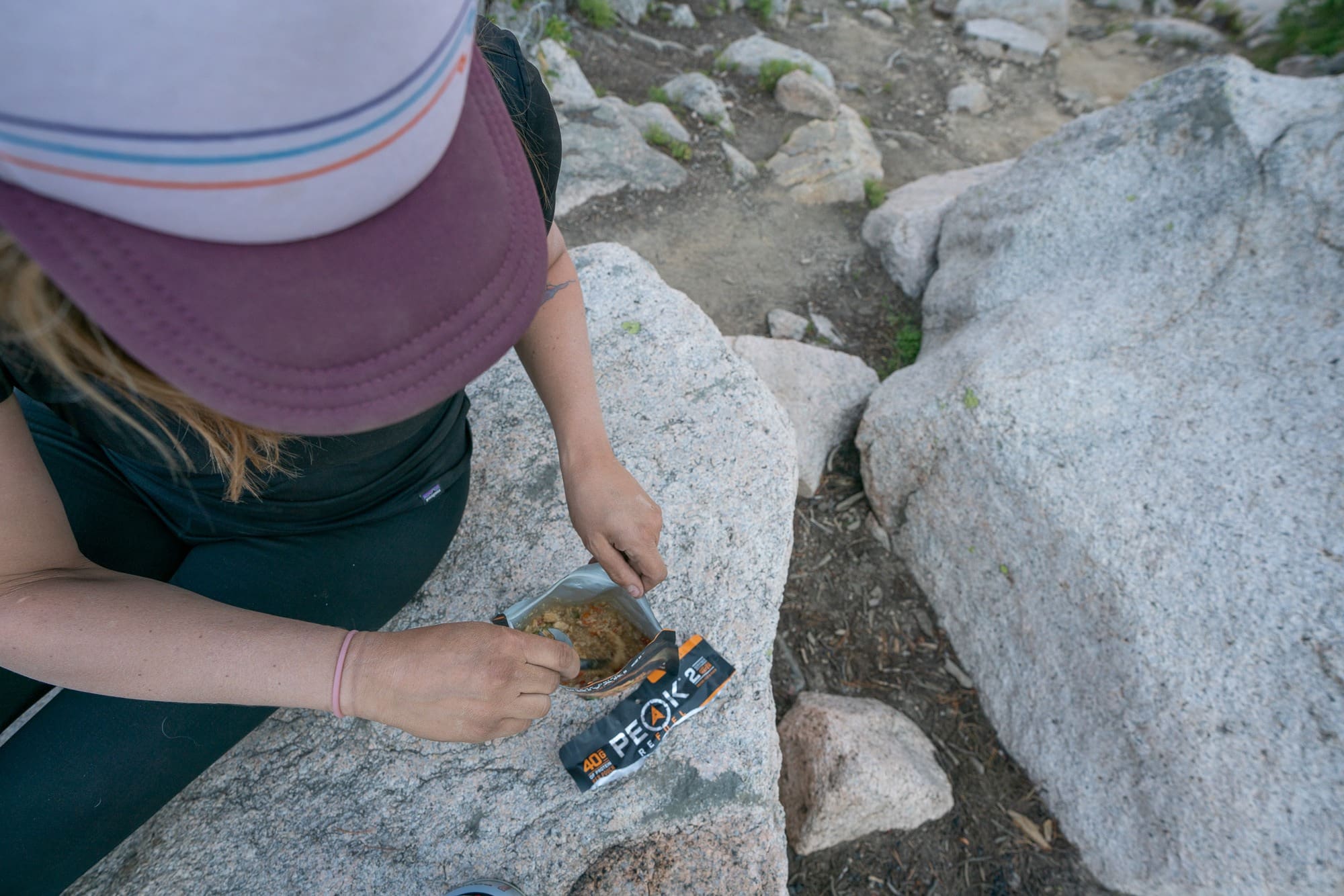 [separator style_type="single" /]
Peak Refuel Nutrition
The meals taste good, but in order to qualify as a good backpacking meal, they also need to be calorie dense and provide the energy to push you uphill with a heavy pack on. The Peak Refuel meals have very high protein, fat, and calorie counts compared to the average backpacker meal. The chicken alfredo, for instance, has 44 grams of protein, 690 calories and 33 grams of fat!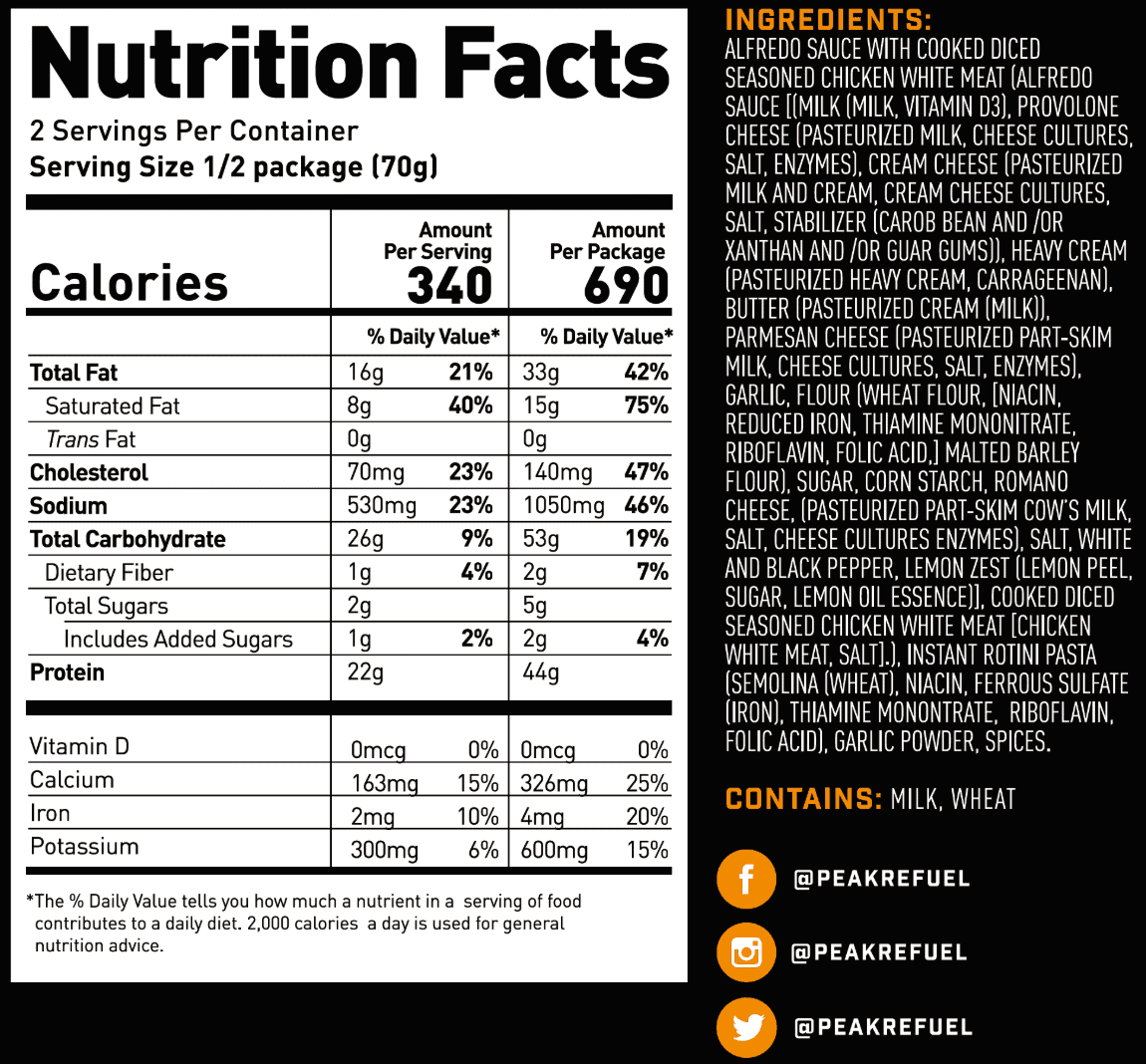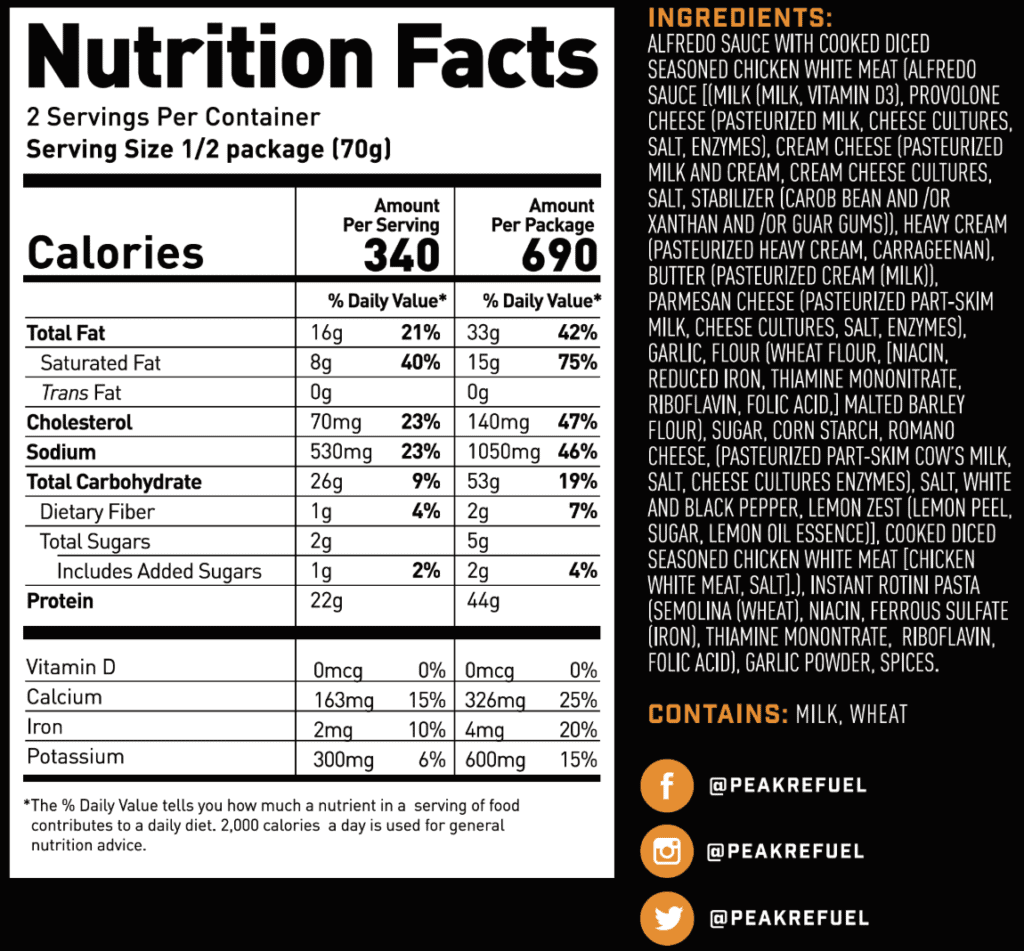 Like most backpacker meals that claim 2 servings, after a long day, someone with a decent appetite could definitely house a whole 2-serving package by themselves. Luckily their heaviest meal only weights 6.35 ounces, and you can always repackage the meal in freezer ziplock bags if you need to make more room in your bear canister or backpack.
[separator style_type="single" /]
Where to buy Peak Refuel Backpacking Meals
You can purchase Peak Refuel directly from their website by clicking on the meals below, or find local retailers using their Zip Code Locator. Right now they are offering free shipping off orders over $49. You can also save a bit off each meal by purchasing their Basecamp Combo Pack.
Soon Peak Refuel will be announcing some new snacks, as well as bulk packaging for their meals…so keep an eye on their website.
[image_carousel image_1="34194″ link_1="https://peakrefuel.com/product/chicken-alfredo-pasta/" image_2="34193″ link_2="https://peakrefuel.com/product/beef-pasta-marinara-meal/" image_3="34199″ link_3="https://peakrefuel.com/product/sweet-pork-and-rice/" image_4="34200″ link_4="https://peakrefuel.com/product/chicken-teriyaki-rice/" image_5="34201″ link_5="https://peakrefuel.com/product/breakfast-skillet/" /]
[content_box title="Read Next" icon="fa-star-o" backgroundcolor="#eaeaea" iconcolor="" circlecolor="#74c3ae" circlebordercolor="#74c3ae" outercirclebordercolor="#74c3ae" image_width="21″ image_height="21″]
[/content_box]