Best Lightweight Vegan Backpacking Food Ideas
Easy, delicious, lightweight, and filling backpacking food ideas that you wouldn't even know are vegan.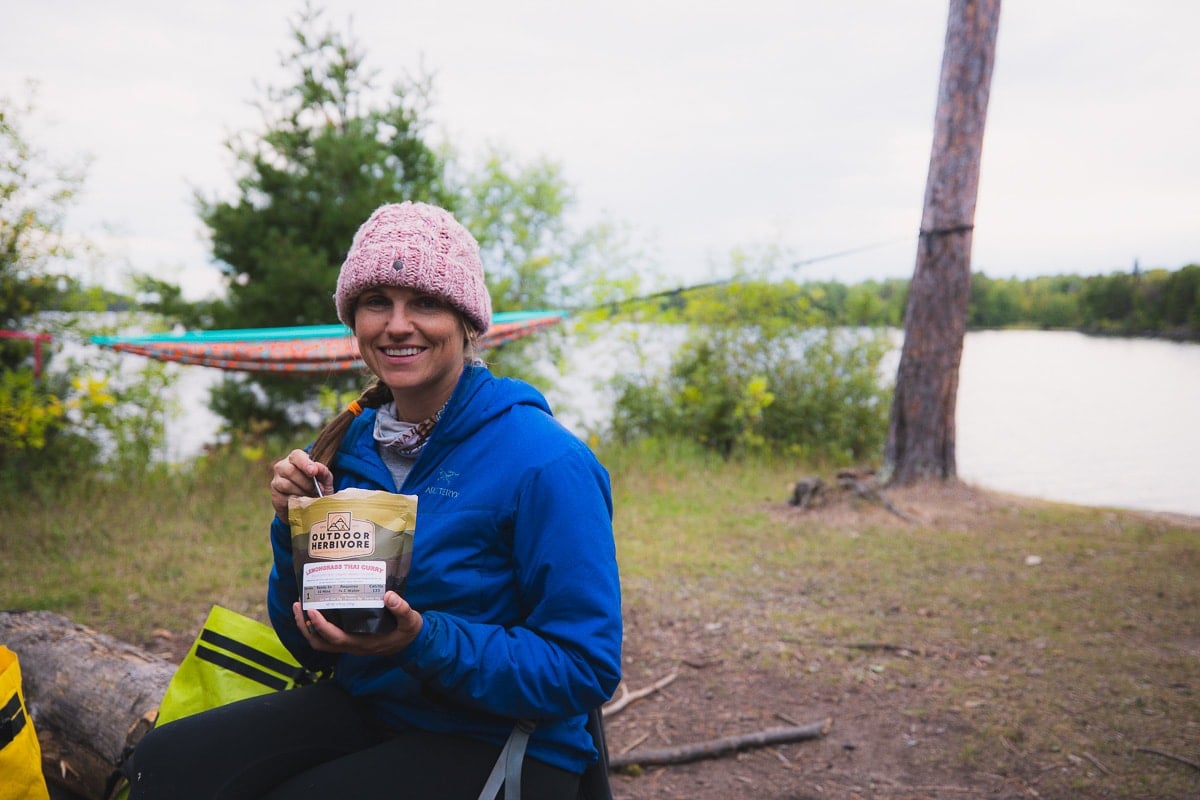 There's a funny thing about food and the psyche when you are out in the backcountry. You spend a lot of time thinking about whatever your first meal back will be, typically consisting of all of the indulgent things that you can't have. You also spend a lot of time dramatically complaining about the dehydrated food sitting in your pack. "If I have to eat another freeze-dried meal, I might just be sick!" It can be hard to come up with creative backpacking food ideas.
But then you carefully pour the boiling water into that package of Backpacker's Pantry Pad Thai and spend the next 10 minutes drooling, counting down the seconds till those morsels are rehydrated and ready to be wolfed down. The second it hits your tongue, it's like you've died and gone to heaven. That savory, salty, thick, hearty goodness. It's like there's nothing more satisfying in the entire world!
Here at Bearfoot Theory, we love good backpacking food and we also thrive on a plant-based diet. All of the recommendations in this post are vegan-friendly and packed with healthy nutrients that will keep you powered on the trail. For all you meat eaters out there, don't worry – these options are all delicious, healthy, and filling, plus who wants to eat those weird spongey dehydrated meat nuggets anyway?
Here's a list of our favorite simple vegan backpacking food ideas. They are readily available online, delicious, easy to prepare, and require little cleanup.
Tips for Choosing Backpacking Meals & Snacks
During my 22-day John Muir Trail adventure, there were plenty of times when I dreamt about real food. But overall, I would say that I made some pretty darn good choices when planning our menu and comping up with backpacking food ideas.
That's not to say that I wasn't happy when we sat down for our first real meal after the trip, but when I was out on the trail, I always felt pretty content after eating. Here are a few tips to follow when planning your backpacking menu:
1. Pack a variety of food options
Variety is key. You do not want to be eating the same thing every day over and over again. Having a mix of different breakfasts, lunches, and dinners gives you something new to look forward to and keeps your palette from getting bored.
2. Choose meals that are easy to prepare and clean up
The second critical element, at least for me, is to choose foods that are easy to prepare and clean up – ideally, dinners that can be "cooked" right in their own pouches. For these kinds of meals, you can pour the boiling water into the pouch and eat straight out of the bag, resulting in minimal dirty dishes.
3. Opt for calorie dense foods
Protein will help keep you feeling full on the trail while carbohydrates will provide you with energy. When coming up with backpacking food ideas, it's best to choose foods that are calorie-dense and high in protein and carbs for maximum energy.
---
Backpacking Breakfast Ideas
Below are a few of my favorite vegan backpacking meal ideas for filling and calorie-packed breakfasts on the trail.
Energy Bars
Bars make for quick and easy breakfasts because you can eat them on your own schedule as you pack up for the day. One of our favorite vegan bars is the dense PROBAR Meal Bars that are packed with nuts, seeds, and dried fruit and taste like real food because that's what they're made of.
We also love Bobo's Oat Bars, which are slightly sweet, calorie-packed, and delicious (my favorite flavors are the coconut and peanut butter), as well as Patagonia Provisions Bars, Larabars, and GoMacro bars.
Instant Oatmeals & Cold Cereals
While a lot of people like to complain about oatmeal, it's one of the most classic backpacking food ideas that's become a staple on our trips. As long as you don't have to eat it every day, it can be tasty, easy, and filling, sustaining you on those tough climbs. All you have to do is boil a little extra water with your morning coffee, stir it into the oatmeal, and dig in! If you don't have time or enough fuel to boil water, these cereals can also be eaten cold (although we definitely recommend a hot breakfast especially on chilly mornings).
Nature's Path Instant Oatmeal
While on my JMT hike, I enjoyed the texture and flavors of Nature's Path Organic Instant Oatmeal Variety Pack. This box comes with four different flavors including Apple Cinnamon, Multigrain Raisin, Flax Plus, and Maple Nut for a nice variety each morning.
Trailtopia Instant Oatmeals
Trailtopia makes several delicious and lightly sweetened instant oatmeal varieties that can be cooked right in their pouches, which also makes for easy clean-up. Each pouch contains real dried fruit and a touch of sugar to brighten up your morning. Flavors include:
Food for the Sole Energy Oats
Another popular instant oatmeal option is by Food for the Sole, a company that produces ultra-light, tasty, and health-conscious backpacking meals. Food for the Sole has three varieties of vegan-friendly Energy Oats, all of which are delicious:
Backpacker's Pantry Oatmeals
Backpacker's Pantry is a very well-known and popular brand with lots of backpacking food ideas. They have several breakfast options including a delicious vegan-friendly instant Hot Blueberry, Walnut, Oats & Quinoa Cereal, which can be made and eaten right from the pouch.
Outdoor Herbivore Cereals
Outdoor Herbivore makes whole-food vegetarian and vegan backpacking meals including tasty breakfasts. Their ingredients are locally sourced as much as possible and their meals are packaged in compact rehydration pouches that use minimal plastic to help reduce waste.
For a breakfast, try their Toasted Sunburst Muesli or High Elevation Rice Cereal or pick up their cold breakfast sampler to maximize variety on the trail.
Peak Refuel Mountain Berry Granola
I've written an in-depth review of Peak Refuel backpacking meals, but since then, I've transitioned to a plant-based diet so many of their products are a no-go for me. However, Peak Refuel does have a vegan breakfast option, their Mountain Berry Granola. Made with rice milk, freeze-dried berries, and whole grain oats, it provides a tasty and filling start to the day. Just pour a cup of cold water into the packet and enjoy!
Tofu Scramble
There are a lot of backpacking egg breakfast options out there, but have you ever tried a morning tofu scramble? If not, give the Outdoor Herbivore Sunrise Tofu Scramble a try. It's packed with plant-based protein to give you energy on the trail plus plenty of dehydrated veggies. Try it rolled up in a tortilla for a filling, and delicious, breakfast burrito.

Instant Coffee
Maxim Mocha Gold is the best instant coffee I've ever had. I probably shouldn't admit that I'm still drinking it now that I'm home, but it's that good! It comes in little single-serve packets, but it already has the non-dairy cream and a small amount of sugar mixed in. You can get 100 instant servings for under $20 on Amazon. A steal!
---
Backpacking Lunch & Snack Ideas
A lot of backpackers choose to snack throughout the day rather than stop to make a lunch. Either way, here are a few of my favorite backpacking lunch and snack ideas.
Powdered hummus
Powdered hummus is a perfect backpacking meal idea because it's lightweight, packed with protein and carbs, and high in fiber. The Hummus Co. makes several flavors of powered hummus including my favorite – Mughla Curry. Just pour in water, mix until you reach your desired consistency, and enjoy with a tortilla, crackers, or baby carrots.
Vegan Jerky
Vegan jerky is another delicious protein to throw in a tortilla or eat on the go. My favorite is Primal Vegan Jerky in Hot and Spicy (made from mushrooms) or the Texas BBQ (made from soy protein). You can also get the sampler pack with 6 different flavors to choose from. Even meat-eaters love these jerkys!
Nutiva
Before I turned to a plant-based diet, I had a thing with Nutella. It's SO good and it was a real treat on the JMT. Nutella does contain dairy, but if you're vegan, don't despair! The vegan-alternative is Nutiva and it's just as good if not better (it's quite a bit less sweet). This chocolatey hazelnut goodness slathered on a tortilla with some dried banana chips is heaven. Pro tip: pack more than you think you'll need.
Justin's Nut Butter Packets
Nut butter packets are super convenient and a great source of protein on the trail. They're one of our favorite newer backpacking food ideas. We really like Justin's Nut Butters because they're non-GMO responsibly sourced, and they taste amazing. The Maple Almond Butter is heaven in a packet.
Food for the Sole Dehydrated Meals
I mentioned Food for the Sole Energy Oats in the breakfast section above, but they also make tasty dehydrated meals and all of them are vegan! Each pouch contains a single serving and is best eaten as a lunch or snack since they're not as calorie-dense as other dehydrated meals that you would eat for dinner.
Choose from:
Ratatouille with Nutty Quinoa Pilaf
Garlic Green Bean and Cashew Stir-Fry
Coconut Rice and Cuban Black Beans
Lentil Walnut Pilaf with Kale
Roasted Sweet Potatoes with Kale and Quinoa
You can buy them individually or get a Full Meal 6-Pack Deal.
Outdoor Herbivore Lunches
Outdoor Herbivore has a ton of vegan and vegetarian backpacking food ideas, including delicious lunches that are packed with protein and nutrients and have way less salt than other brands (which I prefer). I tested out many of their products on my Boundary Waters trip and I thought they were really awesome. They had good texture, satisfied a fresh salad craving, and were super easy to make because you just mix in cold water, no need to get the stove out.
My favorite Outdoor Herbivore lunches are:
Navitas Organics Power Snacks
These little cubes of dates, nuts, seeds, and superfoods are an energy bomb. They're great for a quick snack on the trail when you're feeling tired and sluggish or they're the perfect post-lunch sweet treat. Navitas Organics sources ethically grown ingredients and are committed to creating a "healthier world through regenerative organic farming and plant-forward lifestyles".
Honey Stinger Organic Energy Chews
These are pure gummy goodness with energy that is naturally derived from white tea. After sampling all the flavors, I would recommend pomegranate passionfruit, but really they're all delicious.
Trail mix
Trail mix is a given on nearly any backpacking trip. My recommendation is Trader Joes Omega Trek Mix. It's packed with all of the best nuts including almonds, pistachios, walnuts, and pecans. Alternatively, load up on your favorite ingredients in the bulk section and make your own trail mix concoction.
Dried Fruit
Dried fruit is an essential on the trail and is one of our favorite backpacking food ideas. You can eat it by the handful as a snack, sneak some cranberries into your hummus wrap, or flavor oatmeal with dried mangos or apples, My favorite dried fruits are tart Montgomery cherries – they're slightly sweet and have a nice tang.
---
Backpacking Dinner Ideas
Whether you're looking for DIY backpacking dinner ideas or dehydrated pouches of savory, salty goodness, these meals will help refuel your body for another day on the trail.
DIY Backpacking Dinners
Soy curls
Soy curls are a delicious alternative to meat. They're quick and easy to rehydrate and can be added to any backpacking meal likes soups or stews, stir-fry's, pasta, or any other dish you're whipping up at camp. Butler Soy Curls are minimally processed, non-GMO, and pesticide-free.
Harmony House
Harmony House is the perfect place to look for DIY backpacking meal ideas. They have a huge selection of dehydrated foods, freeze-dried fruits and veggies, soup blends, and TVP (which stands for Textured Vegetable Protein and is an excellent alternative to meat).
To get started, head to their Trail Food page or pick up one of their Backpacking kits (also available on Amazon).
Outdoor Herbivore Dinners
Not only does Outdoor Herbivore make a delicious breakfast tofu scramble and filling and nutritious lunches, they also make a huge variety of amazing dinners as well, which I sampled during our Boundary Waters trip. All of their dinners are vegan or vegetarians and are made with whole-food ingredients. No chemicals or artificial flavors here!
My favorite Outdoor Herbivore dehydrated vegan dinners are:
I also recommend checking out their 7-day sampler which has 7 breakfasts, 7 lunches, and 7 dinners.
Peak Refuel Backpacking Meals
Up until recently, the number of major backpacking food brands has been pretty limited, but over the last few years, we've seen some new players in the game that are focused on creating healthier, more natural backpacking food with fewer chemicals. One of these new companies, based out of Utah, is Peak Refuel.
Their meals are non-GMO, calorie-dense, and packed with protein…but even more important, they are delicious and they have a tasty vegan-friendly option – the Three Bean Chili Mac.
Good To-Go Backpacking Meals
Good To-Go's lightweight dehydrated backpacking meals are meat-free, gluten-free, and have less sodium than the competition, filling a huge gap in the food aisle at REI. I've tried every meal in their lineup and wrote up a post listing out my top Good-To-Go picks.
All of their meals are vegetarian, but if you're vegan, here is their vegan line-up:
Nomad Nutrition Dinners
Nomad Nutrition is relatively new on the backpacking food scene and they offer delicious plant-based meals that are easy to prepare and no-fuss to clean up. Simply add about a cup of hot water to each pack and dinner is served! There are six different flavors to choose from and two different size pouches – 2oz and 4oz.
Backpacker's Pantry Dinners
Backpacker's Pantry is one of the biggest and most well-known backpacking food options out there. They have a handful of vegetarian and vegan-friendly meals that are nutritious, filling, and tasty, especially after a long day on the trail. The Pad Thai gets great reviews as does the Three Sister's Stew. Here is Backpacker Pantry's full line-up of vegan-friendly meals:
Couscous
Couscous is awesome for backpacking. All you have to do is boil water, add the couscous and seasoning, turn off the heat, cover, and it's ready in 5 minutes. My favorite is the Near East Roasted Garlic Couscous. It's great on its own, but if you want to make it a more hearty meal, add in some vegan jerky and a handful of cranberries. You can also buy couscous package free in the bulk section and add your own seasonings.
Ramen
On the John Muir trail, I loved ramen so much that I joked that I might just start eating it on the regular at home. Grab your favorite flavor – the Soy Sauce flavor is vegan – and mix in some soy curls and freeze-dried veggies for a more filling and "nutritious" meal.
---
Backpacking Drinks
Drinks are an essential backpacking menu item, both to keep you hydrated and to keep you warm on chilly days and nights. Here are a few of my favorite backpacking drink options:
Powdered Hot drinks
Lesson #21 from the John Muir Trail: Plentiful hot drinks are crucial. The more, the better, so stock up.
Powdered Cold drinks
While we didn't bring any cold drinks other than water on our JMT hike, we saw plenty of people carrying Tang and Gatorade powder. I can't help but think that some orangey Tang would have been nice with lunch every once in a while. If you're looking for a more 'natural' powdered cold drink with rehydrating electrolytes, Skratch is awesome. We also like Nuun hydration tablets and Liquid IV.
---
Backpacking Treats
For a little pick-me-up or post-meal treat, try a few of these tasty backpacking snack ideas:
Heather's Choice Packaroons
Heather's Choice Packaroons are calorie-dense whole-food treats packed with coconut, maple syrup, nuts, and other goodies. If you like coconut, you'll love these! They come in four flavors: Amaretto, Blueberry Almond, Lemon Lavender, and Sweet Coconut.
Kind bars
The Peanut Butter Dark Chocolate flavor is the bomb. It provided a nice crunch that you don't often get out in the field. The Almond Coconut variety came in at a close second.
Loucks Sesame Snaps
Crunchy, sweet, cheap, and packed with fat, calories, and protein these sesame snaps only weigh 1.4 ounces so you get a lot of bang (and flavor) for the weight.
Candy
Do it. Load up on those Snickers Bars and Sour Patch Kids. In my recent post 22 Lessons from 22 Days on the John Muir Trail, I explain that backpacking is not the time to go on a diet. You don't want junk food to be the only thing you consume, but treating yourself here and there is totally acceptable.
For vegan candy options, try UNREAL – their dark chocolate caramel peanut nougat bar is amazing.
---
What are your favorite easy vegan backpacking food ideas? What would you leave behind? Leave a comment below to share your tips!