Eliminating Hiking Foot Pain: Foot Rehab for the Outdoor Enthusiast
Hiking foot pain is not just annoying it's fairly common. We share our favorite exercises to rehab your feet and keep them happy on the trail.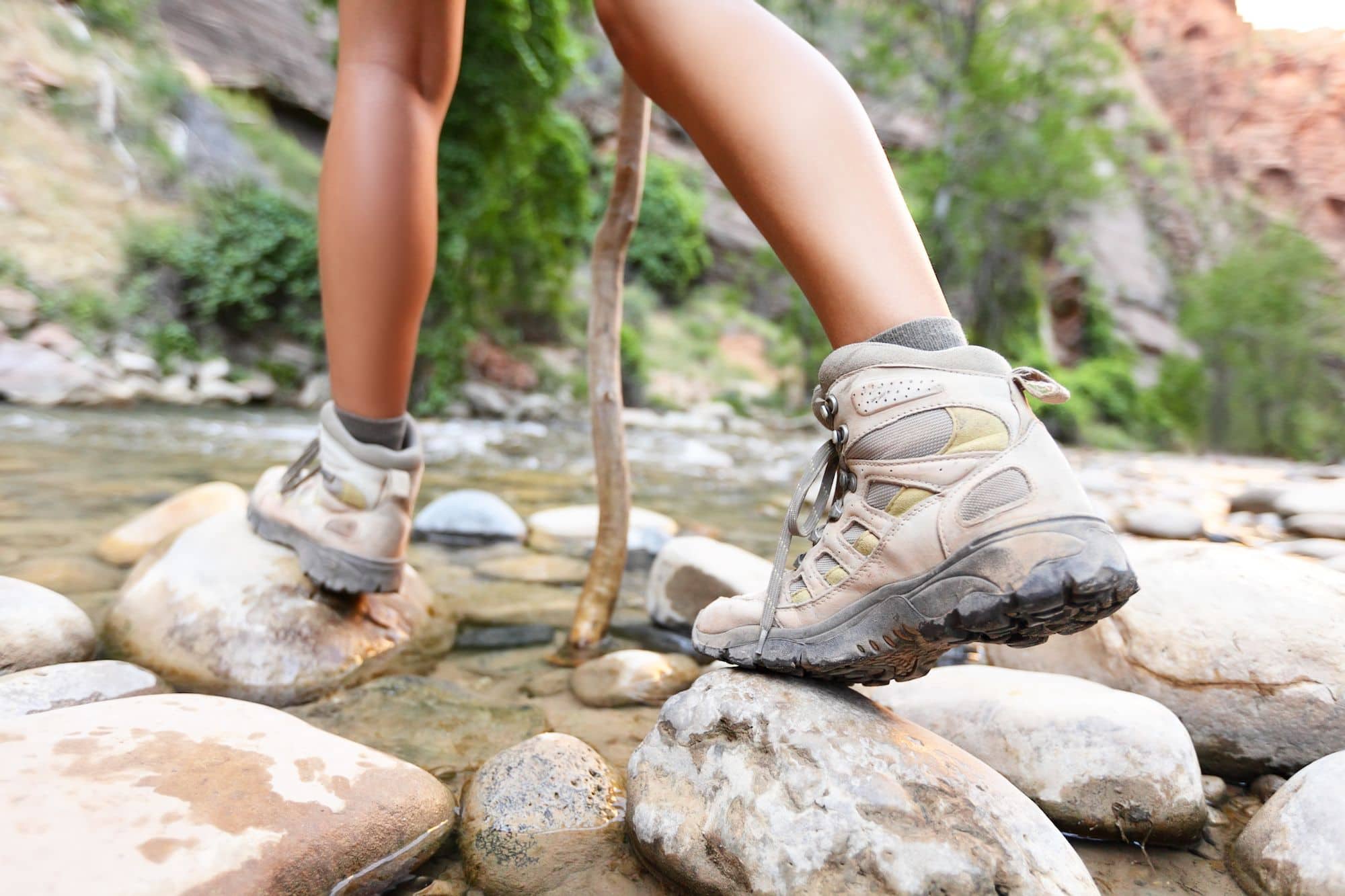 ELIMINATING HIKING FOOT PAIN: FOOT REHAB FOR THE OUTDOOR ENTHUSIAST
By Bearfoot Theory writer Katherine Oakes
We stuff them in ski boots, lace them up tightly into our favorite beat-up hiking boots or running shoes and go for miles 'til they ache. We might forget to give them some love but our feet do a lot of work for us which makes foot rehab for the outdoor enthusiast an important part of spending a lifetime getting outside and getting after it.
Whatever the outdoor activity, be it backpacking, kayaking, skiing or even a long road trip, protecting your feet from the wear and tear that goes along with it doesn't have to be a chore. At Bearfoot Theory, we love to be outdoors and plan to keep going for the long run, so staying active, healthy and pain-free means investing time into self-care whenever you can.
Have happy, healthy feet for the long haul with our ultimate guide to eliminating hiking foot pain. We'll share our favorite tips and tricks to keep your feet ready for any adventure. 
Go Barefoot More Often Between Adventures
Made up of 25% of the body's bones and muscles with 33 joints, the feet are made for all kinds of movement and are built to function well even without a shoe! What's the best way to maintain mobility in your feet? The name of this blog gives it away: Go barefoot!
Biomechanist and movement expert, Katy Bowman, recommends spending plenty of time walking barefoot to keep your feet happy, healthy and strong in between trail runs, long hikes and powder days where they are more constricted in your boot or shoe. Giving your foot shoe-free time is one of the best ways to prevent injury while outside. Think of it this way: healthy feet that can support themselves and sustain its natural movement without shoes will need less help on the trail.
But besides just going barefoot there are also a handful of exercises you can do at home to supplement that. Make sure you do the following shoe-less to help prepare your feet for hiking, backpacking, skiing, and other outdoor activities.
And while we are talking about shoes, make sure your hiking boots are a good fit for your feet. Check out tips for choosing the right hiking boot here.
Learn more about how a hiking boot should fit
Exercise #1: Maintain a healthy range of motion in your feet
Healthy feet are mobile feet. After a long hike or a day on the mountain, yours will probably be pretty sore and stiff and have less range of motion overall. To restore that natural mobility do these simple exercises 10-12 times each.
Sit down with your legs extended straight out in front of you and flex your feet towards your nose then extend and point them away from you. Notice how well you can do this. If your feet don't move much when they have a limited range of motion, so it's a good idea to repeat this sequence at least once more.
From your seated position, draw one knee in towards your chest and grab behind your leg to hold it at a 90-degree angle. Start to move your foot in a circular motion with toes pointed ten times moving in a clockwise direction first and then ten times in a counterclockwise direction. Repeat on the other side.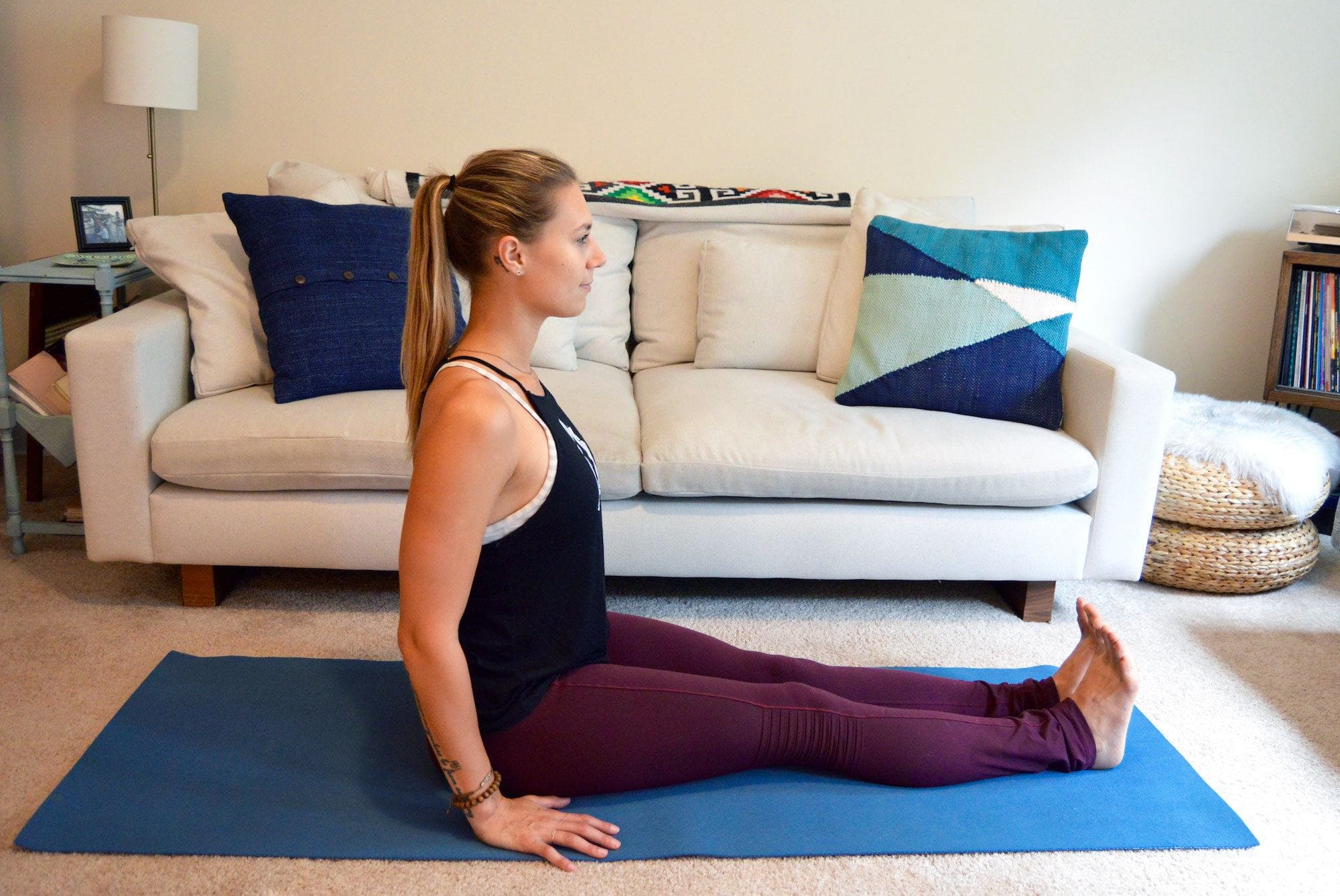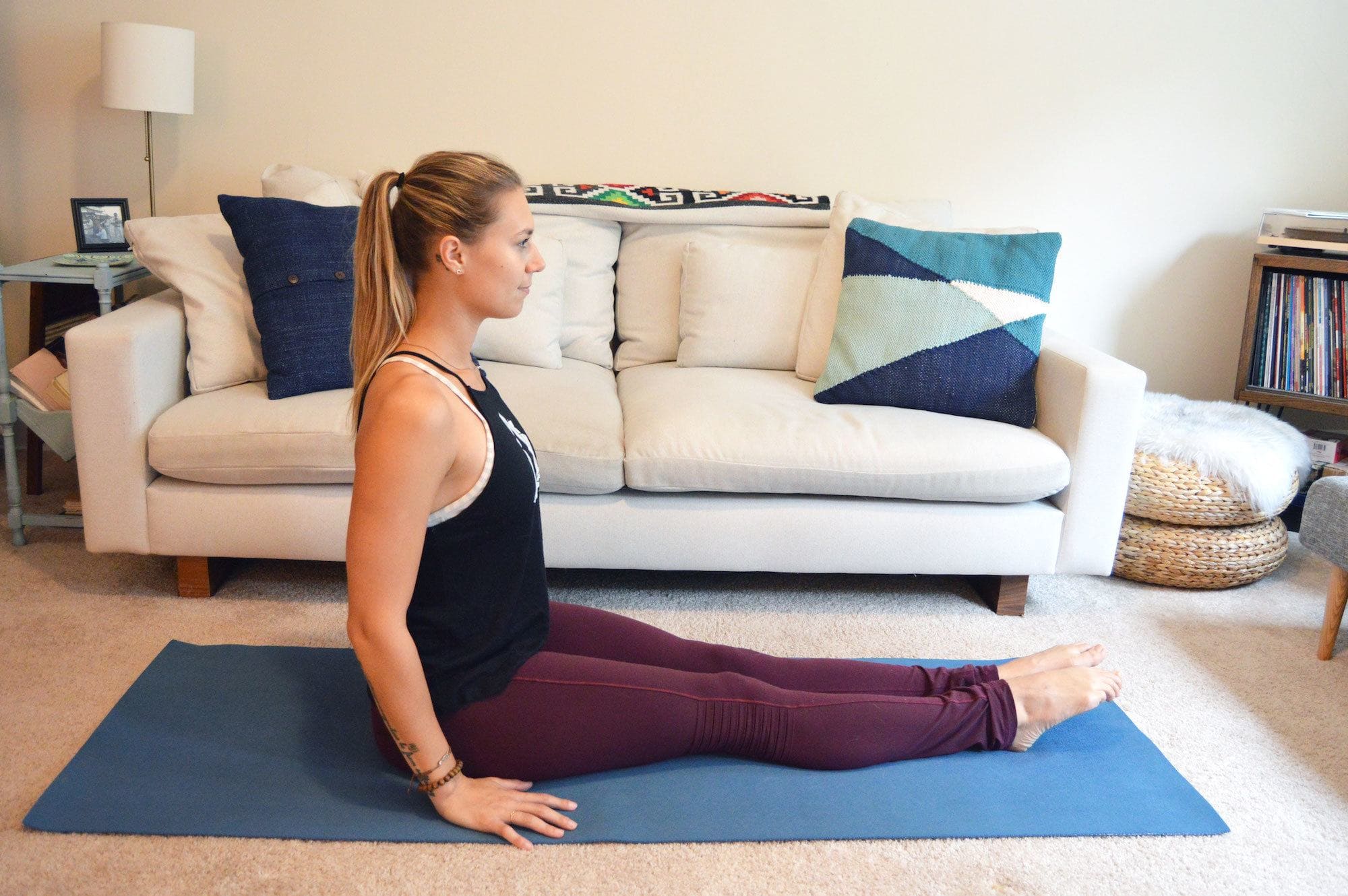 Exercise #2: Stretch and release tight foot muscles after being outside
Your body is connected by layers of connective tissue called fascia. Stretching and releasing areas of tight fascia in your body after spending time outside can make a world of difference. If you experience plantar fasciitis, releasing tightness in the connective tissue of your feet is an especially important part of foot rehab for the outdoor enthusiast.
Use a tennis ball or small pressure point ball to roll out the bottom of your feet. Roll slowly up and down moving with the grain of the muscle and be sure to pause and breathe deeply for 20-30 seconds (about 3-5 rounds of breath) in any tight, sensitive "hot spots". This will help break up any fascial adhesions that have formed and increase blood flow and circulation to that area.
Also, use your tennis ball to roll out the Achilles tendon and calf muscles moving up from the back of your ankle all the way to below the knee, avoiding the area directly behind the knee joint. Do the same thing, stop and breathe for 3-5 breaths in sensitive spots. Notice and feel the difference.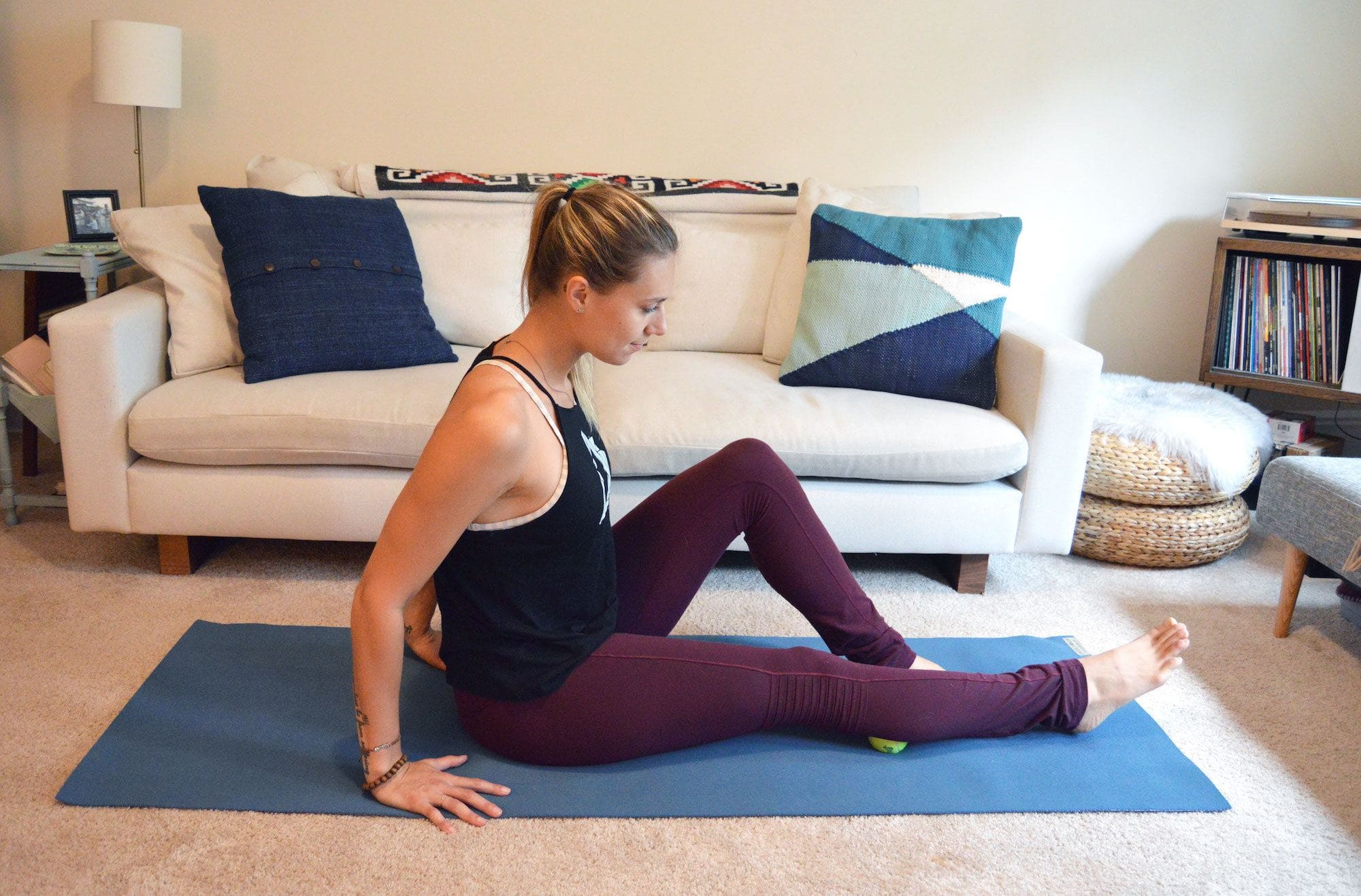 Got a little extra time? Roll out the muscles on the sides and front of your shins as well.
Exercise #3: Stretch and massage your toes
Some shoes and boots can constrict the toes and the top portion of your foot. To help restore the natural alignment of your feet do a few exercises at home both before and after you head outside.
Gentle Toe Stretches
Interlace your fingers in between your toes and gently flex them back and forth. Breathing deeply. Do this ten times on each foot.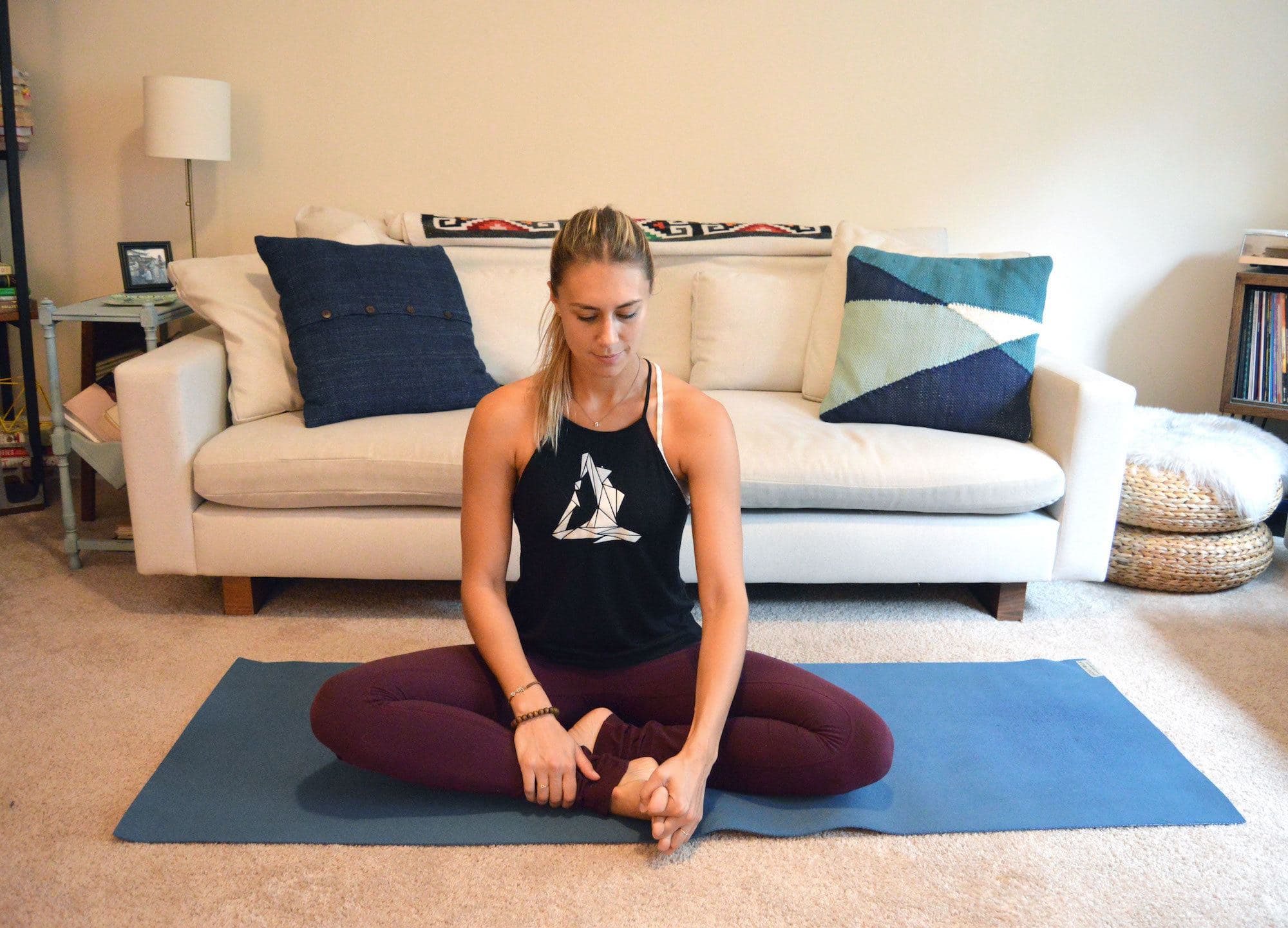 Deep Toe Stretch
Sit on your shins and curl your toes underneath you. Sit back as far as you can without any pain and hold here for 5 rounds of breath.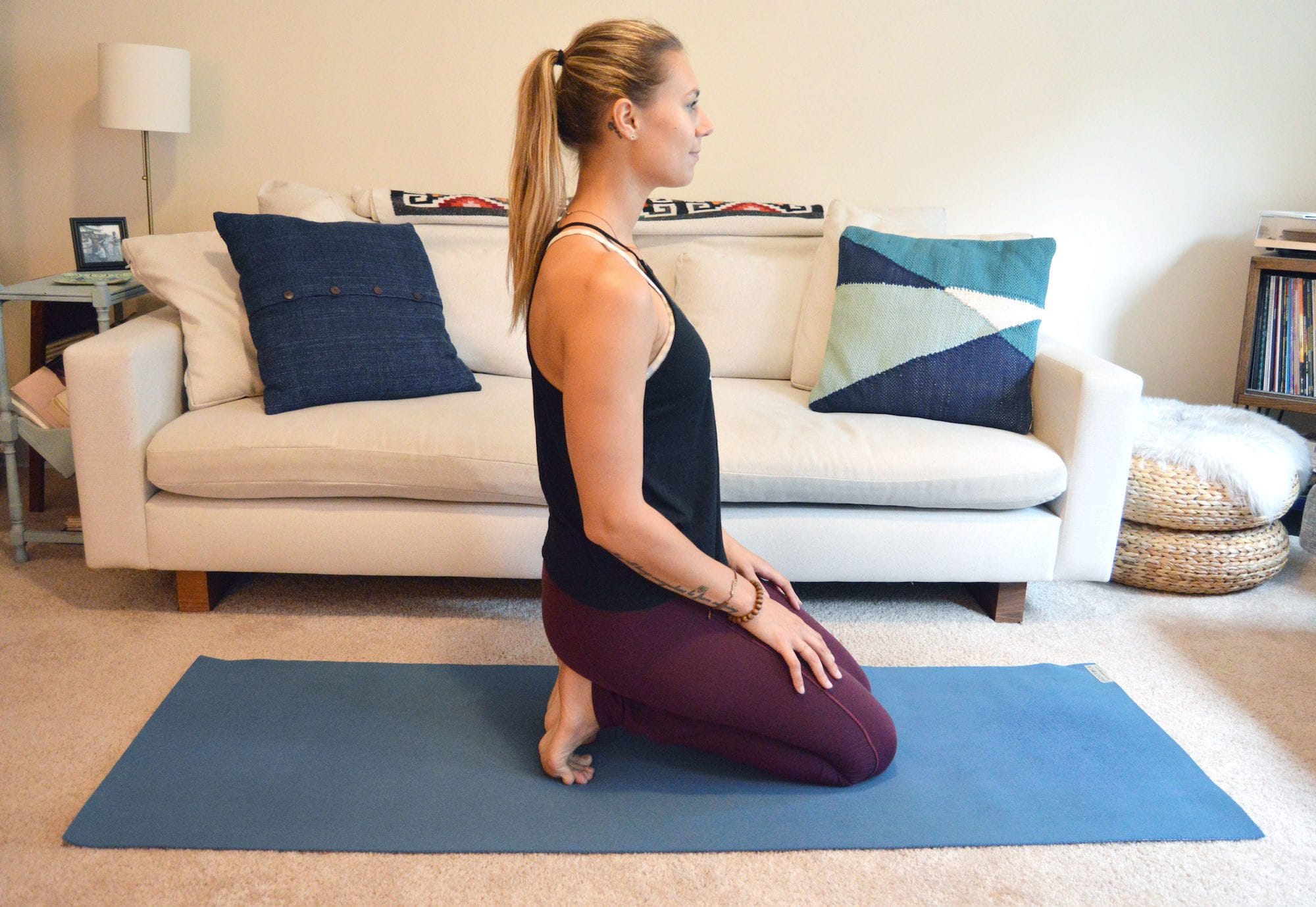 Stretch the Front of Your Ankle Joints and Shins
Do the opposite movement to stretch the front of shins and ankles by untucking your toes, placing your hands out in front of you and leaning forward. Then pull your knees in towards your chest as you press down into the tops of your toes until you feel that stretch. Hold for 3-5 breaths.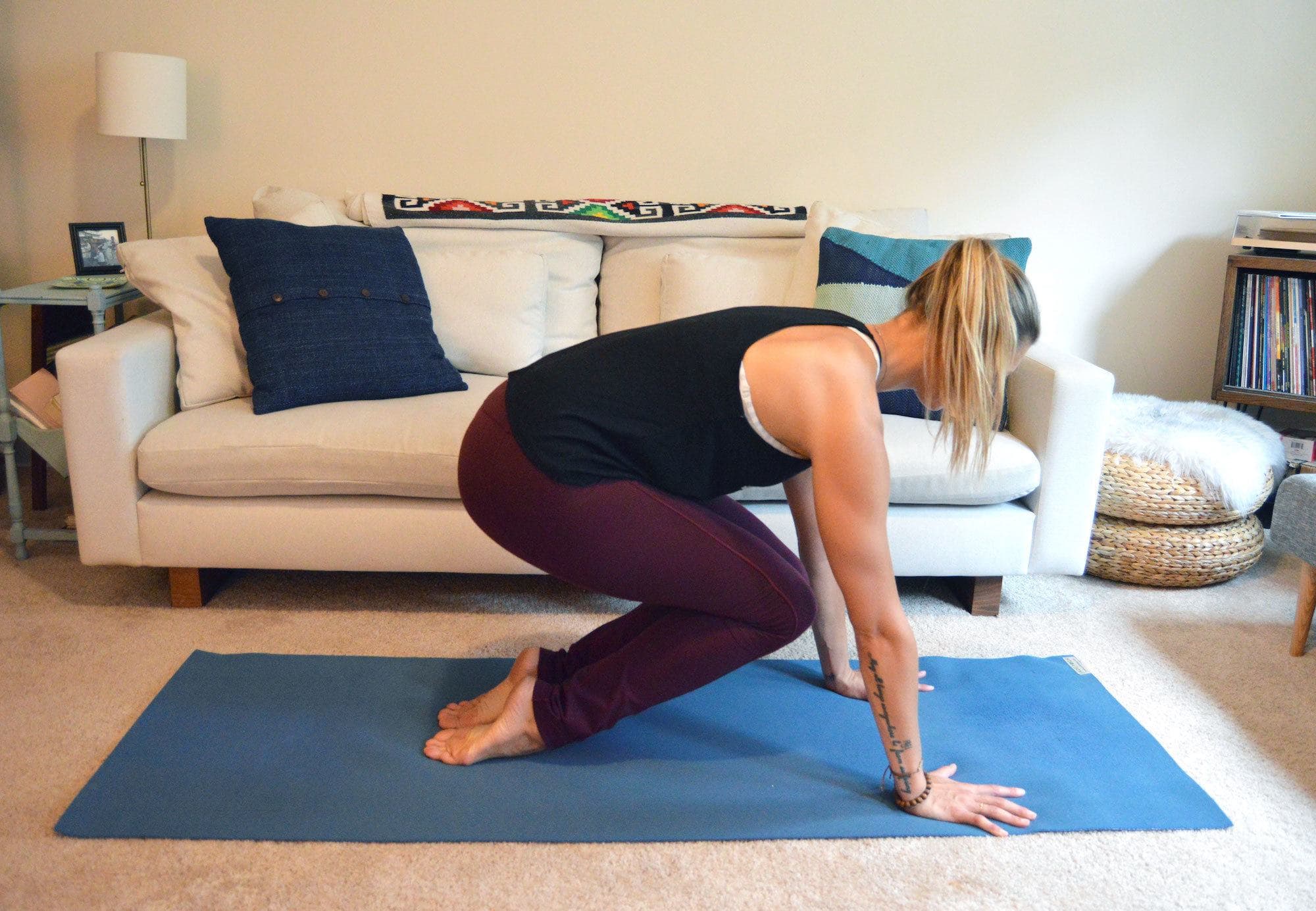 More at Home Foot Rehab for the Outdoor Enthusiast
Soak your feet in a warm bath with lavender Epsom salts to promote healing and relax stiffness and tension in your joints, muscles and tired toes. If you're prone to blisters this can help with those as well!
Keep your toenails trimmed to prevent cuts, ingrown toenails, and other foot conditions
Give your feet and calf muscles a nice massage with coconut oil to provide additional circulation to your feet. Try to do this once a month or at least before and after you head outside
Post-hike, road trip or pow day, put your legs up the wall or on a sofa to reverse the blood flow and give your feet a relaxing break
Learn how to prevent hiking blisters!
Our Favorite Tools for at Home Foot Rehab for the Outdoor Enthusiast
Massages feel great but they are expensive and often your shoulders and legs get more attention than your tired and sore feet. Here are some great at home products and tools you can use to pamper your feet and get them ready for your next adventure.
Do you have sore feet after hiking? Is hiking foot pain common for you? What are your favorite foot exercises for hiking? Share with us in the comments below!