*Updated January 2021* Back in 2017, I worked with Outside Van, a Portland-based company to build the custom Sprinter Van conversion that I've been living and traveling in for the last few years. In this van, I've driven over 14,000 foot passes in Colorado, chased powder, camped with my family, leaf peeped in New England, and more. Sprinter van life has been an incredible adventure, and this van has proved itself to be one incredible beast. In this blog post, I give the full tour and also share some updates on the few minor things I'd do differently.
This is actually my second Sprinter Van conversion. I joined the Sprinter Van community back in 2015 when I purchased my first 144" Sprinter Van. I had this first Sprinter Van converted into an awesome mobile tiny home, and traveled from California to Canada in it. During those two years, I learned a lot about how I was using the space. My last Sprinter had a full indoor bathroom, an open aisle all the way to the back doors, and a convertible sofa bed across from the slider door (you can check out the video tour of my first Sprinter Van here). In some cases, it worked – particularly when I was solo on shorter trips. However, I found myself never using the bathroom, wanting a more dedicated workspace, and needing more indoor storage for camping gear and bikes. In addition, I learned a lot about materials, the importance of building light, and having weight properly balanced across the van.
With the knowledge I gained, I decided to sell my first Sprinter and put what I learned into Sprinter Van #2. This time around, I went longer with a 4×4 170" wheelbase (read my comparison with the 144″ here) and hired a Portland-based Sprinter Van conversion company that you may have heard of called Outside Van.
50,000 miles in, I'm still absolutely loving my Outside Van Sprinter Van. Keep on reading for the full tour of my Outside Van Sprinter Van conversion, a review of my experience, and more details about why I decided to switch up my floor plan.
**Make sure to check out my free online course all about van life – The Van Life Roadmap – where I share everything I've learned over the last 4 years.
Take a tour of my Outside Van Sprinter Van conversion.
Outside Van YouTube Tour
First, watch this video and get the full inside tour of my 4×4 170″ Mercedes Sprinter camper van.
Sprinter Van Galley
Starting at the slider door when you walk in, Outside Van installed their medium sized galley. I wanted to leave the space open near the door and the galley so Ryan (my boyfriend and I) could be cooking together or brushing our teeth at the same time without having to sneak around each other. The open space by the slide door also leaves room for our dog Charlie so we aren't tip toeing around him.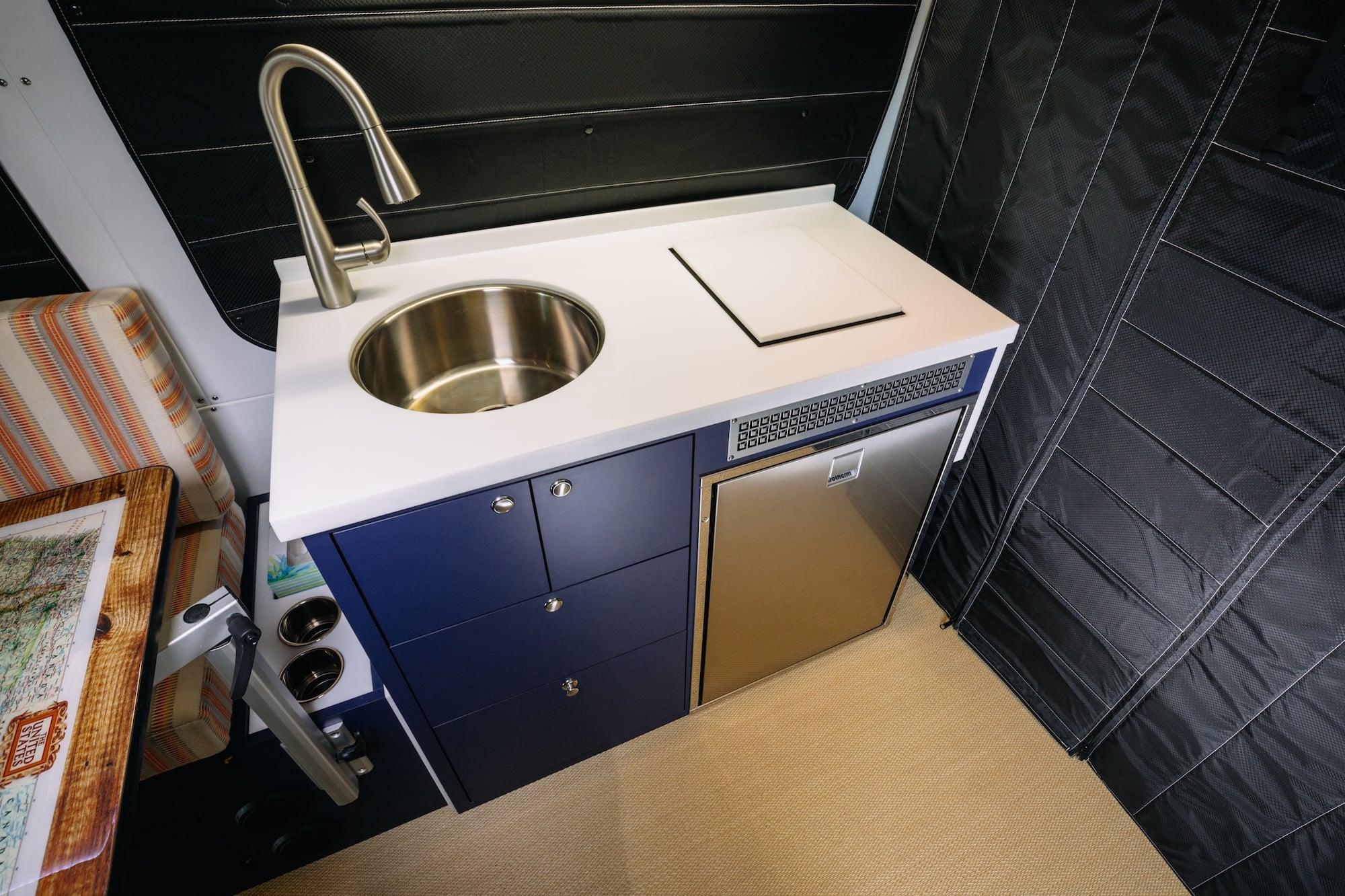 >> Read Next: Kitchen Ideas for your Van Conversion
Galley Materials
Outside Van's galley is made of marine grade plywood which is treated so it won't expand in heat or distort over time. Marine grade plywood is the standard used in boats and is made to withstand a bumpy ride. Outside Van builds their drawers using dovetail construction and are made of bamboo, which is antimicrobial and eco-friendly. All of the drawers have a slow closing mechanism to prevent them from slamming shut.
Overhead cabinet and drawer faces are covered using a high-quality laminate, which gives all of the wood in the van a nice finish while protecting the marine grade plywood underneath. Laminate is lightweight and way more durable than regular wood. I chose a reclaimed look for the overhead cabinets and a deep blue for the galley.
The white galley counter-top is made of a material called avonite. Avonite is an acrylic material, which is lighter than granite and quartz and more durable than corion – the other materials you can make a white counter-top from. The avonite is also very easy to clean, and I love the modern look it gives the van.
The Avonite counter top has held up really well. There is one minor chip on one of the edges, but otherwise, it's proven to be pretty scratch resistant and very easy to clean. Sometimes I do wish that it wasn't white as it requires constant wipe down to look clean.
Stove
In my last Sprinter Van conversion, I had a permanent two burner propane stove inside the van. In my current van, I opted for an induction instead. The gas stove was a huge pain to clean and it took up a ton of counter space that was otherwise unusable.
I loved being able to cook in the van when the weather was crummy, but as long as the weather is tolerable, I now prefer to do a majority of my cooking outside. In my new Sprinter, I have a one-burner induction stove for morning coffee, very simple meals, and bad weather days. The rest of my cooking, I'm doing outside with a two burner, portable camp stove.
While you need a powerful battery bank and inverter to run an induction stove, they have a lot of benefits. The induction stove in my Sprinter Van heats up and cool down fast, so you aren't likely to burn yourself. Induction stoves are also easy to clean and safer since you aren't combusting gas inside the van. One other thing Outside Van did is made the induction stove completely flush with the countertop, so when the stove isn't on, it basically serves as normal counter space for chopping, etc.
We use this stove way more than we expected, and I'm so glad we installed it. It's especially useful to be able to cook inside in winter without having to set anything up or when we are stealth camping.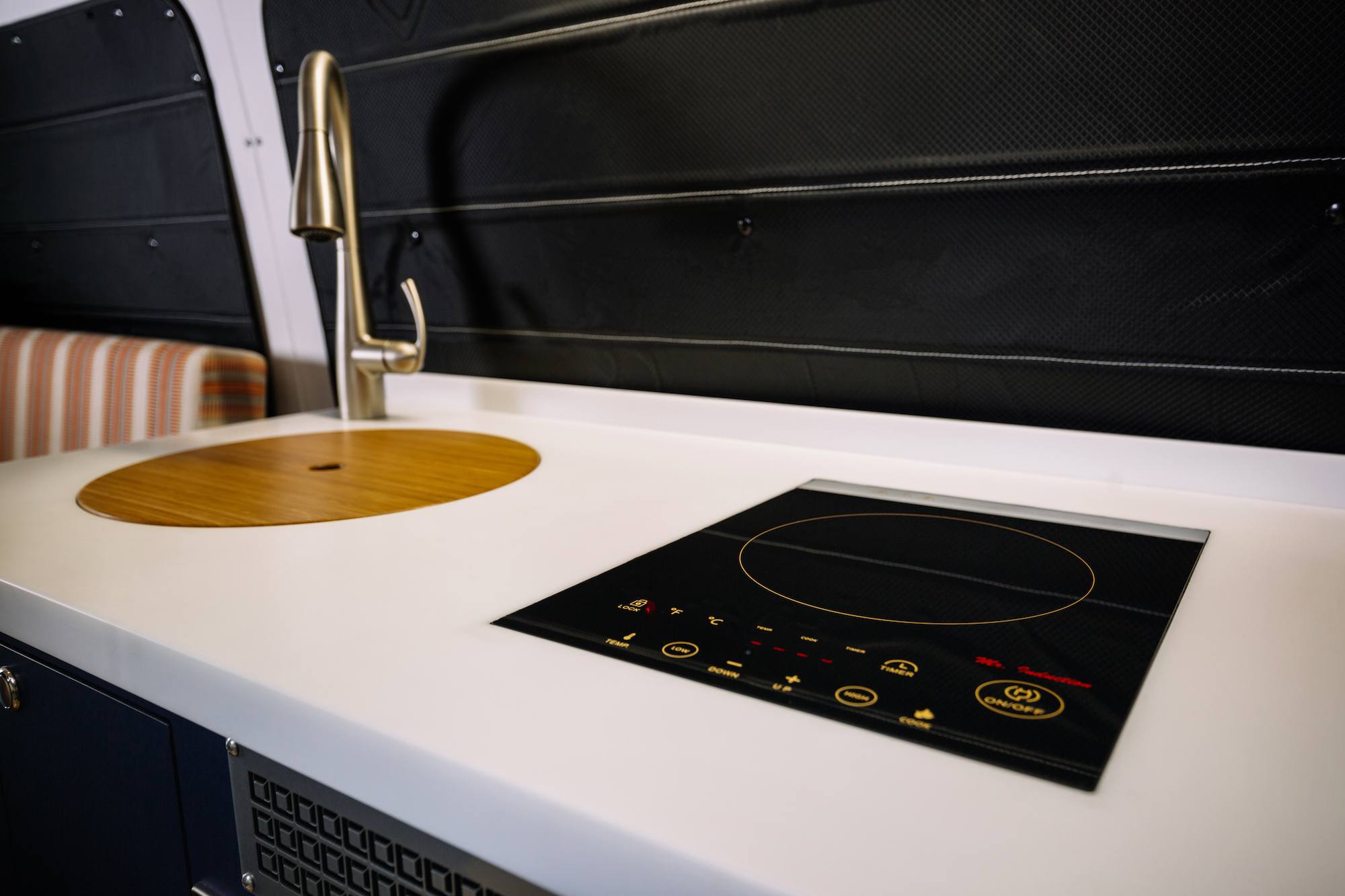 Refrigerator
The fridge in my first Sprinter Van conversion was way too small for our needs. In this van, I wanted a larger fridge with enough room to carry a weeks worth of fresh food. I chose a 4.6 cubic foot fridge by Isotherm. Isotherm is one of the premier marine and RV fridge companies, and their fridges are designed to survive shaking, vibration, and rigid movements that you have in vans and boats.
We love the size of our fridge and it functions quite well. My only complaint about this fridge is after about 6 weeks, the freezer starts to ice up and the entire fridge has to be turned off and defrosted. I'm not sure if other fridge styles – like drawer fridges – have the same issue.
Sink
For the sink, we have a nice pull-down faucet and a large, round stainless steel under-mount sink. I wanted a sink large enough that would make doing dishes very easy. Outside Van also created a cover that sits flush with the sink and creates a flat surface for additional prep space.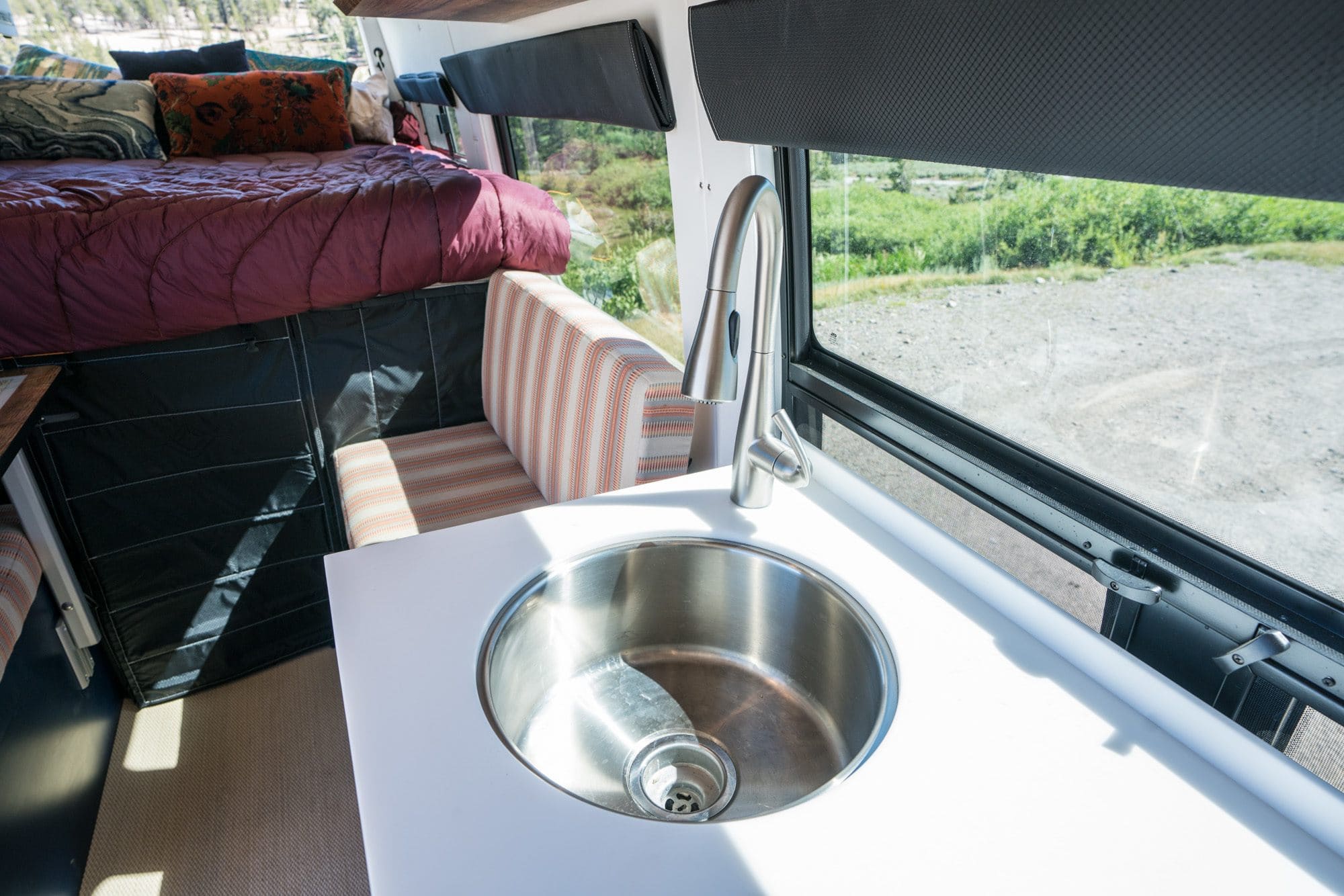 Drawers and Storage
The push locks keep the drawers and cabinets from opening while I'm driving, and Outside Van used a custom powder coat so the push locks match the other metal features in the van.
Lastly, for storage near the galley, there is a large 5' long overhead cabinet for food and other essentials. I also opted for Outside Van's overhead cab shelf which adds a lot of additional storage for oddly shaped items.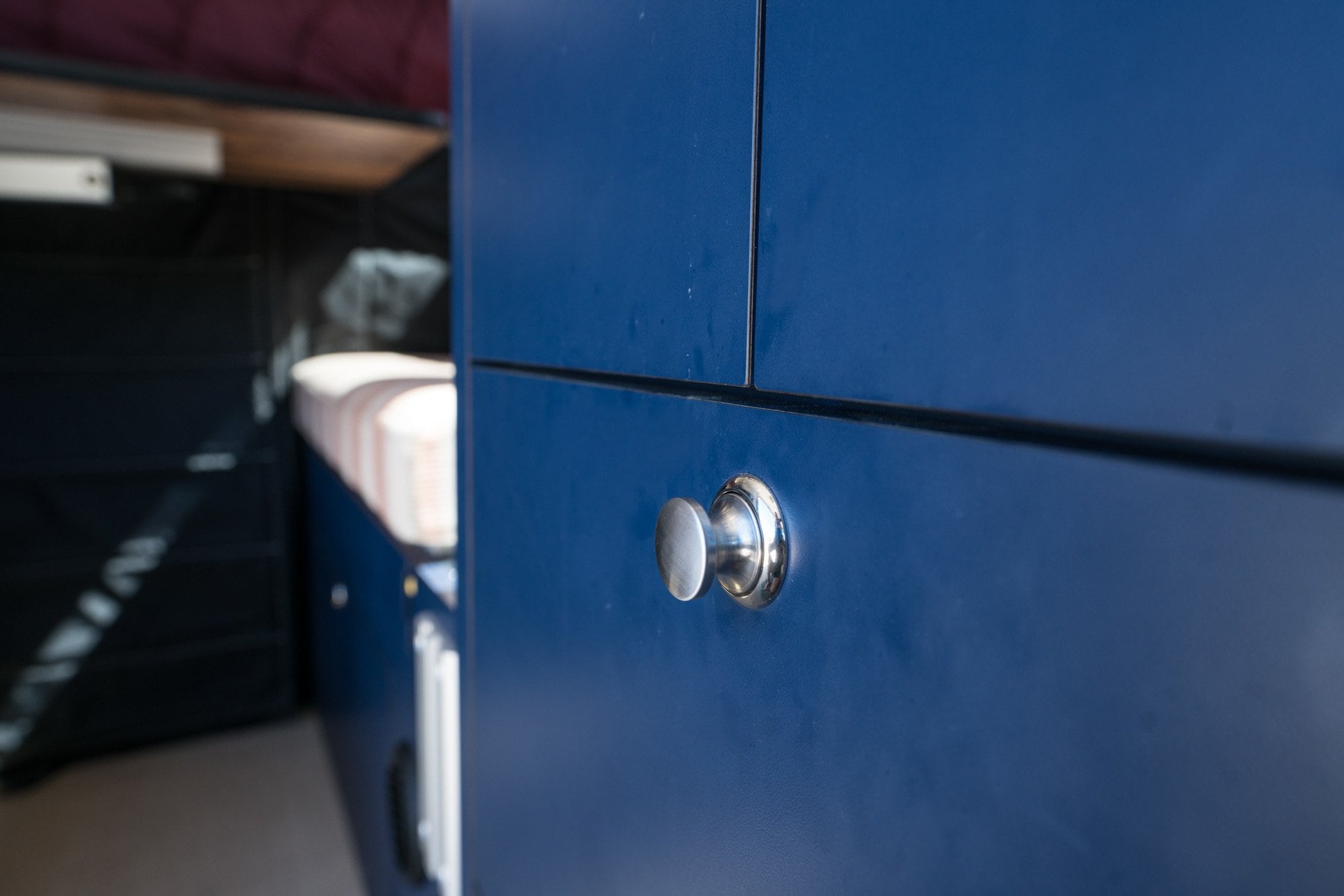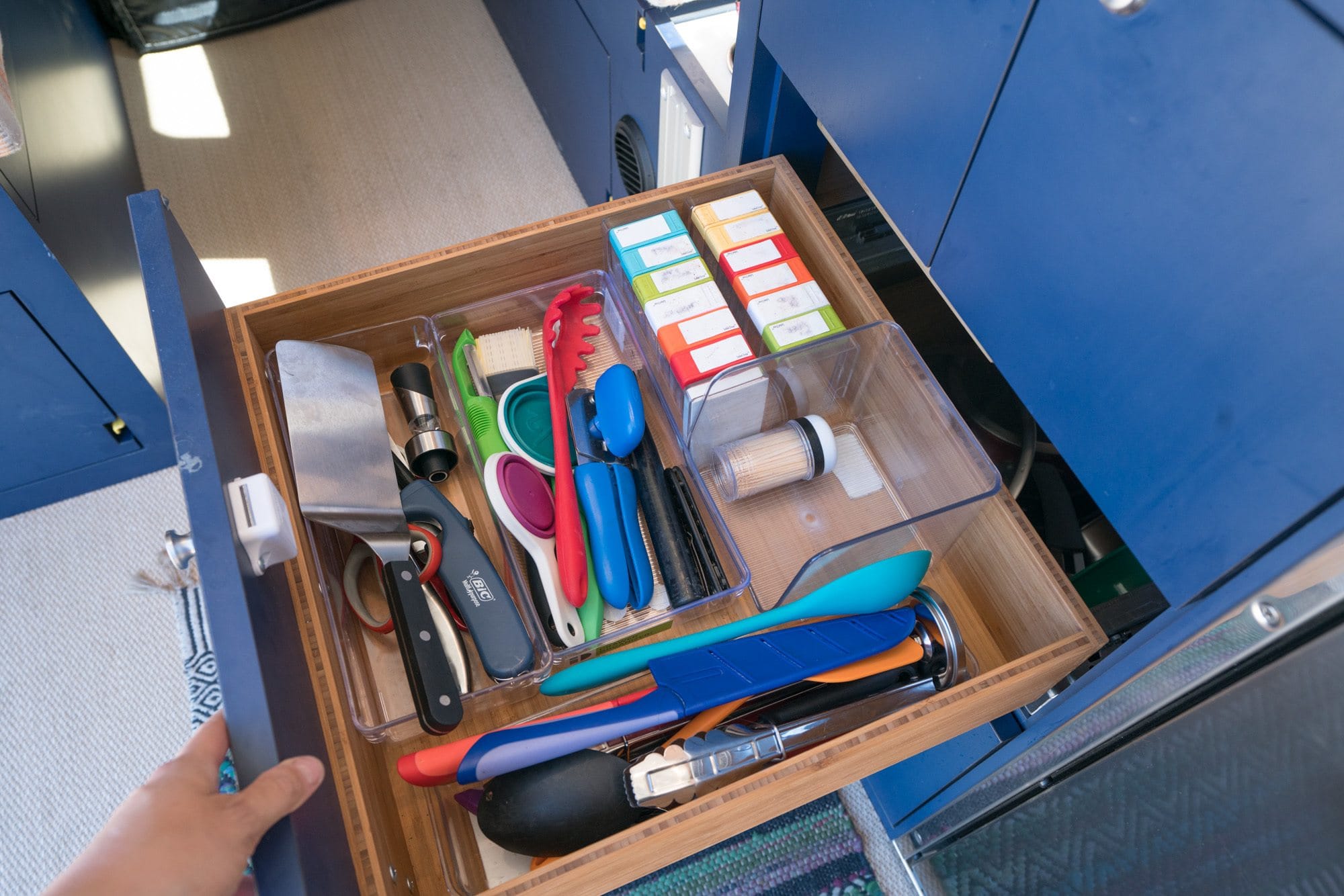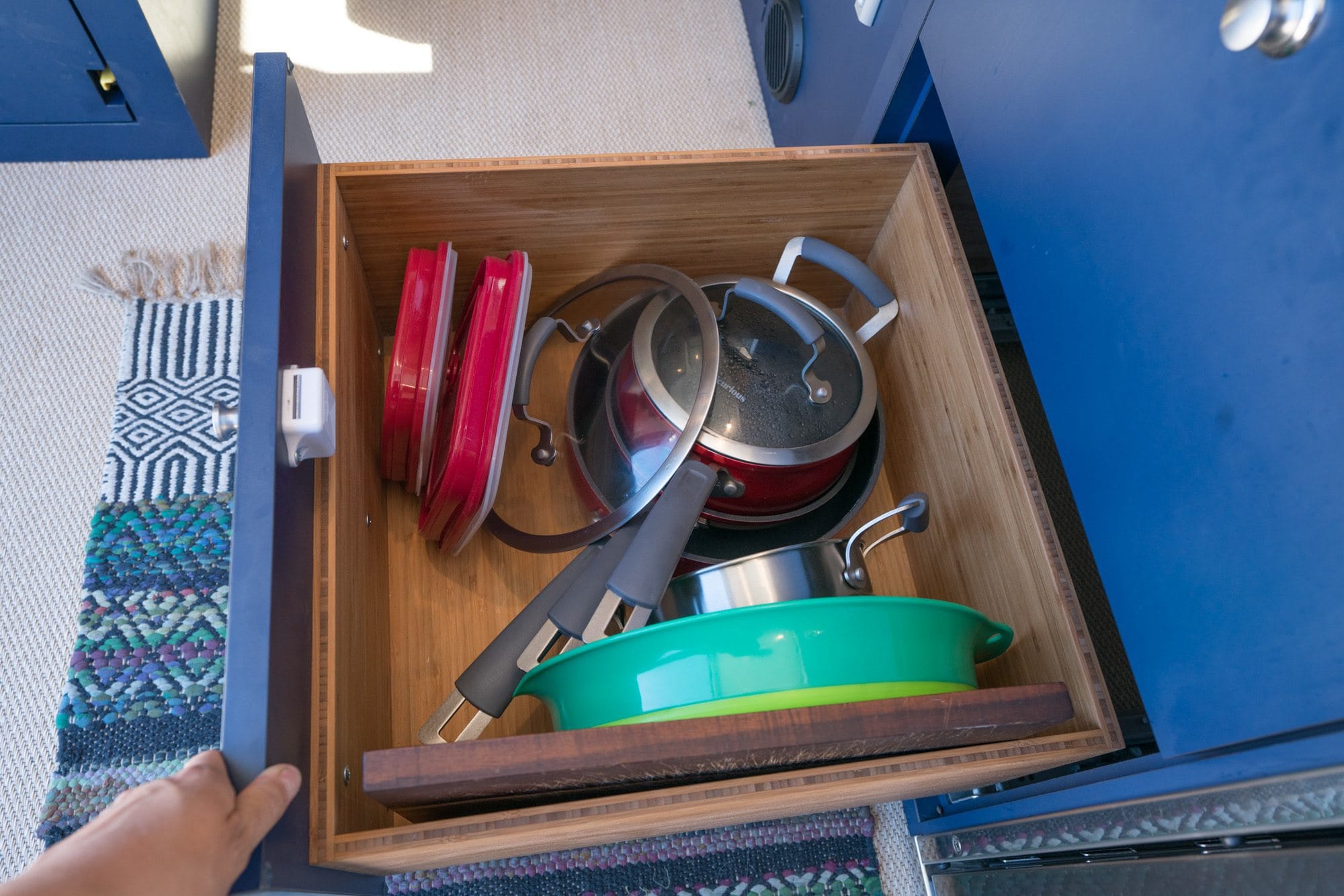 Sprinter Van Dinette
In my last Sprinter van conversion, my sofa converted to a bed. That meant when the bed was out, I couldn't set my table up. This became a problem for my working productivity because Ryan and I have slightly different sleeping habits sometimes. I'm an early riser, and it's the time of day I get most of my work done. Therefore I wanted a dedicated workspace that was always ready to go and didn't have to be set up and taken down every day.
Seating
Behind the galley, Outside Van built me a custom dinette that comfortably seats two people. In my last van, Ryan and I had to sit next to each other on the sofa if we wanted to play a game or eat dinner. In this van, the dinette allows us to sit across from each other, which I prefer and feels more comfortable on my back.
I wanted the bench seats to add a pop of color to the van, so I choose fun fabric made by Sunbrella, which Outside Van uses as it's stain and fade resistant. The two bench seats have ample storage in them and the bench seats also pull out to make a full lounge that spans the width of the van. It's very easy to set up and could easily sleep a child or a Great Dane.
The dinette has worked out fabulous for both working, eating, and hanging out. We have never used the lounge and since there isn't a seatbelt for an extra passenger, I'm not sure it was necessary to have this additional sleeping area. For the upholstery, we've removed the covers a few times and washed them in our washing machine. They clean up nice, but we do keep the bottom half covered with a towel since we step on it in order to get up in the bed. Next time, I might use a vinyl type material that wipes clean instead.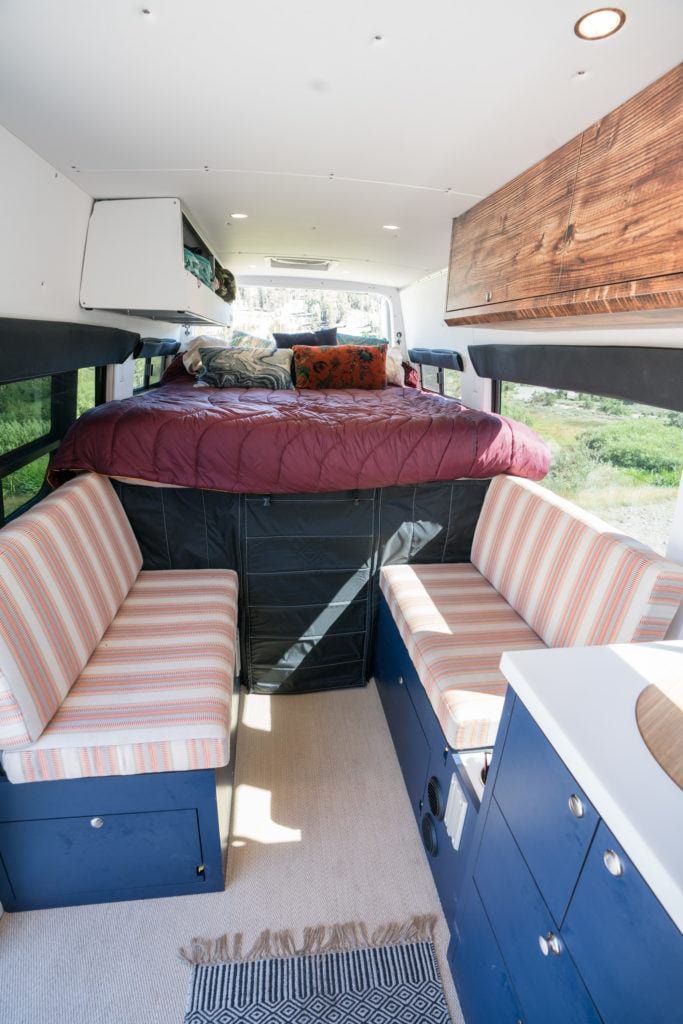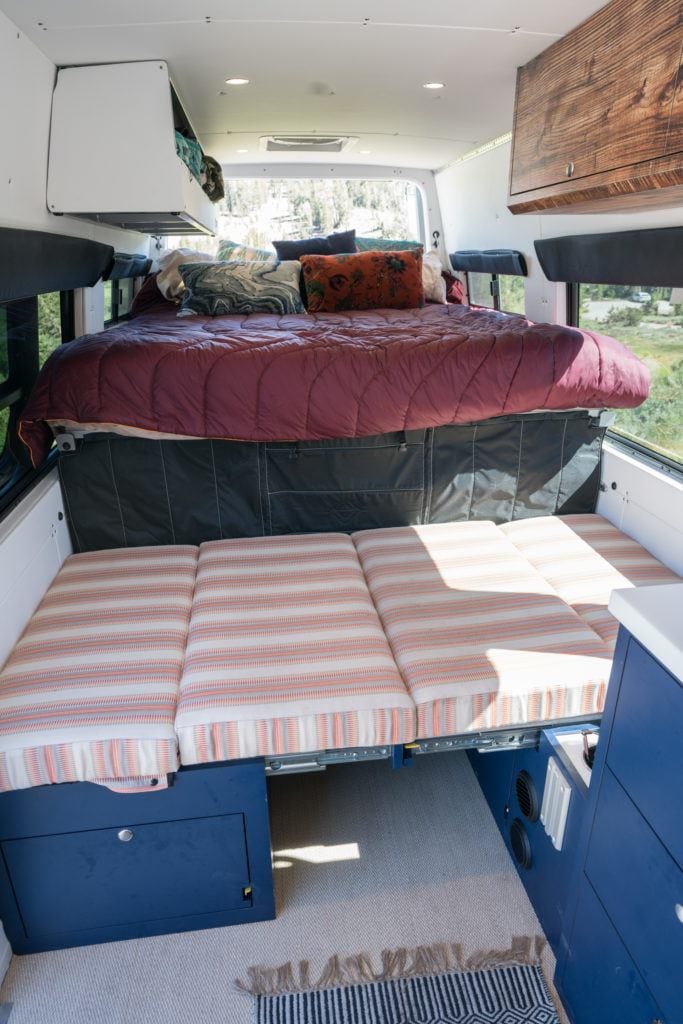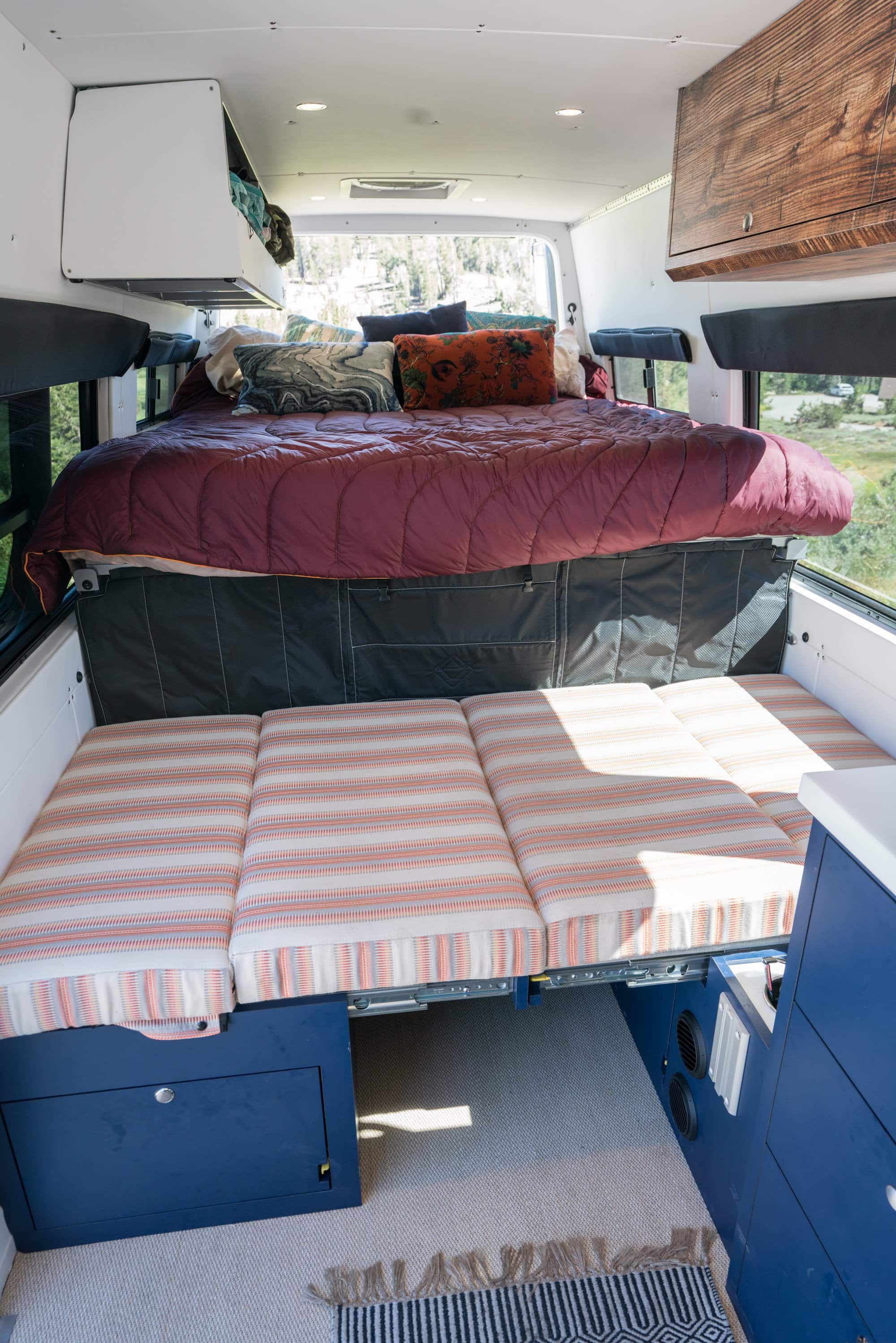 Table
The table in the middle is on a Lagun swivel mount and serves as a desk and dining table. It's 30" long and can be used width or lengthwise. The Lagun mount allows the table to be pushed all the way to one side, making it easier to access the storage underneath the bed. If I want to pull the bench seats out, I can remove the whole table from its mount and place it in a second mount next to the galley.
The table was constructed in-house by Outside Van. I had the idea to have a US map placed on the table top, and not only did they pull it off, but it looks fantastic and is one of my favorite parts of the van.
This Lagun table is awesome. We drive with it in place and have never removed it.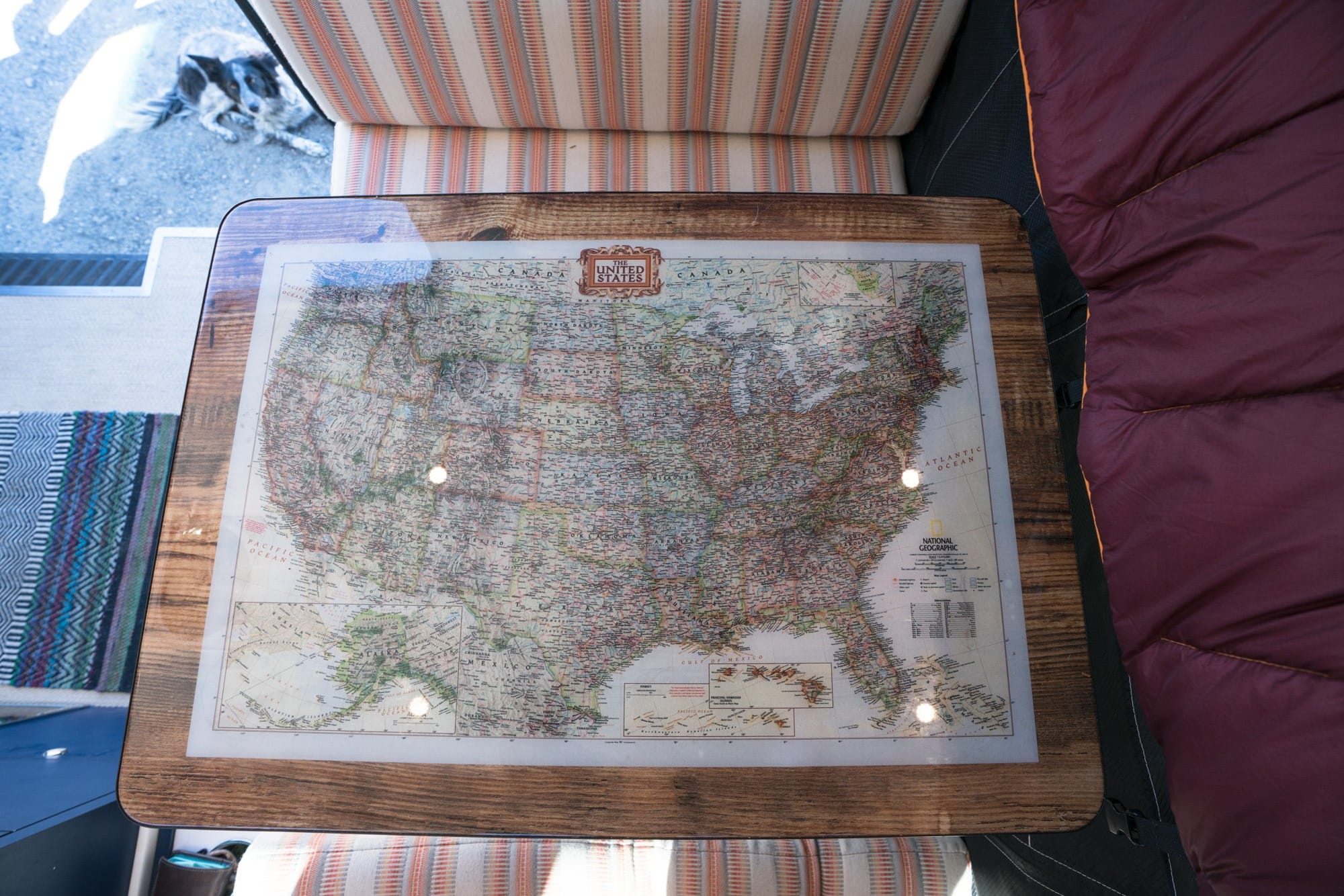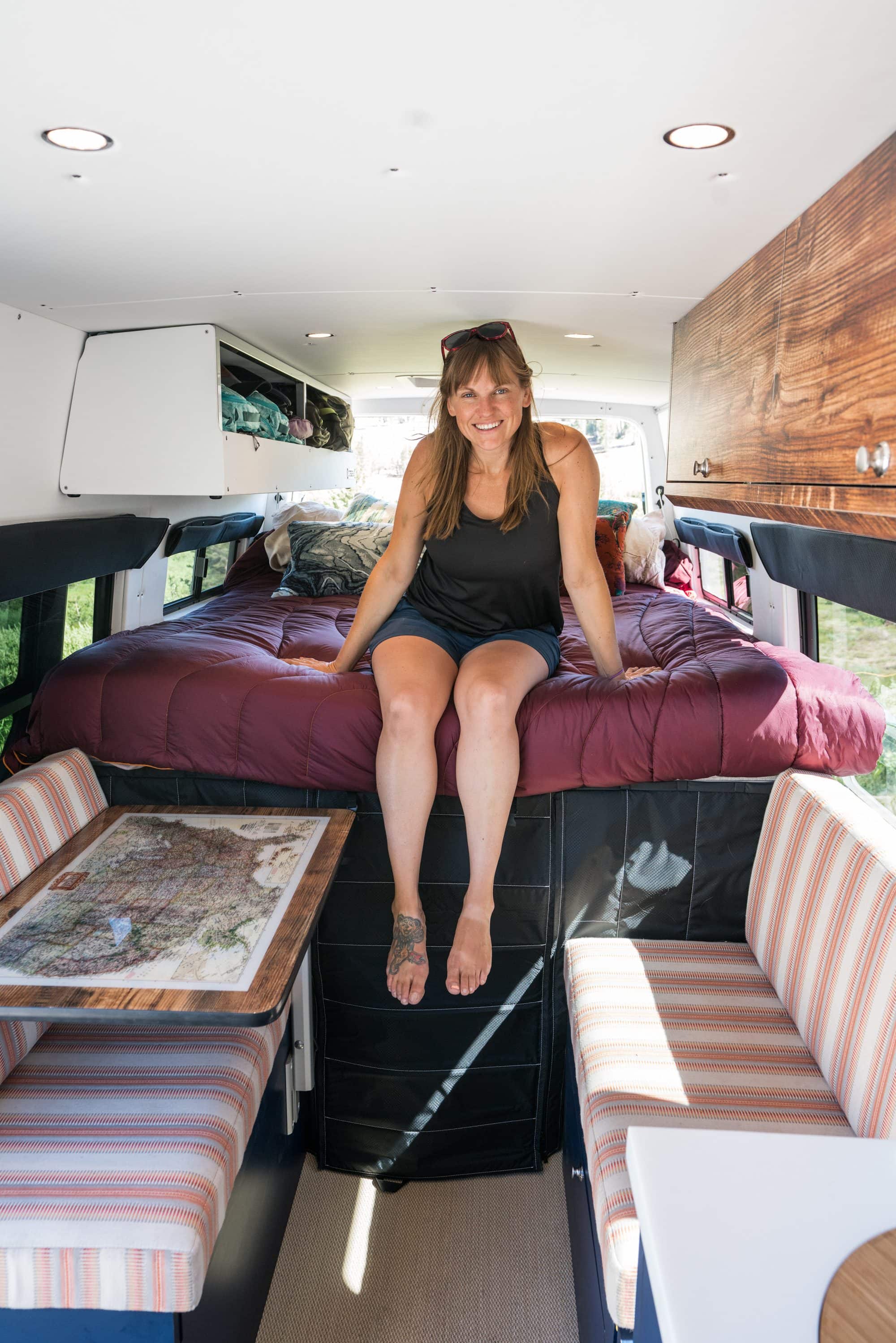 >> Read Next: Get Tips for Planning your Van Layout
Outside Van Sprinter Three-Panel Bed
Next at the rear of the van is Outside Van's standard three-panel aluminum platform bed that goes all the way to the back doors with Outside Van's exoskeleton cabinet for clothing storage. The bed has a capacity of 500 pounds and is almost a king-sized bed (we sleep the long way down the van even though the pillow placement suggests otherwise). All three panels are secured to the bed rails via a spring-loaded threaded fastener. The bed panels can also be removed if I was moving, for example, and needed to be able to store bigger things in the back of the van.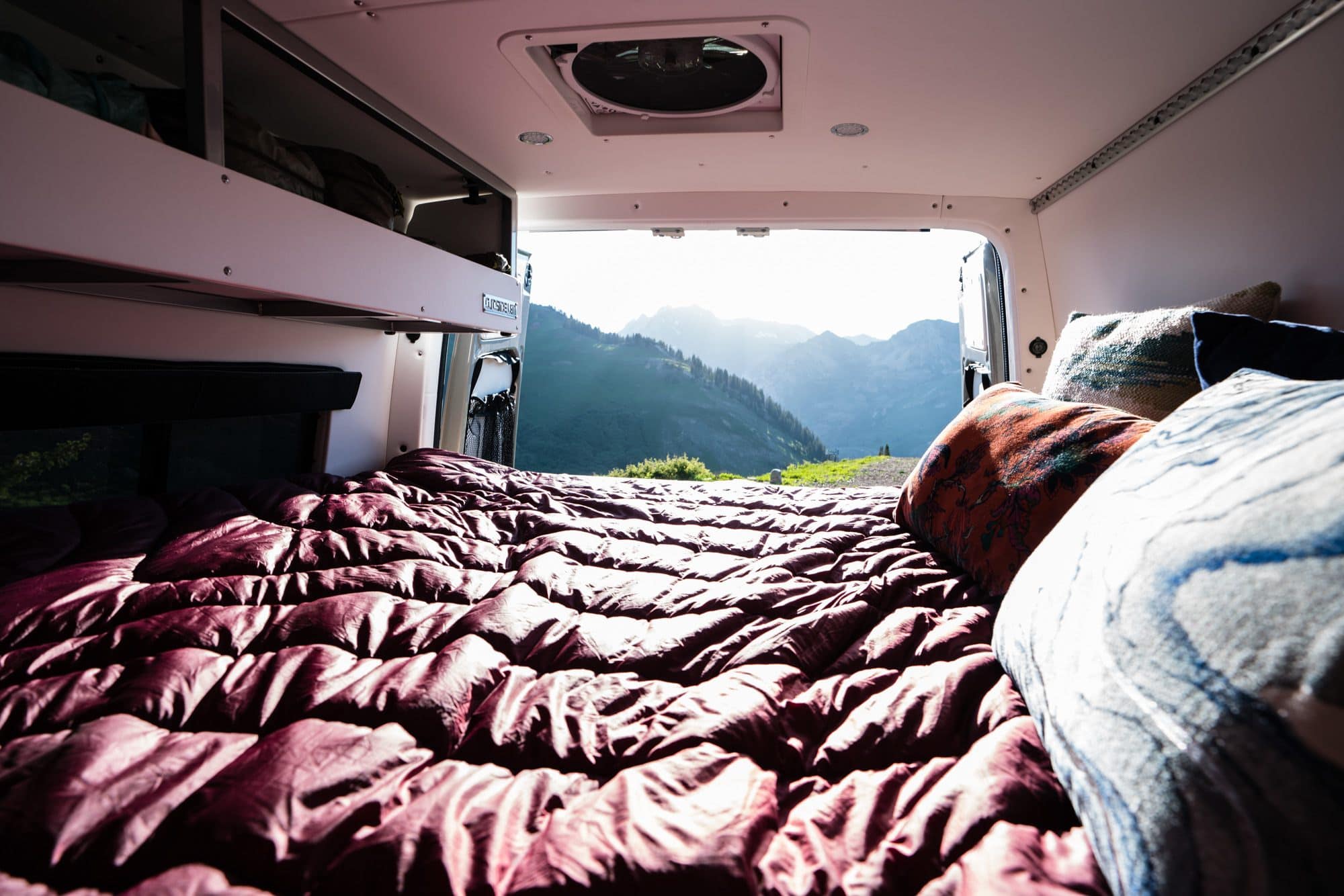 Mattress and Bedding
I chose the medium firm mattress with memory foam and added a latex topper for additional comfort. Outside Van's mattress cover is made from Sunbrella, which is stain resistant, tear resistant, and easy to clean. While we keep ours protected with an additional waterproof mattress cover, I can even take their cover off and throw it in the washing machine.
My comforter for those who are curious is made by Rumpl.
Discover my top 17 must have van life gear essentials.
Clothing Storage
On the passenger side of the van, I have what Outside Van calls an exoskeleton cabinet which is open with no cabinet face. They put it on the opposite wall as the galley overhead cabinet to help balance out the van's weight. This style of cabinet is stuffable, removable, modular and more lightweight than traditional cabinets. We use this exoskeleton cabinet to store packing cubes containing all of our clothes.
The open style cabinet has its pros and cons. I like that it's easy to stuff a jacket in there or quickly grab something. At the same time, unless you are super diligent about putting your clothes away in your packing cubes, it can quickly look messy and unorganized.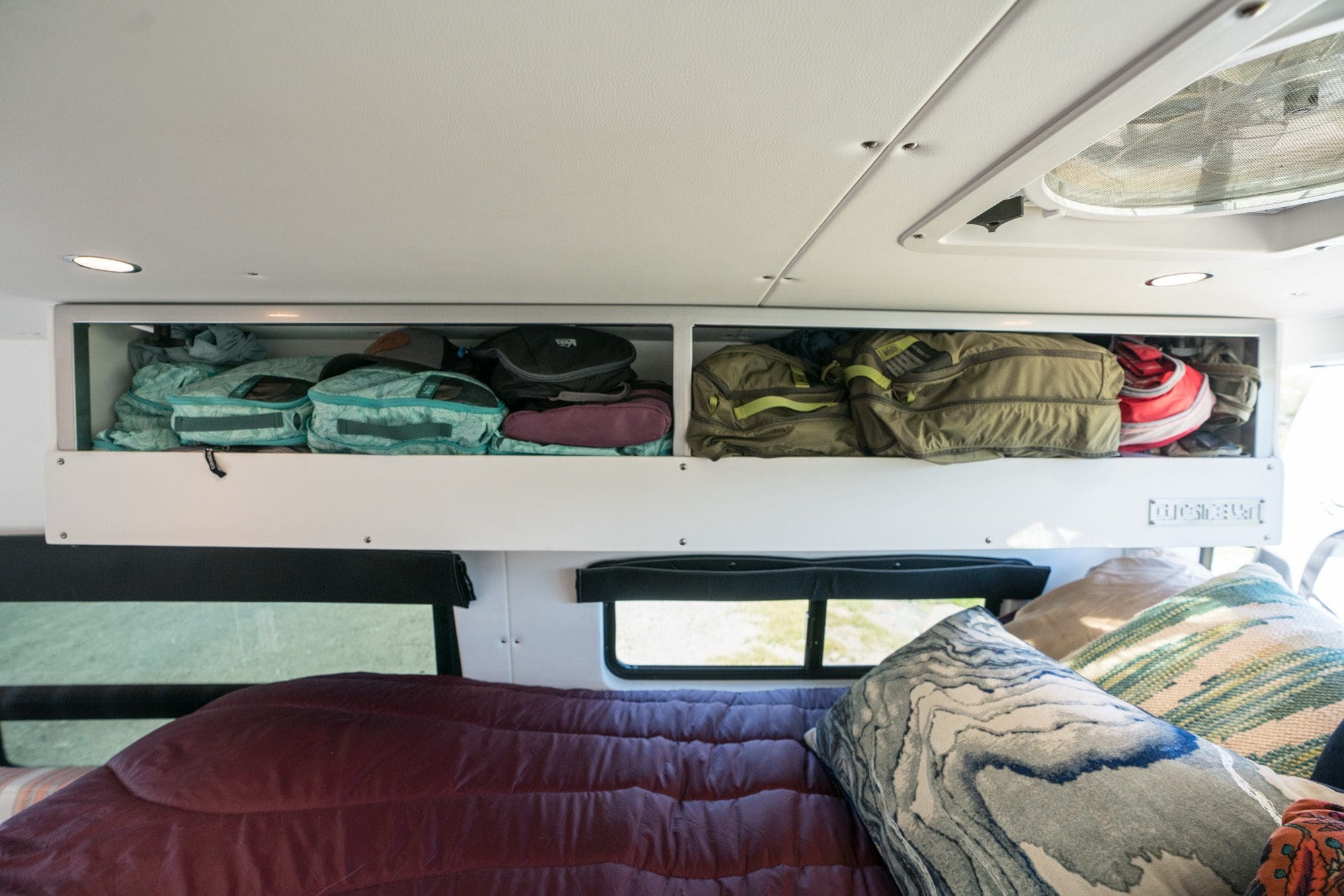 Sprinter Van Garage
Underneath the bed is a ton of storage. Right now we have room for two Specialized e-mountain bikes, all of our camping, and outdoor gear, shoes, and even a couple of inflatable stand-up-paddle boards. There is also 25 gallons of water, a Webasto Dual Top Evo 6 for heat and hot water, and a very powerful battery bank.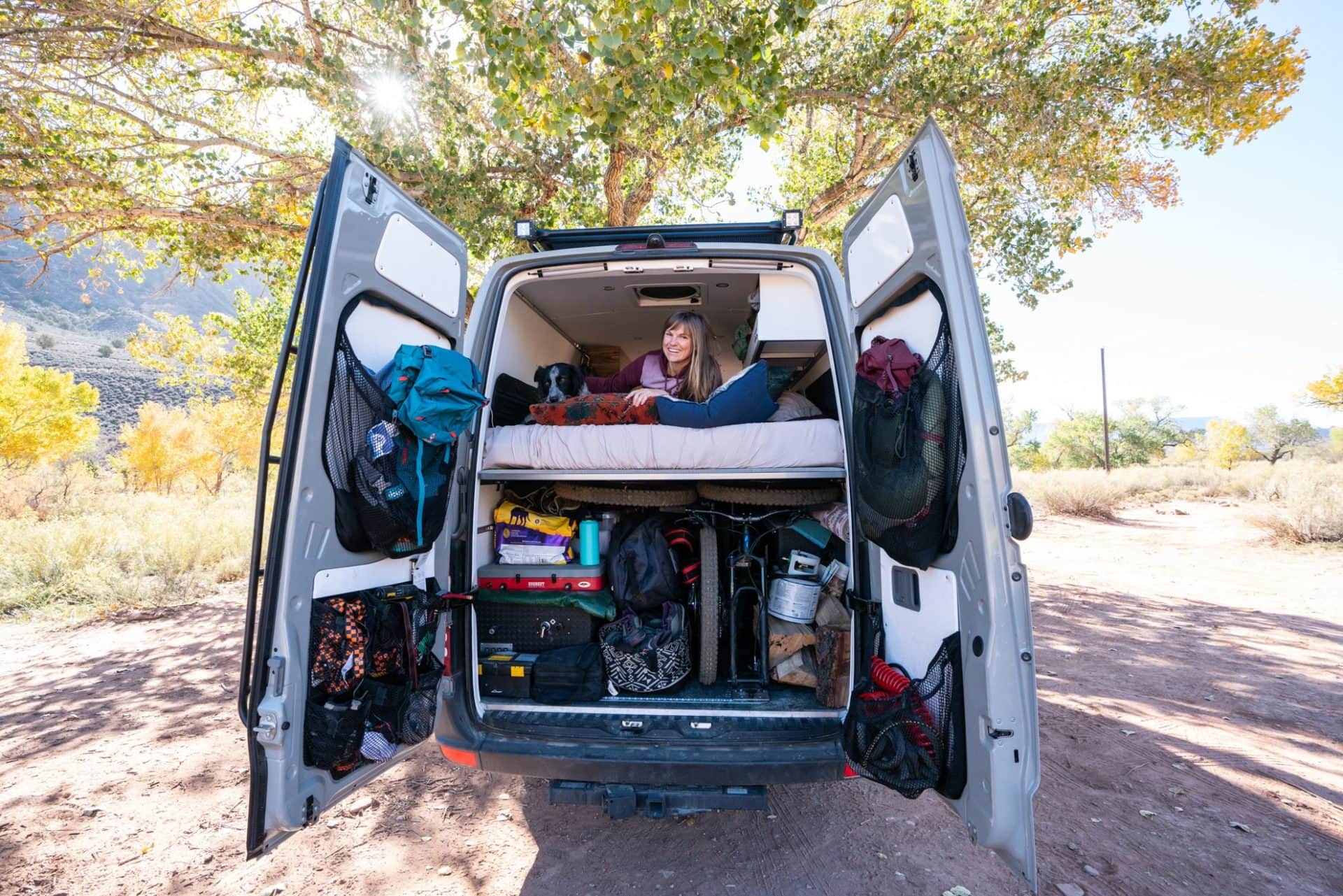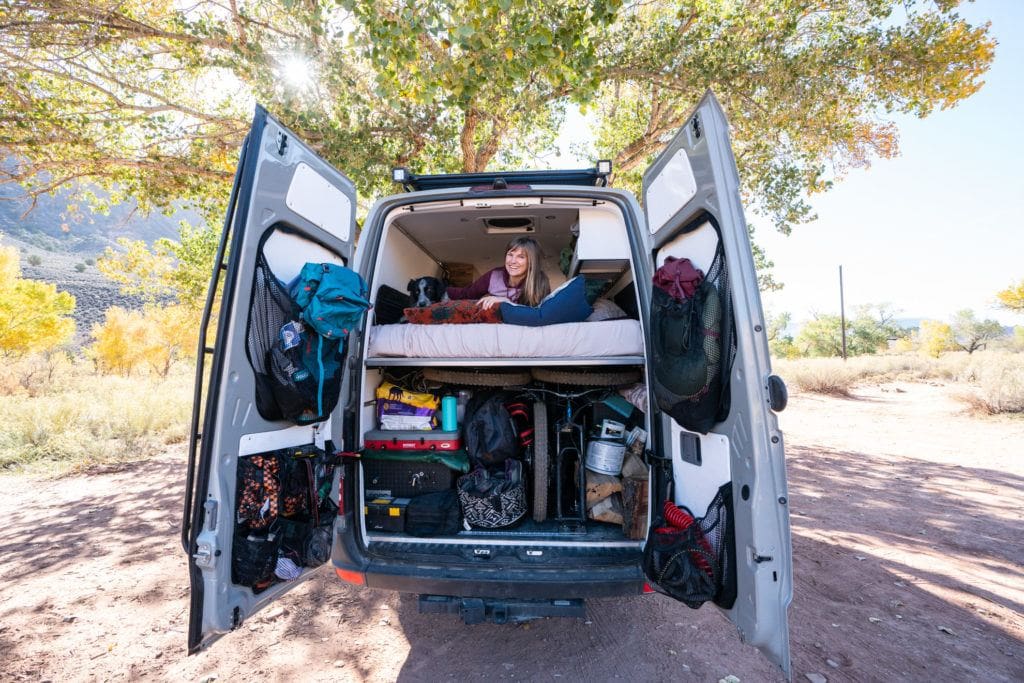 Everything gets secured in the garage using Mac's Versatile Tie Down System – basically a version of L Track. Using Mac's tie-down rings, we cinch all of our bins up using straps so nothing moves while we are driving. The bikes use the same system. We simply take the front wheel off of our bikes, put the bikes in facing the opposite direction so we can get them as tight as possible together, and then mount them to the Mac System using fork mounts. It takes a few minutes to unpack and restore the bikes, but I'm very happy being able to store our electric bikes inside the van to prevent them from getting stolen and to minimize the number of things that are hanging off of the van and causing drag.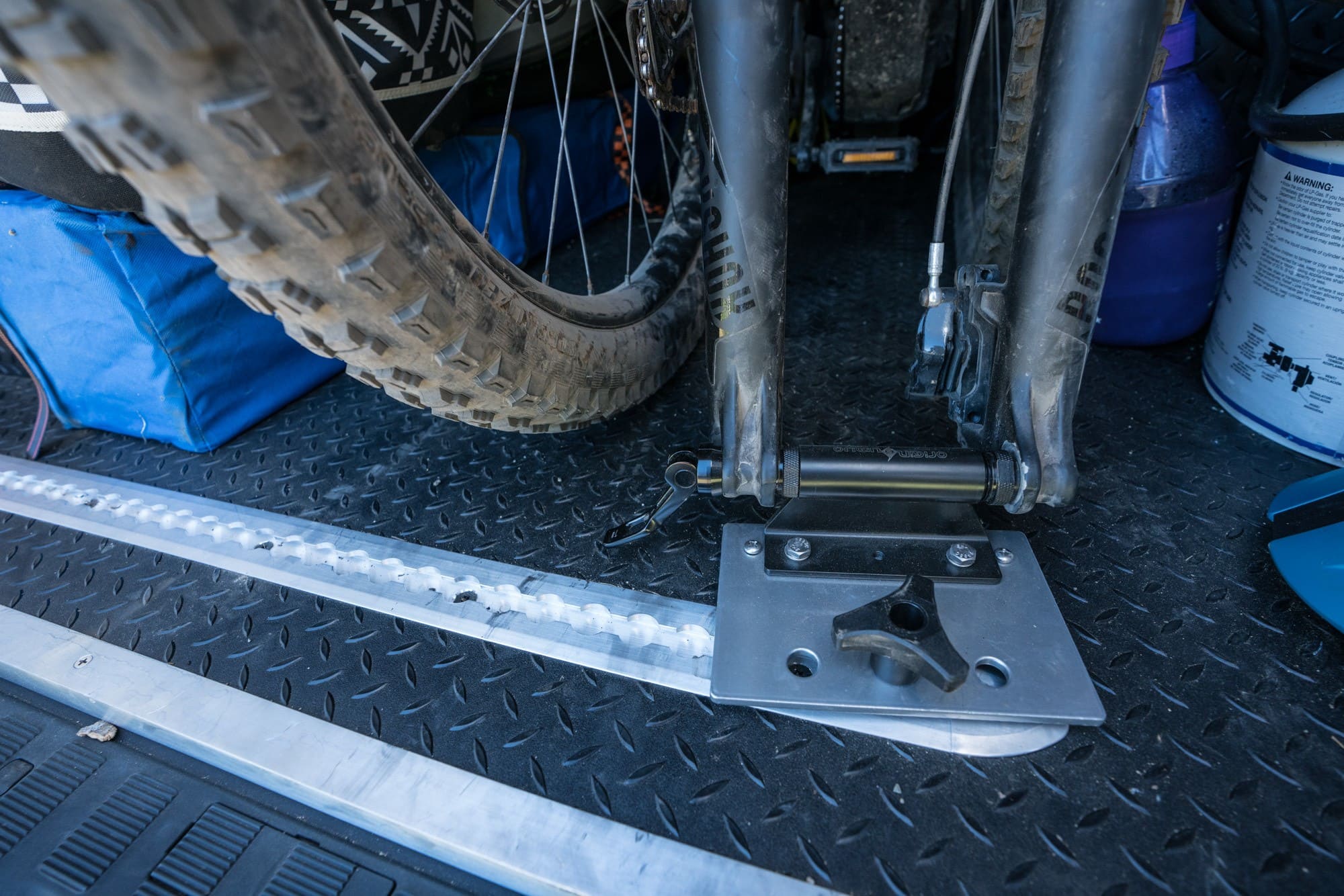 We can access the garage via the back doors or from the inside of the van. Outside Van makes a softwall that attaches to the front of the bed frame and drops down to the floor. The middle of the softball has a zippered doorway that you can leave open to get in and out of the garage without having to go outside. We typically just leave this up since we store our shoes right behind the soft wall.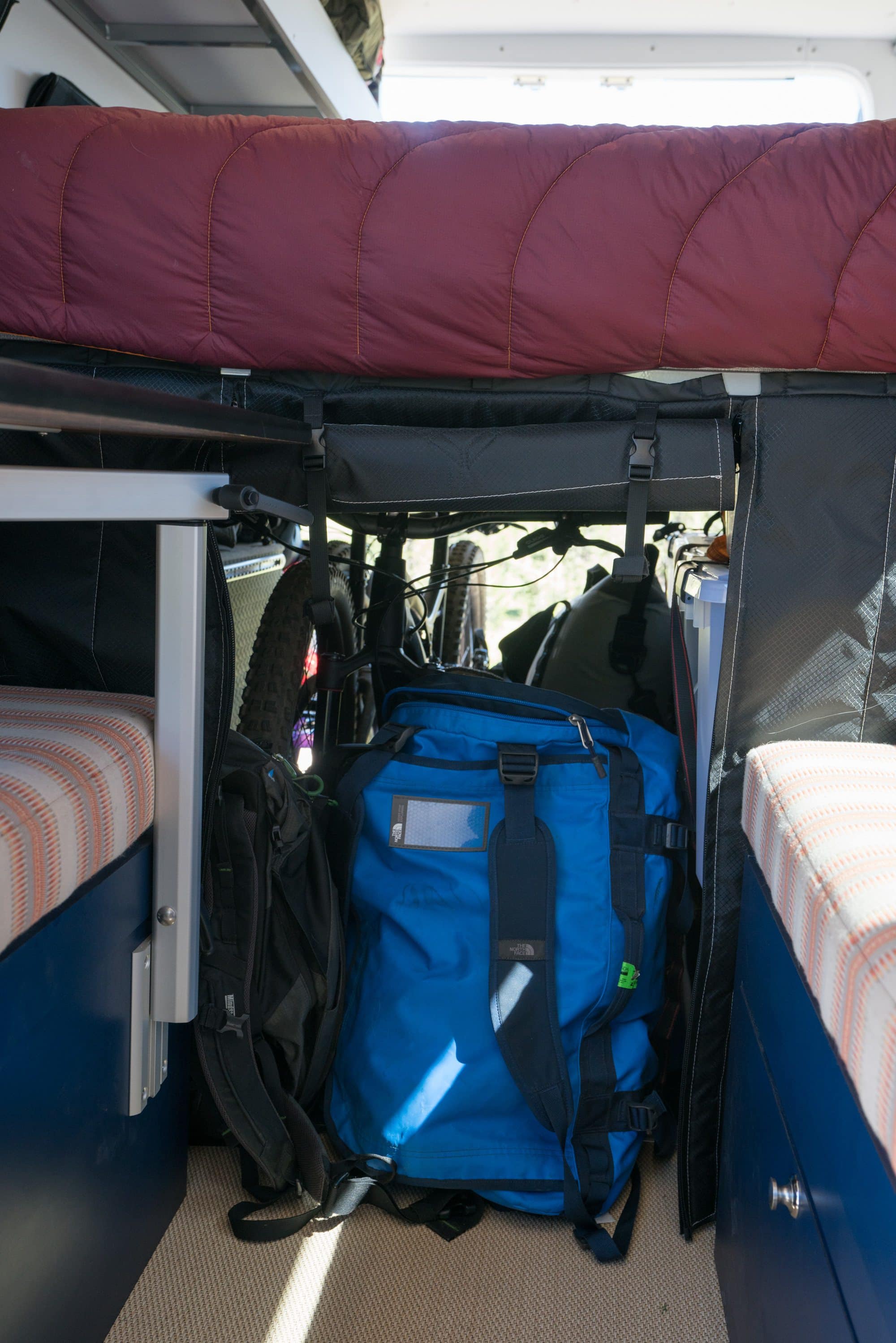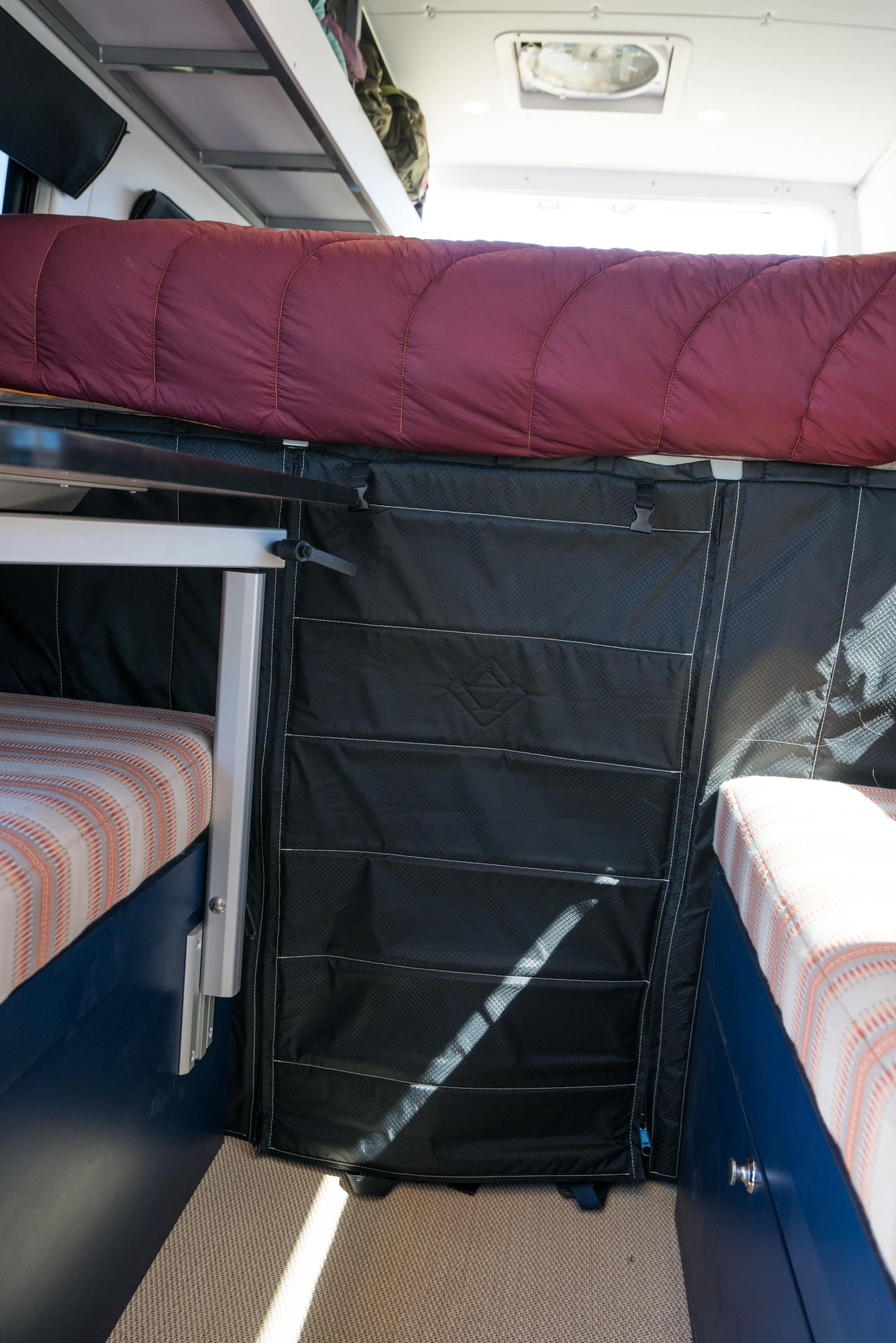 You may be wondering how easy it is to stay organized in here without a robust drawer system. In my Outside Van Sprinter, I opted to keep storage simple. A big drawer system, especially if it's made of wood, is very heavy and is just another component of the van that you have to worry about breaking if you like to drive off-road. Instead, I wanted to store my gear in lightweight plastic bins and duffel bags. That way it's easy to pull everything out of the van together in the bins/bags, rather than having to take each individual item out of drawers to transport my stuff in and out of a house. It would be cool to have the bikes on some sort of slider system, but you end up losing a few inches vertically, and we didn't want our bed any higher.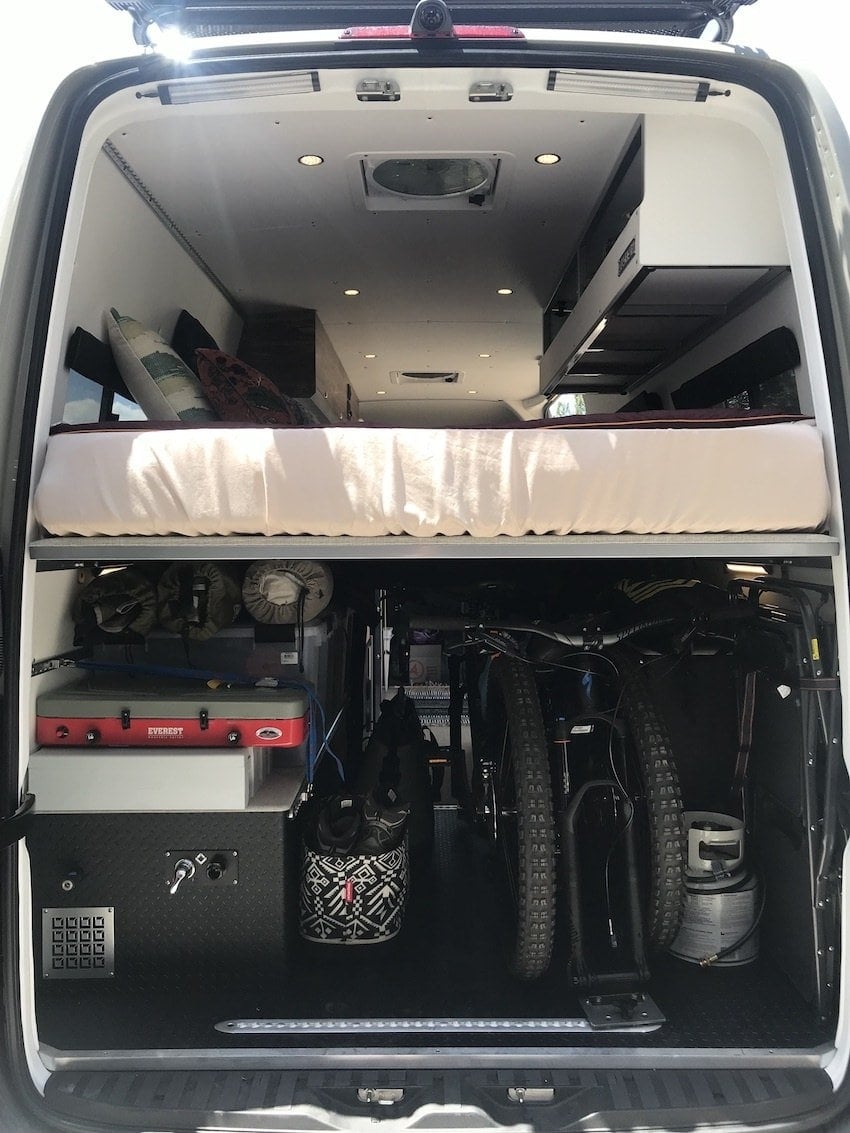 >> Read Next: How to Fit your Stuff into 100 Square Feet
Sprinter Van Electrical System
My last Sprinter Van had high performing electrical components, and in this van, I opted for many of those same components but a beefier system overall. Running low on power is stressful, and if you drop below a certain point, it can damage your batteries to the point of needing to replace them. We plan on living in the van full-time for 6 months a year, and with electric bikes, my computer, camera, induction stove, the heater, and other electronics, I wanted to never have to worry about running out of power – especially in the winter.
We've spent almost two years living full time in this Sprinter van, and we've never had to plug in. I'm so happy I went with a robust system that I never have to worry about. Occasionally in winter if we are using the induction stove a lot, we might turn on the van so the alternator sends some additional juice to the batteries. But other than that, this power system has performed great. The technology has changed since my van was built, so next time I might consider Lithium. However, I've never had any issues with my AGM batteries, and they are still holding charge as if they were brand new.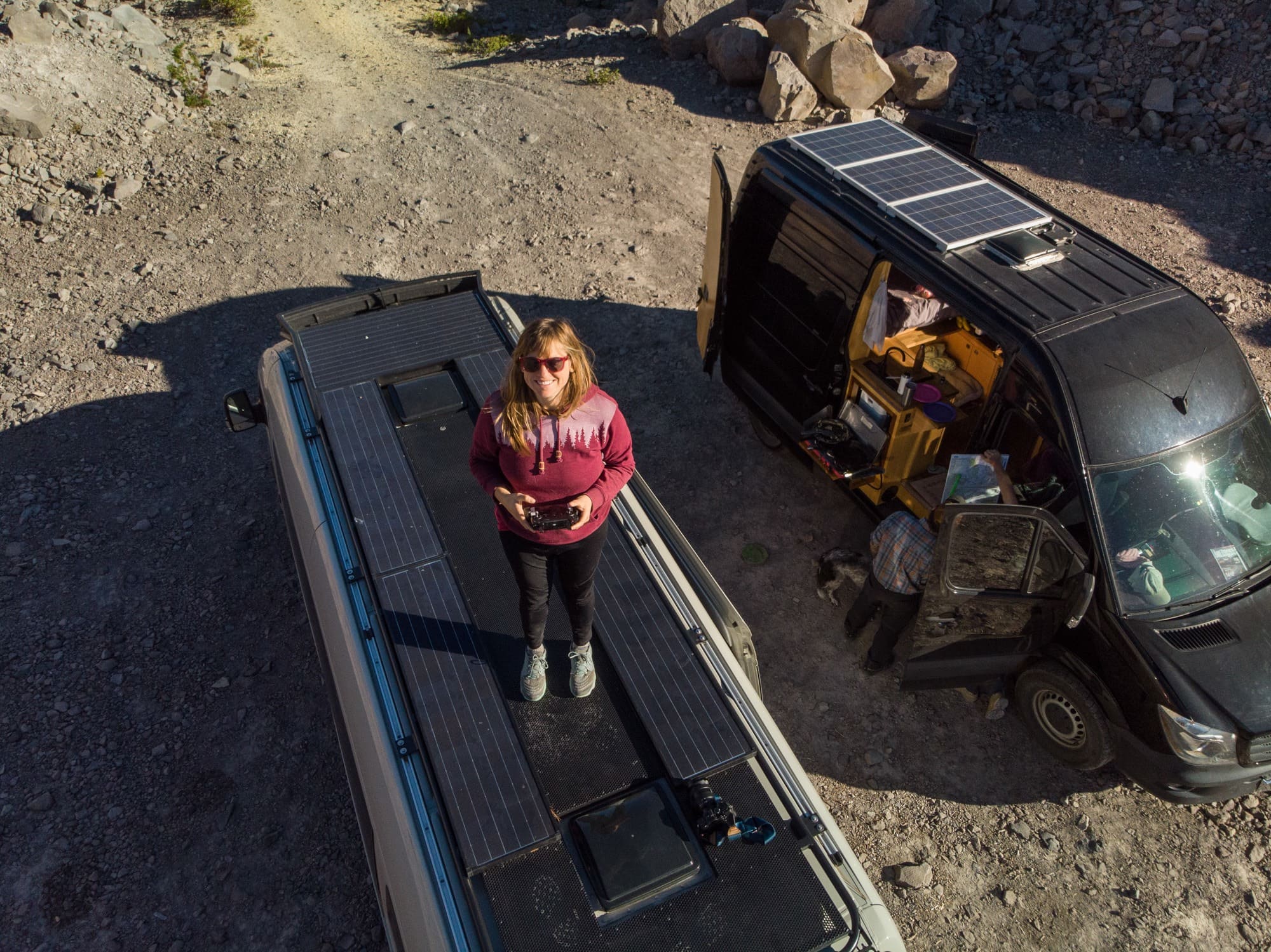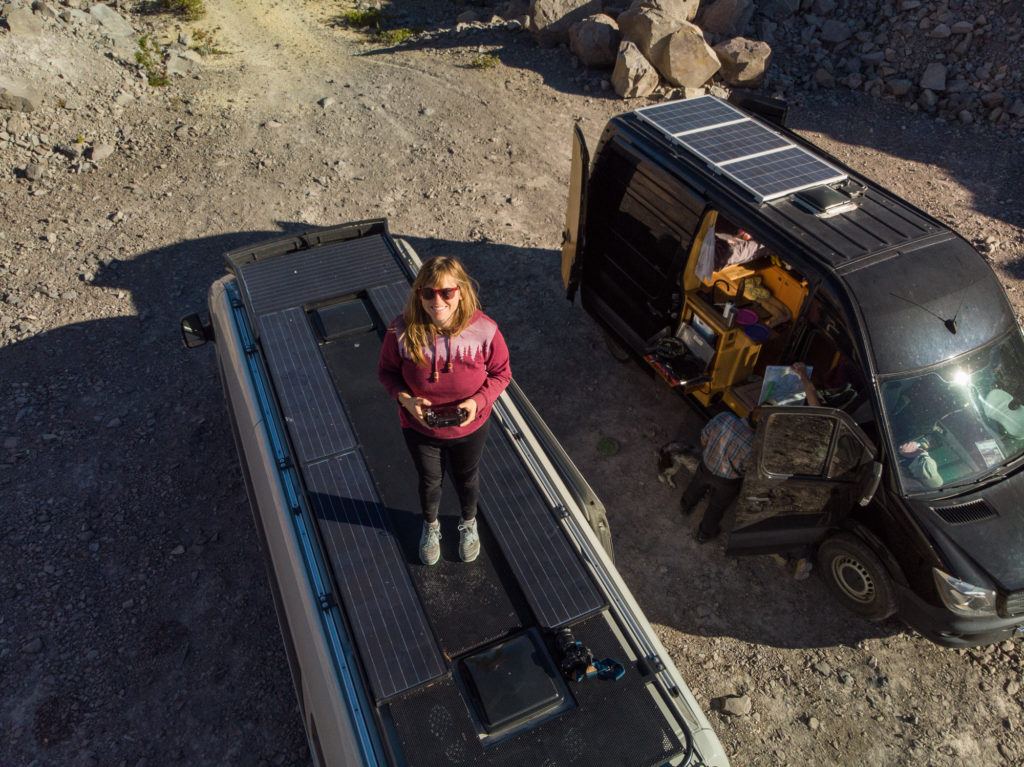 Battery Bank
I almost doubled my battery bank in my new Sprinter. In my last van, I had 375 amp hours of batteries. In this van, I have 660 amp hours. I opted for AGM batteries because they perform better in cold weather than Lithium Ion, and they are also more cost-effective. The batteries are stored in a cabinet in the garage. The batteries charge off of the solar on the roof, and they are also hooked up to my engine's alternator, so the batteries are constantly charging while I'm driving.
Solar Panels
On the roof, I have 445 watts of solar panels made by Zamp Solar. They are the same brand I had on my last van, and Outside Van uses Zamp because their panels are made right here in the US, and out of the companies they've tried, they've found their panels to be the highest performing. I have four 80 watt panels and one 125 watt panel. One of my single 80-watt solar panels should cover the consumption rate of the fridge, while the rest run the other things in the van.
>> Read Next: Planning your electrical system for your van conversion
Roof Rack
My solar setup on the roof is secured to a custom-made Outside Van roof rack. The rack is very low profile, so you can barely see it from the ground, and it has a walkway down the center of the van that I use to hang out or access the solar panels for cleaning. It's worked out great as a platform for taking photos too.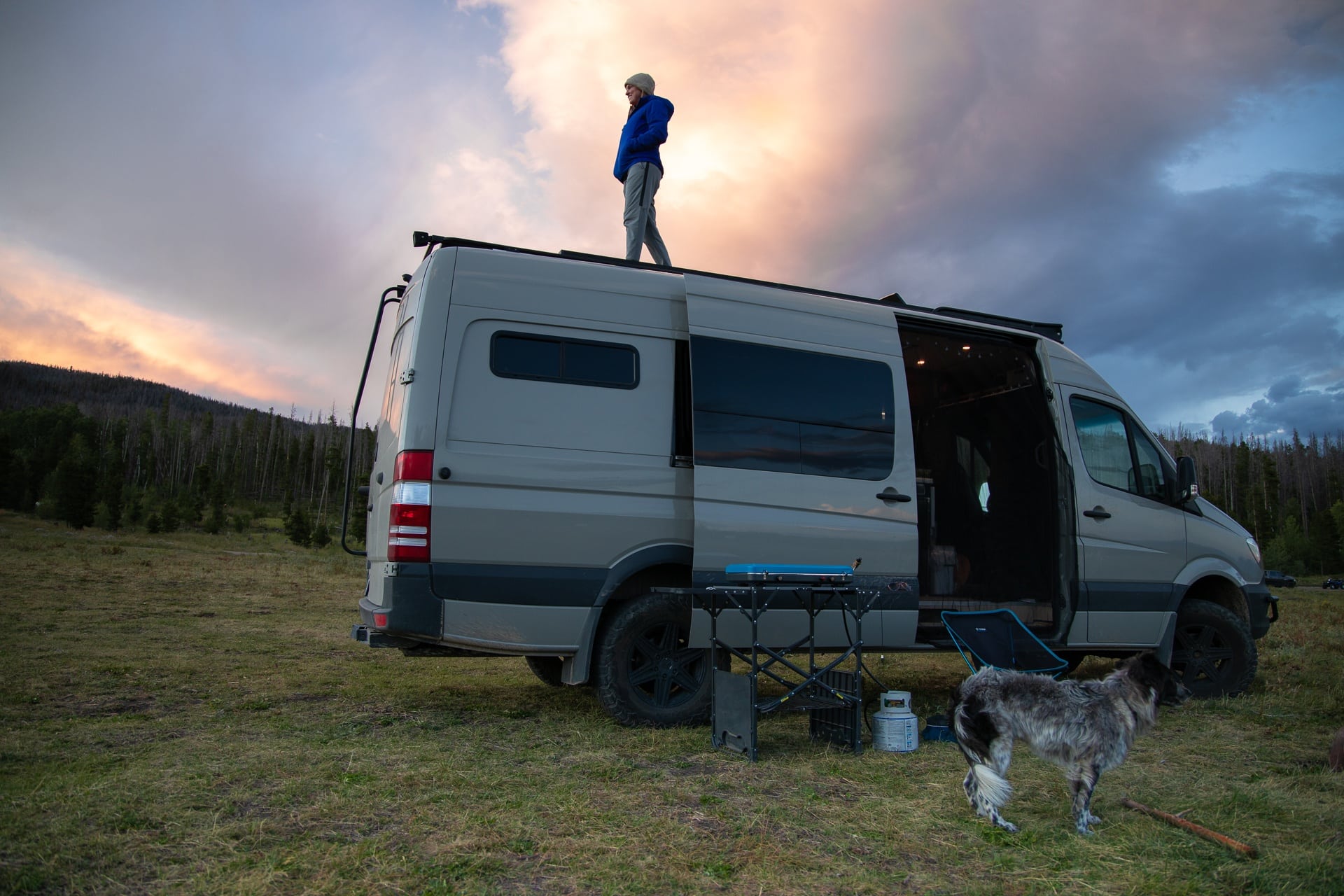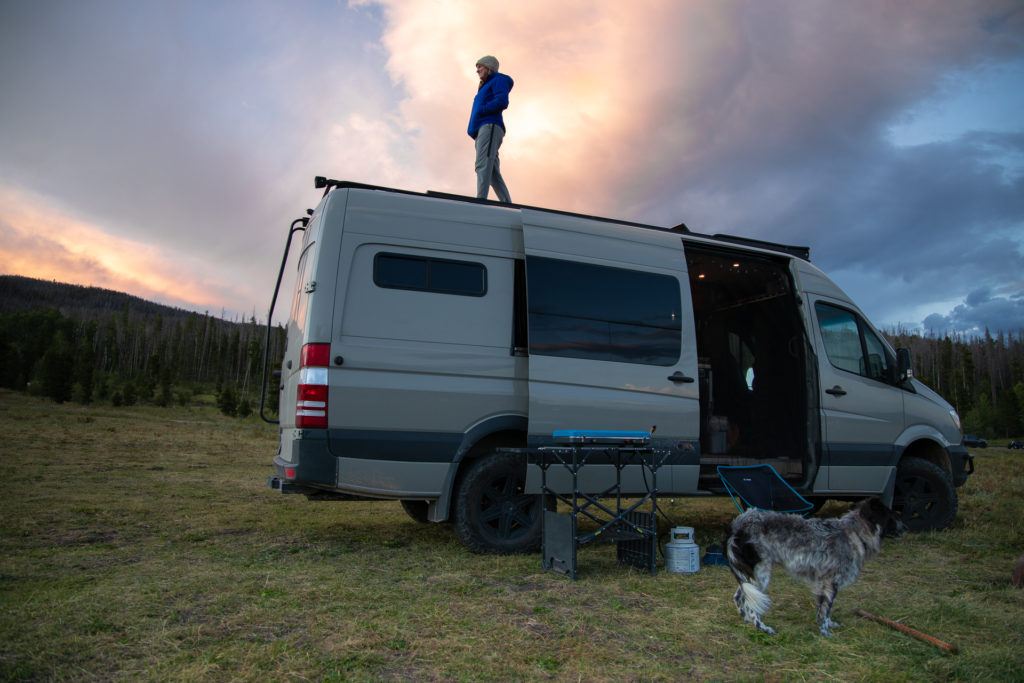 Inverter
The final piece is the inverter. I have a 2000 watt Magnum Pure-Sine Inverter which converts power from the batteries to AC power that I use to run the induction stove and other things that plug into the 110 outlets. I have 6 USB outlets and 6 regular 110 outlets, including two 110 outlets in the garage that we use to charge our e-bikes. In addition to our ebikes, we have a computer, cameras, phones, a blender, a dust buster, and a few other appliances that we charge.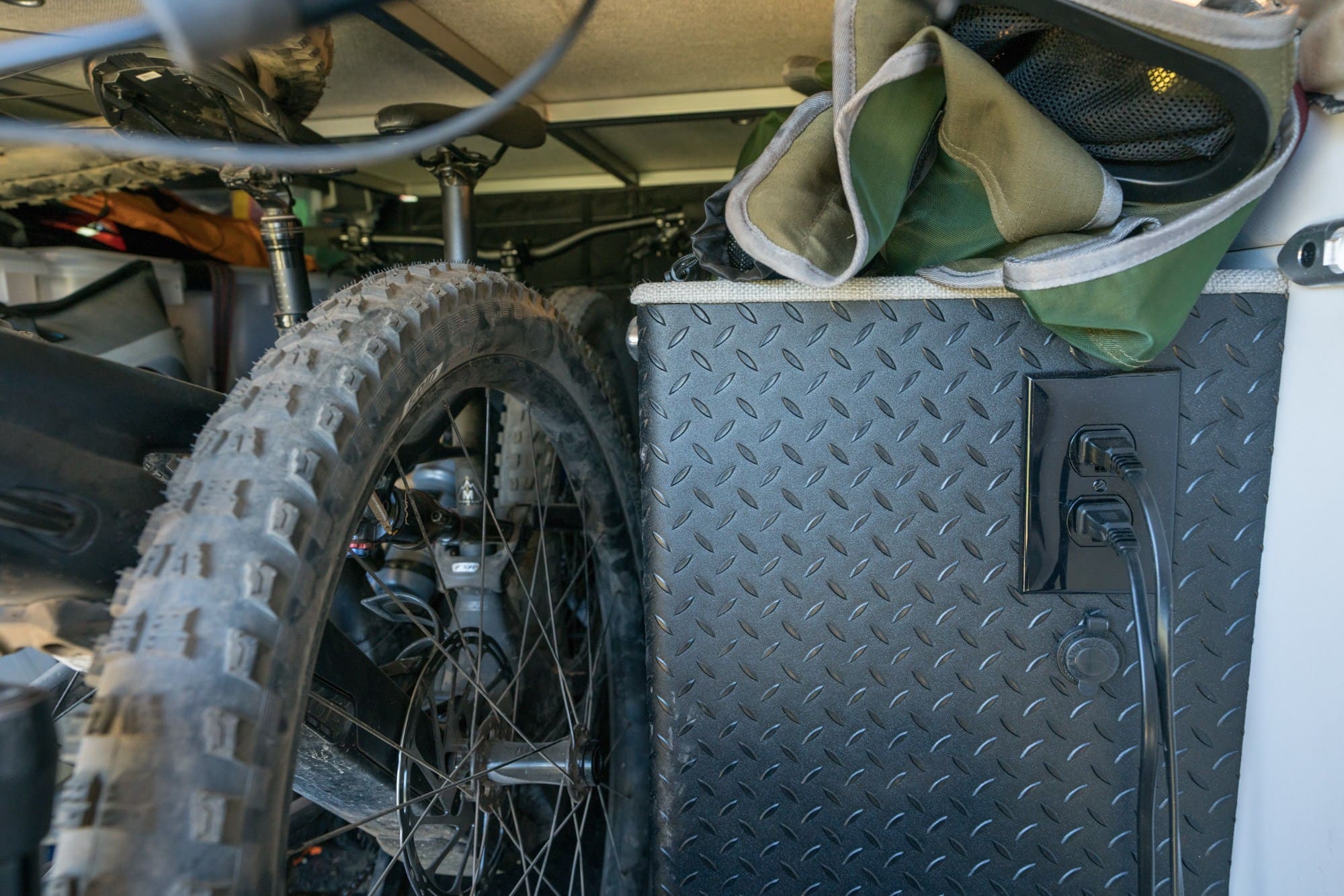 Sprinter Van Temperature Control
I opted against a rear AC in my Sprinter Van conversion. They draw a ton of power, and it didn't seem necessary. I can confirm now that we made the right decision. We don't camp in the desert in summer, and when it gets too hot, we flock to higher elevations. Of course, if you plan on living in Florida or Arizona in summer, you may need to plan differently.
Outside Van did do a few things though to keep the interior of the van comfortable, even on hot sunny days.
Windows
First, they replaced the front side factory windows with CR Laurence Windows that vent. Next to the bed, we also have small slider windows that open up.
Ceiling Fans
I have two Maxx Fans. One above the galley and one above the bed. They each have a rain sensor and create really nice airflow in the van. Compared to my Fantastic Fan in my last Sprinter Van, the Maxx Fans seem superior.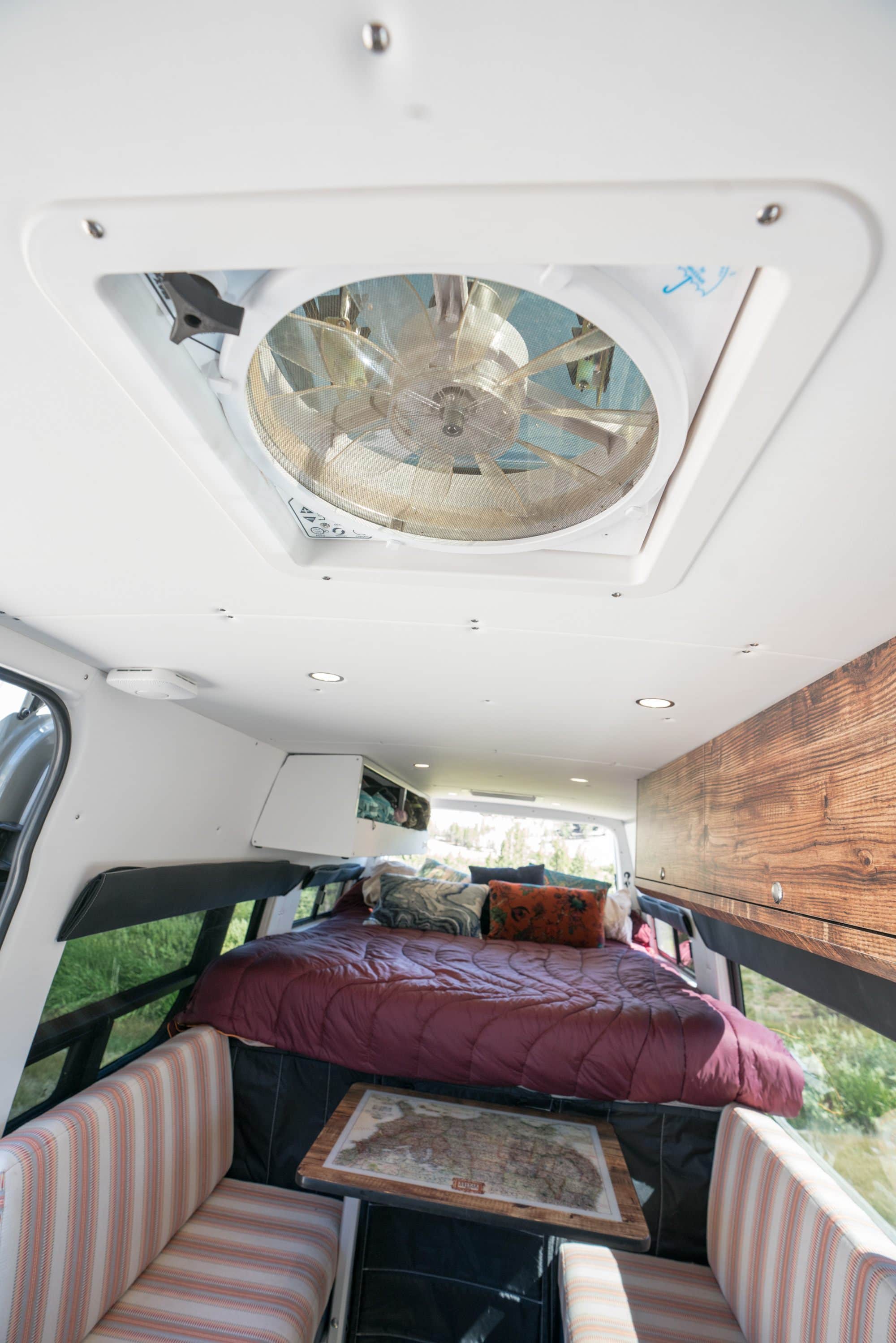 Insulating Window Shades
All of the window shades in my Sprinter van conversion are made of a ripstop nylon with a layer of closed cell foam in the middle which helps insulate the van from the heat in the summer and prevent warm air from escaping through the windows in the winter. The shades are very simple to put up and take down via the snap buttons and most of the time, we find ourselves driving with them in place to keep the sun out.
The curtain that leads to the front of the van is the same material and has a zippered walkway in the middle. This is one of my favorite things in the van. We leave it hanging up at all time, and I love how easy it is to zip is closed when we want privacy or to insulate the living area from the cab.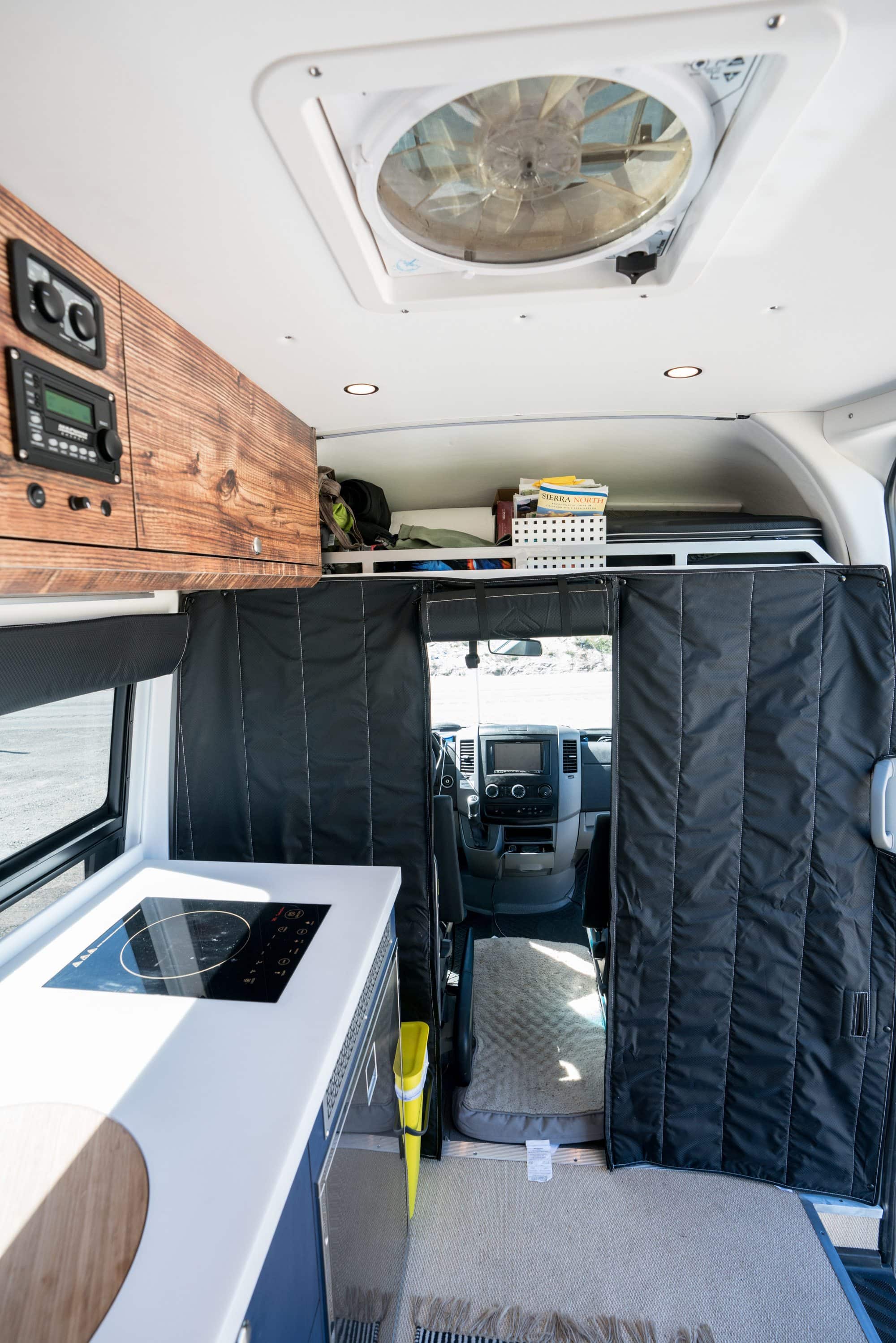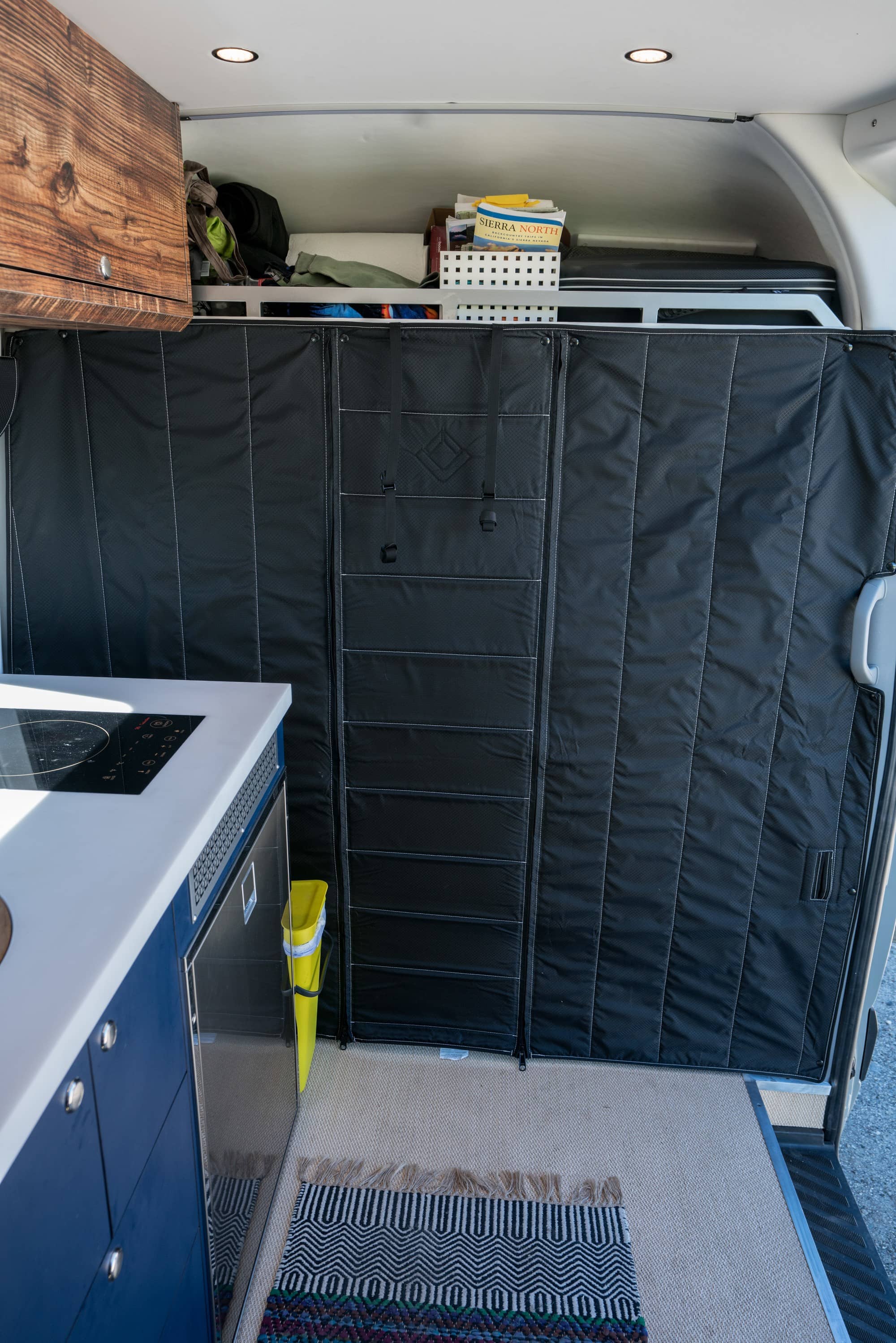 Heat
For heat in the winter, I have a Webasto Dual Top Evo 6. This equipment produces hot air and hot water and runs of the diesel in your existing diesel tank. Outside Van generally installs these Webasto units inside the van in the garage which improves their performance in the winter versus having them on the outside.
We've had our van down to single digits at night, and the van feels toasty warm inside.
>> Read Next: Options for Temperature Control in your Van Conversion
Sprinter Van Plumbing System
In my new Sprinter, I wanted my entire plumbing system contained inside the van, so I don't have to worry about anything freezing in the winter. It's a simple streamlined setup and very easy to fill up our water.
Water Tanks
I have a 25-gallon water tank inside a cabinet in the garage, alongside the Webasto Dual Top which stores an additional 3 gallons of hot water in the boiler. The BPA-free water tank is permanent, but it can easily be filled using a hose or 5-gallon jugs if I can't find a spigot with potable water. Water that runs through lines to the sink goes through a three-stage charcoal water filter that ensures the water we are drinking is clean.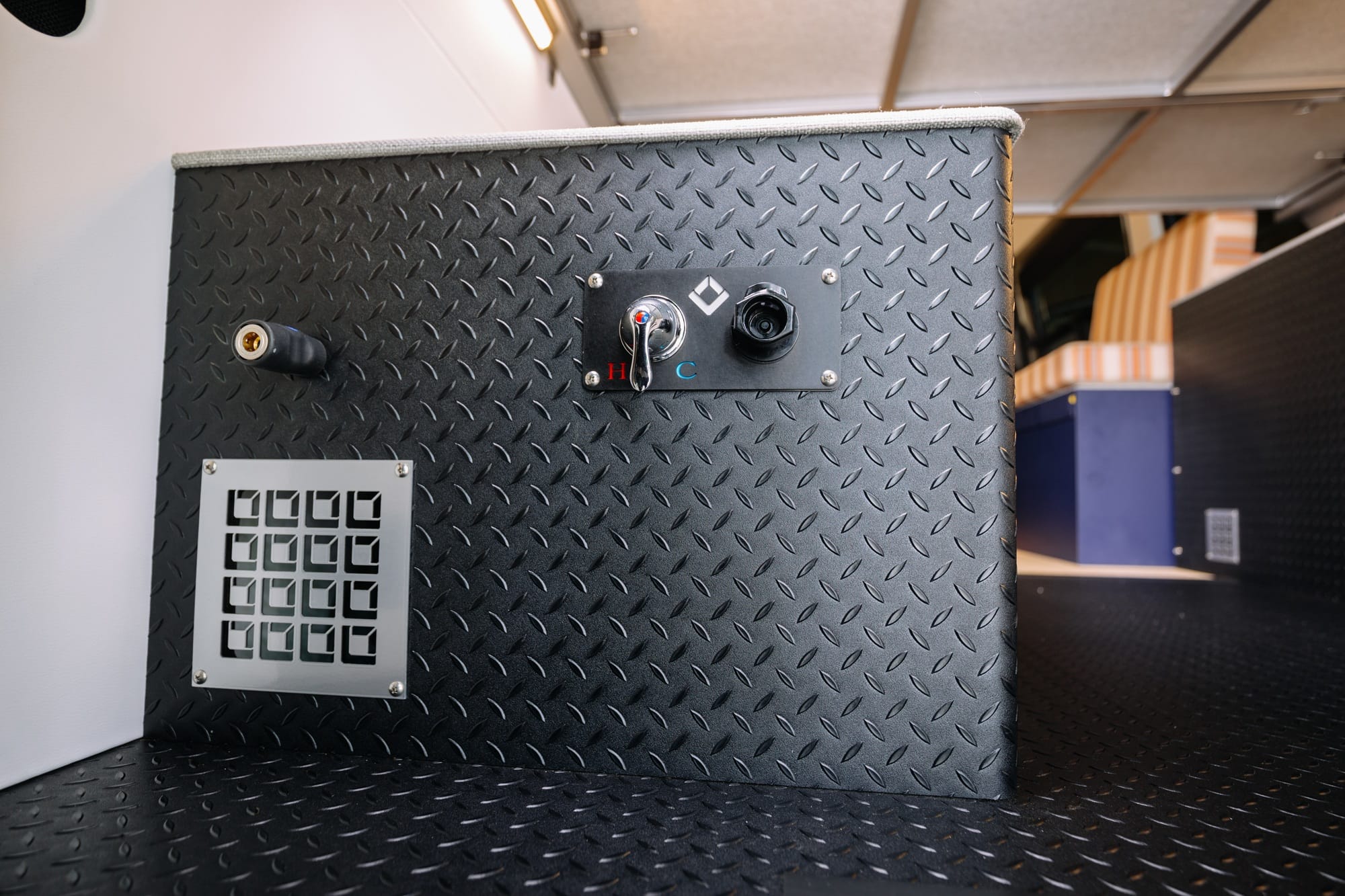 Shower
For showering, Outside Van does build lightweight indoor showers for those of you who truly need a regular indoor shower…but based my experience with my last indoor shower, I decided this wasn't a necessity for me or worth the sacrifice in space. For showering, we can quickly hook up a shower hose to the back of the water tank, which allows us to take hot outdoor showers. When we travel in the winter, we'll have to find other ways to shower – like gyms, community centers, campgrounds, or houses of family or friends.
>> Read Next: 7 Reasons you Don't Need a Permanent Shower in your Van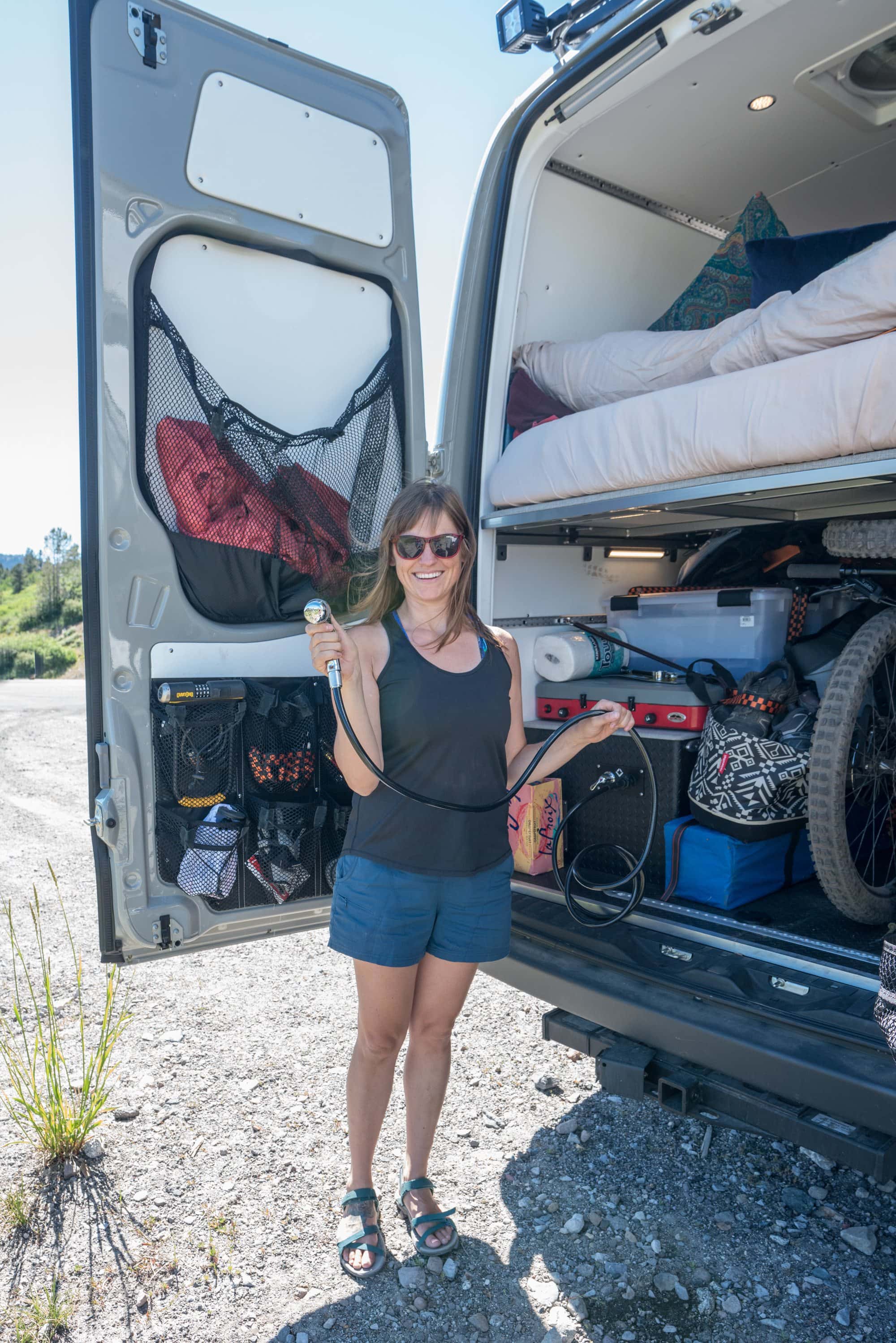 Toilet
In my last Sprinter Van, I had a Thetford portable toilet. It did the trick, but I hated using it for #2 because dumping it was gross. Plus, finding a dump every 5-7 days to empty the toilet was a hassle.
For the first year we traveled in this new Sprinter, we didn't have a toilet. But now, with wanting to avoid public bathrooms, we carry this foldable Go Anywhere toilet that utilizes wag bags. We prefer go outside and dig a hole following Leave No Trace principles, but when it's not possible to go outside, we use this toilet. Once you're done, the bag just goes in the trash can. The bags do get pricey, and I'm not crazy about the plastic waste, but for the occasional use, it's worked out great for us. The space we save by not having a normal toilet is more than worth it, and I enjoy not having the toilet-related chores
>> Read Next: Best camper van toilet options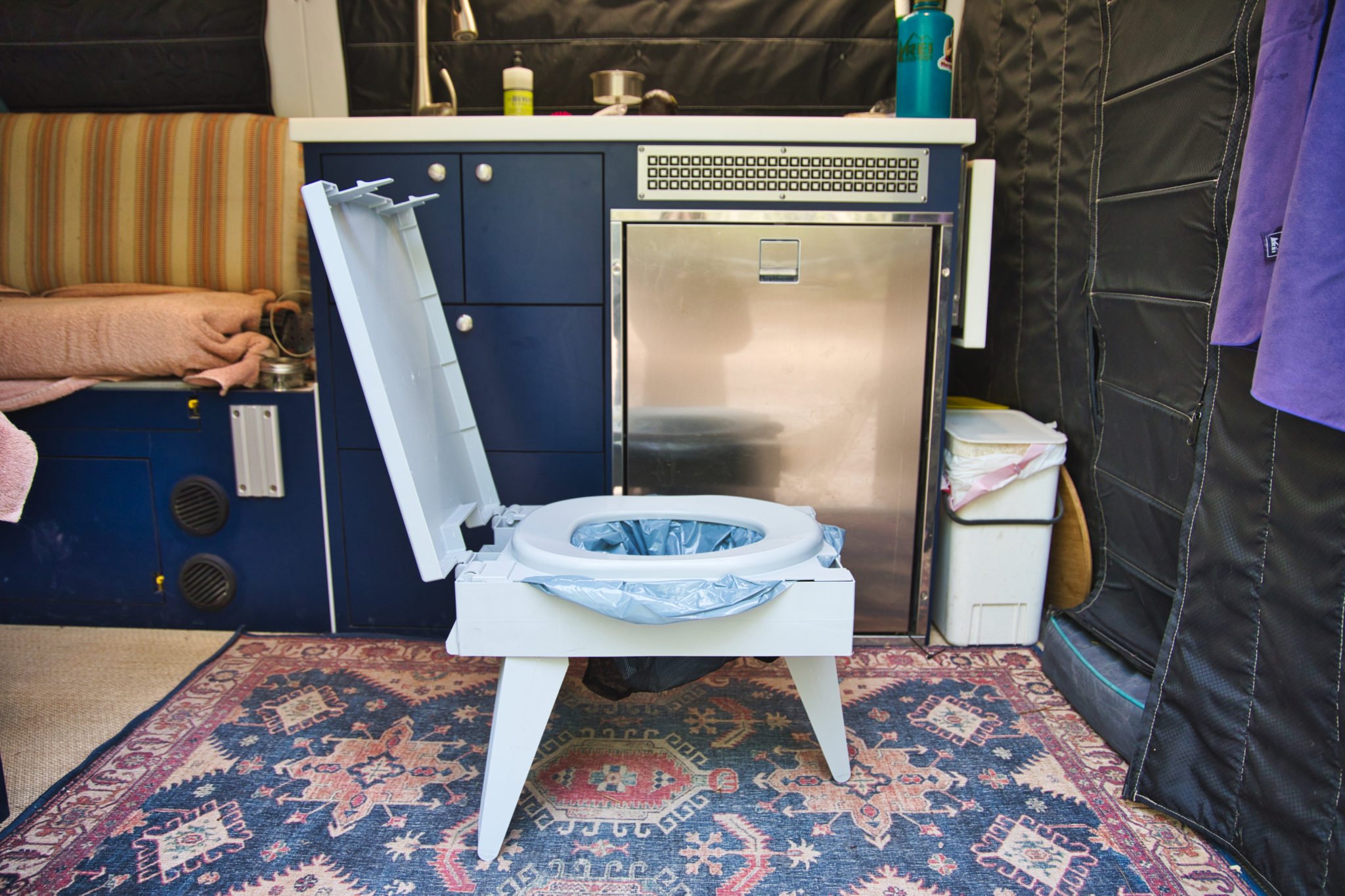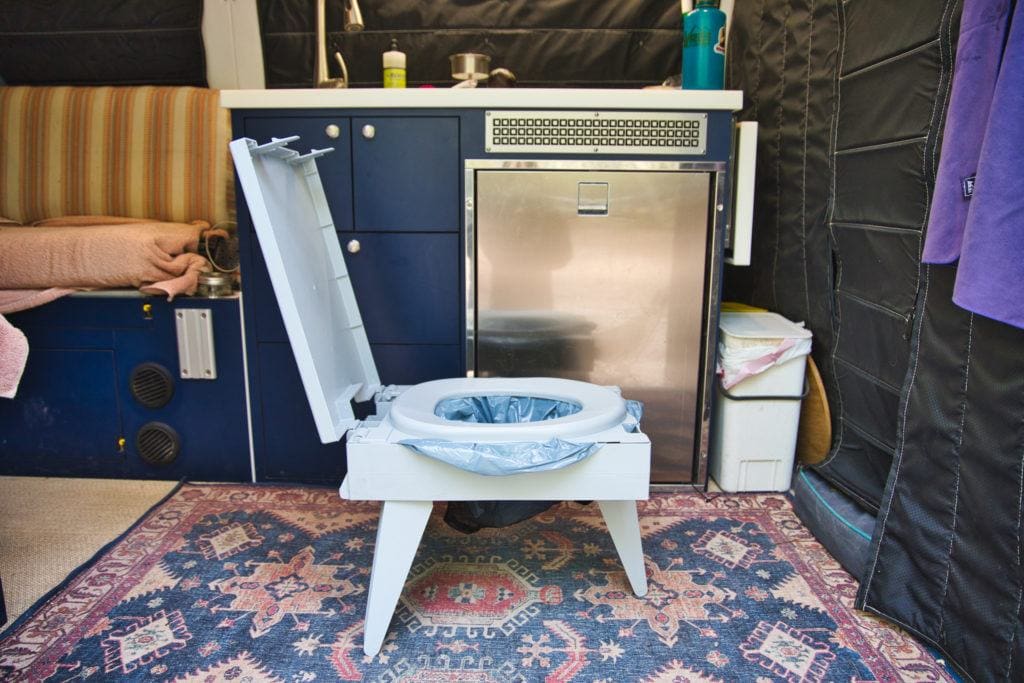 Sprinter Van Floor
In my last Sprinter, I found that the dark wood floors looked great, but they were very hard to keep clean. Dirt shows very easily on dark colors and with our dog, all we saw was footprints. The wood also didn't provide any traction.
The first thing Outside Van does when building their floors is to remove the factory floor. They then build a new floor out of marine grade plywood and adhere a layer of high-density vinyl to the top. This is a slightly heavier than the factory floor, but its a little thicker and way more durable, so there's no flex in the floor when you place heavy features on it.
In my Outside Van Sprinter, I choose two different types of flooring – both made of a high-density vinyl. In the front, I wanted something that would provide a balance between durability and easiness to clean, which led me to a lighter colored vinyl weave with a hint of black that ties in with other black features in the van like the window shades. Update: The texture in the weave the floor up front actually makes. it quite difficult to clean.
In the back, I chose a diamond plate style vinyl floor, which is one of the most durable floor types you can put in a Sprinter Van. It doesn't scratch, so it can withstand bins and bikes sliding across it. We've found this to be true after years of dragging gear across it.
>> Read Next: A Guide to Floor Materials for your Van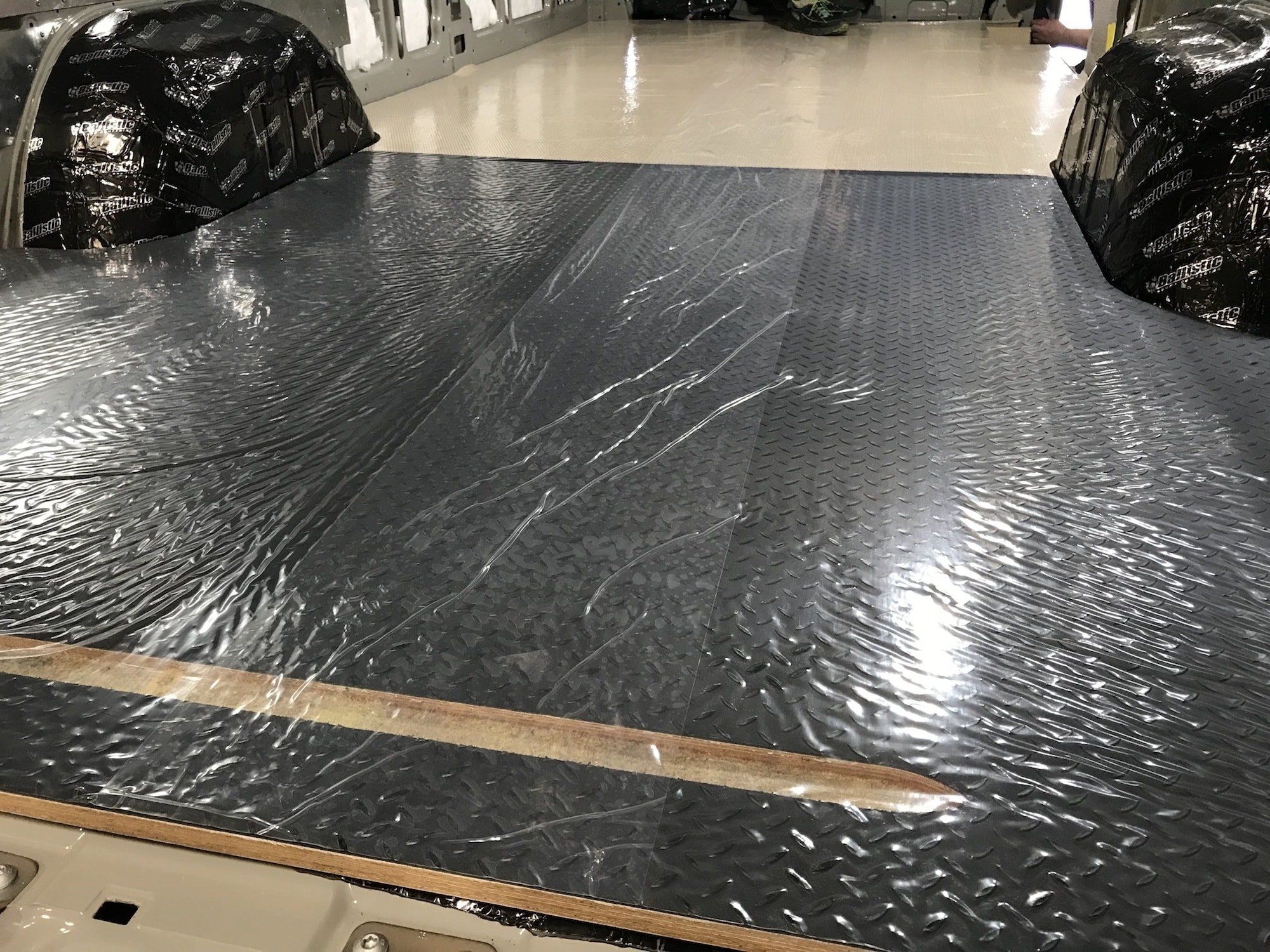 Sprinter Van Walls
One of my favorite features of my last Sprinter Van was the white walls. It made the van feel so bright, open, and airy. Outside Van had never built a van with white walls, so my van is a completely new look for them. They found a synthetic leather product called Sileather that is eco-friendly, VOC-free, easy to clean with a damp cloth, waterproof, and fade proof. It's perfect for people with dogs, as dog hair doesn't stick to it. I've been really happy with the walls – even bloody mosquitos wipe right up.
Behind the walls, is insulation, a really powerful sound dampening material, and a custom infrastructure that Outside Van has developed to reduce the twisting and flexing of the van interior, making the build more durable. The van is incredibly quiet when I drive. There are no rattles or other noises from the cabinets or other components, making for a very peaceful ride.
>> Read Next: Best Insulation types for your Van Conversion
What questions do you have about my Outside Van Sprinter Van Conversion? Leave a comment below and let us know!