Sprinter Van Conversion Tour: Custom 4×4 Outside Van
Tour my third Sprinter Van conversion and learn what I like and don't like compared to the previous two.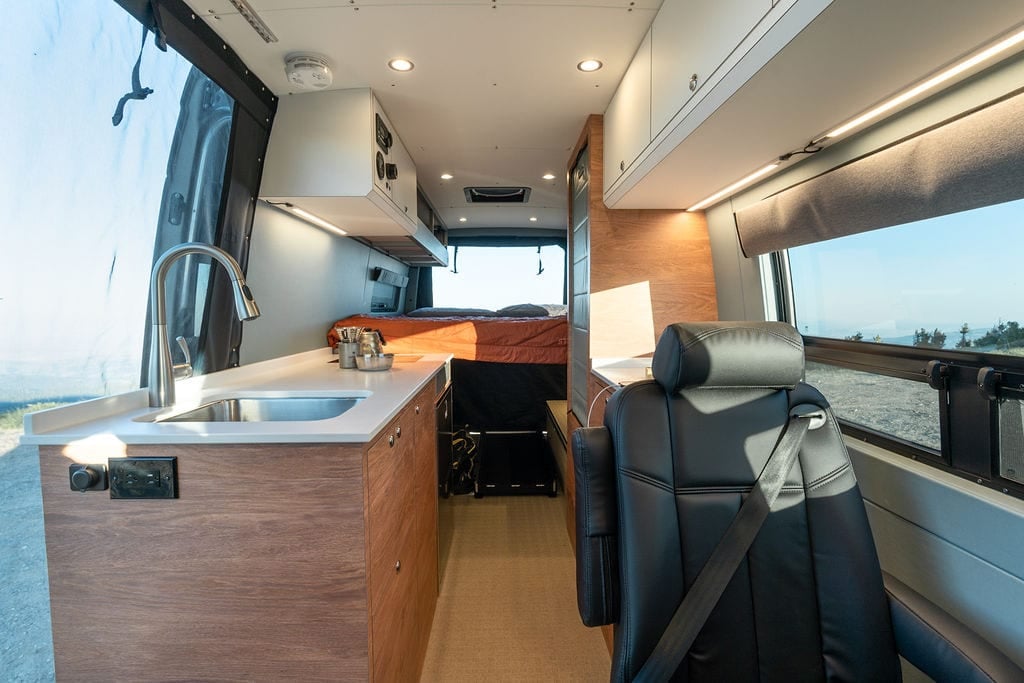 In July 2022, I got a new custom camper van – a 4×4 Sprinter Van conversion built out by Outside Van in Portland, Oregon. This is my third Sprinter camper van since 2016, and over the years I've learned a lot from each van build about what works and what doesn't. I've learned the pros and cons of having a bathroom, the importance of having enough storage for big AND small gear, and I've gotten to experiment with three different layouts which gives me a lot of perspective to share with you here.
In this blog post, I give a full tour of the design, layout, and material choices in my new van and how it compares to my previous Sprinter Van conversions. I also share more details about why I decided to switch up my floor plan and include an Outside Van review of my overall experience.
---
Sprinter Van Video Tour
You can watch the full walk through of my new Sprinter Van in this video tour.
---
My Previous Sprinter Van Conversions
Back in 2015, I had recently launched my blog and was doing a lot of solo travel in the Western US. At the time, I was traveling out of my Subaru, but after a creepy experience camping in Nevada, I decided I needed a vehicle that I would feel safer sleeping in. I also wanted a vehicle that I could more efficiently work out of since my new career path as a full-time blogger had me spending a lot of time on the road. That led me to the Sprinter Van.
My First Sprinter Van Conversion
My first 144″ Sprinter Van was built by an inexperienced builder in southern California and had a full indoor bathroom, an open aisle all the way to the back doors, and a convertible sofa bed across from the slider door.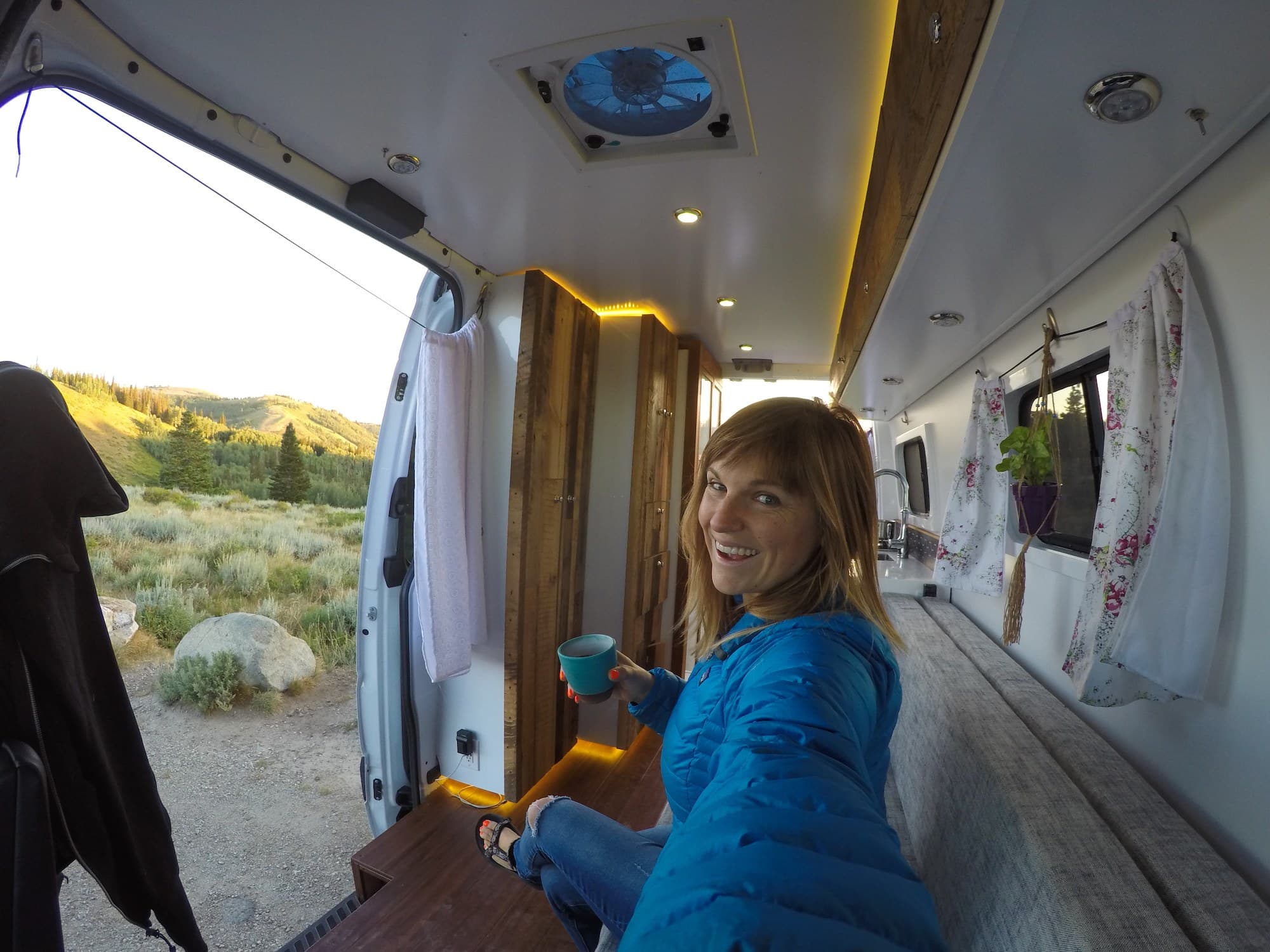 In some instances – particularly when I was solo on shorter trips – this van worked well. However, I found myself never using the bathroom, wanting a more dedicated workspace, and needing more indoor storage for camping gear and my bike.
In addition, I learned a lot about materials, the importance of building light, and having weight properly balanced across the van. This van build incorporated heavy materials like tile and reclaimed barnwood – both of which looked beautiful, but when it came to driving off-road, things weren't as durable as I had hoped. Since I wasn't crazy about the layout or the build quality, I sold that van and learned some hard, expensive lessons in the process.
Watch the full video tour of my first Sprinter Van here:
My Second Sprinter Van Conversion
In 2017, I hired the reputable Portland-based van conversion company Outside Van to build me a 170″ Sprinter Van conversion. With the longer wheelbase, I had more room to incorporate a permanent platform bed, a dinette for working and eating, and a spacious galley. I also wanted to leave some open space in the doorway since we do van life with two dogs.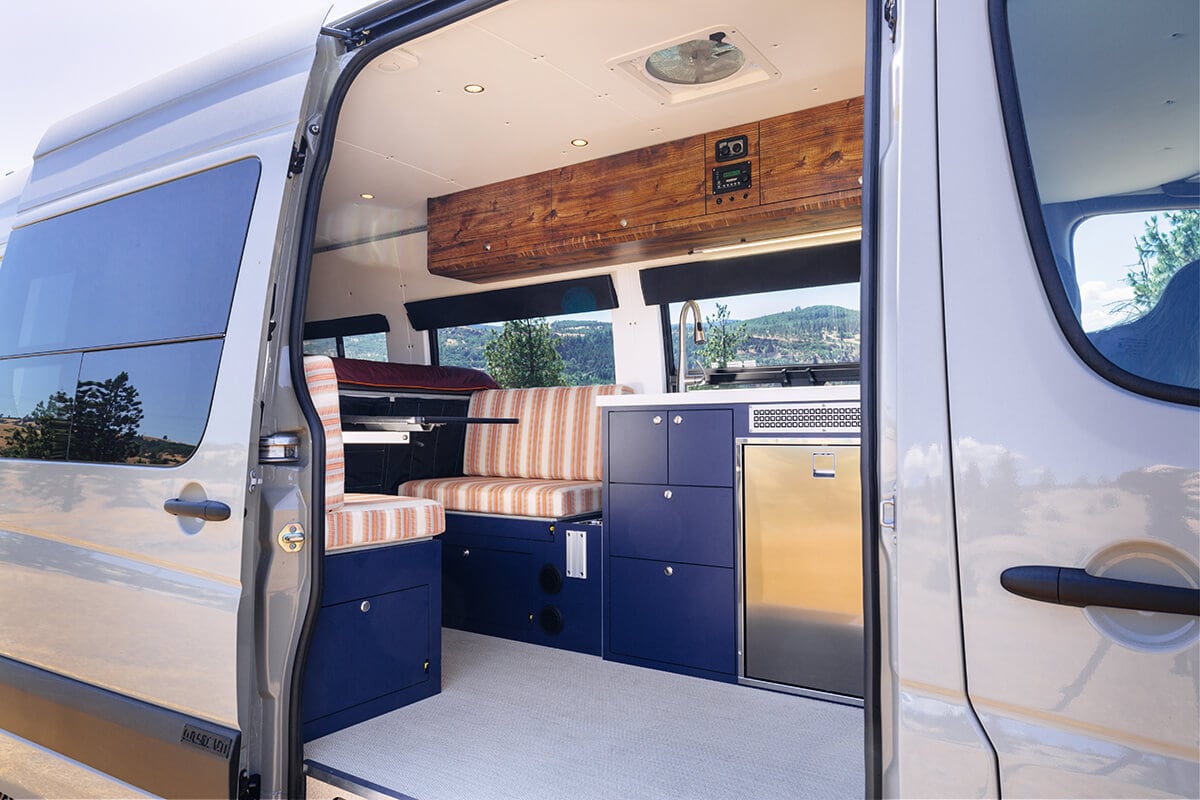 I had this second van for 4 years and drove it nearly 70,000 miles. The quality of my second Sprinter Van conversion was worlds above the first. The van was capable of driving almost anywhere thanks to the durability of the conversion. The battery system was also more robust and allowed me to stay off-grid for as long as I wanted.
Watch the video tour of my second Sprinter Van conversion here:
My Third Sprinter Van Conversion
After 4 years and nearly 70,000 miles, I decided I wanted to experiment with a new layout. Also…surprise! Our family is growing….baby bear is due February 2023, so we needed another seatbelt which is the primary reason for this new van.
I went back to the drawing board with Outside Van to build out a new 2021 170″ 4×4 Mercedes Sprinter Van with a design that focused on incorporating a third passenger seat, additional storage to keep the clutter at bay, an upgraded lithium battery system, as well as many of the features I loved in my second van, like the big galley and platform bed.
We typically spend 6-8 months a year living full time in our van, and my new Outside Van turned out beautifully with many custom features that were designed to accommodate van life with a family of three plus two dogs for extended periods of time. I also work from the van so having a comfortable work space was key.
With adding a third passenger seat, we did lose some of our open space so freely moving about the van takes a little more finesse. However, we gained a lot more storage for all of the small things which has dramatically helped improve our organization.
Now that I've spent some time on the road in my new Outside Van, I'm ready to go into the details.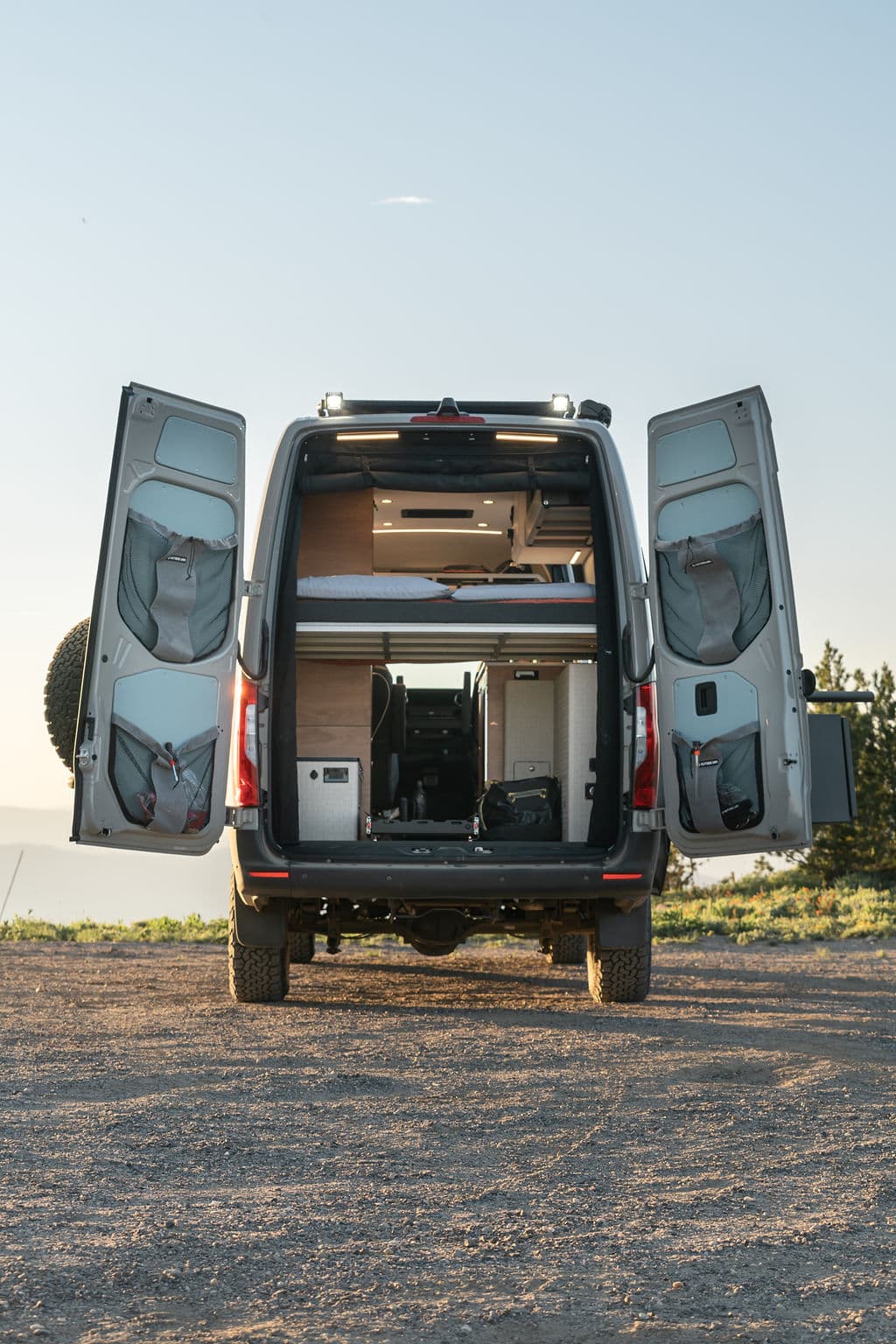 4×4 Mercedes Sprinter Chassis
I chose a Mercedes Sprinter Van because in 2021 when I purchased the chassis, it was the only panel van on the market that offered 4×4 with adequate clearance for off-road driving. The Ford Transit has an all-wheel drive model, but the Sprinter Van has nearly 2″ more of ground clearance, which was important to me for its off-road capabilities.
My third Sprinter Van is the exact same chassis as my second, which we were really happy with and luckily encountered very few issues with. My partner Ryan and I have driven over rocky 13,000 foot passes in Colorado, chased powder, camped off hundreds of dirt roads, and more. Over the course of 4 years, the Mercedes 4×4 Sprinter allowed us to adventure nearly everywhere we wanted to go, proving itself to be one incredible beast. For these reasons, I chose another Sprinter.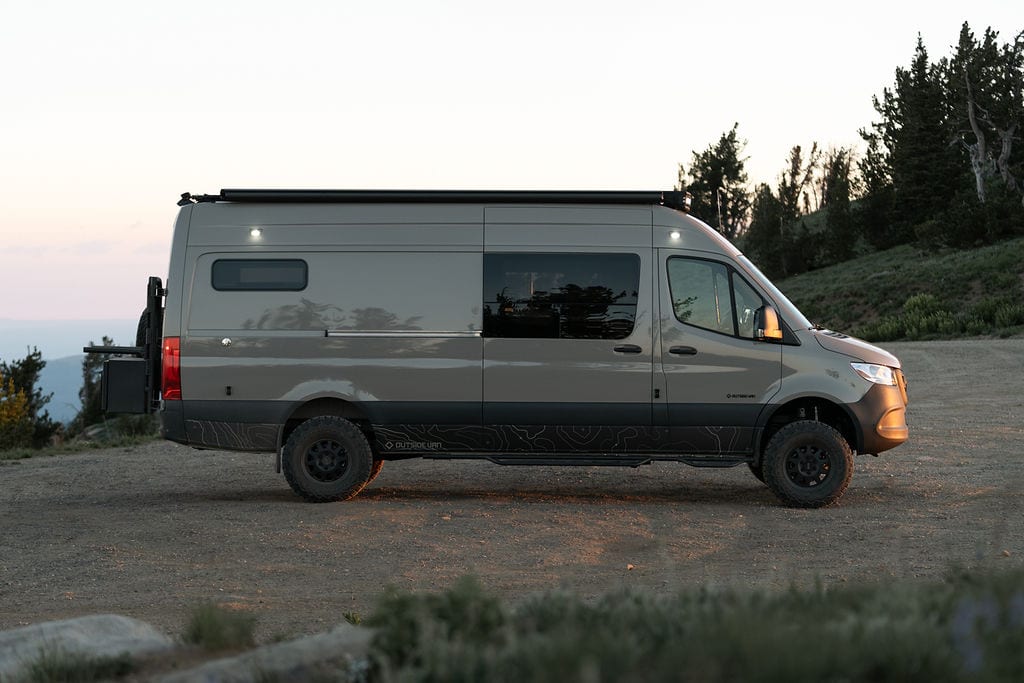 My third Sprinter Van is high roof cargo 2500 170″ wheelbase, again the same as my last van. The 170″ gives us plenty of room to live comfortably for 6-8 months at a time, and store all of our gear without feeling cramped with two dogs. I've written a comparison of the 144″ vs 170″ wheelbase and the pros and cons of the different van chassis if you're trying to figure out what vehicle is right for your van conversion.
Why I chose Outside Van for my Sprinter Van Conversion
If you've been following me for a while, you know I got burned on my first Sprinter Van conversion. I hired a "van builder" based on some pretty photos I saw on Instagram without really doing my homework on their background or experience.
Turns out, the guy talked a good talk but didn't really know what he was doing. I was left with a brand new van build riddled with issues – such as a leaky shower floor, warped cabinets, and faulty wiring for my solar panels. These problems took me months to deal with, which certainly wasn't the introduction to van life I was looking for.
For my second conversion, I wanted to work with a professional van conversion company that had a lot of experience, an excellent reputation, and could build me a van that was made to go off-road. During that time I met a fellow van lifer in a parking lot in Moab who had a Sprinter converted by Outside Van and had nothing but good things to say.
This time I planned to do my research, so I scheduled a trip to Portland to tour their facility, and it was clear that Outside Van was a top notch operation. After interviewing a number of other popular companies, I decided Outside Van was going to be the best option for my second custom van.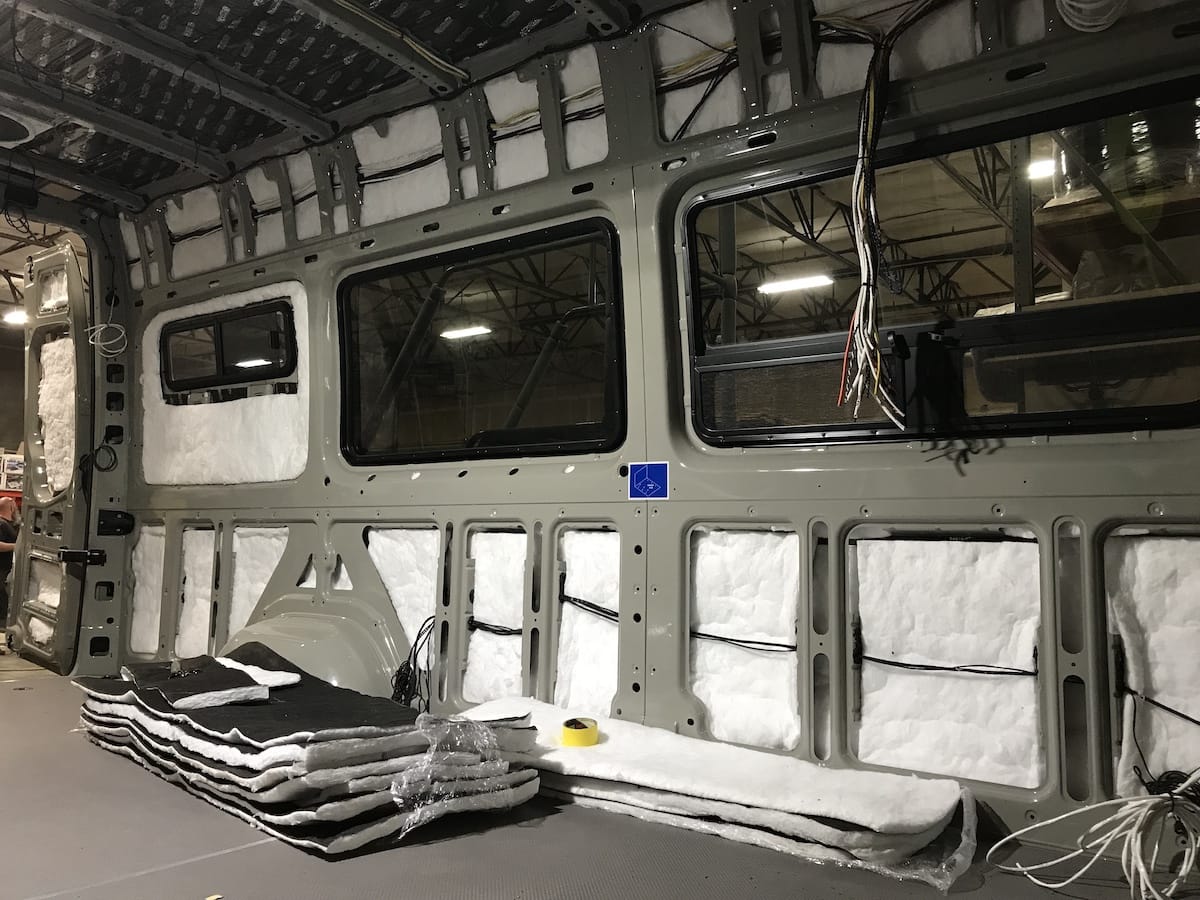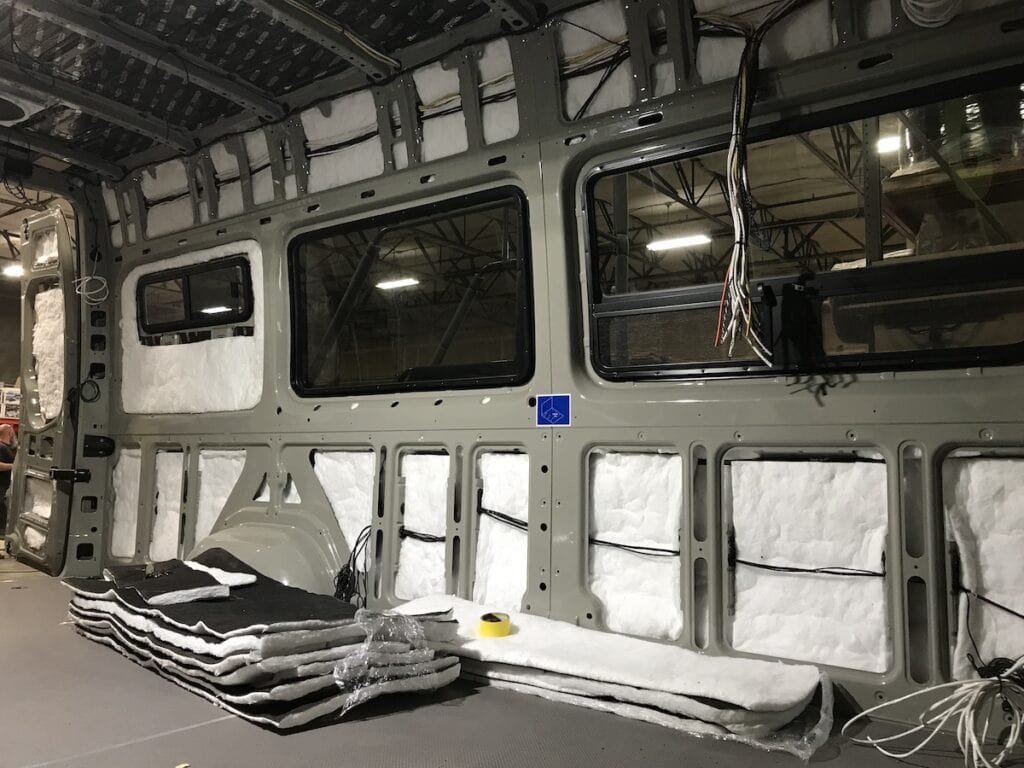 Over the years, we put that second Sprinter Van to the test, driving her over some of the roughest roads the chassis could handle in Colorado, including Cinnamon Pass and Stony Pass.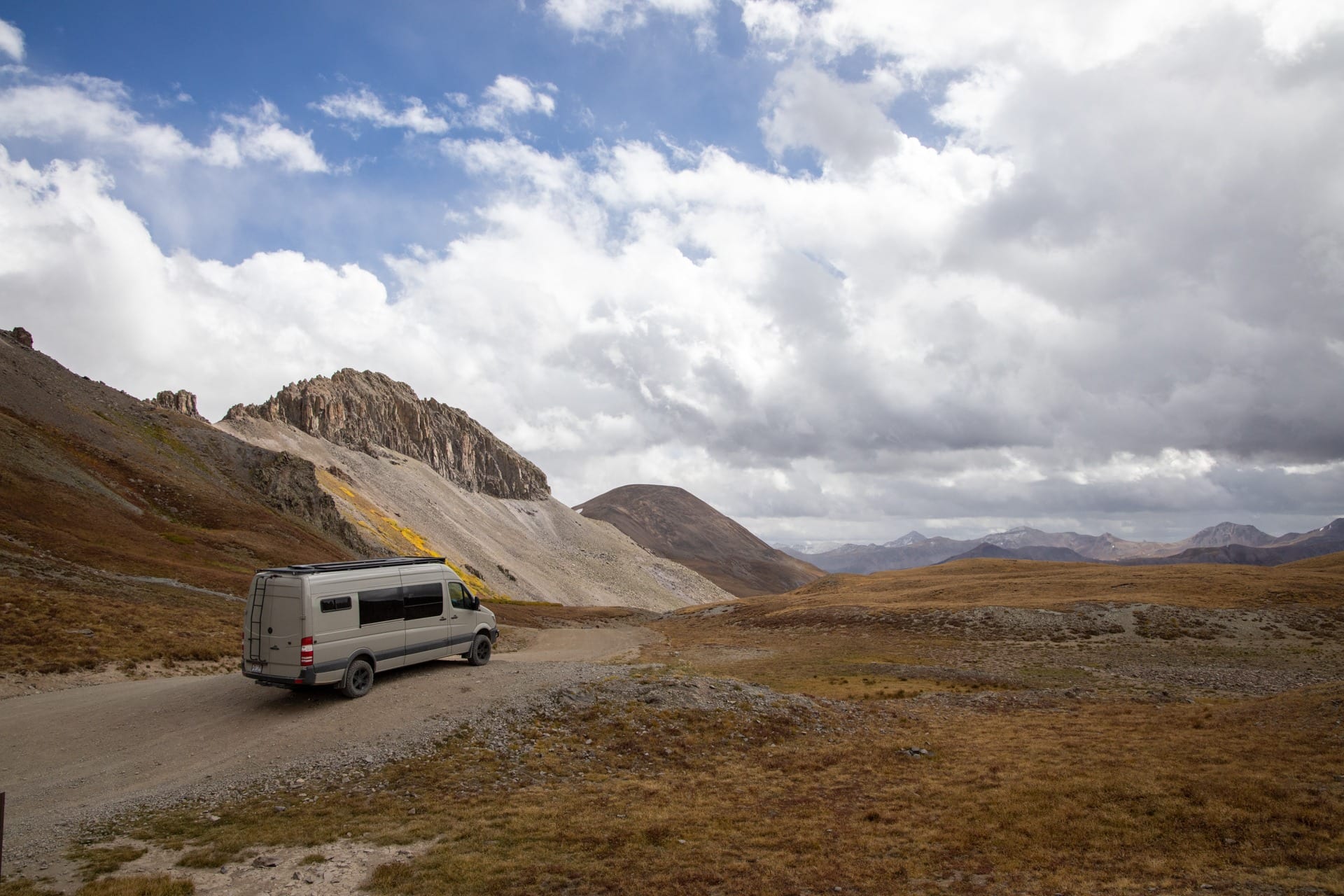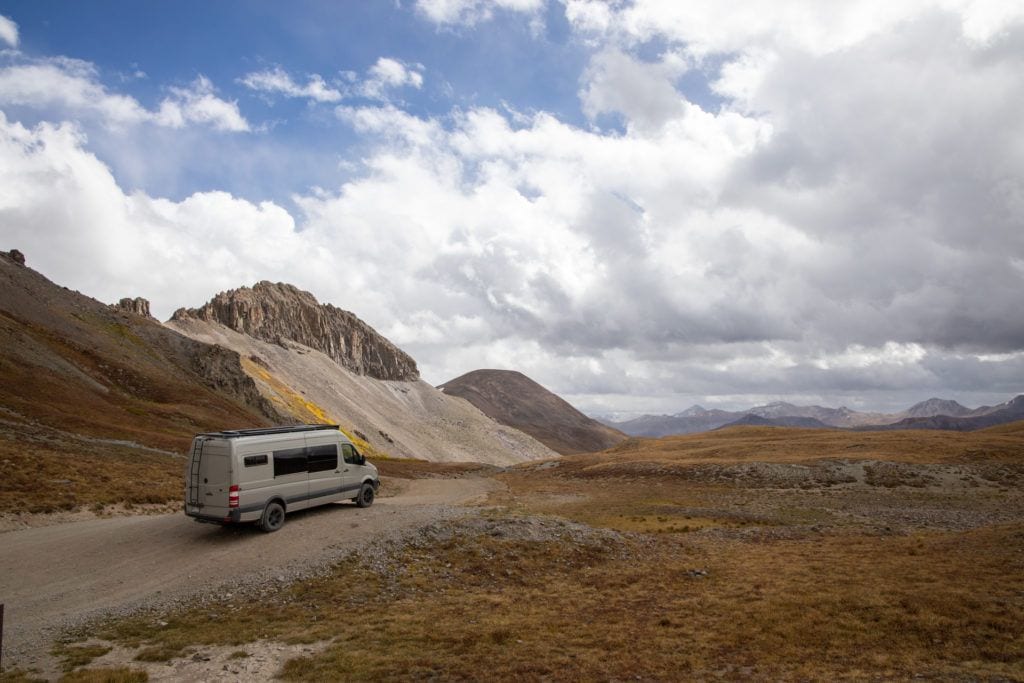 After 70,000 miles, my cabinets and drawers worked exactly as they did on day 1, proving the build to be extremely durable. I never had any issues with my electrical or other systems, and the van functioned exactly as promised.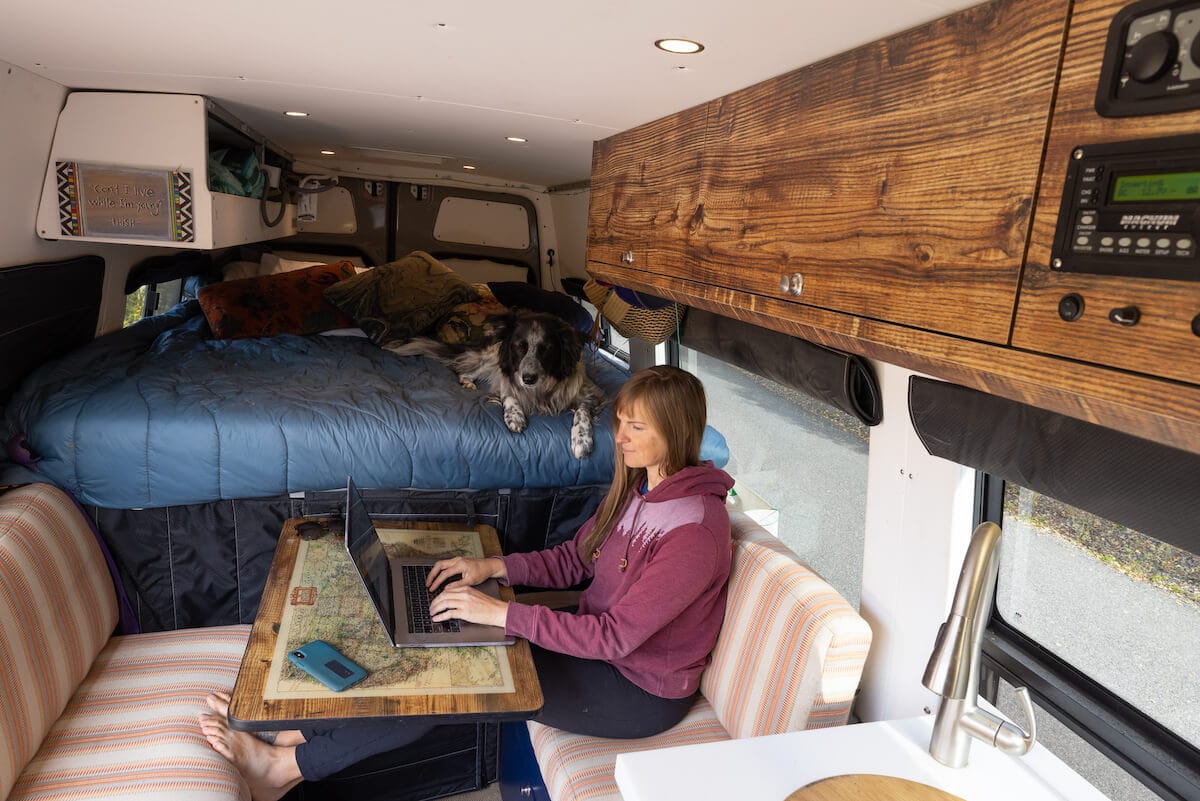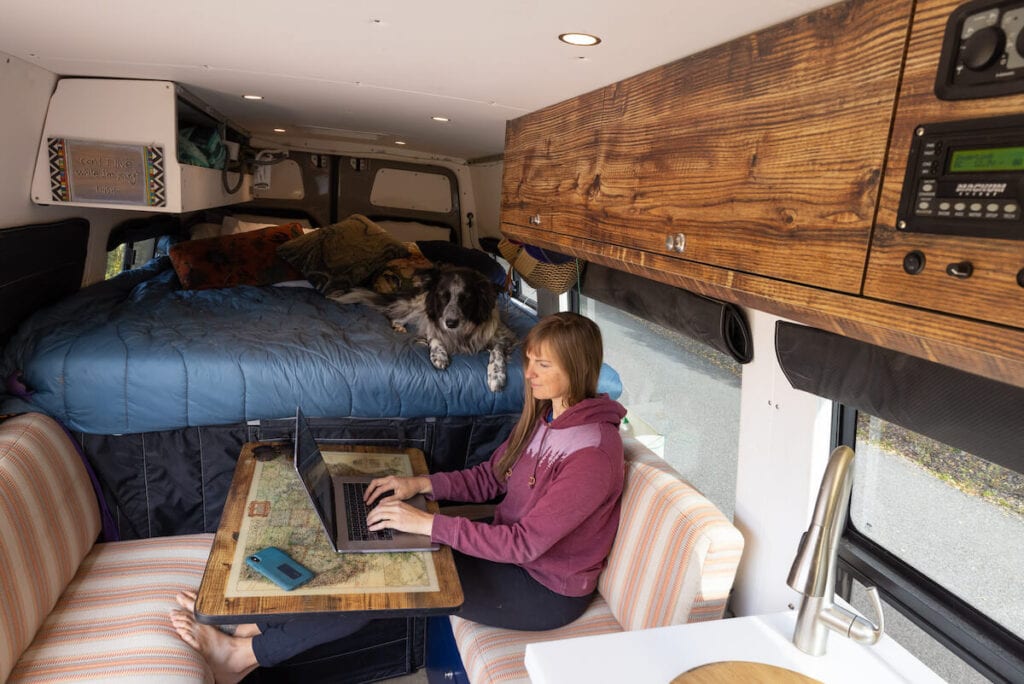 I never felt held back by my van, which is the way it should be if you're dropping money on a professional van conversion. Also when I went to sell the van in late 2021, I was able to get top dollar for its resale. This is why I hired Outside Van once again for my third Sprinter build.
Regardless of what companies you are considering, I highly recommend you read this post to help you screen and choose the right van builder. There are so many unqualified people out there ready to take your money, and I would hate to see you get screwed like I did the first time around.
And for full disclosure…Outside Van is now one of my brand partners, and they were one of my title sponsors at Open Road Fest.
Custom Sprinter Van Conversion Details
Sprinter Van Walls
The walls in my Sprinter Van conversion, including the closet door shown below, are made out of Sileather. Sileather is a synthetic, eco-friendly material that is vegan, VOC-free, and fade proof. The best part is it's waterproof and in order to clean it, you just need to wipe it down with a damp cloth – even bloody mosquitos wipe right up. It's perfect for people with dogs, as dog hair doesn't stick to it. I also used Sileather in my second van…that's how much I liked it.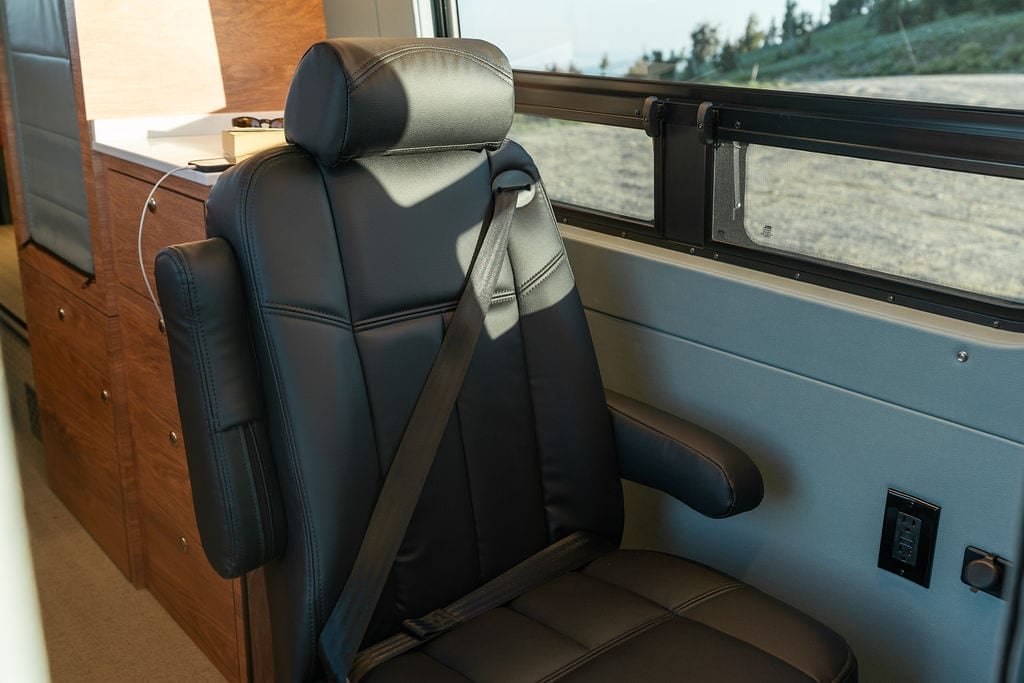 Behind the walls you'll find insulation, a really powerful sound dampening material, and a custom infrastructure that Outside Van has developed to reduce the twisting and flexing of the van interior, making the build more durable. The van is incredibly quiet when I drive. There are no rattles or other noises from the cabinets or other components, making for a very peaceful ride.
---
Sprinter Van Seating Area & Workspace
In my second Sprinter van conversion, we had a dinette with a Lagun table just in front of the bed. This was my primary workspace and also where we ate our meals. I loved having this dedicated workspace, and the Lagun table worked perfectly as we could easily swivel is out of the way when it wasn't being used.
However, as you know everything in these vans is a tradeoff for space, and a must for this third Sprinter Van was to have an additional passenger seat behind the driver to safely transport a child. In order to make space for this captain's chair, we'd have to forgo a dinette and dedicated workspace like we had in our last van.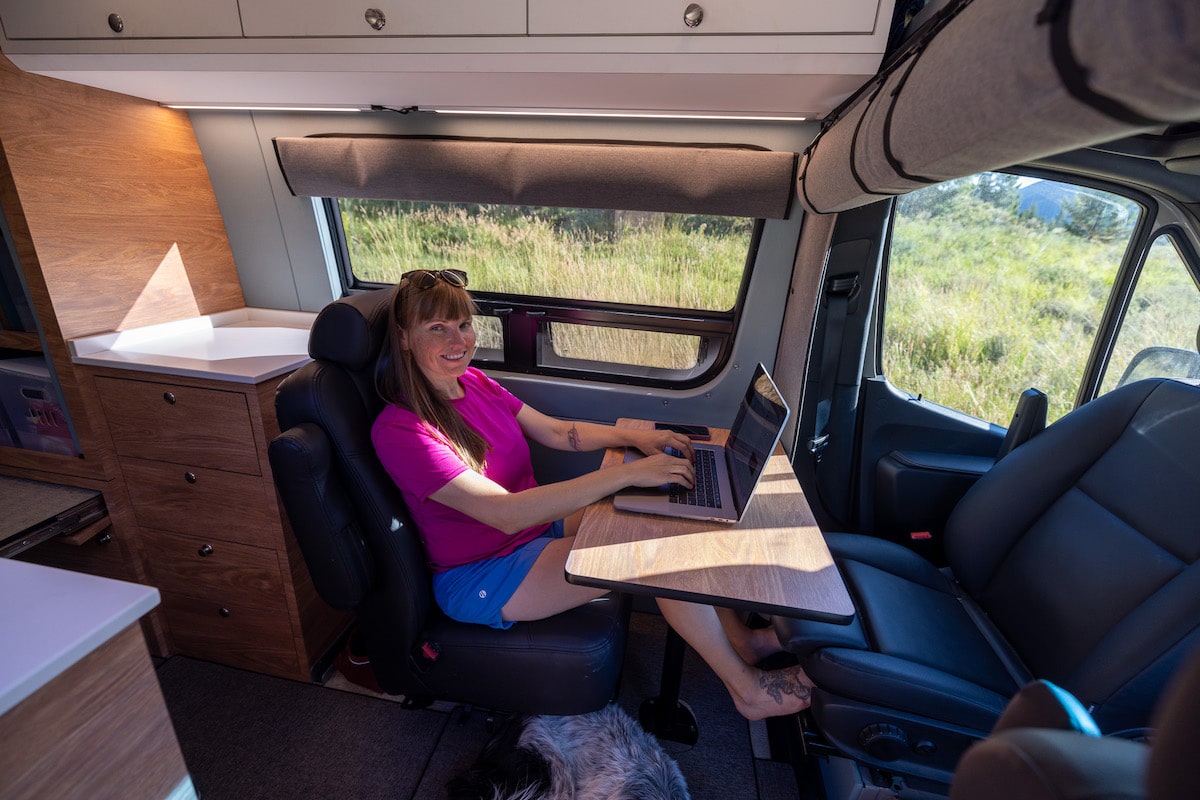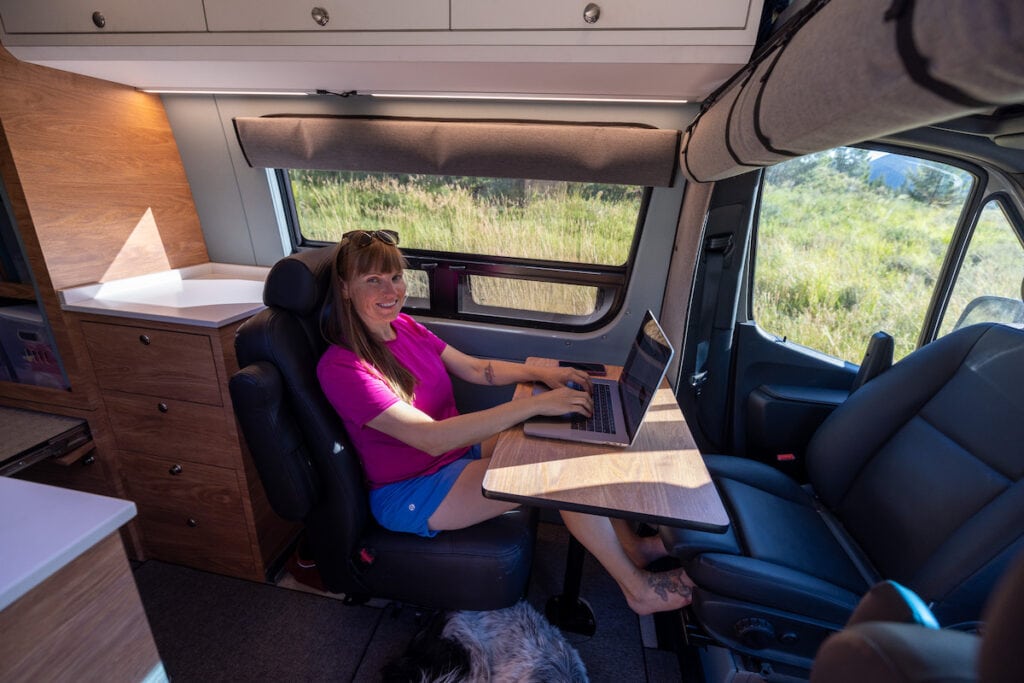 In this new van, when we aren't driving, we have a table that quickly pops into the floor. When it's time for me to work, I can use that additional captain's chair as my office chair. Even though it takes me a bit more time to get set up with my computer in this van, I'm really liking having a more ergonomic chair to sit in while I work compared to the dinette cushions in my last van that always bothered my back after a while. We also utilize the swivel seats and the table to create a three person dining area.
The table stows right behind the captain's chair against the driver's side galley cabinet so it's out of the way when not in use.
I'm not quite sure about the sleeping arrangements once the kiddo is bigger, but at least at first, a bassinet will easily fit in front of this captain's chair where the table pops in. By the time he is big enough for a bed, I'm sure there will be a number of solutions based on the pace this industry is innovating.
---
Cabinet & Galley Materials
All of the cabinetry in the van is made of 13-layer marine grade plywood which is treated so it won't expand in heat or distort over time. Marine grade plywood is the standard used in boats and is made to withstand a bumpy ride.
All of the cabinet and drawer faces are covered using a high-quality laminate made by Wilson Art, which gives all of the wood in the van a nice finish while protecting the marine grade plywood underneath. Laminate is lightweight and way more durable than regular wood. I chose the Monarch Alona Grain for the lower cabinets and the Traceless Snow White Velvet for the overhead cabinets. The Traceless is not supposed to show fingerprints, but being white, it still shows dirt very easily, so I'm not sure I'd go with the white up top in the future.
Outside Van uses dovetail construction for their drawers which are made out of antimicrobial and eco-friendly bamboo. All of the drawers have a slow closing mechanism to prevent them from slamming shut and have push locks to keep the drawers and cabinets from opening while I'm driving.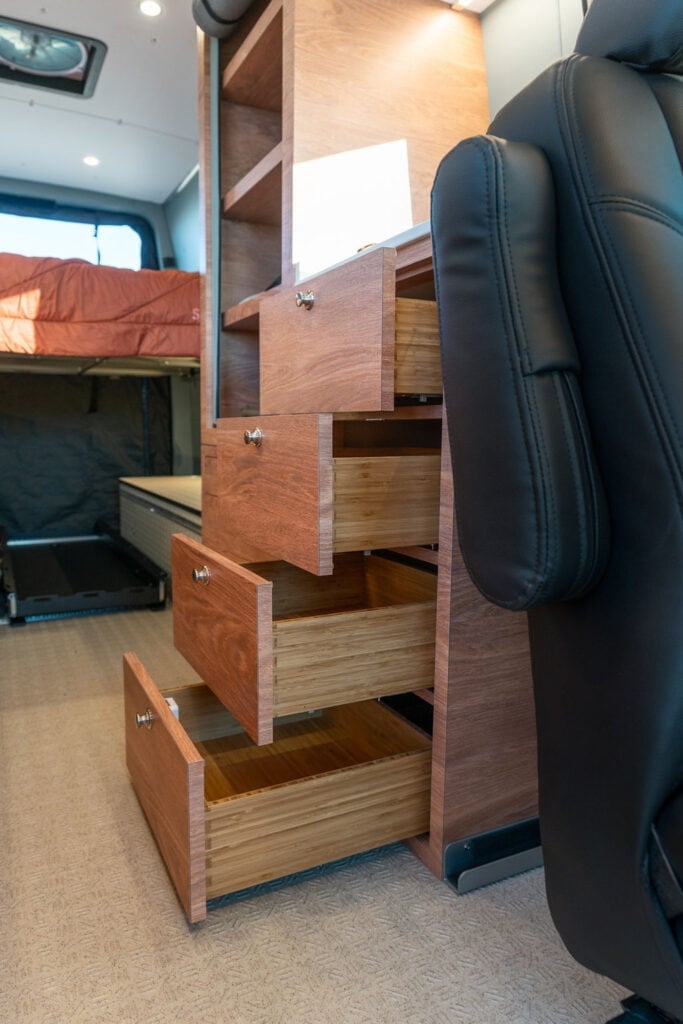 To keep this driver's side galley organized, I purchased these custom drawer inserts from Inhabit Design Works in Portland that come with two mugs, four plates, four bowls, a Japanese knife set, salt and pepper, and some open space for addition cooking tools.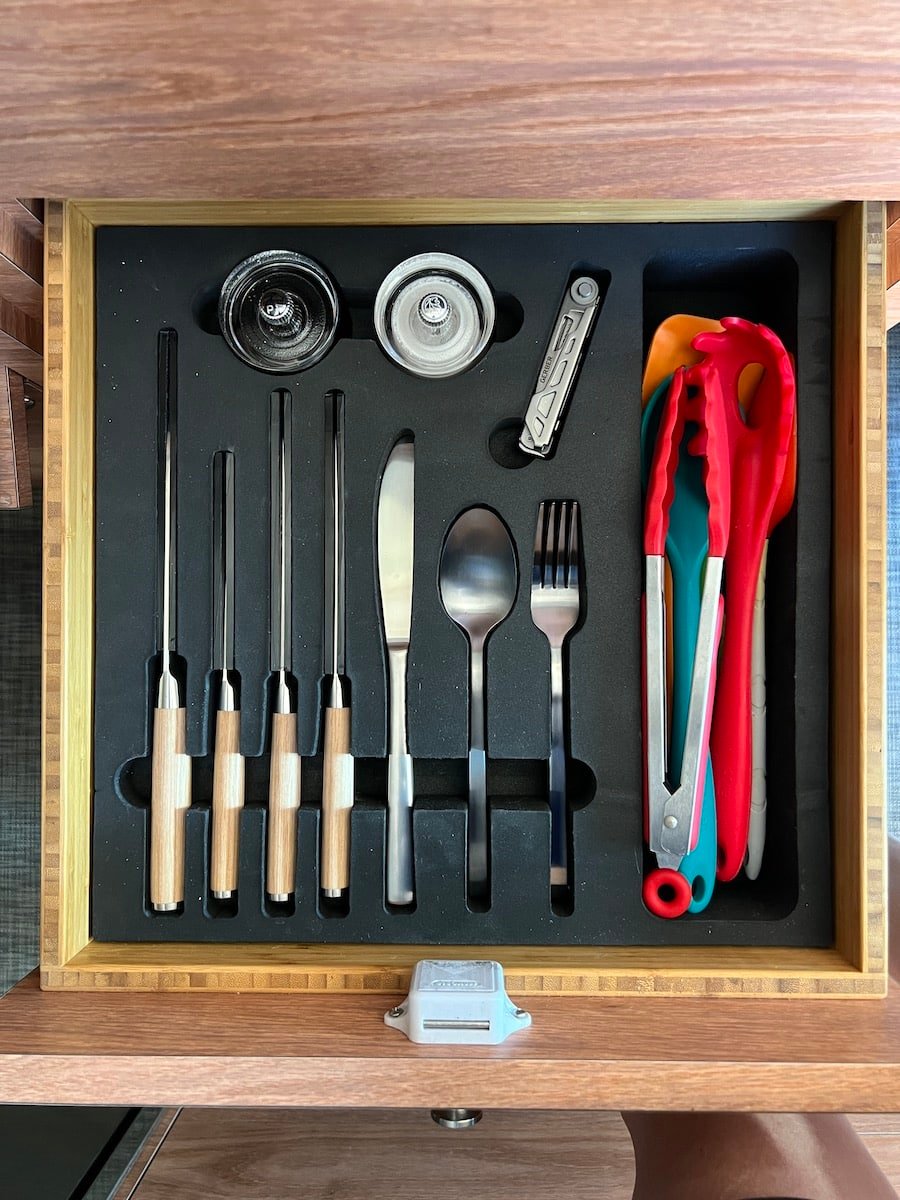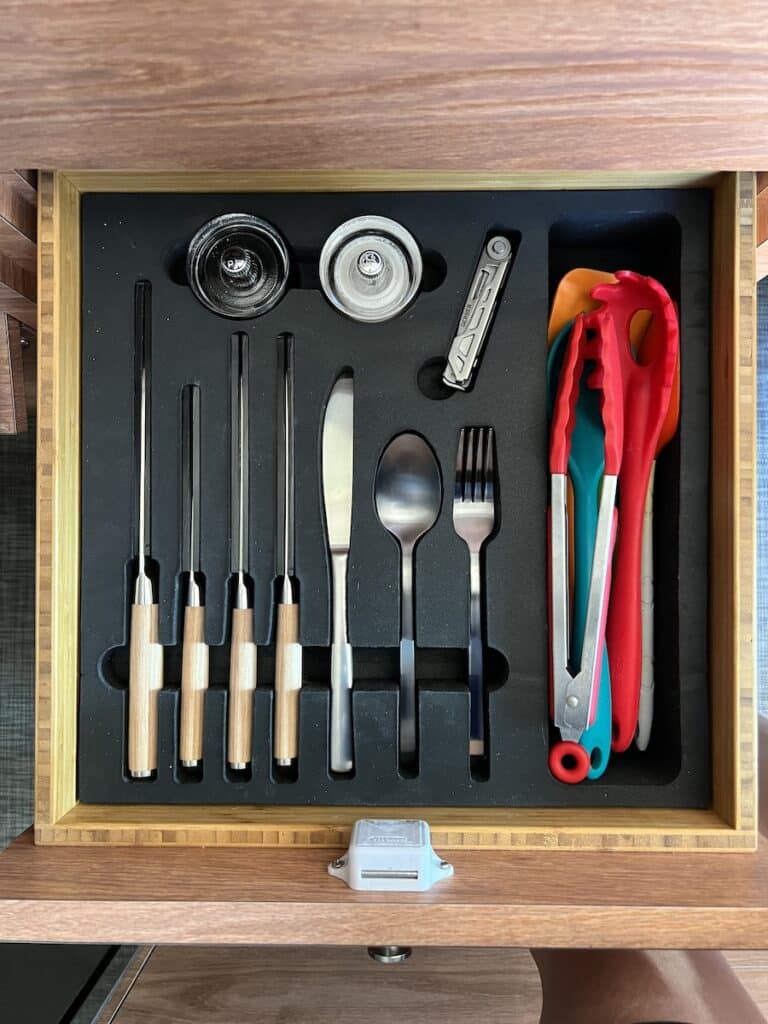 ---
Passenger Side Sprinter Van Custom Galley
In my third Sprinter Van, I chose to have the custom galley come out into the slider door to maximize the use of space in the van.
The passenger side galley has the following components:
Large rectangular sink
One burner induction stove
Refrigerator
Big compartment for a trash and a recycling bin
Slide out outdoor cooking table
The white galley countertop is made of a material called Corian in the glacier white color. Corian is a durable material that can withstand normal wear and tear, although I do notice a few scratches already. The Corian is also very easy to clean, and I love the modern look it gives the van.
Need inspiration for your own van kitchen? Check out these creative van cooking spaces.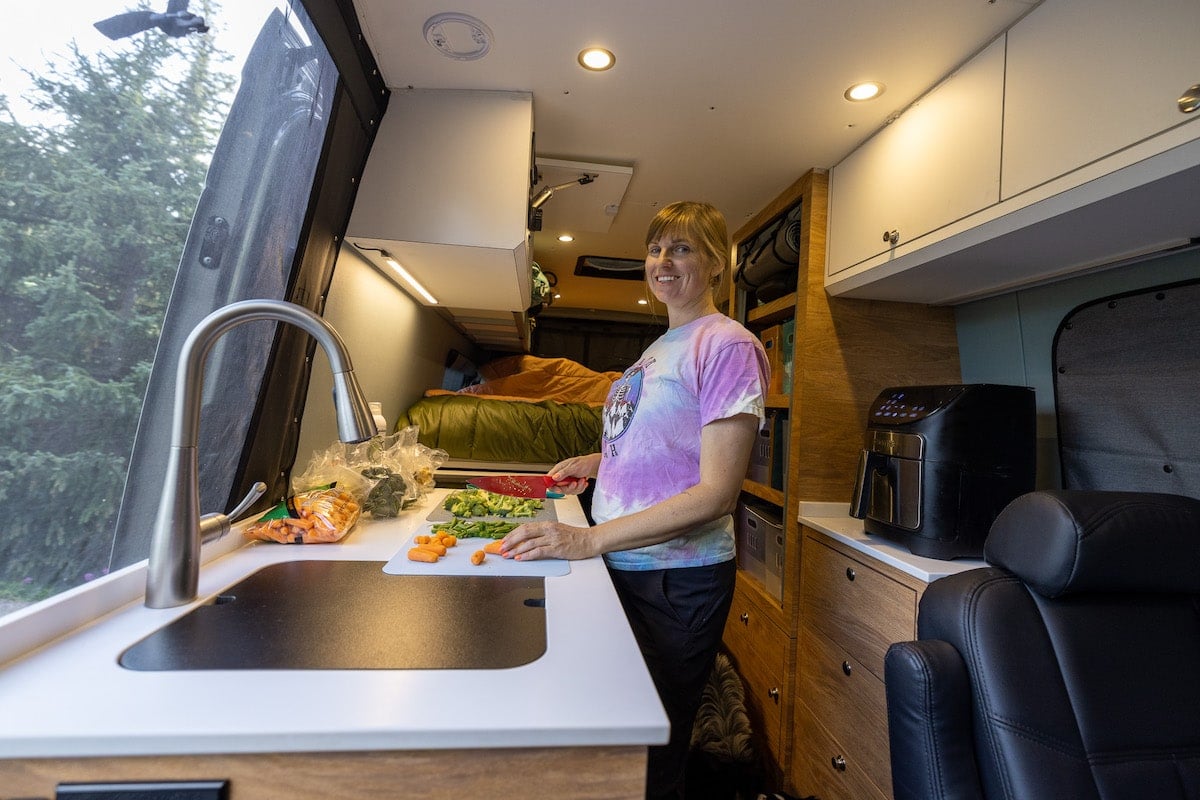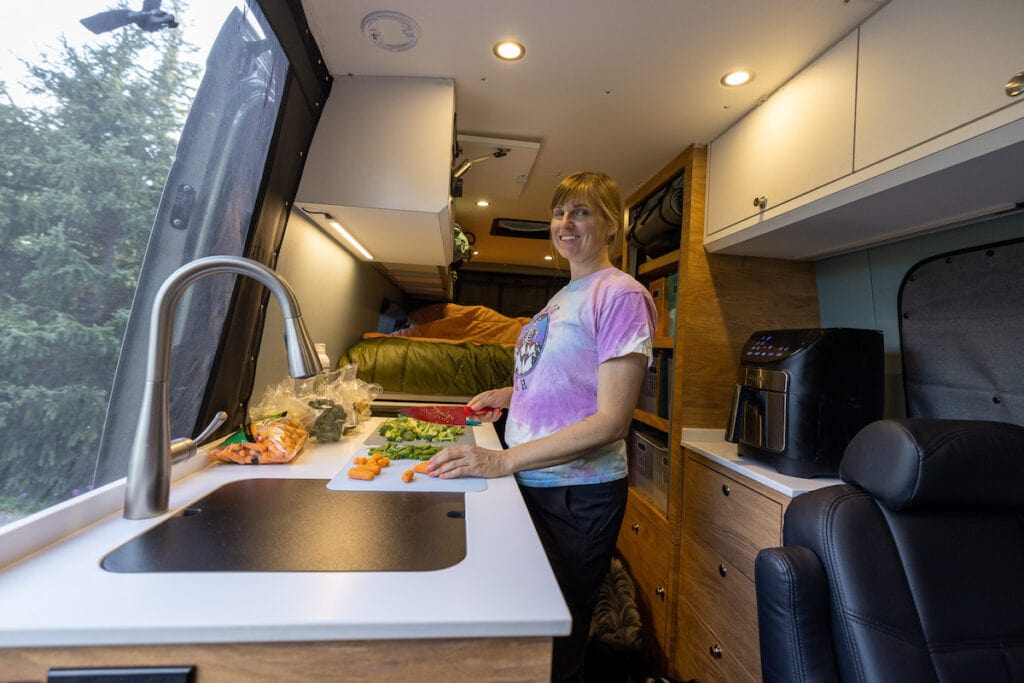 Induction Stove
In my first Sprinter Van conversion, I had a permanent two burner propane stove inside the van. The gas stove was a huge pain to clean, and it took up a ton of counter space that was otherwise unusable. Since then I've switched to a one burner induction stove which I much prefer. The model in my current van is the True Induction single burner stove which requires 1800 watts to operate at maximum temperature.
Having a one burner induction makes it very convenient to prepare simple meals and boil water without having to set up our propane and two burner gas stove outside, which we still cook on for more complex meals.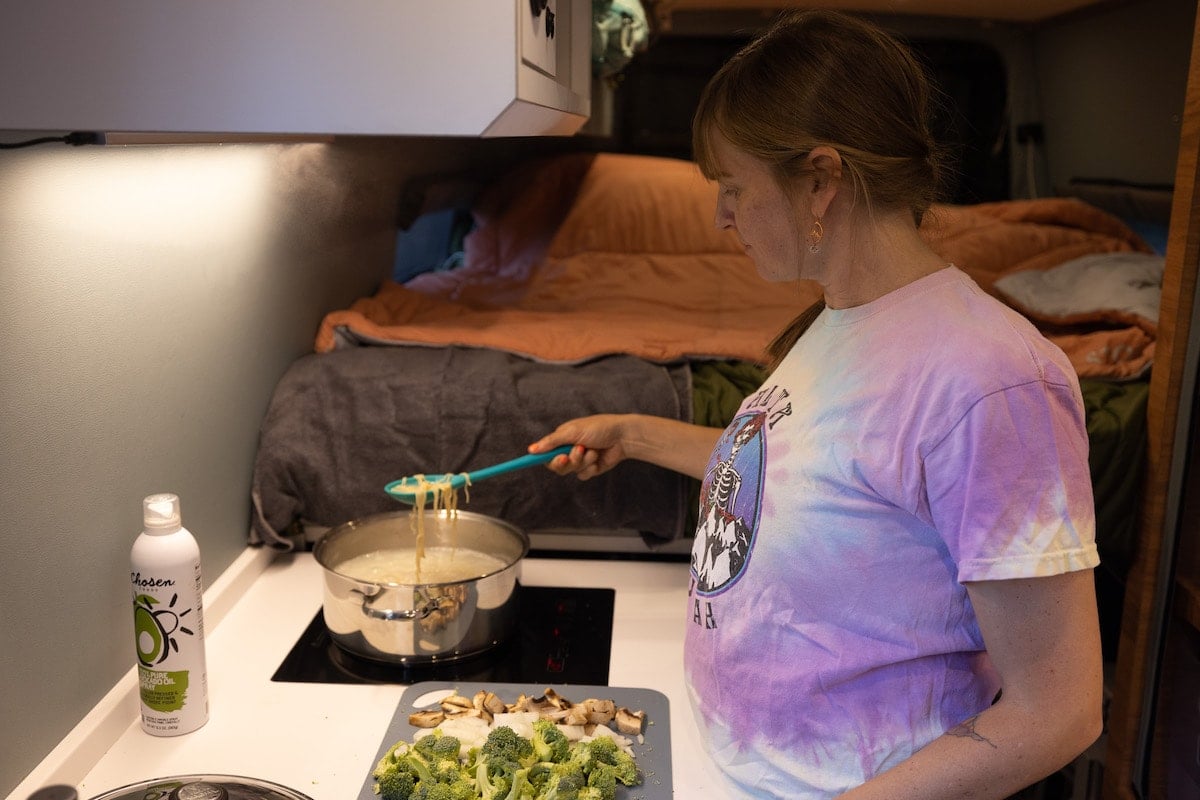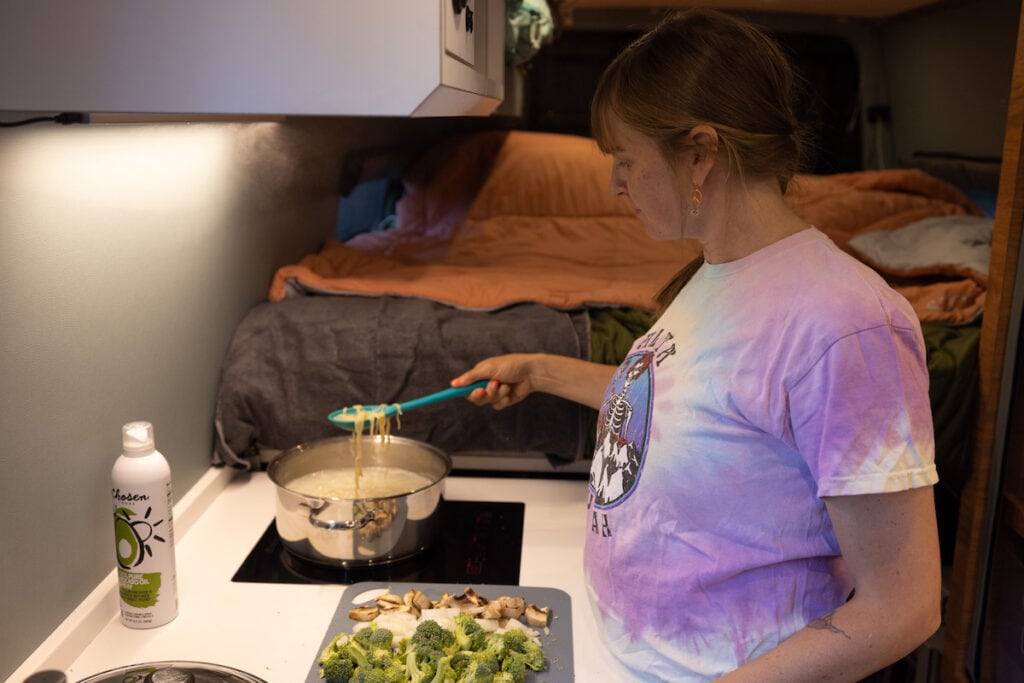 While you do need a robust battery bank and inverter to run an induction stove, they have a lot of benefits. The True Induction stove in my Sprinter Van heats up and cools down fast, so you aren't likely to burn yourself. Induction stoves are also easy to clean and safer since you aren't combusting gas inside the van. One other thing Outside Van did is made the induction stove completely flush with the countertop, so when the stove isn't on, it basically serves as normal counter space for chopping, etc. The induction stove is also especially useful for van life in winter or when we are stealth camping.
Refrigerator
The fridge in my Sprinter conversion is the Isotherm 4.6 cubic foot Cruise Elegance 130. Isotherm is one of the premier marine and RV fridge companies, and their fridges are designed to survive shaking, vibration, and rigid movements that you have in vans and boats.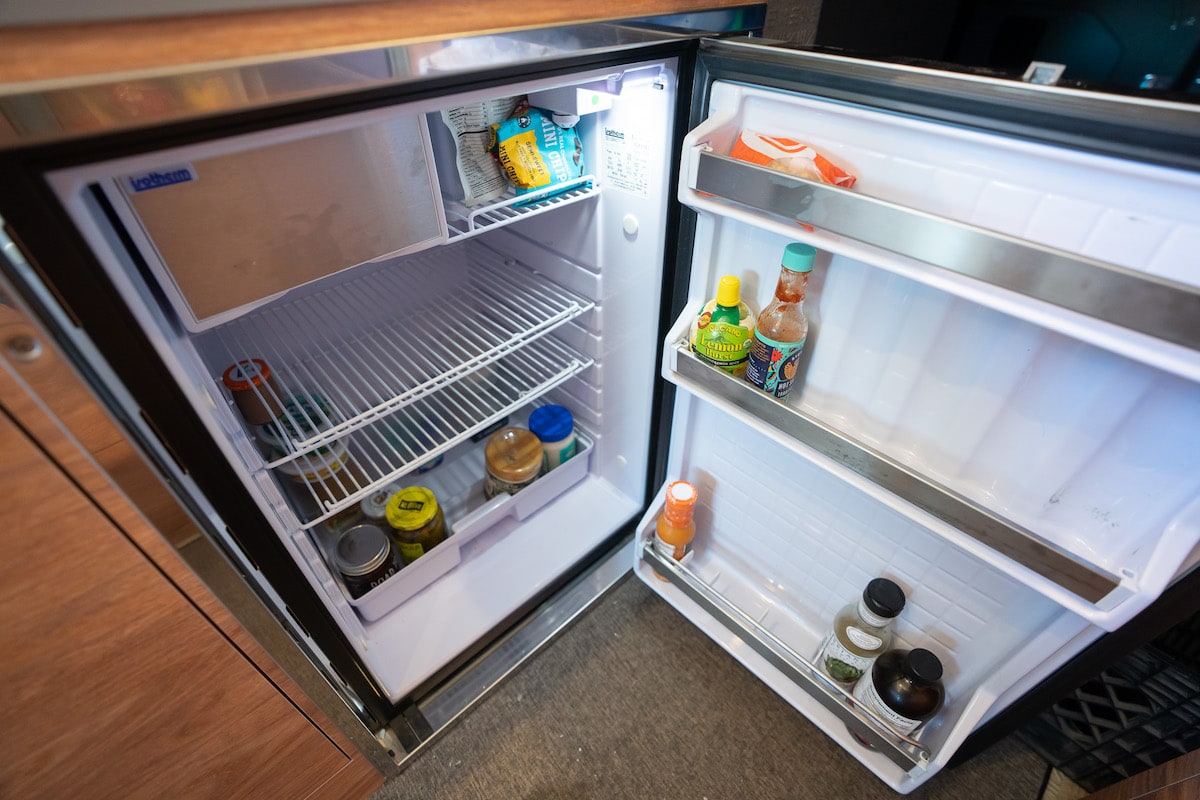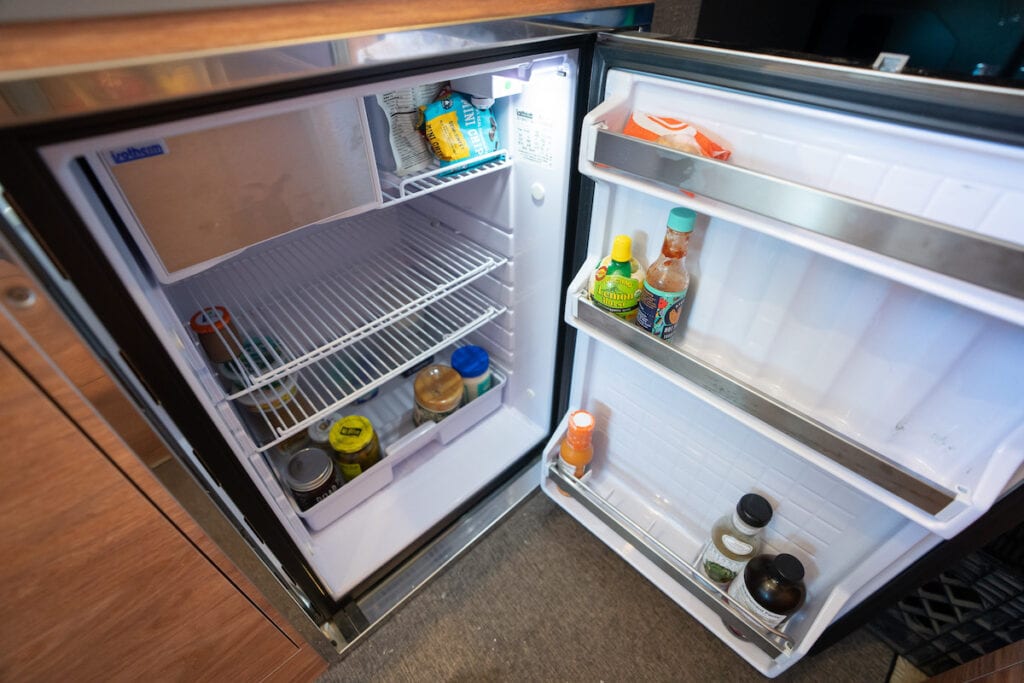 While it takes a bit of Tetris, we can fit about a week's worth of food in the fridge which is nice for minimizing trips to the store. I do have two complaints about the fridge though. First is that after about 6 weeks, the freezer starts to ice up and the entire fridge has to be turned off and defrosted. This is a pain when you are traveling without access to a real refrigerator where you can store your food during this defrosting process. The second issue is that produce seems to go bad a lot more quickly than it does at home. I think that's because the fridge gets packed so tight that there isn't much air circulation in there. I recently bought some of these produce keeper bins, and while they are a little bulky they do seem to be helping a little bit.
For a comparison of upright fridges vs top loading chest style refrigerators for your van conversion, see this blog post.
Sink
For the sink, we have a nice pull-down faucet and a large, round stainless steel under-mount sink. I wanted a sink large enough that would make doing dishes very easy. Outside Van also created a cover that sits flush with the sink and creates a flat surface for additional prep space.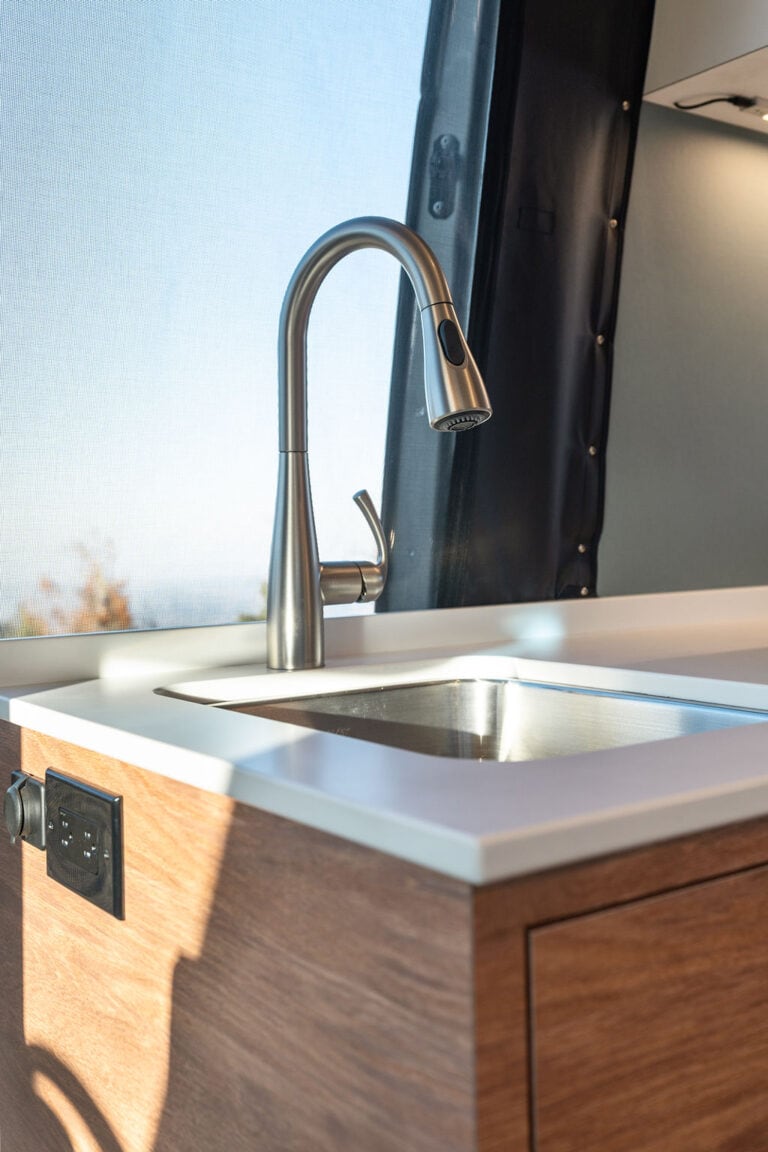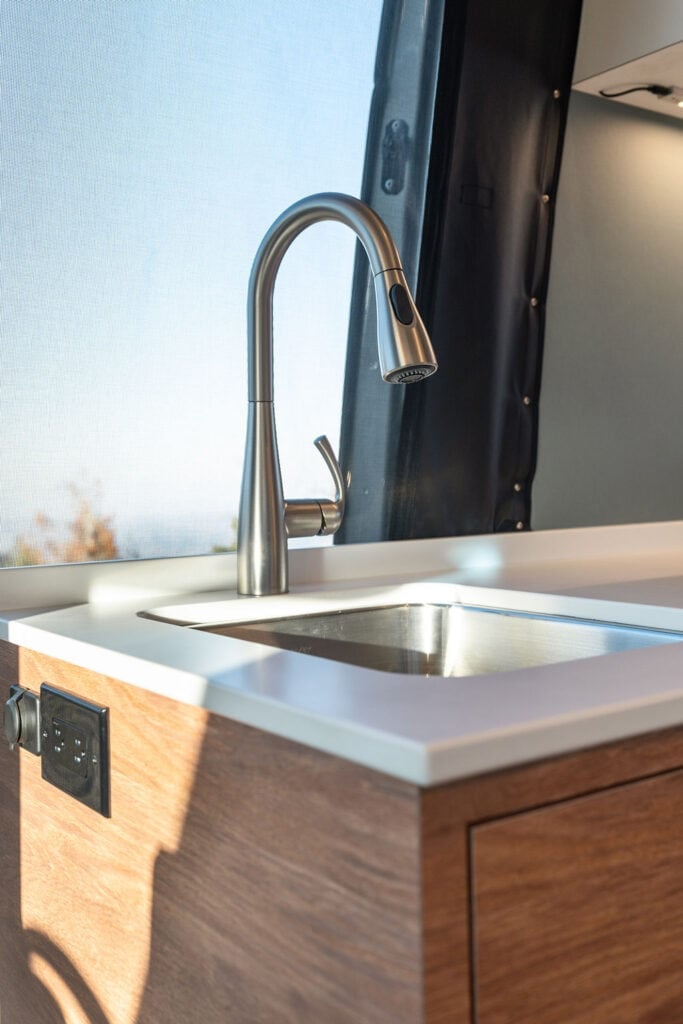 Trash Can Compartment
When many people are converting their Sprinter Van, trash storage is an afterthought. In my first Sprinter, I thought, "I'll just hang a bag somewhere off a hook." Well, once I realized that 1) that allowed smells to permeate the van, 2) it wasn't dog-proof and 3) it was ugly to look at, I decided having a dedicated place for trash cans was essential.
In my third Sprinter Van conversion, I had Outside Van build an enclosed trash can compartment that was customized for two tall kitchen trash cans – one for garbage and another for recycling. Having it all behind a closed door keeps the smells more contained and it also prevents the dogs from sniffing around and getting into trouble when they are left alone. I really like that the two trash cans in the compartment are large. It means we can go quite a long time before we need to find a dumpster to throw our garbage away.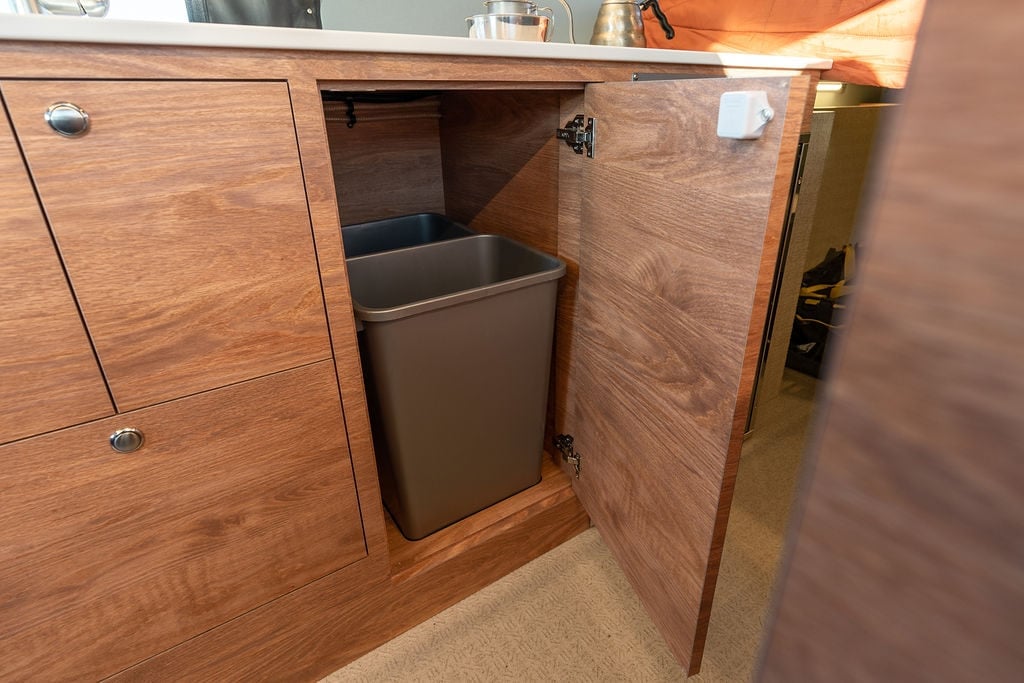 Slide Out Outdoor Cooking Table
On the outside of the galley, we have a slide out cooking table for outdoor cooking. This allows us to leave our portable camp cooking table at home.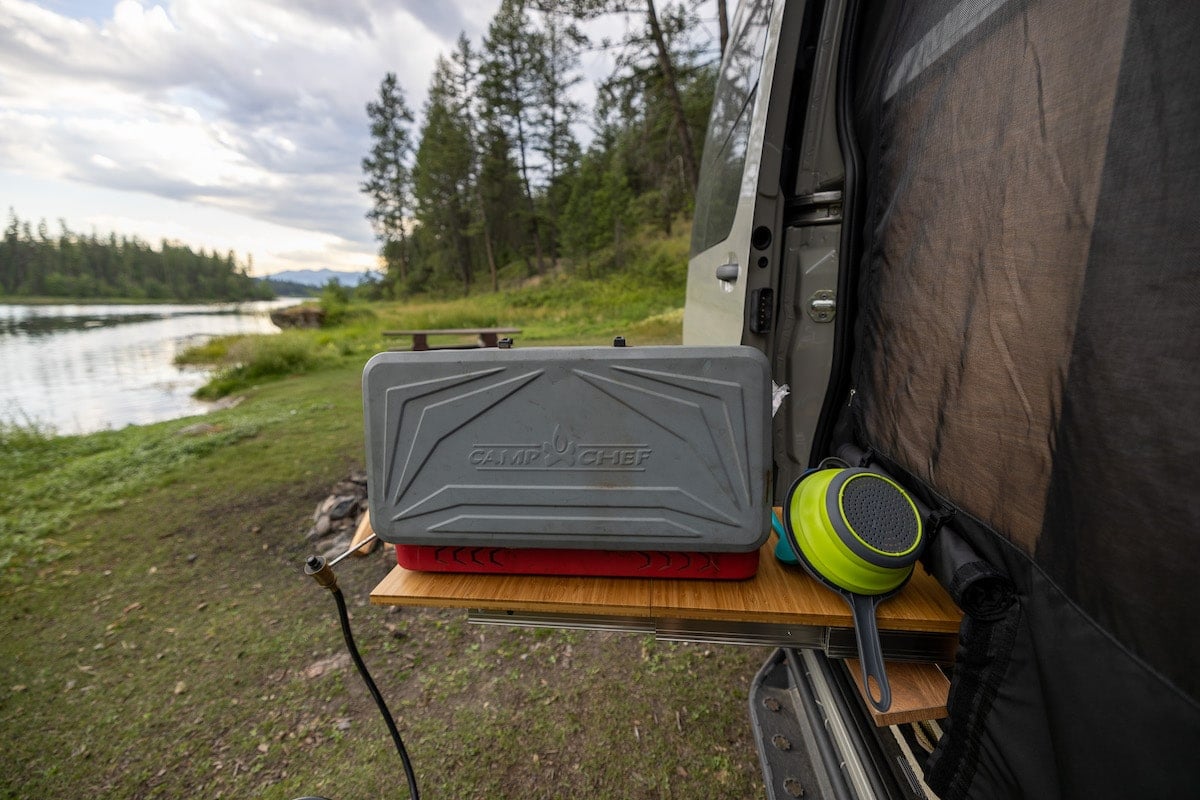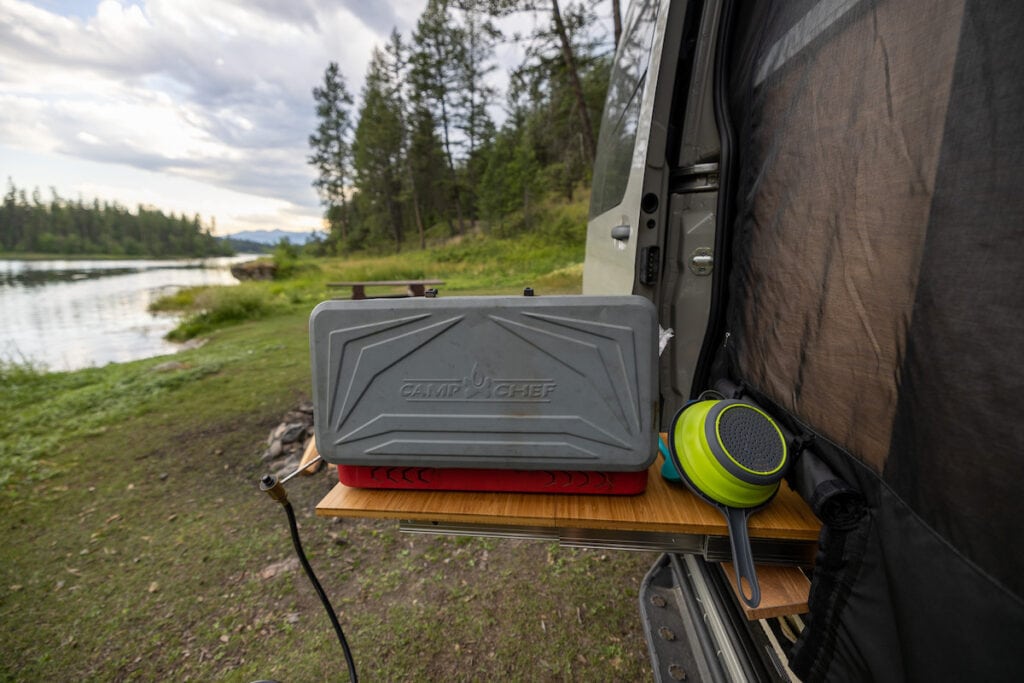 ---
Driver's Side Galley
On the driver's side of the van behind the captain's chair, there is a smaller cabinet with four drawers. This is where we store our cooking utensils, spices, and tupperware, and there is also a junk drawer for random items (another essential in my opinion). This area is nice not only because of the additional storage, but it also provides extra counter space.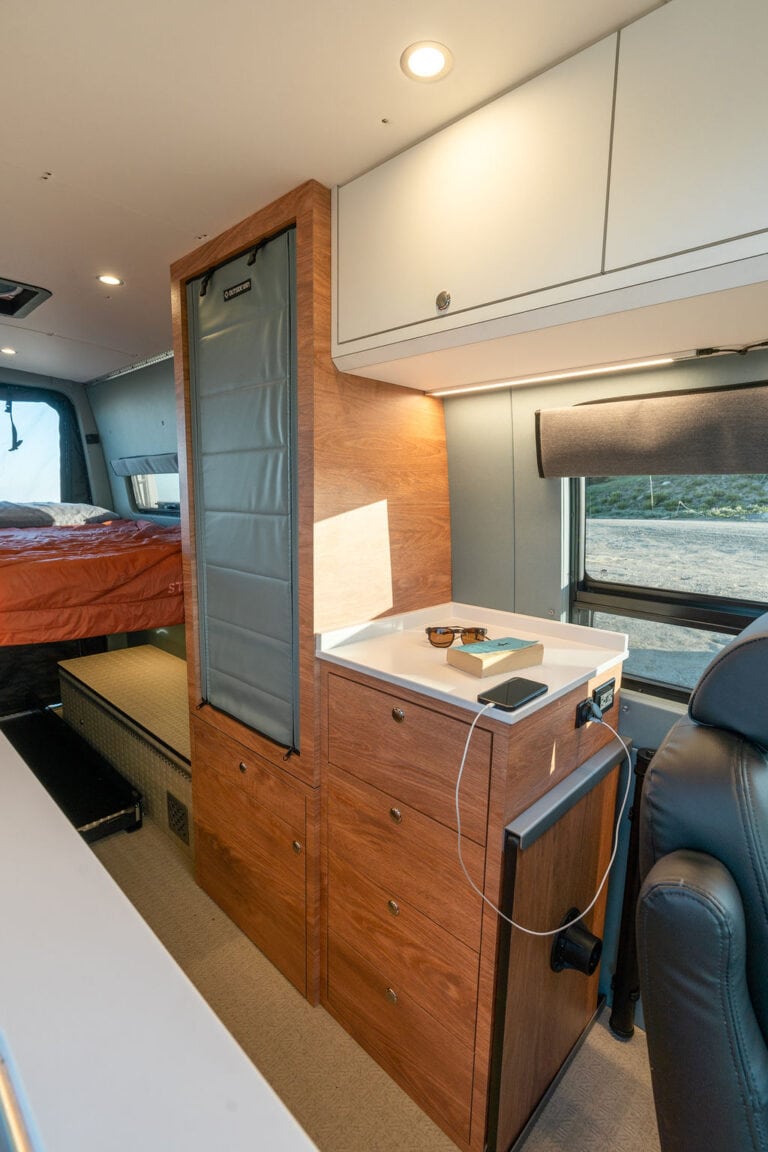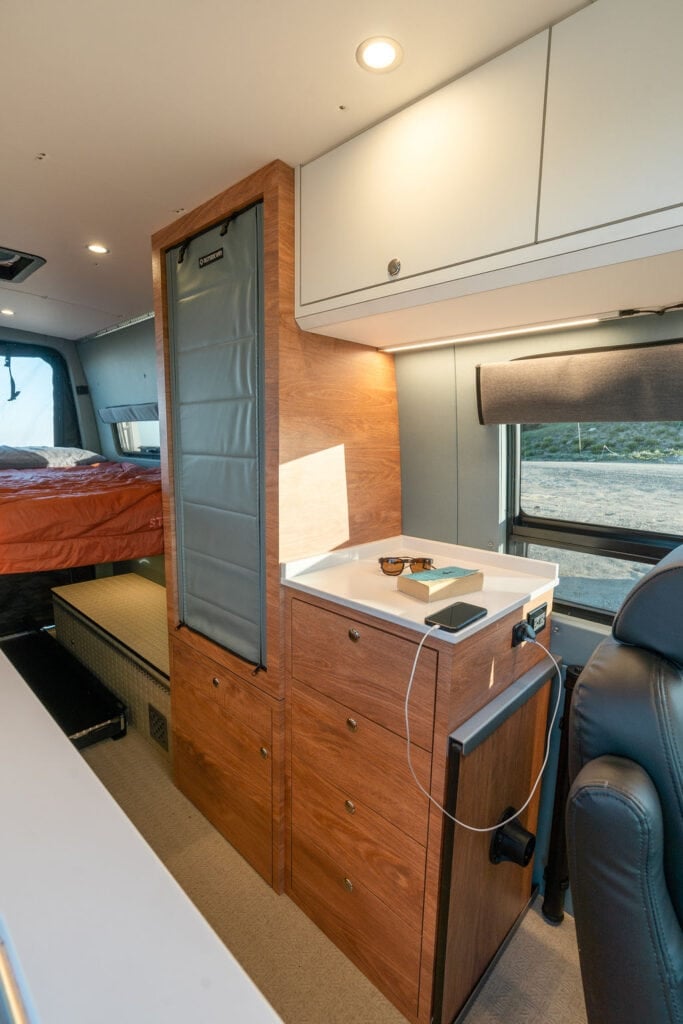 You'll also notice in the above photo that the table top and leg are stored on the front side of this driver's side galley, which gives the table a home and keeps it out of the way when it's stowed. The table smoothly slides in and out and is very secure when we drive.
---
Custom Floor to Ceiling Closet
Moving further back, we have a floor to ceiling closet. This isn't for clothes, although you could store folded clothes in here if you wanted. Instead we are using this space for food, smaller items, work stuff, and some of our cooking appliances like our blender.
I measured the dimensions of each shelf, and then I went to the Container Store and found some lightweight bins that would help keep this space organized. The handle on the bins make it easy to pull them out and get what we need, and each shelf has a lip that prevents the bins from sliding around.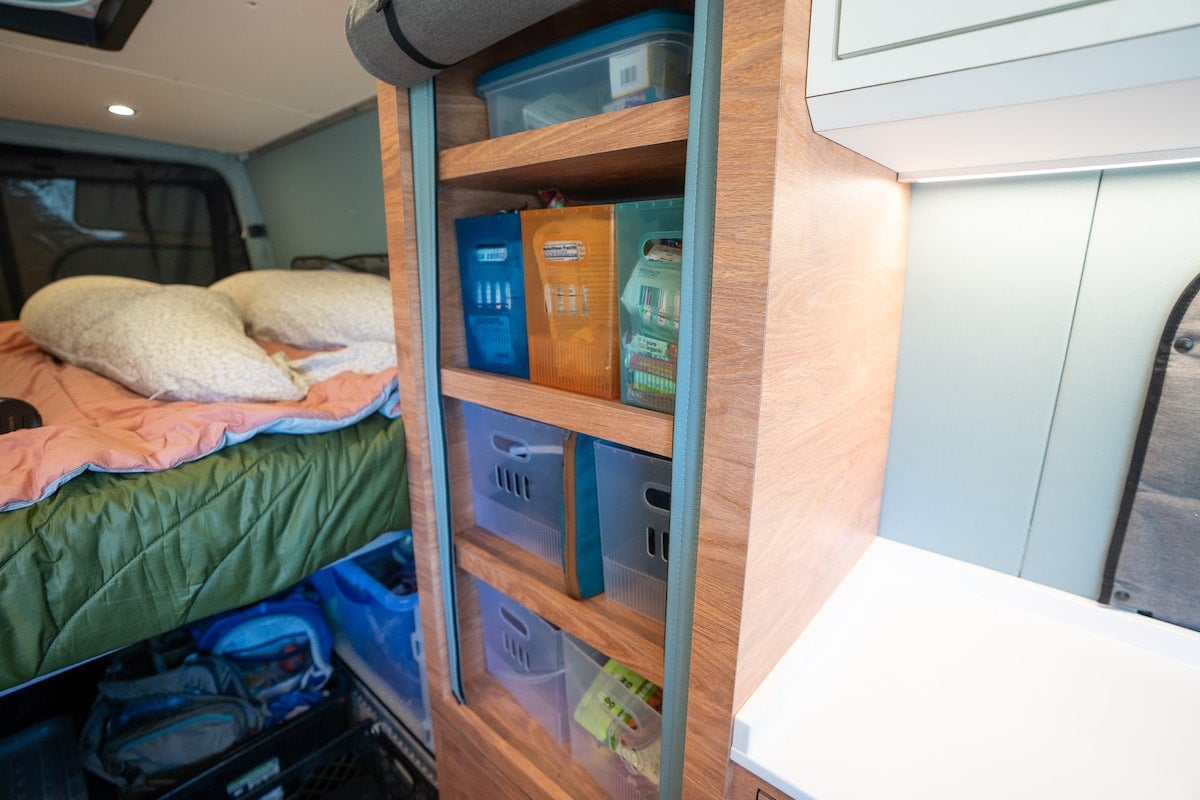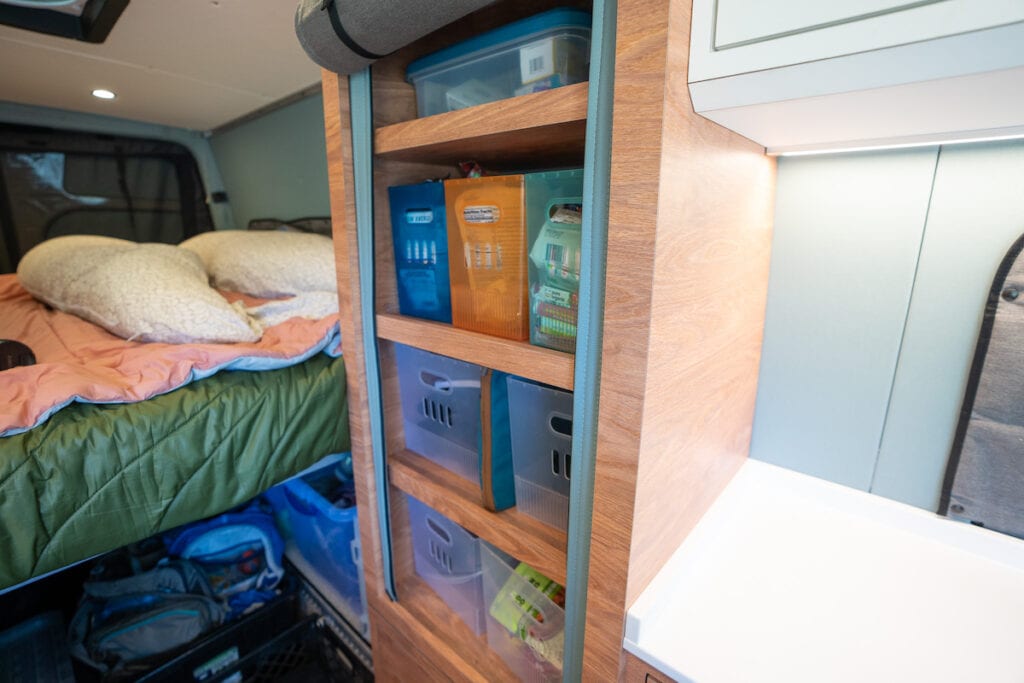 The door of the closet is made of Sileather. It's soft and it zips and rolls up, clipping at the top. I chose a roll up door instead of a door that swings open for two reasons. First, this roll up door is lighter-weight than a door made out of wood, and it's always good to cut weight wherever you can. Second, having it roll up means I can access the inside of the closet from the bed or from the front of the van anytime. A swing out door would have only allowed access to the closet from one side and would have taken up more space. This is the first closet of its kind that Outside Van has built, and it may be one of my favorite features of my van conversion.
When I was designing this van, I wondered how we (and our dogs) could easily get up onto the bed. Outside Van came up with this genius idea to have a pull-out step directly below the closet. This step is the perfect height for climbing in and out of the bed and also serves as an extra seat that has come in handier than we expected when cooking or putting on our shoes. The step has a load rating capacity of 300 pounds, and we leave it out when we are driving since Charlie likes to ride in the bed.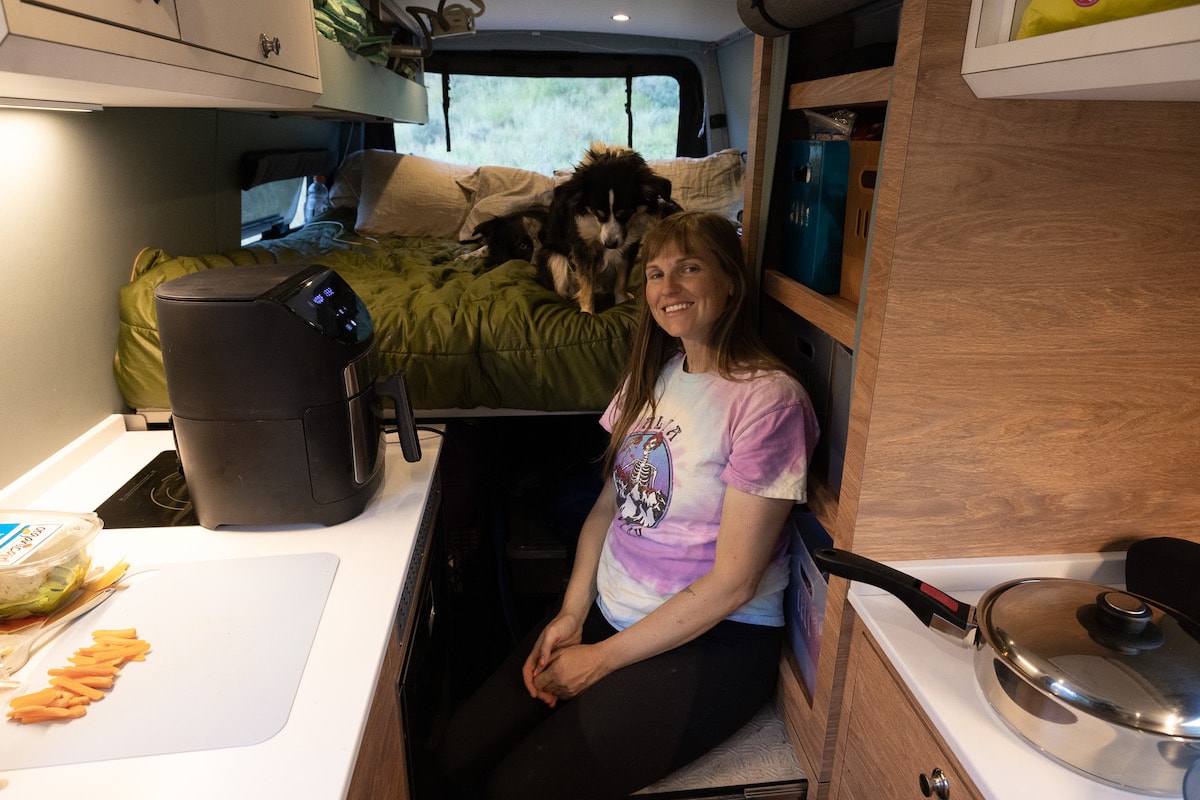 Below the step is a large open cabinet. We designed this cabinet to be big enough for a portable toilet if we decided to have one (check out the best campervan toilet options here). We currently don't carry a portable cassette toilet (more on our toilet below), so instead we use this area to store our dog food and our air fryer. And yes, we bring our air-fryer – it requires 1500 watts at the highest temps, and we can bake, make toast, cook tofu, and more with it.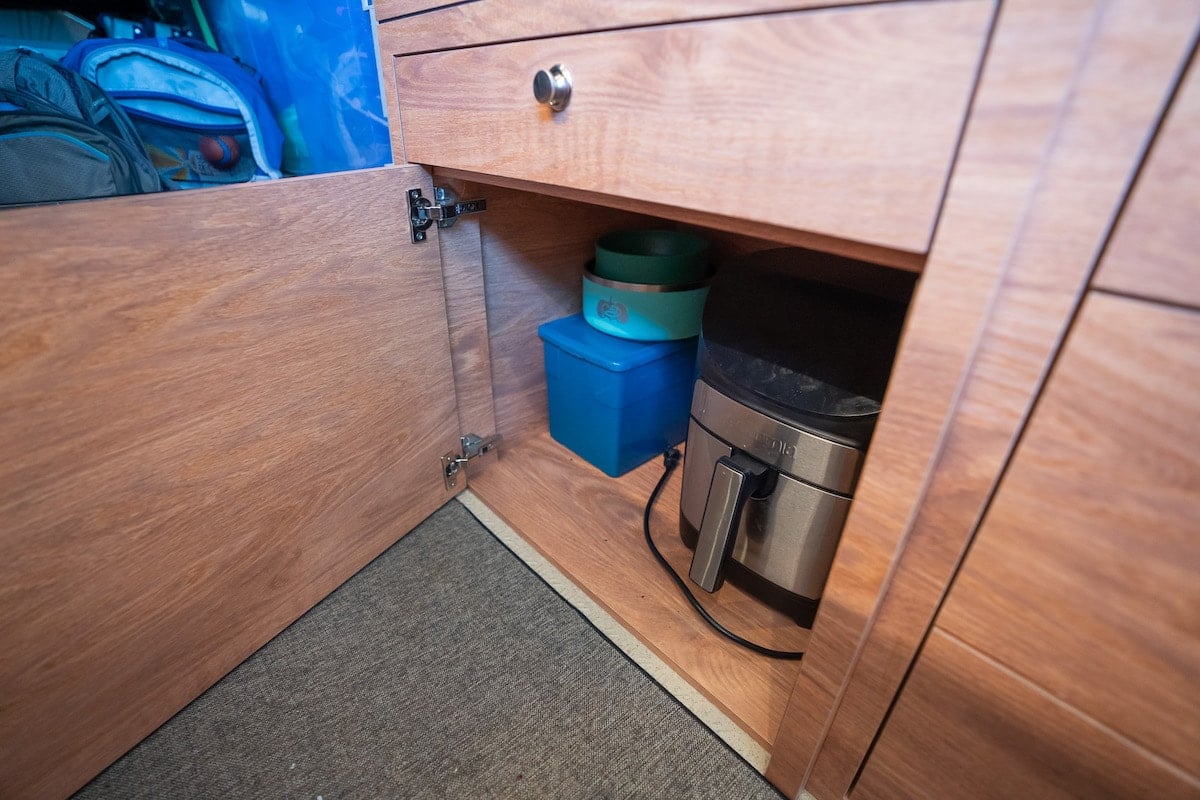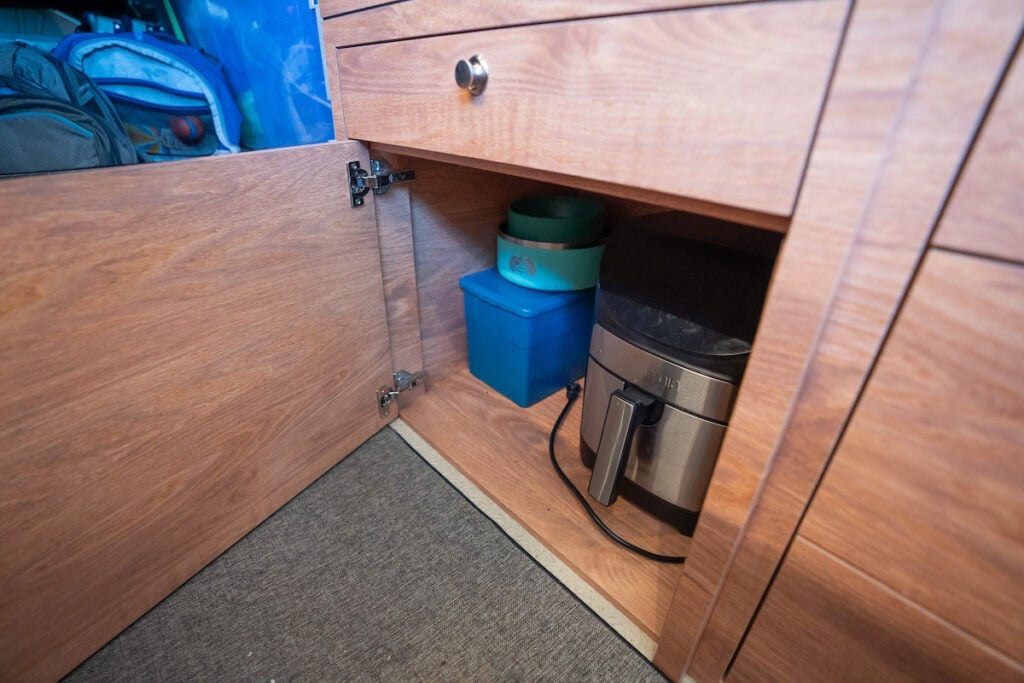 ---
Overhead Cabinets
On both sides of the van, there are overhead cabinets. On the driver's side, we have one above our galley where we store cooking ingredients, oils, soap, and more. We like to keep stuff up here in a lazy susan for easy access.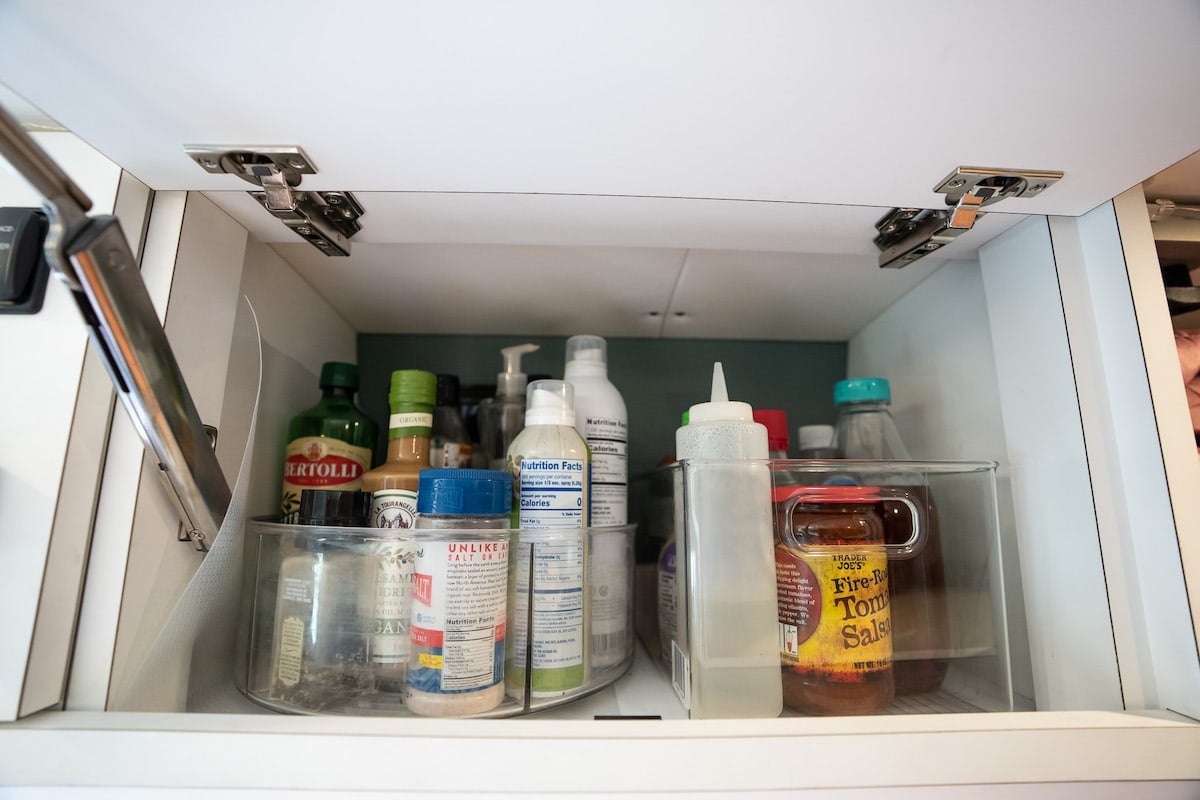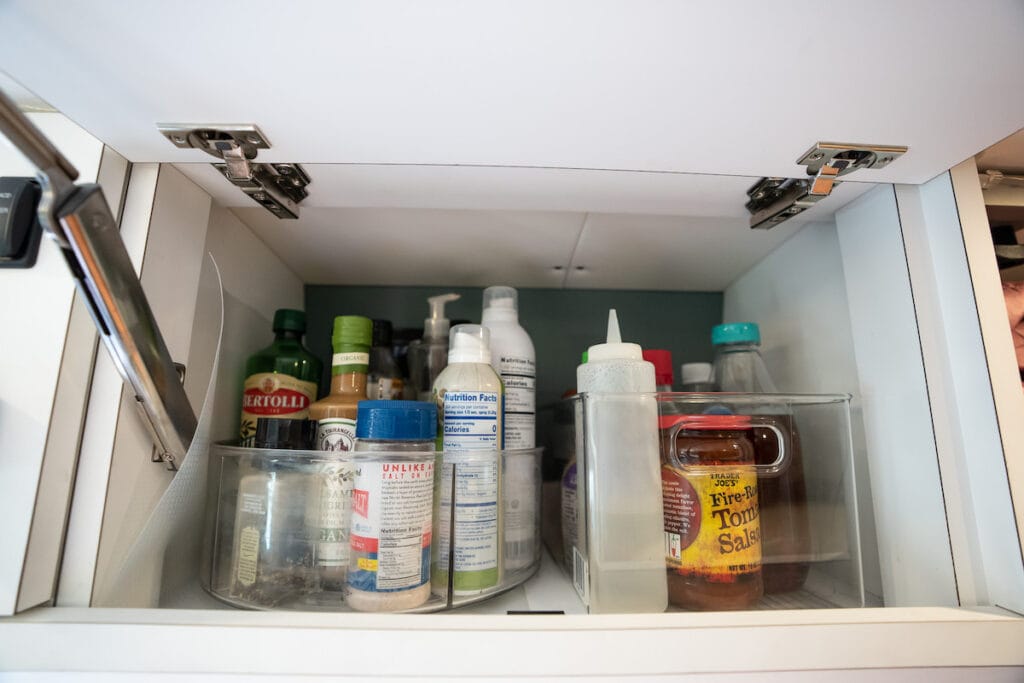 On the driver's side above the third passenger seat we have a long overhead cabinet. This is where we store our dinnerware, coffee and morning beverages, paper towels, and toiletries.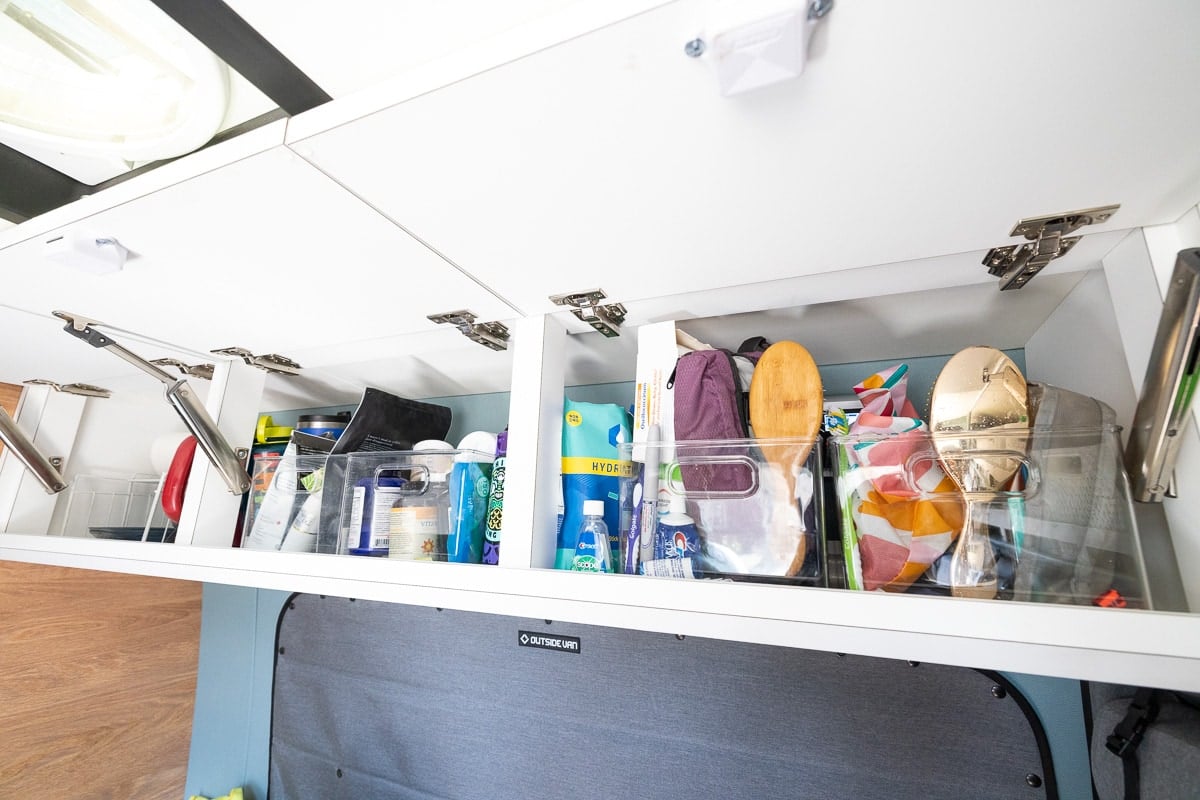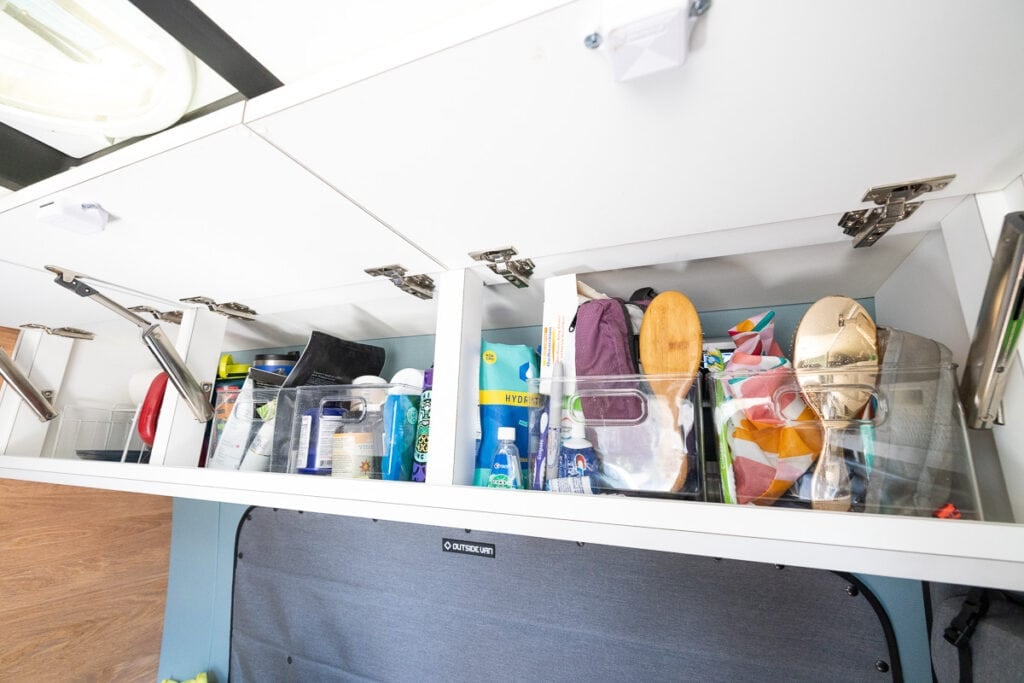 ---
Outside Van Sprinter Van Three-Panel Bed
Next at the rear of the van is Outside Van's standard three-panel aluminum platform bed that goes all the way to the back doors with Outside Van's exoskeleton cabinet for clothing storage. The bed is a queen-sized bed. All three panels are secured to the bed rails via spring-loaded threaded fasteners. The bed panels can also be removed if I wanted to use the back of the van to move furniture, for example.
I chose a custom 4″ latex mattress which was a pricey upgrade. To be honest, I don't find it very comfortable (it's a lot more firm than I expected), and it's the one thing I regret in the van. In order to make it more plush, we added the same three inch latex topper that we had in our last van. Now it feels awesome, but we lost three inches of headspace due to the topper, making the bed feel a bit more cramped.
My comforter for those who are curious is the Original Puffy Blanket by Rumpl. It's a great option for pet owners because it's machine washable and dog hair doesn't cling to it.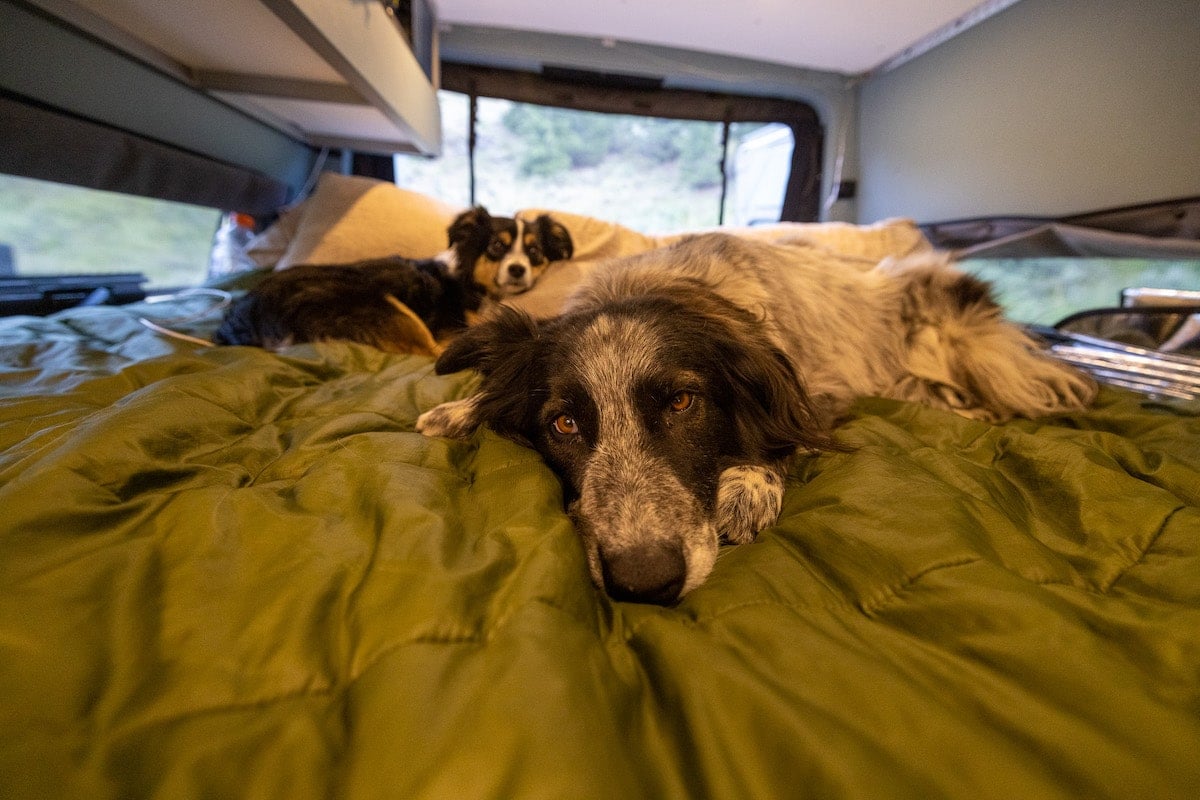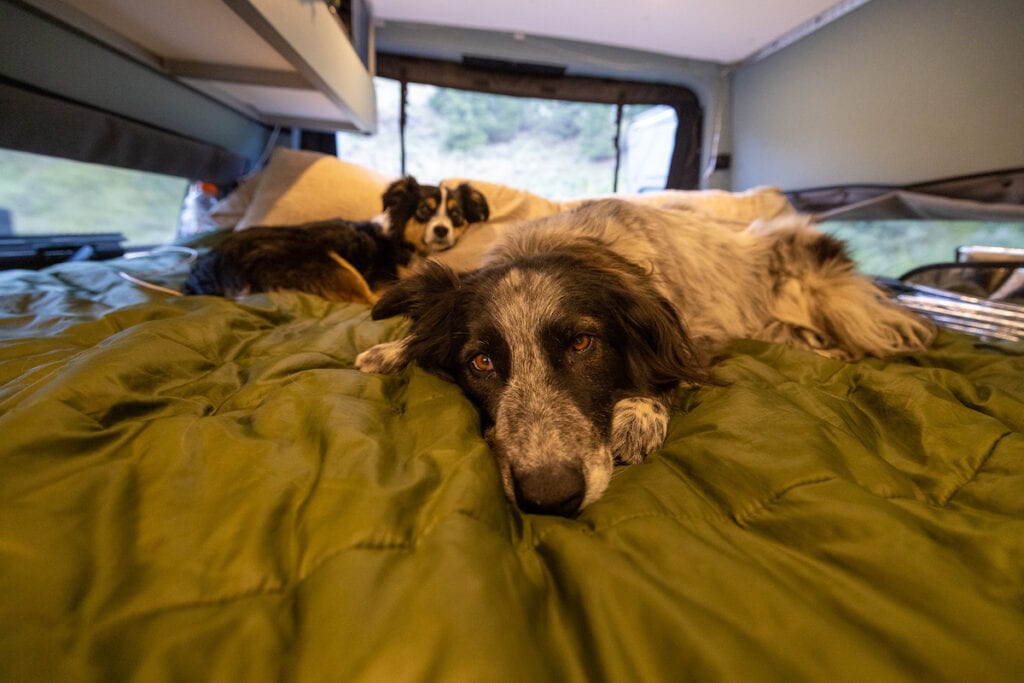 ---
Exoskeleton Cabinet Clothing Storage
On the passenger side of the van, I have what Outside Van calls an exoskeleton cabinet which is open with no cabinet face. This style of cabinet is stuffable, removable, modular, and more lightweight than traditional cabinets. We use this exoskeleton cabinet to store packing cubes containing all of our clothes.
We each have one packing cube for pants, one for shirts, one for underwear, and one for socks. Check out my full van life clothing packing checklist here.
The open style cabinet has its pros and cons. I like that it's easy to stuff a jacket in there or quickly grab something. At the same time, unless you are super diligent about putting your clothes away in your packing cubes, it can quickly look messy and unorganized, which is often the case for us.
This cabinet hangs over Ryan's side of the bed and our dog Charlie generally sleeps underneath it.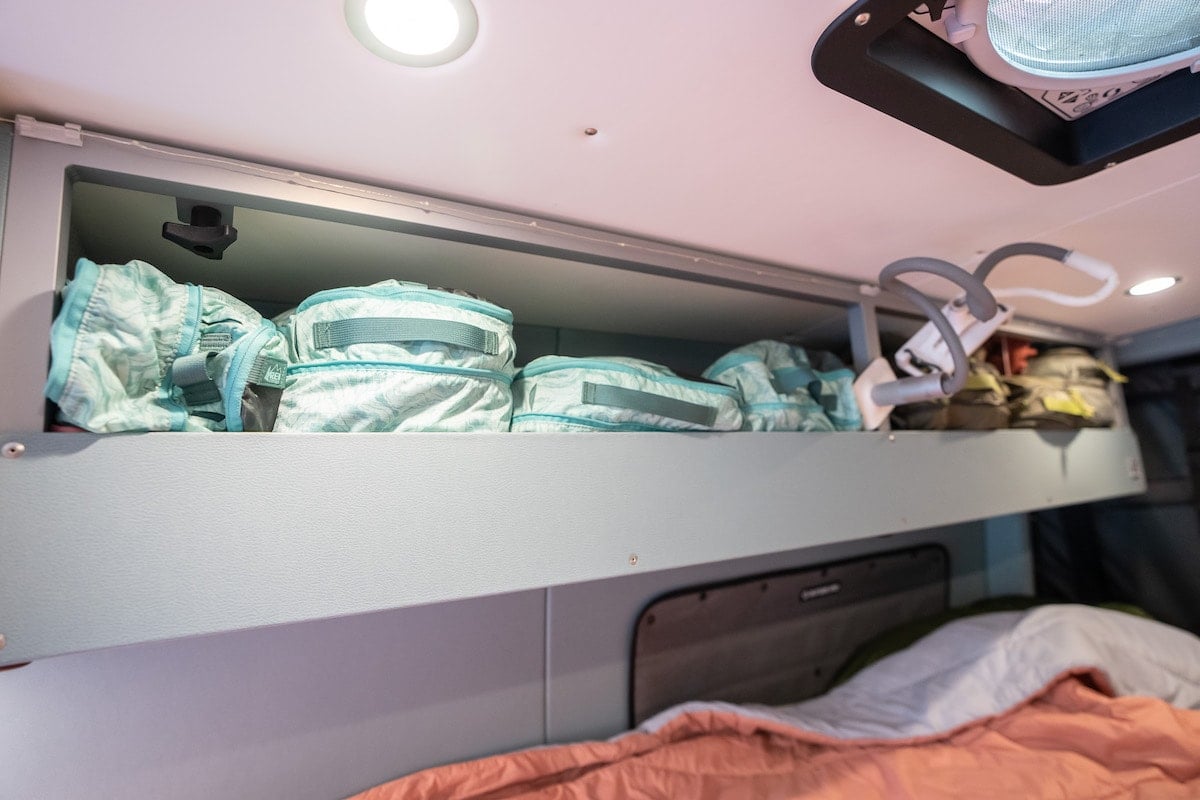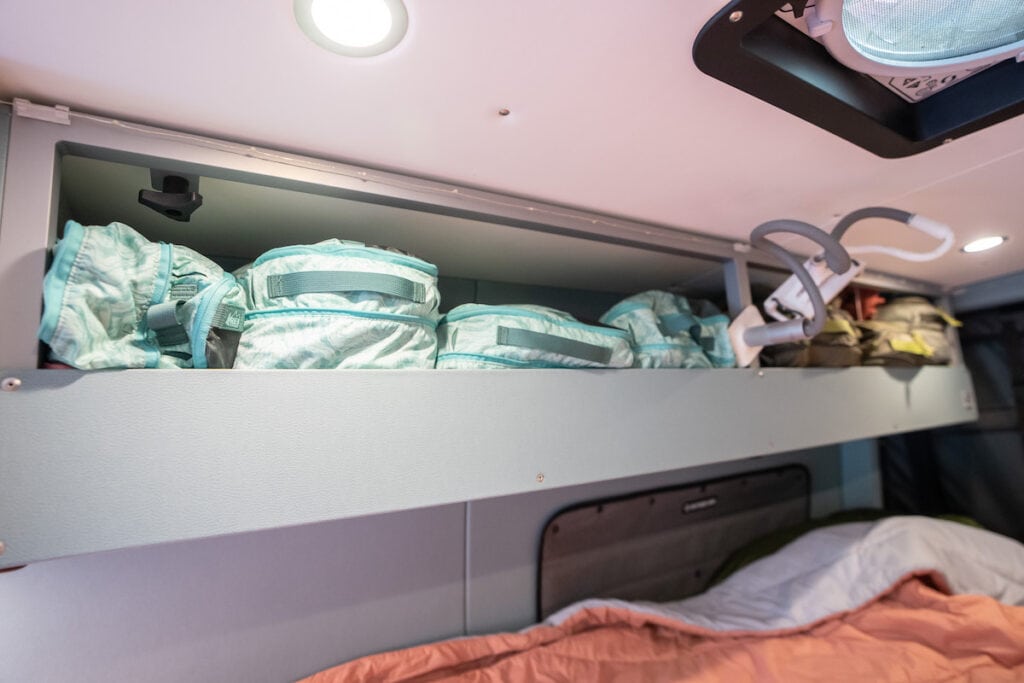 ---
Sprinter Van Garage
Underneath the bed is a ton of storage in the area called the van garage. Just like I did for the closet, I measured this space carefully and then went to the Container Store and got lightweight bins that fit perfectly in the area. I like storing stuff in bins because they are easy to pull out and swap out what's in them based on the season and the specific gear we need. The bins also don't add a lot of extra weight to the van like a robust drawer system would.
Right now in our garage we have room for all of our camping and outdoor gear, shoes, extra dog and people food, my Starlink, and other miscellaneous gear, with lots of room to spare.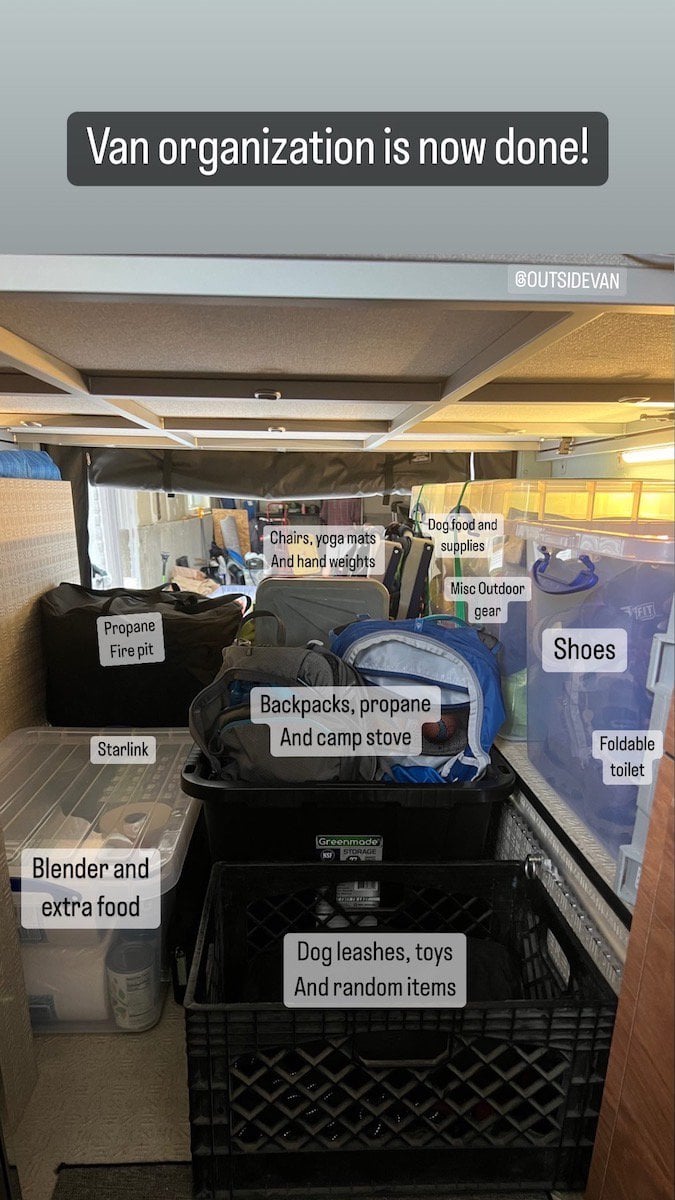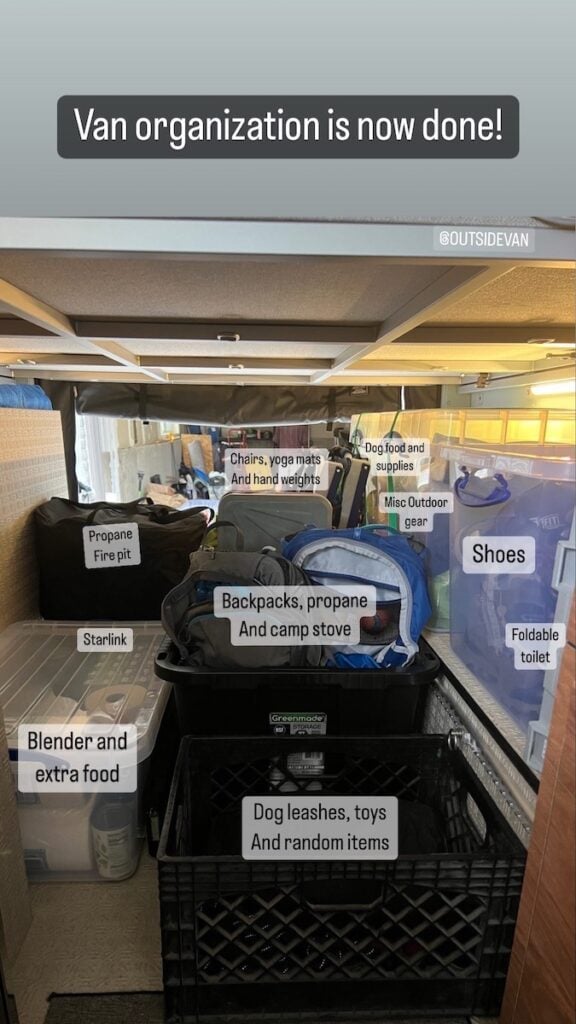 Outside Van also built a custom slide out gear tray that can we can use for more bins, additional gear, or our two Specialized e-mountain bikes. With my pregnancy, we aren't currently traveling with our bikes, but the gear slider is especially awesome because it makes it so much easier to load our bikes or bins into the back of the van. It also allows for easier access to gear bins without having to crawl around under the bed.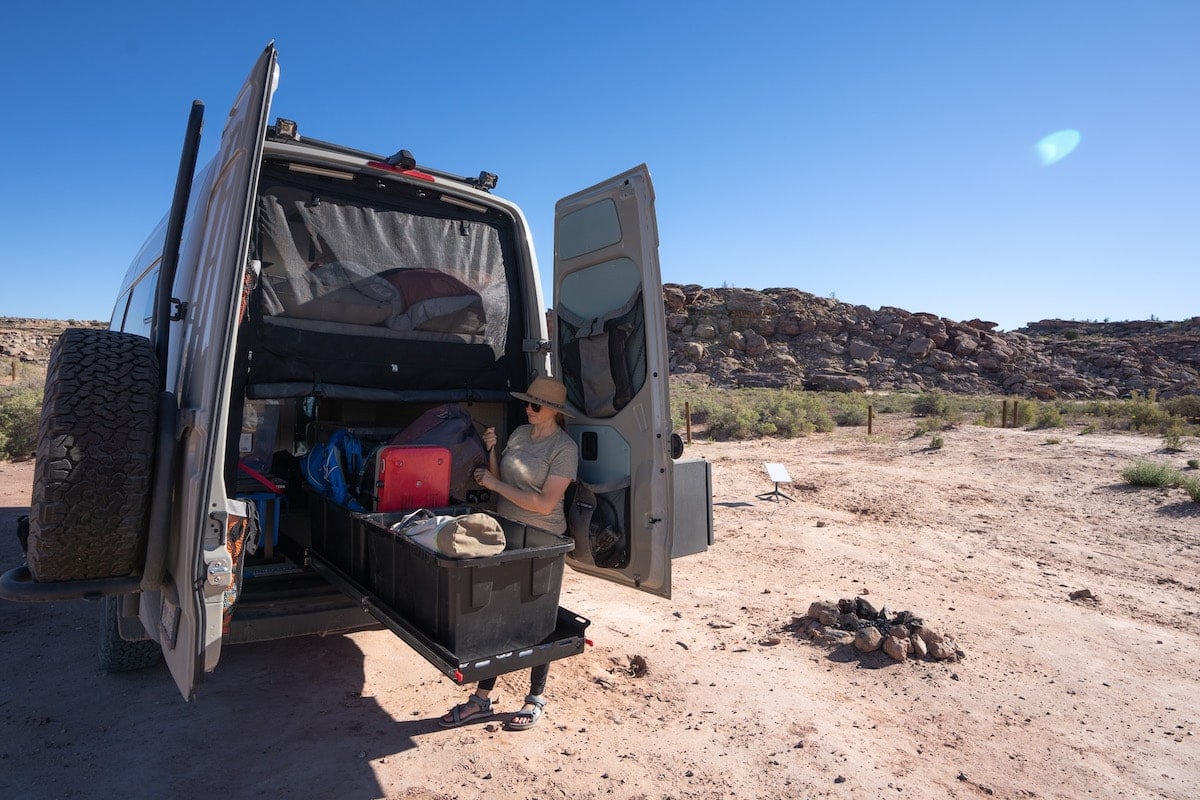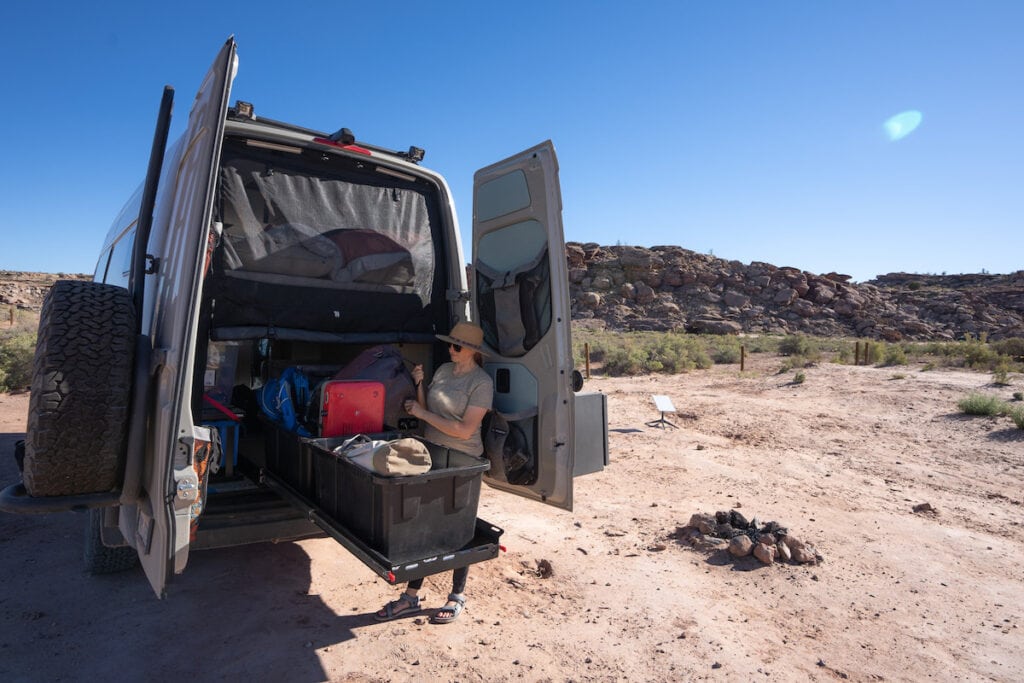 Everything gets secured in the garage using Mac's Versatile Tie Down System – basically a version of L Track. Using Mac's tie-down rings, we cinch all of our bins up using straps or bungees so nothing moves while we are driving. The bikes use the same system. We simply take the front wheel off of our bikes, put the bikes in facing the opposite direction so we can get them as tight as possible together, and then mount them to the Mac System using fork mounts. It takes a few minutes to unpack and put the bikes together, but it gives me peace of mind being able to store our electric bikes inside the van to prevent them from getting stolen or damaged.
We can access the garage via the back doors or from the inside of the van which was a necessity for me. I didn't want to have to go outside to the back of the van every time I needed to access something under the bed.
Underneath the bed, you'll also find our electrical system (driver's left side cabinet) and water tanks (passenger right side cabinet).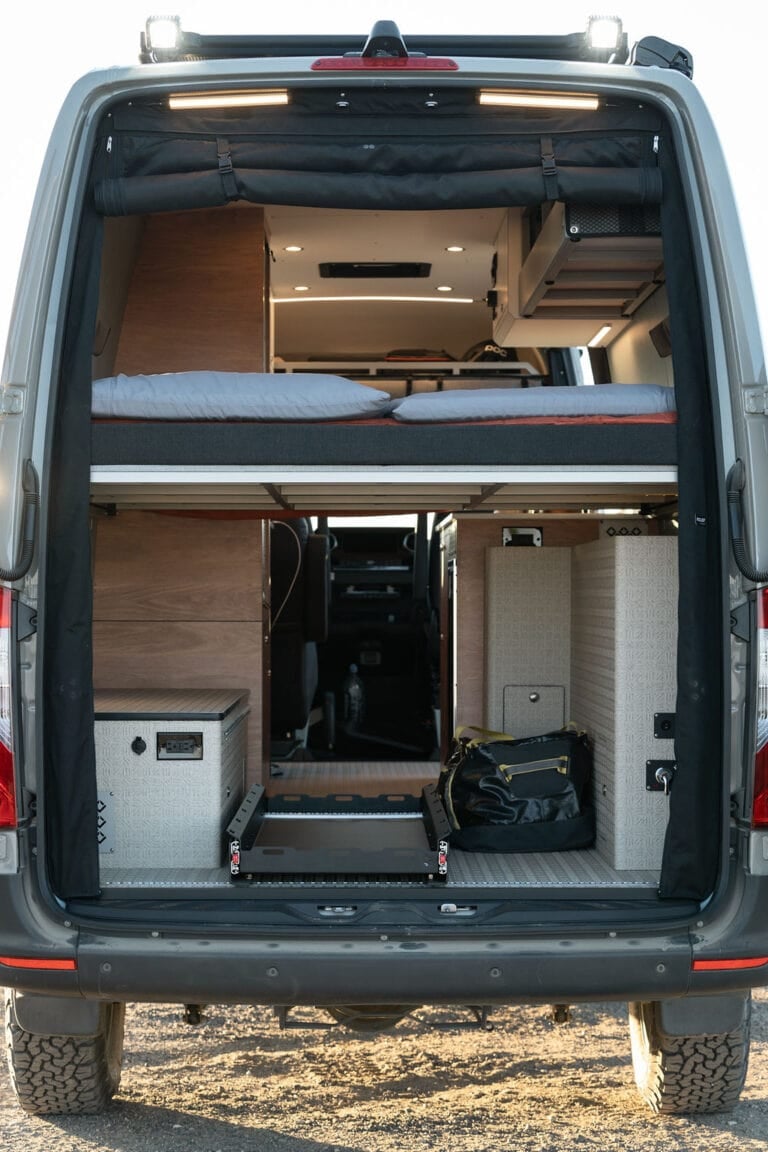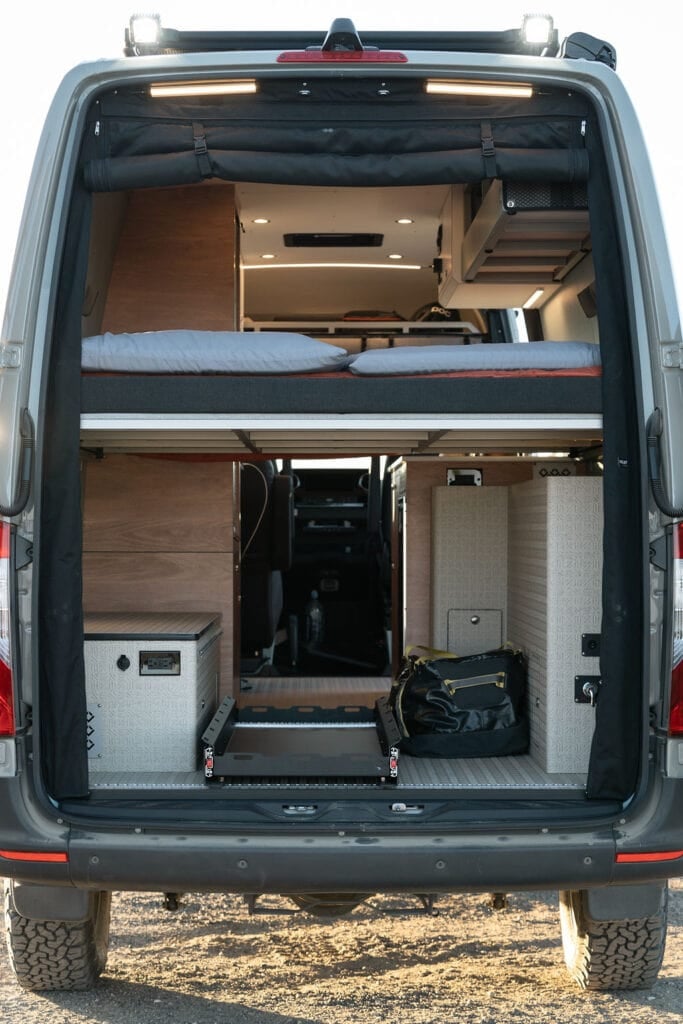 Van Life Essentials Packing List
Below are a few of my favorite pieces of van life gear and recommendations for the road:
---
Sprinter Van Electrical System
In my very first van, I was always worried about power. I didn't have enough battery storage or solar, and I found that to be very stressful. This taught me that it's better to overestimate your power needs, which is what I've done ever since.
My second Sprinter Van had high performing electrical components with 660 watts of solar and 440 Ah of AGM batteries. The only time I worried about power was in winter if we were parked somewhere for a week with no sun. At all other times, the system was plenty adequate.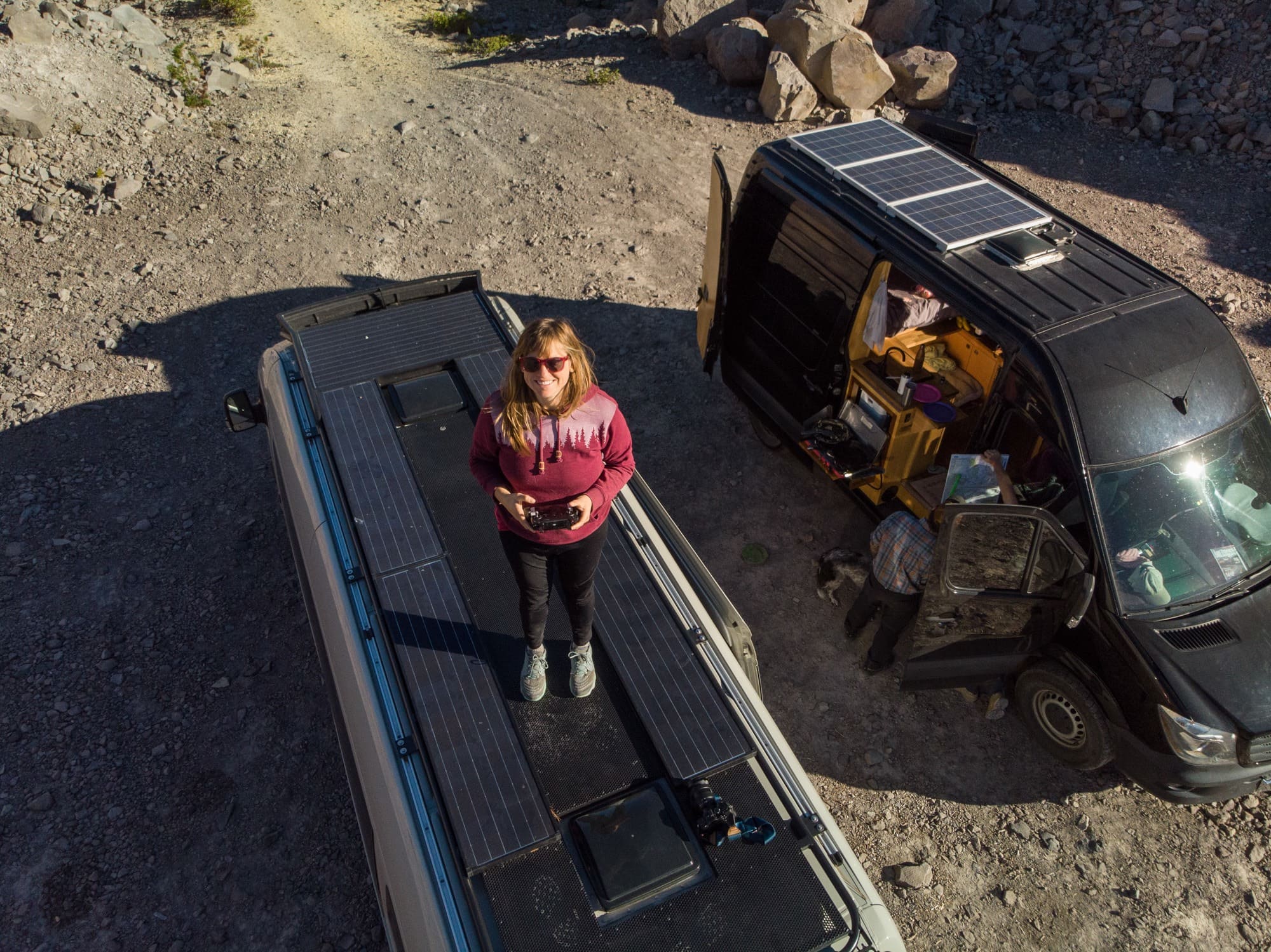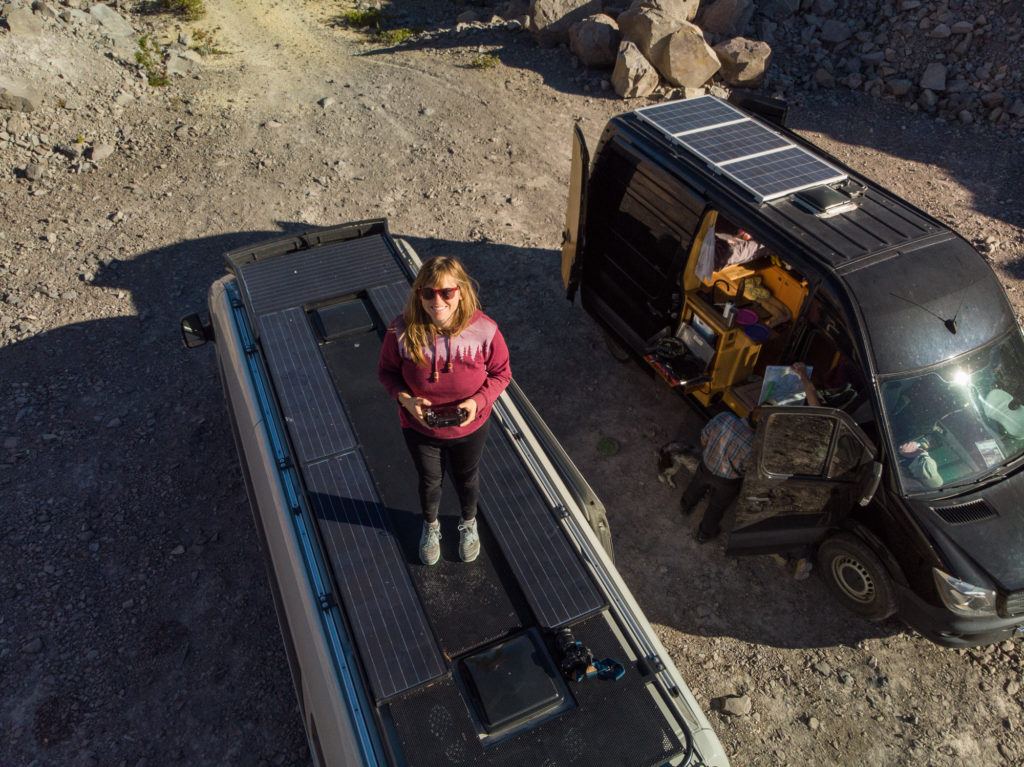 In this third van, I opted for many of the same components I had in my last van but a beefier system overall. I also upgraded from AGM batteries to lithium.
We currently spend about 6-8 months straight living in our van every year and have a variety of electronic equipment we need to run. This includes electric bikes, my computer, camera, induction stove, the heater, water heater, and other electronics.
Lithionics Battery System
In this new Sprinter Van conversion, we have two 315 Ah Lithionics lithium batteries, for a total of 630 Ah bank. The battery capacity is very easy to monitor with a screen right above our galley that tells us how full it currently is.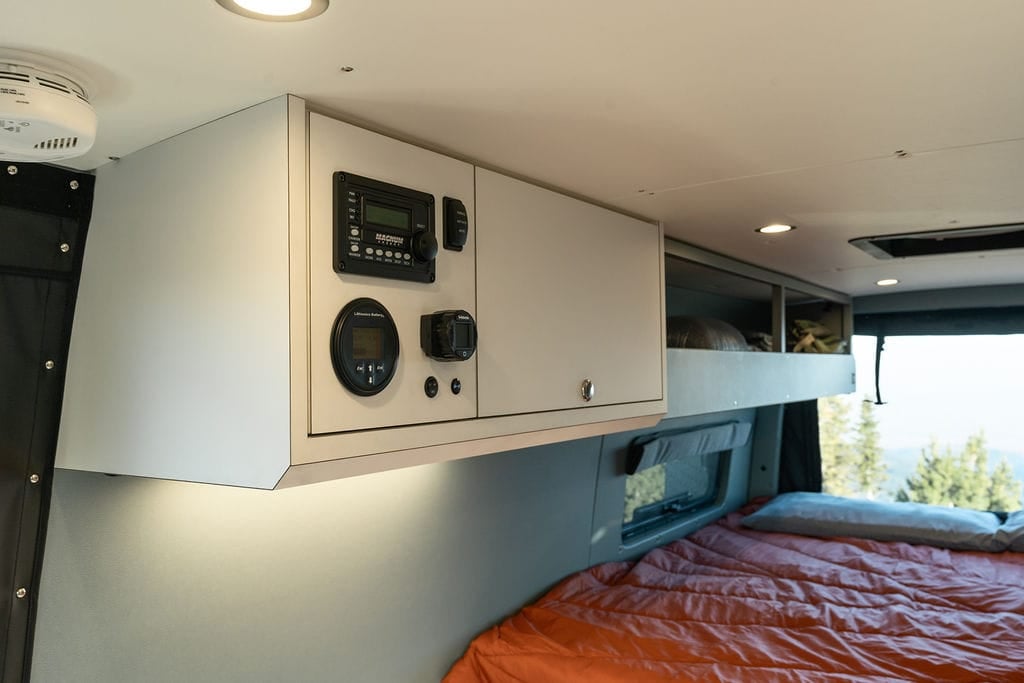 With lithium batteries, you can use 90% of the battery capacity before you need to charge them (unlike AGM where you can only use 50% before you risk damaging the batteries). In order to prevent damage in my current van, each Lithionics battery has a safety built into it. Once the batteries are depleted to the 10% mark, the system will shut off as a reminder that the batteries need to be charged – which is as simple as turning on the ignition in the van due to our secondary alternator.
Outside Van uses the Lithionics system for a number of reasons. First, it is one of the few lithium systems which will give you a precise and accurate SOC (State of Charge) reading. Second, lithium batteries in general have a hard time charging below freezing. To solve this issue, the Lithionics batteries have an internal heating blanket that automatically turns on if the temperature of the batteries ever drops below 34°.
So far, I'm incredibly impressed with my system. In 5 weeks on the road, our batteries never dropped below 75% capacity which means we should never have to worry about running out of power.
Secondary Alternator
In my second Sprinter, the batteries were connected to the vehicle's alternator so they could charge while I was driving, but only after the vehicle's battery was completely charged.
In my third Sprinter Van conversion, Outside Van installed a secondary 280XP Alternator Kit with a Wakespeed Regulator. This secondary alternator is dedicated to charging the house batteries, which begins as soon as the vehicle engine is turned on. It charges the batteries extremely fast. In my real world experience so far, it looks like it can add 10% charge for every 20 minutes of driving, so we almost always arrive to our campsite with our batteries completely full.
Solar Panels
On the roof, I have 310 watts of solar panels made by Zamp Solar. They are the same brand I had on my last van, and Outside Van uses Zamp because their panels are made right here in the US, and out of the companies they've tried, they've found Zamp's panels to be the highest performing. I have two 90-watt panels and one 130-watt panel.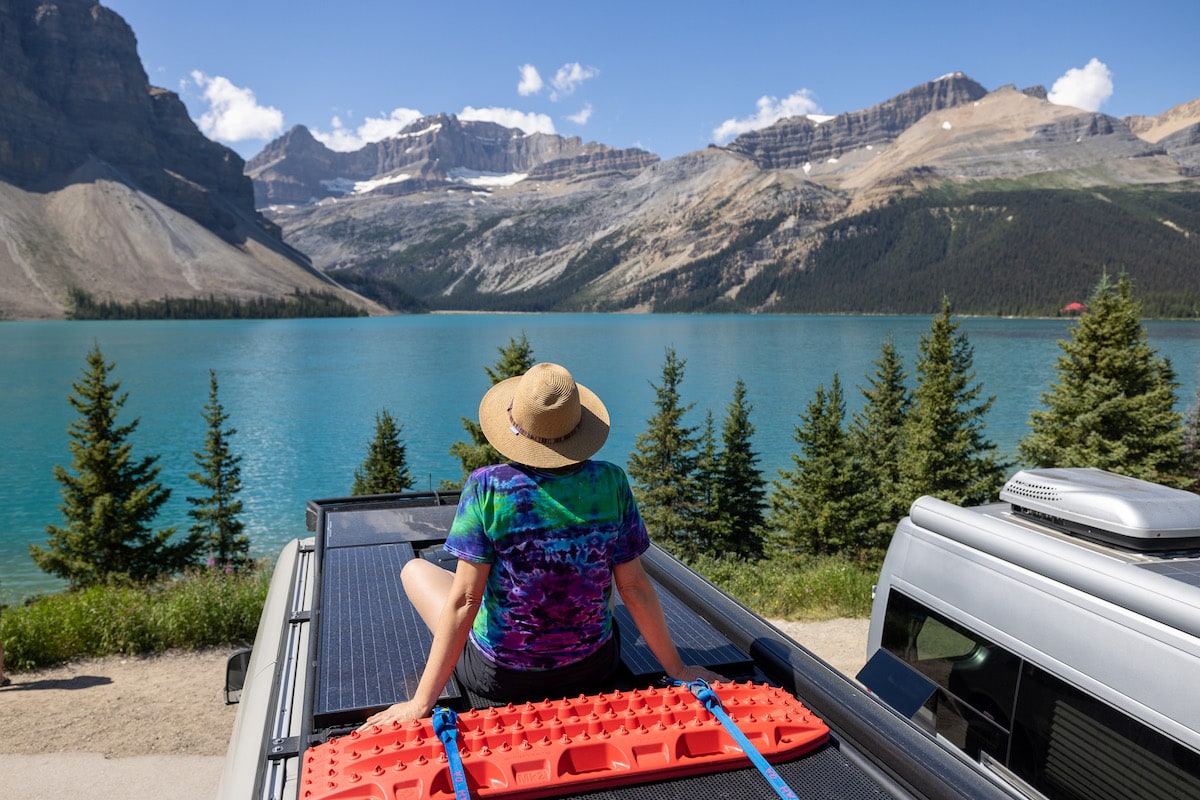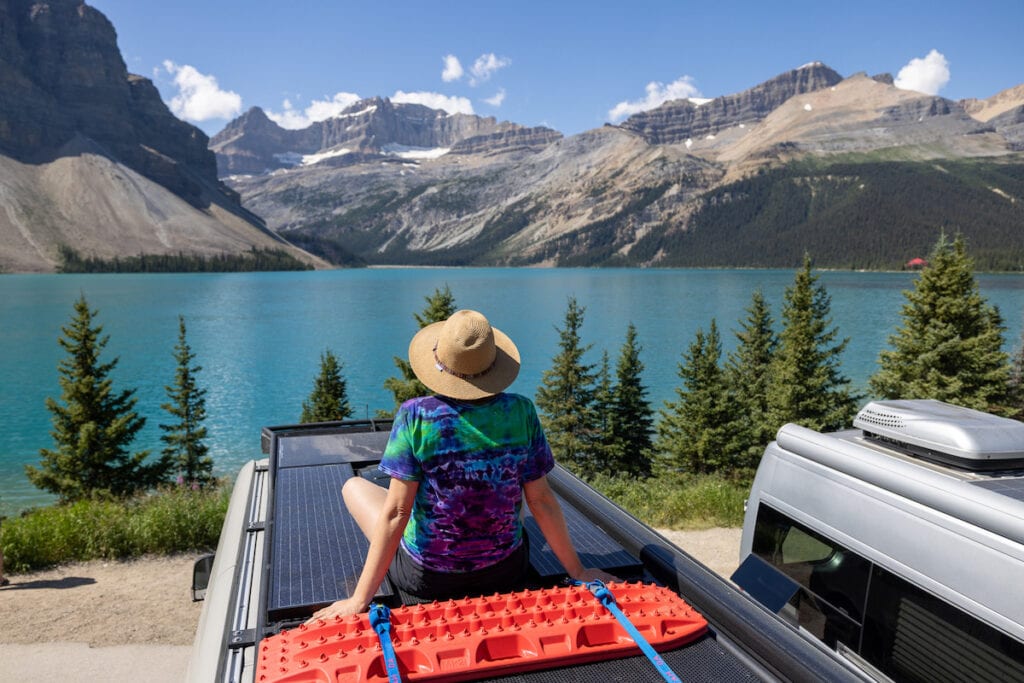 Due to the increased capacity of my batteries and the efficiency of the secondary alternator, I was able to slightly downsize my solar system and gain back some roof space. The main purpose of the solar now is to keep my batteries topped off if we are parked for several days.
>> Read Next: Planning your electrical system for your van conversion
Roof Rack
My solar setup on the roof is secured to a custom-made Outside Van roof rack. The rack is very low profile, so you can barely see it from the ground, and it has a walkway down the center of the van that I use to hang out or access the solar panels for cleaning. It works out great as a platform for taking photos too.
Another neat feature of the roof rack is it has four rows of Mac Track which makes it very easy to secure gear to the roof of our van.
Inverter
The final piece of our van's electrical system is the inverter. I have a 2000 watt Magnum Pure-Sine Inverter which converts power from the batteries to AC power that I use to run the induction stove and other things that plug into the 110 outlets. I have 6 USB outlets and 6 regular 110 outlets, including two 110 outlets in the garage that we use to charge our e-bikes. They are located all throughout the van so charging is always convenient.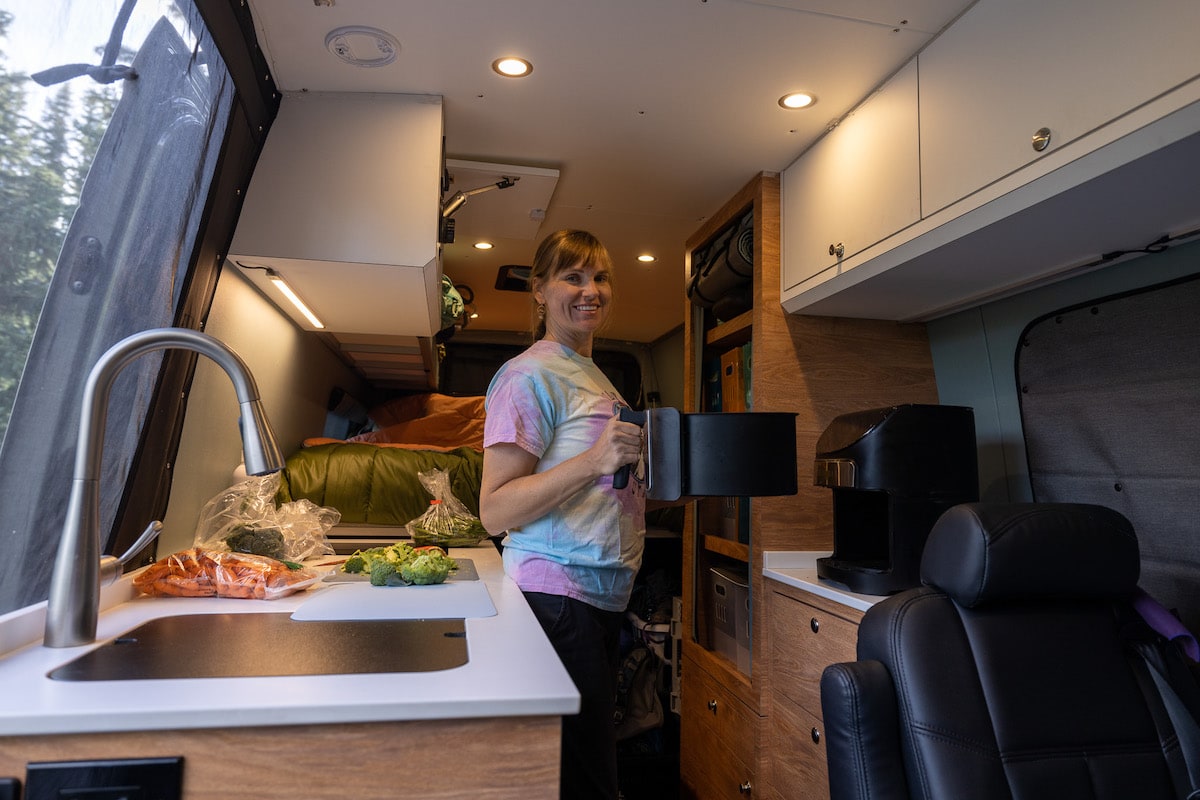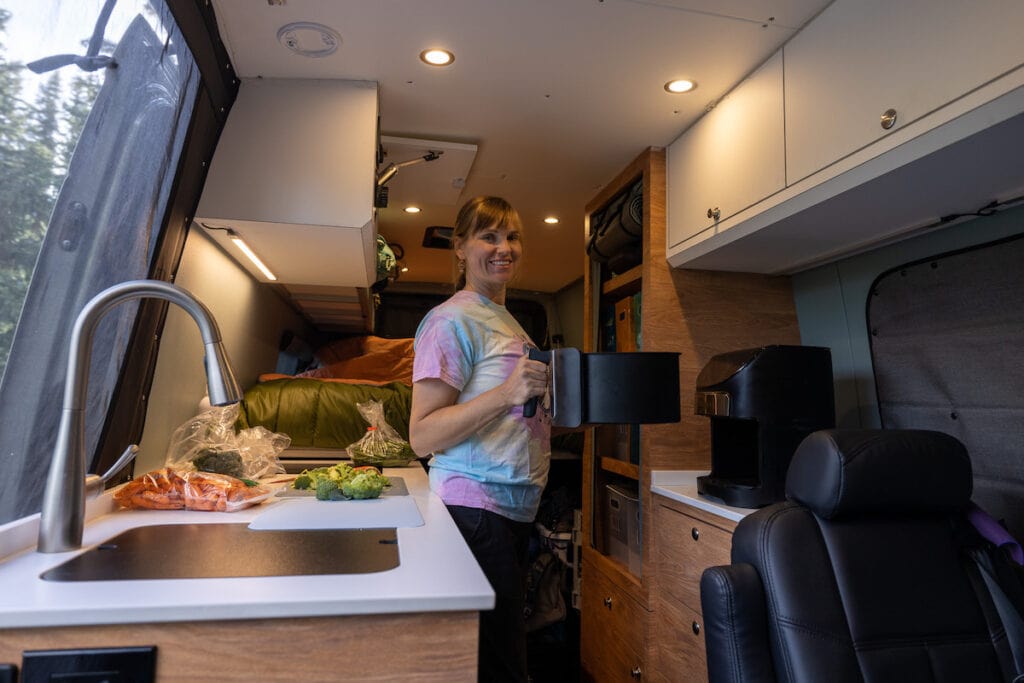 ---
Temperature Control in my Sprinter Van Conversion
The temperature in our Sprinter Van is controlled with two ceiling vans, window vents, and a diesel run heater. I opted against a rear AC in my Sprinter Van conversion which would cool the living area even when the vehicle is not running. While temperatures seem to be getting hotter every year in the mountains and a rear AC unit sounds really nice, they draw a ton of power. Since we like to be off the grid as much as possible, an AC unit didn't seem like the best fit for our lifestyle. Of course, if you plan on living in Florida or Arizona in summer, you may need to plan differently.
Outside Van did do a few things though to keep the interior of the van comfortable, even on hot sunny days.
Vented Windows
First, they replaced the front side factory windows with CR Laurence Windows that vent. Next to the bed, we also have small slider windows that pop open.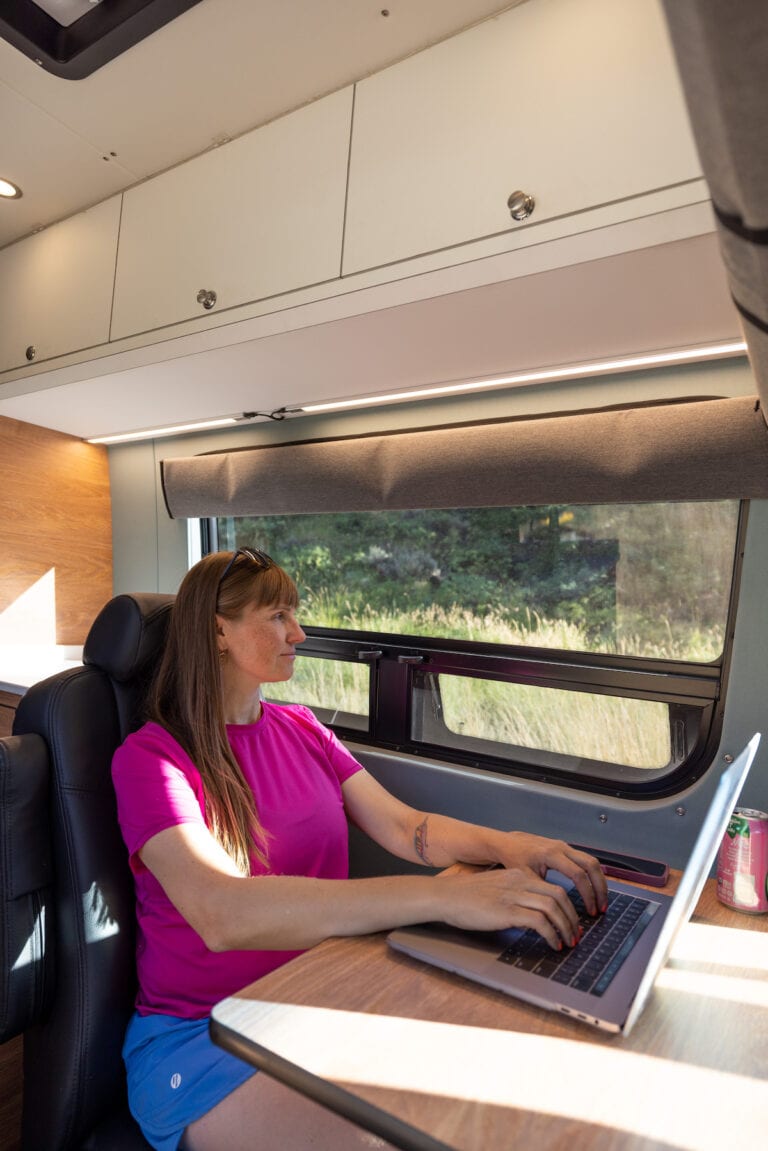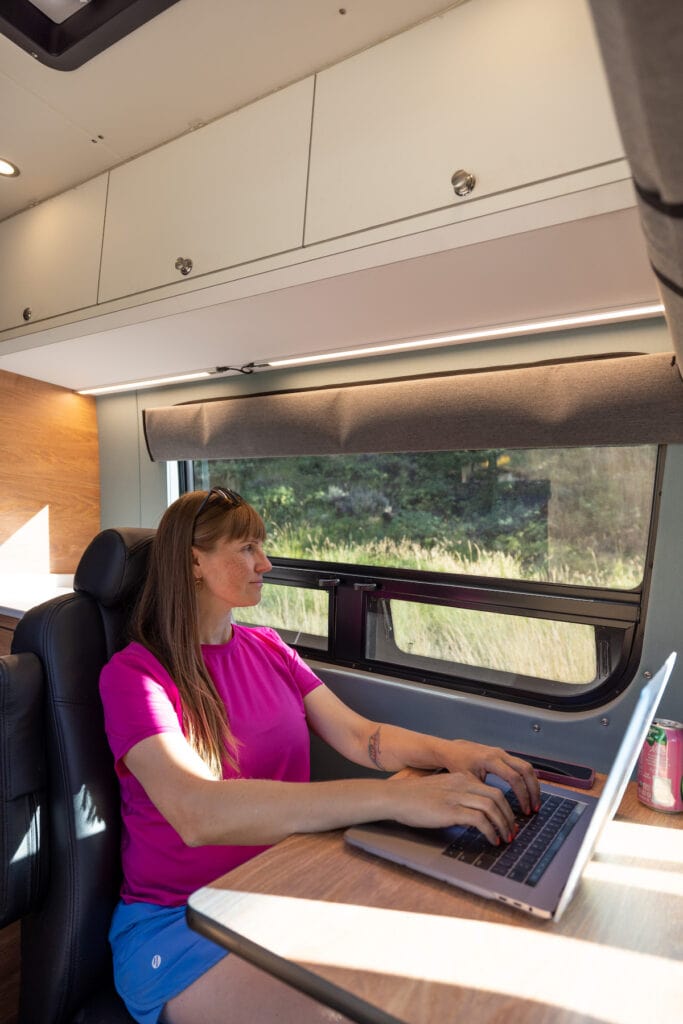 Ceiling Fans
I have two Maxx Fans. One above the galley and one above the bed. They each have a rain sensor and create really nice airflow in the van. We typically have one pulling air in and the other pushing air out.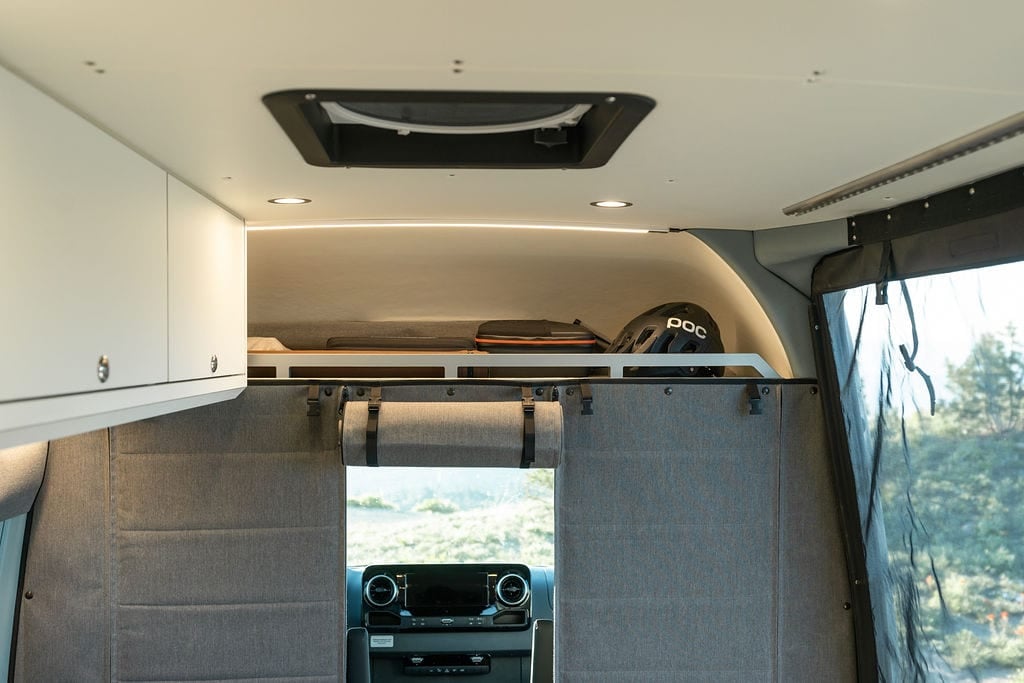 Insulating Window Shades
All of the window shades in my Sprinter van conversion are made of a Sunbrella material with a layer of closed cell foam in the middle which helps insulate the van from the heat in the summer and prevents warm air from escaping through the windows in the winter. The shades are very simple to put up and take down via the snap buttons and most of the time, we find ourselves driving with them in place to keep the sun out.
I also have a full set of Outside Van window coverings that cover the front, driver, and passenger windows. These are very easy to put up, and we use these every evening for privacy and to block out the morning sun.
To help regulate the temperature during the day when we are out on hikes or away from the van, we use this insulated soft wall curtain that separates the cab from the living area. This soft wall is extremely effective at keeping the heat in the cab from entering the back of the van during the day. Typically in the evenings, we use our front window covering instead of this soft wall in order to use our swivel seats, but if it's just a quick night stealth camping somewhere, this soft wall comes in really handy. There is also a middle portion that zips up that creates a walkway from the front to the back of the van.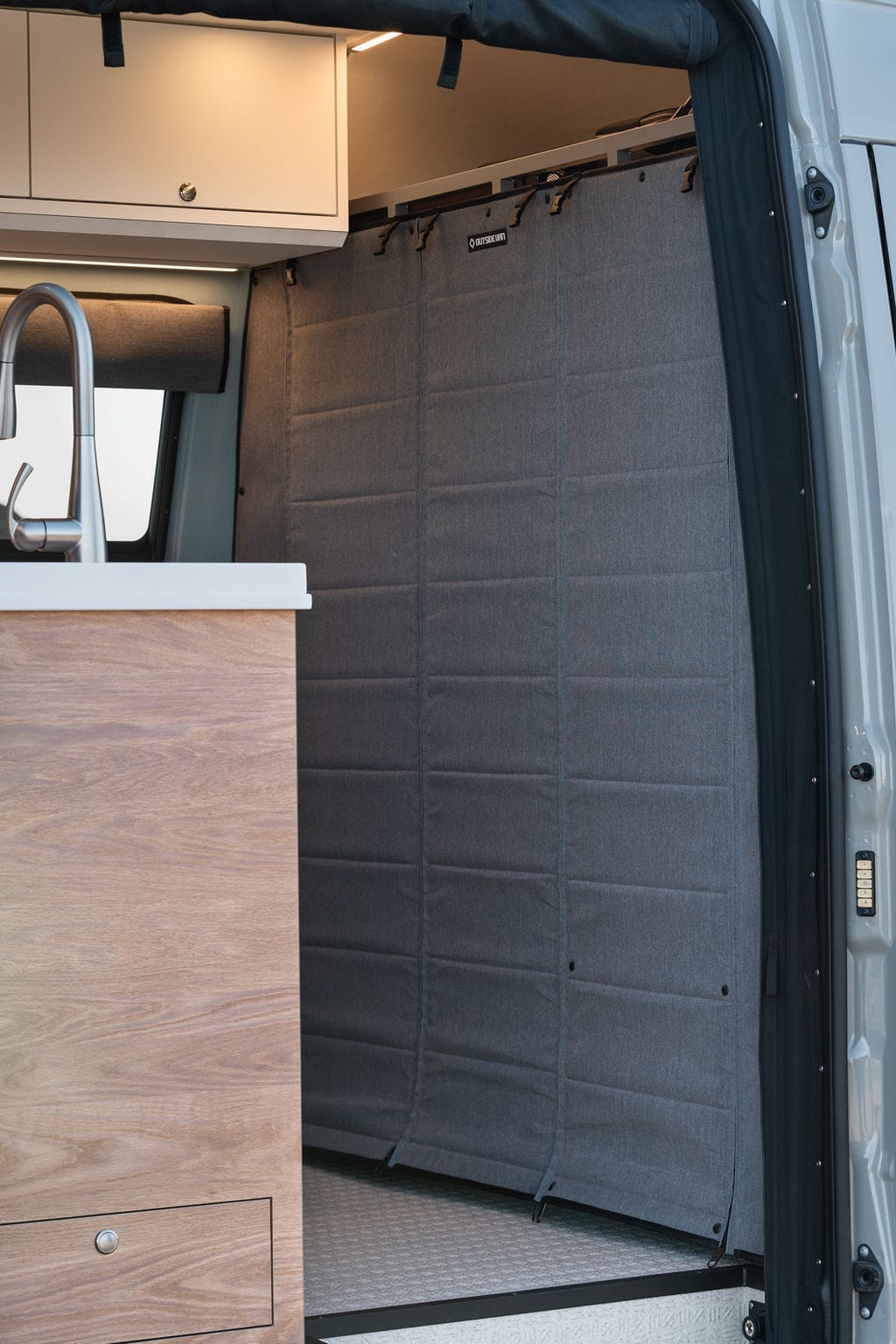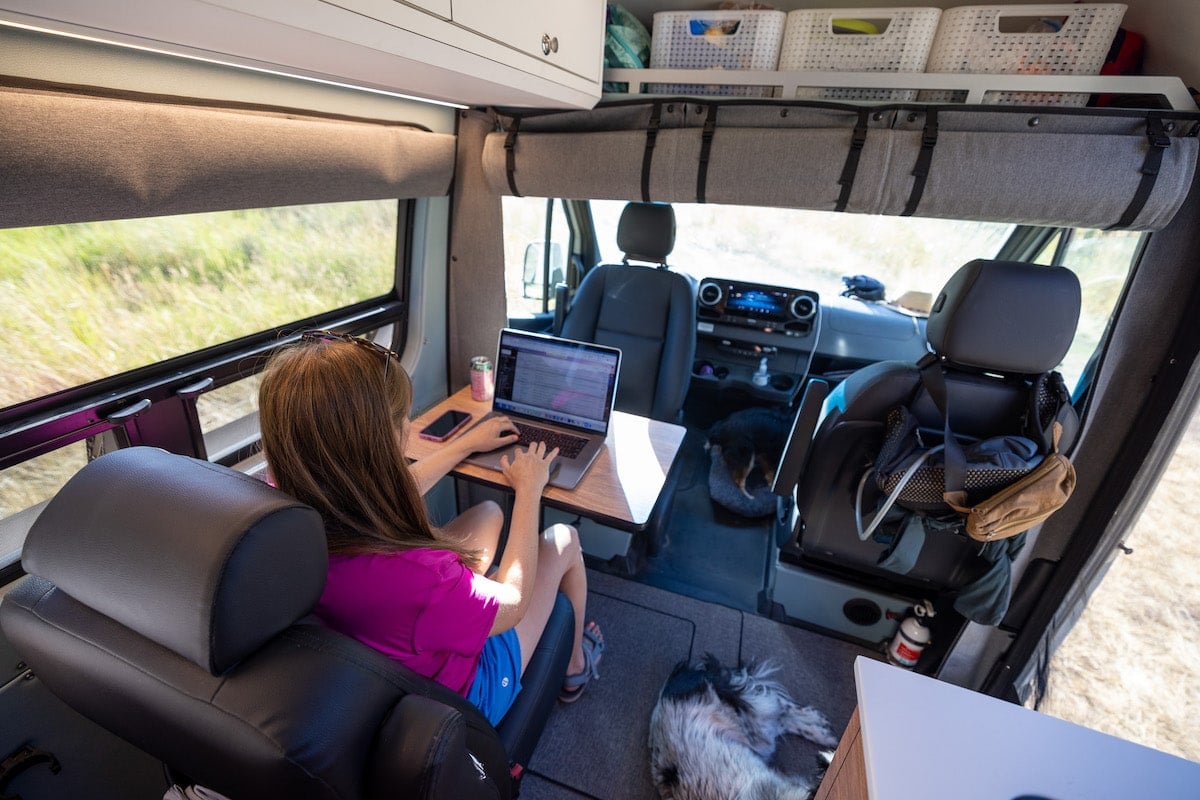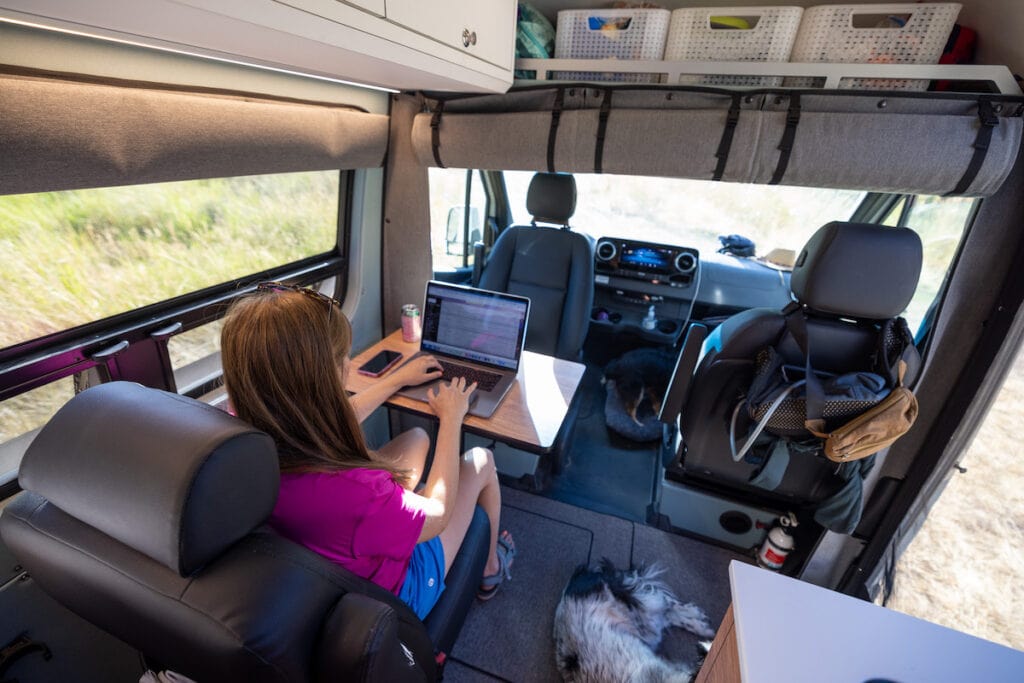 Sprinter Van Heater
My Sprinter Van conversion utilizes the Webasto Air Top EVO 40 Heater to heat the air in the van. It is extremely efficient and produces a significant amount of heat in as little as 6-8 minutes. The best feature is an auto function that allows you to digitally set the temperature and once the ambient air in a van reaches that temperature, the system idles until the temperature drops again.
It also has a timer mode that allows you to set a day, time, and duration for the heater to run, even when you are not there. On a ski day, this allows you to go out and return to a warm van without having to heat it the whole time you are gone from the van. We've only used the van in the hot summer so far, but we have briefly tested the heater, and it works very well.
---
Sprinter Van Plumbing System
It's standard at Outside Van to have all of the plumbing contained within the van, rather than having tanks and pipes running on the outside. That way the system is more insulated for four season use. The plumbing in my third Sprinter Van conversion is streamlined and simple to use. For a comprehensive post all about water tanks, toilets, showers, and more, go here.
Water Tanks
I have a 28-gallon water tank inside a driver's side cabinet in the garage. The BPA-free water tank is permanent, but it can easily be filled using a hose or 5-gallon jugs if I can't find a spigot with potable water. Luckily that's never been an issue. If we aren't showering, 28 gallons will last us between 8-10 days. Learn where to fill up your water tanks in this post.
To fill the tank, we just connect the hose to the spigot and stick the hose in the inlet on the outside of our van.
Under the sink, there is a very basic water filter. In order to ensure that the water we are drinking is safe, I recently invested in a three-stage Clearsource Ultra RV Water filter system that filters out viruses, bacteria, sediment, bad taste, and even heavy metals. It was expensive, but considering we rely on public water sources (with pipes that are likely very old) more than half the year, I wanted some extra protection for the sake of my long term health.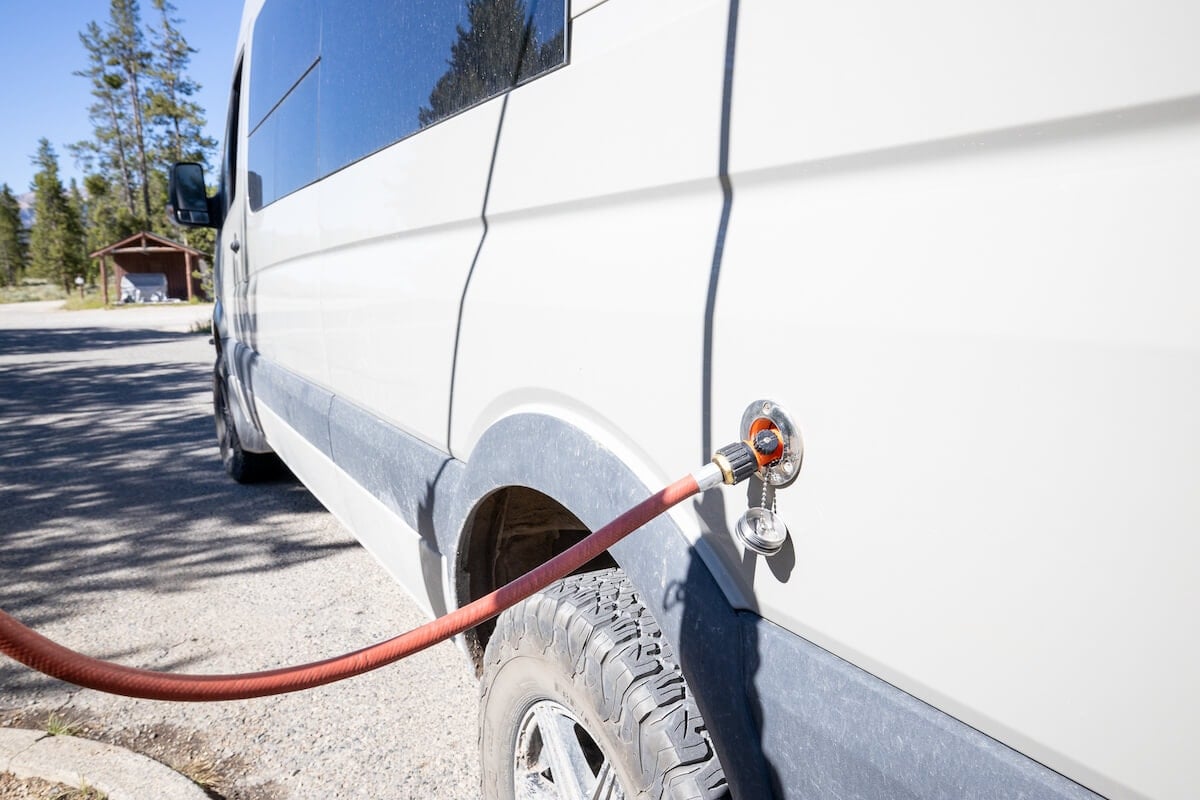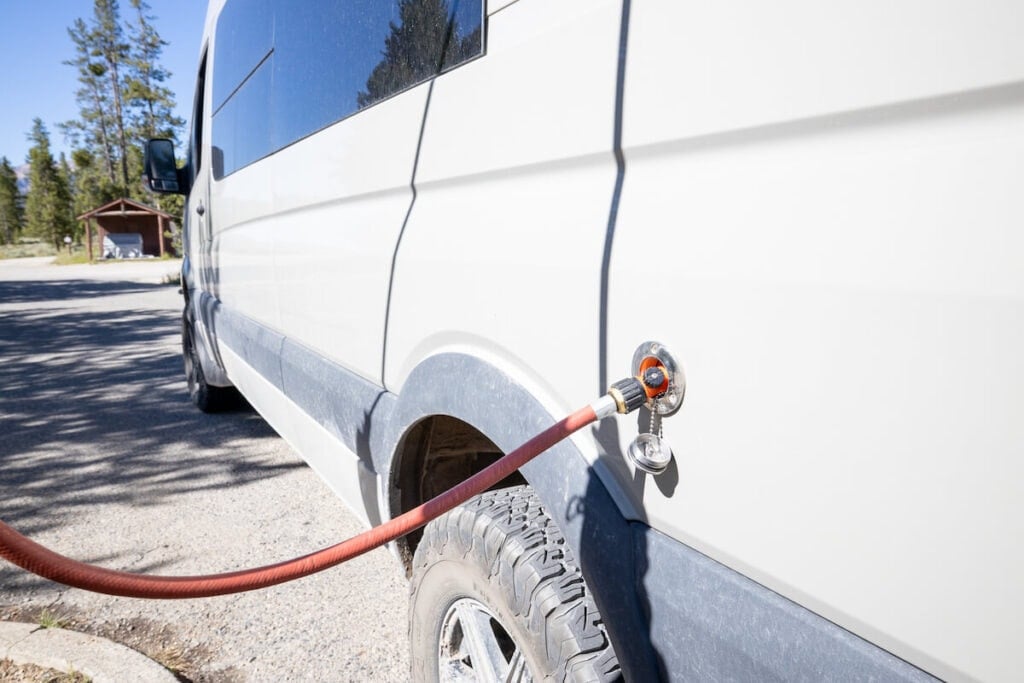 Water Heater and Outdoor Shower
The water heater in my newest Sprinter Van conversion is different than what I had in my last two vans. In my previous vans I had the Webasto Dual Top Evo 6 which heated the hot air and water by siphoning a bit of diesel from the van's gas tank. It did the job, but it took about 30 minutes to heat the water and the boiler could only heat 3 gallons of water at a time. As a result, we didn't really use it that much.
In this van, I have the Rixen Espar Hydronic system which is a furnace that heats a closed loop of coolant. Then a heat exchanger is used to transfer the heat from the coolant to the hot water.
This system has several advantages. First, the hot water is available within 5 minutes of starting the unit. It also heats the water hotter, and by using a mixer valve, we can fine tune the temperature of the water that comes out. Finally, the system will continuously heat the water until you turn it off. That means, once the system is hot, we could heat all 28 gallons in our water tank. We likely wouldn't do that, but it's nice to know if we wanted to take a long shower, we could.
For the shower, Outside Van does build lightweight indoor showers for those of you who truly need a regular indoor shower…but based on my experience with the indoor shower in my first van, I decided this wasn't a necessity for me or worth the sacrifice in space.
For showering, we can quickly hook up a shower hose to the back of the water tank, which allows us to take hot outdoor showers. However, since we like to conserve our water, more often than not, we take showers at gyms, community centers, campgrounds, or houses of family or friends. I am going to get one of these portable pop up shower privacy tents though and I think it will incentivize me to use this outdoor shower more.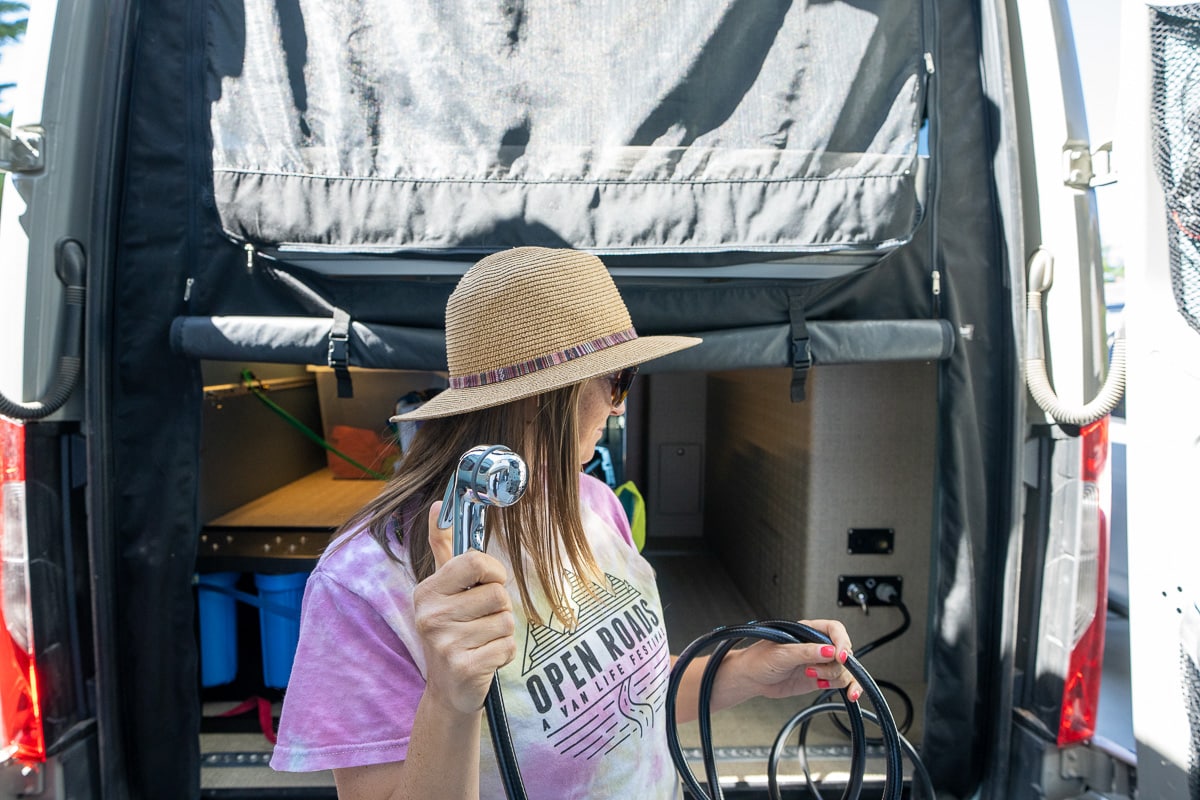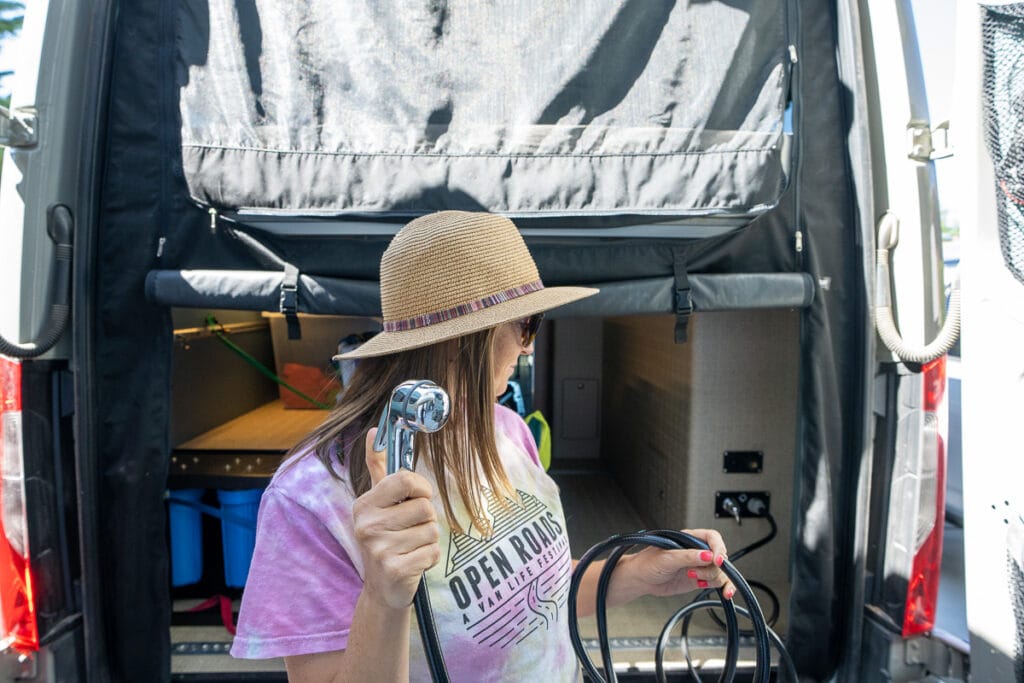 Collapsible Toilet
In my first Sprinter Van, I had a Thetford portable toilet. It did the trick, but I hated using it for #2 because dumping it was gross. Plus, finding a dump every 5 days to empty the toilet was a hassle.
In my second and third van, we ditched the portable toilet and now rely on pee jars for #1 and this foldable Go Anywhere toilet that utilizes wag bags for #2 when a public toilet isn't available. The toilet folds up really small so it doesn't take up as much room as a cassette or composting toilet. Once you're done doing your business, the bag just goes in any outside trash can.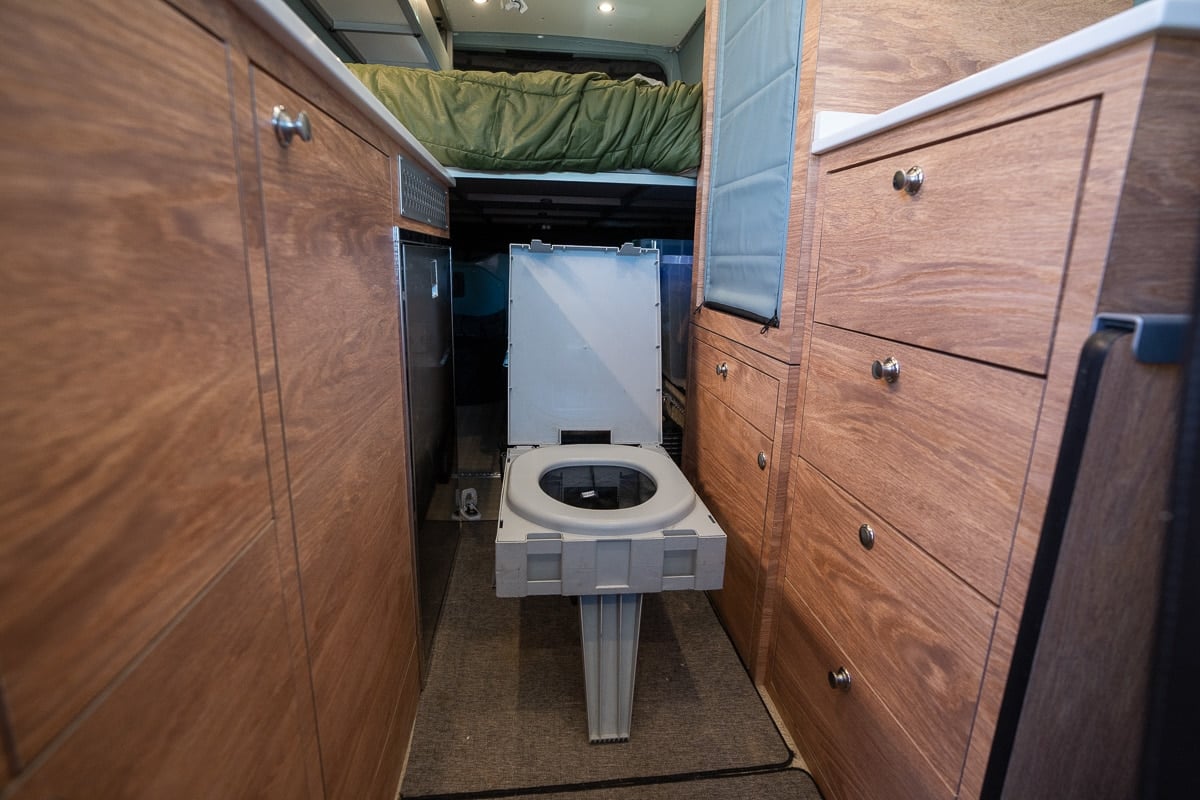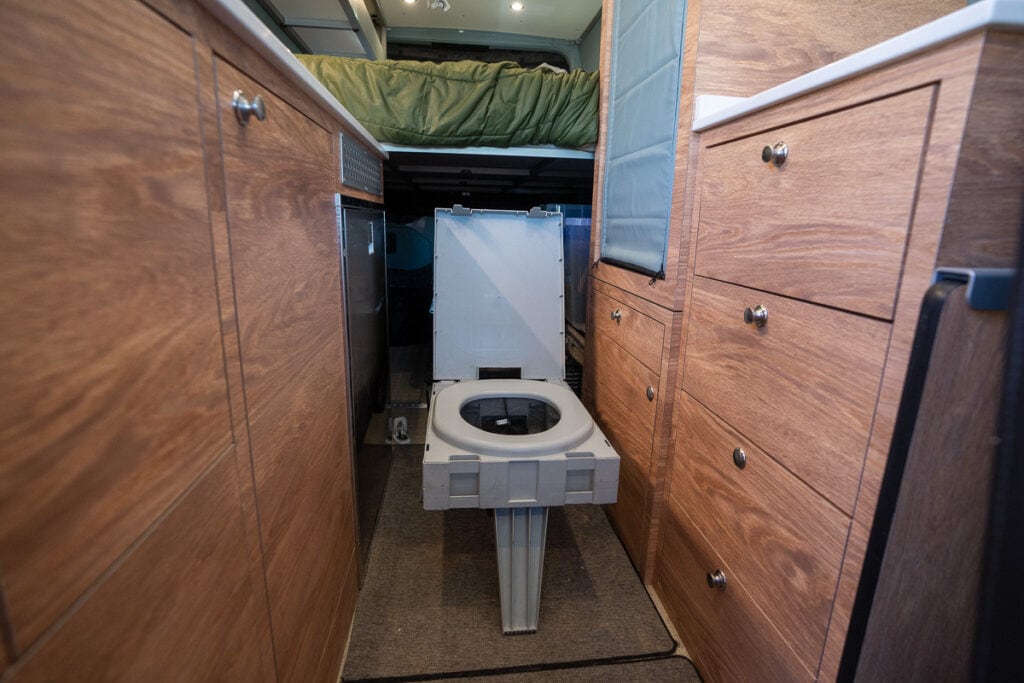 The bags do get pricey, and I'm not crazy about the plastic waste, but for the occasional use, it's worked out great for us. The space we save by not having a normal toilet is more than worth it, and I enjoy not having the toilet-related chores. Compare the best toilet options for van life in this blog post.
A note on toilets: When at dispersed campsites, I used to dig a hole and go poop outside according to Leave No Trace principles. However, as our public lands are becoming more crowded and over-used, I no longer feel that this is a responsible option for people who spend significant amounts of time on the road. That was a big factor in our decision to start carrying the Go Anywhere toilet that we have in our van.
---
Sprinter Van Floor
Now on my third Sprinter Van conversion, I'm convinced that there are very few flooring options that stay looking clean when you are living in and using the van for outdoor adventures.
In my first van, I had dark laminate wood floors. They looked great clean, but dirt showed very easily on dark colors and with our dog, all we saw was footprints. The laminate also felt slippery and didn't provide any traction.
In my second van, I had a high density vinyl weave in the living area. It was a beige color with texture, and I thought the dirt would blend right in, but I was wrong. Like my first van, it showed dirt really easily and was even more difficult to clean due to the weave.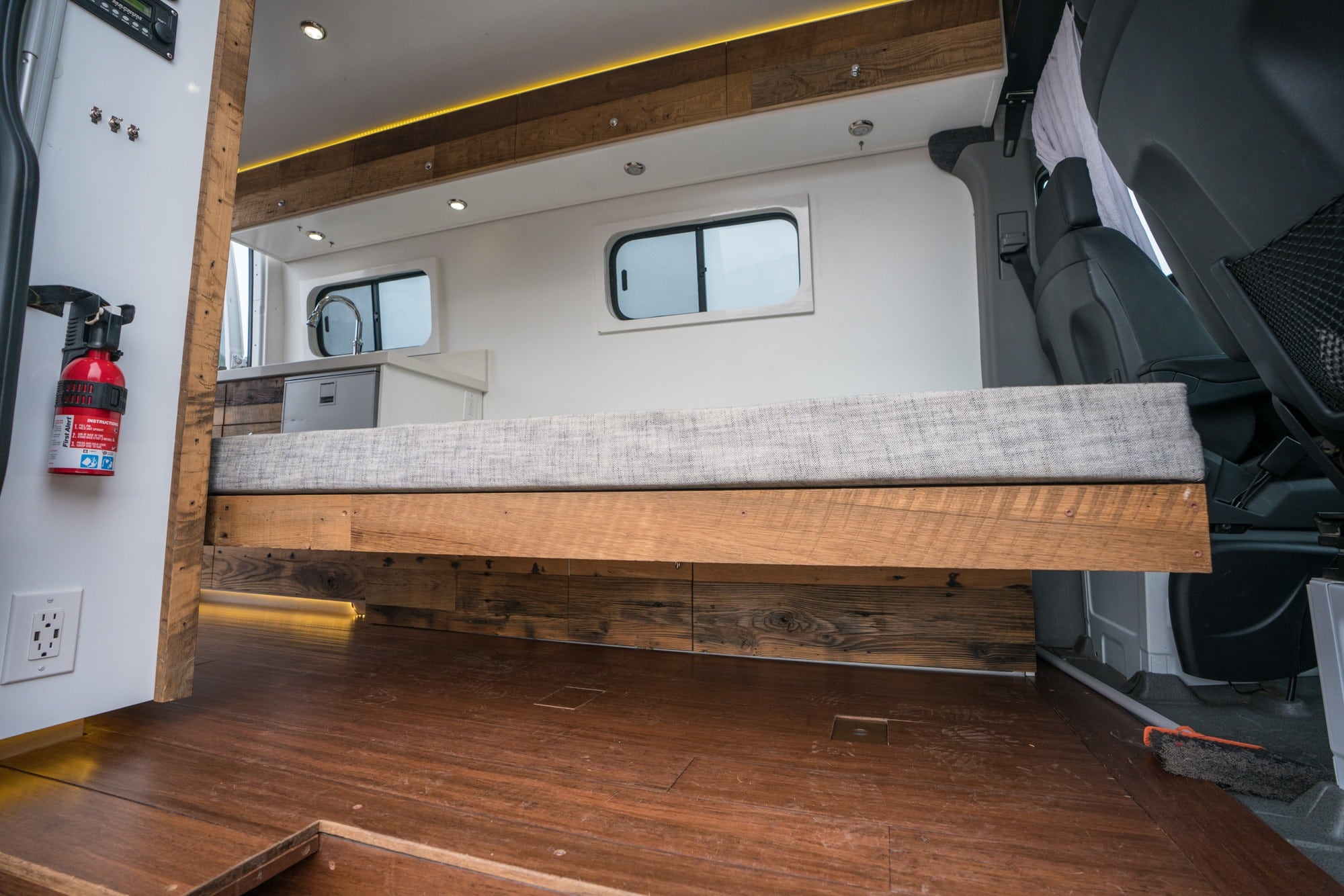 In my third van, I chose a Lonseal vinyl product that has a little texture for grip, but no grooves that trap dirt. This time I went with a dirty brown color with specks. When it's clean, it looks fantastic, but again, with dogs it's nearly impossible to keep it looking nice.
As far as floor installation, the first thing Outside Van does when building their floors is to remove the factory floor. They then build a new floor out of marine grade plywood and adhere a layer of high-density vinyl to the top. This is slightly heavier than the factory floor, but it's a little thicker and way more durable, so there's no flex in the floor when you place heavy features on it.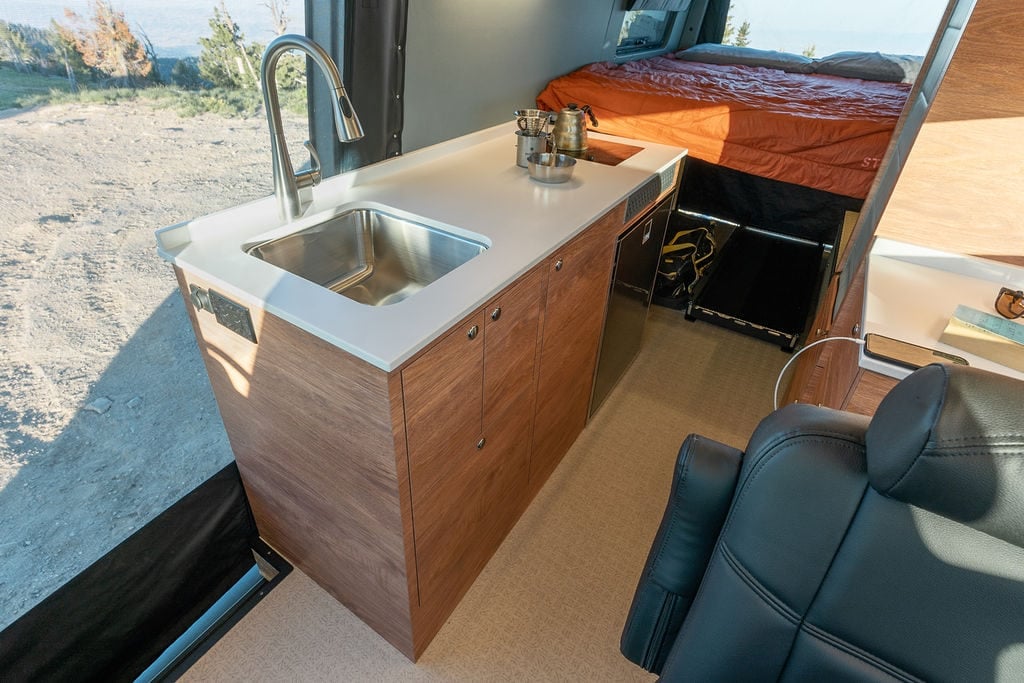 Inhabit Designs Custom Floor Mats
After a year of traveling in this van and once again hating the floors, I decided to get a set of custom floor mats made by Inhabit Design Works. They are made of a woven vinyl called Chilewich, a material that was designed with the marine industry in mind.
After spending a few months in the van with these mats, I can say it's one of the best upgrades I've ever made in any of my vans. I went to their shop in Portland and they measured the floor area in my van and a week later, I went back and they installed them. They fit the space perfectly.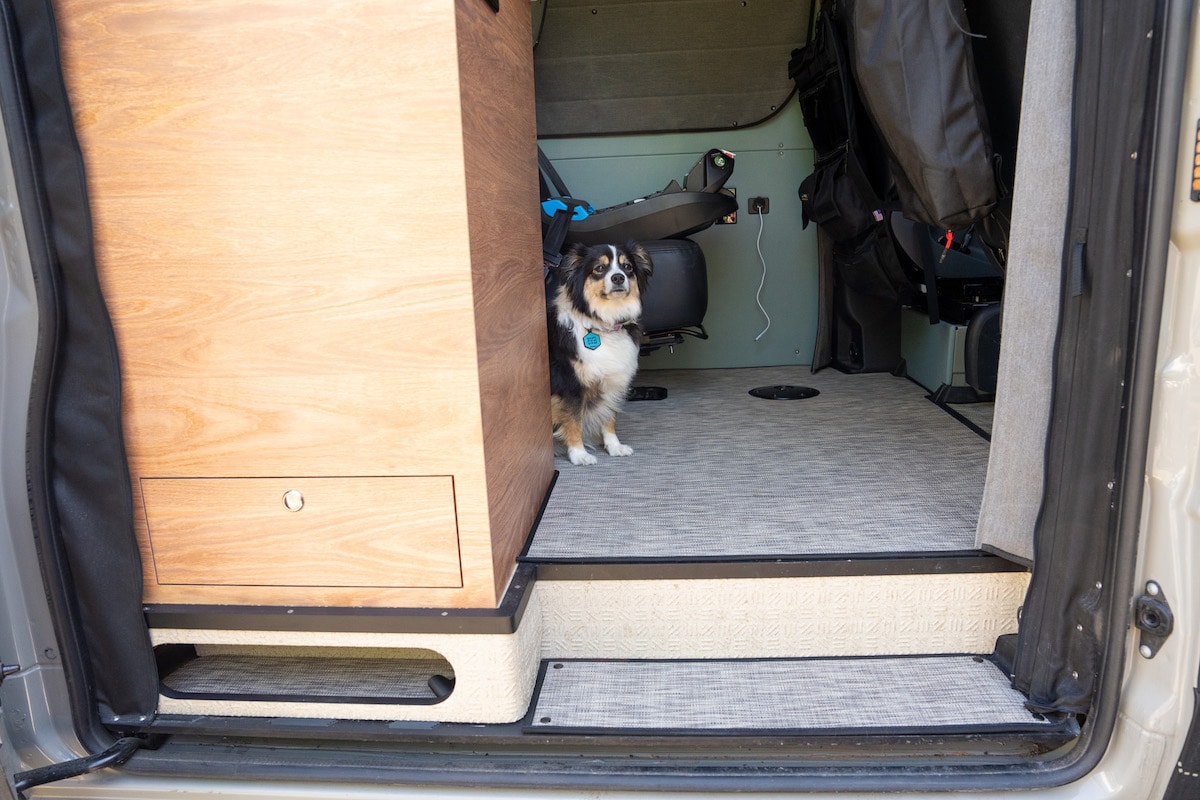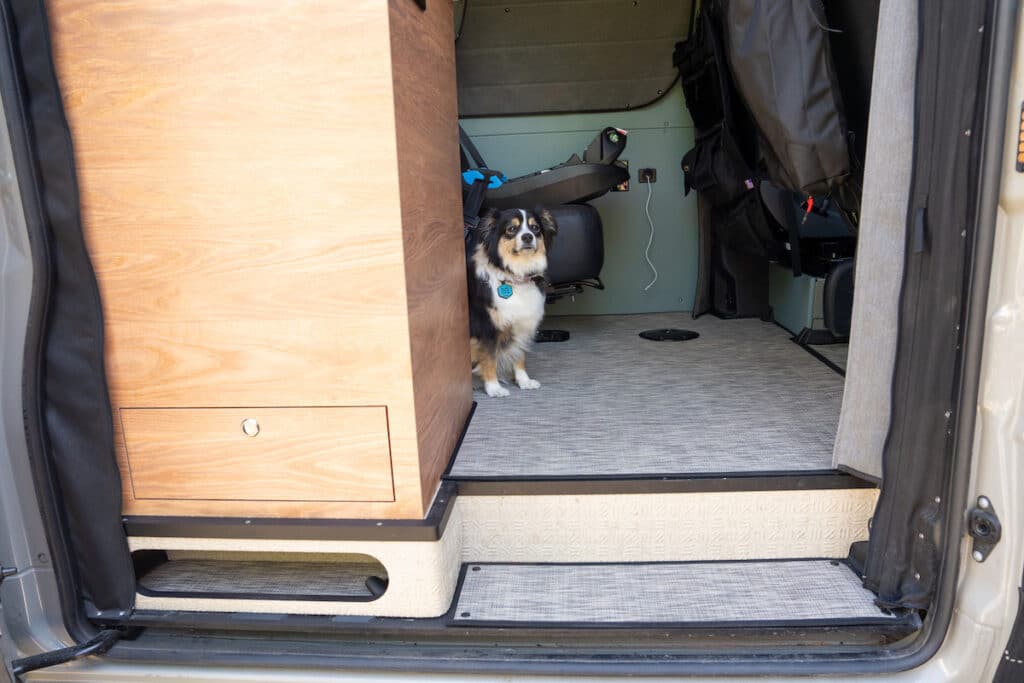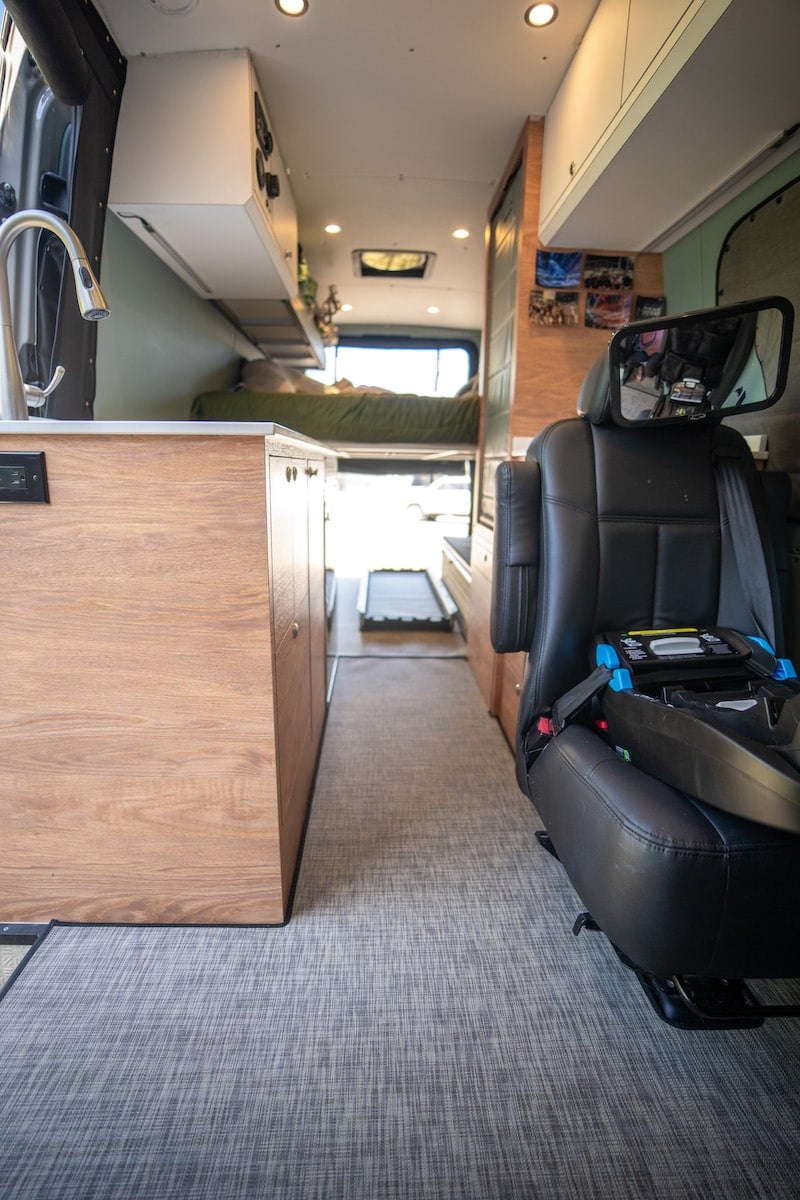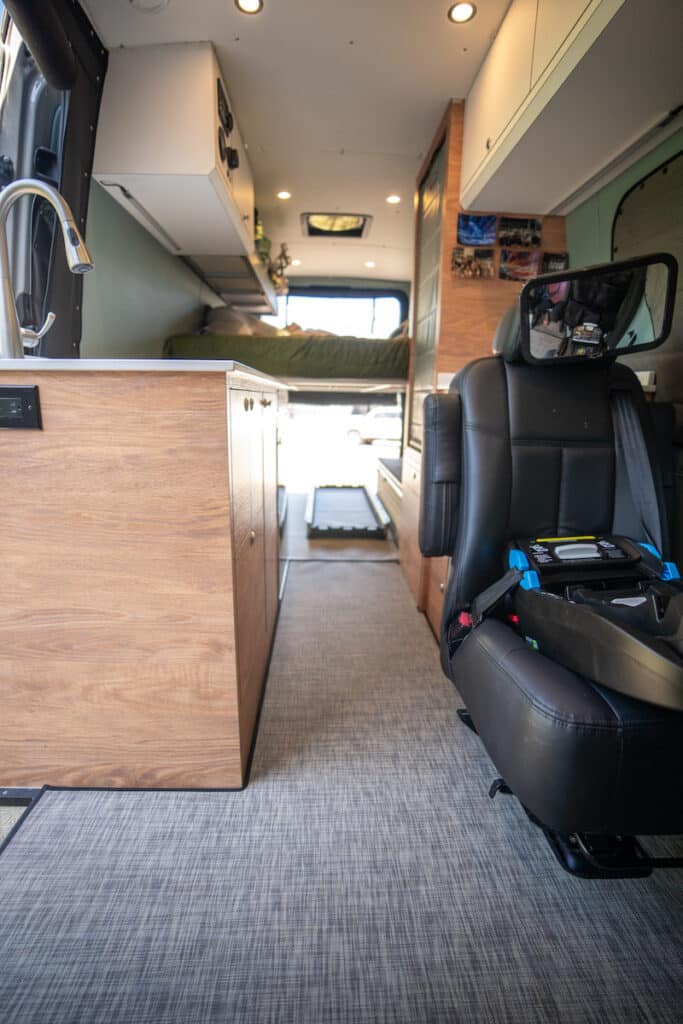 These mats are removable, waterproof, and can be cleaned by hosing them down. We put them to the test this summer when our dog Charlie got sick all over the floor of our van. We removed the mats, sprayed them off with our outdoor shower, and left them out overnight to dry. When we put them back in the van the next day, the looked good as new.
Due to the color (fawn) and pattern, they cover dirt incredibly well, and I love how they create a soft cushion for underneath my feet.
>> Read Next: A Guide to Floor Materials for your Van
---
Tires and Suspension
We do a lot of off-roading in our Sprinter Van, so having an excellent all-terrain tire and upgraded suspension was essential.
Tires and Wheels
Like my last van, the tires are the BF Goodrich K02 265/70/R17. They perform well on rocky roads, snow, and even in muddy conditions (with the right driving skills).
The wheels are Black Rhino Stadium 17″ Wheels, which are one inch bigger than the stock wheels that the van comes with. I chose these specific wheels because they have a heavy duty load rating at 2,450 lbs/wheel.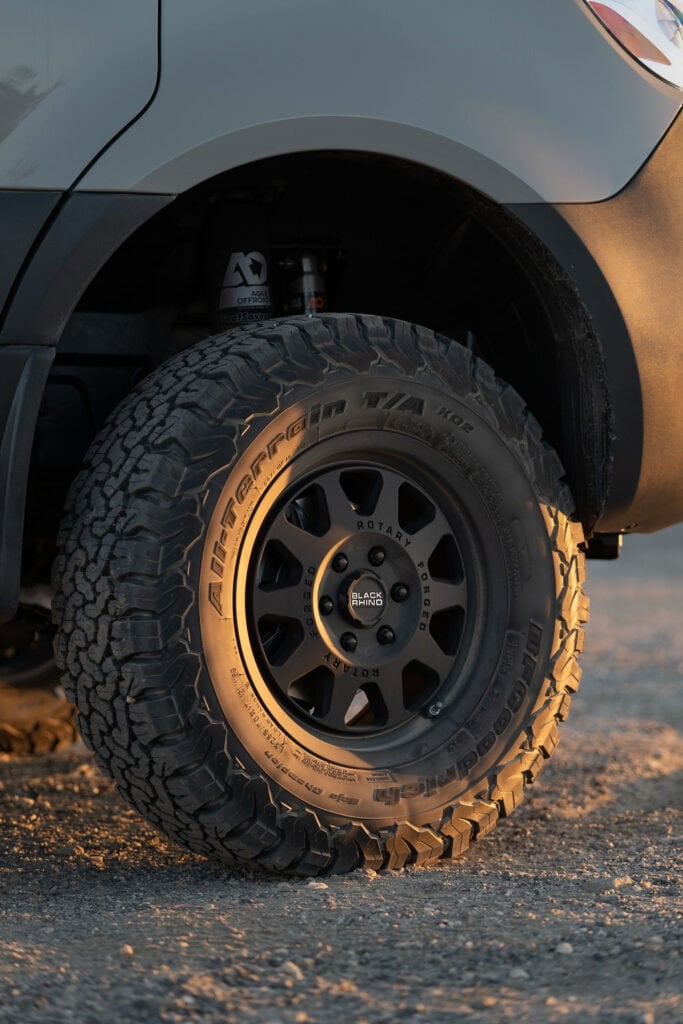 Agile Offroad RIP Kit Suspension Upgrade
The stock suspension that the Mercedes Sprinter Van comes with is not intended for going off-road or handling bumpy terrain. In bumps, windy conditions, or even pulling out of the driving, a converted Sprinter Van with stock suspension will experience an unnerving amount of sway. That's why upgrading the suspension is one of the best things you can do if you want to improve the performance and overall feel of the ride. Upgrading the suspension is also important when you've added a lot of weight to the van.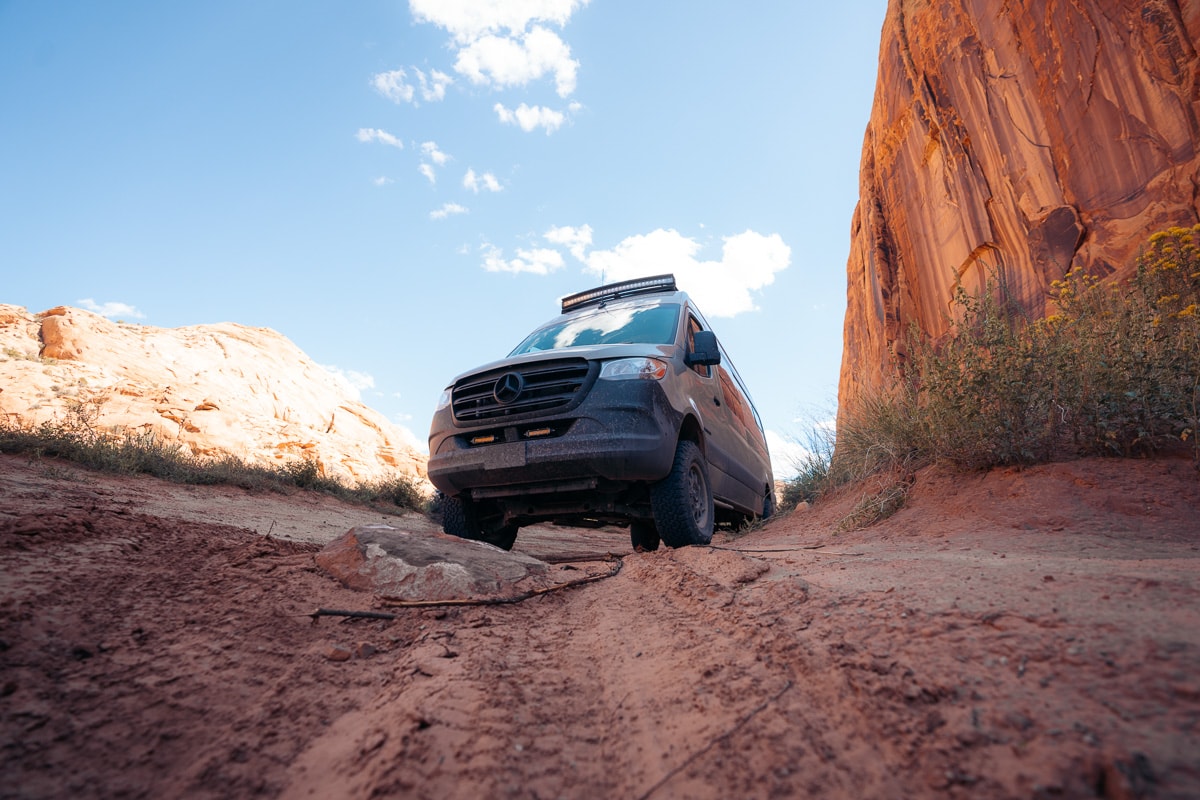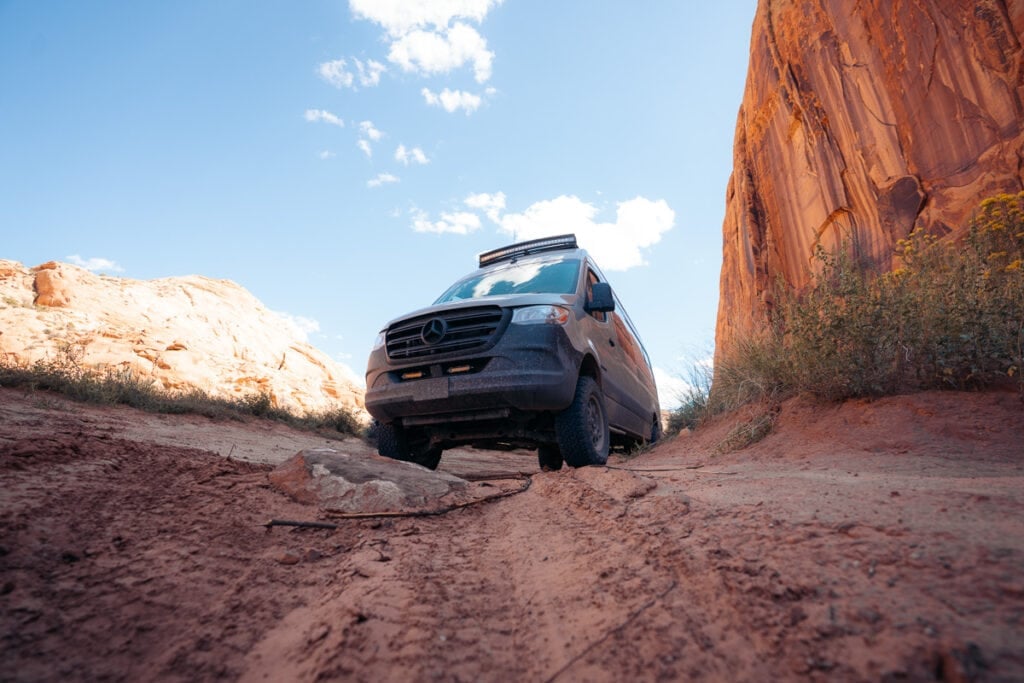 In my third van, I chose the Agile RIP Kit for the upgraded suspension package which has completely transformed the driving experience. In the front, a coil over spring is added to the factory McPherson strut, along with an upgraded Fox shock. The result is a tremendous difference in how the van handles weight shift around corners, improved dampening in the bumps, and the van responds more quickly to the driver's controls.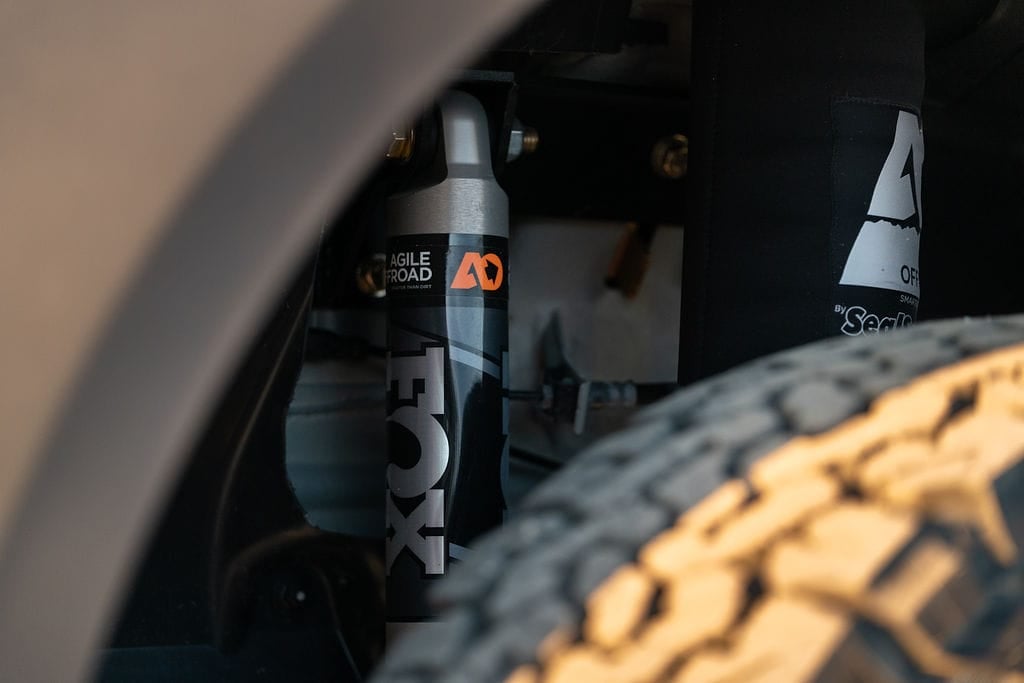 In the rear, the factory leaf spring system is replaced with a progressive six leaf spring system, and you chose a load based on your rear axle weight so the system is customized. This increases the payload capability and gets rid of any sagging in the rear of the van. It also results in a smoother ride due to the progressive nature of the springs. There is also an additional Fox shock added in the rear, again for improved dampening of the movement. The result of the shock is that the van sways much less side to side over uneven terrain, especially with the high roof Sprinter Van.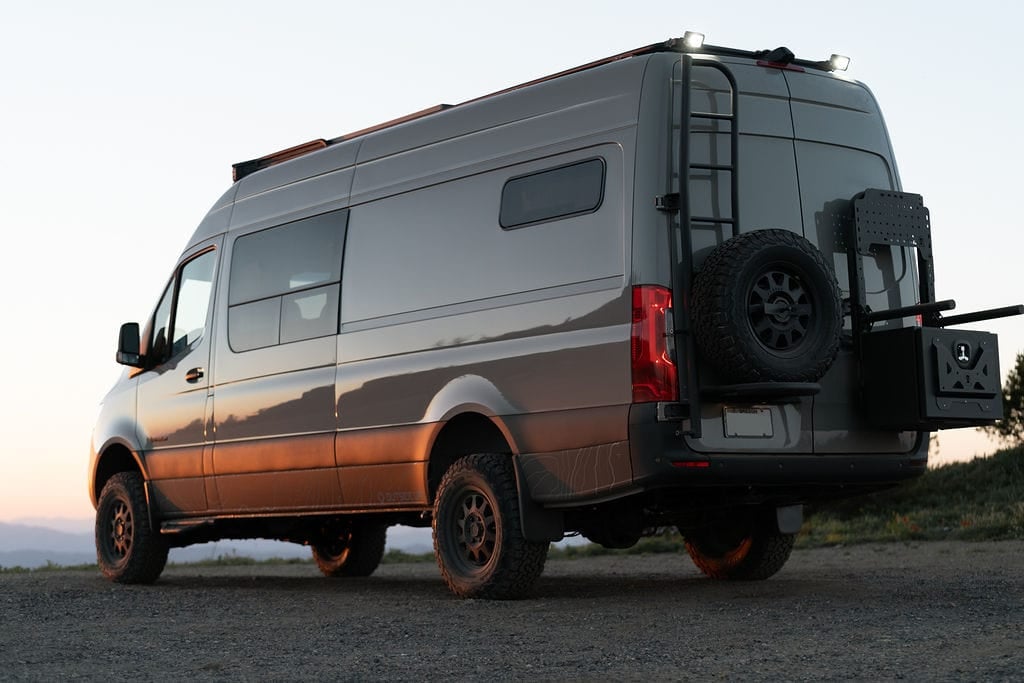 ---
Owl Vans Rear Accessories
All of the rear aluminum accessories on the van are made by Owl Vans. The main reason I chose Owl for my rear accessories is that you don't have to first swing out the box and spare tire before opening the rear doors. Instead, all of the Owl Vans gear on the rear opens automatically when you open the back doors.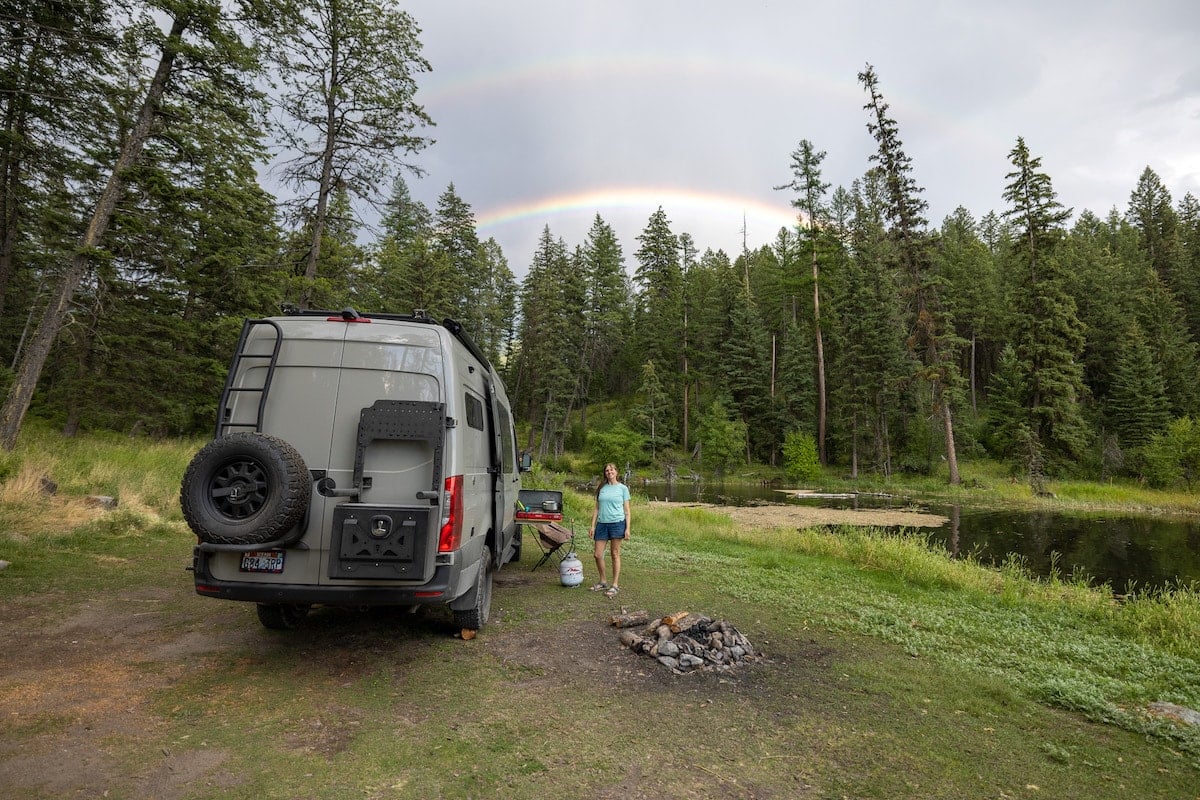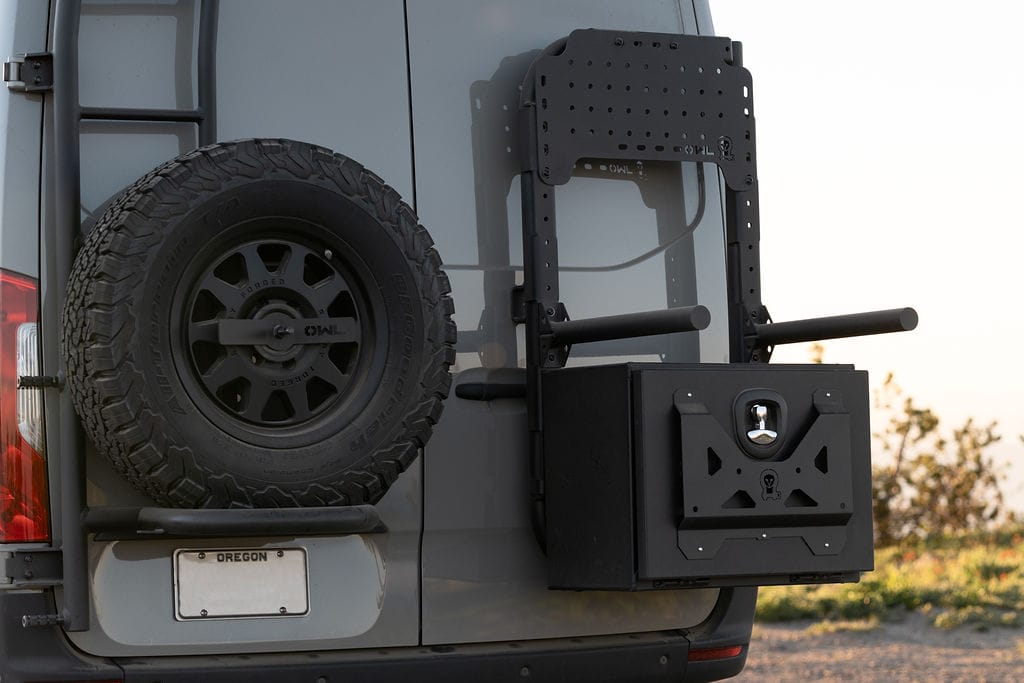 B2 Carrier, Mini Sherpa, and Medium Expedition Box
The B2 Carrier is a modular storage system designed by Owl Vans that can be customized depending on your storage needs. On the bottom, we have the Medium Expedition Box where we store our shore power hookup, hoses, tools, trekking poles, and other dirty gear in order to keep the inside of the van cleaner.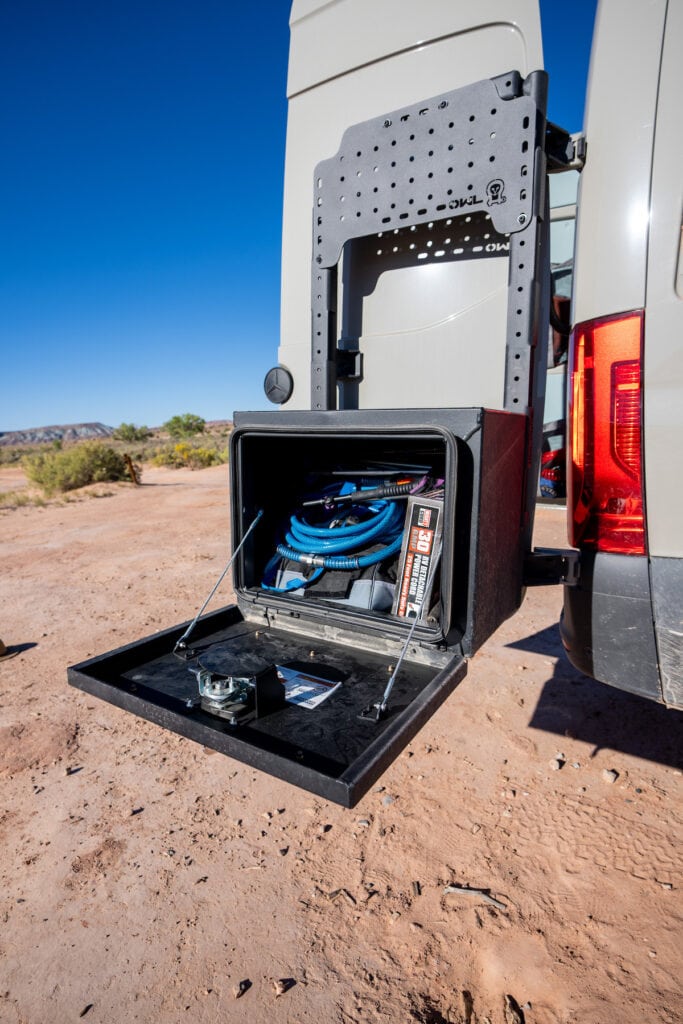 Above the B2 Carrier, we originally had Owl's Bike Mounting Tubes that would allow us to carry our e-bikes on the outside of the van if we choose using 1Up Bike Trays. The advantage of carrying your bikes on the B2 carrier rather than a hitch mount is that you don't lose any ground clearance and it also doesn't reduce access to your back doors. Also, I like that Owl has designed their bike carrier to handle the weight of e-bikes, which are a lot heavier than normal mountain bikes. Due to my pregnancy, we decided to leave the bikes at home for the near future, so we removed the mounting tubes for now.
At the top of our B2 Carrier, we have Owl's Mini Sherpa Plate. This gives us the option to mount a variety of recovery tools – such as an ax, shovel, a spare Rotopax diesel canister, or even our Maxtrax recovery boards if we were to remove the Expedition Box on the bottom.
Owl Ladder and Spare Tire Rack
On my previous two vans, I had the spare tire stored underneath the van in the factory spot. With all of the off-roading we do, I decided that having the spare tire underneath the van might not be the easiest place to access it if we got in a pickle on a dirt road.
The Owl Ladder + Tire Carrier provides a solution to this by combining a ladder and spare tire rack on the back door. The tire carrier allows us to carry a full sized 17″ spare that is identical to the rest of our tires. The ladder/tire combo rack only weighs 25 pounds and again the back doors can open without having to swing out the rack first.
The ladder is streamlined and has pegs that extend below the spare tire rack that you use to get up on the ladder. I will say it's a little tricker the first couple of times to step up onto than a traditional ladder, but once you get the hang of it, it's quite easy.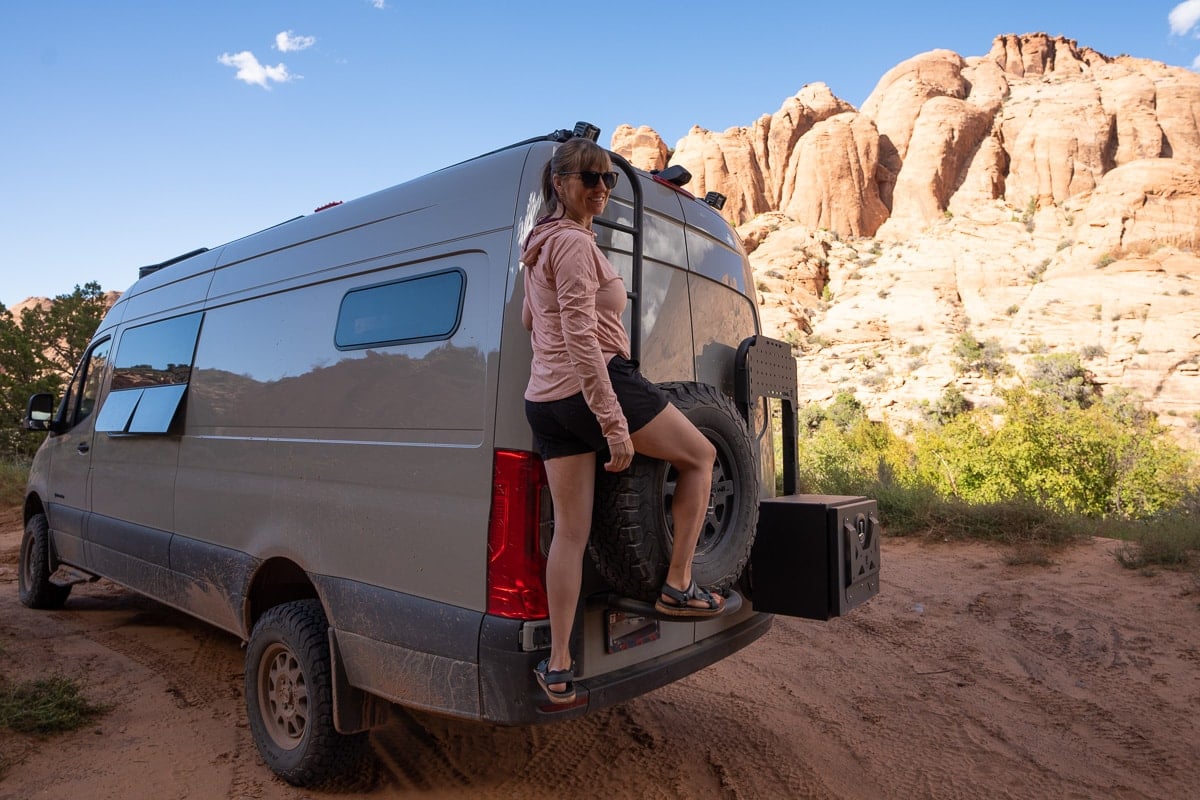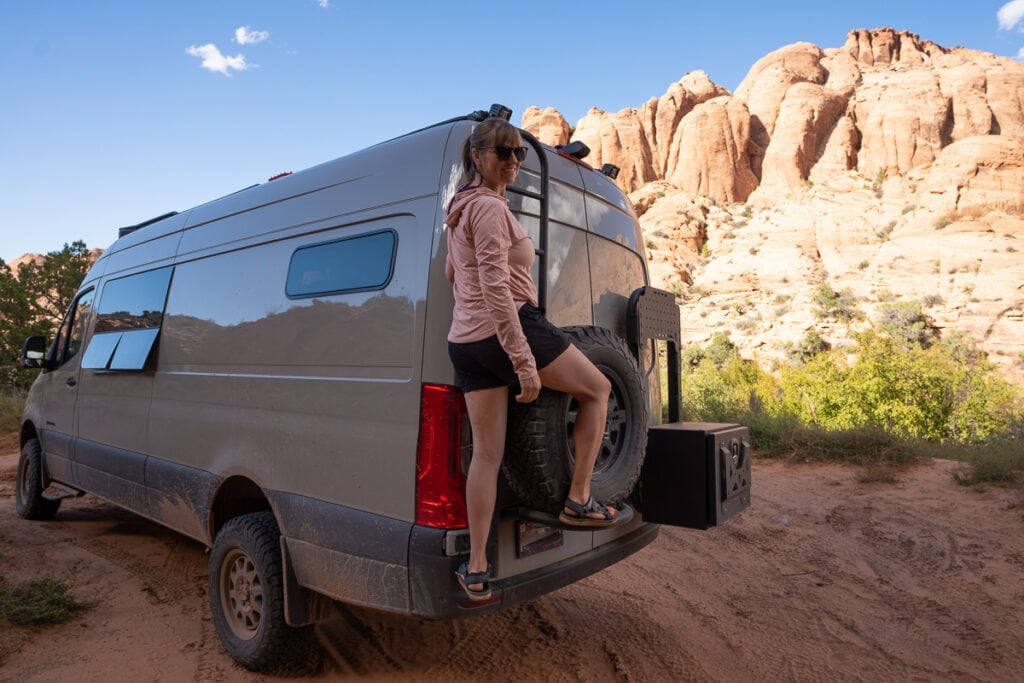 ---
Rolef Bug Screens
In my previous two Sprinter Vans, we did not have a good bug screen solution. We tried several different brands, as well as some make shift options with magnets that we bought off Amazon. Nothing really worked or was very convenient to get in and out of the van.
For my third Sprinter camper van, I knew I wanted the Rolef bug screens. They are pricier than the other options, but being able to keep the doors open when we were recently in Canada was priceless. The mosquitos were absolutely brutal, but we were able to keep our slider and rear doors open on those hot summer evenings and keep the inside of our van bug free.
The Rolef bug screens are permanently installed, but you can roll them up when you don't want to use them. There are simple clips at the top that hold them up.
On the rear bug screen, the top half is screen, and the bottom half which you can roll up separately is solid. This allows you to access your gear in the garage while keeping the bed area bug free.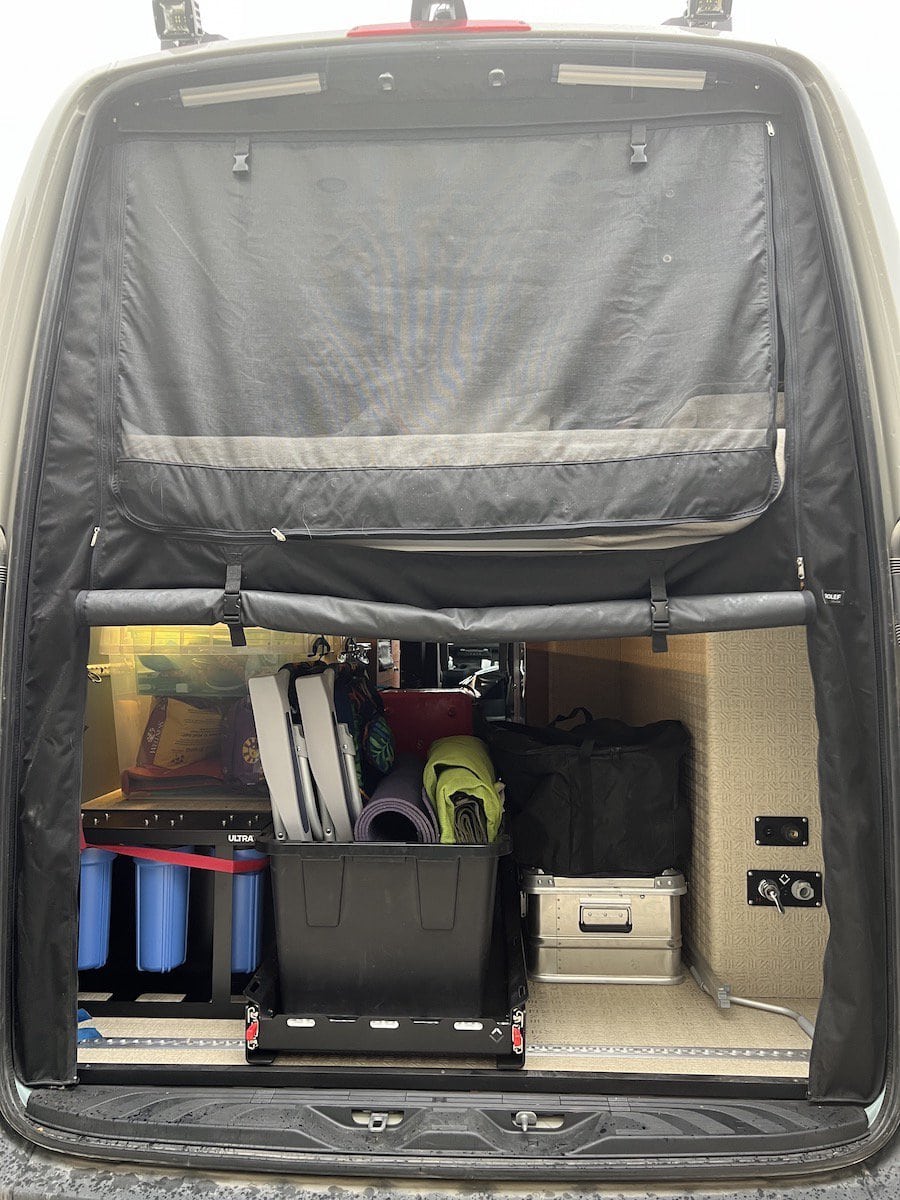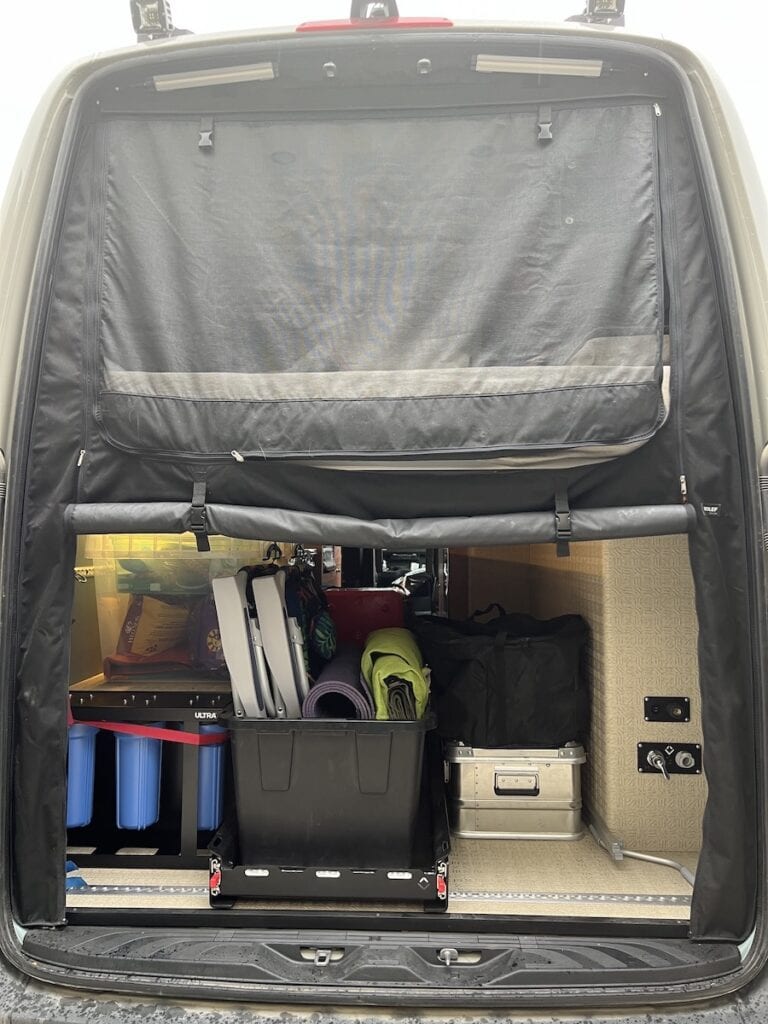 On the slider door, when you want to use the bug screen, you unclip it and zip it down. Then to easily get in and out of the van, there is a magnetic strip that allows you to quickly open and close the right side without having to deal with the zipper. It's a pretty great design and I'm so glad we have them.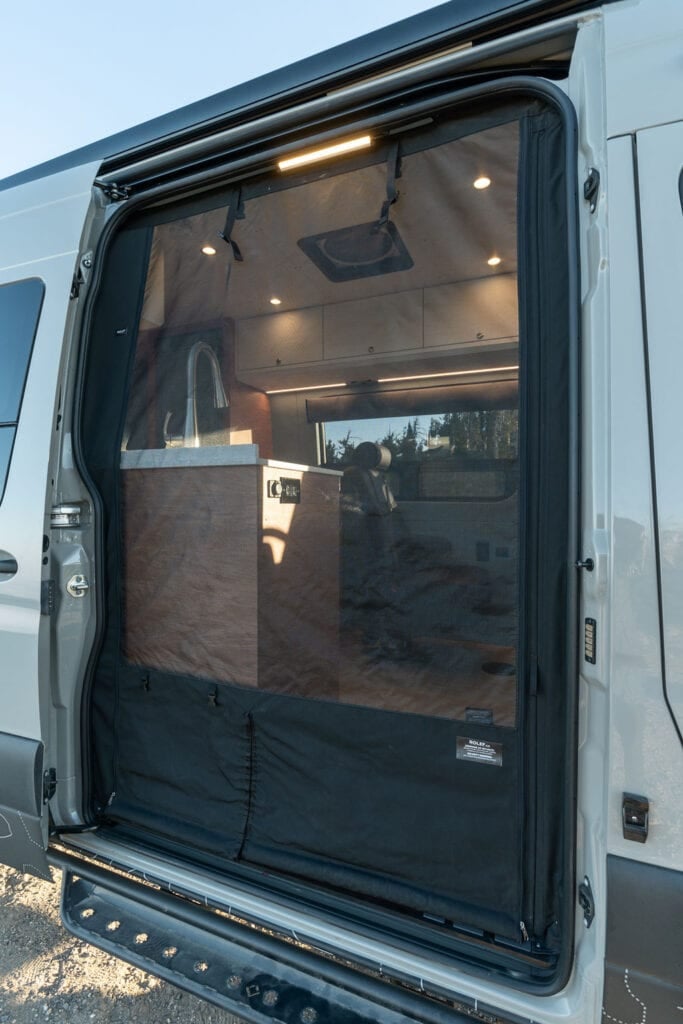 ---
Sprinter Van Awning
On my second Sprinter Van, I decided against a permanent awning because I wanted as few things as possible hanging off of the van. Instead, we used the MoonShade which is a portable, budget-friendly shade solution that sets up pretty quickly (you can read my full review of the MoonShade here).
In my third Sprinter, I opted for a Fiama awning. We've used it a few times so far, and I think a permanent awning has its pros and cons. It is quicker and easier to set up, and I do think it provides more shade than some of the portable options due to the fact that you can adjust the angle.
However, with a permanent awning, you have to be very careful and pull it in if it gets windy, and there are also a lot of parts that can break. We've only used ours a few times, and we've already been having some issues trying to close it. There is also the added cost of a permanent awning, so you have to really think about how much you'll use it and whether or not it's worth it.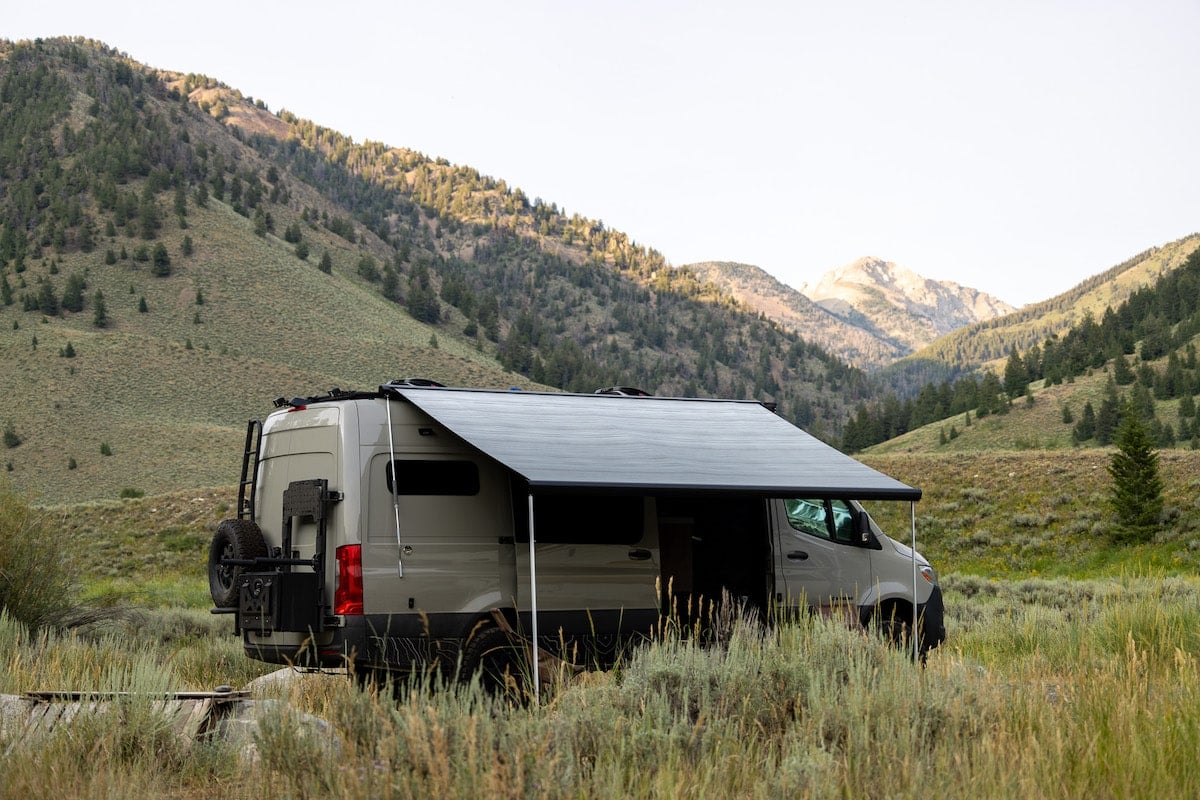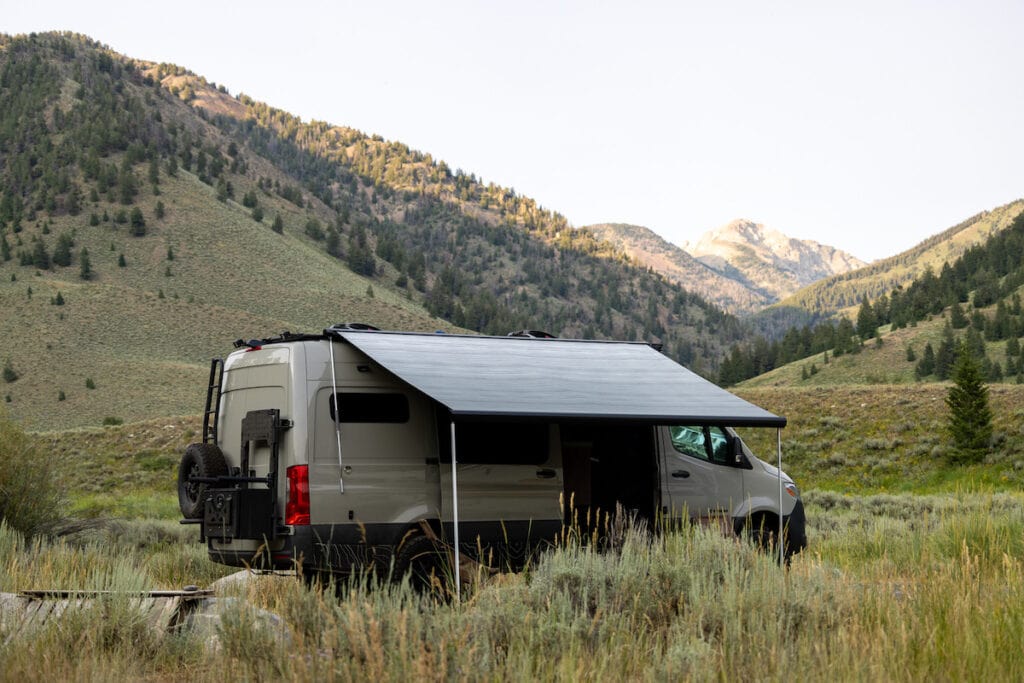 Thanks for reading through my Sprinter Van conversion blog post. You can watch the tours of all three of my vans on YouTube so you can see how they've evolved over time. Make sure to subscribe so you get notified of any future videos.
Interested in doing van life? Get inspiration for your van build and life on the road with these blog posts.
Got questions about my Outside Van Sprinter Van Conversion? Leave a comment below and be sure to sign up for our van life newsletter.