The 2nd principle of Leave No Trace suggests that you should only "travel and camp on durable surfaces," but what exactly does that mean? Is it ok to camp next to the water? What about setting up your tent in vegetated areas where the ground might be softer? Or what happens if it's late and you can't find a campsite? Can you camp right on the trail?
Choosing a proper campsite when you are backpacking requires an understanding of Leave No Trace and your impacts, as well as having a mutual respect for other campers who might be camping nearby.
As more people are getting out and enjoying the outdoors, it's important that we take the time to learn the details of what Leave No Trace means when it comes to campsite selection. Otherwise, the beautiful, wild places that we love are going to end up trashed and undesirable for future campers.
In this blog post, we share tips for how to follow Leave No Trace principles when you are picking a campsite when you are backpacking.
1. Research Before You Go
Often when camping in the wilderness, there are campsite guidelines as to where camping is and isn't allowed. The general rule of thumb is to camp 200 feet from a trail or body of water (more on that later), but depending on the setting, the rules may be different.
On some popular trails, like the Wonderland Trail in Mount Rainier National Park, you are only allowed to camp in designated campsites that you have a specific permit for. In other areas, like Kings Canyon National Park, you are only required to camp a minimum of 25 feet from the water but you must stay in designated, previously used sites.
Anytime you are going on a wilderness backpacking trip, you are responsible for knowing the regulations as part of your trip research. This includes learning about fire regulations at your campsites.
There really is no excuse for not knowing the regulations. Further, in no circumstances should you set up your tent where it is not allowed. It's wrong for so many reasons and goes against Leave No Trace principles. It encourages others also to break the rules. I urge you to take a stand against this. Lead by example. Don't set up your tent where you aren't supposed to and don't post photos of illegal campsites online – whether they are real or staged.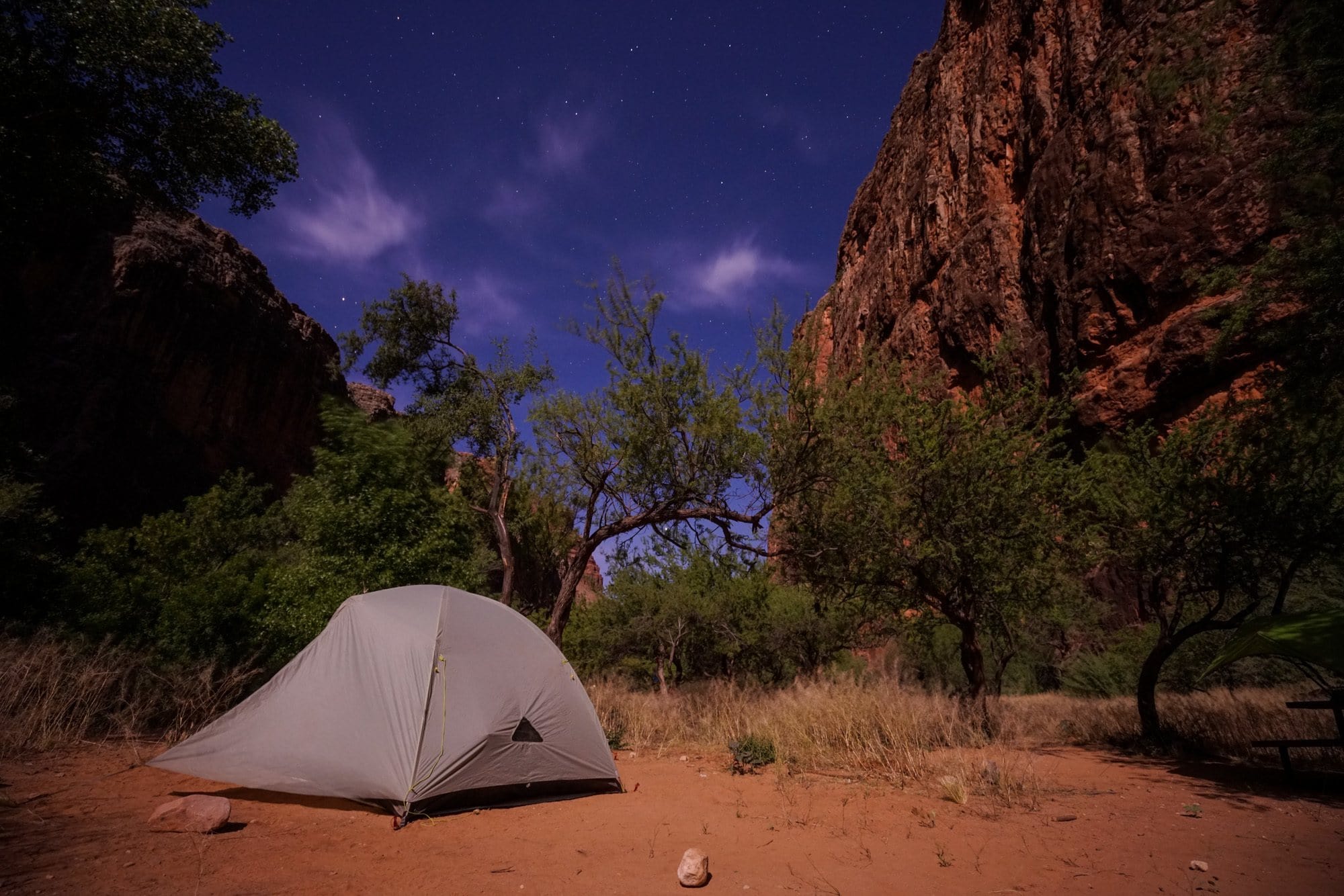 This is a campsite at Havasu Falls, where you are only allowed to camp within the designated camping area.
2. Camp on Flat Durable Surfaces
When looking for a campsite, you want an area that is flat and durable such as rock, sand, dry grass or compacted dirt. Be mindful of small plants in the beginning stages of growth as well as cliffs or edges that could easily erode. Whenever possible pitch your tent in an existing campsite, where it is evident others have previously camped. And yes, hammocks are great because they don't necessarily affect vegetation, but keep in mind hammocks aren't legal in some areas and parks due to the damage they can cause to trees. This goes back to #1; please take time to research before you pack and head out.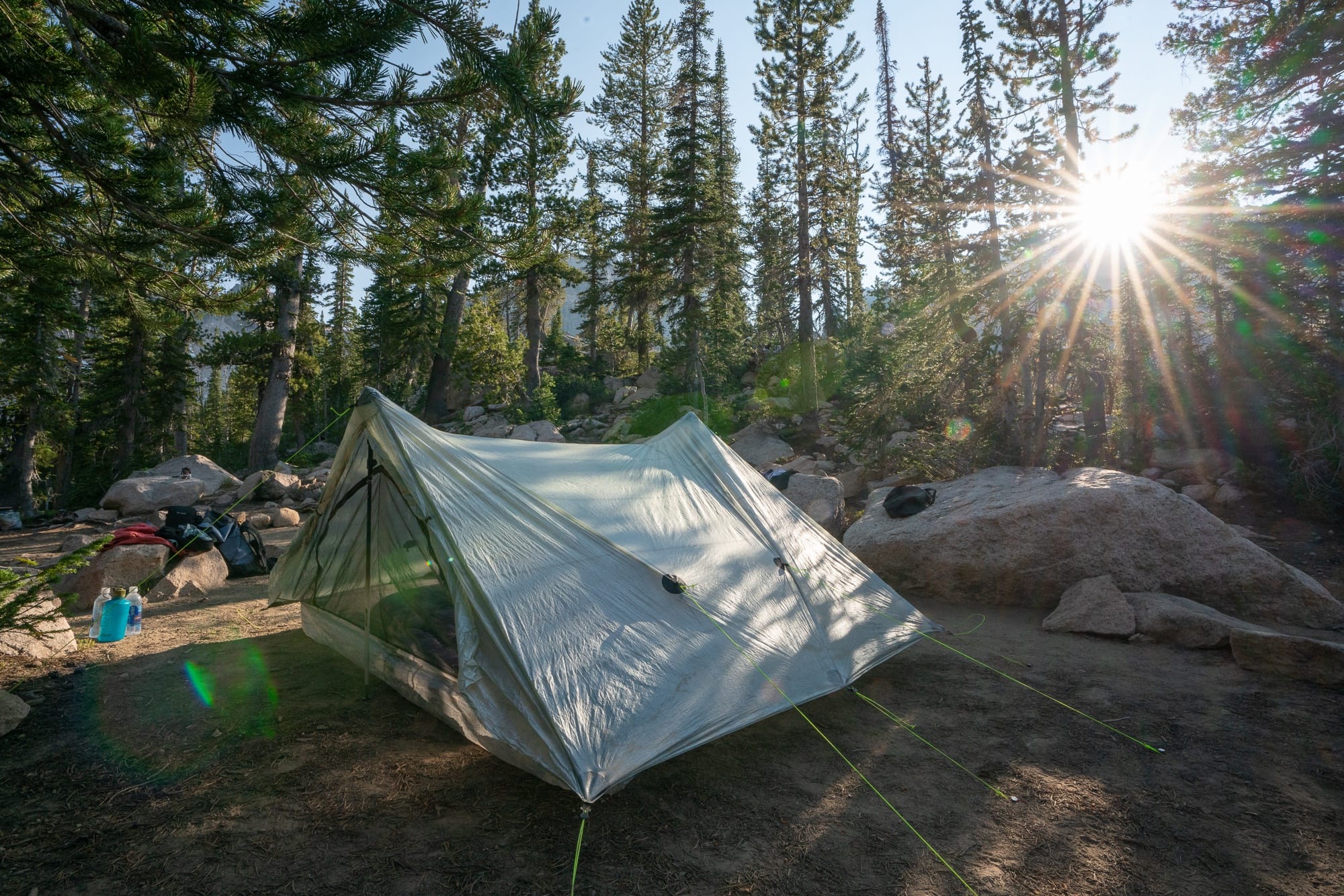 This is our recent campsite in the Sawtooths. It's at least 100 feet from water, as required by local regulations, and our tent set up on durable ground with no vegetation, and in an area that has obviously been camped in before.
3. Keep A Distance From Water Sources
Unless existing regulations say otherwise, ensure you are at least 200 feet away from all water sources BEFORE setting up your tent. This includes lakes, rivers, ponds, etc. This is important so that we don't overcrowd water sources with tents all around (making it difficult for others to enjoy or refill their the water), but also so we allow wildlife easy access to the water source.
But there's no wildlife here you say? The rule of thumb to camp at least 200 feet from water is also to maintain the quality and safety of the water supply. When you are camping, what do you normally do when you have to pee in the middle of the night? You grab your headlamp, put on shoes, and stumble maybe 10 feet from your tent before you pop a squat. Well if you are camped right on the water line, all that pee (or poop) conveniently runs right into the lake or river where you then go to collect your water. Gross, right? Let's all keep our distance to help keep it healthy out there.
What if you find a durable, previously camped on surface that is closer to the water than regulations allow? You might be tempted and think it's ok because other people have camped there. But you staying there and taking and posting photos online only tells other people that's it's ok to continue breaking the rules. Instead, we should not camp there and allow that area to recover.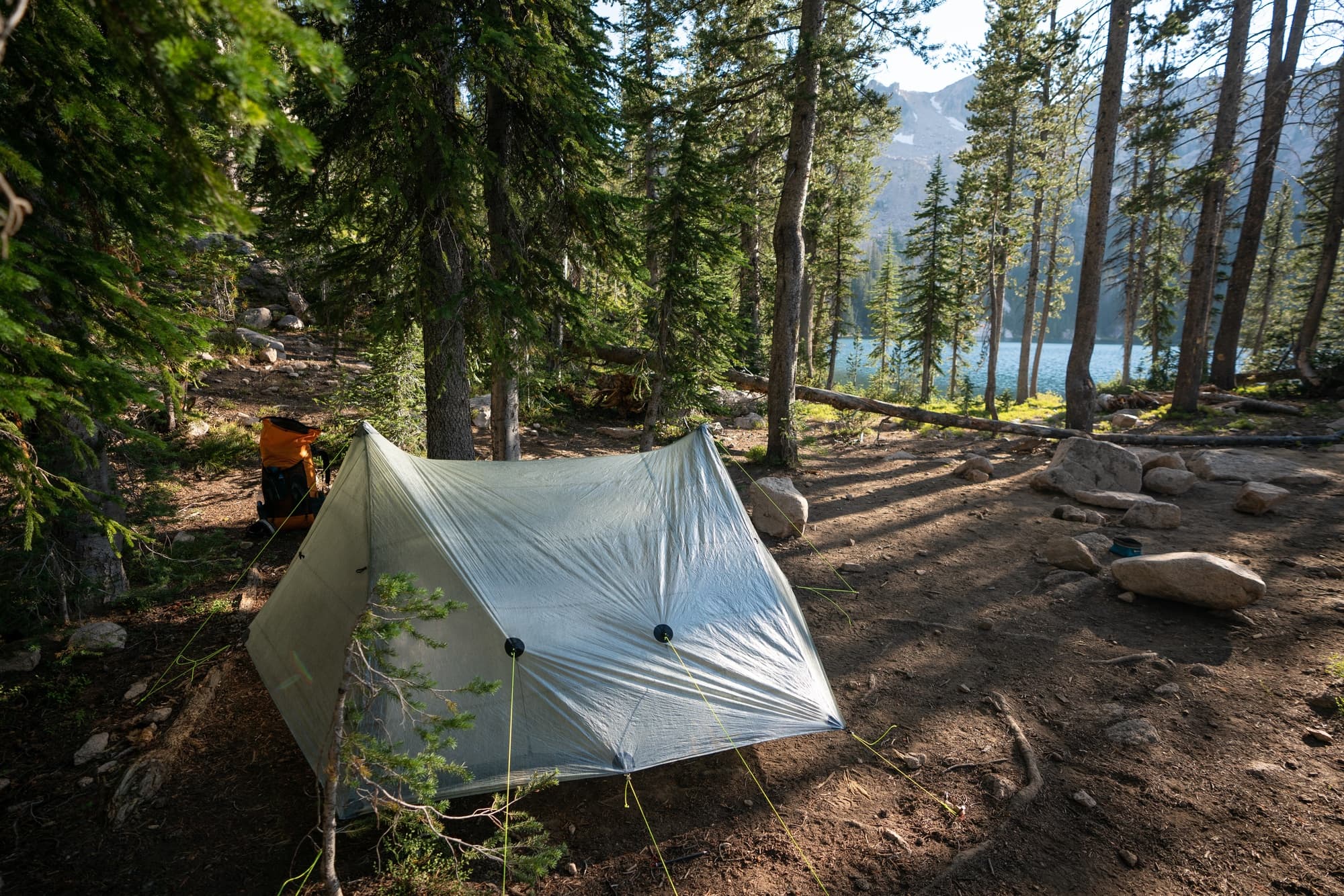 I would have loved to camp on the water's edge, especially for my photos, but with this distance between the campsite and the water, we are protecting this water source.
Learn how to Leave No Trace when you are pooping outdoors.
4. Be Respectful of Others
A general rule is that you should also be at least 200 feet from any trails or other campsites. People don't want to be hiking in the wilderness and come across a community of tents sprawled right on the trail. Plus camping right next to a path can make solo hikers anxious and uncomfortable when passing by (according to Kim, our former community manager, who solo hiked the Pacific Crest Trail).
Whether you are staying at an established campground or looking for dispersed camping, keep in mind other campers are there to enjoy the wilderness, just like you! While it's your own fault if you are camping next to the trail, other hikers don't want to stumble on you going to the bathroom or catch you changing your clothes in the morning because you are in plain view camped next to the trail.
Other campers want to kick back and relax in peace — so also keep music and group noise at a considerate level and think about how close other campsites are to your group. Remember the sound from late night dance parties and drinking games can echo through the entire campground (especially when you are camped near a lake) and leave your neighbors both awake and annoyed. Respect the privacy of those nearby and be thoughtful of an early morning others in the campground might have planned.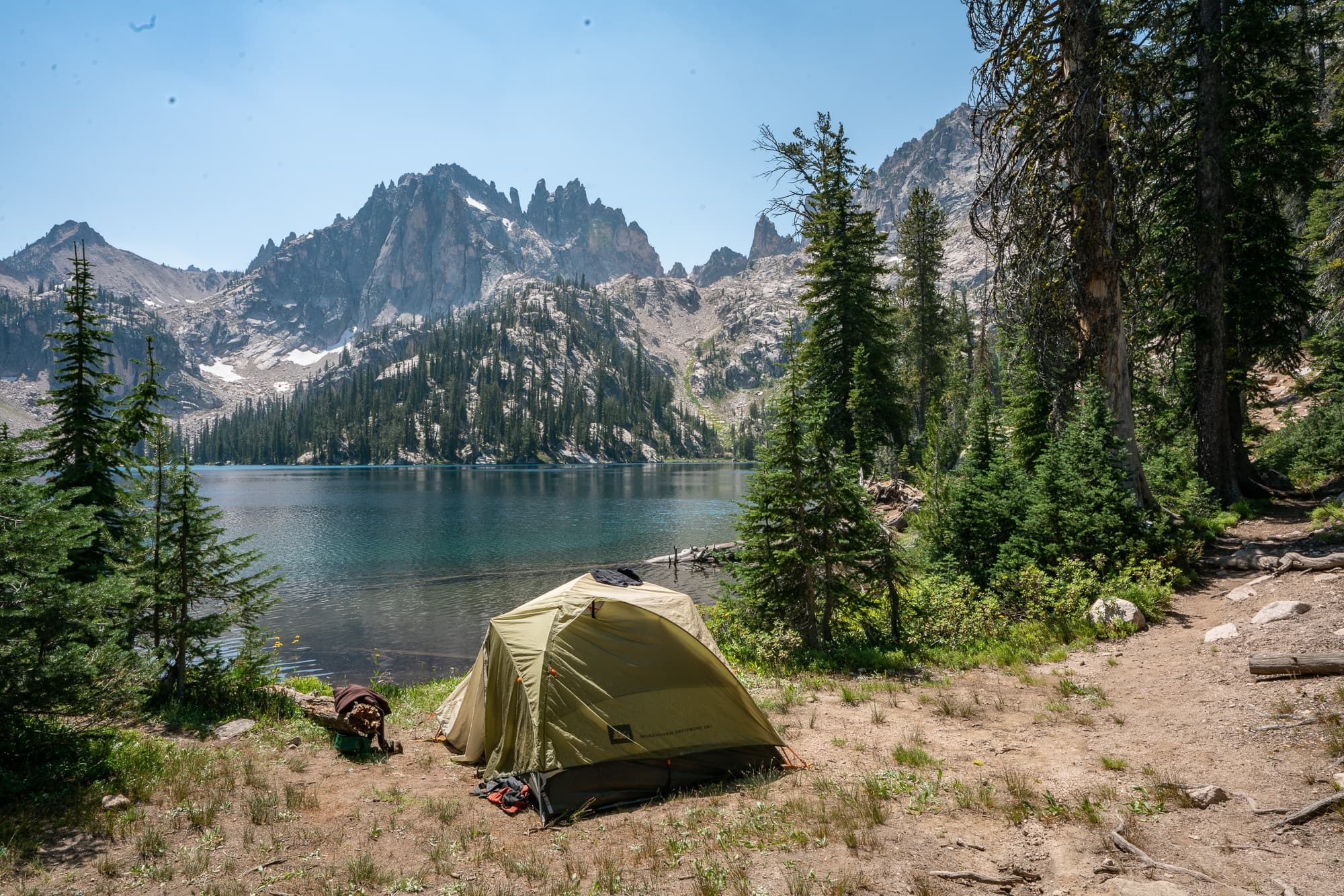 This is an illegal campsite we came across in the Sawtooths (NOT MINE) that was directly on the trail and also inches from the water. This violates several principles of Leave No Trace. More importantly, it violates the regulations listed on the wilderness permit that each group is required to sign and carry that states that you must camp at least 100 feet from the water.
5. Minimize the Impact of Your Campfire & Campsite
If you want to have a campfire, your first step is to make sure they are even allowed. In many wilderness areas or during seasonal fire bans, campfires are illegal, even if they are in an existing fire ring. This goes back to our first point about knowing the regulations. If you find out that campfires are allowed, there are a few things you need to do to make sure you Leave No Trace with your campfire:
Only use existing campfire ring.
Only use wood that you bought or collected legally. Only buy firewood locally since invasive pests can be transported in firewood and always check rules for your campground. Most state and national parks don't allow you to gather firewood, even if it is downed wood. If gathering wood is allowed, only pick up dead and downed logs, and don't cut down or harm living trees, as they are home for birds, insects, and other creatures.
Don't build a fire if it's windy. All it takes is a few hot ashes to blow into some nearby brush.
Keep the size of your fire reasonable. There is no need to have a bonfire when you are backpacking.
Before you go to bed or leave your campsite, make sure your fire is 110% out. The best way to put your fire out and to cool the ashes is to drench it in water. This is easy if you have a Platypus Gravity filter, since you can scoop up lake water and then carry it back to camp.
Peeing on your fire before curling up into your sleeping bag is not an appropriate way to put your fire out.
Don't throw trash in the firepit!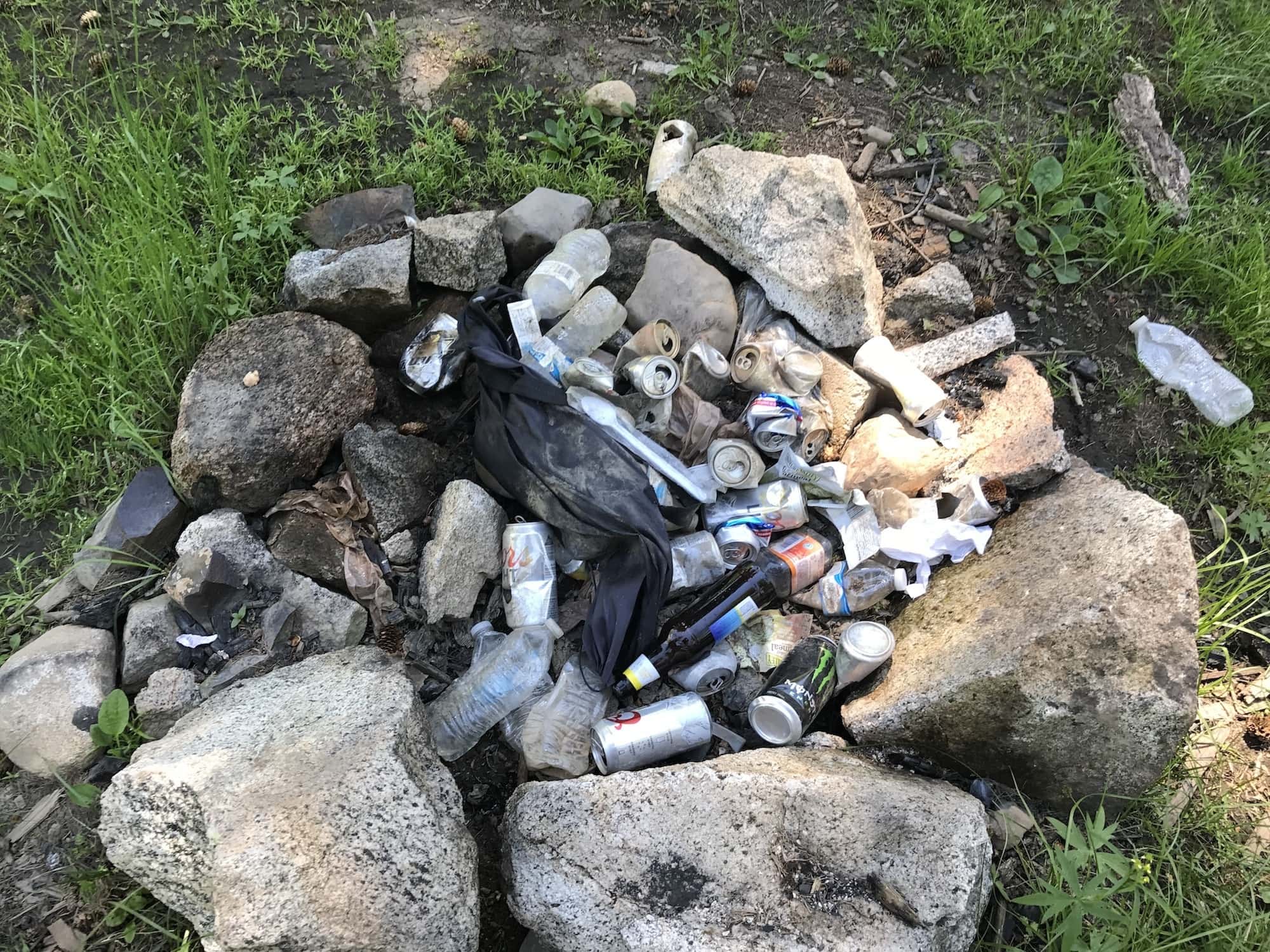 This was a fire ring I came across last summer that was full of trash. Trash doesn't burn and eventually has to be packed out by someone else! Please don't throw your trash in the fire.
Learn about campfires and Leave No Trace
At the end of your visit, leave the campsite better than you found it. Search for cigarette butts, micro-trash, and food particles. Whether they were already there before you arrived or a result of your party, be a good steward and pick it up. Make sure you pack out all of your trash as well as any trash you find. Stay organized at your campsite with a designated receptacle, so your trash is all in one place and easy to dispose of when you get out of the wilderness.
WHAT ARE YOUR TIPS FOR CHOOSING A CAMPSITE THAT LEAVES NO TRACE? LEAVE A COMMENT BELOW!