Best Headlamps for Hiking & Camping in 2023
Find the best headlamp for your next camping and hiking adventure, including key factors to consider when choosing a headlamp.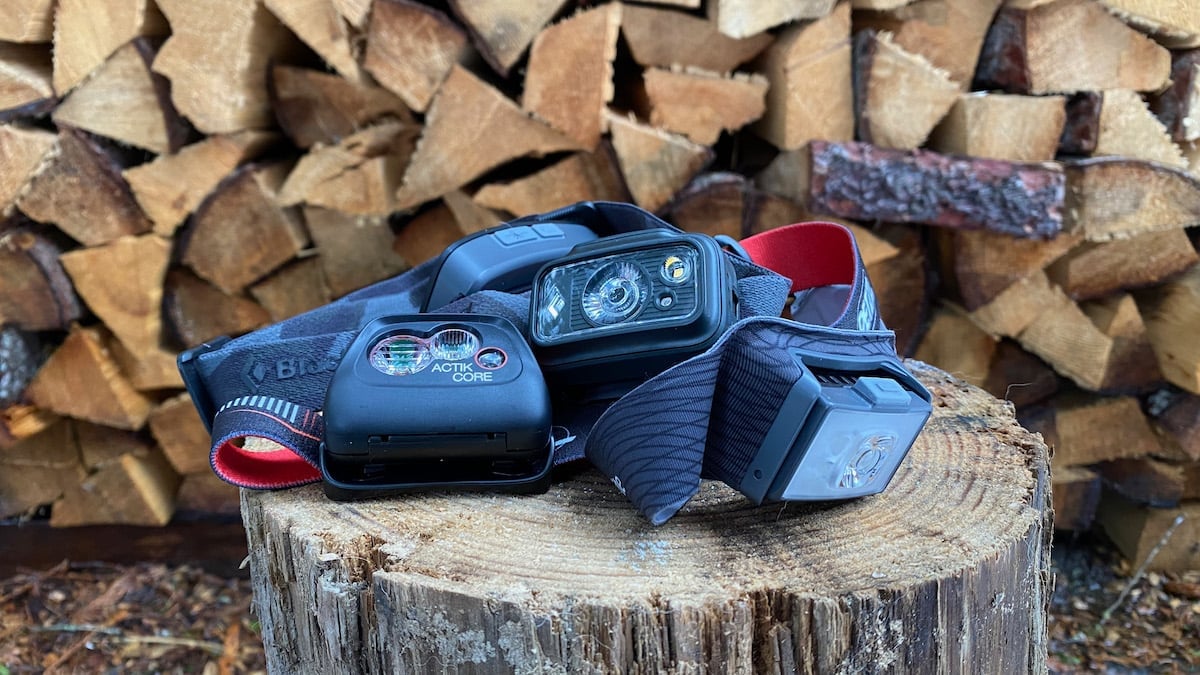 Every outdoor adventurer needs a trustworthy headlamp to light their way. Whether you're going for a short dog walk, an early-morning dawn patrol, an overnight camping trip with friends, or a multi-day backpacking trip, it's important to have a headlamp you can depend on to guide you through.
In this roundup of the best headlamps for hiking and camping, we'll walk you through the key factors to consider when choosing a headlamp – like weight, brightness, batteries, and functionality – and share our favorite hiking headlamp recommendations.
Join our community for access to our free member resources!
Download Handy Outdoor Packing Checklists & Trip Planning Guides
---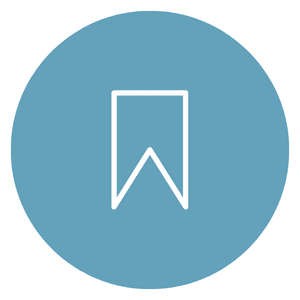 Best Hiking Headlamps at a Glance
---
Black Diamond Spot 400
Best Value Headlamp
What we like: 2 buttons keep it simple & intuitive to switch between features, easily switch to maximum brightness at any time by tapping the right side of the headlamp, low profile minimizes wobbling when active & makes it easy to pack
What we don't like: No USB-rechargeable option means having to keep extra batteries on hand if you're looking for really high brightness
If you want a simple, trustworthy headlamp to light your way, the Black Diamond Spot 400 Headlamp is a great choice. This is the headlamp I choose for almost all of my needs, whether it's setting up camp after dark, stowing it in my bag in case I lose track of time during a day hike, or taking the trash out at night.
This updated version of Spot improves on its old, one-button design that could get confusing when trying to access all the headlamp's features. Now, there are 2 buttons that keep it simple to cycle between features: 3 different beams (high, low, and red), the brighten/dim sequence, strobe mode, lock mode, maximum brightness mode, and remaining battery life. I've found this headlamp pretty simple to use and intuitive to get used to — running through its different modes is a breeze. I also like that it has an integrated battery meter display that shows % of power remaining — no more guessing when it'll run out of power.
This compact and budget-friendly headlamp is water resistant and has everything you'll need for 99% of your outdoor activities. There's a distance beam for active situations, a proximity beam for kicking back around camp or reading, and a red light beam for being discrete. Plus, the features and buttons are straightforward so you won't get frustrated trying to access different features.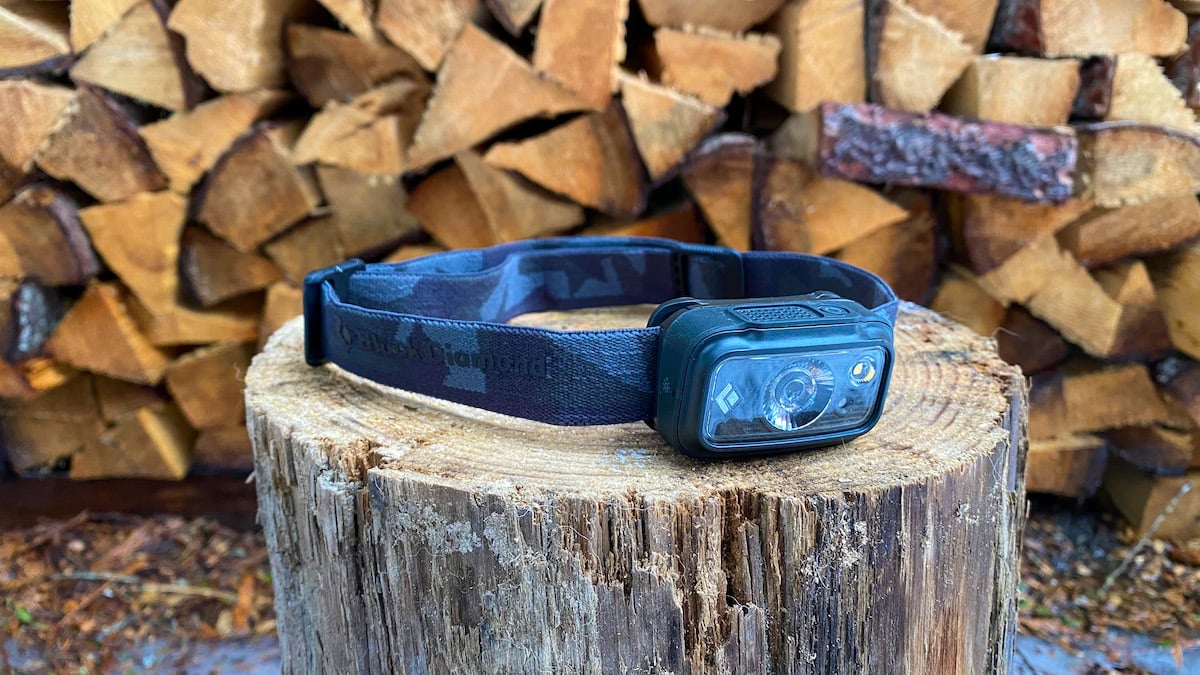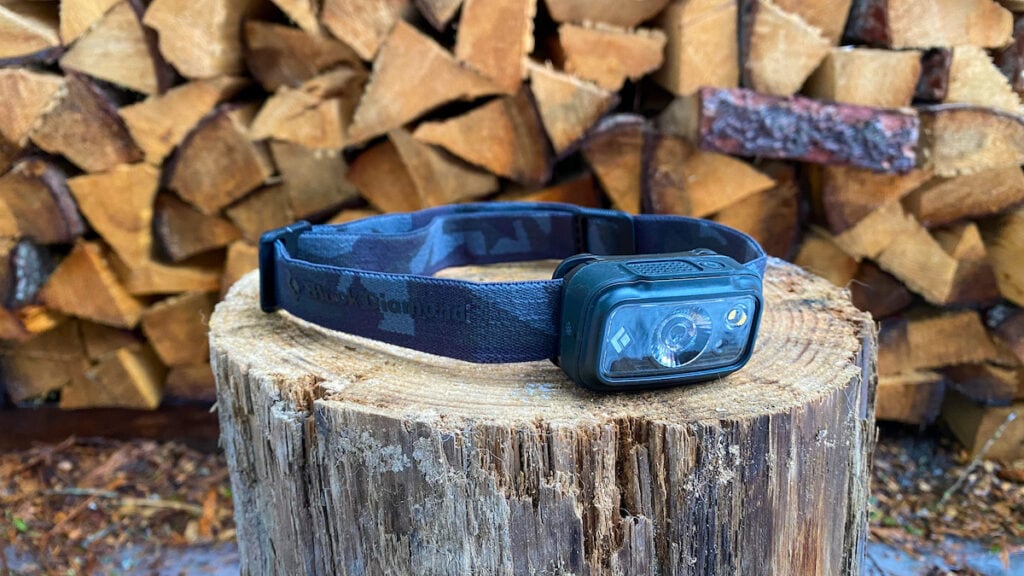 BioLite 325
Most Lightweight Headlamp
What we like: most lightweight option on our list, doesn't require batteries, extremely comfortable to wear (great for trail runners or night hikers wearing a headlamp for extended periods of time)
What we don't like: elasticity of headband wears out over time (might need to tighten more often)
The BioLite 325 is the headlamp BFT Founder Kristen uses for hiking, backpacking, and van life. It's the most lightweight headlamp on our list and it's incredibly comfortable to wear. Unlike other headlamps that have a bulky pack at the center of your forehead, the BioLite 325 fits almost flesh to your head, which means no bounce if you're trail running. You can wear this headlamp for hours and barely notice it!
The BioLite 325 is USB-rechargeable which means you don't have to carry any batteries. Kristen has used this headlamp on weekend backpacking trips without needing to recharge, primarily keeping it on the "low" setting to preserve battery life. While not the brightest headlamp on the market, it's perfect for most adventures.
Petzl Tikkina
Best Budget Headlamp
What we like: the most budget-friendly option on our list, straightforward to use
What we don't like: no red or strobe light option, no locking mechanism
If you are looking for a budget-friendly, no-frills headlamp, the Petzl Tikkina is a great option for under $25. It's perfect for setting up camp in the dark, keeping in your day pack in case of emergencies, and almost any outdoor adventure. There is one center button that's easy to find and easy to use, although there is no locking mode to ensure you don't accidentally turn on your headlamp and drain the batteries. The Tikkina can be used with Petzl's CORE rechargeable battery, but you must buy it separately, unlike the Petzl Actik below. Otherwise, pop 3 AAA batteries into this headlamp and you're ready to go.
The downside of the Tikkina is that it doesn't have a red light mode, which is convenient at night for not blinding your campmates and being easier on the eyes than white LED.
Petzl Actik Core
Best Rechargeable Headlamp
What we like: Can use the rechargeable battery or AAA batteries (which gives you the best of both worlds), one button that cycles between brightness settings keeps it simple
What we don't like: No dimming feature between the 3 brightness modes, not as water resistant as other headlamp models
There's a lot of buzz for the Petzl Actik Core Headlamp for a reason: this rechargeable headlamp packs many features into a lightweight, easy-to-use package that's a great fit for most outdoor activities. The best thing about this headlamp is its ability to use its USB-rechargeable lithium-ion battery OR 3 AAA batteries. The convenience of recharging the headlamp at home but being able to pack spare batteries for the field is genius. I've been meaning to upgrade to a rechargeable headlamp for a long, long time, and after testing out the Petzl Actik Core, I'm disappointed I didn't do it sooner.
This headlamp's interface is dead simple: just press a button to cycle between the three brightnesses of white light and the red light. It also has a lock mode, strobe mode, reserve mode, and is water resistant. Despite having a rechargeable battery, the headlamp is still super light and has a low profile, and I gladly noticed it doesn't bounce around when hiking or running, which is a very important factor to keep in mind
Overall, this is a lightweight headlamp with features you'll actually use and a rechargeable battery, all for a relatively modest price.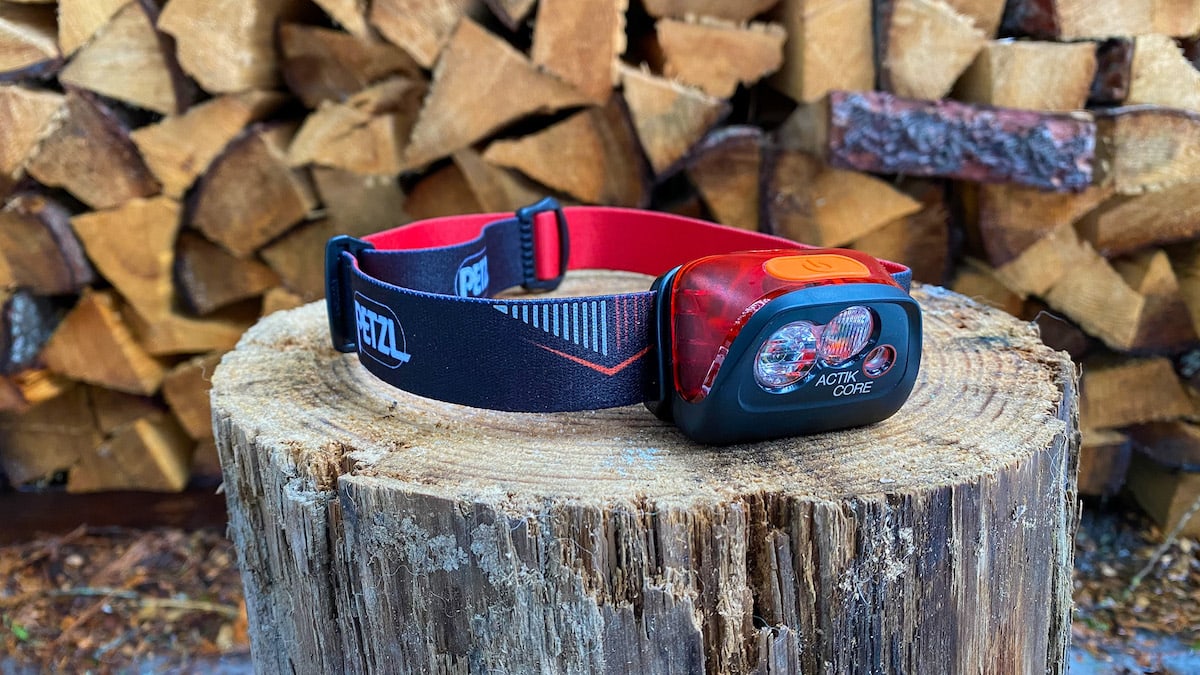 BioLite 800 Pro
Brightest Hiking Headlamp
What we like: Includes all the features you'll need (high brightness, rear lighting, rechargeable, multiple lighting modes), long beam distance is helpful for non-hiking outdoor sports like trail running, skiing, biking, or climbing.
What we don't like: More features make for a steeper learning curve when first using the headlamp, the size/weight may be overkill for quick, light-and-fast objectives, higher cost if you don't use the extra features
If you're looking for the brightest headlamp for hiking with all the bells and whistles, this is the headlamp for you. A step up from the other headlamps in this guide, the BioLite Headlamp 800 packs a serious punch.
While more features usually make a headlamp less intuitive to use, BioLite somehow manages to keep it simple by making standard uses somewhat easy — just tap the power button to scroll through its light modes: red, spot, flood, combo, strobe, and off. There's also a rear red light (that can also strobe) that's controlled by a button in the back. A rear light is great for trail races, biking, and other outdoor activities where people may be approaching you from behind.
Despite its functionality and weight, I found it to be pretty comfortable. While it's double the weight of other headlamps in this list, its moisture-wicking sweatband and battery-in-the-back design allow runners to use it despite its full-featured package. It's also water resistant and has a battery level indicator. Overall, this light is a bit overkill for most of my everyday outdoor activities, and I can't quite justify its bigger size in my pack if I'm only packing it as a just-in-case item in my day hiking pack. But if I'm on a technical dawn patrol or am hiking in a remote area, you better believe I'm going to appreciate all those extra lumens.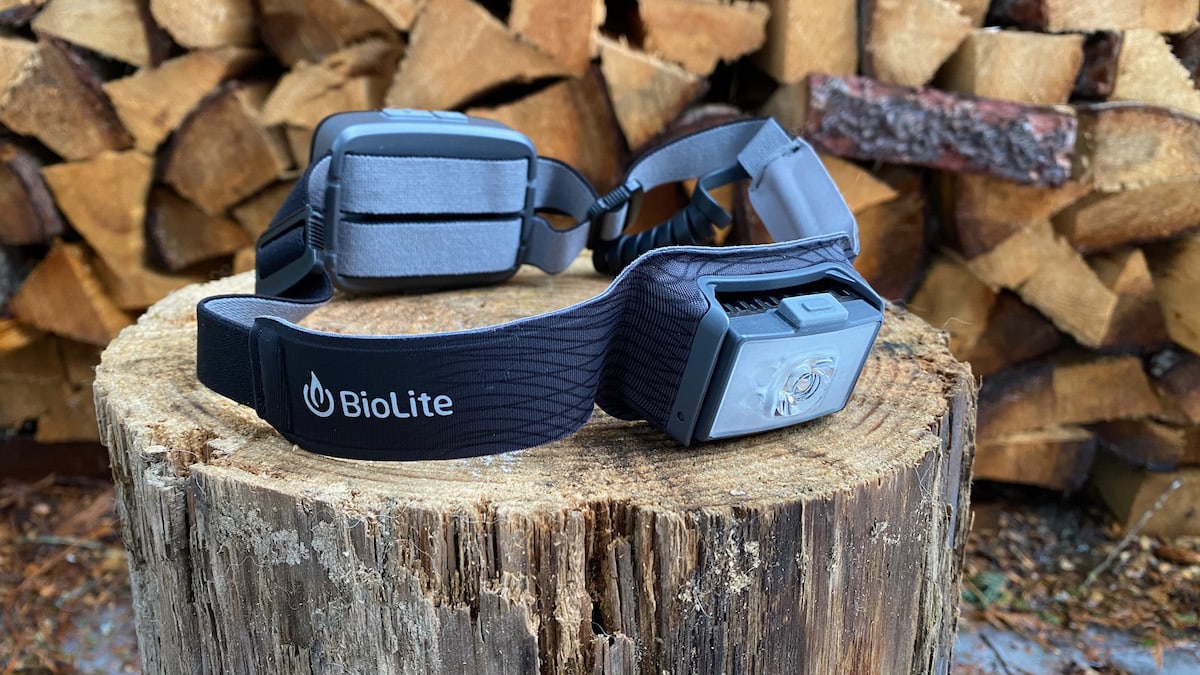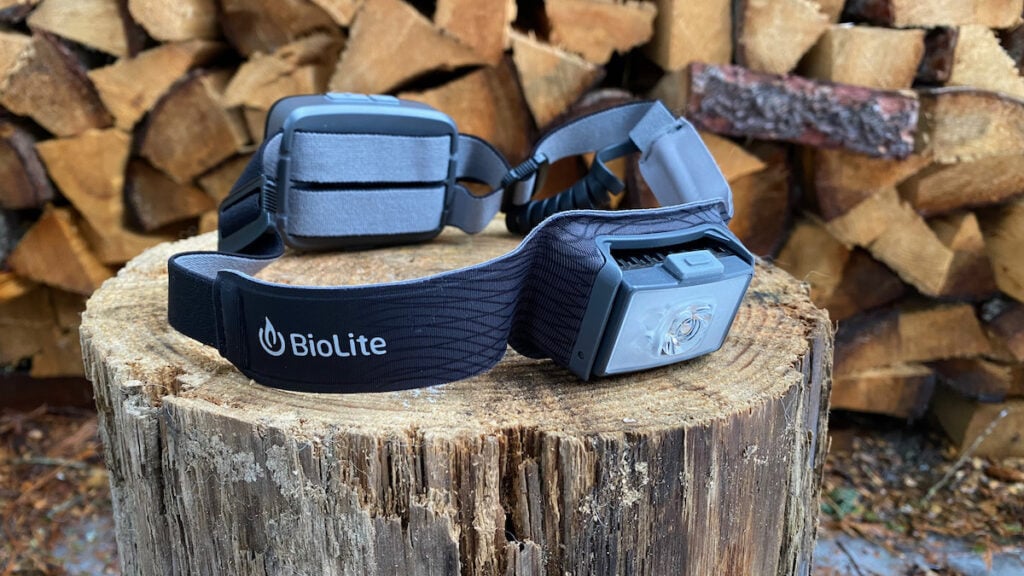 Black Diamond Storm 500-R Headlamp
Best Hiking Headlamp for Rainy Weather
What we like: 5 different light settings (white, red, blue, green, strobe), great battery life, holds up best in windy and wet conditions vs. other headlamps on our list
What we don't like: there is a small learning curve with more features and modes, overkill for most average outdoorsy adventurers
If you're looking for a technical headlamp with a lot of features and modes, the Black Diamond Storm 500 is our top pick. With 5 different light settings (white, red, blue, green, and strobe), you have a lot of functionality and versatility. It has an impressive range which is great for low visibility conditions such as wind or rain, and it's also waterproof up to 1 meter for 30 minutes.
The Storm 500 is on the heavier side for headlamps, but it's a solid choice for adventurers who want a robust headlamp that you can take on any adventure.
---
Recommended Hiking Packing List
Below are a few of my favorite pieces of day hiking gear and recommendations:
---
How to Choose the Best Headlamp
Choosing the right headlamp for you means understanding what qualities and functionalities are most important for your needs.
Lumens
A headlamp's brightness is one of the most important factors to consider when selecting a headlamp. Lumens are a unit of measurement for how bright your headlamp is — the higher the number, the brighter the headlamp. Headlamp lumens usually range from 100 lumens for dim headlamps to 1,000 lumens for super-bright headlamps.
As a general guideline, a maximum brightness of 450 lumens is considered bright enough for nearly all hiking situations, and I've found that going above 450 lumens begins to have diminishing returns on function versus weight and price. You likely won't need a headlamp with 600+ lumens for most hiking scenarios, but you'll want to consider it for dawn-patrol skiing, rock climbing, night-time wildlife watching, or finding a trail marker in an unknown or rugged area.
I usually stick with 450 lumens myself, but I've definitely appreciated higher-lumen headlamps in technical terrain or for more confidence when I hear a twig snap in the dark while night hiking (let's admit it, we've all been scared of the dark at some point).
Battery
It goes without saying that a headlamp is only as good as the batteries that power it. When selecting a headlamp, you'll need to decide between a USB-rechargeable headlamp and disposable AAA batteries.
USB-rechargeable headlamps are convenient because they're easy to recharge at home or on the trail, but they're more expensive. One benefit of a headlamp with disposable batteries is that you don't have to wait to recharge it — just pop in some new batteries and continue onward.
Always be sure to carry an extra set of batteries as a backup so that you don't get stuck in the dark when your batteries die. Even better, carry an extra headlamp as a backup instead — since most of the weight of a headlamp is in the batteries, packing an extra headlamp doesn't take up much more room or weight and brings peace of mind if your main headlamp breaks.
I ironically forgot the important rule about packing extra batteries while testing these headlamps earlier this winter at Curecanti National Wildlife Refuge. I was a few hundred yards from my camp when my headlamp died in the darkness of a new moon, and I was very grateful to have an extra headlamp to light the way back in an unfamiliar area.
Weight
You know the common backpacking credo: pay attention to the ounces, and the pounds take care of themselves. It's important to keep your headlamp as lightweight as possible, and there's a definite trade-off between its weight and its features.
Most camping headlamps weigh only a few ounces, but you'll notice the difference between a heavy and light headlamp once it's strapped to your head. Heavier headlamps have more bounce when you move, which is annoying on the trail. Plus, many hikers try to mitigate bounce by tightening the headlamp strap, which can lead to headaches over time. That's ain't fun! I personally don't have any tolerance for a headlamp that bounces, so I'm always keen to test out how it feels on my head in the store before buying.
Most hiking headlamps are relatively lightweight, but it's important to consider if you can get by with a lighter headlamp when you can.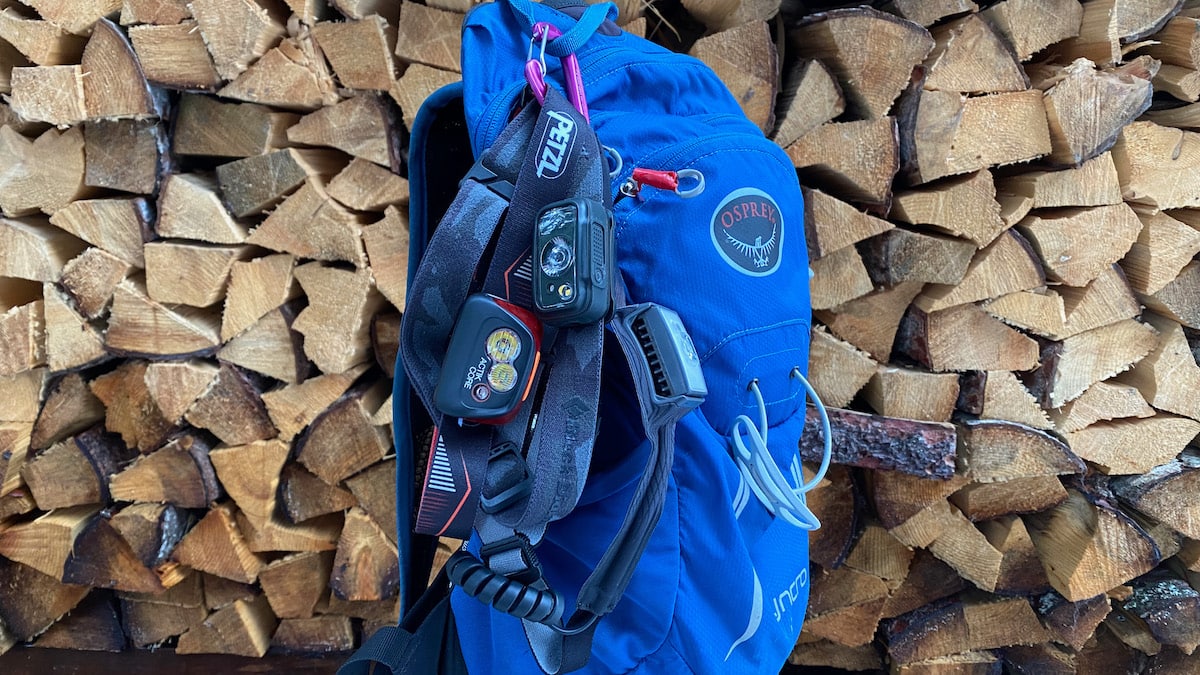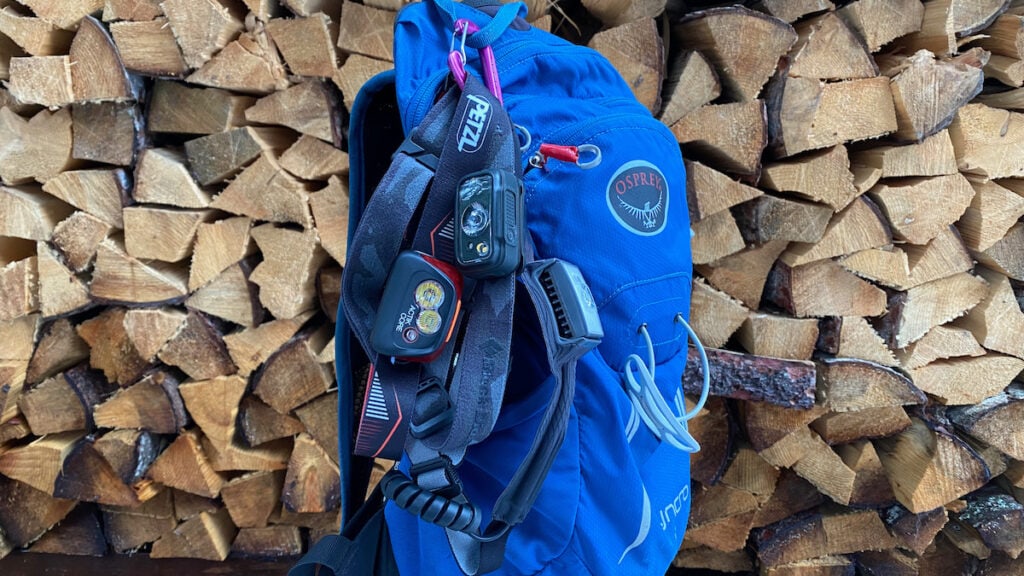 Features
Backpacking headlamps have come a long way from a simple on/off switch with a standard brightness setting. Here are some other features you'll want to look for when selecting the perfect headlamp.
Lock Mode: Most modern headlamps come with a lock mode, which will keep the headlamp from accidentally turning on in your pack and draining the battery. Speaking from personal experience, this is a major selling point when it comes to picking out a headlamp. This is great not only for when you're traveling on a longer trip but even when stored at home so you don't find yourself with a dead battery after driving to a local trailhead.
Red Light Mode: Headlamps with a low red light help keep your night vision intact when you don't need much brightness. I've found this to be especially great at not irritating my tent partner when nature calls in the middle of the night.
Strobe Mode: This is mostly used to get someone's attention during an emergency situation. Some bikers will wear a strobing headlamp backward (in addition to a front-facing headlamp) to increase their visibility to passing cars. Some campers will also use them for a quick campsite dance party.
Reserve Mode: When your battery is getting low, the reserve mode will automatically kick in a dim, low-light setting to help you get back to the trailhead. This is a lot safer and more convenient than your headlamp abruptly dying and leaving you without a light.
What headlamps have you found to be the best for hiking and camping? Did we leave out your favorite? Let us know in the comments below!