3-Day Backpacking Checklist (2023)
This complete backpacking checklist includes all the lightweight gear you'll need when packing for an overnight trip in the backcountry.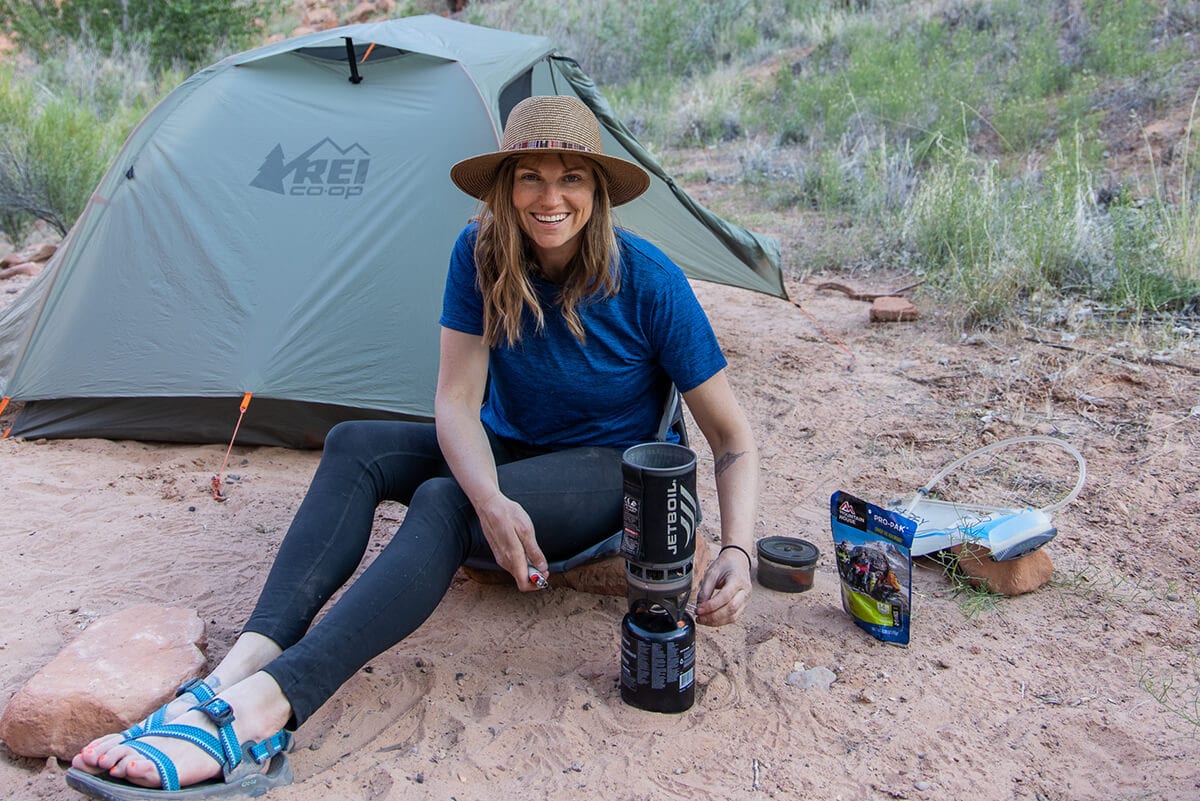 If it's your first time backpacking or if you're wanting to get your backpacking gear dialed for your next trip, you've come to the right place. This 3-day backpacking checklist (tailored for women) covers all the basic essentials you'll need to be comfortable on a weekend-long backpacking trip – nothi202ng more, nothing less. I encourage you to adjust based on your own needs – but I also encourage you to try and stick to the essentials. You may be surprised at how little you need.
Start planning your next backpacking trip and make sure you have everything you need with this 3-day backpacking checklist.
Backpacking Checklist Essentials: The Big Gear Items
These are the essential pieces of gear that should always be on your backpacking checklist for every single trip you plan.
Backpacking Pack
I've tried many backpacking backpacks, and funny enough, the least expensive one I've owned has also been my favorite. At 4 lbs. 8.7 oz., the Deuter Aircontact Core 60 + 10 SL Women's Pack isn't super lightweight, but it still weighs nearly 2 pounds less than my old Gregory backpack and it seamlessly molds to my body. Deuter's Aircontact series packs can adjust for a variety of torso lengths and also comes in a men's model. The 60 +10 SL pack is plenty big for a multi-day trip, in fact, this is the pack I took on my 22-day John Muir Trail hike, a 10-day backpacking trip in Alaska, and my Trans Catalina Trail backpacking trip. For a weekend backpacking trip, you could also get away with the smaller 45 + 10 SL version, but a smaller pack size won't be as versatile.
Check Price: REI | Backcountry
Backpacking Tent
The REI Quarter Dome SL 2 backpacking tent is a great lightweight option, especially for the price. In some cases, it's hundreds of dollars cheaper than its competitors while coming in very close in weight. It has two large doors and vestibules so you and your tent partner can easily get in and out and have your own space to stash your gear – something I consider essential for a two-person backpacking tent. It's spacious for a tent this lightweight and has handy features like interior organization pockets and vents to allow for airflow even with the fly on. If you'd like more details, you can read my complete review of this tent here. This tent comes in a 1-person version as well in case you're camping solo and want to go as small and lightweight as possible.
Check Price: REI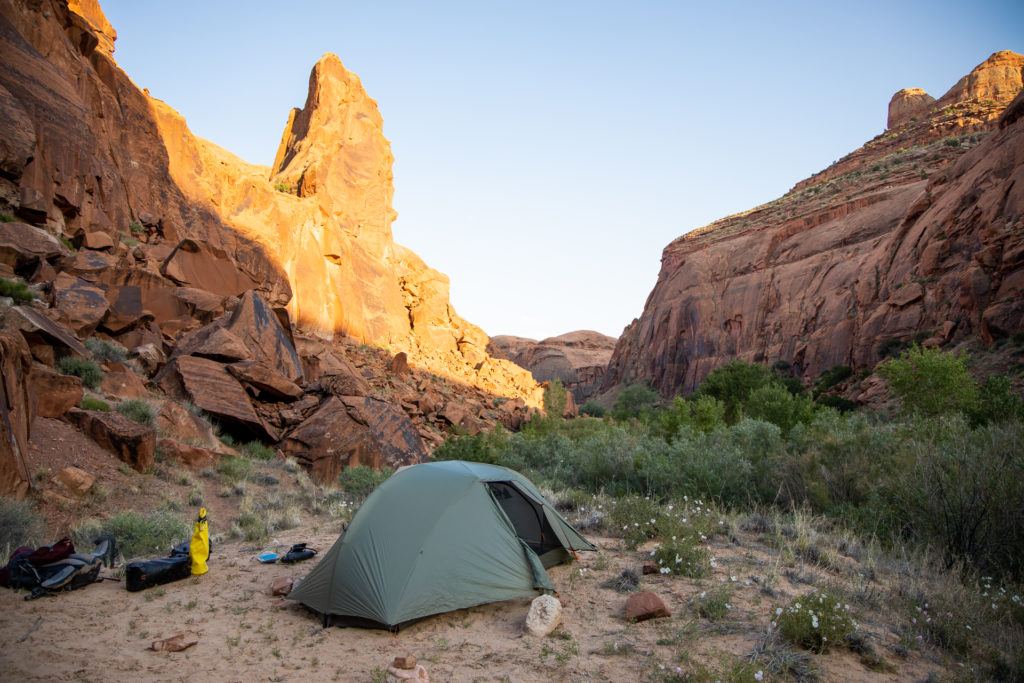 Sleeping Pad
I currently use the women's Sea to Summit Comfort Lite Sleeping Pad and love it. It's lightweight, packs up small, and still manages to be warm and comfortable. It's also easy to inflate and comes with a pump integrated into the stuff sack, and it's made out of durable ripstop nylon. There's a unisex version too in case you want something a little bigger.
Check Price: REI | Backcountry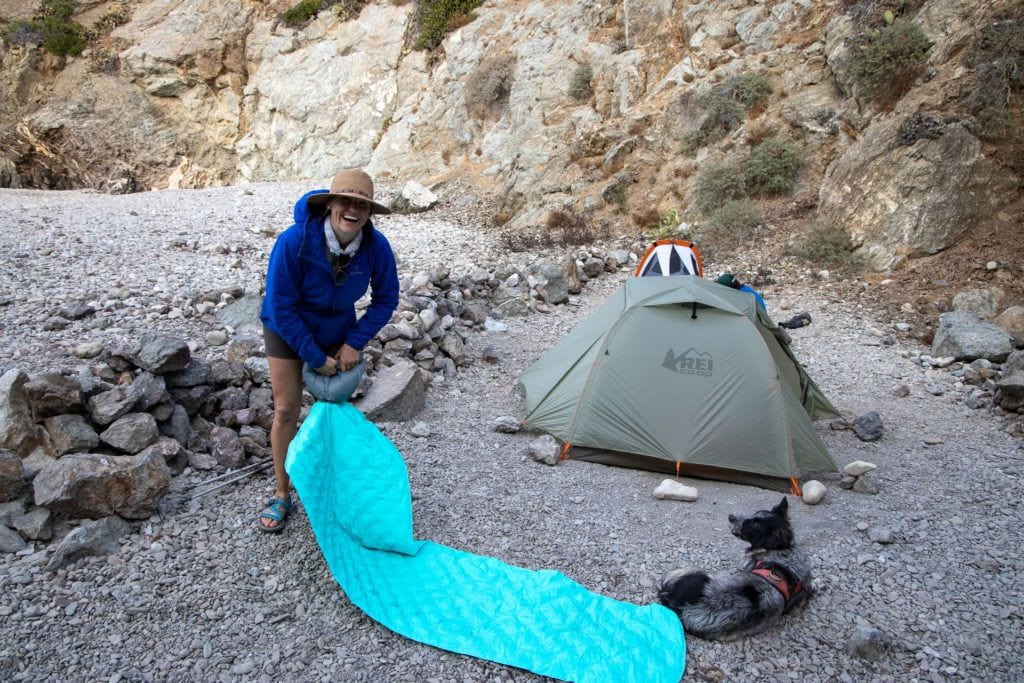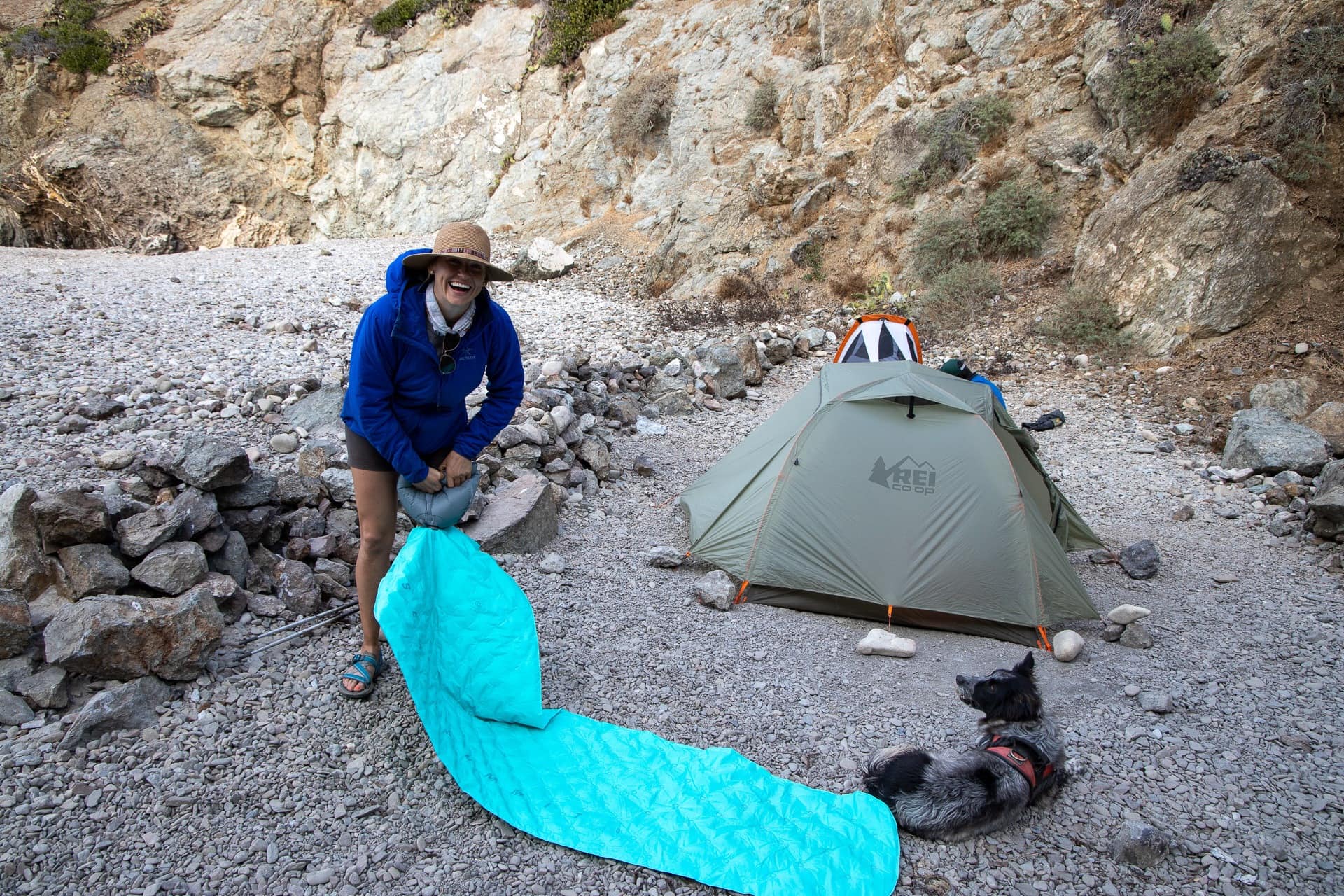 Sleeping Bag
The sleeping bag I took on the John Muir Trail and many other backpacking trips, the REI Joule, has been discontinued, but REI's new Magma sleeping bag looks like a great replacement. It's lightweight and at just over 2 pounds, it offers an amazing warmth to weight ratio. Made with water repellent RDS certified and bluesign approved down, it's a great option for cold, damp conditions, yet still breathable in warmer temps.
If you're backpacking with your partner and prefer to cuddle, check out our post on the best double sleeping bags for backpacking.
Check Price: REI
Trekking Poles
On those uphill climbs, trekking poles help take some of the weight off your hips and legs by utilizing your arm strength. On the downhill, they help ease the pressure on your knees. And on those stream crossings, these puppies have saved me more times than I can count by helping me balance. The Black Diamond Distance Carbon Z Trekking Poles are Black Diamond's lightest foldable poles made of carbon fiber and come in 4 sizes to meet your height.
Check Price: REI | Backcountry
Headlamp
The BioLite Headlamp 330 is my new go-to headlamp for backpacking. It's ultralight, low profile, and very bright with four lighting modes including red light so you won't blind your basecamp buddies or compromise your night vision. I also love that it's battery-free and USB chargeable (just be sure to charge before you head out!).
Check Price: REI | Backcountry | Biolite
Read Next: Best Headlamps
Emergency Communication Device
I like to carry a tracking device with me that I can use to send a help signal in case of an emergency. The Garmin inReach Mini 2 allows for two-way custom texting and also has GPS that you can use for navigating. The Mini is much smaller and lighter than the regular Garmin inReach so I prefer it for hiking and backpacking when every ounce matters.
Check Price: REI | Backcountry
First Aid Kit
You should always have a first aid kit when you are hiking in the backcountry. This ultralight, waterproof medical kit comes with the minimum supplies that you will need to address minor wounds, as well as travel-sized packs of some handy medications. In addition to what comes in this kit, you should supplement it with some extra blister band-aids and any medications that are specific to the hikers in your group.
Check Price: REI | Backcountry
---
Backpacking Kitchen Gear
Next on our backpacking checklist is your camp kitchen gear. I tend to keep my cooking setup simple when backpacking. I mainly boil water for coffee or tea and oats in the morning and for backpacking meals in the evening.
Backpacking Stove & Fuel
The Jetboil Flash Cooking System is the most efficient backpacking stove I've found, especially if you are only boiling water. Together, the stove and pot only weigh 13.1 oz. For a 3-day trip, one 230-gram fuel canister should be enough if you are using your stove for coffee, breakfast, and dinner.
Check Price: REI | Backcountry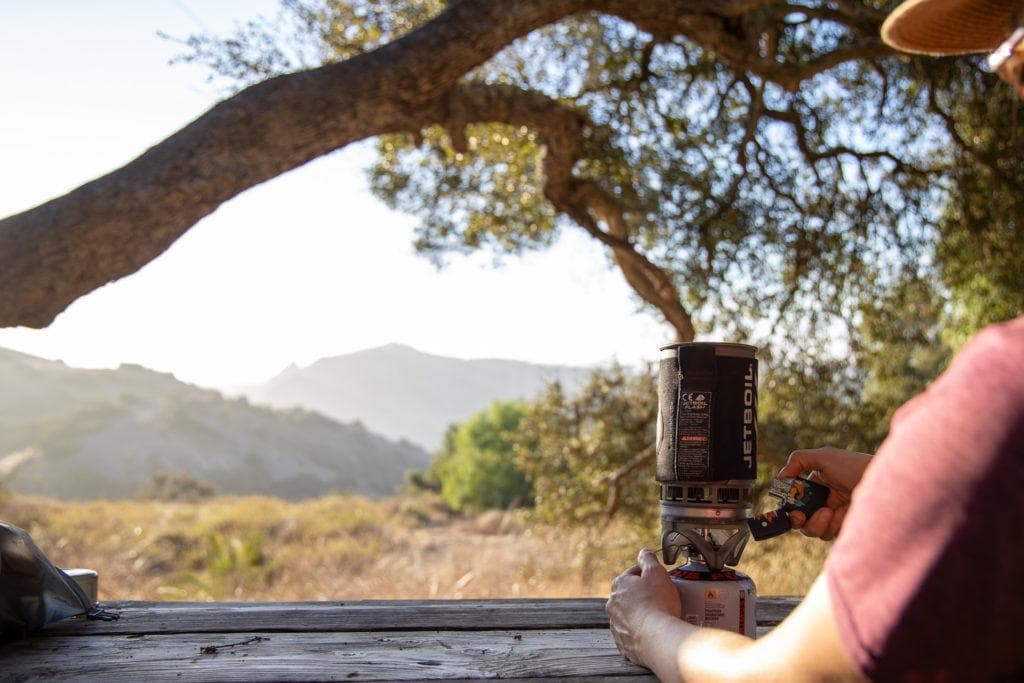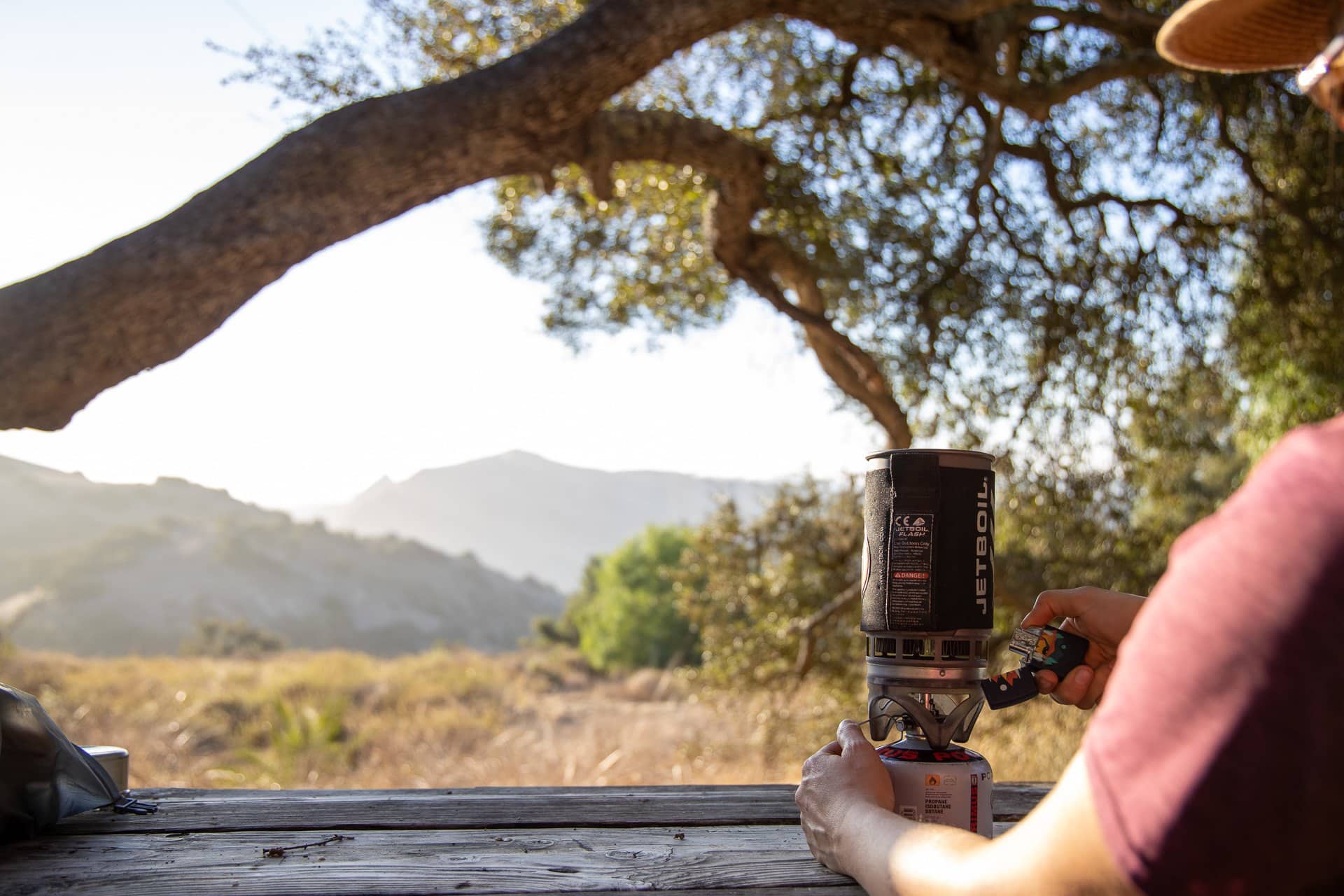 Water Bottles or Hydration Reservoir
I prefer these lightweight Platypus Soft Bottles that can be rolled up when they are empty compared to a hard water bottle like a Nalgene for backpacking. Depending on water availability, I will bring up to three of these on my backpacking trips. I also tend to use these instead of a hydration pack since it can be a pain to pull out of my backpacking pack each time it needs to be refilled. But if you like to backpack with a hydration reservoir for easy water access while you hike, the Osprey Hydraulics Reservoir is one of my favorites.
Check Price: REI
Backpacking Water Filter
The Platypus GravityWorks Water Filter System is absolutely the easiest way to filter your water in the backcountry in my opinion. This system relies on gravity to push water through, eliminating the need to pump by hand or manually squeeze water through a filter – meaning you can save your energy for the hike. At 11.5 ounces you will barely notice this thing in your bag, and what's really cool is you can connect the hose directly to your water bottle or any standard hydration reservoir. For more details on how it works, read my complete review here. I'll also mention that it's always good to carry a backup in case your water filter fails. These Katadyn Micropur Purification Tablets are great because they are super small and you can just throw a few in your first aid kit.
Check Price: Platypus | REI | Backcountry
Lightweight Camping Mug
You'll need something for that morning coffee and evening tea. The GSI Outdoors Infinity Backpacker Mug is lightweight and will keep your beverage warm in the coldest of conditions with its insulated wrap and sip lid.
Check Price: REI | Backcountry
Eating Utensil
A girl's gotta eat. Ramen, backpacker meals, oatmeal. This Snow Peak Titanium Spork is the only utensil you need, and it weighs shockingly little at less than 1 ounce! It also has a long handle and can easily reach the bottom of that Mountain House bag.
Check Price: REI | Backcountry
Knife
Some people like to carry a multi-tool, but personally I've always been able to get by with a simple, small knife. This Gerber Mini Paraframe Knife can cut paracord or be used to prepare food and only weighs 1.4 ounces.
Check Price: REI
Bear Canister
You may or may not need a bear canister depending on where you are hiking. They are required by law in California's Sierra Nevada Mountains, spots in Alaska, Washington, Idaho, Wyoming, and more. In some places, they may be available for rent but be sure to check before heading out. If you are on a short trip and only carrying food for yourself, the Bear Vault 450 is a good inexpensive option. Or for a duo or longer trips, go for the larger version.
Check Price: REI | Backcountry
---
Backpacking Toiletries
My beauty routine while backpacking is pretty limited and is focused purely on hygiene, and that's reflected in this backpacking checklist. No deodorant, no makeup, no hairbrush, etc.
Lip Balm
The mountains can suck the moisture right out of those beautiful lips leaving them cracked and dry. Plus, your lips are just as vulnerable to sunburn as your face, so SPF is key. Sun Bum Mineral SPF 30 has natural, organic ingredients and will keep your lips hydrated and protected.
Check Price: REI
Sunscreen
At high elevations, you can burn way quicker than you think, and all those hours hiking in the sun add up. This Sun Bum sunscreen comes in a small tube, is water-resistant, and provides SPF 50.
Check Price: REI
Toothpaste & Toothbrush
It's all about those travel-size toiletries when backpacking. This Dr. Bronner's Travel Toothpaste comes in a 1 oz size and is all-natural, fair trade certified, and the packaging is completely recyclable.
Check Price: Amazon
Poop Kit – Trowel, Toilet Paper, & Ziploc Bag
In order to comply with Leave No Trace, when you go #2, you need to dig a cathole that is at least 6-8 inches deep. You may think "I don't need a shovel…I'll just use a rock." I've made that mistake myself only to find that sometimes the dirt is super hard, you can't dig a hole, and then panic ensues. This GSI Outdoors Cathole Sanitation Trowel is so cheap and light that there is no excuse to not bring it with you. Also, when you go #2, you need to pack out your dirty toilet paper in order to maintain campsite and trail conditions for future campers. There's nothing grosser than finding a bunch of used dirty TP when you're camping. I like to bring a ziploc bag for my TP and then I store that in a small (not-see-through) stuff sack.
Check Price: REI
Pee Rag
While this might sound strange to you at first, bringing a pee rag on your backpacking trip, like this specially made, antimicrobial Kula Cloth, is super helpful. Instead of having to wipe with TP each time and pack it into your zip lock bag, and instead of not wiping at all which can result in odors and discomfort, just wipe with this reusable cloth! When going to the bathroom, I drip dry and then pat myself off with this in order to keep my lady parts clean. Then I use my water bottle to rinse off the towel 200 feet from any water sources (as recommended by Leave No Trace) and hang it from my pack to dry.
Check Price: REI
Wet Wipes
For a shorter trip you might be able to get away without these, especially if you're using the pee rag method and you want to save weight in your pack. However, if you want a little refresh, these Sea to Summit Wilderness Wipes are soft and gentle on both your skin and the environment. They're unscented (better for not attracting wildlife) and even come in an extra-large size in case you want to wipe your whole body down after a hot sweaty day on the trail. Be sure to pack them out in your ziplock trash baggie to dispose of them properly.
Check Price: REI | Backcountry
---
Backpacking Clothing
How much clothing should be on your backpacking checklist? The absolute minimum you need to be comfortable. You'll appreciate it when you start to feel the weight of your pack after a couple hours of hiking. You really only need 1 hiking outfit and 1 set of dry, warm clothes to change into when you get to camp and for sleeping. The only thing I bring extra of is underwear and socks and maybe an extra shirt I can swap out depending on how many days I'm backpacking.
Pro tip: Avoid cotton which retains moisture, takes a long time to dry, and tends to harbor smells. Instead, opt for quick-dry materials that wick sweat and resist odors.
Insulated Jacket
A lightweight, packable, insulated jacket is key for when the temps drop in the evenings, whether natural down or synthetic. I prefer something with a hood so I can keep my head warm when its windy or extra cold, so I pack my Arc'teryx LT Atom Hoody.
Rain Jacket
Check the weather before you set out. Even if it's looking like nothing but sun, I like to bring a lightweight rain jacket and the Arc'teryx Beta AR Rain Jacket is my top pick. It is definitely pricey (catch it on sale!) but once you invest in a piece like this, you'll have it forever, and it's the rain jacket I wore on a backpacking trip in Alaska where it rained nearly every day. For a more budget-friendly option, check out the REI Co-op Ranier Rain Jacket – it's what BFT's Director of Operations currently uses and loves. If there is any chance of showers, I throw in a pair of rain pants too.
Check Price: REI
Top Base Layer
A warm, wool base layer is handy for changing into when you're ready to get out of your sweaty hiking clothes and get warm at camp. It can be cozy to sleep in too. I like the Icebreaker 200 Oasis Half Zip because it's super soft, odor-resistant, and because Icebreaker has strong animal welfare standards.
Check Price: REI | Backcountry
Hiking Pants
I prefer to backpack in leggings (if it's too cool for shorts that is). The lululemon Invigorate HR Tight have been my go-to leggings this season because they are comfy for hiking and can double as pajamas or comfy pants at camp. Another bonus of these is that they have a decent-sized stretchy pocket on each leg that is big enough for your phone. These leggings are thick so I'm not too worried about snags and the top doesn't roll down when hiking.
Check Price: lululemon
Moisture Wicking T-Shirt
I always hike in a non-cotton, quick-dry, moisture-wicking t-shirt, and most often it's the Patagonia Cool Capilene T-Shirt. As I get older, I prefer the long-sleeve version because it provides more protection from the sun. This shirt in particular is lightweight, so even with the long sleeves, I stay nice and cool.
Check Price: REI | Backcountry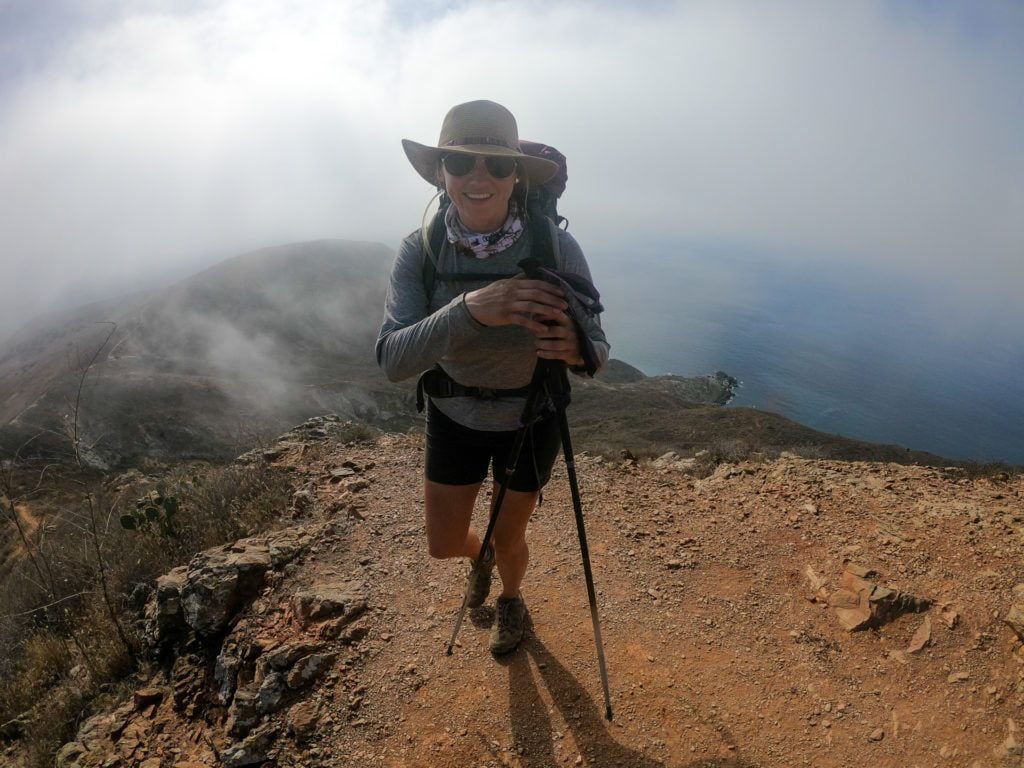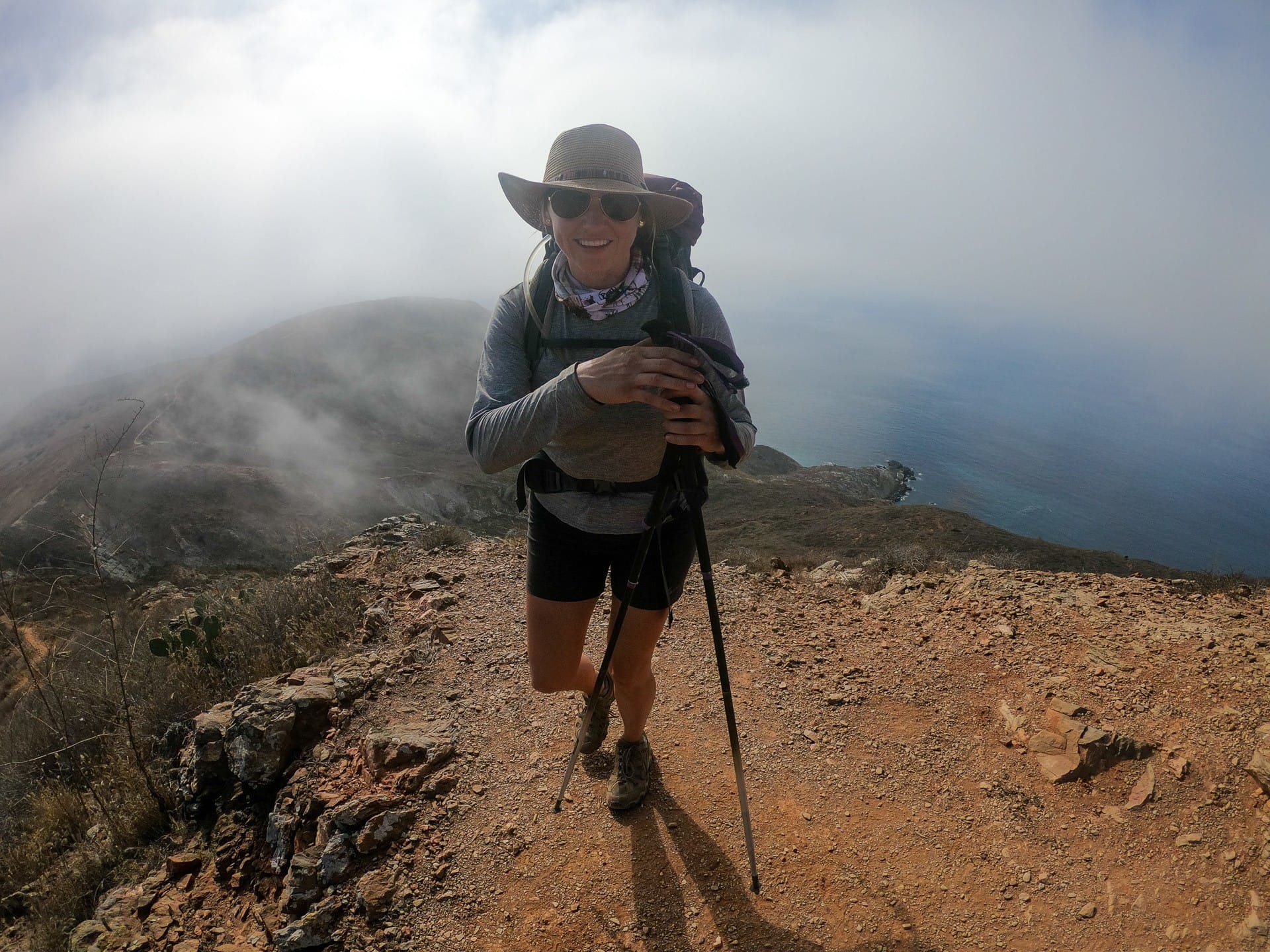 Hiking Shorts
I like to backpack in spandex shorts when the weather's nice, but lately I've been liking these REI Co-op Active Pursuits Shorts. They're comfortable and stretchy and offer a little more breathability than spandex.
Check Price: REI
Sports Bra
Sports bras are my go-to even when I'm not hiking, and these days I'm personally loving the lululemon Run Times Bra. It's perfect for backpacking because it doesn't shift around, my breasts are fully supported and don't bounce around AT ALL, and the thick straps don't dig into my shoulders.
Check Price: lululemon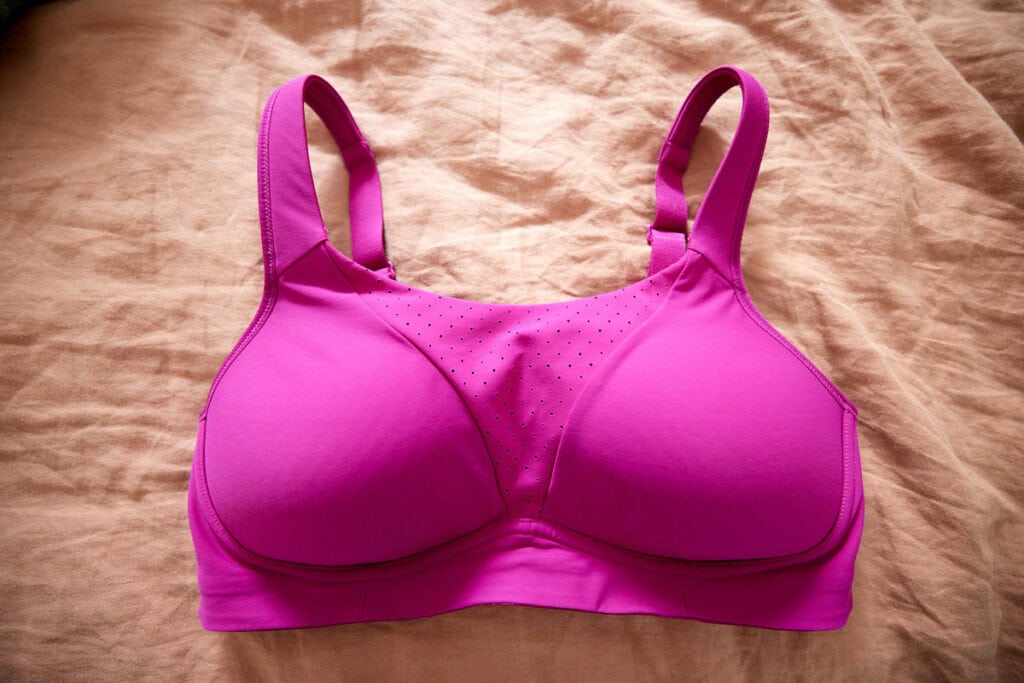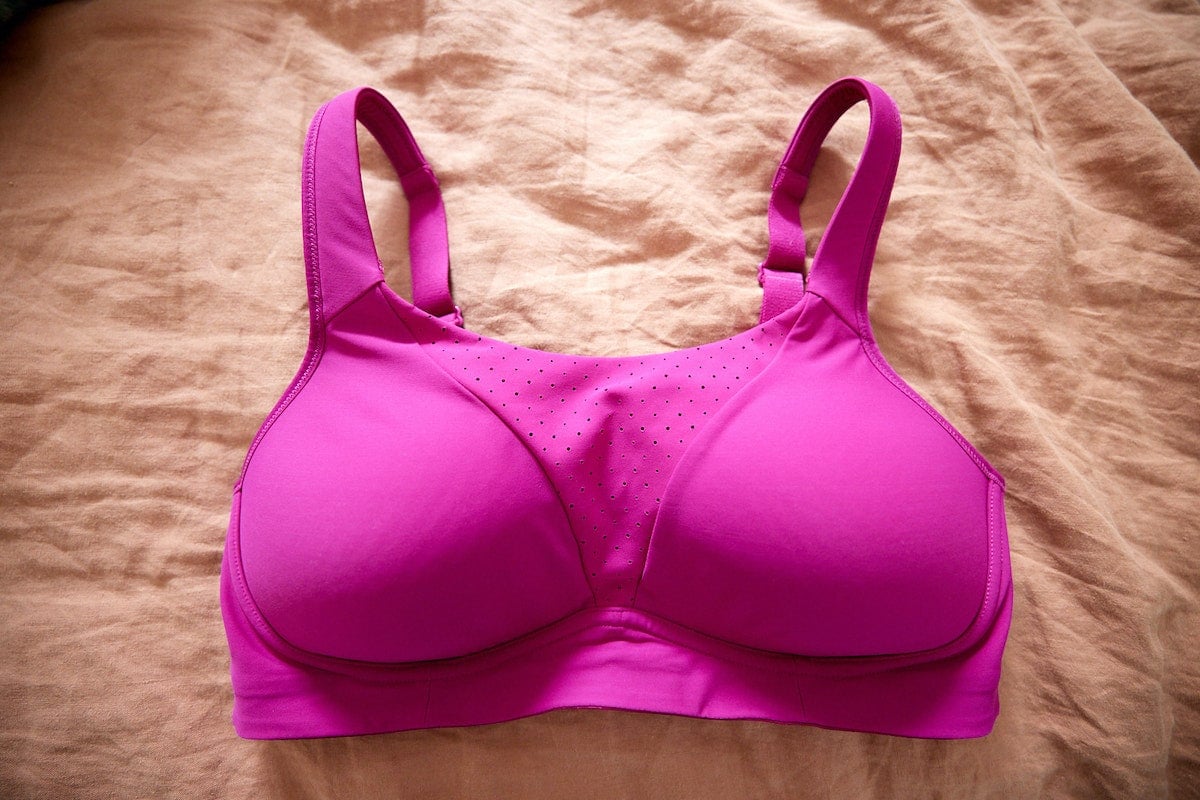 Quick Dry Undies
The lululemon InvisiWear Mid-Rise Boyshorts are lightweight and have a barely-there feel, making them great for backpacking. I've tried two other cuts of these InvisiWear underwear, and the boyshorts stay in place the best out of all of them. These are now at the top of my list for the best women's hiking underwear.
Hiking Socks
I alternated between 2 pairs of Darn Tough Hiking Socks on my John Muir Trail hike. That was years ago, and I still wear these socks hiking. They are extremely durable and stay put while you're hiking so you don't end up with nasty blisters.
Check Price: REI | Backcountry
Hiking Boots
I've always been a big fan of Oboz and recently upgraded to a new pair of Bridger BDry Hiking Boots after wearing my last pair out through years of hiking and backpacking. The mid-height helps support your ankles, plus they are waterproof and have a stiff sole, so you get plenty of support on those steeper, rockier slopes.
Check Price: REI | Backcountry
Camp Sandals
It's always nice to take those hiking boots off when you get to camp to let your feet breathe, and for that reason, a pair of camp sandals are a must on my backpacking checklist. These Teva Universal Trail Sandals are lightweight (1 pound for the pair) and provide structure and grip for walking around camp. They have padding around the ankle and anywhere there is a buckle to prevent rubbing, and they are one of the most comfortable pair of sandals I've ever owned. Plus, they are made from recycled water bottles, so it's a win-win! See my full review here.
Check Price: REI | Backcountry
Accessories
You'll definitely want a hat and sunglasses when backpacking to protect you from the sun. The Wallaroo Sedona Hat has been my favorite for years. I also highly recommend a Buff – a versatile piece that you can wear around your neck for sun protection, around your face and ears if it's windy, and even as a headband. If it's going to be cold, you'll also want to bring gloves and a beanie.
Check Price: Wallaroo (Use the code BEARFOOT20 for 20% off)
For additional clothing suggestions, check out our What to Wear Hiking guide.
Is there anything not on this backpacking checklist that is a must for you on backpacking trips? Or do you have any questions about what to bring backpacking? Let us know in the comments below.