Best Backpacking Water Filters and Purifiers of 2023
Check out the best backpacking water filters and learn what factors to consider when choosing one for your next adventure.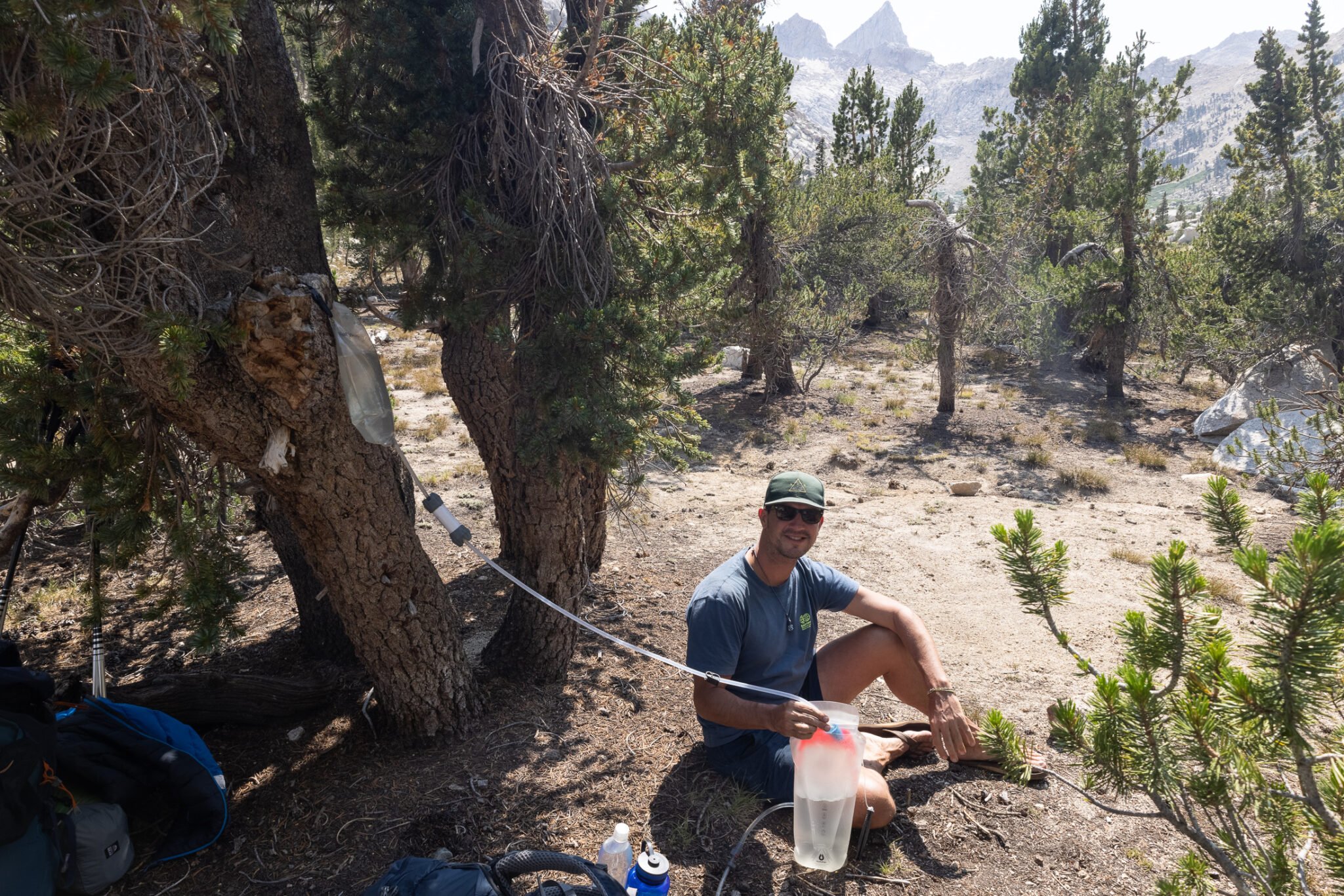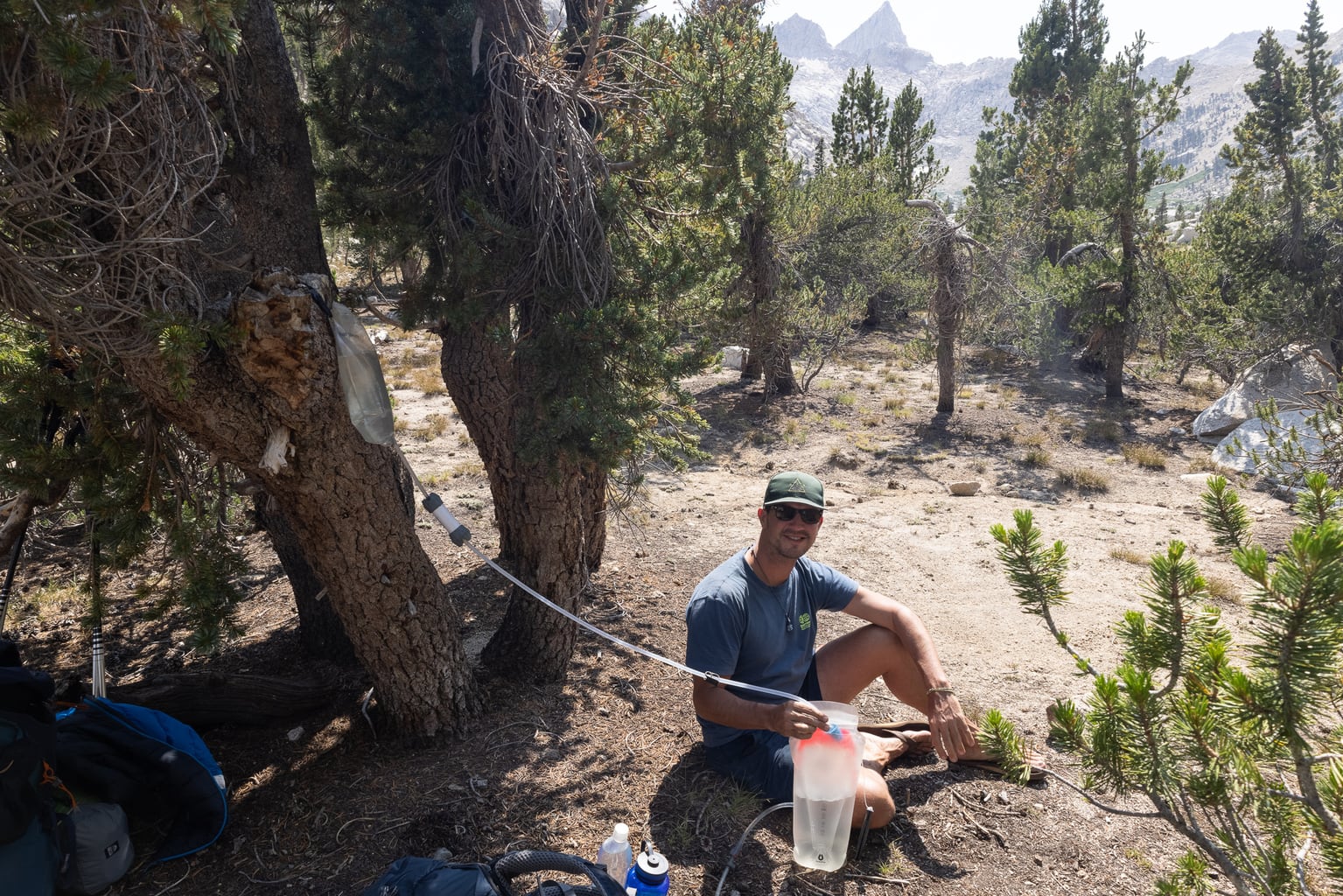 A good backpacking water filter is a key essential for any multi-day outdoor adventure. Parasites and bacteria live in the lakes and rivers that you rely on to stay hydrated in the backcountry. Giardia is the most common and can cause abdominal cramping, nausea, diarrhea, and vomiting – not exactly what you had planned for your next adventure, right?
Some argue that you don't always need to filter water where streams are fed by fresh snowmelt but keep in mind that if livestock, wildlife, or humans can reach an area, so can contaminants that are transferred via fecal matter.
It's also important to understand the difference between a water filter and a water purifier so you can be sure that the water you're drinking is clean, safe, and won't cause illness out in the backcountry.
In this post, we share the best backpacking water filters and water purifiers as well as tips for how to choose the right purification system for your adventures.
---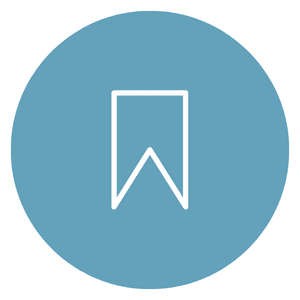 Best Backpacking Water Filters at a Glance
Filters
Purifiers
---
Best Backpacking Water Filters
As we share in more detail below, water filters remove bacteria and protozoa from water as well as small particles of dirt and silt. Water filters do not remove viruses. A water filter will suffice for 99% of backpacking trips in the US and Canada.
Platypus GravityWorks Filter System
Bearfoot Theory favorite
Great for: Large groups, filtering a large amount of water at once, setting up a fixed campsite in the backcountry for a few days, car camping near a water source where there is no potable water available
What we like: Comes with several different bottle top adapters, one of the faster gravity water filters on the market, comes with two bags
What we don't like: Can get clogged easily if filtering silty water, can be hard to fill bag in shallow water
The Platypus GravityWorks Filter is a gravity filter (as the name implies) and can filter 1.75 liters per minute.
The great thing about it is that it includes two 4 L bags, so you always have one for clean water. Alternatively, you can filter water straight into a bottle using one of the several bottle top adapters that fit Nalgenes, Klean Kanteens, and most other bottles.
To use it, you basically just fill up the dirty bag, hang it up, and let gravity do the rest! (Be sure that the filter is connected in the right flow direction).
The Platypus GravityWorks is the filter Kristen used on the John Muir Trail, although she only used the dirty bag and filtered it into a few super lightweight Platypus Soft Bottles.
Looking for a bigger option? Snag the 6L system for group or family trips into the backcountry!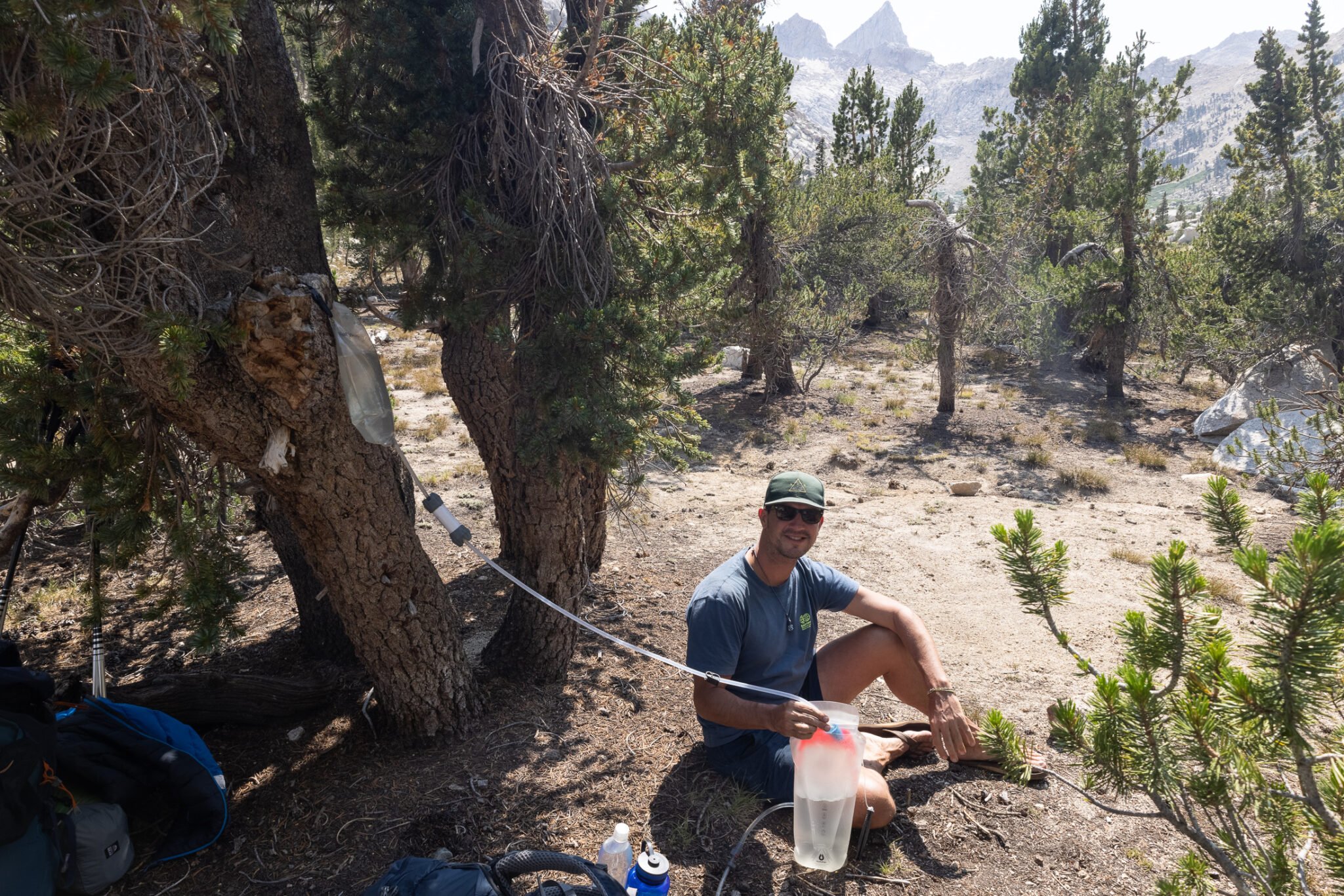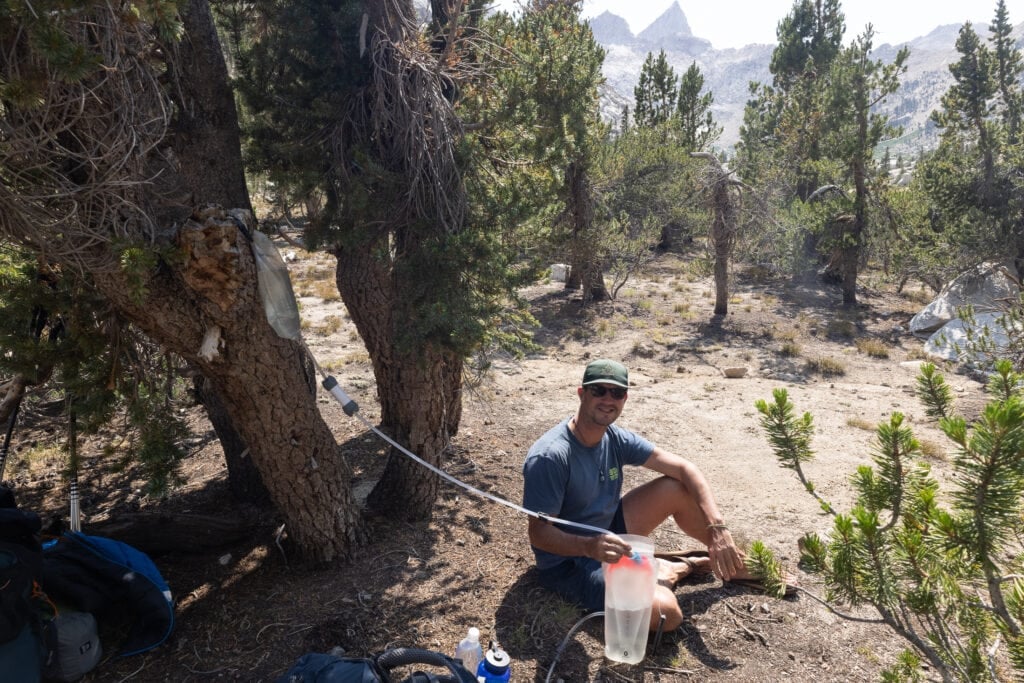 Sawyer Squeeze
Best Ultralight Water Filter
Great for: long day hikes, ultralight backpacking trips, thru-hiking, solo backpackers
Pros: very lightweight, versatile, comes with a syringe to backflush, budget-friendly
Cons: ceramic filter can crack in cold temperatures, filters a small amount of water at a time, included water bag isn't very durable
The Sawyer Squeeze is one of the smallest and most lightweight water filters out there weighing in at only 3 ounces.
In addition to being lightweight, the Sawyer Squeeze is also very versatile. Many backpackers use this filter in combination with a Smartwater bottle (or two) because it attaches easily.
You can also use it by:
Squeezing water straight into your mouth or a water bottle
Attaching it to the hose of a hydration reservoir and drinking through the nozzle
Using the included straw to drink water straight from a source
Setting it up as a gravity filter
However, this filter does take a substantial amount of time to filter multiple liters and requires some manual effort in squeezing the water through the filter (unless you set it up as a gravity system).
It can also get clogged easily and the filter is ceramic, which means it can freeze in cold temps. A quick fix to prevent this is to put it with you in your sleeping bag at night.
Kim, our former Community Manager, used the Sawyer Squeeze for her 4-month PCT thru-hike and while it was lightweight, she still found it frustrating to use at times due to its small size and propensity for getting clogged.
That being said, it's still a great budget-friendly, ultralight filter that's super popular among backpackers.
10 L MSR AutoFlow XL Gravity Filter
Best Water Filter for Large Groups
Great for: large groups, car camping trips where there is no potable water available
Pros: easy to filter large quantities of water, has a mesh screen to keep larger debris from clogging the filter
Cons: would be nice to have the option to purchase a smaller bag when not backpacking with a large group
If you're looking for a high-volume backpacking water filter for group backpacking trips, the MSR AutoFlow XL Gravity Filter comes with a 10L bag so you can minimize trips to the river.
It can filter 1.75 L of water per minute via gravity, providing you with clean drinking or cooking water quickly and hassle-free.
The larger bag is also handy if you aren't camping directly near a water source since the 10L capacity will minimize trips to collect water.
It also weighs the same as the 4L Platypus Gravity Works so the extra capacity doesn't add any weight.
We also love that the bag has an integrated mesh lining to keep larger debris from entering the filter.
While this filtration system might be overkill for most people going on backpacking trips solo or with a friend, this is the best setup if you're with a large group in the backcountry or are going to be camped far away from your water source.
MSR MiniWorks EX Water Filter
Best Pump Water Filter
Great for: People who prefer a hand pump filtering system, trips with shallow rivers or streams
Pros: Can be disassembled in the field and cleaned without extra tools
Cons: Not compatible with water bottles other than a wide-mouth Nalgene, pumping water can be tedious and require a lot of manual effort, slightly heavier than other options on this list
The MSR MiniWorks Ex Water Filter is one of the best hand pump water filters out there if you prefer a pump filter over a gravity filter.
It has a ceramic/carbon filter to remove bacteria and protozoa and it can process up to water at 1 liter per minute. The bottom can also easily screw onto an MSR Dromedary Bag or a wide-mouth Nalgene bottle for easy operation.
This filter comes with a cleaning kit for easy cleaning in the field.
It's important to note, though, that hand pump filters are our least favorite type of water filter due to the ease of newer gravity and squeeze style filters. But for people who like the old-school techniques, this is the best pump-style water filter.
LifeStraw Peak Squeeze Water Filter System
Best Water Bottle Filter for Day Hikes
Great for: Trail runs, day hikes where water sources are plentiful
Pros: easy to stash when empty, faster than other filter options
Cons: Requires frequent refills since it filters straight from the bottle (which is not ideal for most backpacking trips where freshwater is not always readily available)
The LifeStraw Peak Squeeze Water Filter is great because it's super versatile and straightforward to use. You can drink straight from the nozzle, remove the filter from the bottle and use it as a straw, attach the filter as an inline filter on your hydration reservoir, or even set it up as a gravity filter.
The bag is designed to be very durable, so you don't have to worry about rips, tears, or punctures.
The threads on the filter also allow it to be screwed onto nearly any disposable water bottle (but you're not using those anymore, right?).
Plus, for each LifeStraw purchased, 1 child in a developing community receives safe drinking water for an entire school year – how cool is that?
While a water bottle filter is not recommended for backpacking (you need to be able to carry a lot more water), it's a great solution for day hiking.
---
Best Backpacking Water Purifiers
Unlike water filters, water purifiers kill or remove microorganisms including viruses either through a filter or by UV light. These are great for backpacking or traveling in developing countries or areas where the water sources could be contaminated by agricultural runoff.
MSR Guardian Gravity Purifier
Best Water Purifier for the Muckiest of Water
The MSR Guardian Gravity Purifier works essentially the same as the MSR AutoFlow XL Gravity Filter above, but its 2-stage purifier removes harmful viruses as well.
If you're planning a multi-day trek with a group of friends to a developing country, this is an essential piece of gear. This is also perfect for trips where the water sources can be sketchy, such as a rafting trip through the Grand Canyon.
Grayl GeoPress Water Filter & Purifier Bottle
Easiest Water Purifier for International Travel
Great for: International travel, short day hikes, backpacking trips with ample water
Pros: Filters water quickly, requires no setup, easy to use
Cons: The amount of water you can filter and carry is constrained by the size of the bottle (unless you carry additional containers for the filtered water)
The Grayl GeoPress Water Purifier Bottle is a great companion for any day hike, backcountry adventure, or international trip. The press system can filter out most harmful microorganisms including bacteria, protozoa, and viruses.
The filter is also replaceable and is good for up to 350 cycles.
I took the Grayl on my trip to Patagonia and I loved how easy it was to use and the peace of mind I had while drinking tap water in another country. I even used the Grayl on my 5-day W backpacking trip where it was super easy to fill up from streams!
The Grayl has a 24 oz. capacity, so if you're relying on it for hiking or backpacking, I'd recommend packing a few collapsible 1L soft water bottles so you can easily store extra filtered water from your Grayl.
While this may not be the lightest or most compact water filter for backpacking, it's great for long day hikes and other adventures where there's ample water, especially in countries where viruses may be present.
When traveling, it also helps eliminate the need for single-use water bottles. For that, we give it a big thumbs up!
Aquamira Water Treatment
Best Backup Water Treatment Drops
Great for: Carrying as filtration backup, backpacking trips with clear-running water
Pros: Super lightweight, reliable with no risk of pieces getting broken or malfunctioning, inexpensive
Cons: You need to wait at least 30 minutes for the drops to work – some microorganisms can even take up to 4 hours to be killed, does not remove sediment or dirt
If you know you'll have clear, running water and you have time to wait for purification drops to work (which can take up to 4 hours), then the two-step Aquamira Water Treaments Drops are a great choice.
While we don't recommend water treatment drops as your primary filtration method, we always carry drops as backup in case our main water filter fails in the backcountry.
These drops don't contain iodine or chlorine, which can make water taste funky. Instead, they contain Chlorine dioxide (not the same as chlorine), a chemical that has been proven to kill 99.9% of bacteria, protozoa, cysts, and viruses.
Keep in mind that this not a filtration system, so you'll need fresh, clear water unless you're ok with drinking some silt and sediment.
If you prefer tablets over drops, check out the Katadyn Micropur Purification Tablets.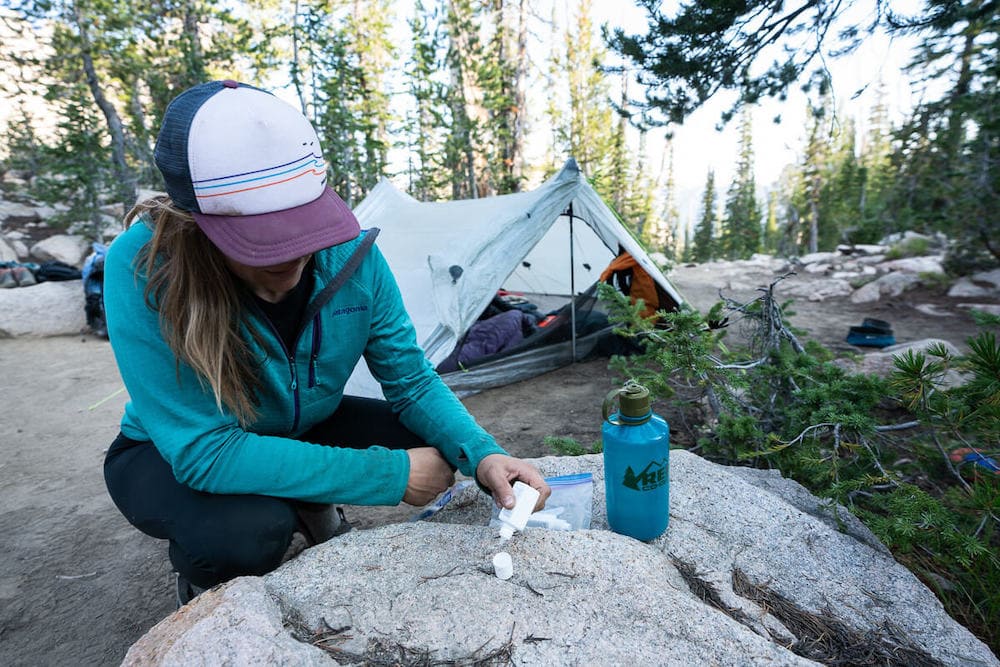 ---
Best Backpacking Water Filters & Purifiers Comparison Table
See the comparison table below for a quick summary of each of the top water filters for backpacking. You can click on the columns to sort by what's most important to you.
---
Water Filter vs Water Purifier – What's the Difference?
Before we get into the best water filters and purifiers, it's important to know the differences between the two.
Both have their pros and cons, so it's important to choose the right one for your needs.
As a general rule of thumb, water filters eliminate bacteria and protozoa while water purifiers eliminate bacteria, protozoa, AND viruses.
Backpacking Water Filters
Backpacking water filters are the most common option if you're hiking and camping in countries like the US and Canada.
They work by forcing water through a fine membrane, which traps small organisms and particles. This means that they're effective at removing things like bacteria and protozoa.
However, water filters are not able to remove viruses, which can be found in water sources in developing countries or in places with heavy agricultural activity.
There are several different types of backpacking water filters to consider:
Gravity Water Filters
Gravity filters filter water by using gravity–there is no squeeze or pumping necessary.
They generally consist of a bag with a hanging mechanism that you fill with the water you want to filter, a filter, and a long tube that can be used to fill whatever container you'd like.
Simply fill the bag from the water source, hang it up, and gravity carries water down through the filter and into a new container.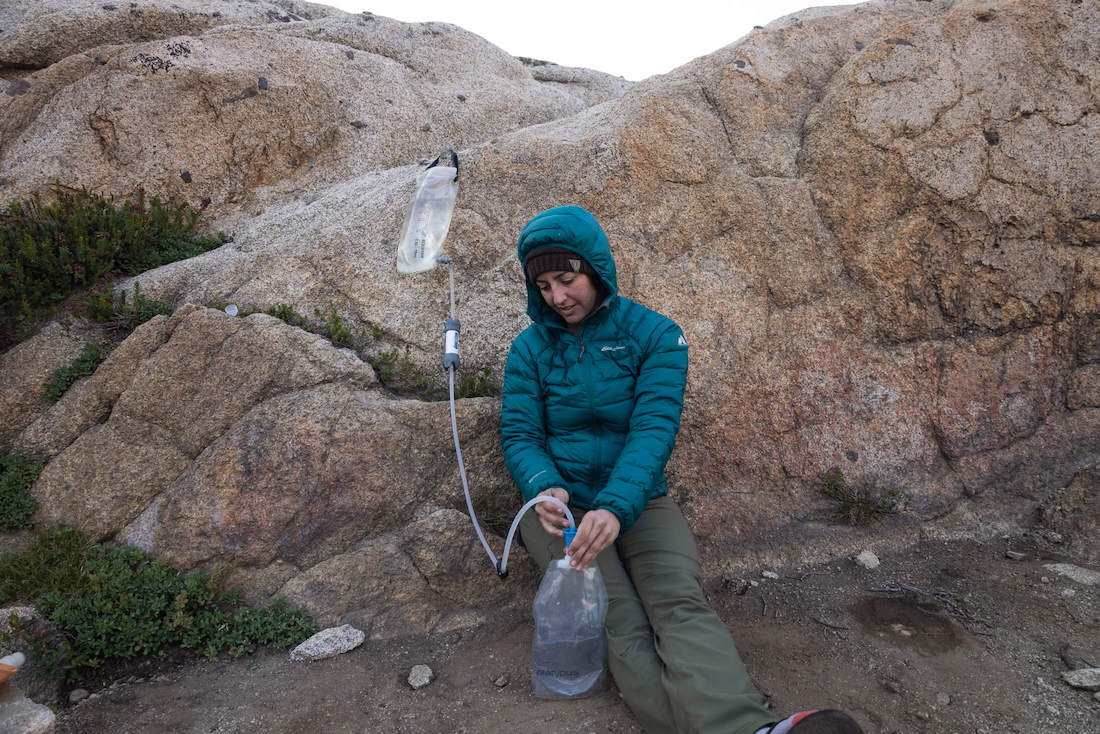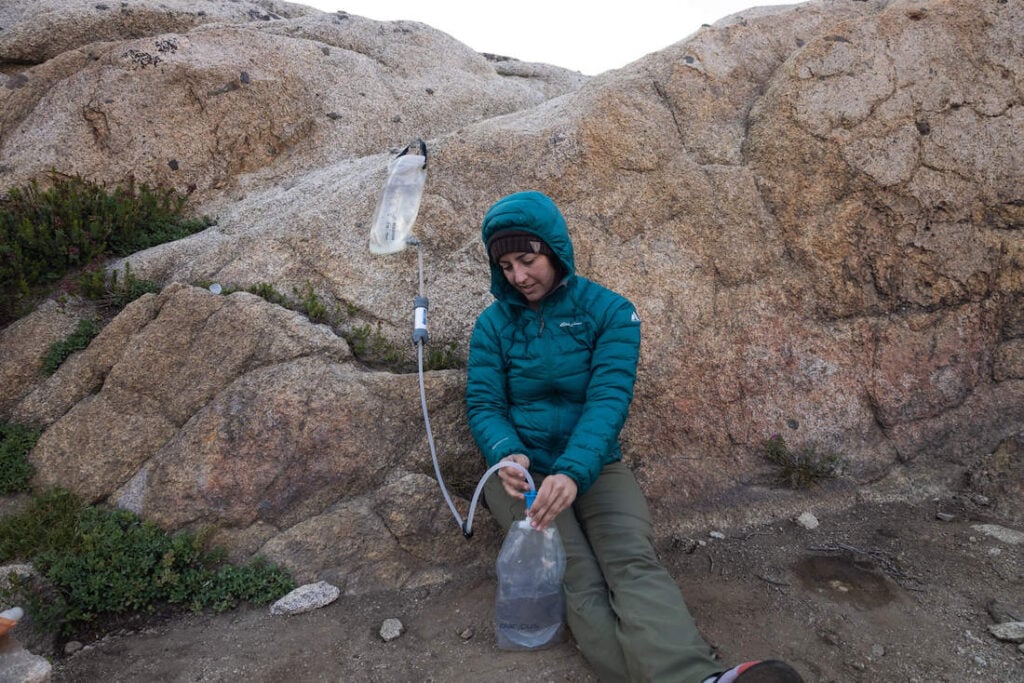 Squeeze Water Filter
Squeeze water filters require manual effort to squeeze water through the filter. They're typically very lightweight, compact, and budget-friendly. Squeeze filters are perfect for solo backpackers who don't need to filter a lot of water at once.
These types of filters need to be backflushed more often than other filters to prevent clogging which reduces the flow rate and makes it harder to squeeze water through.
Backflushing is how you clean the filter, and this is done by using a syringe to shoot water through the filter in the opposite direction that water filtration takes place. Most squeeze water filters come with a syringe cleaning system to make this process simple.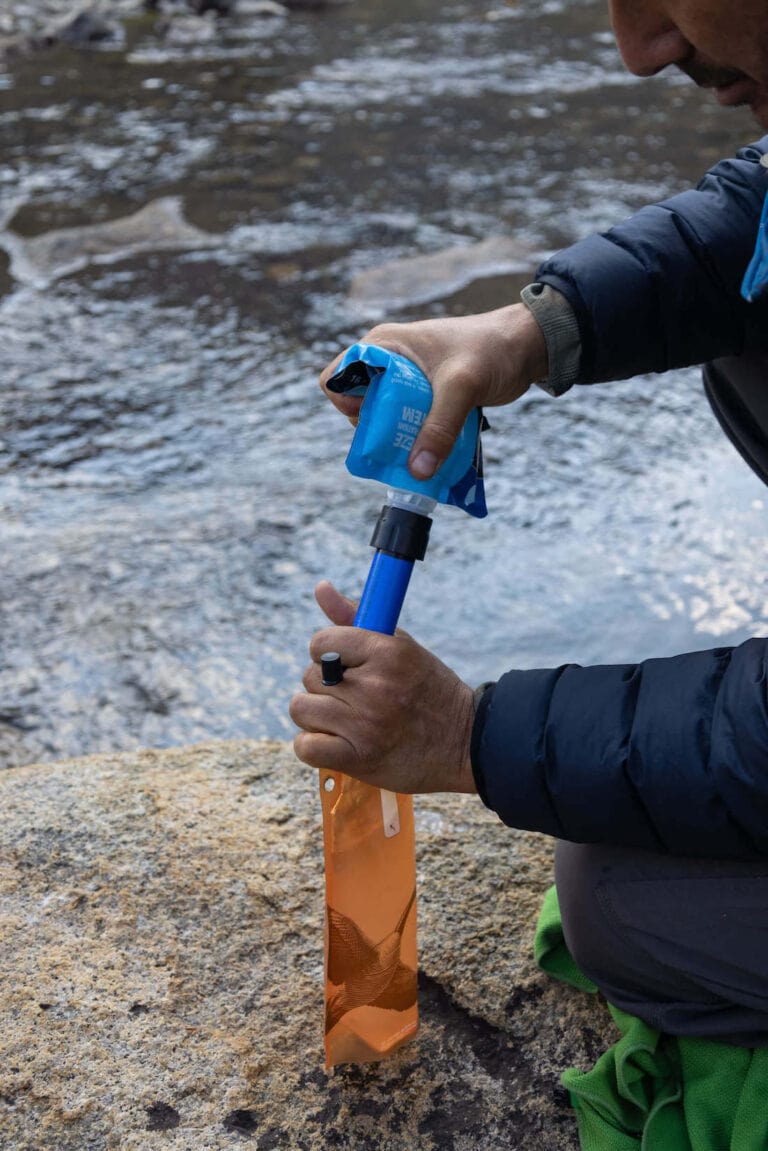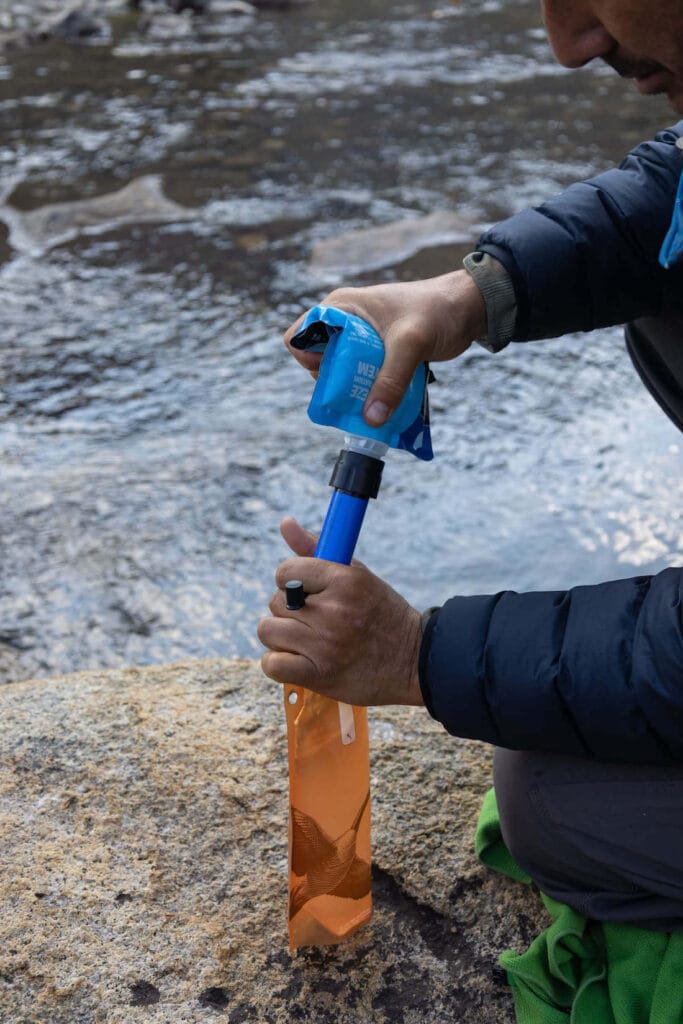 Pump Water Filter
Pump water filters require manual effort to pump water through the filter. Most water filter pumps come with two hoses, one that you drop into the body of water you want to filter from and one that transfers the filtered water into your water container of choice.
These types of water filters are versatile because they can filter from shallow running water and the filter itself is replaceable, but they do require you to sit alongside the water source and pump.
Backpacking Water Purifiers
Water purifiers are a better choice for backpacking and traveling in developing countries. In the US, you may consider a water purifier if you have a trip where the water sources are sketchy or areas with lots of agricultural activity.
Purifiers work by using chemicals or ultraviolet light to kill viruses, bacteria, and other microorganisms. This makes them much more effective than filters for purifying water.
However, they can be bulkier and more expensive, so they're not always the best choice for backpacking, especially if you're focused on trips here in the US.
Here are the most common options for backpacking water purifiers:
Ultaviolet Water Purifiers
Pen-style UV light water purifiers use UV light to treat water. You basically fill a container with water and swirl the pen around until the UV light turns off (which usually takes a minute or so).
They're lightweight, super easy to use, won't clog or need to be replaced, and they can easily treat water for a large group.
UV Light Purifiers also virtually eliminate viruses in addition to bacteria and protozoa while most water filters do not eliminate viruses.
The downside to these purifiers is that they don't filter out sediment and they require batteries or a charger to work. If you choose to use a UV Light water purifier, always carry a backup water filtration option as these can be finicky to work.
Water Filtration Bottles or Straws
Water filtration bottles have a built-in purifier. You basically fill the bottle with water and the water is either filtered as you sip through the filter or pressed through the filter like a coffee press.
They're very easy to use and provide a method of filtering and drinking all in one bottle.
However, the amount of water you can filter and carry is constrained by the size of the bottle, so they're really only useful for basecamp or backpacking trips with near-constant access to water.
Water filtration bottle pros
Water filtration bottles cons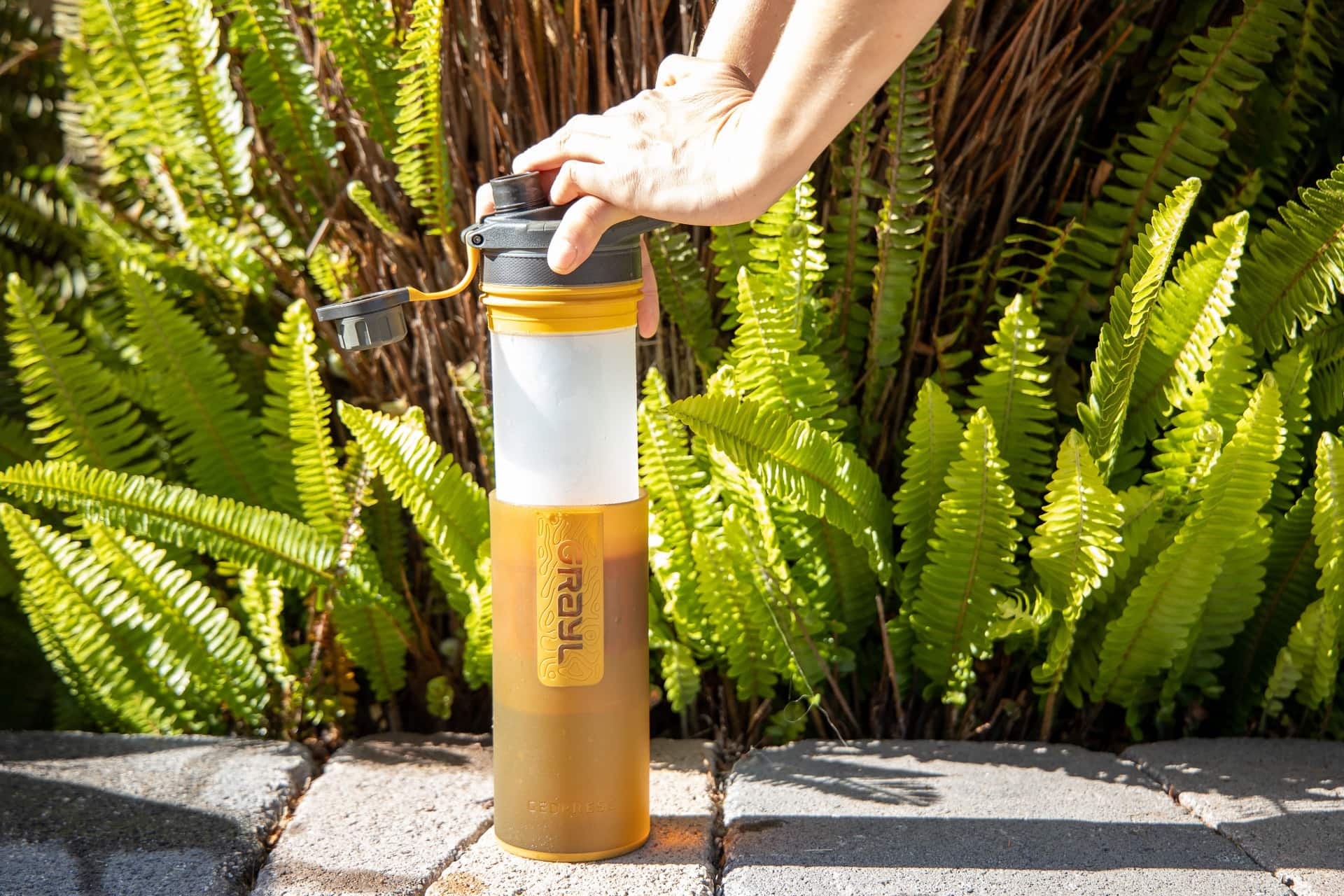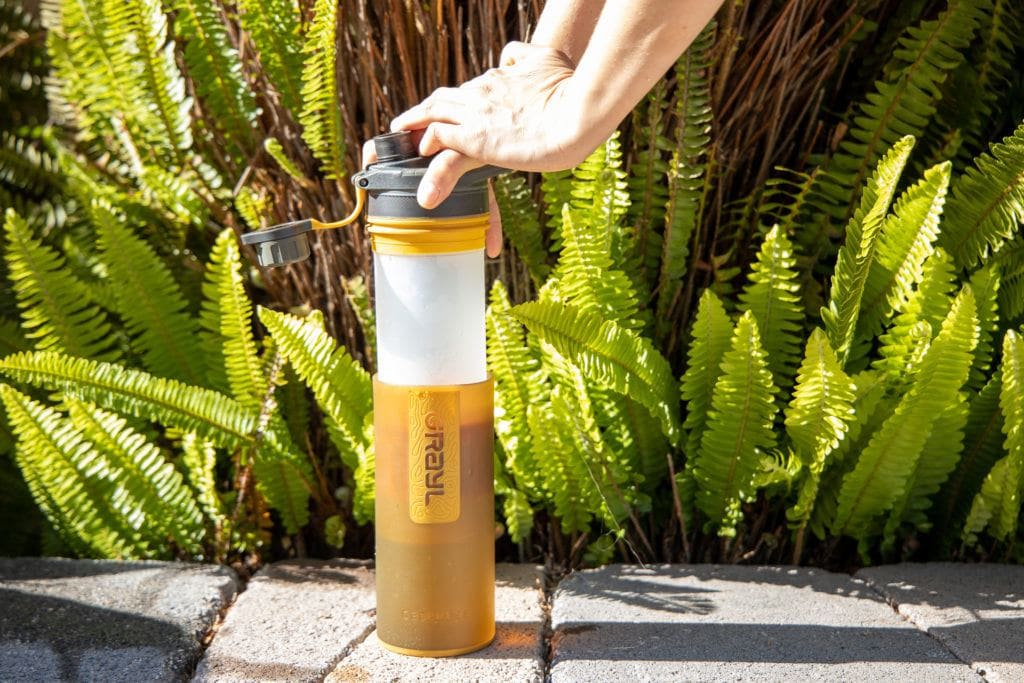 Purification Tablets or Drops
Water purification tablets or drops virtually eliminate bacteria, most protozoa, and viruses from water. They are very easy to use: Simply drop them into the water you gathered to treat, follow the instructions, and wait.
The downsides to tablets and drops are that they do contain chemicals, so they can leave a bit of an iodine taste, and they're not recommended for pregnant women or people with thyroid conditions. They can also take up to four hours to completely kill some microorganisms (which is a long time if you're thirsty after a big day of backpacking!).
While we wouldn't recommend tablets or drops as your main purification method for backpacking, it's always good to have a few of these on hand in case your primary filtration method breaks or in case you need them in a pinch while traveling.
Water purification tabs/ drops pros
Water purification tabs/ drops cons
---
How to Choose a Backpacking Water Filter
If you're new to backpacking, here are a few tips on how to choose your first (or next) water filter for the backcountry.
1. Purification vs. Filtration
Let's start here because it's super important to know the difference. The difference between a water filter and a water purifier is the size of the microorganism each type eliminates.
Purifiers eliminates viruses while filters removes bacteria, protozoa, and sediment.
Bacteria in water sources is a concern within the USA and Canada, while protection from waterborne viruses is more important for international travel.
Filtration also removes sediment and silt, making the water more pleasant to drink while purification does not (unless it has a built-in filter like the Grayl GeoPress Bottle).
2. Weight
Weight is an important factor to consider for all of your backpacking gear and water filters are no exception, especially on a long-distance trip.
While not always the case, there tends to be a tradeoff between weight and speed of filtering. The smaller and lighter the filter, generally the longer the filtration process.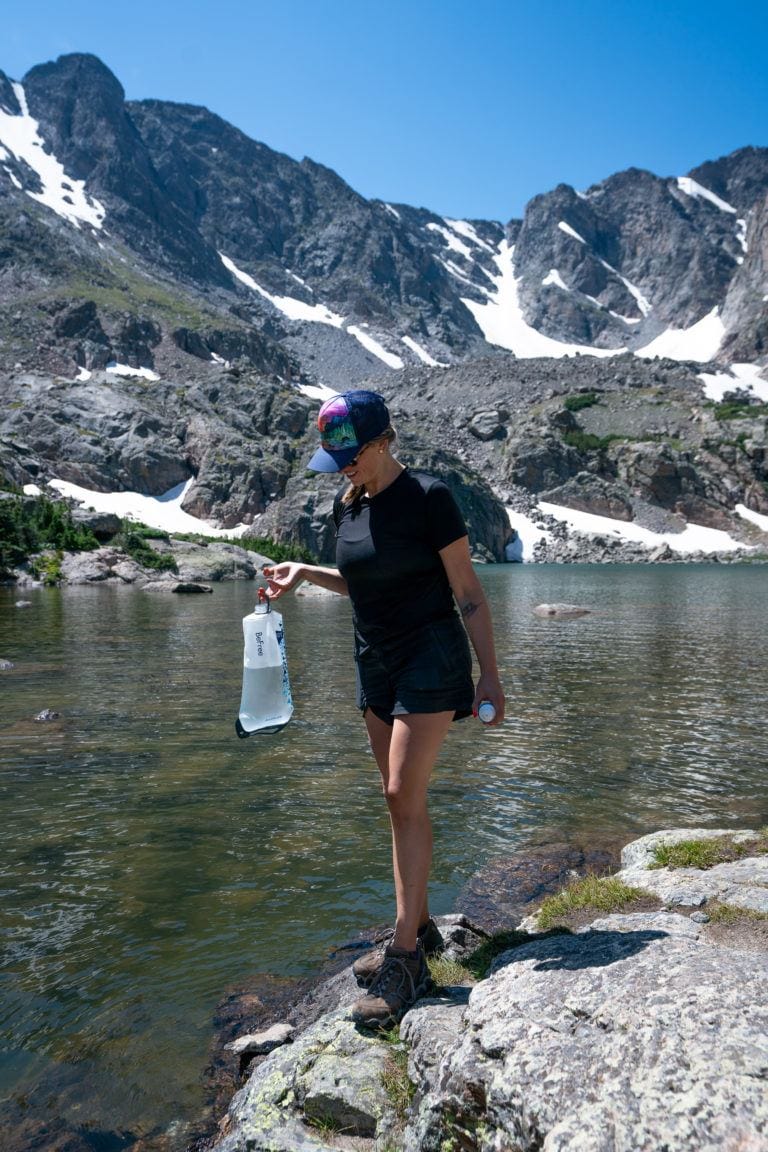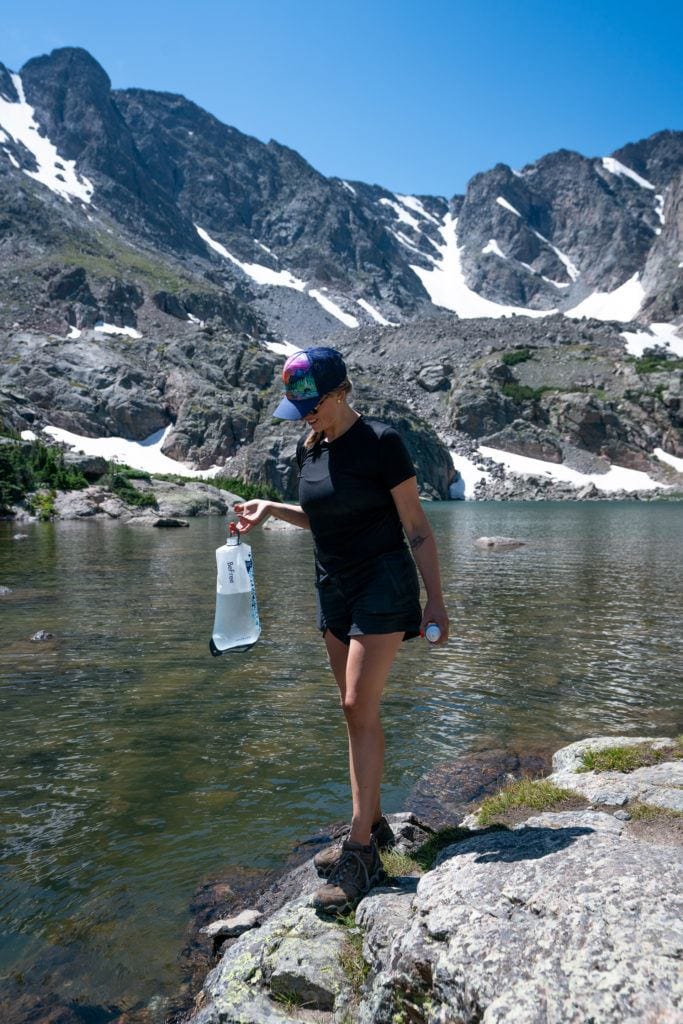 3. Filtration or Purification Speed
How patient are you? Some filters are speedy, while others take quite a bit of time. It's also important to consider how many people you will potentially be filtering water for since more people means more water and more time.
Using chemicals, such as chlorine or iodine to purify water can take up to 4 hours while other filters can do the job within minutes.
If you are on any kind of backpacking trip, whether just a quick weekend trip or a thru-hike of a long-distance trail, time is of the essence–remember you came to explore the outdoors and you will not want a treatment method that takes a long time!
4. Type of Backpacking Water Filter
As we covered at the beginning of this post, some filters require a simple set-up and then allow you to sit back and relax while your water is filtered. For example, gravity filters work by using gravity to filter water from one bag to another.
Other filters require active participation–meaning you have to physically filter the water usually by either squeezing or pumping it through the filter.
It's important to also consider that some backpacking water filters are ceramic and cannot be exposed to extremely cold temperatures or else they will crack.
5. Cleanliness of Water Source
Different elements can murk up water in varying ways such as glacial sediment, leaf debris, and/or mud stirred up by a recent rainstorm. If you plan to use tablets of chemicals to purify your water you'll also need to bring something to act as a filter to help you remove dirt and debris prior to filtering.
Depending on how congested the water is sometimes a simple bandana can act as a pre-filter.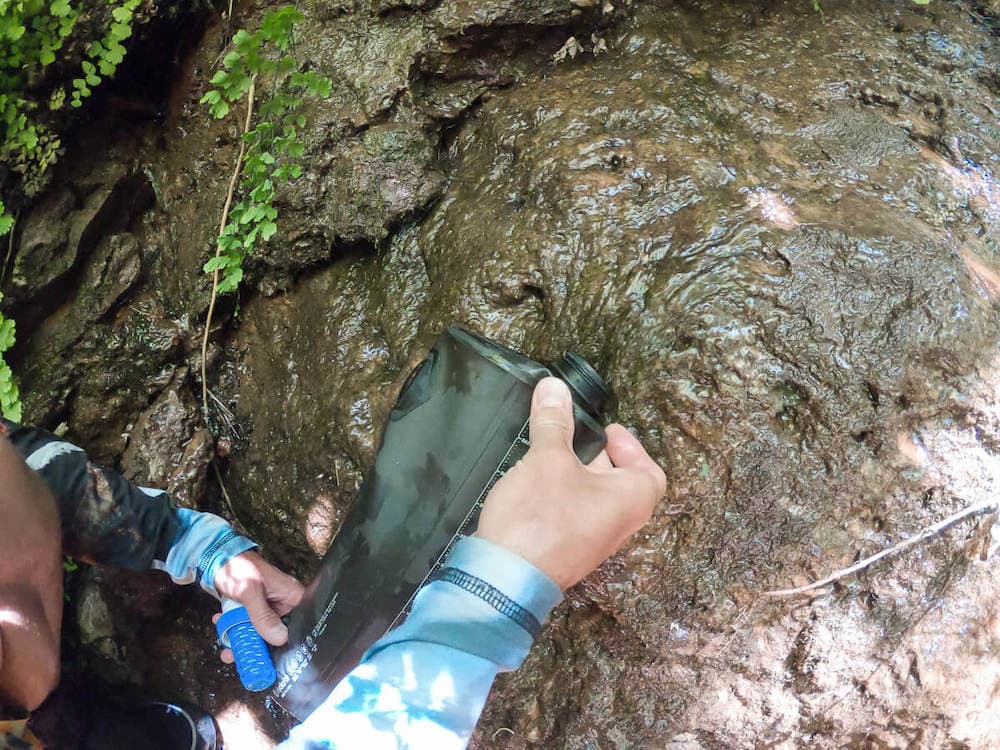 Looking for more backpacking gear recommendations? Check out these related blog posts:
Do you have a favorite backpacking water filter or purification system? What has worked best for you? What questions do you still have? Leave a comment below!