Despite what you might think, backpacking does not have to be painful. With the right backpacking pack, you'll be able to enjoy your hike out in the backcountry without all that pain in your back, hips, and shoulders that many people experience due to poor fitting packs. With this list of the best backpacking backpacks for women, you'll be able to narrow down your search to find the best pack for you.
All of the packs listed below are comfortable, lightweight (some are even ultralight), and have features that make them the best backpacking packs like padding, ventilation, organizational pockets, and more. You'll find a budget option as well in case that's the number one factor keeping you from getting out there.
At the end of this post, you'll find more info on what features to consider, what capacity pack is recommended for different trip lengths, and how to measure the right fit so you'll know how to choose the best backpacking pack for you.
Ready to hit the trail? Here are the best backpacking packs for women, tested by women.
Best Backpacking Packs for Women
Backpacking packs for women tend to be smaller, lighter, and have narrower shoulder straps as well as hip belts that are shaped for a women's anatomy.
All of the best backpacking packs listed below are women's specific aside from two unisex options. We bet the men's version of these packs are great too, but since we're a team of women, we've got firsthand experience with women's backpacking packs so that's what we've rounded up here.
We've broken the best packs down by capacity, weight, price range, and helpful features. All stats are for "regular" or "medium" size packs, but many listed have smaller and larger sizes which will change the weight and capacity slightly.
Pro tip: You can often find deals on these packs so be sure to use the check price links to shop around and read our post on where to find discount outdoor gear for more tips.
Deuter Aircontact Lite SL
Capacity: 55 L / 70 L
Weight: 3 lbs 12 oz / 4 lbs 3 oz.
Detachable Lid: Yes
Price: $$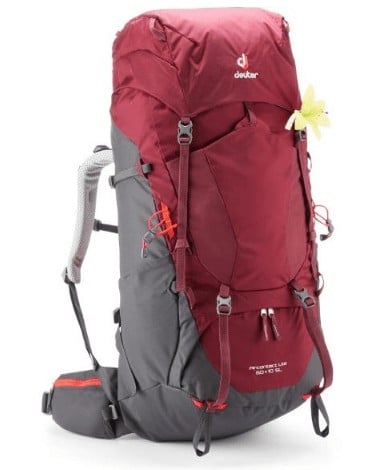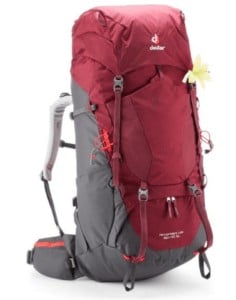 Check Price: REI / Backcountry
Our current pack of choice: The Deuter Aircontact Lite SL women's pack comes in two capacity sizes for backpacking. These packs are super comfortable and have padded, yet breathable, backing and straps. I especially love the exterior stretch pockets for easy storage (handy for stashing an easily accessible layer or for wet items), the hip belt pockets, and the separate bottom sleeping bag compartment. I've used this pack on several trips including a 22-day John Muir Trail hike, my 10-day group trip to Alaska, and a Trans Catalina Trail backpacking trip.
I'm still working towards going more ultralight but with my camera equipment, I need a pack that can carry a heavier load so I use their 60 + 10 L pack (70 L pack) – meaning the pack itself fits 60 L and the extendable pack collar fits another 10 L. Bearfoot Theory's Director of Operations, Linda, prefers going lightweight with the 45 + 10 L (50 L) pack and wore it on a 3-day San Jacinto backpacking trip.
Osprey Aura Pack
Capacity: 50 L / 65 L
Weight: 4 lbs 3 oz / 4 lbs 7 oz
Detachable Lid: Yes
Price: $$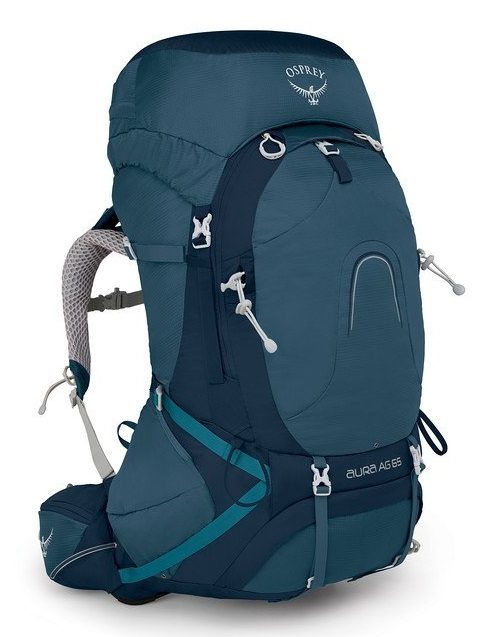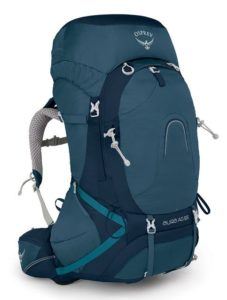 Check Price: Osprey / REI / Backcountry
The Osprey Aura Pack comes in two capacities and three sizes each and is one of the most comfortable, breathable options out there. What's unique about this pack is that it has an "Anti-Gravity" mesh back panel that prevents the pack from sitting flat against your back so you get max ventilation. It's got all the features you want in a backpacking pack like a removable lid, external stretch pockets, hip belt pockets, and a bottom sleeping bag pouch. As an added bonus, the sternum strap has an integrated safety whistle.
Gregory Deva Pack
Capacity: 64 L / 74 L / 80 L
Weight: 4 lbs 13 oz / 4 lbs 15 oz / 14 lbs 17 oz
Detachable Lid: Yes
Price: $$$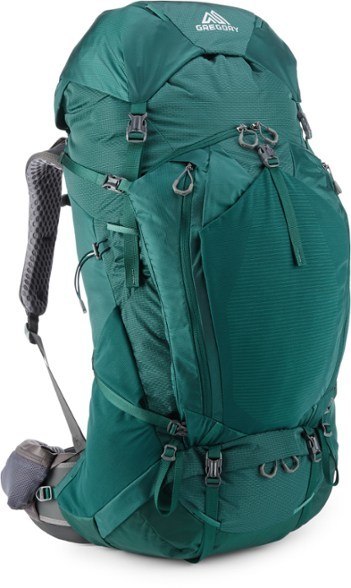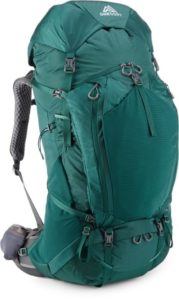 Check Price: REI / Backcountry / Moosejaw
Gregory makes great packs overall and their Gregory Deva Pack is no exception. It comes in three different capacities ranging from 60-80L, each offered in three different sizes so you've got lots of options to find the exact fit for you. This pack comes with some handy extras like a rain cover, a removable hydration sleeve that converts to a light daypack for side trips, and a water bottle holster. It's also got the always handy zippered bottom sleeping bag compartment as well as a full-body U-shaped zipper for easy unloading at camp. Last but not least, the mesh on the shoulder straps, hip belt, and back panel help provide air-flow.
REI Co-op Traverse Pack
Capacity: 62 L
Weight: 4 lbs 4 oz.
Detachable Lid: Yes
Price: $$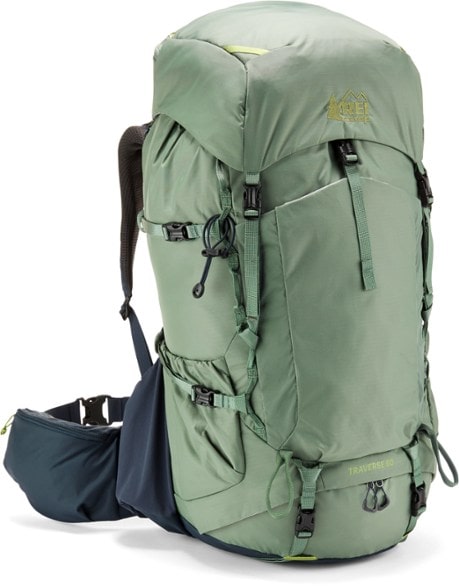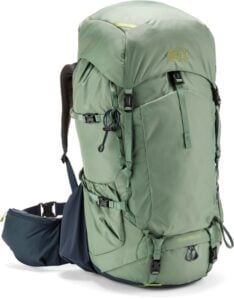 Check Price: REI
Best value: The REI Co-op Traverse Pack comes in four sizes and has an adjustable back panel to help you further dial in the fit. It's got all the features we expect the best backpacking packs to have like external side pockets, generous hip belt pockets, a sleeping bag compartment, and it's hydration compatible. It even comes with an integrated rain cover so you'll be set if it starts to rain, and the lid turns into a daypack which is always handy for side trips and day hikes. Finally, this pack meets bluesign criteria and contains recycled materials which we love.
While it lasts, you might be able to score a deal on last year's model of the REI Co-op Traverse as well.
Gregory Maven Pack
Capacity: 45 L / 55 L / 65 L
Weight: 3 lbs 5 oz / 3 lbs 6 oz / 3 lbs 8 oz /
Detachable Lid: Yes
Price: $$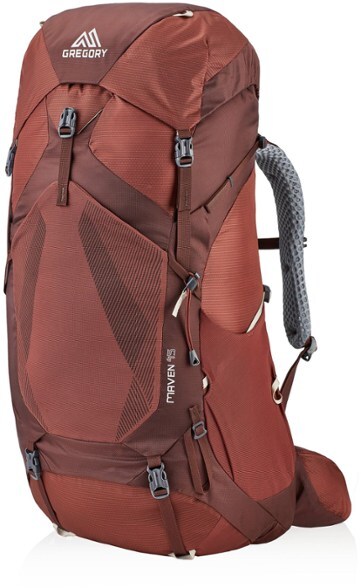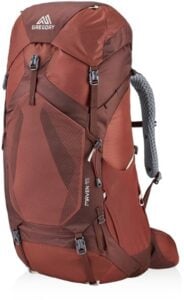 Check price: REI / Backcountry
The Gregory Maven Backpack comes in three different capacities each available in two sizes/torso lengths so you can be sure to get the best backpacking backpack for you and your trail gear needs. The Maven has all the features you'd want in a backpacking pack including ample pockets to stash gear, a hydration sleeve, a rain cover for wet days on the trail, and full-length zippers for easy access inside.
Arc'teryx Bora AR Pack
Capacity: 49 L / 61 L
Weight: 4 lbs 11.1 oz / 4 lbs 12.8 oz
Detachable Lid: Yes
Price: $$$$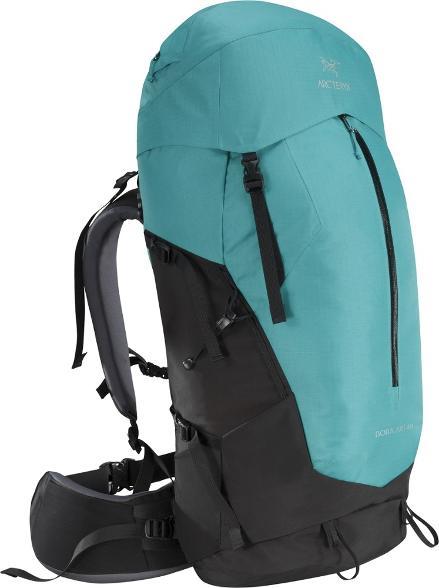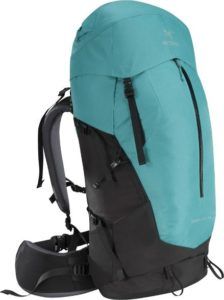 Check Price: Backcountry
The Arc'teryx Bora AR 49 Pack is on the pricier side but we hear it's worth it. The customizable shoulder straps don't only adjust in height up and down, but they can also be made narrower or wider to find the perfect fit for your upper body. We have to point out the floating hip belt as well – it's padded and moves independently from the pack, almost like a suspension system so it feels like the backpack is floating (sounds dreamy, right?). The side zippers create easy access and another nice feature is that this pack is weatherproof so you won't need an additional cover in rain or snow. While we haven't tried this pack ourselves, people report it to be very comfortable. If you want something bigger, Arc'teryx makes a 61 L option as well.
Osprey Ariel Pro Pack
Capacity: 65 L (size S)
Weight: 3 lbs 11.7 oz
Detachable Lid: Yes
Price: $$$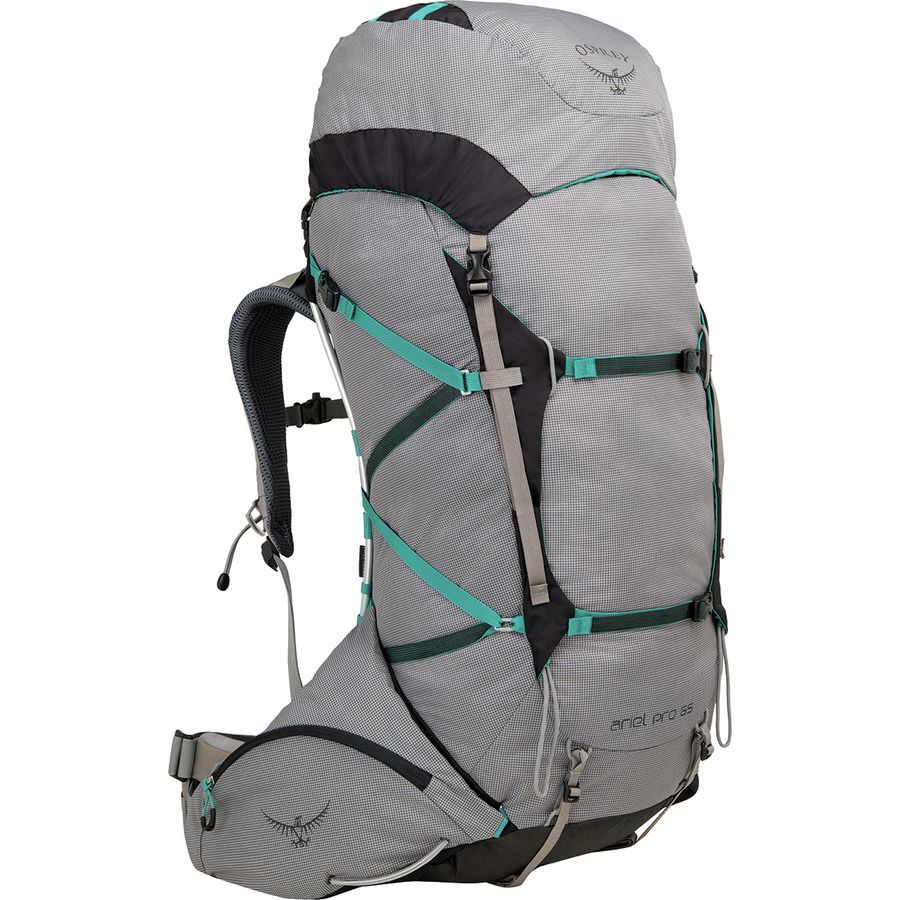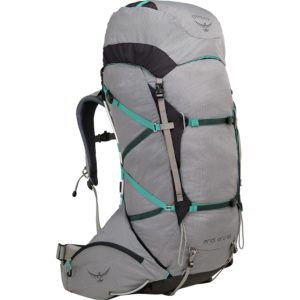 Check Price: Osprey / Backcountry/ REI
Lightweight option: Oprey's Ariel Pro Pack is a lightweight, durable pack that's simple yet versatile, allowing you to customize it depending on the type of adventure you're going on. The two-side hip belt pockets and lid can be removed for shorter, faster trips where you want to go lightweight, and the ice tool and compression straps can be removed as well. It has fewer features like external pockets and zippers (it is top access only) but in exchange, it's also lighter weight than many of the other packs listed here.
Granite Gear Blaze Pack
Capacity: 60 L
Weight: 3 lbs
Detachable Lid: Yes
Price: $$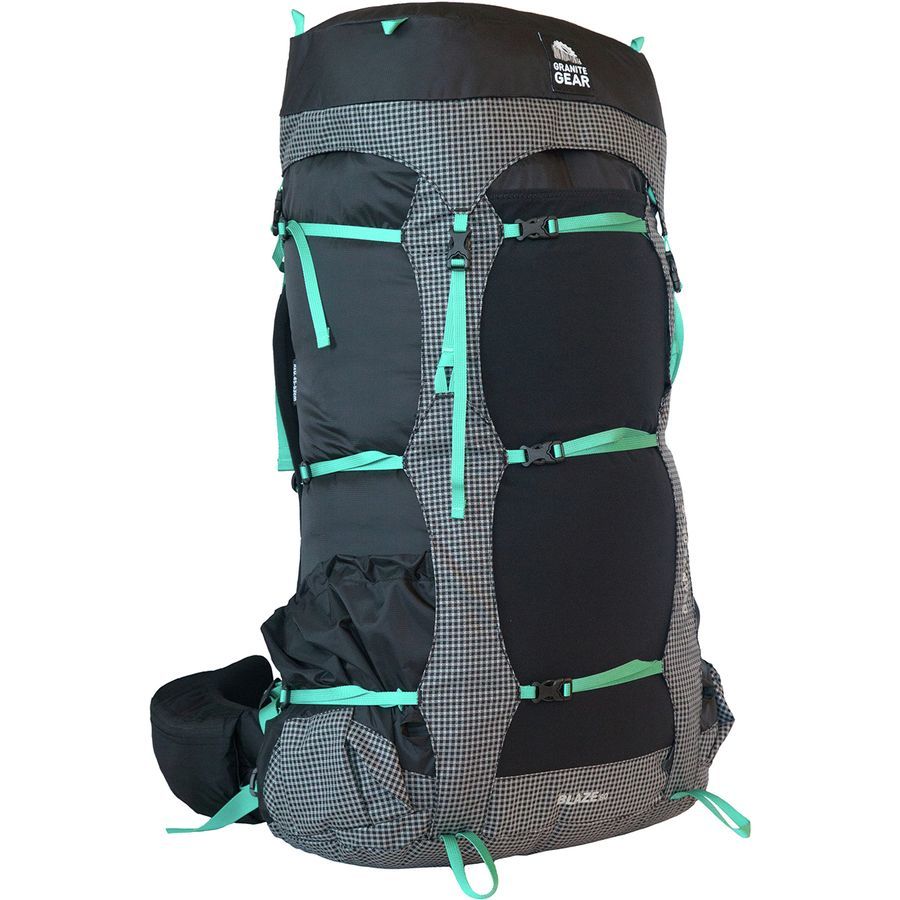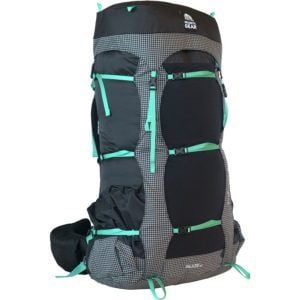 Check Price: Backcountry / REI
Ultralight option: The Granite Gear Blaze Pack is a great ultralight option with a high weight capacity that comes in two sizes. It's got all the basics of a good backpacking pack including expandable side pockets, compression straps, hip belt pockets, and padded shoulder straps. As a versatile bonus, the lid can be detached and paired with the hip belt to create a hiking fanny pack for side trips and day hikes.
Hyperlite Mountain Gear 4400 Southwest Pack
Capacity: 70 L
Weight: 2 lbs. 7.2 oz.
Detachable Lid: No
Price: $$$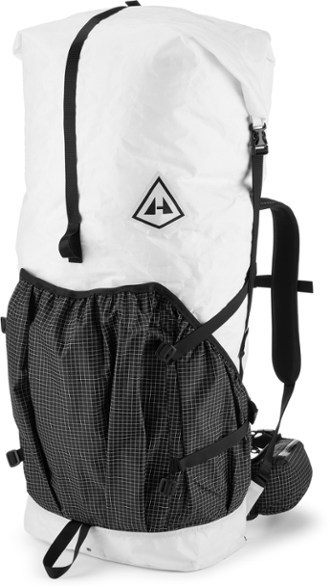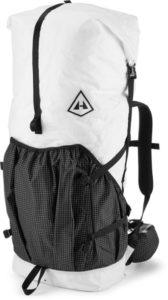 Check Price: Hyperlite Mountain Gear / Backcountry
Best ultralight option: The Hyperlite Mountain Gear 4400 Southwest is a unisex backpacking pack that makes the top of our list as the best ultralight option. Its weight capacity is 60 lbs which is high for an ultralight pack and it's made out of ultra-strong Dyneema fabric which makes it durable yet lightweight.
I wore this pack on my Coyote Gulch backpacking trip and loved it. It comes in four different sizes and has handy features like hip belt pockets for easy access to essentials, three exterior pockets, and an internal mesh pocket for a hydration reservoir. What's extra cool is that this pack is made in the USA and it's waterproof so you don't need a rain cover when backpacking in potentially rainy conditions. This pack doesn't have a detachable lid or a lot of the bells and whistles that other packs on this list have, but that's what makes it ultralight.
REI Co-op Trailbreak 60 Pack
Capacity: 60 L
Weight: 3 lbs 11 oz
Detachable Lid: Yes
Price: $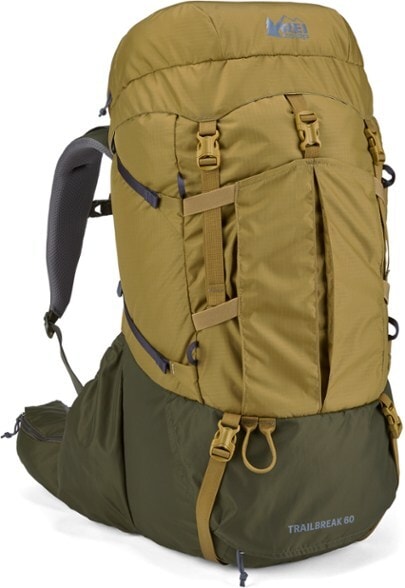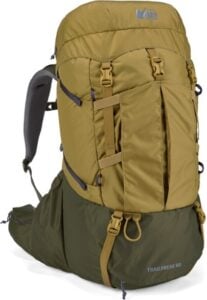 Check price: REI
Budget option: The REI Co-op Trailbreak 60 Pack is a great unisex pack on a budget. For a 60L, it's still relatively lightweight and it has a number of great features like a top-loading main compartment that cinches shut to keep your load balanced and compressed as well as external and hip belt pockets. This pack is a 'one-size-fits-most' style, so you can adjust the torso to your preference. The shell, straps, lining, and bottom are made using bluesign-approved materials, which we love!
---
How to Choose a Backpacking Pack
If you've ever walked into an outdoor store or browsed an online shop and felt totally overwhelmed by the number of options, you'll know that choosing the best backpacking pack is more complicated than it seems. With so many factors to consider, brands to choose from, and sleek styles vying for your attention it's important to know exactly what you need and why you need it.
So, to help you find that perfect pack, here are the top things to know before investing in a good backpacking pack. We'll cover what size of backpack you'll need, what features are worth having, how to get fitted for a backpack, and more.
What Size Backpacking Pack Do You Need?
Backpacking packs are often measured in liters and cubic inches. Not sure how to make sense of these measurements? Here's a quick cheat sheet to help you pick the right pack based on the length of your backpacking trip:
Daypack = 30 liters or less
Weekend Pack (1-3 nights) = 30 – 50 liters
Multi-Day Pack (3-5 nights) = 50 – 70 liters
Extended-Trip Pack (5+ nights) = 70+ liters
A multi-day trip requires a pack with plenty of room for gear compared to a pack that only has the capacity for a small overnighter. For reference, on my 10 day Alaska backpacking trip last summer, I used a 75-liter pack. For shorter 3-4 day trips, I try to use a backpacking pack in the 50-60 liter range.
By choosing a smaller pack, not only will the pack itself often weigh less, but it will force you to think about each and every item you are bringing, and as a result, your overall load will be lighter on the trail.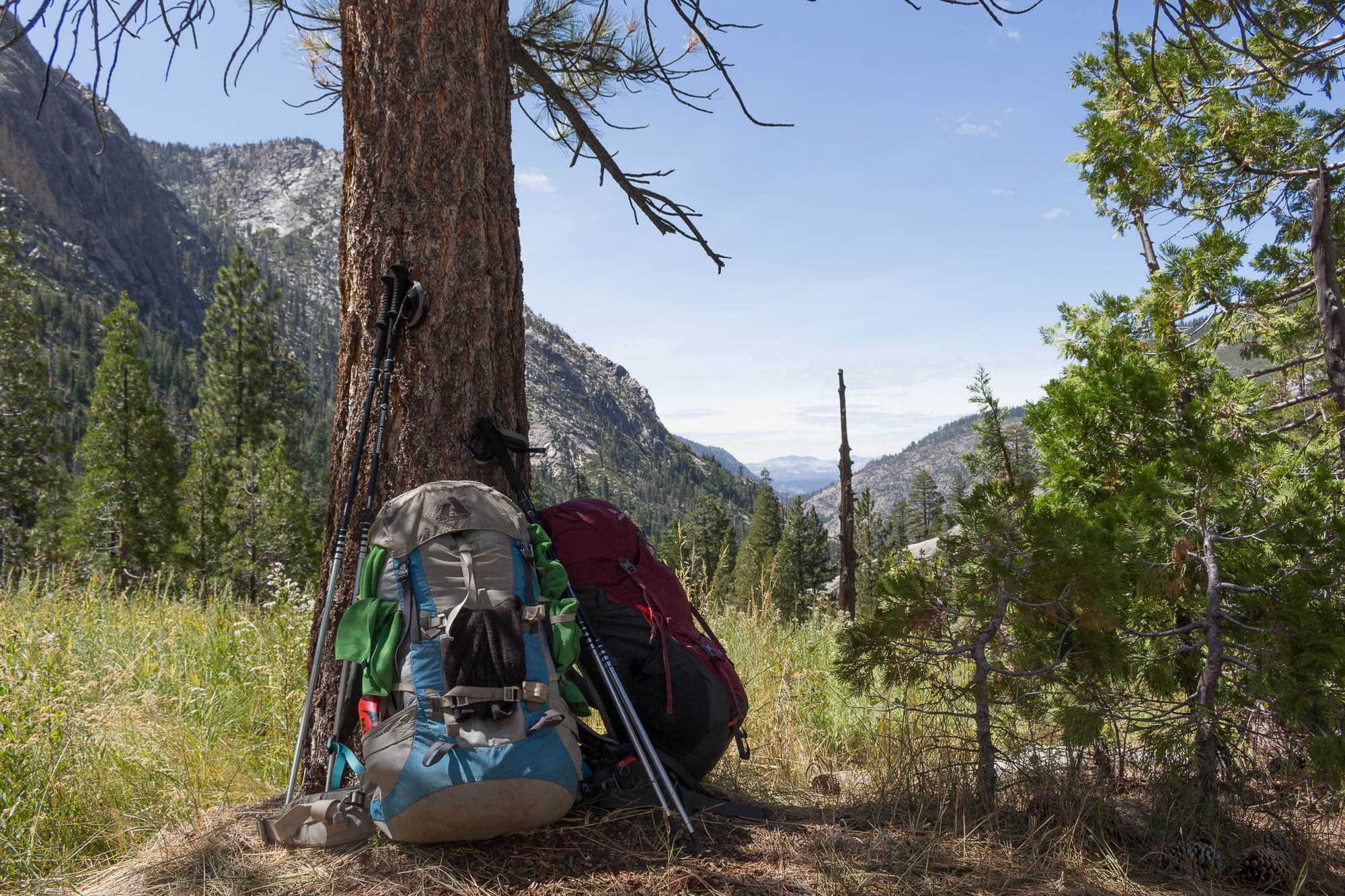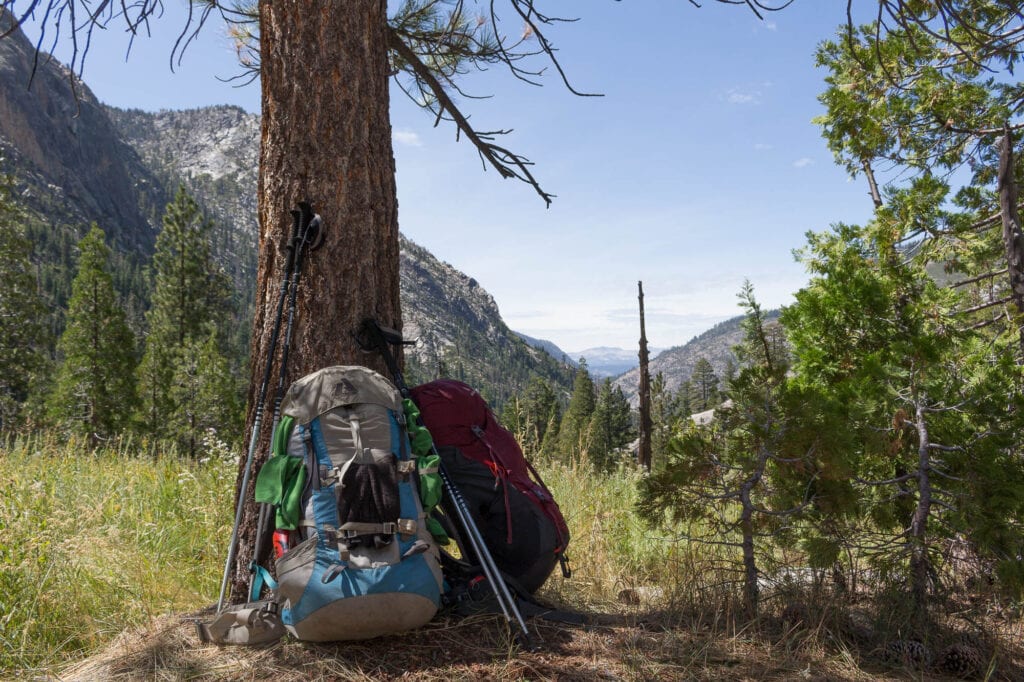 How to Measure Your Torso for a Backpacking Pack
A properly-fitting backpack means even weight distribution, comfort, and greater functionality overall. Measuring your torso before you buy will help you find the perfect fit. Here's how:
Place your hands on your hips and locate the uppermost points of your pelvis or hip bones (the iliac crest)
Draw an imaginary line across your low back between your thumbs and pinpoint that spot
Tilt your chin down towards your chest and have a friend measure from the C7 vertebrae (at the base of the neck) down to the point where it intersects the line between your hips, and there is your torso measurement
You'll want to purchase a pack that meets your torso length. Generally, all backpacking packs list a torso-length range in inches. While you'll want to choose the right size to start with, many backpacking packs have adjustable torsos which allow you to make micro adjustments to the torso length.
How Heavy of a Load Are You Carrying?
Some packs are designed for heavier loads than others. In many cases, ultralight packs are intended for lighter loads and have lower carrying capacities. But nowadays, the best ultralight packs out there like this Hyperlite Mountain Gear one can carry up to 60 lbs (although that is quite a heavy load to be carrying!). If you overload a pack, it won't wear as comfortably as it is designed to and can be more prone to tearing.
If you are new to backpacking, an ultralight pack might not be the best choice. You'll need ultralight, compact gear (like an ultralight sleeping bag, pad, and tent) in order to fit everything in the pack. All that ultralight gear can be expensive if you are starting from scratch. We recommend opting for one of the normal multi-day backpacking packs we suggest above for more helpful features and comfort.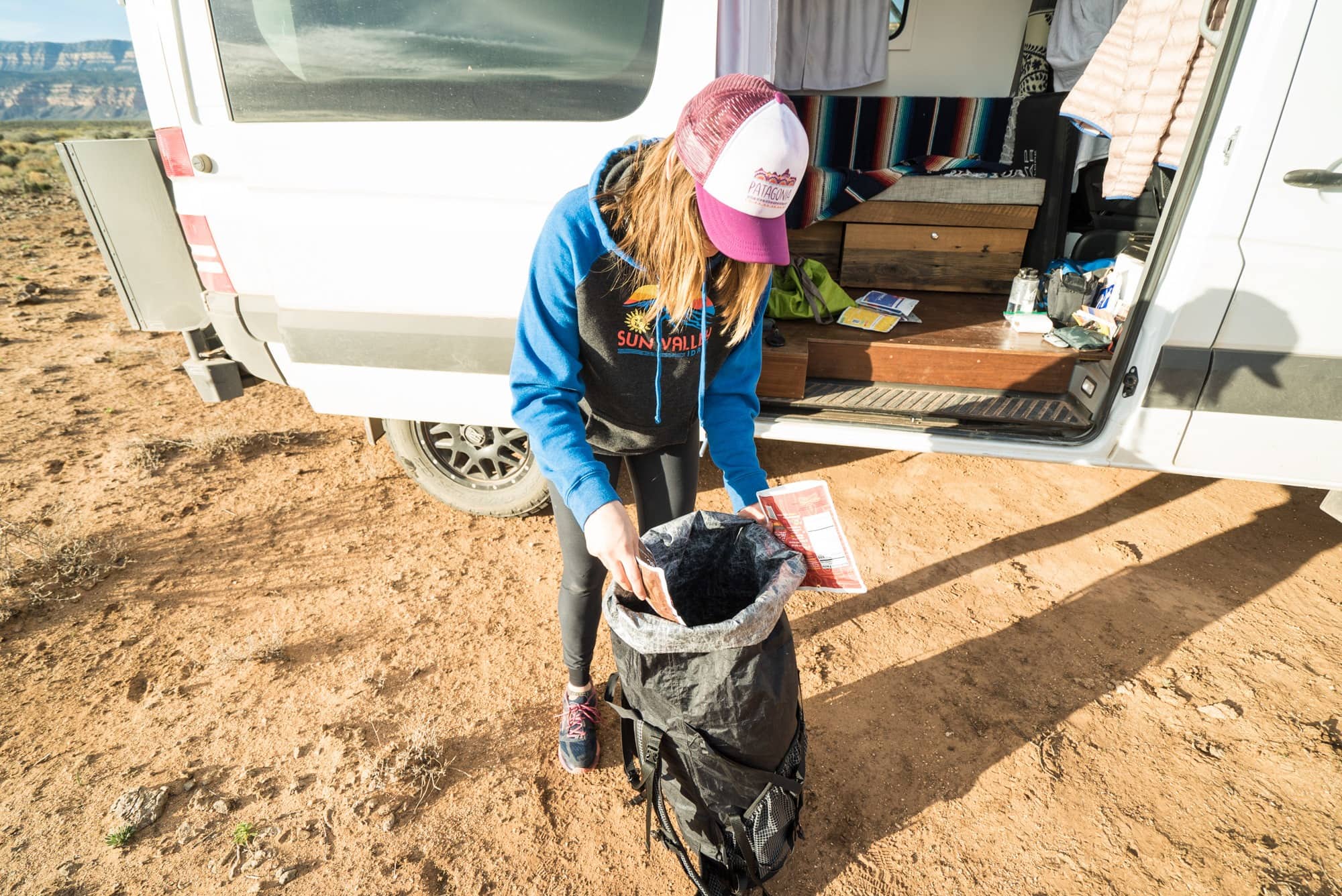 Learn practical tips for going ultralight on your next backpacking trip
What Type of Trip Are You Going On?
Things like climate, location, and the type of gear you'll be bringing with you can influence what backpacking pack is best for you. If you plan on backpacking in climates where rain (or even snow) is possible, you'll want a waterproof option or a pack that comes with a waterproof cover (unless you dont mind purchasing one separately).
Packs often have loops and attachment points for different types of tools and gear like trekking poles, ice axes, and helmets. Look for a pack that has what you need and nothing more so you can keep things lightweight. Some packs have removeable loops and straps making them more versatile so you can customize based on your needs.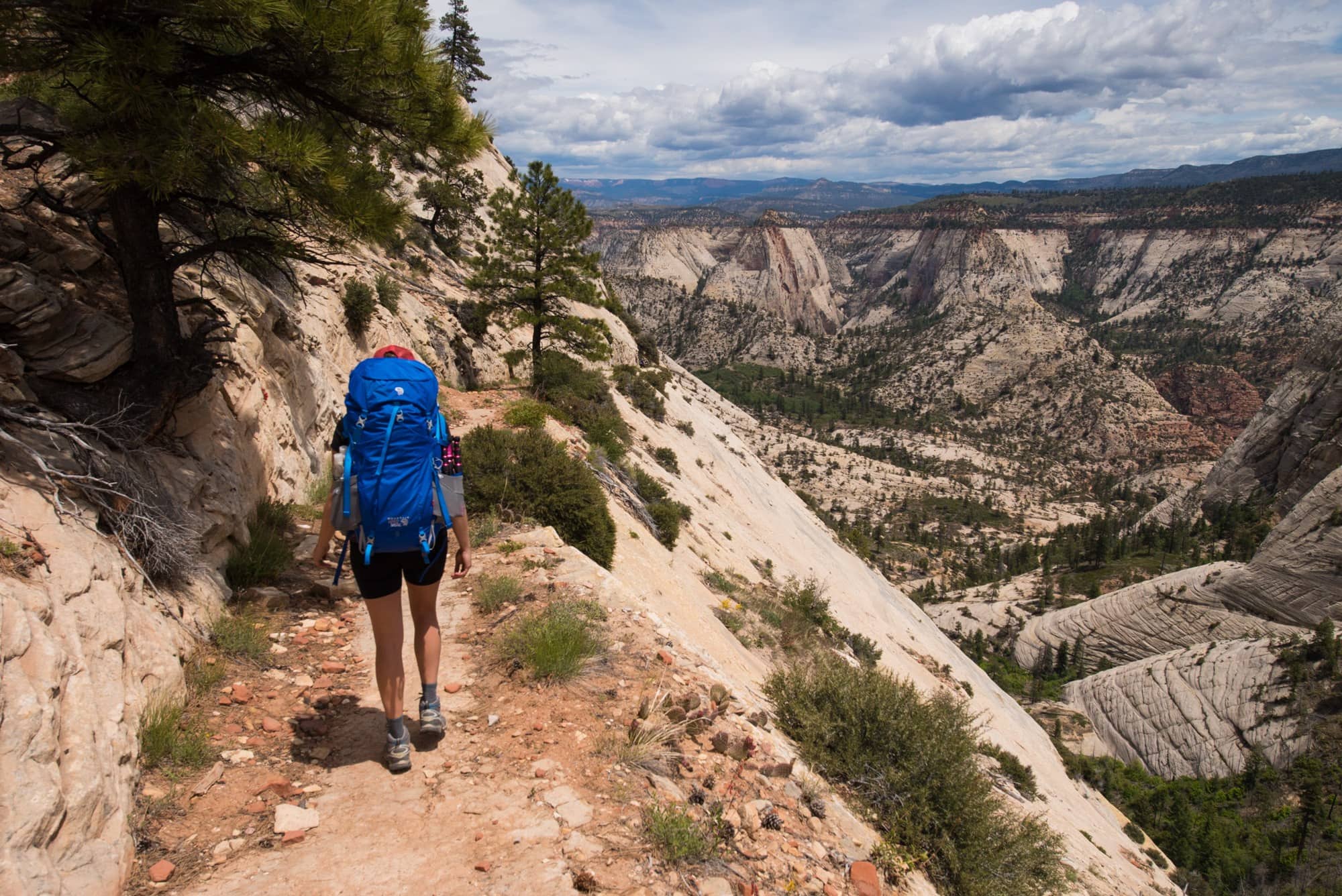 ---
Backpacking Pack Features
The overall fit of the pack on your body is the most important factor when selecting a new backpacking pack but there are also a number of features to consider when deciding on the right backpacking pack for you.
Internal vs External Frame
External frames are (for the most part) a thing of the past. You won't see them much anymore because they tend to be heavy and backpacking pack technology has progressed to the point where there are better, lighter weight options.
Internal frames tend to be lighter and help evenly distribute the weight around your back and hip area. They provide the wearer greater stability and balance and help keep the pack closer to you.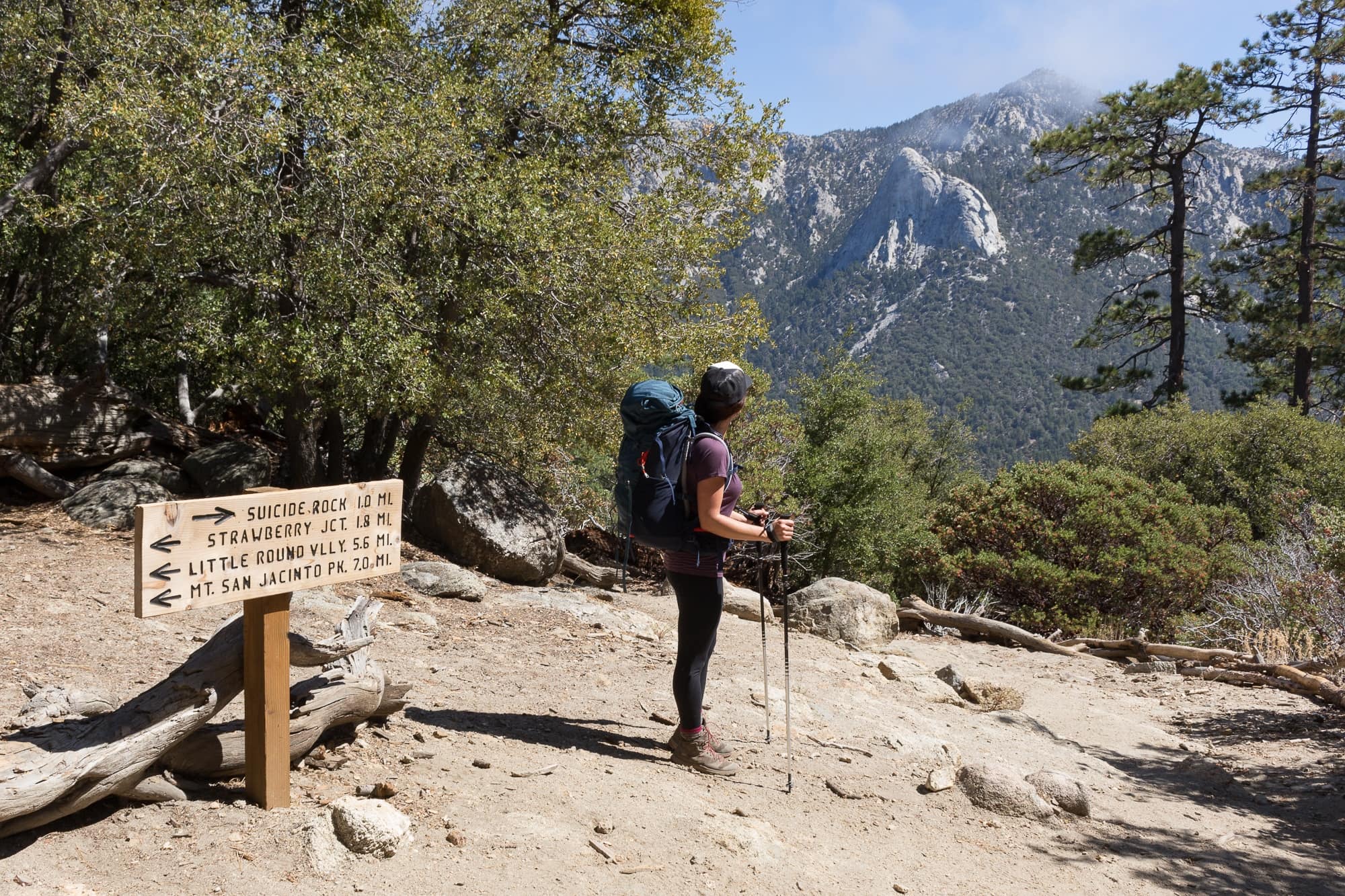 Internal Hydration Pocket vs External Water Bottle Pocket
The majority of backpacks on the market today (and all the ones on this list) have space in between the interior compartment and the frame to store a hydration reservoir. Not familiar with the term? A hydration reservoir is a plastic bladder that can be filled with water. It has a long tube attached so you can drink the water from the hydration pack as you hike rather than having to stop to dig out your water bottle. It's a pretty nice feature that doesn't add much extra weight.
But not everyone likes using bladders when they backpack (including me). A downside to hydration reservoirs is that with most packs if you need to refill the bladder, you have to unpack much of your pack to be able to pull the reservoir out. Also when it's full of water, it takes up valuable space inside your pack. The alternative is to use a side pocket to carry a lightweight water bottle or two.
When you are trying on a pack, consider how difficult it is to reach your water bottle with the pack on. If you'll mostly be hiking with friends, then you can have them hand you your water bottle. If you're solo, then you'll want to be able to reach your water in the side pocket without help, otherwise, you'll have to take your pack off every time you need a sip of water, which really interrupts your pace. The REI Co-op Traverse Pack has water bottle pockets that are tilted forward for easy on-the-go access so if this is important to you that pack could be a great option. 
Removable Top Lid
The top lid on a pack adds easy-access storage for things to grab in a pinch, like your map, sunscreen, your phone, or snacks. On most packs, you can remove the top lid if you don't need it and want to save weight, or you can turn it into a makeshift daypack.
Some newer packs actually have lids that transform into useable daypacks – like the REI Co-Op Traverse and the Gregory Deva (turns into a fanny pack).
Molded Hip Belt
Want a customized fit? Some brands, like Osprey, offer a molded hip belt for a better and more contoured fit. If you're purchasing the pack in-store ask an associate to heat and mold it for you. If you're buying online, call up your local outdoor store to see if they offer the same service.
Floating or Pivoting Hip Belt
A newer feature that we're starting to see in some backpacks is the floating or pivoting hip belt system which allows the hip belt to move separately from the pack. This is almost like a suspension system that takes some of that extra pack movement off of you. The Arc'teryx Bora is one pack that has this feature.
Ventilation
Hiking all day with a pack on your back can get hot so ventilation is key. To provide better breathability, some backpacking packs use open-cell foam and/or mesh lining on the back and shoulder straps. The Osprey Aura Pack takes it a step further with a mesh panel that prevents the pack from sitting flat against your back.
Organizational Pockets
If you're a person who appreciates a variety of organizational pockets over one big compartment, you'll want to get a pack that has additional pockets in strategically-placed areas. Many packs offer zippered hip belt pockets for easy access to smaller essentials like chapstick, sunscreen, or your phone. Some backpacking packs also have external stretch pockets on the front and/or the sides which are great for quickly stashing an extra layer or storing wet gear.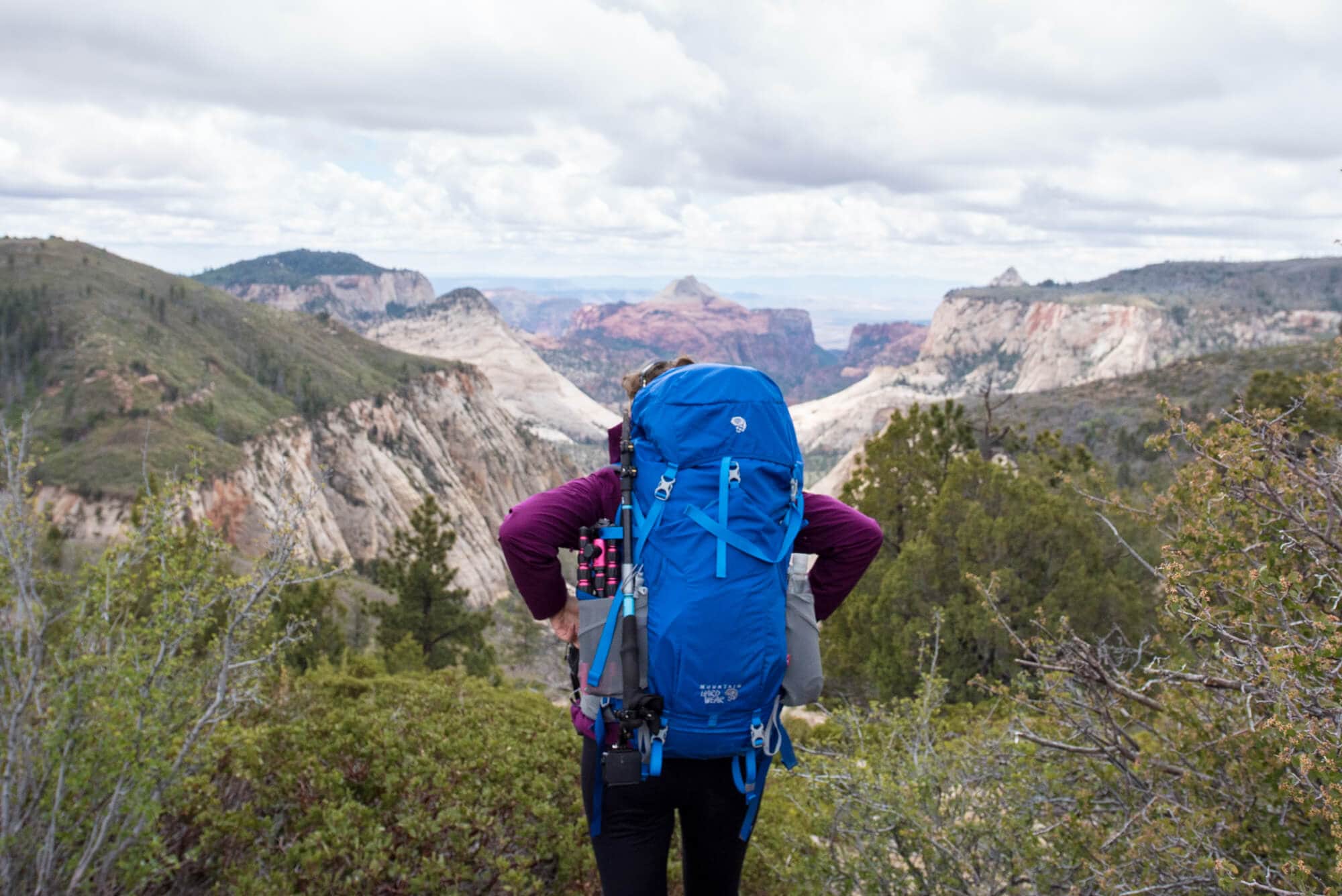 Weather Proofness
Few packs on the market are fully waterproof so most require a rain cover which is a thin and durable layer that you can wrap around your pack to keep dry when the weather gets wet. Unless you're absolutely certain that it's not going to rain, a rain cover is a good thing to throw in your pack when setting out on a backpacking trip just in case.
A few of the packs on our list are waterproof, like the Hyperlite Mountain Gear Pack and the Arc'teryx Bora Pack. Some of the packs on our list even come with a rain cover, like the REI Co-op Traverse, the Gregory Deva, and the Gregory Maven.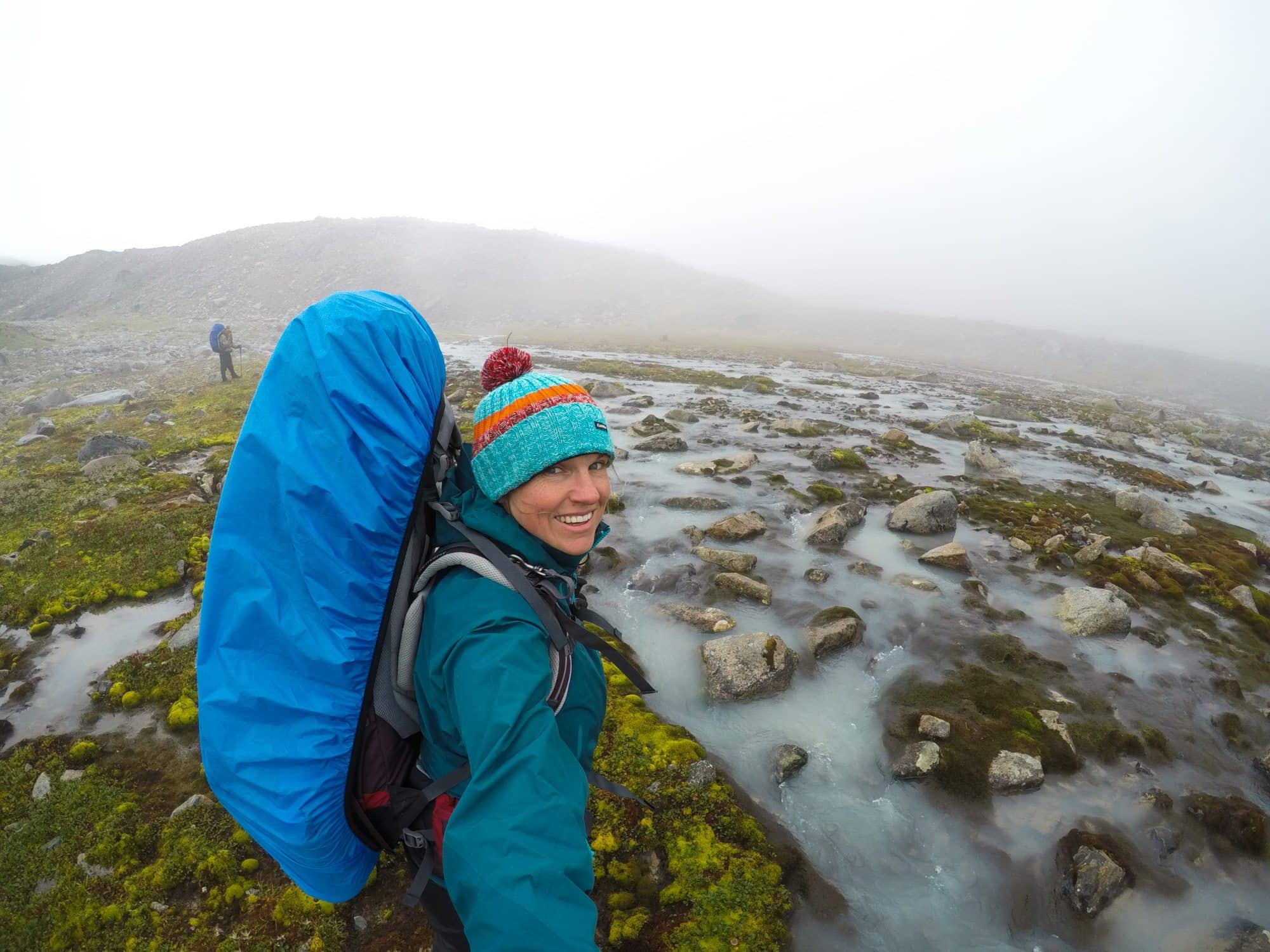 ---
What backpacking packs have you tried and how did you like them? Let us know in the comments below.
Some of the links in this post are affiliate links which means if you make a purchase, we receive a small commission at no cost to you. Any purchases you make help keep this blog going and our content free. We truly appreciate your support!