Van Life with a Dog: Tips for Living & Traveling with Pets
Wondering what van life with a dog is like? Here are tips for living in a van with pets and finding dog-friendly activities while traveling.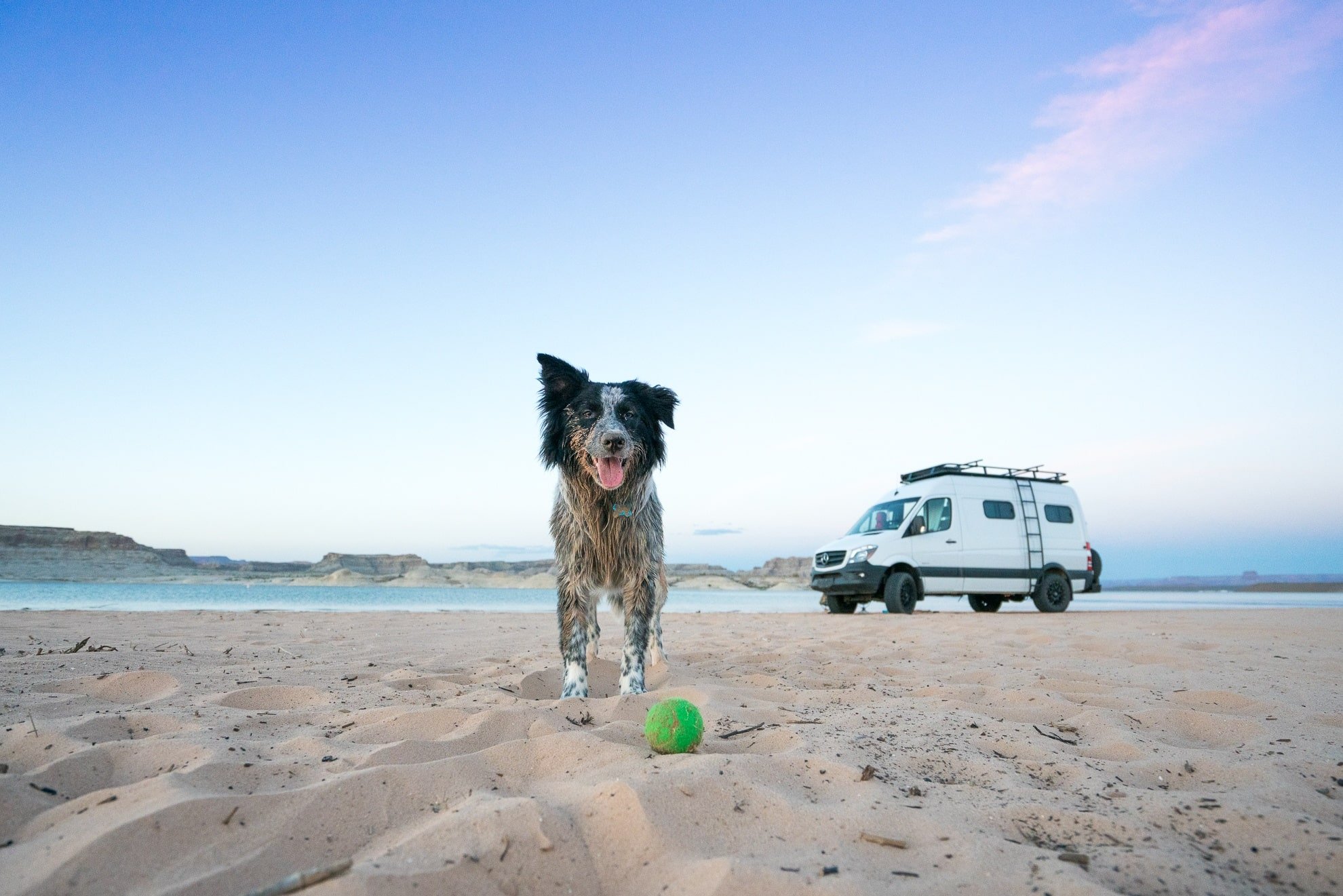 Van life with a dog is awesome. If you follow me on Instagram, you know our dog, Charlie (who even has own Instagram account –@charlietheadventuredog). He's a border collie/mini-Australian shepherd mix who is crazy smart, a little neurotic (thanks to his breed ), and has an unbelievable amount of energy. He has also spent much of his life on the road traveling over 50,000 miles with us in our Sprinter Van and has been from southern California all the way to upstate New York.
I get a lot of emails asking me about van life with a dog…like, what do you do when you have to leave your dog in the car? Or how do we find places to go that are dog-friendly?
Living in a van with pets is completely doable, and I truly believe van life dogs have the BEST life. They spend the majority of their time running outside, meeting tons of other dogs, and getting the occasional scrap of food that falls from your camp stove.
That being said, there are definitely some considerations to ensure your dog or other pet is as happy as you are. I also know people who do van life with a cat, so if you're a cat person, know that you can bring your cat along for the ride too.
Here is my best advice and tips for van life with a dog and for living in a van with pets in general.
Tips for Traveling with Pets
Carry their vaccination records in the van
You might be surprised to find out that some campgrounds require vaccination records from anyone bringing a dog in. While that's never happened to me out West, it happened at more than one campground in New York where dispersed, free camping tends to be more limited. So keep a copy handy on your phone or somewhere in the van so you have them just in case. It's also good in case you run into any medical issues with your dog and need to see a veterinarian while you are traveling.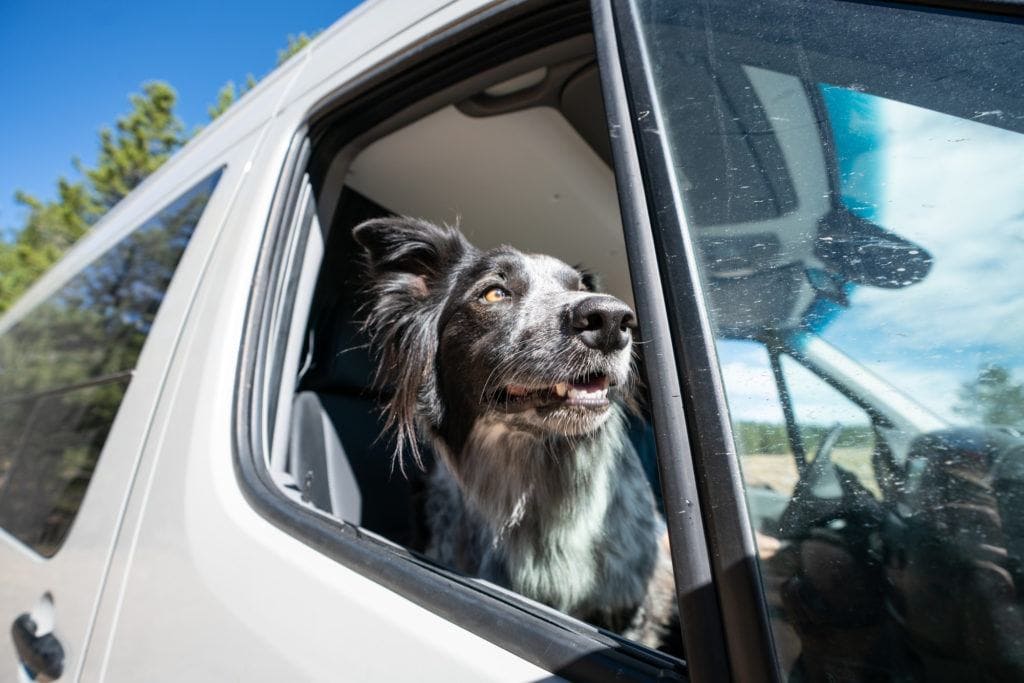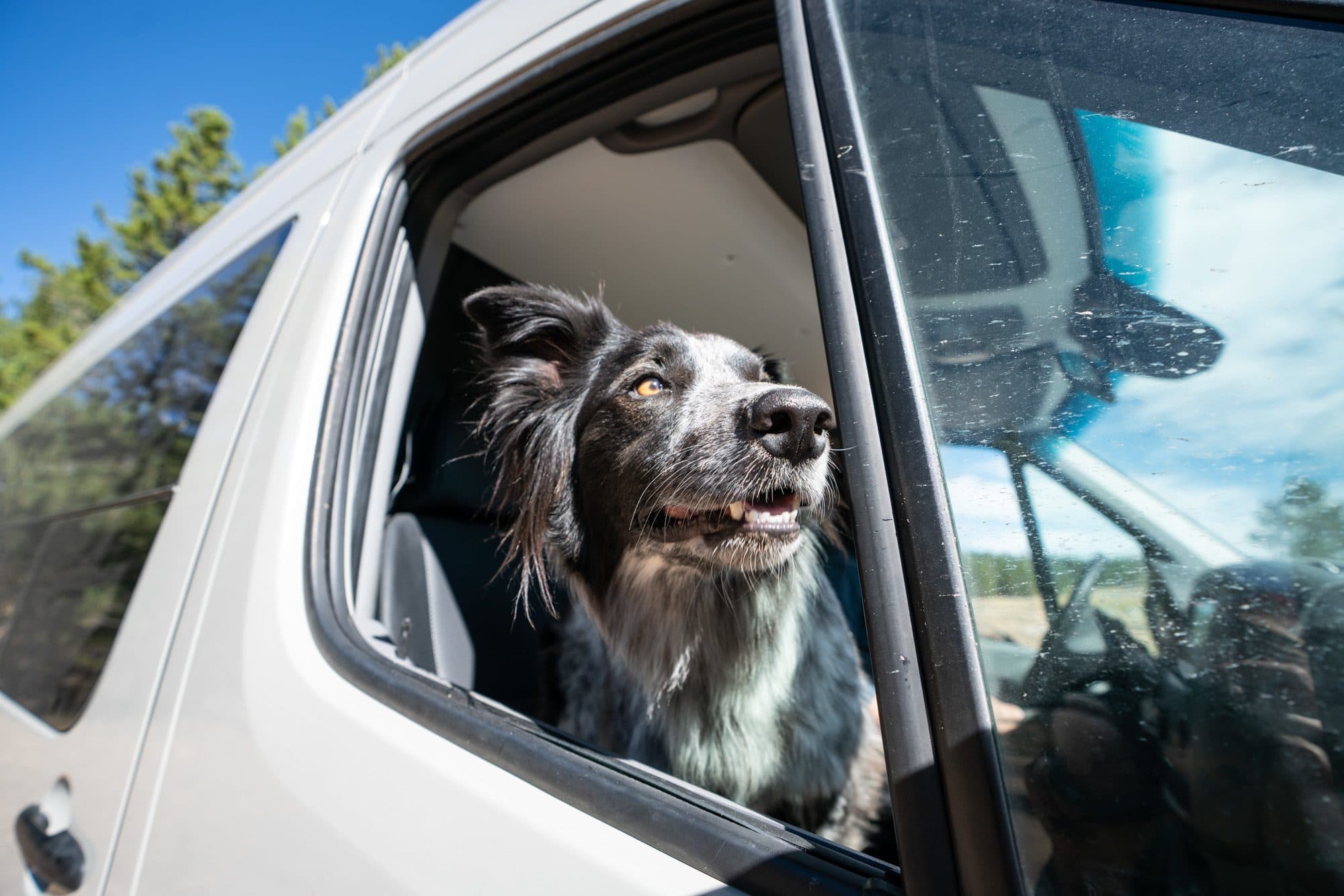 Give them somewhere comfortable to lay
You want your dog to be comfortable on those long drives. If they spend their time on the floor, it's nice to give them something cushioned to lay on. Bring a dog bed, a yoga mat, a blanket, or even a foam Thermarest sleeping pad that you can fold in half. These foam pads are also handy for colder backpacking trips when you want to give your pup some insulation from the ground. When we're on the road, Charlie usually hangs out in his dog bed between the two front seats.
Choose food that is available everywhere
Charlie goes through one big bag of dog food about every month. That means we have to restock our dog food supply pretty frequently on the road. It's hard on dog's tummies to switch up their food all the time, so you want to make sure that your dog's food is readily available at major food or pet stores, so you can easily find it when you head into a town. Fortunately, stores like Petco and Petsmart carry some pretty good dog food brands these days, and they are everywhere. If your dog is on something special that you can't get at a bigger pet store, go to the dog food brand's website and see if they have a way to search for retailers in your current location.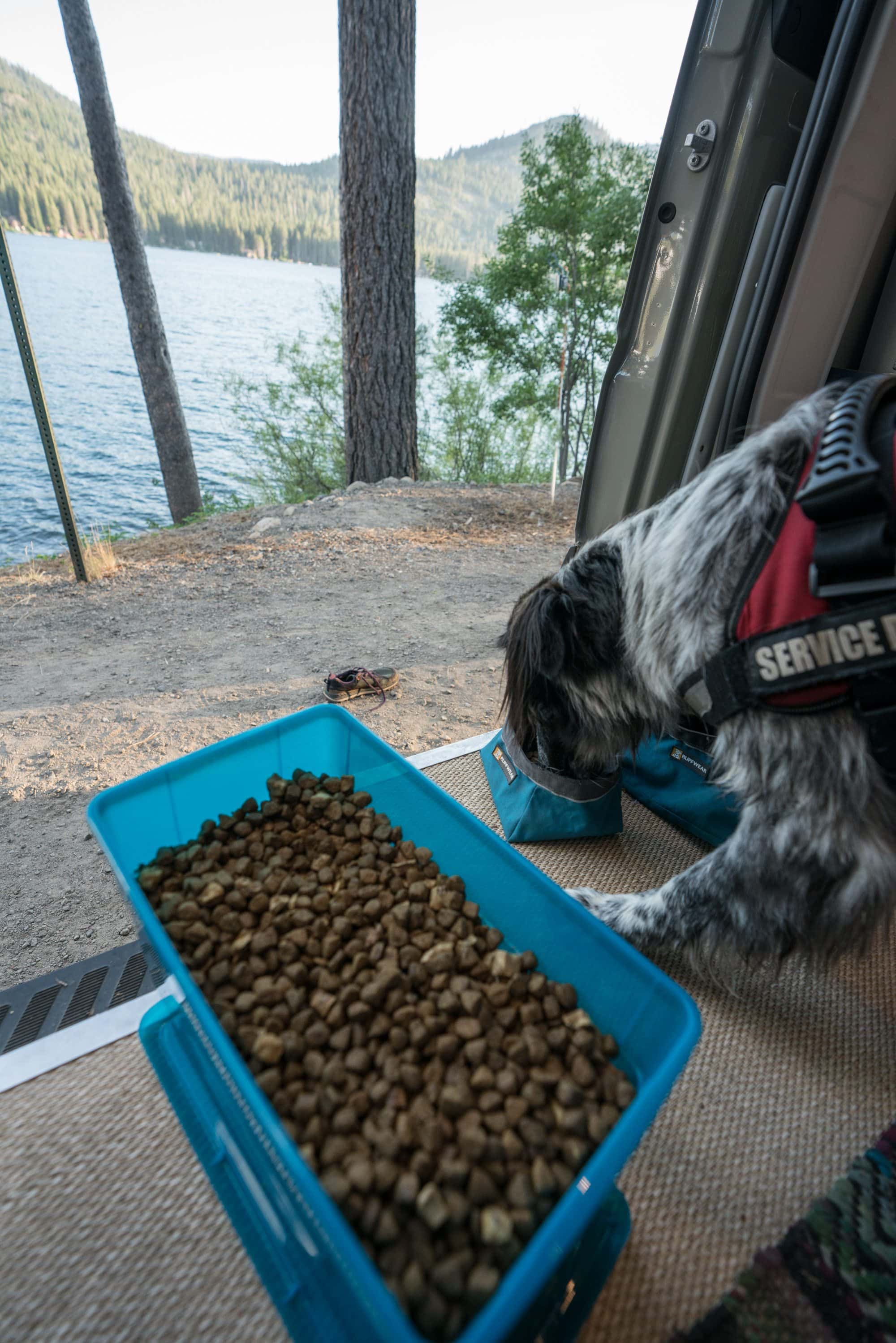 Keep them on a regular eating schedule
Van life can be hard on a dog's eating schedule. Our dog Charlie doesn't like to eat while the van is moving, so it's important for us to give him time to eat in the morning before we start driving…otherwise, his whole schedule gets messed up for the day. Every dog is different, but pay attention to their eating habits and try to stick to a routine so they don't go hungry or end up eating dinner at midnight and making you get up to let them go to the bathroom. We also like to leave a water bowl out for him 24/7. We've found that these collapsible dog bowls are great for driving and the water doesn't spill, even on rough roads.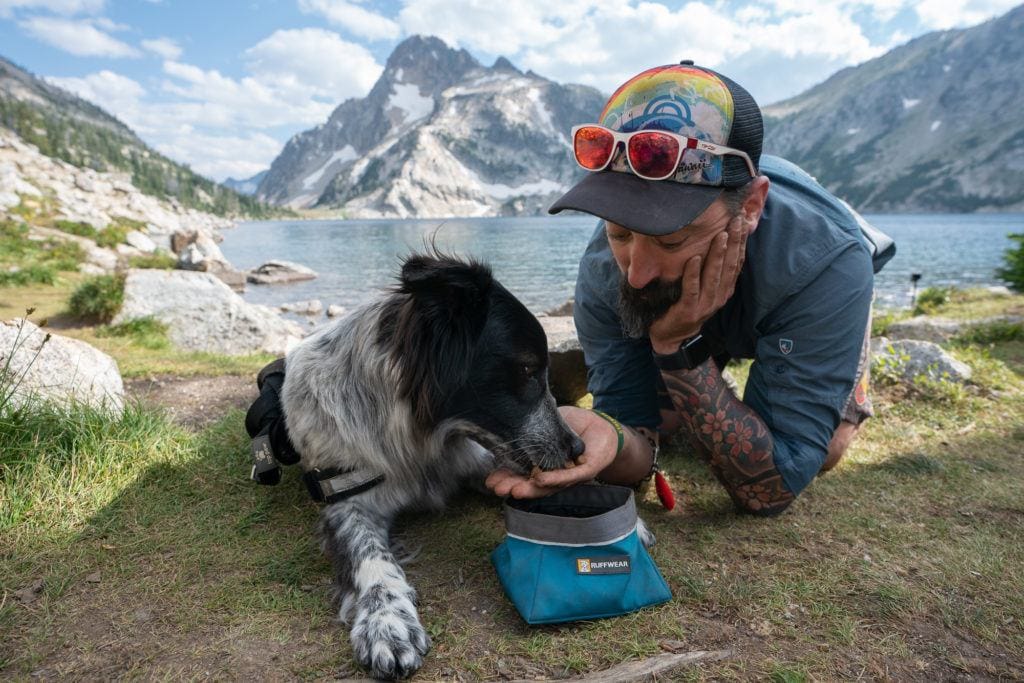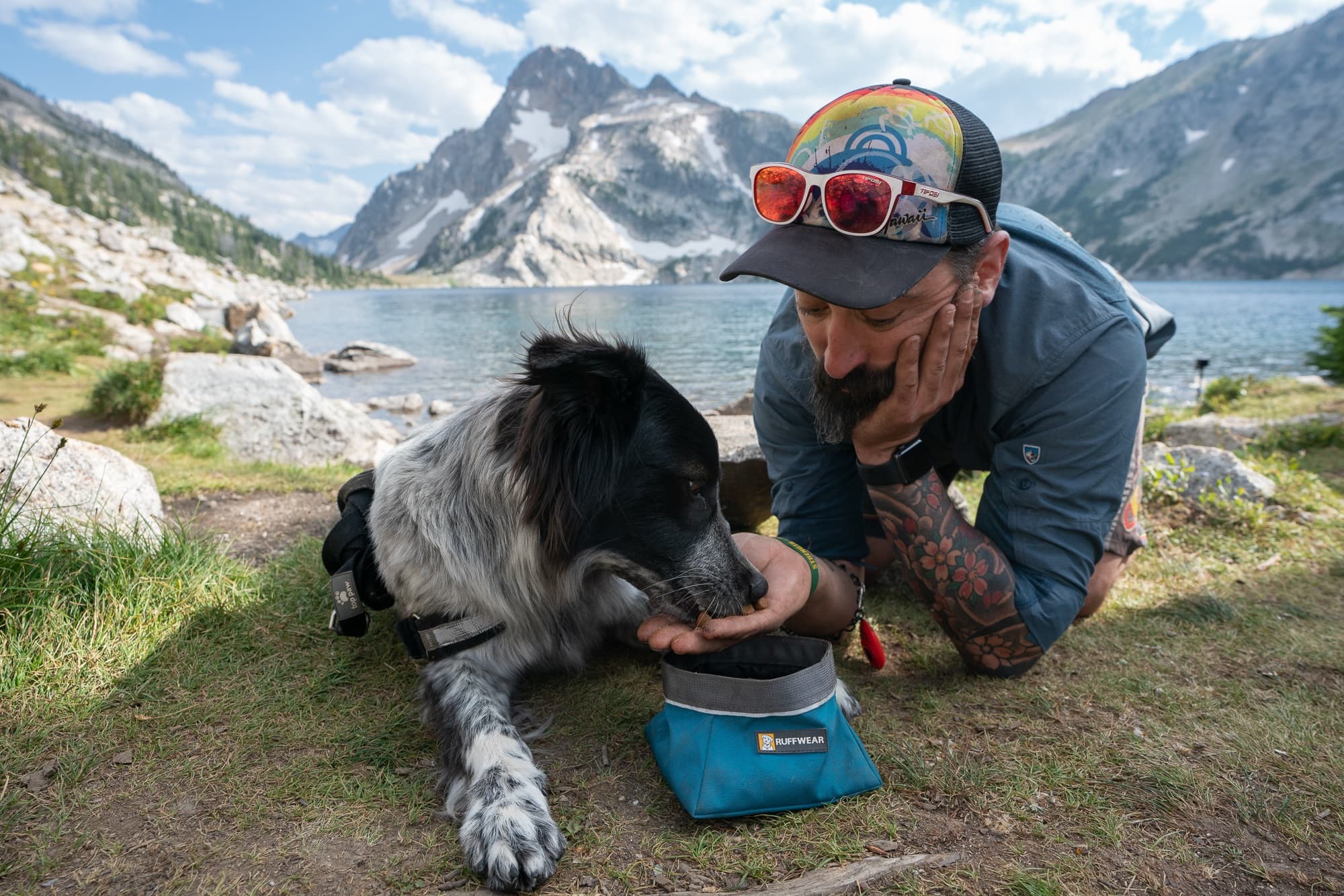 Find dog-friendly places & activities
Van life with a dog requires you to consider your dog as you plan your itinerary and day to day activities. As pet owners, we learn to prioritize places where our animal is welcome. After a while, you'll learn to plan your van life travels around your ability to do stuff with your pet. Maybe this means avoiding really hot places in peak summer or choosing to bypass National Parks and hiking on other types of public lands instead that allow dogs on trails.
Before you head out to find some epic spot you heard about, check dog regulations first. The last thing you want is to drive far out of your way to find out the place you want to be isn't that dog-friendly, like the Enchantments in Washington or much of the Wasatch in Salt Lake City. This also goes for visiting National Parks, some of which are on the dog-friendlier side – be sure to check out our guide to the Most Dog-Friendly National Parks. A little upfront research can save a headache later on.
If you're looking for a place to grab a bite to eat, check if they have a dog-friendly patio first. And if not, grab take-out and find an awesome place to set up a picnic for both you AND your dog to enjoy!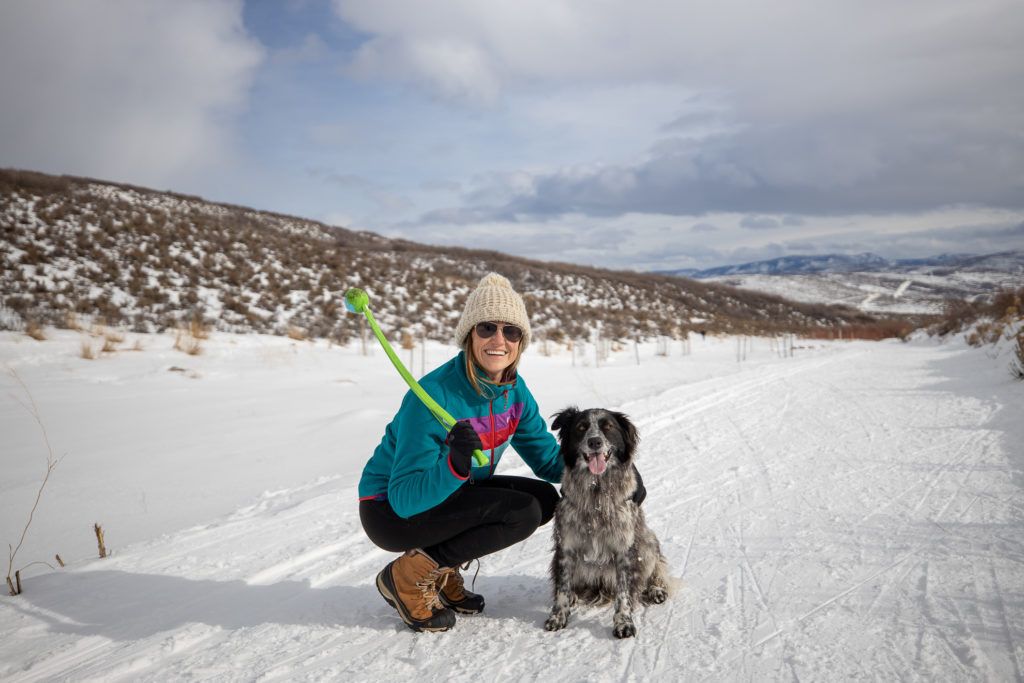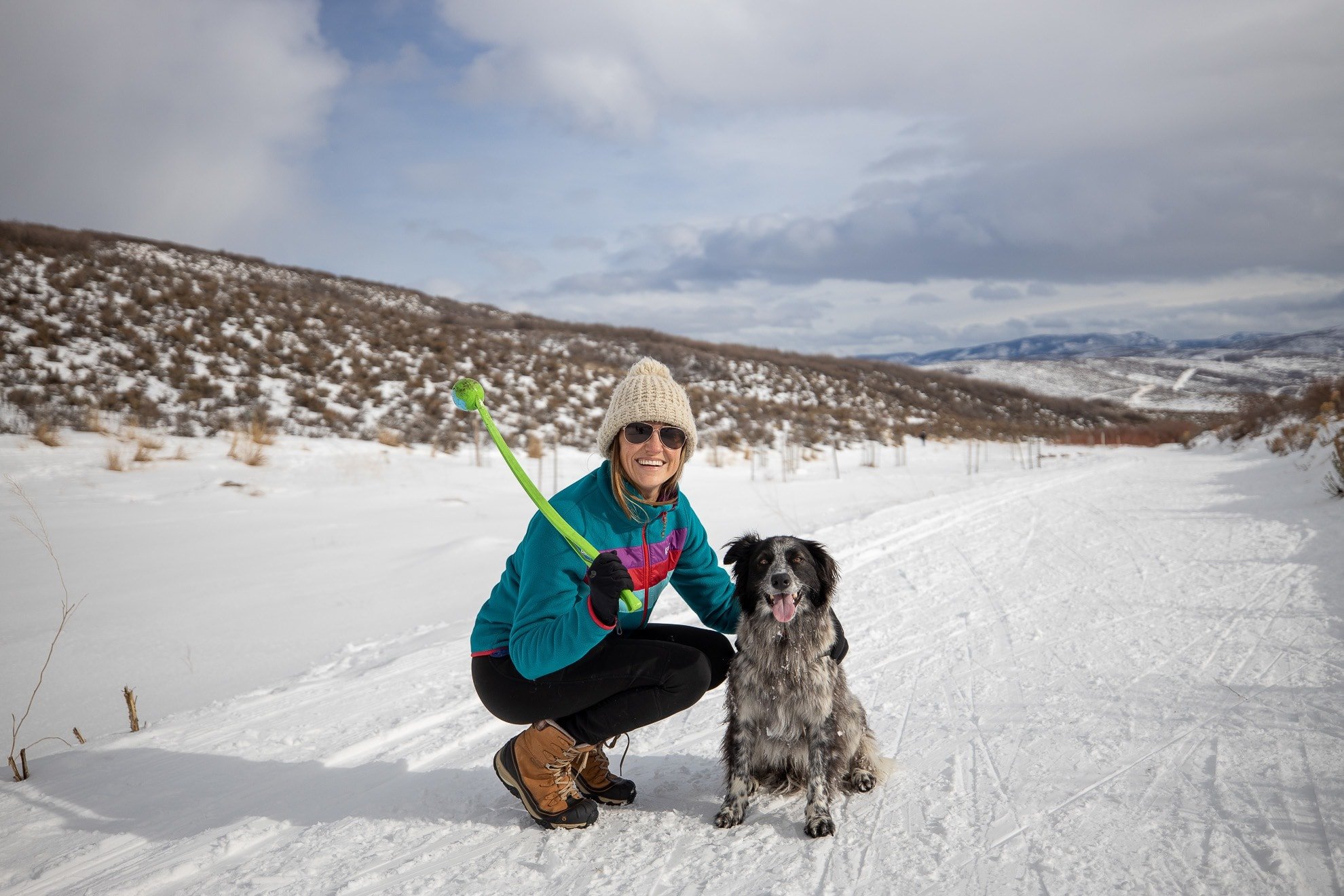 Check out these dog-friendly National Parks.
Be smart about leaving your dog in the van
I'll start with the caveat that Charlie is a medical service dog for Ryan's type 1 diabetes, so it's rare that we leave him in the car…but for the sake of sharing tips for van life with a dog that apply to most dogs, this is an important point.
You may be asking, is it ok to leave your animal in the van when you go out to eat? What about when you visit a National Park or go on a hike where dogs aren't allowed?
Whether or not it's ok to leave your pet in the van is first dependent on temperature and safety, and also on local laws that may prohibit you from leaving your animal in your car.
As for temperature, if it's too hot in the van for you to be comfortable, it's also too hot for your pet. Use your common sense. Dogs can die in cars and they can die in vans too and you don't want to lose your best friend to carelessness.
It might take a bit of time to figure out how hot your van gets after sitting in the sun for a while. In our van, we have two roof vents, one near the galley and one right above the bed. If we crank those on high and slide the windows next to our bed open, we can get a really nice cross breeze. We also have insulated curtains which help keep it cooler in the van, even on hot days.
With that said, we are still very careful about when we leave our dog in the van and always evaluate. We also avoid traveling to the hottest places in the summer – no way would you catch us in Arizona or Southern Utah from June through mid-September. We generally feel comfortable leaving Charlie in the van for short periods of time when it's not too hot, for example in the evening if we want to go out to dinner.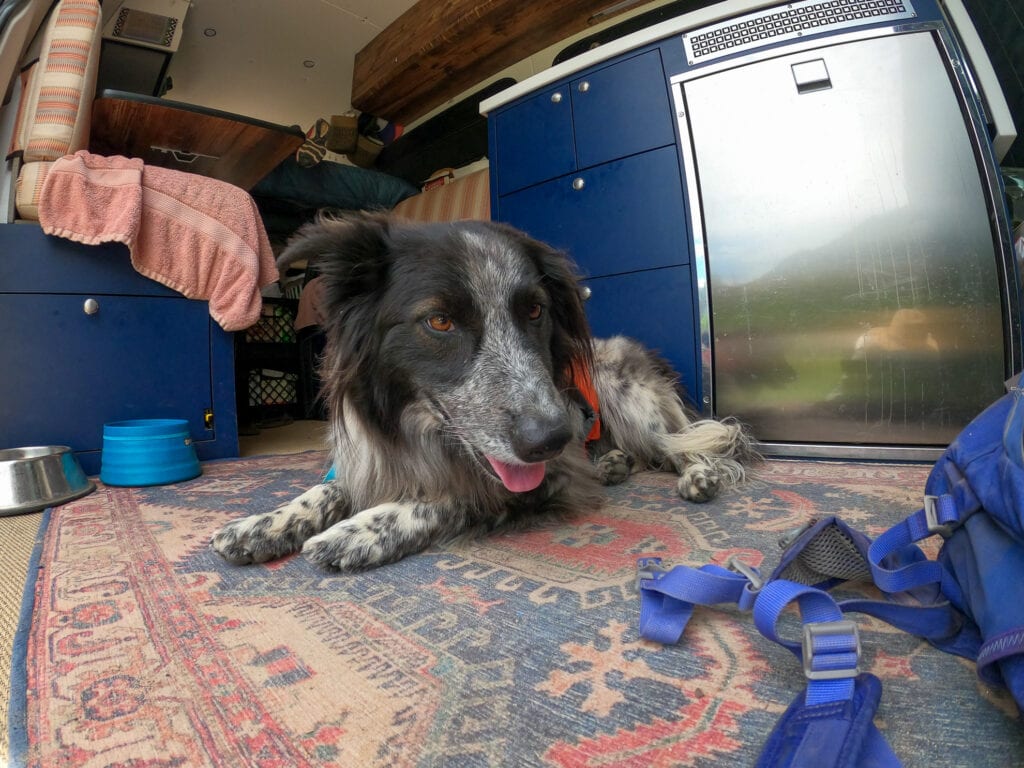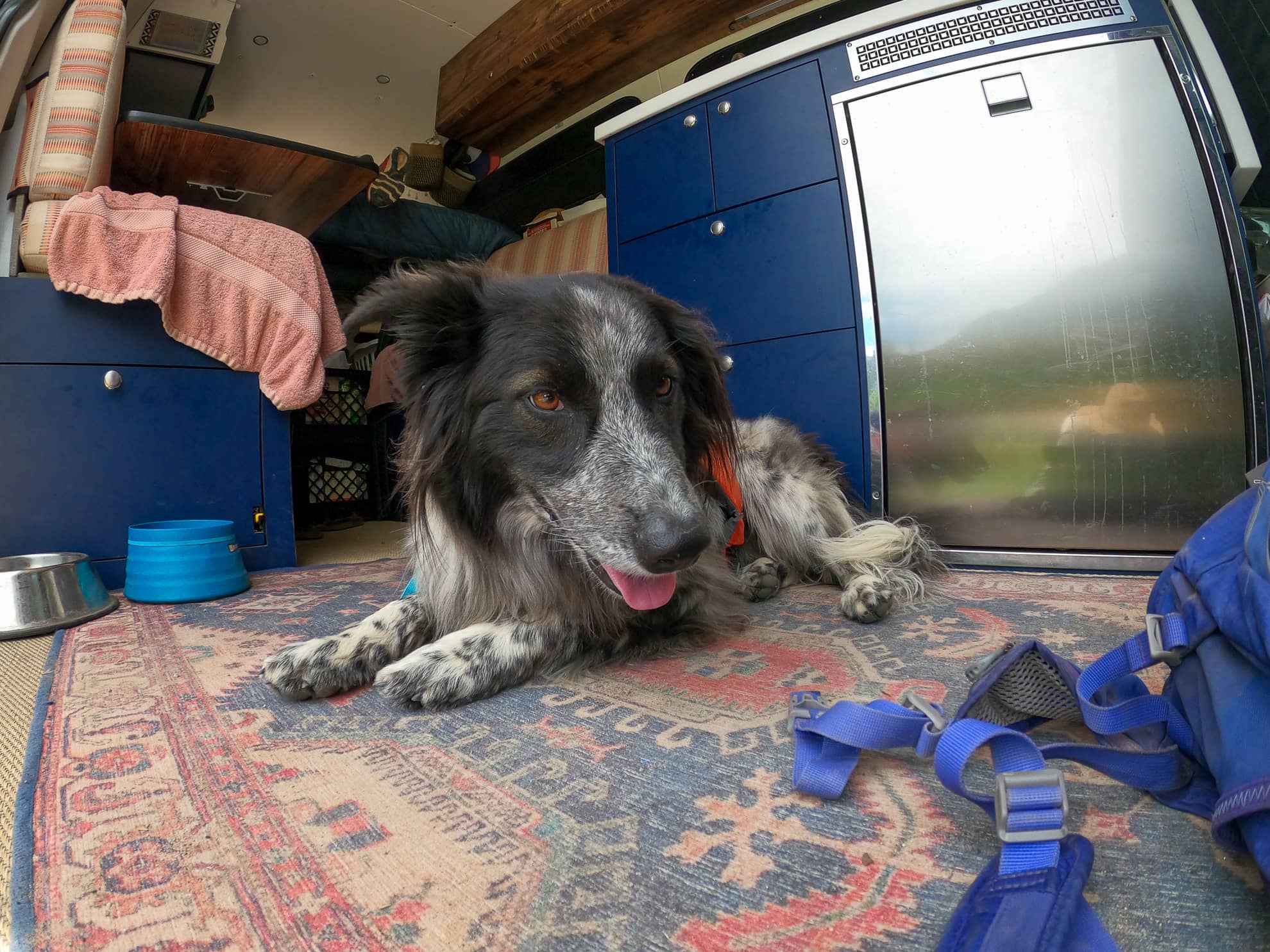 Get tips for keeping your dog cool in the summer
Use doggy daycare when you need to
If there is somewhere that isn't pet-friendly that you really don't want to pass up, don't just leave your dog in your van for the whole day. If it gets hot enough, at best, you could end up with some angry dog-loving bystanders, and at worst, it could be very dangerous for your animal.
No matter where you are, doggie daycare is almost always an option. There is also Rover, where you might be able to find a dog sitter for a day or two.
A couple of years ago, Ryan and I backpacked to Havasupai, which is not a good place to bring your dog because of the tribal dogs running around and the ladders to Mooney Falls. We found an awesome doggie-boarding place in Flagstaff with great reviews and Charlie went on a little doggie vacation while we checked out the waterfalls of Havasu Falls. It worked out really well.
Take driving breaks on long days
A restless dog is a mischievous dog. We've spent a lot of long days on the road with Charlie. Even if we are in a hurry to get to our destination, we make it a priority to get Charlie the necessary exercise. Rest areas are great, as they usually have big fields or pet areas. You can also use BringFido.com to find dog-parks in your current location. Bring something like a frisbee, ball, or another toy (consider a glow in the dark one for nighttime stops) that gets them running outside the van because even those small bursts of periodic exercise will help keep your dog mellow during the long drives.
---
Tips for Camping with Pets
Choose dispersed camping over established campgrounds
Most established campgrounds require your dog to be on a leash of 6 feet or less. For this reason, we much prefer camping at free dispersed sites with Charlie and only stay at paid campgrounds when we have a reason to. There are no leash laws at dispersed campsites, which allows us to relax while Charlie roams around and plays fetch.
If you aren't sure how to find these types of campsites, check out our complete guide to finding free, dispersed campsites for a full list of my favorite tools and apps.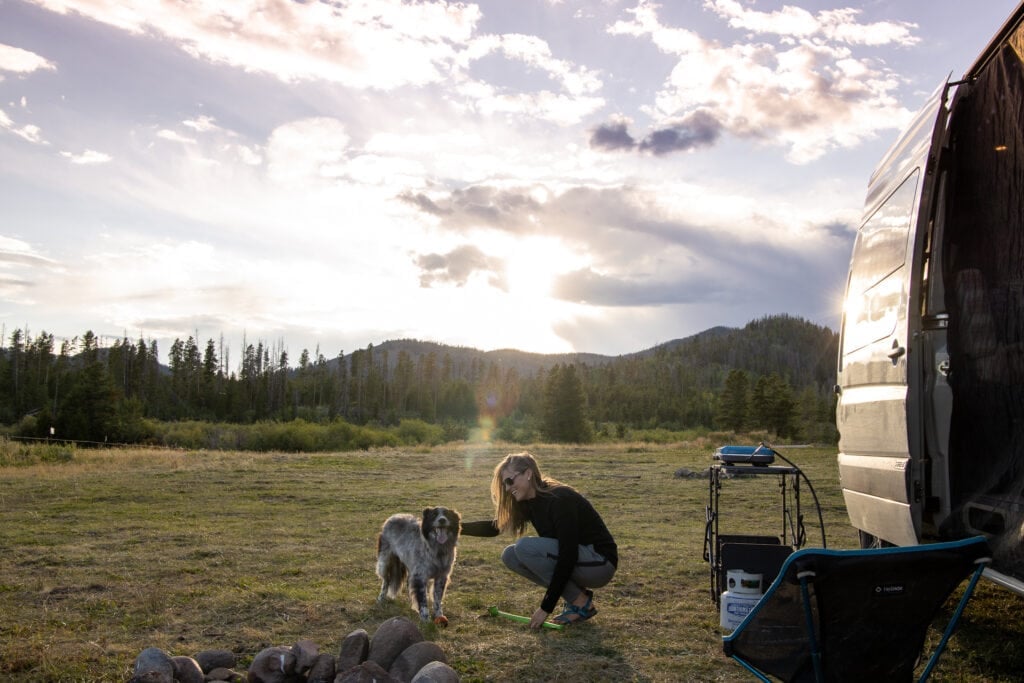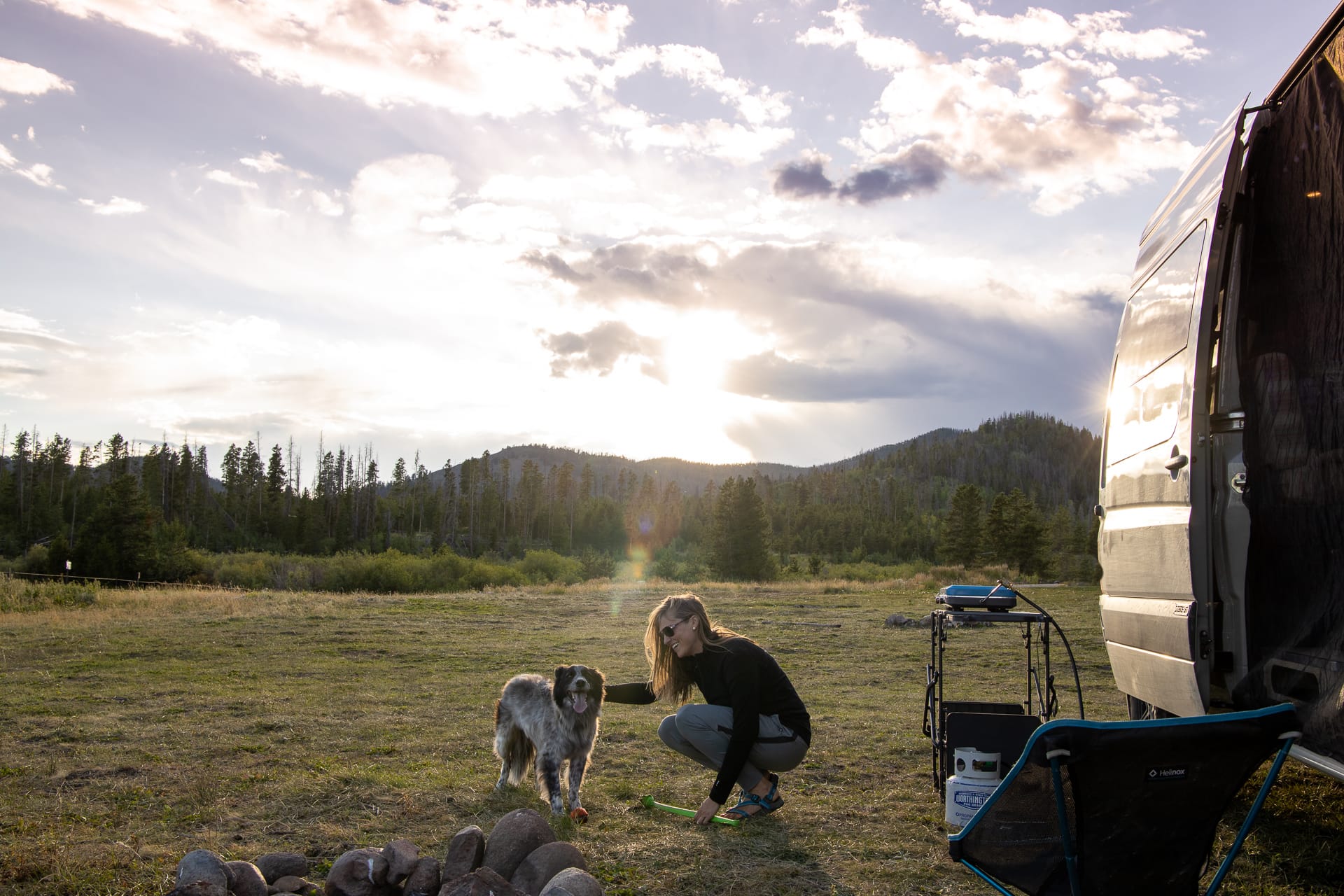 See my favorite tools for finding dog-friendly vanlife campsites.
Put a light on their collar to keep track of them at night
If you let your dog roam around your campsite at night, a good way to keep track of them is by putting a light on their collar. We like the Nite Ize Moonlit LED light that clips on with a carabiner, this clip-on safety beacon, or the Nite Ize LED Safety Necklace. It makes it easy for us to spot Charlie when he's sniffing around in the bushes while we are in the van or around a campfire.
Have an extendable leash
While we love free campsites, sometimes we stay in established campgrounds. Maybe we can't find any dispersed camping or other times we need showers and to do laundry. These types of campgrounds with services tend to have strict leash rules for pets. Do yourself a favor and have a long leash or dog tether system in your van so your dog can walk around a bit at camp and have some freedom without breaking the rules. An illuminated leash can come in handy at nighttime too.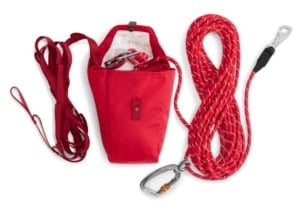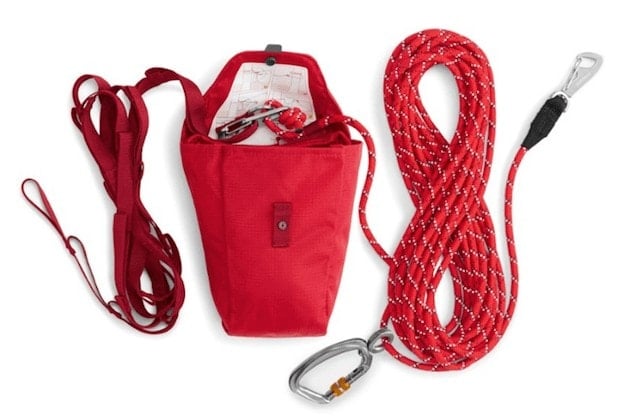 Get expert dog first aid tips written by a veterinarian
If your bed is your dog's bed…choose the right bedding
If your dog sleeps in the bed with you, you'll want to pick your bedding carefully. White sheets and light colors, in general, are a huge no-no, unless you plan on spending a lot of time in the laundromat. Furthermore, you want a comforter that is going to be easy to clean and stain resistant, since your dog will constantly be dirty from all of your adventures.
We've been using Rumpl's 2-person Original Puffy blanket in our van and are completely sold. Rumpl blankets are made from a synthetic sleeping-bag type material, which means dog hair and dirt doesn't stick to it. All you have to do to clean it is shake it out, and it's even machine washable when needed. It's surprisingly warm, and the 2-person original puffy is large enough to span across the back of a Sprinter Van.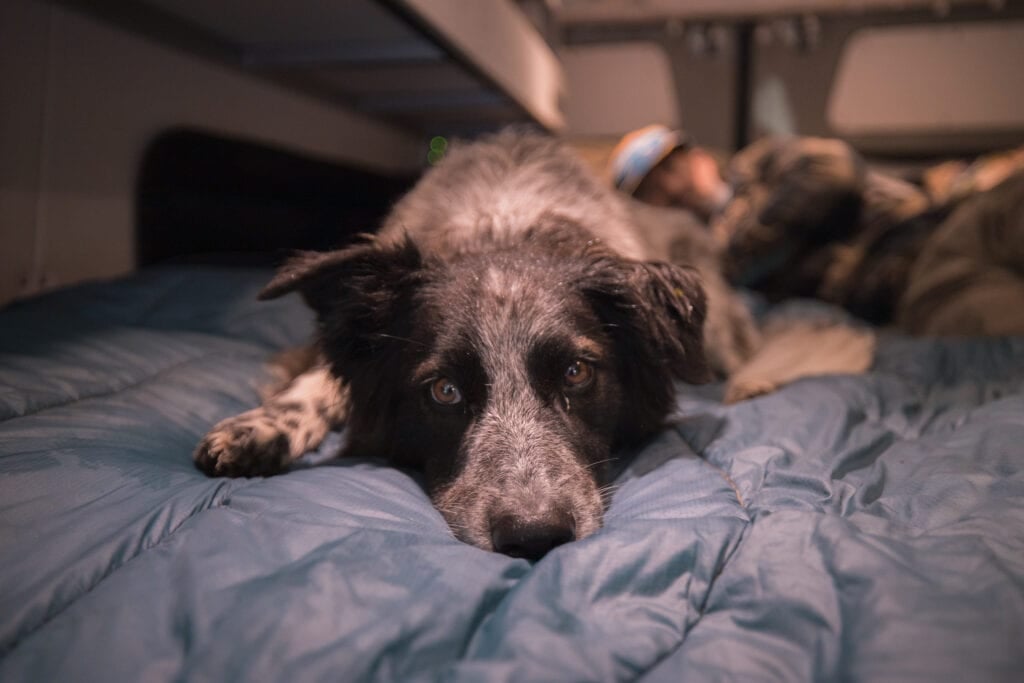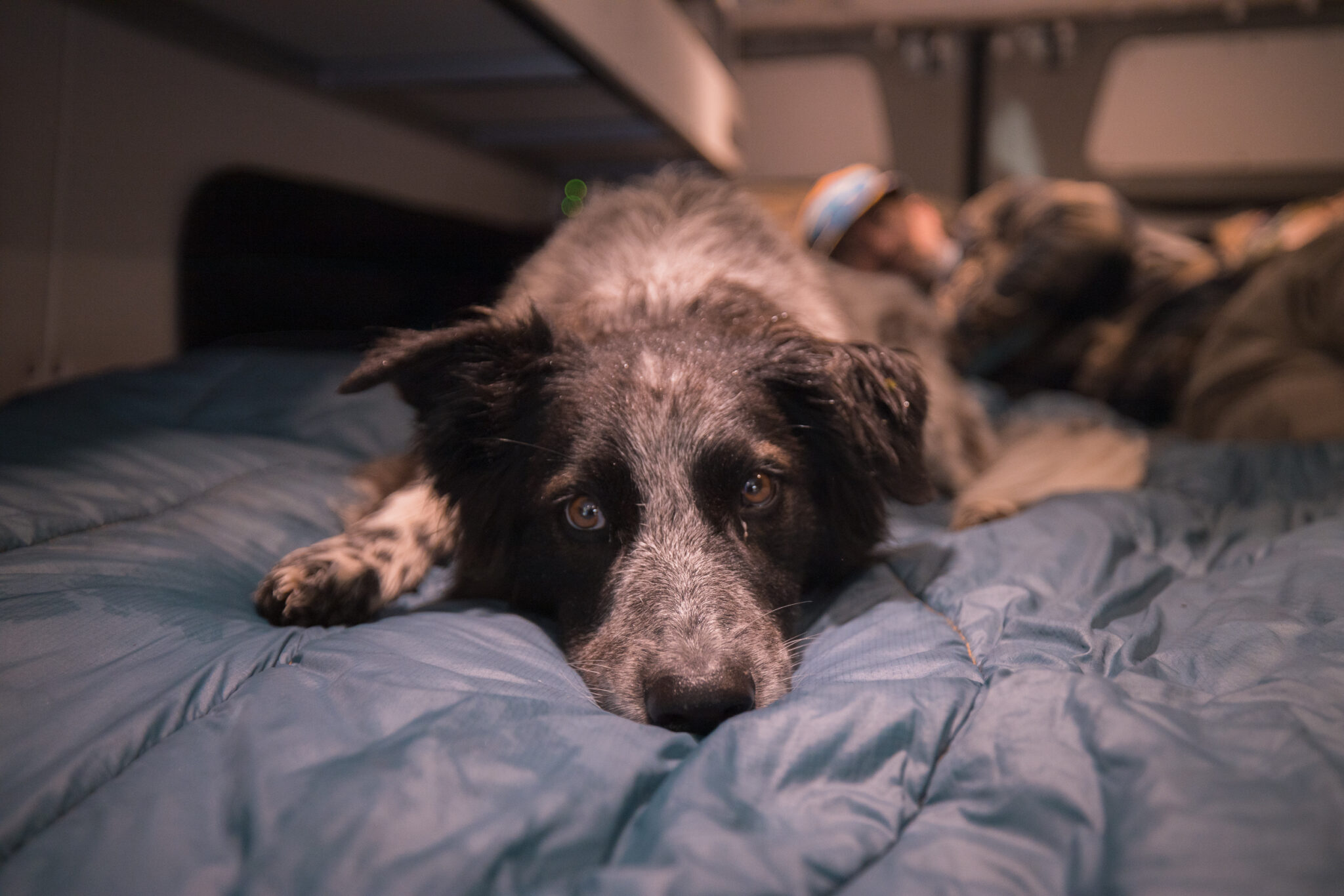 ---
Other Considerations for Van Life with a Dog
As for keeping your van clean with a dog, you'll want to avoid white bedding and light-colored upholstery. Dogs are messy little creatures, and to be honest, it's kind of a losing battle, but that's ok because they are worth it! Brushing your dog regularly, rinsing them off when needed, and having extra towels on hand to clean them up will help. A broom, compressor to blow out the van, or a handheld vacuum can also come in handy.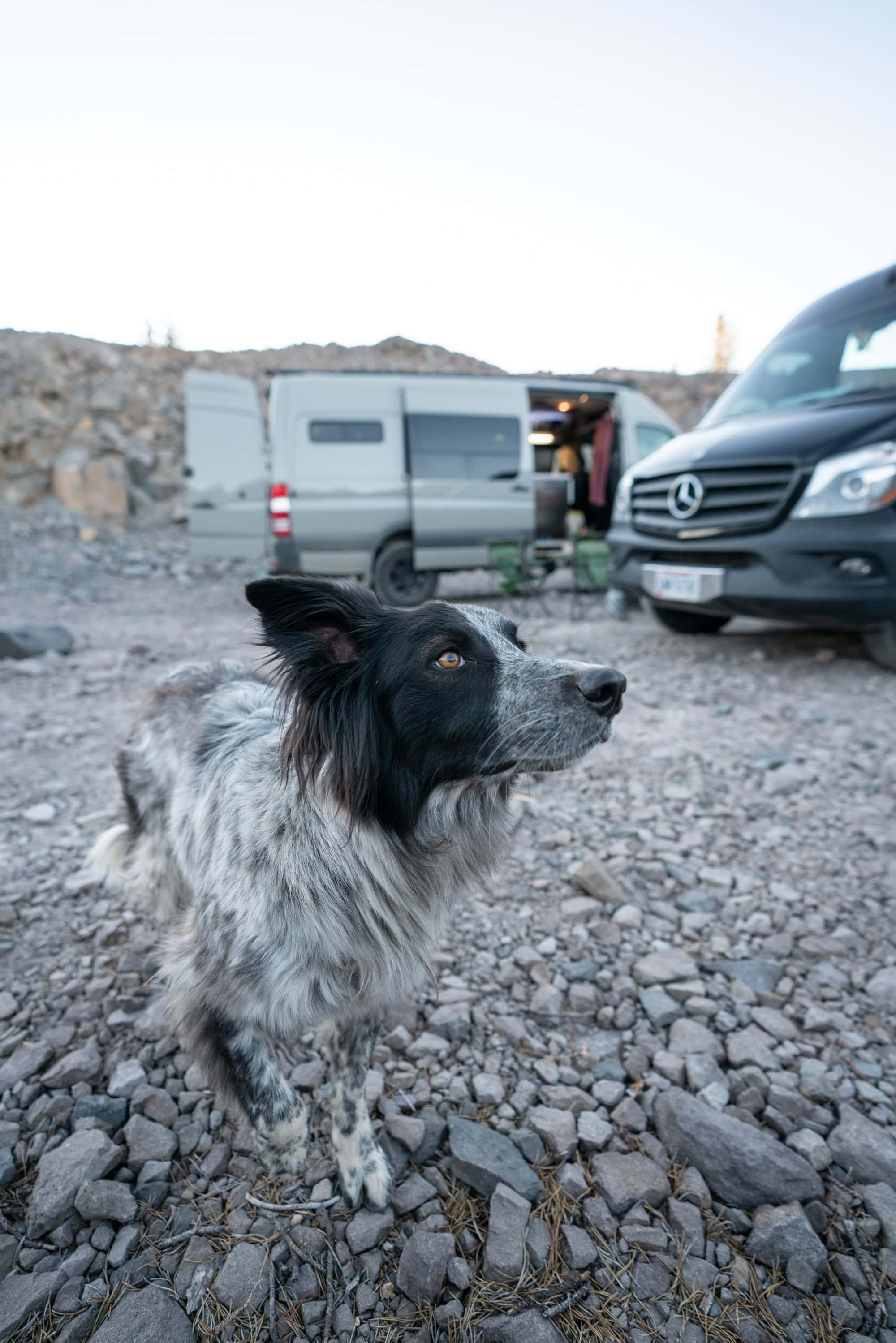 ---
Van Life Dog Gear
Other gear you'll likely want to keep in your van for your pets are: