15 Must-Have Van Life Apps
We've rounded up the best van life apps to help with tasks like finding campsites, cell signal, cheap gas stations, and fun things to do.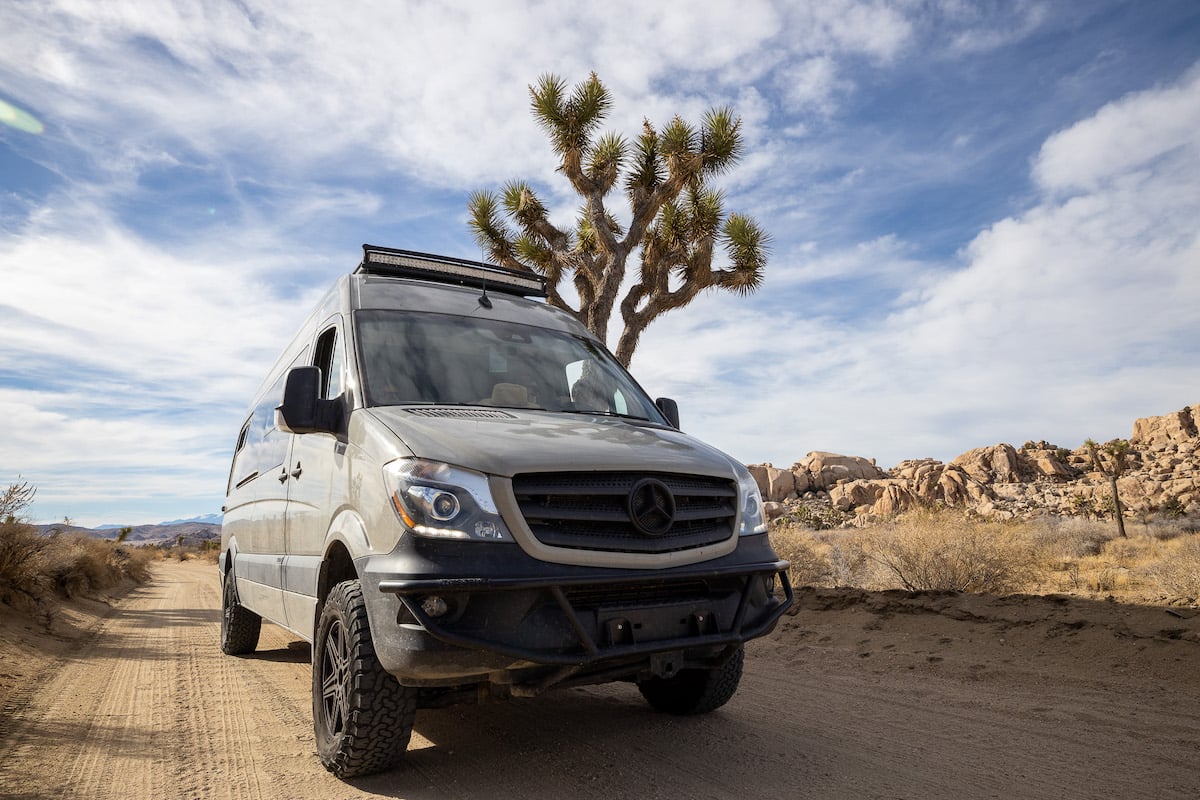 When it's time to hit the road in your van, the world is your oyster. But let's face it – that instant freedom can be a little overwhelming at first because van life comes with a lot of logistical planning. How do you find places to camp? How do you plan your route? How do you find fun things to do, like hiking and mountain biking trails?
Luckily there are tons of van life apps out there that can make these tasks much easier. Below, you'll discover the best van life apps for finding campsites, local activities, cheap gas, and more.
---
The Dyrt
Best for: Finding campgrounds, offline maps access, and campground discounts (with Pro membership)
Price: Free / Dyrt Pro $35.99/year – BFT readers get a FREE 30-day membership to The Dyrt PRO (use the code "Bearfoot" if signing up on mobile!)
Download: iOS and Google Play
The Dyrt is one of our favorite van life apps for finding established campsites. It has comprehensive listings for paid campgrounds including public and private ones, as well as some free dispersed camping options (although dispersed options are more limited than other van life apps).
Their listings include reviews, photos, information on amenities, and more. You can also search by required amenities – let's say you need Wifi to get some work done or need a location with showers or even a pet-friendly location, you can narrow your search down using all types of parameters.
With the free version of The Dyrt, you have access to search all of the campgrounds in the database, but upgrading to the annual Dyrt Pro membership gives you all of that plus a road trip planner, access to dispersed camping map layers (our favorite perk!), offline map access, and exclusive camping discounts. You can read our full review of the Dyrt Pro here.
Bearfoot Theory readers can sign up for a FREE 30-day membership to The Dyrt PRO (use code "Bearfoot" if signing up on mobile).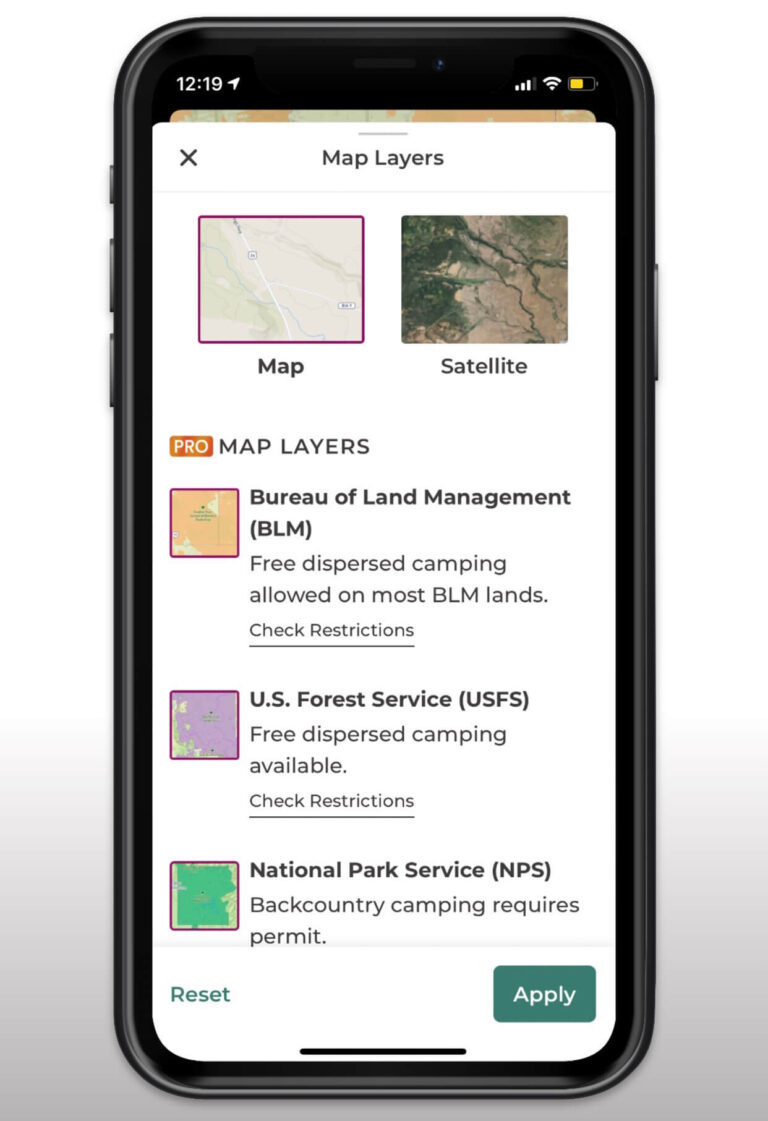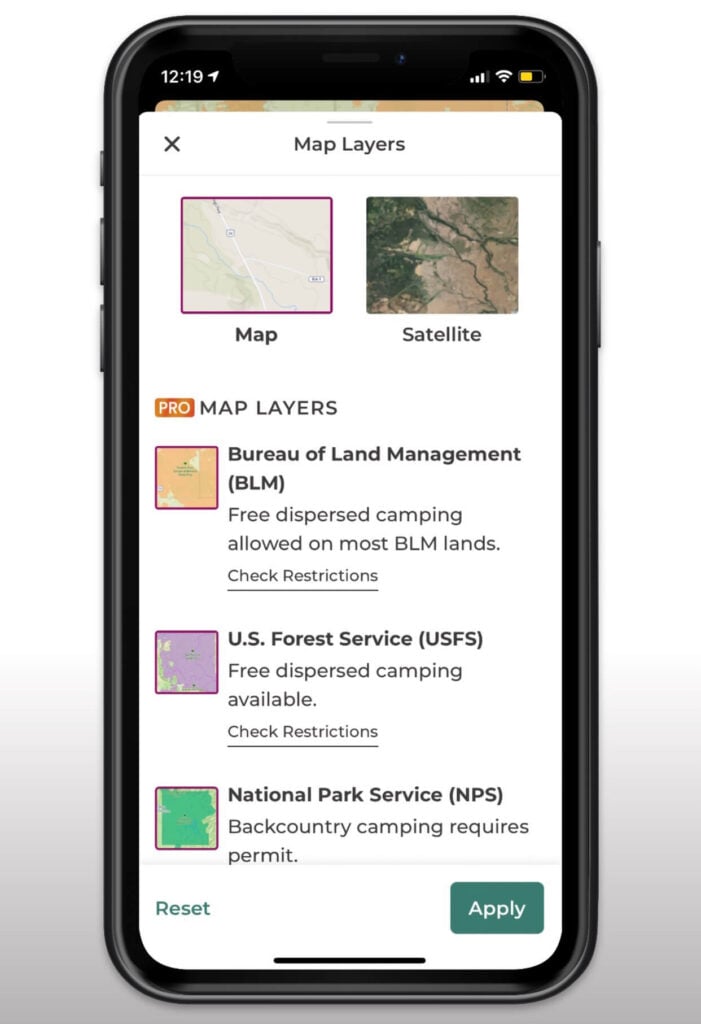 Harvest Hosts/Boondocker's Welcome
If you're looking for unique places to park overnight, Harvest Hosts and Boondocker's Welcome are two van life apps to check out. An annual Harvest Hosts membership allows you to park overnight for free at a variety of wineries, breweries, farms, museums, golf courses, and other attractions. Use this link to get 30% off your first year with the code FRIENDS30. Purchasing something and supporting the small businesses you camp at is encouraged but not required.
Boondocker's Welcome connects you with private property owners who welcome overnight campers. These are often in driveways, fields, or backyards and some allow multiple-night stays. You can add this to your Harvest Hosts plan for 30% off as well.
These apps as especially helpful when you're in areas without many other camping options, like New England and the East Coast where dispersed camping isn't easily available, but something to keep in mind is that they do require you to be self-contained with a toilet.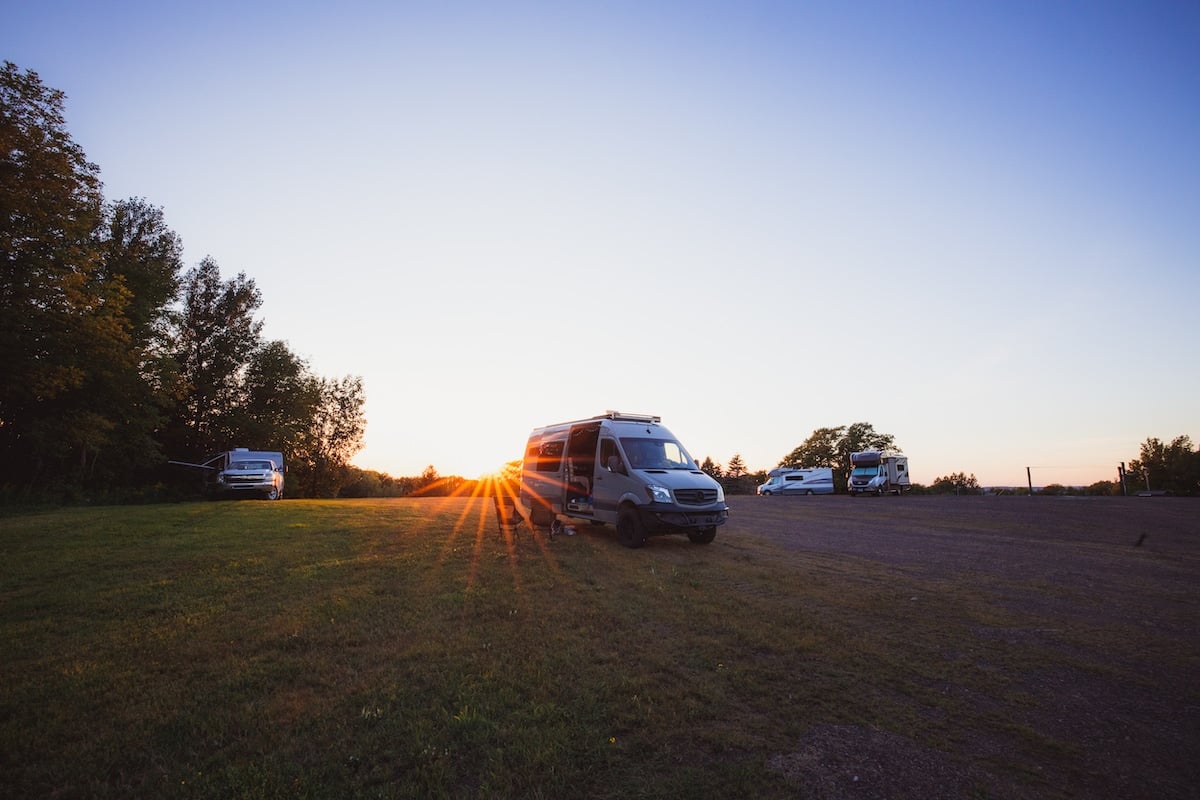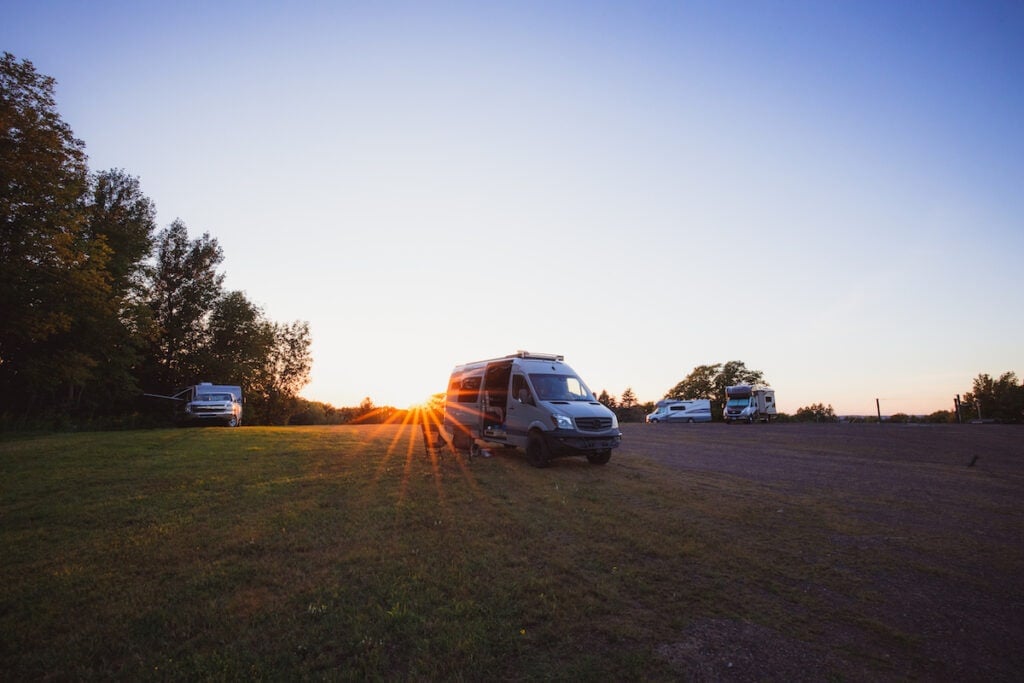 AllTrails
For hiking, I love using AllTrails because it has a database of over 200,000 trail maps, plus, detailed trail information, photos, and up-to-date reviews on almost every trail you could want. There's a comment section that is full of crowdsourced reviews of the trail, current conditions, and advice from hikers who know the area well. Even the free version is extremely useful for saving hikes and navigation (when you have cell service).
The benefit of upgrading to an AllTrails+ account is the ability to download trail maps ahead of time for offline use, notifications if you stray off-route, immersive 3D preview of any trail, and a Lifeline feature that allows you to easily send info to your safety contacts so they can keep track of you on hikes (and even be notified if you don't show up at your planned destination in time). When I first hit the road, I used the free version of the app, but quickly upgraded to Pro and have never looked back. Since I'm typically hiking in unfamiliar areas, I love being able to download multiple trail maps ahead of time (you never know when you're going to lose service) and as a solo female van-lifer & hiker, the Lifeline feature gives my family peace of mind.
Gaia GPS
Gaia GPS is another great app for finding hiking trails, tracking yourself while hiking, and it can act as a replacement for carrying a separate GPS device while adventuring. While we still prefer AllTrails for discovering new hiking trails, Gaia has more robust features when you're actually hiking, like a backtrack feature you can use to retrace your steps and custom waypoint icons.
Due to Gaia's crowd-sourced map layers, it often includes details, waypoints, and landmarks at other apps may not show. We'd recommend their annual membership (BFT readers get 20% off Premium) so you can download offline maps and have access to additional map layers.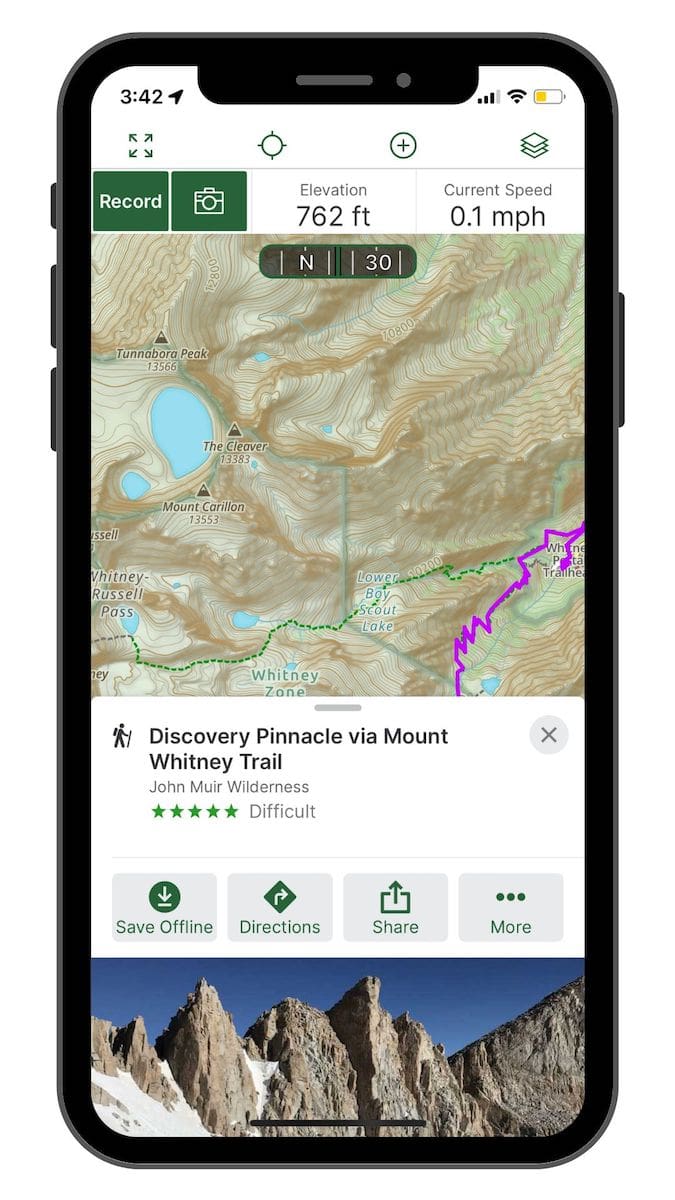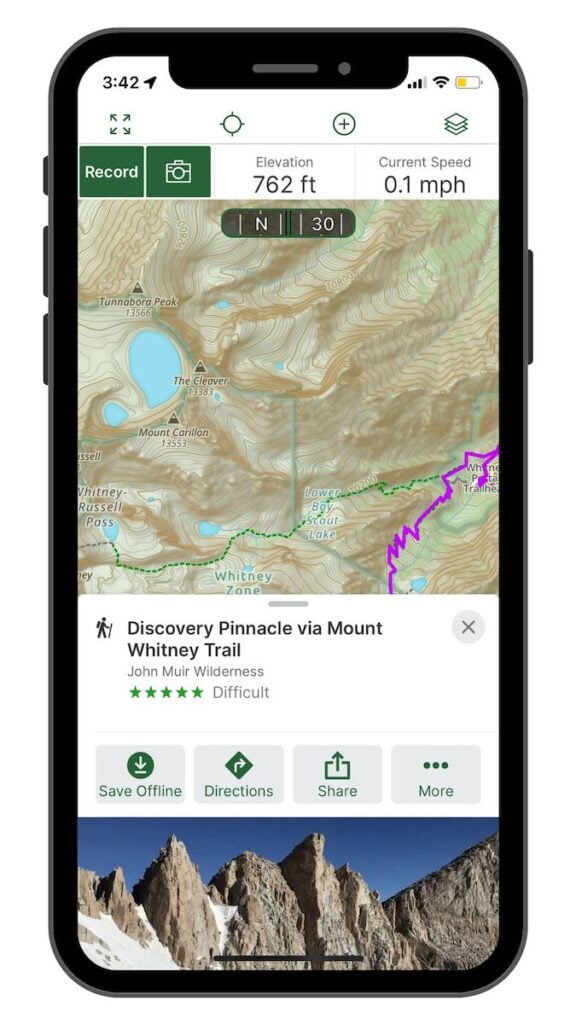 iOverlander
Best for: Finding campsites, dump stations, showers, water refill, laundromats, etc.
Price: Free
Download: iOS and Google Play
iOverlander is one of the most popular van life apps out there, especially if you're interested in how to find free campsites. It's one of the most comprehensive crowdsourced databases of free camping that we've found and it covers all of North America (including Canada and Mexico). Users can upload photos, a description, and other information, like internet availability, along with GPS coordinates. Because iOverlander is crowd-sourced, the app is constantly updated with new information and recent reviews.
iOverlander is also a great app for finding amenities like water refill, propane and dump stations, laundromats, showers, and more. While iOverlander doesn't officially work offline, you'll still be able to see your location and nearby dispersed camping areas. You just won't be able to see any user photos or the map background when you zoom in. Although there are some paid campgrounds listed on iOverlander, if you're looking to camp at established campgrounds, there are better van life apps out there.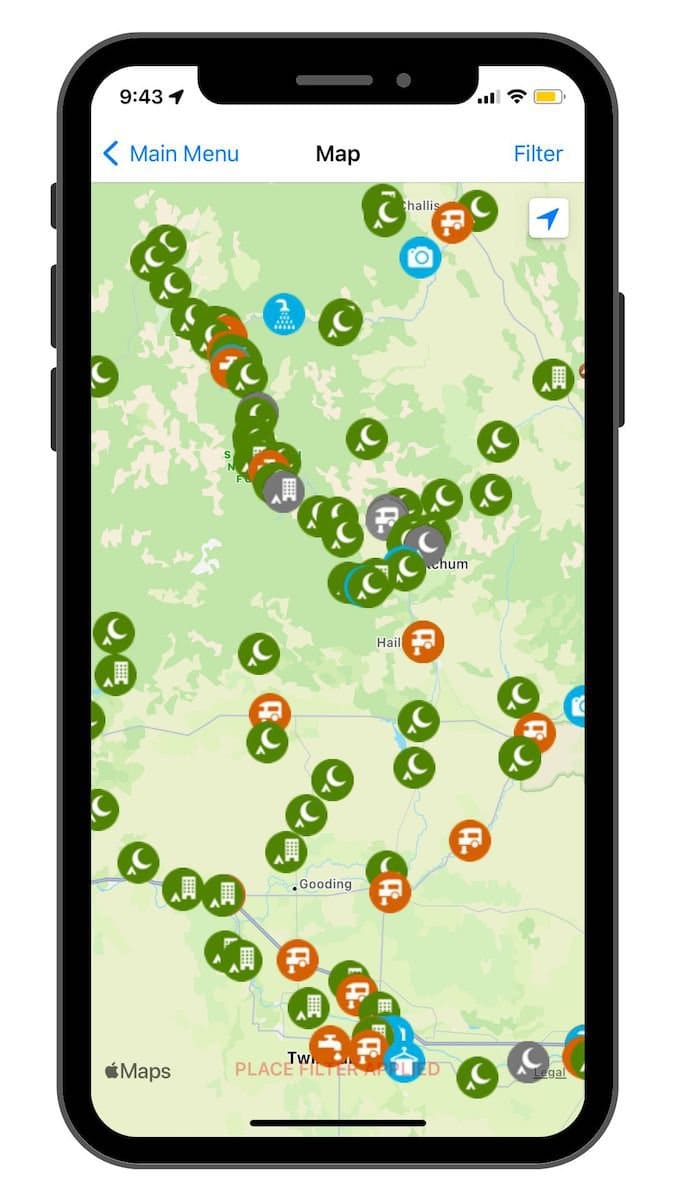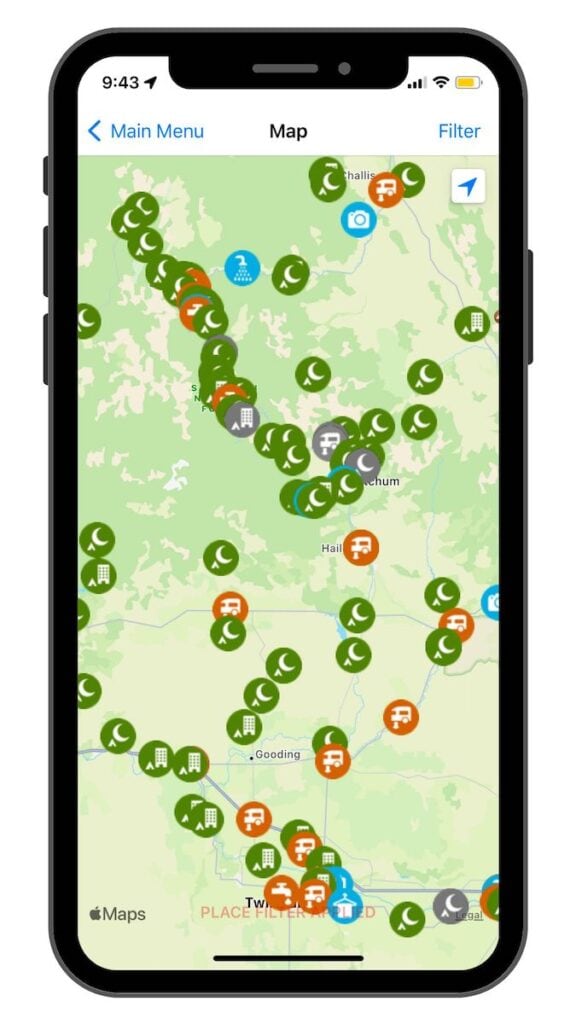 Sēkr
Best for: Finding campsites, community events & gatherings, connecting with nearby van lifers
Price: Free / Sekr+ $1.99 per month or $18.99 annually
Download: iOS and Google Play
Sēkr (formerly known as The Van Life App) is a women-owned app built by fellow van lifers. Similar to iOverlander, Sēkr uses crowd-sourced data to provide campsite information, including reviews and photos. We've found that Sēkr typically doesn't have as many campsite reviews as iOverlander, but the app is growing and getting more robust each day.
The feature we love about Sēkr that can't be found on any other van life app is their "Community Calendar". Here you can find upcoming van life meetups and gatherings, caravan invitations, and other opportunities to connect with other van lifers. With your Sēkr profile, you can also opt-in to see other Sēkr members in your general area and send friend requests based on shared interests.
Recently, Sēkr launched a premium version (called Sekr+) which allows users to download maps and campsite info for offline use, adds overlay map layers for US Forest Service and Bureau of Land Management land, and includes overlays of coverage maps for major US carriers like AT&T, Verizon, and T-Mobile.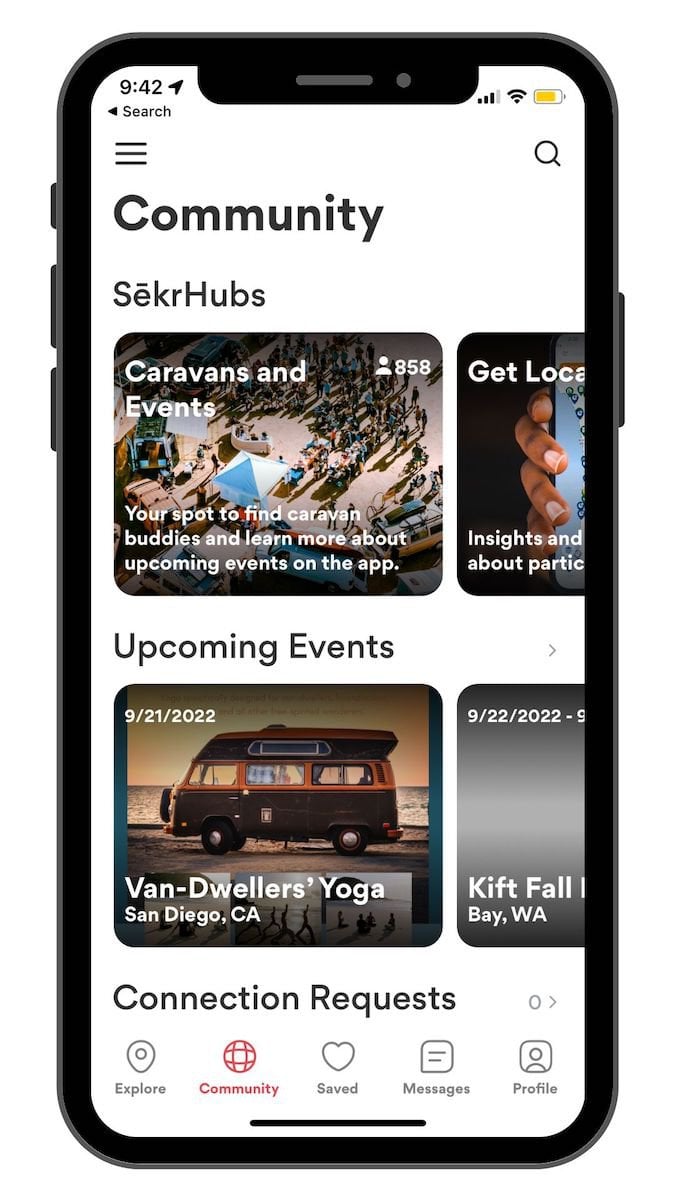 AllStays Camp & RV
Best for: Finding campsites, finding alternate places to camp (ex. casinos, rest stops, Walmarts)
Price: $9.99
Download: iOS (no Google Play app available)
AllStays Camp & RV is a paid app that you download to your phone. All Stays includes paid and dispersed campsites, but for dispersed it's not as comprehensive as the previous apps we mention. What we like about AllStays is that it also has other types of places you can park for free, including Walmarts, rest-stops, and casinos, as well as other amenities. In addition, you can find places to fill up water, RV dumps, and other services that you often need on the road.
One unique feature you won't find from other van life apps is a height filter – this is especially helpful for anyone with tall vehicles that need to avoid low clearance bridges or routes. If you want access to their desktop version, you'll pay an annual $34.95 fee.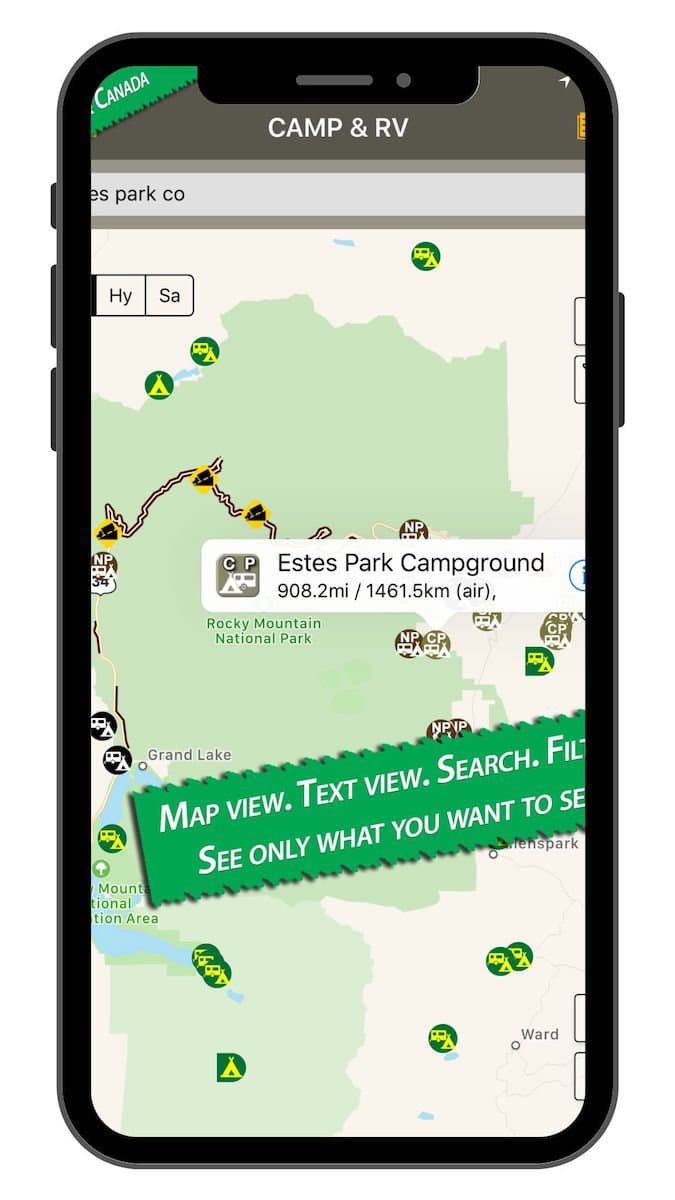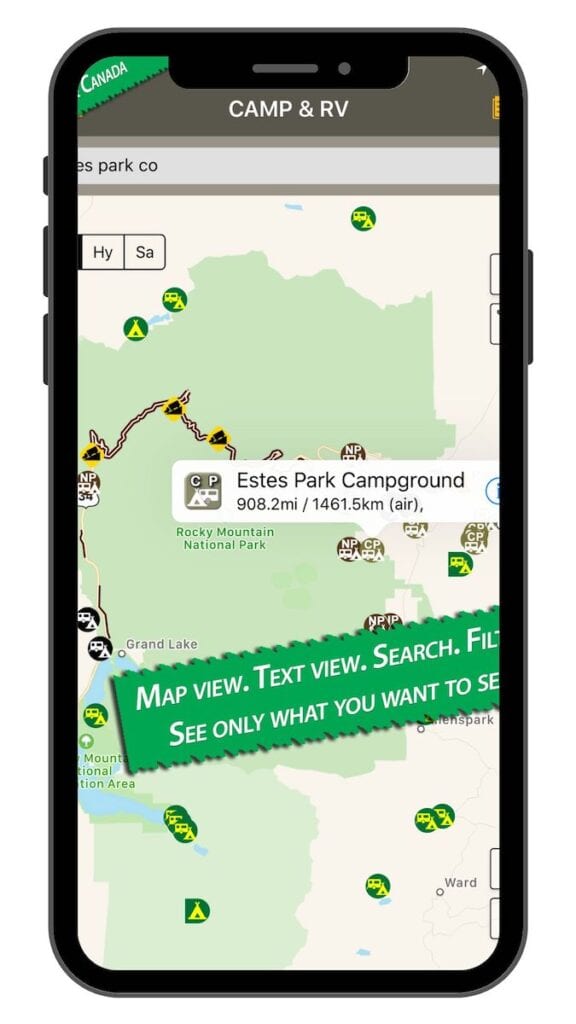 Google Maps
Best for: Navigation, offline maps, finding restaurants and other local amenities
Price: Free
Download: iOS and Google Play
Google Maps may seem like a no-brainer but it's one of our favorite tools not only for navigation but for finding interesting things to do in the areas we're traveling. For finding restaurants and other local amenities, like places to do laundry, for example, I use Google Reviews within Maps. For finding other things to do, I'll just turn to Google and type "best outdoor activities near …."
I also use Google Maps as a planning tool as well – anytime I hear about a beautiful hiking trail or awesome campsite, I'll pin it on Google Maps. This takes the pressure off of always having to plan in the moment – sometimes I'll just open my Map and see what I've pinned in the area or along my route.
Another Google Maps trick is to use satellite view to scope out the area from a bird's eye view. I use satellite mode mostly when looking for campsites – once you have a location in mind, you can zoom in to see if the spot is large enough for multiple vans, if it's secluded, if there's other camp spots nearby, etc.
You can also download Google Maps (in sections) for offline use which is super helpful for finding pre-planned campsites, trailheads, etc. when you're out of cell service.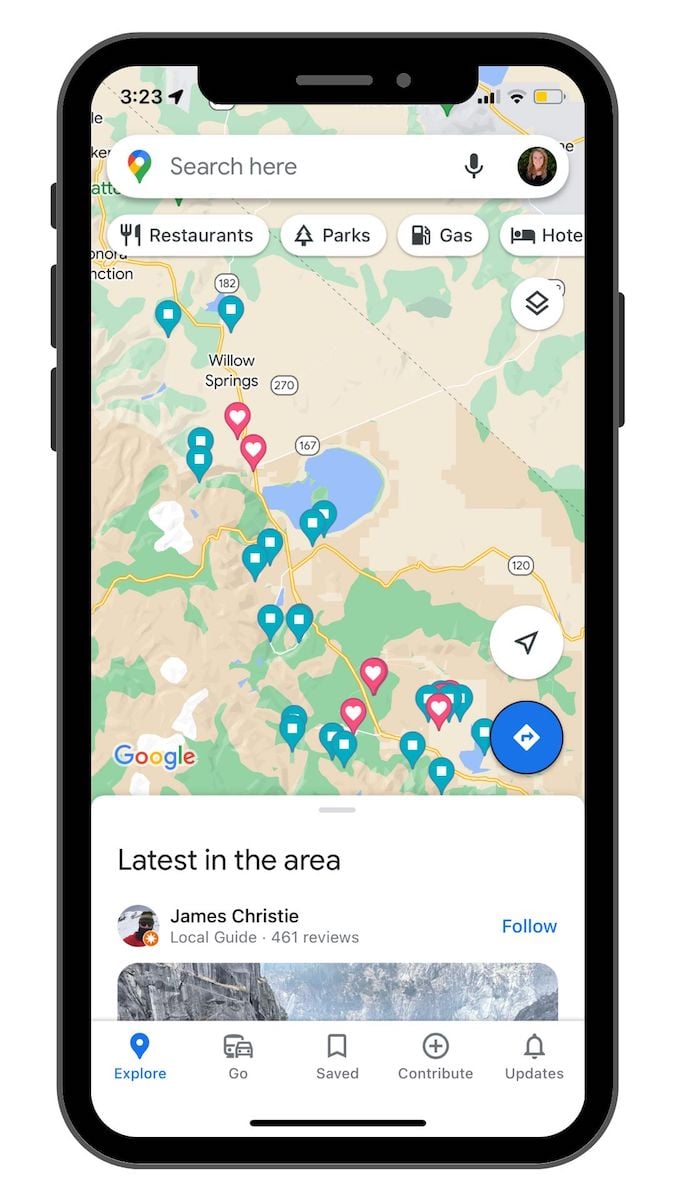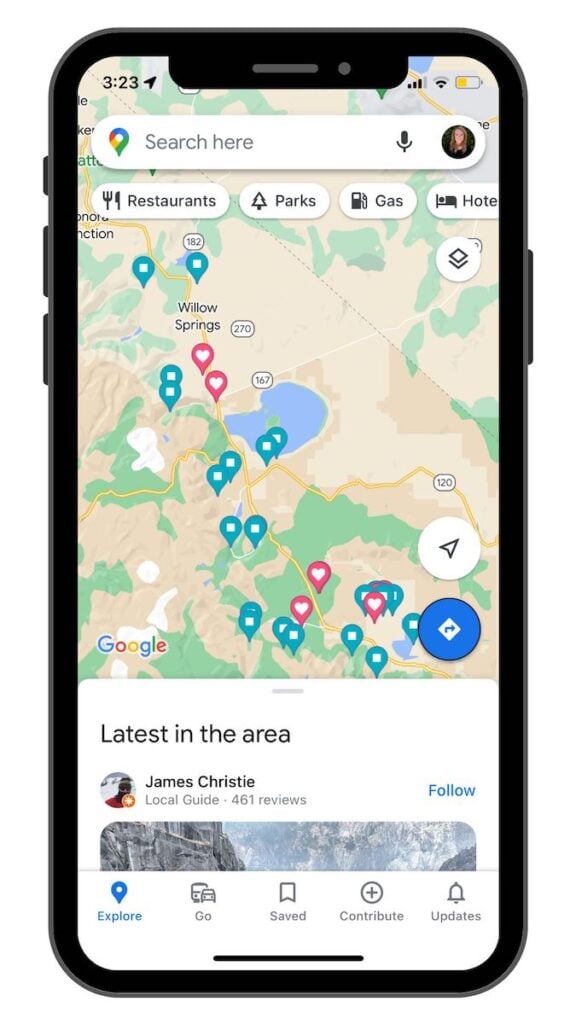 TrailForks
Best for: finding local mountain biking, e-bike, and gravel bike trails
Price: $36/year
Download: iOS and Google Play
For mountain biking, our favorite resource for finding trails is TrailForks. Although the desktop version is free, the app costs $36/year in order to use it outside of your "home region". TrailForks is the most comprehensive mountain biking app out there with over 400,000 MTB trails. You can also easily filter to e-bike-friendly trails and see recent trail reports.
If you want a free mountain biking app, check out MTB Project. When you're on wi-fi, you can download the database for an entire state. Then when you're offline, you can easily find nearby mountain bike trails with info on difficulty, elevation profile, and current conditions. However, MTB Project doesn't have quite as many trails listed as TrailForks.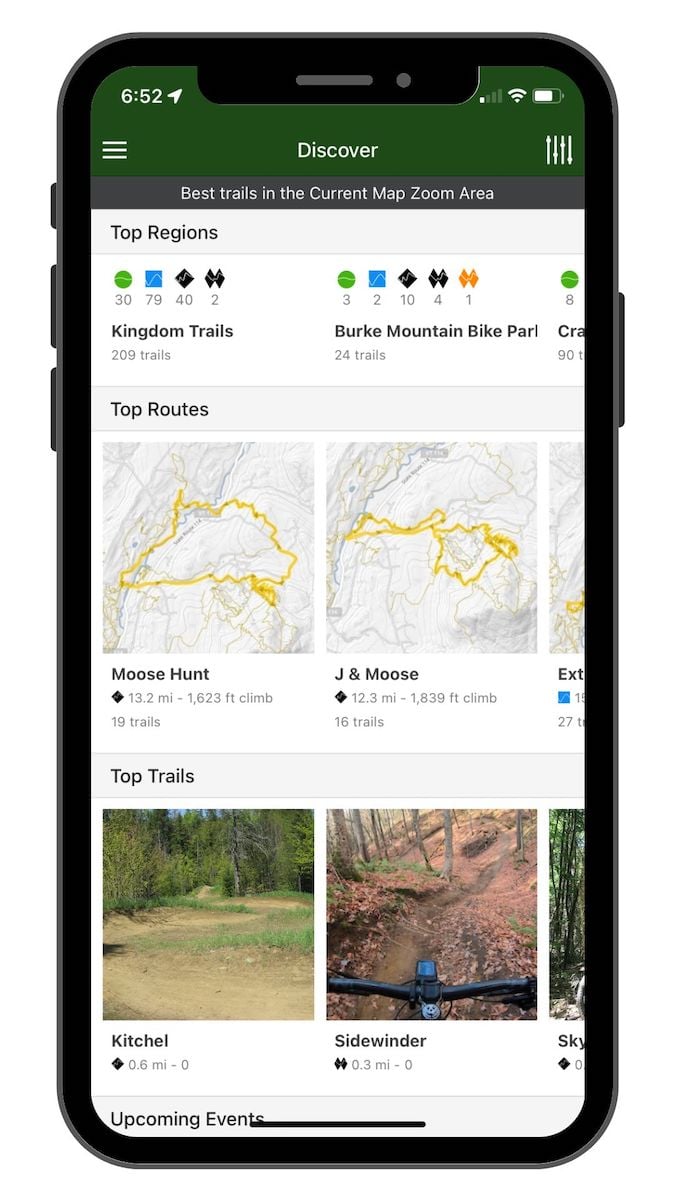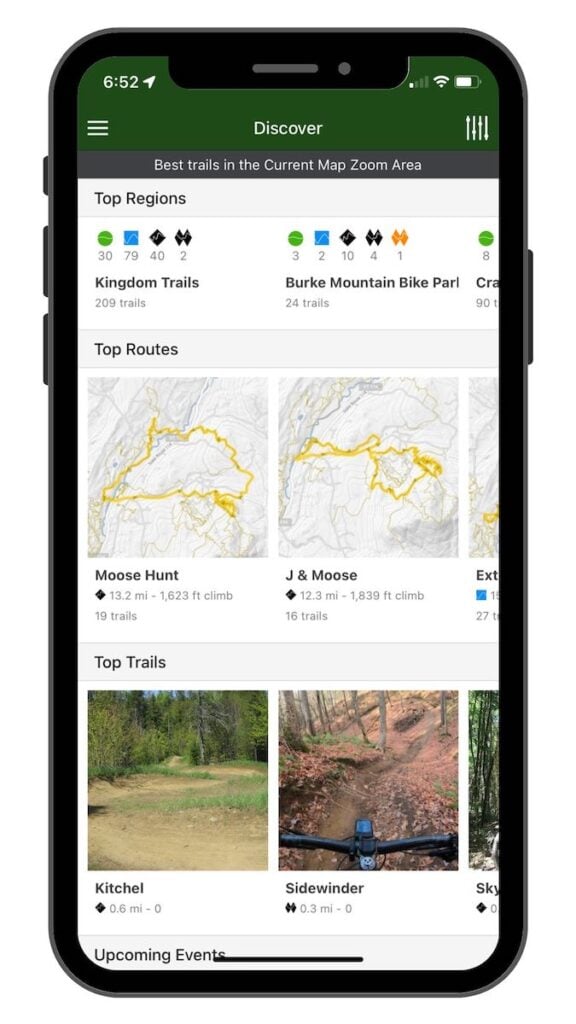 Van Life Essentials Packing List
Below are a few of my favorite pieces of van life gear and recommendations for the road:
Recreation.gov
Best for: booking National Park campgrounds, backcountry permits, timed entry tickets, etc.
Price: Free
Download: iOS and Google Play
If you plan on visiting National Parks or popular federal lands during your van travels, the Recreation.gov app is a must. In partnership with 12 different federal agencies (including the Park Service, Bureau of Land Management, and Forest Service), this app allows you to book paid campsites within parks, buy timed-entry tickets for applicable Parks, and book advanced permits for other outdoor activities. Here are a few examples of campgrounds and activities that required booking:
While you can also book permits and campsites on a desktop, the app is great for on-the-go bookings.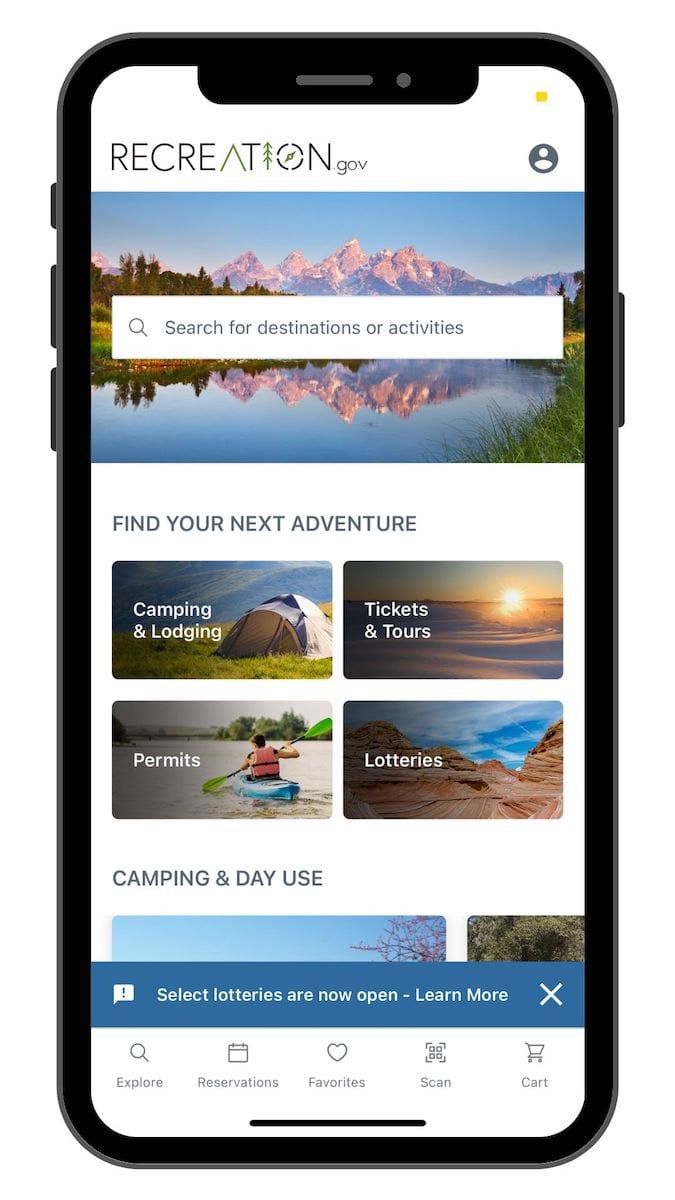 Gas Buddy
Best for: Finding the cheapest gas on your route
Price: Free
Download: iOS and Google Play
Gas is one of the biggest expenses you'll have on the road, so finding ways to save money on gas is key. Gas Buddy is an essential van life app for finding the cheapest gas prices. Simply open the app and GasBuddy will pull up the closest gas stations and their prices. You can sort by price, or toggle to view on a map. If you're planning your route, you can search by location or zoom out on the map to see if it's better to fill up now or wait until the next town. Using Gas Buddy, I've often found gas stations that are $.25-$1 cheaper than the average – below, I was able to save $1/gallon by waiting to fill up until after I left town.
>>Read Next: Cheap Road Trip Tips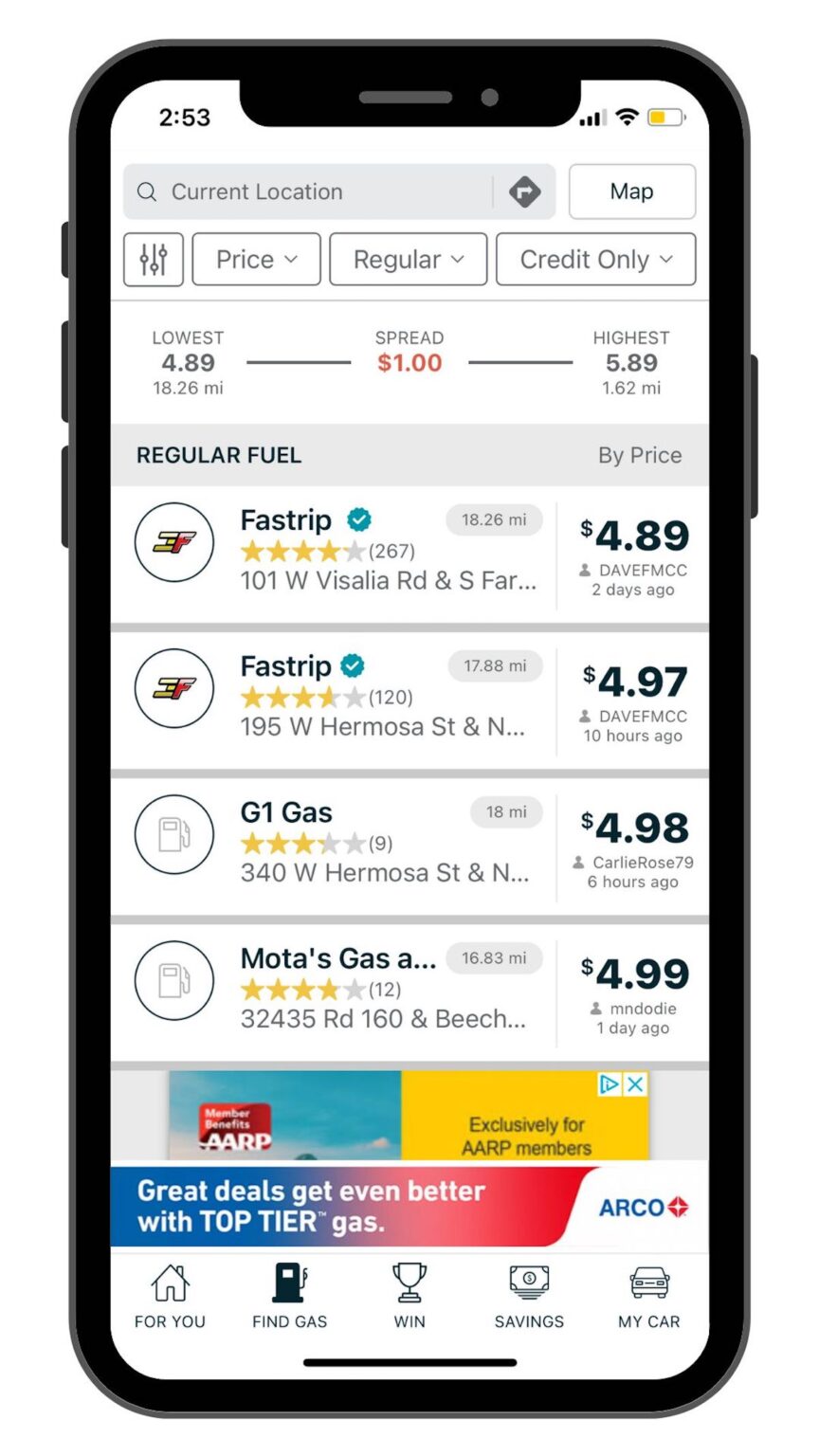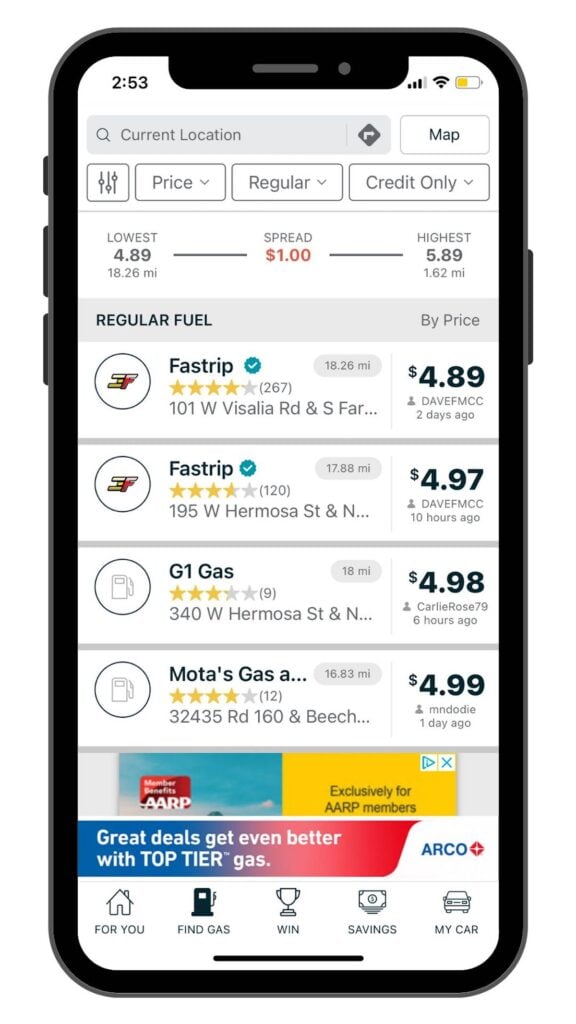 Upside
Best for: Getting cash back on gas, grocery, and restaurant purchases
Price: Free
Download: iOS and Google Play
Another way to save money on the road is through the app Upside. Upside partners with certain gas stations offer cash back on purchases, typically up to 15 cents/gallon. While this might not seem like a large amount, it adds up over time! The downside to Upside (see what I did there?) is that it's not available everywhere, so I typically toggle between Gas Buddy and Upside to see where I can find the best deal on gas. Recently Upside also expanded its cash back offerings to include certain grocery stores and restaurants.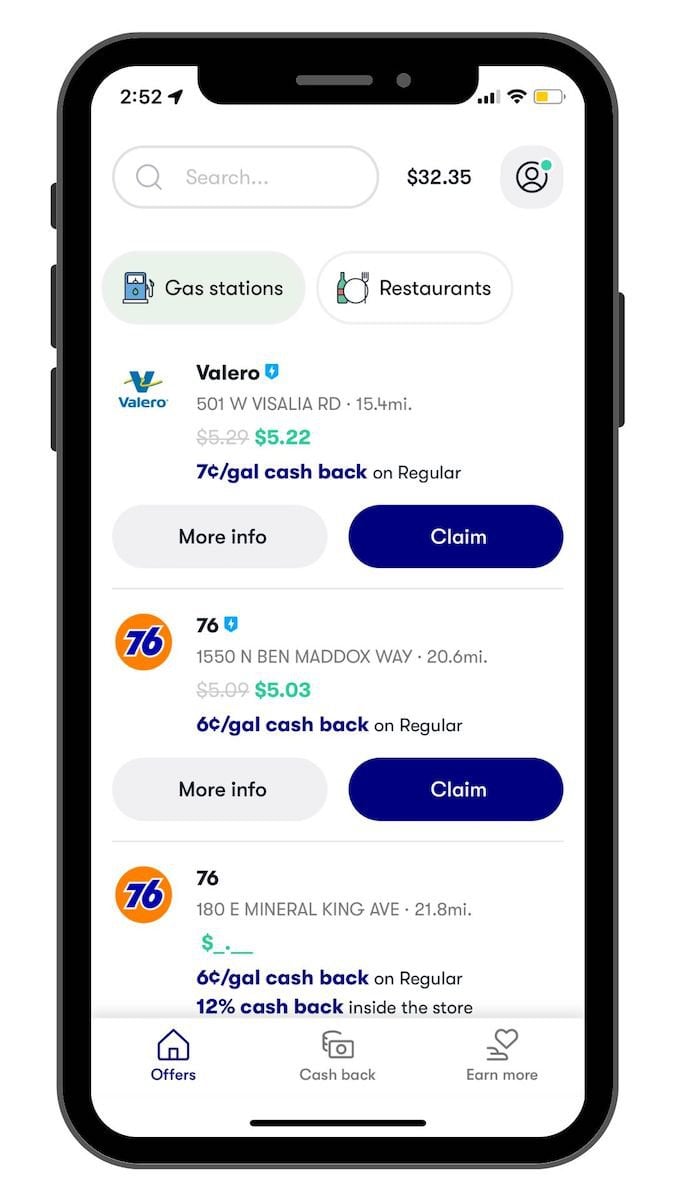 Open Signal
Best for: scouting areas with cell signal, internet speed tests, locating cell towers
Price: Free
Download: iOS and Google Play
If you work remotely from the road, Open Signal is a must-have van life app. With Open Signal, you can easily run internet speed tests with the tap of a button and you can run video tests for any calls. If you're trying to figure out which campsite has the strongest signal, you can use their interactive map to search by location and pull up coverage maps for Verizon, AT&T, and T-Mobile. If you use a booster that needs to be pointed toward the closest cell phone tower, Open Signal can also help you locate towers.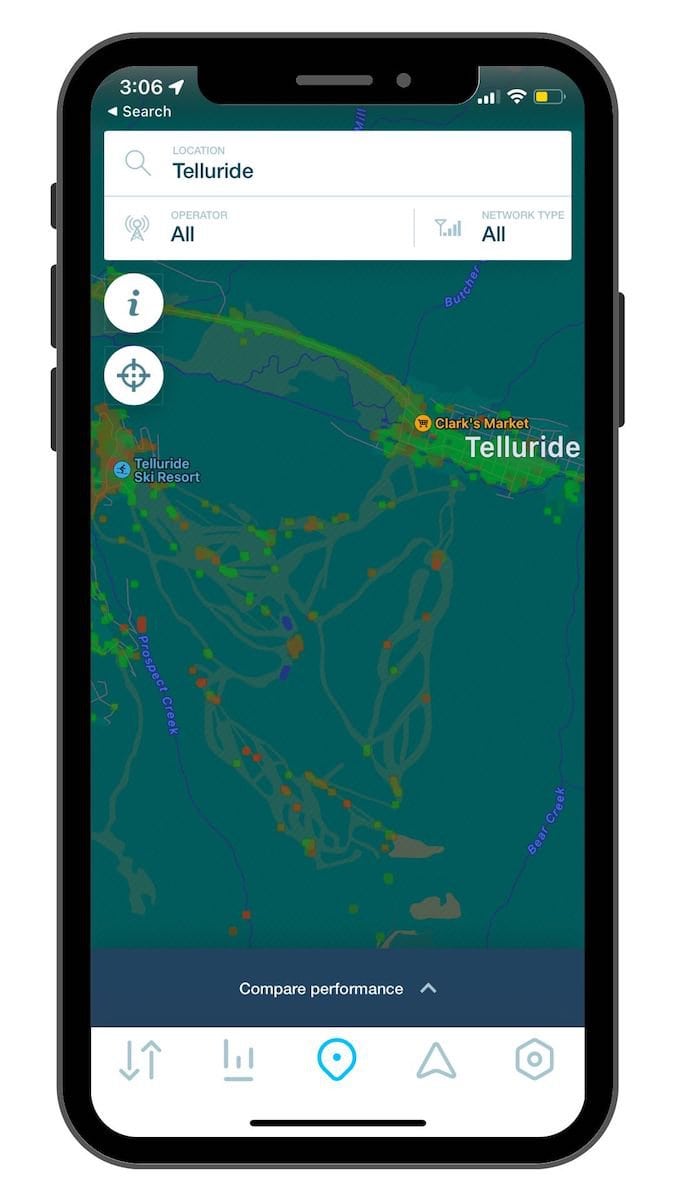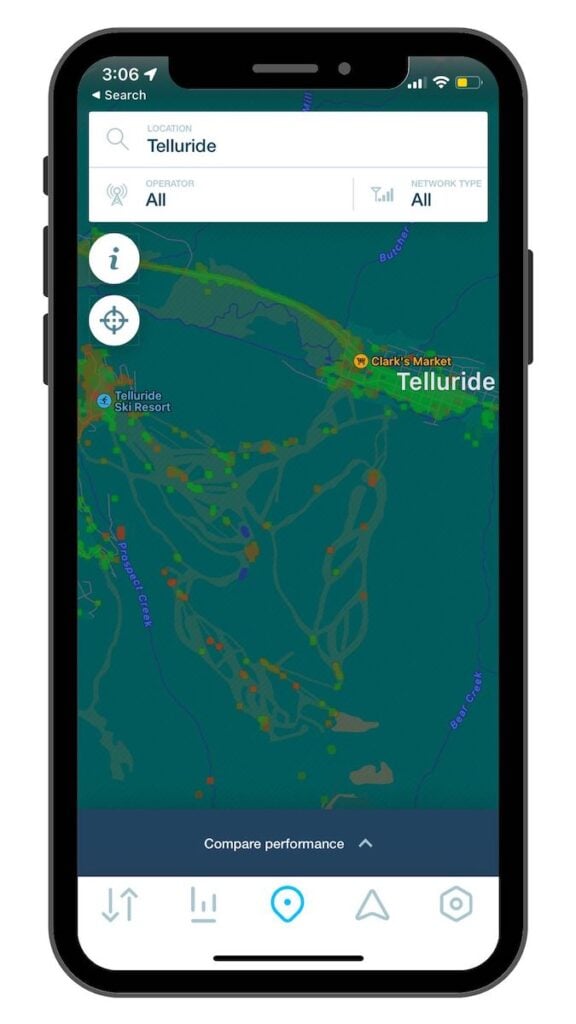 Libby
Best for: Downloading audiobooks & ebooks
Price: Free
Download: iOS and Google Play
Before you hit the road, head to your local library to snag a free library card (if you don't already have one). With the Libby app, you can link your library card and access thousands of free audiobooks and e-books to download to your phone and/or Kindle. Physical books can take up a lot of room in a van, so switching to a Kindle is an easy way to stay well-read without losing storage space. We also love listening to audiobooks on long drives, and all Libby e-books and audiobooks can be read even when you lose cell signal. Plus, using Libby is a great way to support public libraries. Win, win!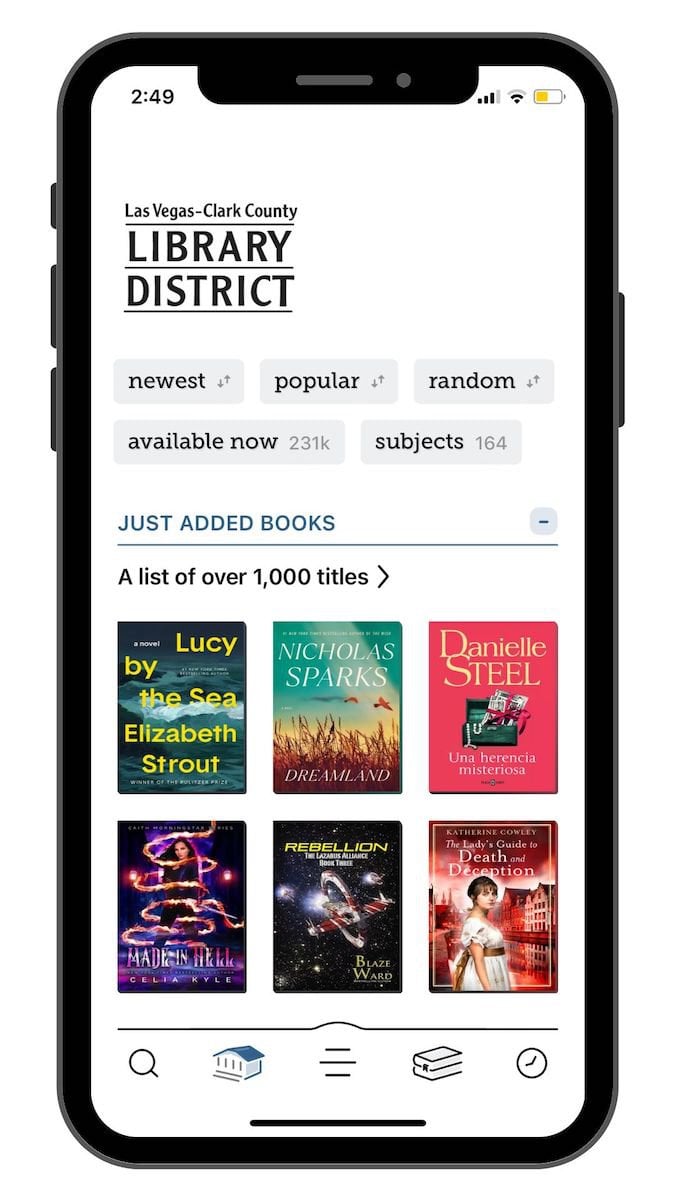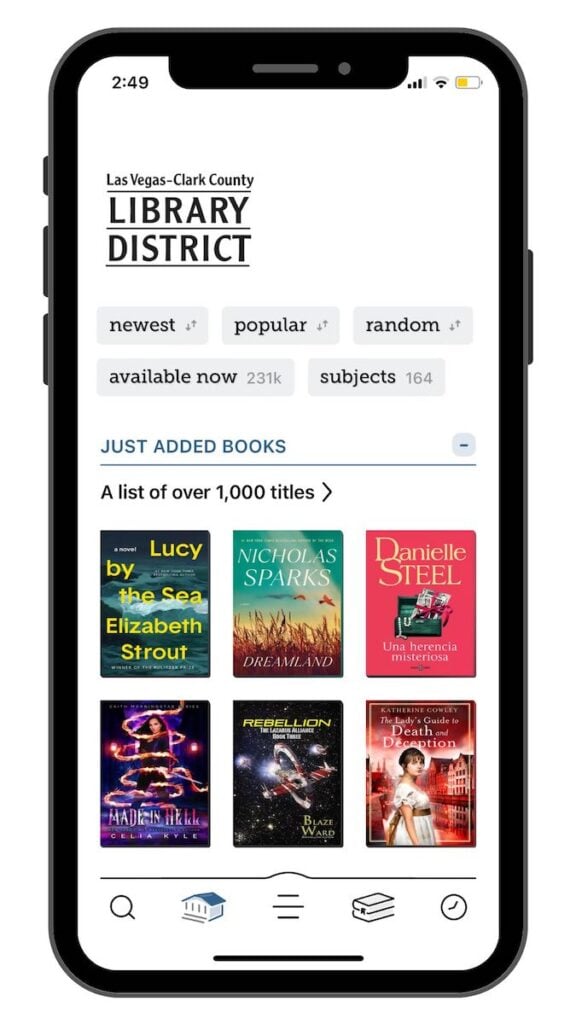 EPA AirNow
Best for: Checking air quality index (AQI) and seeing real-time smoke maps
Price: Free
Download: iOS and Google Play
Wildfire season is an unfortunate reality of living on the road, but AirNow is a free, EPA-run app where you can quickly get current air quality conditions based on your location and zoom out on a map to see AQI elsewhere. You can also toggle to see a smoke map and current wildfires across the country. This app is helpful to see current areas to avoid, or where to escape if you find yourself dodging poor air quality on the road.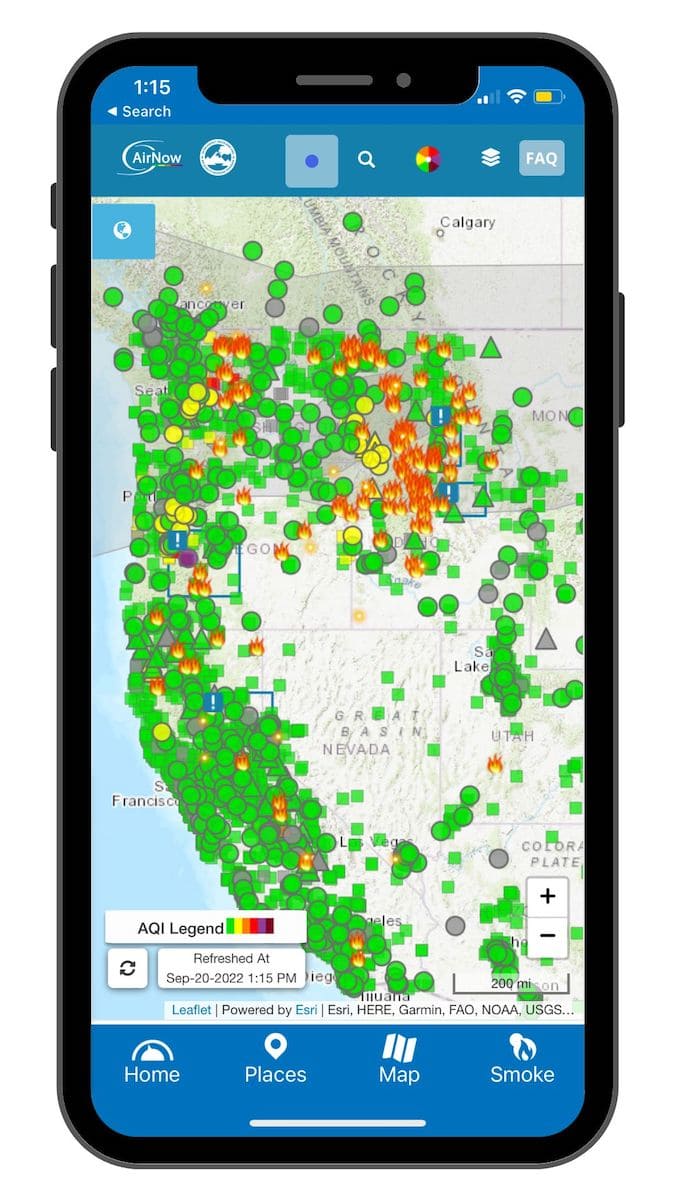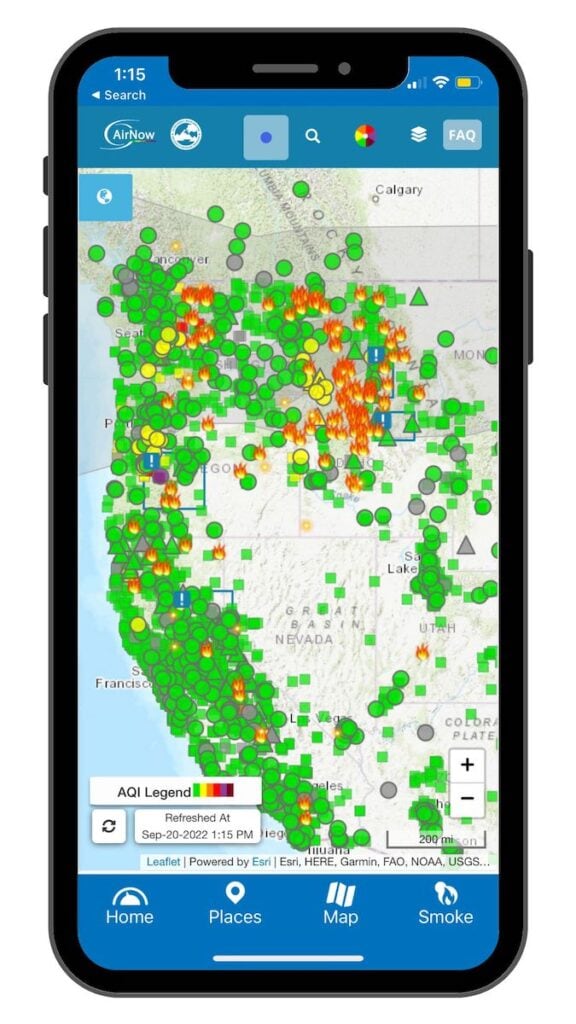 Related Blog Posts:
Are there any van life apps that we didn't mention above? Share your tips and experiences down in the comments and make sure to sign up for our van life newsletter here.