*UPDATED FOR THE 2020 SEASON*
I've been to Havasu Falls twice now, and both times I was MIND. BLOWN. I knew it was going to be cool, but I didn't realize how incredibly magical it was going to be. See this one-minute video for proof!
In this blog post, you'll find everything you need to know about Havasu Falls camping, including how to get a Havasupai permit reservation, trailhead information, the layout of the Havasupai campground, and what backpacking gear to bring to Havasu Falls. All of this information has been updated with the 2020 reservation process and fees.
For a more detailed Havasu Falls packing list, read this post, and make sure to check out my list of Havasu Falls Dos and Donts.
As it goes with all destinations we share on Bearfoot Theory, please remember to Leave No Trace, practice good trail etiquette, be respectful of locals, and follow area regulations.
Start planning your 2020 trip to Havasu Falls with this Havasupai Backpacking Guide.
Havasu Falls Instagram Video
See what Havasu Falls is like in my one minute Instagram video.
View this post on Instagram
Where is Havasu Falls / Getting to the Havasu Falls Trailhead
The Havasu Falls trailhead is located at Hualapai Hilltop which is marked on the map below. The two closest airports to Havasu Falls are Las Vegas (4 hours) or Phoenix (5 hours).
Directions to Havasu Falls from Las Vegas
From Las Vegas, take the 93 South towards Kingman, Arizona and then head east on Route 66. After 57 miles, turn left on Indian Road 18. Drive for 60 miles until you reach the end of the road. There is a large parking lot with bathrooms at the trailhead. There is also a place to camp just below the bathrooms, but there is no water available at the trailhead. Peach Springs, Arizona is the nearest place to the trailhead with basic services like gas, food, and water.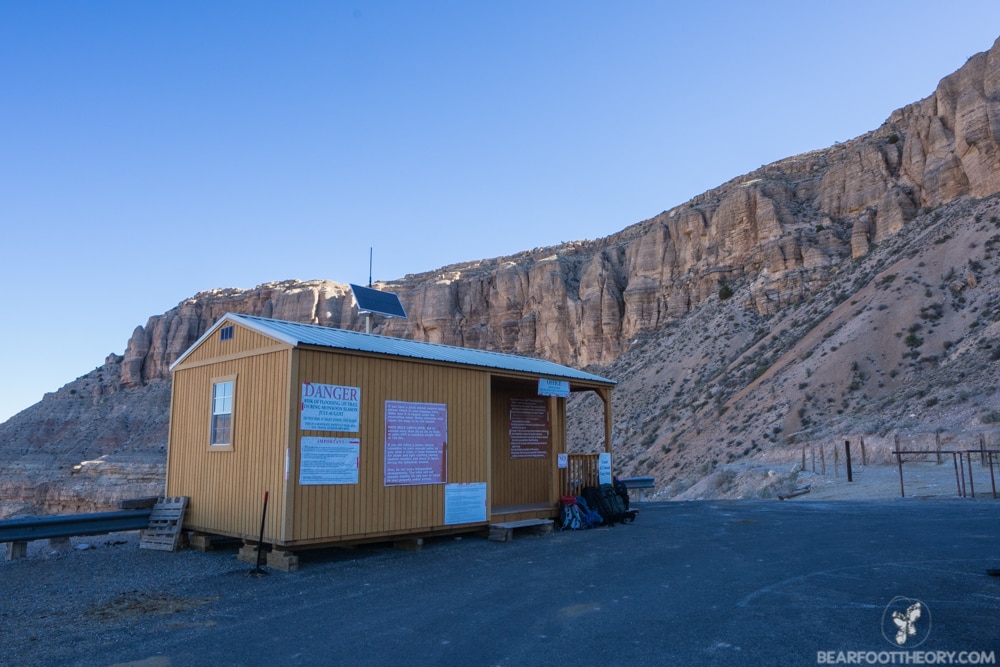 Hualapai Hilltop, the trailhead for Havasupai and Havasu Falls
The Best Time to visit Havasu Falls
The best time to visit Havasu Falls depends on what you want to do there. Do you want to swim? Or do you want to avoid the crowds? Here are the pros and cons for visiting Havasu Falls for the different seasons.
Spring/Late Fall
Pros: Less bugs and less people
Cons: Variable weather could mean less than ideal swimming temps. One year I went in March and had swimming weather (80 degrees) during the day and very cold nights (40 degrees). On my most recent trip in May, it rained and was not suitable for swimming until the last day. The plus side of this is that the hike out (which can be unbearably hot) was very tolerable.
Summer/Early Fall
Pros: Hot weather means you can sit and hang out in the water all day
Cons: Hot temps mean hiking could be miserable. In the heat of summer, when Havasu Falls is the busiest, people get up at 4am to begin the hike out. Summer is also monsoon season with flash floods being most likely from mid June to late September.
How to Get a Havasupai Permit & Camping Fees
(New Reservation Process and Fees Updated for 2020!)
How to Get a Havasupai Permit
The biggest obstacle to planning a backpacking trip to Havasu Falls is getting a Havasupai permit. Advanced reservations are required, and generally, permits sell out for the entire year the DAY that the reservation lines open.
Reservations for the 2020 season open February 1 at 8:00AM Arizona Time!
Your best chance of getting a Havasu Falls reservation will be to register for an online account at HavasupaiReservations.com anytime before February 1st. Then on February 1st, log into your account before 8am Arizona time and be ready to refresh your screen the minute the lines open.
Havasupai permits will sell out within a few hours (or maybe even quicker). Another way to increase your chances is to have flexible dates. Mid-summer, when everyone is on summer vacation, is going to be the most competitive time. If you can go mid-week in March or late-November, then you'll have a better chance of getting a Havasu Falls permit.
In previous years, you used to be able to make a Havasupai camping reservation by phone, but this is no longer an option. Reservations are now online only.
2020 Havasu Falls Camping Fees (*Updated 1/6/20*)
All reservations will be made for 4 days/3 nights. That means if you only want to stay 2 nights, you will still have to pay for 3. The prices below include all permits, fees, and taxes (subject to change)
Weekday nights (Mon-Thurs): $100 per night/per person x 3 nights = $300 per reservation / per person
Weekend nights (Fri, Sat, Sun): $125 per night/per person x 3 nights = $375 per reservation/per person
Native American discounts are honored at check-in with a valid reservation and identification.
Other Things to Know About Havasu Falls Reservations
All fees are due at the time of reservation
Only a single credit card can be used on each Havasupai reservation
No refunds, no transfers, and no changes are allowed on the reservation
The person whose name the reservation is under must be present at check-in or the reservation will not be honored
Reselling reservations is not allowed
When you first arrive to Havasupai village, just keep following the path and eventually, you will find the office located near the center of the village directly on the trail. Stop and check in and the office will provide each person with a wristband that you must wear throughout the duration of your visit, as well as a tag for each of your tents, which will be checked daily by a ranger who patrols the campground.
Fines / Other Regulations
With the number of people and pressure on the resources at Havasu Falls, please be respectful and follow the rules. There is:
NO cliff jumping
NO rock climbing
NO littering
NO alcohol/drugs
NO drones
NO nudity or inappropriate clothing
NO photos allowed in the village
You can read the complete list of rules here. There are fines ranging from $200 to $5000 if you get caught doing any of these things… and they'll take away your drone. Trust me, I wanted to fly my drone there too, but as awesome as the footage would be, drones are loud and affect the enjoyment of other visitors. Please be a kind visitor and don't break these rules, ruining it for everyone.
Can I go without a reservation? Or can I day hike?
Per the official Havasupai Tribe website, all visits to Havasupai and Havasu Falls require a reservation made PRIOR to arrival. No day hiking from Hualapai Hilltop is allowed, and even if it was, the falls are much too far to hike there and back in one day.

Got your permit? Get advice for your trip with our Havasu Falls Do's & Dont's
The Trail to Havasu Falls
Total distance from Hualapai Hilltop trailhead to the Havasu Falls campground: 10 miles one way (20 miles round trip)
Total one-way elevation change to campground: -2,400 feet

Elevation profile courtesy of RockHounds.com
The total distance to the Havasu Falls campground is approximately 10 miles one way (20 miles round trip) and the trail begins at the Hualapai Hilltop parking lot at an elevation of 5,200 feet. Immediately, the trail begins a 1,000 foot descent over the first mile, dropping you into Havasu Canyon. Once you reach the wash, the trail follows the dry river bed for the next 6.5 miles, gradually dropping another 1,000 or so feet until you reach the village of Supai at mile 8.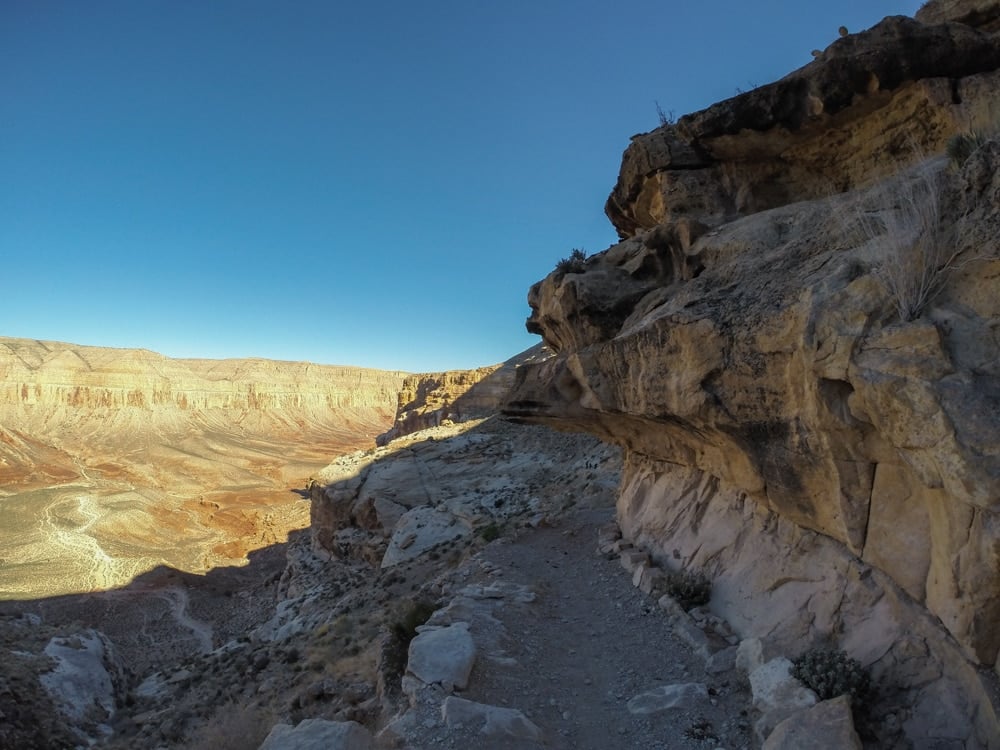 The hike on the way in is long but not too difficult, and the initial descent is on a well-maintained series of switchbacks. Once you are in the dry river bed, the hiking can be a bit slow due to the sandy gravel, but the trail is very easy to follow. If any point you think you've lost the trail, just keep following the river bed until you meet back up with the path. Note there is no water available on the trail, so make sure you pack enough to make it to the campground.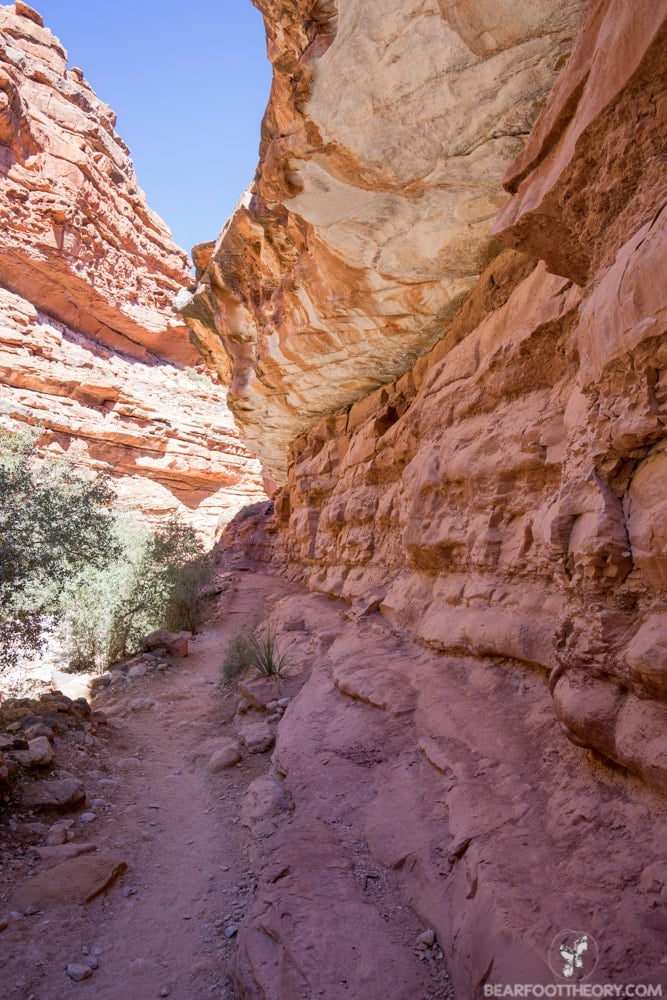 When you reach the Supai Village, your first stop will be the Havasu Falls Campground office. Stop here to check in and get your wristbands.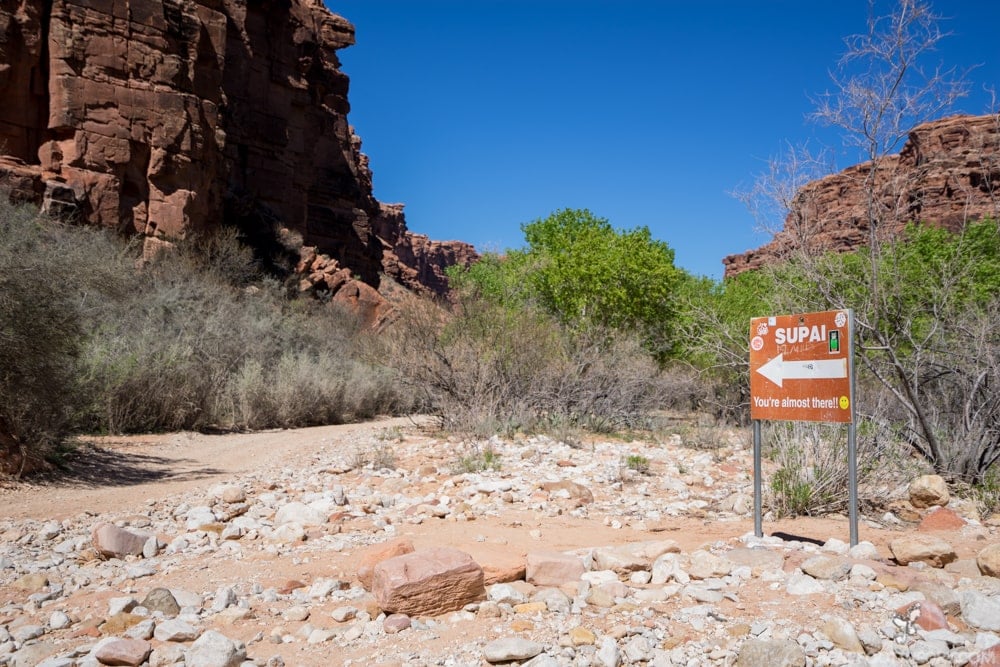 Once you pass through the Supai village, it's another 2 miles and a couple hundred of feet down to the Havasu Falls campground.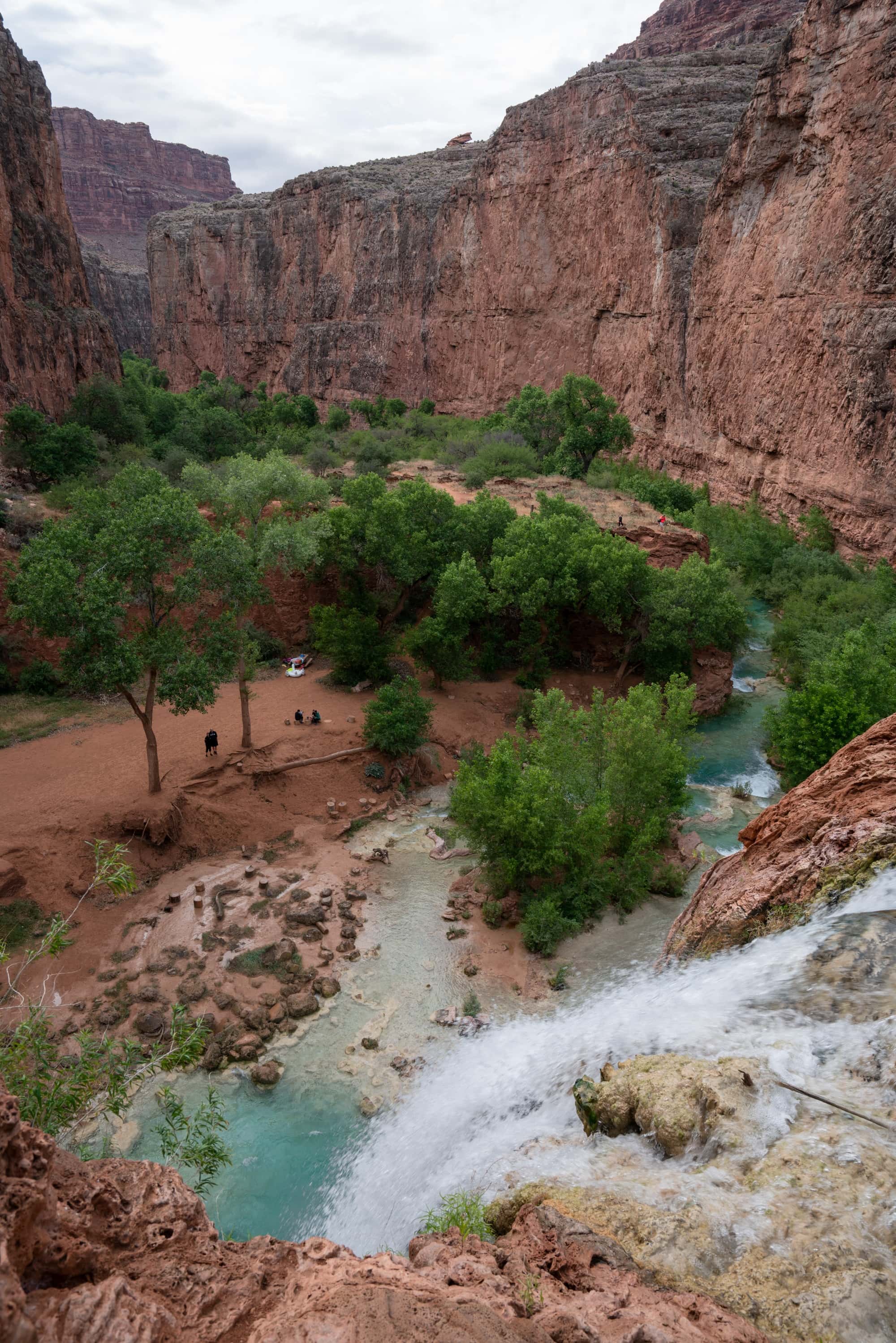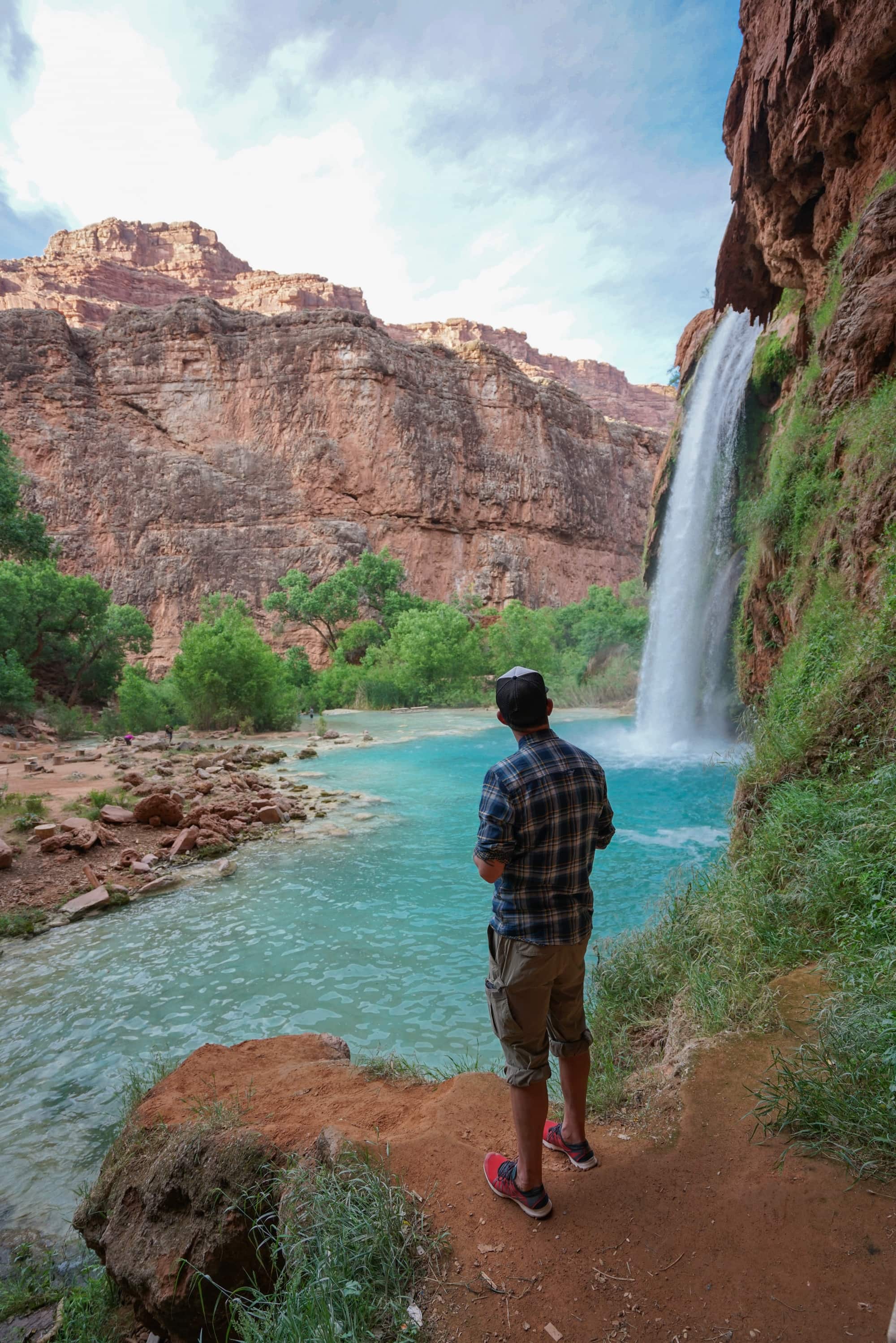 Camping is not allowed at the base of Havasu Falls. The campground begins just a few minutes further down the trail after passing through a fence.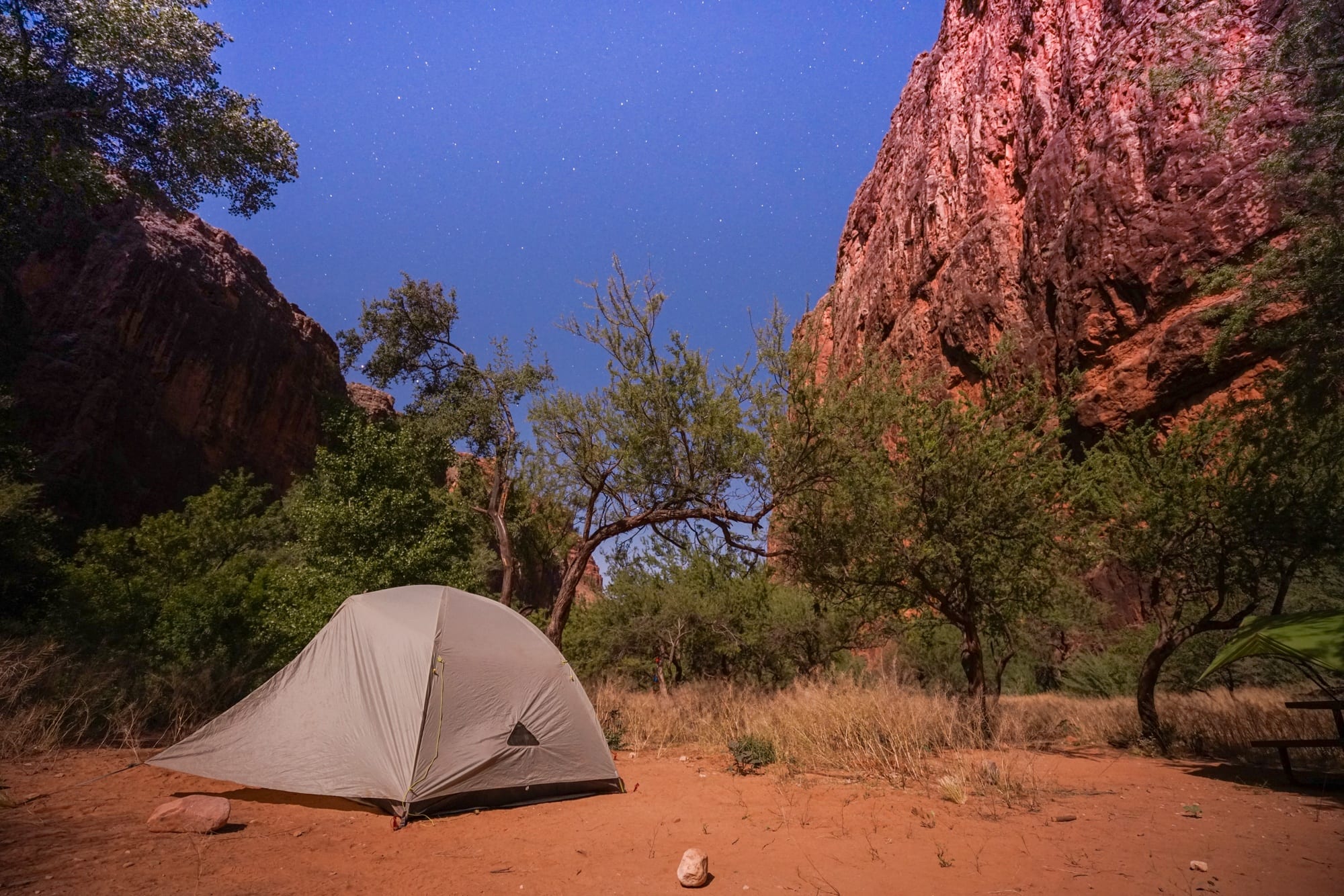 Hiking to Mooney and Beaver Falls
I absolutely recommend hiking down to Mooney Falls at a minimum. The hike down is challenging, steep, and requires use of chains for support. Take your time, and don't feel rushed by other people. You'll be proud of yourself when you get to the bottom, and in my opinion, going down is scarier than going back up.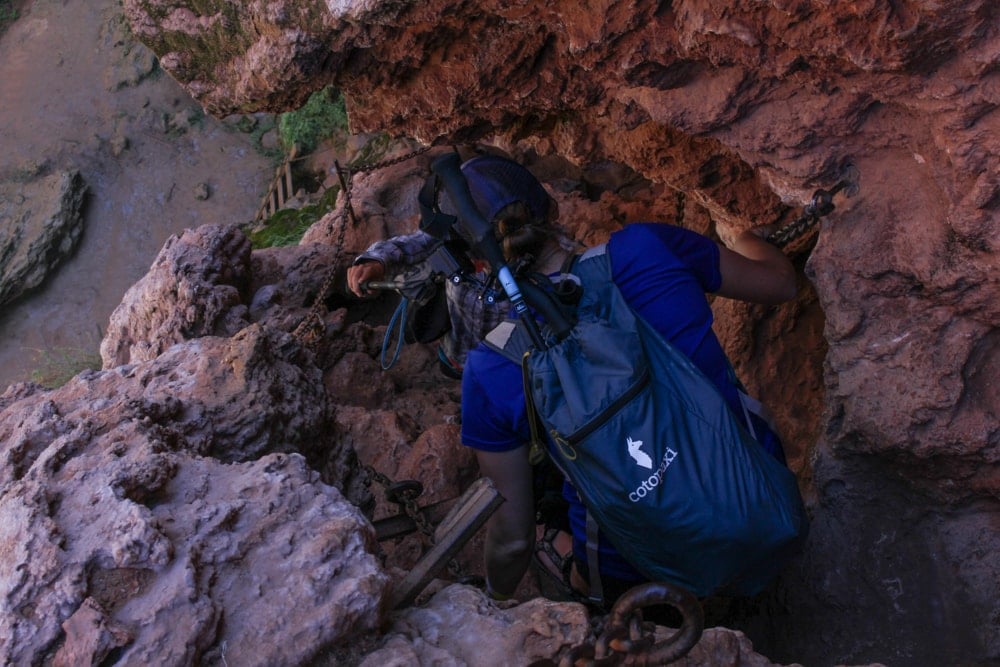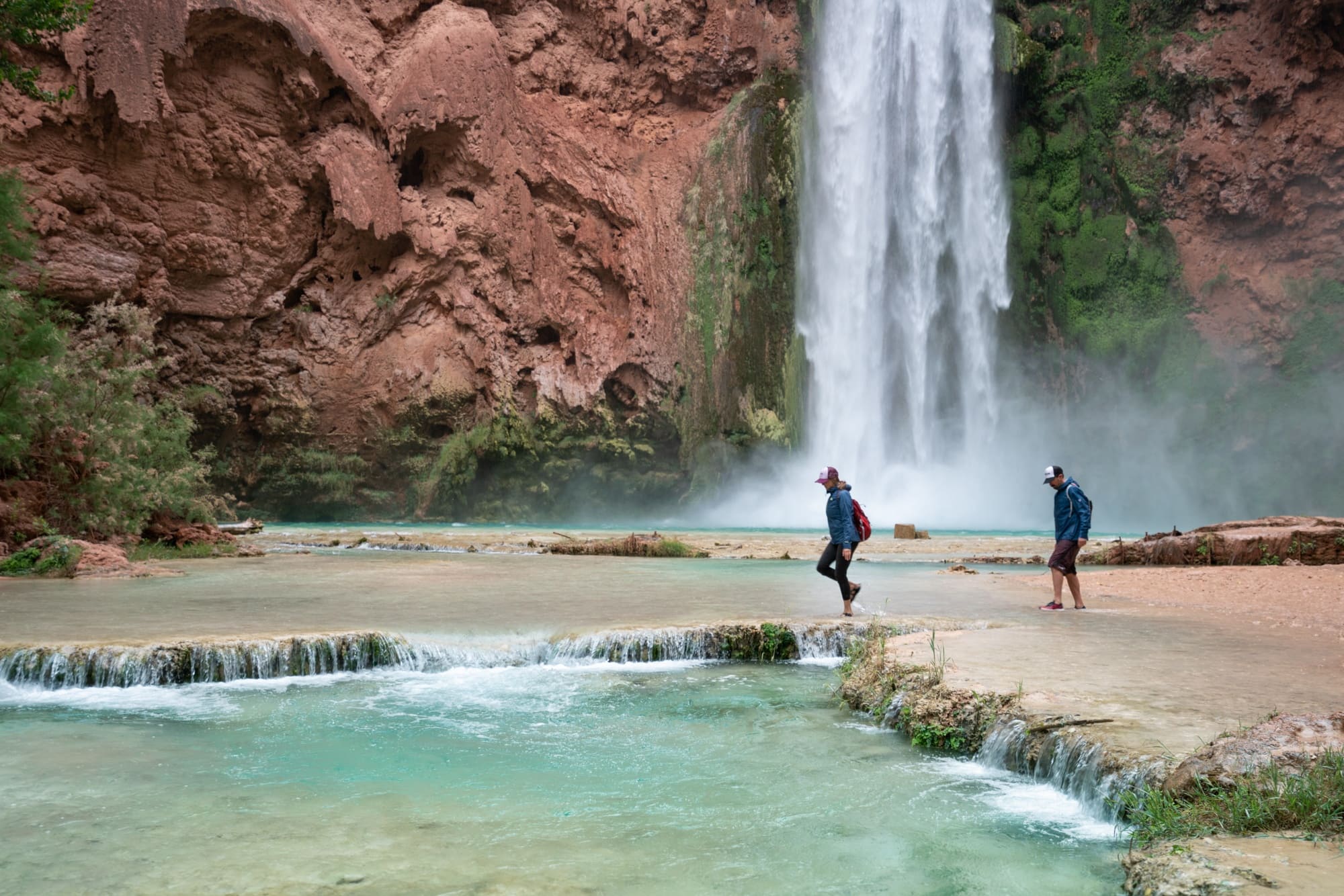 Once you're down there, the trail to Beaver Falls is stunning with way fewer people than you'll find around Havasu Falls. Pay attention to the trail since it crosses the river a number of times. With a leisurely pace, the hike to Beaver Falls takes about 5 hours round trip. It has a few steep sections but is fairly flat for a majority of the hike. You can't miss Beaver Falls when you arrive. There is a sign and sometimes a ranger present.
Beaver Falls is an amazing place to take a dip. If you want some sun for your Beaver Falls swimming excursion, get there earlier in the day before the sun goes behind the canyon wall.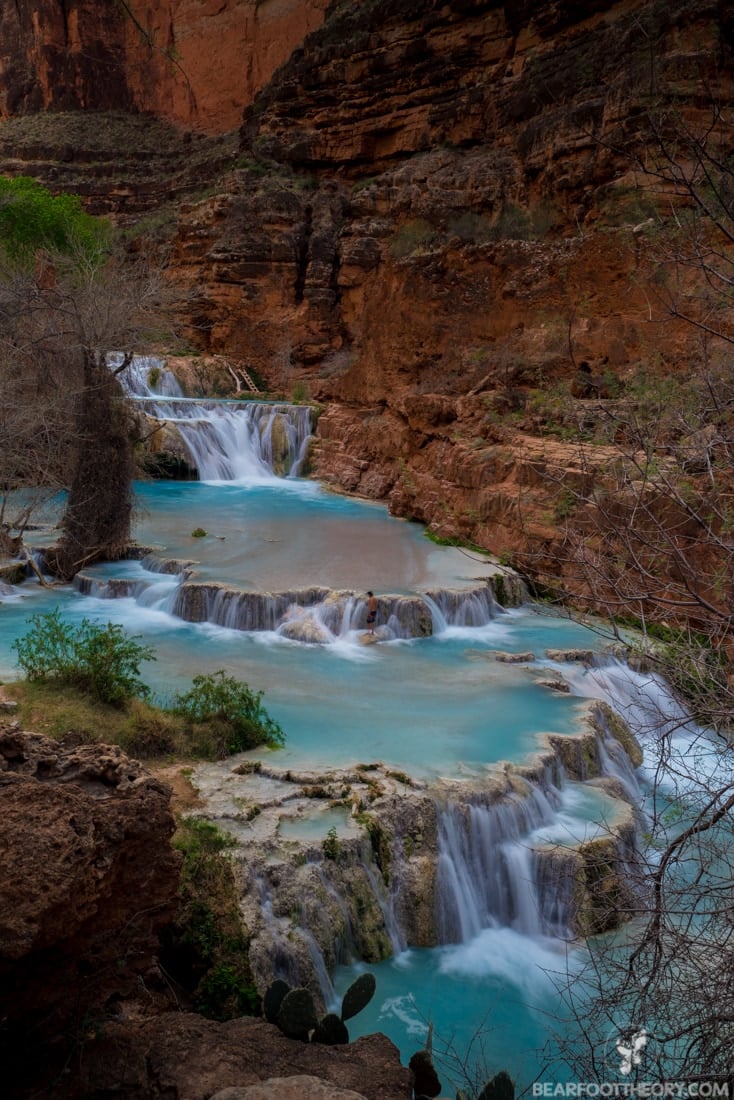 Hiking back to Hualapai Hilltop parking lot
The hike back out to your car is a bit more challenging. By the time you reach the climb at the end, it's likely that you'll be a bit tired. Make sure you have plenty of water and snacks for the return.
Also, there is very little shade on the trail, so depending on the time of year, the hike out can be deathly hot. That extreme dry heat can suck the life right out of you, and even in March when the temps were in the mid-80s, it was quite hot hiking out. If you are doing this hike in summer, plan to start the trek out in the very early morning, like 4am early, or stay and swim and hike out in the early evening. Just make sure you have enough batteries for your headlamp in case you get caught in the dark.
If you do decide to stay and enjoy the falls and hike out later in the day, it's definitely worth a stop at Navajo and Fifty Foot Falls. Both are lovely, and there are also some private areas you can swim in along Havasu Creek.
For more information on all of the different waterfalls in Havasu Canyon, check out this blog post.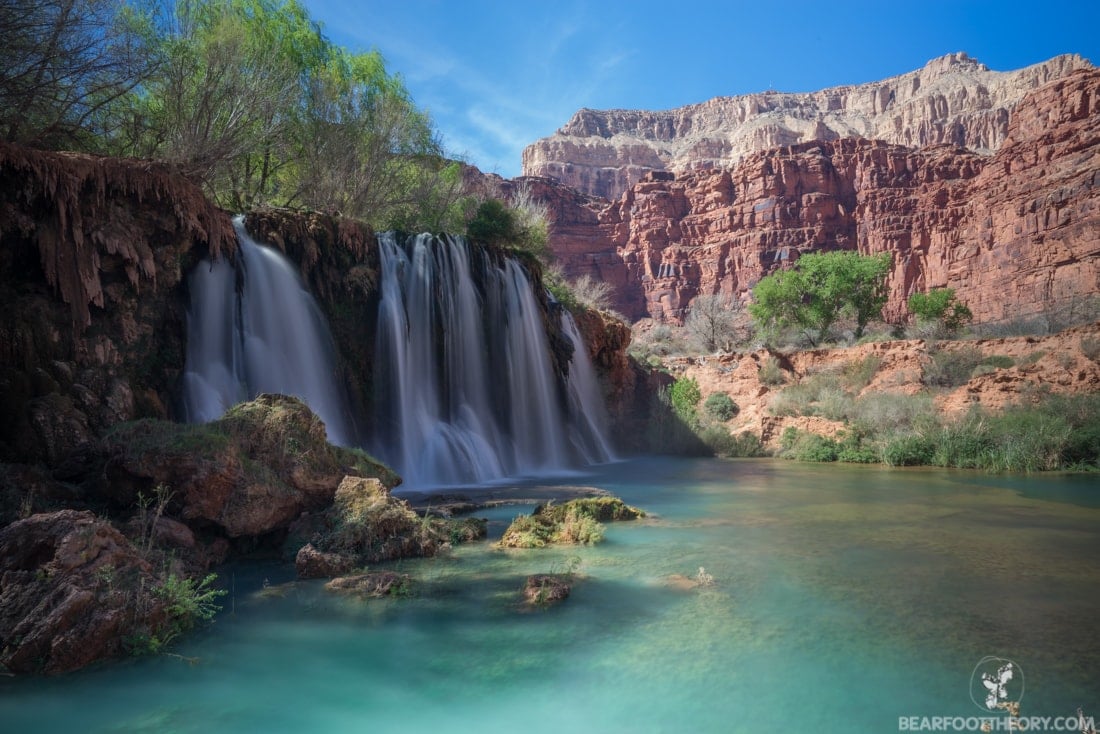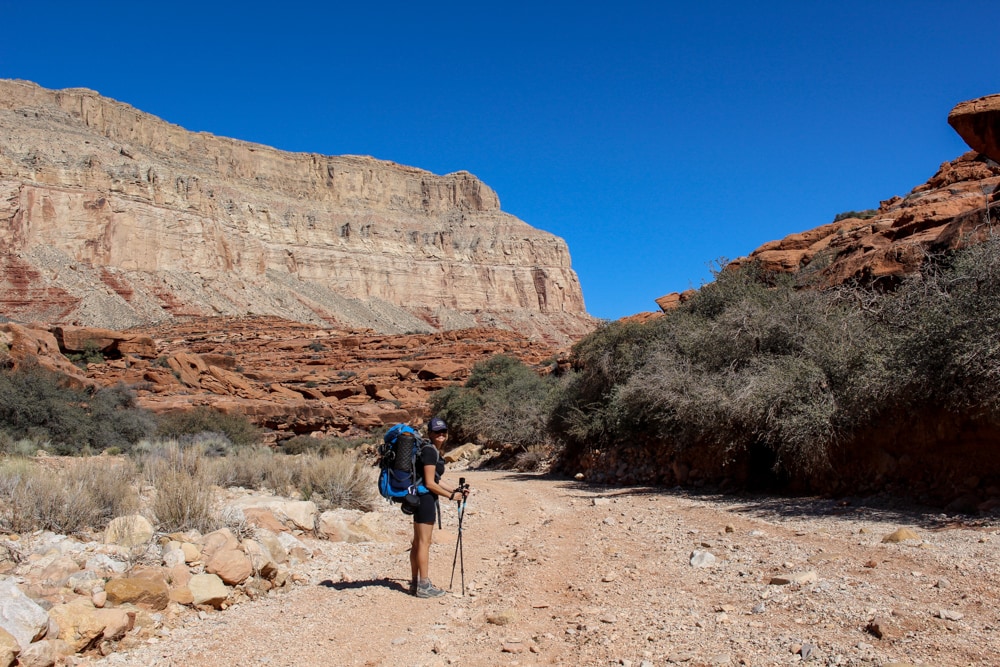 Do take time to enjoy the scenery as you hike. People say that the hike itself isn't all that exciting, but the colorful canyon walls really are quite beautiful and worthy of some photos.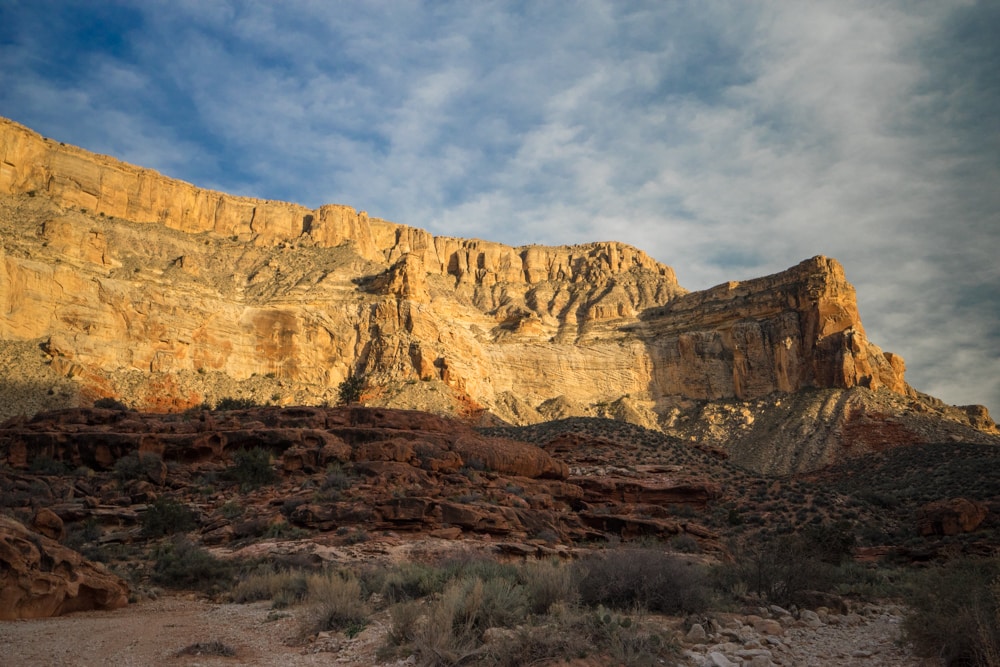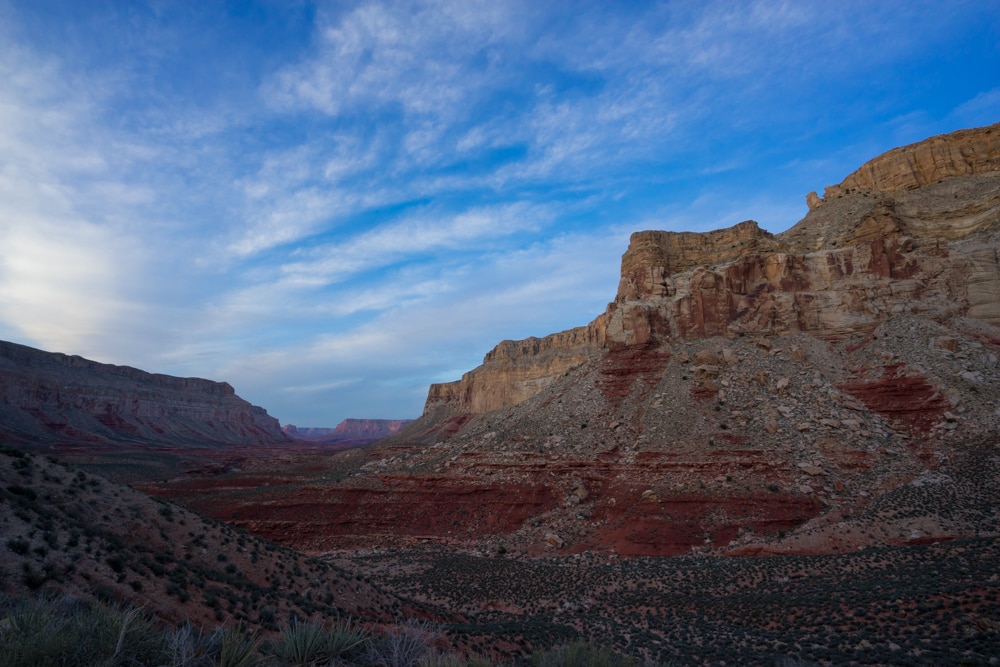 The Havasu Falls Campground
The area for Havasu Falls camping is about a mile long and sits between Havasu Falls and Mooney Falls. Campsites are scattered throughout. A majority of the sites are right on the river that runs through the campground, and most of the sites have a picnic table. Note that there are campsites on both sides of the river with several foot bridges that make for an easy crossing. Campsites are not assigned and are first come-first served. If you are concerned with getting a prime campsite, get an early start from the trailhead.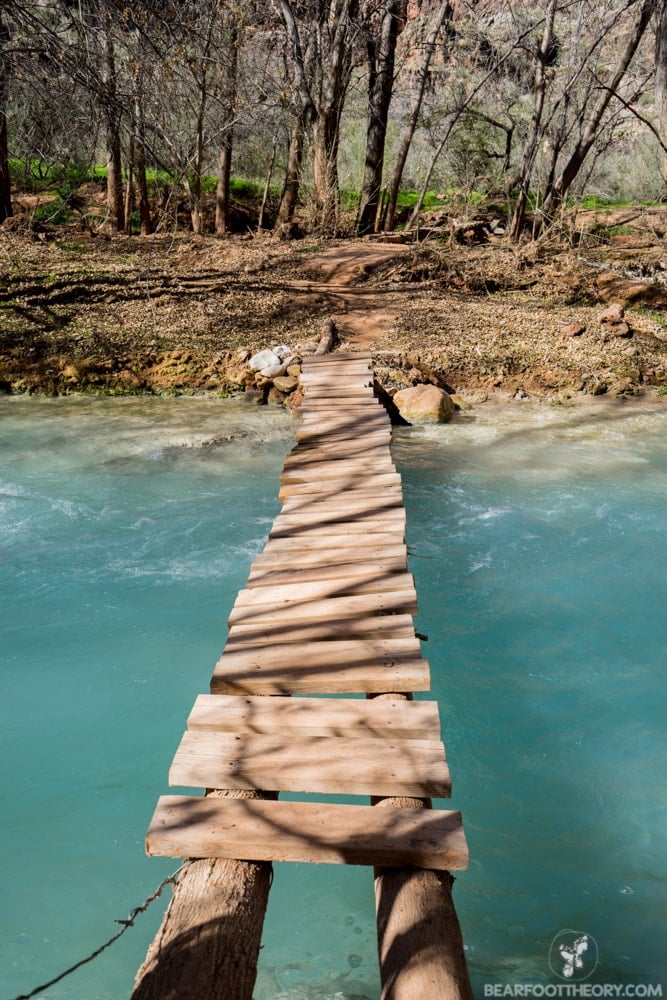 The crowds seemed thinner the further we walked. The only disadvantage of being near the Mooney Falls end of the campground is that the water spigot where you fill up your water bottles is located near the start of the campground. There are four toilet facilities evenly spaced throughout the campground, and they were surprisingly clean with plenty of toilet paper. There are NO showers, and there are no campfires allowed in the Havasu Falls camping area.
When you are camping it's important that you:
Practice Leave No Trace in order to keep the campground and the falls clean for everyone to enjoy.
Be respectful of other campers and watch your noise at night. It travels fast in the canyon and is an easy way to get on your neighbor's bad side.
Use the restrooms rather than going outside your tent.
Pack out all of your trash and don't leave your trash in the bathrooms for the campground staff to pick up. All trash left behind must be sent out via helicopter, so it's much easier if everyone simply does their part to carry everything out that they brought with them.
Read More: Outdoor Ethics – The 7 Basic Principles of Leave No Trace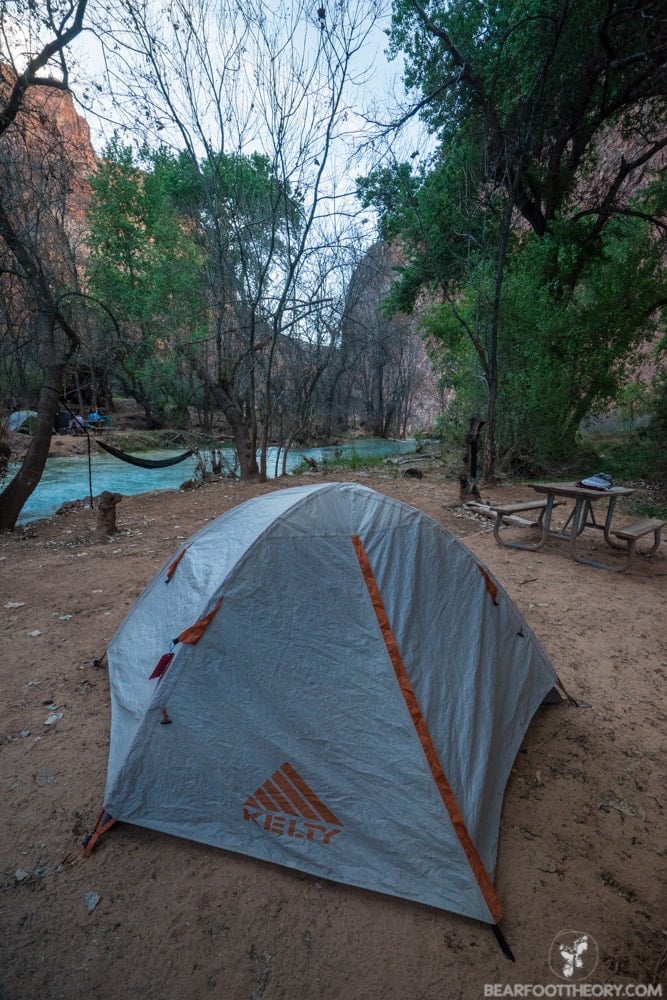 The campground is also hammock heaven, with tons of trees to swing from. I slept in my ENO Hammock for the first time ever on this trip, and I believe there are many more hammock nights in my near future. If there's a chance of rain, don't forget to bring a tarp if you plan on sleeping in a hammock.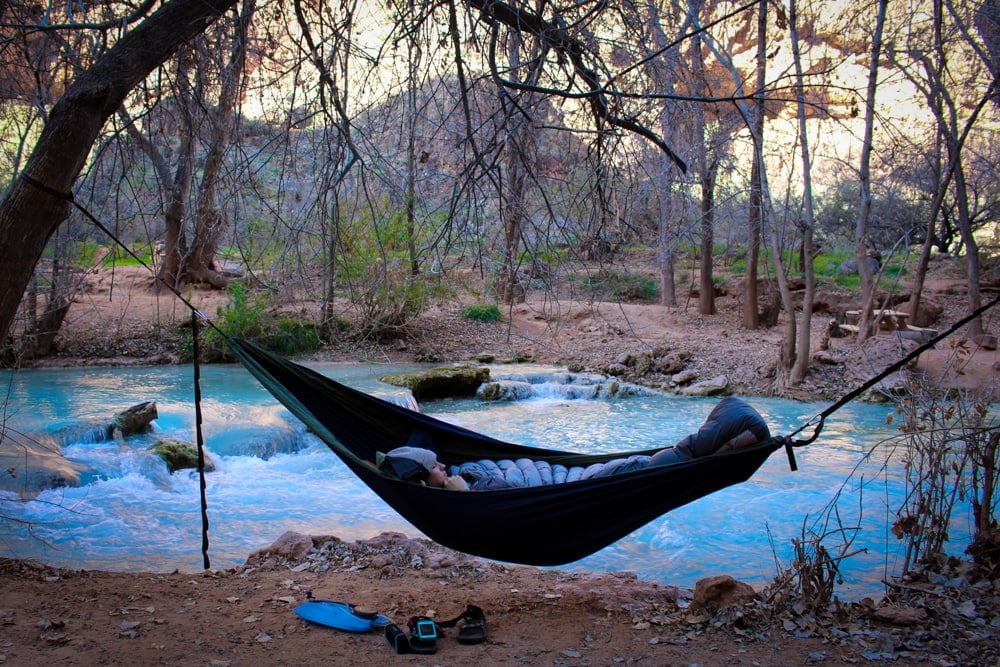 What Gear to Bring on your Havasu Falls Camping Trip
Packing correctly for your Havasu Falls camping trip is important since you're backpacking in. To make sure you don't forget anything, check out our complete packing list for Havasu Falls.




You can also review our standard backpacking gear checklist for 3-day adventures. Don't forget these few special additional pieces of gear for Havasu Falls:

This is why you are going to Havasupai, right?
You'll definitely want a pair of shoes you can hike through the water with, like a 
lightweight pair of Tevas
or
Astral water shoes
. When you go swimming it will make entering and exiting the water much easier. Also, they come in handy on the hike to Beaver Falls. On this trail, there is a river crossing and getting your feet wet is unavoidable. I did the entire hike to Beaver Falls in my Tevas, while my friends wore their hiking shoes and took them off for the crossing. Either way works, but having sandals or water shoes makes things more convenient.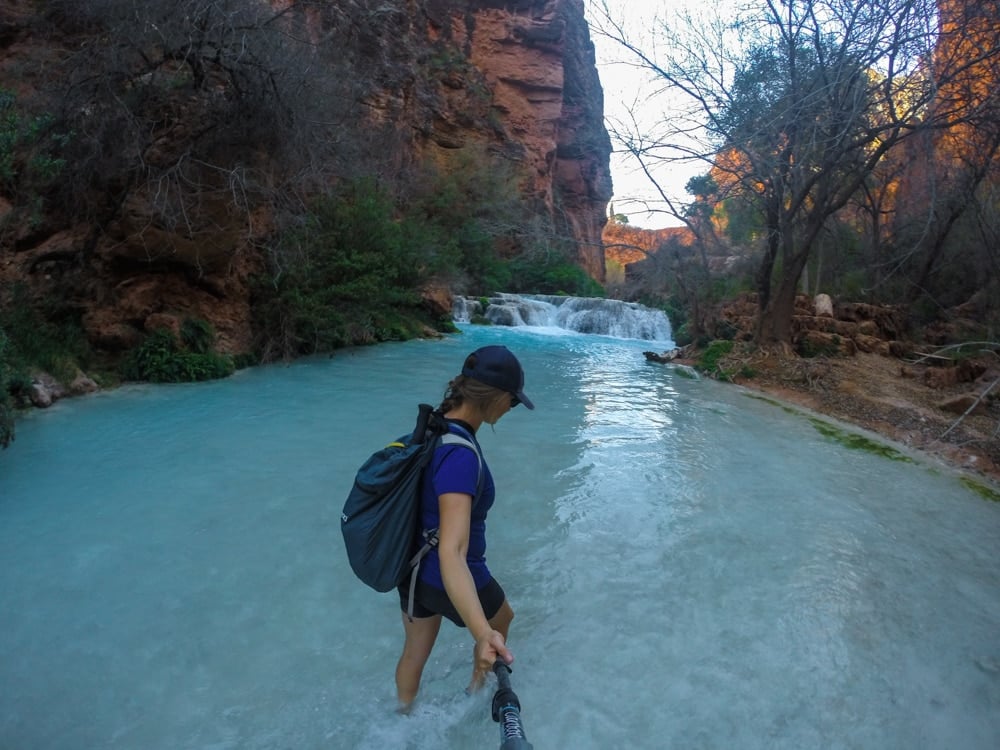 Havasupai is a great place to practice your photography skills. The landscape is diverse and with so many waterfalls, it really is a photographer's dream. If you want to try and get some of those
silky waterfall shots
, you will want to bring a tripod. Mefoto makes a sturdy,
compact tripod for backpacking
that I recommend. If you want something lighter and less expensive,
Joby
makes some great flexible tripods for trekking.
I shoot with a
Sony A7R2
, and when there are waterfalls, I always bring a
variable neutral density filter
 to allow for slower shutter speeds even when it's bright out (make sure you check the thread size on your lens for sizing). For a
detailed list of my photography gear, go here
.
A GoPro is also awesome for Havasu Falls since the GoPro is waterproof when it's in its case. Getting fun video footage is super easy with a GoPro as well. I shoot with a 
GoPro Hero7 Black
.
Hydration Bladder and Water Filtration
There is a fresh spring in the campground that is tested for contaminants on a monthly basis. On my trip, this is where we filled up, and we didn't worry about filtering our water. However, there are times when the Camping Office will recommend you filter the water, and for that reason, it's always good to have a backup plan. Good options include
simple purification tablets
or the
Platypus GravityWorks Water Filtration System
(read my
full review
) which is super lightweight and effortless to use.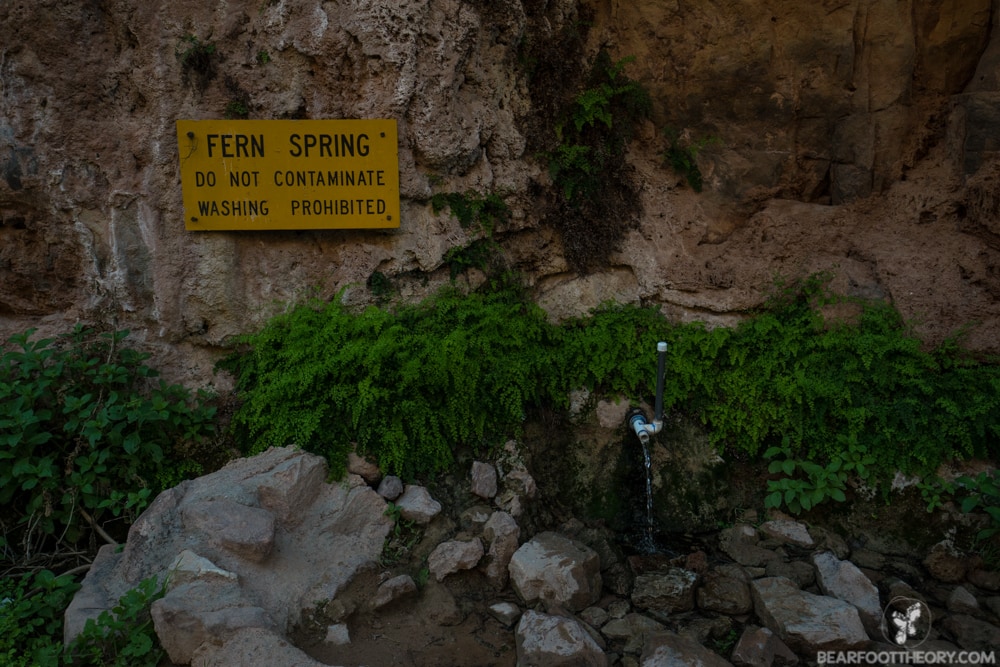 Water is NOT available at the trailhead, so make sure you have enough with you for the hike before you drive all the way out to Hualapai Hilltop. This means you should have a way of carrying 3 liters of water for the hike in and out, such as this
3 liter Osprey hydration reservoir
. I especially like this bladder because the back side is hard, making it easy to slide in and out of your pack. Multiple water bottles also work, and I'm a big fan of the
Platypus Soft Bottles
.
It's a good idea for someone in your group to have a small daypack that you can use to carry gear on day hikes to the waterfalls. This is especially important if you are planning on going down to the base of Mooney Falls. That trail is slightly treacherous and you are going to want both hands as you make your way down. A small collapsible daypack like the
Cotopaxi Luzon
 will ensure you don't have to worry about hanging on to your water and camera.
It's nice to have something to dry off with when you get out of the water. A simple quick dry towel like the 
REI Multitowel Lite
 takes up little room in your pack.
The bugs were nonexistent when we were there in March, but we were told by the ranger that once the trees start to bloom, they come out in full force and
bug spray
is necessary.
The sun is crazy intense out there in the desert, so don't forget some
waterproof sunscreen
.
Get my detailed Havasu Falls Gear Checklist
Other Tips for Camping at Havasu Falls
Watch out for marmots. They are sneaky and will get into your food if its left out where they can get to it. When you leave your camp to go for a swim or a hike, make sure to hang it or stash it away.
There are options to use pack horses or helicopters to transport you and your stuff. I say challenge yourself and get yourself down there with all of your gear on your own two feet. It's cheaper and a better workout. Plus, we noticed people who seemed to be waiting quite a long time for their stuff to arrive. If you are set on getting assistance, check out the official Havasupai Tribe website for info or inquire with the camping office about your options.
Make sure to check out my Havasu Falls Gear List and my blog post with Havasu Falls Dos and Don'ts
Do you have any other questions about visiting Havasu Falls? Leave a comment below or join the conversation in the Bearfoot Theory Outdoor Adventurers Facebook Group.
Disclosure: Some of the links in this post are affiliate links. This means if you make a purchase, we receive a small compensation at no added cost to you so we can continue to provide free content. I only recommend products that I have tried out and truly love, and any purchases you make help keep this blog going. Thanks for all of your support, and if you ever have any questions about any of the products featured on my site, please email me. Thanks! Kristen