Best Trekking Poles for Hiking & Backpacking of 2023
Adjustability, grip type & pole material. Learn the benefits of hiking with trekking poles & how to choose the best trekking poles for your next adventure.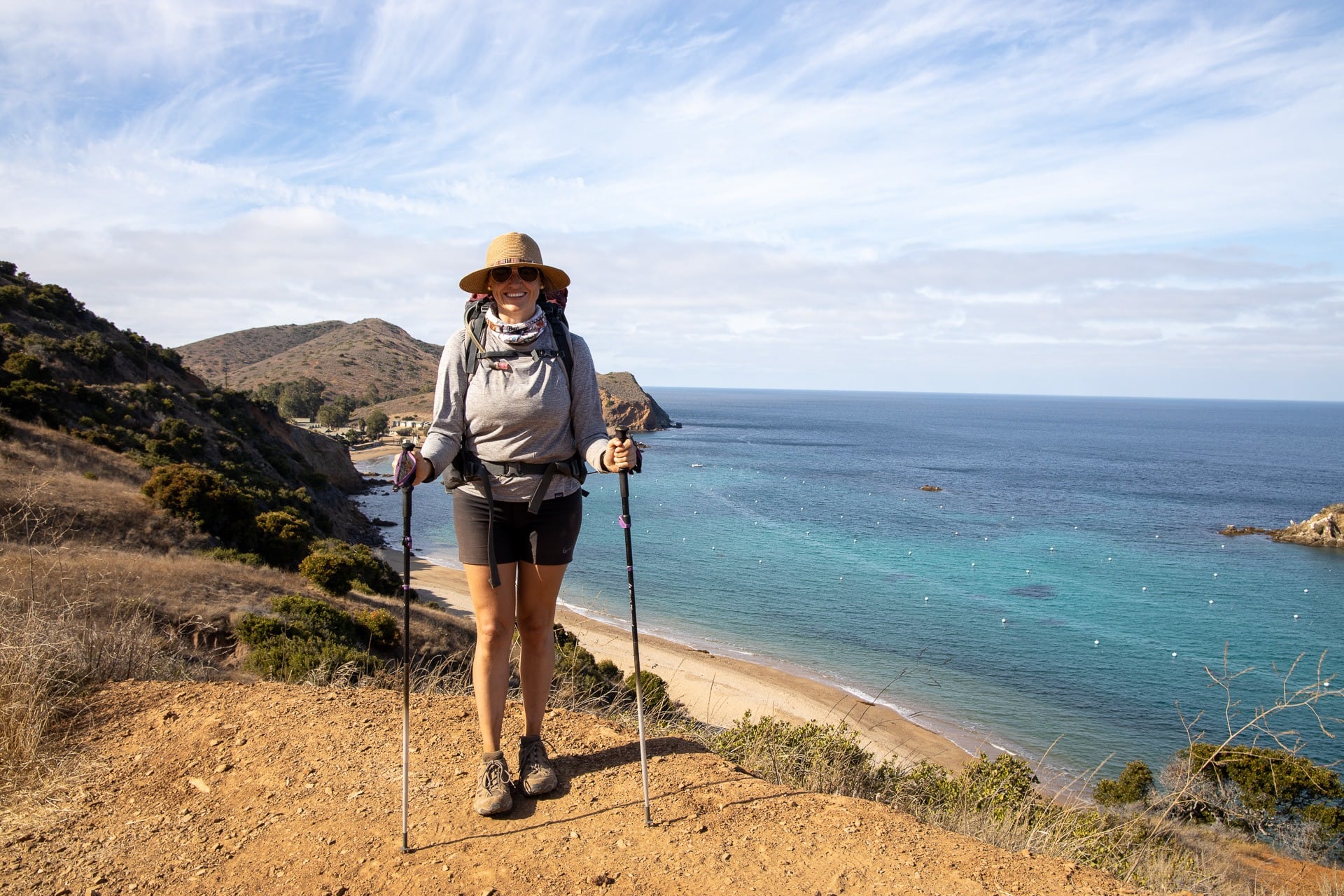 Ok, let's get it out of the way. Trekking poles may look a little nerdy, but we all just need to get over that. The second you give the best trekking poles on this list a try on your next hike or backpacking trip, I guarantee you will love them and never think of them as nerdy again.
Trekking poles offer stability on the trail and help protect your knees. I first started hiking with trekking poles when I hiked the John Muir Trail, and I couldn't believe the difference it made – going both uphill and downhill.
Trekking poles helped me maintain a comfortable hiking pace by timing my stride with my breath and lessening the pressure on my joints. Now, I won't go on a backpacking trip without trekking poles.
After trying a variety of trekking poles on the market, here is our roundup of the best trekking poles for hiking and backpacking including options for all budgets.
---
Montem Ultra Strong
Best Budget Aluminum Trekking Poles
Great for: budget hikers & backpackers who want sturdy aluminum poles
What we like: easy to adjust, extremely durable, great value buy
What we don't like: heaviest trekking poles on our list
Montem's Ultra Strong Trekking Poles run $70 and they come with some pretty impressive features for that price. They have comfortable foam grips with an adjustable wrist strap, and they are quick and easy to adjust. If you are looking for your first pair of trekking poles and aren't sure if you will like using them, these are an excellent option. Montem also has a lighter, slightly more expensive carbon fiber version, which will shave some ounces off your load if you are going backpacking.
Black Diamond Distance Z
Best Aluminum Trekking Poles
Great for: lightweight backpacking, airplane travel for trips, long hikes
What we like: short collapsed length which makes storing in your pack or travel bag easy, lightweight for aluminum poles
What we don't like: no length adjustability
For a high-quality, lightweight aluminum trekking pole, check out the Black Diamond Distance Z Trekking Poles. These are what Bearfoot Theory's Director of Operations, Linda, uses on the trail and she loves them. She's 5'3 and uses the 100cm size, while her husband is 6′ and uses the 130cm size. They are collapsible which makes packing these for travel super easy. These are also lightweight poles that cost less than half the price of carbon poles, so they're a great value for their weight.
Black Diamond Distance Carbon Z
Best Ultralight Trekking Poles for Backpacking
Great for: ultralight backpacking, trail running, long-distance hikes, airplane travel for trips
What we like: most lightweight trekking pole, carbide and rubber tips included, super collapsible
What we don't like: expensive compared to other poles on our list, no length adjustability, carbon is more brittle than aluminum
You really can't beat the Black Diamond Distance Carbon Z Poles if you are looking for ultralight gear. This is a lighter version of the Black Diamond Distance Z poles mentioned above because they're made from carbon fiber instead of aluminum. They come in 3 sizes to meet your height and are Black Diamond's lightest foldable poles, weighing around 10 ounces. There is also a women's version available.
Zpacks Carbon Fiber Trekking Poles
Best Budget Carbon Fiber Trekking Poles
Great for: ultralight gear on a budget
What we like: ultralight, easy to adjust, affordable, comfortable grips
What we don't like: carbon is more brittle than aluminum
The Zpacks Carbon Fiber Trekking Poles are a great choice if you are looking for budget-friendly carbon fiber trekking poles. They are easy to adjust for hiking uphill or downhill and pack down small (while not totally collapsible).
These are the trekking poles BFT team member Courtney has been using this season and she loves how lightweight and easy to set up these poles are. She also pairs these poles with Zpacks Duplex tent to lighten her load on backpacking trips.
The Zpacks poles are noticeably lighter than her Black Diamond Women's poles which contributes to less fatigue on longer trips. The wrist straps are noticeably less padded than her BD poles, but that isn't a big deal to her as she typically doesn't loop her hands through the straps.
Unlike most other trekking poles, Zpacks are sold as single poles and offer both cork and foam grips for more customization.
The downside of these trekking poles is that carbon fiber isn't as durable as aluminum and doesn't hold up as well in winter conditions. But if lightweight is what you're after, these might just be the perfect budget trekking poles for you.
Black Diamond Trail Women's
Best Women's Specific Trekking Poles
Great for: people who prefer smaller handles for grip
What we like: budget-friendly for lightweight poles, wrist straps are padded & comfortable
What we don't like: locking mechanism needs to be tightened often
The Black Diamond Trail Women's Trekking Poles are easy on your budget and great beginner women's trekking poles. They are durable, easy to adjust, and pretty lightweight for the price. These are the trekking poles that BFT's content coordinator, Courtney, has used for the past 2 years for day hikes and backpacking trips. She likes how straightforward they are and that the grips don't feel sweaty.
Leki Lhasa
Most Shock-Absorbing Trekking Poles
Great for: people who need extra joint support
What we like: smaller grip for smaller hands, DSS anti-shock system lessens the impact on your joints
What we don't like: not the most compact trekking poles
The Leki Lhasa Women's Trekking Poles are a great choice if you have sensitive knees and joints and want extra protection on the trail. Made with a DSS antishock system, these poles make treks easier on your muscles, joints, and ligaments. These are easy to adjust on the trail for uphill or downhill use and the inclined grip angle of 8° supports your wrists in a neutral position, making them very ergonomic too. There is also a unisex version available.
Black Diamond Alpine FLZ
Best Collapsible Trekking Poles
Great for: everyday hiking, 4 season use, travel
What we like: short collapsed length which makes storing in your pack or travel bag easy, easily adjustable
What we don't like: sometimes jam up in winter conditions
The Black Diamond Alpine FLZ Trekking Poles are great because they break down and can easily fit into checked luggage or in the side pocket of your backpack if you aren't sure you want to bring them along. These are the trekking poles Kristen uses and loves. They are also adjustable so you can make them shorter on the uphill and longer on the downhill. These trekking poles are also made for four-season use. They come with swappable baskets which need to be purchased separately.
---
Best Trekking Poles Comparison Table
See the comparison table below for a quick summary of each of the best trekking poles for hiking. You can click on the columns to sort by what's most important to you.
Note that telescoping trekking poles are adjustable to different heights whereas folding trekking poles come in different sizes and are not adjustable.
---
Benefits of Hiking with Trekking Poles
Hiking with trekking poles has a ton of different benefits – from helping you build endurance to taking stress off your knees. They help get your whole body involved in walking rather than having all the weight and pressure on your lower half. Once you try them, you'll never go back. Here are some of the key benefits of hiking with trekking poles and why you should give them a try.
They Help Build Strength & Endurance
Hiking with trekking poles helps build strength and endurance. When you hike without them, you are only engaging your leg muscle muscles. When you hike with trekking poles, you are also using your arms, core, and upper body which builds overall body strength, distributes the work, and allows you to hike further without getting as tired.
They Improve Balance
If you are hiking in snow, on a slippery path, over rocks, or across a stream, having four points of contact helps maintain balance.
They Distribute Weight
When backpacking with a heavy pack, using hiking poles helps distribute that weight so you have better balance. They also help you stand more upright and avoid leaning forward as much under the weight of your pack.
They Reduce Pressure on Joints
Trekking poles help take the weight off your lower half, reducing the pressure on your knees and ankle joints. I especially notice the difference when hiking downhill which normally puts a lot of pressure on my knees and ankles – trekking poles alleviate that significantly.
They Can Increase Your Hiking Speed
Trekking poles can help you develop a consistent rhythm, which over time, can increase your average hiking speed. They also help to displace the effort required to climb upwards as you have the ability to utilize your arms to propel you forward.
They're Versatile in a Pinch
Trekking poles can also be a great last-minute tent pole replacement if you are in a jam. Some tents, like Zpacks, actually use a pole as part of their set-up, allowing you to save weight. Trekking poles also make for a great splint for medical emergencies, make you appear taller to wildlife, and can even protect you from snakes.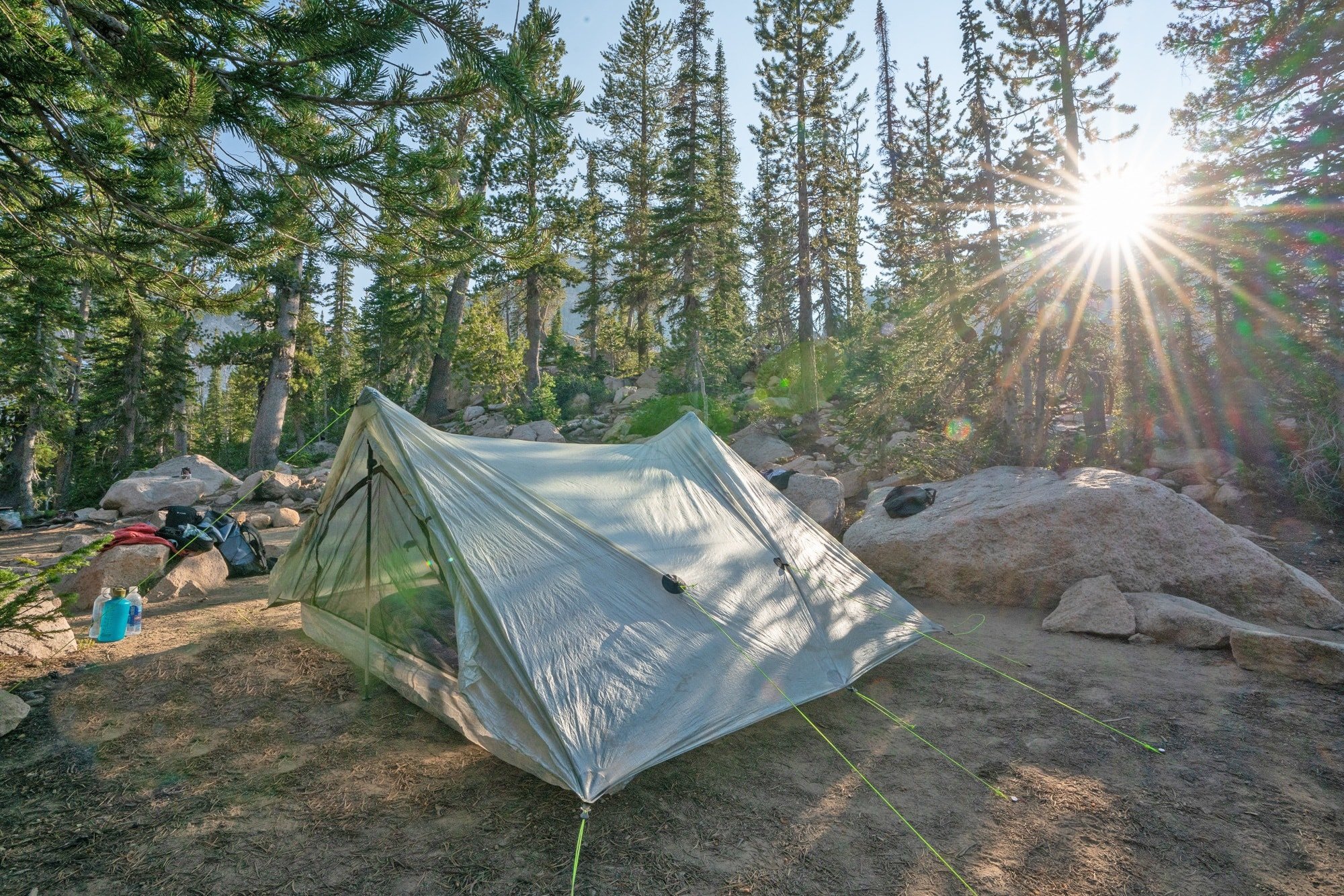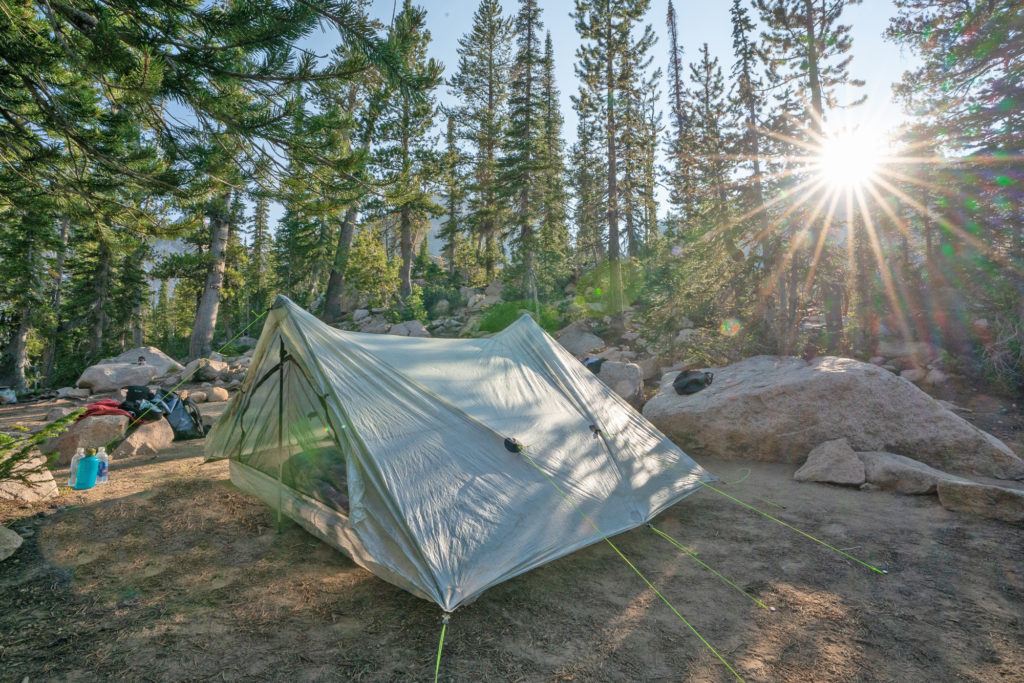 ---
---
How to Choose Trekking Poles
When you are shopping for new trekking poles, there are a number of things to consider. In this section, we break down how to find the right pair for you.
Poles vs. Staff
Two poles are better than one. A singular hiking staff (think about a long wooden stick) is generally only effective when carrying little to no load on your back and when used on flat terrain. We recommend buying trekking poles which are sold as a pair and used in tandem. If at any time you only want to use one, just throw the second pole in your pack.
Grip
Cork, foam, and rubber are the three most common choices for grips. We love cork grips as they wick moisture from sweaty hands. They also conform to the shape of your hand over time and help absorb some of the vibrations from the ground.
Foam grips actually absorb moisture. They are also comfortable, but depending on how sweaty your hands typically get, foam grips can retain smells over time.
The third type of grip is rubber, which insulate hands from the cold. So, if you mostly hike in cold wintery weather, consider rubber grips. However, in warmer temperatures rubber gripped trekking poles can cause chafing or blistering on hands.
Selecting the type of grip you want on your trekking poles will narrow down your selection and is one of the first decisions you should make. One isn't necessarily better than another, you'll learn your preference over time.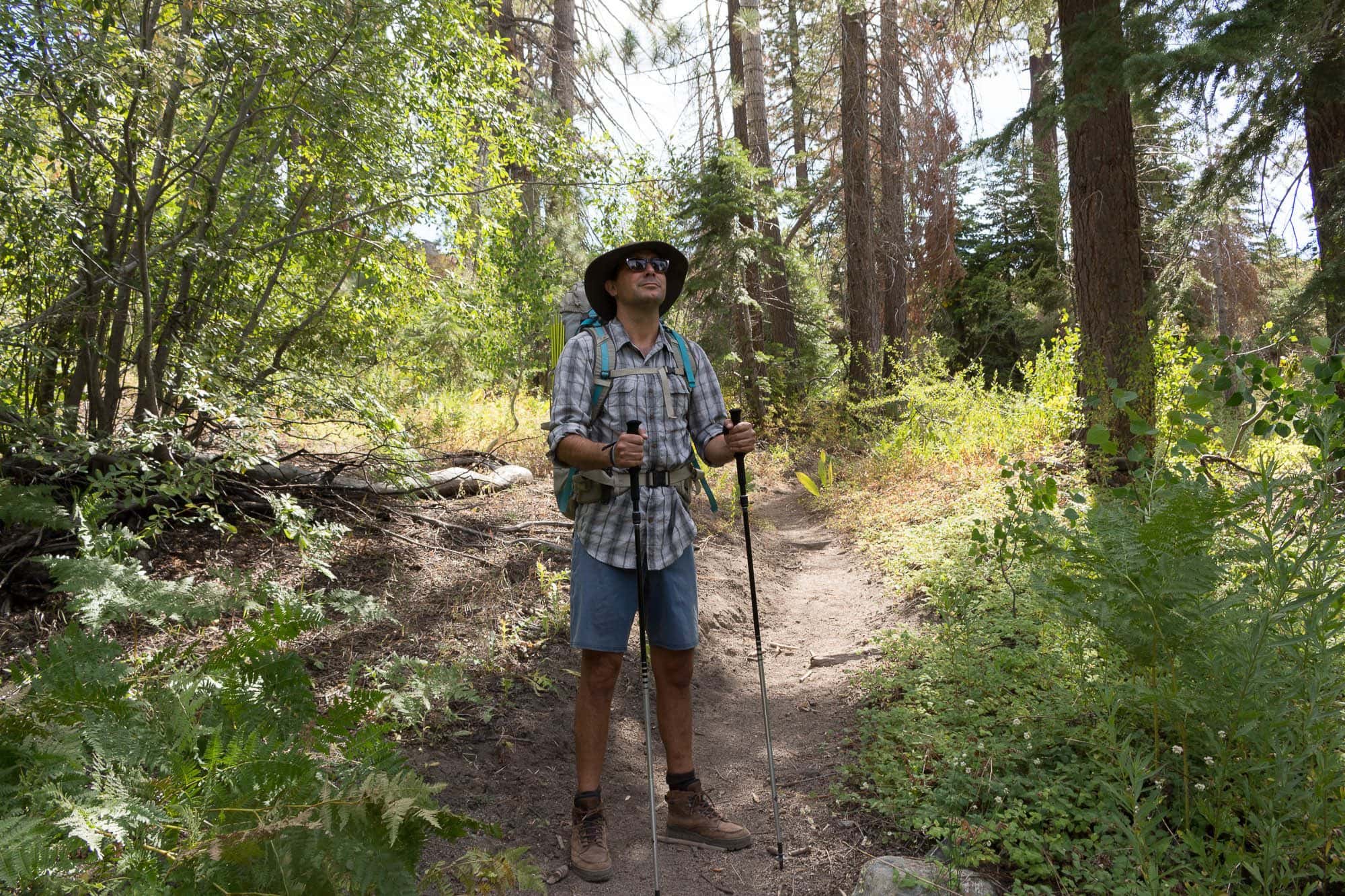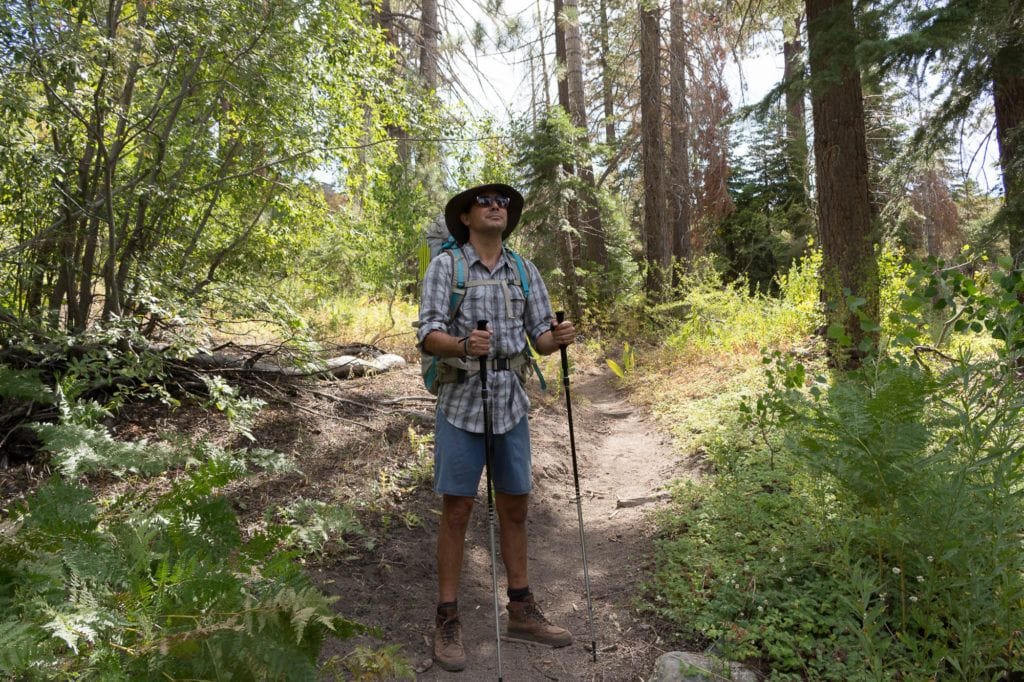 Men's vs. Women's
Women's trekking poles are generally shorter and have smaller grips which is important if you have smaller hands. Men's specific trekking poles are now less common, with more being unisex.
Wrist Straps
Many poles come with straps which can be essential if you are using them for winter hiking to prevent post-holing. Straps are also handy because they keep your poles attached to your wrists so you can let go of the grips to grab a drink of water or look at a map without having to put them down. Some trekking poles have removable wrist straps which are nice for long-distance hiking if you are paying close attention to the overall weight.
Pole Material
Most trekking poles made today are made of aluminum or carbon fiber. Aluminum poles are more prone to bending but are a much cheaper option. Carbon fiber poles are much lighter and better at reducing vibrations, but they are more prone to snapping under high stress. Carbon fiber poles are also more expensive.
Packability
Many trekking poles can be folded up (kind of like tent poles), some are telescoping, and some cannot be packed down at all.
Think about where you will store your trekking poles when not in use or when traveling with them. Do you want to be able to pack them up? Are you planning on flying with them?
Most daypacks and backpacking packs have loops on the back where you can strap your packable trekking poles when not in use. And most airlines require that trekking poles be placed in checked luggage so if you plan on traveling with them, packable ones will be the best option for you.
Shock Absorbing
Some poles are shock absorbing. This is highly encouraged if you have weak or damaged ankles, knees, or hips.
Adjustable vs Set Size
It is important that you select a set of trekking poles that are the right size for you. Some are adjustable which gives you more flexibility in case you want to adjust the size – you can shorten them when going uphill and lengthen them when going downhill – or lend them out. Others come in a range of set sizes so check the size before you buy and make sure it's right for you. Ideally, your elbows should be at 90 degrees when holding them. If you're taller than 6 feet, the best trekking poles will have a maximum length of at least 51 inches.
Locking Mechanism
For adjustable hiking poles as mentioned above, in our personal opinion, the locking mechanism is one of the biggest things to consider when selecting poles. Most poles today use an external lever lock instead of twist locks. External lever locks are clamp-like devices that make adjusting your poles quick and easy.
Baskets
Baskets on trekking poles are essential for treks on snowy or muddy ground (think snowshoeing). The more snow, the larger the basket you'll want. Baskets are sometimes sold separately.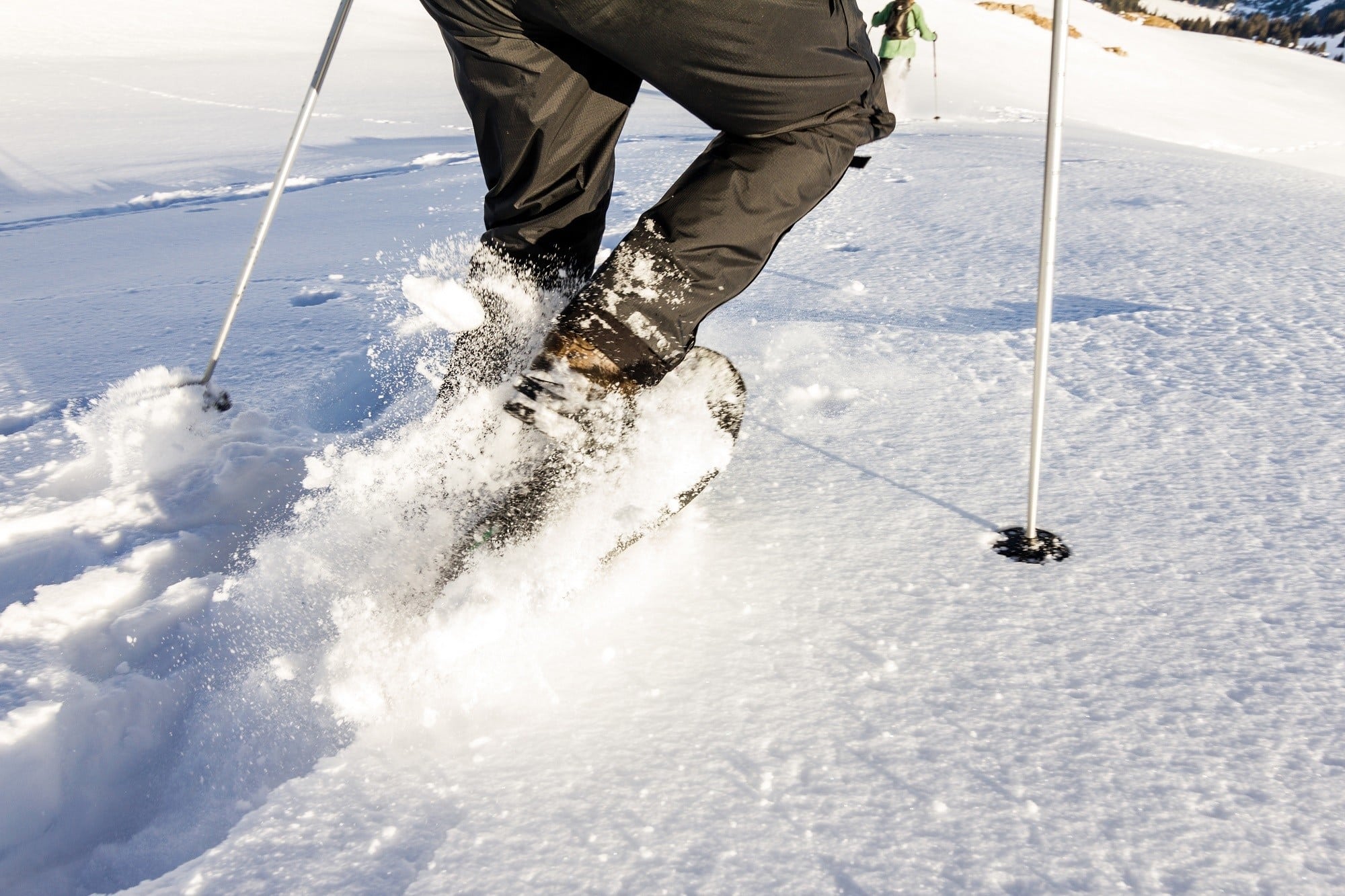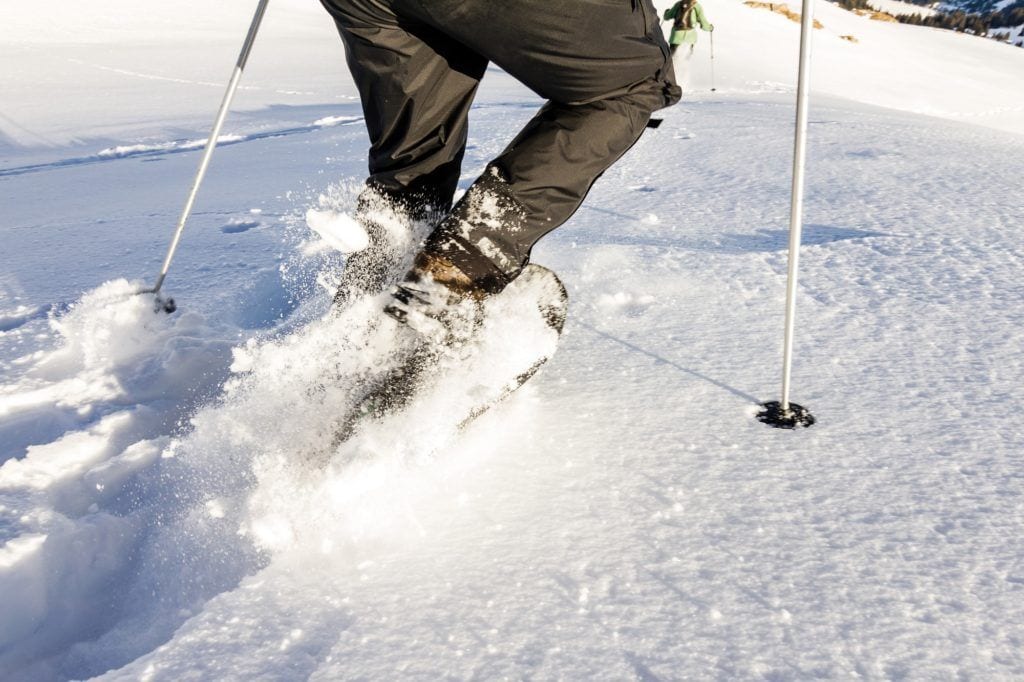 Got any questions about hiking with trekking poles? What are the best trekking poles you've found? Let us know in the comments below.