9-Day Utah National Parks Road Trip Itinerary
Explore Utah National Parks in this road trip itinerary with the best hikes, camping and more in Zion, Bryce, Capitol Reef, Arches & Canyonlands.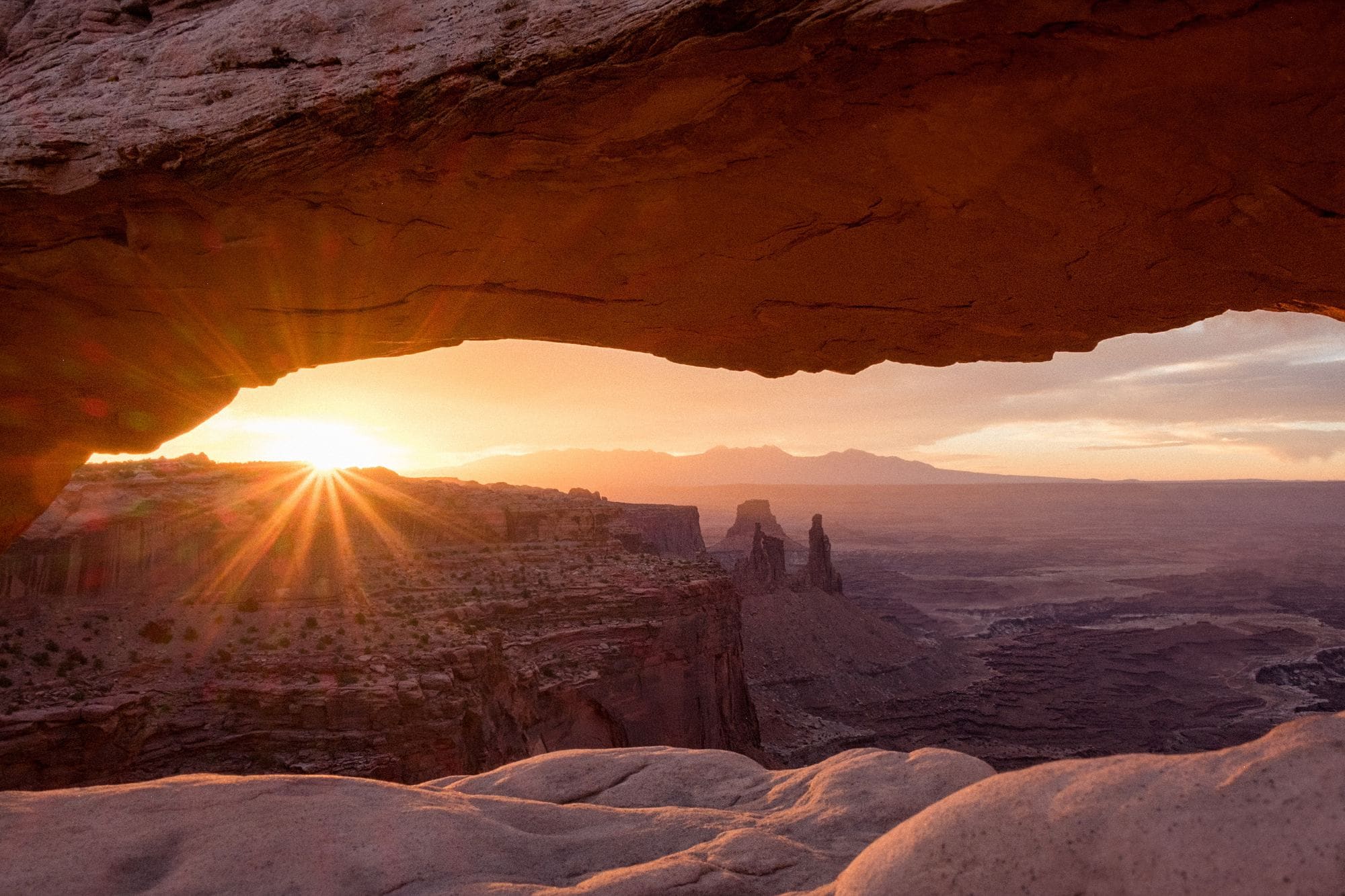 Southern Utah's National Parks are what first drew me to Utah and are ultimately the reason I ended up moving to Salt Lake City. Otherwise known as the Mighty 5, these public lands offer stunning red rock scenery, twisting slot canyons, and dramatic viewpoints. They can also be connected to create an epic Utah National Parks road trip, which is an unforgettable trip for any outdoor adventurer.
Because there's so much to see and do in Utah's National Parks, we recommend having at least two weeks available if you plan on visiting all five. Alternatively, you can focus on 2-3 parks if you only have a week.
In this 9-day Utah National Parks road trip itinerary, we share our favorite hikes, the best spots to stop along the route, and travel tips for maximizing your time in Southern Utah.
Important Reminder: As it goes in all of the destinations we share, please practice good trail etiquette and remember to Leave No Trace. This means packing out all of your garbage (including toilet paper) and following the established rules. In the desert, this also means learning how to protect cryptobiotic soil and how it has a huge impact on our ecosystems.
The Best Times to Road Trip Utah's National Parks
Utah's National Parks are open year-round and each park's diverse landscapes and offerings can change based on the weather and season you are visiting. Below is a quick summary of seasons in southern Utan. For more information check out our complete guide to the best time to visit Utah's National Parks.
Spring and Fall
The most popular (and busiest) periods to visit are Spring (April-May) and Fall (September-October). During these milder seasons, the daytime temperatures can range from 60-80 degrees with lows averaging 40-60 degrees. It's the most comfortable time of year to visit Utah's National Parks, but with that, you need to be prepared to deal with large crowds.
Summer
If you choose to visit any of these Utah National Parks in the summer months, expect daytime temperatures to reach over 100 degrees. Personally, I don't recommend visiting during the summer. The parks are still quite busy and you'll need to do all of your hiking very early or very late in the day to avoid the mid-day heat and scorching summer sun.
If you do decide to do this trip in the summer, be sure to check out our guide on sun protection for hikers.
Winter
Similarly, if you plan to road trip during the winter months, you need to be prepared for temperatures ranging from 30 to 50 degrees during the day and then dropping to well below freezing overnight. That being said, winter is a beautiful time to visit the parks because you'll get to enjoy these stunning desert landscapes, perhaps dusted with snow, without the crowds.
Just be prepared with winter clothing and check conditions before heading out. You'll likely want to book rooms in hotels as opposed to camping if you visit in winter.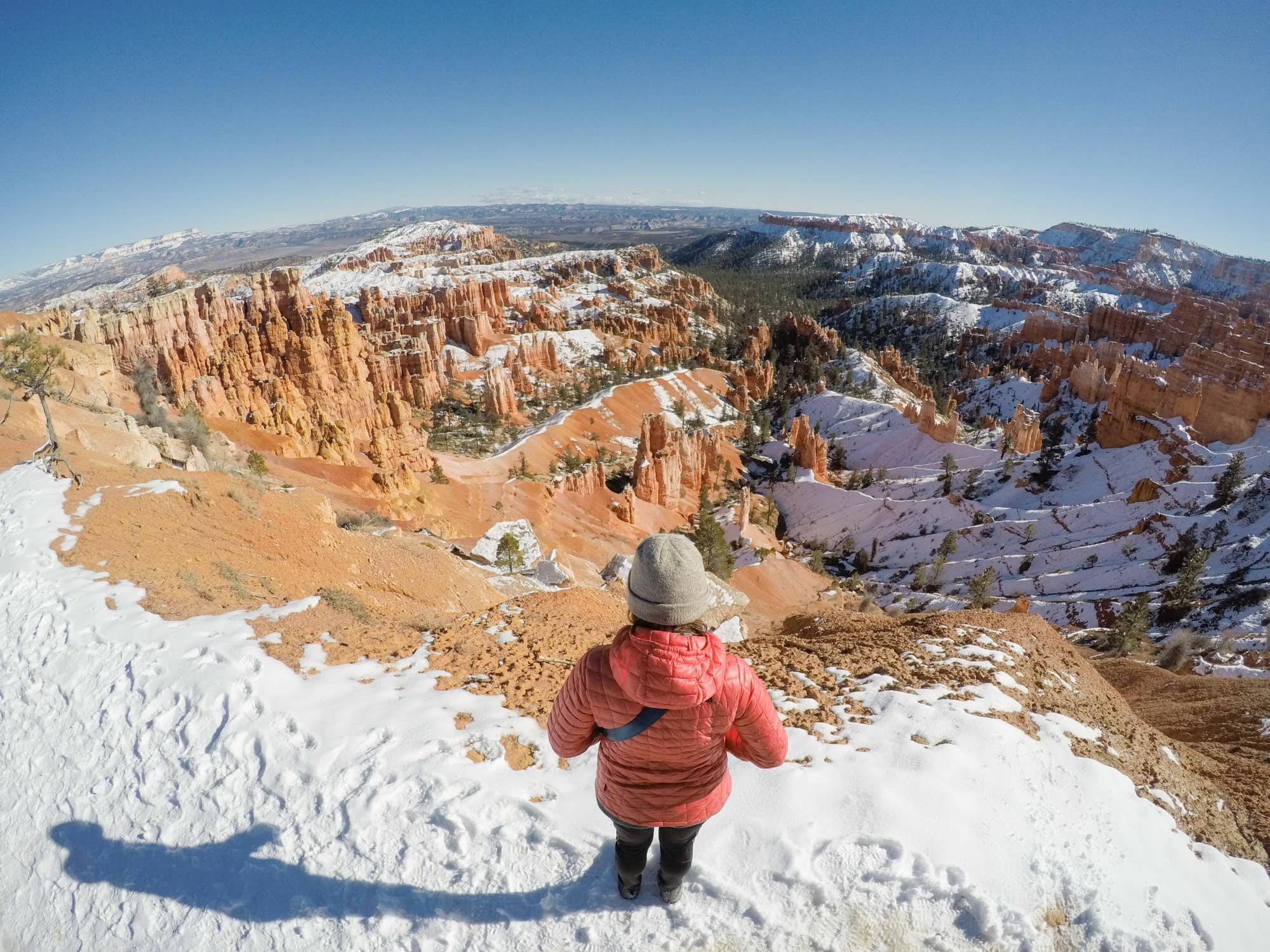 ---
Camping in Utah's National Parks
While there are plenty of hotels near Zion, Arches, and Canyonlands National Parks, there are very few lodging options when you're in the middle of the state near Capitol Reef. However, camping options are plentiful with Utah's abundant public lands. So pack a tent or consider renting a camper van for your road trip.
If you want to rent a campervan, there are a few companies in Las Vegas and Salt Lake City that provide rentals. Compared to the cost of a rental car and hotels or campsites, renting a campervan might be a more economical option for your trip and will allow you to get a taste of van life.
#1 campsite finder app
Try The Dyrt PRO free for 30 days
Get a FREE 30-Day membership to The Dyrt PRO, one of our favorite apps for finding campsites.
Perks include:
• 5,000+ free camping locations
• 1,000+ campground discount network
• $0 extra booking fees
• Get reservations at sold-out campgrounds, and more
Use the code BEARFOOT to get 30 days free!
National Park Campgrounds
Each National Park has at least one campground. Be aware that some of them accept advanced reservations, which fill up months in advance. This means if you want to camp within the Parks during the busy season, you should either make a reservation in advance, or you'll need to arrive very early in hopes of getting a spot when one of the first-come, first-served campgrounds clears out each morning.
Dispersed Camping
We recommend places to camp at each destination in the itinerary below. If camping in the Park is full, Utah has tons of dispersed (free) camping often right outside the Park boundaries. To learn more about how to find these areas where you can camp, check out this blog post about how to find free dispersed camping and a list of my favorite tools I use when I'm road tripping in my van.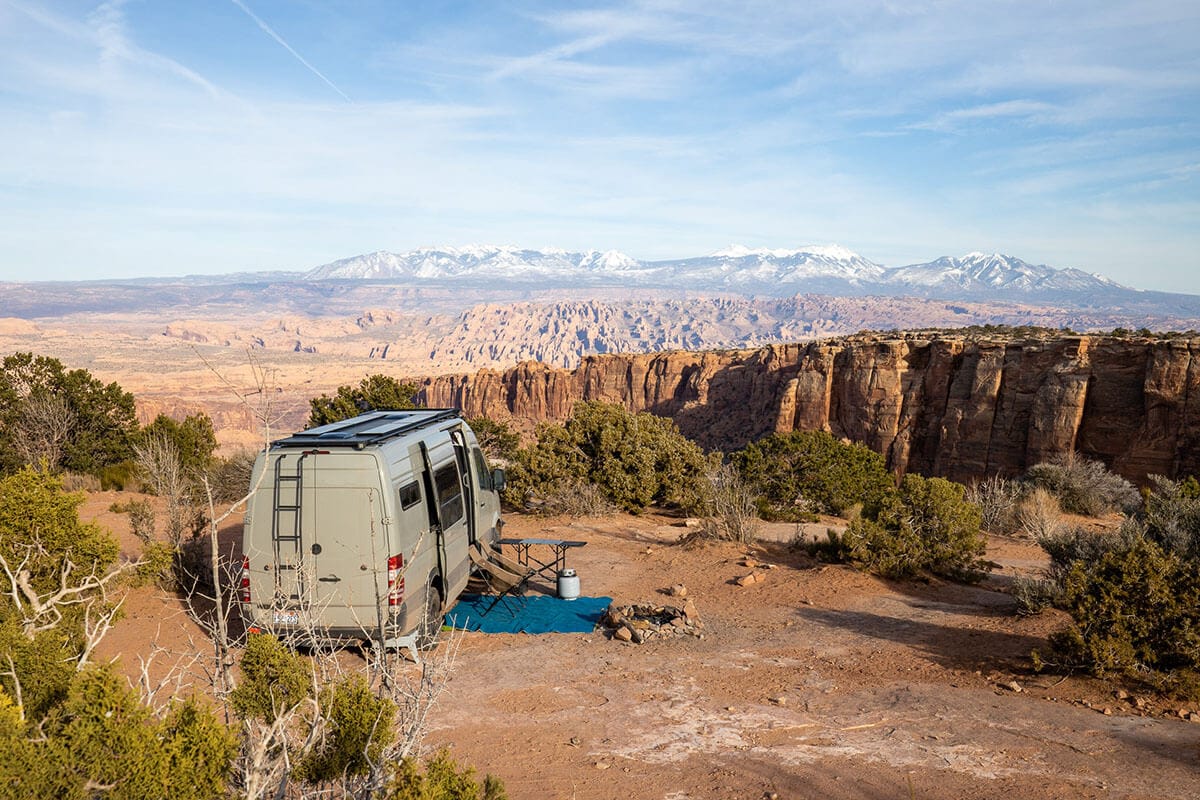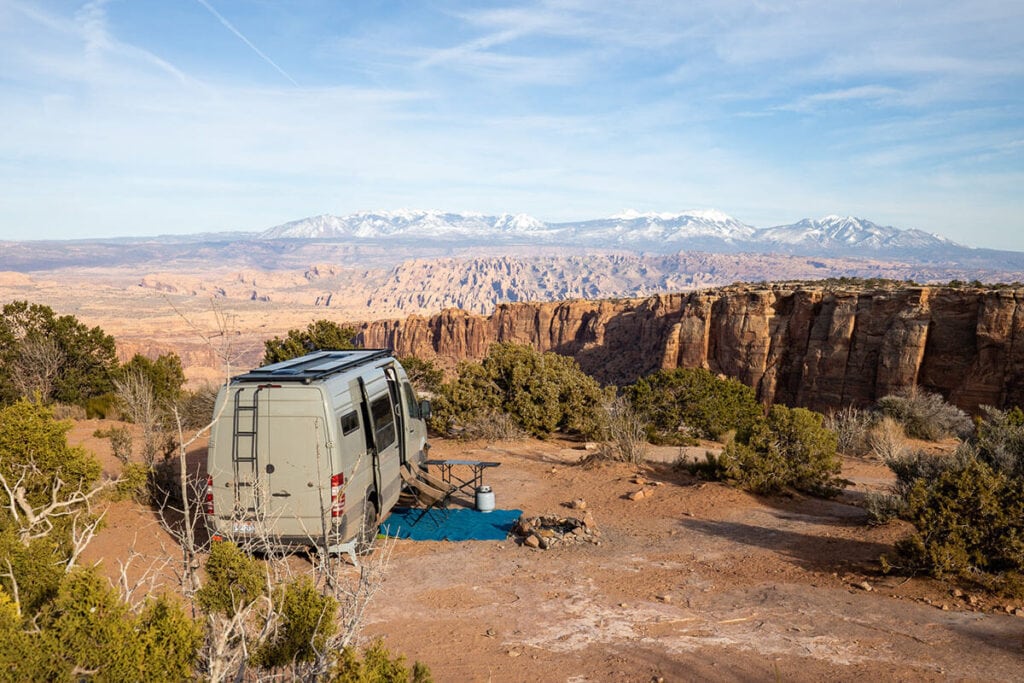 Car Camping Essentials Packing List
Below are a few of my favorite pieces of car camping gear and recommendations for the road:
---
Where to Start and End your Utah National Park Road Trip
If you're looking to fly into Utah for your Utah National Parks road trip, the best airports are Las Vegas, NV and Salt Lake City, UT.
If you don't want to backtrack, you can fly into Vegas and travel east to all five parks and then fly out of SLC. Just be sure to check with your car or campervan rental company to see if this works with their pick-up and drop-off locations and whether there are any additional fees.
---
What to Pack for Your Utah National Parks Roadtrip
Your packing list will vary depending on whether you plan to stay in lodges, car camp, or backpack in the parks. Here are our favorite clothing & gear posts for reference:
---
Favorite Utah National Parks Road Trip Planning Resources
I recommend picking up these two resources before your Utah National Parks road trip:
Utah Benchmark Road and Recreation Atlas: A lot of areas in Southern Utah are void of cell service, so I recommend carrying a paper atlas on your road trip. This atlas shows all of the dirt roads and points of interest for adventure-seeking travelers.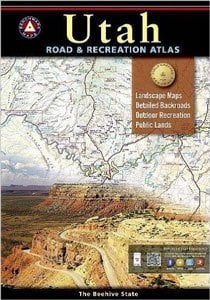 Wow – Hiking Utah Canyon Country: This is an excellent hiking book that has helped me discover the best hikes in Southern Utah. Again, with gaps in cell service, a hiking book means you'll be able to plan on the fly.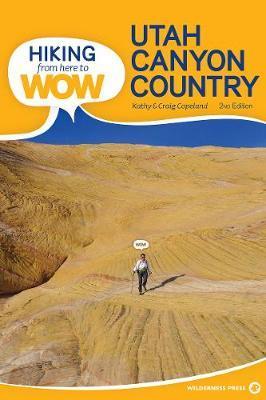 ---
Utah National Parks Road Trip Map
---
Utah National Parks Road Trip Itinerary
We can't stress enough that visiting all five parks in one week is A LOT. If you only have one week, we'd recommend focusing on the east or west side of the state rather than trying to visit all of the parks.
That said, if you are trying to check off all of the parks, this itinerary will help you do that with limited time. If you have two weeks and plan to hit all the parks, you'll be able to enjoy the parks at a more relaxed pace.
We list our itinerary traveling from West to East, but you could quickly reverse the itinerary to move East to West.
Day 1: Arrive in Zion National Park & Hike Angels Landing
Day 2: Explore the Narrows in Zion National Park
Day 3: Explore Bryce Canyon National Park
Day 4: Head to Escalante National Monument for some Hiking
Day 5: Take a Scenic Drive Through Capitol Reef National Park
Day 6: Explore Arches National Park
Day 7: Go Whitewater Rafting on the Colorado River or Visit Dead Horse State Park
Day 8: Explore Canyonlands National Park
Day 9: Catch Sunrise at Mesa Arch & Head Home
Zion National Park (Days 1-2)
Salt Lake City to Zion: 3.75 Hours (269 Miles) or
Las Vegas to Zion: 2.15 Hours (151 Miles)
Zion was Utah's first National Park, and you'll see why. The park features high plateaus, a maze of sandstone canyons, and incredible trails with easy access.
Zion operates a shuttle system during high season so be prepared to grab your daypack and catch a shuttle to the trailheads. Zion has both a Visitor Center and a Human History Museum, both of which are interesting and worth a visit.
DAY 1
Arriving post-lunch or early afternoon, head straight through the south entrance to the parking area and hop on a shuttle to Angel's Landing. Climbing Angel's Landing (5 miles round trip) is a bucket list item for most Zion visitors but it is not for the faint of heart. It's a strenuous trail that offers spectacular 360 views of the entire canyon from high above.
Don't forget to pack plenty of water and your headlamp. For more information on this hike and the rest of the park view our complete Zion Travel Guide.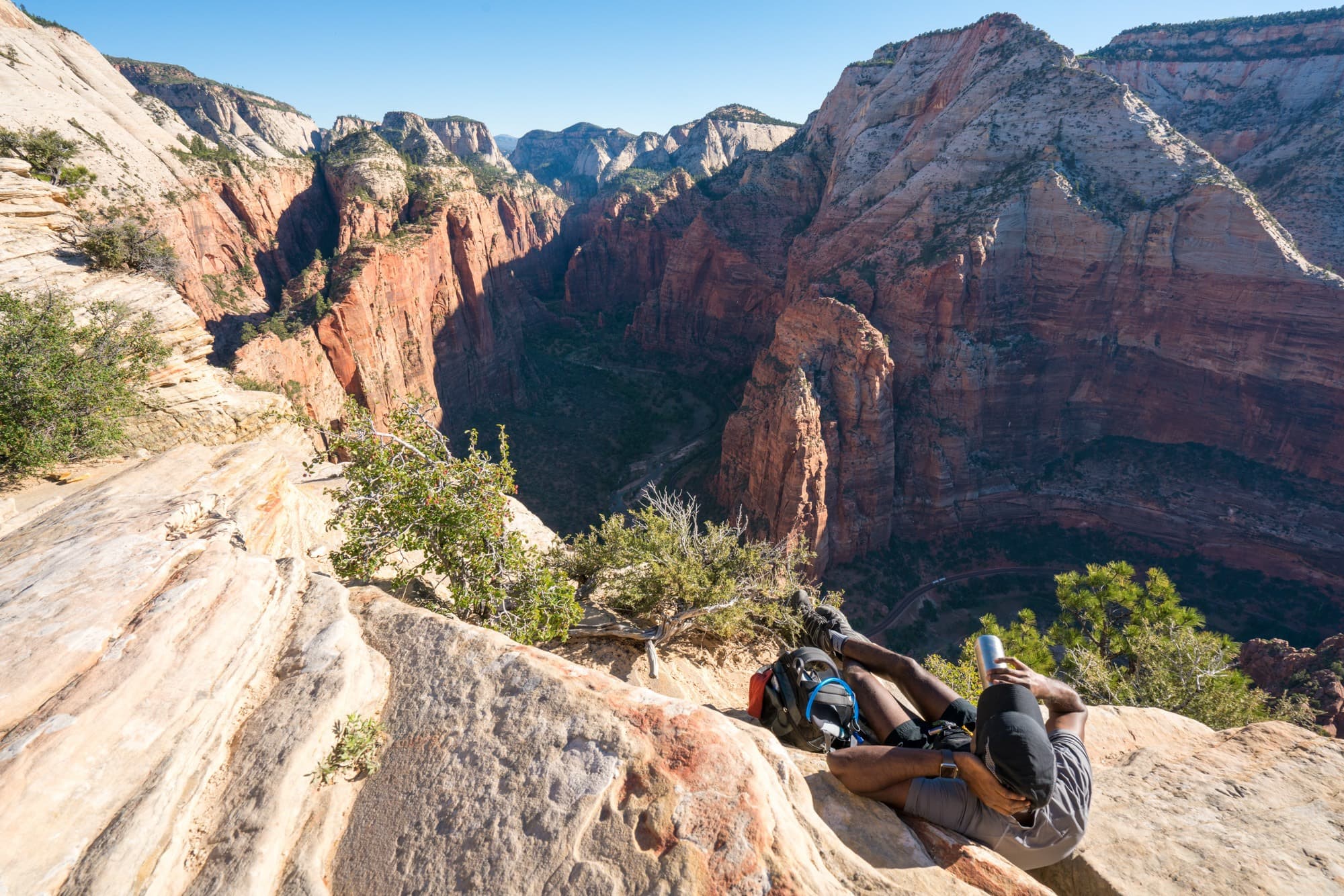 DAY 2
Spend your second day in the park exploring The Narrows. The Narrows are continuously changing and are one of the top highlights of Zion National Park, especially if you visit in the warmer months.
This is a great hike to keep you cool since much of the hike requires wading through a river. If you want to hike the entire Narrows from the top-down as a long single-day hike or as an overnight, you'll need a permit. Alternatively, if you want to explore at your leisure from the bottom-up, no permit is needed. Check out our Narrows hiking guide for more information.
Note that as of September 2021, there is a toxic cyanobacteria bloom in the Virgin River (where The Narrows is located) so you should not submerge your head or filter drinking water here. Check current updates for Zion National Park before heading out here.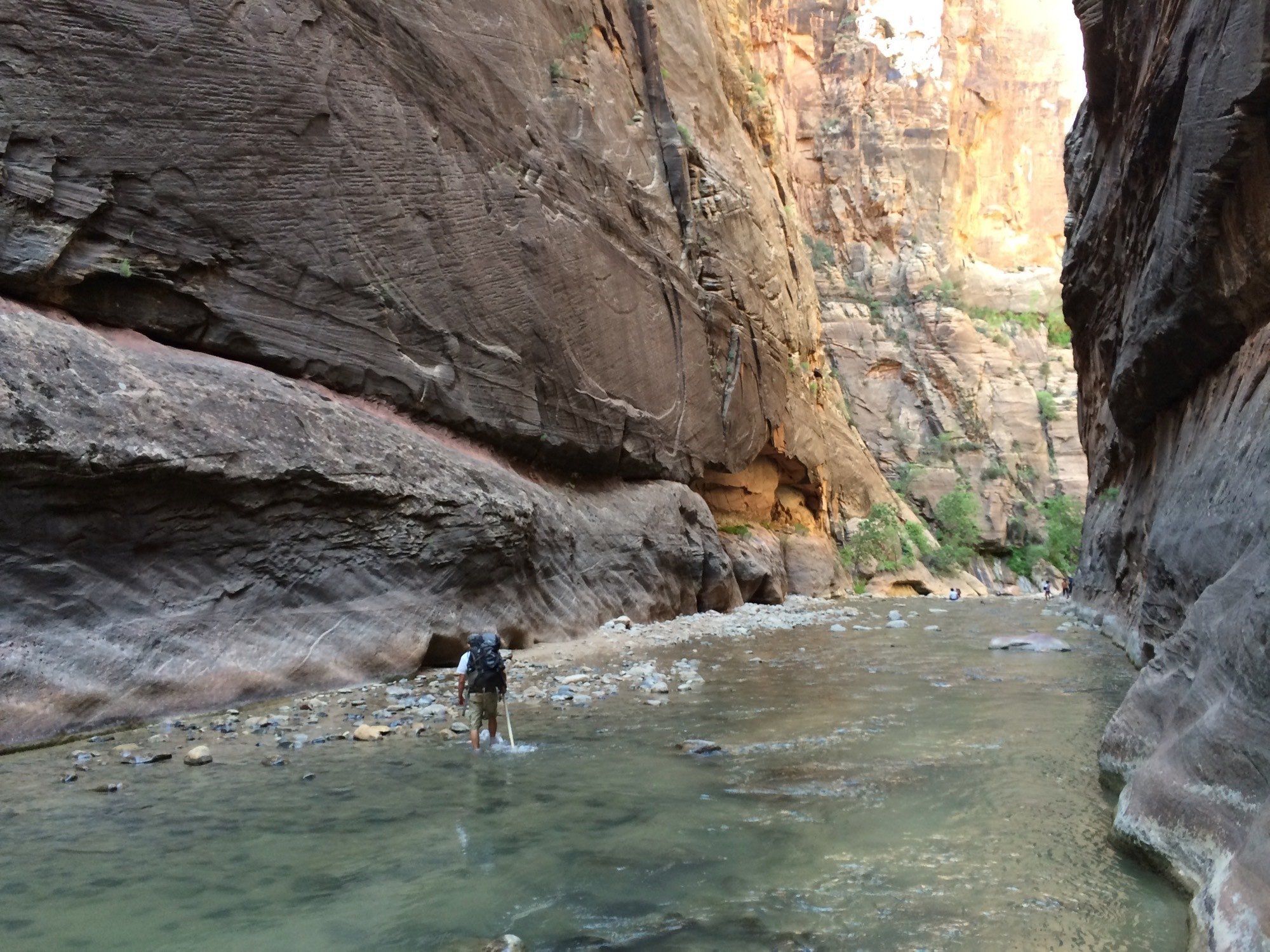 Post-hike, pack up the car and head through the 1.1-mile Zion-Mt. Carmel Tunnel and continue driving towards Bryce Canyon National Park which is 1.5 hours away. If you are able get to Bryce by sunset we recommend heading straight to Sunset Point.
Want to Spend More Time in Zion?
If you are staying another day or you've previously visited Zion and done the things we've mentioned, we recommend trying to get a permit to hike The Subway or backpacking the West Rim Trail.
For The Subway top-down route, you'll need some canyoneering skills, as it requires route finding, rappelling, and swimming skills. The bottom-up route, which leads to a series of beautiful turquoise pools, is non-technical. You will need a permit for either of them.
Where to Eat Near Zion
Springdale, Utah is a small outdoorsy town within walking distance from the park entrance. Here are our favorite spots to grab some food.
Breakfast/Lunch: The Parkhouse Cafe, Cafe Soleil
Dinner: King's Landing Bistro, Oscar's Cafe & The Spotted Dog Cafe
If you're looking for quick "grab and go" groceries, Sol Foods is the best option. They also have really great local Utah beer selection. It is a bit pricey but is one of the few options in town.
Where to Stay Near Zion
There are a few places to stay inside the park, both campgrounds and a hotel, as well as in the town of Springdale, Utah. We've put together an entire Zion Travel Guide to help you navigate the lodging options.
Bryce Canyon National Park & Escalante National Monument (Days 3-4)
Zion To Bryce: 1.5 Hours (72.4 Miles)
Prepare yourself for Bryce Canyon; it is like nothing you've ever seen before! Bryce Canyon is famous for its hoodoos – sandstone columns each uniquely shaped by erosion – and it has more hoodoos than anywhere else in the world.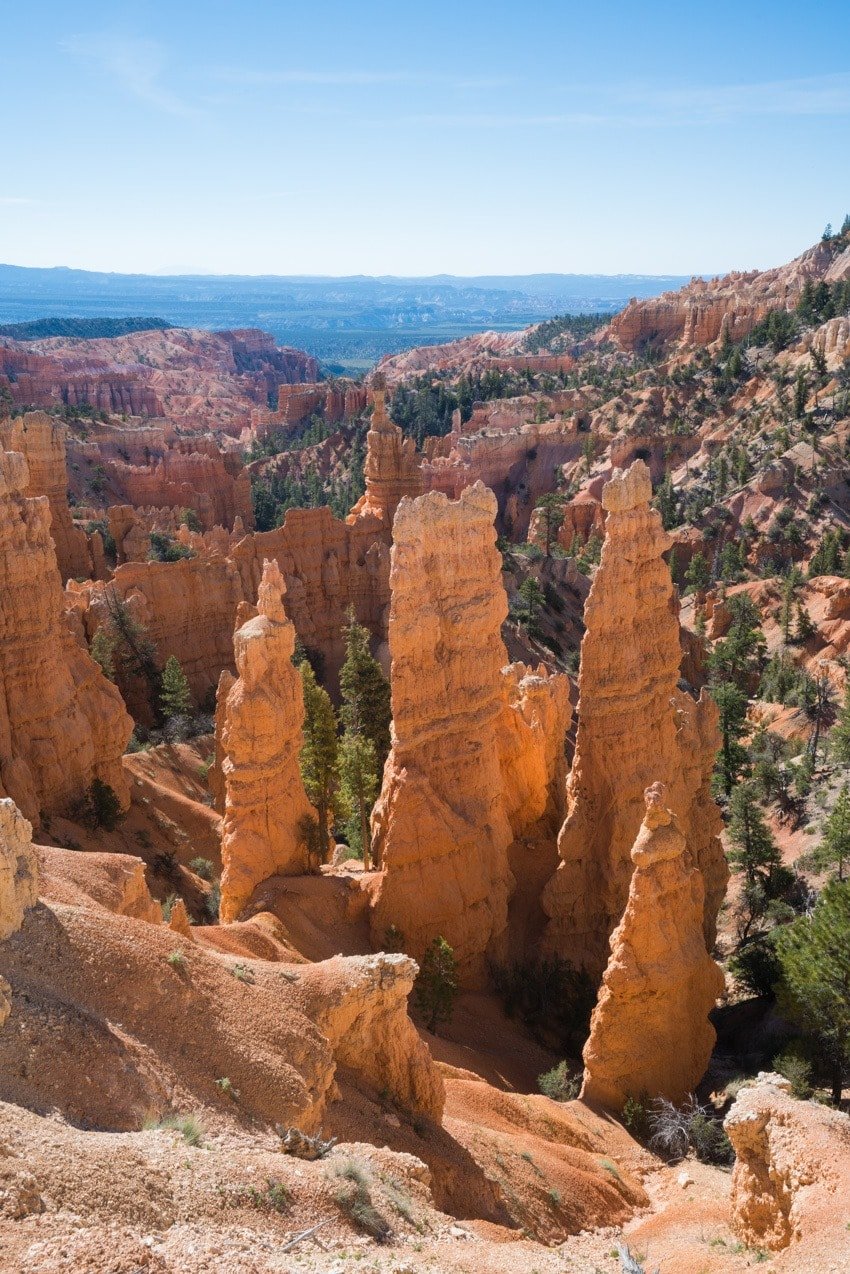 DAY 3
Whether you arrived in Bryce Canyon National Park last night for sunset at Sunset Point or you are arriving this morning we recommend you start the day by heading to the visitor's center. The park has only one visitor's center which features a must-see film showcasing Bryce in the winter.
Then skip the crowds and head for adventure on the Fairyland Loop Trail. This trail is an 8-mile route in the northern area of the park, away from the crowds that will guide you past incredible hoodoos and scenery similar to the more crowded Queen's Trail. If you want to do a slightly shorter loop, the Peek-a-Boo Loop is a similarly spectacular 5-mile loop.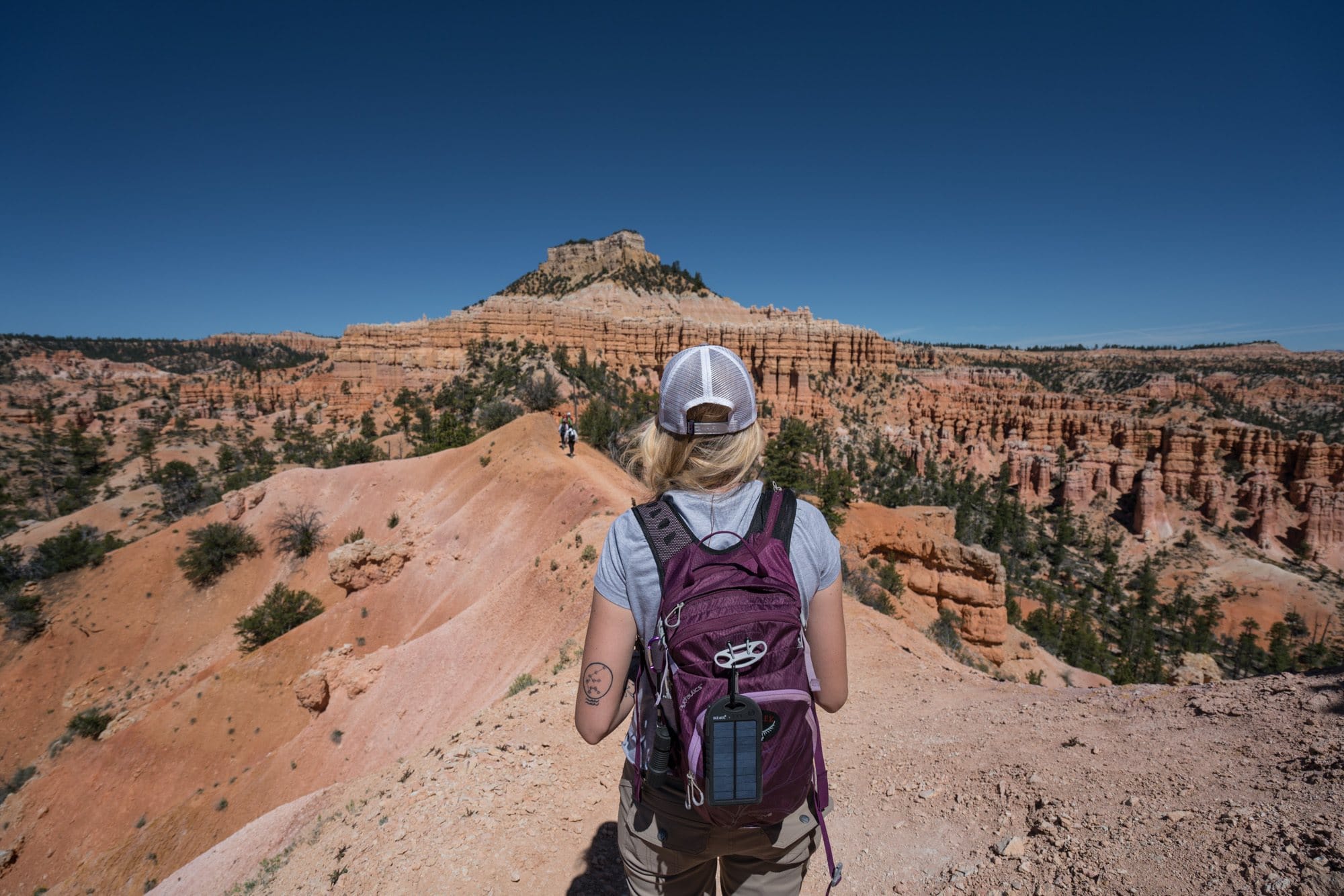 If you're looking for a more relaxed visit, we recommend the wheelchair-accessible, paved 1-mile Sunset Point to Sunrise Point Trail. This is also the only trail in the park where leashed pets are allowed. Be prepared, though, as this paved path is often VERY crowded.
If you have the time and energy we recommend the Navajo Trail for a quick 1.3-mile walk. The trail begins at Sunset Point, goes down into the Bryce amphitheater, and meanders alongside large Douglas Fir trees.
If Bryce Canyon's Wall Street is on your list, you can climb it via the end of the Navajo Loop Trail.
Day 4
If you're completely captivated by Bryce Canyon you can always spend the day exploring more, but we recommend heading to Escalante National Monument for a visit. It is halfway to Capitol Reef and a great hiking pit-stop. Make sure you drive UT-12 E vs. Johns Valley Road/UT-24 E so you pass Escalante.
Lower Calf Creek Falls is one of our favorite and easily accessible hikes that is right off the highway. If you have a high clearance vehicle and an appetite for a little more adventure, head down Hole-In-The-Rock Road to Peekabo and Spooky slot canyon. For other options and details, check out this blog post with three of our favorite hikes in Escalante.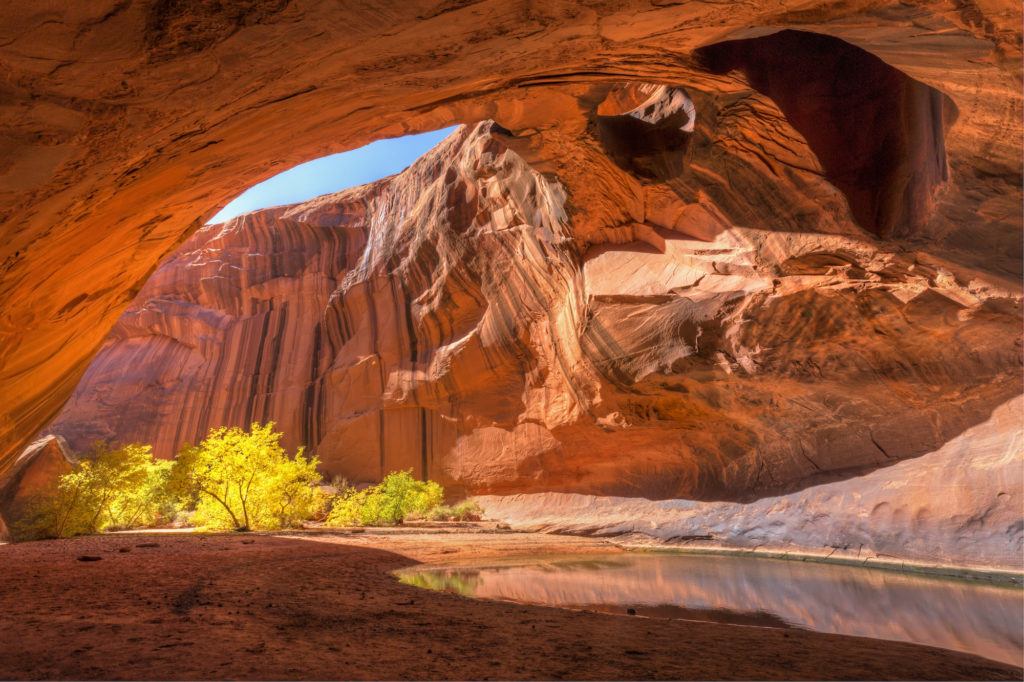 Where to Eat Near Bryce Canyon and Escalante
The options for dining in and around Bryce Canyon aren't as extensive as around Zion National Park so be prepared for fewer options. We recommend eating at the Bryce Canyon Pine Restaurant or, for convenience, the dining room at the Lodge at Bryce Canyon.
As you drive through the small town of Escalante, UT on US-12 there are some eateries and grocery stores. Escalante Outfitters serves up some delicious pizza, and the Escalante Mercantile & Natural Grocery store has shelves full of unique camping foods. Hells Backbone Grill in Boulder, UT is also highly recommended.
Where to Stay Near Bryce Canyon and Escalante
Bryce Canyon has two campgrounds, North Campground and Sunset Campground, and one hotel, the Bryce Lodge. Both campgrounds are surrounded by stunning Ponderosa pines with nearby access to hiking trails. The North Campground is open year-round and is first-come, first-served, while the Sunset Campground is open mid-April to mid-October and takes reservations. More information about campsite and lodge prices can be found on the Bryce NPS website.
Escalante has two established car campgrounds within the National Monument, one of which is at the Lower Calf Creek Falls trailhead. However, there are endless options for dispersed camping here, so use it as an opportunity to skip the campground and find an area all to yourself.
Capitol Reef National Park (Drive-Thru or 1 Day)
Capitol Reef To Arches: 2 Hours (132 Miles)
Capitol Reef is known for its remote and sprawling backcountry. The park is set up nicely so you can easily drive through it while continuing on to Moab. If you have ample time to explore, there are numerous hikes in Capitol Reef that lead you through gorges and slot canyons to incredible viewpoints.
If you plan to camp in Capitol Reef be sure to pick up a free backcountry camping permit at the visitor's center.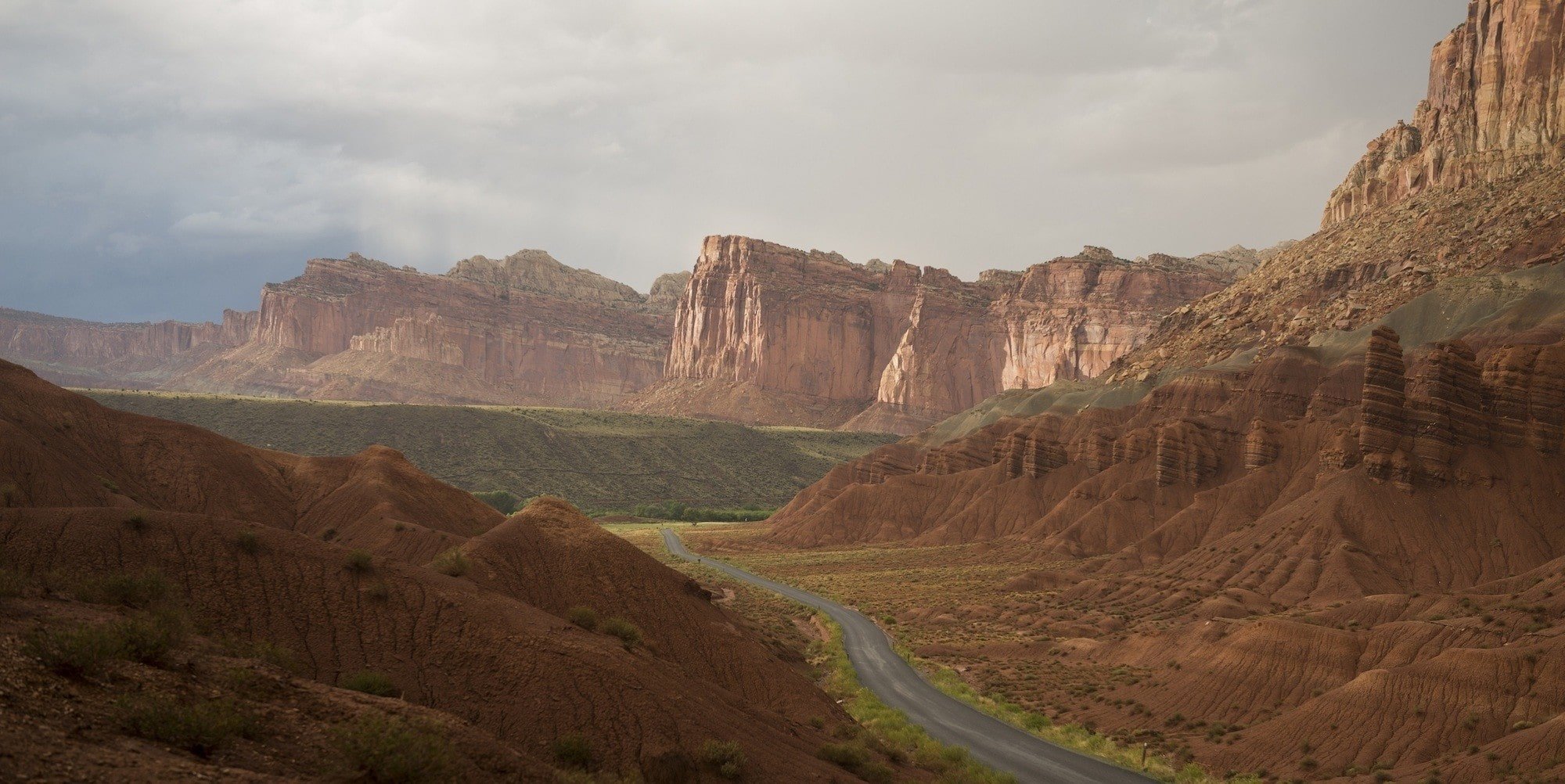 DAY 5
Capitol Reef National Park has a paved scenic drive as well as two unpaved loops. There is a free online guide that includes information about 11 stops along the paved drive. The scenic drives are especially nice if you are road-tripping during the hotter months or just want to drive through the park and sightsee from the car. I highly recommend the dirt road drive to the Temple of the Sun and Moon if you have time.
To stretch your feet, hike the Hickman Bridge Trail (2-mile roundtrip) to a 133-foot natural bridge. This is a nice hike for cooling down as it runs along the Fremont River.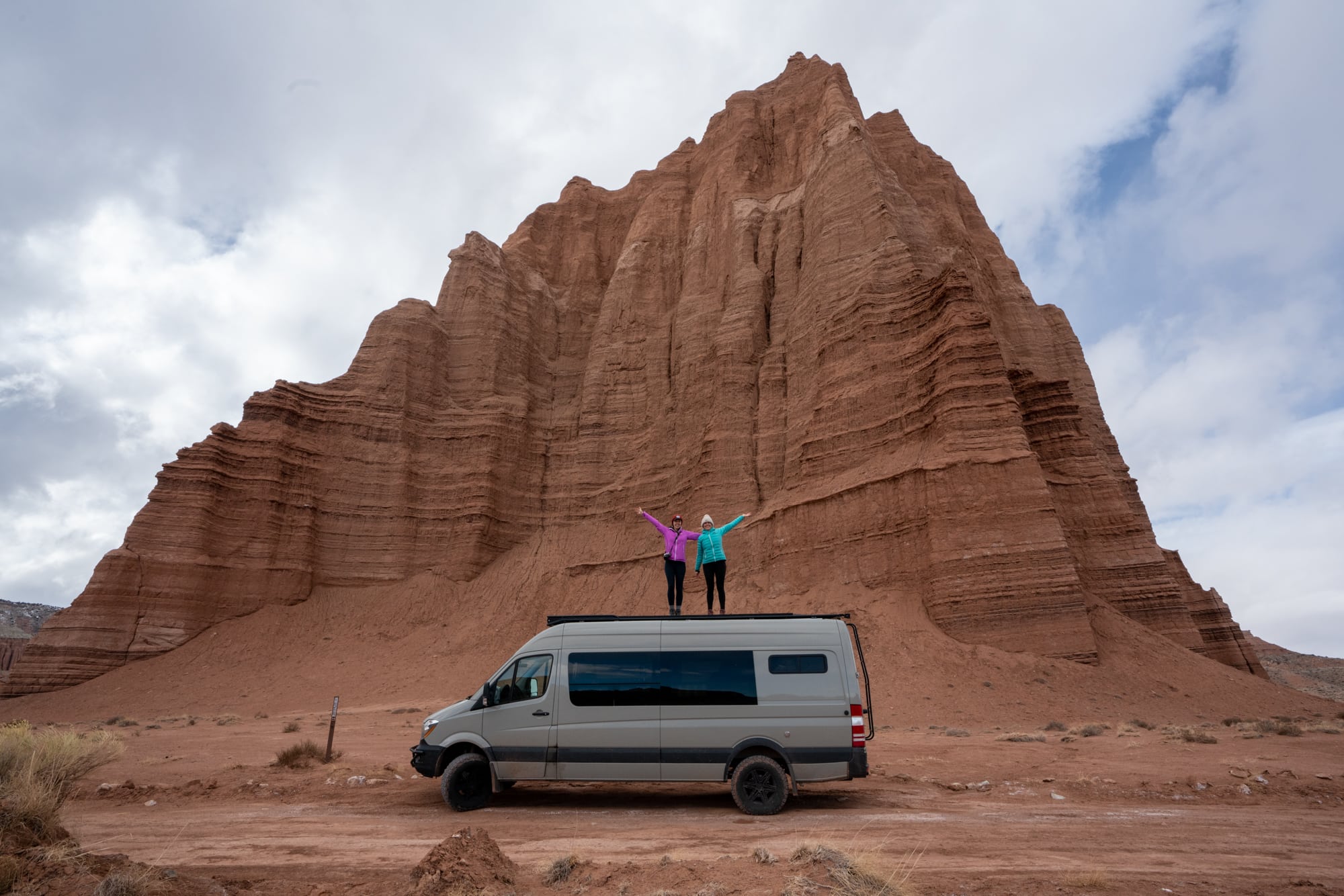 If Camping or If You Have Additional Time
If you decide to camp in Capitol Reef and are looking for a full day hike, the Rim Overlook Trail to Navajo Knobs is a great 9+ mile route that offers 360 panoramic views of the Fruita and Waterpocket Fold area.
Where to Eat Near Capitol Reef
Breakfast: Capitol Reef Inn & Cafe (American)
Lunch: Capitol Burger Food Truck (amazing) or Slacker's Burger Joint (American)
Dinner: La Cueva Restaurante Mexicano (Mexican)
Where to Stay in Capitol Reef
The 71-site Fruita Campground is the only developed campground in the park., but there are plenty of other camping options nearby. For more information on backcountry camping in Capitol Reef, check out the NPS website.
If you are interested in lodging options other than camping, there are numerous small hotels and motels in the town of Torrey, UT, just 10 minutes from Capitol Reef.
Arches National Park (2+ Days)
Capitol Reef to Arches: 2 hours (132 miles)
Arches is a beautiful AND EASY National Park to visit. The entrance to Arches is stunning as you'll climb 1,000 feet and then descend into an almost "Mars-like" world. Navigation is easy here. There is one visitor's center right next to the only park entrance on the main park road.
Important Note: During peak season (usually April through October), visitors will need to obtain a timed entry reservation to visit Arches National Park between the hours of 7am-4pm. A limited number of next-day tickets will be available at 6pm the night before. Reservations cost $2 and you will still need a park pass or annual pass to enter.
DAY 6
There are some great hikes in Arches for all levels. If temperatures aren't too hot and you have a full day, the hike to Landscape Arch & Devils Garden (7.8-mile loop) is a must.
If you arrive in the late afternoon, head straight to Delicate Arch (3 miles roundtrip) for a sunset hike you'll never forget. Or, if this is your second visit to Arches or you're looking for something off the beaten path, try to grab a permit to explore the Fiery Furnace.
For more information on hiking in Arches National Park check out our Arches Hiking Guide.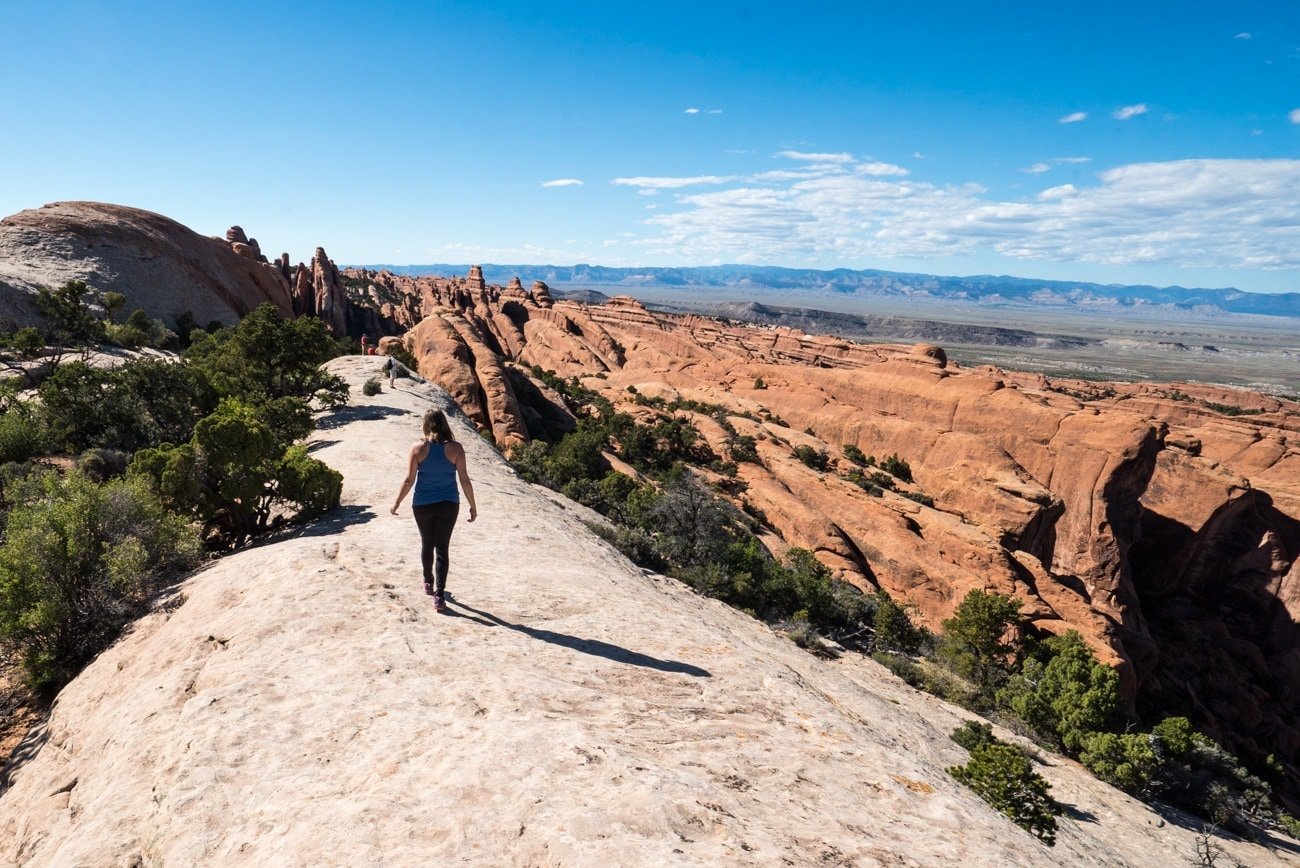 DAY 7
Today, we recommend switching it up. Whitewater rafting on the Colorado River, which flows between Moab, UT and Arches National Park through deep red rock canyons, is a thrilling and unique experience. Numerous rafting outfitters in town offer half-day, full-day, and multi-day rafting trips on the river.
If hopping on the water doesn't sound exciting, and you've seen all of Arches that you'd like to experience, then head for Dead Horse State Park which is on the way to Canyonlands National Park. Dead Horse State Park even has yurts if you are looking to skip tent set-up for the evening.
Where to Eat Near Arches
Moab has the best food options in comparison to the other parks and towns. Plus, Moab also has a large full-service grocery store, City Market, and an exceptional smaller co-op grocery store, Moonflower Community Cooperative.
Breakfast: Moab Garage (American) or Love Muffin Cafe
Lunch: Milt's Stop (American) & Eat Quesadilla Mobilla (Mexican food truck) or 98 Center (Asian)
Dinner: El Charro Loco (Mexican), Antica Forma (Italian), or Desert Bistro ($$$)
The town of Moab, UT is a great road trip stop to explore. Don't miss stopping in for a walk, lunch, or grab a drink. Learn how to do Moab like a local with our Moab tips.
Where to Stay in Arches
Check out our entire guide for lodging options in and around Arches National Park and Moab, UT.
Canyonlands National Park (1 Day)
Arches to Island in the Sky Area of Canyonlands: 35 minutes (28.5 miles)
The last on the list of our Utah National Park road trip itinerary is Canyonlands National Park. Canyonlands National Park was made famous by the movie 127 Hours, in which Aron Ralston becomes injured and survives in the backcountry for five days. Canyonlands is an extreme park, especially the remote area of the park Ralston was exploring, known as The Maze.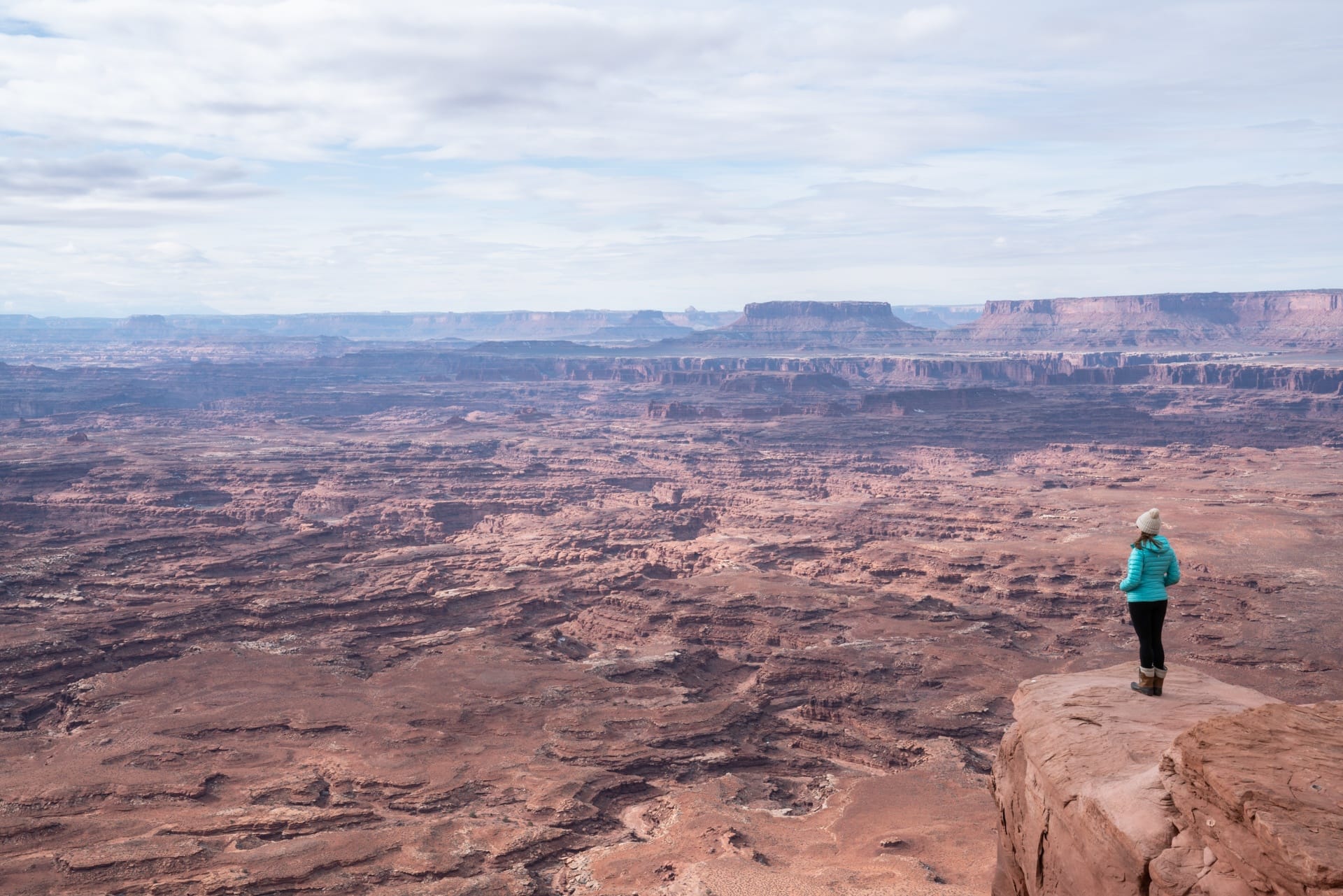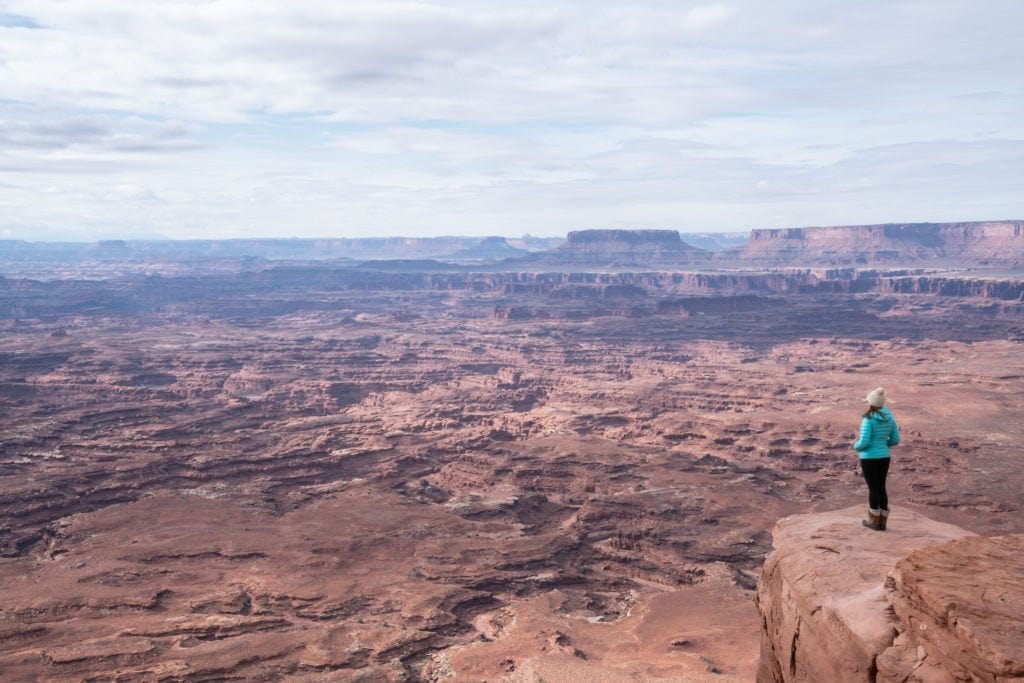 There are four main sections of Canyonlands National Park:
The Island in the Sky area is excellent for those looking to day hike. To visit the Island in the Sky area, drive 10 miles north of Moab on US 191 then take UT 313 southwest for 22 miles. Driving time is roughly 40 minutes from Moab. This is where we recommend you visit if you are short on time.
The Maze area is primarily a backpacking area for experienced hikers due to its remoteness. If you're considering heading to the Maze area, we recommend reviewing information & trails on the parks hiking website.
The third section of the park, known as The Needles area, offers great overnight beginner backpacking options as well as a few small day hikes. To access the Needles area, you'll need to drive 40 miles south from Moab, UT on US 191 and then take UT 211 roughly 35 miles west.
The Colorado and Green Rivers, as well as numerous tributaries, are considered a separate 4th area of the park. Beginner and relaxed casual float trips through the canyon are available on either river. Downstream of The Confluence, where the Colorado and Green Rivers meet, there is whitewater for adventure seekers. The National Parks Service has an extensive list of available outfitters.
Both the Island in the Sky and Needles areas have Visitor Centers, check the NPS website for seasons and hours of operations.
DAY 8
Head to the Island in the Sky area. Peek in at the Visitor's Center for your first stop and then head to the Grand View Point trailhead and hike to Grand View Point. It is a quaint 2-mile walk along the canyon edge to the mesa with incredible panoramic views. Afterwards, challenge yourself on the Aztec Butte Trail, which includes a steep climb that takes you to ancestral Puebloan granaries.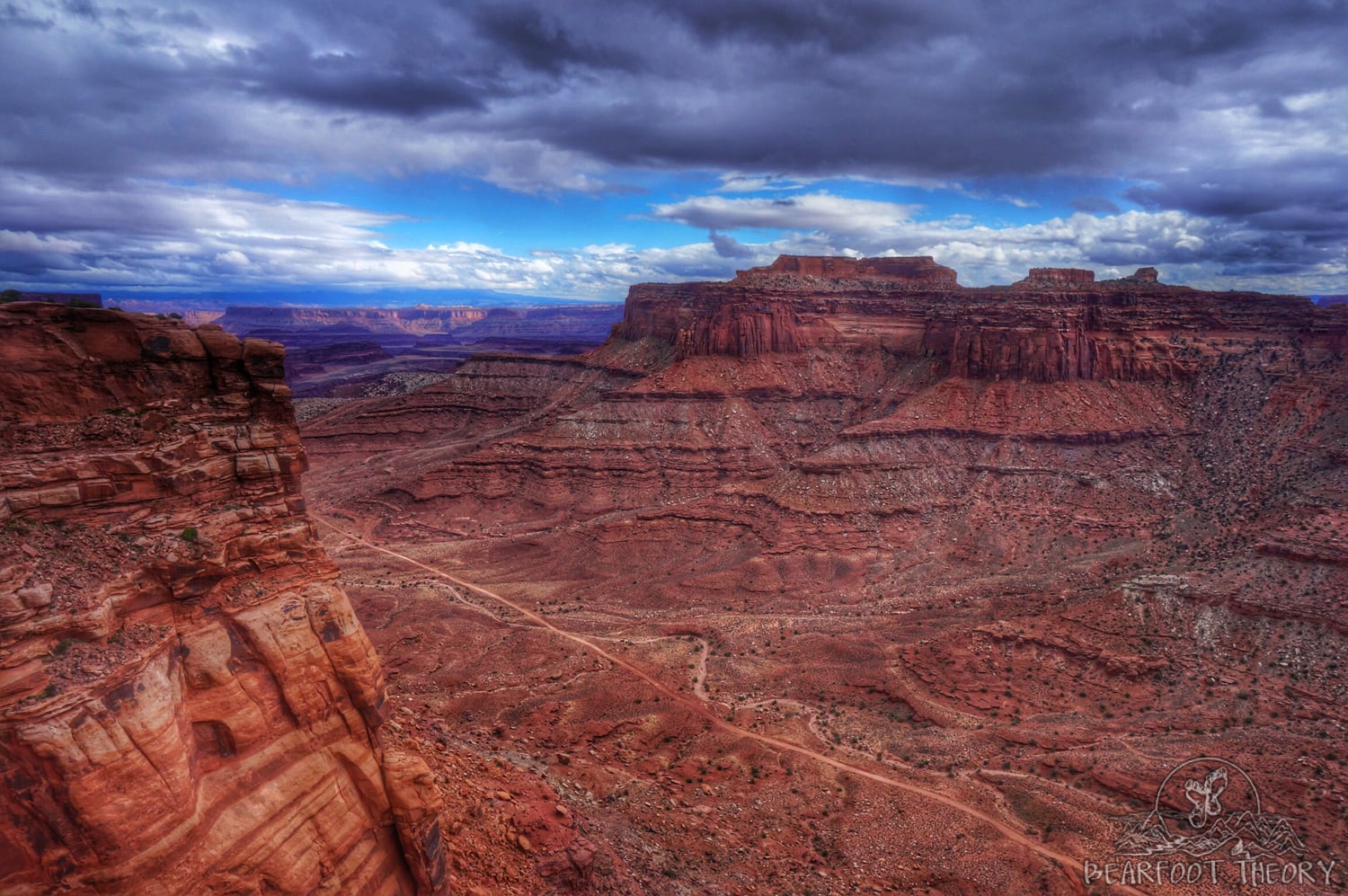 Post-hike, pitch your tent and get ready for an incredible last evening of stargazing. Canyonlands National Park is an International Dark-Sky Park meaning its isolation from city lights makes conditions for viewing the night sky excellent.
This is true for all Utah National Parks, but there is no better way to spend your last Utah National Park road trip evening than stargazing. During spring & fall, there are frequent stargazing events led by park rangers. Inquire at the visitor center for more information.
Want to Spend More Time in Canyonlands?
Plan ahead and bring mountain bikes for backcountry road exploration. My first overnight mountain biking experience was in Canyonlands National Park on the White Rim Trail. Biking the White Rim Trail requires a permit and campsite reservations can be competitive. You can find a full trail report with details of my experience here.
Where to Eat in Canyonlands
Once you leave Moab, there are NO food options for the Island in the Sky Area so make sure to pack a cooler.
For the Needles area, you'll be near the small town of Monticello, UT which has High Desert Cafe for breakfast/lunch and the Linecamp Steakhouse for dinner options.
Where to Stay in Canyonlands
There are two campgrounds in Canyonlands National Park, one in The Needles area and one in the Island in the Sky area. They are both relatively small and have limited amenities. More information can be found on the NPS website.
If you'd prefer not to stay in the park, we recommend staying in the Moab area. Read more on guide to camping and glamping in and around Moab.
DAY 9 – Fly Home after Visiting All of Utahs National Parks
Make the most of your final day. Get up super early and make an early morning sunrise jaunt out to Mesa Arch (trust me, it's worth it).
From Canyonlands, it is 4 hours (245 miles) to the Salt Lake City Airport (SLC). Further away, the Las Vegas airport is roughly 7 hours (472 miles).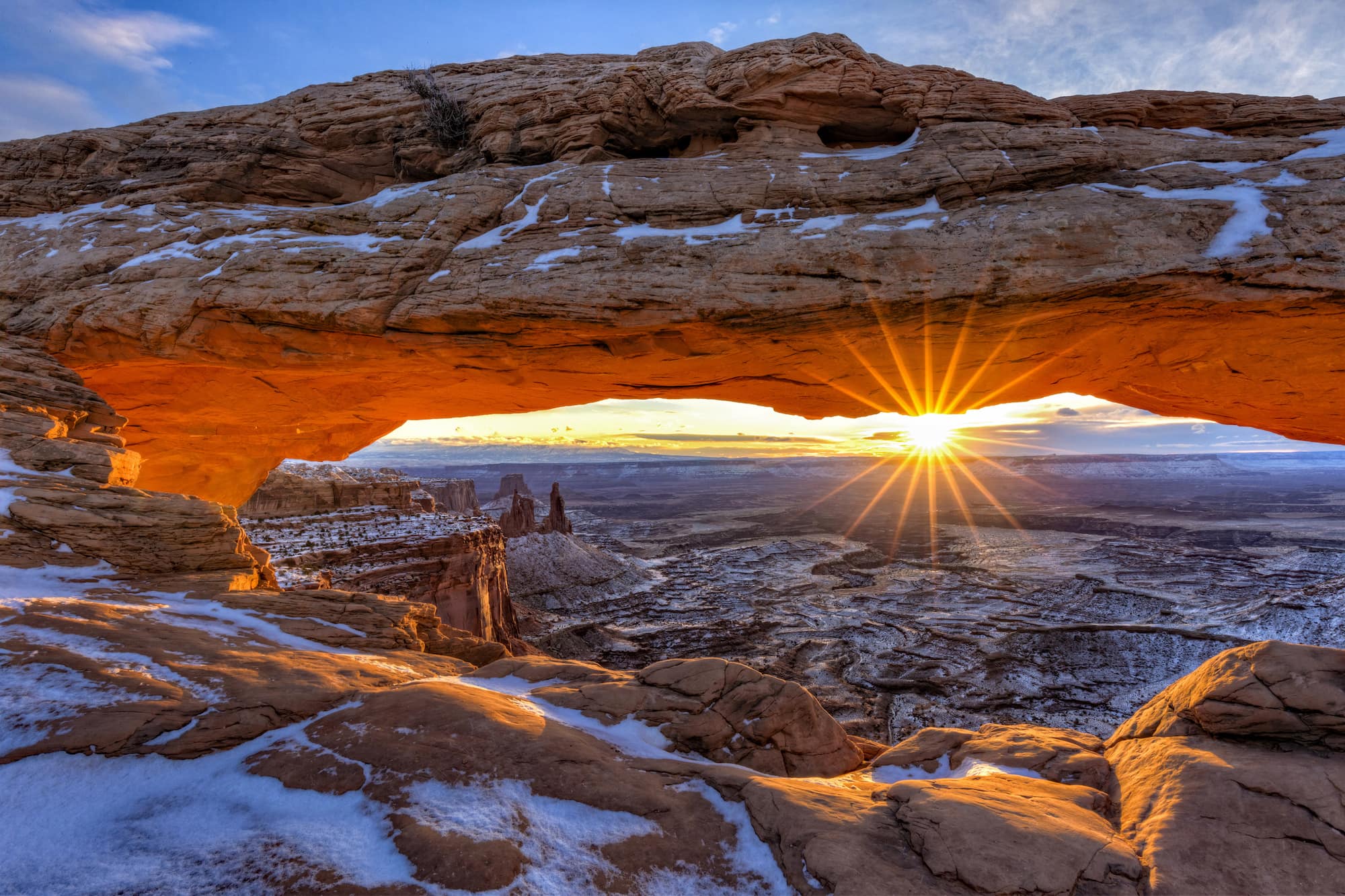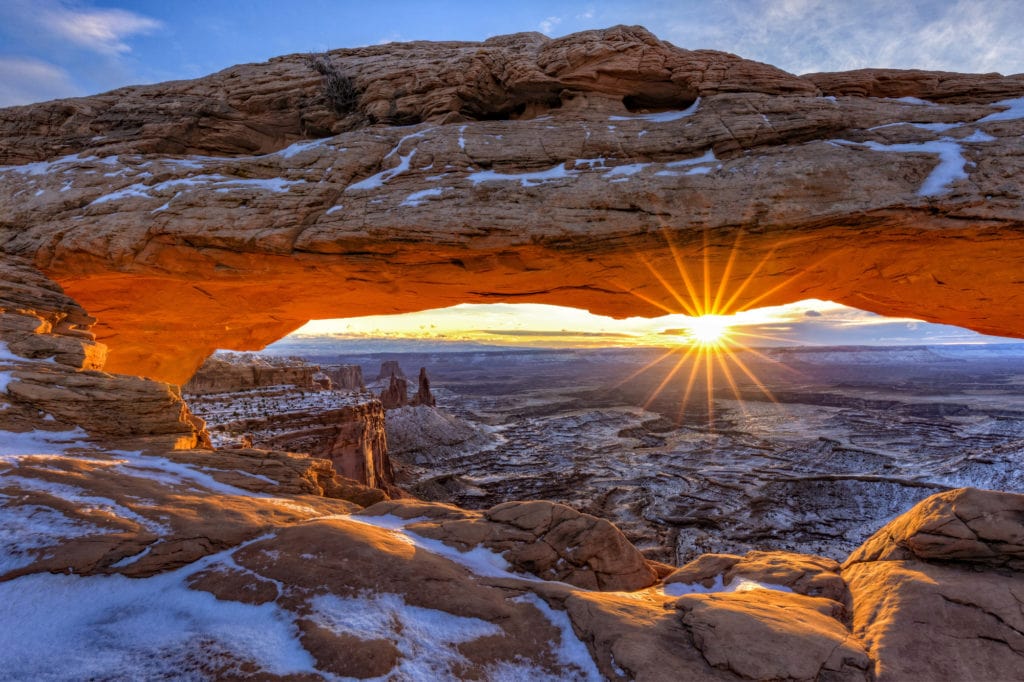 Have you done a Utah National Parks road trip? What are your favorite things to do and see in the Mighty 5? Share your experience in the comments below!