Best Hiking Daypacks for Women in 2023
Learn how to choose the best daypack for hiking and get our favorite pack recommendations with tips for finding the right fit, capacity and technical features.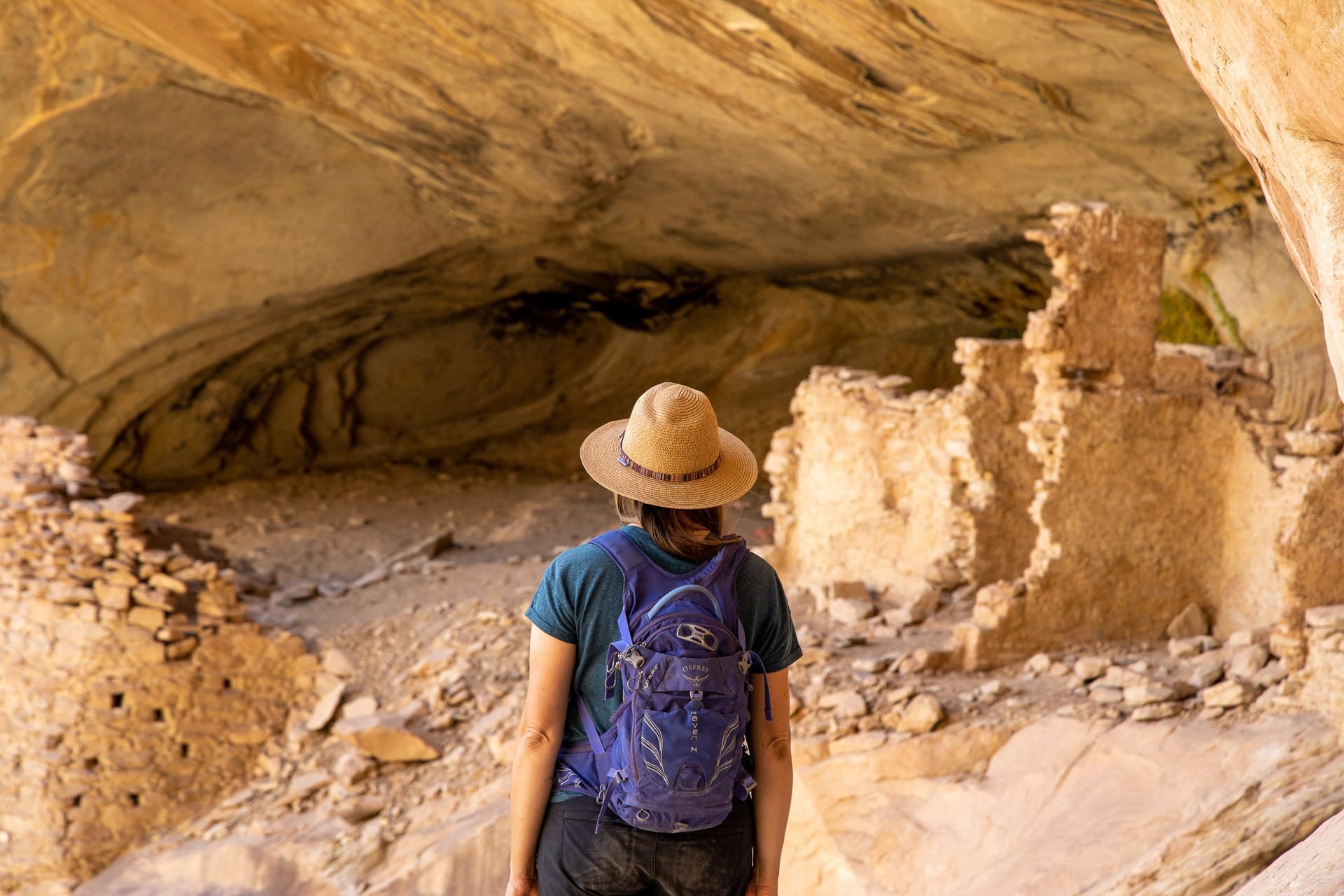 Are you an avid hiker looking for the perfect daypack? Or maybe you're new to the outdoors and not sure what type of day hiking backpack is best for you. Either way, we've got you covered below with our roundup of the best hiking daypacks for women.
Bearfoot Theory is made up of an all-women team of experienced hikers who understand the unique needs and challenges faced by women when selecting gear for their outdoor adventures.
We also provide a few tips on what to look for when choosing a daypack, so you can make sure you pick the perfect one for your needs. The best women's daypacks for hiking are specifically designed with women's anatomy in mind. They typically include features like more padded hip straps and narrower shoulder straps that will fit better overall. If you're a female and struggling to find a pack that fits you comfortably, we've got your back.
---
Osprey Mira 22 Hydration Pack
Bearfoot Theory Favorite
Key Features
Where to shop
Great for: Long and short day hikes, strenuous hikes thanks to the highly breathable mesh back air panel
What we like: 2.5 L hydration reservoir included, internal frame distributes weight evenly, mesh back panel allows for great airflow, exterior webbing and straps to attach hiking poles and extra gear, lifetime warranty
What we don't like: On the expensive side of daypacks (although hydration reservoir is included), heavy due to robust internal frame
The Osprey Mira 22 Hydration Pack is a Bearfoot Theory favorite because it has a lot of great features that make it versatile and comfortable to hike with. I like that the large zipper on the main compartment provides easy access, especially if you are carrying a camera that you are frequently pulling out of your backpack.
The Mira 22 comes with a 2.5-liter hydration reservoir and it features lots of pockets as well as a comfortable hip belt. I also like to use the outer mesh pouch to stash extra layers. The hip belt hugs nicely around your body, which I like, but may not be as comfortable depending on your body type.
I took a similar Osprey daypack with me to Everest Basecamp and Becky, our behind-the-scenes assistant uses the larger 32 L model for many of her bikepacking adventures.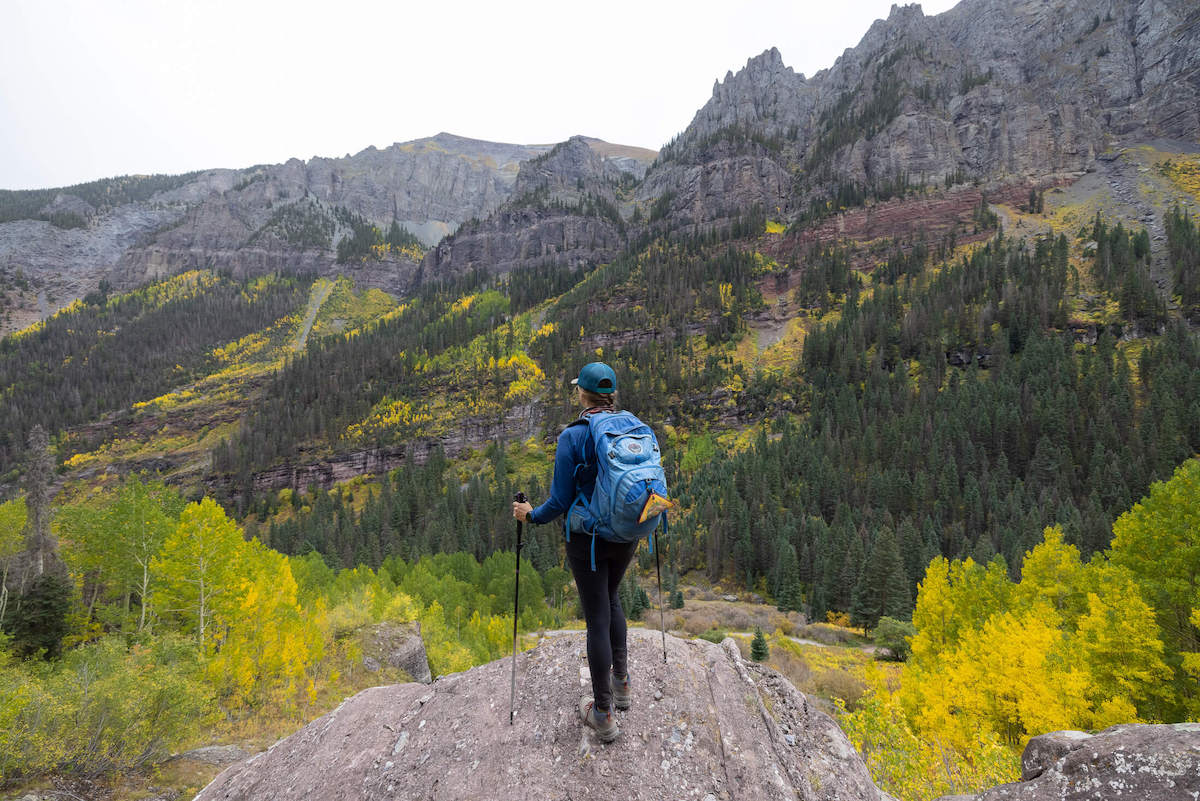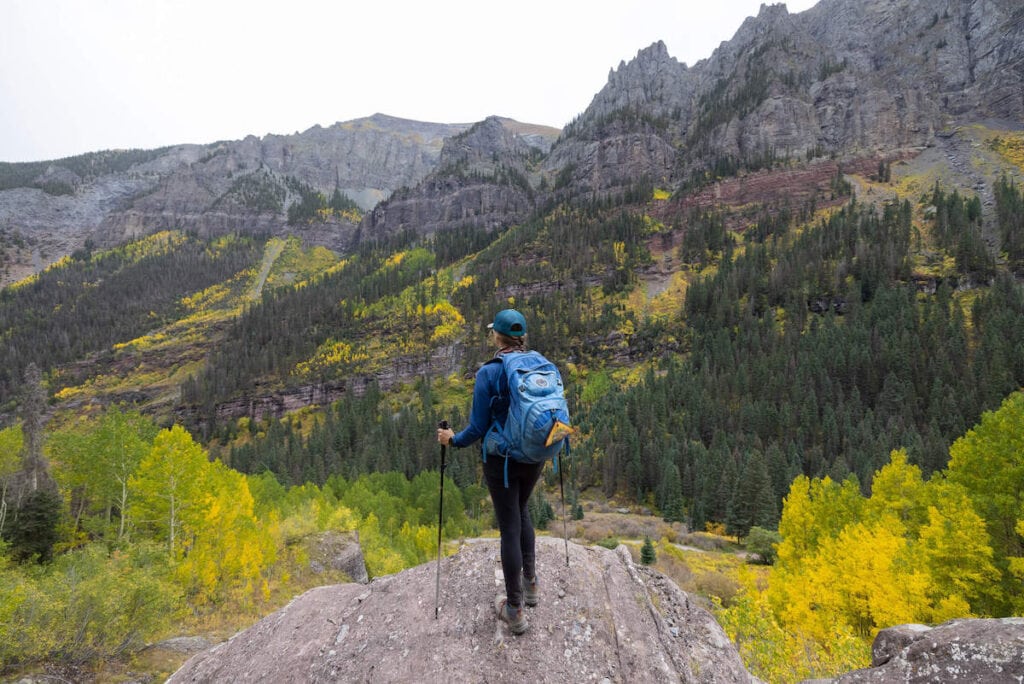 Osprey Tempest 9
Best Small Daypack for Hiking
Key Features
Where to shop
Great for: Shorter day hikes where you don't need to carry much gear, mountain biking
What we like: Multiple pockets and attachment points for gear, mesh back panel for airflow, made from bluesign®-approved materials, lifetime warranty
What we don't like: 9L capacity doesn't allow for much extra gear, expensive for its size
The Osprey Tempest 9 is the daypack that Linda, Bearfoot Theory's Director, uses on short day hikes. With only a 9-liter gear carrying capacity, it's definitely on the small side, but if you don't need to carry much it's a perfect companion for the trail.
She loves the zipper pockets for storing small essentials like keys and a phone, and the main interior is big enough to fit all the basics including warm layers, a camera, and snacks. There's even a handy sunglasses holder on one of the shoulder straps and the small hip belt pockets are great for easy-to-access items.
This daypack is small, lightweight, and comfy to wear with padded, breathable backing and straps that help keep you cool as you hike. The hydration sleeve makes it easy to take your hydration reservoir in and out to refill (sold separately – Linda uses the 2.5L Osprey hydration reservoir with this daypack although you could probably go as big as the 3L size).
And finally, this pack comes in two sizes (XS/S and M/L) so you can find the right fit for you. Linda is 5'3″ and wears the XS/S. Overall it's our favorite small and lightweight women's daypack for hiking.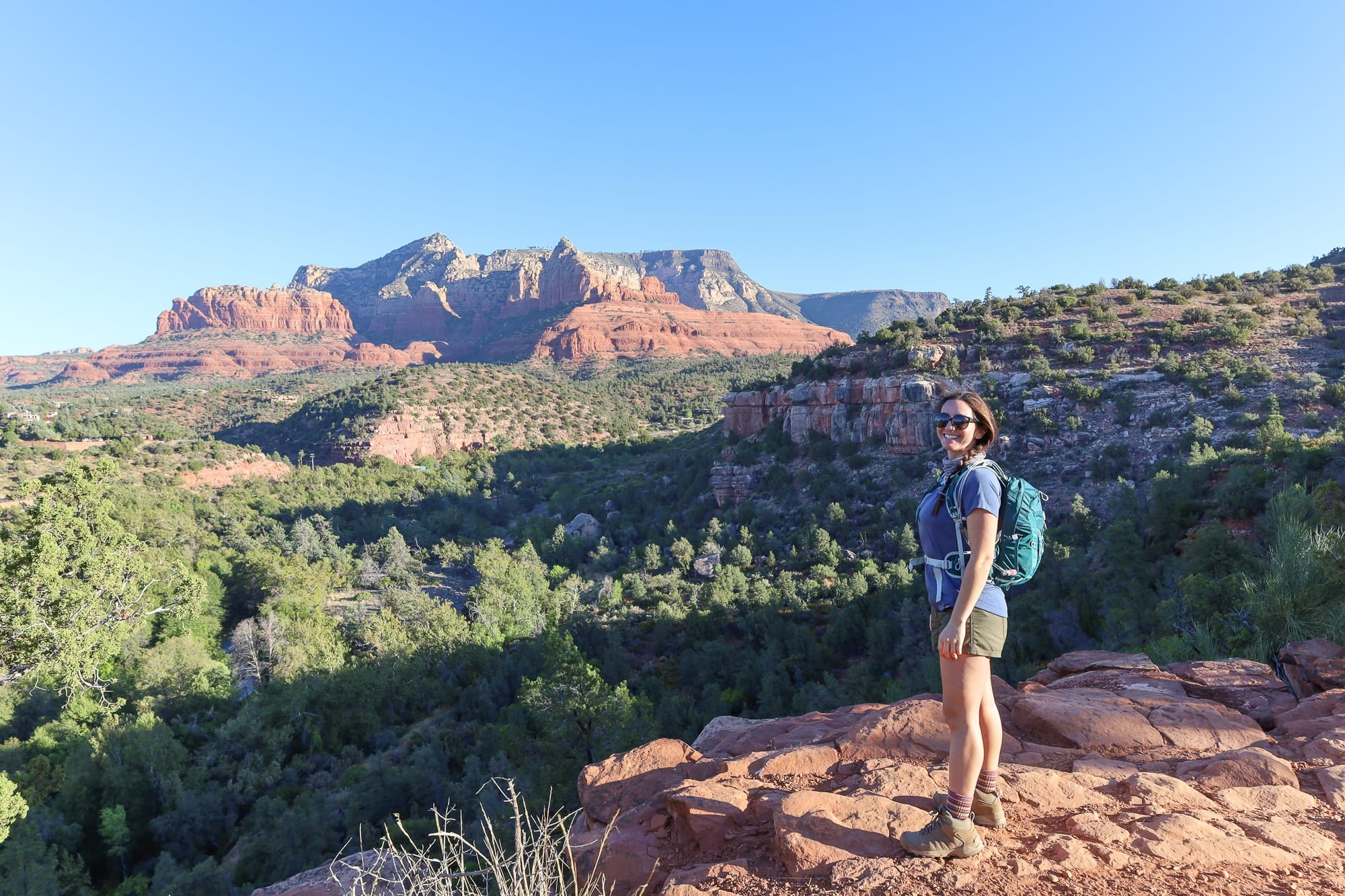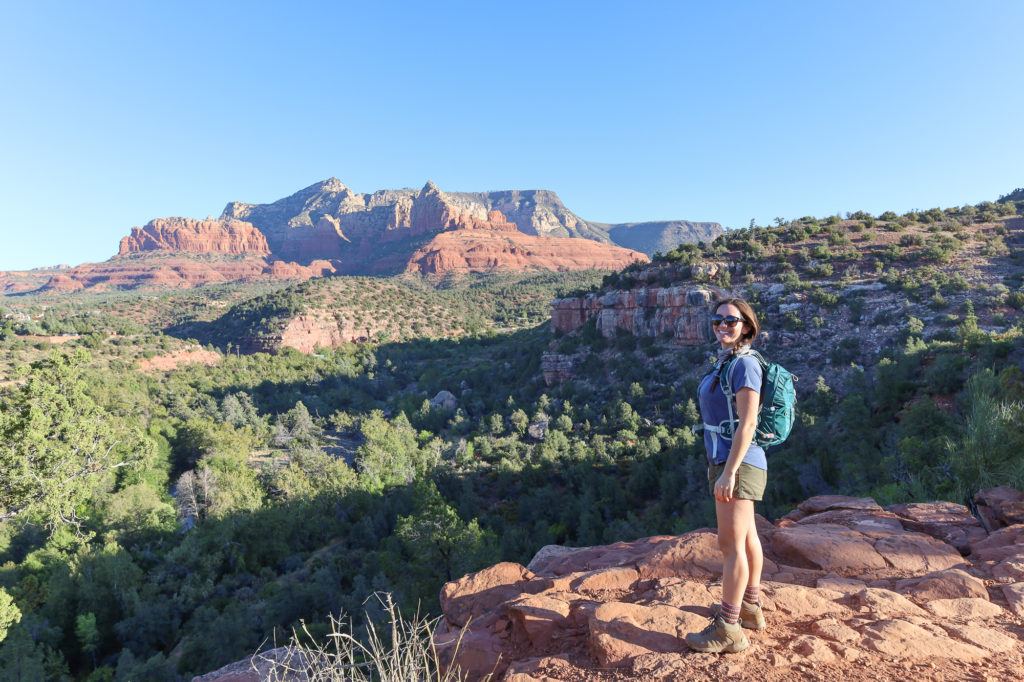 Hyperlite Daybreak Ultralight Daypack
Most Weatherproof Daypack
Key Features
Where to shop
Great for: Hiking in rainy or stormy weather, overnight backpacking trips, hikers who want a lightweight and minimal pack
What we like: Made from durable and weather-resistant material, ultralight, external pockets add 6 L of space
What we don't like: Expensive, no load lifter straps, no place to run hose for a hydration bladder
If weight is a factor when deciding which daypack to choose, the Hyperlite Daybreak Ultralight Daypack is our top choice. Not only is it super lightweight at just 1.2 lbs, but it's also made from durable Dyneema fabric and features a minimalistic design. While it's not completely waterproof, it is water-resistant and can withstand rain or even storms.
I have a Hyperlite Mountain gear backpacking pack and it's so durable and lightweight with a simple yet functional design, and their daypack is no different.
The biggest complaint about this pack is that while there is a sleeve inside where you could technically put a hydration bladder, there is no hole to run a hose through to the outside of the pack. So your best bet when using this daypack is to keep your water in bottles on the outside of the pack. Also, if you're someone who loves lots of pockets, you might be frustrated with the lack of organization in this pack.
Cotopaxi Luzon Del Dia 18L Daypack
Most Packable Daypack
Key Features
Where to shop
Great for: Easy day hikes with light gear, trips that require airplane travel
What we like: Super lightweight, packs down small, easy to travel with, made from 100% repurposed fabrics, each pack is unique
What we don't like: Frameless design so pack will lie flat on your back without much breathability, not very supportive for long strenuous hikes, few organizational pouches and attachment points
The Cotopaxi Luzon 18L Del Dia Daypack is a frameless hiking daypack, so it's very lightweight and packs down easily making it great for travel. The main compartment is large enough to cram extra layers into and it has a drawstring closure so there's no fumbling around with a zipper. Plus, there's a hydration sleeve and adjustable straps that allow you to customize the fit.
The lack of technical features and support means that this is not the best daypack for serious hikes, but for travel, light day hikes, and other activities, it's a great option. We also love Cotopaxi's ethos and their use of recycled fabrics handpicked by their staff.
If you like the look and idea of this pack but need something a bit larger, check out the Luzon 24L version.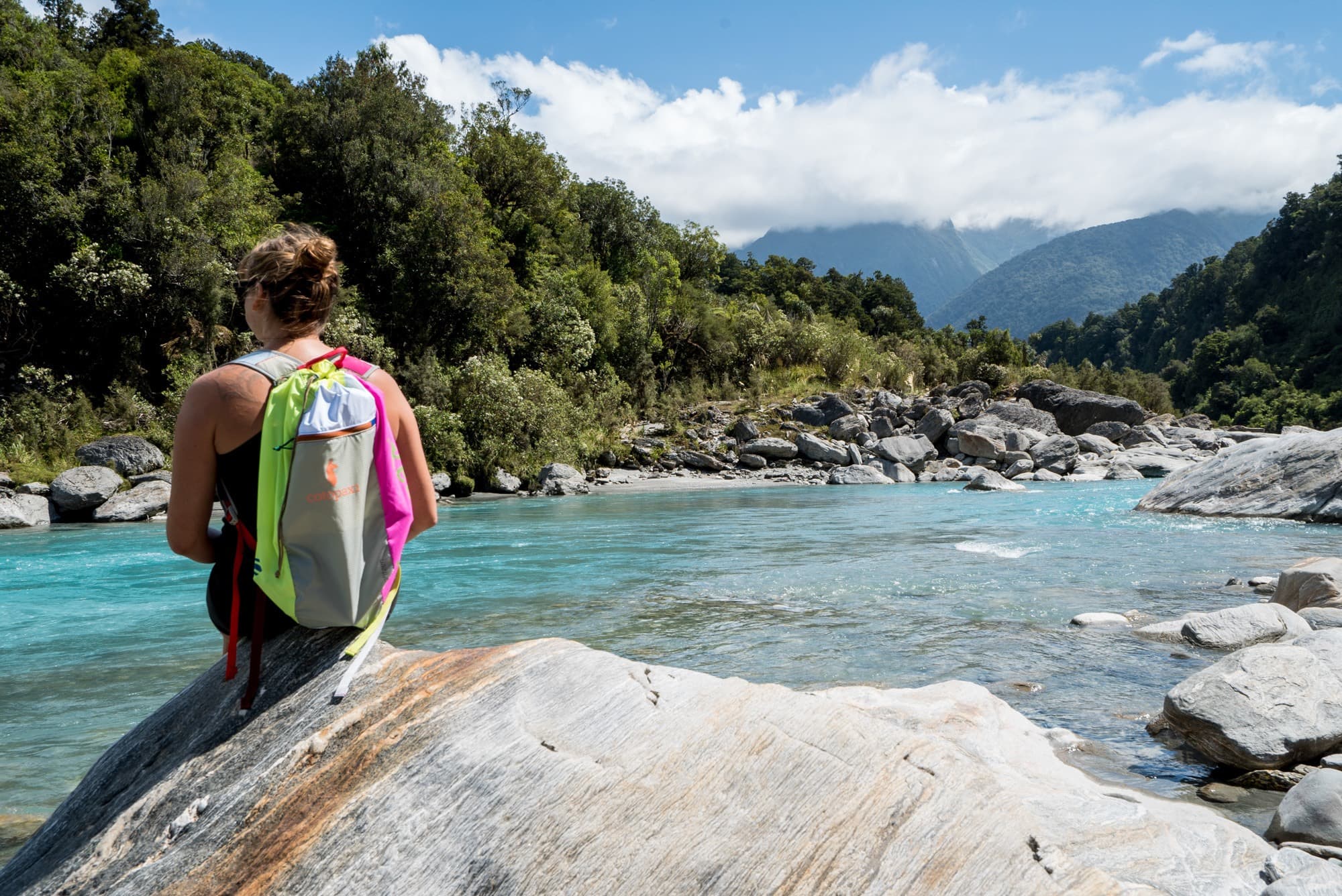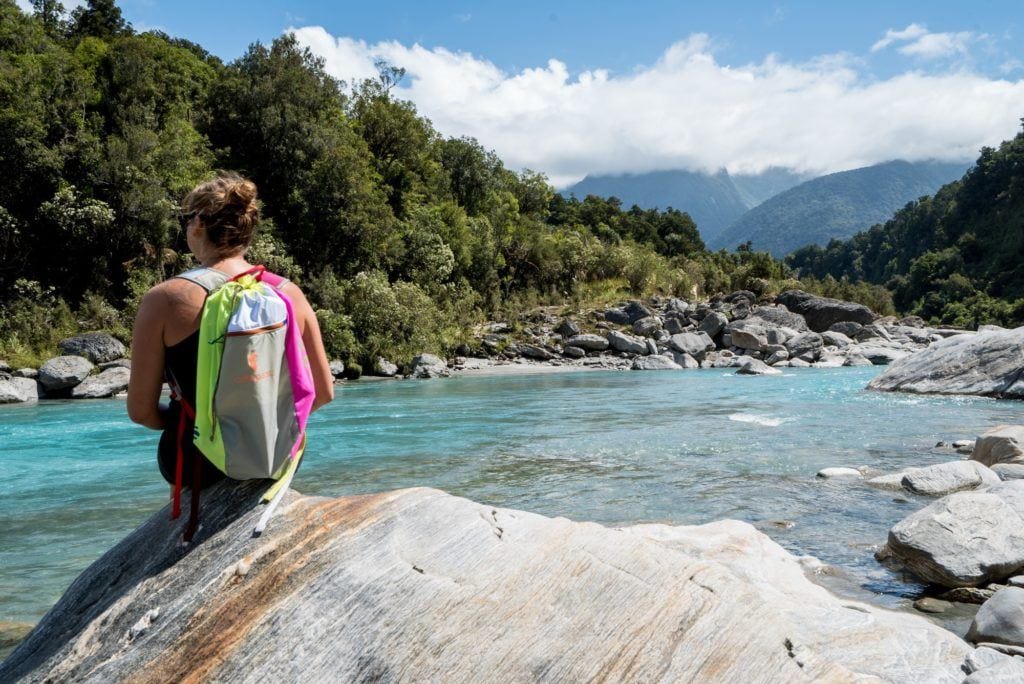 Deuter AC Lite 22 SL Pack
Best Daypack for Hot Weather
Key Features
Where to shop
Great for: Day hikes in hot or humid environments, hikers that tend to sweat a lot
What we like: Highly breathable mesh back panel, lightweight
What we don't like: Not as many pockets as other daypacks of this size, no pockets on the hip belt, no load lifter straps
If you get really sweaty when you hike, then the Deuter AC Lite 22 SL pack is for you. It has a mesh back panel that provides excellent airflow along your back, making it a great choice for hot summer climates. I normally sweat a lot and this pack leaves me feeling dry.
It's also lightweight and sits nice and tight to your body for a streamlined fit. The pack has one big compartment with a drawstring opening that you can stuff your gear into along with a zippered pocket in the lid. There is a water bottle pocket on each side as well and a little zippered slot for your phone.
There isn't as much organization and pockets as some of the other daypacks on the list, so that may be a dealbreaker for you. I also don't like that there are no pockets on the hip belt and there are no load lifter straps so the fit isn't that adjustable. But I love the new color options!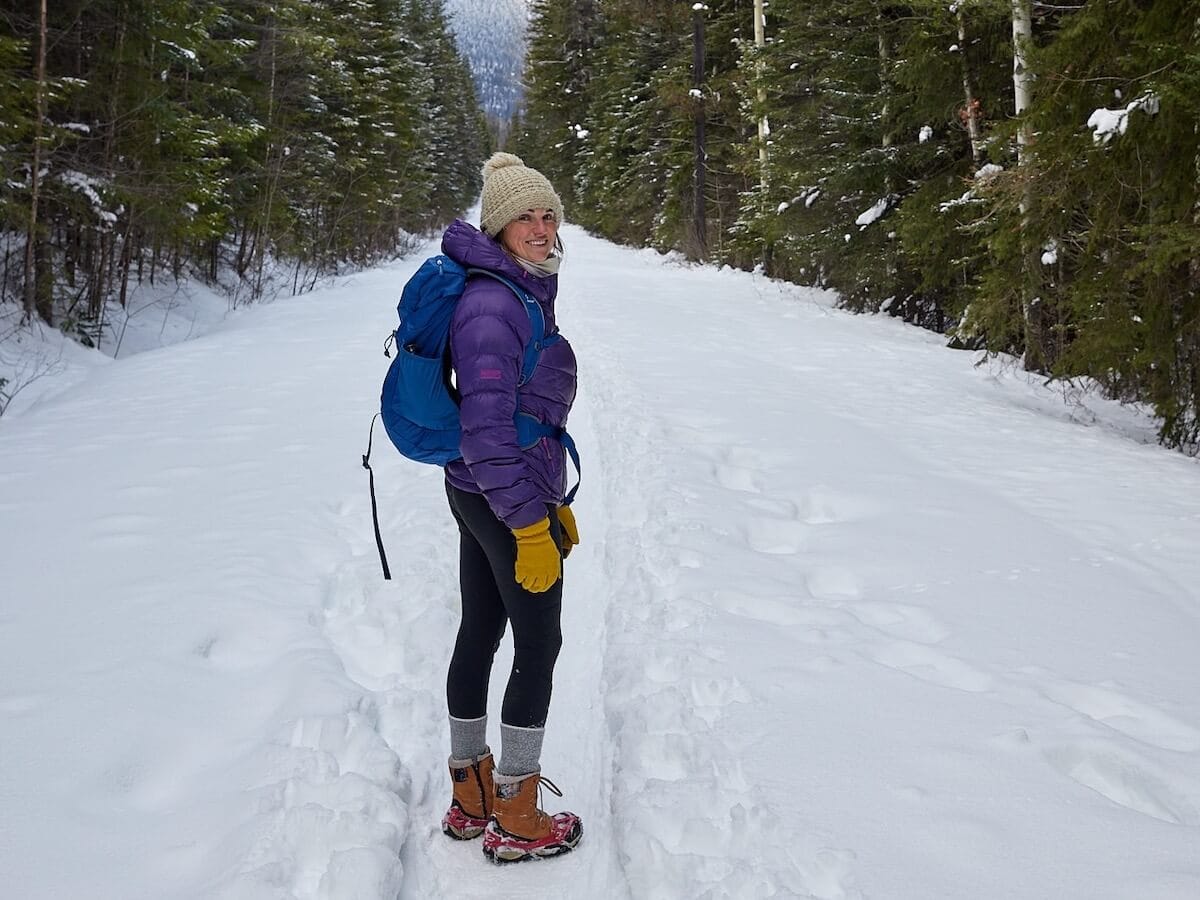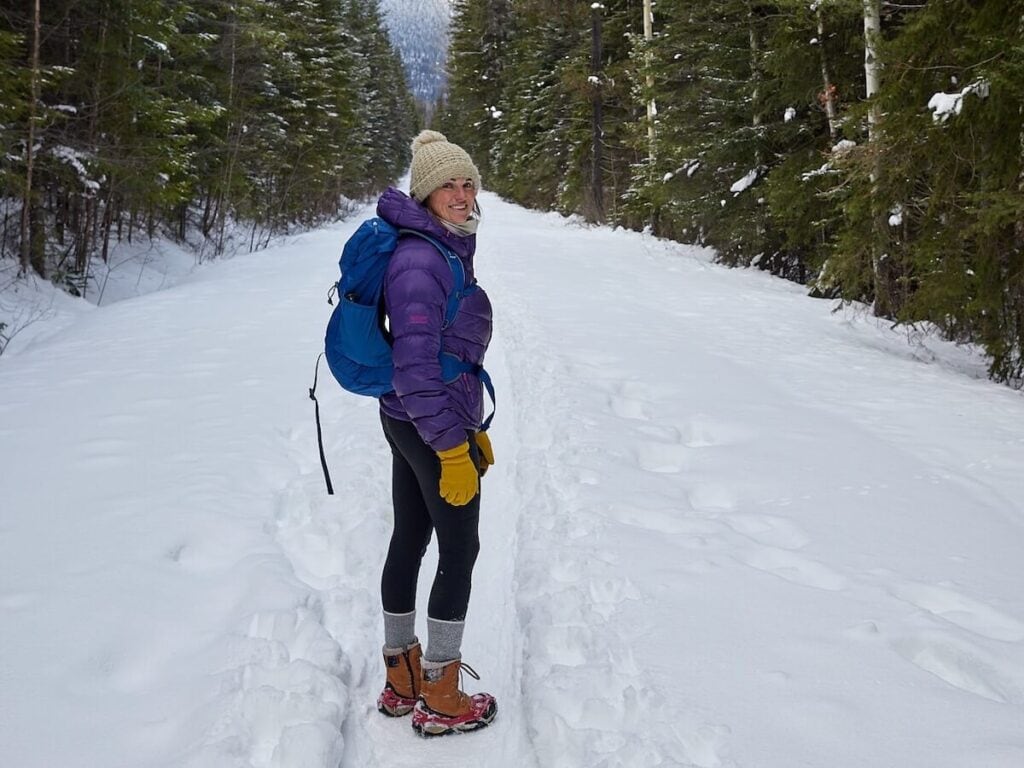 Gregory Juno 30 H2O Hydration Pack Plus
Best Women's Plus Size Hiking Daypack
Key Features
Where to shop
Great for: plus size hikers
What we like: fits waist/hips 38-60 inches, extended-length shoulder straps and hip belts, comes with an included hydration bladder, easily accessible mesh front pocket
What we don't like: Hip pockets are very small for fitting phone, keys, etc.
Gregory makes some of our favorite backpacking backpacks, so it's no surprise they deliver great women's daypacks as well. The Gregory Juno 30 H2O Pack Plus is the ideal day hiking pack for plus-size women due to its thoughtful design and superior comfort features. The pack is fully adjustable, with a suspension system that can be customized to fit your unique body shape and size.
The extended-length shoulder straps and hip belt are also specially designed to fit a plus-size body compared to a traditional daypack, providing extra support and comfort during hikes.
The pack also features an integrated hydration system, allowing you to stay hydrated on the go without having to stop and access a separate water bottle. Its durable construction and lightweight design make it a perfect choice for plus-size women who want a comfortable and reliable day hiking pack that can keep up with their active lifestyle.
Gregory Jade 28
Best Women's Day Pack for Long Hikes
Key Features
Where to shop
Great for: hikers who carry a lot of gear or heavy loads
What we like: easy access to the main compartment, lots of organization, easy hydration reservoir access, carries & distributes weight well
What we don't like: back ventilation isn't the best
The Gregory Jade 28 has been my latest go-to women's day hiking backpack. It's very comfortable, has a very supportive waistband, and has an adjustable torso you can customize the fit based on your torso length.
There are lots of pockets for organization and the side pockets are big enough for a Nalgene. I really like that access to the main compartment is through a zipper rather than a lid with clips. It makes it really quick and easy to get in and out of the pack – this is especially important for me because Ryan can quickly grab the camera out of my pack without having to deal with a bunch of clips.
The pockets on the waistbelt are large enough for a normal-sized iPhone (the Max would be too big). While the back panel is ventilated, I still get sweaty in hot humid weather, but it's not so bad in dry climates though.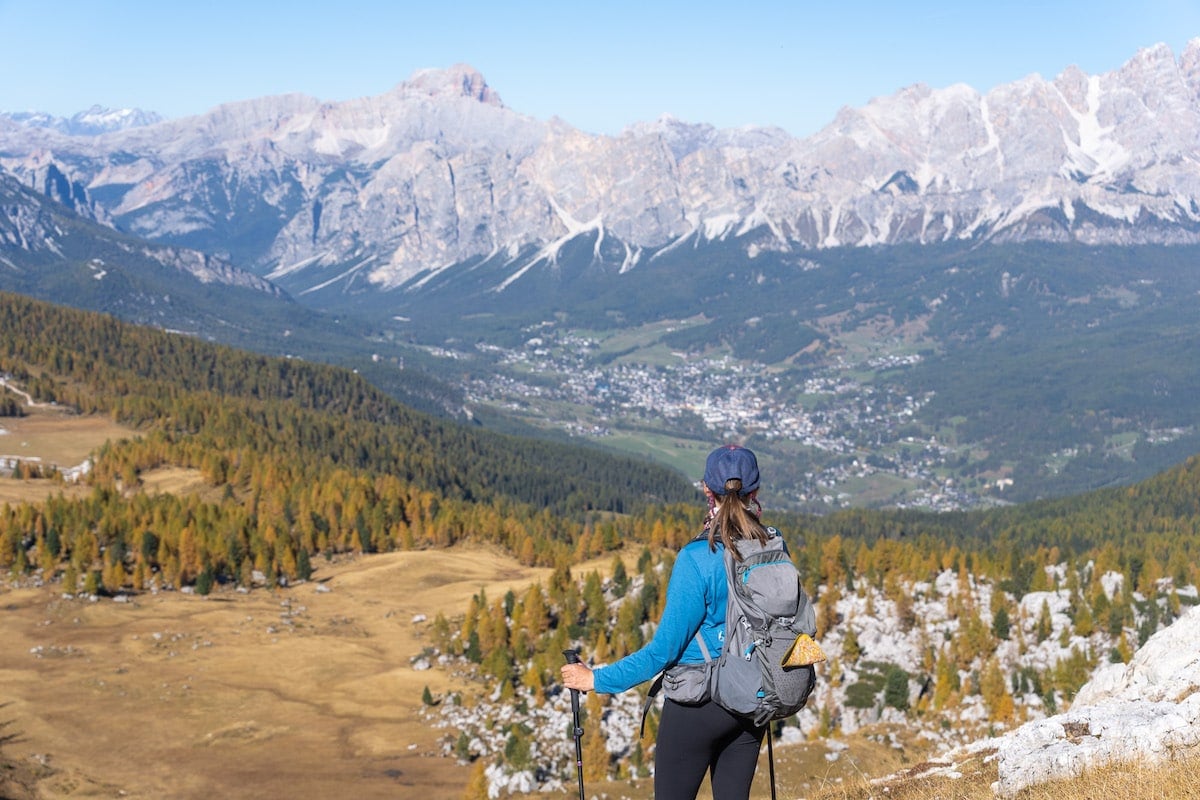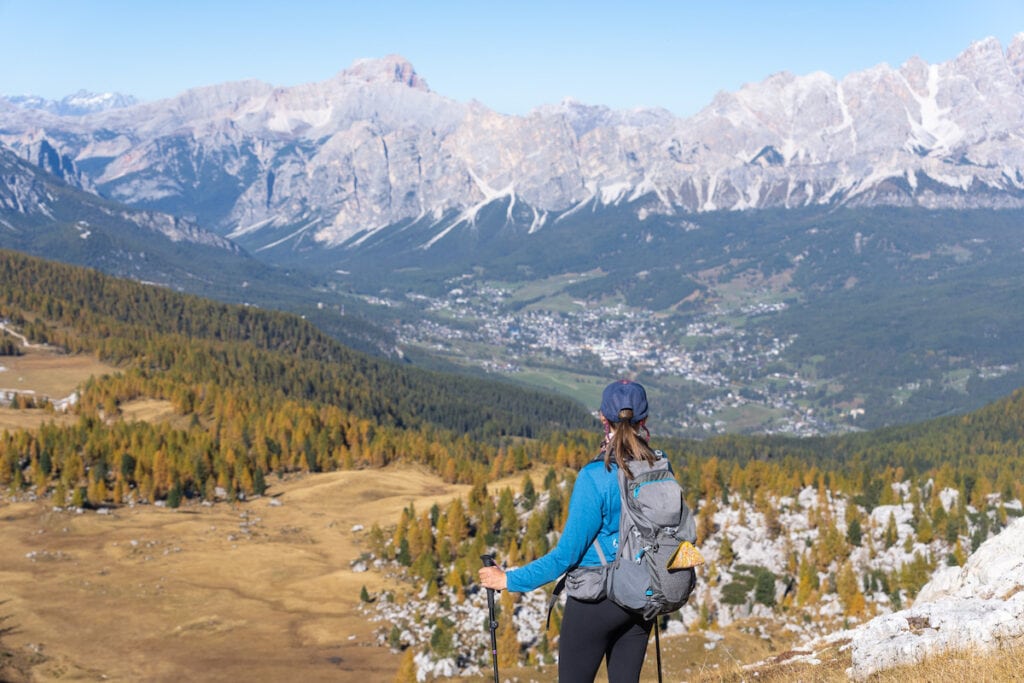 REI Co-op Trail 25 Pack
Best Budget Daypack
Key Features
Where to shop
Great for: Short or medium day hikes, wet weather
What we like: Included rain cover, affordable price, made from recycled materials, compatible with the REI Trail 2 Waistpack for more storage
What we don't like: Can be top-heavy if not packed well, no front mesh pocket for stashing easy-to-reach layers, back panel isn't super breathable
The REI Co-op Trail 25 Pack is a very popular choice for day hikers because it's lightweight, comfortable, and comes at an affordable price. It's designed with a hydration pocket, padded straps, and side mesh pockets for easy access. We also love that it's made with recycled materials. An added bonus is an included rain cover in case you'll be hiking in wet weather.
Deuter Trail 28 SL Pack
Most Supportive Daypack for Heavy Gear
Key Features
Where to shop
Great for: Climbers, day hikes where you need to carry a lot of gear
What we like: Features specific for climbers, included rain cover, easily compressible, meets most airline carry-on size restrictions
What we don't like: Only comes in one frame size
If you're a climber or if you plan on going on all-day hikes and other more extensive outdoor adventures where you need to carry more gear, layers, and food, you may want something a little larger like the Deuter Trail 28 SL.
This pack has a comfortable padded back and straps that are adjustable so you can get the fit just right for you. It also has all the technical features you might need like helmet and carabiner loops, a two-way front zipper for easy interior access, hip belt pockets, a side stretch pocket, and internal pockets for valuables. It even comes with a rain cover and is also hydration-reservoir compatible. This pack makes a great airplane carry-on, too.
Mystery Ranch Scree 32L Backpack
Best Daypack for Organization
Key Features
Where to shop
Great for: Keeping gear organized, all-day hikes, 1-2 night backpacking trips
What we like: Double layer bottom for extra durability, meets carry-on size restrictions, can double as a backpacking pack for short overnight trips, excellent reviews
What we don't like: Heavier than the other packs on this list
The Mystery Ranch Scree 32L Backpack is one of the best women's daypacks for hiking, especially if you plan on doing all-day hikes and adventures and need to keep your gear organized. The unique 3-zipper design provides easy access to interior items and the zippered stash pockets on the lid and hip belt keep your smaller essentials easily accessible.
The padded mesh backing and straps should keep you comfortable on the trail and the hydration sleeve and side water bottle pockets will help you stay hydrated. This women's specific pack comes in two different sizes frame sizes, XS/S and M/L, and makes a great airplane carry-on as well.
REI Co-op Trail 40 Pack
Best High-Volume Daypack
Key Features
Where to shop
Great for: Longer day hikes, keeping gear organized, traveling
What we like: Affordably priced, made with recycled materials, U-shaped front panel provides easy access to gear, included rain cover
What we don't like: Doesn't come in a L torso length, no front pocket to quickly stuff an extra layer
The REI Co-op Trail 40 Pack is a great option for all-day hikes when you want room to carry everything you need. This higher capacity daypack has awesome organization compartments and a helpful U-shaped zipper in the front that fully opens the main compartment making it super easy to pack and locate items. This makes it a great option for travel
The zippered belt pockets are large enough to hold your cell phone and other must-haves that you want at your hip. It's also affordable and can double as a backpacking pack for short overnight trips. It comes in two frame sizes to accommodate different torso lengths.
---
Recommended Hiking Packing List
Below are a few of my favorite pieces of day hiking gear and recommendations:
How to Choose a Daypack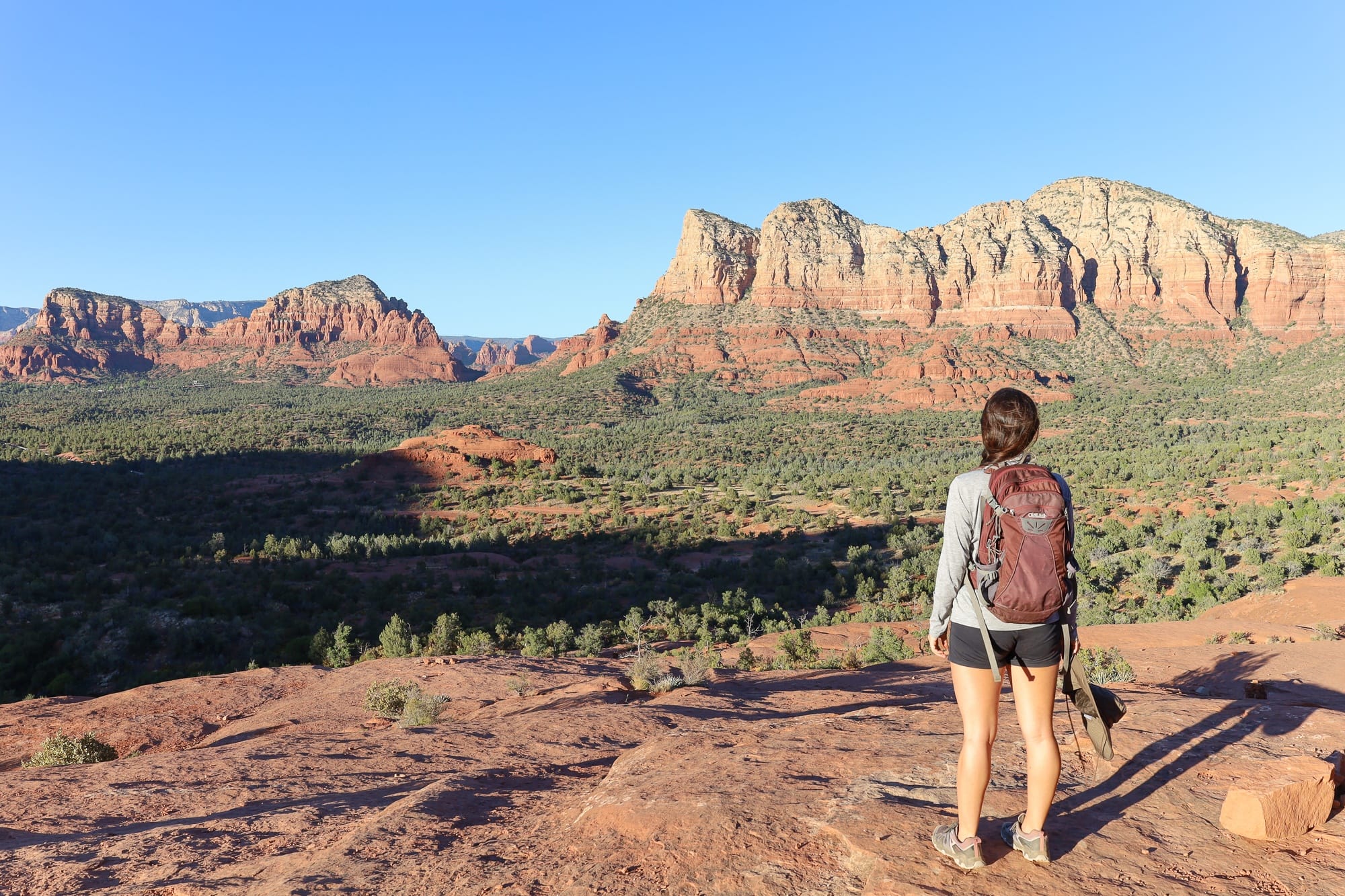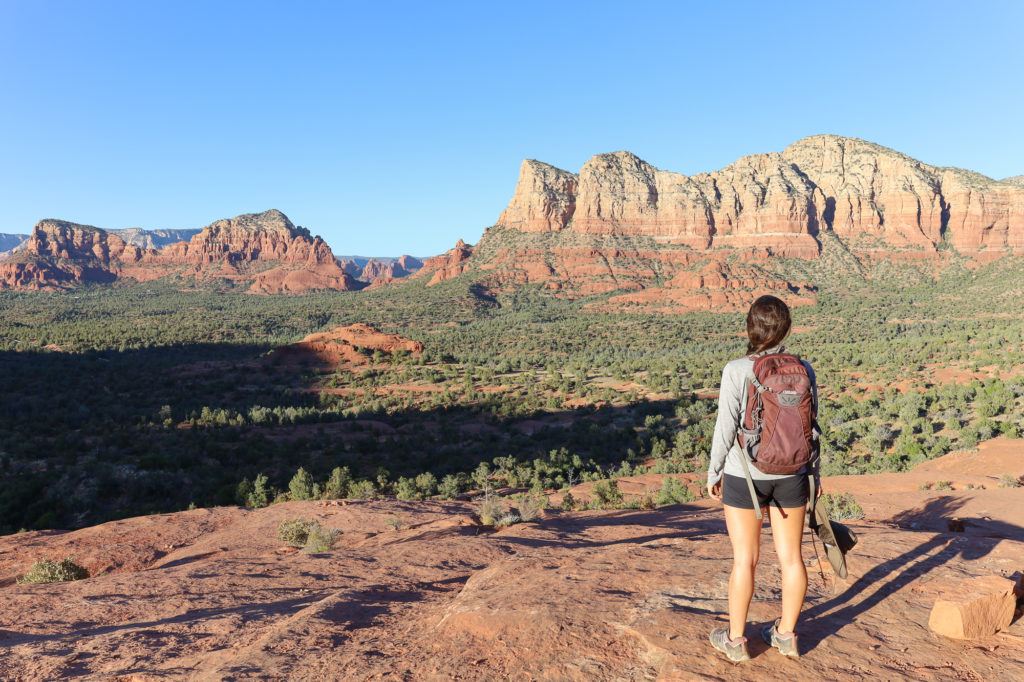 The kind of hikes you plan on using your daypack for and how versatile you want your pack to be will be big factors in determining the best daypack for you. We'll cover that below along with a couple of other key factors to consider. But first, what exactly is the difference between a regular backpack and a backpack for hiking? We're glad you asked.
The best women's daypacks for hiking are made to be durable, lightweight, and comfortable while you're on the trail. With the right size and fit, you should hardly even notice you're carrying one when you're hiking. A good hiking daypack should stand up to the wear and tear of the trail – it shouldn't rip if you snag it on a thorny bush or slide it across rocks. They also have a number of technical features that come in handy while hiking – things like a place for your water bottle or hydration reservoir, exterior pockets for easy access to snacks, your phone, extra layers, or whatever else is important to you, straps for attaching things like trekking poles, and more.
If you've never hiked with a good hiking daypack, you'll never go back once you get one. And if you're in the market for a new one, we hope the tips below will help you upgrade to a new daypack that you absolutely love.
What Size Daypack Do You Need?
Going on a serious, all-day hike requires a more technical pack with more support than you would need for a two-hour hike. For a longer hike, you'll want a slightly bigger pack to fit more snacks, layers, water, and other hiking essentials. You'll also want something more comfortable with padded backing, padded straps, and a hip belt and chest strap to distribute the weight so it's not all on your shoulders. And you'll likely want something with space for a hydration reservoir so you can carry more water for easy drinking compared to packing a water bottle.
A typical daypack is less than 40 liters, however, there are exceptions so if you know you want to be able to carry more, then go ahead and size up. Here's a brief overview of daypack sizes and the best activities to pair them with:
10 Liters or Less: Short, light day hikes, trail running, road biking
21-35 Liters: Long, intense day hikes, all day excursions, travel
11-20 Liters: Mountain biking, longer day hikes, trail running
36-50 Liters: Any activity that requires more gear like climbing, or photography, etc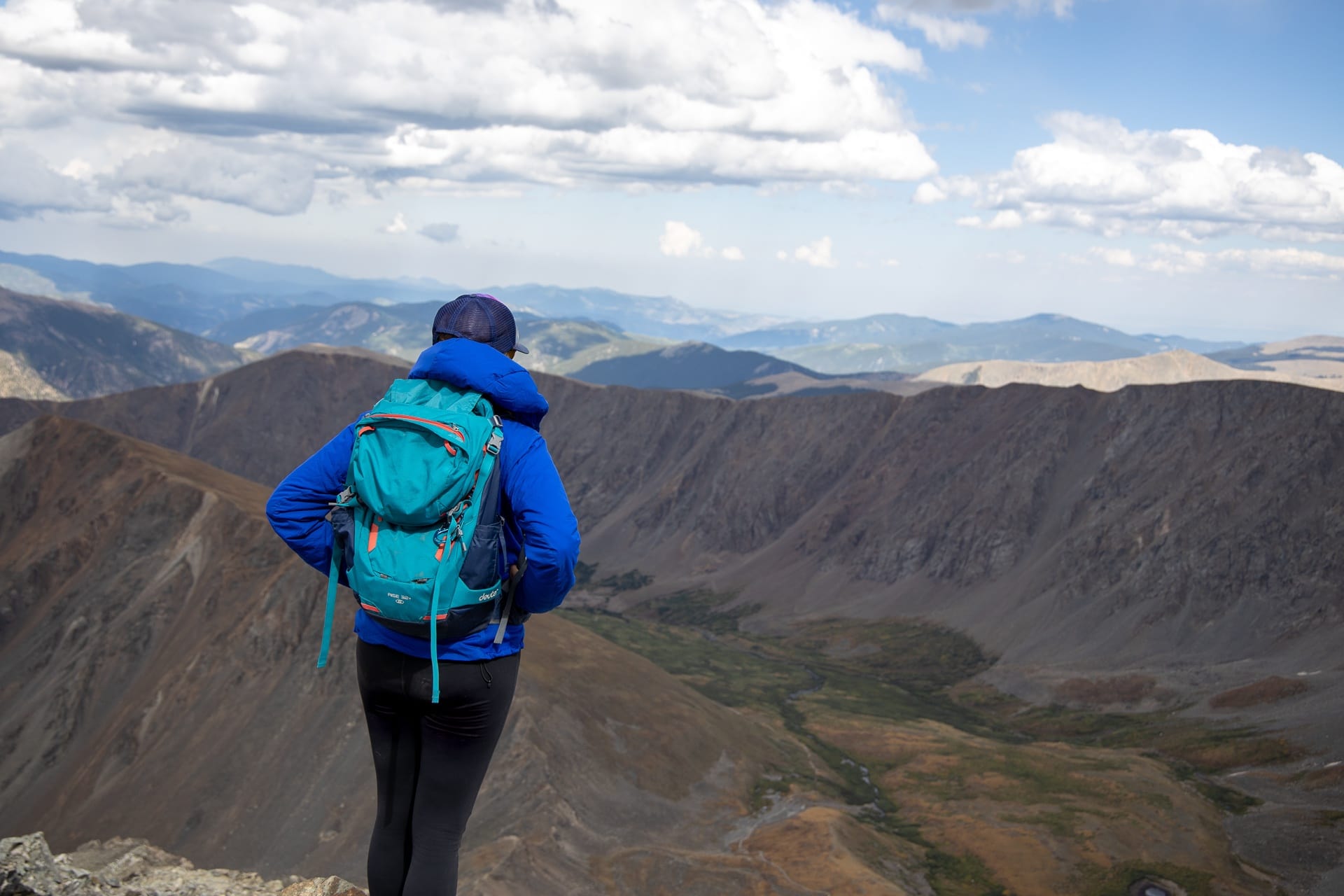 Remember that you don't need too big of a pack if you aren't planning on carrying additional gear or lots of extra clothing layers. A smaller capacity pack will be more lightweight, compact, and comfortable while you hike. Why carry more than you need?
If you're looking for a multi-day hiking backpack, check out our favorite backpacking pack recommendations.
Daypack Features to Consider
There are a few common technical features you'll see on many of the best women's daypacks for hiking, which you may or may not need. Here's a rundown of what they are and when they might come in handy.
Frames vs Frameless Packs: Some daypacks have an internal frame or lightweight frame sheet that makes the pack a bit sturdier. The frame helps the pack hold its shape and often helps keep it off your back to allow for airflow as well. A frame does make the pack slightly heavier overall, but the best daypack for more serious hiking will be one with a frame. Frameless packs are more simple and lightweight and can often be packed down to a compact size. If you want something you can throw in your travel backpack or carry on for shorter hikes and outings, a frameless pack might be the perfect choice for you.

Waistbelt & Sternum Straps: Waistbelt and sternum straps help distribute the weight of your pack so it doesn't all fall on your back and shoulders. They also help keep the pack in place which is not only important for hiking, but also for other activities you might use your pack for like trail running or biking. We consider them a must for longer hikes because they make hiking with a pack much more comfortable overall.

Hydration Compartment & Water Bottle Pockets: Most daypacks have space in between the interior compartment and the frame to store a hydration reservoir. Not familiar with the term? A hydration reservoir is a plastic bladder that can be filled with water; it has a long tube attached so you can drink the water from the hydration pack while it's in your backpack rather than digging out your water bottle. For those who'd rather stash their water on the outside of your bag for easy access, a water bottle side pocket is a common feature that is on nearly every pack. Some of the smaller, frameless, packable daypacks don't have these features so consider this when making your purchase.

Padding: Most daypacks out there, aside from the frameless, packable ones, have padding on the back and the straps. This provides added comfort and reduces chafing, and in some cases, the shape of the padding helps with airflow too.

Mesh Ventilation: When you start to work up a sweat outside, a pack that sits close to your back can trap heat and start to become pretty uncomfortable. Many brands add mesh paneling to the inner back portion of the pack for ventilation. Believe us, you may not appreciate it at the start but on a hot hike, you'll be glad to have it.

External Pockets: Think about the items you normally bring along when you hike and what type of pockets and compartments would come in handy for you. We generally prefer daypacks with multiple pockets so we can pack all our extra layers in one, and smaller items like snacks and sunscreen in another. If you want to easily be able to take a layer on and off, you may want to look for a daypack with an external pocket. If you want snacks and your phone or other small items easily accessible while you hike, look for a daypack with hip belt pockets.

Accessory Straps: Many hiking daypacks have straps for things like trekking poles, ice tools, climbing gear, and more. If you think you might want to carry gear like this on the outside of your pack, look for one with accessory straps.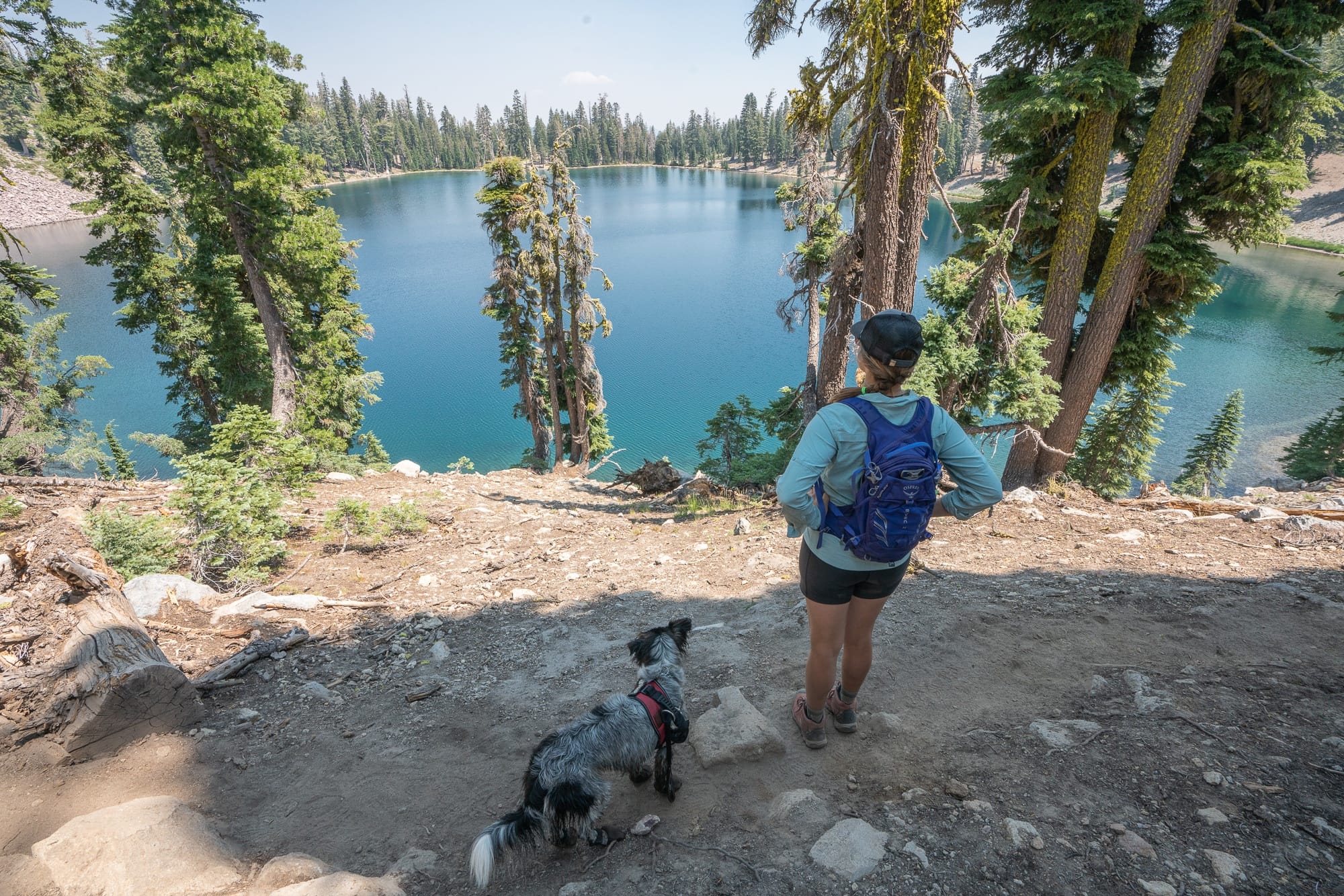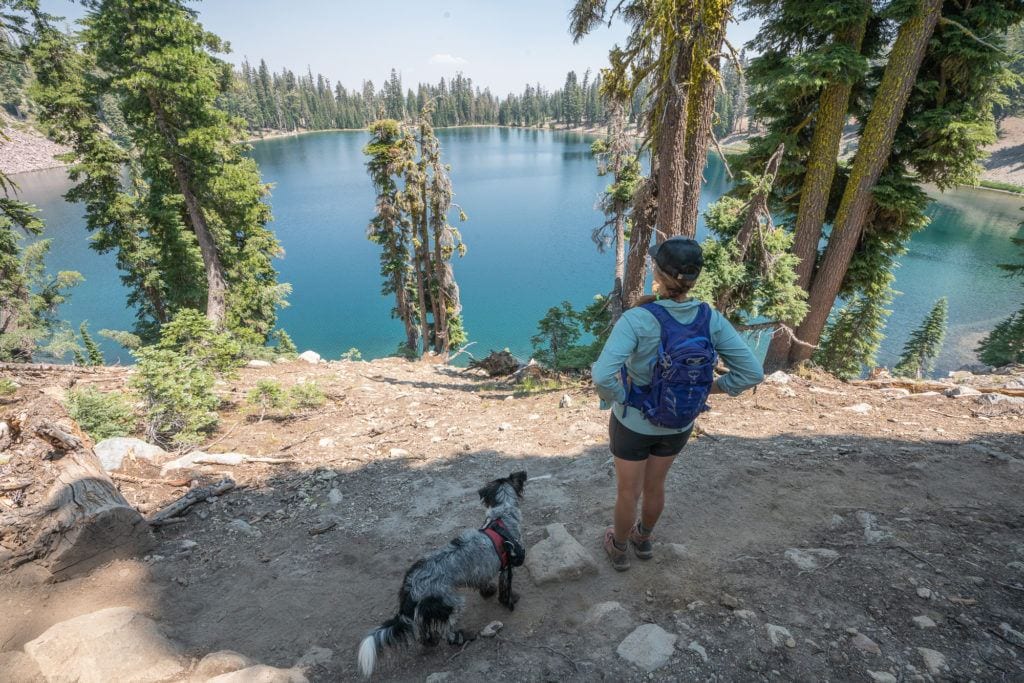 ---
How Should a Daypack Fit?
Unlike backpacking packs, a daypack fit isn't as specific. Although there are children, women's, and men's specific fits, many are unisex and offer features like adjustable straps so you can customize the pack to fit your torso. If you're unsure what size pack you want and how it'll fit, it's a good idea to try on a new daypack before you buy to ensure that it feels comfortable and won't rub and chafe when it's fully loaded.
When you put the pack on, the top of the waist belt should sit slightly above the center of your hips. Tighten the waist belt so it's snug but comfortable. Then you want to cinch the shoulder straps down. If there is a gap between your shoulders and the shoulder straps, the torso of the pack is too long. If the shoulder straps feel like they are weighing you down, the torso of the daypack might be too short, meaning you should size up.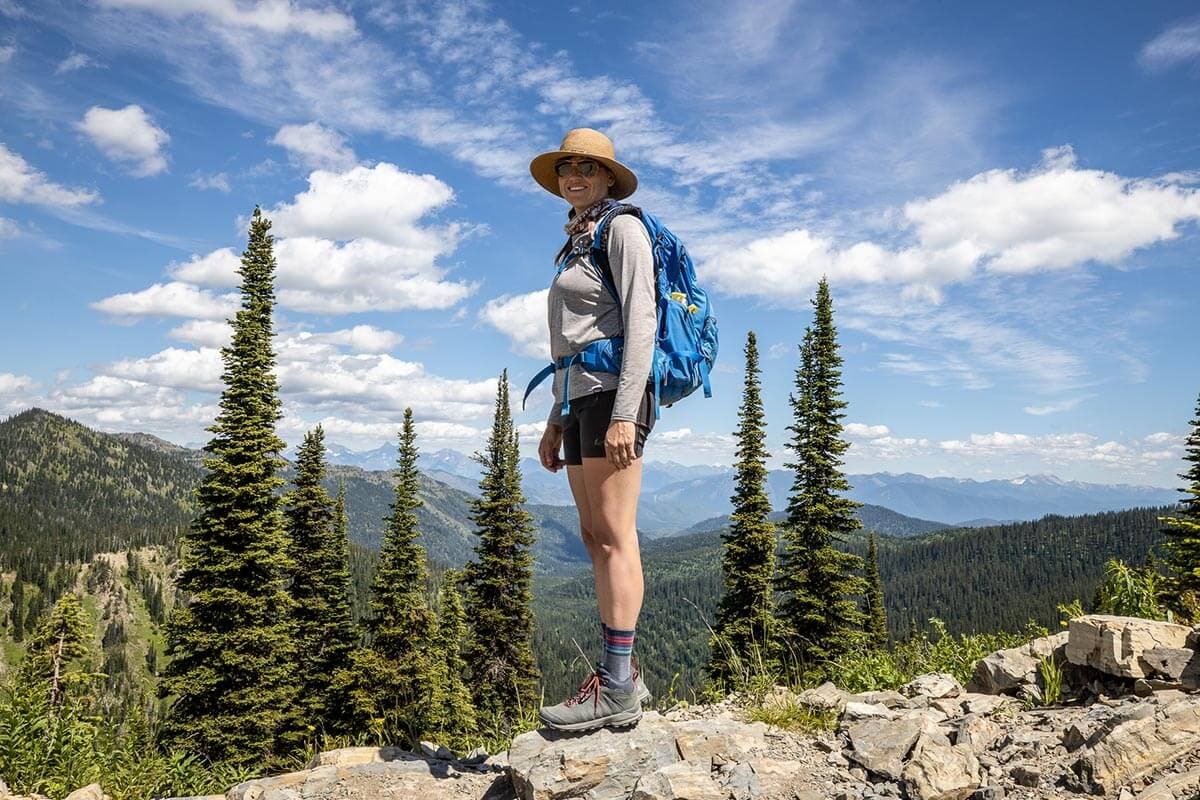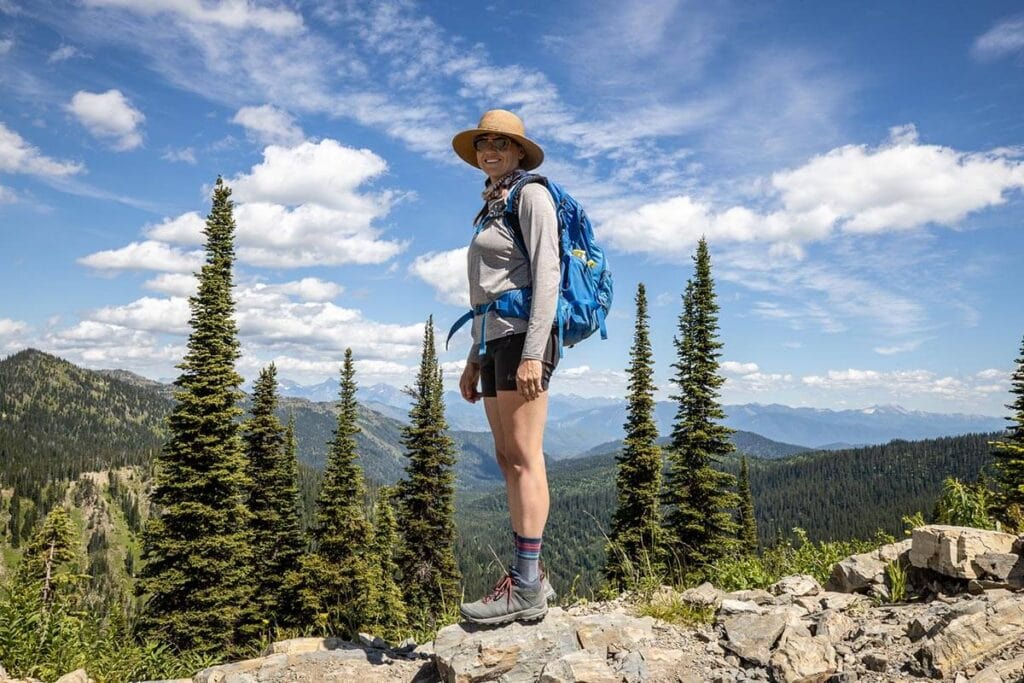 Looking for additional women's gear recommendations? Check out these posts:
Have you found the best women's daypack for hiking? Which one do you love the most and why? Let us know in the comments below!