The Essential Zion National Park Travel Guide
Plan your trip to Zion with this Zion National Park travel guide, with info on Zion's campgrounds, must-do trails, permits, park shuttle & more.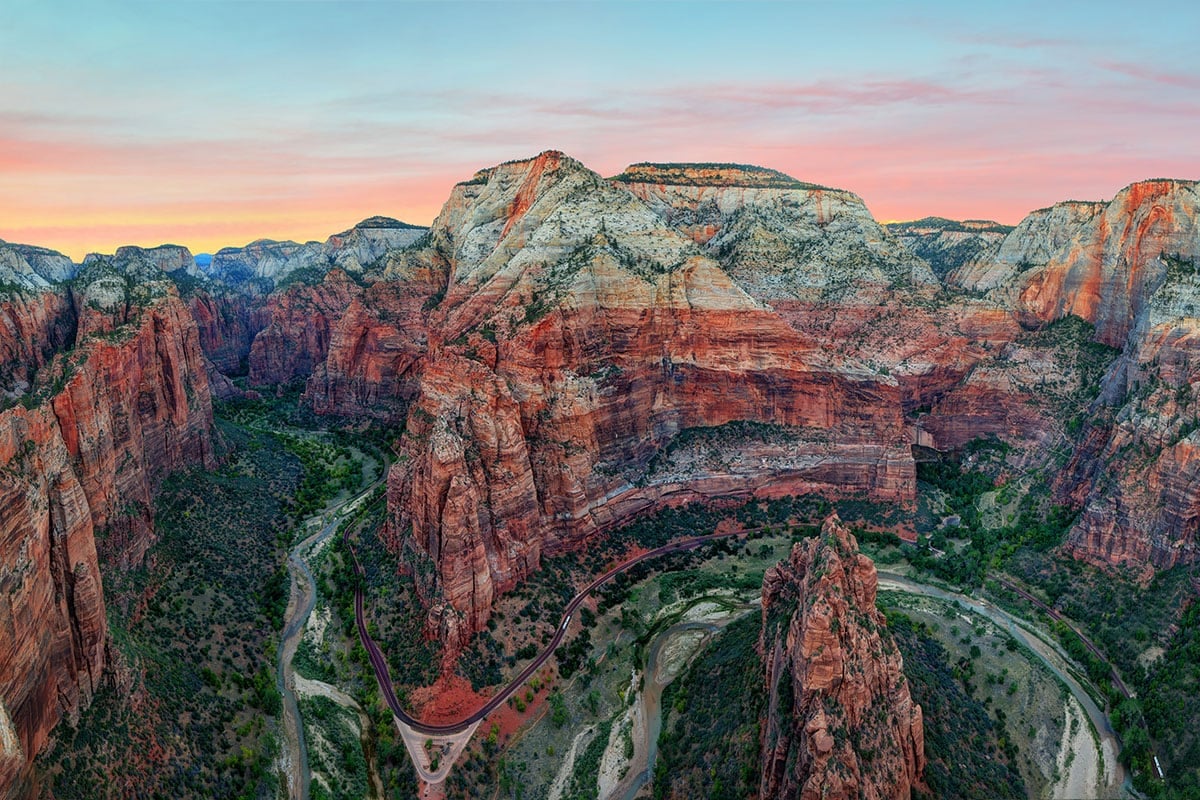 Zion National Park is one of the most popular National Parks in Southern Utah and for a good reason. Narrow slot canyons, red and white sandstone formations, 3,000-foot vertical walls, and the Virgin River make the main canyon of Zion National Park a spectacular place to explore.
When planning a trip to Zion National Park, it is easy to get overwhelmed with questions. Where are the best hiking trails? How does the Park shuttle work? Do I need a permit? Where can I camp? In this Zion National Park Travel Guide, I answer all of these questions and break down everything you need to know for an amazing trip.
Ready for adventure? Start planning your trip to Zion with this Zion National Park Travel Guide!
Important Reminder: As it goes in all of the destinations we share, please practice good trail etiquette and remember to Leave No Trace. This means packing out all of your garbage (including toilet paper) and following the established rules. In the desert, this also means learning how to protect cryptobiotic soil and how it has a huge impact on our ecosystems.
Best Time to Visit Zion National Park
While Zion National Park can be visited year-round, temperatures are most pleasant in the months of April, May, early June, October, and November.
Summertime is very hot and busy, but it is a nice time to hike in the Virgin River in the Zion Narrows. However, late July through September is considered flash flood season. If you are visiting Zion National Park during this time, pay close attention to the forecast and do not hike in any narrow canyons (including the Narrows hike) if rain is predicted.
>> Learn what to wear for desert hiking here
Winter can also be a great time to visit Zion National Park. Crowds are fewer and the top of the canyon looks especially beautiful with a light dusting of snow, although trail access is more limited in icy conditions. If you plan to visit Zion in the winter, be sure to check out our guide to cold weather layering.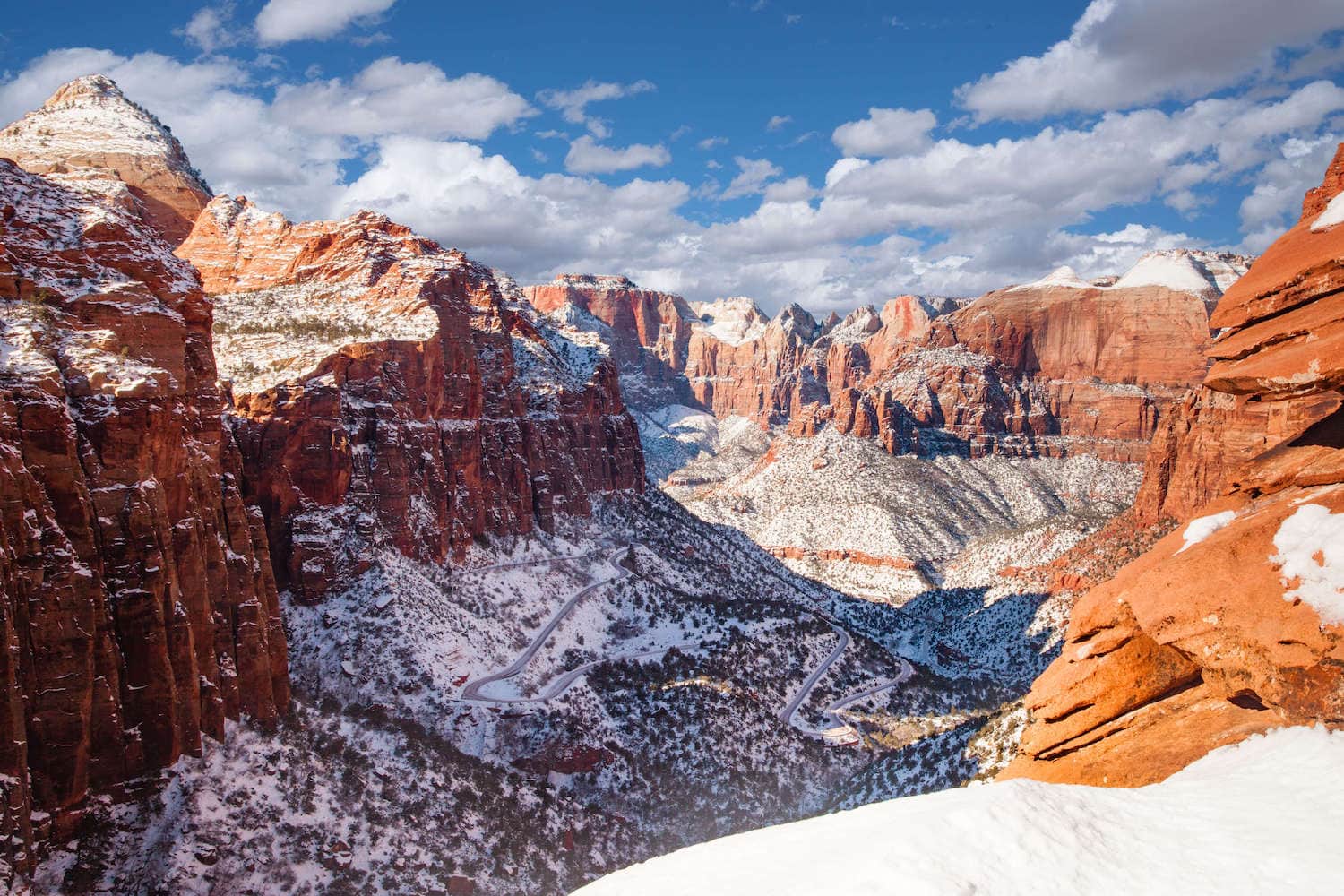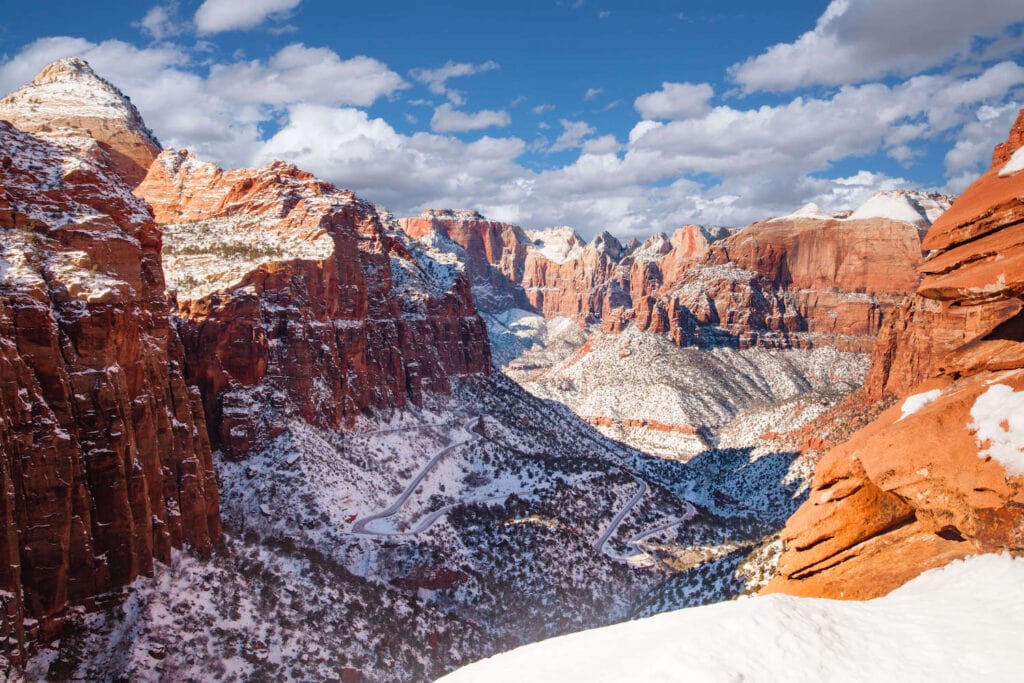 ---
How to Get to Zion National Park
Zion National Park is located in Southern Utah around a 2 1/2 hour drive from Las Vegas and a 7 hour drive from Los Angeles. It's a great destination as part of a larger Utah road trip itinerary or can be a standalone destination in itself.
If you're looking to fly in for a visit to the park, the nearest airport with commercial flights is McCarran International Airport in Las Vegas. From there you'll want to rent a car for your trip as there isn't easy public transportation to the park from there.
---
Zion National Park Layout
Zion National Park has two main regions. The main Zion Canyon, which should be on any first-timers itinerary and is the focus of this blog post, is most easily accessed via SR-9 which connects to the I-15 just north of St. George, Utah. The SR-9 runs directly into the Park's South Entrance which is immediately past the small town of Springdale.
As soon as you enter the Park through the South Entrance, the Visitors Center will be on your right. The Visitors Center is worth a quick stop to pick up a map and get your bearings. The Park employees at the Visitors Center can also inform you of water availability on the trails, which is important to know before if you are heading out on any overnight hikes.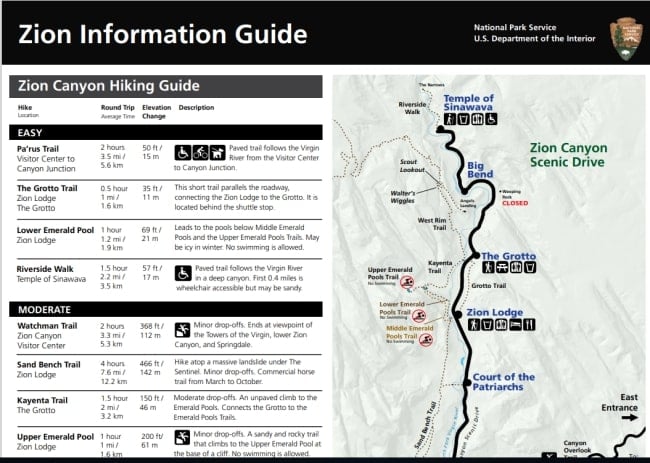 The other region of Zion National Park is the Kolob Canyon area. This area is located in the northern end of the Park and is accessed directly from I-15 (Exit 40 near Cedar City, Utah). The Kolob region offers a little more solitude, big peaks, and the second-largest natural arch in the world.
If you want to visit both parts of Zion, keep in mind that these two areas of the park are not connected by a direct road running through the park.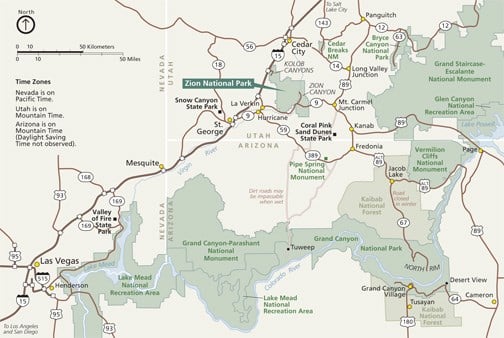 ---
Where to Stay in Zion National Park
Zion National Park Camping
There are two drive-in campgrounds in the main Zion Canyon and they are less than 1/2 a mile from the Visitors Center at the entrance of the park. Sites are $20 for tent camping or $30 for a site with an electric hookup. All sites have picnic tables, a fire pit, and access to potable water, bathrooms, and trash containers. No showers are available at the campsites.
Zion's Watchman Campground
Zion National Park's Watchman Campground is directly behind the Visitors Center and has a total of 190 tent and electric sites that are available year-round. Reservations are required from March through November and can be made online. Reservations are accepted 6 months in advance and fill up quickly, so as soon as you have your trip dates, you should immediately make a reservation. Regulations and a map of Watchman campground can be found here.
If you're visiting Zion National Park in the winter, Watchman Campground has first-come, first-served campsites available from the end of November through February.
Best campsites: While I found all of the Watchman Campground sites to be decent, the best campsites based on views, space, and/or shade are located on the outside of the D loop from D19 through D35. I really loved D21. C1-10 were also nice but had little shade. Typically, I would be drawn to the Walk-in Tent Sites, but these felt cramped and had absolutely no shade, so I would not recommend the Walk-In sites.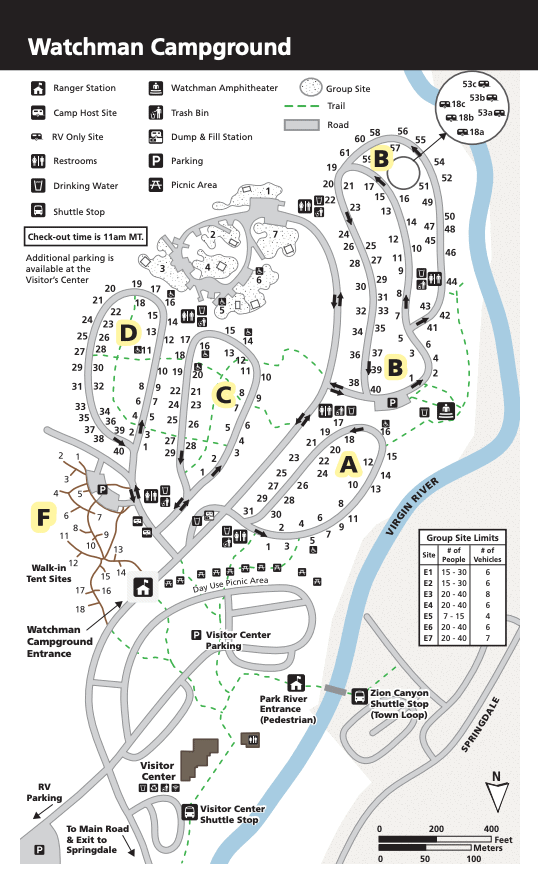 Zion's South Campground
Zion National Park's South Campground is just north of the Visitors Center on the main road and has a total of 117 non-electric sites. The campground is open from March through October and sites are only available through reservations up to 14 days in advance. A map and regulations for the South Campground can be found here.
Best campsites: The campsites along the road are a bit noisier than the rest of the sites. The best sites are the ones along the Virgin River and Pa'rus Trail. These include 58-63, 68, 71, 72, 74, 77, 78, 80, 82, and 125-128.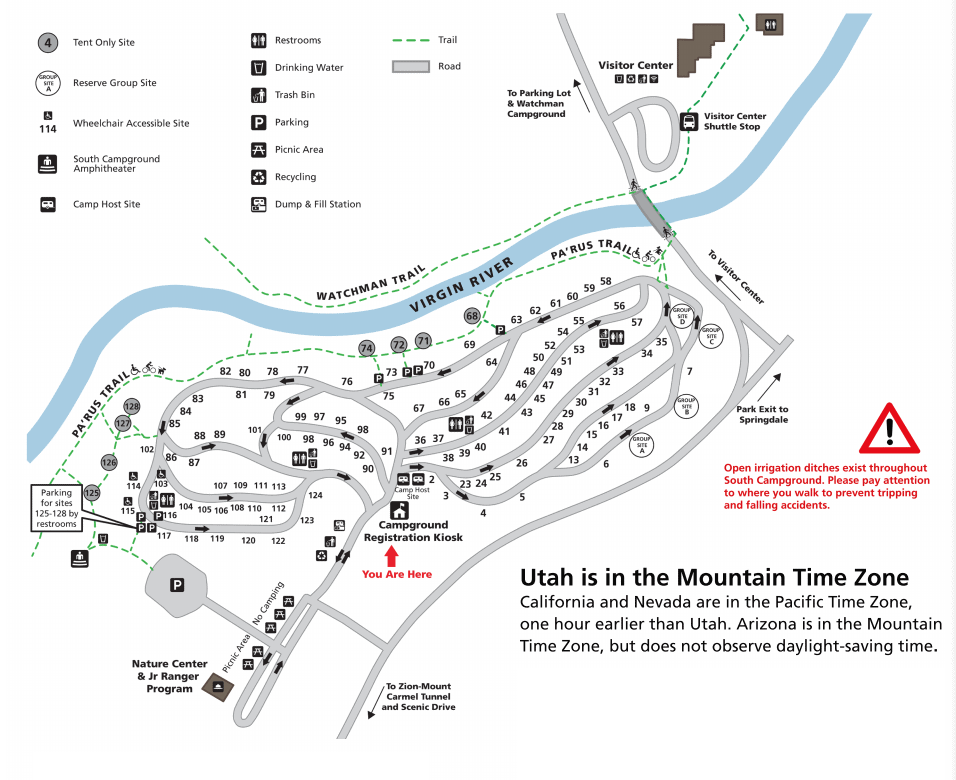 Zion Lodge
The Zion National Park Lodge is the only in-Park lodging in Zion. It's open year-round and accommodations include historic cabins, hotel rooms, and suites, all with private porches or balconies to take in the majestic views.
There's also a restaurant on-site and the Park shuttle (see below) services the lodge multiple times a day so you can make the most of your stay in the Park. Prices start at $220/night.
#1 campsite finder app
Try The Dyrt PRO free for 30 days
Get a FREE 30-Day membership to The Dyrt PRO, one of our favorite apps for finding campsites.
Perks include:
• 5,000+ free camping locations
• 1,000+ campground discount network
• $0 extra booking fees
• Get reservations at sold-out campgrounds, and more
Use the code BEARFOOT to get 30 days free!
Other Zion National Park Lodging Options
Zion Canyon Campground & RV Resort
If both campgrounds in the Park are full, another option is Zion Canyon Campground and RV Resort in Springdale. While a bit pricier (starting $59/night), this campground has showers unlike the campgrounds in the Park. The sites next to the river are nice, although these are an additional $20/night.
Zion Trailer Rentals
If you prefer RV camping over sleeping in a tent, Zion Trailer Rentals will deliver and set up an RV travel trailer to any campground in the Zion NP area. They book up fast as most campsites for RVs are reserved up to 6 months in advance during peak season.
Hotels
If camping isn't your thing or it's simply too hot, there are several hotels in Springdale including a few with swimming pools. For a higher budget ($200-350/night), check out the Desert Pearl Inn, Cliffrose Lodge and Gardens, or the Hampton Inn. For lower budgets ($100-$200), try the Zion Park Motel or Holiday Inn Express.
---
Zion National Park Permits and Fees
All visitors are required to pay an entrance fee of $35 per vehicle. The entrance pass is good for 7 days. If you are planning to stay longer or visiting other National Parks in the next year and you would like to save money on Park admission, then you might consider purchasing an Interagency Annual Pass. This pass costs $80 and waives entrance fees to all lands owned by the National Park Service (NPS), Bureau of Land Management (BLM), Forest Service, and Fish and Wildlife Service for one year.
Permits are not needed for most day hikes within Zion Canyon. Permits are only needed for overnight backpacking and wilderness camping, the top-down Narrows hike, Angel's Landing (permit info below), or a day hike in the Subway. If you are planning on backpacking in Zion, all of the information regarding permits and reservations can be found here.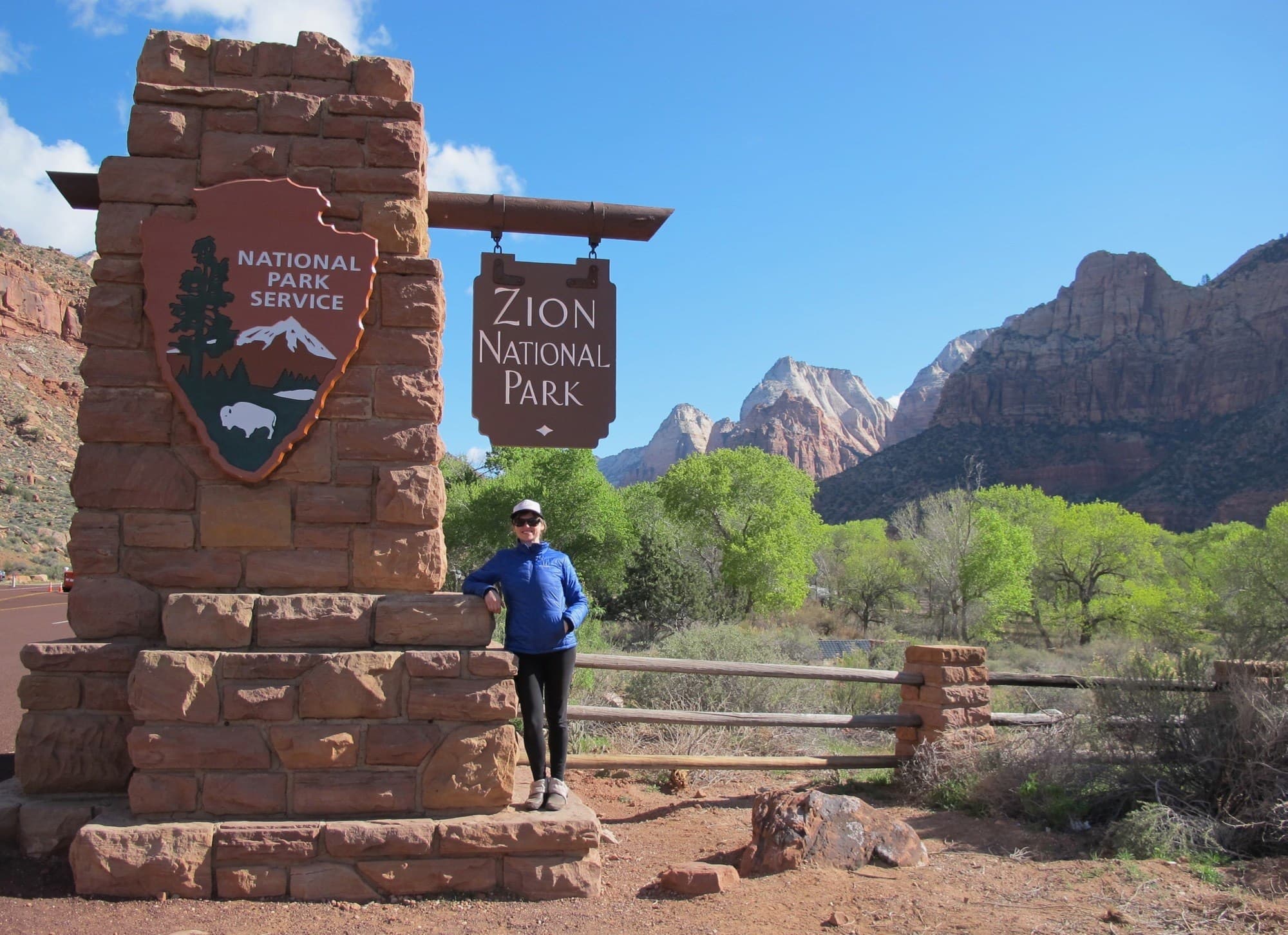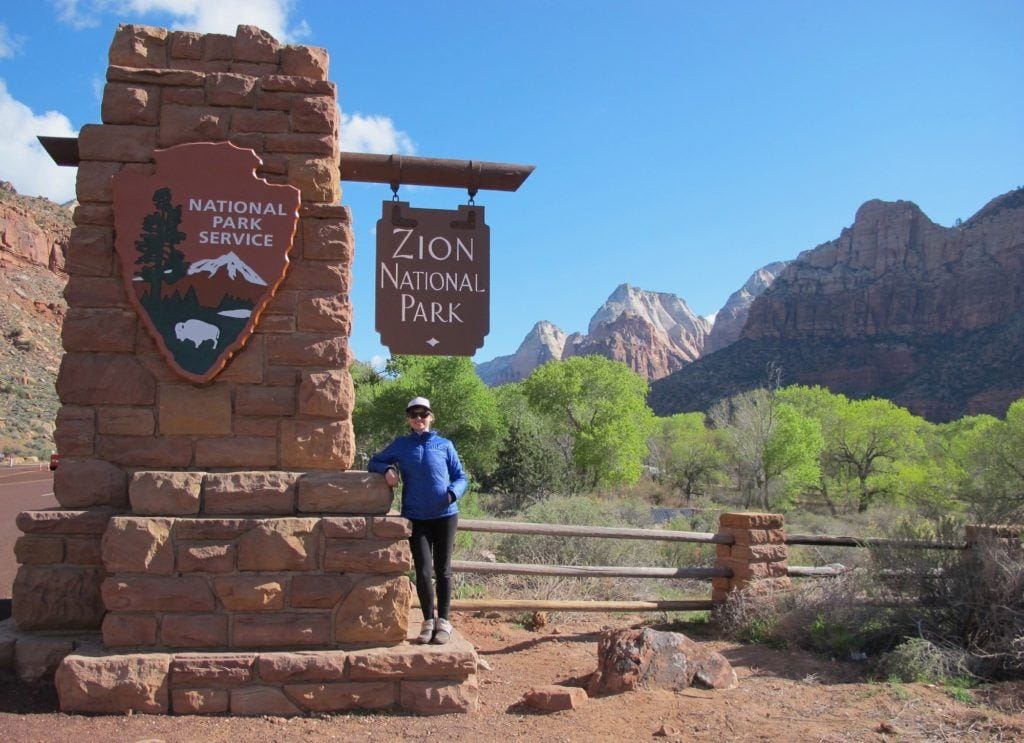 ---
Zion National Park Shuttle
Zion Canyon Shuttle
Generally, from early March through November, cars are not permitted to drive in the Park along the Zion Canyon Scenic Drive. Luckily, the Zion Canyon shuttle operated by the Park Service is free, fast, and easy, and you do not need to reserve shuttle tickets. The shuttle drops off at all major trailheads in the park and it's very easy to use.
If you visit the Park during shuttle season, the windows in the bus are huge, so you can enjoy the scenery while listening to the audio narrator tell you all the geology and history of sites you'll pass in the Canyon. If you visit outside the shuttle season, you can still listen to the shuttle narration in your own vehicle by downloading it here.
The Park shuttle departs from the Visitors Center every 6-10 minutes and makes stops throughout the Park. Just jump off wherever you feel like exploring. When you are ready to move on, just wait at a stop and catch a shuttle going in the direction of your next stop. There are stops at all of the major hiking trails, and all the stops are clearly marked on the Park map provided at the Visitors Center.
Shuttle start and end times vary depending on the season, so be sure to check when the last shuttle of the day is before you head out on a hike. If you miss it, it's a long walk out!
Springdale Shuttle
If you are staying in Springdale or there is no available parking at the Visitors Center, there is also a free shuttle from town to the Vistors Center where you can then catch the Zion Canyon shuttle.
---
Amenities Near Zion National Park
If you forget something at home, there is no need to worry. You can get pretty much whatever you need in Springdale which is right down the road from the Zion National Park entrance. Keep in mind that goods in Springdale are going to be more expensive than at home.
Groceries, firewood, and ice can be purchased at The Canyon Market or at Sol Foods. The Canyon Market also has some camp kitchen supplies if you forget any cooking necessities.
Liquor, beer, and wine can be purchased at the Switchback Liquor Store. It's a state-run liquor store, so it's closed on Sundays, but the plus side is that they sell full strength (>3.2%) beer if you're into that.
Cafe Soleil is an awesome, funky cafe with local art for sale. They have free wifi, friendly staff, and delicious coffee. The food also looked amazing. I highly recommend the dirty soy chai latte (chai with a shot of espresso)
---
What to Do in Zion National Park
Below are a few of my favorite outdoor adventures and things to do in Zion National Park that I consider a must if you have the time.
1. Climb Angel's Landing
Shuttle Stop: The Grotto
Length: 5.4 miles roundtrip
Elevation Gain: 1,500 feet
Difficulty: Strenuous
Permit required? Yes
Angel's Landing is the most famous trail in Zion National Park and it isn't for the faint of heart. That said, anyone who is in decent physical shape and can handle a series of uphill switchbacks can do it (although probably not recommended for those with a fear of heights…unless you want to conquer those fears).
Everyone who wants to hike Angel's Landing will need a permit. Permits are available via a lottery system two months in advance. Find more information about the Angel's Landing permit process and apply for your permit on the Zion National Park's website.
The first 2 miles of the Angel's Landing hike are paved and well-traveled. We saw families even with small children on this section of the trail. The ascent is fairly steep but there are plenty of places to rest along the way where you can take in the views of the Canyon and the Virgin River below.
After hiking up a series of steep and short switchbacks called Walter's Wiggles, you reach Scout's Lookout. At Scout's lookout, you get a really nice view of the summit and can see down the length of the Canyon. This is a good point to decide whether you are in a condition to continue. Past this point, the trail becomes very exposed as you climb up the spine of the mountain that is less than 5 feet wide in some places. Hiking this section is a thrilling and dizzying experience that requires slow, deliberate steps while making use of the chains and guard rails that have been installed by the Park Service.
After scrambling up 500 vertical feet, you reach the summit where you are rewarded with spectacular 360-degree views of the Canyon.
Tips for Hiking Angel's Landing:
This trail can get very crowded and the chains can get backed up during the middle of the day. To avoid the crowds, do this hike very early in the morning or the late afternoon which also happens to be the best times of day for photography due to the position of the sun.
If at any point you become uncomfortable, stop, take a deep breath, and turn around if that's the right move for you. It is nothing to be embarrassed about.
You need two free hands. Make sure you have a backpack for your camera, water bottle, and other belongings.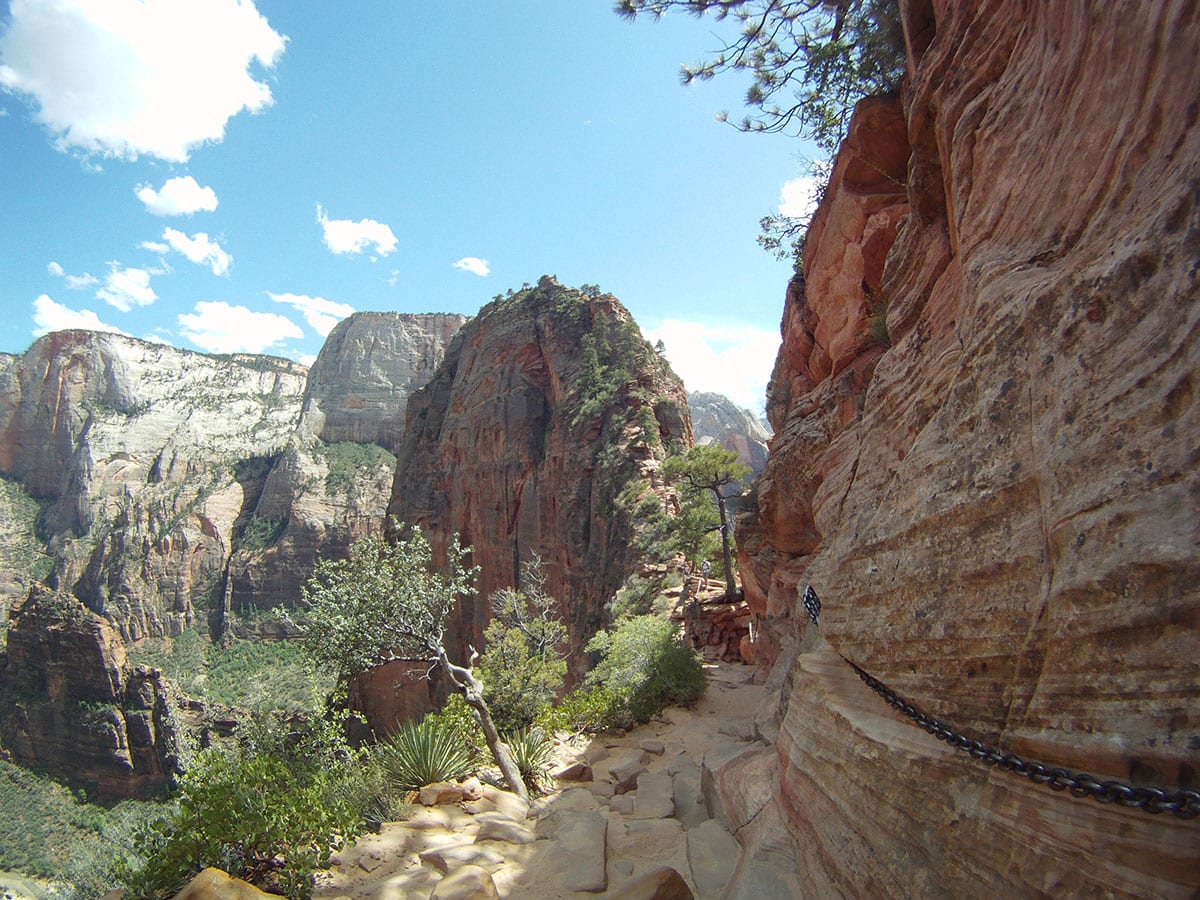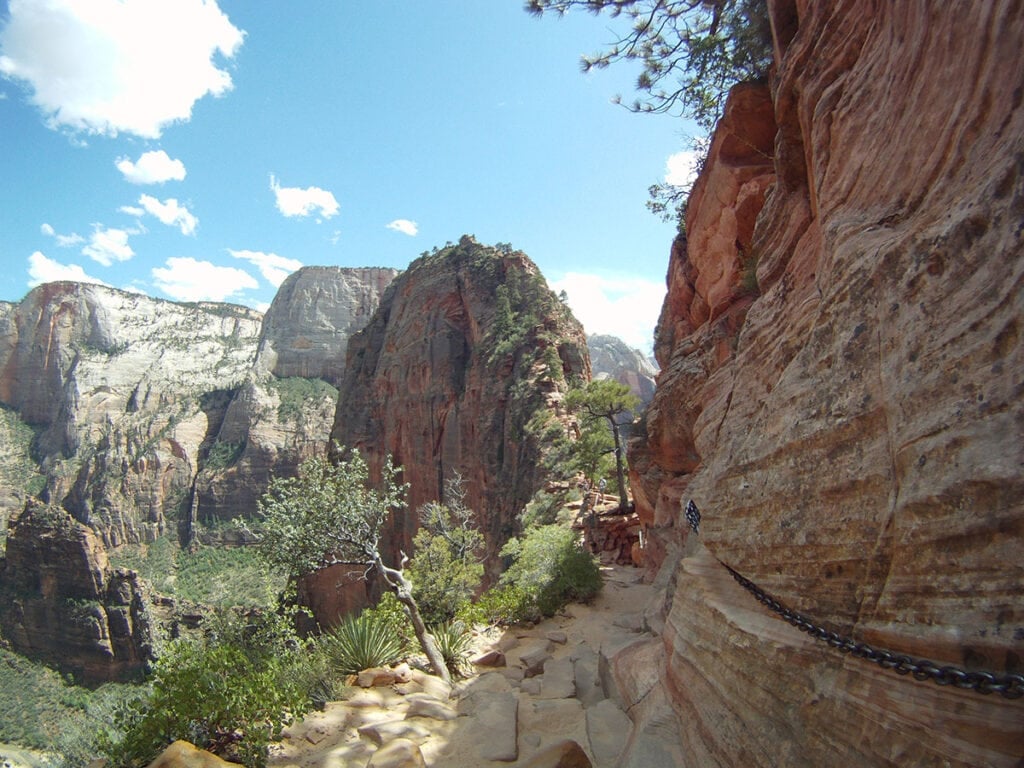 2. Hike to Observation Point
Note: The Observation Point via East Rim Trail (below) is currently closed due to a major rockfall. Check the official National Park Service Zion trail description page for updates. You can currently access Observation Point by hiking the Observation Point via East Mesa Trail.
Shuttle Stop: Big Bend
Length: 8 miles roundtrip
Elevation Gain: 2,150 feet
Rating: Moderate to Strenuous
While longer with greater elevation gain, you may find that Observation Point is a less strenuous hike than Angel's Landing. It is also less crowded and was my favorite day hike we did in the Canyon. The trail starts with a series of switchbacks leading up from the Canyon floor. At the top of these switchbacks, the trail turns east into a steep slot canyon providing relief from the sun.
Once you exit the slot canyon, the trail continues to climb around the backside of the mountain overlooking an expansive area called Echo Canyon. This section of the trail provides new topography and different vegetation than what is experienced in the main Canyon and the drop-offs begin to get steeper.
You keep ascending and with one mile to go, the trail wraps back around providing sweeping views of Zion Canyon. During this section, you are on the edge of a vertical drop off with nothing between you and the Canyon floor. Luckily the trail is wide and solid rock, so as long as you watch your footing, there is nothing to worry about.
Eventually, as you reach the Canyon rim, the trail evens off, and the plateau jets out to Observation Point. From here, you tower above Angel's Landing and have wide-open views of the Valley floor and both the East and West Canyon rims. For more photos, see my blog post: The Epic Hike to Observation Point.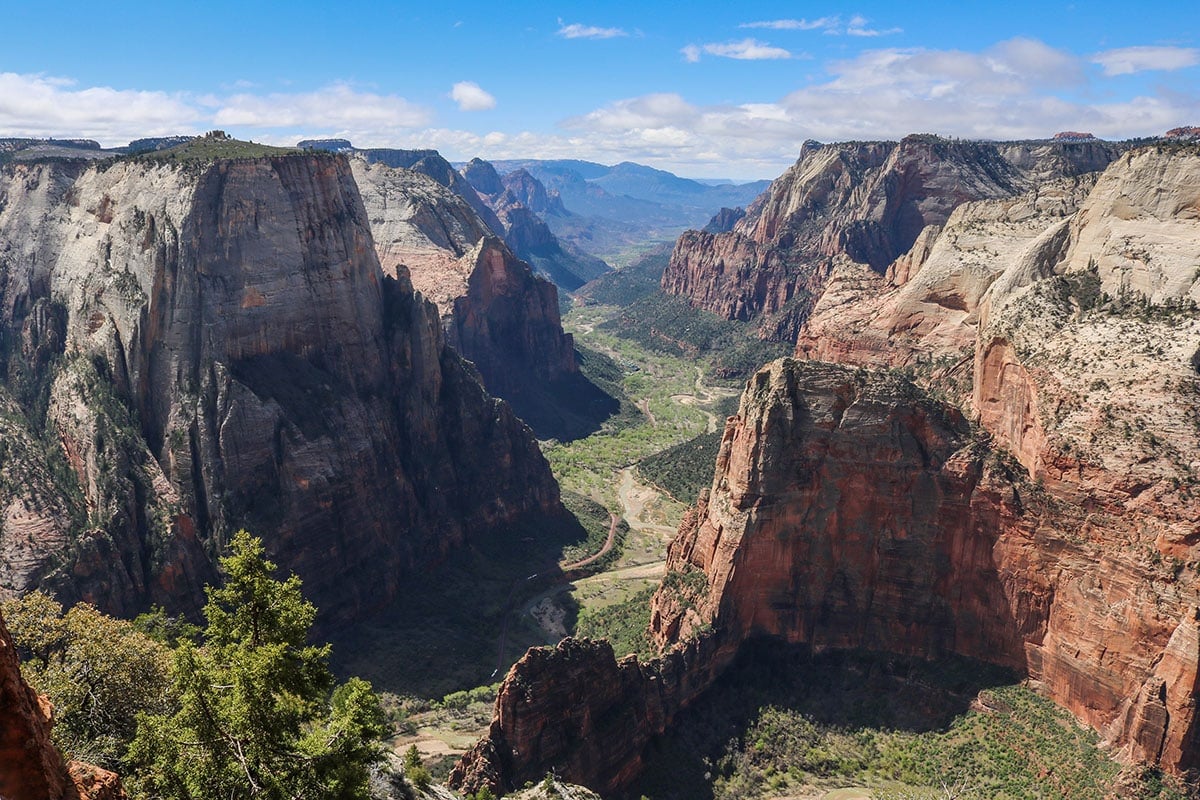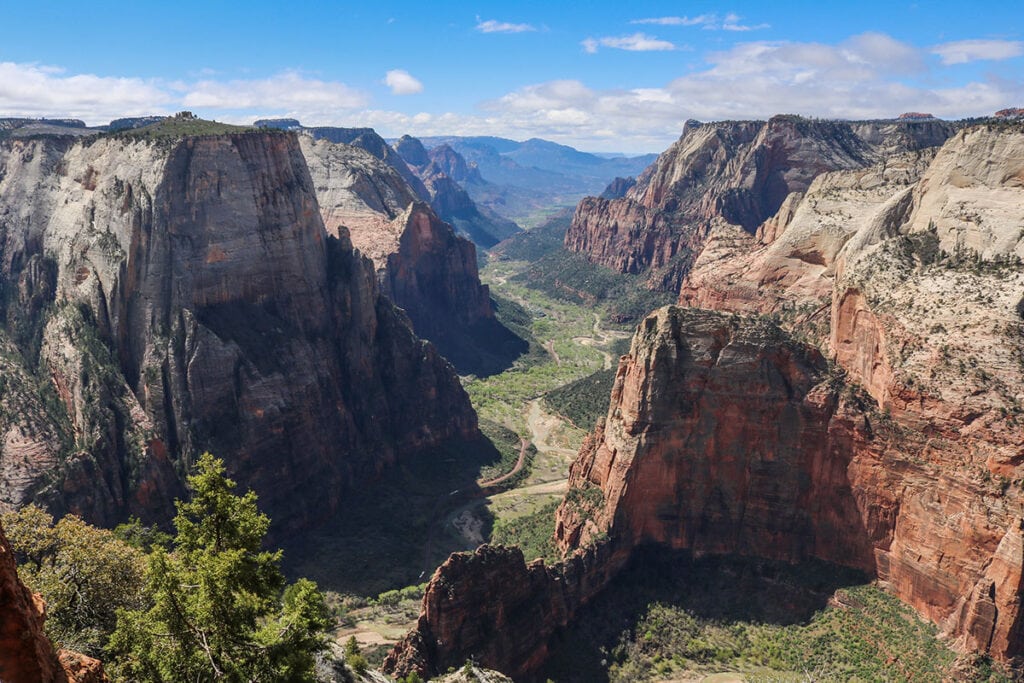 3. Hike The Zion Narrows
Shuttle Stop: Temple of Sinawava
Length: 2.2 miles +
Elevation Gain: 60 feet
Difficulty: Depends on how far you go…
The hike to the Zion Narrows from the bottom up begins with an easy paved walkway called the Riverside Walk at the very end of the Zion Canyon Scenic Drive. Due to its accessibility, you will encounter lots of families, so don't expect solitude. However, it's a nice stroll along the Virgin River if you have some time to kill.
Beyond the end of the paved trail is the mouth of the Narrows, which is a 16-mile slot canyon with soaring walls, springs, and sandstone grottos. Hiking the entire Narrows requires a fair amount of logistical planning, but if you are feeling adventurous and have some tennis shoes, you can keep walking upriver as far as you like to do some exploring. Just keep an eye on the time and check the weather before heading upstream. If rain is in the forecast do not proceed.
For more information on hiking or backpacking the Narrows, start with Part 1 of my Zion Narrows guide.
Note: The Narrows has been temporarily closed in the past due to high levels of cyanobacteria in the Virgin River. Be sure to check the Zion National Park website for updates before heading on your trip or check with the Visitor's center upon arrival for the latest information.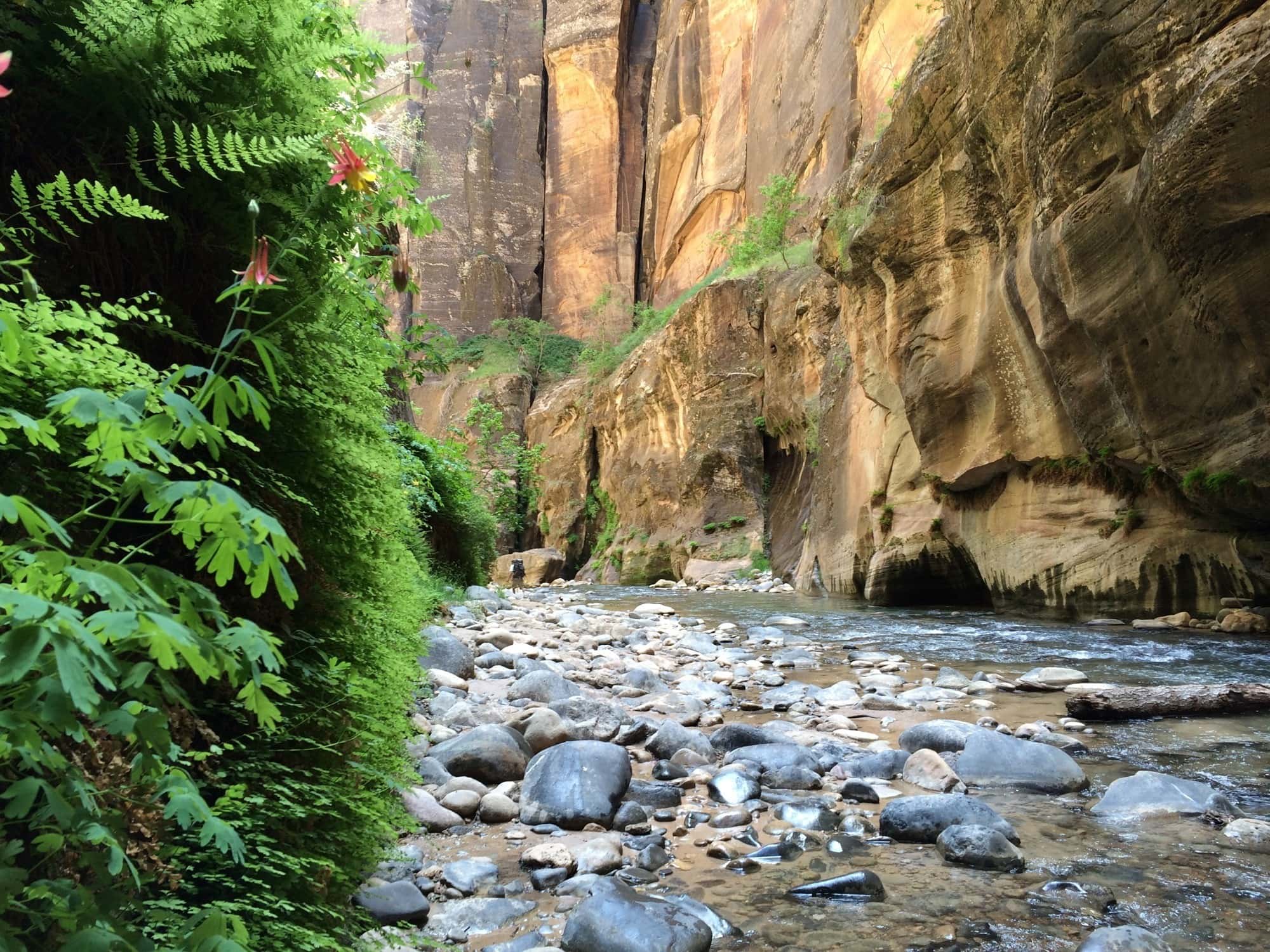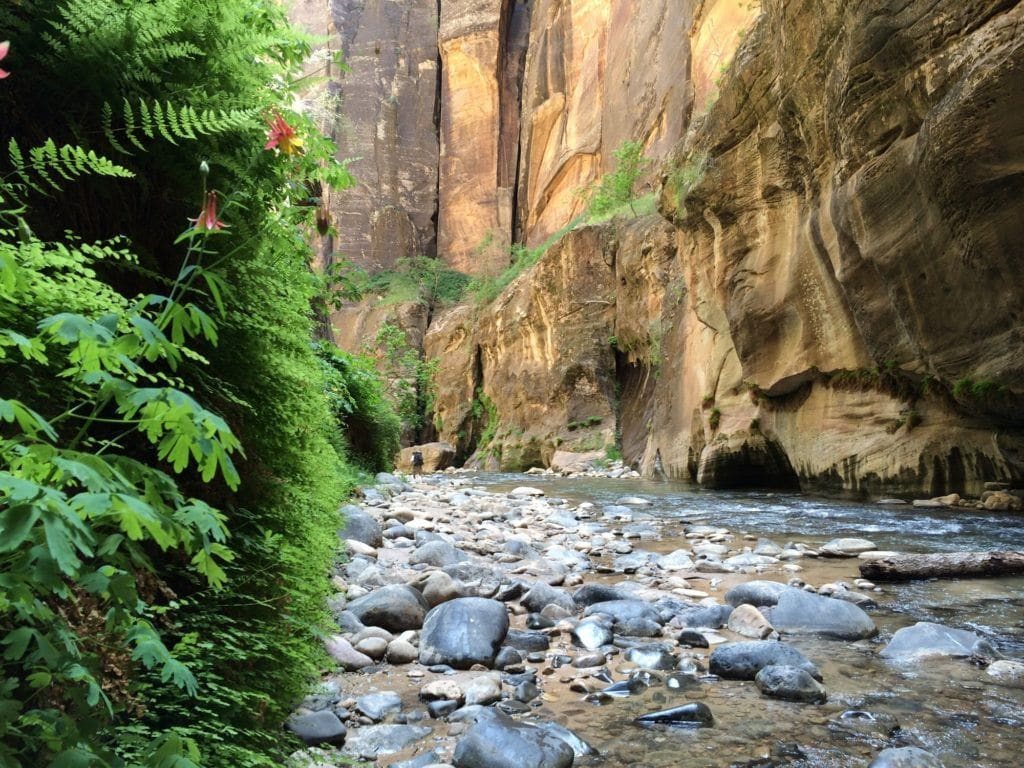 4. Drive the Zion-Mount Carmel Highway
From the Canyon Junction to the East Entrance, the section of the SR-9 road is called the Zion-Mount Carmel Highway. This is one of the most beautiful drives I've ever done with endless places to pull off and explore.
While there are not many marked trails in this area, the bountiful slick rock makes for some easy hiking. Unless you are planning on venturing far from the road, you probably don't need to plan in advance. Just keep an eye on your surroundings and make sure you always know how to get back to the road.
If you are feeling really adventurous and want to do some deeper exploring, photographer Joe Braun has a section on his website devoted to hiking in Zion's Upper East Canyon that is worth a read. We stopped at Checkerboard Mesa Canyon and spent a few hours tromping around in complete solitude.
---
Additional Zion National Park Resources
The book and map below provide information that can complement this Zion Travel Guide. I purchased both of these before my trip and found them very useful for planning.
Hiking from Here to WOW: Utah Canyon Country – This is a fantastic hiking book by Kathy and Craig Copeland. They cover a bunch of hikes in Zion and the surrounding area, including Angel's Landing and Observation Point. They do an excellent job of describing the hikes, and I would recommend this book to anyone planning to spend significant time in Southern Utah.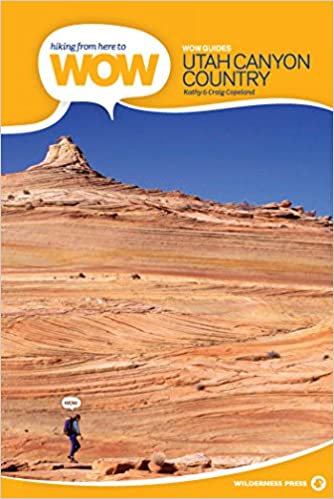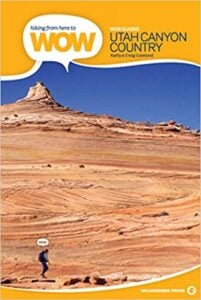 Zion National Park Map from National Geographic – This map gives a very good lay of the land and is more detailed than the map provided by the Park Service. It shows all of the shuttle stops, major hikes, backcountry campsites, and possible water sources on the trails.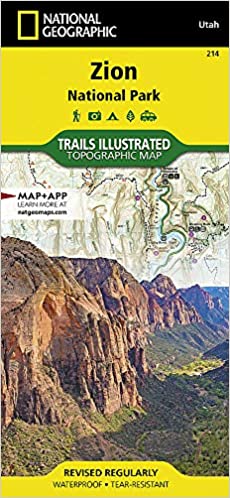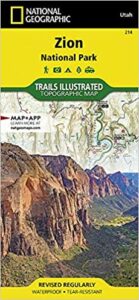 ---
What are your favorite things to do in Zion National Park? Do you have any additional tips to add to this travel guide for planning a visit? Leave a comment below!