A Complete Guide to Visiting Bryce Canyon National Park
Discover the best things to do in Bryce Canyon National Park with this complete planning guide including where to stay, best Bryce Canyon hikes, and more!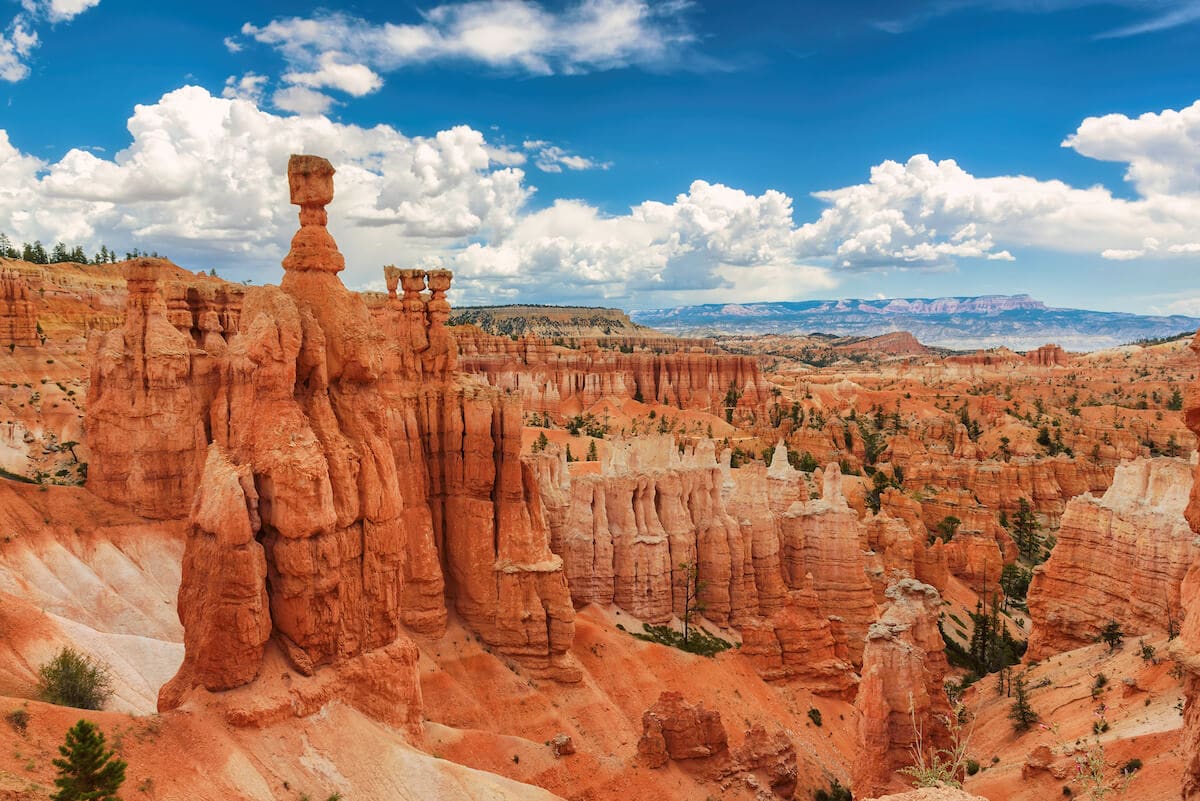 Bryce Canyon could be the most underrated National Park in America. Although the rock formations are not as towering as the Zion cliffs and the drop-offs are not as steep as the Grand Canyon, there's something truly magical about the intricately sculpted hoodoos scattered around the park – not to mention the brilliant orange glow of the stained limestone under the morning sun.
With all Bryce Canyon has to offer, it can be intimidating when planning an itinerary, as well as lodging, food, and transportation. I will answer all of your questions in this complete Bryce Canyon guide so you can get the most out of this unique Utah destination.
Discover the best things to do in Bryce Canyon National Park and start planning your adventure!
Why Visit Bryce Canyon National Park?
Bryce Canyon National Park is located in Southern Utah and is known for its distinctive red rock formations. The park was established in 1928 and covers a total area of 35,835 acres. The main attraction of the park is the Bryce Canyon, which is a series of natural amphitheaters that were formed by erosion. Bryce Canyon is filled with Hoodoos, which are spire-like rock formations that range in height from a few feet to over 100 feet.
Other popular attractions in the park include Sunrise Point, Sunset Point, and Inspiration Point. Bryce Canyon is also home to a variety of wildlife including mule deer and pronghorn antelope. In addition to hiking, there are lots of other adventurous things to do in Bryce Canyon including camping, horseback riding, biking, and more.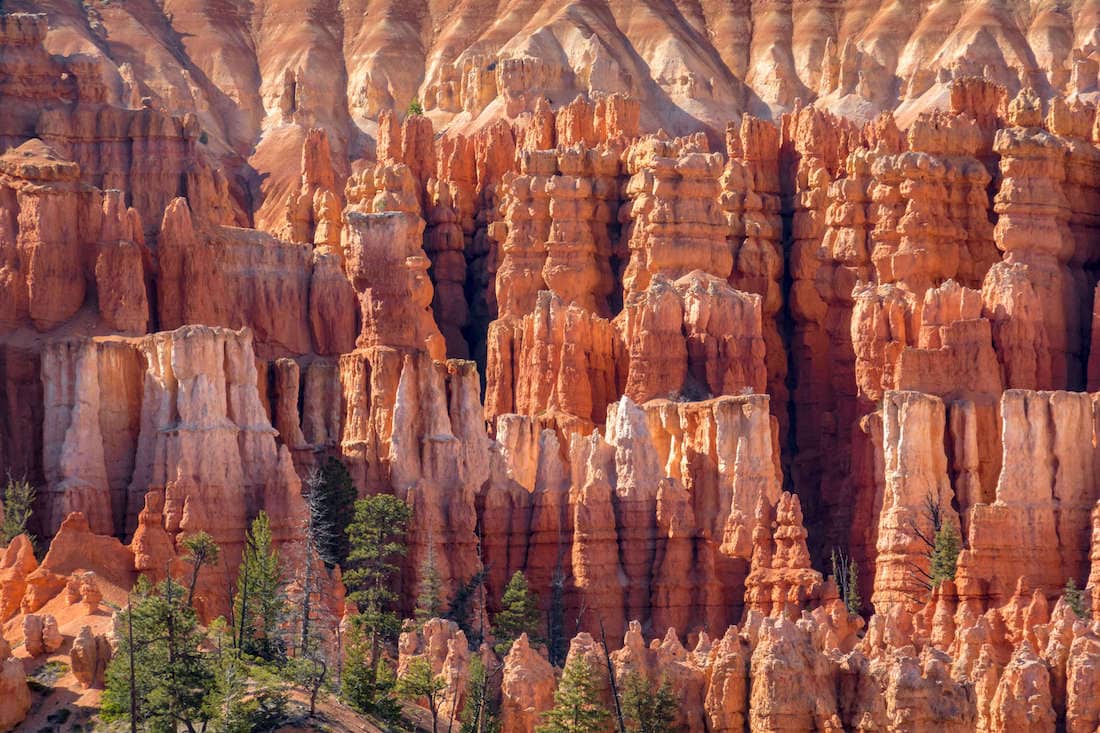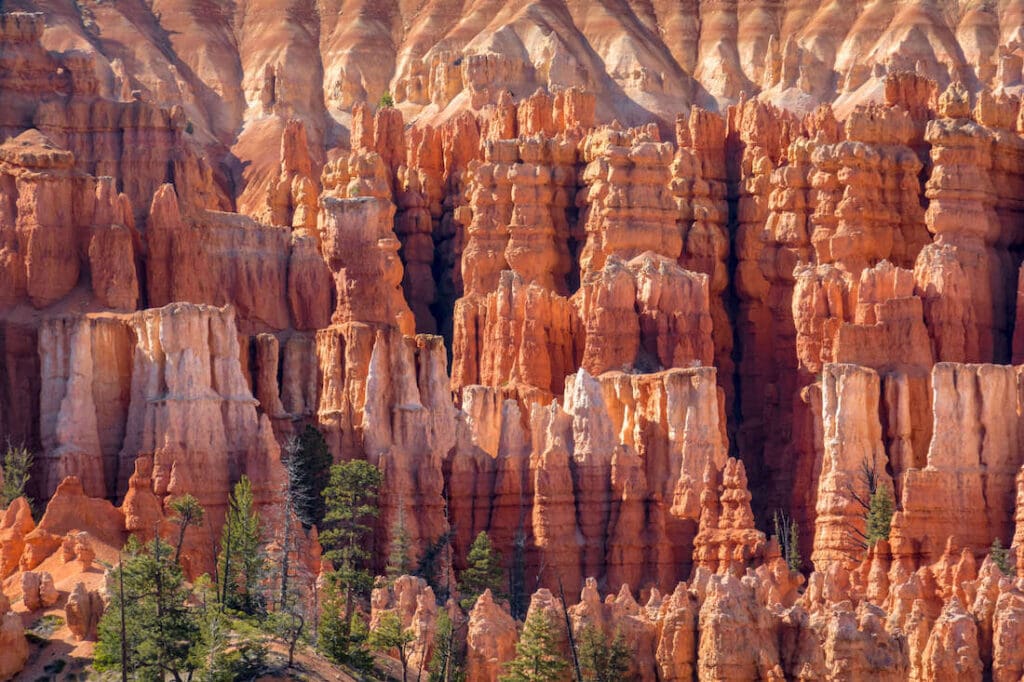 ---
Best Time to Visit Bryce Canyon National Park
Bryce Canyon is open year-round, but the most popular months to visit are between May and September. The temperatures during this time are warmer, but not quite as hot as other Utah National Parks, with averages around 80F in July. However, the summer season also brings monsoon rains that may lead to rockslides, flash flooding, and potential trail closures.
If you want to skip some of the crowds and have cooler weather, consider visiting Bryce Canyon during the shoulder spring and fall season. Another option is to visit in the winter. Visitors can enjoy a more unique look at the hoodoos under a coat of fresh snow as well as avoid the crowds when visiting in the off-season. Just be aware that some trails (and roads) are more likely to be closed during this time due to icy conditions. Be sure to be adequately prepared with winter hiking clothes and microspikes if you visit in winter.
Because of the unpredictable weather year-round, be sure to check for closures before visiting.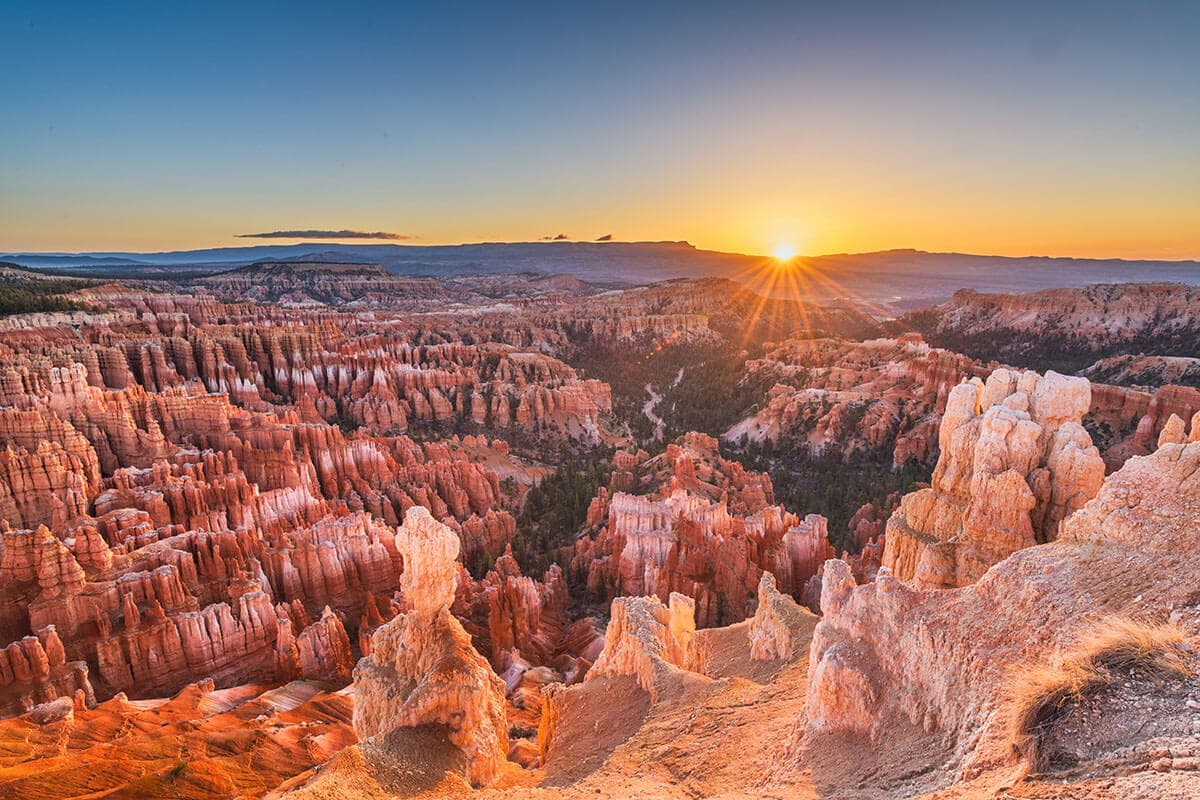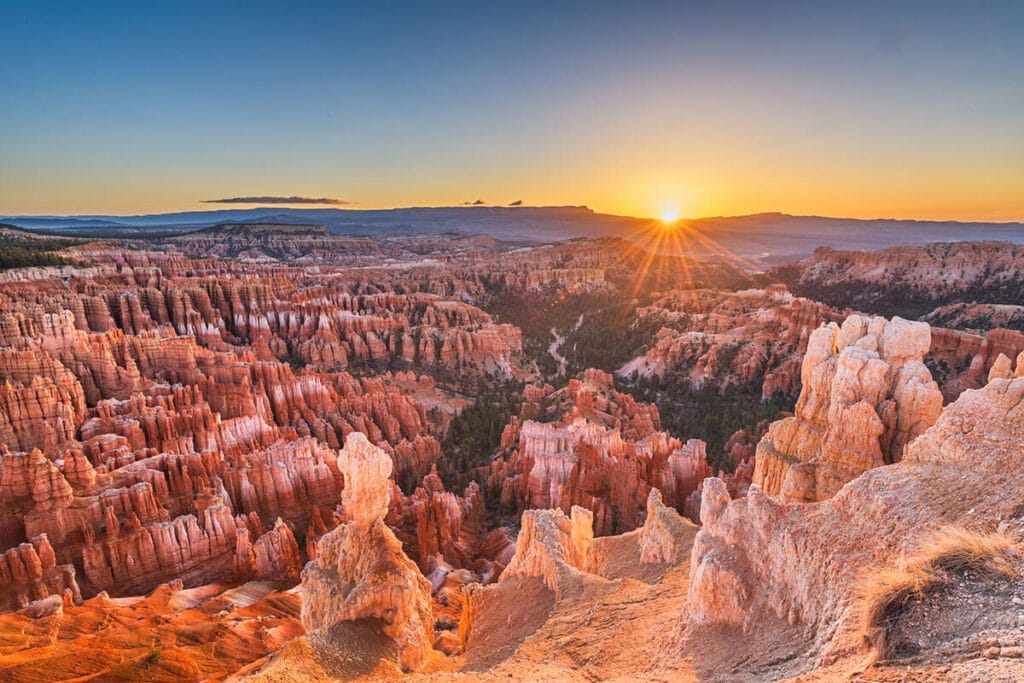 ---
How to Get to Bryce Canyon National Park
If you're traveling into Utah via airplane, the best places to fly into are either the McCarran International Airport in Las Vegas or the Salt Lake City International Airport. From either location, you will have to drive about four hours to reach Bryce Canyon, so be sure to reserve a car rental before your flight.
If you're coming from Salt Lake City, you will take I-15 S most of the way down before turning on UT-20 E. You will make a few more turns onto US-89 S, UT-12 E, and UT-63 S which will take you into the park. From Las Vegas, take I-15 N until you get to the turnoff onto UT-20 E, following the same path as the Salt Lake City route.
---
Where to Stay in Bryce Canyon National Park
Bryce Canyon National Park Camping
There are two campgrounds available for use inside the park as well as Ruby's RV Park, which is located just a short drive from the Visitors Center and park entrance.
North Campground
North Campground can be found east of the Visitors Center and there are approximately 100 campsites available with half suited for RV campers and the other half for tent campers. There are no electrical hookups, although potable water is available during the summer season.
At the time of writing, the campground is open year-round and costs $20 per night for tent sites and $30 per night for RVs. Reservations can be made up to 6 months in advance on Recreation.gov for dates between May 27th through October 1st. North Campground offers first-come, first-served camping from October 2nd through May 26th.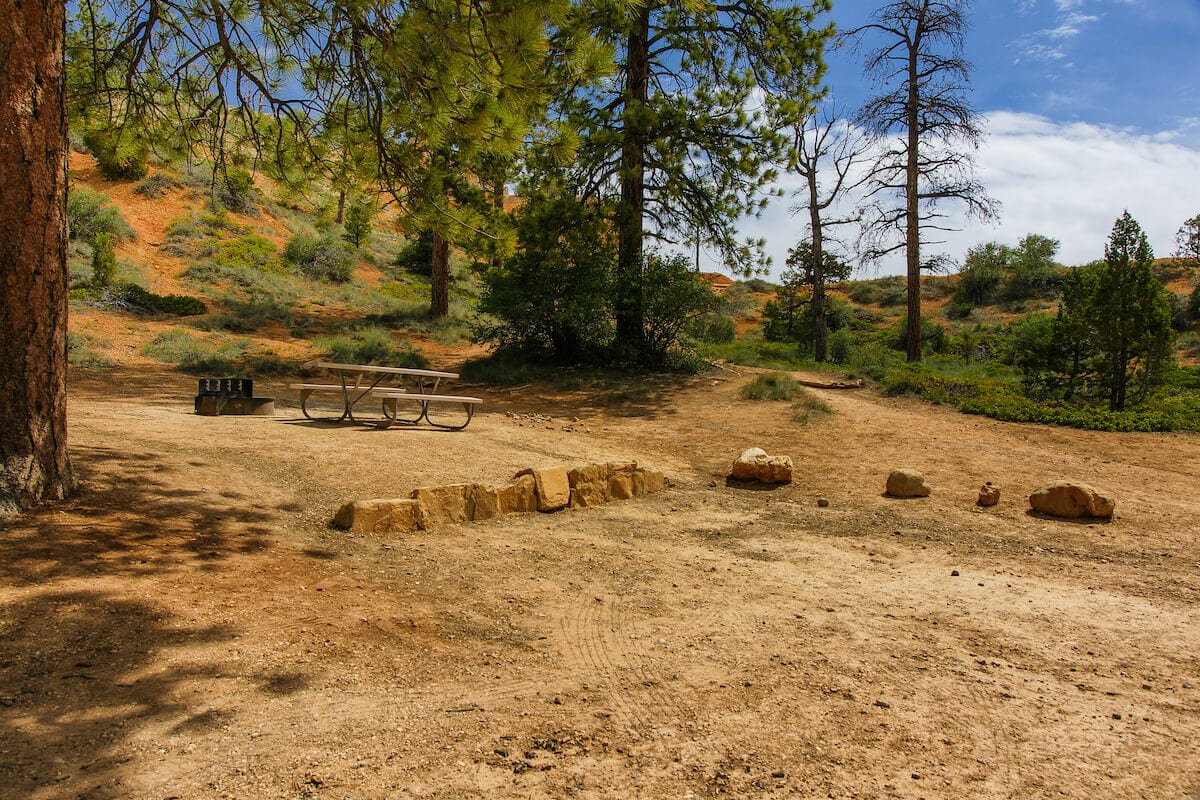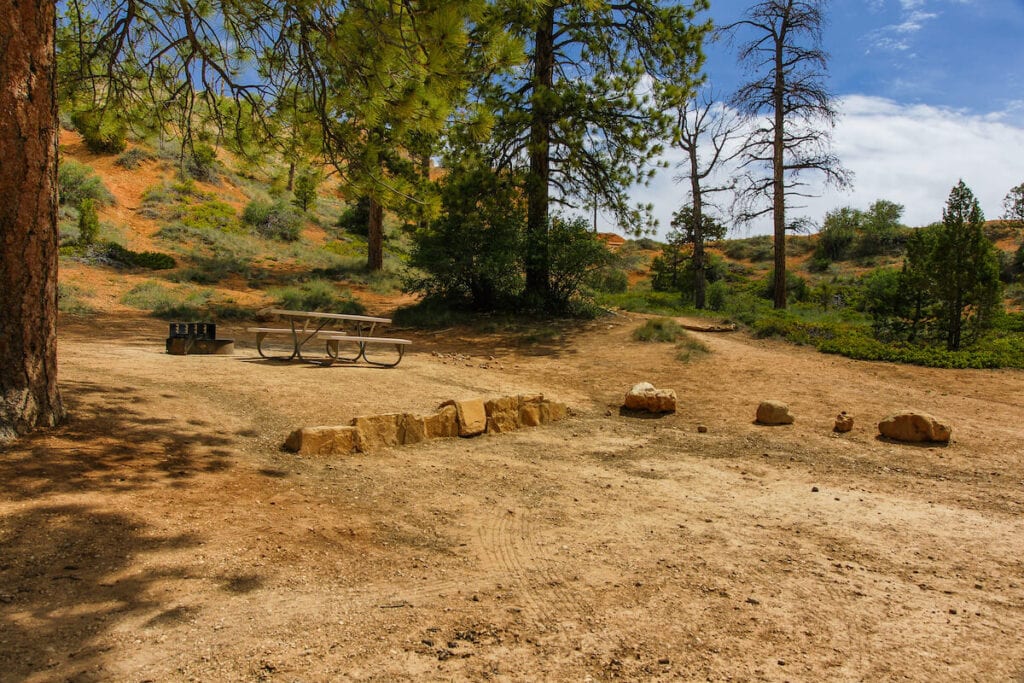 Sunset Campground
Another camping option is the Sunset Campground, located near Sunset Point. Sites are available on a first-come-first-serve basis for both RV and tent campers. The same amenities are available as North Campground, along with the same prices and number of campsites.
Sunset Campground also has a group site that can be reserved at an additional cost.
Ruby's Inn RV Park & Campground
Anyone who has visited Bryce knows that Ruby's Inn is the hub of lodging, camping, eating, and shopping near the park. In the campground alone, there are cabins, tipis, RV, and tent spaces available by reservation.
The amenities offered to guests at the campground are plentiful, including hot showers, internet, and a pool. Depending on your preference, the charge is between $40 and $60 per night.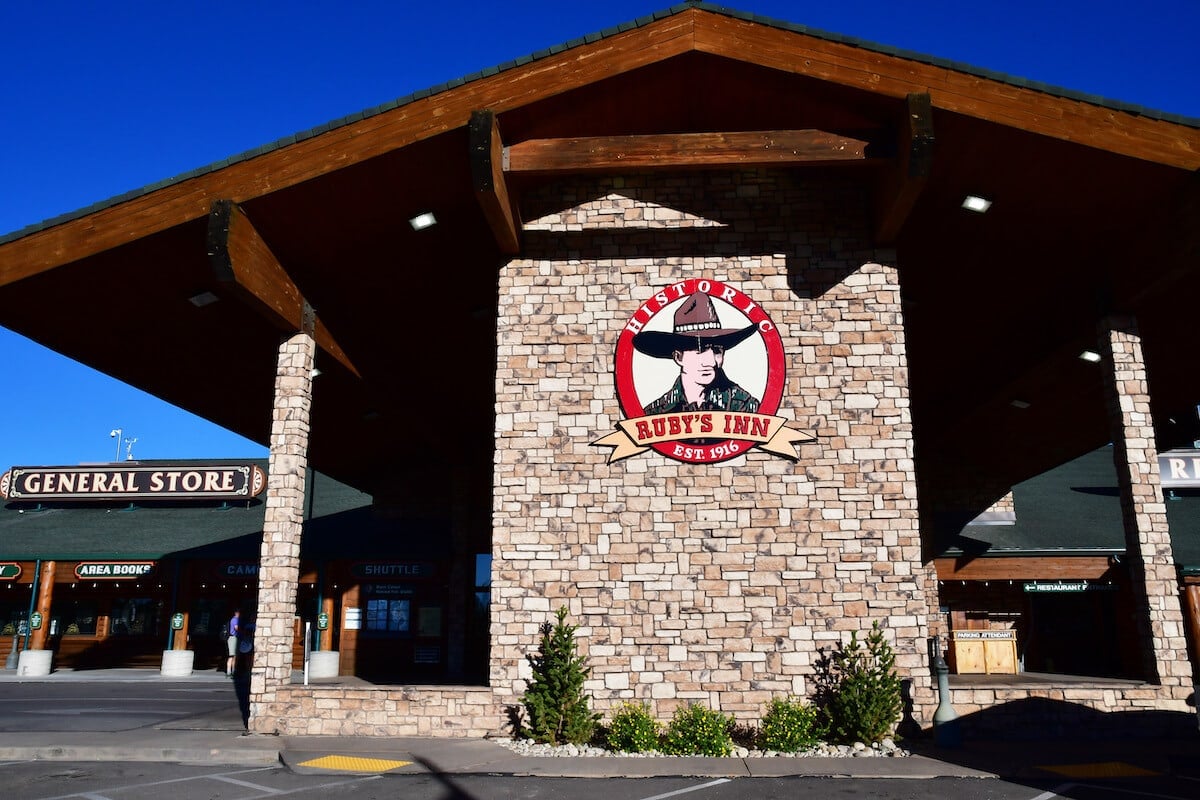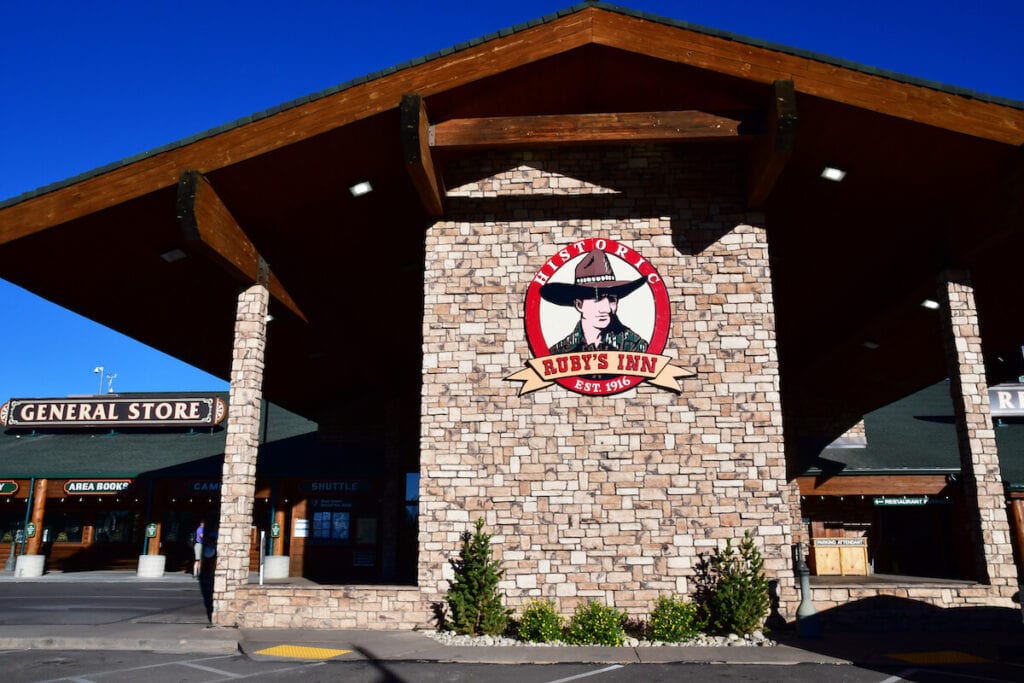 Find camping at sold out campgrounds
Try The Dyrt PRO free for 30 days
The Dyrt Alerts will help you get reservations at sold-out campgrounds across the US by sending you an alert when your desired dates become available.
• Select campgrounds and the dates you want to camp
• The Dyrt repeatedly scans for cancellations
• When your campsite becomes available you'll get a Dyrt Alert sent to your phone!
Use the code BEARFOOT to get 30 days free!
Bryce Canyon National Park Lodging
The Lodge at Bryce Canyon
Bryce Canyon offers a lodge inside the park for those who would prefer to sleep indoors. Over 100 rooms are available, and reservations are highly recommended. There is also a restaurant near the lobby that serves breakfast, lunch, and dinner, making it a perfect stop for a quick bite before or after a day of hiking.
The lodge offers cabin rentals, rooms, suites, and studios ranging from $131 to $271, depending on the season. Be sure to check which options will be available during your visit and to reserve your room early.
Bryce Canyon Hotels
There are a number of hotels available right outside the Bryce Canyon National Park. In addition to its campground, Ruby's Inn has rooms starting at just $80, offering everything from an indoor pool to a fitness center.
When I visited Bryce Canyon, I decided to stay at the Best Western Plus Bryce Canyon Grand. The rooms were spacious and well-kept and the location provided us with unmatched access to the park.
You can also choose to lodge in Tropic, a town just a few miles down the road with its own cabins, shops, and restaurants to explore. Lodging here is typically offered at a lower price.
For more information on lodging available near the park, visit Bryce Canyon Country to find all hotel and camping availability in and near Bryce.
---
How to Get Around Bryce Canyon National Park
There are two ways most park visitors travel from one point to another within the park — driving or taking the park shuttle.
Driving in Bryce Canyon
The most popular way to explore Bryce Canyon is by car. For seven days of unlimited access, a Park Pass costs $35 per vehicle (or be sure to snag an America the Beautiful pass if you plan to visit multiple National Parks). Once you've entered the park, grab a map either from the Visitors Center or from the entrance. This will provide you with the full layout of the park including parking areas and trailheads.
If you plan on entering the park before or after peak hours, you shouldn't have much trouble finding a parking spot. But parking between 9:00 A.M and 5:00 P.M. is limited. Plan to arrive early to secure your space, or consider taking the park shuttle.
Bryce Canyon Park Shuttle
The Bryce Canyon Park Shuttle runs from April to October and stops at a handful of places both within and outside of the park. The shuttle is free, but you still need to purchase a $35 Park Pass, which covers the members of your group that would otherwise enter the Park in a private vehicle.
The downside of using the Park Shuttle is that the earliest shuttle leaves at 8:00 A.M. which will be too late to view the sunrise.
Most of the shuttle stops are at viewpoints, campsites, hotels, and the Visitors Center. Covid guidelines still require you to wear a mask on the shuttle, so make sure you have one handy before you walk on.
Also, be aware of the hours that the shuttle runs (they change based on the season). If you get to the shuttle stop too late, you may have to find a different way back to your tent or lodge.


---
Amenities Near Bryce Canyon National Park
Bryce Canyon Restaurants
Although there aren't many options for food and groceries in the area, the small towns of Bryce and Tropic both have a few decent restaurants worth visiting. If you're looking for the best dinner after a long hike, there's nothing better than IDK Café. A small barbecue joint about 15 minutes from the park, this place has delicious meats and an unbeatable peach cobbler. Don't leave Bryce without stopping by!
Other good dining options include the Cowboy Buffet and Steak Room at Ruby's Inn and Ebenezer's Barn and Grill, both just a stone's throw from the park entrance. If you're looking for a quick breakfast before hitting the trail, The Lodge at Bryce Canyon offers sit-down and buffet options for both guests and non-guests.
Grocery Stores
For simple groceries and last-minute items like sunscreen, head to Ruby's Inn General Store and North Campground General Store. If you need to do a bigger grocery shop, you'll need to head to Clarke's Country Market in Tropic.
---
Best Bryce Canyon Hikes
Bryce Canyon National Park is full of great adventures and hiking trails. If you only have a limited amount of time to explore, here are my top recommendations for the best Bryce Canyon hikes.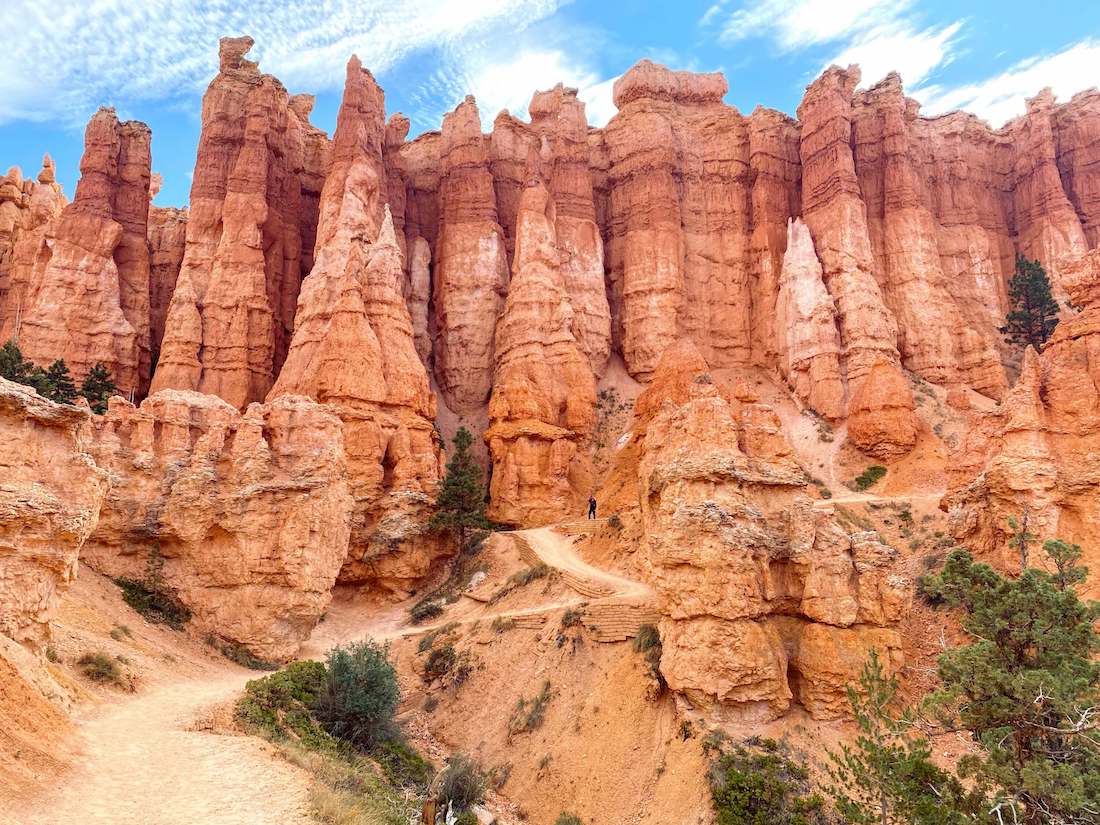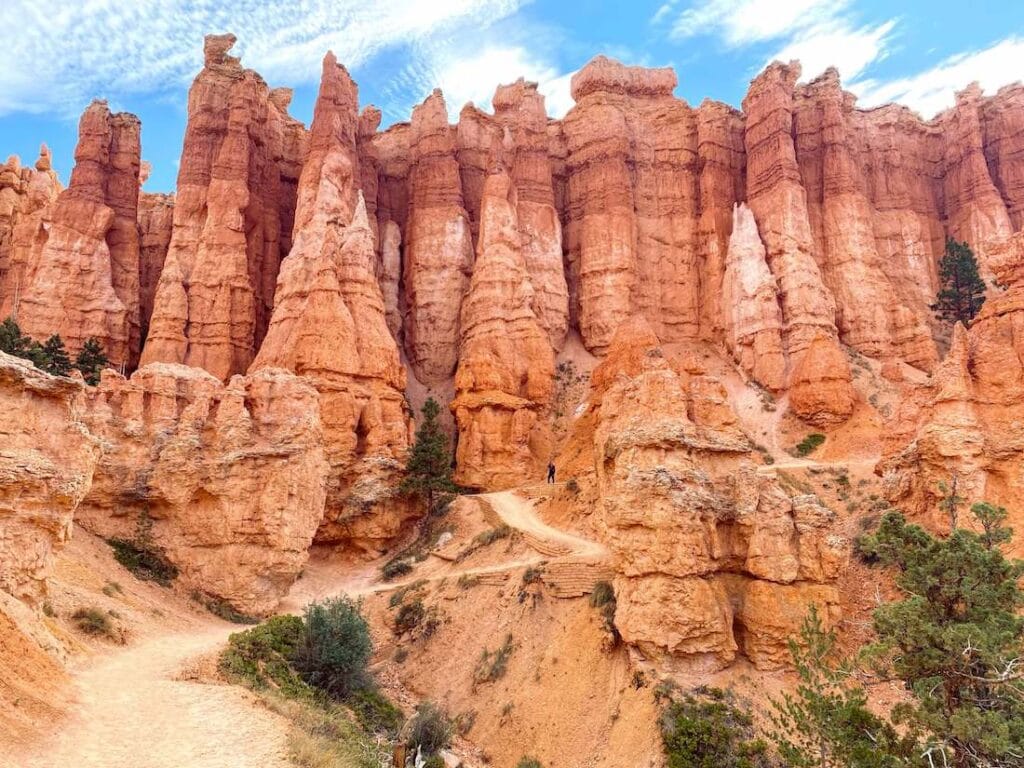 1. Navajo/Queens Garden Loop Trail
Trail Type: Loop
Length: 2.9 miles
Elevation Change: +/- 650 feet
Dogs Allowed: No
Time: 1-2 hours
Permit Required: No
Seeing the hoodoos from one of the viewpoints is one thing, but looking up at these towering formations from the bottom of the canyon is a whole other experience.
There are a few trails that run through the amphitheater itself, but the most popular (and rightfully so) is the Navajo/Queens Garden Loop Trail. Conveniently placed, the trailheads are at Sunset and Sunrise Point, allowing you to start your trek at either location.
As for most National Parks, starting these more popular trails in the morning allows you to take in the views without the heat or the traffic. Additionally, if you chose to watch the sunrise, you can easily start this trail just a few feet from your viewpoint.
Taking you through the canyon itself, this trail is dreamlike. Be amazed by the grandeur of the massive and intricately carved hoodoos. Stop at points along the trail to stare in awe at the unique views you'll only find along the trail.
On the Navajo Loop side of the trail, you will have the choice to take a branching route through Wall Street, a narrow path through colossal walls on either side. Unfortunately, this part of the trail was closed due to rockfall during our visit. But if you have the choice to take this route during your stay, be sure to take the opportunity.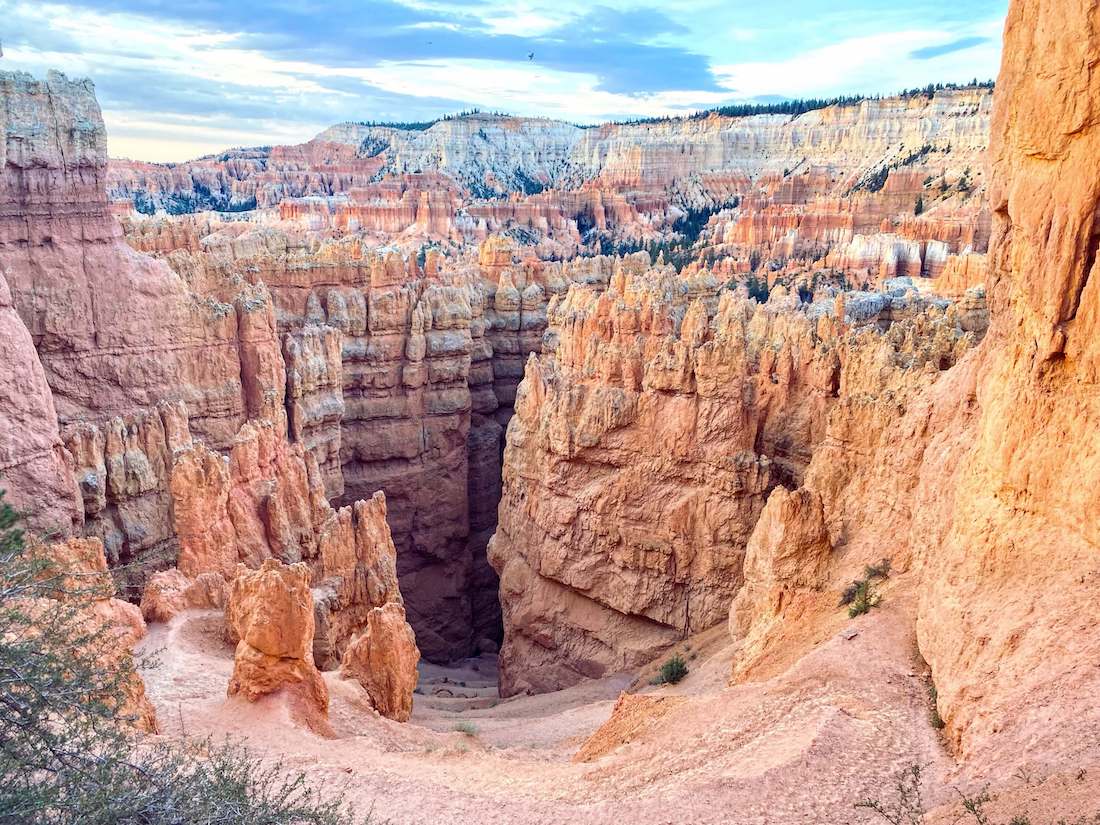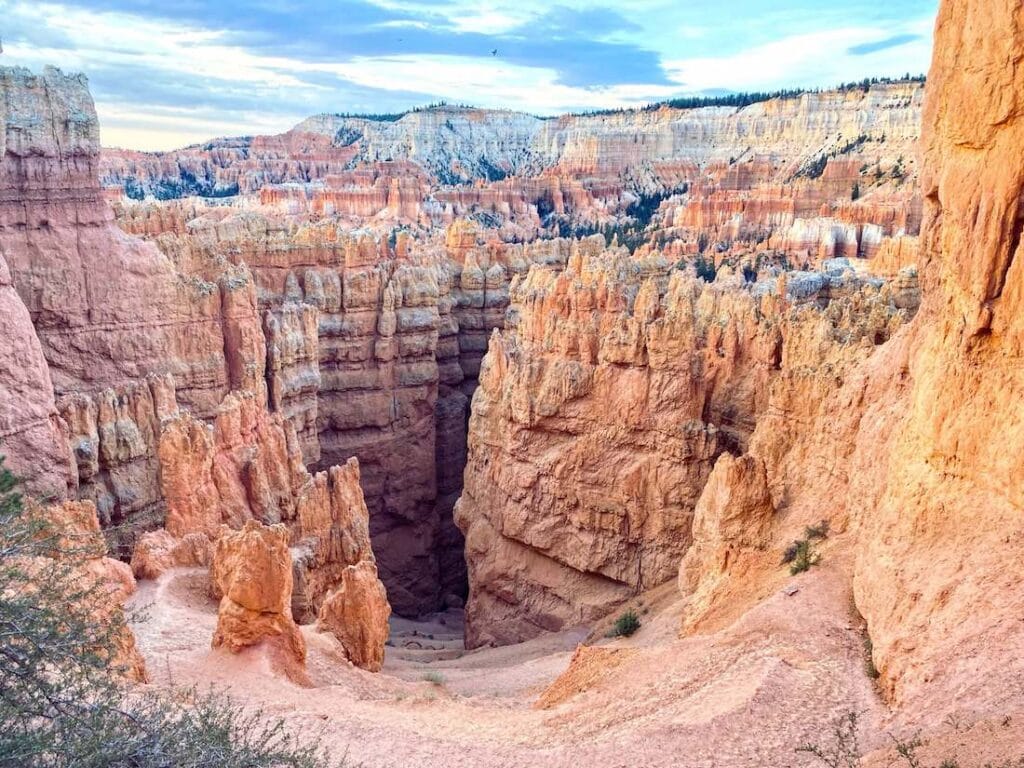 Especially if you plan on attempting this trail later in the day, make sure you bring lots of water. High temperatures and elevation take great effects on hydration, so be sure to drink more than you typically would to stay hydrated and be sure to have adequate sun protection.
There is also a chance of monsoon storms in the afternoons. Don't get caught off guard. Always bring a rain jacket or poncho in your backpack. And remember, if you hear thunder or see lightning, turn around immediately and head for shelter.
2. Peekaboo Loop Trail
Trail Type: Loop
Length: 4.5 miles (from Bryce Point)
Elevation Change: +/- 1450 feet
Dogs Allowed: No
Time: 3-4 hours
Permit Required: No
Looking for a longer hike through the canyon? The Peekaboo Loop Trail has just what you're looking for. Walk through the southern side of the canyon to see the stages of hoodoo formation, including the Wall of Windows.
With steep inclines, this is a much more strenuous trail carved into the side of the cliffs. You can access the trail from the Navajo Loop Trail or the 1.5 mile path from Bryce Point.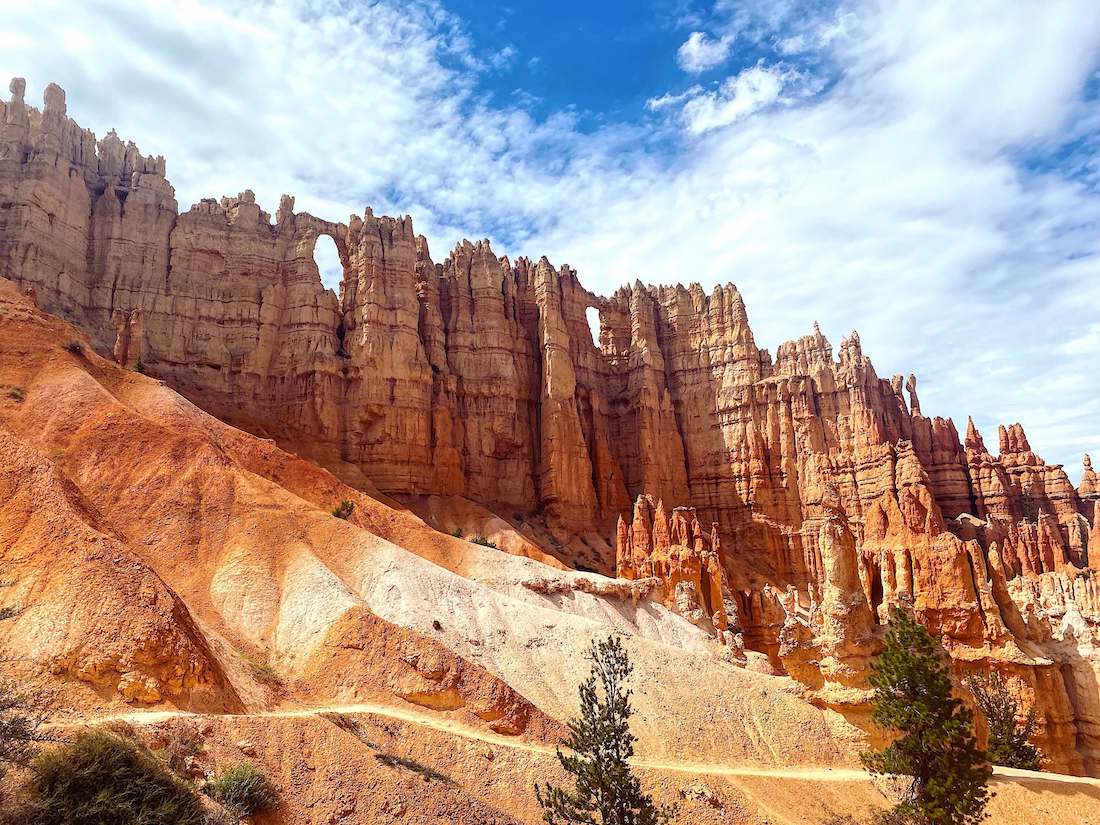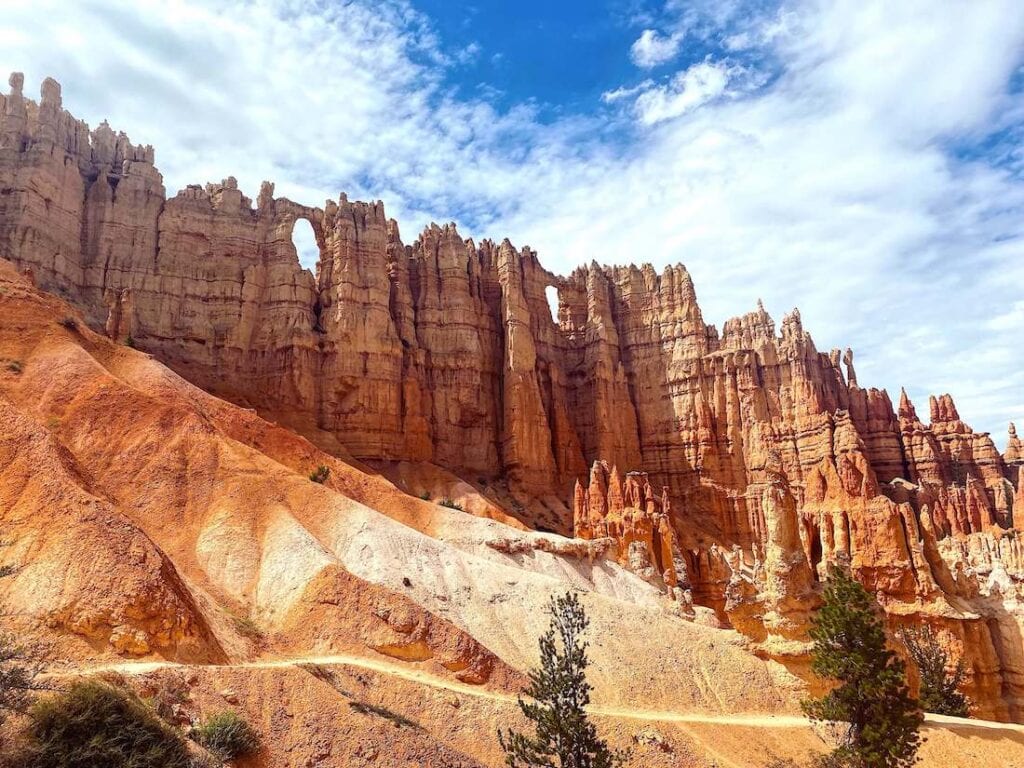 3. Fairyland Loop
Trail Type: Loop
Length: 7.4 miles
Elevation Gain: + 1,545 feet
Dogs Allowed: No
Time: 4-5 hours
Permit Required: No
The Fairyland Loop is one of the best hikes through Bryce Canyon National Park. Located in the northern region, this trail passes close by the spiraling hoodoos that Bryce is so famous for. Hikers will experience much of the same landscapes as the Navajo Loop Trail mentioned above but with less foot traffic.
It's best to start the Fairyland Loop hike early in the morning to get sunrise views and beat the heat of mid-day. Also, be sure to pack lots of water as most of the trail is exposed.
If you're visiting in the winter, you can still hike the Fairyland Loop, but you'll need to start at Sunrise Point since the Fairyland Rd. to the trailhead is closed during the winter months.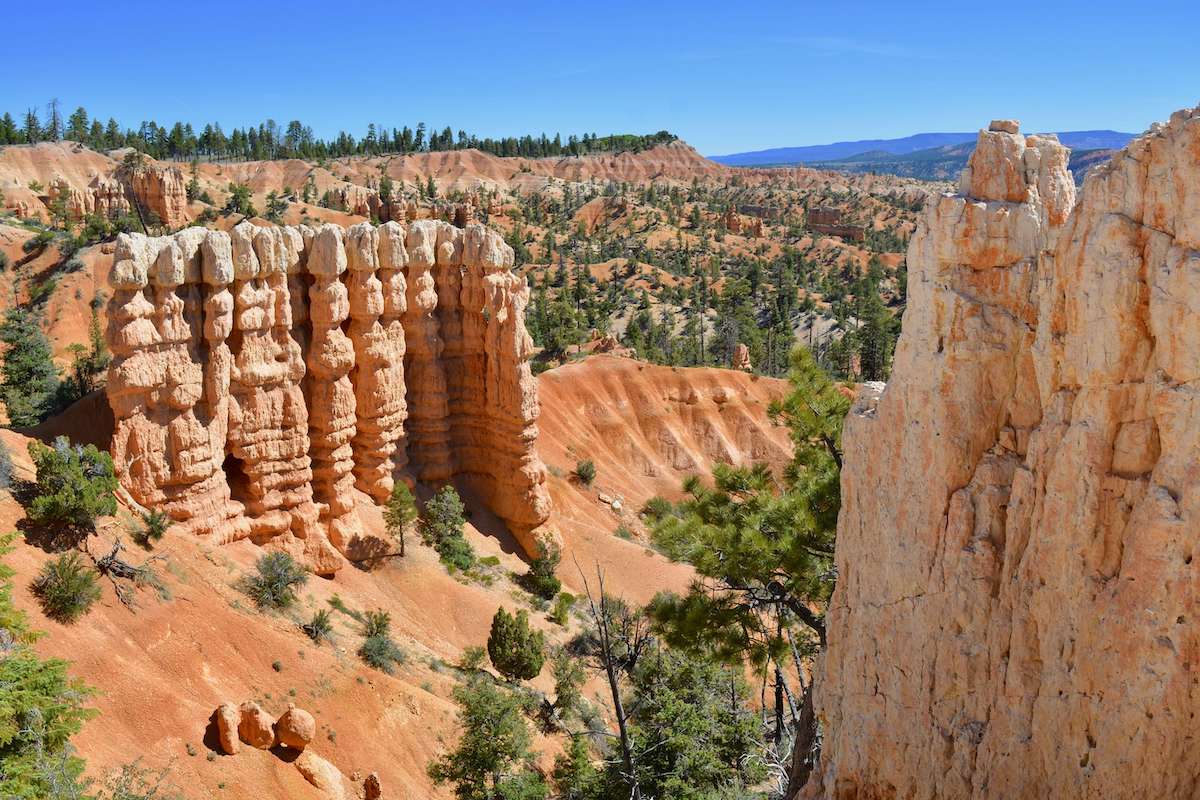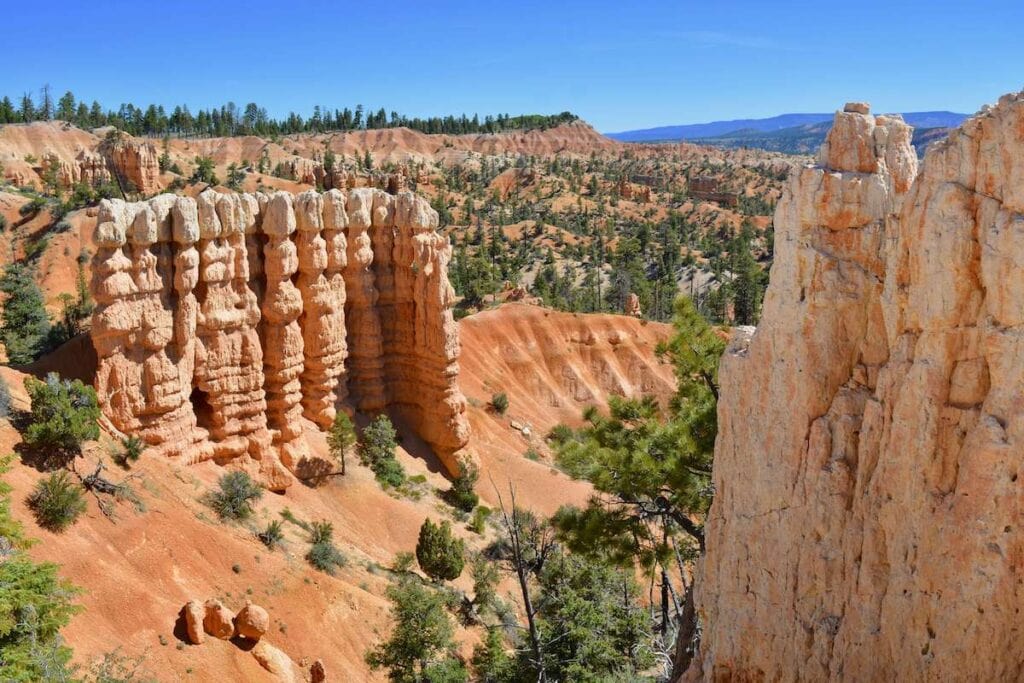 4. Under-the-Rim Trail
Trail Type: One Way
Length: 22.9 miles
Elevation Gain: + 4,366 feet
Dogs Allowed: No
Time: 1-3 nights
Permit Required: Yes
There are several backpacking options in the Park for the ultimate adventure seekers. The most popular is the Under-the-Rim Trail. Hike from Rainbow Point to Bryce Point in the midst of the hoodoos through the Park's forested backcountry.
In order to backpack in Bryce Canyon, you will need to purchase a backcountry permit from the Visitors Center. Permits cost $10 (plus $5 per person) and you may only camp at the designated campsites along the trail. Water sources along the Under-the-Rim Trail are limited, so be sure to do plenty of research while planning your trip.
---
Other Best Things to Do in Bryce Canyon National Park
If you have several days to explore the Park, here are a few more great things to do in Bryce Canyon.
Watch the Sunrise over Amphitheater Canyon
The Amphitheater is the main canyon in the park where you can see the highest concentration of hoodoos. Hoodoos are rock spires that formed over millions of years from moving land and water and freezing temperatures. As the elements gradually chipped away at the rock, the plateaus were transformed into walls, then windows, then the hoodoos we see today.
During peak season, sunrise usually takes place a little after 6:00 A.M. When the sun peaks over the distant plateaus, a radiant light slowly paints the hoodoos. From the viewpoints around the amphitheater, you can watch this colorful transformation.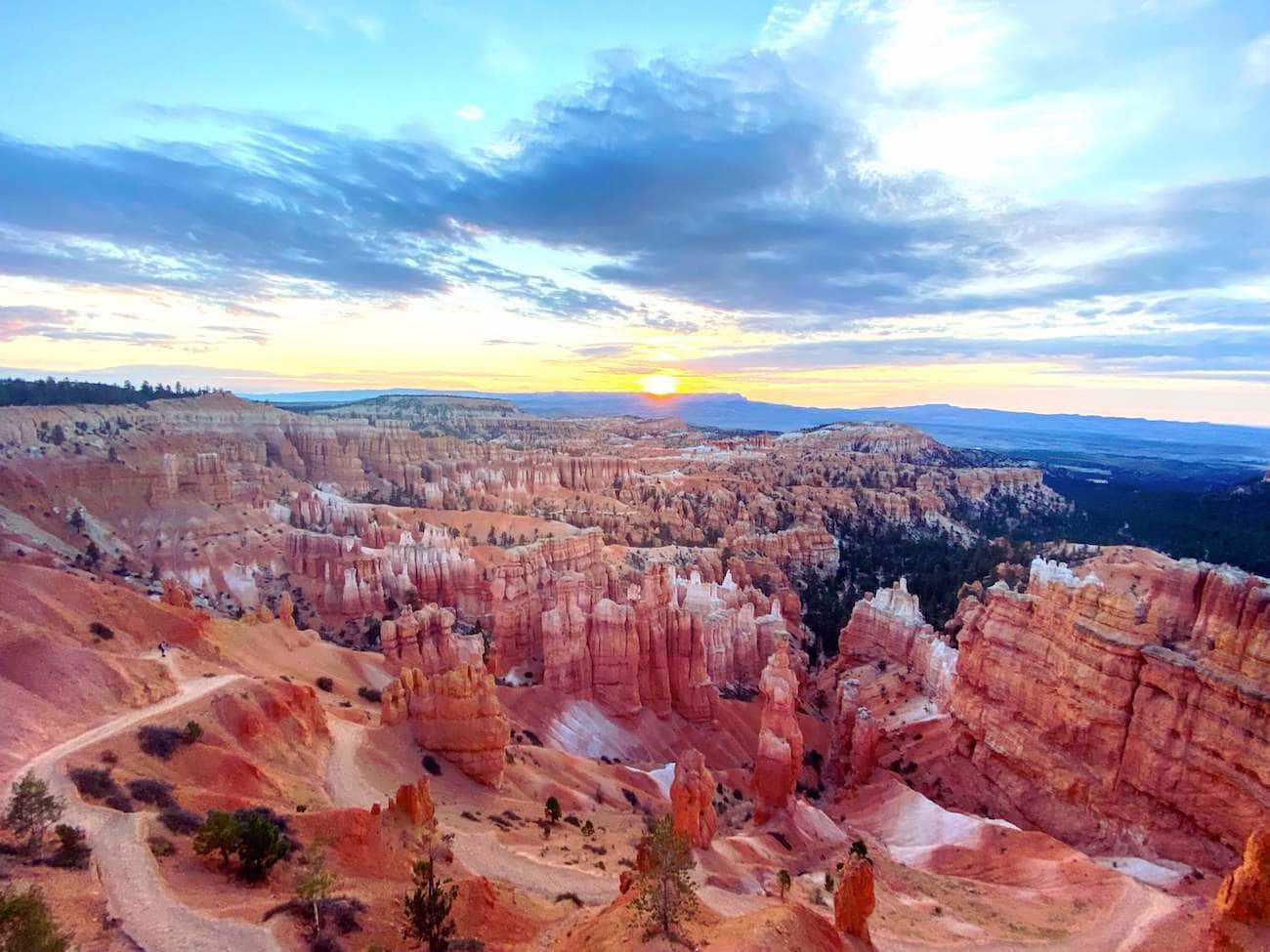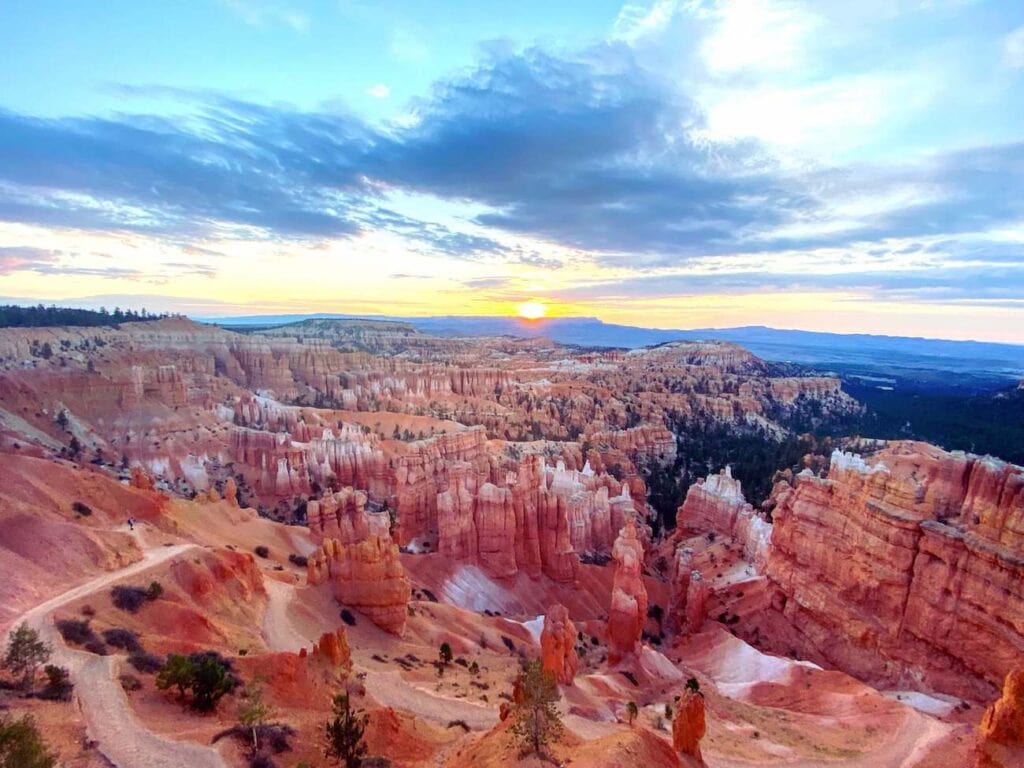 Most visitors choose to watch the sunrise from Sunrise Point (the obvious choice). However, as sunrise gets closer, this area gets bombarded with people squeezing onto the small landing
Another option for viewing the sunrise, which my mom and I wisely chose, was watching the sunrise from Sunset Point. Although it sounds backwards, this gave us an almost identical view with plenty of room to look at the whole canyon and take pictures.
If nothing else, stand somewhere along the path between the Sunset and Sunrise Points to watch as a kaleidoscope of oranges, pinks and yellows turn the canyon into a golden paradise.
Insider tip: temperatures during early and late hours can be quite low because of the park's high elevation. Whether it's summer or winter, always bring some warm clothes to change in and out of, especially if you plan on visiting the park before sunrise.
Visit the Viewpoints
There are nine viewpoints at Bryce Canyon, and many are worth checking out if you have the time. My personal favorite was Inspiration Point. Located west of Sunset and Sunrise Points, this location gives you a higher view than those at the amphitheater, allowing you to look at the countless hoodoos from afar. The pure number of rock spires will astound you.
Take a Horseback Ride through the Canyon
Bryce Canyon National Park offers horseback riding tours on a few of the trails, including the Peekaboo Loop. If you'd like to give your legs a rest and still see the splendor of the inner canyon, sign up for a ride online or at one of the participating locations outside the park.
Depending on the trail you take, the ride lasts between 1.5 and 3 hours and costs $75 to $100. Check out the Canyon Rides website for more details
Travel Along Bryce's Scenic Drive
Take the 18-mile drive through the Park all the way to Rainbow Point. Then on your way back, look out your window or pull over to see the majestic beauty throughout the canyon. With multiple scenic points, you will be able to see Bryce Canyon from every perspective possible.
Plan about two to three hours to complete this 36-mile roundtrip drive.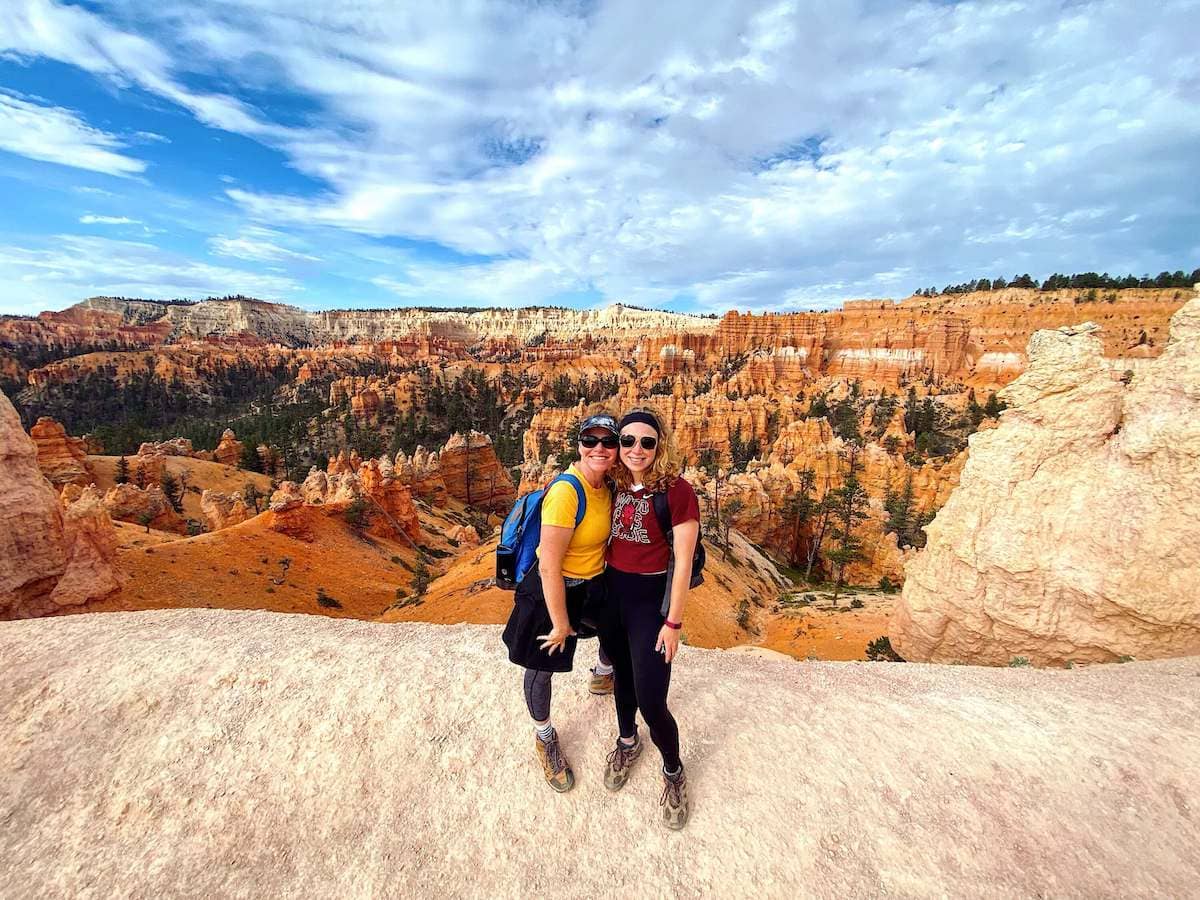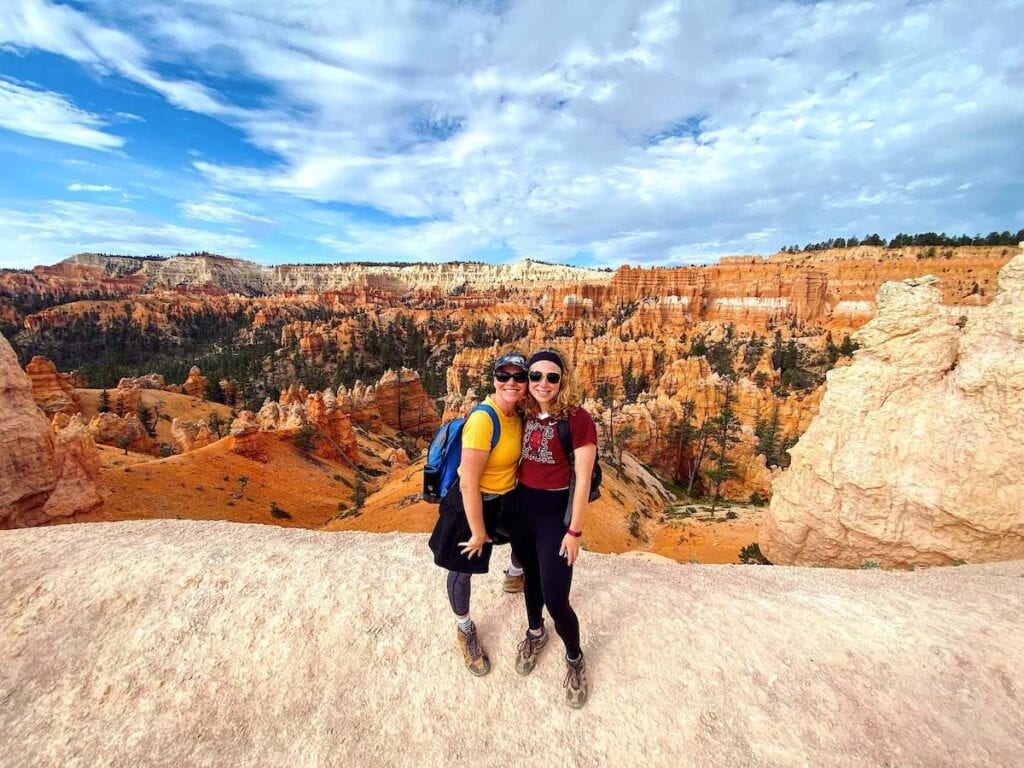 Take a Night Hike
One of the more uncommon features of Bryce Canyon National Park is the starry sky that glows over the park come nightfall. With limitless stars, night hikes are a great way to see the trails from a whole new perspective.
Whenever there is a full moon, you can participate in a ranger-led Full Moon hike. With only the moonlight to guide you, these treks are truly one-of-a-kind. Along with the guided winter snowshoe hikes, these events are based on a lottery selection system. Make sure to sign up the day of the full moon and attend the drawing to see if you have been selected to participate.
---
If you're looking for unparalleled views and a once-in-a-lifetime experience, plan a trip to Bryce Canyon National Park. Not only will you fall in love with the hoodoos, but you will fall in love with the natural world.
Have you had a chance to visit this beautiful National Park? What are your favorite things to do in Bryce Canyon? Did we miss anything in our Bryce Canyon guide? Let us know in the comments!