28 Adventurous Things to Do in Moab (+ Itinerary!)
Moab is one of the best adventure hubs in the US. Here are the best things to do including hiking, biking, camping, scenic drives and more.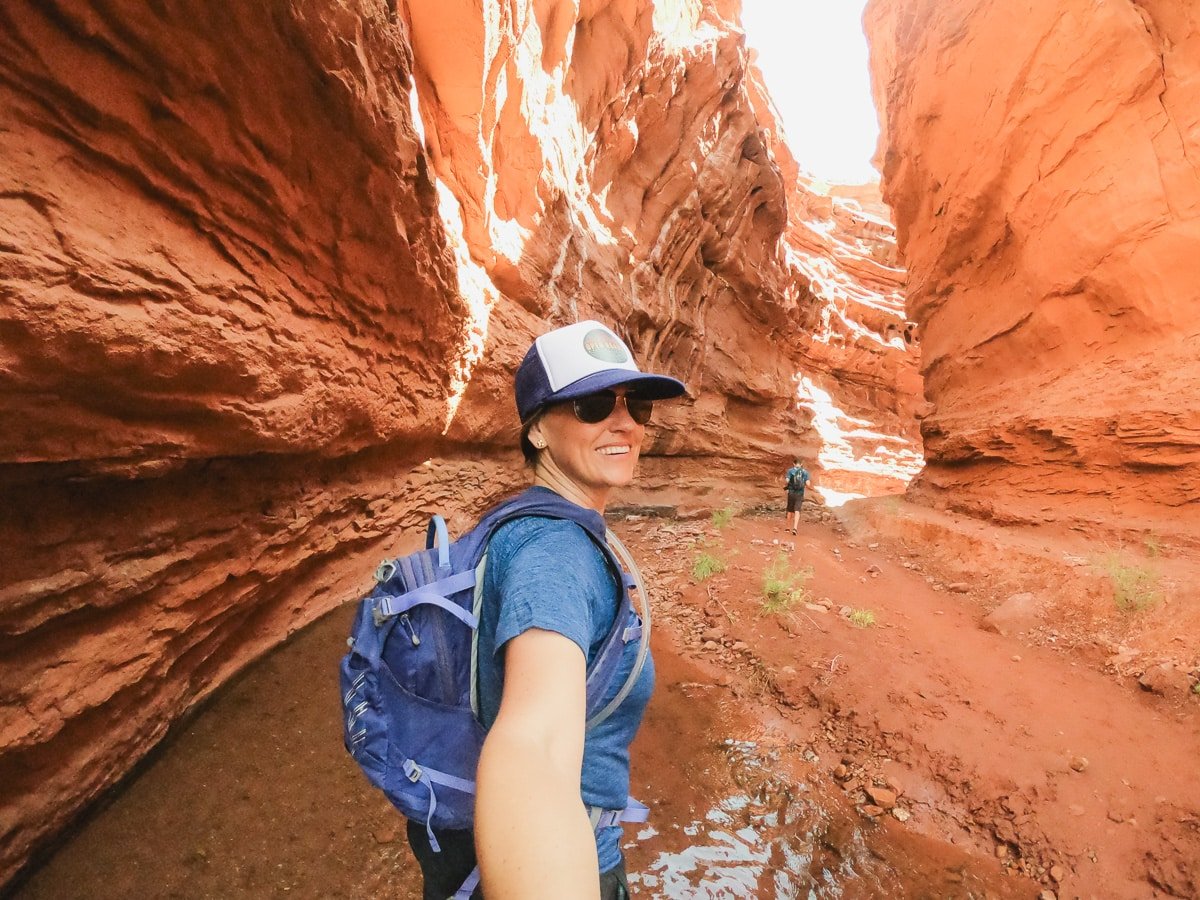 The town of Moab, Utah is truly an adventure hub for outdoor enthusiasts. Red rock canyons, slickrock trails, winding rivers, and panoramic views make it an amazing place for hiking, mountain biking, camping, rafting, and more.
I live just a few hours' drive away from Moab in Salt Lake City, so Ryan and I often take trips down to the area, especially in the shoulder season to get some desert sun. We've explored many of the best things to do in Moab, and it remains one of my favorite destinations in Utah.
While a lot of people visit Moab for its proximity to Aches and Canyonlands National Parks (which are amazing, and I'll cover some of my favorite things to do in each below), there are many other incredible outdoor adventures to be had outside the national parks as well.
In this post, I share my top things to do in Moab, gathered from weeks of exploring the area's nooks and crannies.
Important Reminder: As it goes in all of the destinations we share, please practice good trail etiquette and remember to Leave No Trace. This means packing out all of your garbage (including toilet paper) and following the established rules. In the desert, this also means learning how to protect cryptobiotic soil and how it has a huge impact on our ecosystems.
---
Hiking in Moab
Hiking in Moab is what draws a lot of visitors to the area. From epic hikes to natural rock formations to scenic hikes that highlight the best views around Moab, to overnight backpacking trips in the desert, there is something for everyone. Below I share my favorite hiking trails around Moab.
1. Take a Sunset hike at Dead Horse State Park
Dead Horse State Park has expansive views of surrounding Moab and Canyonlands National Park that are impressive during the daytime — but go for the sunset and you'll get some really jaw-dropping scenery.
I recommend hiking the 5-mile Dead Horse Rim Loop Trail to get the best views. It's also pet-friendly and a relatively easy trail that should be accessible for most hikers.
There is a campground at Dead Horse State Park or check out the yurt rentals for a fun glamping experience.
Fun fact: Dead Horse Point was the location for the final scene in the movie Thelma and Louise.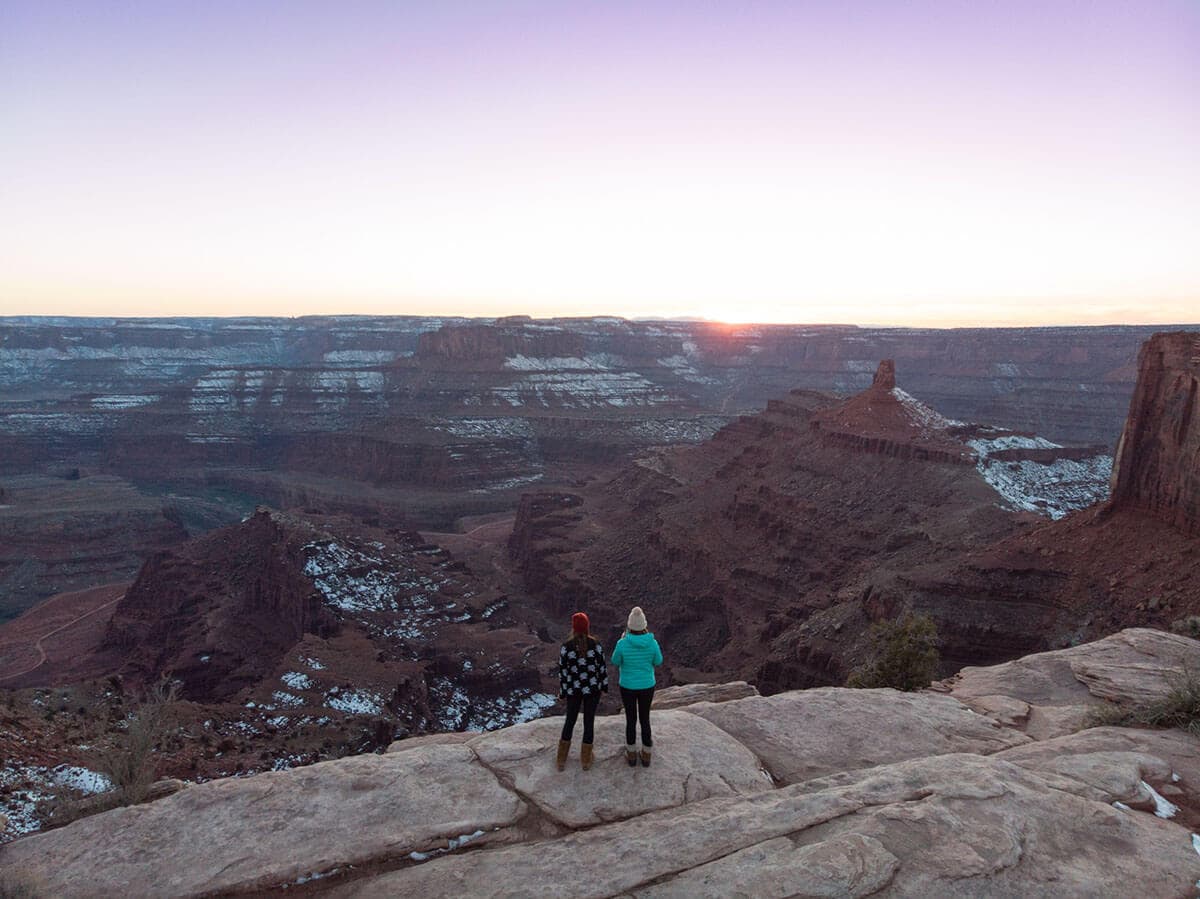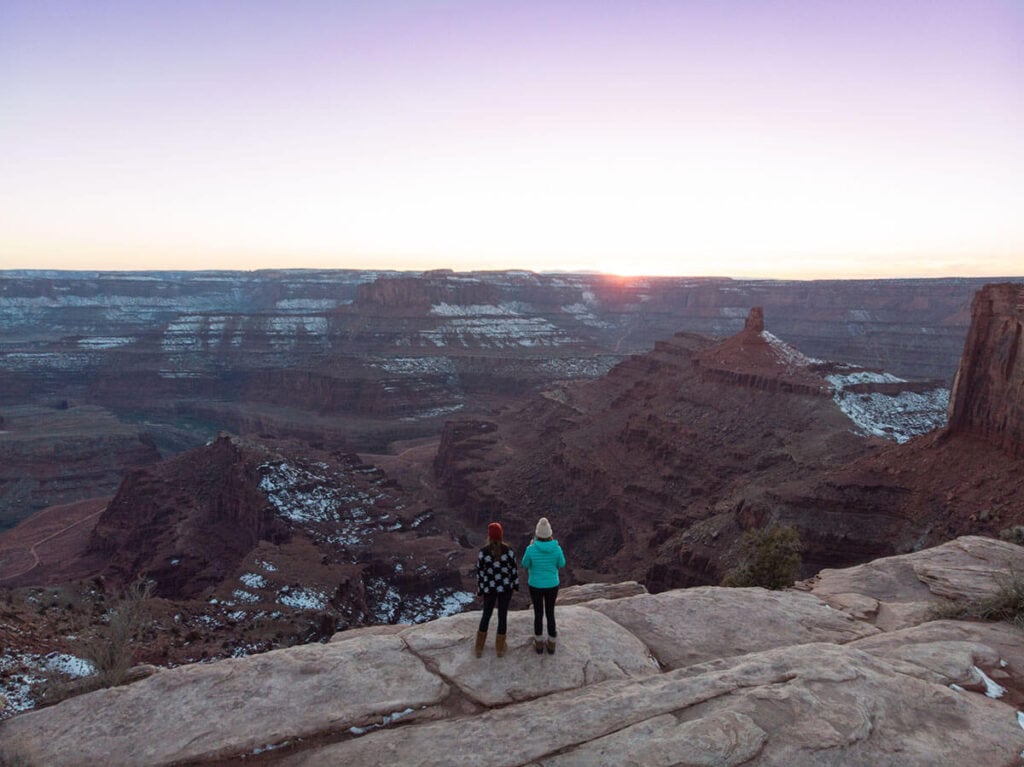 2. Hike to a waterfall on the Mary Jane Canyon Trail
On our recent trip to Moab, Ryan and I hiked the Mary Jane Canyon Trail and absolutely loved it! The 7.6-mile trail follows a wet riverbed deep into rust-colored canyons. As the canyon chokes up, the hike culminates at a cascading waterfall. I highly recommend getting all the way there, as the waterfall is stunning.
It's a great hike in Moab for people of all skill levels since it's not technical and relatively flat. Plus, the trail is dog-friendly, so you can bring your pup along, too. Please make sure to pack out their poop!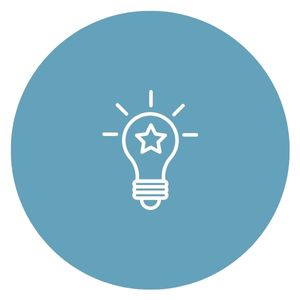 Tip: Wear an old pair of tennis shoes or a supportive pair of water shoes, like Astrals. You'll be in the riverbed the entire time, so your feet will get wet.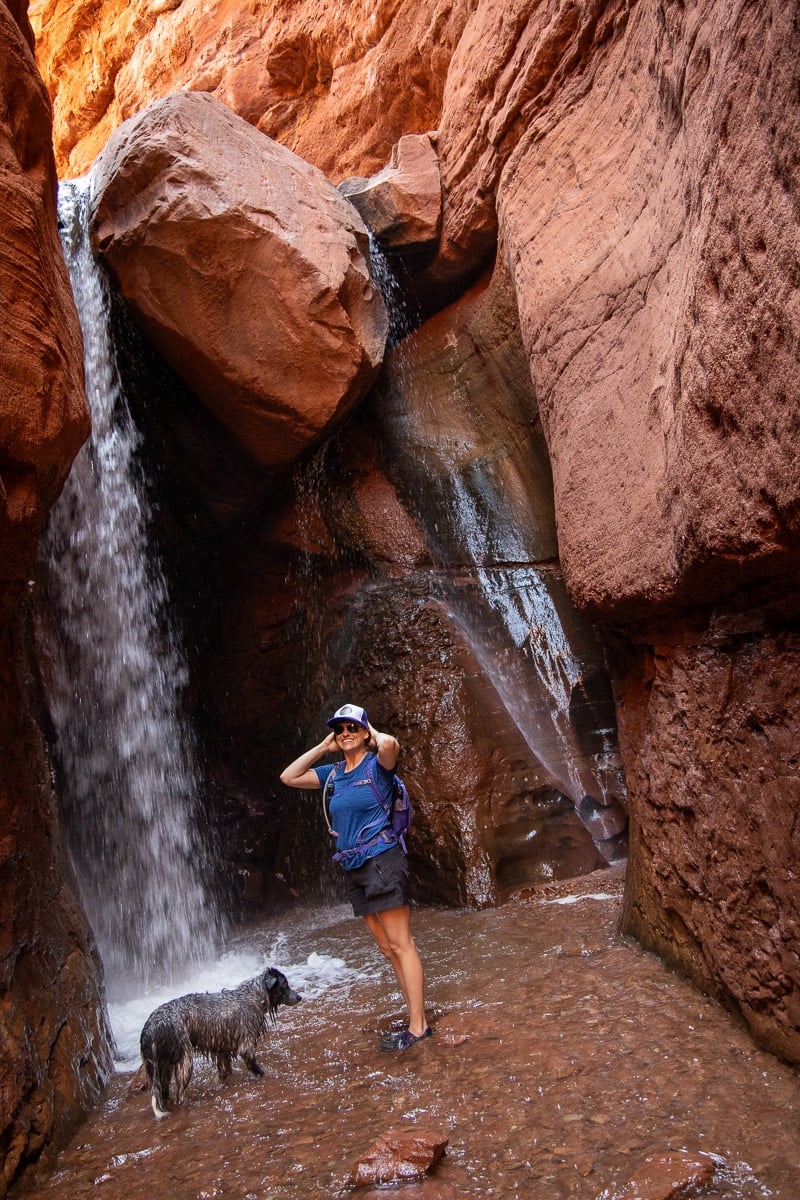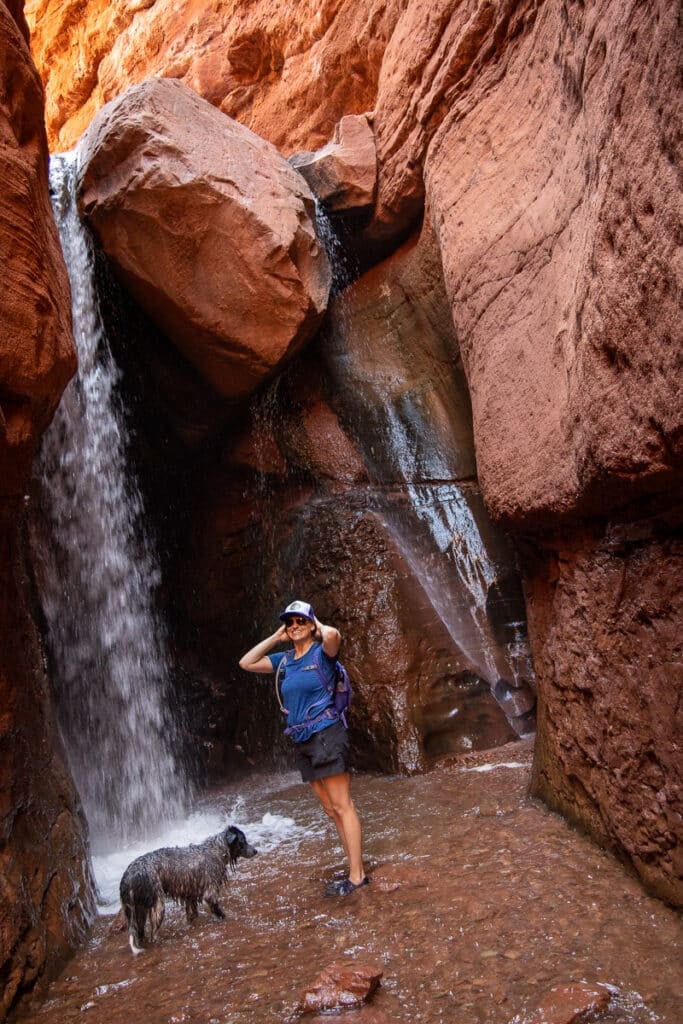 3. Do a Night Hike to Corona Arch
Arches National Park is known for its many amazing hikes to natural rock arch formations, but if you're looking to beat the crowds, I highly recommend doing the 3-mile out-and-back hike out to Corona Arch.
If you're feeling extra adventurous, consider hiking to Corona Arch at night. Many people hike to Delicate Arch in Arches National Park at night, but here you're likely to find a lot more solitude.
Daytime temps in Moab can be scorching, so an evening hike in summer is more comfortable, and it's also a great opportunity for nighttime photography.
Taking in the starry night sky and moon rising over the Corona Arch is easily one of the best hikes to do near Moab. Be sure to bring a headlamp and pay attention to the trail markers as you hike out so you don't get lost.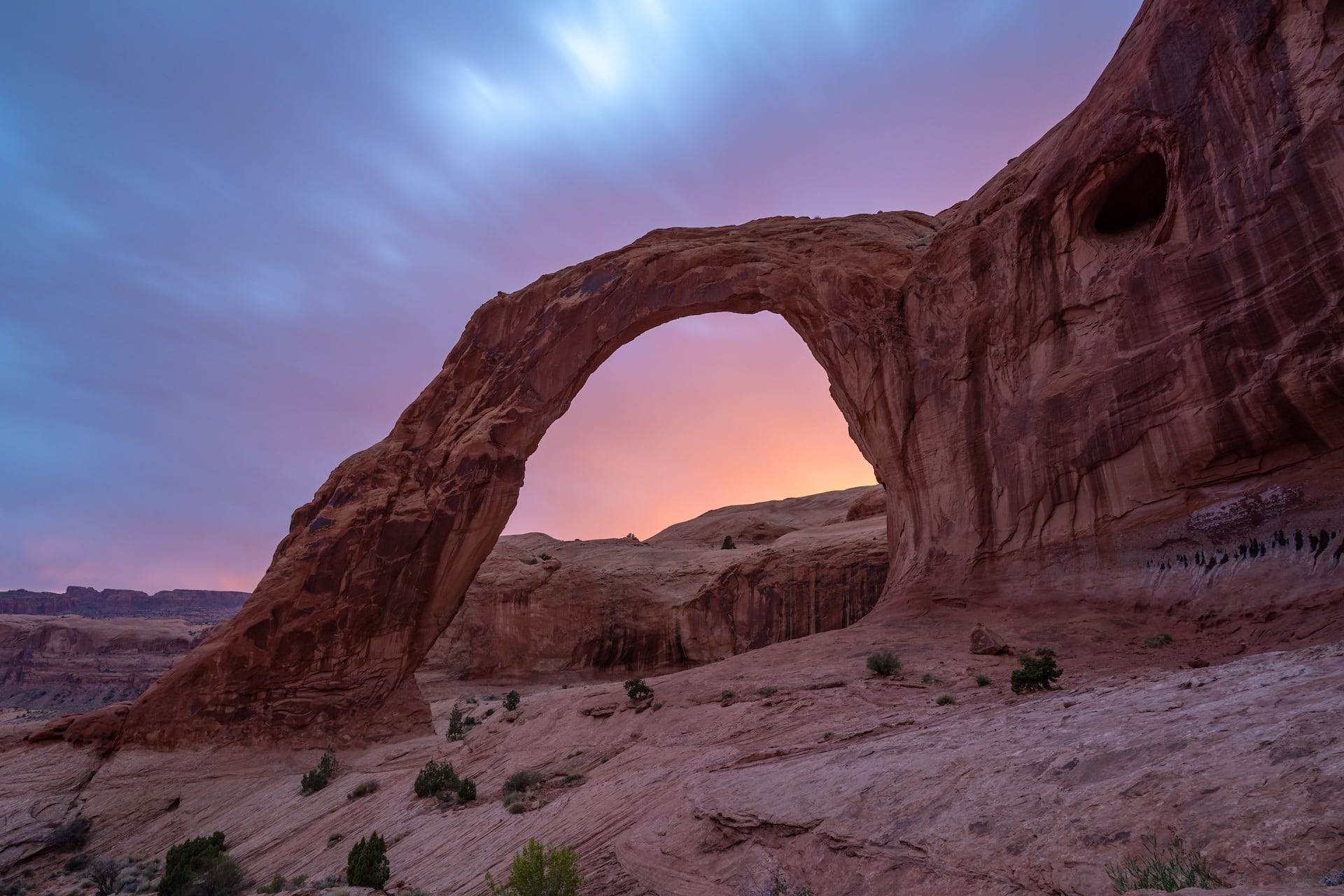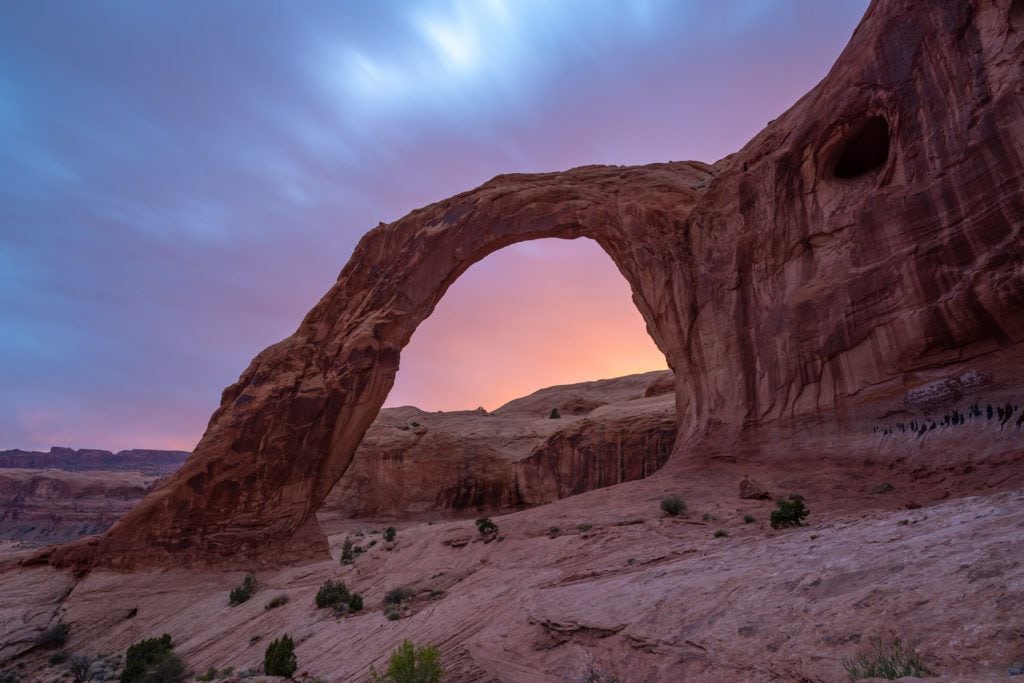 Tips for visiting Moab's arches
Get an early or late afternoon start to avoid crowds and beat the heat
Stay on the trails. It can be easy to get lost since many of the trails are simply white lines painted on the rocks. Deviating from the trails can also harm the fragile desert ecosystems.
Bring lots of water. The hot sun and exposed terrain make it easy to get dehydrated. Bring plenty of water and use sun protection.
Don't climb on the arches! These natural rock formations can be very delicate. You don't want to be that person who causes a famous arch to come tumbling down.
Brush up on some additional desert hiking tips
4. Hike in Arches National Park
The entrance to Arches National Park sits just outside of Moab and you definitely don't want to skip it. The park can get busy, but seeing the towering rock formations up close is by far one of the best things to do in Moab.
There are a handful of great hikes in Arches National Park including the popular treks out to Delicate Arch as well as Landscape Arch and Double Arch. For more hike recommendations and photos from my visits to Arches, head over to our post on the Best Hikes in Arches National Park.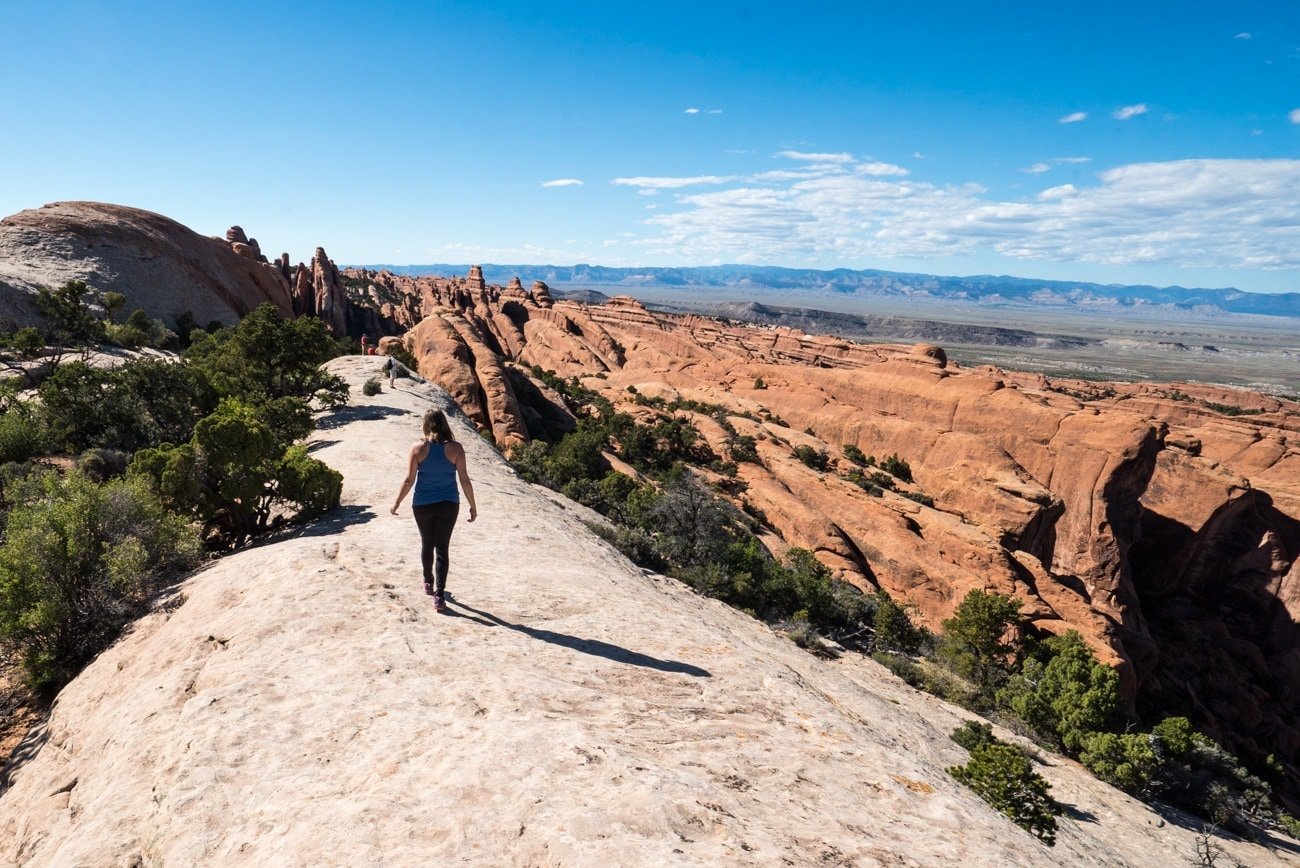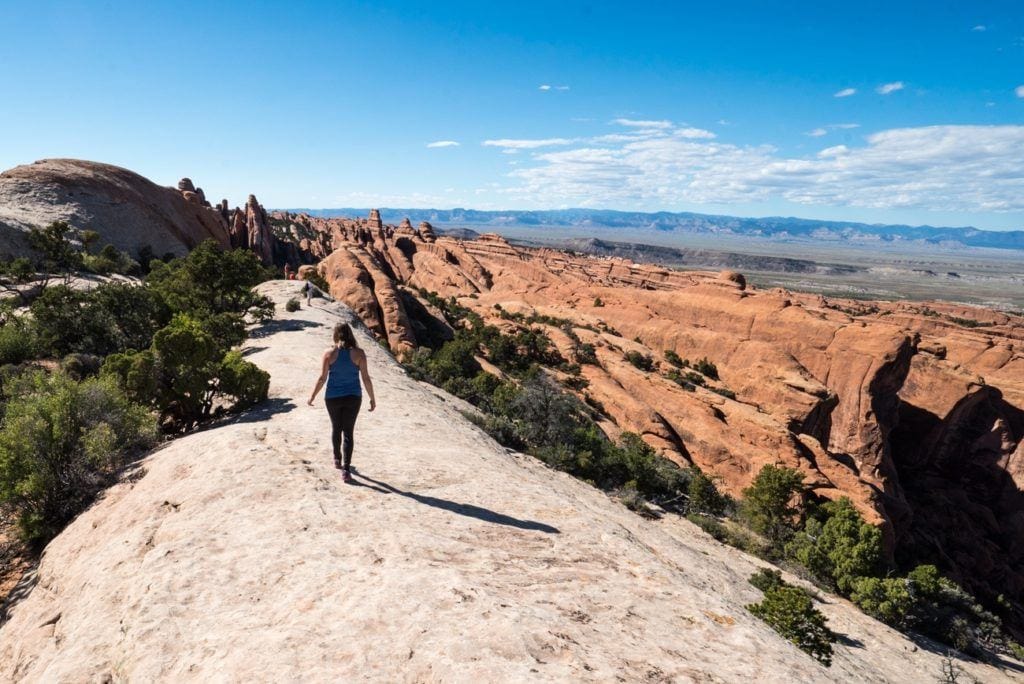 5. Hike to Mesa Arch in Canyonlands National Park
Mesa Arch is one of the most popular attractions in the Island in the Sky area of Canyonlands National Park, but for good reason. Perched at the edge of a cliff, this picturesque arch offers breathtaking panoramic views of vast canyons and distant mesas
If you want to make the most of your hike out to Mesa Arch, sunrise is an epic time to visit. As the sun comes up, the rays hit the underside of the arch, turning it into a fiery orange glow. (Just don't expect to be alone as this is a very popular sunrise vista).
The hike to Mesa Arch is a relatively easy 0.7-mile loop. The trailhead is about an hour's drive from Moab, or you could camp at the nearby Island in the Sky campground to ensure you make it up by sunrise.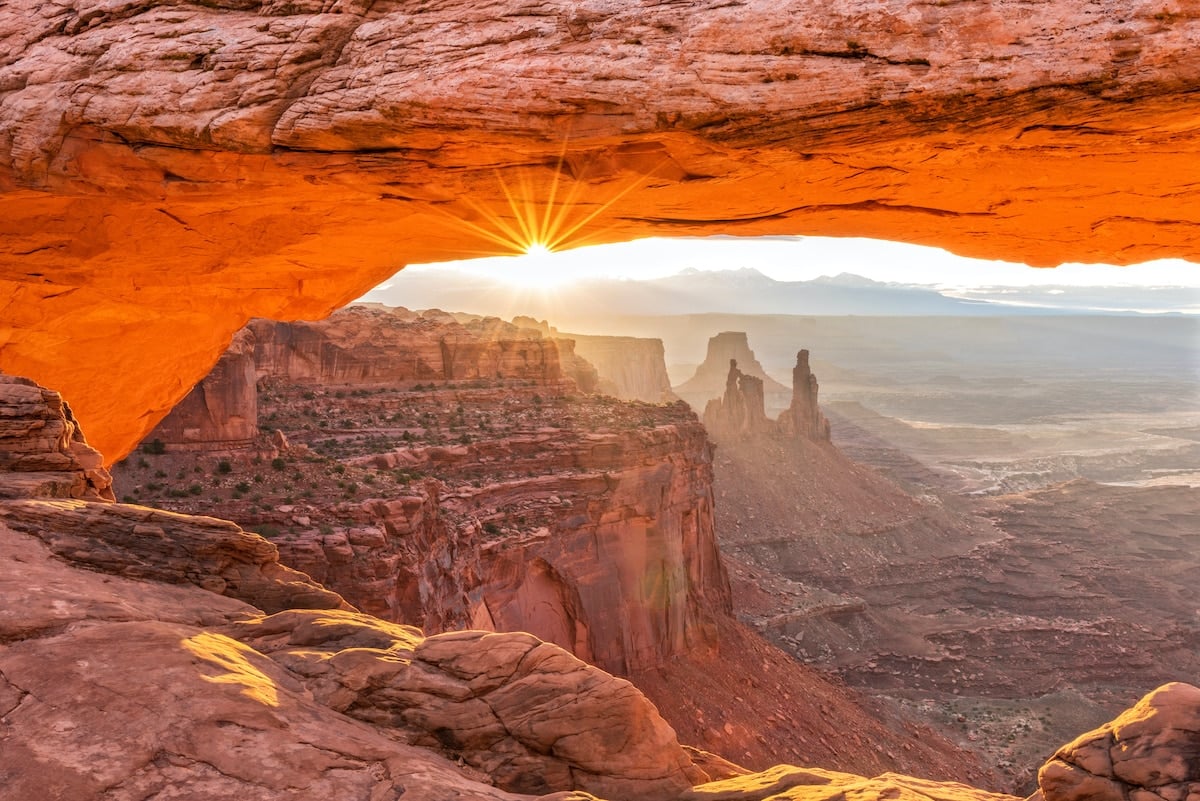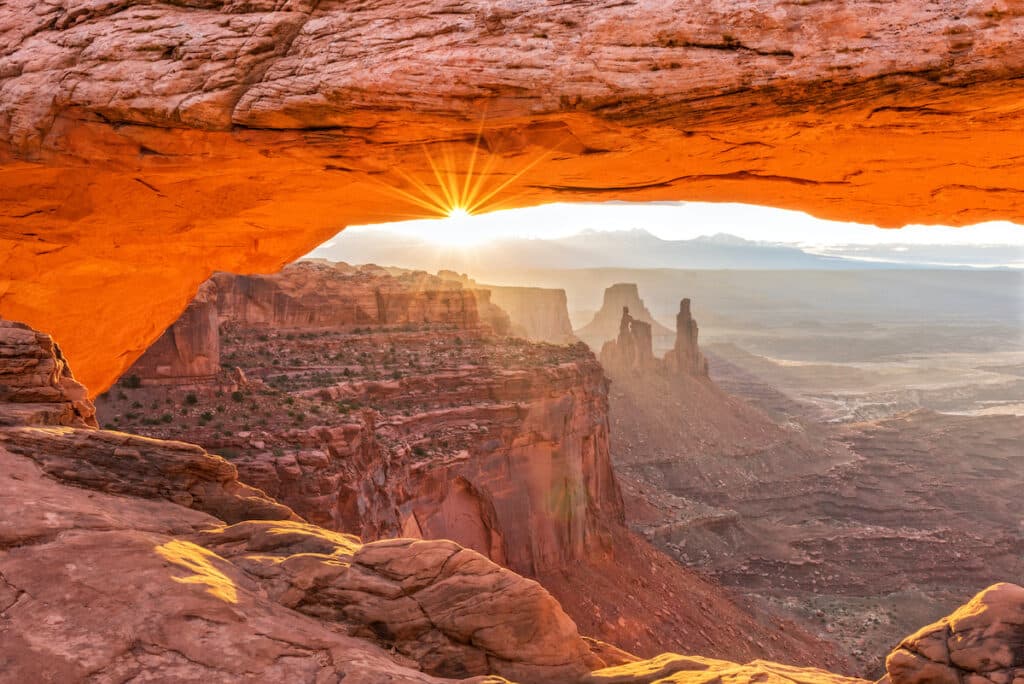 6. Hike the Grandstaff Canyon Trail
Grandstaff Canyon Trail is a stunning 5.7-mile out-and-back hike that leads to the impressive Morning Glory Natural Bridge. It's a fun and engaging trail to do – there are creek crossings, some light scrambling sections, caves to explore, towering sandstone canyon walls, impressive views, and more.
The trail culminates at a thin slice of an arch set between two towering canyon walls. There's a nice area below to relax and enjoy this beautiful place before returning back down the way you came.
When we hiked Grandstaff Canyon, we saw several people rappelling down from the top of the arc, which looked fun. You can book a rappelling tour with Moab Adventure Center.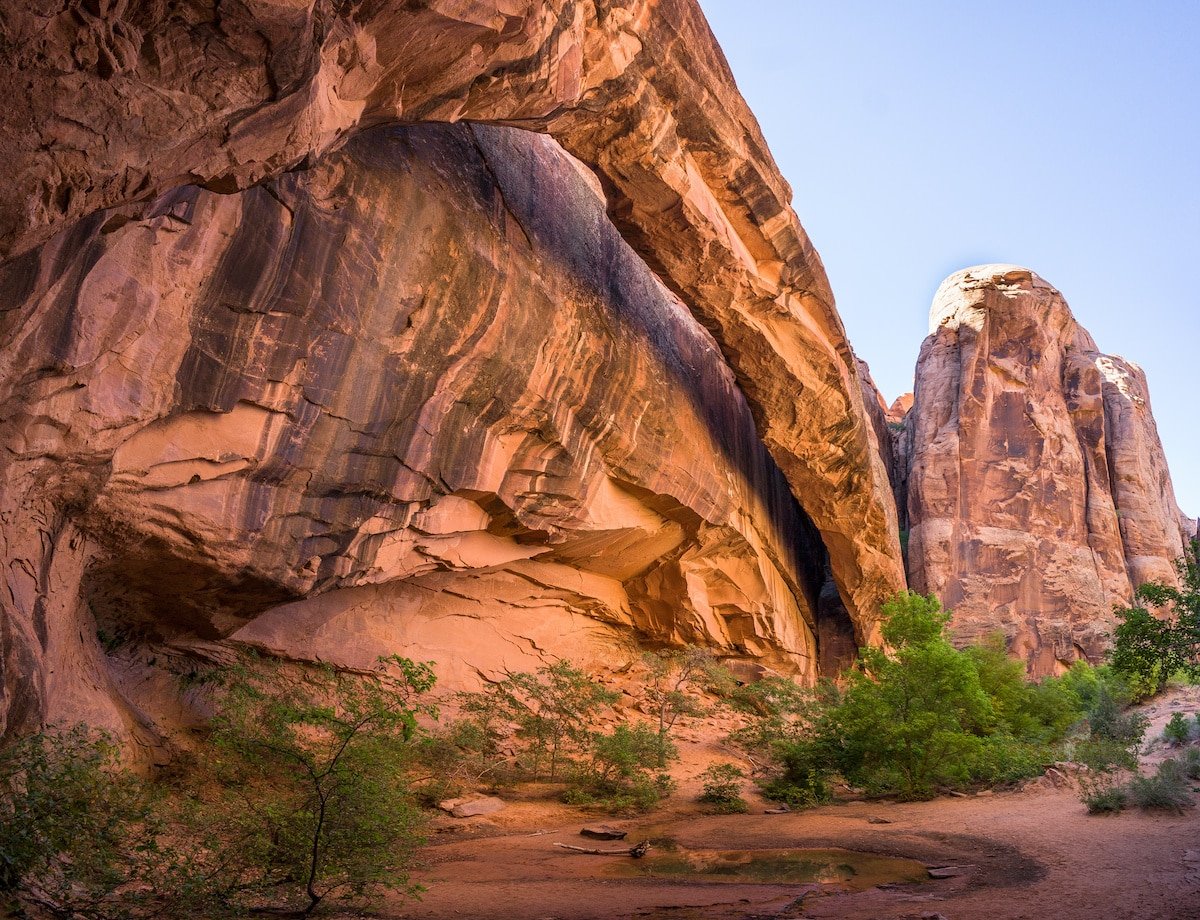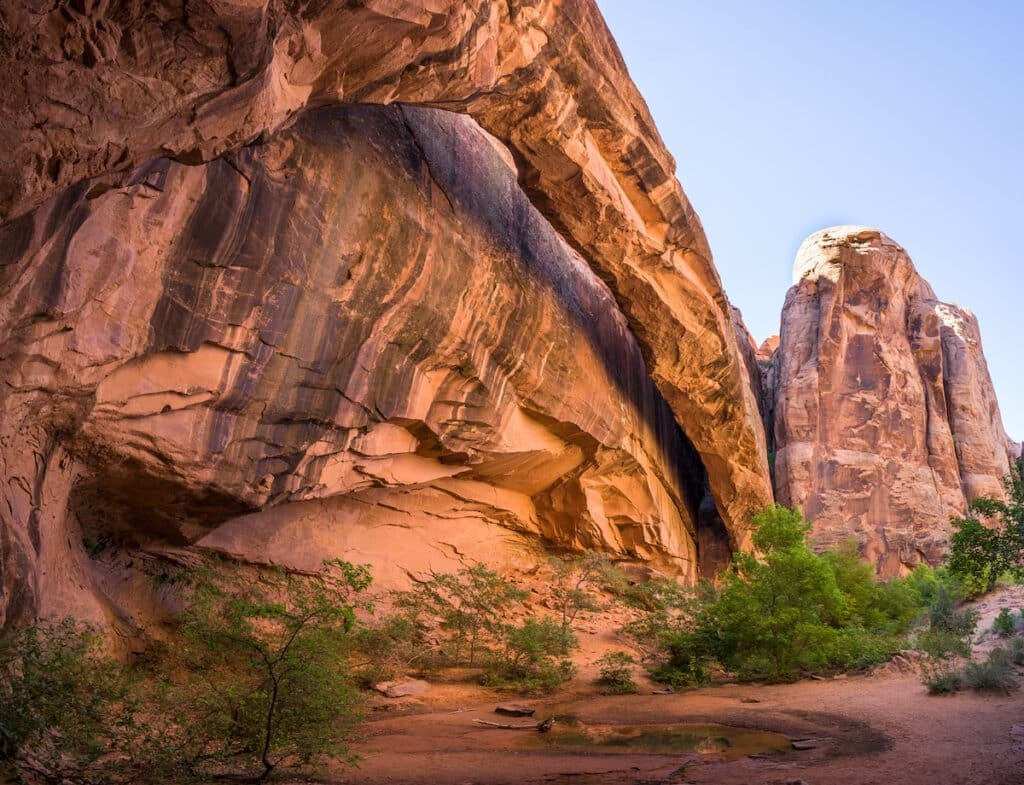 Biking in Moab
Moab is the original 'mecca' for mountain biking and riders still travel from all over the world to experience the famous Moab slickrock trails. But you don't have to be an expert to enjoy biking in Moab. Below are a few ways to explore the Moab area on two wheels.
7. Pedal the Moab Canyon Pathway
The Moab Canyon Pathway is a 9-mile paved recreation path that starts in town and heads north, paralleling Highway 191, out to the Moab Brand Trails network.
It's a great way to get out and enjoy Moab's red rock landscape by bike without needing to tackle the challenging mountain biking trails.
You could also add on 4-miles by taking a detour onto the Colorado River Bike Path.
8. E-bike the Slickrock bike trail
There is no shortage of world-class mountain biking in Moab, but one of the most famous trails is the Slickrock bike trail. Originally created for moto riders to practice their trials skills, it's now a playground for mountain bikers.
E-bike riders listen up! The Slickrock bike trail is one of the only mountain bike trails in Moab that is e-bike-friendly. It's actually a great trail to do with the help of a pedal-assist bike because the entire 12-mile loop is quite challenging and tiring
You can also warm up with the 2.3-mile Practice Loop which will still give you a taste of slickrock riding.
9. Mountain bike The Whole Enchilada
The Whole Enchilada is an epic shuttled route for experienced mountain bikers that starts high up in the La Sal Mountains and plunges over 7,000 ft down to the Colorado River. Along the way, the route traverses through several ecosystems from high alpine meadows to pine forests and aspen groves all the way down to the cacti-studded desert.
The Whole Enchilada is one of Becky's, our behind-the-scenes assistant, favorite rides for its technical terrain, incredible views, and all-day adventure. Read her write-up of the Whole Enchilada to get a better idea of what it entails and whether it's a good fit for you.
Want a guided tour? Book a mountain biking tour of Moab with a local guide.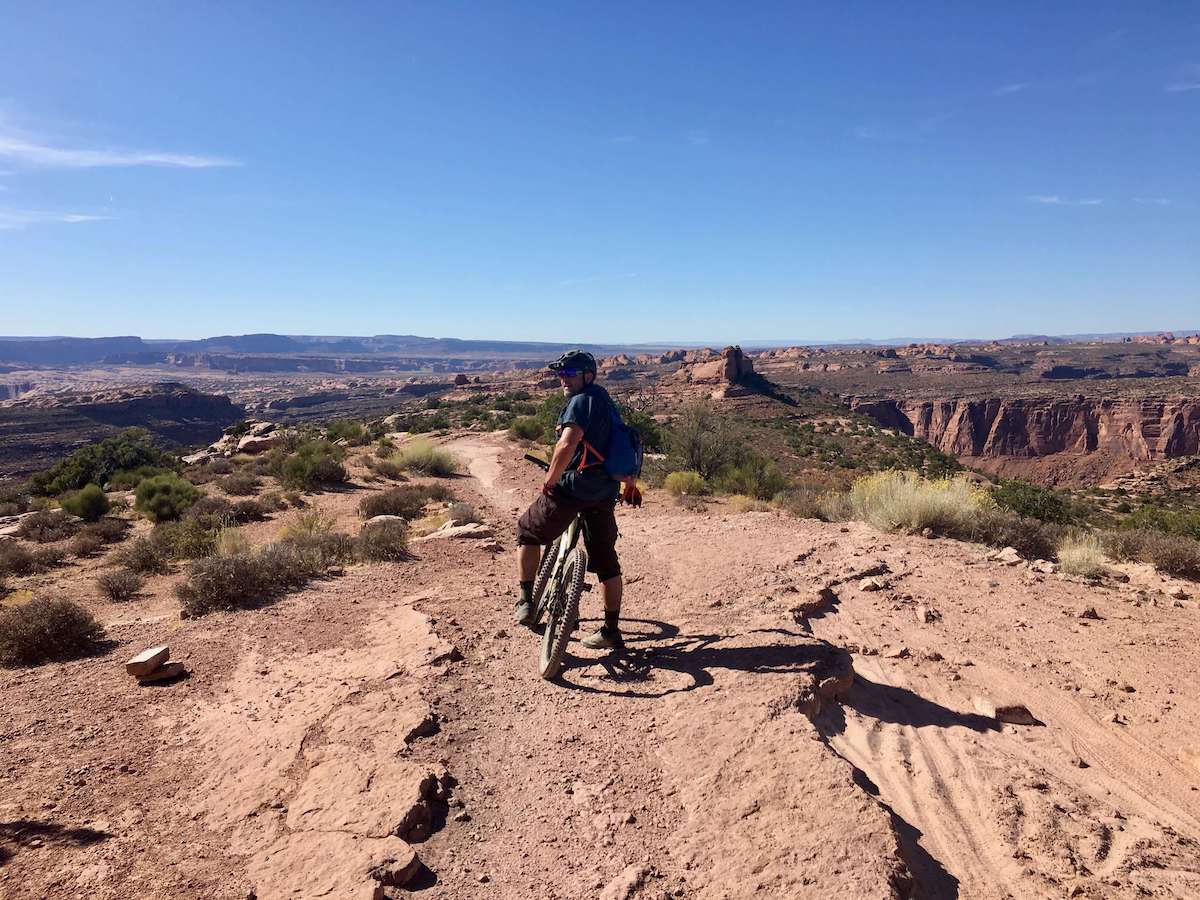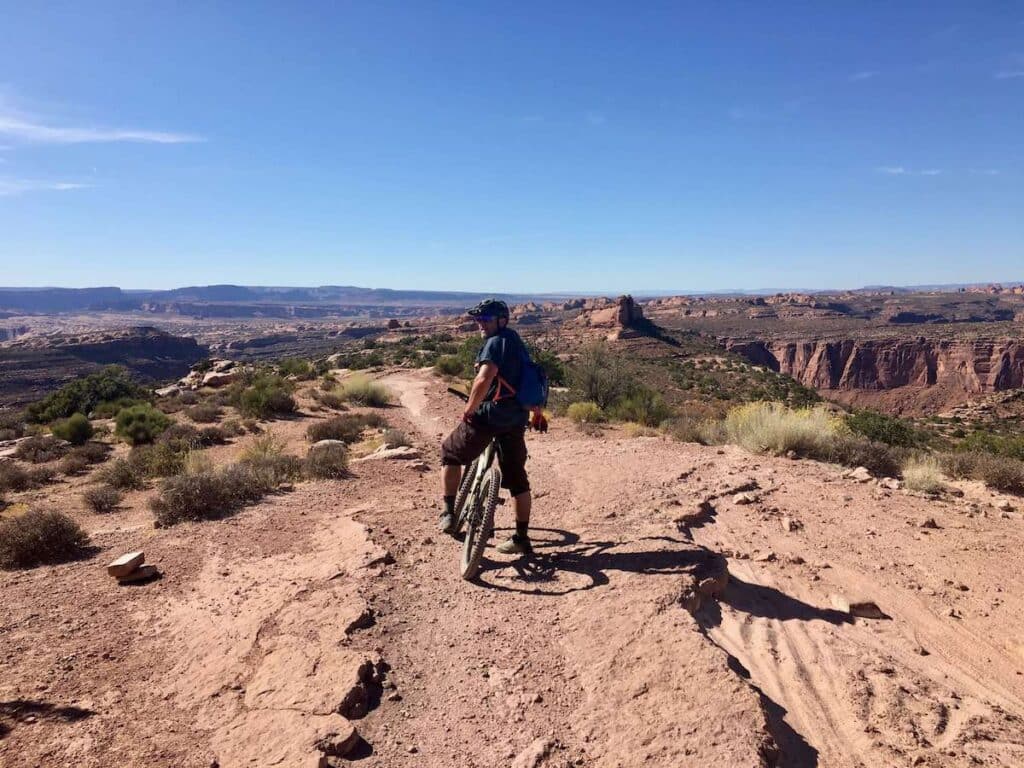 10. Plan a biking trip on the White Rim Trail
The White Rim Trail is a 72-mile doubletrack road that traverses the northern boundary of Canyonlands National Park outside of Moab.
It's a popular loop for high-clearance 4×4 vehicles, but it's also an unforgettable trip that can be done by bike.
I biked the White Rim Trail as a 4-day vehicle-supported trip several years ago over Halloween weekend, and while it was challenging, it was also an incredible experience filled with jaw-dropping views and awesome remote camping. Plus with a support vehicle, you can hop in the truck if you ever get too pooped.
The White Rim Trail can also be done as a self-supported bikepacking trip or you can book a tour with several tour operators in Moab.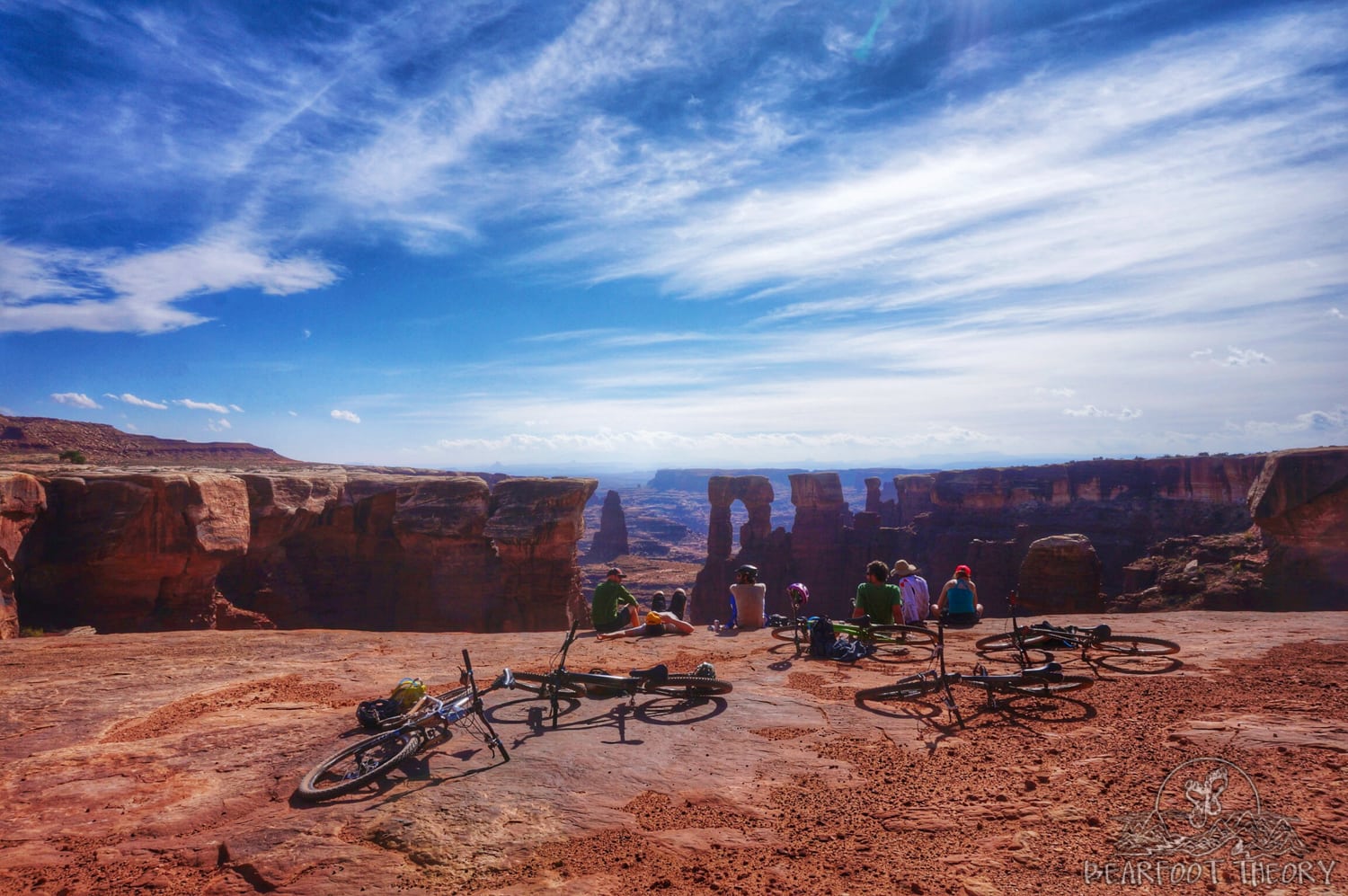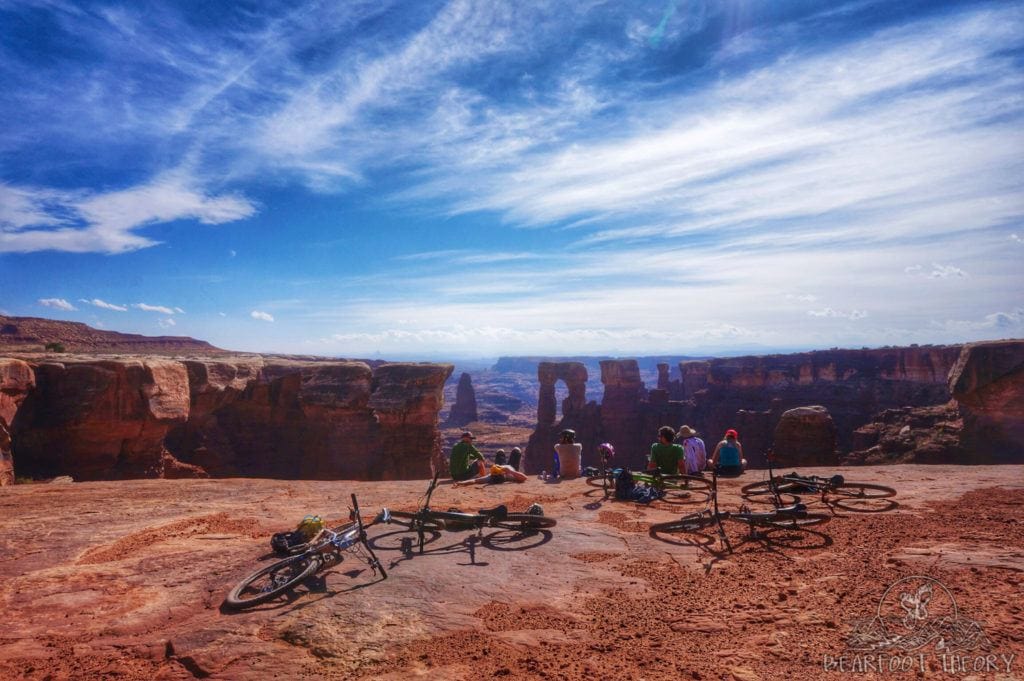 Paddling in Moab
The Colorado River runs just west of Moab and it offers a ton of great paddling opportunities for visitors. Whether you're looking for an overnight rafting trip or just want to get out on the water for the day, I share the best things to do in Moab for water lovers.
11. Float the Colorado River
Grab your packraft or ducky and some friends for a river rafting float down the Colorado River. In my opinion, floating on the Colorado River is one of the best things to do in Moab. Not only is it an easy way to beat the crowds and stay cool, but you'll also get a different perspective of the Moab red rocks from the water.
We used our Kokopelli Rogue packrafts on a particularly flat section and thought they were the perfect boat for this mellow paddle. We put in at the bridge along Highway 191 as you enter town and took out at Wall Street.
You can also book guided day rafting trips on the Colorado River's Daily Section. This section has a bit more action for those who want to experience some rapids.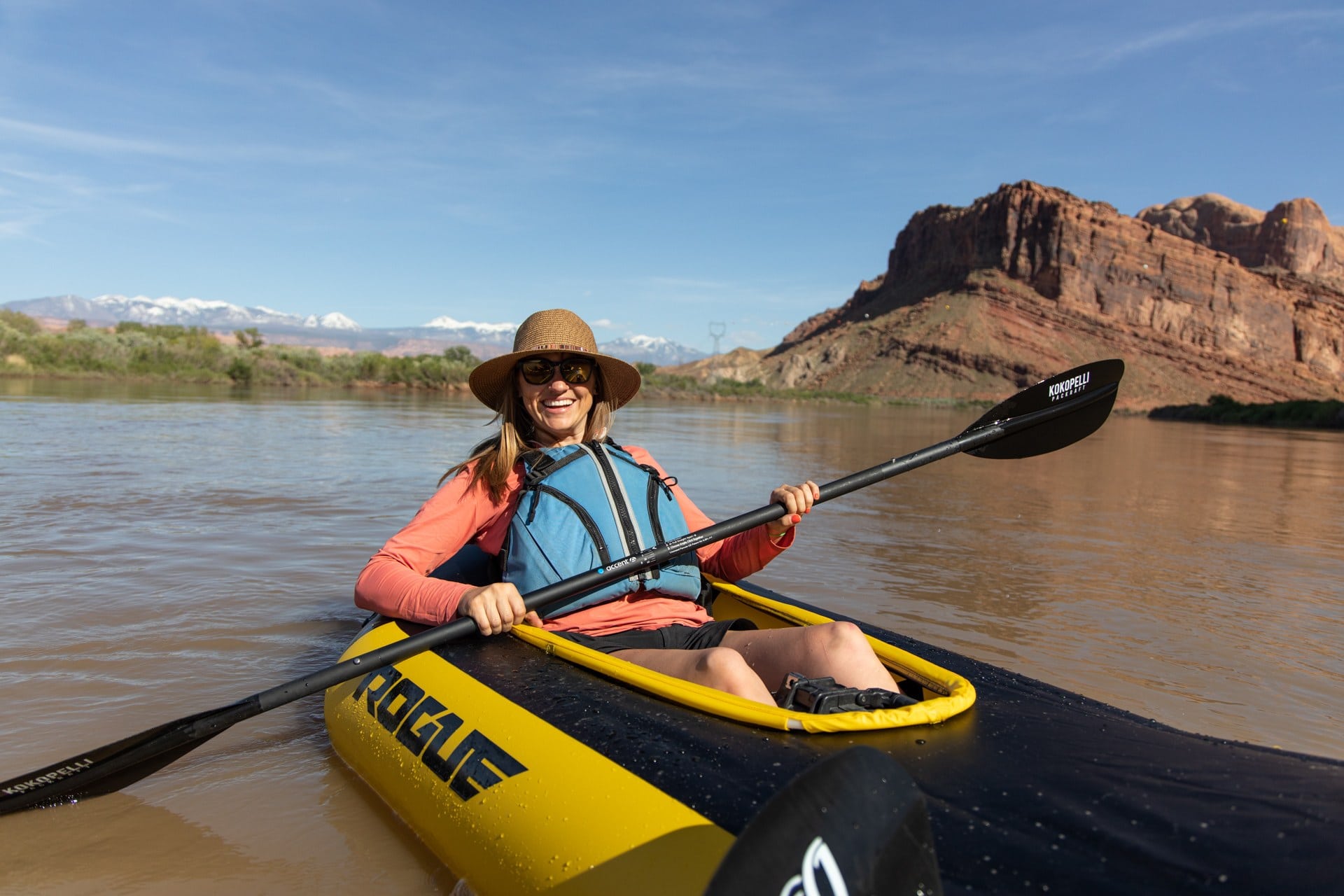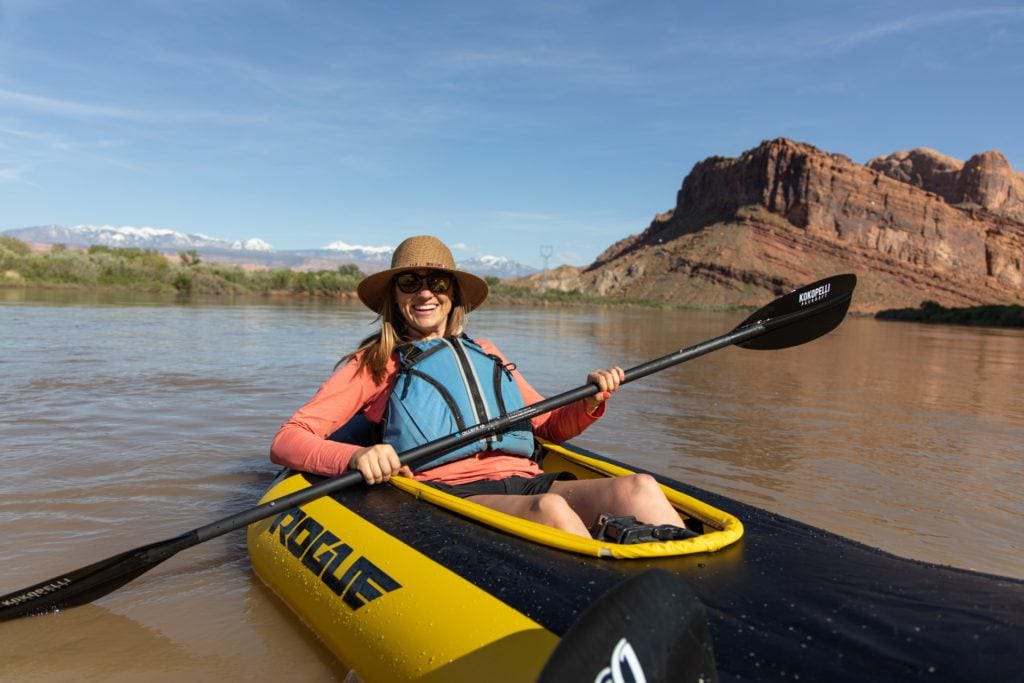 12. Float the Green River
The Green River is a scenic waterway that carves a path through the stunning and dramatic canyonlands west of Moab before emptying into the Colorado River. If you're looking for a fun and relaxing multi-day trip, floating the Labyrinth Canyon is a great way to enjoy a 45-68 mile flat water stretch of the Green River all the while being rewarded with spectacular scenery.
I did Labyrinth Canyon as a 5-day canoe trip and loved the remoteness and natural beauty of the adventure.
Planning a Labyrinth Canyon river rafting or canoeing trip does require some logistical planning, but it's worth the effort!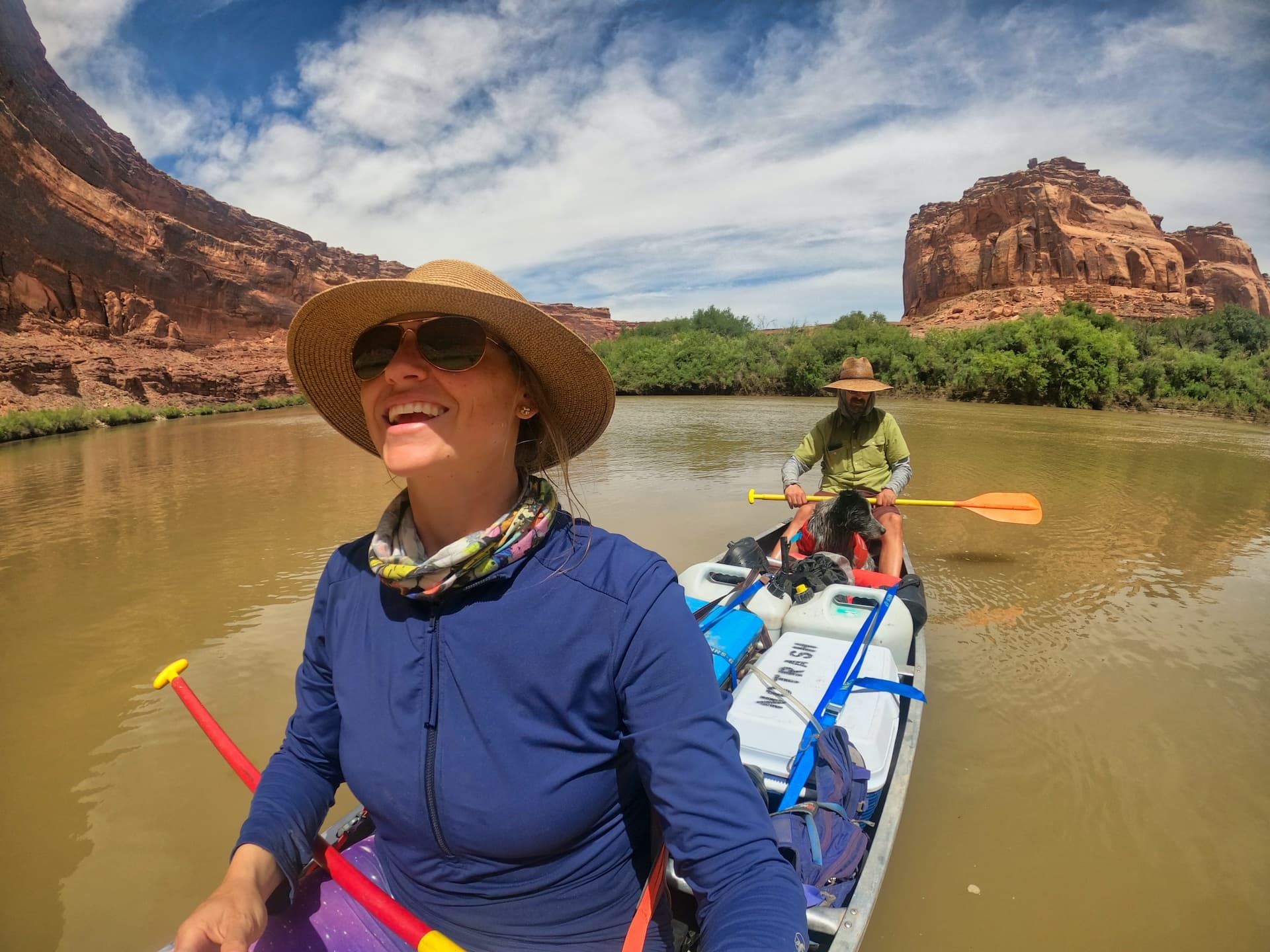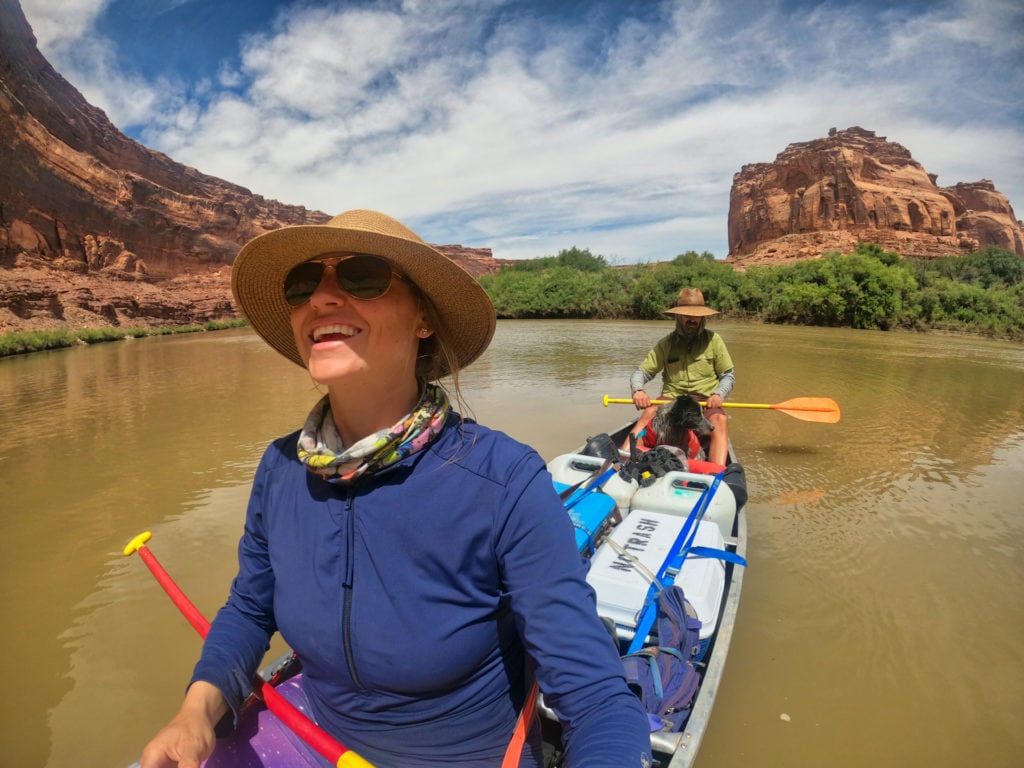 13. Paddleboard on Ken's Lake
Ken's Lake is a small lake about 10 miles south of Moab that is set against the stunning backdrop of red rock bluffs and the La Sal Mountains.
It's a great place to cool off on a hot day. Grab your paddleboard or kayak and spend a few hours floating around the lake. There's also a campground at Ken's Lake if you want to spend more time by the water.
If you're looking for a short but sweet hike in the area, Faux Falls is an easy hike from Ken's Lake and is a great place to have a picnic or watch the sunset.
Scenic Drives
Moab has a ton of great scenic drives, many of which feature impressive points of interest and natural rock formations that you can get out of the car and explore. It's important to note, though, that many roads around Moab are only accessible by high-clearance 4×4 off-road vehicles. The scenic drives I recommend below are suitable for most cars.
14. Head out to Sand Flats Recreation Area
The Sand Flats Recreation Area is located northeast of town and offers a scenic drive up through Moab's red desert landscape and into the foothills of the La Sal Mountains.
The road is well-maintained for about 17 miles, so it's a great drive for most vehicles. There is an entrance fee to access Sand Flats Recreation Area, which you can pay at the entrance booth.
If you want to stretch your legs, there are lots of hiking and mountain biking trails off of Sand Flats Road. For hiking, check out the 1.8-mile Juniper Loop. For mountain bikers, Falcon Flow is a fun intermediate-friendly ride.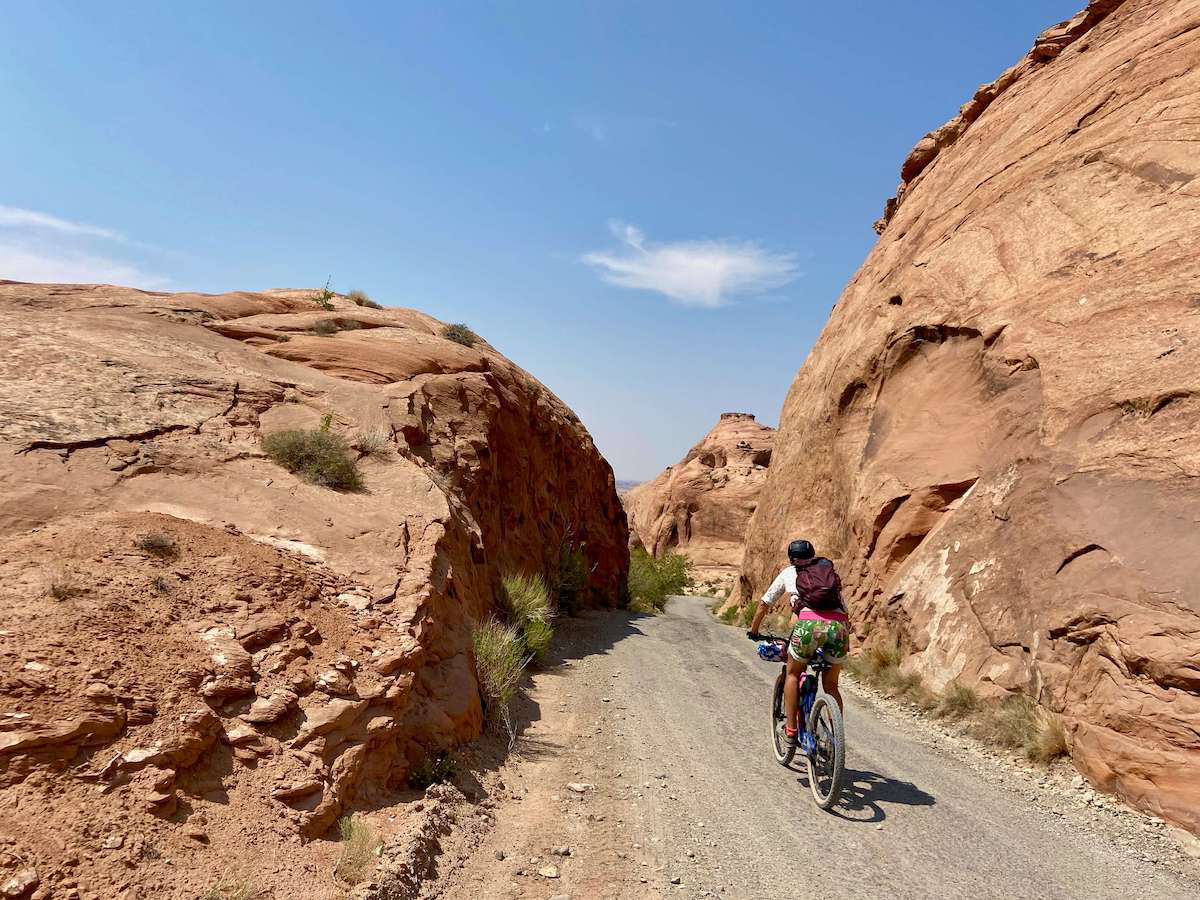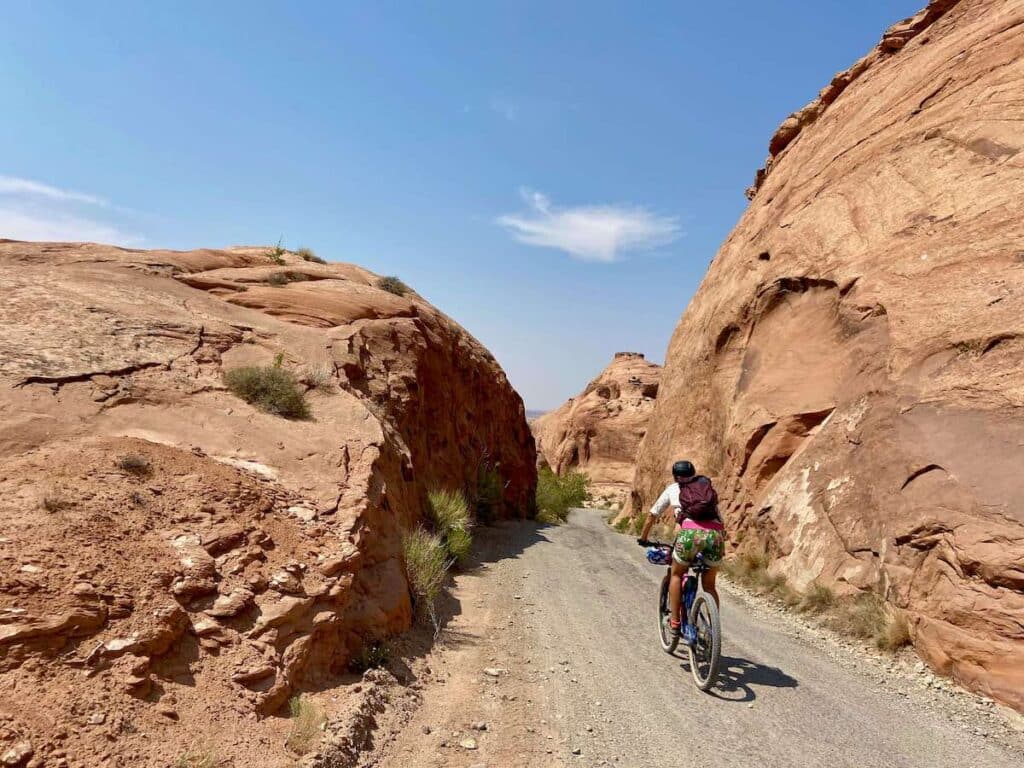 15. Explore Kane Creek Road
The drive along Kane Creek Road takes you out of Moab and past the eastern banks of the Colorado River. The well-maintained dirt road then heads into the red rock walls of Hunter Canyon. Along the drive, there are several trailheads and interesting stops like the Birthing Scene Petroglyph, Hunter Arch, and remote camping areas.
The road does continue on through the canyon but soon traverses up some steep switchbacks that could be pretty scary if you aren't accustomed to this kind of driving.
16. Drive out to Big Spring Canyon Overlook
Big Spring Canyon Overlook is located near the Needles District of Canyonlands National Park. The drive out there takes about an hour and a half one-way from Moab, but it's super scenic and worth doing if you want to get better views of the National Park.
Along the Needles drive, there are lots of scenic overlooks, hiking trailheads, and points of interest like ruins and petroglyphs.
Once you get out to the overlook, I recommend hiking the 2.4-mile Slickrock Foot Trail to stretch your legs and get better views.
If you want to explore further, book a campsite at the nearby Needles District campground.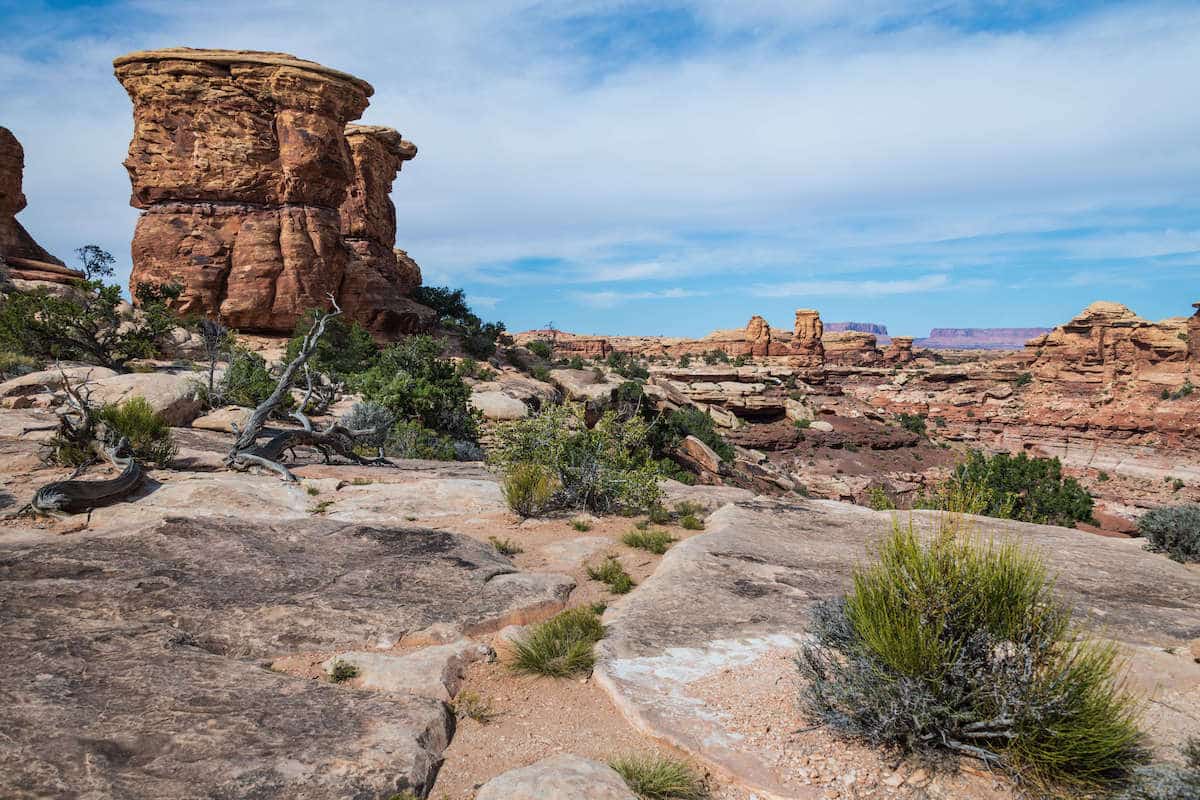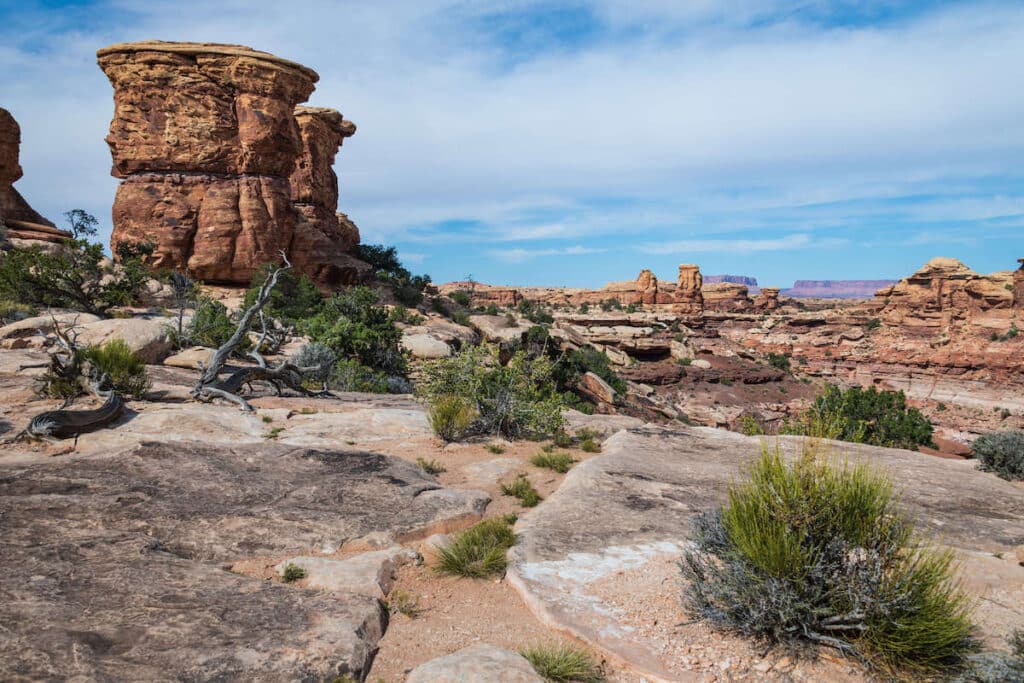 17. Drive the La Sal Mountain Loop
The 60-mile La Sal Mountain Loop offers a very different perspective of the region that contrasts sharply with the typical desert landscape.
This fully paved loop takes drivers away from the red rock canyons and plateaus and up into the alpine heights of the La Sal Mountains. As you drive, the views transition from vast desert expanses to verdant forests, meadows, and eventually, snow-capped peaks.
Along the way, there are numerous viewpoints, trailheads, and iconic landmarks to stop at like Castle Valley, the Colorado River, Oowah Lake (short detour), and more.
Due to its elevation, the La Sal Mountain Loop also offers a cooler retreat from the summer heat of the Moab Valley below. However, it's important to know that the road is steep in places with tight switchbacks and can be slick or snow-covered in colder months.
Camping
Camping in Moab is an adventure in and of itself. Whether you book a picturesque campground by the Colorado River, a deluxe glamping tent with all the amenities, or you find a sweet dispersed spot in the desert, Moab is full of great camping opportunities for everyone.
18. Camp at Porcupine Rim Campground
For sweeping views of the mesa and valleys that make Moab so beautiful, spend a few nights camping out at the dispersed Porcupine Rim Campground.
#1 campsite finder app
Try The Dyrt PRO free for 30 days
Get a FREE 30-Day membership to The Dyrt PRO, one of our favorite apps for finding campsites.
Perks include:
• 5,000+ free camping locations
• 1,000+ campground discount network
• $0 extra booking fees
• Get reservations at sold-out campgrounds, and more
Use the code BEARFOOT to get 30 days free!
The campground is an hour's drive from Moab's downtown and a 4WD vehicle is preferred, but not required if you have good clearance and off-road driving skills.
Keep in mind that the road may sometimes be closed if there is any flooding, so stay up to date on the current conditions before heading out.
Also for the best chance at scoring a good site at this small campground, visit mid-week.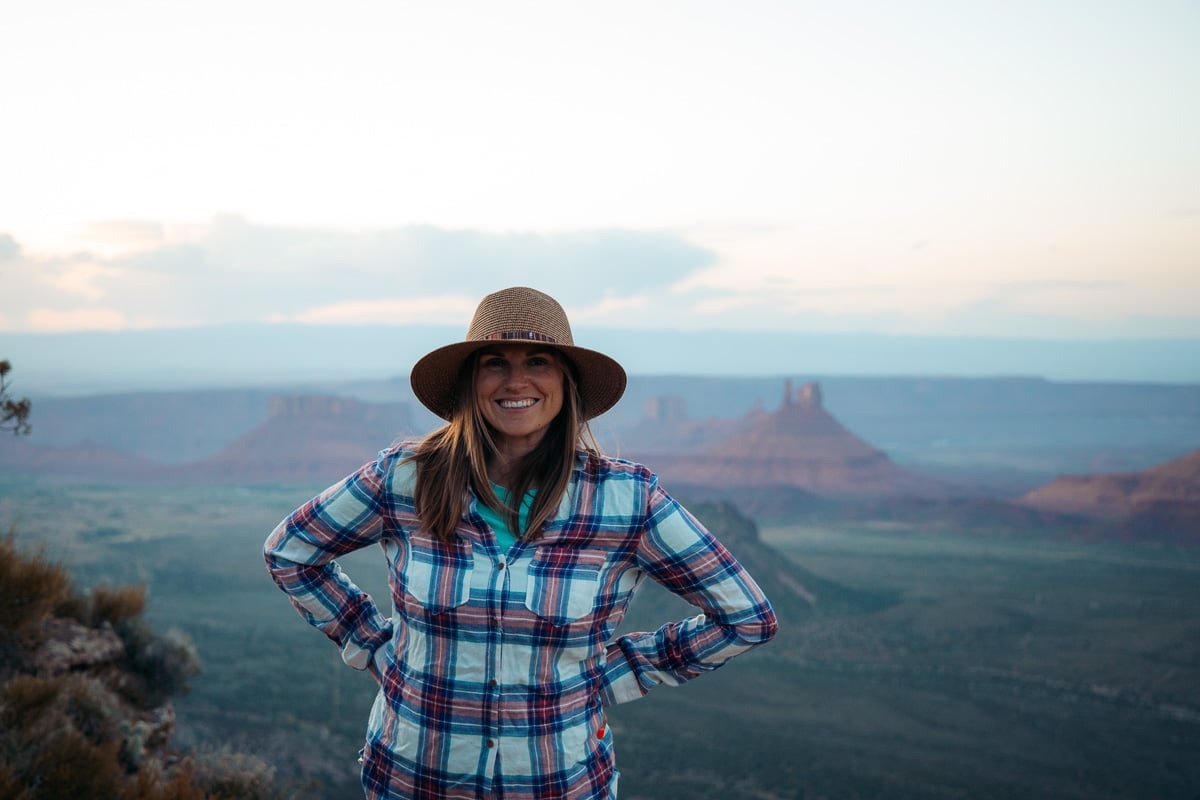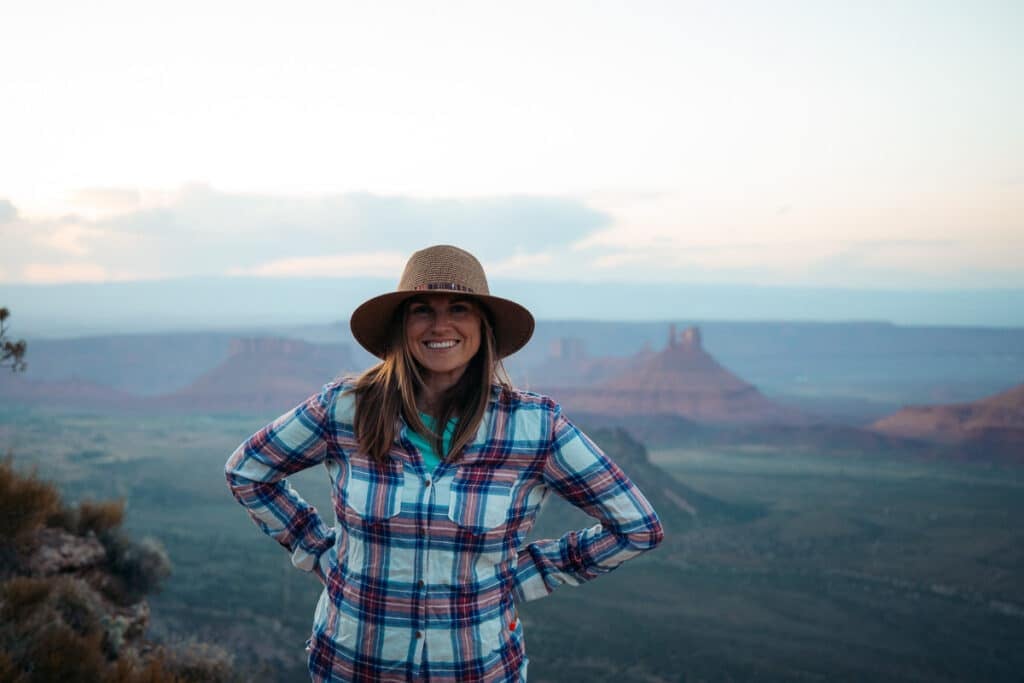 19. Rent a yurt at Dead Horse State Park
For a unique camping experience, rent a yurt at Dead Horse State Park. I stayed i one when they were brand new the night before my White Rim Trail biking trip started, and it was a fun way to gather with friends. There are two yurt areas within the State Park: Moenkopi and Wingate Yurts.
The Wingate Yurts are closer to the trails, visitor center, and campground, but pets are not allowed.
The Moenkopi Yurts are more private and farther from Dead Horse Point, but pets are allowed.
Before you book:
Bedding is not provided
There is a two-night stay minimum
Pets are only allowed in the Moenkopi yurts
The yurts have heating, cooling, and electricity
Cooking must be done outside the yurts (gas grills are provided)
20. Stay at Moab Under Canvas
Moab Under Canvas is a safari-style luxury glamping experience in the desert outside of Moab. The tents include plush beds, private bathrooms, wood-burning stoves, and private decks to enjoy the beautiful surroundings.
Prices start at $200/night, so it's definitely not a budget-friendly place to stay, but if you want to splurge, I highly recommend it!
Pets are allowed and there is a grill area where you can cook your own meals. Moab Under Canvas also provides an adventure concierge service that will help you book your adventures.
21. Camp at a BLM Campground along the Colorado River
There are a handful of really nice BLM campgrounds along the Colorado River both north and south of Moab. They are all available on a first-come-first-serve basis and most have direct access to the river.
These campsites fill up fast, though, so it's best to get there early in the morning to see if there is a spot available. The campgrounds do not have potable water, but there are pit toilets. Nightly fees are around $20.
Below is a list of BLM campgrounds along the Colorado River. You can learn more and see where they are located on the Moab BLM camping map.
North of Moab along Route 128
Goose Island Campground
Drinks Canyon Campground
Hal Canyon Campground
Oak Grove Campground
Big Bend Campground
Lower Onion Creek Campground
Hittle Bottom Campground
Dewey Bridge Campground
South of Moab along Kane Springs Road
Kings Bottom Campground
Moonflower Canyon Campground
South of Moab along Potash Road
Jaycee Park Campground
Williams Bottom Campground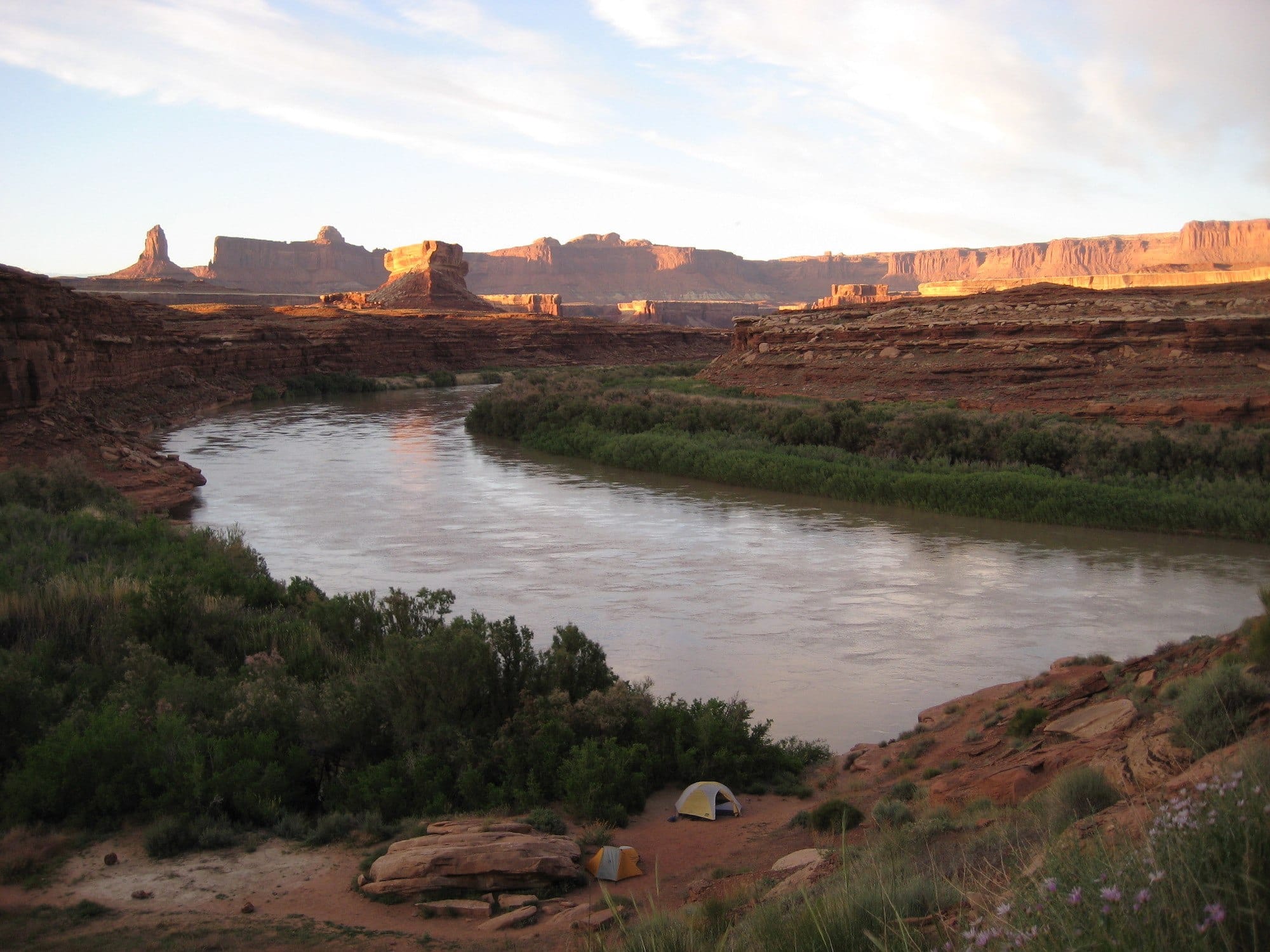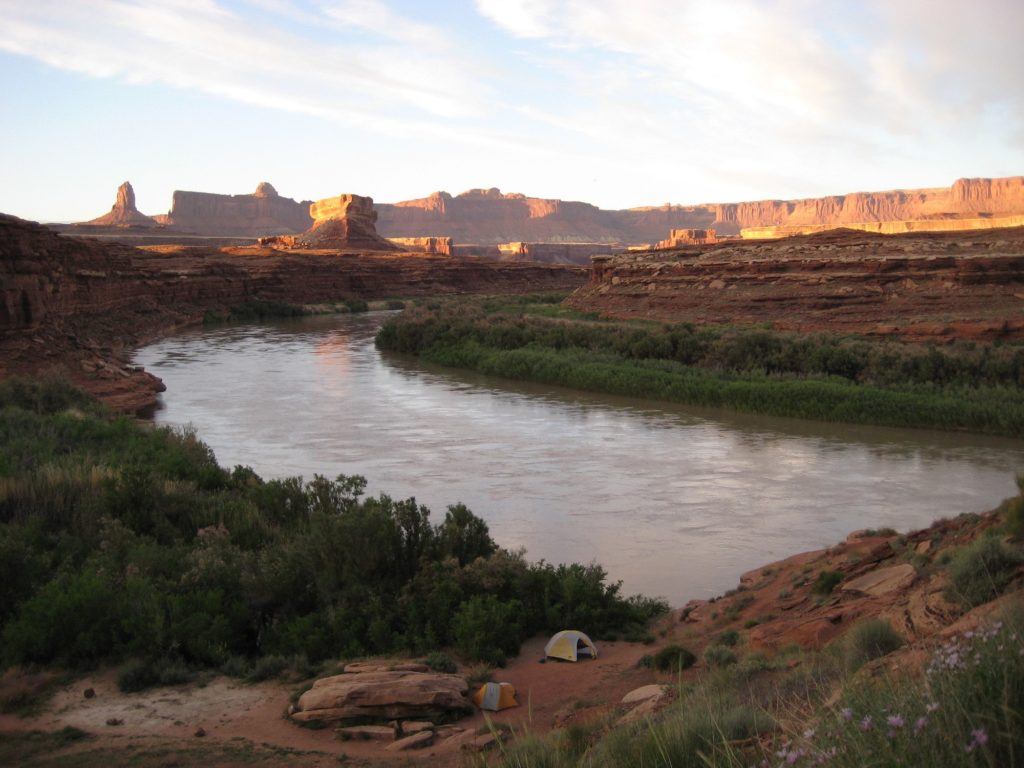 Climbing & Canyoneering
Moab seems to cater to every outdoor enthusiast, including rock climbers and canyoneers. We don't have as much experience with these outdoor sports as the others listed above, but here are some popular rocking climbing and canyoneering adventures in Moab.
22. Sign up for a climbing progression series
Have you always wanted to learn how to climb? This 5-day Rock Climbing Progression Series is a great way to learn the basics of rock climbing and build your confidence outside of the climbing gym.
Run by Golden Mountain Guides, you'll learn how to safely scale and descend rock faces with a team of professional rock climbing guides and peers.
I did something similar for skiing. I wanted to learn how to be a better skier, so I signed up for a 3-day women's ski camp at Alta and it was one of the best things I've ever done to improve my outdoor skills.
Just looking to climb for the day? You can hire a full-day or half-day private climbing guide as well.
23. Go canyoneering
The red rock landscape outside of Moab is full of nooks and crannies that are perfect for canyoneering expeditions. Unless you're an experienced canyoneer, though, I don't recommend attempting any serious routes on your own. Instead, check out the canyoneering tours offered by Red River Adventures. You can choose from easy half-day outings or test your skills and stamina with a more difficult route.
I mentioned seeing some people rappeling down Morning Glory Arch above, which is one of Red River Adventures' tours.
Explore Town & Local Events
Moab is a bustling desert town with lots to see and do. It's easy to get put off by all the tourist activity, but I do recommend spending at least a few hours walking around downtown Moab to check out the shops and restaurants.
24. Eat at Moab Garage
Moab Garage is an awesome local eatery to grab breakfast or lunch, including several vegan options. They serve great coffee as well as delicious donuts, breakfast fare, and filling lunch plates. They're open 8am – 3pm Thursday through Sunday.
25. Browse Moab Made
Moab Made is a local artisan gift shop located in downtown Moab, right on the main street. Every item sold in Moab Made is locally crafted or designed. It's a great place to browse for art, jewelry, pottery, and more. Plus, you know your money is going back to the community!
26. Eat at the Moab Food Truck Park
Located just a block away from the main street in downtown Moab, the Moab Food Truck Park features a handful of vendors serving yummy food. From authentic tacos to handmade gelato, you're sure to find something for every palate.
Looking for vegan food? Check out the Moab Kitchen food truck. It's parked a few blocks away from the food truck park on W. Center Street. It serves the best vegan breakfast sandwiches I've ever had.
27. Catch some live music at Woody's Tavern
Woody's Tavern is a cozy neighborhood bar and restaurant that has been a favorite Moab hangout for decades. It's also a great place to catch live music from local bands like Stonefed and Meandercat.
You can find the updates on shows and what's happening on the Woody's Tavern Facebook Page.
28. Check out Moab Giants Dinosaur Park
If you like dinosaurs – and who doesn't? – the Moab Giants Dinosaur Park is a worthwhile stop to spend an hour or two, especially if you're traveling with kids.
You'll learn fascinating facts about these giants that once roamed around what is now Moab and the vast surrounding canyonlands.
A few of the interactive exhibits include a 5D prehistoric aquarium, fossilized dinosaur tracks, lifesized dinosaur models, and more.
The museum is located about 10 minutes outside of downtown Moab, across from the Brand Trails network. You can even ride your bike along the Moab Canyon Pathway all the way there.
---
4-6 Day Moab Itinerary
You could spend weeks – even months – in Moab and not fit in all the best hiking trails, bike rides, water sports, or other adventurous things to do.
To make the most of your time in Moab, here is a 4-6 day itinerary that you can customize based on your interests and how much time you have.
Day 4
Float the Colorado River
Dinner at Moab Kitchen
---
Best Time to Visit Moab
Moab is a year-round destination, the shoulder seasons – spring and fall – are the best times to visit for cooler temps. Keep in mind, though, that spring and fall are also peak tourist seasons, so try to avoid visiting on the weekends and holidays to beat the crowds. Not only will it be more pleasant for you, but overcrowding can damage trails and the delicate surrounding environment.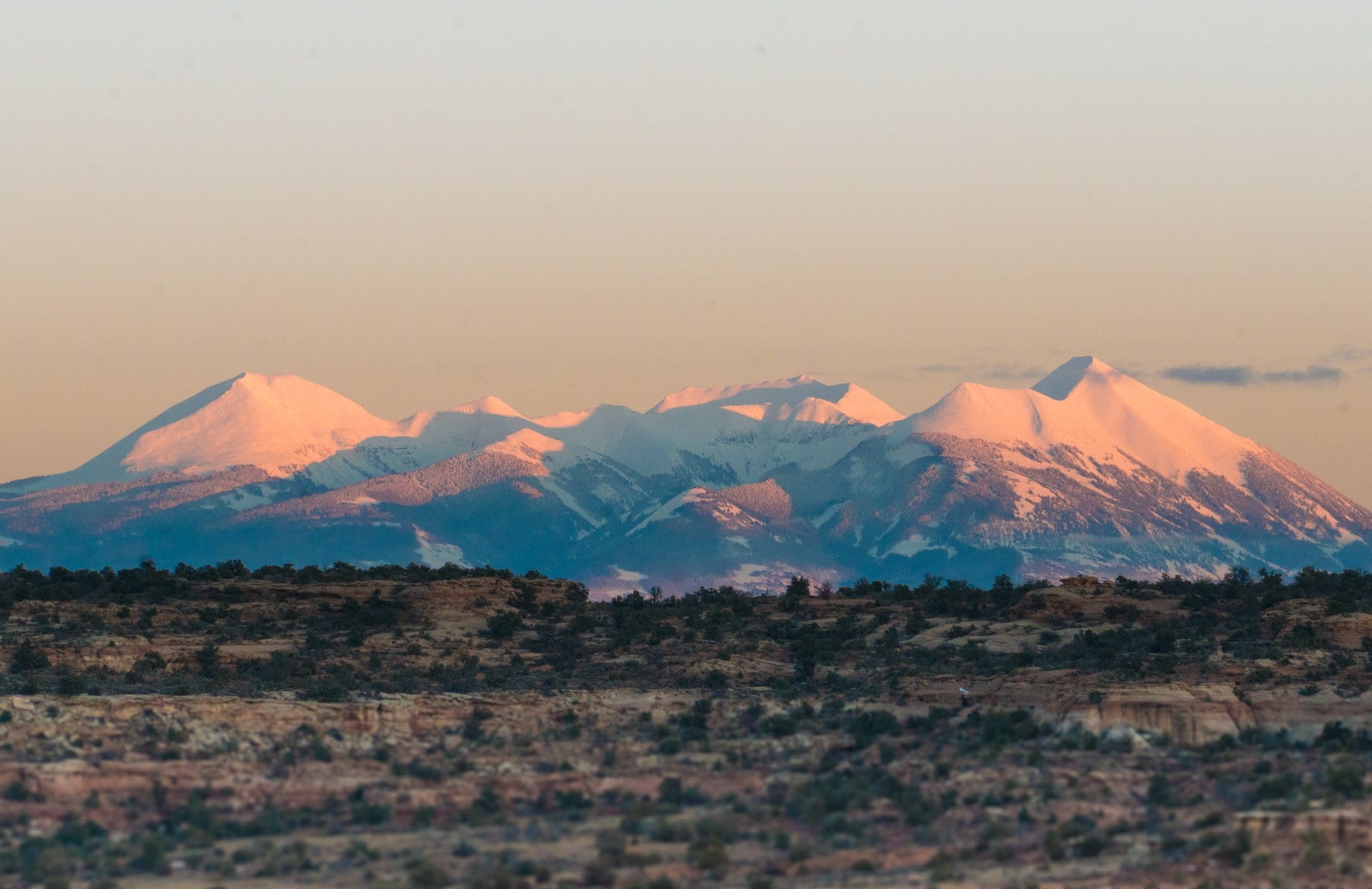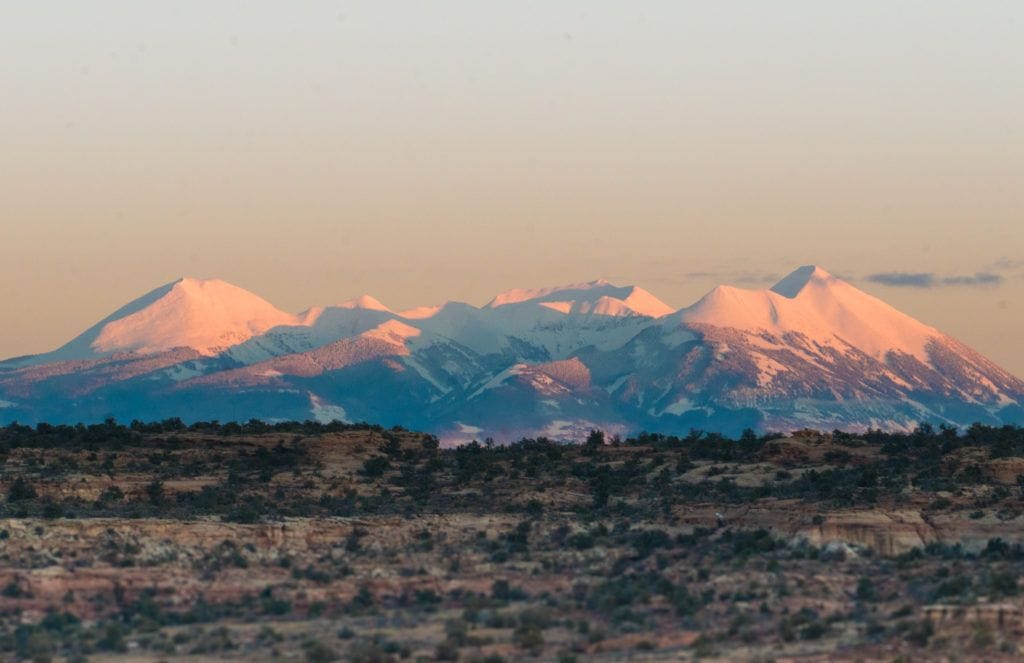 Spring: March through May brings large crowds to Moab (which is like its own kind of condition), so plan to hike mid-week, early morning, or choose lesser-known trails.
Weather-wise, spring temps are typically in the 60-80 degree range. You'll want to wear layers when hiking so you can adjust as needed to keep cool and warm as the temps change throughout the day. See our guide to what to wear hiking for specific recommendations.
Fall: Fall brings pleasant conditions and beautiful autumn hikes from late September through November. While September can still be busy, crowds tend to die down a bit in October and November. Just bring rain gear and warm layers in anticipation of the occasional fall thunderstorm. It can be cooler, especially in the evenings, than you might anticipate. See our guide to what to wear hiking in the fall for specific recommendations.
Summer: Southern Utah is known for its intense summer heat. Grand County, home to Moab, Arches National Park, Canyonlands National Park, and the surrounding area, receives the most search and rescue calls of anywhere in Utah and many of those are due to heat exhaustion.
Daytime temperatures from June into September tend to be in the 90s and even 100s. If you do plan your trip to Moab in the summer, it's essential that you get an early morning start or wait until later in the evening to avoid being outside during the high heat of the day, which can be extremely dangerous.
Or even better, plan your activities around the Colorado River, like floating or white water rafting. Be sure to bring sun protection for all your outdoor adventures and plenty of water.
Winter: Winter can be a great time to visit Moab, but know that Moab does get snow and temperatures can drop down into the 20s or below at night and hover in the 40s or 50s during the day.
I actually love visiting Moab in the winter because the crowds are fewer and you can often get some of the more popular trails and things to do in Moab to yourself.
Pack warm winter hiking layers and a Mirocspikes for your shoes if you want to hike in Moab during the winter.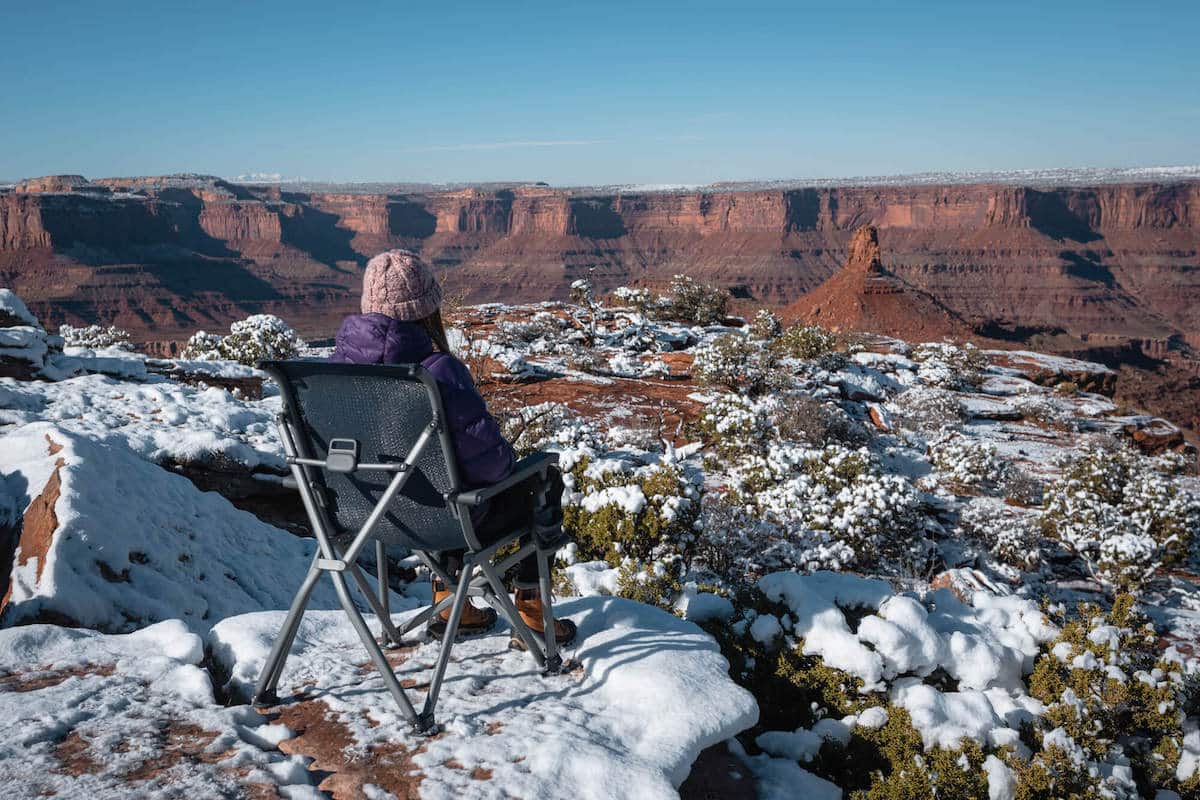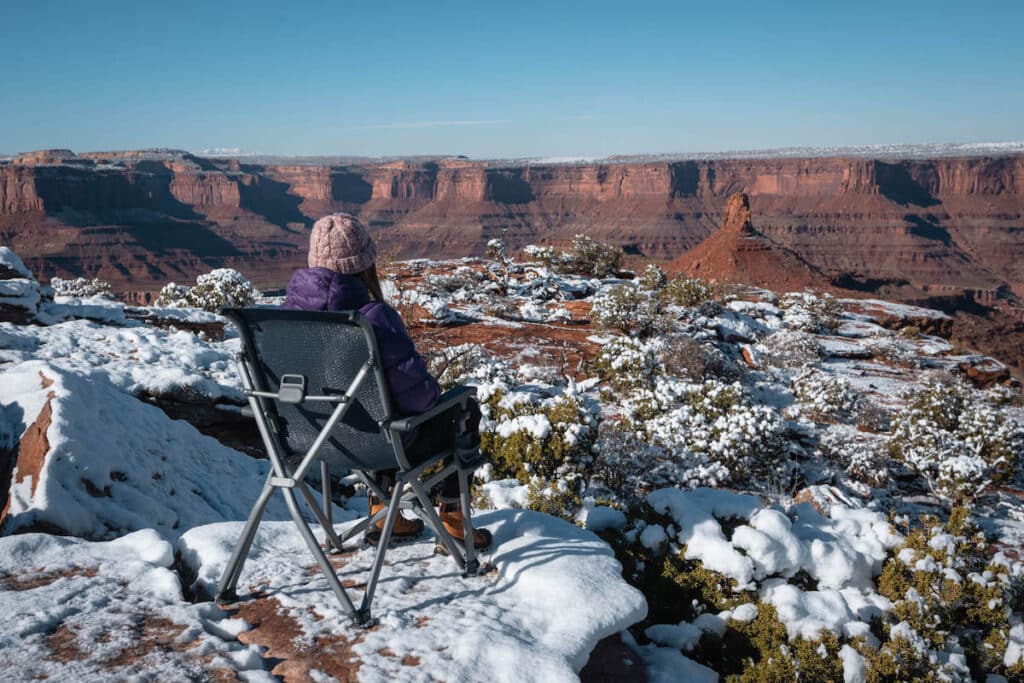 ---
Other Tips for Visiting Moab
When planning your visit to Moab, Utah, it's essential to understand this unique desert environment so you can be prepared for a fun and safe trip while being a responsible visitor at the same time. No matter the destination, it is essential to practice the ethics of Leave No Trace. However, the sensitive landscape of Moab requires folks to be even more mindful of their impact and to tread lightly in this naturally beautiful place. Small missteps can add up to long-term impacts, and it's up to all of us to responsibly enjoy each destination we visit to keep it beautiful for future generations.
So, while you're planning, use these tips for visiting Moab to get up to speed on what to look out for, how to be prepared, and how to be a responsible outdoor enthusiast when you visit this outdoor adventure hub.
Explore Beyond the National Parks
A good adventure means getting off the beaten path. While the National Parks are amazing, Arches in particular experiences overcrowding. Luckily I gave you 28 other adventurous things to do in Moab so you can seek out different adventures that are not the most obvious.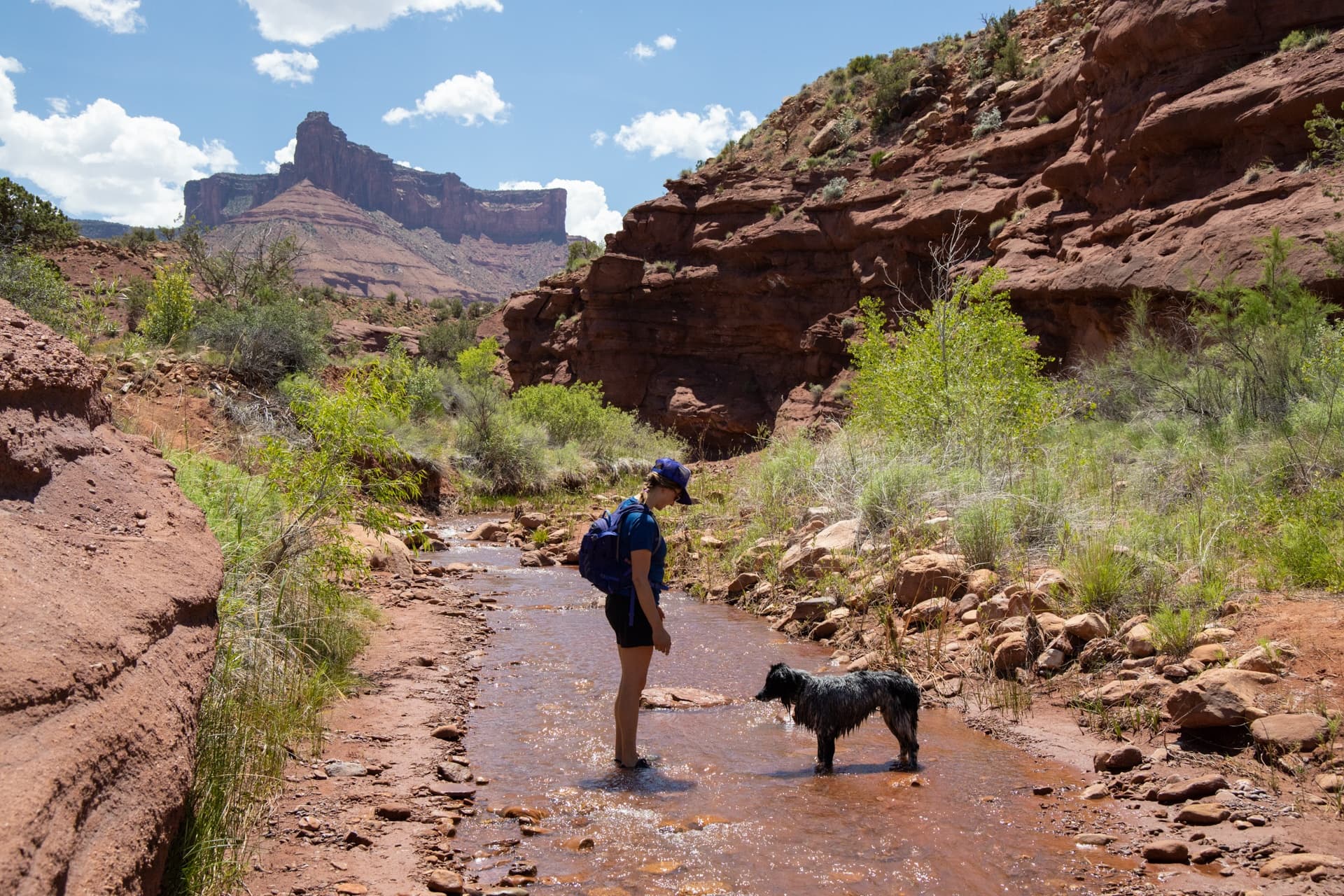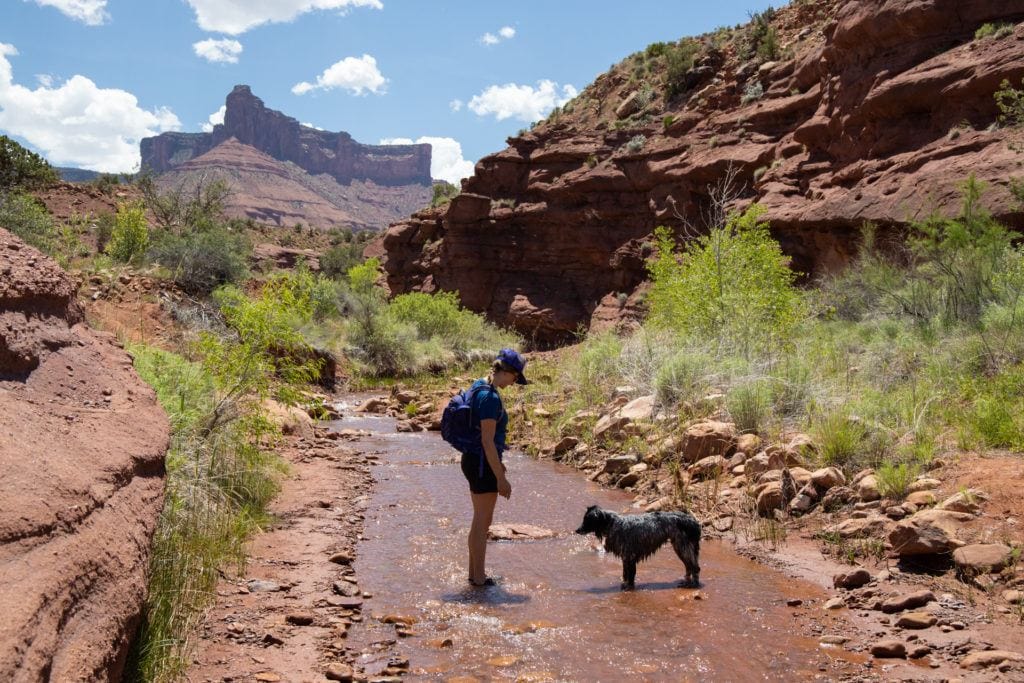 Practice Good Trail Etiquette
On Moab's multi-use trails, it's not unlikely that you will encounter other visitors, some on foot, two wheels, or even four. Many of the backcountry dirt roads in and around Moab are open to ATVs, and other kinds of Off-Highway Vehicles (OHVs) — including any vehicle with four-wheel-drive — so things can get busy. Some areas along the trail systems are also nearby neighborhoods. Be respectful to the locals by staying aware of your surroundings and keep your speed down.
If you're hiking or mountain biking, practice good trail etiquette while sharing the trail: be courteous, know the rules (mountain bikers should always yield to hikers), and be friendly to others. Not only does this create a great experience for everyone, but you'll be leading by example as well.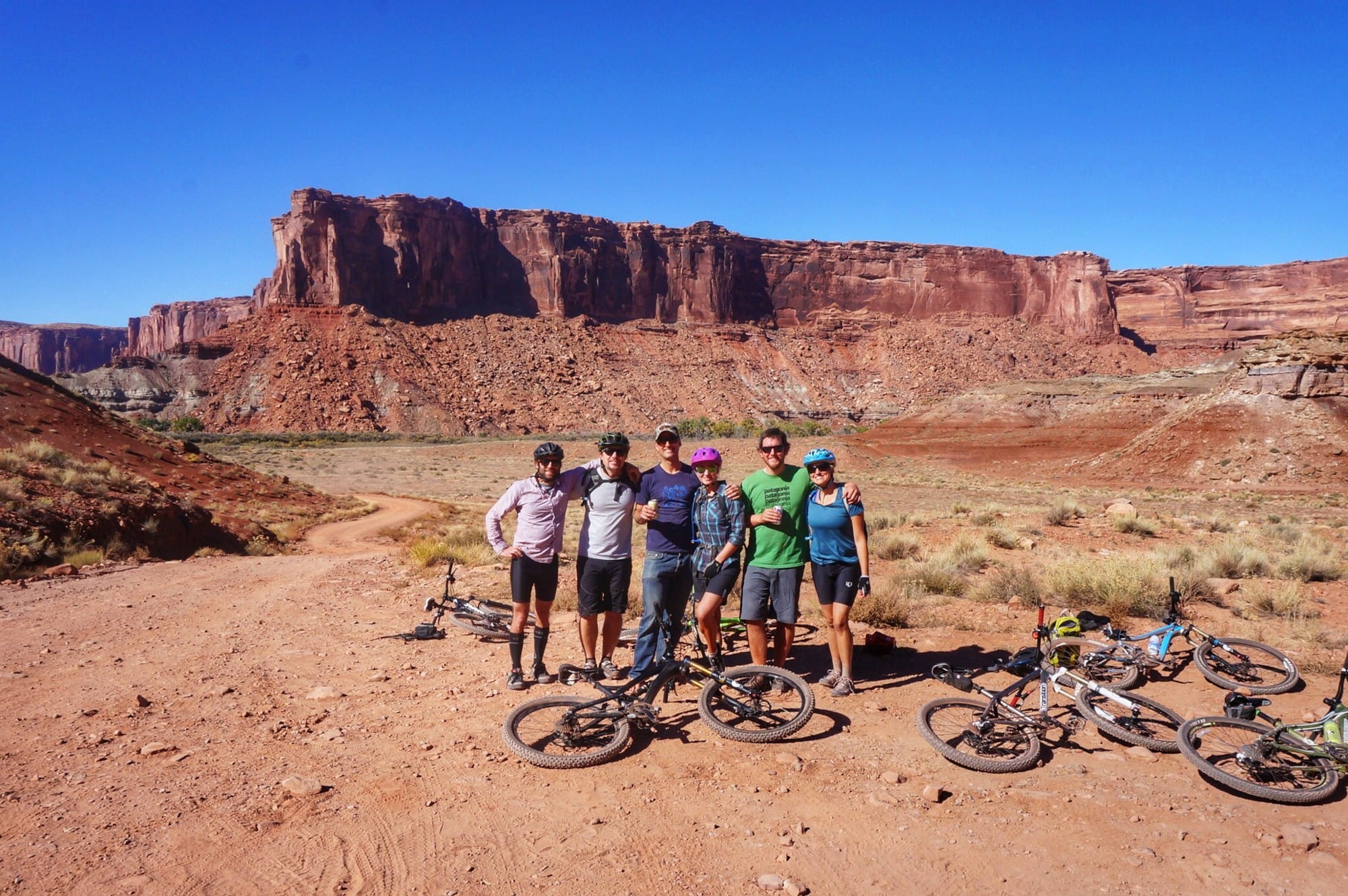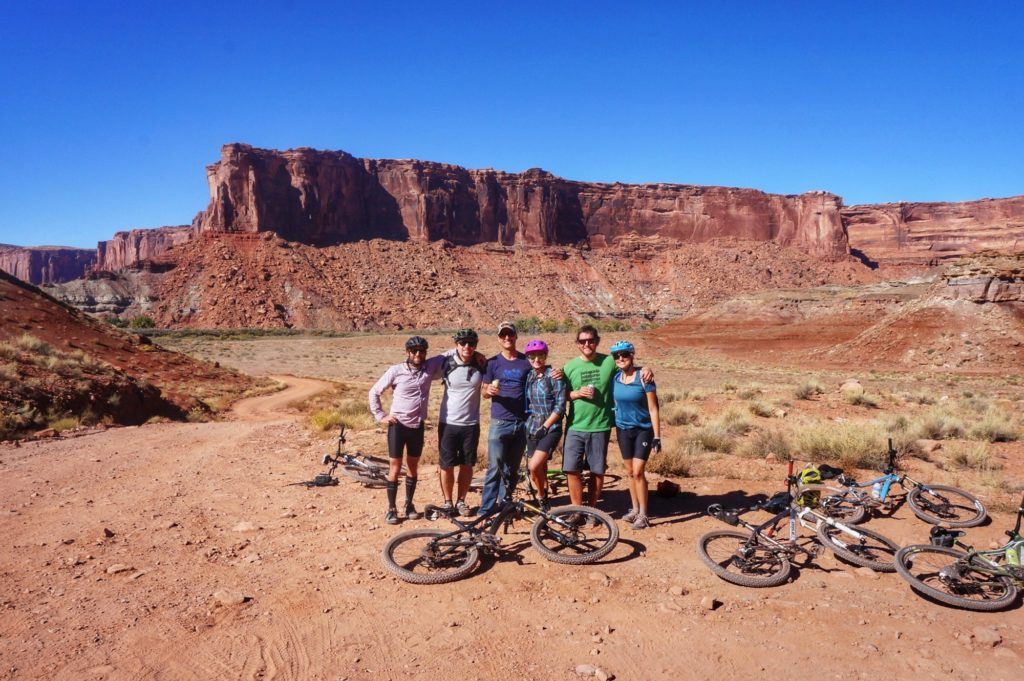 Pack it In, Pack it Out
Whether you're hiking, camping, or vanlifing, be sure to pack out and properly dispose of everything, including your poop AND your toilet paper if bathroom facilities are not available. One of the best tips for visiting Moab is to come prepared to do this!
Due to high use, human waste is a serious issue at dispersed campsites, and in some areas (like the Canyonlands backcountry), poop must be packed out in approved waste bags or portable toilet systems. Approved waste bags can be purchased at the Moab Information Center and local outdoor retailers.
If you see a piece of trash while you're out and about, pick it up and help leave the area even better. Pack out pet waste as well.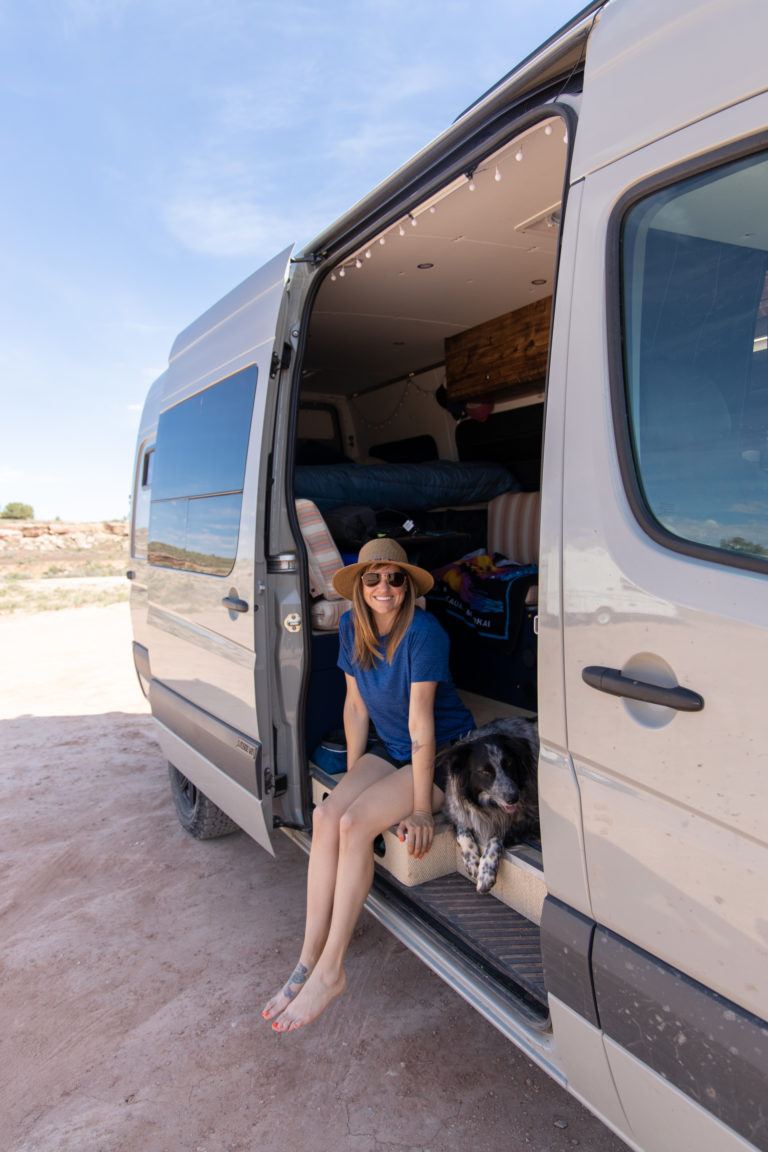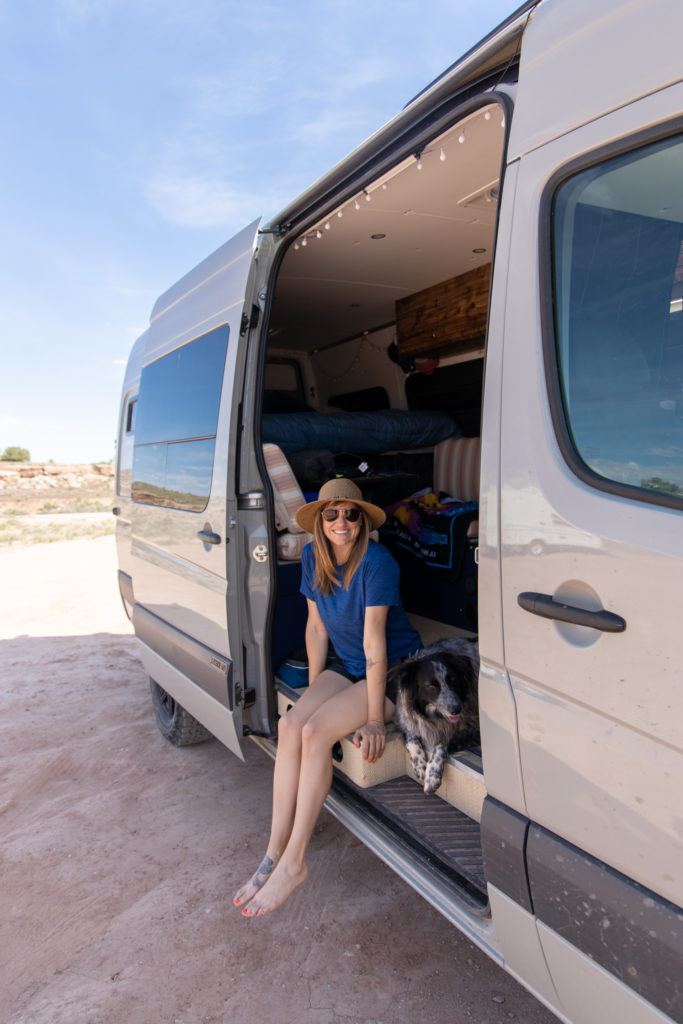 Tread Lightly and Stay on the Trail
There are many reasons to stay on established trails while recreating in Moab. This avoids damaging the cryptobiotic soil, which has delicate flora that's crucial to the health of the desert ecosystem and can literally take thousands of years to grow. The soil is made up of moss, lichen, and fungi that retain moisture for other species to thrive and helps reduce erosion in desert environments. Even a single footprint can have a seriously negative impact, and in some cases, it may never recover.
Local's even have a catchy slogan to help visitors remember, "don't bust the crust". When you meet a group on the trail, let them pass or politely pass them without stepping off the trail to avoid making it wider.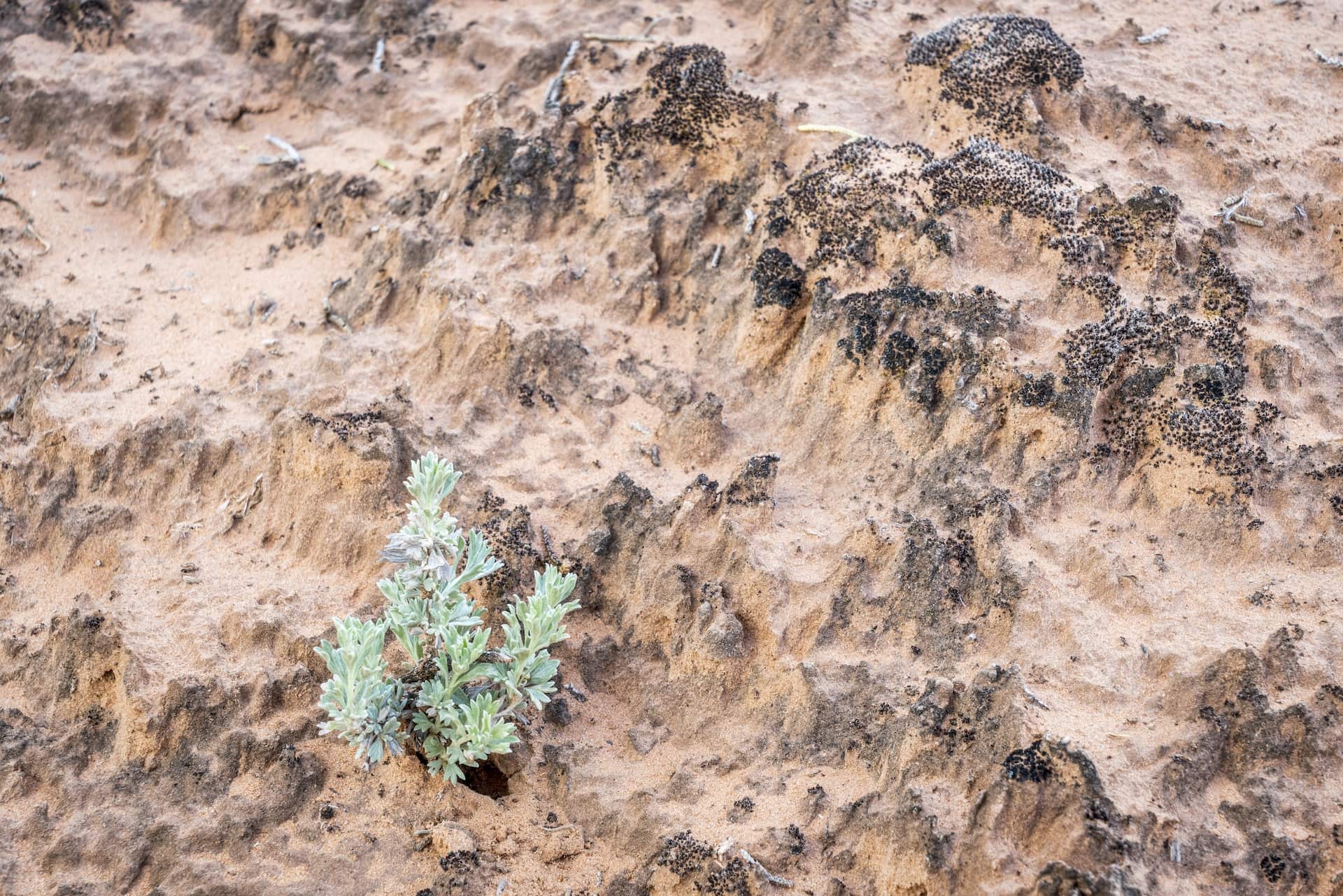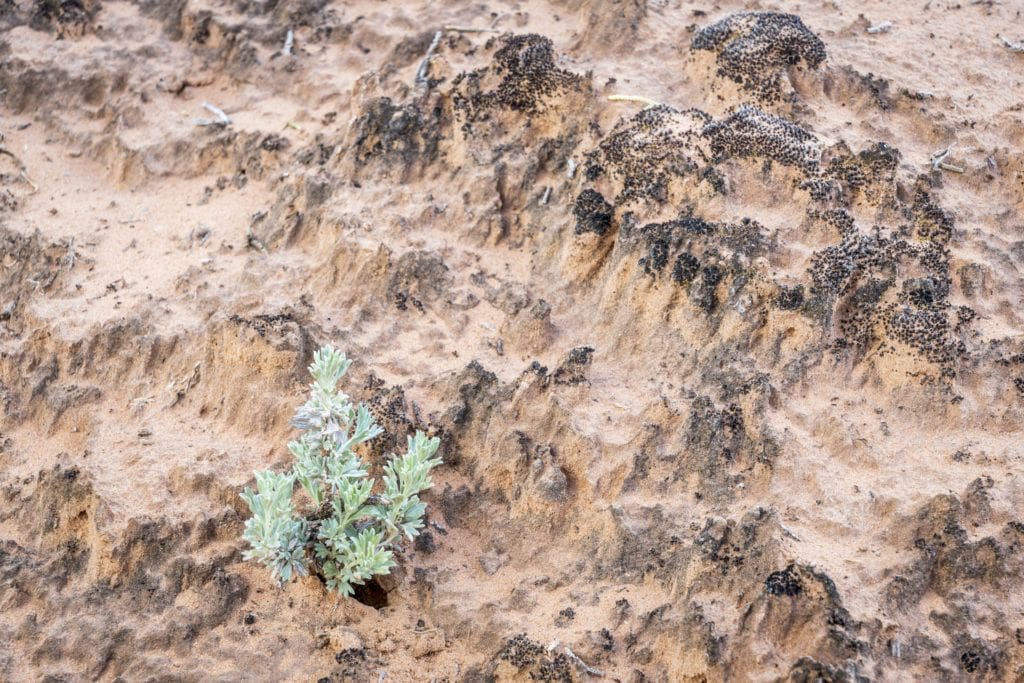 Leave Behind What You Find
In addition to preserving the soil, don't pick up, move, or take home any rocks or artifacts of any kind. Moab is home to many natural cultural features, like Native American artifacts from the Navajo, Ute, and Pueblo Tribes. Here, you are able to see preserved remnants that are thousands of years old, like ancient stone dwellings, rock carvings, and former places of worship.
There are also preserved dinosaur footprints, wall drawings, and more. If you are lucky enough to stumble upon something that is a part of Moab's heritage, treat it like a local would and leave it just as you found it for others to enjoy.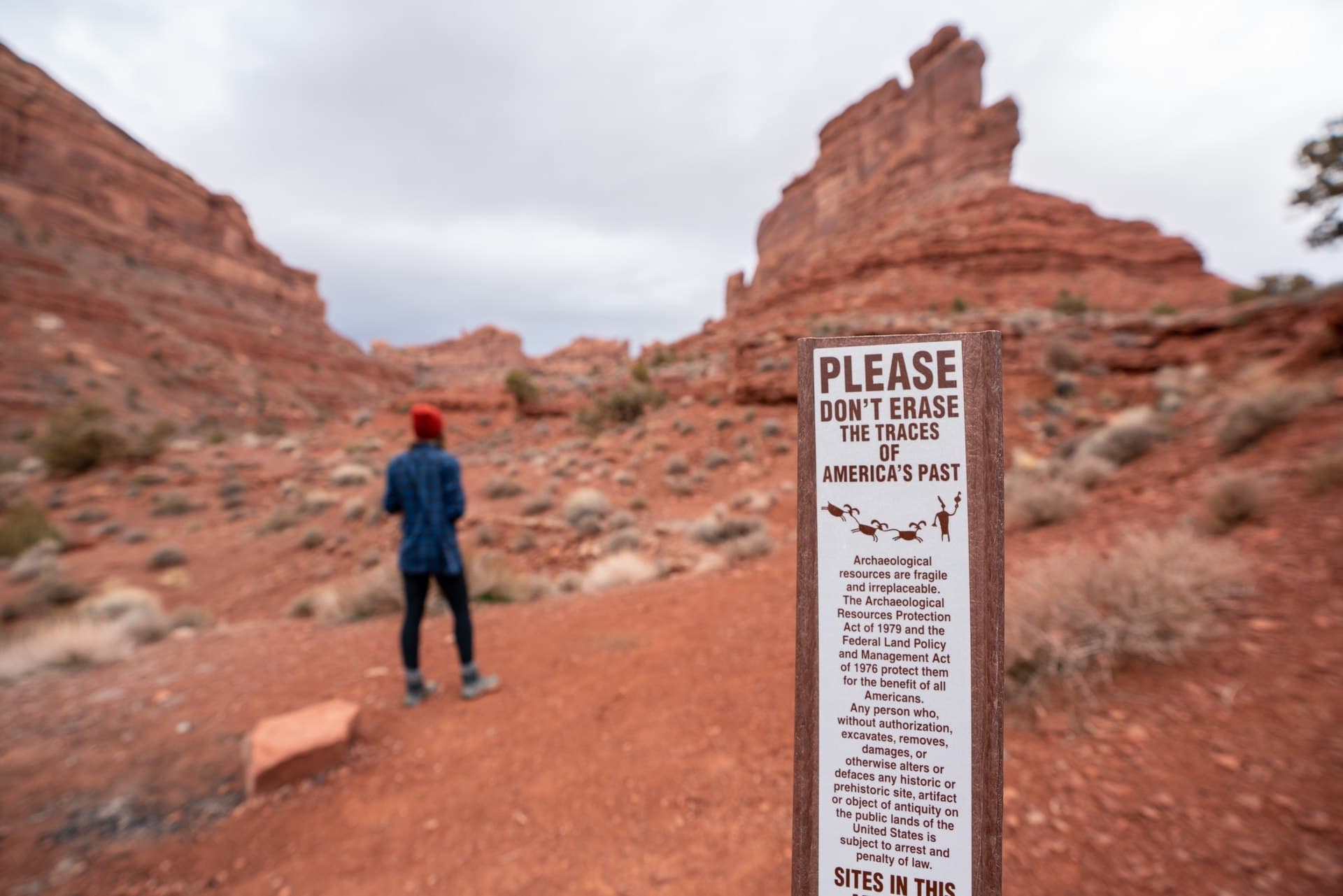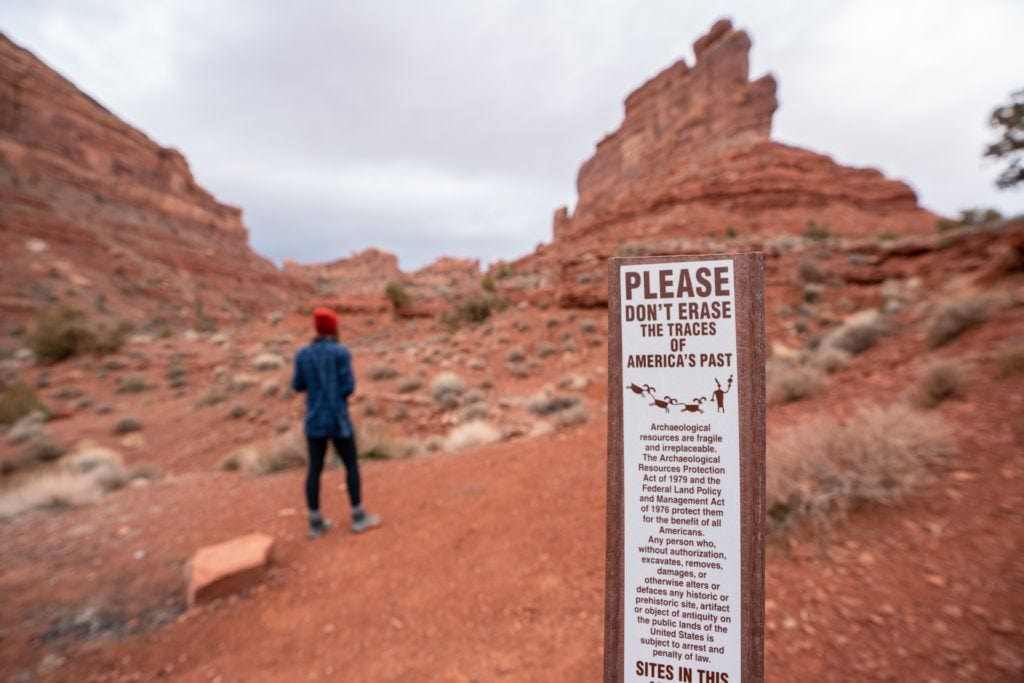 Prepare for the Heat
Moab's heat and terrain are two things to be prepared for ahead of time. An important tip for visiting Moab is to stay fueled and hydrated while you're out exploring the canyons and trails. I highly recommend drinking electrolytes while you are out on these adventures as well.
Sun protection and moisture-wicking clothing are a must-have, and so is good footwear. Make sure you have durable hiking shoes that provide arch and ankle support, plus enough grip for trekking around rocky desert terrain.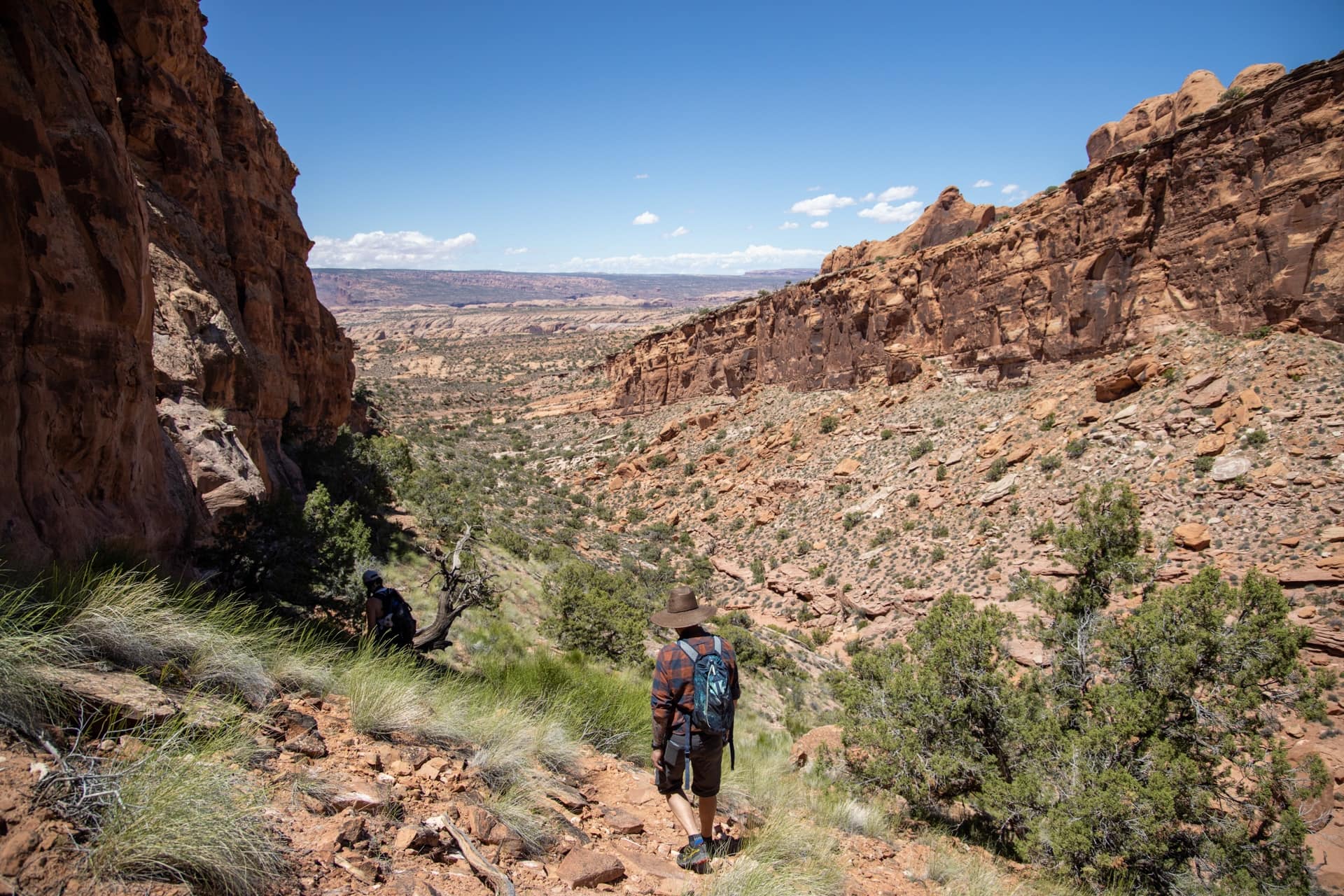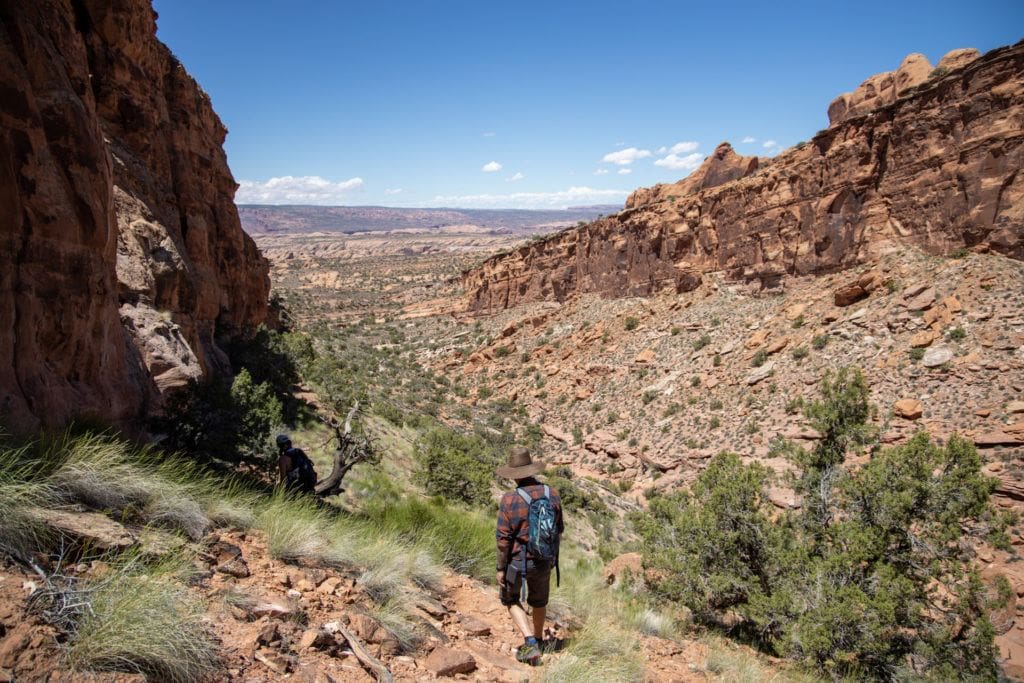 Plan Ahead
Plan your route, do your research, and know where you're going ahead of time to reduce your chances of getting lost. Since cell coverage can be spotty around Moab, let someone know your plans so they can be on the alert if they don't hear from you when you're supposed to return.
For remote locations, you may even want to consider bringing a satellite communication device such as a Garmin InReach so you can get a hold of someone if the unexpected happens. A great tip for visiting Moab is to avoid hiking alone unless you are very confident in your abilities, are super prepared, and have notified someone of your plan.
It's much easier to get lost in the desert because there aren't as many defining features as there are in the alpine. Even if you are alert and aware of your surroundings, it isn't hard to get confused or lose your way. Always carry a map or your navigational tool, like the Garmin InReach mentioned above, and familiarize yourself with the route before you start hiking.
Save this post to Pinterest
Planning a trip to southern Utah? Check out these blog posts to make the most of your adventure:
Have you been to Moab? What are your favorite things to do? Share your comments and questions below!