Located on the Utah/Arizona border in the Paria Canyon-Vermillion Cliffs Wilderness, backpacking Paria Canyon involves 38 miles of hiking down the meandering riverbed in-between two enormous walls of Navajo sandstone. I spent four days backpacking through the winding canyon and absolutely loved it.
A Paria Canyon backpacking trip requires wading downriver, with dozens of crossings – in some ways similar to hiking the Narrows in Zion, but more remote and isolated. Your feet will be wet the entire time. Due to the nature of the trail (or lack of trail), the hiking is slow, but it is nothing short of spectacular and worth every ounce of effort. What made it even better was that over the course of 4 days, we only crossed paths with one other pair of hikers, and they were headed the opposite direction. We had the canyon all to ourselves, meaning that the BLM's permit process is working well to keep this place wild.
In this Paria Canyon Backpacking Guide, I share everything you need to know to plan your own backpacking trip.
Important Reminder: As it goes in all of the destinations we share, please practice good trail etiquette and remember to Leave No Trace. This means packing out all of your garbage, being respectful to others on busy trails, and following the established rules. You are also required to pack out all of your toilet paper and poop in Wag Bags provided by the ranger station on this hike.
Paria Canyon Hike Basics
While there are three different starting trailheads for Paria Canyon, most people choose to do a one-way hike from the White House Trailhead near the Paria Contact Station and finish at Lee's Ferry. This route is 38 miles long and gradually loses 1,130 feet in elevation over the course of the trip. The trail is very easy to follow, as a majority of the hiking is done in the riverbed.
We did the Paria Canyon hike in 4 days/3 nights and found the pace to be just right. We had plenty of time to hang out at camp and even got to sleep in a bit, but we still covered enough distance each day that it was challenging. The ranger told us that some people hike it in 3 days/2 nights. If that is all the time you have, then it is doable, but be prepared for long days. Hiking in the river is surprisingly slow, especially if water levels are high.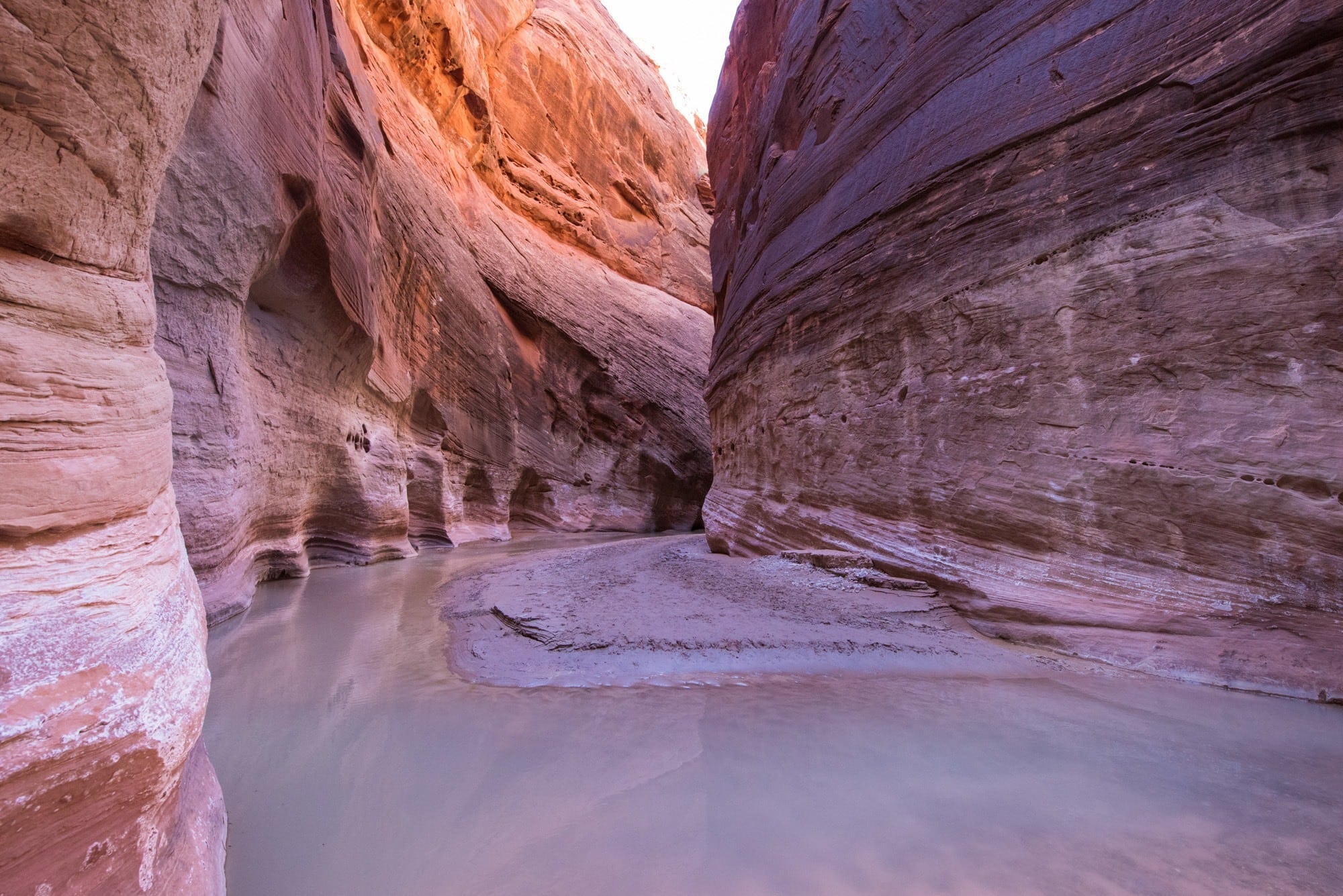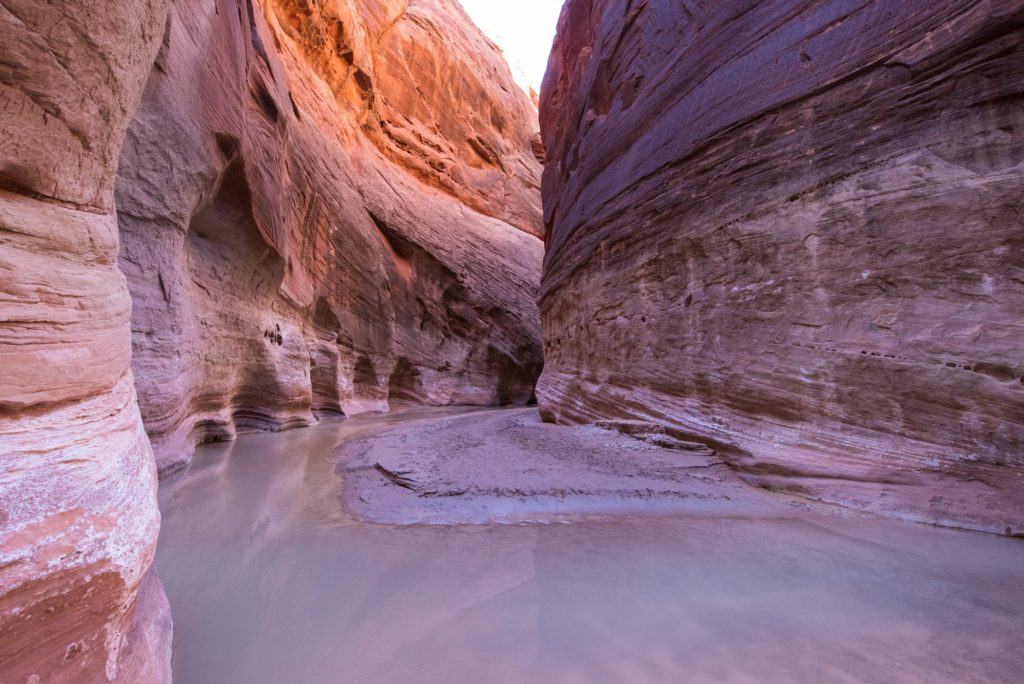 ---
Paria Canyon Backpacking Route
You can see from the map below that there are two alternative trailheads – Buckskin Gulch and Wire Pass – both narrow slot canyons. In fact, Buckskin Gulch is considered to be one of the longest slot canyons in the world, and I've heard nothing but awesome things about hiking it. But for this trip, I chose to start at White House Trailhead for a couple reasons:
Starting from Buckskin or Wire Pass adds significant distance to the first day, and there is nowhere to camp until you reach the Paria River.
Both Wire Pass and Buckskin are very narrow slot canyons with obstacles and often have deeper water than the Paria Narrows. Traveling through here with a big backpack makes the first day significantly more cumbersome.
From the Whitehouse Trailhead, you still get to travel through the Paria Narrows which you bypass with the other trailheads. While not as constricted as Buckskin Gulch, the walls of the Paria Narrows close in to about 6 feet across at some points, meaning you still get to experience some deep slot canyon hiking.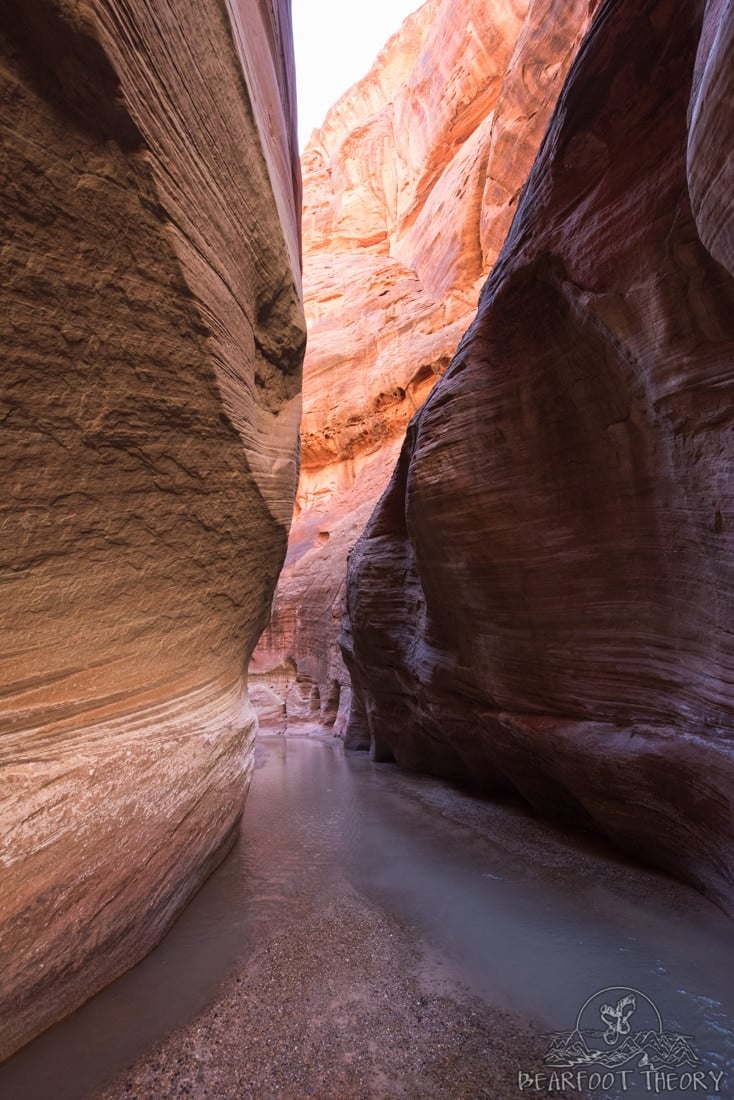 For these reasons, I decided that Buckskin Gulch will have to wait until next time when I can travel light with just a daypack. If you are set on traveling through Buckskin Gulch, starting at Wire Pass provides a slightly shorter route. Alternatively, you can hike from the White House Trailhead, set up camp just below the confluence, and then go on a shorter day hike up Buckskin Gulch from the bottom without your pack.
Click on the map below for a larger version.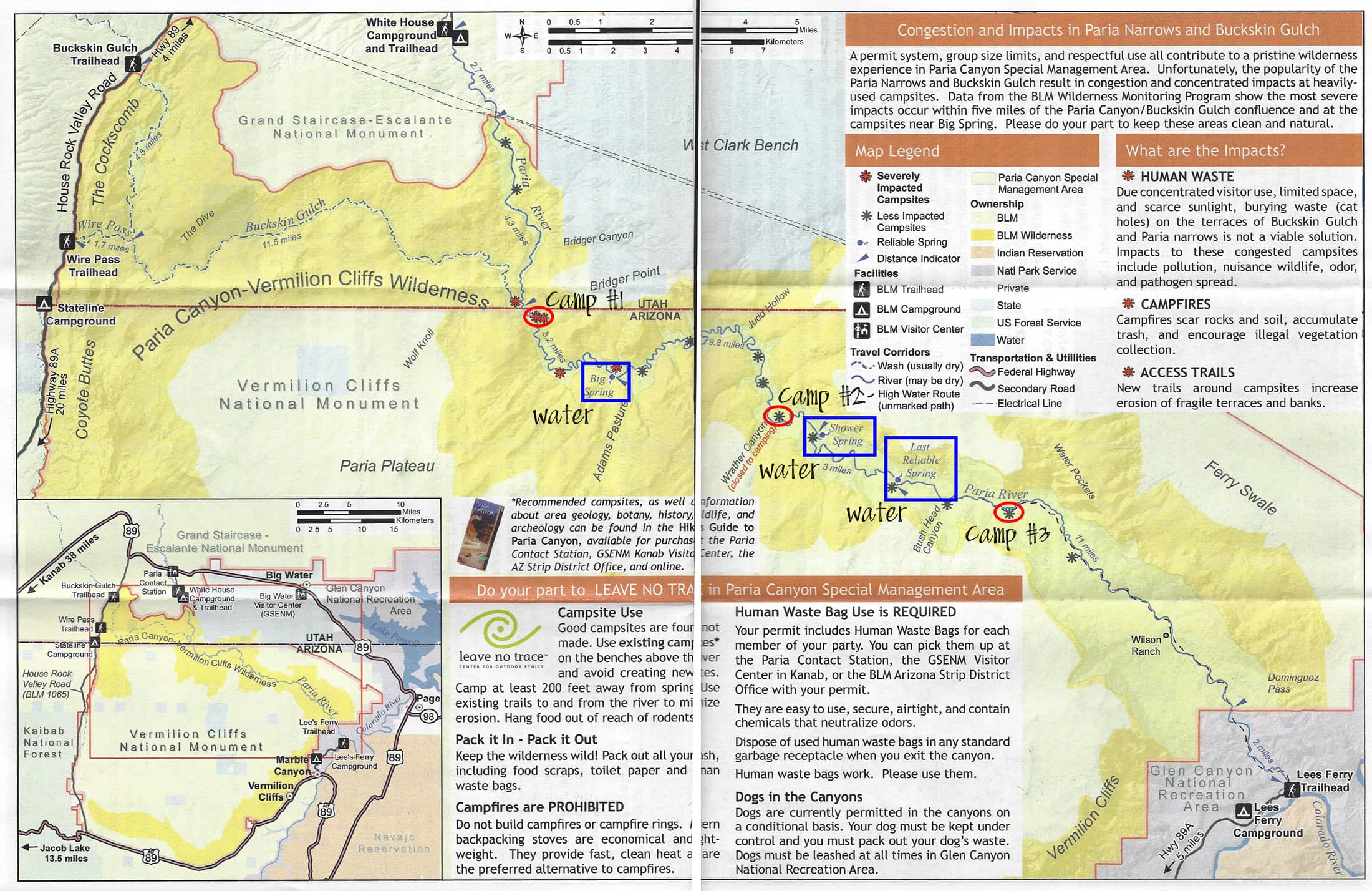 ---
Best Time to Hike Paria Canyon
Although the canyon is open year round for backpacking, the air temperatures in late spring and early fall are going to be the most comfortable. These are also the most popular times, so you need to plan far in advance to make sure you get a permit through the lottery system. The risk of flash floods is the highest in July, August, and early September. Flash floods in Paria Canyon, particularly in the Narrows, can be very dangerous since there is no high ground in the Narrows. In the days leading up to your trip, be sure to check Paria Canyon weather and if there is a chance of rain, call the Rangers station to seek their advice about whether or not it is safe to hike.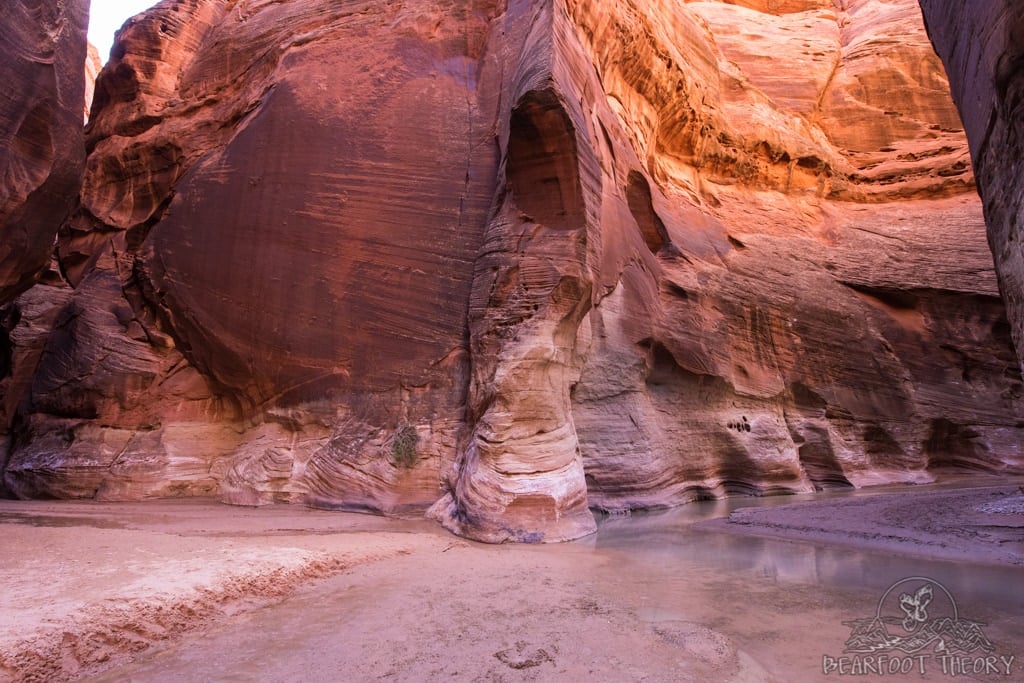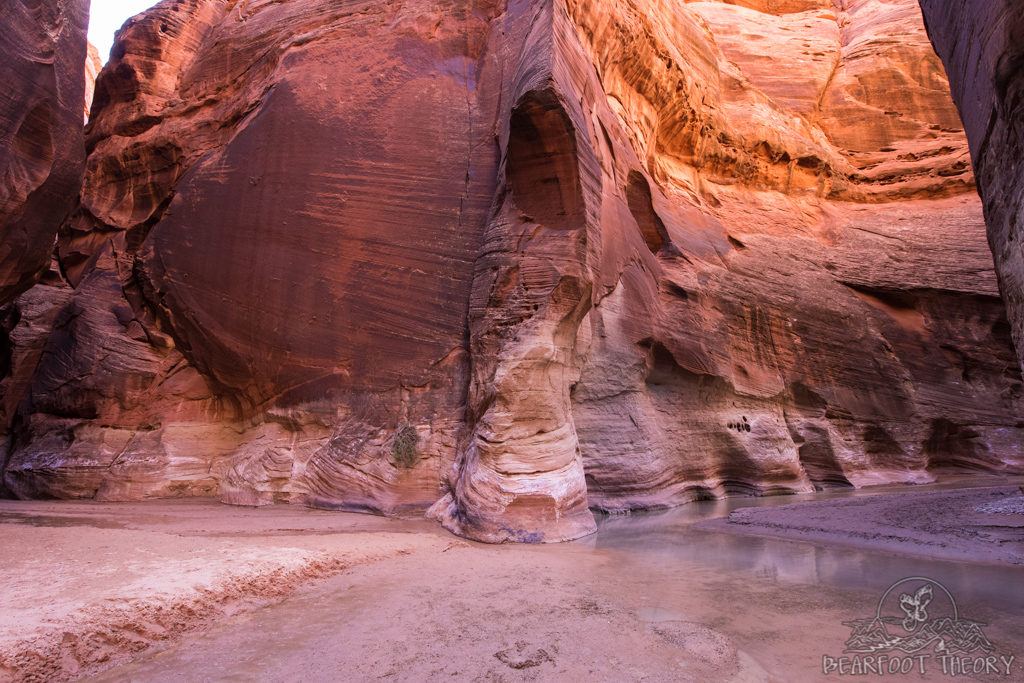 ---
Paria Canyon Permits
Permits are required for both day hiking and overnight trips in Paria Canyon and Buckskin Gulch. Walk-up permits are available for day hiking at the trailheads (no limit on day hikers – $6 fee), but overnight permits must be obtained through the Paria Canyon online permit application system. No same-day overnight permits are granted. Permits must be picked up within 10 days of your start date from Grand Staircase-Escalante National Monument Visitor Center or Vermilion Cliffs National Monument/Public Lands Information Center.
The BLM only allows a total of 20 people per day to enter the canyon on overnight permits, and that is across all of the trailheads. There is a $9 reservation fee per group, and an additional $5 permit fee per person per day. Dogs are also allowed for an extra fee of $5 per dog per day. When making a reservation, you will reserve the number of days you plan to spend in the canyon, not nights.
For overnight permits, the reservation system opens up at 12pm Mountain Time on the 1st of every month, 3 months before the month of your hike. For example, on February 1 permits for May would open.
On the permit application website, the calendar shows you when there is availability. If a date is blue, it means there are permits available to enter the canyon to backpack on that day, and the number shown indicates the number of spaces (one space = one person) that are available. Gray dates mean there are no permits available to start on that day. For the best chance of getting a permit for the busiest spring and fall months, you should plan on being on the website right at noon on the day that permits become available.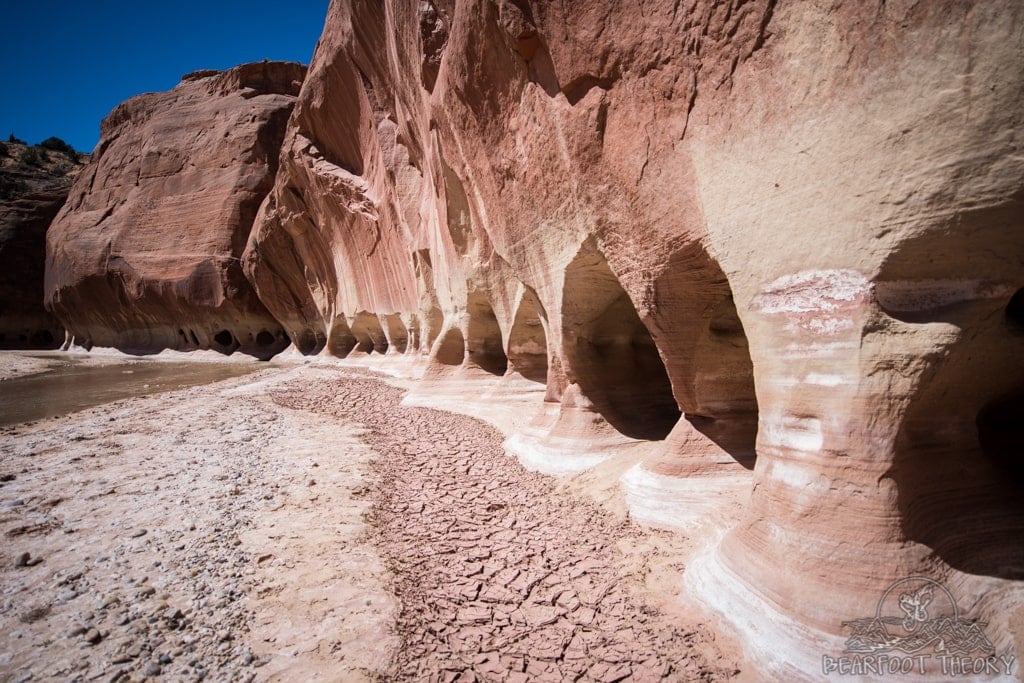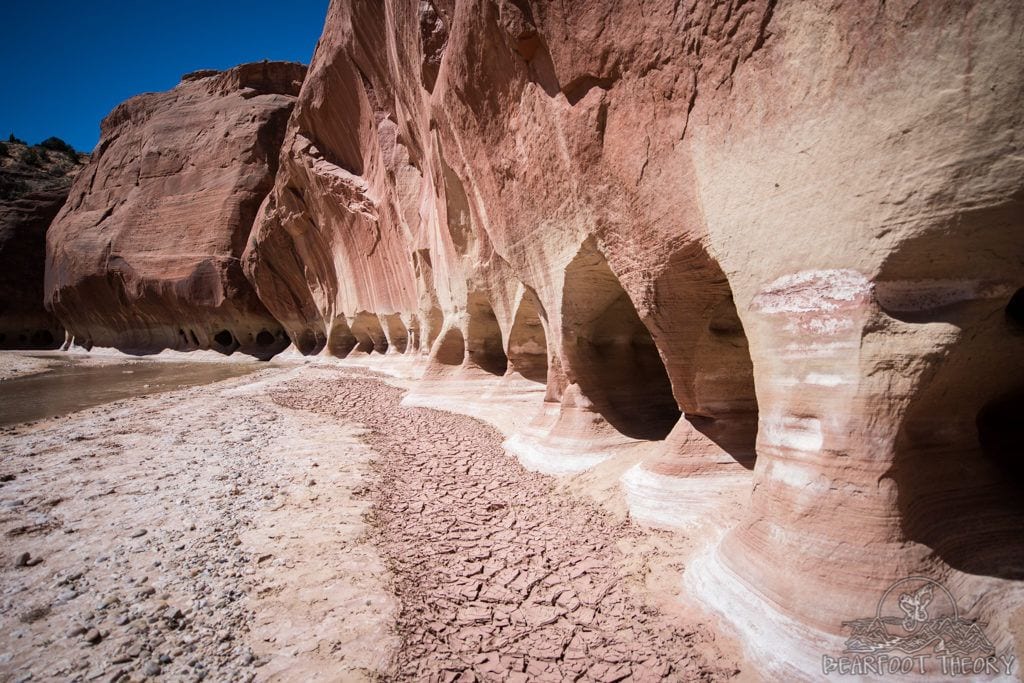 ---
Paria Canyon Trail Campsites
Campsites are spread throughout Paria Canyon and tend to be on sandy beaches above the river. The BLM asks that you choose existing campsites that are at least 200ft away from water and also appear to be worn to avoid creating new sites. It was pretty obvious where most of these campsites were, and you can see the three campsites I stayed at marked on the map above. The main thing to take into consideration when camping is the location of the fresh water springs, since the springs are the easiest places to obtain water. You will need to filter your water on the trail, so be sure to bring a backpacking water filter. Campfires are not allowed at any of the sites.
Our campsites were:
Night 1: Just below the confluence of the Paria River and Buckskin Gulch (mile 8)
Night 2: Across the river from Wrather Canyon (mile 20.5)
Night 3: The next obvious campsite past Bush Head Canyon on the right side of the river, shown below (mile 30)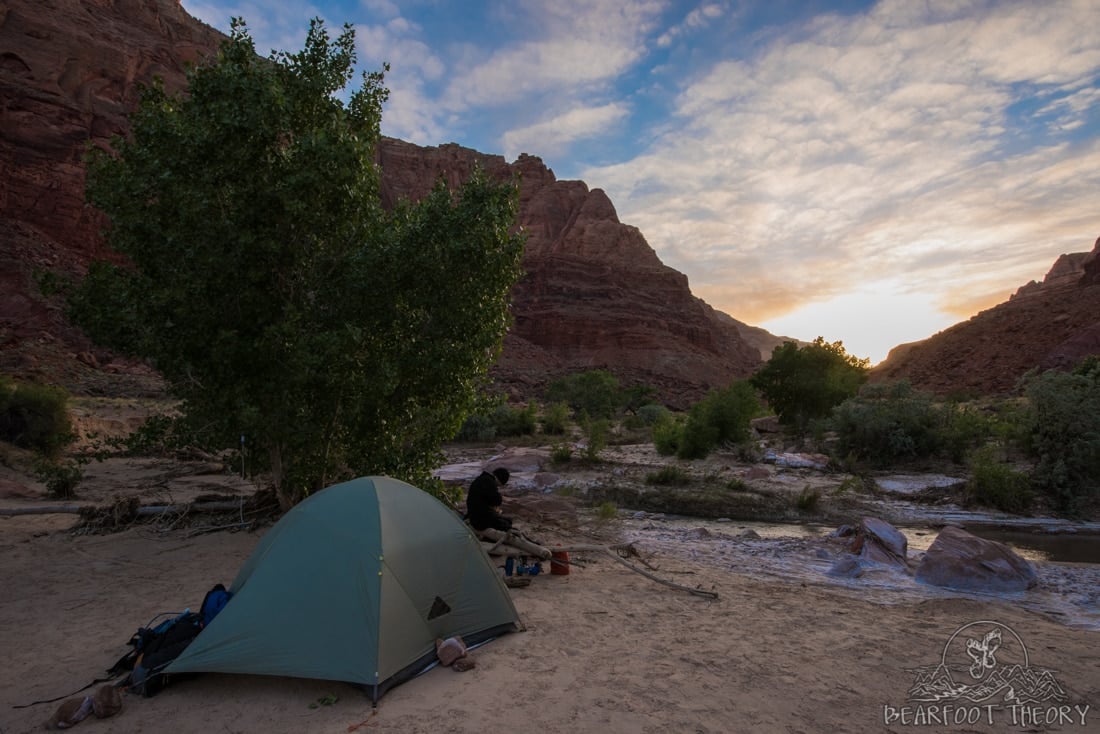 ---
Water Availability in Paria Canyon
Water availability is something to take into account when you are planning your Paria Canyon backpacking itinerary, which might seem strange considering you are hiking down a river. However, the Paria River gets very silty, and a lot of water filters simply can't handle the grit and can get clogged. Also due to animals that live upstream, it is recommended that if you are going to drink water out of the river that you both filter and purify it to get rid of bacteria and viruses. That means carrying both a filter, such as the Platypus GravityWorks filter, which I have reviewed here, AND a SteriPen or purification tablets.
Luckily there are a couple of reliable freshwater springs that provide a source of clean drinking water. These are seeps where the water flows right out of the cracks in the sides of the canyon walls. Some people will drink straight from these springs, but since we had a SteriPen, we decided to zap it just to be safe.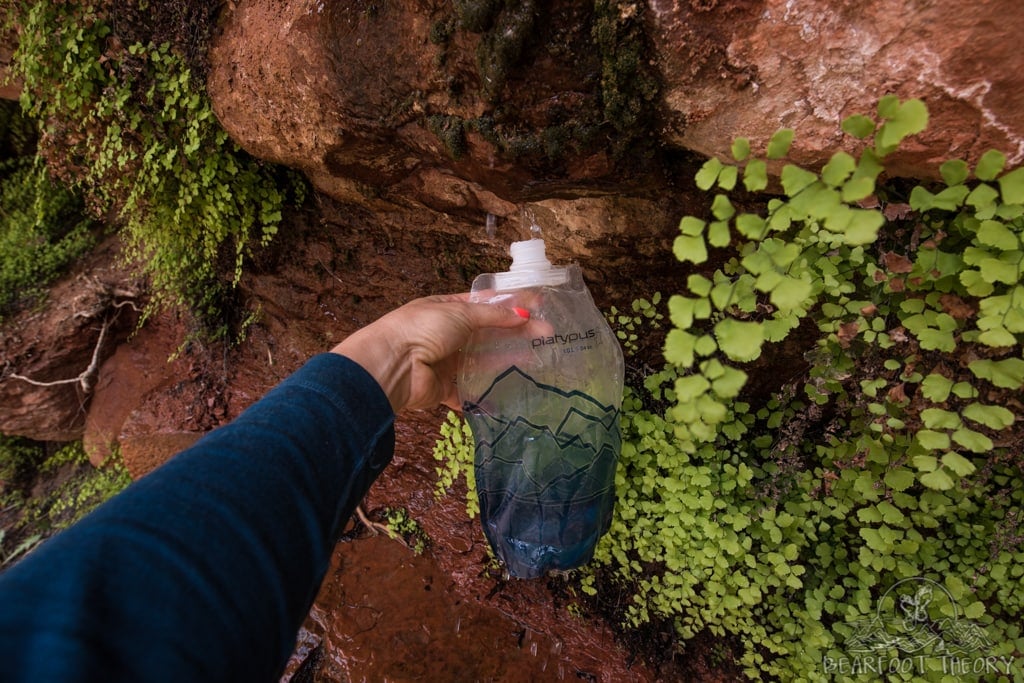 Many of the springs are easy to miss, so it's important to be on the close look out. Lush vegetation growing out of the canyon walls is a sign that a spring might be present.
The most reliable springs when I hiked this trail a few years back are marked on the map above and are located at:
Mile 12 – Big Springs – on the right side of the river across from a large campsite
Mile 22 – Shower Spring – hidden behind some vegetation on the left side across from a large campsite
Mile 25 – Last Reliable Spring – on the left side, somewhat hidden among a series of large boulders, across from a large campsite
Please note water access may have changed since I was there – always check with a ranger before heading out for the most up-to-date water information.
Camping at sites near these springs is convenient because it means you don't have to carry water for cooking your backpacking meals. You just fill up when you arrive at camp and before you leave in the morning. However, we chose not to camp at the springs because of how they were spaced out. Instead, when we passed the springs, I filled up with enough water to drink as well as to cook with. It made for a heavy load, but for us, this made the most sense. If you camp at the Last Reliable Spring at mile 25, for example, this means you have to hike 13 miles on the last day which is something we didn't want to do.
If you do end up having to filter water from the river, you will likely need to let the silt settle in some sort of container before running the water through your filter. Otherwise, there's a good chance it might get clogged. We did end up filtering from the river on our last night since we camped past the last reliable spring, and my Platypus GravityWorks filter performed well.
It should be noted that you should fill up all of your water bottles at the Last Reliable Spring. Beyond that, the trail has virtually no shade and can be very hot.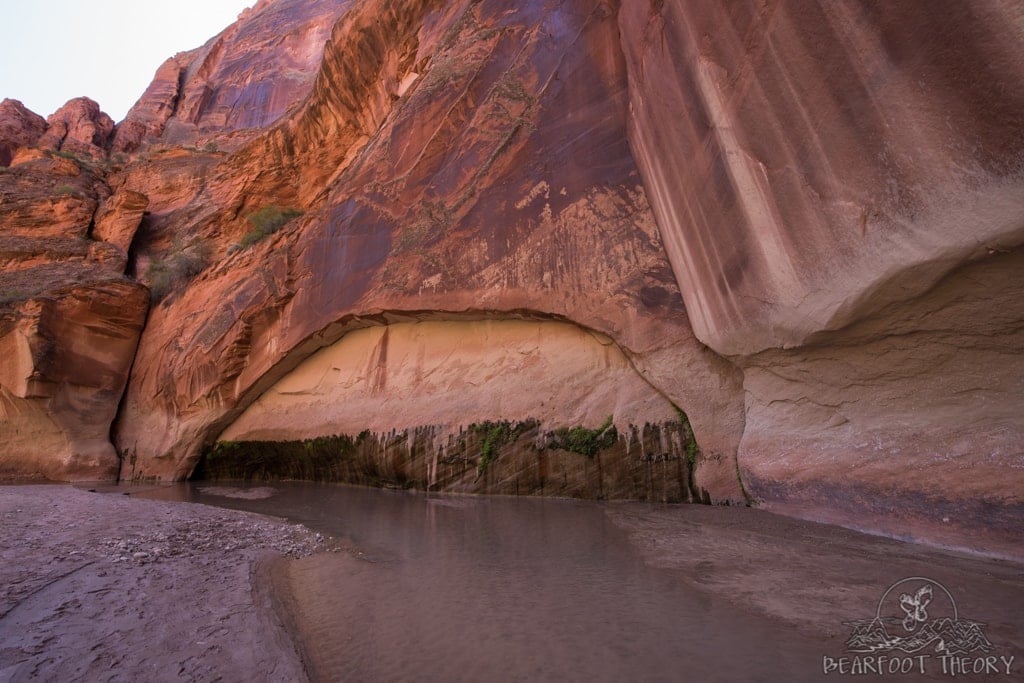 ---
Paria Canyon Backpacking
Trip Report
Day 1
From the Whitehouse Trailhead, the canyon walls start out short and wide and slowly narrow as you continue hiking down the river. The first part of the hike can be quite hot as there is little shade so if you are hiking in the warmer months, make sure to get an early start.
Around mile 4, you reach the entrance to the Paria Narrows. The towering sandstone walls in this section reach up to 800 feet high and at some points, the walls are a mere 6 feet apart. In this section it is cool and shady, and some places in the Narrows, the water can get deep following rainfall. During my trip, it was never more than knee deep. However, it is hard for the rangers to predict current water levels, so you should be mentally and physically prepared to wade through waist deep water in the case that water levels are high.
At mile 6.7, you reach Slide Rock Arch – an enormous boulder that once fell into the canyon and has formed a short tunnel. If you catch it at the right time in the afternoon, the sun beams down creating some great photo opportunities.
Around mile 7, you reach the confluence of Buckskin Gulch and the Paria River. Buckskin is considered to be the longest slot canyon in the world. Buckskin is very narrow with deeper water and has a lot more obstacles than the Paria Narrows, so most people explore Buckskin on day hikes without backpacking packs on.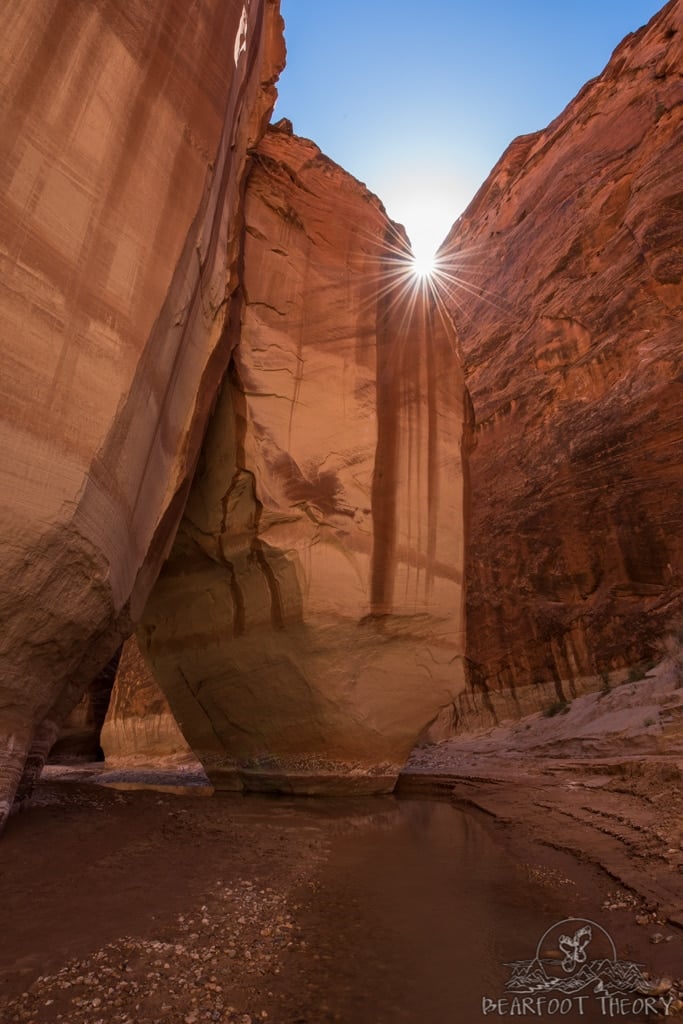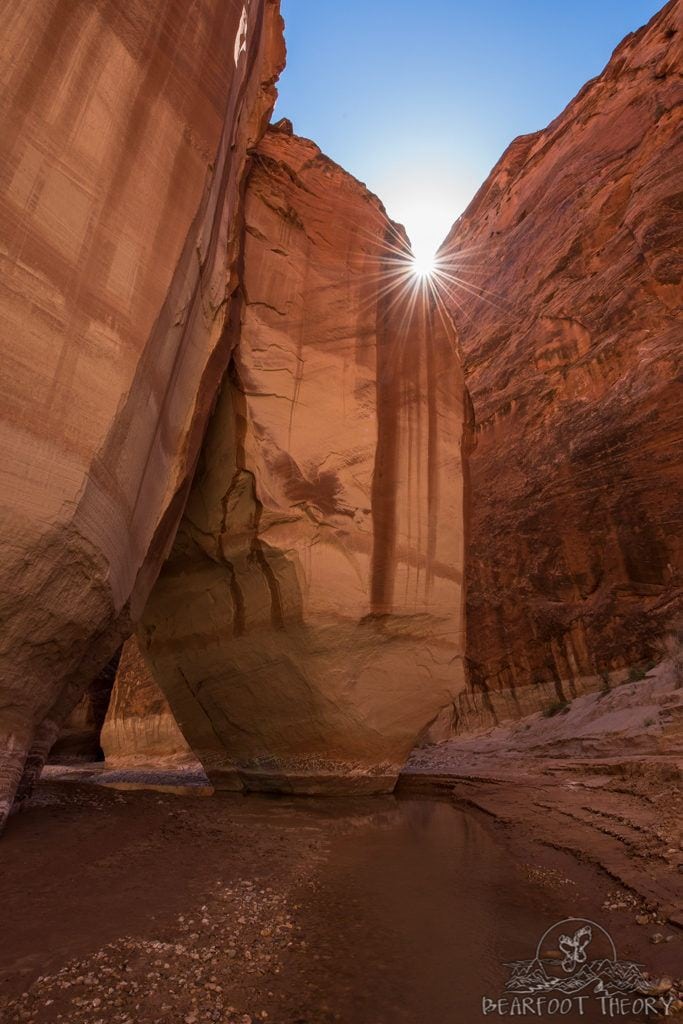 Day 2
Shortly after leaving camp, we reached the first freshwater spring. As mentioned above, most people prefer to get their drinking water straight from these springs rather than filtering from the river, but it's always a good idea to have a backup water filtration method in case you miss a spring or it's not flowing while you're there.
Around mile 15, there are a series of cave-like amphitheaters that rise 650 feet above the riverbed. This was my favorite part of day 2. There are tons of beaches to stop and relax on, so make sure to take your time and enjoy it.
Just as the sun was going down, we reached the junction to Wrather Canyon. After 13 miles that day, we were totally spent and decided to set up camp on the beach across the river.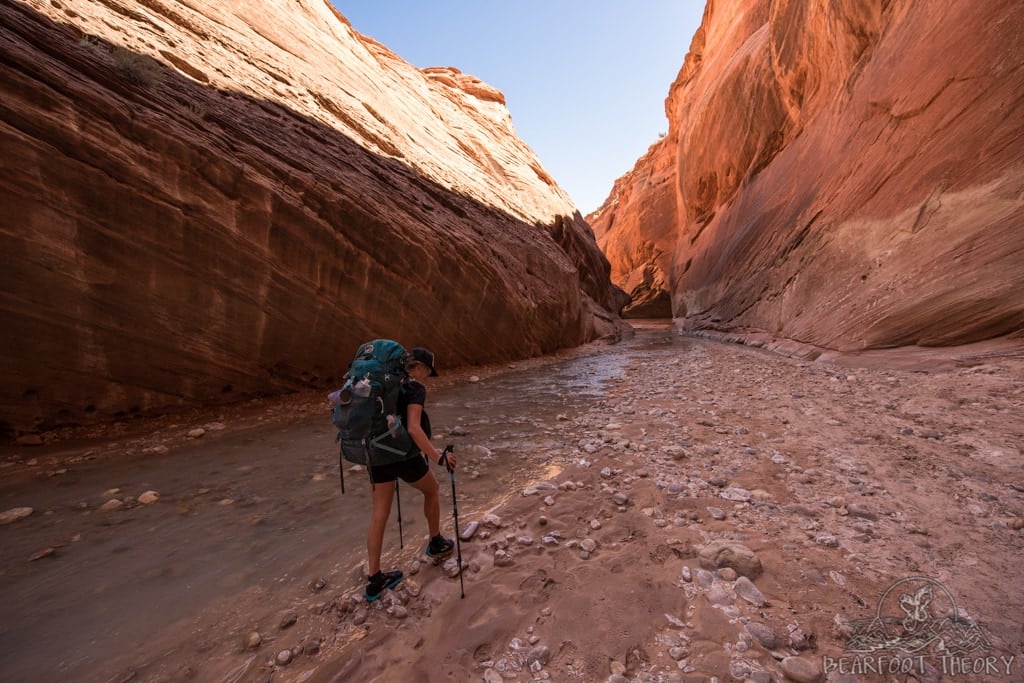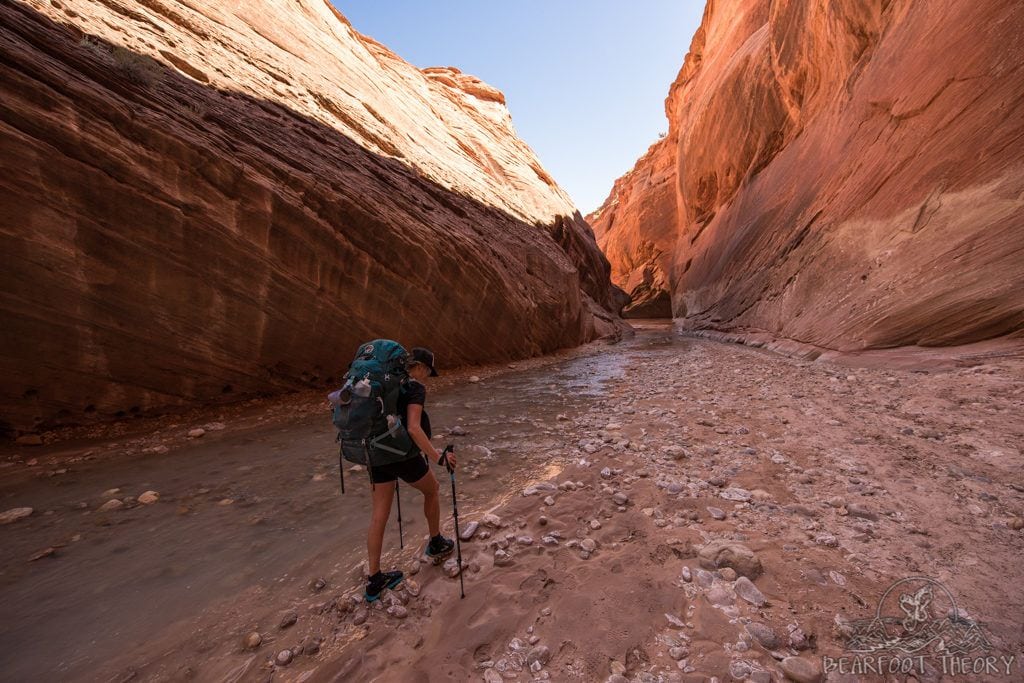 Day 3
On Day 3 the terrain began to change – the canyon broadened, but the river features got more interesting with rocky obstacles, deep holes, and small cascades. It was really neat to watch the canyon slowly transform over the course of the trip.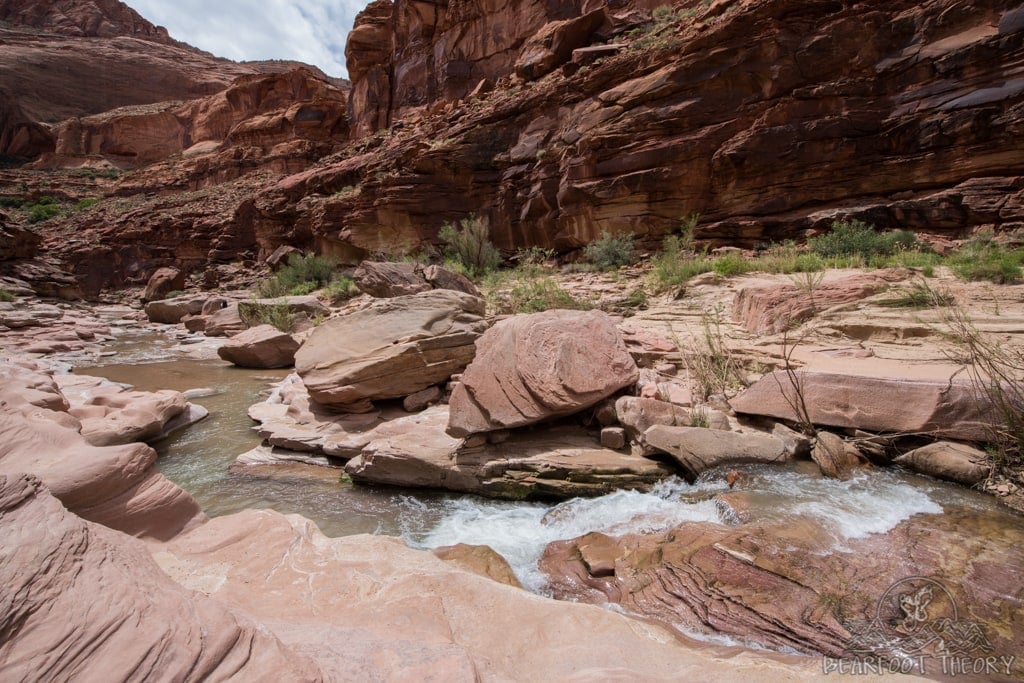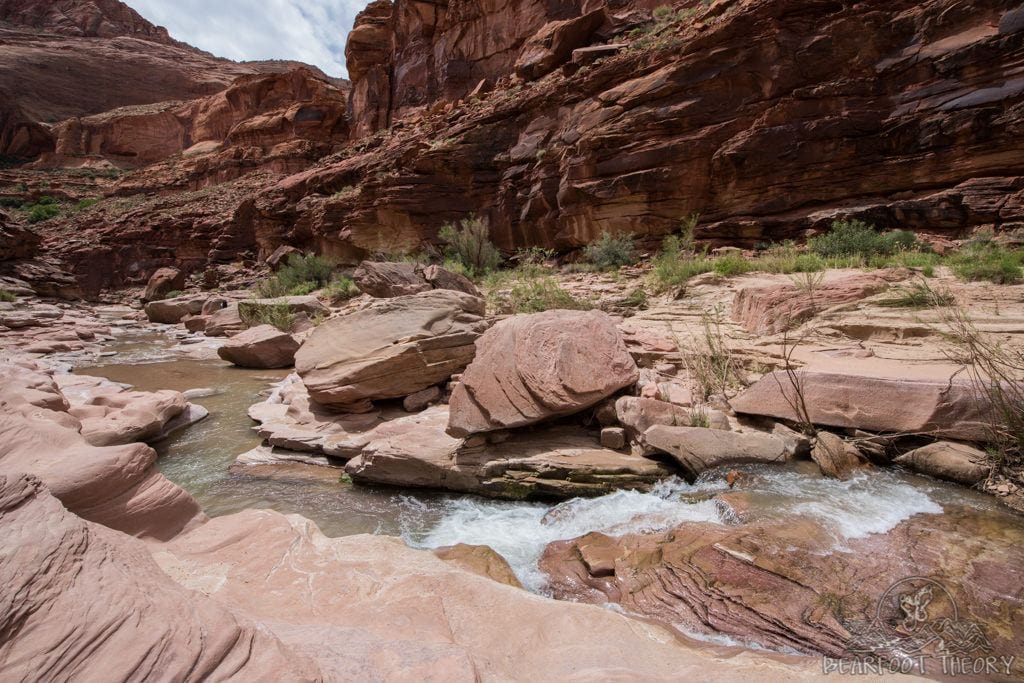 Many people choose to camp at the last reliable spring at mile 25, but that leaves 13.5 miles for the final day. That didn't sound too appealing to us, so we filled up at the spring and kept going. Using the map provided by the BLM office, we decided to stop at one of the last good spots on the river, around mile 28 or 29. We found an awesome spot on a beach on the right side of the river with a perfect sunset view.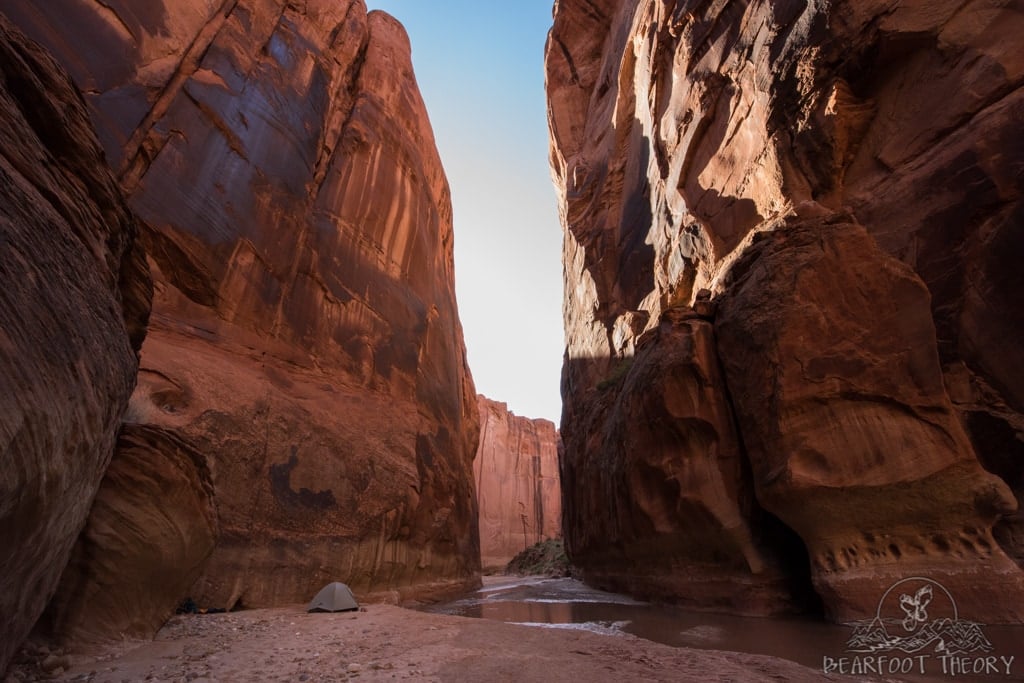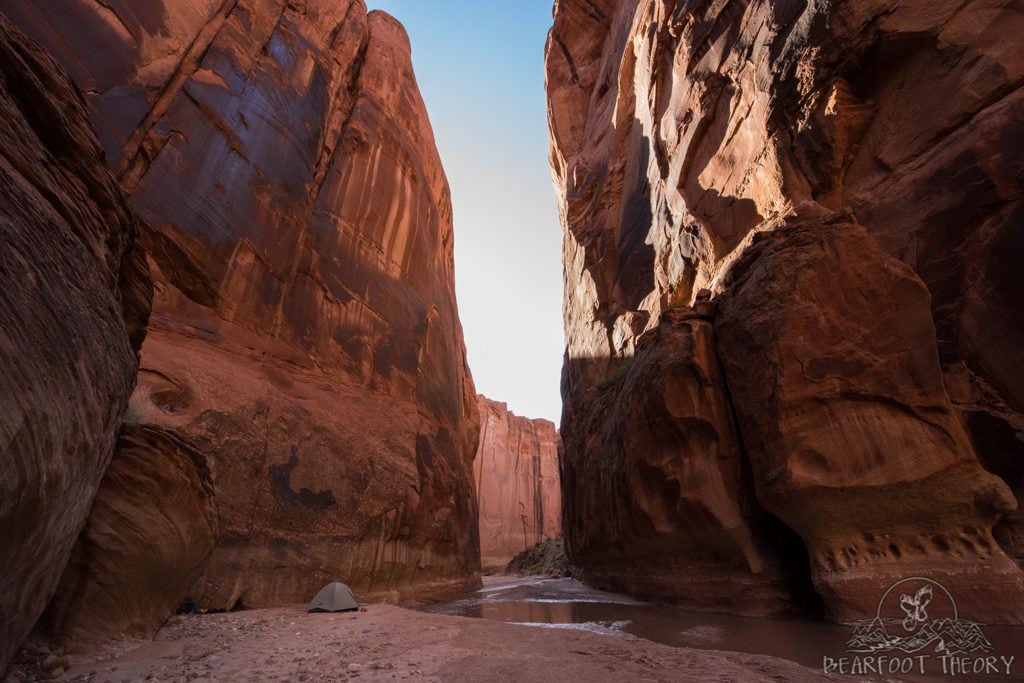 Day 4
The final day the landscape takes on more of a desert feel. The trail is hotter, drier, and sandier and with the canyon broadening, sun exposure can be intense so be sure to pack sun protection. That said, the views on the descent to Lee's Ferry were gorgeous, and the variety in the scenery kept things interesting.
Around mile 31.5, there are a series of boulders on the left side of the river with petroglyphs. While the trail does cross the river a few times over the last several miles, most of your time is spent out of the water. The trail also becomes more prominent since you are no longer hiking down the riverbed. Eventually, you come to an old ranch, indicating that you are close to the trail's end at Lee's Ferry.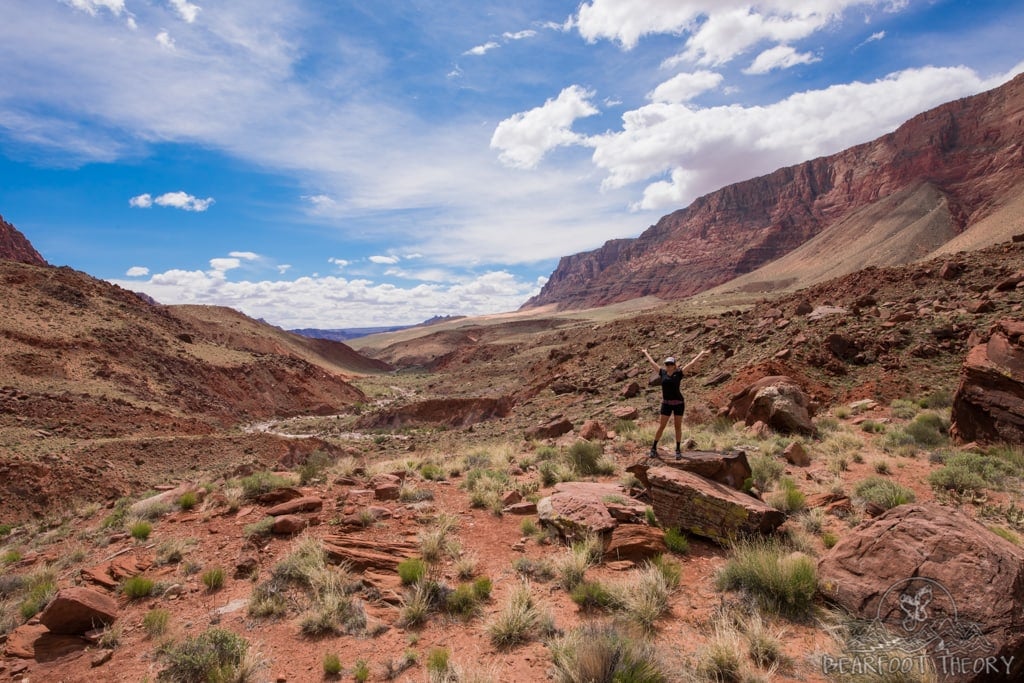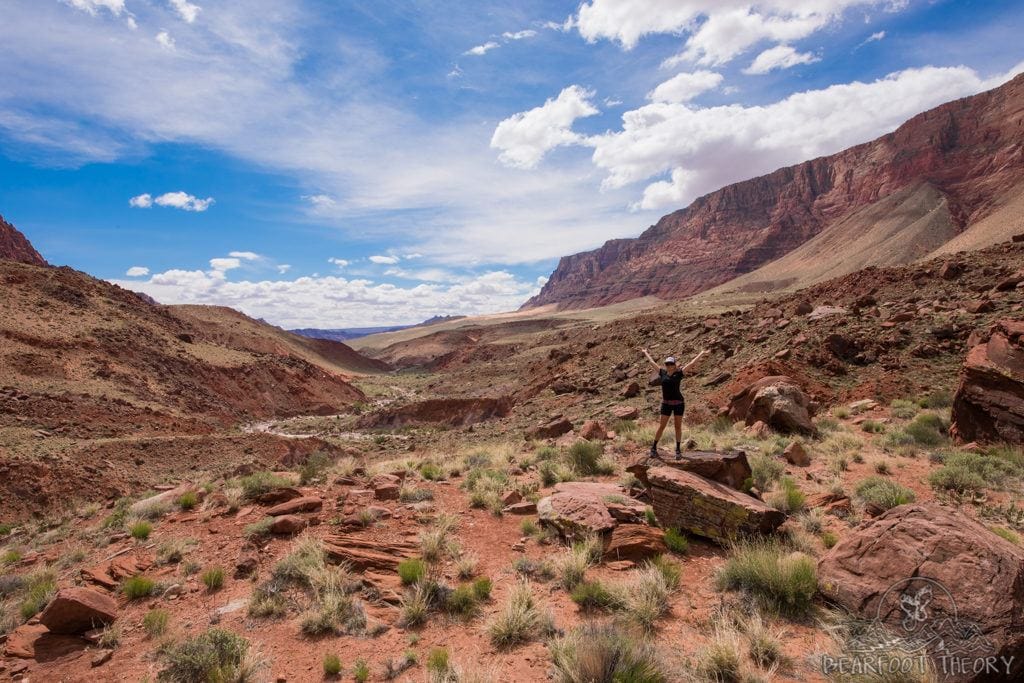 ---
Gear for Hiking Paria Canyon
Start with this backpacking checklist to pack for Paria Canyon. In addition to a map and your normal backpacking essentials, there are a few extra gear considerations for canyon hiking.
Hiking Shoes
The Paria River is cold and full of pebbles so I would not recommend water sandals for this hike. Instead, you'll want to wear tennis shoes or a pair of lightweight, non-waterproof hiking boots with a closed-toe and closed-heel. Waterproof hiking shoes will fill up with water while non-waterproof ones will allow water to go in and out. The Oboz Arete (non-waterproof version) is a great option for this hike. I also recommend pairing your shoes with some neoprene socks to help keep your feet dry and prevent blisters.
Dry Bags
On my trip, the water was never more than knee-deep, but the river can be waist-deep after periods of heavy rain. In order to keep your essentials dry, you have a couple of options. First, you can invest in a few lightweight dry bags, such as these Sea to Summit Lightweight Dry Sacks. They come in a variety of sizes, and you can pack your sleeping bag, clothes, and electronics inside. Or for a cheaper solution, you could line the inside of your pack with a garbage bag and then pack all of your gear inside of that.
Trekking Poles
While most of this hike is flat, trekking poles can help stabilize your footing when crossing the river and during sandy sections of the trail. Trekking poles also keep stress off of your knees, which is important as you hike with a heavy pack on.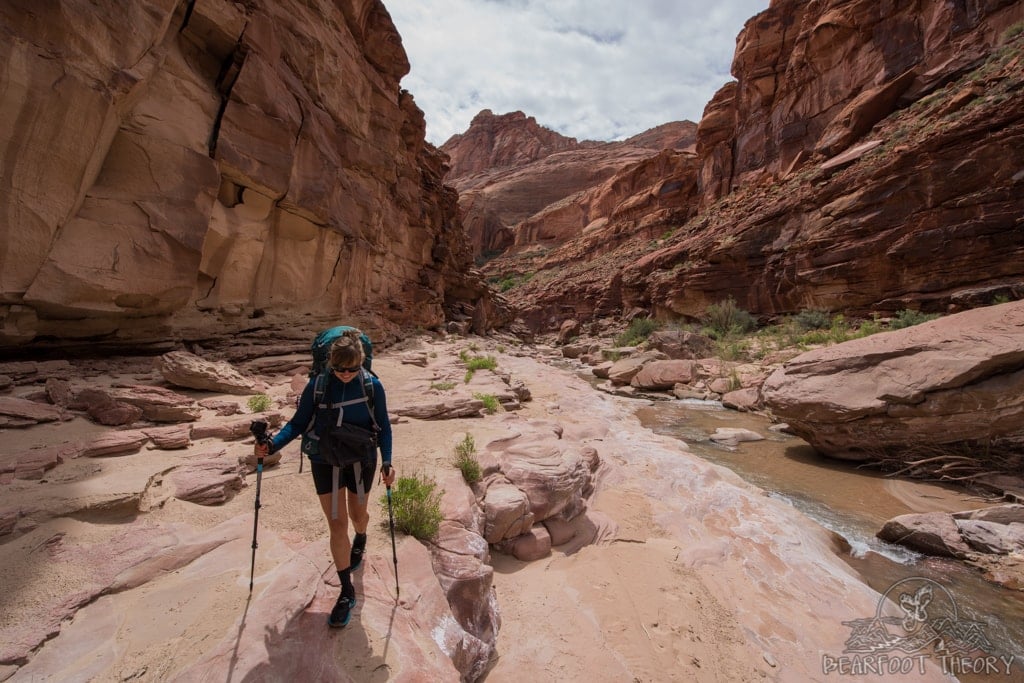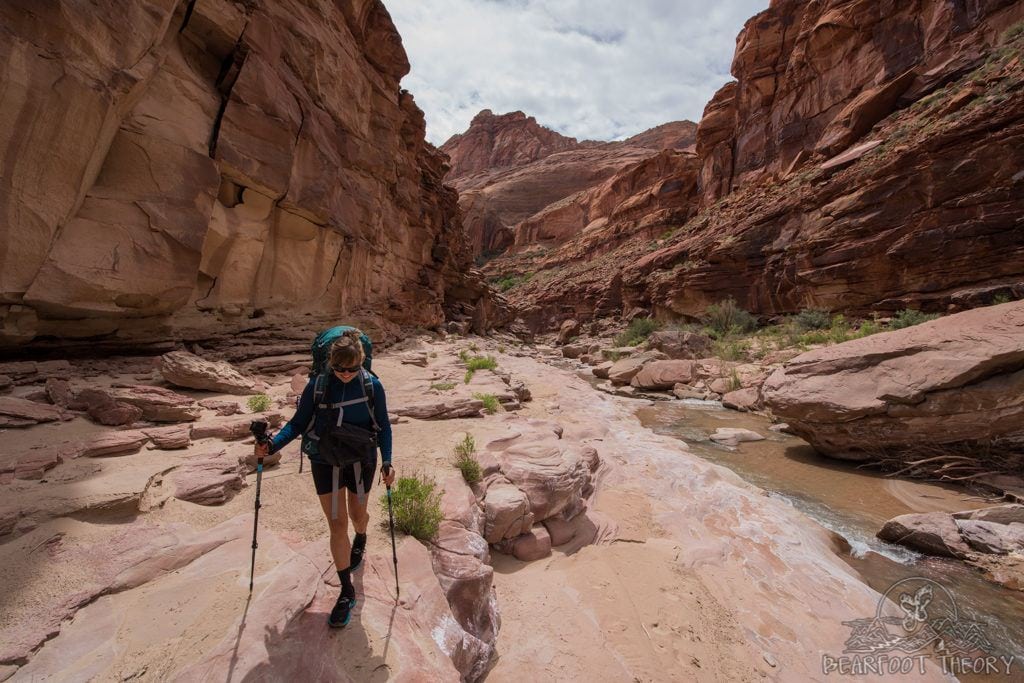 Water Filtration System and Bottles
Water Filtration
I am a huge fan of the Platypus GravityWorks filter system. All you do is fill up the bag, then hang it from a tree and let the water flow down through the filter….no pumping required. The filter worked perfectly since the dirty water bag provides a place to hold the water while the silt is settling to the bottom. If the water has a ton of sediment, then I'd recommend pre-filtering it using a bandana so you don't muck up your filter.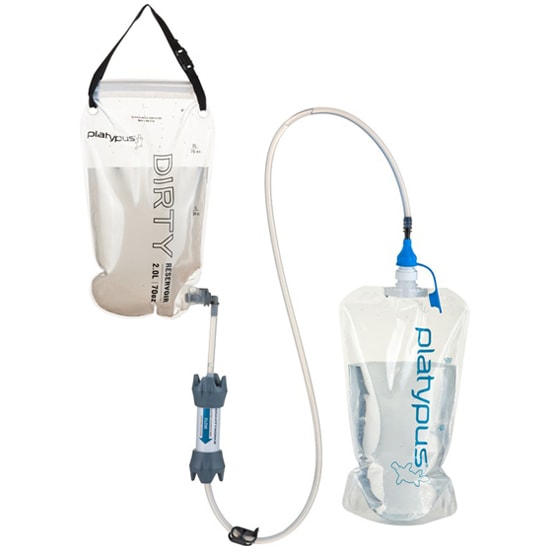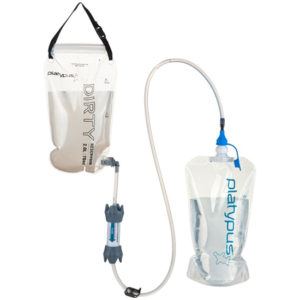 Water Purification
There are a couple of options for purification. The cheapest, lightest, and easiest are purification tablets. These get the job done, and they've also come a long way in regards to taste. Another (more expensive) option is the SteriPen. Just swirl the tip of the pen around in your water bottle for a minute, and it kills any viruses that might be present. The only thing about the SteriPen is it works best with wide-mouth water bottles, like a Nalgene, and it also runs on a rechargeable battery. This means you need to charge it up before you leave the house or bring along a battery pack or small solar panel to charge it in the field.
Water Bottles/Reservoirs
I would recommend carrying a 3L hydration reservoir, as well as a few extra lightweight water bottles. Having the capacity to carry extra water will provide you more flexibility in where you can camp. For this, I recommend this Osprey Hydraulics reservoir. Just make sure the lid is on tight and test it before you put it in your bag. For the extra bottles, I like the Platypus 70oz Platy Bottle. I brought along three of these because they weigh practically nothing and can be rolled up when not in use. The only thing to keep in mind about these is if you plan to use a SteriPen, it won't fit through the mouthpiece.
---
Paria Canyon Hike Transportation
Because this is a one-way hike, you will need to do a car shuttle so you aren't stranded when you reach the end. My friend and I met in Page, Arizona, and then I followed him to the trail's end at Lee's Ferry to drop his car. We stayed the night at a motel in Page and the next morning drove to the White House Trailhead.
When you pick up your permit, it will come with a parking tag. Make sure to leave this on the dashboard of your car at the White House parking lot. If you prefer to camp the night before you hike, there is also a first-come, first-serve campground at the White House Trailhead with a pit toilet, picnic tables, and fire rings. Sites are $5 each and America the Beautiful and Federal Recreation Lands Senior Passholders receive a 50% discount. Drinking water and trash disposal are available at the Paria Contact Station at the northern end of the campground access road – I recommend filling up your water here before starting the trail.
If you do not have two cars, there are shuttle operators who can help organize your transportation for a fee. Seeking Treasure Adventures and Trails End Shuttle are two examples.
Here are driving directions from the White House Trailhead to Lee's Ferry.
---
Other Paria Canyon Considerations
The Paria Contact station will provide each hiker with wag bags that you are required to use to pack our your poop. If you choose to bring a dog, you must also pack out their waste.
At mile 20.5, there is an optional 25-minute side trail up Wrather Canyon that leads to Wrather Arch. We didn't do this, but I've heard it's quite impressive. No camping is allowed up Wrather Canyon.
Backpacking Paria Canyon was my favorite desert trip to date, and with the colorful scenery and lack of crowds, Paria Canyon will not disappoint!
---
Have you backpacked the Paria Canyon in Utah or plan to?
Let us know in the comments!