Car Camping Essentials (+ Printable Packing List)
Learn what to bring camping using our car camping checklist to narrow down what you need to pack in order to avoid forgetting the essentials.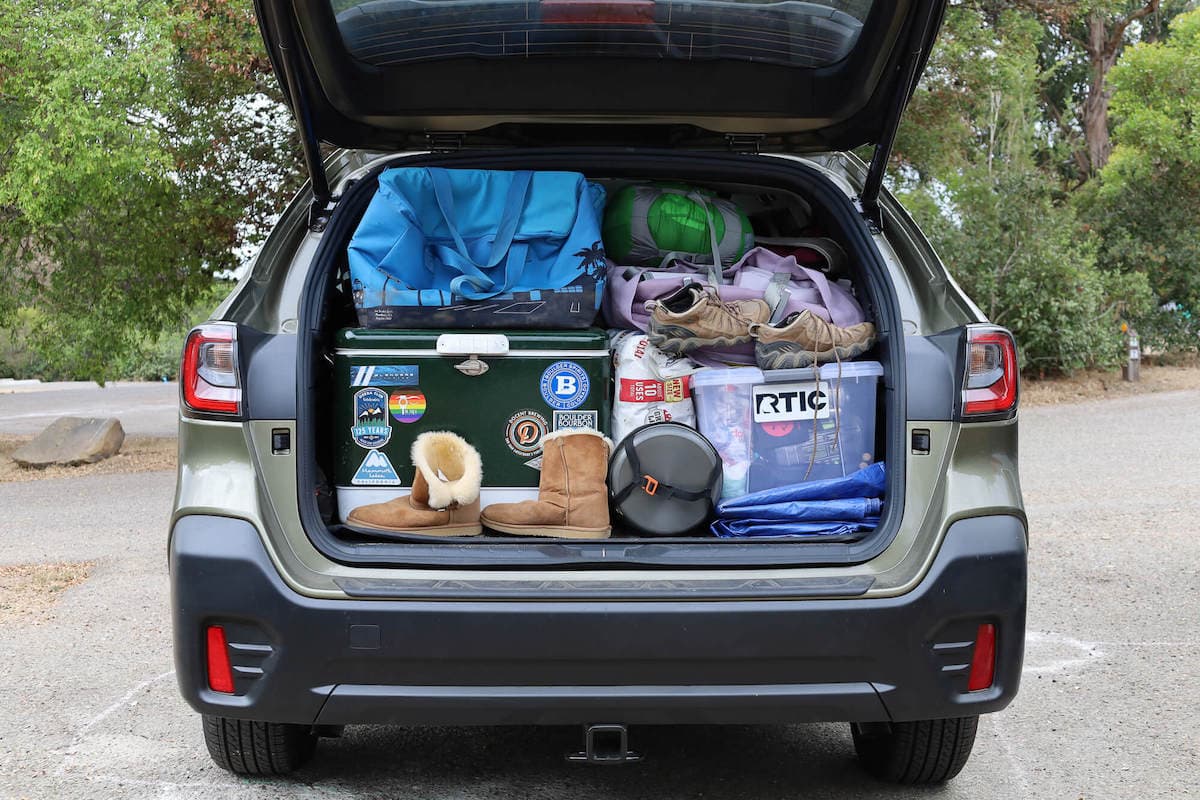 Car camping is a great way to get outside while still having some of the comforts of home along. Things like a spacious tent, a cushy sleeping pad, a cooler full of food and drinks, and a nice camp kitchen set-up can make camping outside just as comfortable as being at home except you get to enjoy the great outdoors. This list of car camping essentials includes everything you need for your next camping trip for a good time and more. Be sure to download our car camping checklist as well so you can keep tabs as you pack and make sure not to forget anything.
If you want to be able to backpack and car camp with one set of gear, check out our 3-day backpacking checklist for lightweight tents, sleeping pads, and sleeping bags that will work across the board. But for those of you who want a more comfortable car camping setup and don't want to shell out the cash for super lightweight gear meant for backpacking, this car camping packing list is for you.
Don't know what to bring camping? Here is our complete car camping essential packing checklist to help you get packed and ready to camp!
Car Camping Sleeping Gear
Camping is a great way to get outside and enjoy nature. But if you're not used to sleeping on the ground, it can be tough to get comfortable. These camping sleeping essentials will help make your trip more enjoyable. From a good mat to keep you off the cold ground, to a warm sleeping bag for chilly nights, these items will help you rest easy while camping. So grab your tent and gear up for an outdoor adventure!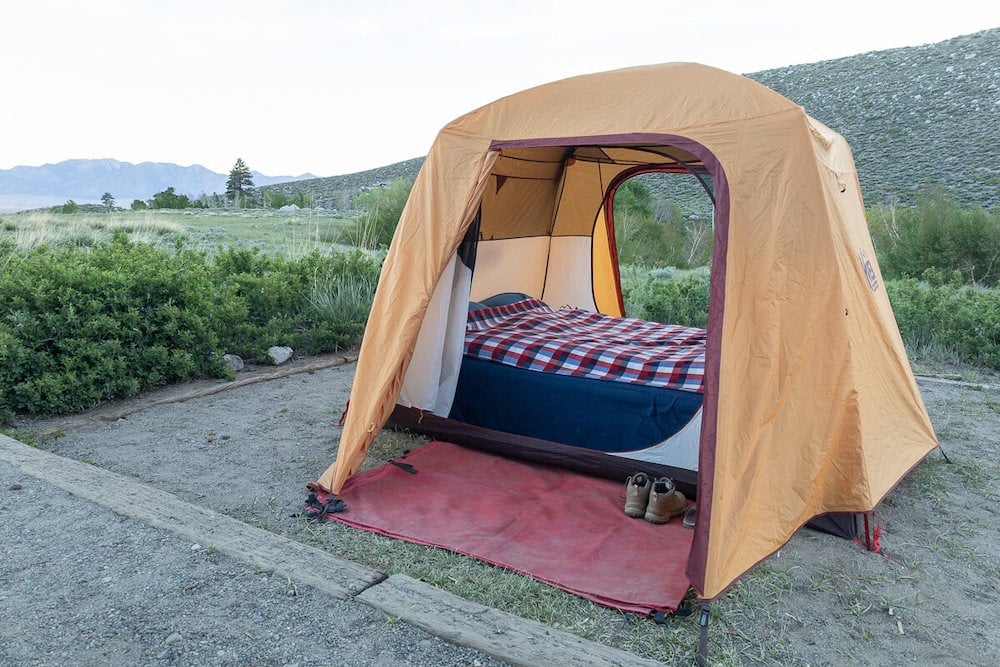 Car Camping Tent
A camping tent is first on the list for good reason – it's your shelter from the elements. For car camping, get a spacious tent with enough room to sleep comfortably and get changed in. A three or four-person tent could be a great option even if there will only be one or two people sleeping in it.
Another thing to take into consideration when shopping for a tent is what conditions you'll be camping in. If you only plan on camping in summer and the shoulder seasons, a 3-season tent will suffice. But if you're planning on doing winter camping, you'll want something that is warmer and more durable.
Car Camping Sleeping Pad
Sleeping pads can make or break your camping trip by helping you get a good night's sleep, so it's one of the most important car camping essentials you'll invest in.
A good sleeping pad not only provides comfort from the hard ground, but it can also help keep you warm. Sleeping pads are rated on an R-scale between 0 – 6. The higher the R-rating, the warmer the sleeping pad will be. For car camping during the summer and shoulder season months, an R-rating between 2-4 should be perfect.
Car Camping Sleeping Bag
There's no better feeling than snuggling up in a warm, cozy sleeping bag surrounded by nature. A good camping sleeping bag will not only keep you warm but also allow you to shift and move around as you sleep.
The two main considerations you want to think about when choosing a sleeping bag are temperature rating and shape. A temperate rating of 20-40° is usually perfect for car camping depending on when and where you plan on camping. The shape is more of a personal preference. Rectangular bags will allow you to move around more while a mummy bag will be warmer and more lightweight.
---
Car Camping Furniture
Looking for some comfortable, lightweight furniture for your next car camping adventure? Good furniture can help make camp comfortable and relaxing and below we share our top camp furniture picks for your car camping checklist.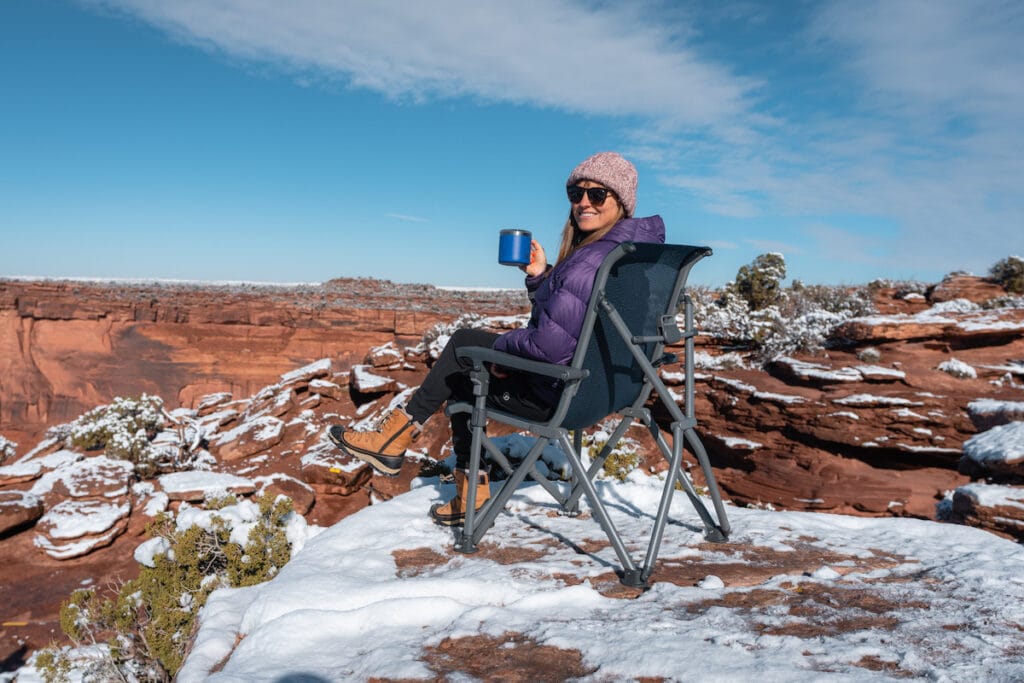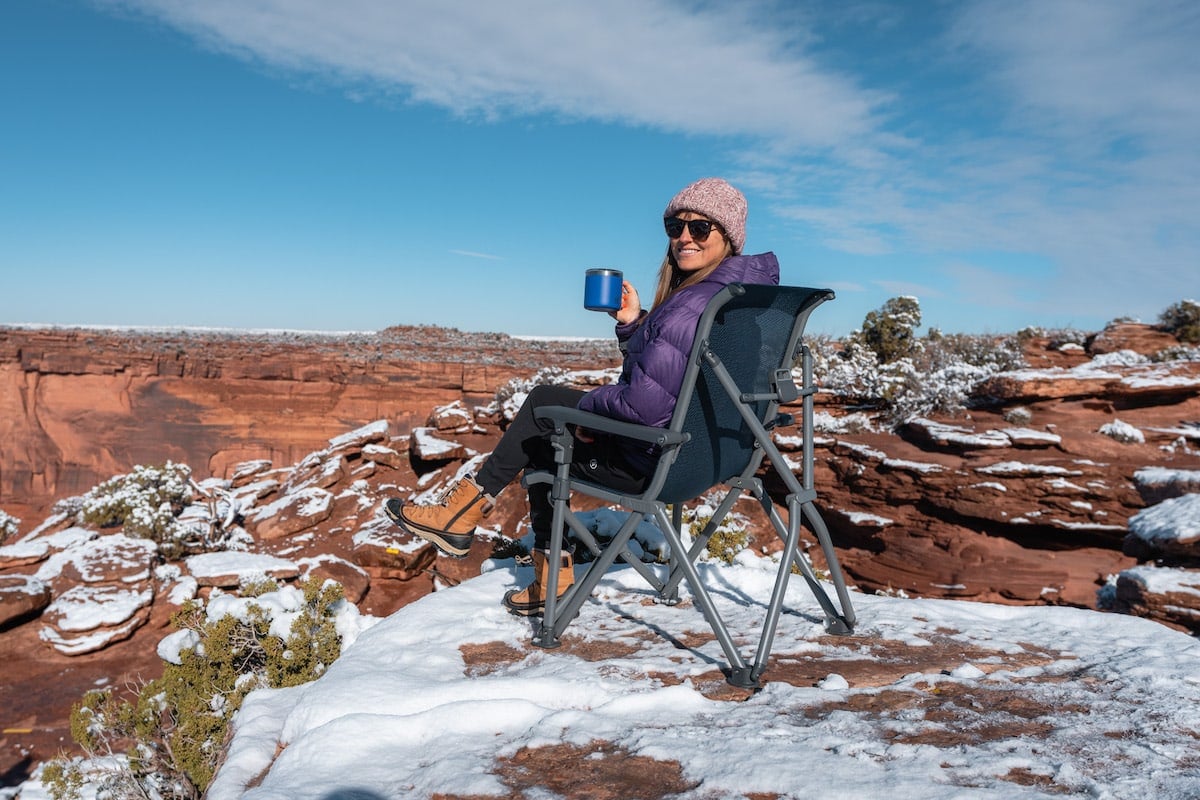 Car Camping Chairs
Whether you're sitting around the fire or watching the sunset from your campsite, collapsable chairs are a car camping must on your car camping checklist. There are a lot of different models and options to choose from including swiveling chairs, loveseats, and more. Here are our top choices.
Camp Tables
A good table makes life around camp much easier and more relaxing. They can also help keep gear organized and speed up dish duty at the end of the day. Whether you bring along a simple side table or a full-on packable picnic table, here are our top picks.
---
Car Camping Kitchen Essentials
Making delicious meals al-fresco is one of our favorite parts of car camping. To get your car camping cooking essentials organized, I recommend you start an outdoor cooking bin. This is where you'll keep everything you need to cook with. Some things I like to keep in my cooking bin include cutting boards, knives, silverware, paper towels, Tupperware, tongs, a spatula, pots, pans, olive oil, salt, pepper, and basic seasonings. By keeping everything together in a bin, it will make it really easy when it's time to hit the road. Just grab the bin and go!
Here's what to bring car camping so you can cook delicious meals al fresco. Of course you can bring whatever cookware you have in your home kitchen, but if you want a dedicated camp cooking setup, this is what we recommend.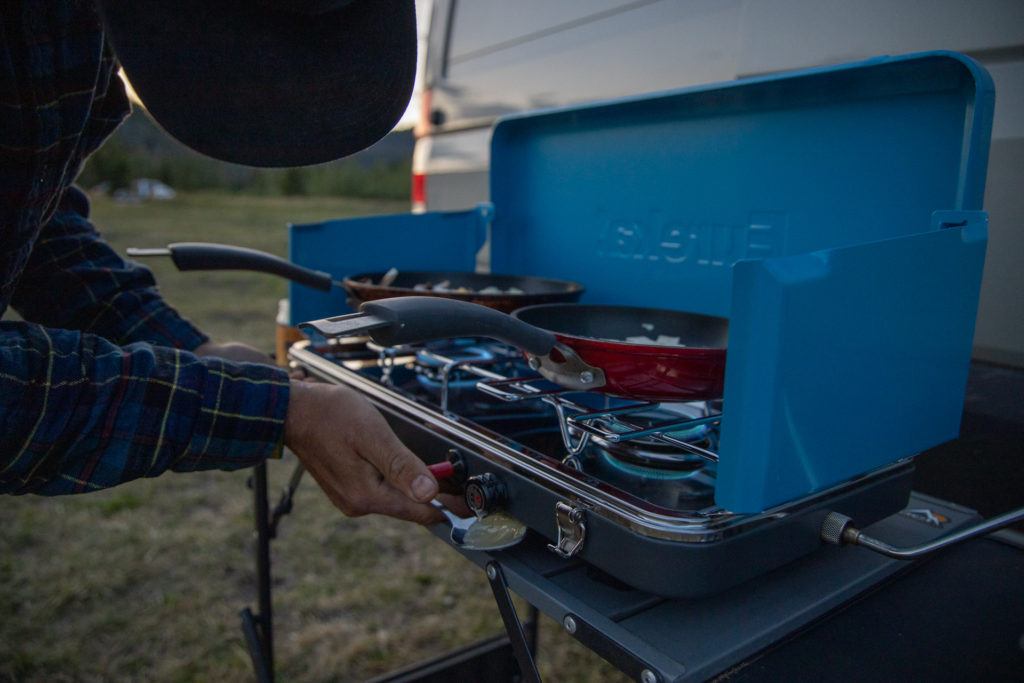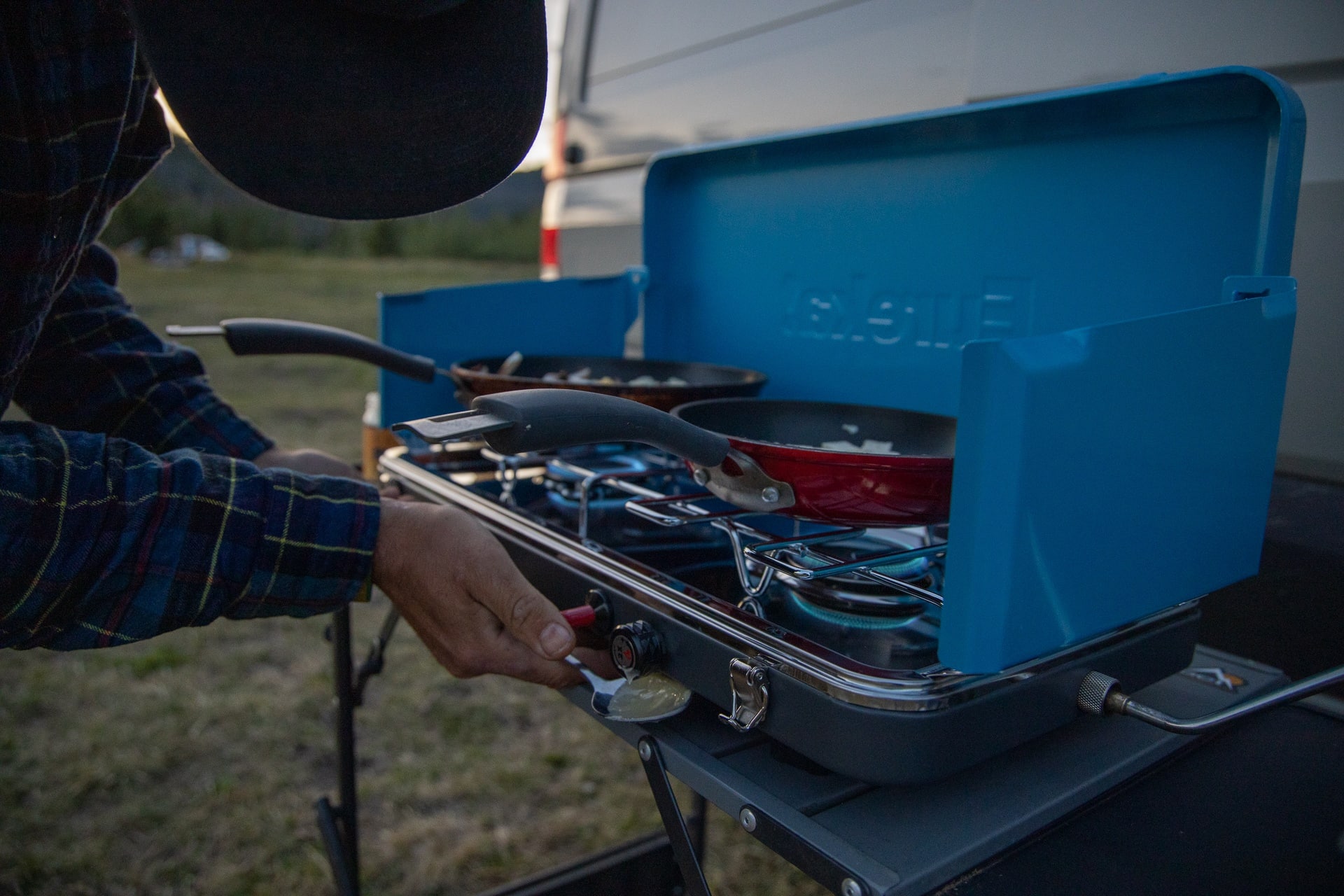 A few other Camp Kitchen Essentials
Tablecloth

: A tablecloth is an item that's often forgotten on car camping trips, but no more now that you have this packing checklist. Campground tables can be a little dirty so it's nice to have something to cover them with, both for cleanliness and ambiance.

Trash Bag: Packing out your trash and disposing of it properly is essential on any car camping trip. Bring a couple of trash bags along to ensure you have what you need to do so.
Car Camping Gear Essentials
In addition to the items listed above, there are plenty of other car camping items that you can pack depending on where you're heading and what activities you plan on doing. Many of these are really more "nice-to-have" items and it's up to you if you think they'll be helpful on your next camping trip. Below are a few of our favorite car camping essentials when we're going for extra comfort.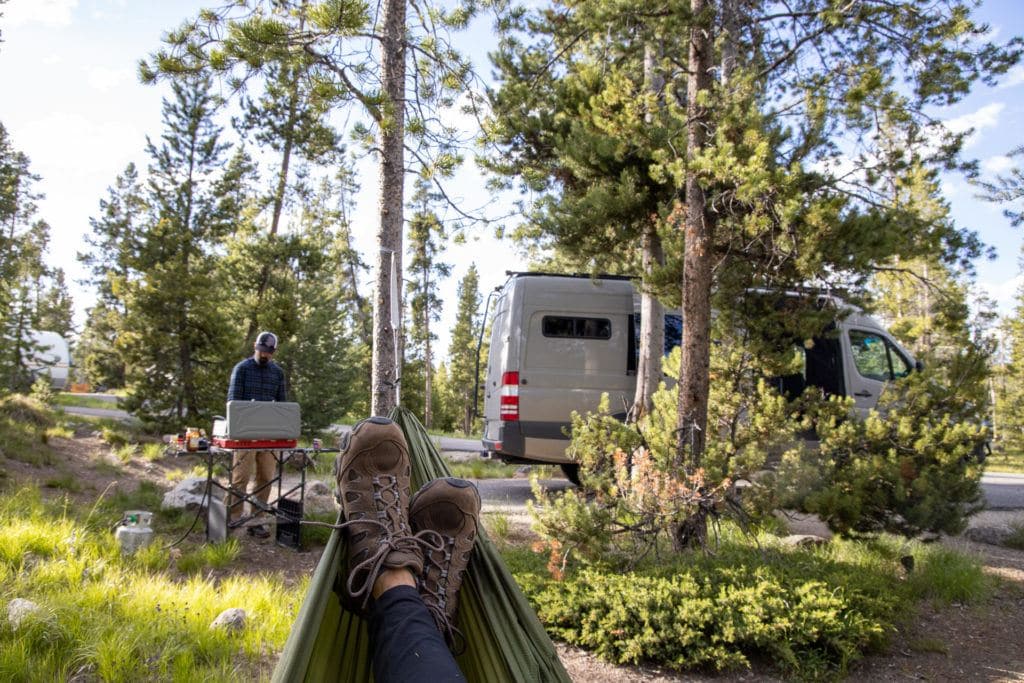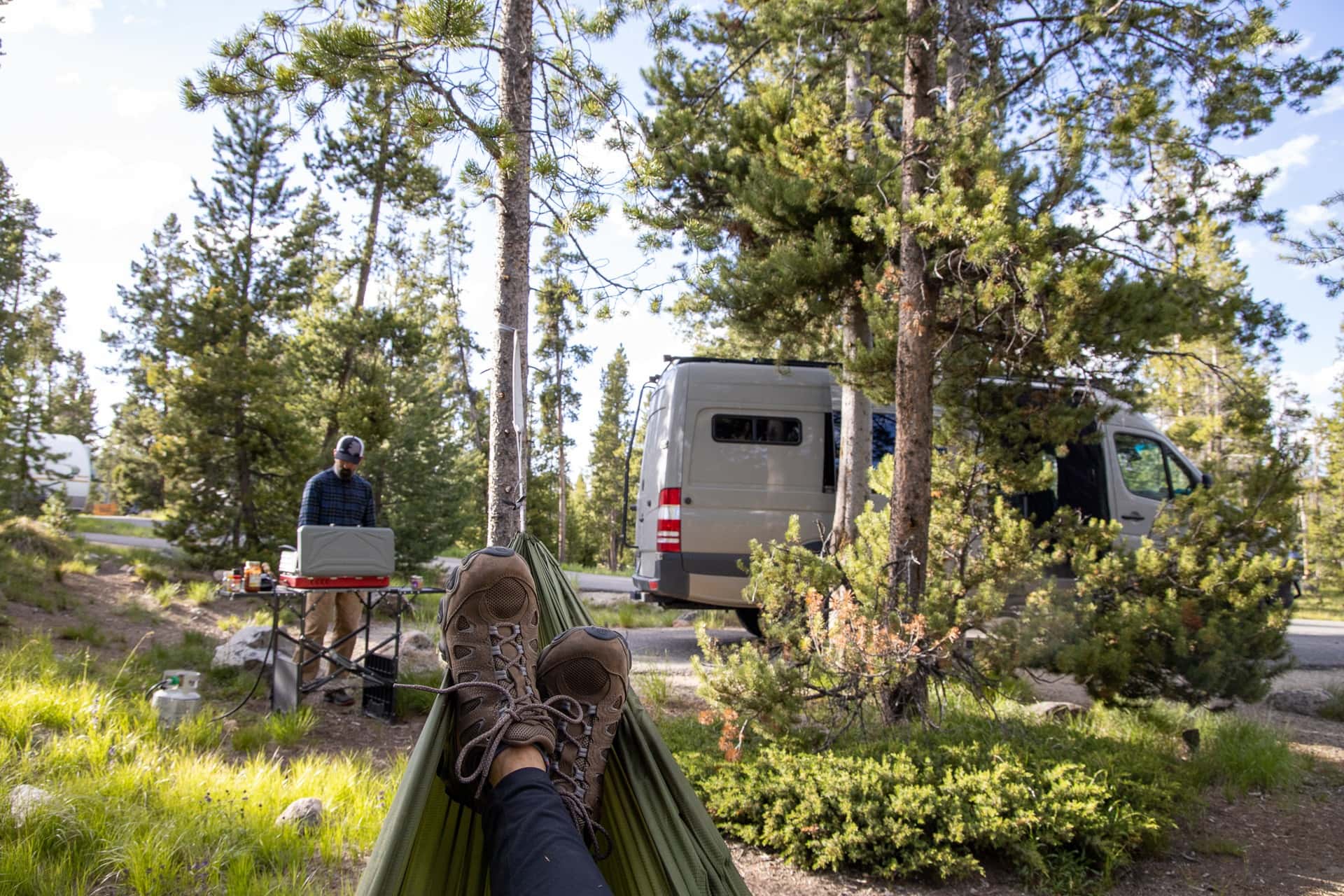 Lantern: The Black Diamond ReMoji Lantern is a perfect addition to any car camping setup. It's compact, rechargeable, and provides ample light (100 lumens) for cooking, playing cards, or organizing gear in the dark. It's also light enough at 2.9 oz to take with you on backpacking trips and can last for 100hrs on the low setting.
Headlamp: A headlamp is an absolute necessity for car camping and our headlamp of choice is the BioLite HeadLamp 330. Serving up 330 lumens across four lighting modes, it's the perfect car camping companion. The BioLite comes with a rechargeable lithium battery that can last up to 40 hours.
Reusable Water Bottle: A reusable water bottle is key for staying hydrated and eliminating single-use plastics. An insulated Hydroflask will keep your water nice and cold on hot days. I also like their straw lid version which allows you to easily drink one-handed while on the go.
First aid kit: It's always a good idea to have a first-aid kit in your car, especially on a car camping trip. It's better to be over-prepared than under-prepared! We like this Adventure Medical Kit because it's light enough to throw into a daypack to take with you on the trail and it has everything you need to treat blisters, sprains, headaches, and more.
Car Camping Clothing
What clothing you decide to bring on your car camping trip depends on where you're going, the weather, and what outdoor activities you'll be doing. Here's a list of the clothing I generally add to my car camping check list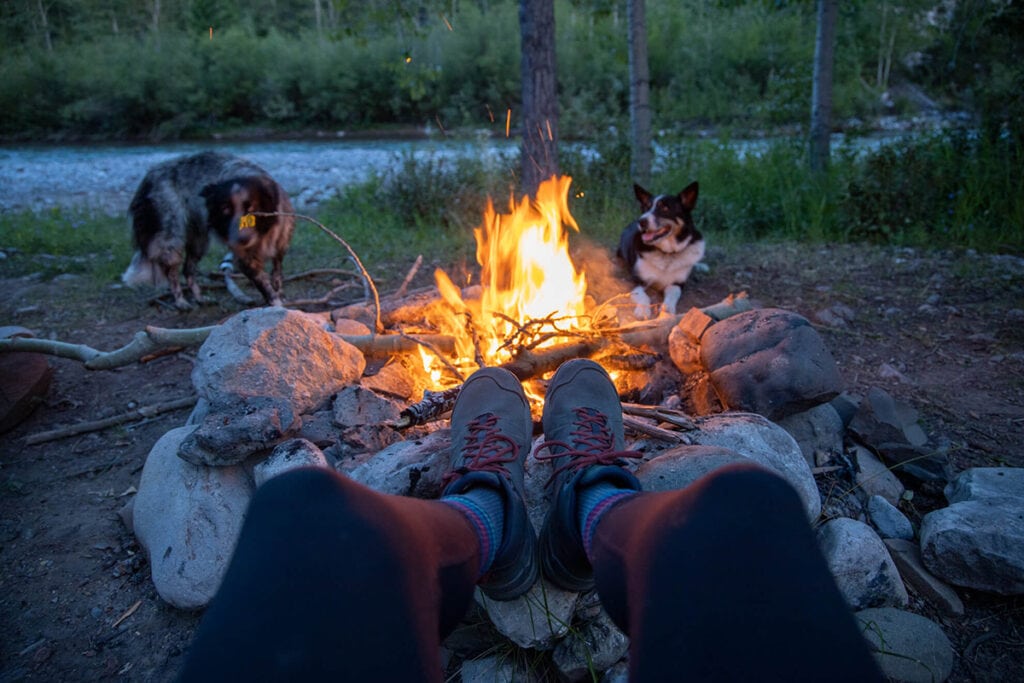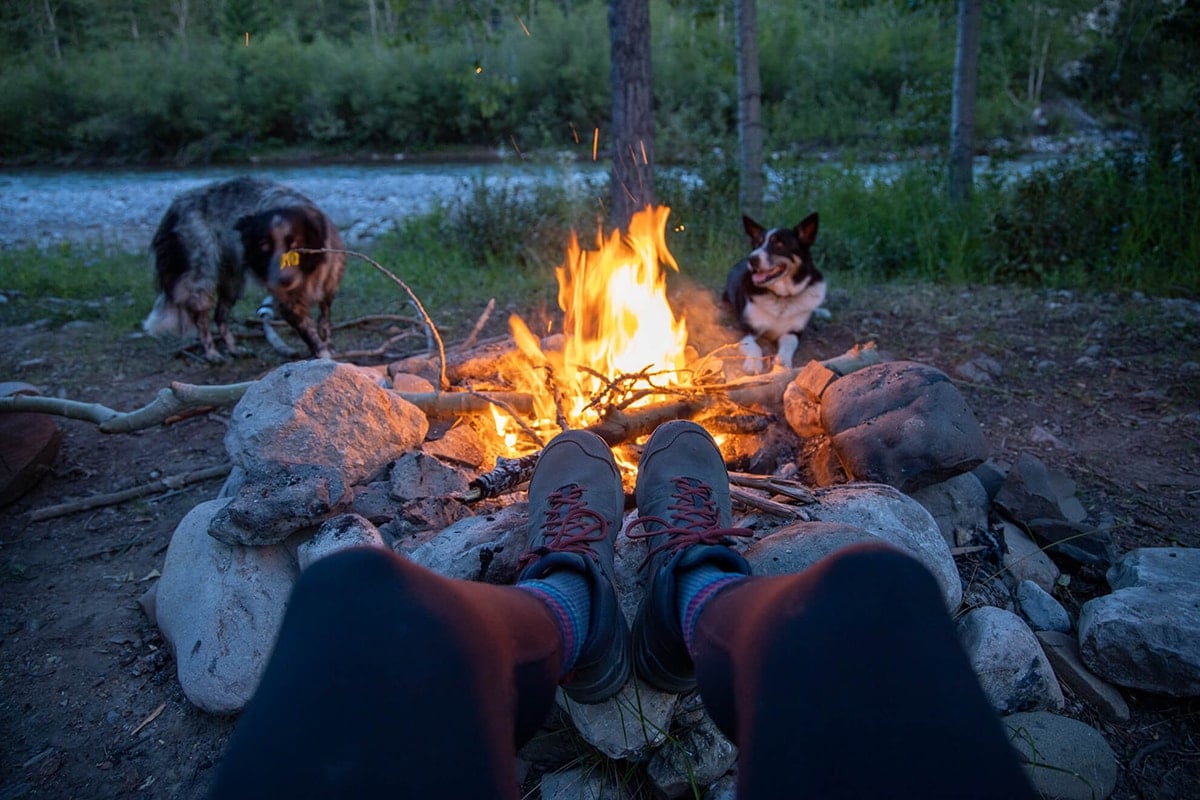 Car Camping Toiletries
While the point of many car camping trips is to get outside and enjoy nature without worrying about what you look like, it's also nice to feel somewhat clean while camping. Read our tips for staying fresh and clean on the road and check out our favorite camping toiletries below. Be sure to follow Leave No Trace Principles to help keep our natural places clean as well.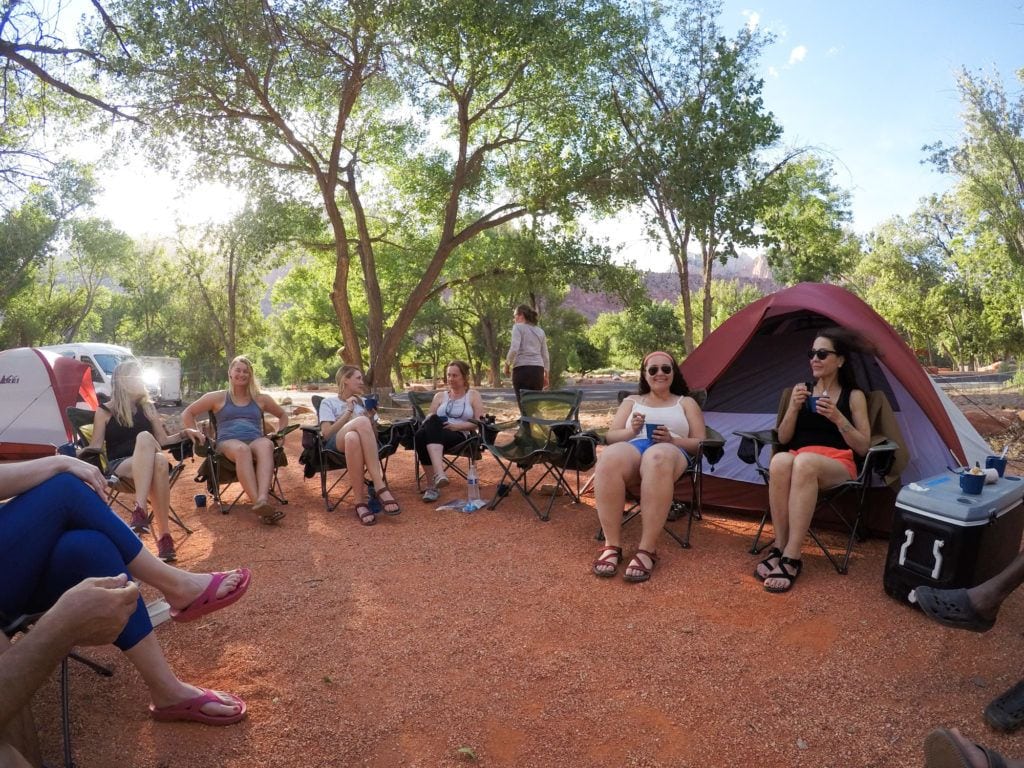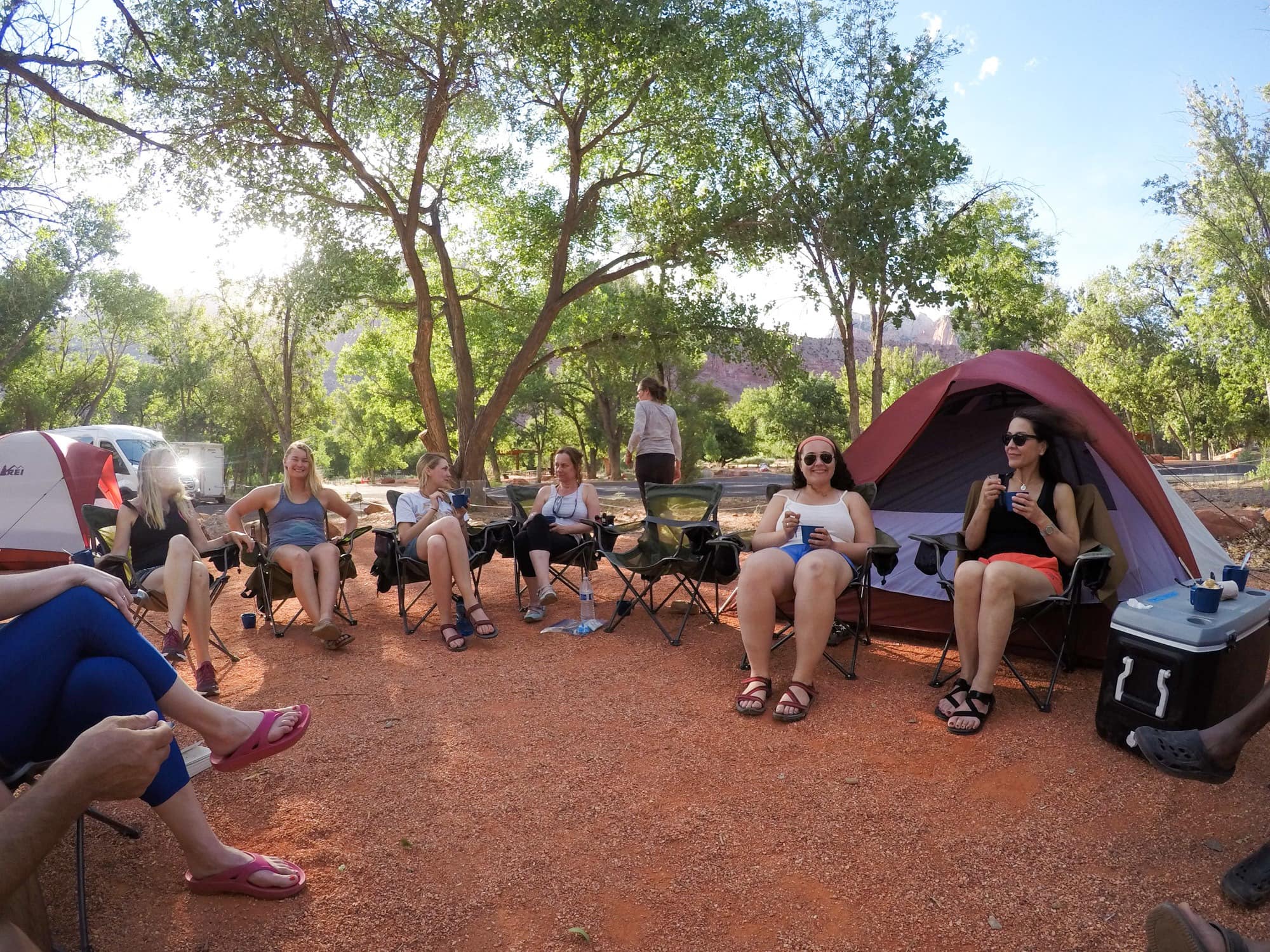 ---
Camping Essentials for Adventuring
Car camping is all about spending time outside, so bring your day hiking essentials along so you're ready to get out there and explore.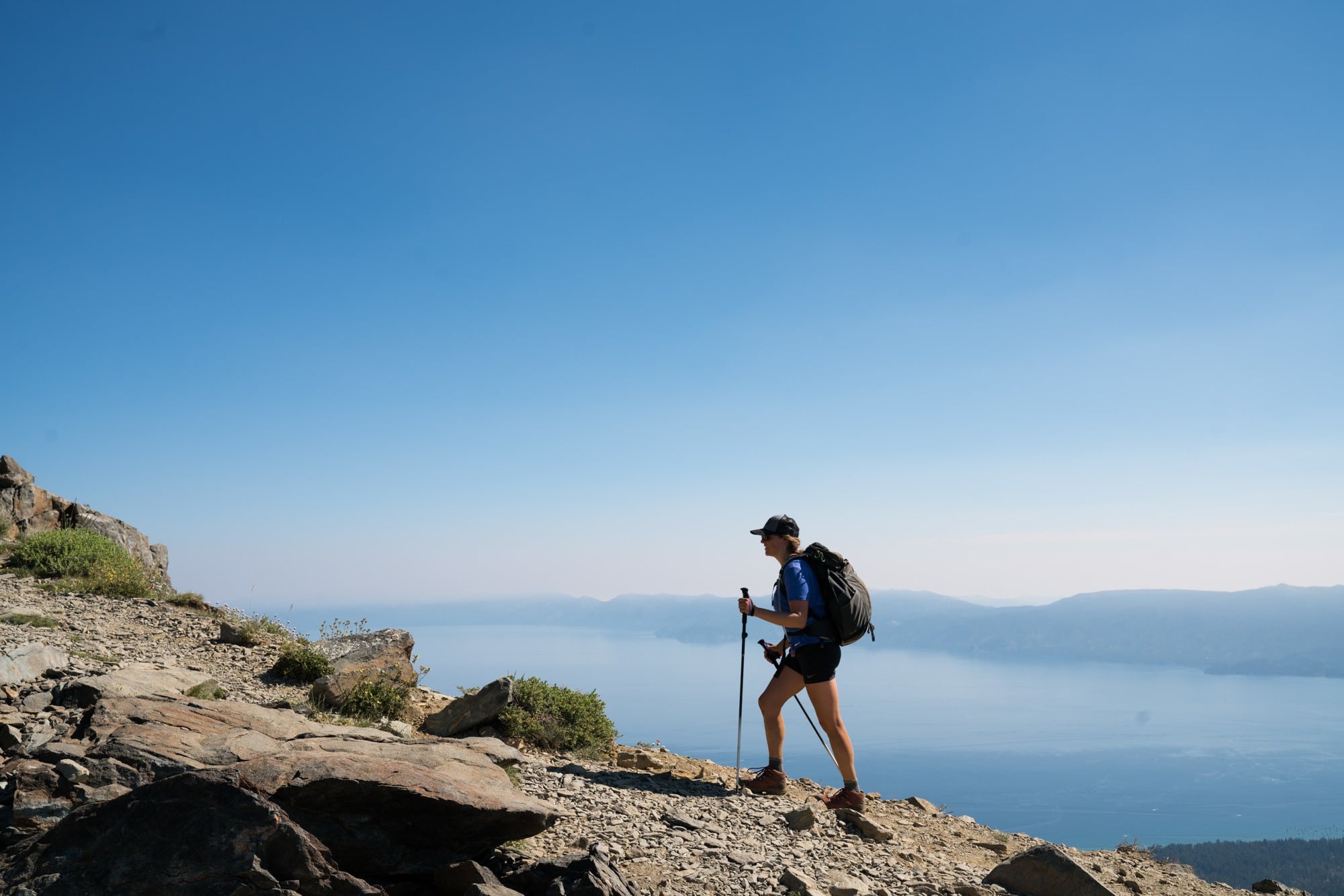 Day-Hiking Backpack: A backpack for carrying extra layers, water, lots of snacks, a map, and a camera is essential if you plan on doing any hiking while car camping. The Osprey Mira 22L Hydration Pack is one of our favorites and has lots of storage pockets, a comfortable hip belt, and comes with a 2.5-liter hydration reservoir. If you're looking for a simple, budget version for short hikes and walks from your campsite, check out the REI Flash 22 Pack, which is a unisex pack that is designed for ultralight adventures.
Hydration Reservoir: Many daypacks have space for a hydration reservoir which allows you to drink from an attached tube while you hike. Since it's nestled in between you and the pack, it's easy to carry, lightweight, and is a great option for staying hydrated on-the-go. Check before you buy a reservoir because some hiking backpacks come with them included.
Trekking Poles: If you plan on hiking during your camping trip and hiking tends to be rough on your knees, the Black Diamond Trail Ergo Cork Trekking Poles will be a game-changer. Not convinced? Here are all of the reasons why you should consider using trekking poles when you hike, plus the best options for all budgets.
We hope this car camping checklist helps you get everything together for an epic car camping trip! What's nice is that once you have all the items you need, they should last you for years and years of camping adventures. For additional car camping tips, be sure to check out our Car Camping 101 post for more information on how to find campsites, how to plan a trip, and more.
---
Do you have favorite car camping essentials not listed above? What's on your car camping packing list? Share in the comments below!