Car Camping Essentials (+ Printable Packing List)
Avoid forgetting the essentials using our car camping checklist for your next camping adventure!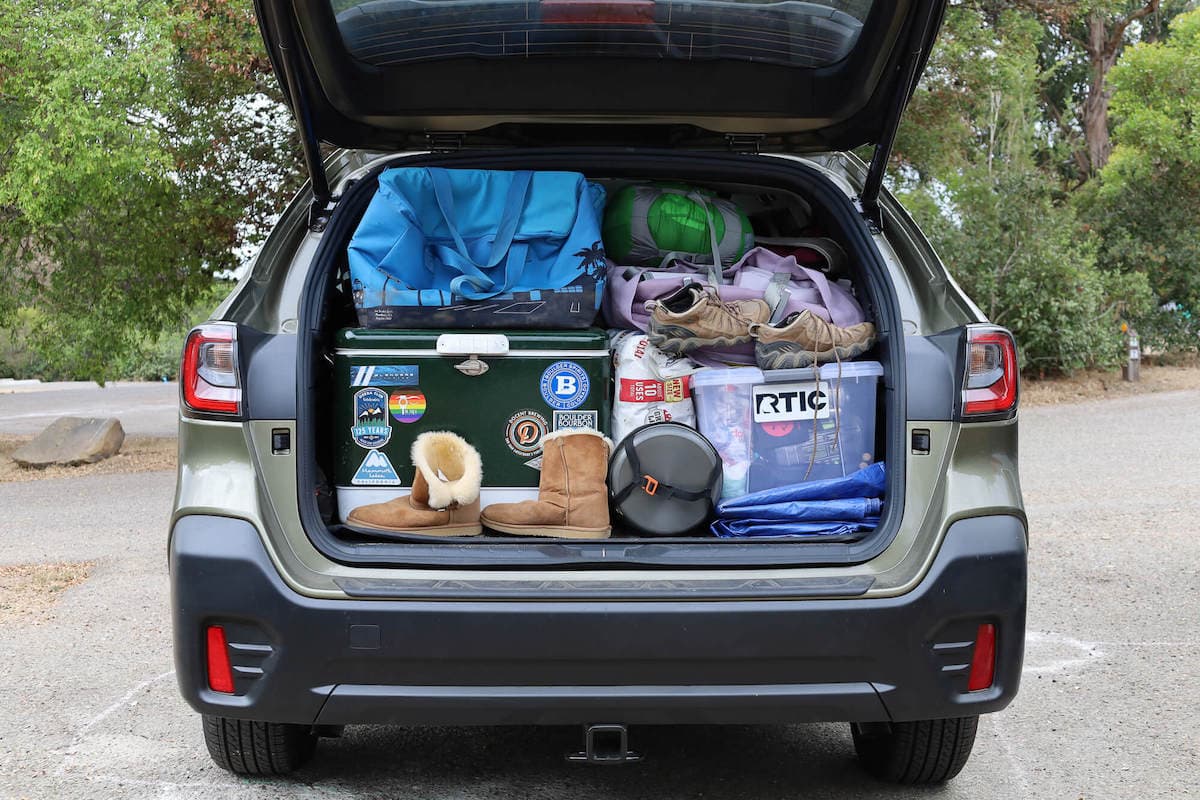 Looking for car camping essentials? Car camping is a great way to get outside while still bringing some of the comforts of home along for the adventure. Things like a spacious tent, a cushy sleeping pad, a cooler full of food and drinks, and a nice camp kitchen set-up can make camping outside just as comfortable as being at home except you get to enjoy the great outdoors.
In this post, we share our list of car camping must-haves including essential items as well as some comfort pieces.
Also, be sure to download our car camping checklist so you can keep tabs as you pack and make sure not to forget anything.
Note: If you want to be able to backpack and car camp with one set of gear, check out our 3-day backpacking checklist for lightweight tents, sleeping pads, and sleeping bags that will work for both. If you want a more comfortable car camping setup and don't want to shell out the cash for super lightweight gear meant for backpacking, this car camping packing list is for you.
---
Car Camping Sleeping Essentials
Camping is a great way to get outside and enjoy nature. But if you're not used to sleeping on the ground, it can be tough to get comfortable.
These camping sleeping essentials will help make your trip more enjoyable. From a good mat to keep you off the cold ground, to a warm sleeping bag for chilly nights, these items will help you rest easy while camping. If your camping trip is in the fall, also make sure to check out fall camping tips and advice for staying warm in your tent.
So grab your tent and gear up for an outdoor adventure!
Tent
A camping tent is first on the list for good reason – it's your shelter from the elements. For car camping, get a spacious tent with enough room to sleep comfortably and get changed in. Even if there will only be one or two people sleeping in it, a three or four-person tent is nice to have.
The MSR Habitude 4 is an excellent 4-person tent with room to stand up and stretch in. For it's size, I find it quick and easy to set up.
If you're taking your family camping, the MSR Habitude 4 tent comfortably fits the kiddos and still has plenty of sleeping space for the adults. It also comes in a 6-person version.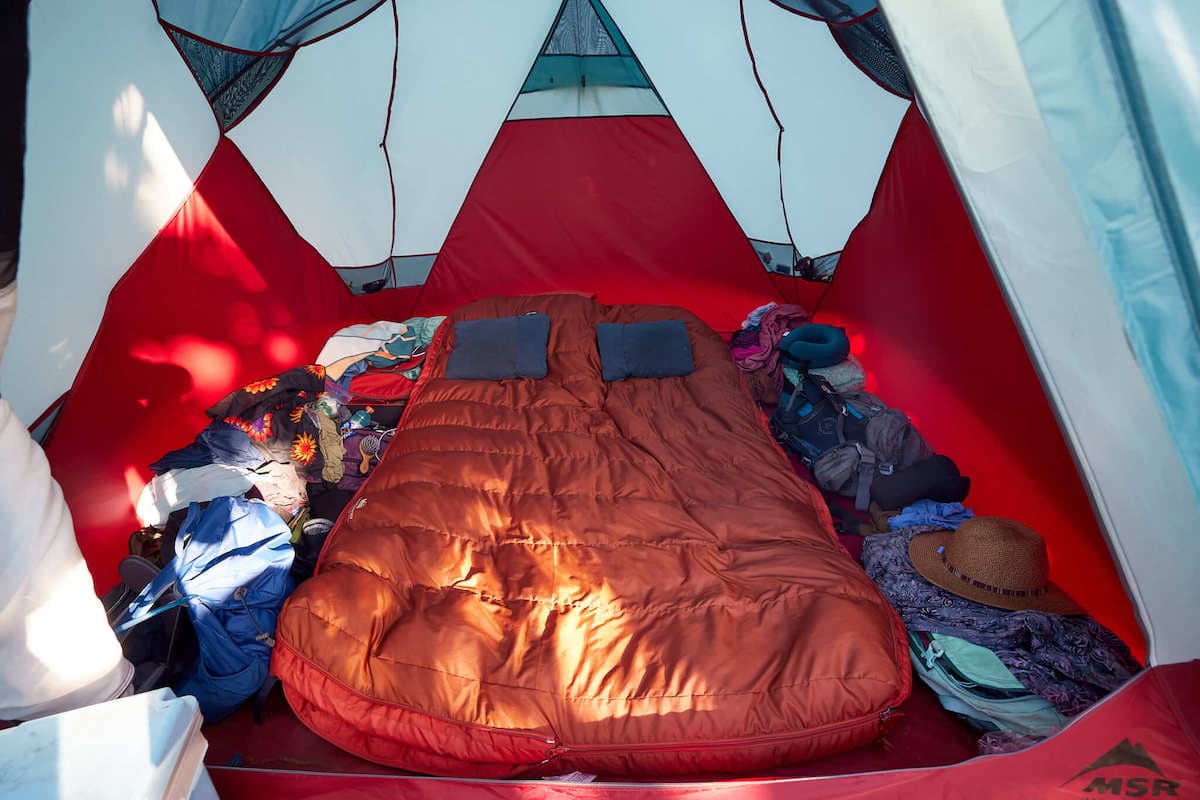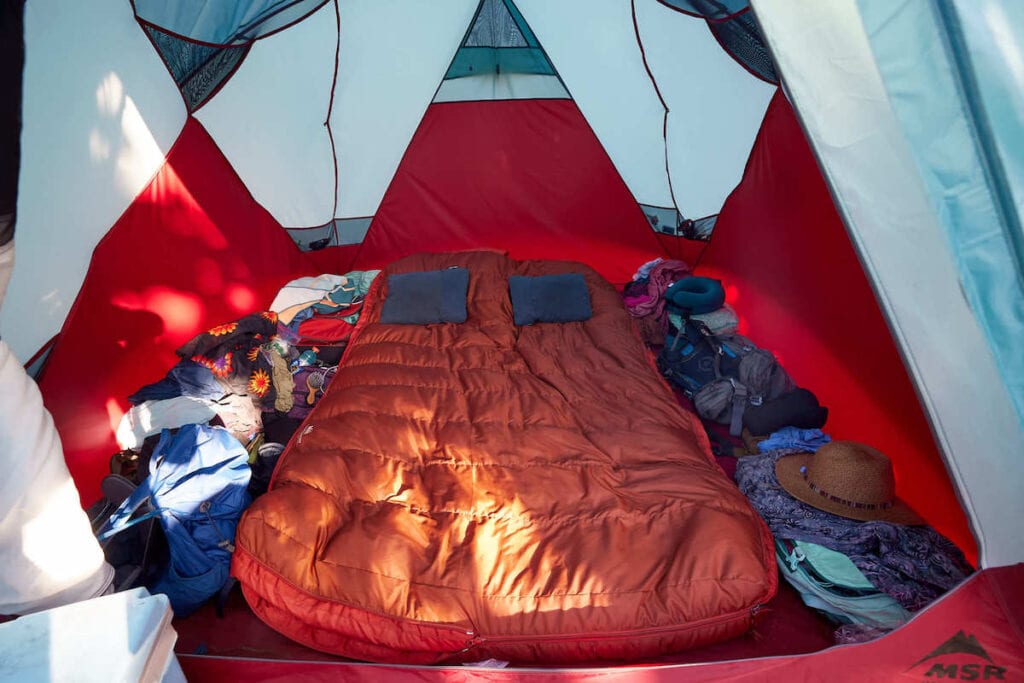 Sleeping Pad
Sleeping pads can make or break your camping trip by helping you get a good night's sleep, so it's one of the most important car camping essentials you'll invest in.
A good sleeping pad not only provides comfort from the hard ground but can also help keep you warm.
Sleeping pads are rated on an R-scale between 0 – 6. The higher the R-rating, the warmer the sleeping pad will be. For car camping during the summer and shoulder season months, an R-rating between 2-4 should be perfect.
The self-inflating, extra-wide NEMO Roamer Sleeping Pad is extremely comfortable with 4 inches of padding. The foam layer will keep you warm and provides a high level of insulation from the ground.
This pad comes in a double version as well if you want to cozy up with your tentmate. Read our full NEMO Roamer Double Sleeping pad review here.
Sleeping Bag
There's no better feeling than snuggling up in a warm, cozy sleeping bag surrounded by nature. A good sleeping bag will not only keep you warm but also allow you to shift and move around as you sleep.
The two main considerations you want to think about when choosing a sleeping bag are temperature rating and shape. A temperate rating of 20-40° is usually perfect for car camping depending on when and where you plan on camping.
The shape is more of a personal preference. Rectangular bags will allow you to move around more while a mummy bag will be warmer and more lightweight.
We love The NEMO Disco 30 Sleeping Bag because it is lightweight, cozy for summer nights, and designed to be comfortable for side-sleepers thanks to its spoon shape. It's also designed with 'gills' that help regulate temperature and a built-in pillow pocket to keep your pillow in place throughout the night. Check out the men's model here.
---
Car Camping Kitchen Essentials
Making delicious meals al-fresco is one of our favorite parts of car camping. To get your car camping cooking essentials organized, I recommend you start an outdoor cooking bin. This is where you'll keep everything you need to cook with. Some things I like to keep in my cooking bin include cutting boards, knives, silverware, paper towels, Tupperware, tongs, a spatula, pots, pans, olive oil, salt, pepper, and basic seasonings.
By keeping everything together in a bin, it will make it really easy when it's time to hit the road. Just grab the bin and go!
Here's what to bring car camping so you can cook delicious meals al fresco. Of course, you can bring whatever cookware you have in your home kitchen, but if you want a dedicated camp cooking setup, this is what we recommend.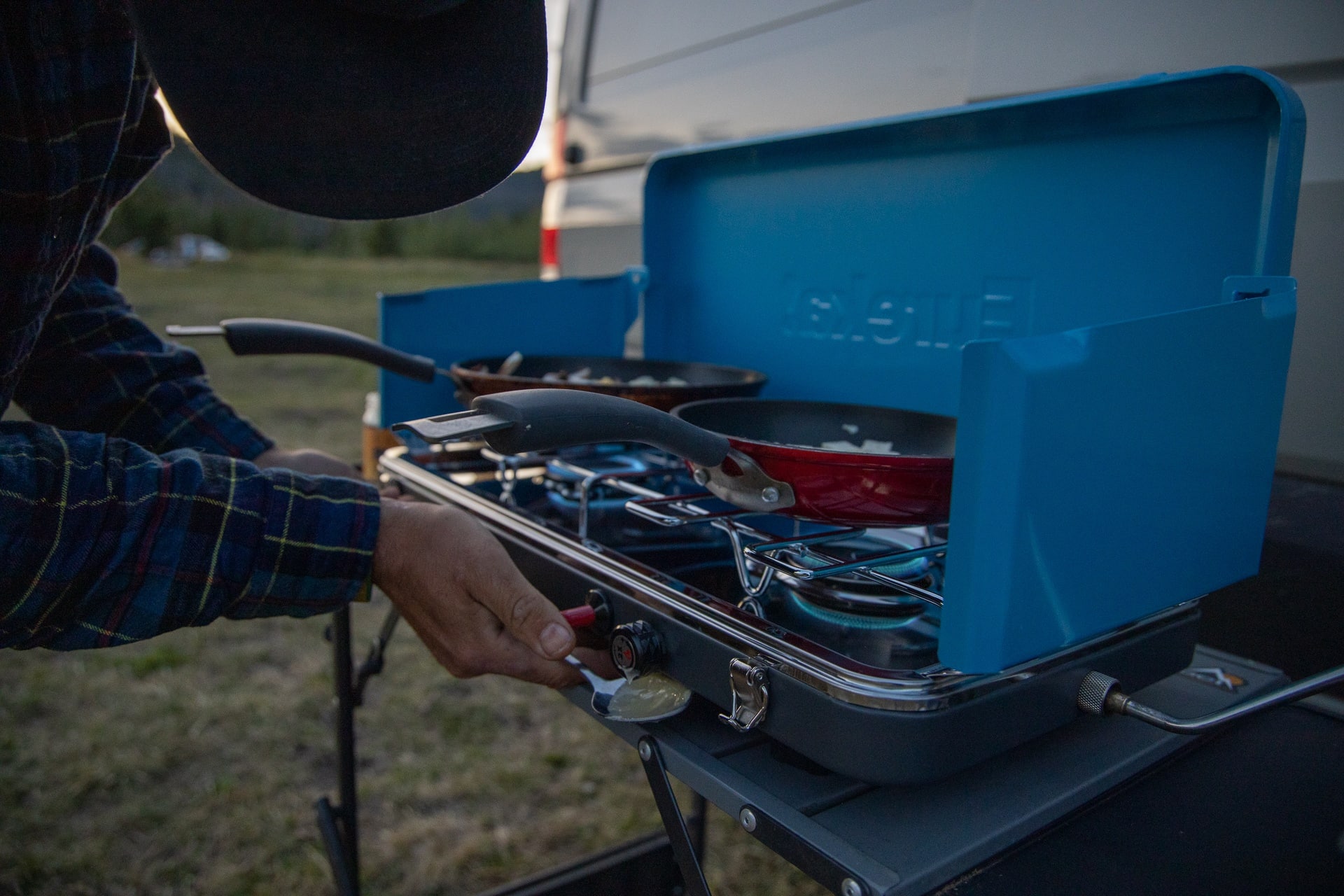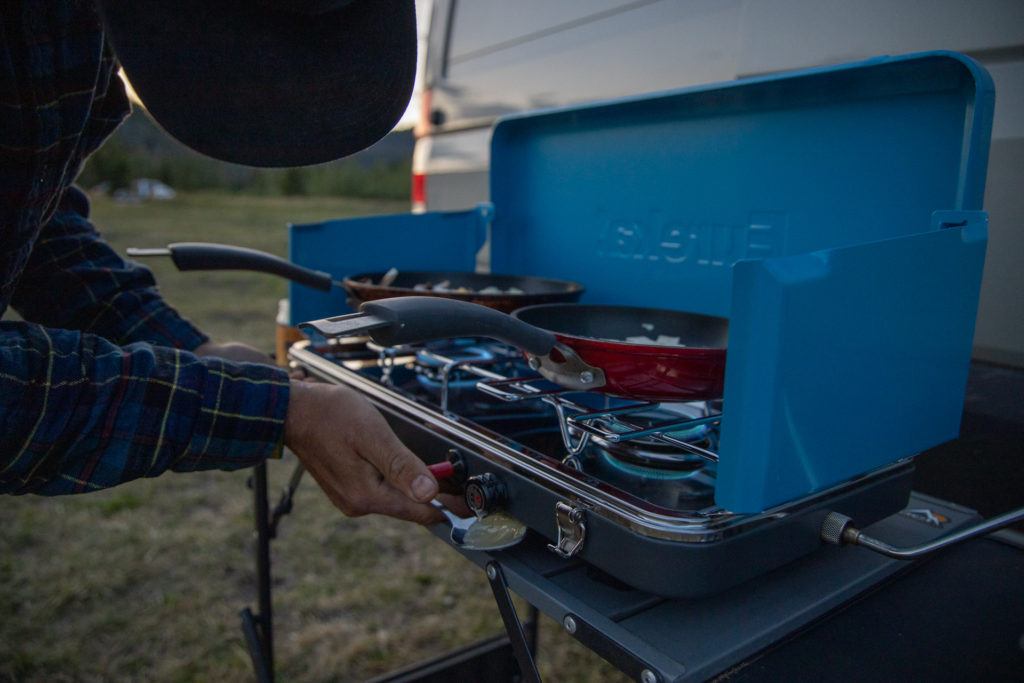 Camp stove
One of the luxuries of car camping versus cooking while backpacking is that you can bring a more robust stove to whip up delicious meals.
I use the Eureka Ignite Plus stove when I go car camping. We even bring it in our van (which has its own stove) so we can cook outside.
The Eureka Ignite is fuel-efficient and easy to fine-tune the flame so you don't scorch your dinner. It runs off propane fuel, and for those who want to score some sustainability points, you can get an adapter at Home Depot that will allow you to hook up this stove to a 10-gallon refillable propane tank.
Cooler
Coolers have come a long way over the years. Now, you can buy a heavy-duty cooler that will keep your food and beverage cold for days without needing to resupply with ice.
The RTIC 45 QT Hard Cooler is our car camping cooler of choice. It's the perfect size for comfortably keeping a weekend's worth of food and drinks cold. RTIC's coolers are known to be super rugged and durable and come at a lower cost than their direct competitors.
The extra-thick, insulated walls, and super-tight seal keep inside temps colder longer.
RTIC Coolers also come in a variety of sizes depending on how much food you need to store.
Cookset & dishware
Ditch single-use plastic and paper plates by using the GSI Pinnacle Camper Cookset. This set can feed four hungry campers and includes, mugs, bowls, plates, pots, and frypan. And the best part? Everything nests together for easy packing and storing.
Cooking utensils & cutlery
In your bin of camp cooking supplies, you'll want some durable, easy-to-use, easy-to-clean cooking utensils. The GSI Outdoors Destination Kitchen Set comes with 24 utensils including a spatula, a large spoon, a knife, cutlery for 4, a small cutting board, a bottle for cooking oil and dish soap, and more.
It's also lightweight and all packs together in a small case making it easy to keep everything together.
Dish bucket
Bring a collapsible bucket or two to make doing dishes easy. We like to bring one for wash water and one for rinse water.
Just be sure to dispose of dirty water properly, either by pouring it down the dish sink at camp if there is one, or by scattering it on barren dirt.
Insulated mug
Keep beverages warm when you're camping in cool weather or cold when camping in the heat of summer with an insulated mug.
We love the 20oz YETI Rambler Tumbler because it keeps drinks piping hot (or iced cold) and the MagSlider lid makes it easy and safe to drink from while driving. It's super easy to clean as well.
Coffee maker
Nothing's better than a good cup of camp coffee! My favorite method for making coffee while camping is the AeroPress Go. It's very compact and one of the easiest portable coffee makers to clean. It also makes delicious coffee!
If you're brewing coffee for more than one or two people, you may want a larger coffee press like this 1L coffee press by GSI Outdoors.
Water jug
Even if the campground has potable water, you'll want a water jug so you don't have to make countless trips back and forth to the spigot.
This 2-gallon Stanley Adventure Fast Flow Water Jug makes it easy to refill water bottles, wash your hands, or do dishes at camp. This jug is durable and easy to clean and it's a great way to reduce single-use plastics.
Clean up towels
I have a few hand-sized quick-dry towels in my van for drying dishes and wiping off surfaces.
Cotton towels don't work well on the road because they dry slowly and get heavy and smelly when wet. These quick-dry towels are great for cleaning up after camp meals.
Tablecloth
A tablecloth is an item that's often forgotten on car camping trips, but it's really useful to pack.
Campground tables can be a little dirty so it's nice to have something to cover them with, both for cleanliness and ambiance.
This REI Campwell Tablecloth is designed for camping trips with retention straps to keep it from blowing away, an attachable organizer, and a water-repellent finish.
---
Car Camping Gear & Furniture Essentials
In addition to the items listed above, there are plenty of other car camping items that you can pack depending on where you're heading and what activities you plan on doing.
Many of these are really more "nice-to-have" items and it's up to you if you think they'll be helpful on your next camping trip.
Below are a few of our favorite car camping gear essentials when we're going for extra comfort.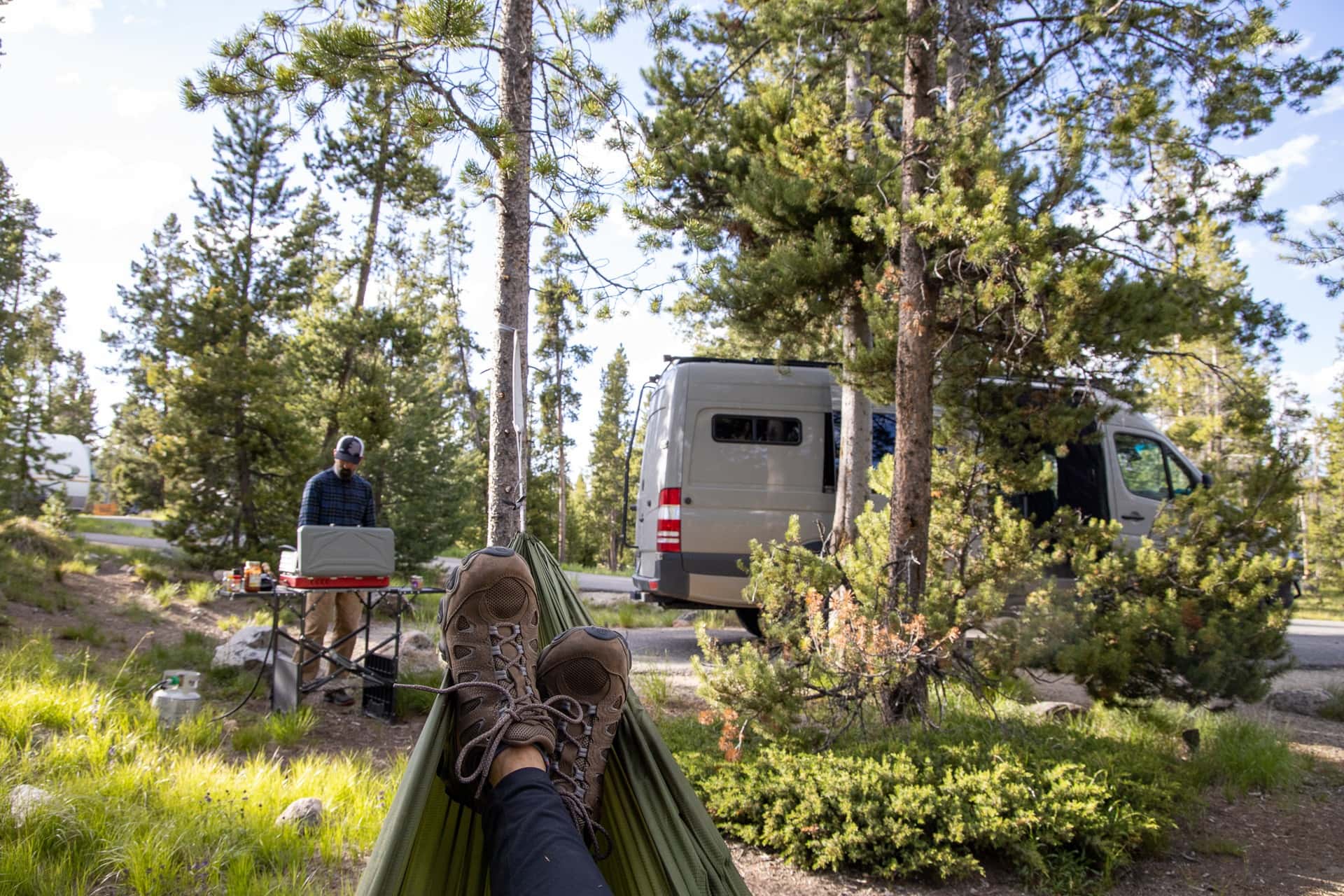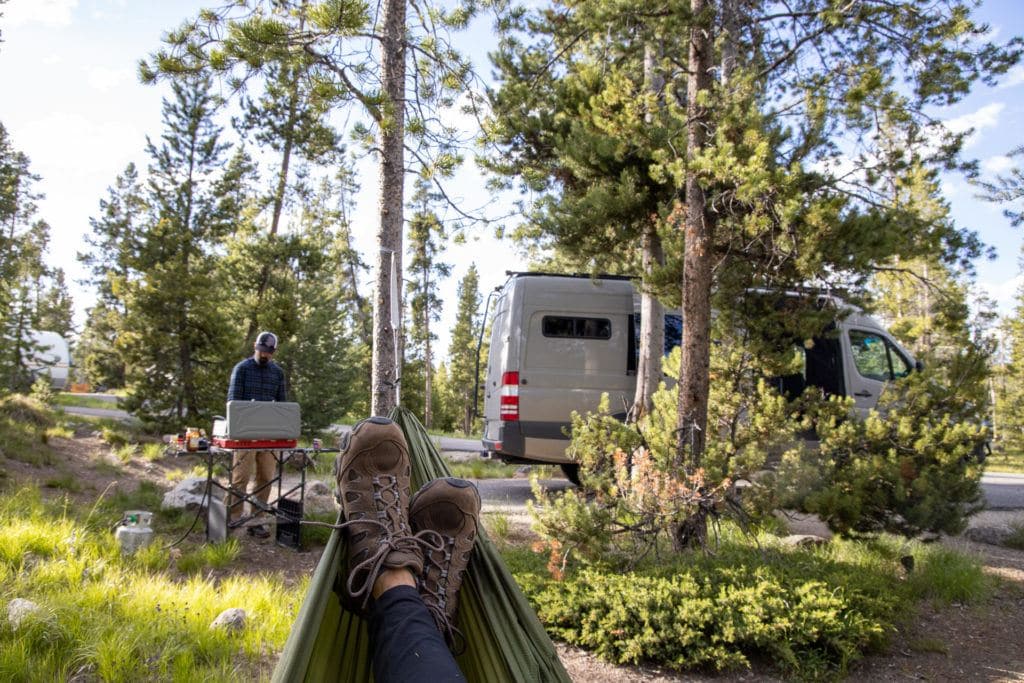 Lantern
The Black Diamond Moji R+ Lantern is a perfect addition to any car camping setup. It's compact, rechargeable, and provides ample light (200 lumens) for cooking, playing cards, or organizing gear in the dark.
It's also light enough at 2.8 oz to take with you on backpacking trips and can last for 100hrs on the low setting.
Headlamp
A headlamp is an absolute necessity for car camping and our headlamp of choice is the BioLite HeadLamp 325.
Serving up 325 lumens across four lighting modes, it's the perfect car camping companion. The BioLite comes with a rechargeable lithium battery that can last up to 40 hours.
Reusable water bottle
A reusable water bottle is key for staying hydrated and eliminating single-use plastics when camping.
An insulated Hydro Flask will keep your water nice and cold on hot days. I also like their straw lid version which allows you to easily drink one-handed while on the go.
First aid kit
It's always a good idea to have a first-aid kit in your car, especially on a car camping trip. It's better to be over-prepared than under-prepared!
We like this Adventure Medical Kit because it's light enough to throw into a daypack to take with you on the trail and it has everything you need to treat blisters, sprains, headaches, and more.
Portable power bank
A portable power bank like the EcoFlow RIVER Portable Power Station is nice to have on any camping trip because it helps keep devices charged, especially when you are camped in one place for a few days and not running the car batteries.
The EcoFlow RIVER is on the larger and more powerful side of portable power banks. It offers 256 watt-hours of battery power to charge phones, laptops, cameras, headlamps, and more and it only weighs 7.5 lbs.
If you're looking for something a little smaller and compact, check out the BioLite 80 PD Power Bank. It's small and light enough to carry with you on day hikes if you're worried about running out of juice.
Speaker
If you're a music-lover and want to listen to some tunes around the campsite, this JBL Flip 5 Eco Portable Waterproof Speaker is small, compact, and puts out great sound.
Just be sure to respect quiet hours and neighbors camping around you by keeping the volume low.
String lights
String lights are great for a little ambient lighting, plus they make your campsite look cozy and festive.
These MPOWERD Luci Solar String Lights have a built-in solar panel that allows them to charge while you have them set up, and even have a USB port you can use to charge small devices like your cell phone.
Hammock
If you're like us, you like to set up a comfortable hammock at camp to take a nap in, read a book, or listen to a podcast.
The ENO SingleNest Hammock is one of our car camping essentials because it packs down small, it's easy to set up, and it's super comfortable.
Car Camping Chairs
Whether you're sitting around the fire or watching the sunset from your campsite, collapsable chairs are a car camping must. Good camp chairs can help make camping more comfortable and relaxing, especially after a long day of hiking
We really love the Helinox Sunset Chairs for car camping because they're lightweight, pack down small, and have a high back that is comfortable and supportive. You can also add accessories like headrests, rocking feet, and personal shades.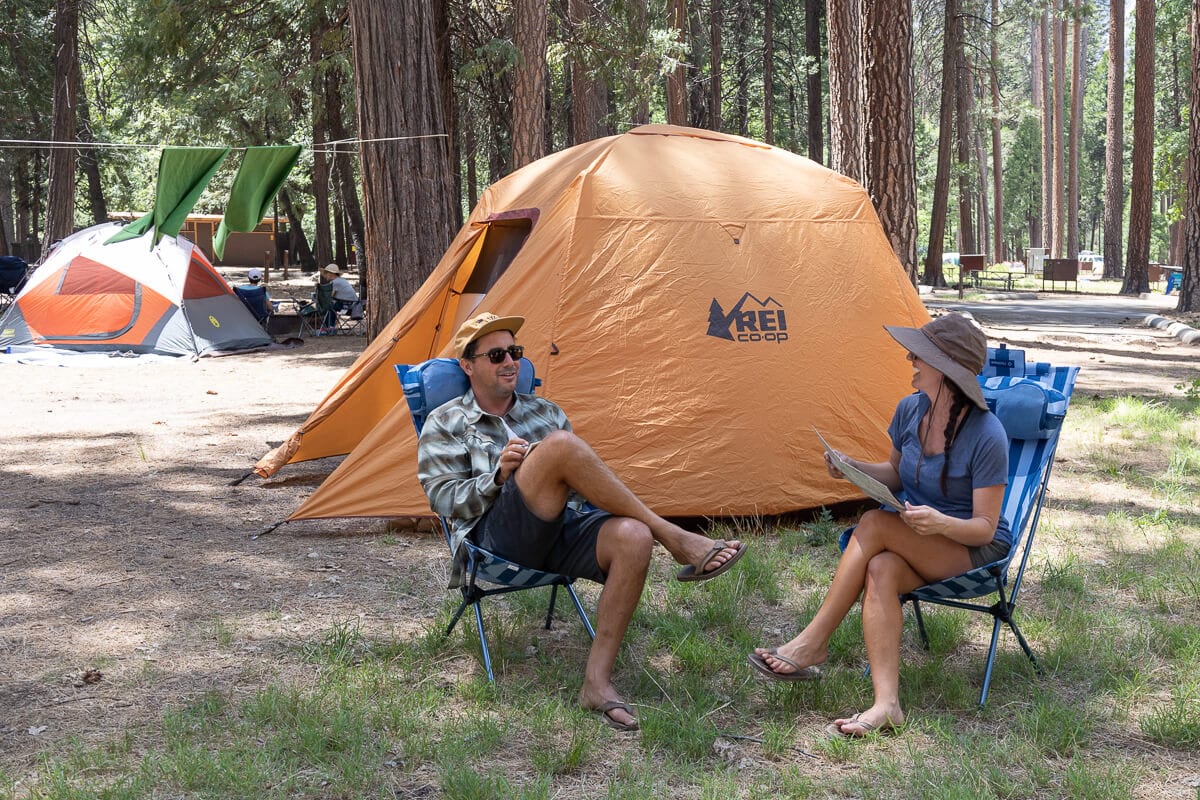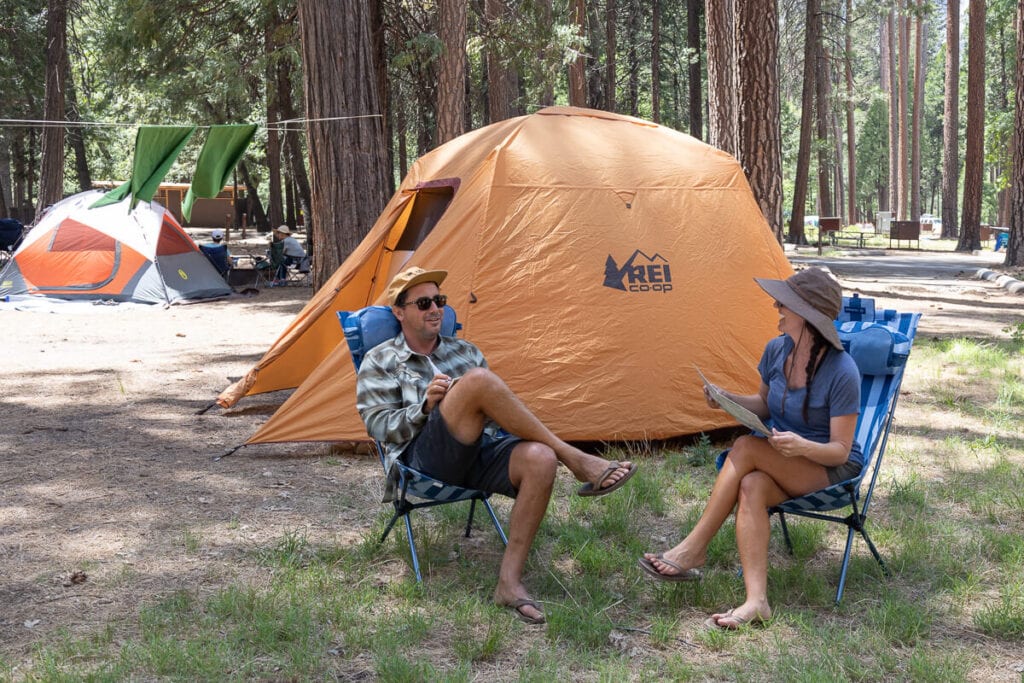 Camp Table
A good table makes life around camp much easier and more relaxing. They can also help keep gear organized and speed up dish duty at the end of the day.
I love whipping up delicious camp meals, so a sturdy and reliable camp kitchen table is a must.
The GCI Slim-Fold Cook Station is great for keeping everything organized as well as providing lots of workspace to prep on. It also folds down flat, making it easy to carry and store.
If you're looking for a small, portable camp table to set your drinks and snacks on, GSI Outdoor Compact Camp Table is lightweight and folds up really small.
---
Camping Essentials for Adventuring
Car camping is all about spending time outside, so bring your day hiking essentials along so you're ready to get out there and explore.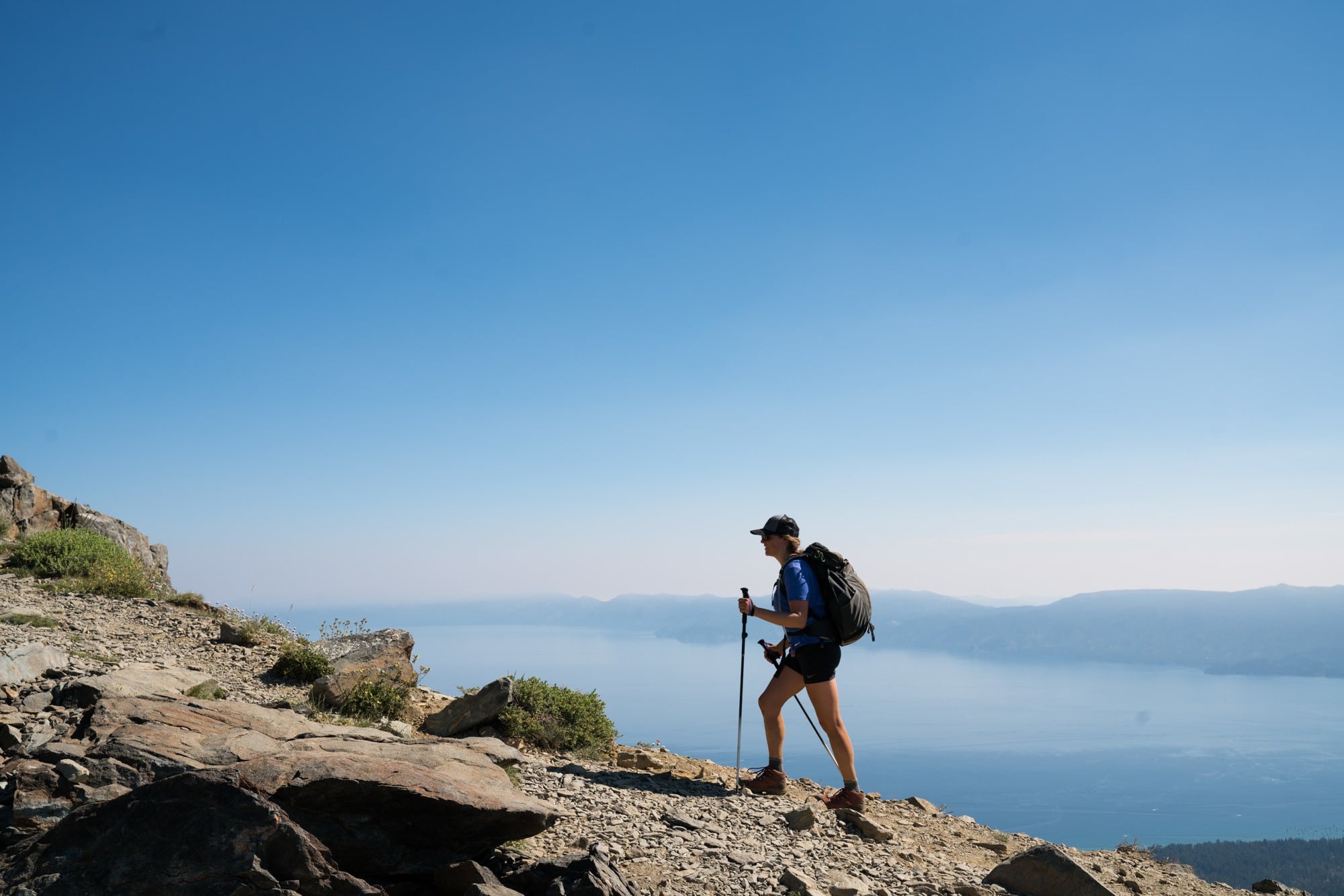 Day hiking backpack
A backpack for carrying extra layers, water, lots of snacks, a map, and a camera is essential if you plan on doing any hiking while car camping.
The Osprey Mira 22L Hydration Pack is one of our favorites and has lots of storage pockets, a comfortable hip belt, and comes with a 2.5-liter hydration reservoir.
If you're looking for a simple, budget version for short hikes and walks from your campsite, check out the REI Flash 22 Pack, which is a unisex pack that is designed for ultralight adventures.
Hydration reservoir
Many daypacks have space for a hydration reservoir which allows you to drink from an attached tube while you hike.
Since it's nestled in between you and the pack, it's easy to carry, lightweight, and is a great option for staying hydrated on-the-go.
Check before you buy a reservoir because some hiking backpacks, including the Osprey Mira above, come with them included.
Trekking poles
If you plan on hiking during your camping trip and hiking tends to be rough on your knees, the Black Diamond Trail Trekking Poles will be a game-changer.
Not convinced? Here are all of the reasons why you should consider using trekking poles when you hike, plus the best options for all budgets.
---
Car Camping Clothing
What clothing you decide to bring on your car camping trip depends on where you're going, the weather, and what outdoor activities you'll be doing.
Here's a list of the clothing I generally add to my car camping checklist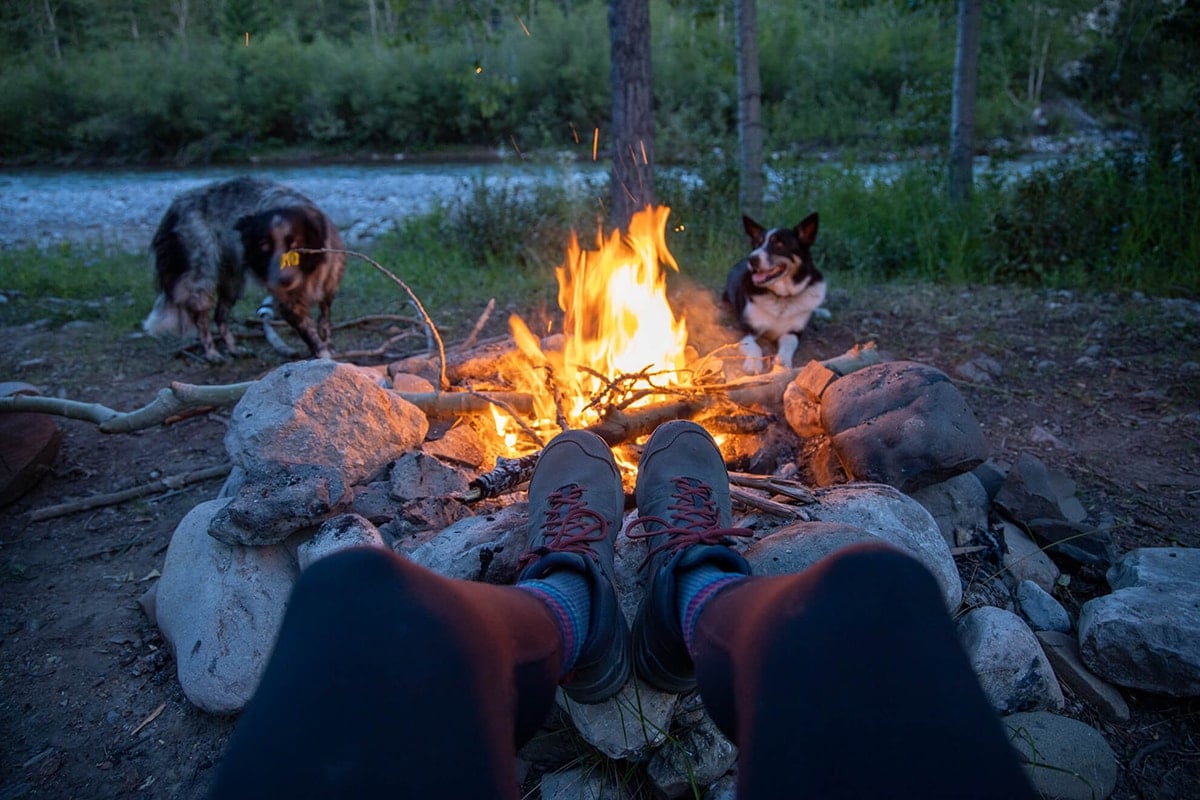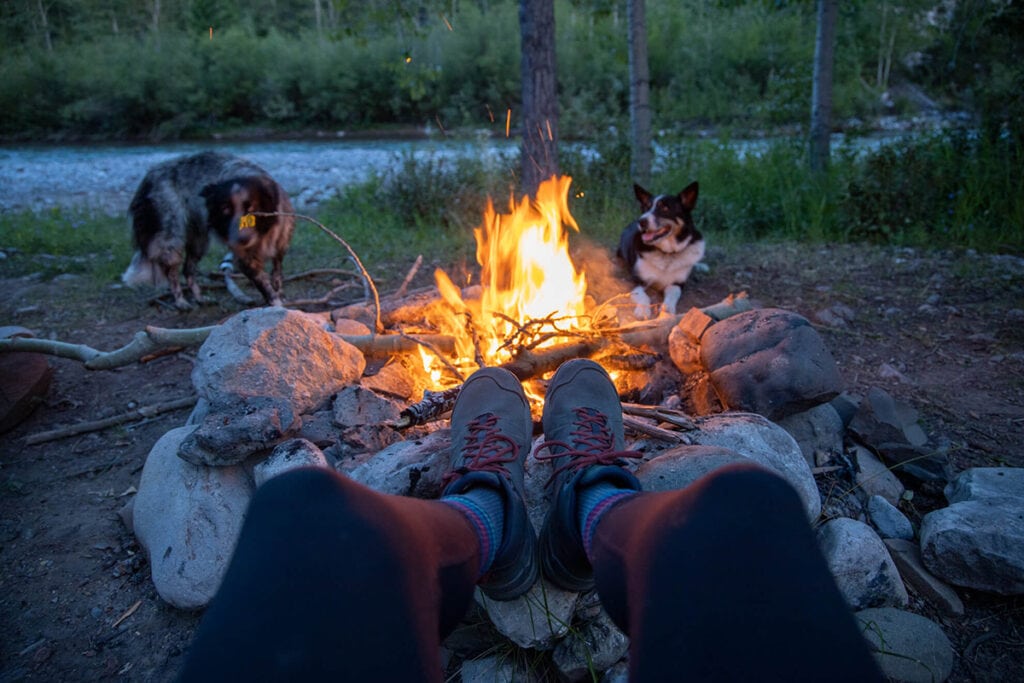 Quick-dry tees
I've been wearing Patagonia's Capilene Cool Tees for years, both for everyday wear, for hiking, and for camping.
They don't hold onto odors so they can be worn multiple times, which is great for multi-day camping trips. They also dry quickly and don't cling to you when you get sweaty on the trail. I'll usually pack 2-3 of these depending on the length of my trip.
The Capilene Cool shirts also come in a long-sleeve version for sun protection or cooler temps.
Long-sleeve base layer
Even if the forecast predicts fair weather and warm temps, it's a good idea to always pack a long-sleeve base layer.
I like the lululemon Swiftly Tech Long Sleeve Tee. It's breathable enough to hike in but also provides a little extra warmth on those cooler days.
Fleece
Nights can get chilly while car camping, so a warm fleece is definitely a car camping essential.
I love the Cotopaxi Teca Half-Zip Fleece Jacket. Not only do they come in fun colors, but they're also made from 100% recycled polyester and Cotopaxi donates a portion of their annual revenue to nonprofits around the world through their Gear for Good program.
Synthetic puffy
For cold nights, you'll want a warm jacket. Patagonia's Nano Puff Insulated Hoodie is my fave. It's lightweight, packs down small, and is super cozy and warm. Just be sure to stay far enough away from the fire to avoid flying embers from burning small holes in your jacket!
Rain jacket
A rain jacket is another item I always pack "just in case" – you never know what the weather might do – plus a rain jacket can double as a windbreaker!
My top pick for a rain jacket is the REI Rainier. It's fully waterproof, yet still breathable, packs down small and you can easily layer underneath it.
Leggings
Leggings are comfy on those long drives and serve as functional athletic wear on the trail. You can even wear them to bed.
My favorite leggings are the lululemon Wunder Trains. They can be worn with anything, have a nice high waist so they don't roll down, and come in lots of fun colors.
Quick-dry underwear
Moisture-wicking undies are a must for car camping trips, especially if you'll be hiking.
The lululemon Invisiwear boyshorts are my favorite. They are comfortable, hold their shape, and don't show any panty lines when wearing leggings.
Sports bra
Sports bras are more comfortable and practical to bring car camping than normal bras, especially if you plan on hiking or doing other outdoor activities.
The Beyond Yoga Spacedye Lift Your Spirits Bra is stretchy and comfortable yet provides support.
Hiking boots or shoes
These Oboz Sypes Hiking Boots are my favorite lightweight hiking boots. I've already worn them hiking in Idaho, Utah, and Montana.
They're not stiff like more heavy-duty hiking boots out there and they're comfortable right off the bat.
Camp shoes
You'll want a camp shoe that is supportive, yet comfortable and will allow your feet to breathe and relax while you're driving and hanging out in the evenings.
My go-to camp shoes are the Teva Universal Trail Sandals. They're comfortable, have great traction, and they work with socks too (I know, super stylin').
Beanie
A beanie can help keep you warm at night in your tent or around the campfire. Be sure to pack a beanie like The North Face Freebeanie when you know the temps will be chilly.
Sun hat
I've been wearing the Wallaroo Sedona Sun Hat for years and it remains my go-to hat. It's cute and stylish but still provides sun protection with its wide brim.
This hat is also great for traveling because you can fold it up and stuff it in a pack without worrying about creasing or damaging it. *Use the code BEARFOOT20 to get 20% off your purchase!*
---
Car Camping Toiletries
While the point of many car camping trips is to get outside and enjoy nature without worrying about what you look like, it's also nice to feel somewhat clean while camping. Read our tips for staying fresh and clean on the road and check out our favorite camping toiletries below.
Be sure to follow Leave No Trace Principles to help keep our natural places clean as well.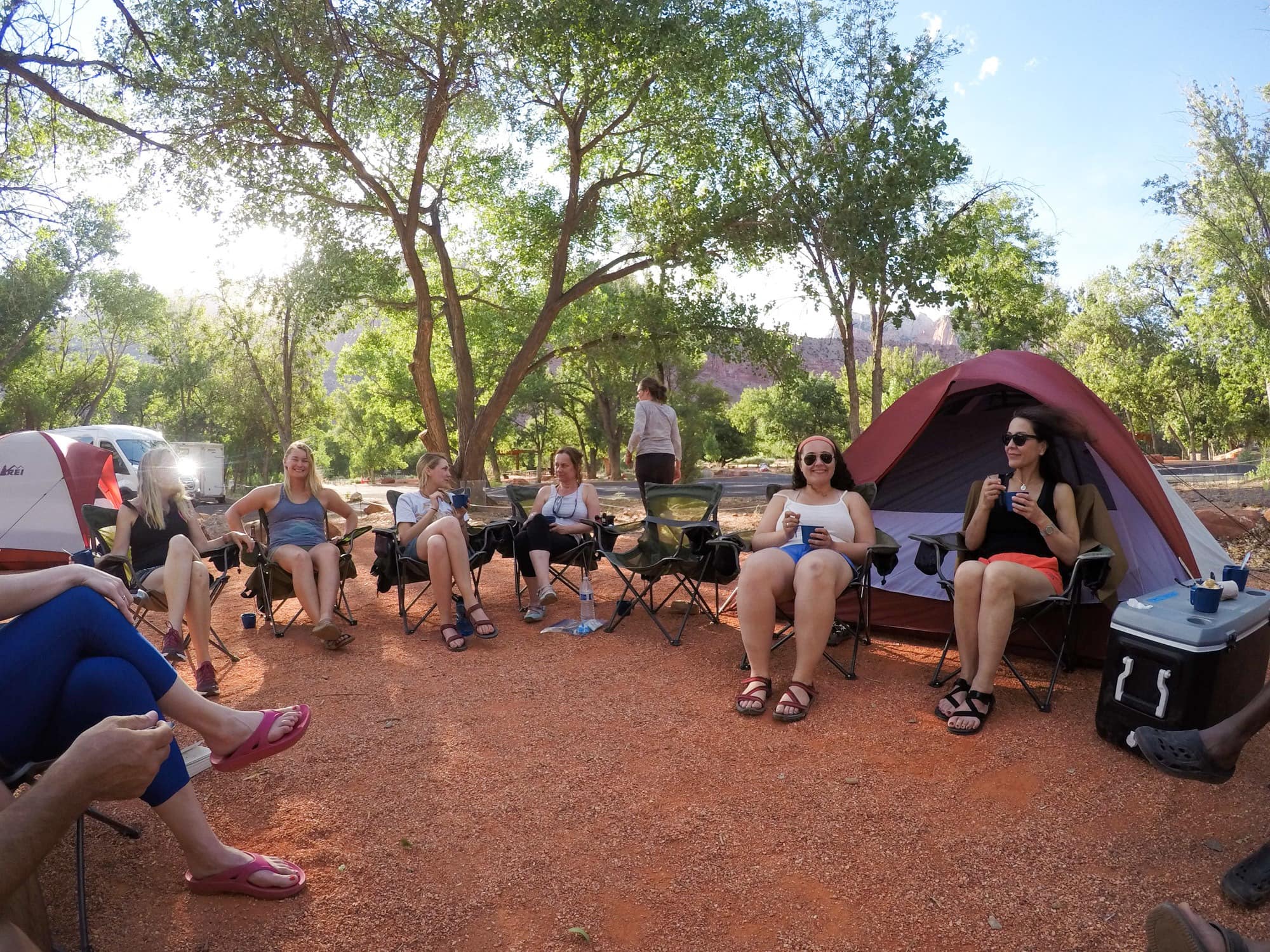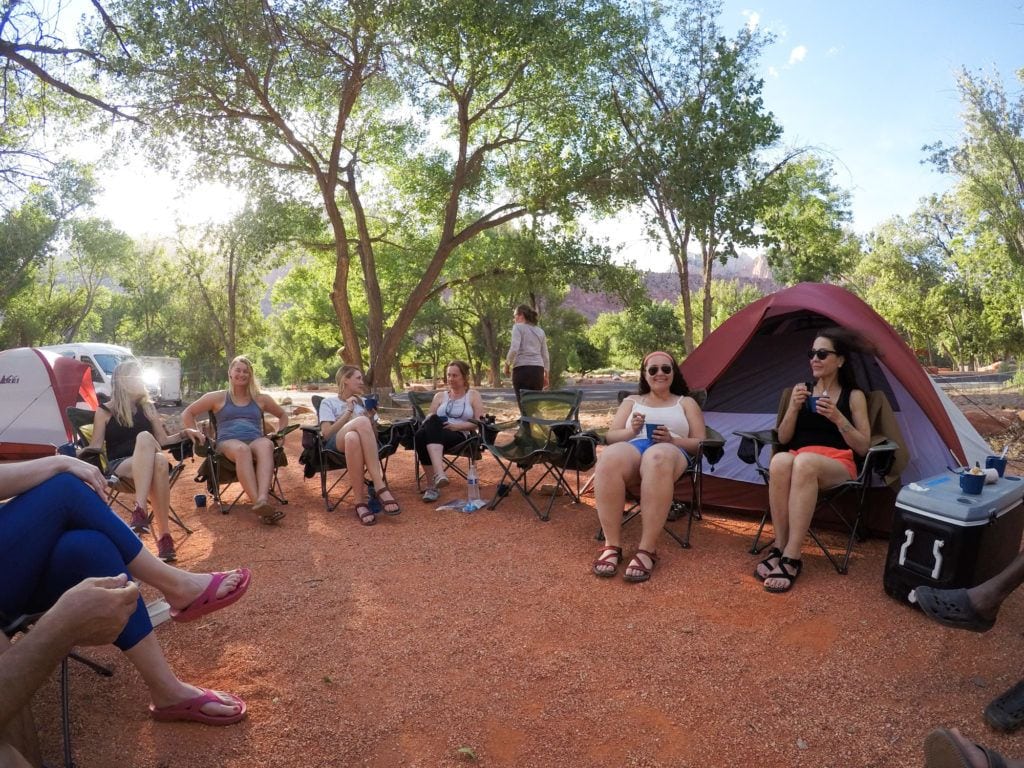 Biodegradable soap
Not all soap is good for the environment, so put biodegradable soap on your car camping checklist.
We like Dr. Bronner's Organic Liquid Soap, which comes in a small travel size that is perfect for any travel kit. Just make sure you're 200 feet from any lakes or rivers if you want to suds up.
Sunscreen
Protecting your skin from sun damage is super important, so be sure to add a bottle or two of sunscreen to your car camping packing list.
We like the Sun Bum Mineral Sunscreen because it's easy to apply and blends smoothly into the skin. Sun Bum products are also reef-safe, so if you're heading to the beach, this sunscreen is a must!
Wet wipes
Wet wipes are super handy for quickly cleaning your body or face after a sweaty hike or dusty drive.
The Sea to Summit Wilderness Wipes are a non-negotiable for our car camping packing list because they're gentle on the skin and they are compostable (although you still need to dispose of them properly in the trash).

Travel size toiletries
Instead of packing full-size shampoo, conditioner, and lotion try these refillable 2.5 oz humangear GoToob+ Medium Squeeze Bottles.
They don't leak thanks to the LoopLock plastic collar, which conveniently transforms into a hook so you can hang your toiletries. They also come in two other sizes: 1.7 oz and 3.4 oz.
Bug spray
Never head out on a camping trip without bug spray! Even if you don't end up using it, bug spray is still a good item to have in your car camping kit in case the mosquitos come out to play.
This Natrapel Insect Repellent doesn't have harmful chemicals like DEET and it smells nice.
Toiletry bag
To keep all of your toiletries organized and contained on your car camping trip, stash them in a lightweight toiletry bag like the Sea to Summit Hanging Bag.
You can easily hang it from the roof of your tent, the sun visor in your car, or on a tree branch.
Poop kit
Going #2 outdoors requires a little bit of forethought and preparation to do it respectfully if you're camping somewhere where there are no bathroom facilities.
Nobody wants to encounter dirty toilet paper at camp or smell human feces nearby. Not only is it disgusting, but it's also very unsanitary and can get lead to pollution problems.
So if there's no bathroom around, you'll need a poop kit that includes The Deuce #2 Trowel, toilet paper, and Ziplock bags so you can pack out your TP.
A quick-dry towel
Normal towels aren't great for car camping because they take a long time to dry and often get smelly after a few uses.
Instead, a quick-dry towel like the Nomadix All-Purpose Towel is a great car camping essential. Not only do these towels dry fast, but they're also light and packable so they don't take up much space. Plus, they're made from recycled plastics.
---
We hope this car camping checklist helps you get everything together for an epic car camping trip! What's nice is that once you have all the items you need, they should last you for years and years of camping adventures. For additional car camping tips, be sure to check out our Car Camping 101 post for more information on how to find campsites, how to plan a trip, and more.
Do you have favorite car camping essentials not listed above? What's on your car camping packing list? Share in the comments below!