Best Time to Visit Utah National Parks
Planning a trip to Utah's Mighty 5 National Parks? Here's the lowdown on the best times to visit.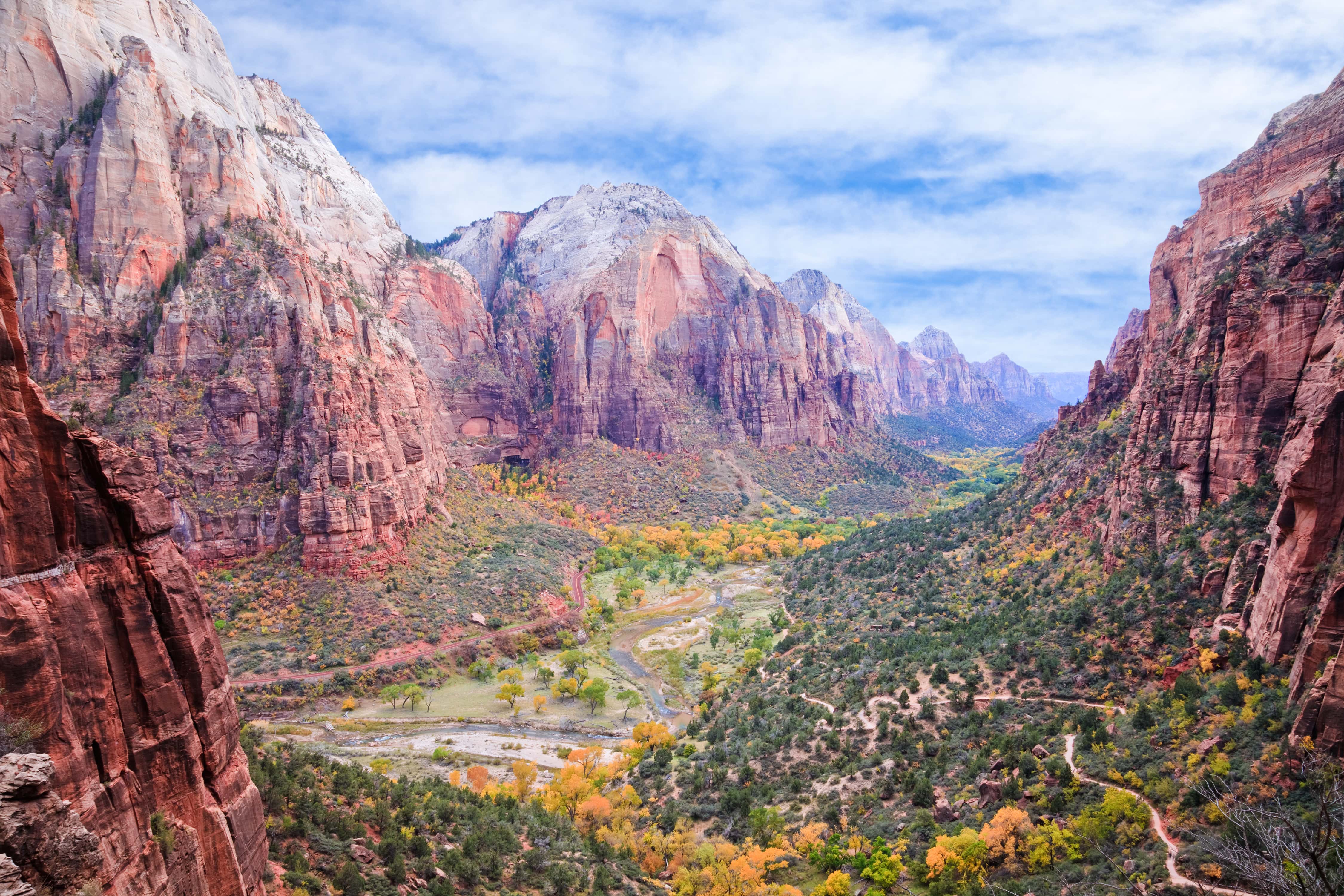 Southern Utah's National Parks are some of the most iconic and breathtaking of all our public lands. Whether you're coming to see the mesmerizing red rocks, hike slot canyons, or take in the otherworldly qualities Southern Utah's Mighty 5 National Parks have, it will be a trip you won't forget. So, now you might be wondering, when is the best time to visit Utah?
While there's certainly no wrong time to go, there are ways to strategically plan out your Utah trip so you can have the best experience possible – whether that be avoiding summer heat or big crowds.
This guide to the best time to visit Utah National Parks will help you have a great time in any season.
Important Reminder: As it goes in all of the destinations we share, please practice good trail etiquette and remember to Leave No Trace. This means packing out all of your garbage (including toilet paper) and following the established rules. In the desert, this also means learning how to protect cryptobiotic soil and how it has a huge impact on our ecosystems.
#1 campsite finder app
Try The Dyrt PRO free for 30 days
Get a FREE 30-Day membership to The Dyrt PRO, one of our favorite apps for finding campsites.
Perks include:
• 5,000+ free camping locations
• 1,000+ campground discount network
• $0 extra booking fees
• Get reservations at sold-out campgrounds, and more
Use the code BEARFOOT to get 30 days free!
Visiting Southern Utah in Winter
When you visit Southern Utah in the winter be prepared for temps between 25-50 degrees during the day and below freezing at night. If you're willing and able to brave the cold, you will get to enjoy the parks without crowds and there might even be snow on the ground, which makes your photos even better in my opinion. Be prepared by bringing along warm winter layers that are also waterproof (it can rain or snow), and check with the National Park Service on current hazards. An icy layer on Utah's slickrock can be extremely slippery, so if hiking is your goal, bring microspikes at a minimum or snowshoes depending on the weather.
Visiting Southern Utah in winter can also mean lower rates on accommodations in popular destinations like Moab, although services in some of the more remote parks like Capitol Reef can be limited. Bryce Canyon is the highest in elevation, so there you will have the greatest chance for snow and the coldest temperatures.
The downside of winter is certain trailheads are inaccessible – such as Lava Point in Zion which closes in winter – and roads to access dispersed camping can also be impassable. Some of Utah's campgrounds close for the winter as well so be sure to check before heading out. As long as you are flexible and don't have your heart set on a specific trail, winter can be a beautifully quiet time to visit Southern Utah.
Things to do in Winter in Southern Utah National Parks:
Hike the Zion Narrows in a dry suit – I haven't done this, but it's on my Utah bucket list! If you plan to hike the Narrows, I recommend using trekking poles to help keep your balance hiking through the water in the canyon
Photograph Bryce Canyon in snow and hike into the canyon if you have the right gear
Drive Cathedral Valley in Capitol Reef National Park (check with a ranger on road conditions first as they can be impassable after wet weather)
Enjoy crowd-free trails in Arches National Park
Photograph and enjoy a late sunrise at Mesa Arch in Canyonlands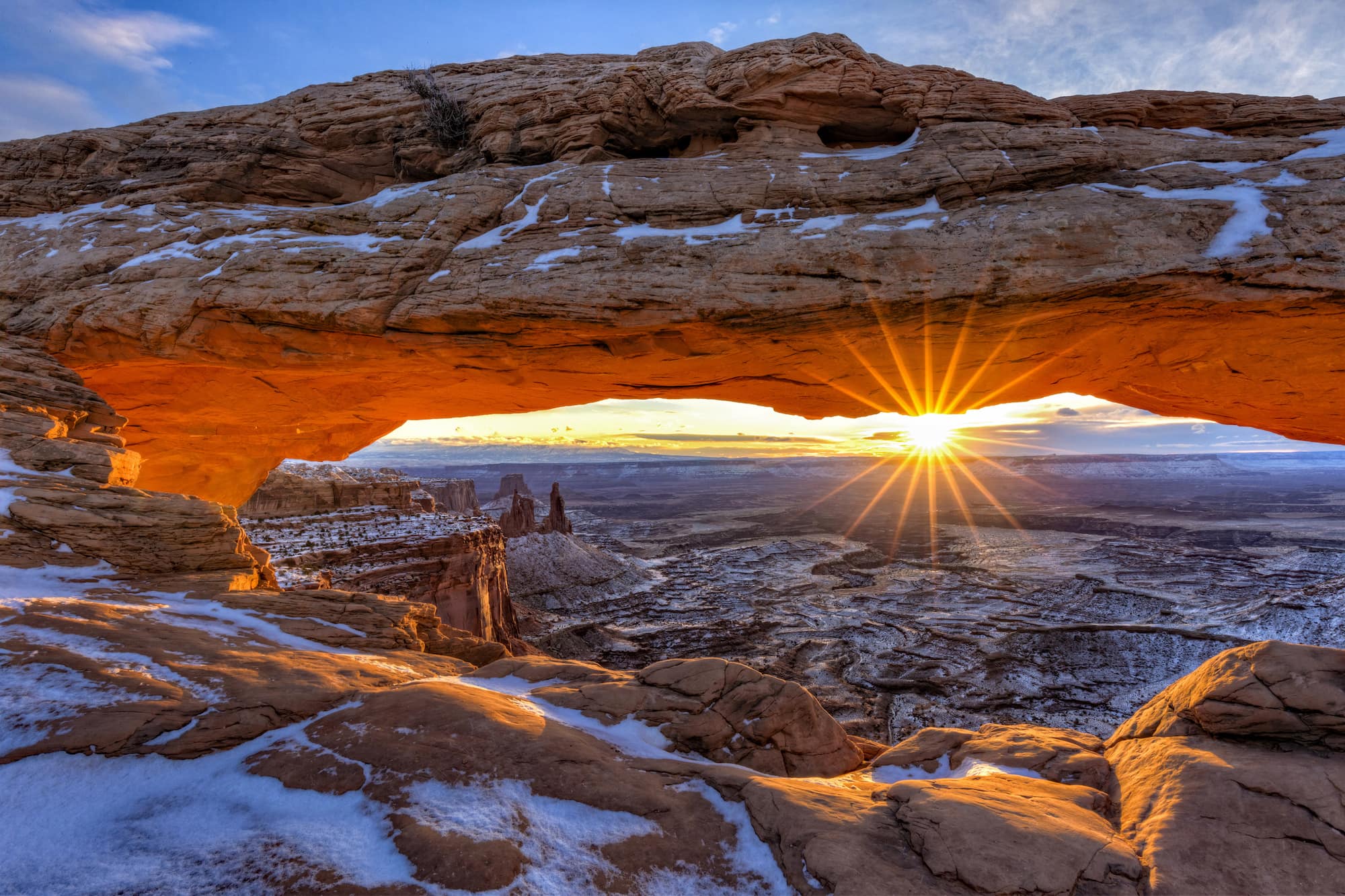 ---
Visiting Southern Utah in Spring
From April to May the Southern Utah parks are the busiest due to milder temps, spring blooms, and beautiful scenery. While Spring is undoubtedly the most pleasant season in Southern Utah, I personally like to avoid peak travel times like Spring Break, Memorial Day, and the weeks following graduation. Be prepared to deal with large crowds on iconic trails and plan to visit other less crowded areas as well. Check out this list of my favorite hikes in Utah to help you plan. Also, pay attention to event dates – like Jeep Week in Moab – which draws a big crowd around April every year.
Expect Spring weather in Utah to be slightly unpredictable, so pack accordingly. The daytime temperatures range from 60-80 degrees with lows around 40-60 overnight. Higher elevation trails and dirt roads can still be icy and snow covered or muddy due to snow melt.
If you are trying to snag a permit for a popular trail, like Arches National Park's Fiery Furnace, make sure to plan in advance.
Things to Do in Spring in Utah's National Parks
Explore the depths of Canyonlands before it gets too hot – During the spring, you can explore Horseshoe Canyon Unit, a part of the remote area called The Maze, or for more beginner-friendly trails, visit The Needles Section for great backpacking and hiking. See our favorite Canyonlands hikes here.
Beat the crowds on Angel's Landing – Get up early or bring a headlamp and hike late in the day for the least amount of people on the trail. You can find our complete guide to Zion National Park here.
See blooming wildflowers – In Zion and Southwest Utah, spot colorful blooms from late March to early May. In Canyonlands, Arches, and Southeast Utah, wildflowers peak a little later from late April to mid-May.
>> Read Next: What To Wear Hiking in The Desert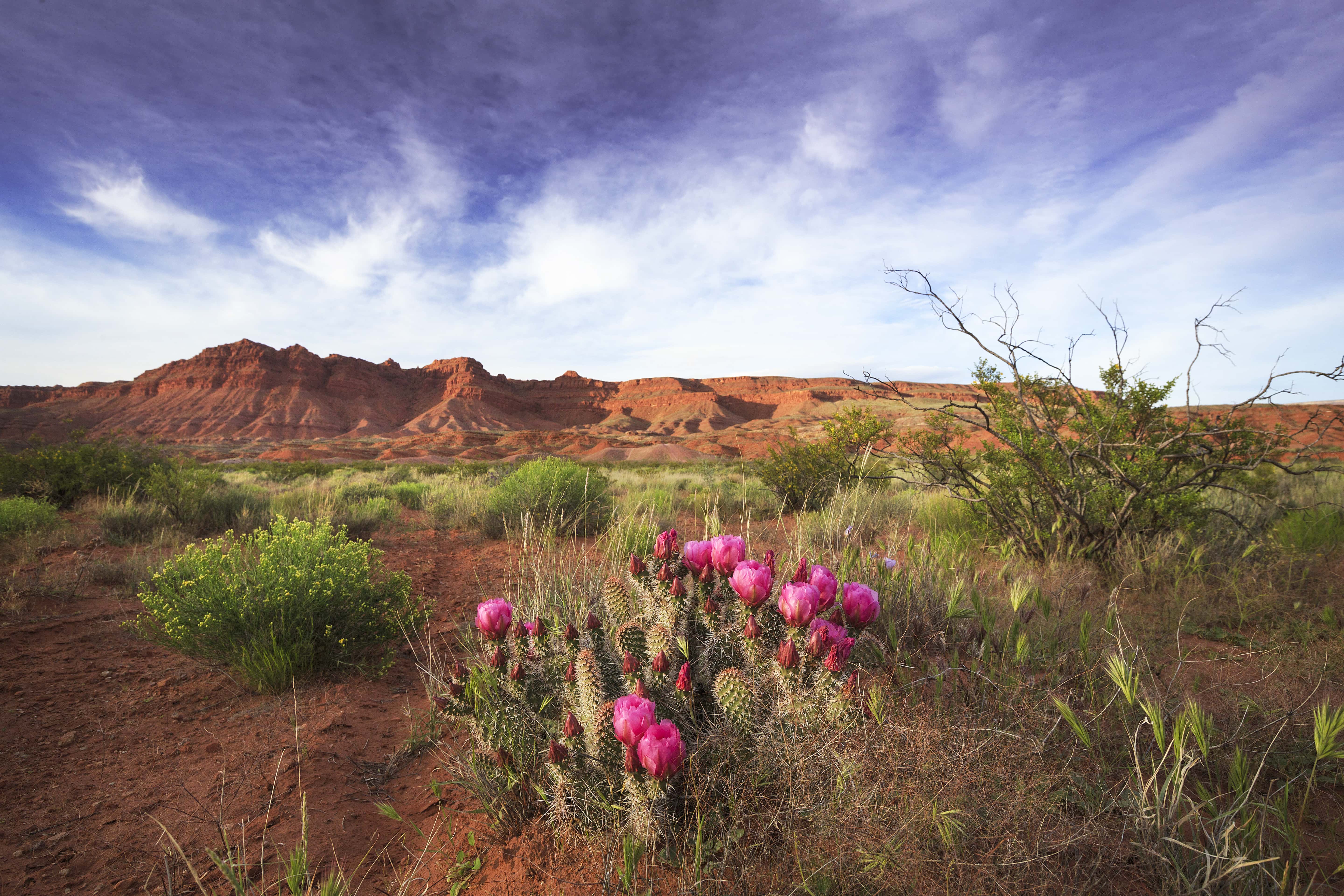 [tagline_box link="https://bearfoottheory.com/utah-national-parks/"]Spring is a great time to plan a Utah National Parks road trip. Check out our 10-day Utah itinerary here.[/tagline_box]
---
Visiting Southern Utah in Summer
Since the weather is harsh and daytime temps can reach over 100 degrees, summer is not the best time to visit Utah National Parks. With that said, tons of people visit in summer, and there are still plenty of ways to enjoy the parks if you're there anytime from June to August. The good news is, sunset in mid-summer isn't until almost 9pm. The best way to enjoy the summer is to tackle the toughest part of your hikes very early and/or late in the day and spend the hottest part of the day relaxing in the shade or swimming.
You'll want to load up on sunscreen, wear a hat and other sun protection, and drink more water than you are used to. We also like to supplement our water with electrolytes in the summer since the sun can literally zap the energy right out of you. Permits are also hard to come by in the summer, so plan in advance.
Things to Do in Summer in Utah's National Parks
Hike the Zion Narrows – This world-famous hike is awesome to do in summer, as long as you can deal with crowds. The shade of the canyon walls and the refreshing water temps will keep you comfortable all day. Just make sure to check the weather forecast and make alternative plans if rain is possible due to flash flood potential. Want to get away from all the people? Do the Narrows from the top-down on an overnight backpacking trip, where a permit is required.
Hike to Delicate Arch for sunset. Spend your day around Moab swimming or whitewater rafting.
Explore Lake Powell – While not a National Park, Lake Powell offers awesome boating and kayaking in the summer months and is a welcome reprieve from Southern Utah's summer heat. Check out our guide to planning an overnight kayaking trip on Lake Powell.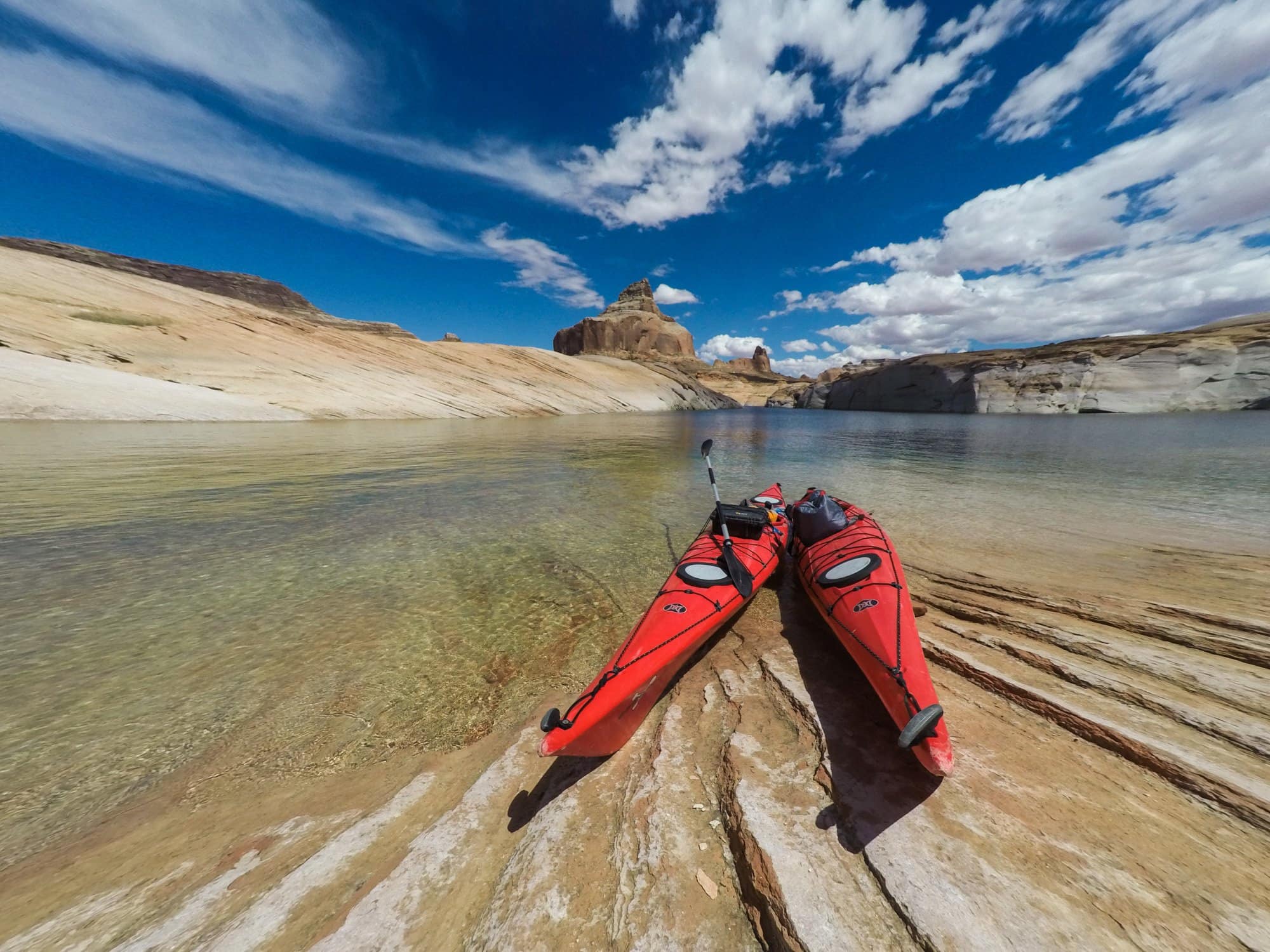 ---
Visiting Southern Utah in Fall
Much like the spring, fall is a popular and busy season. It is one of the best times to visit Utah National Parks thanks to the mild weather and beautiful Fall foliage. Just be prepared to deal with crowds on popular trails. Our solution? Get off the beaten path and explore some lesser-known trails.
Be prepared with this Southern Utah packing list – we also recommend bringing a rain jacket and layers just in case. As winter approaches, weather can be erratic with chilly evening temps.
Things to Do in Fall in Utah's National Parks
Backpack the 14-mile West Rim Trail in Zion National Park. A permit is required which helps to keep the crowds at bay.
Visit Grand Staircase-Escalante National Monument – Although it isn't a National Park, the Grand Staircase-Escalante National Monument is close to many of Southern Utah's parks and is a great stop if you're on a road trip. It's also got some of the best hikes in Southern Utah for catching the fall foliage down near the Escalante River. While there are some cool hikes right off the highway, you'll want a 4×4 or high clearance for exploring the slot canyons and more secluded hikes off of Hole in the Rock Road.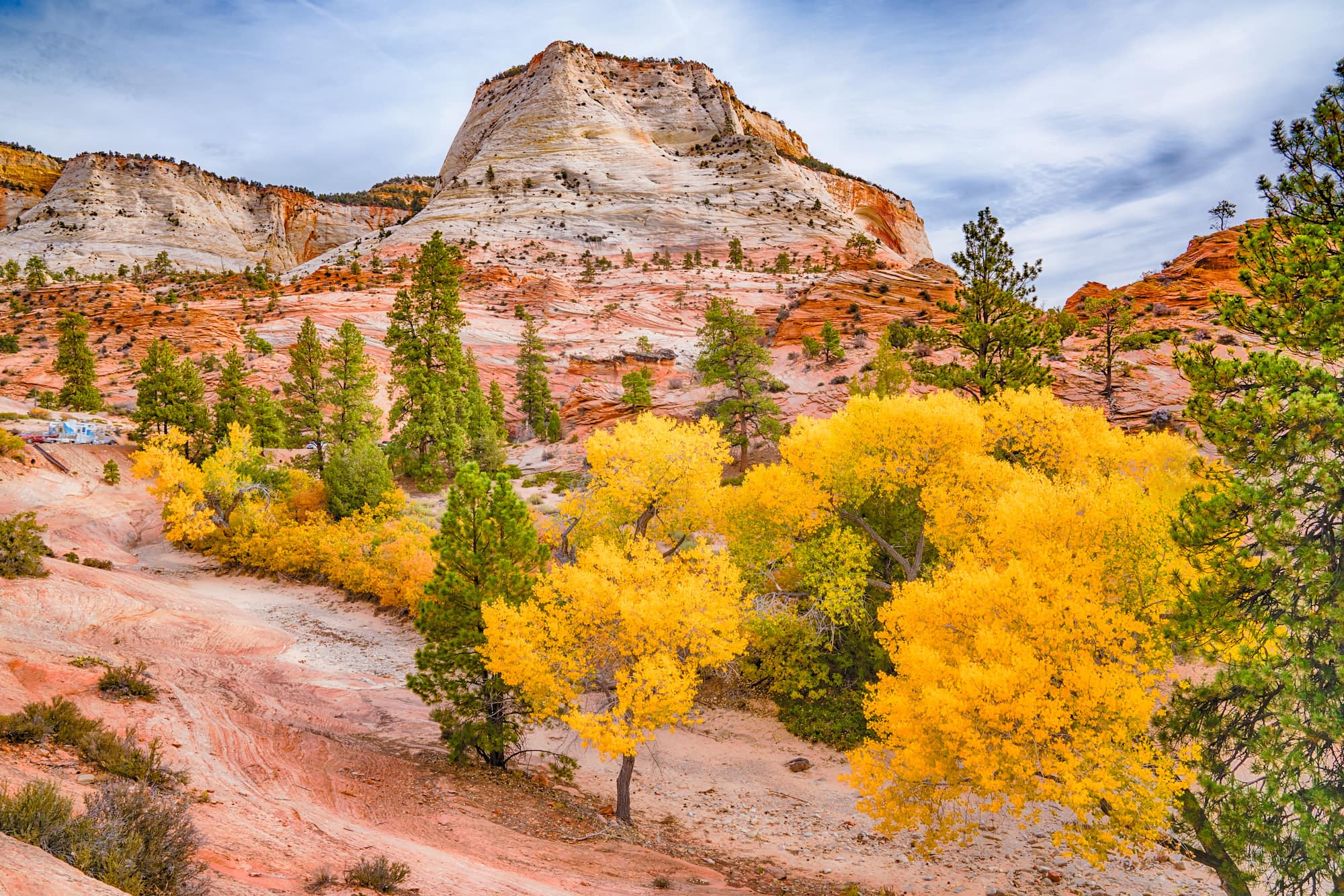 ---
My Favorite Utah Travel Resources
With cell service being limited in Southern Utah, it's not a bad idea to invest in a hiking book or map for your trip. Here are the Utah hiking resources I've found to be most helpful over the years:
---
Have you been to Southern Utah's National Parks? In your opinion, what is the best time to visit Utah? Leave a comment below.