Canoeing Labyrinth Canyon on Utah's Green River
Labyrinth Canyon is a gorgeous flat water section of Utah's Green River that snakes its way past spires, hoodoos, and towering orange walls,…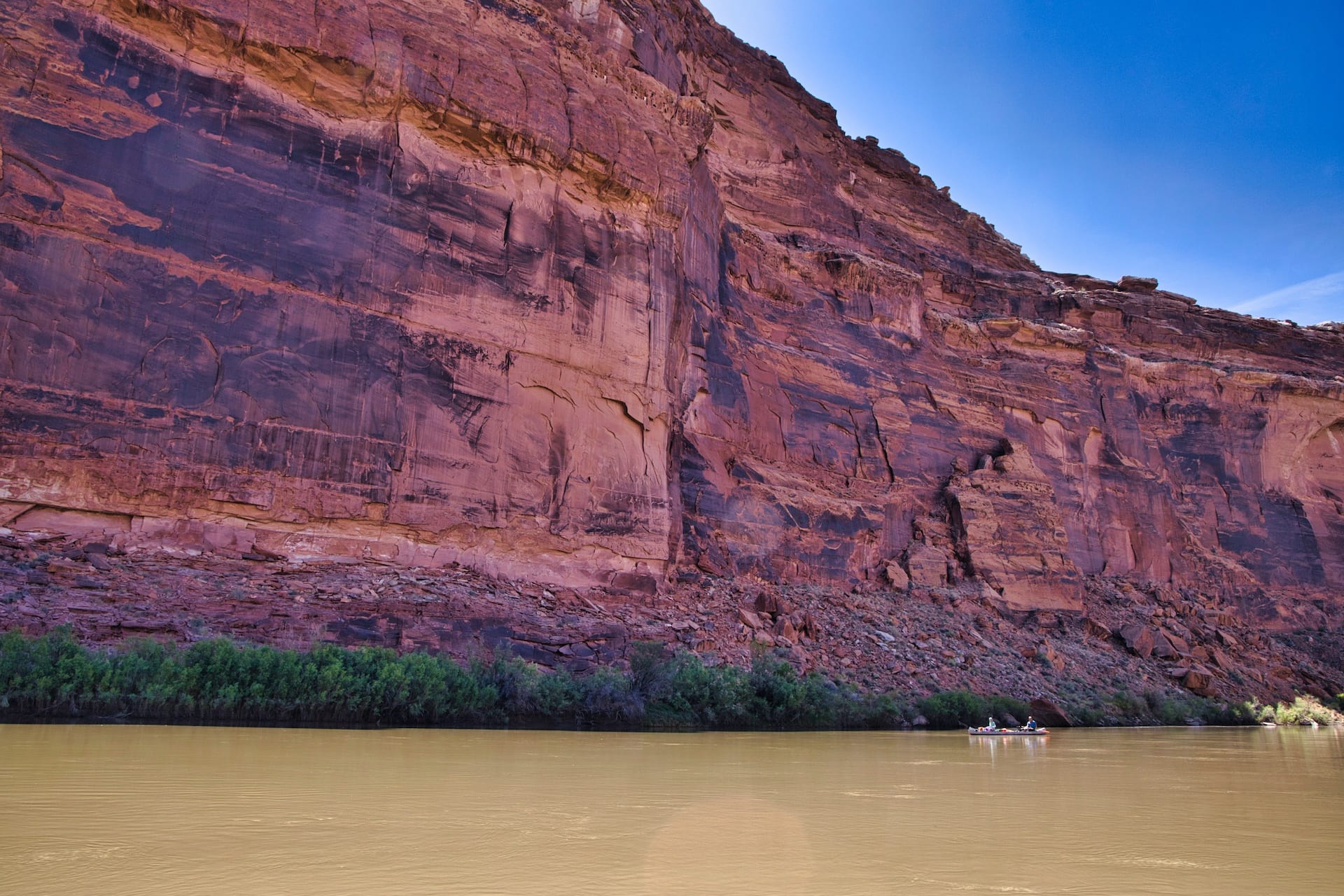 Labyrinth Canyon is a gorgeous flat water section of Utah's Green River that snakes its way past spires, hoodoos, and towering orange walls, allowing you to slowly take in the landscapes that Southern Utah is known for.
Labyrinth Canyon is a family-friendly stretch of class 1 river with no rapids that is best done as a 3-5 day canoe trip. It requires a fair amount of logistics, including a shuttle, an easy to obtain permit, and some necessary gear. I've done it twice and had very different experiences on each time, so in this blog post I share some key tips to help make sure your trip is a success.
Plan your Labyrinth Canyon canoe trip on Utah's Green River with the tips in this blog post.
Important Reminder: As outdoor recreationists, it's our responsibility to know how to recreate responsibly on the water whether we're kayaking, paddleboarding, canoeing, rafting, or boating. Learn how to prevent the spread of aquatic invasive species with 3 easy steps that have a huge impact on our ecosystems.
Where is the launch and takeout points for Labyrinth Canyon?
There are two possible launch points for Labyrinth Canyon, with the takeout being at Mineral Bottom.
Launch Point #1: Green River State Park
The first possible launch point for Labyrinth Canyon is at the boat ramp in Green River State Park (river mile 120). If you launch here, your trip will cover 68 miles, and 4 nights/5 days is recommended. Launching in Green River State Park makes for a slightly shorter shuttle drive. However, if you launch in Green River State Park, you'll mostly encounter private farmland for first 20 miles of the trip. This means there aren't really any campsites, and you should expect to paddle at least 20 miles on that first day (which is a long day). Green River State Park charges an overnight boat ramp parking fee of $5 per night.
Launch Point #2: Ruby Ranch Private Boat Ramp
My first trip through Labyrinth Canyon we launched at Green River State Park. Given the lack of campsites, we decided to launch at Ruby Ranch (river mile 96) the second time around. Getting to Ruby Ranch requires a ~20 mile drive on a well maintained dirt road, making the shuttle slightly longer, but I didn't think it was a big deal. If you launch at Ruby Ranch, your trip will cover ~45 miles, and 3 nights/4 days is recommended. The fee to launch here is $10 per boat and $5 per person.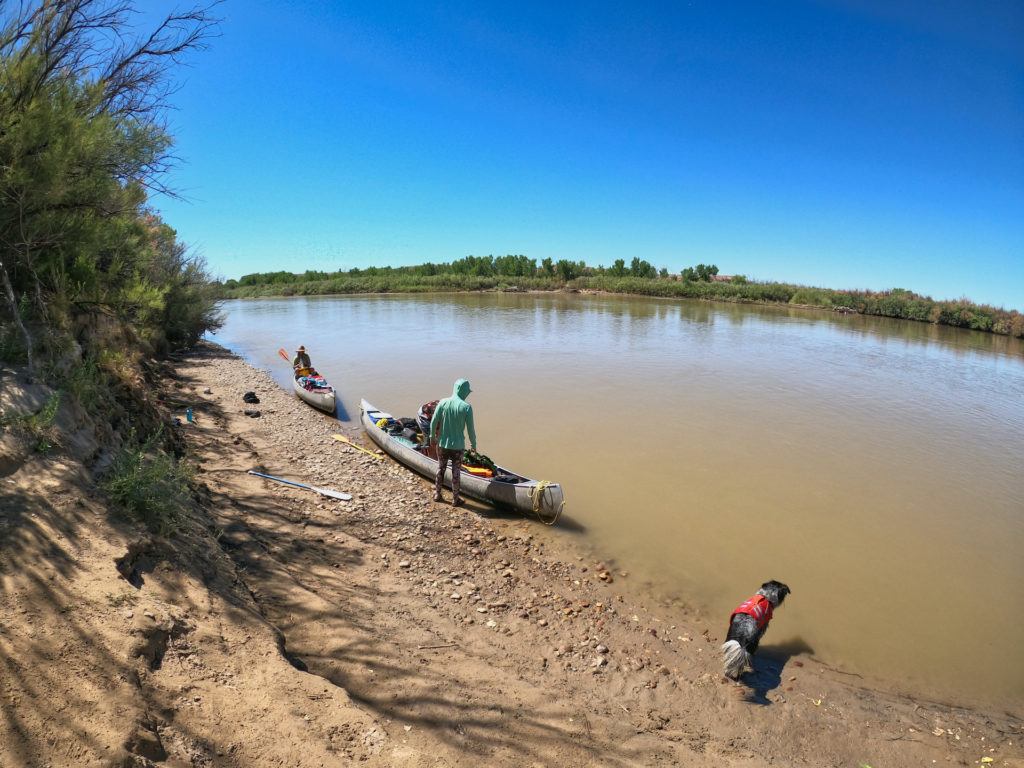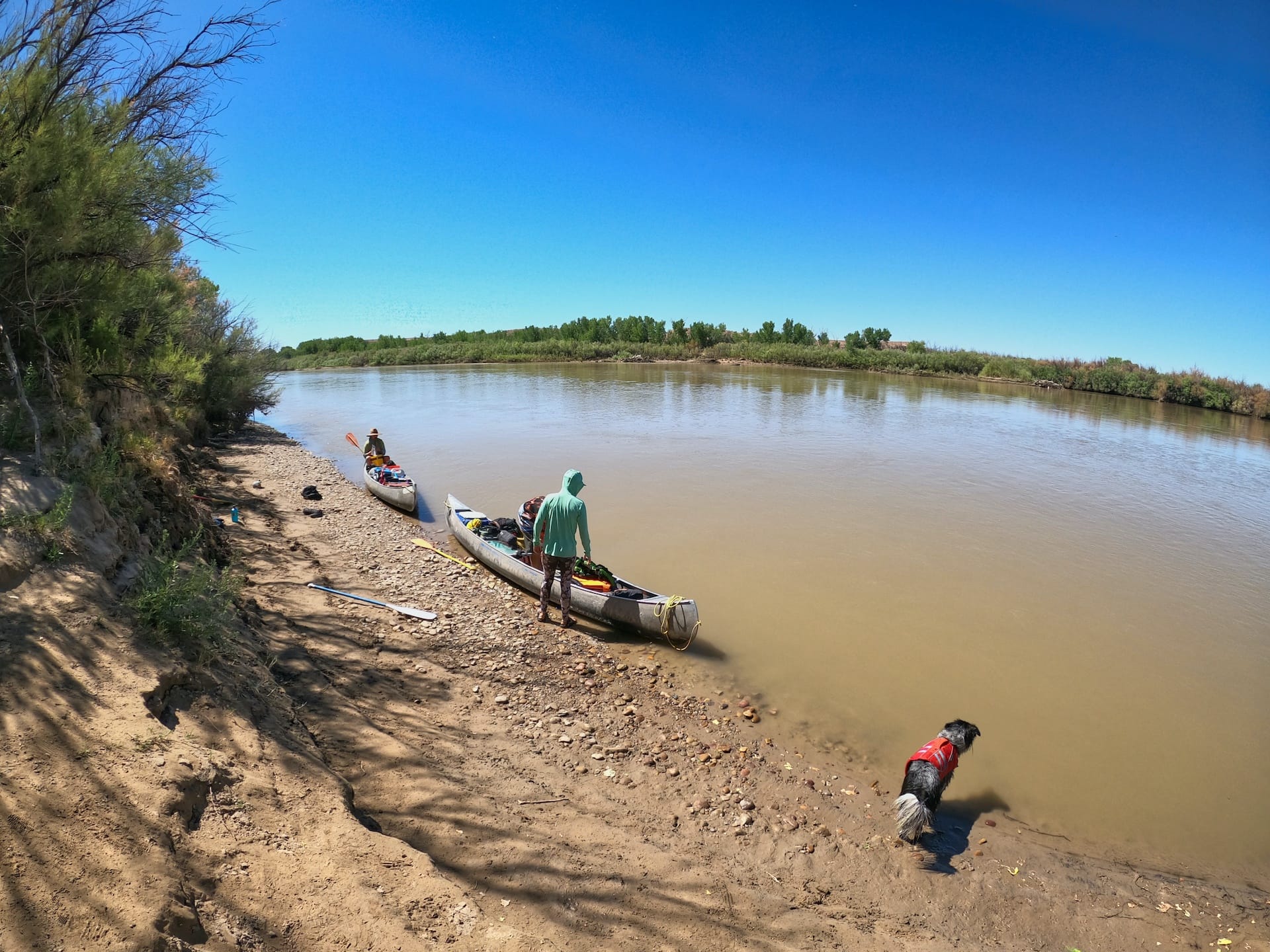 Takeout: Mineral Bottom
Regardless of where you put in, the takeout is at the Mineral bottom boat ramp (river mile 52). The dirt road to the takeout is very windy with a steep drop off on the side. Typically the road is well maintained, but after a rain storm, it can be pretty sketchy. If you use a shuttle company, you won't have to worry about being in the driver's seat and you can enjoy the view. If you want to spend a night in Mineral Bottom at the end of your trip, there are campsites, but they are a bit of a trek from the boat ramp.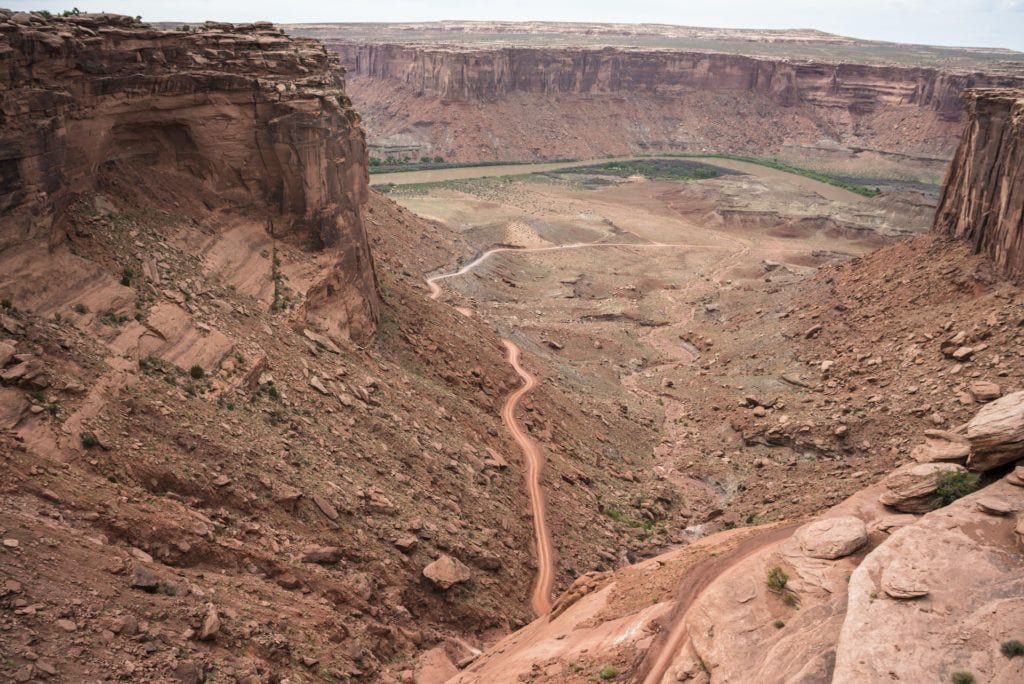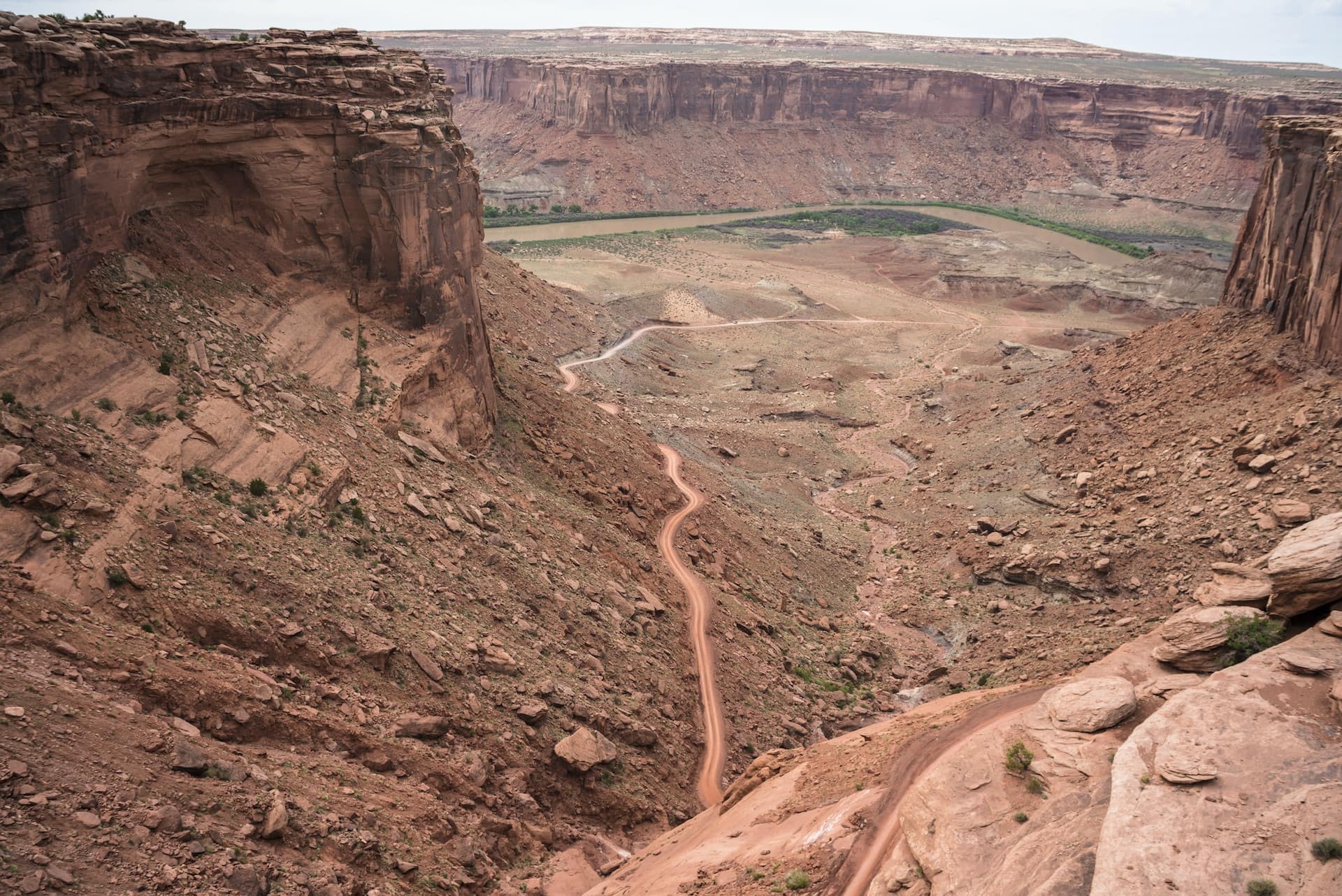 If you want to extend your trip further, you can continue on for another 5 days through Stillwater Canyon (this section is not dog-friendly as it goes through Canyonlands National Park).
Shuttle Companies for Labyrinth Canyon
If you have multiple cars, you can park one at the top and another at the bottom, but keep in mind, this will add quite a bit of travel time to your first and last day. While it's only 68 miles on the road from Mineral Bottom to Green River, the drive takes ~2.5-3 hours each way (and just a smidgen longer if you launch from Ruby Ranch). For this reason, we used a shuttle company based in Moab. It adds to the price of your trip, but your shuttle company can also rent and transport your canoes, provide a permit, and any other rental gear you need (such as a river toilet).
We used Tex's Riverways, and they were very organized. We also went during COVID, and I appreciated how serious they took things. We were required to wear masks in the vehicle and in their offices, as was the driver. However, Tex's is not dog-friendly (Charlie is an exception due to his medical service dog status), so if you have a pup you want to bring with you, I suggest Moab Rafting and Canoe Company.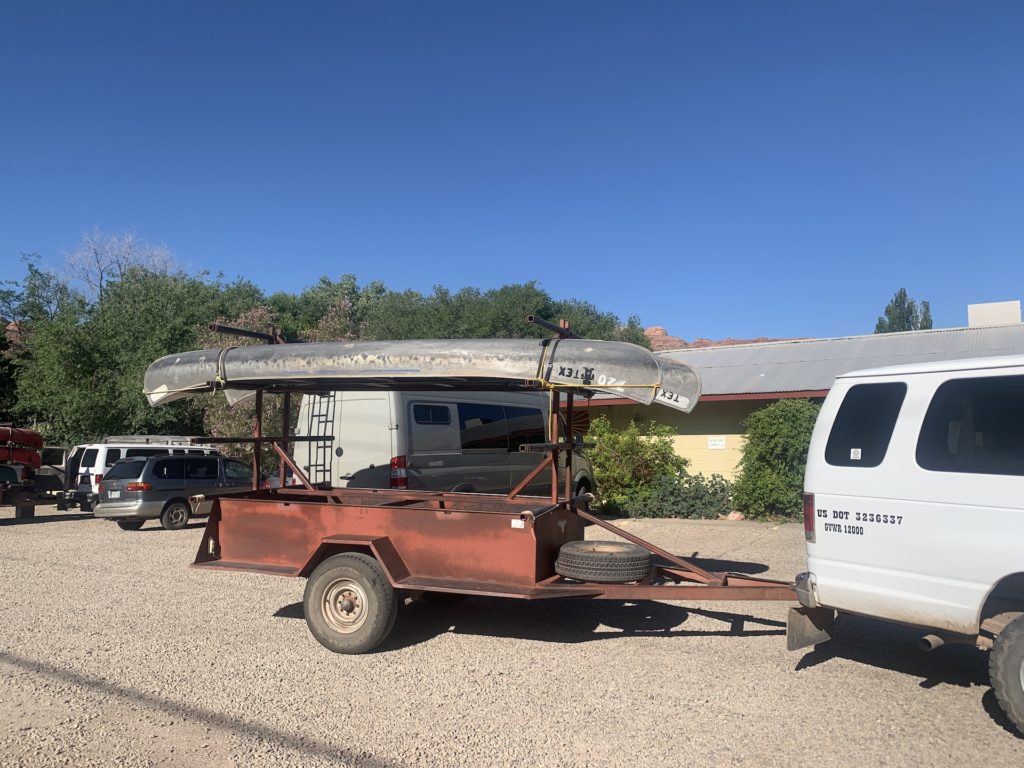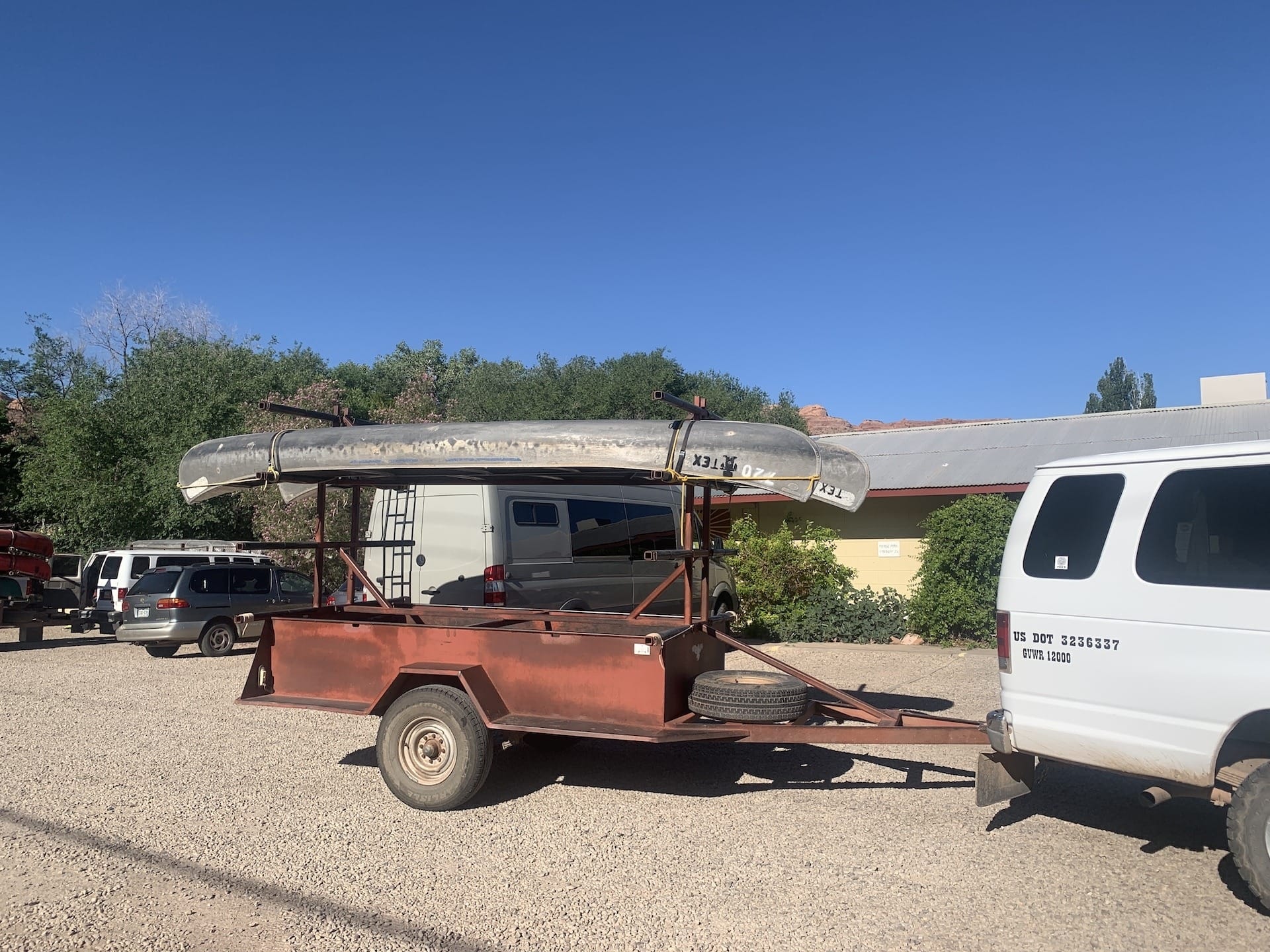 If using the above shuttle companies, you will start in Moab at the shuttle company office, load your stuff in their van, and they will take you to your selected launch point. Then they will pick you up on your desired date at Mineral Bottom and drive you back to Moab.
A third option is Coyote Shuttle which will actually move your vehicle from the launch point to the takeout. This is a great option if you have your own boats and a trailer and don't need any rental gear.
Best Boat Type for Labyrinth Canyon
Canoes are by far the most popular boat type for Labyrinth Canyon, and that is because of the wind. Labyrinth Canyon can get very windy, and while canoes can be tough in a strong headwind, with 2 people they are still more efficient than the alternatives, including inflatable kayaks, stand up paddle boards, and packrafts.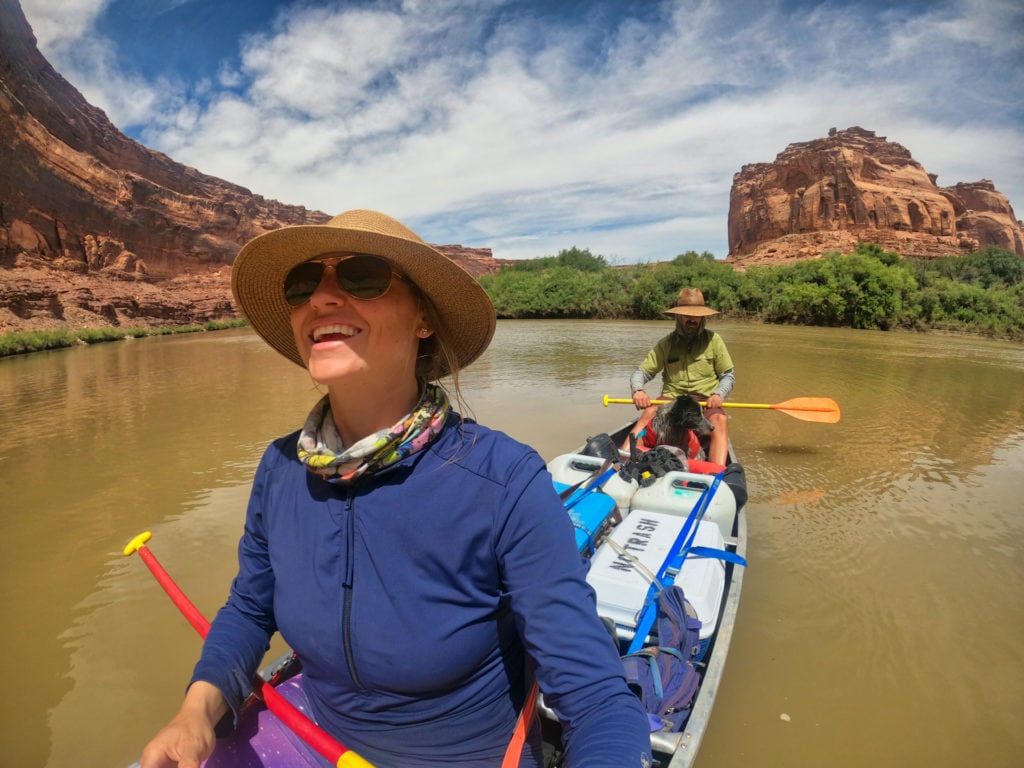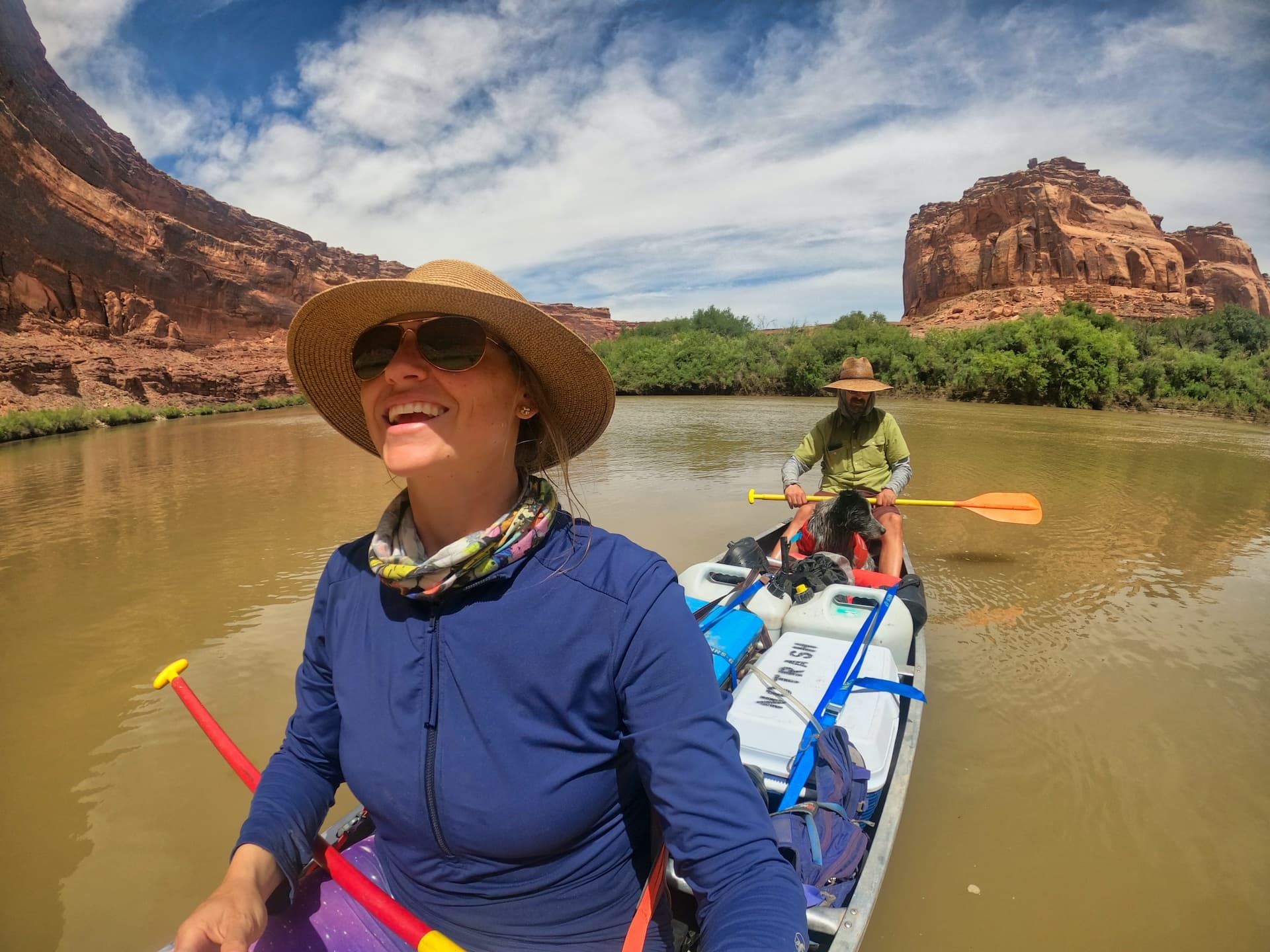 The other reason to go with a canoe over a different boat type is that they can carry a lot more gear. The water in the Green River is very silty and will muck up your water filter. There are also cattle upstream in the river corridor. For that reason, it is recommended to carry all of your water for the trip. At 1 gallon per person per day, your water weight adds up, and a canoe is the best way to transport water on this trip.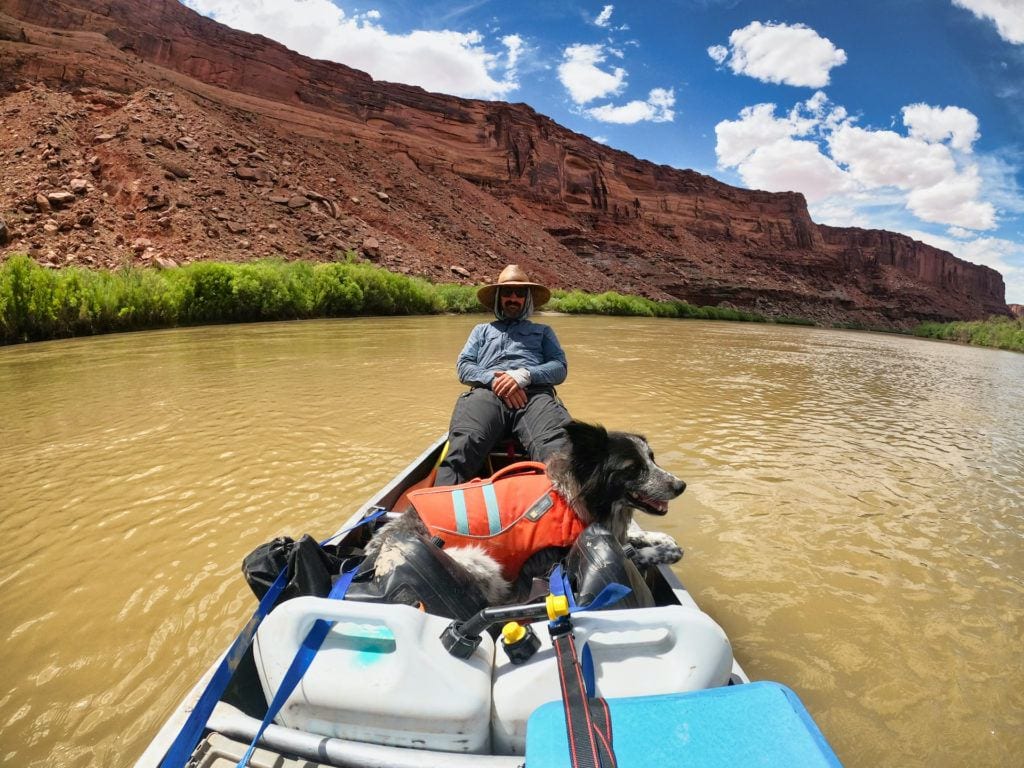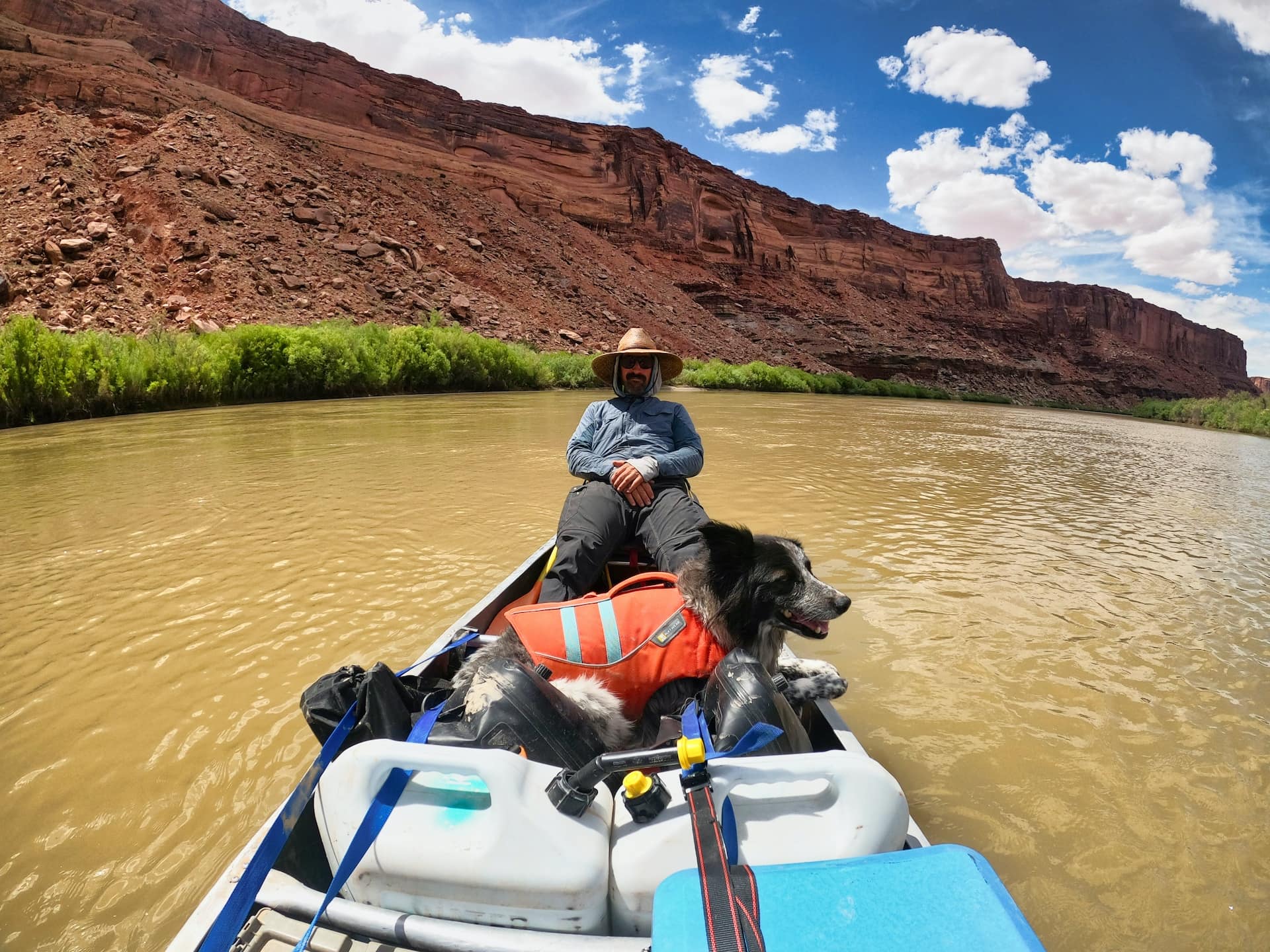 If you do decide to go with a packraft or smaller inflatable boat, know that you may have to paddle harder to keep up with your friends in canoes. You'll also want to carry alum with you to settle the sediment before you purify your water.
Best Time to Canoe Labyrinth Canyon
There are a few things to keep in mind when choosing the time of year you want to canoe Labyrinth Canyon. These factors are water levels, bugs, and weather.
Water Levels
You can see from the graph below from that at peak spring runoff, the Green River through Labyrinth Canyon can reach 20,000-30,000 cubic feet per second (cfs). At the low in winter, it can drop to about 2,000 cfs. Note that the graph below is from 2019 after a HUGE snow year so peak runoff happened later than normal. You can check current water levels here.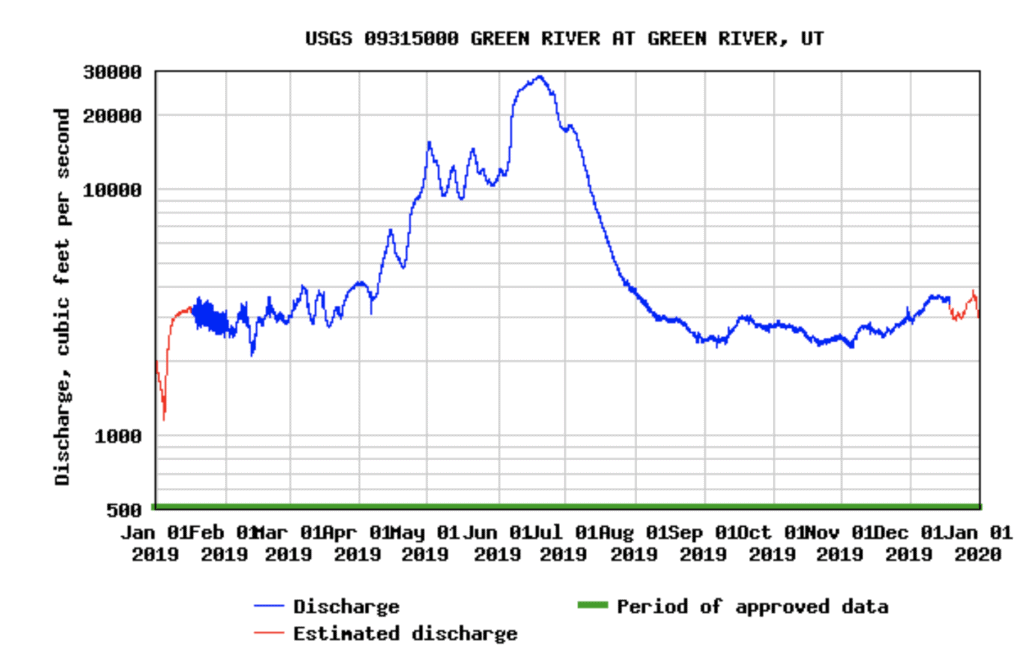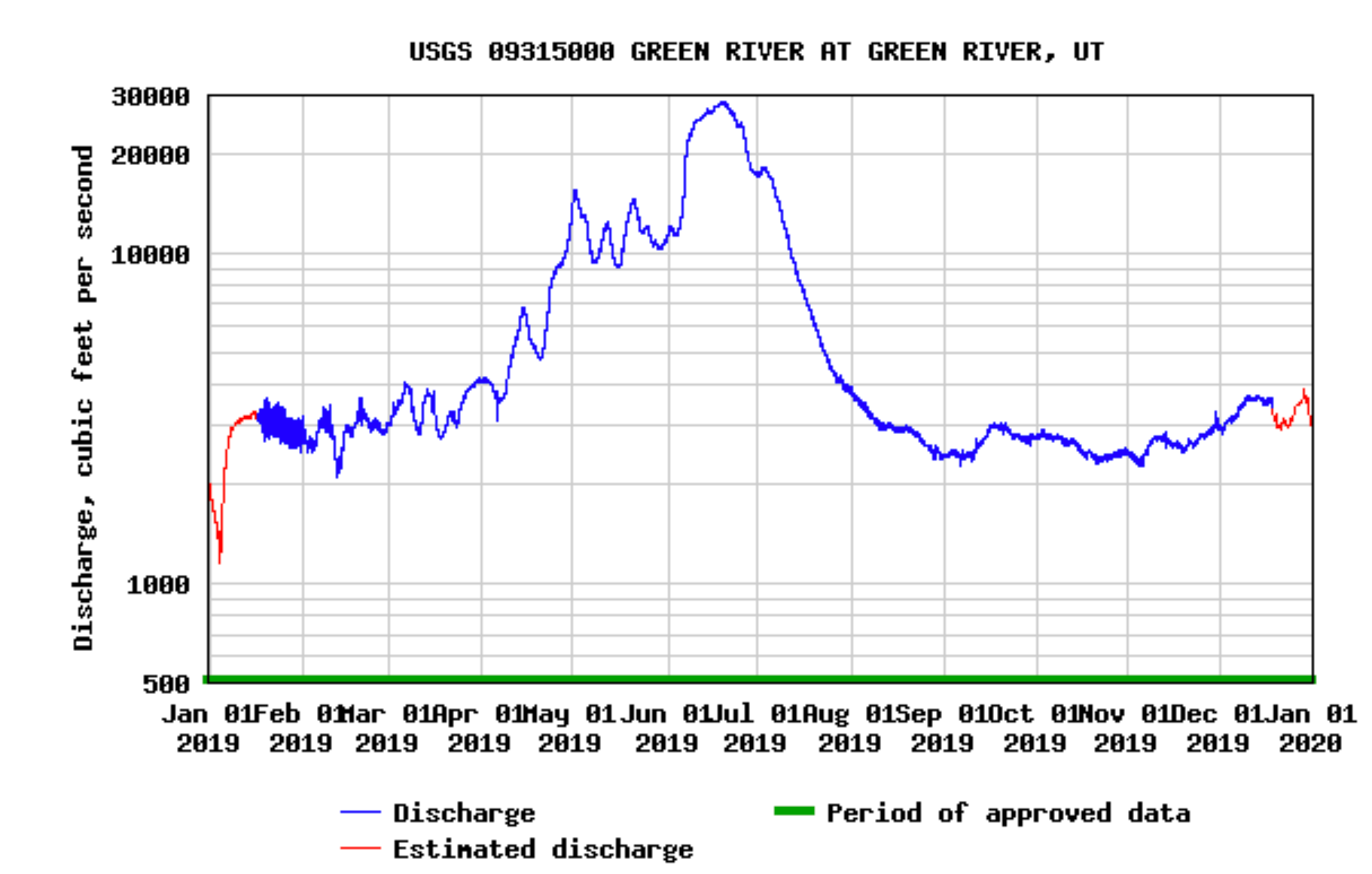 The advantage of running this river at high water is that the current moves you faster downriver, so you likely won't have to paddle as much. However, campsites are limited at high water and there are very few places to even pull off to take a break. The river bank is lined with tamarisk, an invasive tree species that is sharp enough to cut you. I wouldn't recommend canoeing Labyrinth Canyon at the highest water levels unless it's your only option.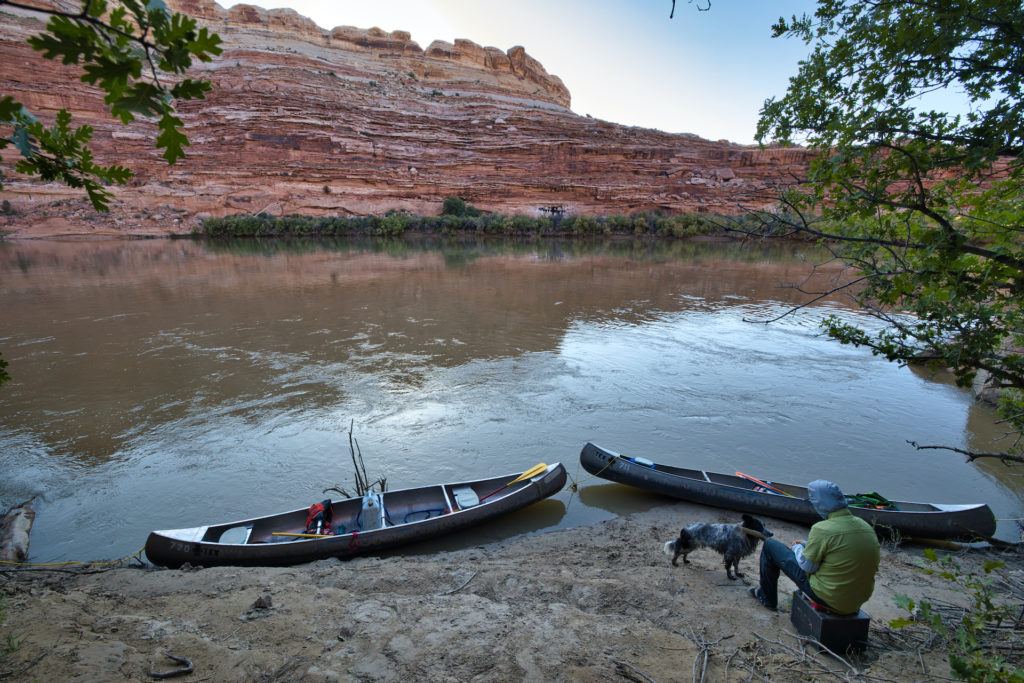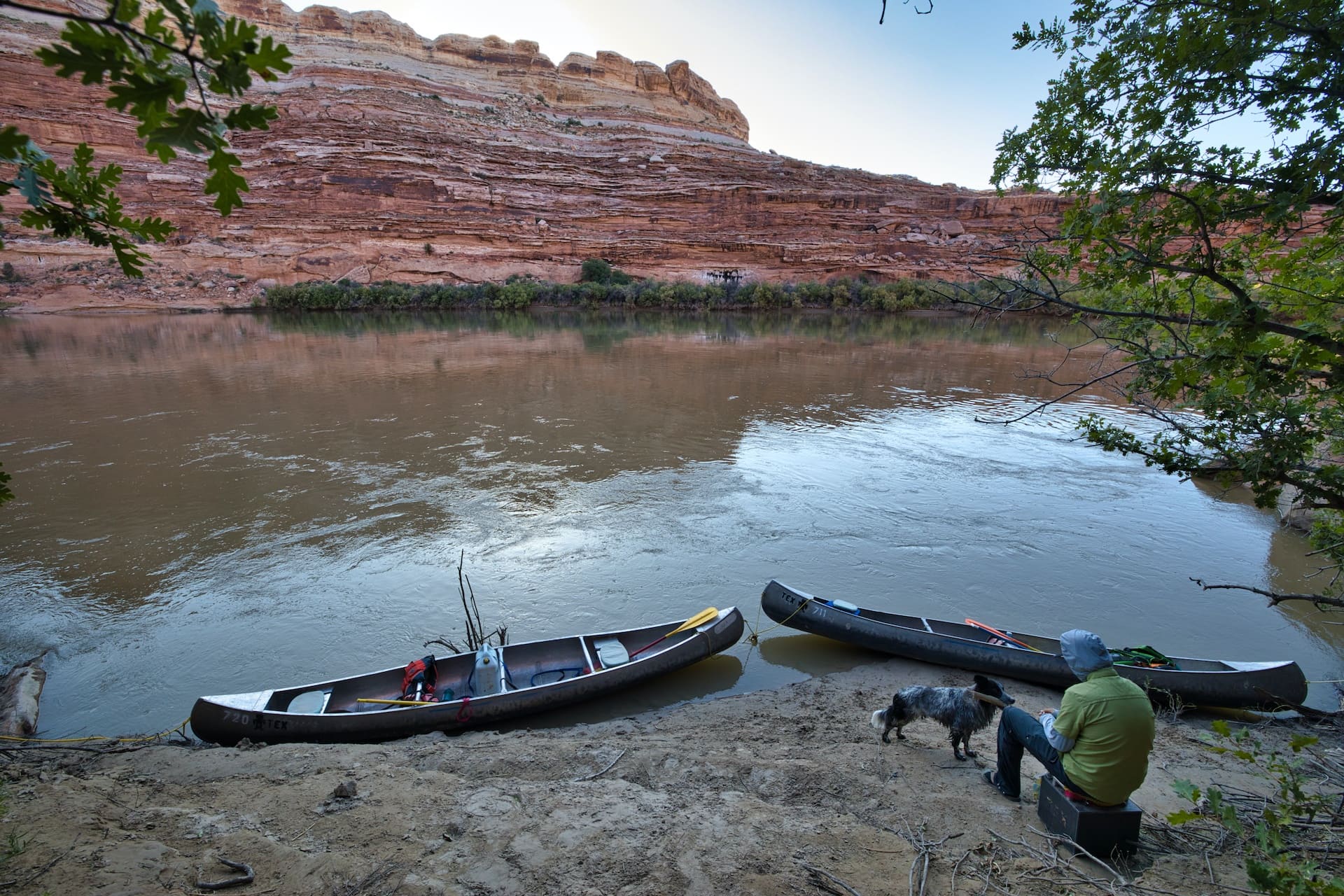 When we did this trip most recently, water levels were around 6,000-8,000 cfs. We had a current just strong enough that we didn't have to paddle much. There were more places to pull off, but we were still limited to high water campsites that were located up on the benches. At lower water later in the season, there are beautiful sandy beaches all along the river that you can camp on, but these were still underwater. We also experienced a brutal amount of mosquitos, which I'll talk more about in a bit.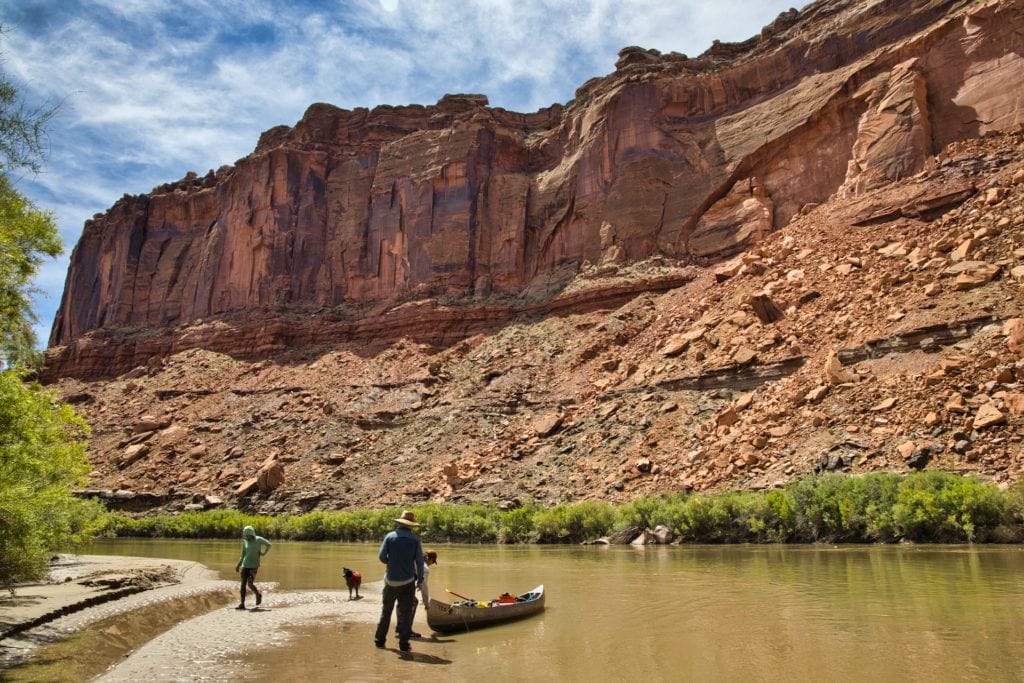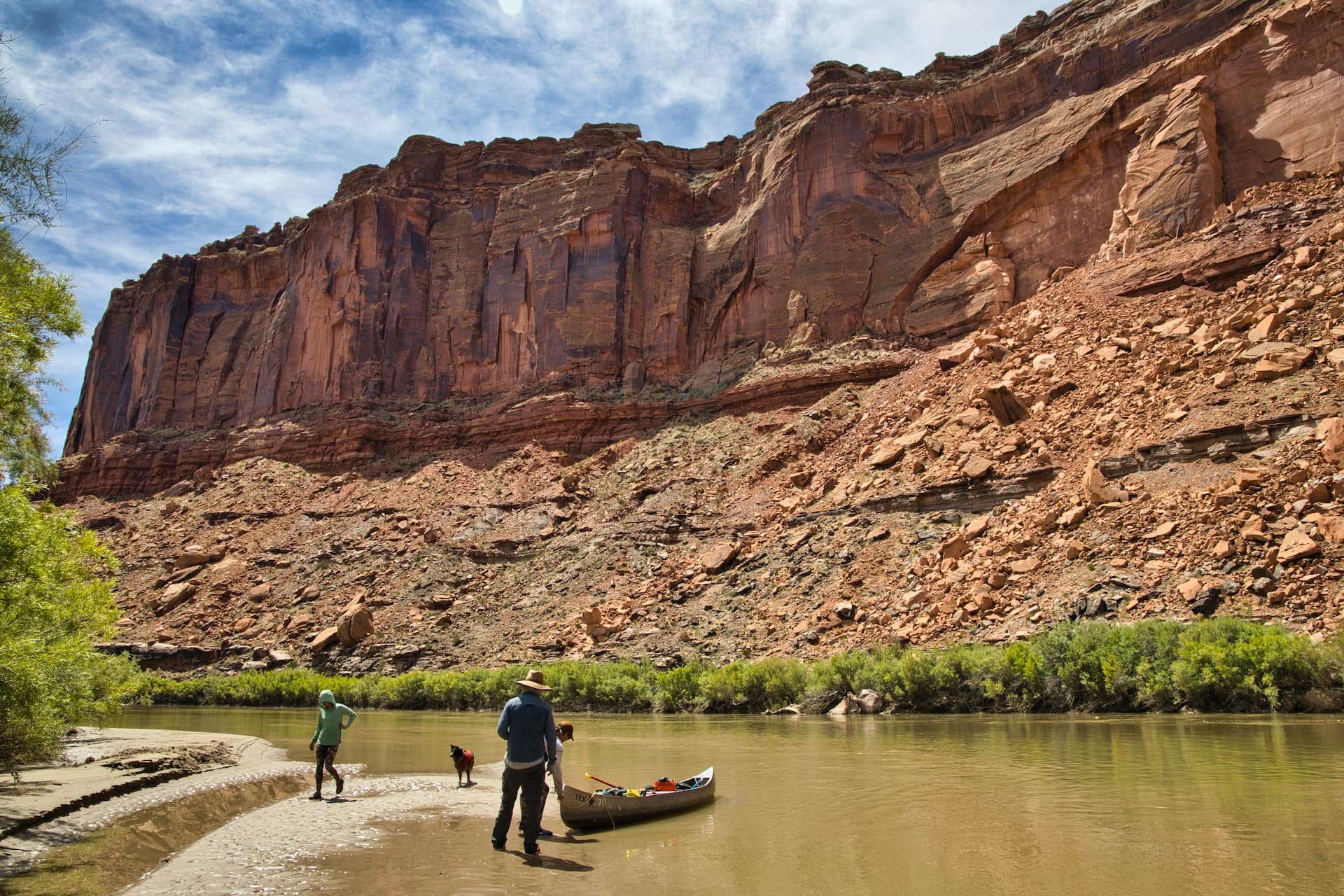 At low water, you have a lot more options for camping, but the river moves slower meaning you might have to paddle more.
Bugs
The mosquitos in Labyrinth Canyon can and will be awful during certain times of year (as a friend told us, "that hippie bug spray ain't gonna cut it). The bugs start to come out typically when the water levels drop to a point when the beaches start to be revealed, just like they were on our trip. This typically happens sometime in June. Then the bugs will stick around through mid to late July.
Now I'm one of those lucky people who usually aren't too bothered by mosquitos, but on our trip, I had to stay covered head to toe the entire time in order to avoid getting mauled. They were the worst around breakfast and dinner time right when the sun went down. We found that sunny campsites with less vegetation had fewer bugs than shady, vegetated sites. Bugs were also the worst right by the water line, so the further you could walk from the shore to set up camp the better shape you were in.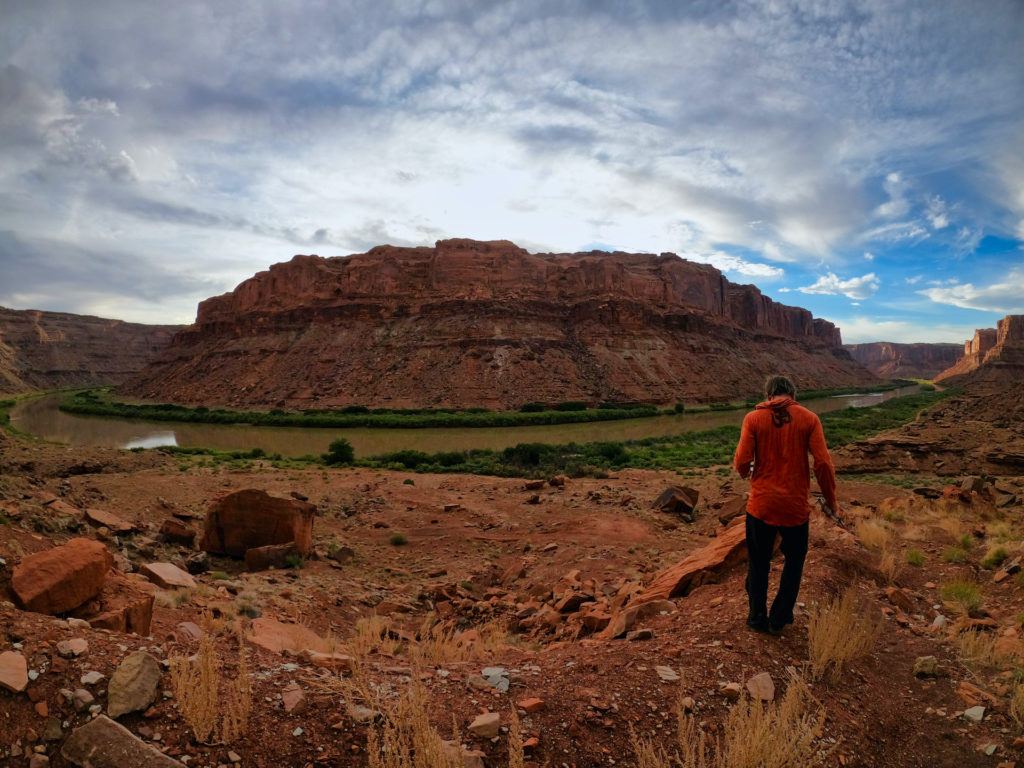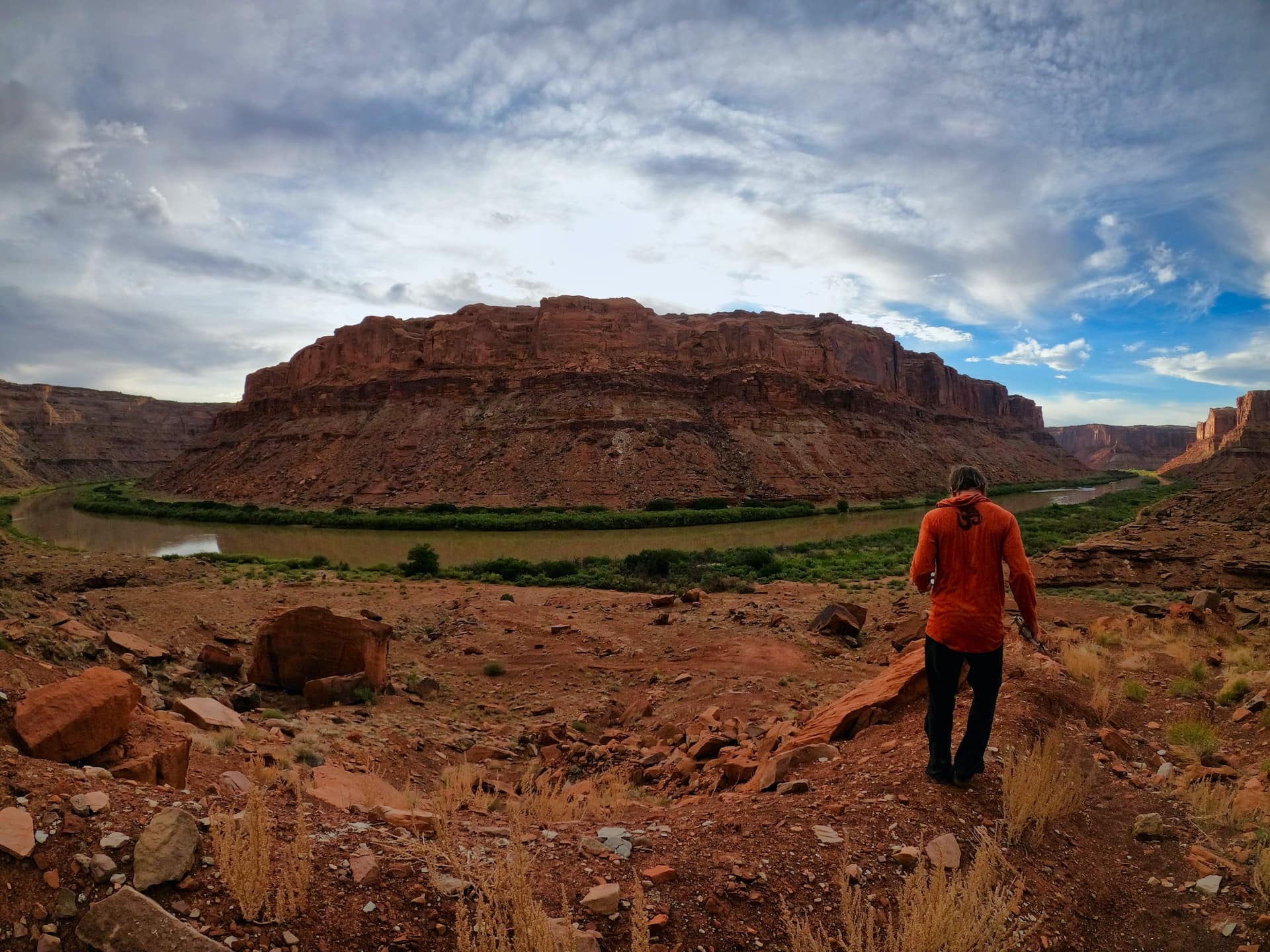 If you come during bug season, bring sometime to cover up and absolutely bring a tent so you have something to hide in during peak hours.
Weather
Temperatures in Southern Utah can be unbearably hot. The good news is you're on the river, so you can always take a dip, but if camping in 100 degree weather doesn't sound like a good time, save your trip for the cooler fall months.
Monsoon season is mid July through early September in Utah. This brings afternoon storms that can result in flash flooding. If you float during this time, just make sure to choose your campsites carefully and avoid any washes.
So when is the best time???
Next time I float Labyrinth Canyon it will be in the September through November time frame.
Labyrinth Canyon Permits
Labyrinth Canyon permits are free and can be obtained by emailing the permit form to the BLM or directly from your shuttle company. Make sure you bring a copy of your permit with you.
There are no designated campsites along the river, which means below Ruby Ranch you can camp wherever you want, and it's first come first serve.
Gear you Need for Canoeing Labyrinth Canyon
There are key pieces of gear you need for canoeing Labyrinth Canyon, some are required by the BLM as a condition of your permit. Others are recommended for a good time to be had, especially if you go in peak bug season. Remember canoes can carry a lot of gear. Packing light will make loading and unloading each day more efficient, but you should also feel free to bring along some creature comforts.
Note: Feel free to substitute anything on this list with stuff you already have at your house. Also, all of these links are affiliate links which means if you purchase anything I get a small commission at no added cost to you. Your support helps keeps all of my content free, and I really appreciate it!
Gear Required by your Permit
Ask your shuttle company about their rental options for this required gear.
Apparel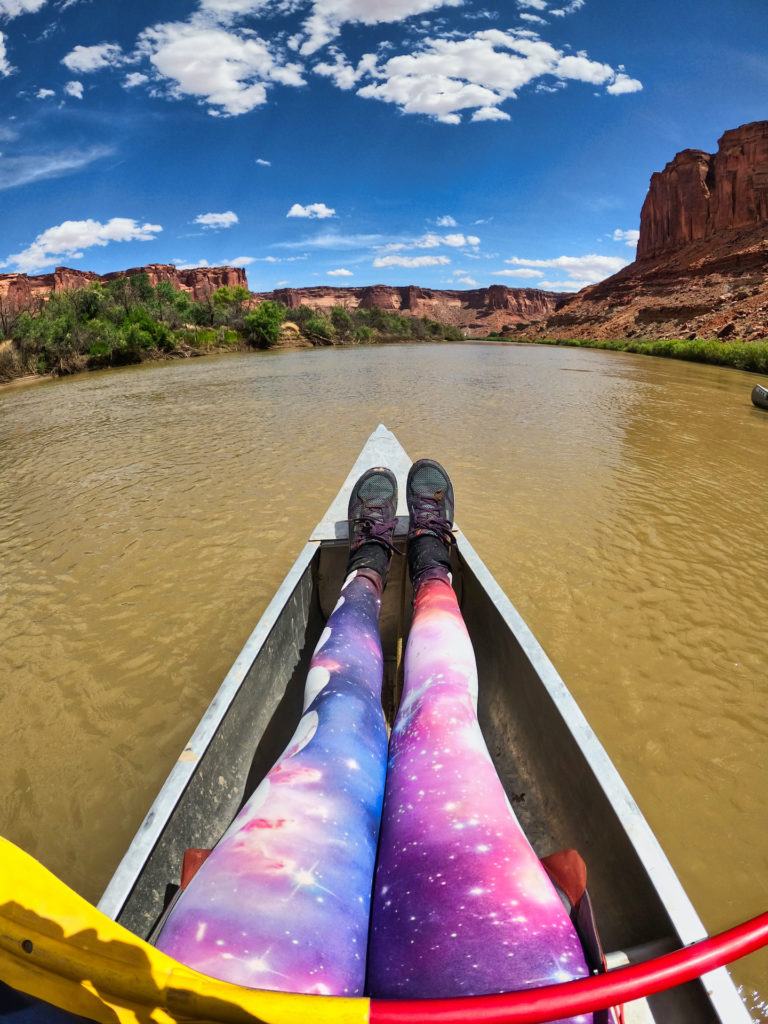 Camping Gear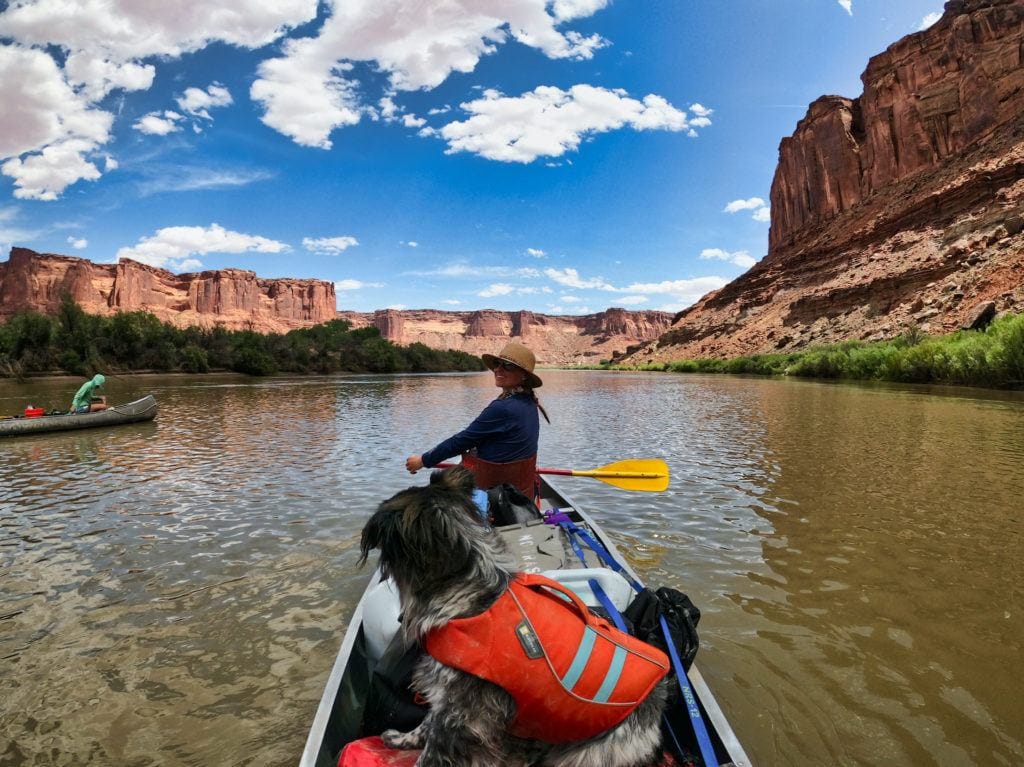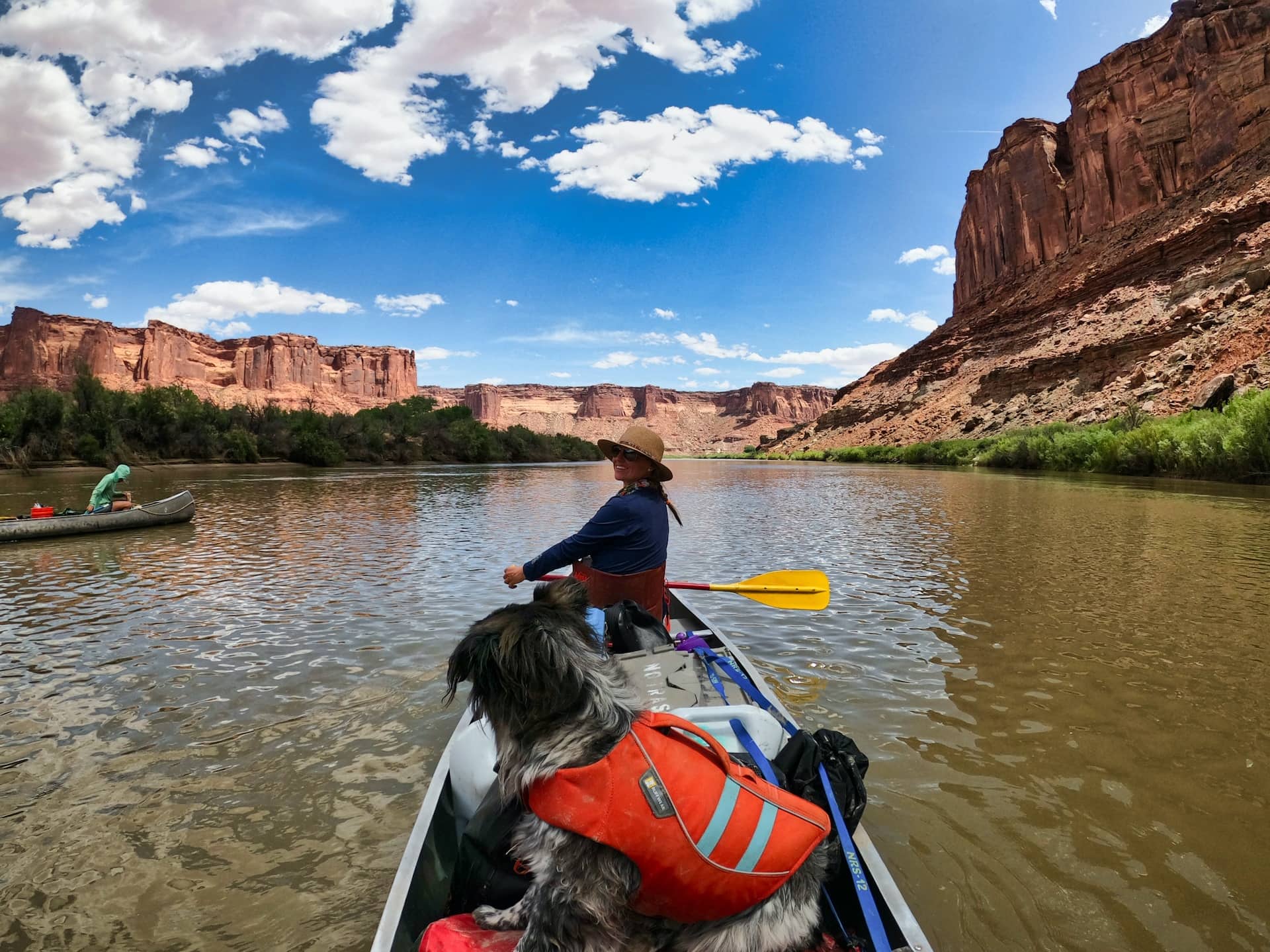 Leave No Trace
With this being a backcountry trip, you should familiarize yourself with the principles of Leave No Trace before you go.
For more information on Leave No Trace as it pertains to canoe trips, check out this page on the American Canoe Association.
Other Helpful Tips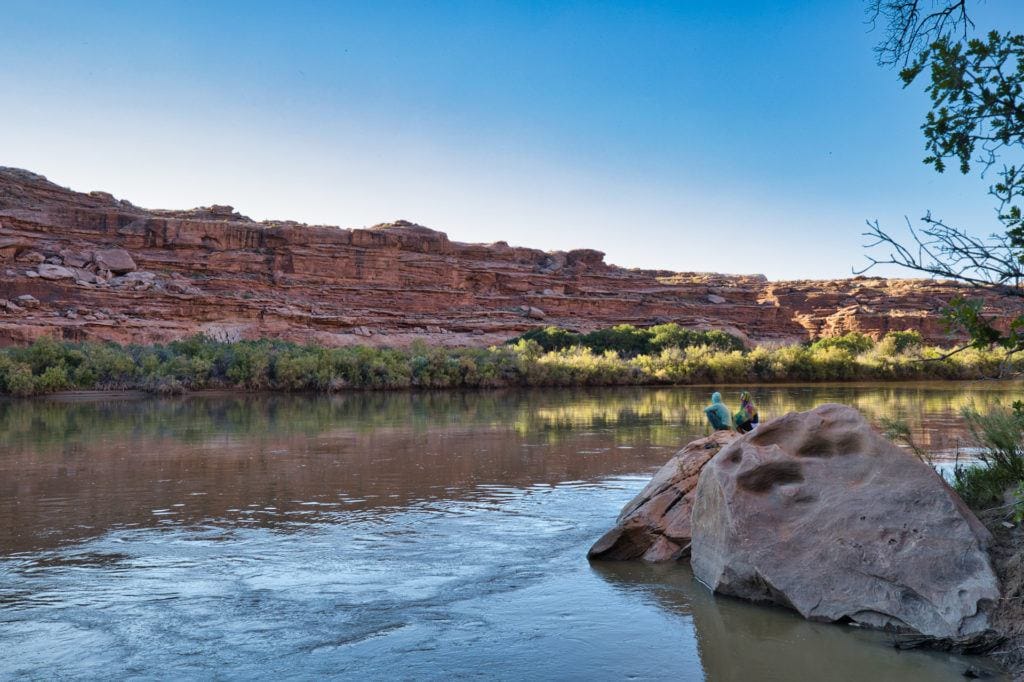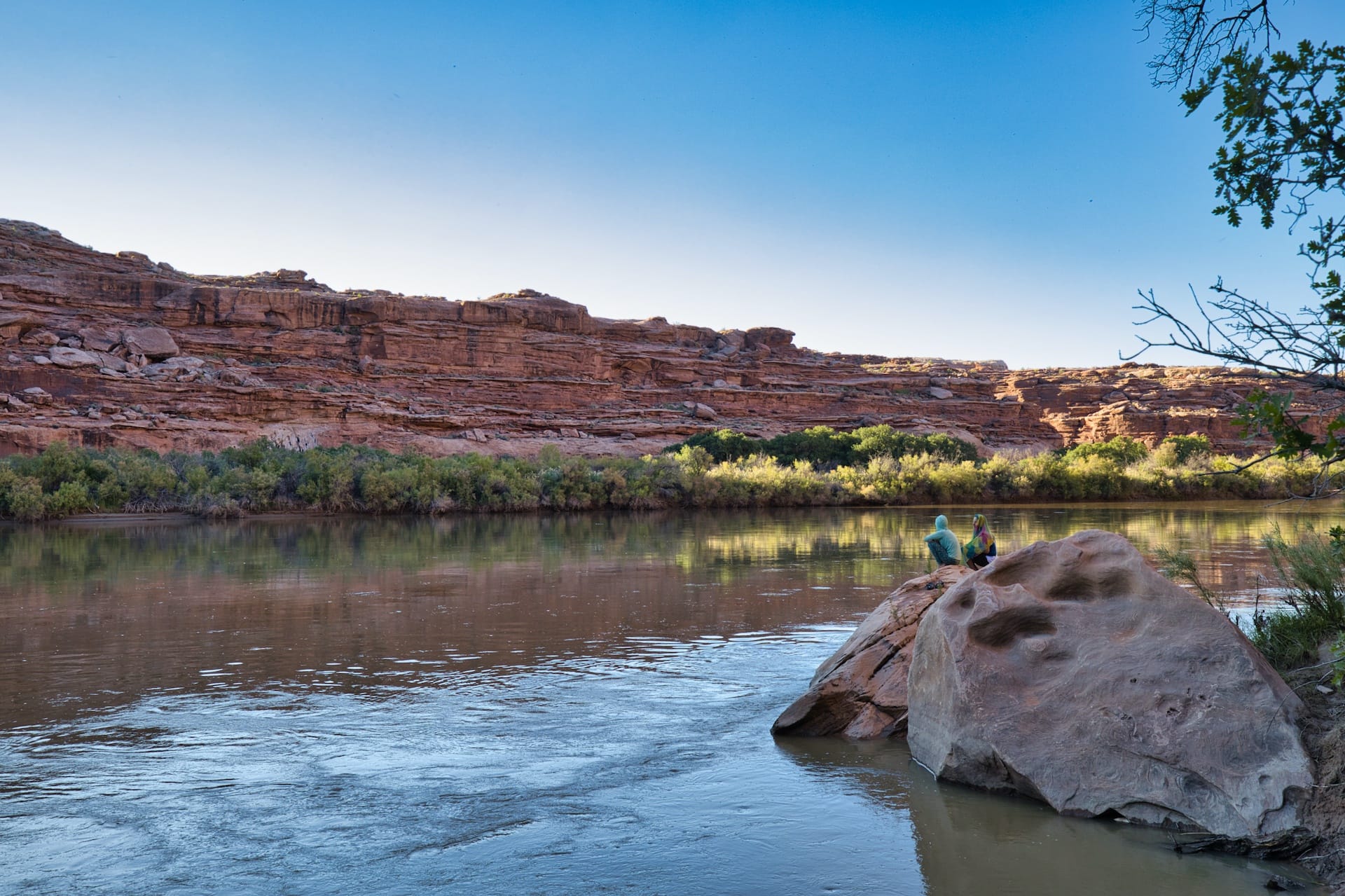 ---
I hope this blog post about canoeing Labyrinth Canyon on the Green River helps you plan for a spectacular trip. Got questions? Leave them below in the comments. Want to explore more of Utah? Check out my Utah archives here.