The 6 Best Arches National Park Hikes
Arches National Park in Southern Utah is a day-hikers paradise. Learn about our favorite hikes, where to camp, and the best seasons to plan your visit.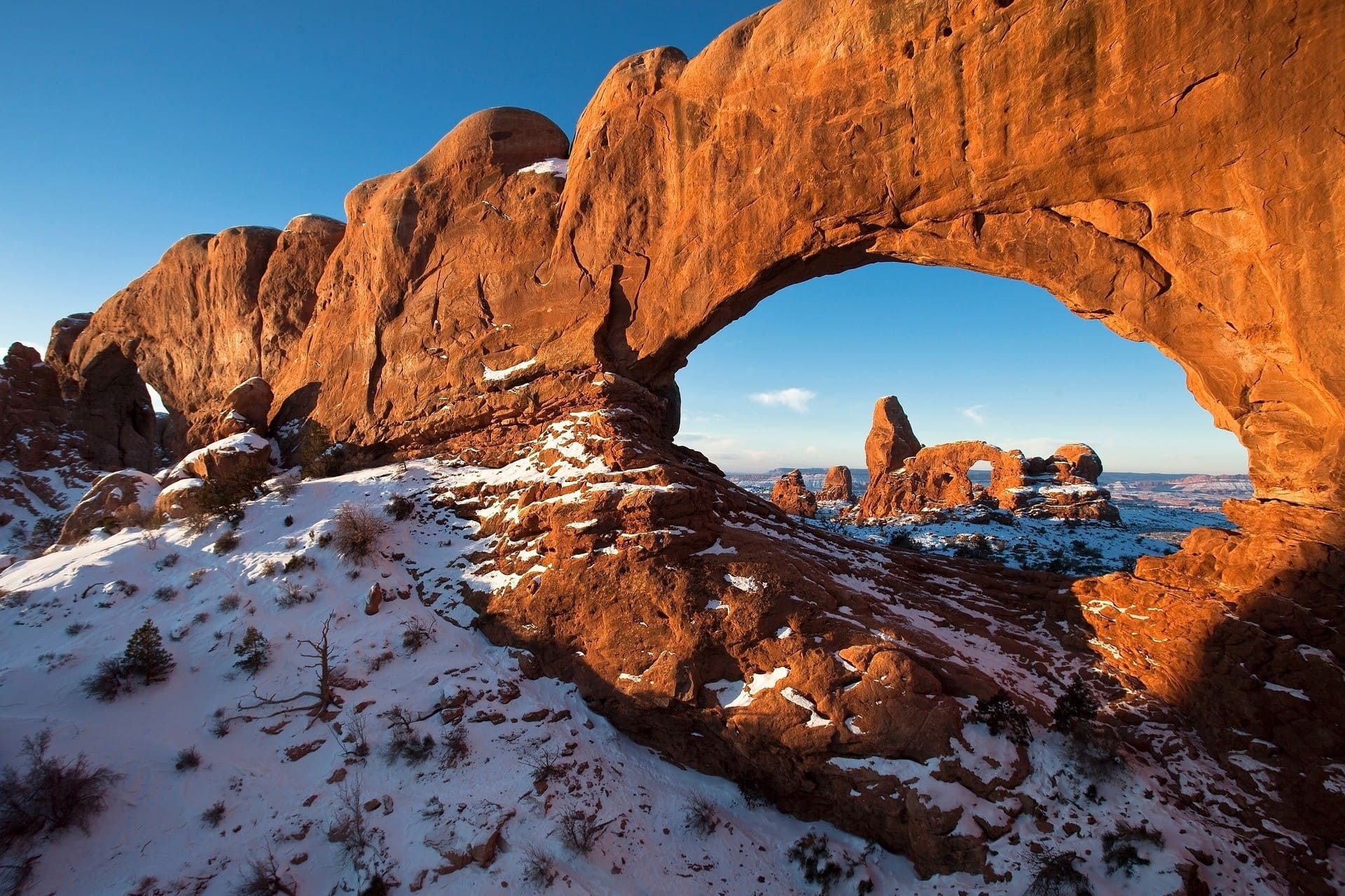 Arches National Park in Southeast Utah is a day-hikers paradise. The longest Arches National Park hike is a mere 7 miles, meaning you can cross off several trails and visit a number of world-famous arches in a short weekend or even a single day. In this blog post, we round up 6 of the best Arches National Park hikes. We also share advice for the best time to visit Arches National Park, info on camping, and other tips for a successful visit to this Utah Mighty 5 National Park.
Hit the trail with this guide to the 6 best Arches National Park hikes!
Important Reminder: As it goes in all of the destinations we share, please practice good trail etiquette and remember to Leave No Trace. This means packing out all of your garbage (including toilet paper) and following the established rules. In the desert, this also means learning how to protect cryptobiotic soil and how it has a huge impact on our ecosystems.
Getting To and Around Arches National Park
Arches National Park is in eastern Utah just outside of Moab, UT. The park is 3.5 hours from Salt Lake City, UT, 5 hours from Denver, CO and 6 hours from Las Vegas, NV. Arches National Park is within 30 minutes of Canyonlands National Park and 2 hours of Capitol Reef National Park. All three of which make for a great one week Utah National Parks road trip.
Arches is an incredibly easy national park to navigate, making it great for beginners or those looking for a one-day visit. There is one main entrance, one visitor's center, one campground, and one main road through the Park, with a couple of off-shoots to access additional trailheads. There is no shuttle service, so you will need a car to explore.
It takes about an hour to drive from the entrance to the very end of Arches National Park if you only stop and take a few pictures, so give yourself time to enjoy the scenic drive and stop for lots of views and these best hikes along the way.
Best Time to Visit Arches National Park
Spring and Fall
Arches National Park can be visited any time of year but you definitely need to be prepared for the weather based on the season you visit. The most popular (and busy) seasons to visit are Spring (April-May) & Fall (Sept-Oct). In Spring and Fall, daytime temperatures in Arches range from 60-80 degrees, with lows averaging 30-50 degrees. See our guide to what to wear hiking in fall for suggestions on what to pack for varying temps.
Summer
During summer, daytime temperatures in Arches National Park can easily reach over 100 degrees. There is also no shade in the park. Personally, I'd avoid summer in Arches National Park, but if it is the only time you can visit, make sure to drink a TON of water and be prepared with lots of sun protection. I'd also suggest starting your day at (or before) sunrise so you can get some hiking and exploring in before the mid-day heat.
Winter
Winter in Arches can be cold with temperatures ranging from 30 to 50 degrees during the day and nighttime lows from 0 to 20 degrees. If you catch it on a nice sunny day though, it can be one of the best times of year to visit. Crowds are thin in the winter, and you'll find a lot more solitude. Plus if you're lucky enough to catch these desert landscapes covered in a little snow, it creates a gorgeous contrast with the red sandstone. Read our guide to winter hiking layers and cold weather clothes to pack for chilly temps.
Important Note: From April 3-October 3, 2022, visitors will need to obtain a timed entry reservation to visit Arches National Park between the hours of 6am-5pm. A limited number of next-day tickets will be available at 6pm the night before. Reservations cost $2 and you will still need a park pass or annual pass to enter.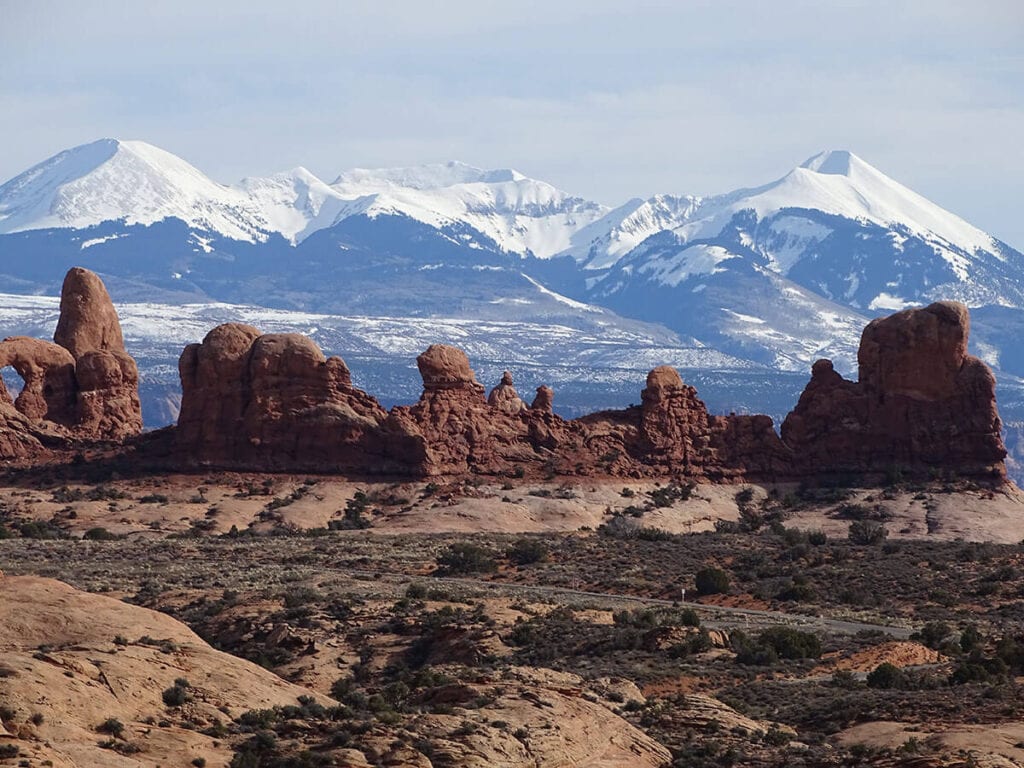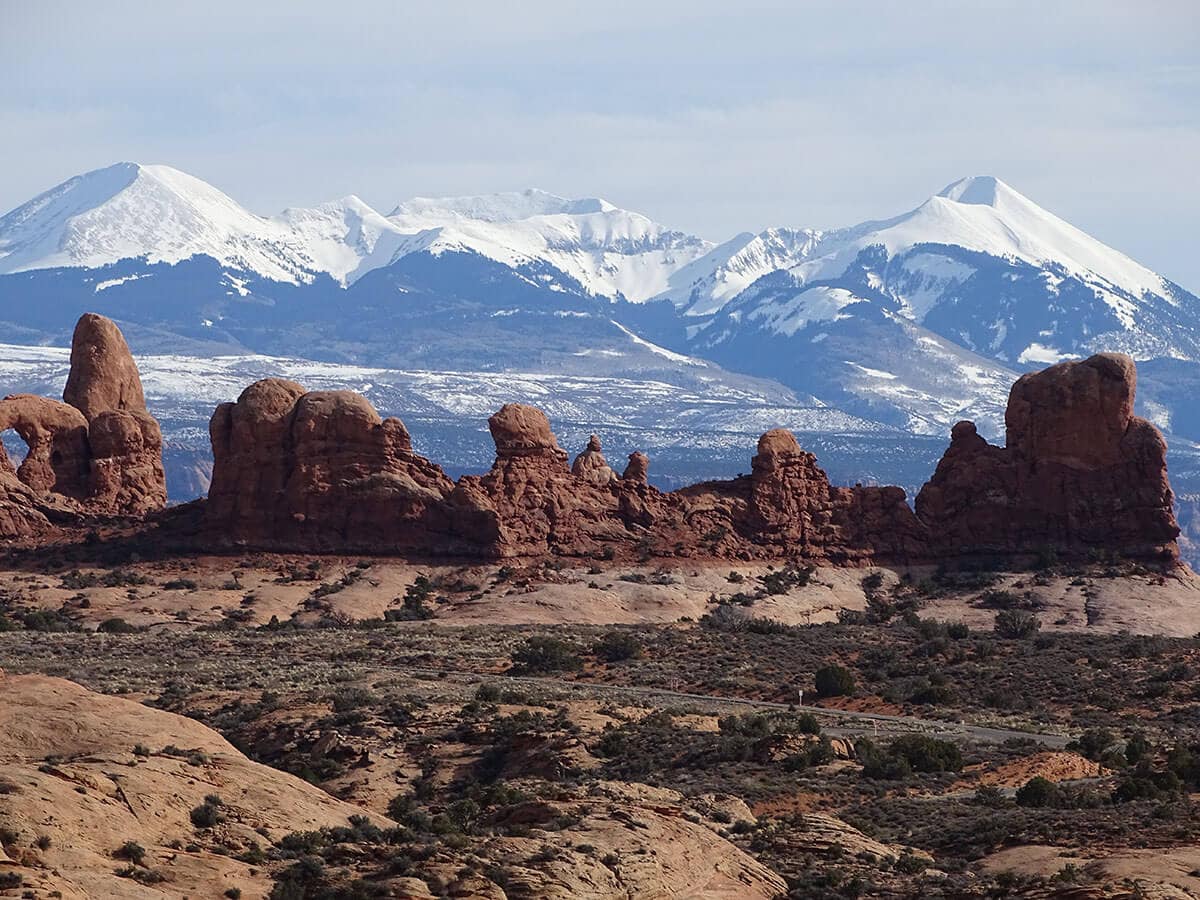 The Best Hikes in Arches National Park
No matter what time of year you visit Arches National Park, you'll be blown away by the incredible, otherworldly, red rock landscape, perfect to explore via the hikes below. Just be sure to stay on the trail so you don't mistakenly damage the delicate desert cryptobiotic soil.
The Windows Hike
Trailhead & Parking Area: The Windows Trailhead
Distance: 1 mile roundtrip
Elevation Gain: 187 feet
Difficulty Level: Easy
The Windows area of Arches National Park is great for getting out of the car and seeing up close the unique rock formations that define Arches National Park. The Windows is a gravel loop trail that will take you to the North Window, South Window, and Turret Arch. The North and South Windows stand side by side and are often referred to as "the Spectacles" since they resemble a pair of eyeglasses separated by a large "nose."
If you continue past Turret Arch you can continue to Double Arch and the Parade of Elephants. The Parade of Elephants is an immense rock formation that resembles a herd of elephants traveling in a single file line holding one another's tails. The Windows is a great starting hike in Arches National Park, but don't expect to find solidarity due to its easy access. For a bit quieter experience, follow the signs to the primitive trail, which is slightly longer and starts at the South Window viewpoint.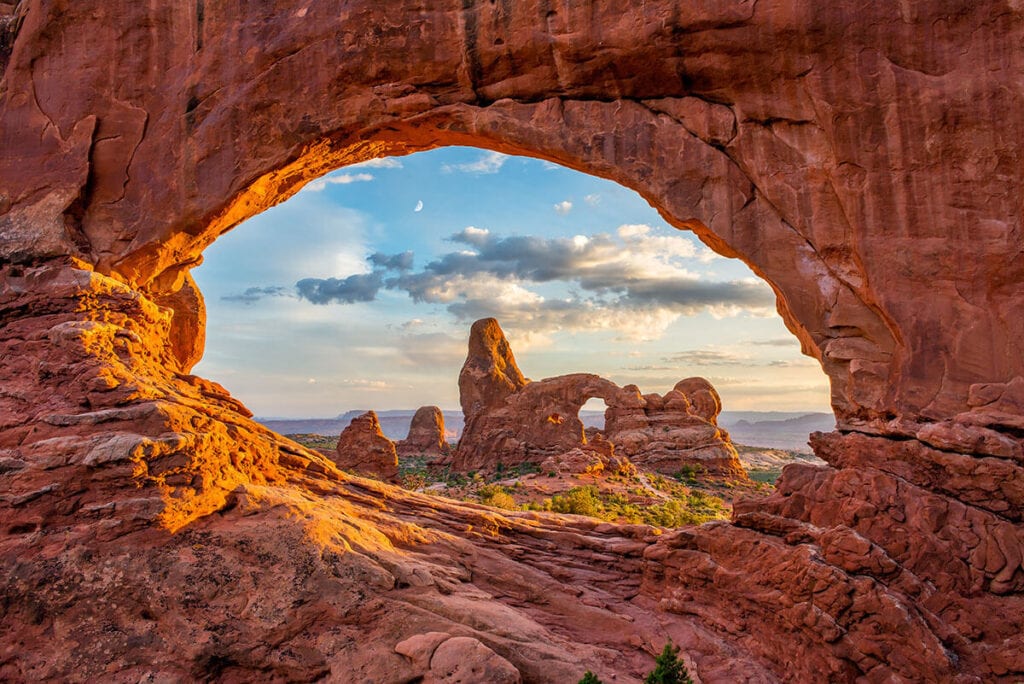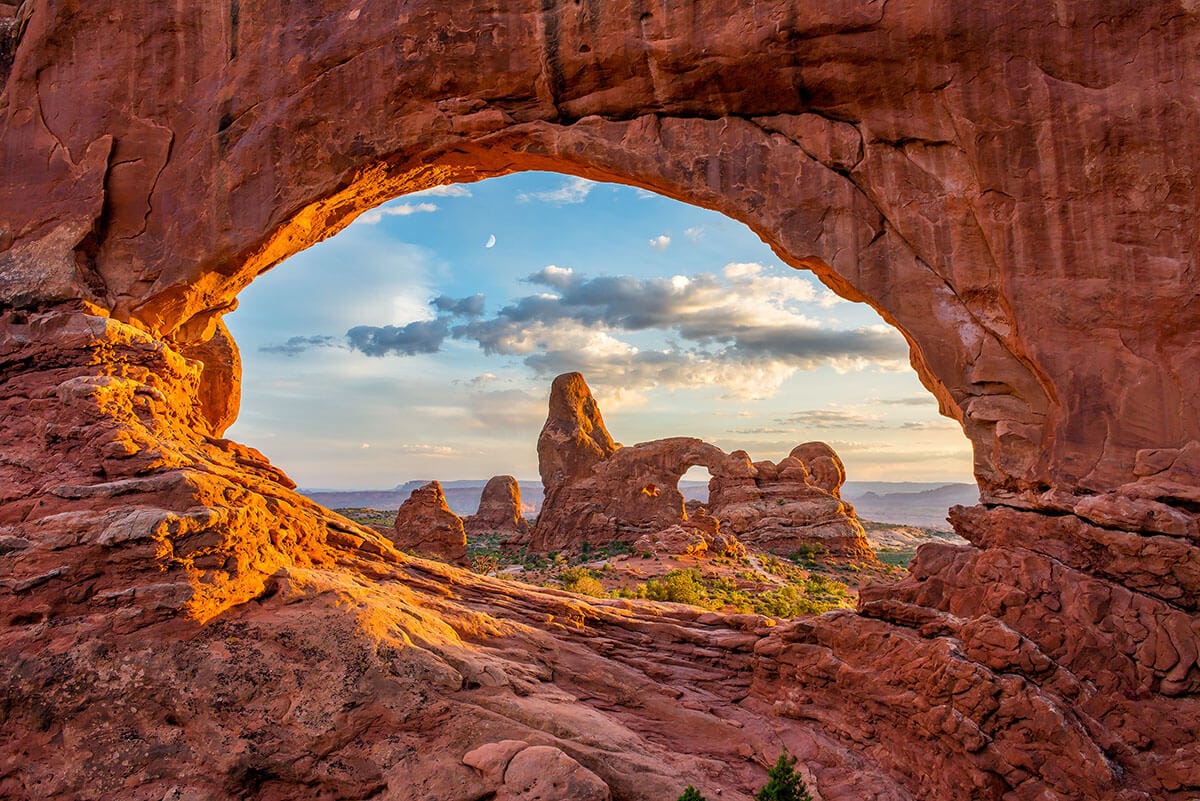 Broken Arch Loop
Trailhead & Parking Area: Sand Dune Arch
Distance: 2 miles roundtrip
Elevation Gain: 226 feet
Difficulty Level: Easy
This is a great loop hike with a lot of diversity in the landscape and two arches along the way – Broken Arch and Tapestry Arch. The trail begins at the Devil's Garden Campground and crosses a large area covered in desert shrubs. Next, you'll weave in and out of series of fractured rocks protruding from the ground called fins. The landscape then transforms to slickrock with a short easy scramble before returning to the parking lot. We love this trail for the simple fact that it's a wee bit off the beaten path and not as packed as other Arches National Park hikes.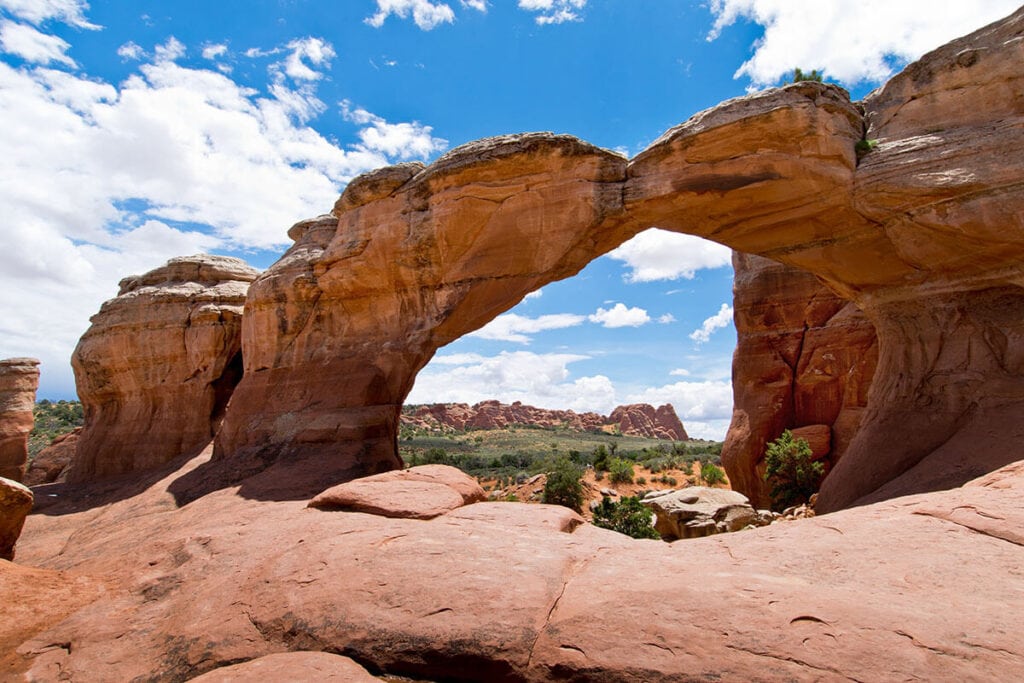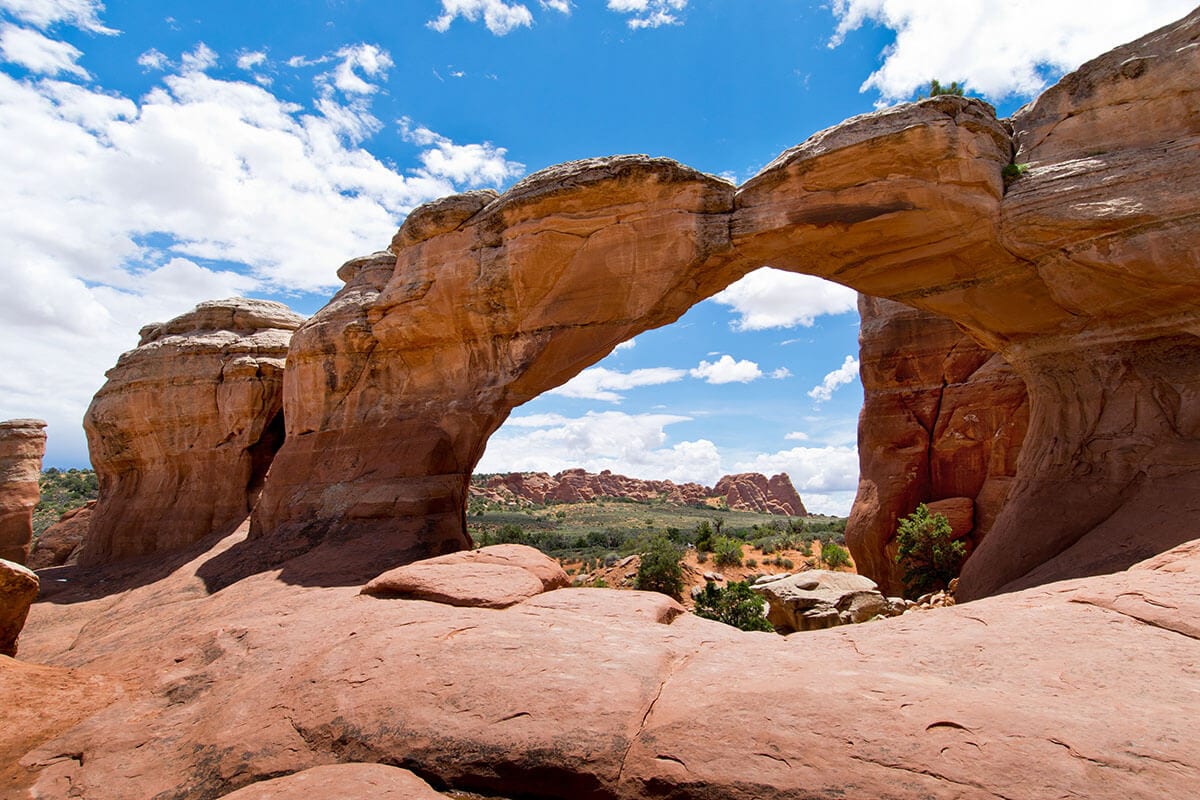 Delicate Arch
Trailhead & Parking Area: Wolfe Ranch
Distance: 3 miles roundtrip
Elevation Gain: 610 feet
Difficulty Level: Moderate
Delicate Arch is one of the most famous arches in Utah. It may look familiar as it's the one that appears on Utah license plates — the arch is a state symbol and a must-do hike in the park! Don't miss the opportunity to also view ancient petroglyphs near the trailhead. The first half mile of the trail is well-defined, and the real fun comes afterward. The next section of the trail follows multiple rock cairns, steadily climbing 500 feet up Utah slickrock. Eventually, you curve up and around a large rock mound and Delicate Arch comes into view.
With the elevation gain, the trail boasts incredible views of the park's desert floor and the La Sal mountain range in the distance. We highly recommend hiking out to Delicate Arch for sunset, although you won't be the only person out there. Sunset presents some pretty incredible photo ops and what's nice is that the arch can be seen from a variety of angles so no matter how many people are there, you'll be able to find a place to sit and enjoy the spectacular views. If you are feeling extra adventurous, pack a picnic dinner, headlamps, and warm clothes and stay for some stargazing.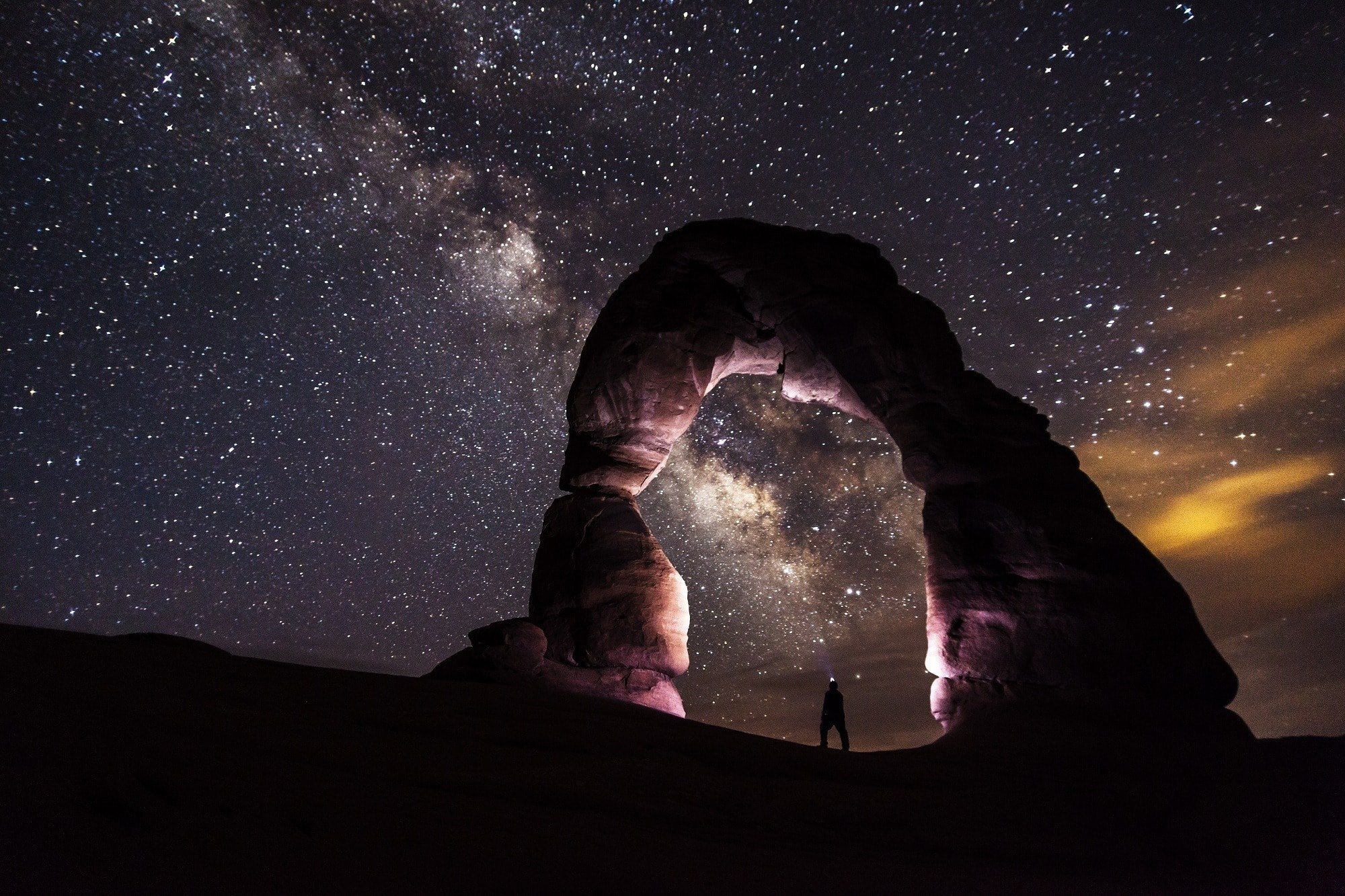 Landscape Arch
Trailhead & Parking Area: Devil's Garden Trailhead
Distance: 1.6 miles roundtrip
Elevation Gain: 130 feet
Difficulty Level: Easy
This Arches National Park hike is a great short warm up hike. The trail is a relatively flat path that is even accessible to wheelchairs with assistance. The famous Landscape Arch's span is more than a football field in length and is rumored to be the largest arch on the planet.
On the way to the arch don't miss the sign on the left side of the trail that talks about in 1991 when a 73-foot slab of rock fell from underneath the thinnest section of the arch. In 1995, two additional masses of rock fell from the arch leaving it even thinner. At its thinnest section, it is currently only 6 feet thick. Eventually landscape arch might only exist in photos, so go see it now!
On the way to Landscape Arch, you'll also see another trail to the right where you can take a short detour to see Tunnel Arch and Pine Tree Arch.
Not ready to head back to the car quite yet? Keep hiking past the Landscape Arch on the primitive trail towards Devil's Garden for an incredible loop that will entertain you with more arches to be mesmerized by (see below for more details).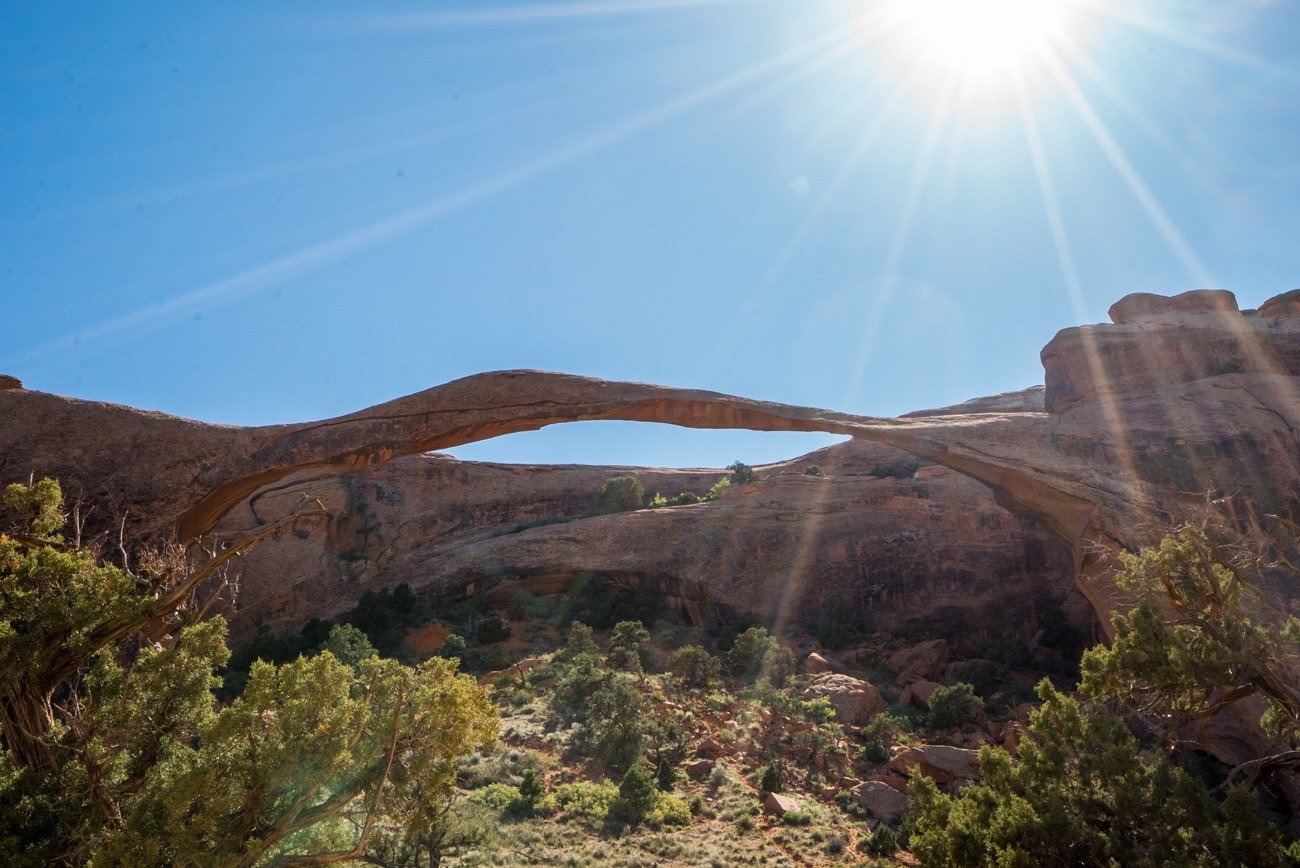 Primitive Trail at Devil's Garden
Trailhead & Parking Area: Devil's Garden Trailhead
Distance: 7.2 miles roundtrip
Elevation Gain: 490 feet
Difficulty Level: Moderate
Continuing past Landscape Arch, you'll enter an area called the Devil's Garden. This is the longest and most challenging continually maintained trail in Arches National Park. After reaching Landscape Arch the trail gets a little more challenging as you climb over sandstone slabs and walk on narrow ledges and exposed fins. As you climb the narrow sandstone fins you'll have sprawling views of Arches National Park. Don't forget that the park is continually evolving and changing. The fins you are walking across will someday potentially be arches themselves!
About a mile and a half past Landscape Arch you'll find Double O Arch, an awesome place with plenty of shady spots to stop for a picnic lunch.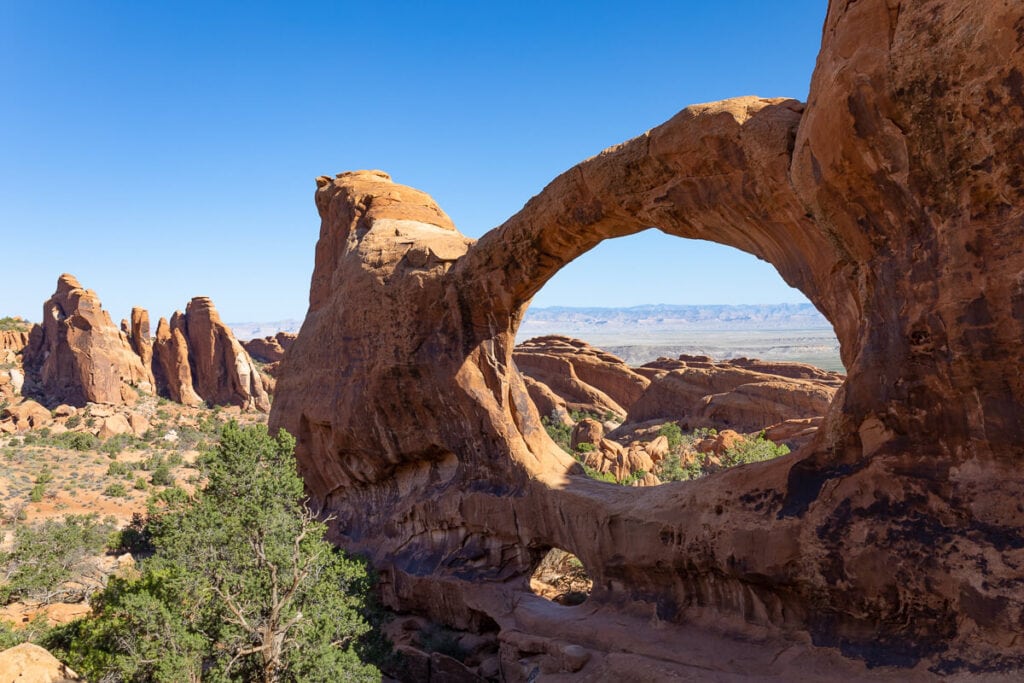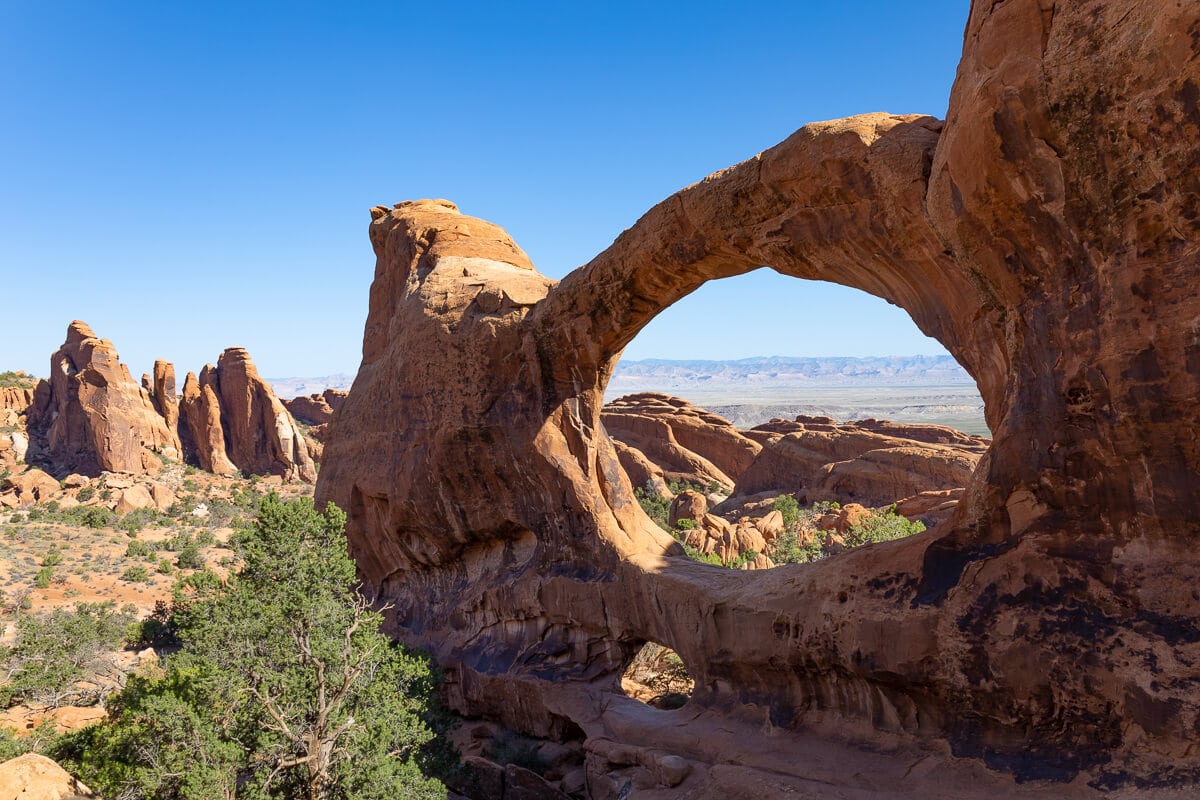 After Double O Arch, the trail becomes even more primitive and difficult to navigate, so you'll need to pay attention to the rock cairns that mark the trail. If you have extra time, you can take a short side trail to the Dark Angel, a unique 150-foot sandstone tower.
As you continue on the primitive trail it'll loop back to Landscape Arch and then back out to the trailhead. This trail is among our favorites in the park as it's a little more adventurous than the other trails. As you continue past Landscape Arch the crowds will also die down, giving you a bit of solitude in a generally very busy park.
Make sure you have plenty of water and sun protection for this trail, especially if you're hiking in warm weather.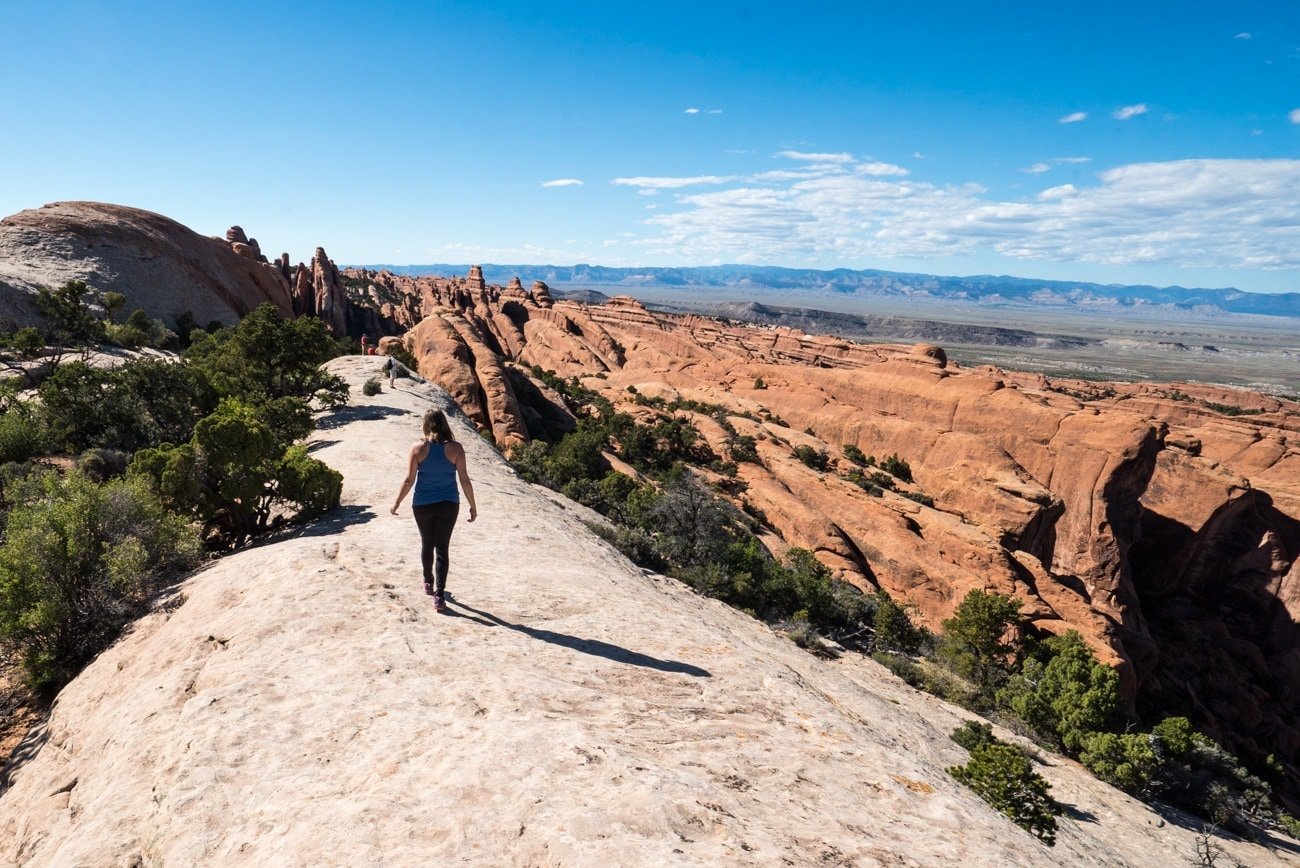 Fiery Furnace
Trailhead & Parking Area: Fiery Furnace
Distance: Varies depending on route
Elevation Gain: Varies depending on route
Difficulty Level: Advanced (requires ranger or permit)
Looking for even more? One Arches hike I still need to cross off my bucket list is the "Fiery Furnace" which can only be accessed on a 3-hour ranger-guided tour or by obtaining a hiking permit at the visitor center. The Fiery Furnace is a labyrinth of narrow sandstone canyons and is the most exciting Arches National Park hike due to its route-finding and challenging terrain.
The area got its name due to the tall giant rock fins that rise up against the bright blue sky and resemble a fiery red furnace. We technically shouldn't call this a "trail" since there is not one designated route or trail. Instead, you'll find a vast and complicated network of narrow slots, boulders, and fins that you have to navigate your way through.
If you opt to go self-guided, you'll need to watch a short video in the visitor's center about the area that has safety information and tips for route finding in the Fiery Furnace. Picking the ranger-guided tour option gives you the opportunity to learn firsthand from a ranger about the geology of Arches National Park. If you want to do the guided tour, make sure to plan ahead as the tours get booked up fast.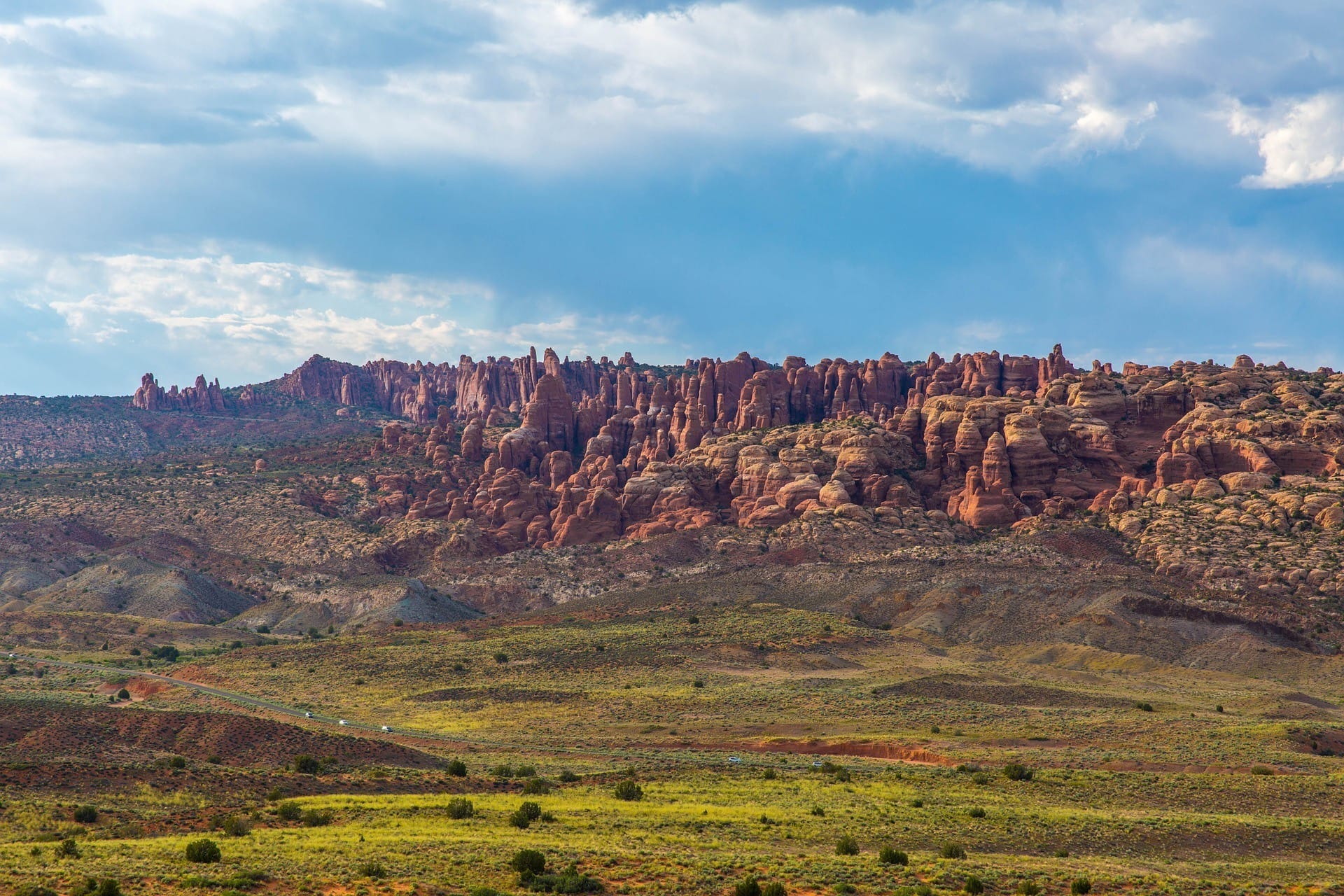 You can learn more about Arches National Park hikes on the official park website here, as well as check for updates and closures.
Biking in Arches National Park
Not a big hiker but want to get outside the car to explore? Arches National Park is a great park to explore by bike, especially if you come early in the morning when there is less traffic. You can even rent bikes in nearby Moab, Utah and travel a paved bike path from town to the entrance of Arches National Park.
Camping in Arches National Park
The Devils Garden Campground in Arches National park features 50 sites which are $25 per night and can accommodate up to 10 people. I haven't stayed at the campground myself, but I drove through it and it's spacious and full of wide-open views. Just make sure to make a reservation, as spots fill up far in advance.
There is no food available in Arches National park but there are four great picnic areas, so make sure to plan ahead and pack plenty of food to fuel your Arches National Park hikes and adventures.
Other Places to Camp:
What hike are you most excited about? What are your favorite hikes in Arches National Park? Leave your questions and comments below!