If you are planning a road trip or are a new van-lifer, you might be surprised how much camping fees can add up over time, especially if you end up staying at national parks or privately owned campgrounds. I realized this when I first got my Sprinter Van, and I quickly learned that paying $15-20 every night for camping was not going to be an option if I wanted to be on the road long-term. Since then, I've been using a variety of tools to find free campsites, also referred to as dispersed camping. Whether you are looking for an off-the-beaten-path place to set up your tent away from crowds or are trying to stick to a budget, this blog post on how to find free camping will help you find great campsites during your road trip.
Get outside and enjoy a quiet night of camping under the stars on a budget with this guide to finding free campsites across the U.S.

So what exactly is dispersed free camping?
Free or dispersed camping means you'll most likely be without services and amenities such as water, picnic tables, trash cans, showers, and toilets. That means you need to come fully prepared with everything you need, and you'll need to pack everything out and abide by Leave No Trace principles. The trade-off is these dispersed campsites are generally FREE, offer a lot more solitude than traditional campsites, and sometimes you'll even have better views!
Learn all about Leave No Trace
5 Important Things to Consider Before Choosing a Free Campsite
Fire Regulations: Dispersed free campsites may or may not have a fire pit so it is important you do your research to find out whether any fire restrictions are in place and to come prepared with basic backcountry fire safety skills. For more on this, check out our guide to having a safe campfire.
Road Conditions: Before heading out, you'll want to find out what the road conditions are like, whether you need 4-wheel drive, and whether there are any road closures. Sometimes an app or map on your phone might not distinguish a paved road from a dirt one, and a graded maintained dirt road from a road that needs higher clearance and 4-wheel drive.
Water Availability: Will there be any water sources nearby and are they potable? You'll want to know this so you can bring enough water if there's none available or a water filter if needed, and also so you can make sure to camp 200 feet away from any stream or water source.
Campsite Amenities: Generally there are no amenities such as picnic tables, trash receptacles, sinks, or restrooms at free dispersed campsites. Bring a trash bag and be prepared to pack out your trash, and if there aren't restrooms, know how to go to the bathroom outdoors while abiding by Leave No Trace principles.
Cell Service: A lot of dispersed free campsites are in remote areas where you may not have cell service to access maps on your phone. We highly recommend carrying paper maps with you in your car which are also helpful for identifying nearby hiking trails and other recreation opportunities.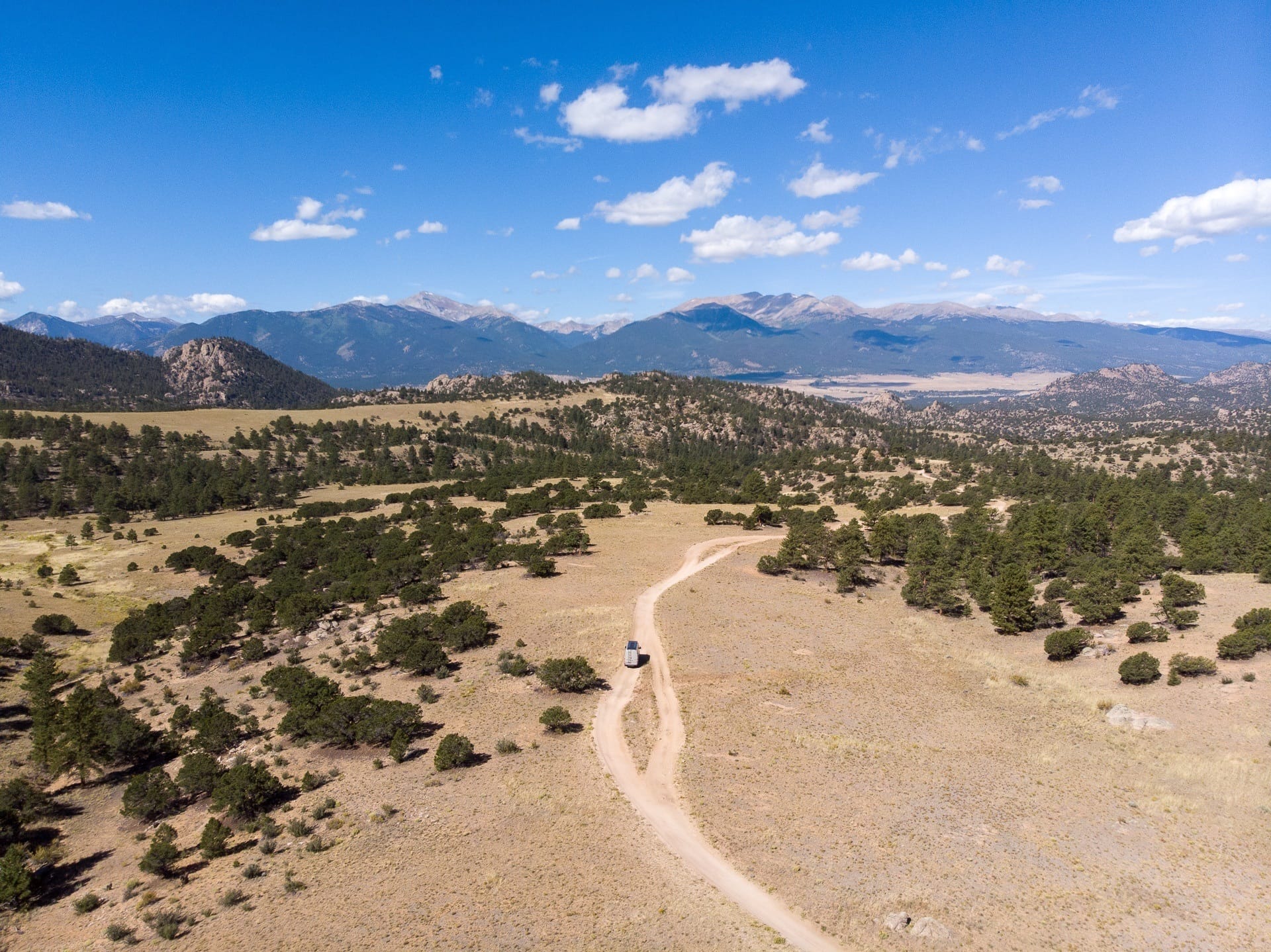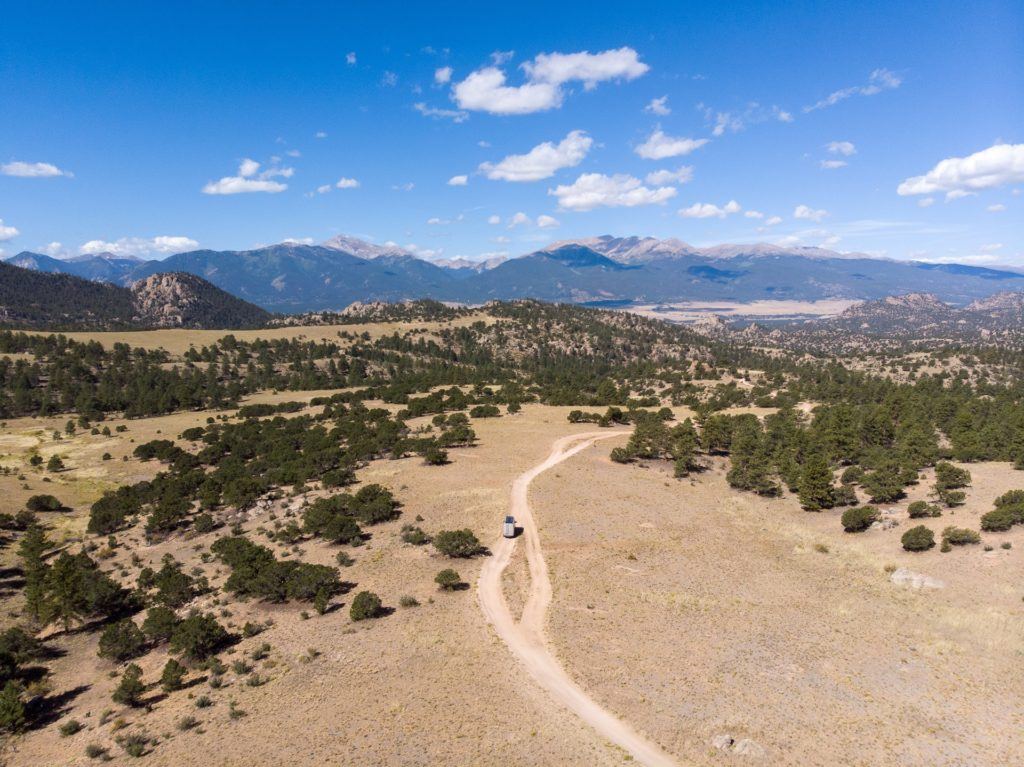 Type of Land where Free Camping is Usually Found
Understanding different public lands designations will help you find free campsites. Not all public lands agencies manage dispersed camping the same. Some, like the National Park Units, offer mostly paid camping, while others have a 14 day free camping limit.
BLM, or the Bureau of Land Management, and US Forest Service land are the two types of public land where free camping is most easily found. Regulations vary by location and you'll typically find signs at the start of the dirt road telling you how long you can stay, any fire restrictions in place, and any other important information that you'll want to know. Any areas that are off-limits are generally marked by signs.
Bureau of Land Management (BLM)
Bureau of Land Management (BLM) land is mostly found out west, and dispersed camping is allowed on most BLM land for up to 14 days. The exception is areas close to population centers and areas used for grazing. For example, in Moab, Utah, there is a ton of BLM camping available, but because it's so popular, many of the sites are more developed and cost a small fee for overnight stays.
Unfortunately, the BLM doesn't have a comprehensive map on their website showing where all of the free BLM campsites are, but you can get a feel for what's available in your region by browsing their regional maps found here. Some states have pretty handy guides, like Idaho, and you also contact the local BLM office to get more info on where you can camp for free. The tools we talk about in the next section will also help you identify where free BLM camping is.
Forest Service Land (USFS)
Similar to BLM lands, dispersed camping is allowed in over 175 national forests and grasslands in the United States. For information on camping on USFS locations across the country, you have to check with each ranger district directly. On the USFS website you can search by state and select a specific forest or grassland to learn more about.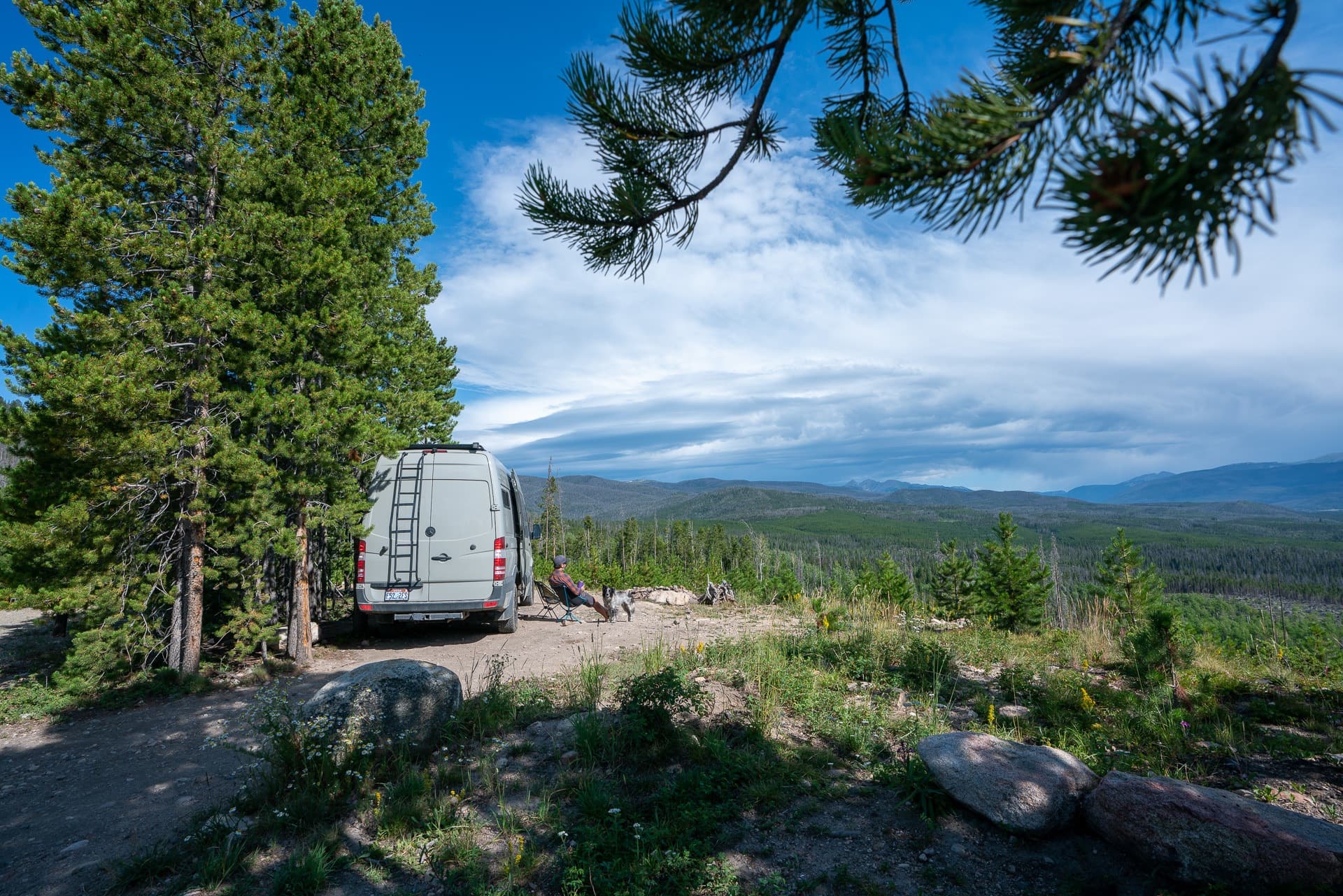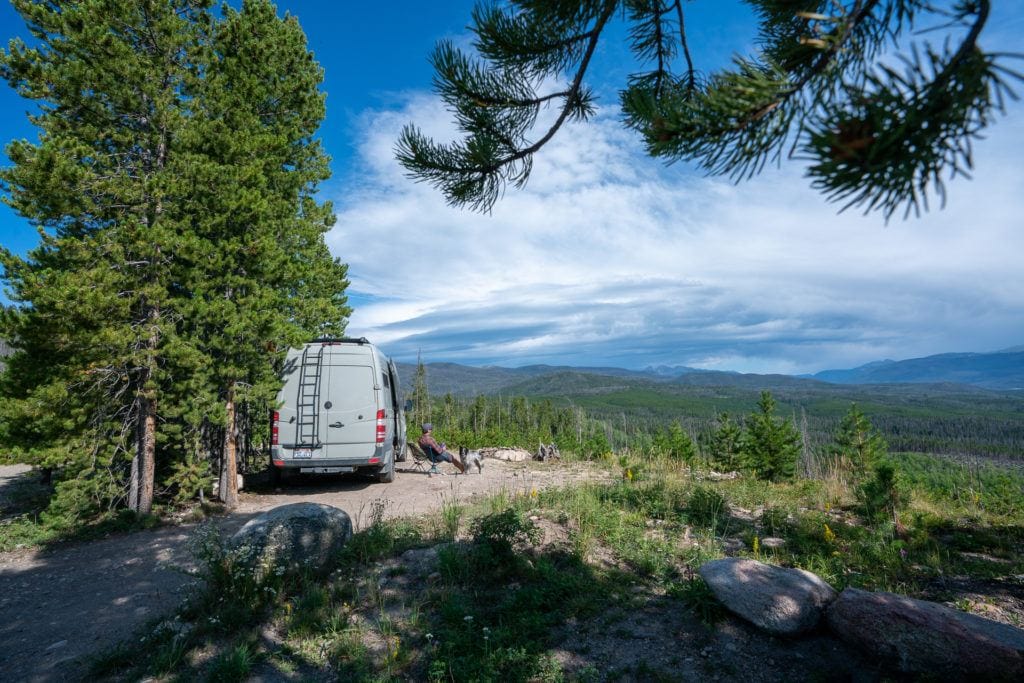 ---
Best Apps for Finding Free Campsites
There are more tools available than we list here, but after four years of road tripping in my van, these are my favorite online resources and apps for finding free campsites.
The Dyrt & The Dyrt PRO
The Dyrt is currently the top-rated camping app for Apple and Android and one of our favorite new tools for finding campsites. It has listings of all kinds of different campgrounds including public and private ones as well as some free dispersed camping options. Their listings include reviews, photos, information on amenities, and more. You can also search by required amenities. Let's say you need Wifi to get some work done or need a location with showers or even a pet-friendly location, you can narrow your search down using all types of parameters.
There is a free version, as well as a Dyrt PRO membership upgrade for $35.99/year. The Dyrt PRO membership provides all kinds of additional benefits like:
The ability to search for campsites and read reviews offline – no cell service or wifi needed (this is huge as not having service can be stressful if you don't have a plan for the night).
A cool layer feature that tells you where BLM, Forest Service, and National Park land is located.
A trip planning tool that allows you to build your trip before heading out and then exports it all to google maps (pretty cool!).
You can save campgrounds you're interested in to lists so you have them handy for when you're on the road.
Up to 40% off camping reservations at 1,000s of campgrounds. Many of these campgrounds are in areas where free camping on public land isn't available, and the discount alone can pay for your annual membership.
As a PRO member, you also get discounts on outdoor gear from their brand partners.
*The Dyrt is currently offering a FREE 30-day membership to The Dyrt PRO to Bearfoot Theory readers (use the code "Bearfoot" if signing up on mobile!). Try it out and see how you like it!*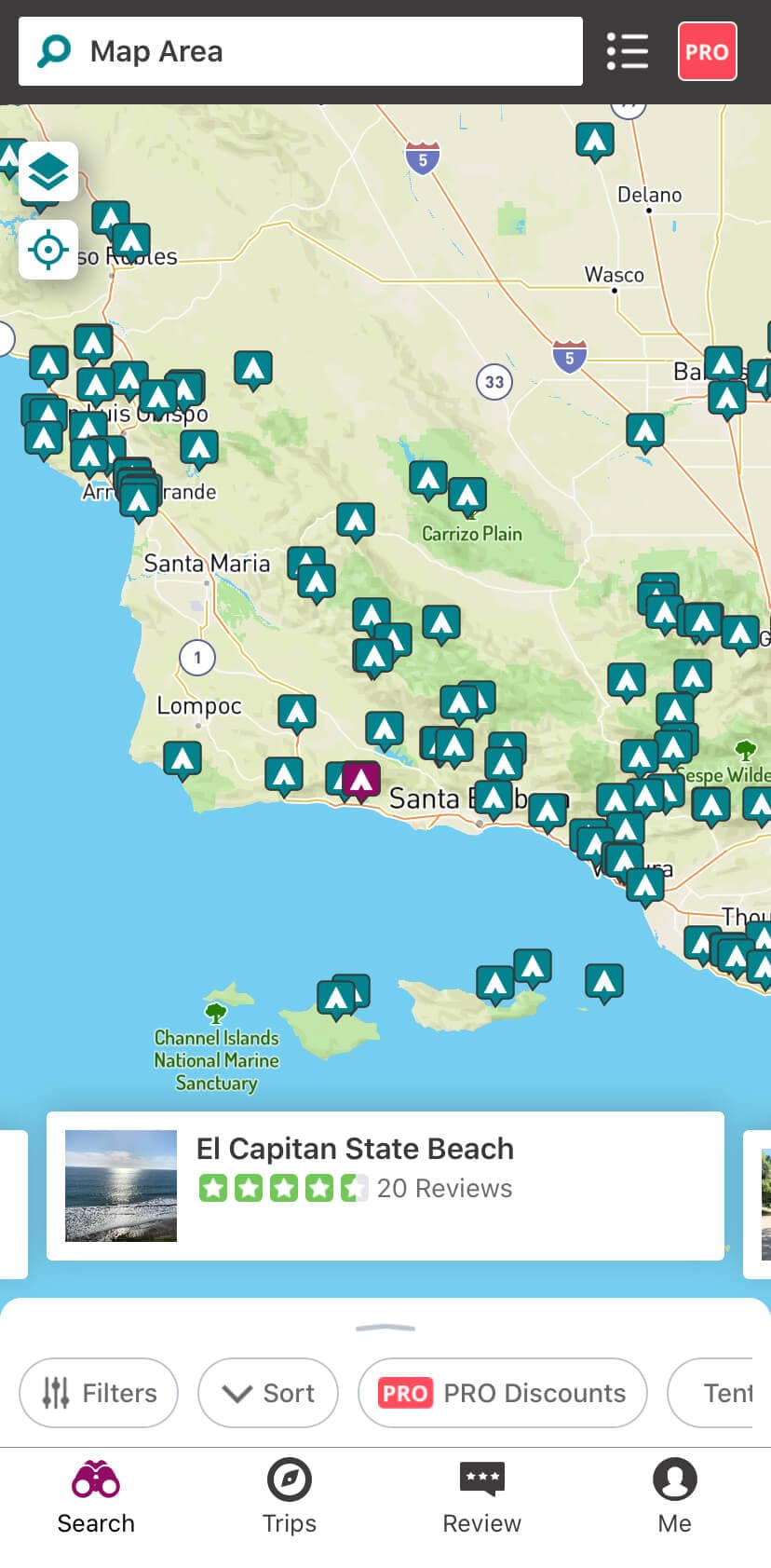 iOverlander
iOverlander is a FREE app that you download to your phone. Users submit information about places they've camped, and it's one of the most comprehensive crowdsourced databases of free camping that I've found that that covers all of North America (including Canada and Mexico). Users can upload photos, a description, and other information, like internet availability, along with GPS coordinates. There are also some paid campsites on iOverlander as well.
Because iOverlander is crowd sourced, the app is constantly updated with new info. Maybe a dispersed area was recently closed or perhaps someone had a sketchy encounter at a campsite. Users in iOverlander are very good at sharing important information like that in the comments section for each site. More recently, they've added amenities like water refill and propane stations, dumps, and more. While iOverlander doesn't officially work offline, you'll still be able to see your location and nearby dispersed camping areas when zoomed out. You just won't be able to see the map background when you zoom in or be able to get directions – a feature that hopefully will improve in the future.
Ultimate US Public Campgrounds App
The Ultimate Campgrounds App is a comprehensive user-friendly phone app for finding low-cost or free campsites on the go. Ultimate Campgrounds has over 41,000 public campsites (updated monthly), and it's very easy to distinguish between Forest Service, National Park, and other types of campsites on the app. For each campsite, the app share details about amenities, road conditions, price, and more. I've been really surprised that this app even shows pull-offs on the side of the road, as well as isolated campsites on dirt roads, where it is legal to camp. This app does not include privately owned campgrounds or RV parks. This app costs $3.99.
Offline access works the same way it does for iOverlander – you'll be able to see your location and nearby campsites, but the map background won't display. This app doesn't have photos or reviews, so you don't really know what you're getting until you get there.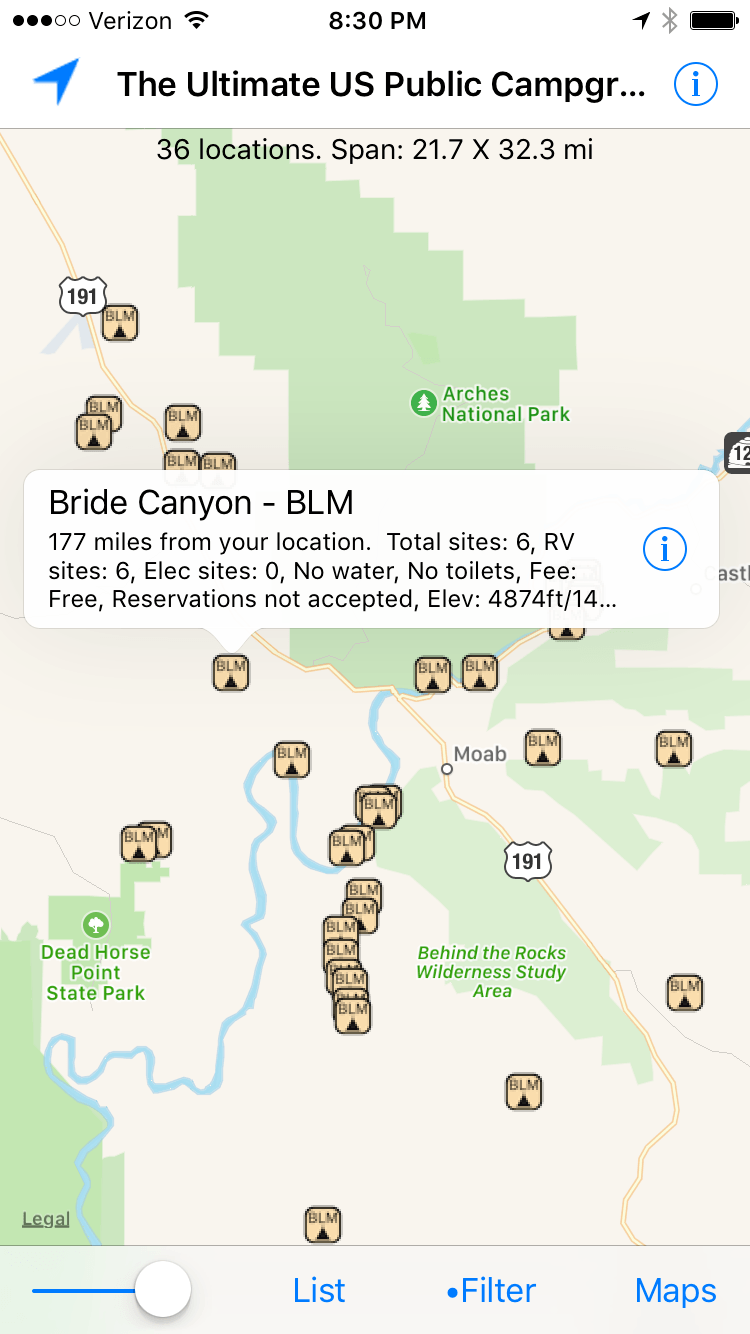 All Stays Camp & RV
All Stays Camp & Rv is a $9.99 app that you download to your phone. All Stays includes paid and dispersed campsites, but for dispersed it's not as comprehensive as the previous two apps I mentioned. What I like about All Stays is that it also has other types of places you can park for free, including Walmarts, rest-stops, and casinos, as well as other amenities. In addition, you can find places to fill up water, RV dumps, and other services that you often need on the road.
Once you find a campsite, there is a button that links to Google Images, and you can automatically open up directions in Apple or Google maps. The basic functions of the app even sort-of work when you are off-the-grid and have no cell service.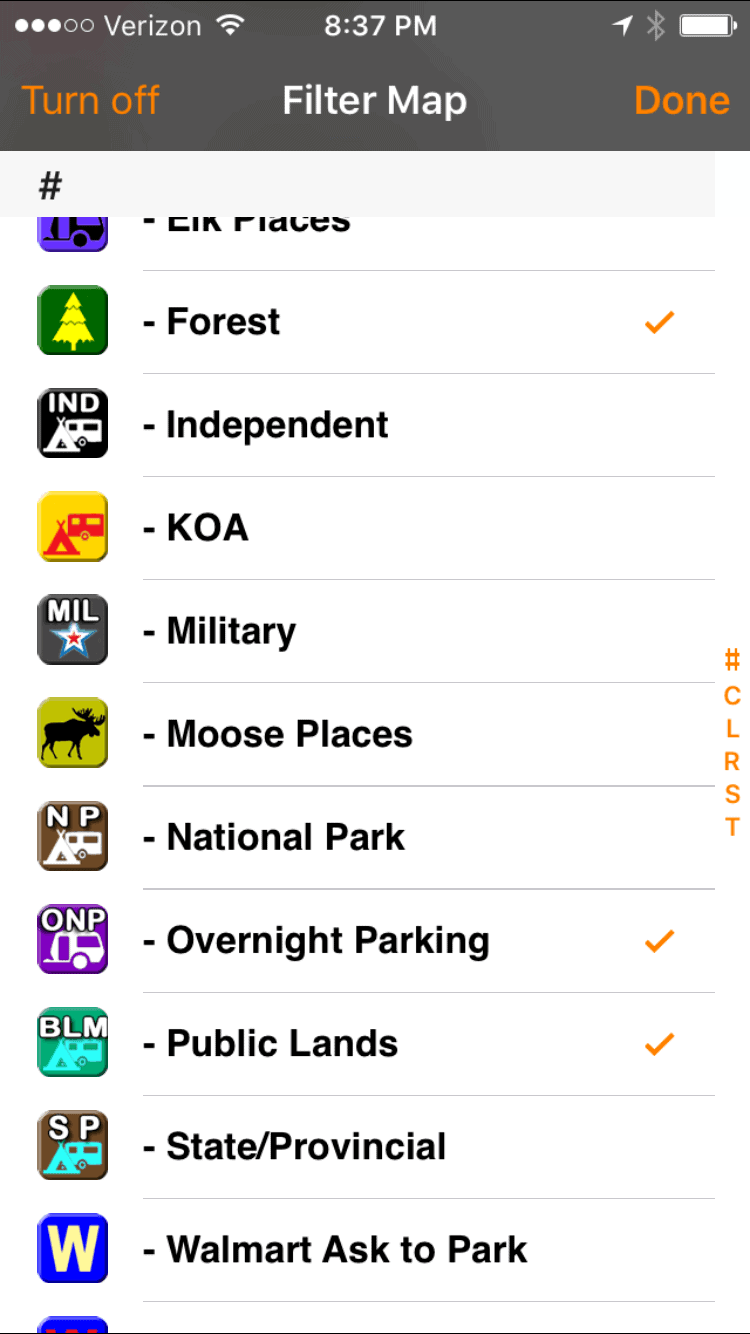 FreeCampsites.net
If you don't want to download a pay-for app, Freecampsites.net is a desktop tool that allows you to zoom in on a map to locate campsites or search by zip code. Additionally it also has a trip planning option that will allow you to create a route using free dispersed camping options. You can even search by the type of access road to the sites. When you select a site, you'll be given the GPS coordinates, elevation and the local weather so you can pack accordingly.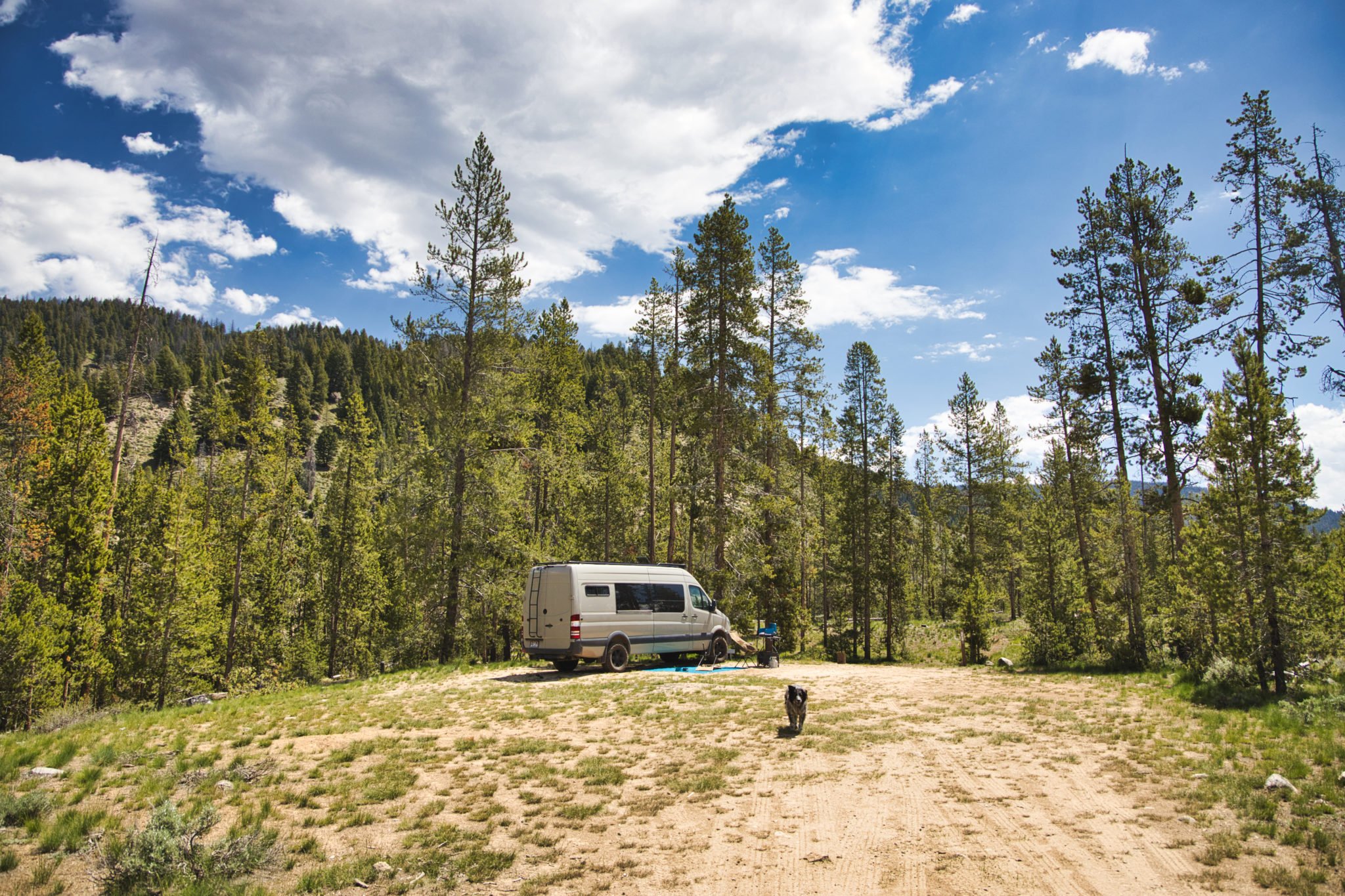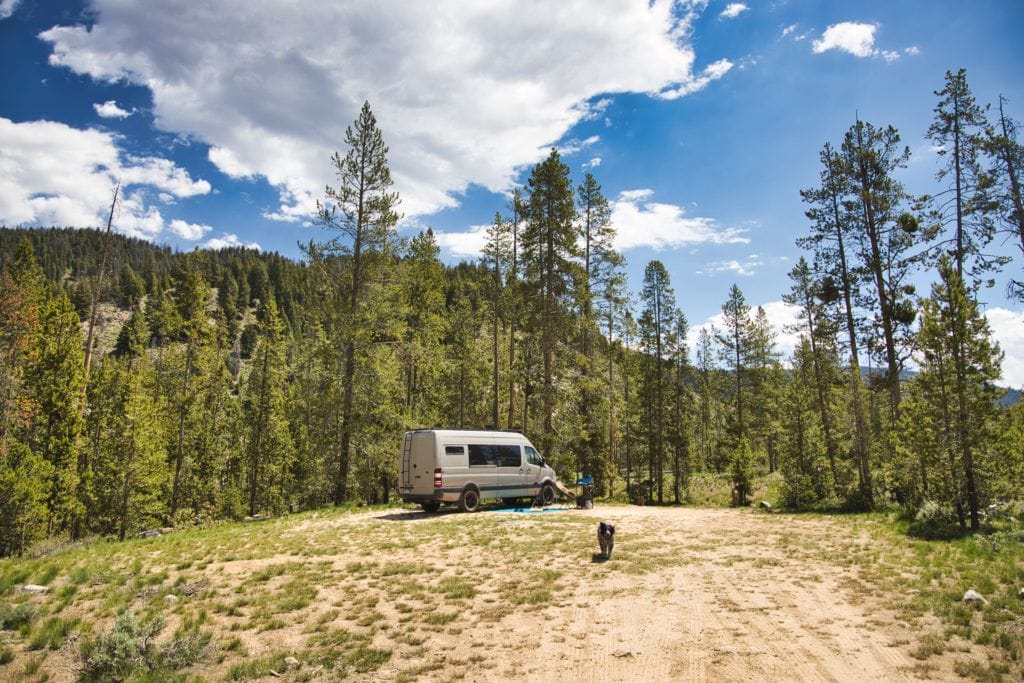 Once you've found a spot you want to camp using one of these apps, open up Google Maps to get directions. I like to use satellite view to zoom in to see if I can tell anything else about the campsite. For example, if there's more than one site in the area, I'll see if I can scope out which one is going to be the best.
If you don't have service, you can use your paper atlas or a GPS if you have one to navigate.
---
Other Tools for Finding Free Campsites
Road Atlas
A paper road atlas can be super handy when road tripping or doing van life and looking for free camping. In rural areas, google maps can be unreliable, and if your service cuts out, you'll be happy you have an old school paper map to navigate with.
Benchmark Road Atlases are my go-to paper maps. If I'm going to be spending any extended amount of time in one state, I will invest in a Benchmark Road Atlas. Each state has its own atlas and they generally run about $20. All maps show recreation activities, have categorized listings, and also show public land ownership lines. These maps also have all the little backroads that you'll want to know about for finding the perfect dispersed campsites, and what's especially great is that they differentiate between 2wd and 4wd roads. In my experience, these indicators have been pretty accurate and when it says 4×4, the road really is rough. Just having a sense of the terrain and accessibility is a good place to start.
My method for finding free, dispersed campsites in a new area is to find a Forest Service road that appears to be well-maintained on the map, and then take a drive. This is good not just for finding campsites, but for finding cool back roads to explore.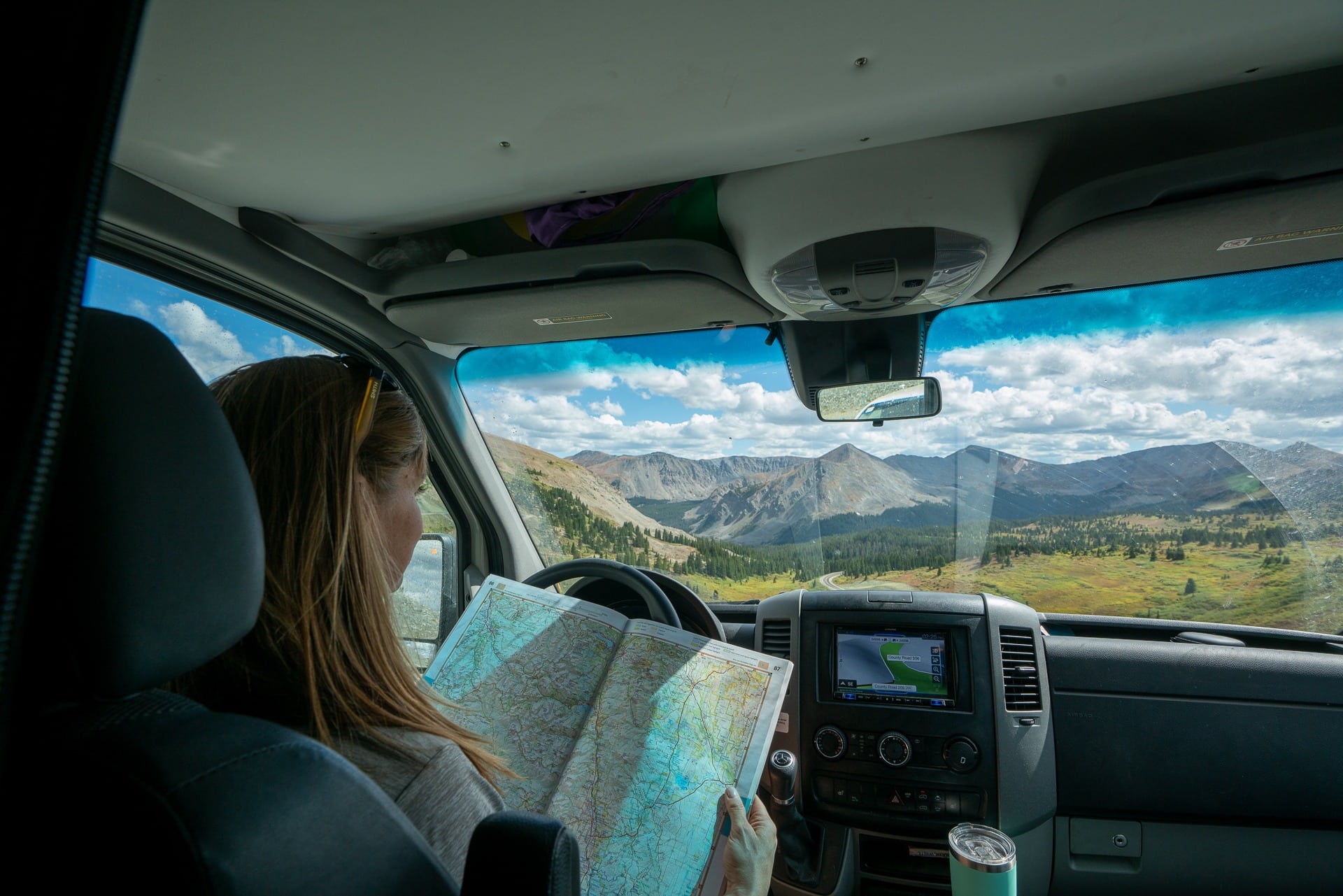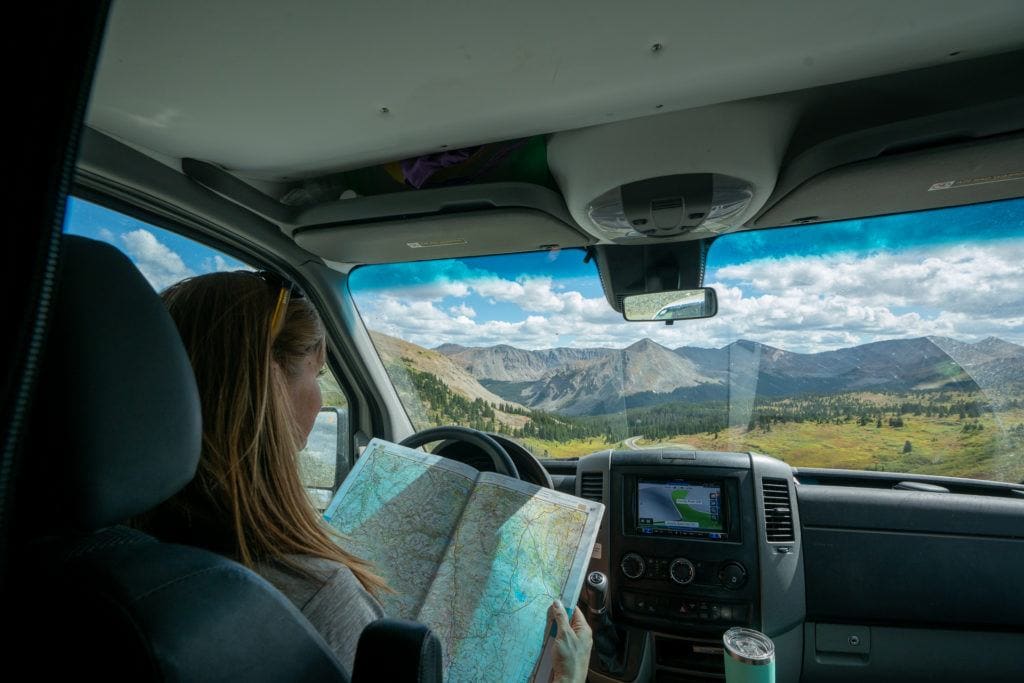 National Geographic Maps
These topographic maps are great for backpacking as they are waterproof and tear-resistant. They come location specific; for example Big Sur & the Ventana Wilderness. The maps provide detailed information about specific lands and ranger districts while also showing all National Forest boundaries. They also often point out roads for dispersed camping, hiking trails, potential water sources, dump stations and campgrounds that offer showers. You can generally find a great selection of National Geographic Maps at REI.
Free Maps!
Don't want to fork over the money for paper maps? Stop by the rangers office when you arrive at your destination. Many of them provide free public maps that you can take with you. If not, almost all of them have a big map on the wall of their jurisdiction. Use your phone to take a picture of the area you are interested in.
Other Options for Free Overnight Parking
Before we move on, I want to quickly talk about other types of free places to park overnight.
Parking Lots
Not necessarily what you had in mind for your next great adventure, but if you find yourself caught in town "refueling" on supplies and need a place to sleep for the night, it's important to note that Walmart, Camping World, Cracker Barrel, casinos and truck stops often provide areas for free overnight parking.
When crashing in these types of parking lots, you have to stay (meaning sleeping, cooking, and hanging out) inside your vehicle for the evening, but if you're in a bind, it can be a good option. Some truck stops even offer laundry services and coin operated showers. Make sure to check with management if you are unsure or have any questions–not all locations in all states allow overnight parking.
Walmarts often allow free overnight parking, but this isn't always the case. Some Walmarts prohibit overnight parking, so it's best to call or go inside and ask. As always, obey any signs you might see. Cabelas and Cracker Barrel are two other nationwide chains that typically allow overnight parking.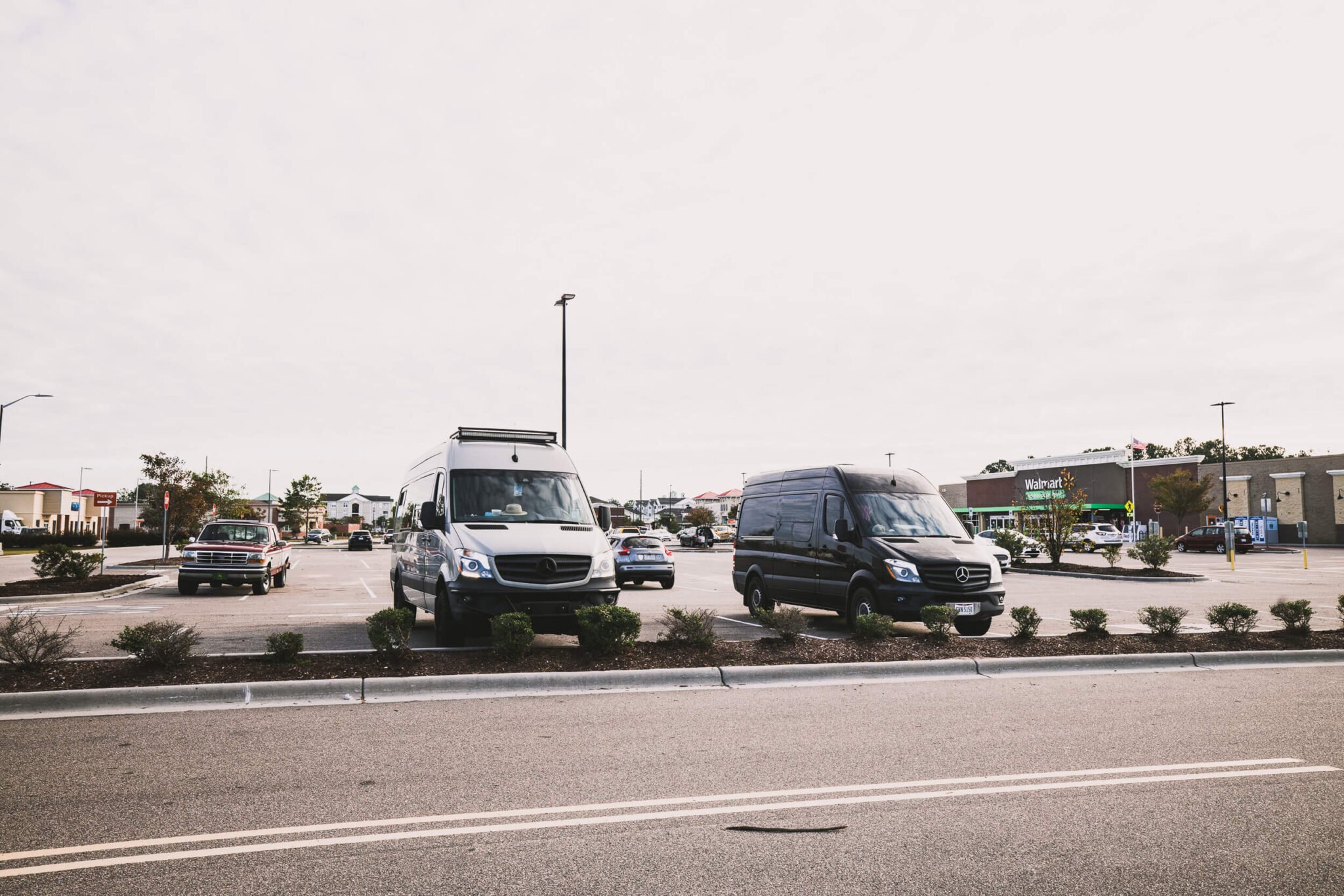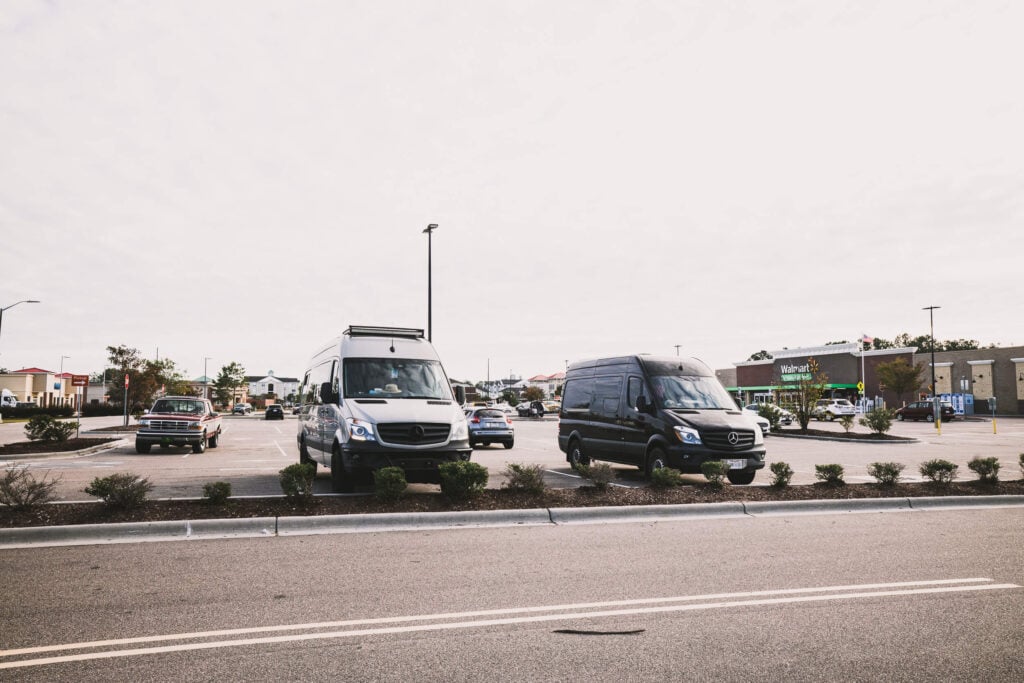 Casinos, truck stops, and rest stops also offer overnight parking. Usually their parking lots are well lit (which is nice for safety), and some will have a dedicated area for big rigs and even shower facilities. These can be noisy depending on their proximity to the road and the coming and going of big rigs, but if you're in a pinch or just need a convenient place to overnight, these are good options. For casinos with overnight parking, use the map locator on casinocamper.com to see which casinos allow overnight parking.
Harvest Hosts
Another great option is Harvest Hosts. A membership allows you to park overnight for free at a variety of wineries, breweries, farms, museums, golf courses, and other attractions. They do require you to be self-contained with a toilet, so keep that in mind. Use this link to get 15% off your first year and be sure to use the discount code displayed. Purchasing something and supporting the small businesses you camp at is encouraged but not required.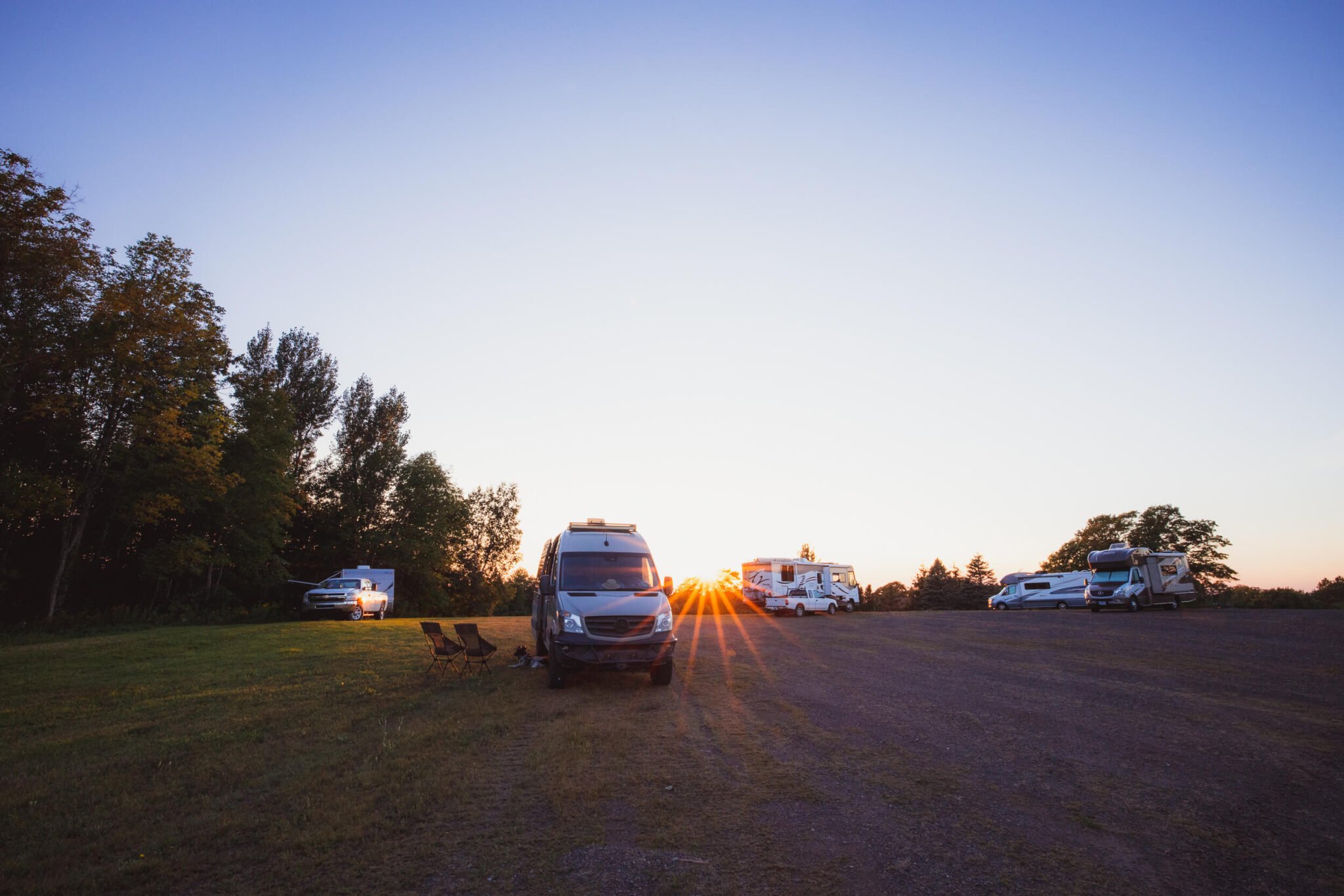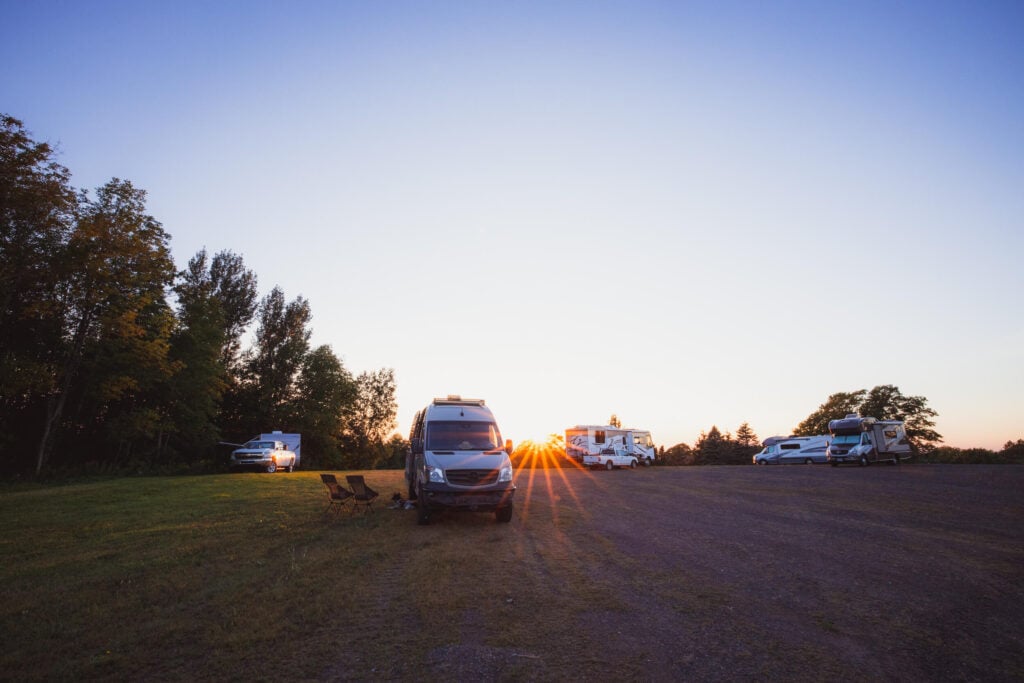 Tips for Finding Free Campsites
First, finding a campsite is much easier when you are still in service. So, if you know the general region you want to stay in, do your research before you get out of cell range. Again, my preferred apps have some functionality offline, but you can plan with more certainty when you have a signal.
Second, searching for campsites is easier and less stressful during daylight. If at all possible, try to be settled before it gets dark.
Third, adopting a mindset that you don't have to have a perfect camping setup every night will make finding campsites while on the road a lot easier. Some nights you might be in the forest with no view or you might be parked in a big open area near a lot of other campers. If you are camping only one weekend a year, a view and solitude might be super important to you, but if you're road tripping or doing van life for an extended period of time, you're going to be camping all the time. Some nights, you'll hit the jackpot. Other nights, your campsites might be mediocre, and that's ok. You can pack up in the morning and move on to somewhere better. All you really need is a flat spot with enough space, and the biggest thing is that you feel safe and you aren't blatantly breaking the law.
Finally, ranger stations can be a great resource for information. If you are unsure about where you are allowed to camp, swing into the local ranger station for maps and advice.
Winter can be tough. Many dirt roads are not accessible and many small mountain towns crack down on vans parked on the street. This is when being stealth comes in handy.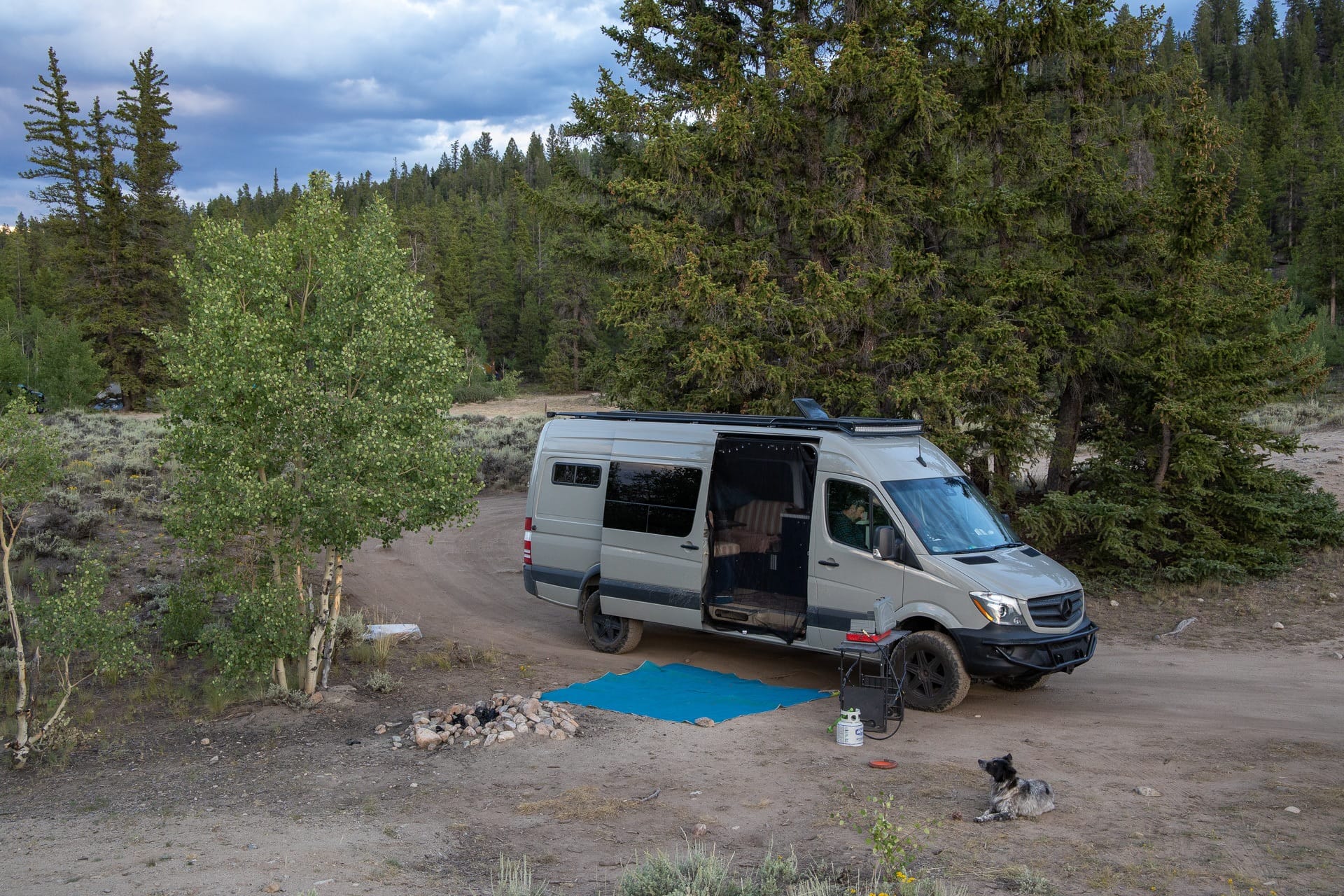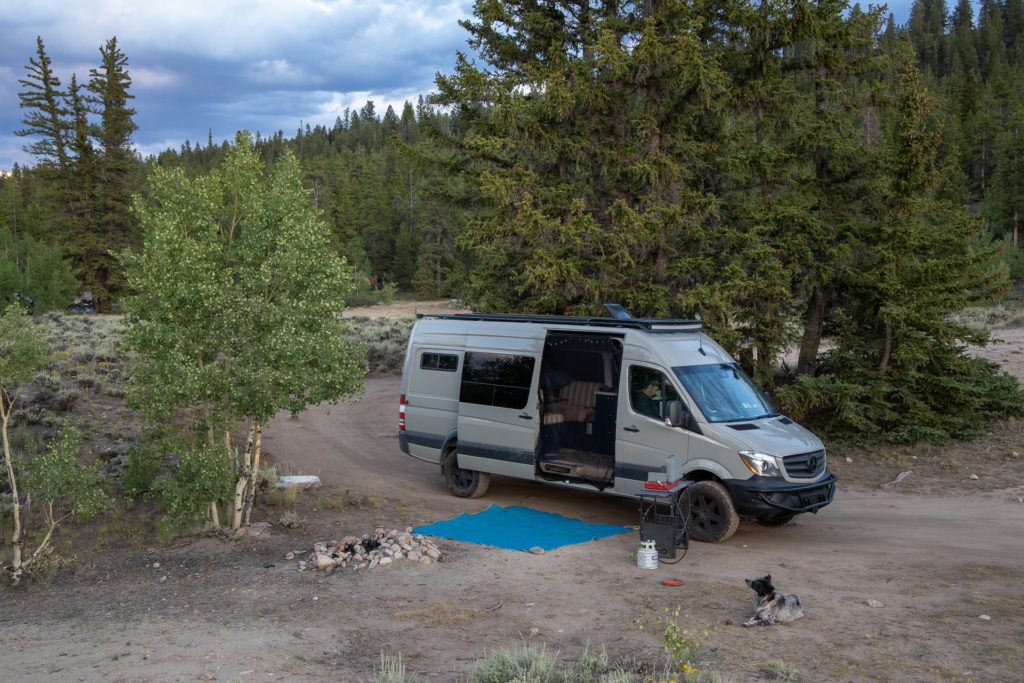 One Final Word on Dispersed Free Camping
One of the reasons you'll enjoy dispersed camping so much is because of its lack of human presence. In reality, dispersed camping is camping at its finest -stunning backdrops and the brilliant night sky without the common distractions of our bustling world. Please use Leave No Trace principles to ensure your favorite rugged locations stay wild for years to come. And make sure you leave your plans with someone. Tell a friend or family member where you plan to camp and when you plan to return. Happy adventures!