Van Life Clothing Packing Checklist
Packing for van life? Learn what clothes you need with this functional and versatile van life clothing checklist.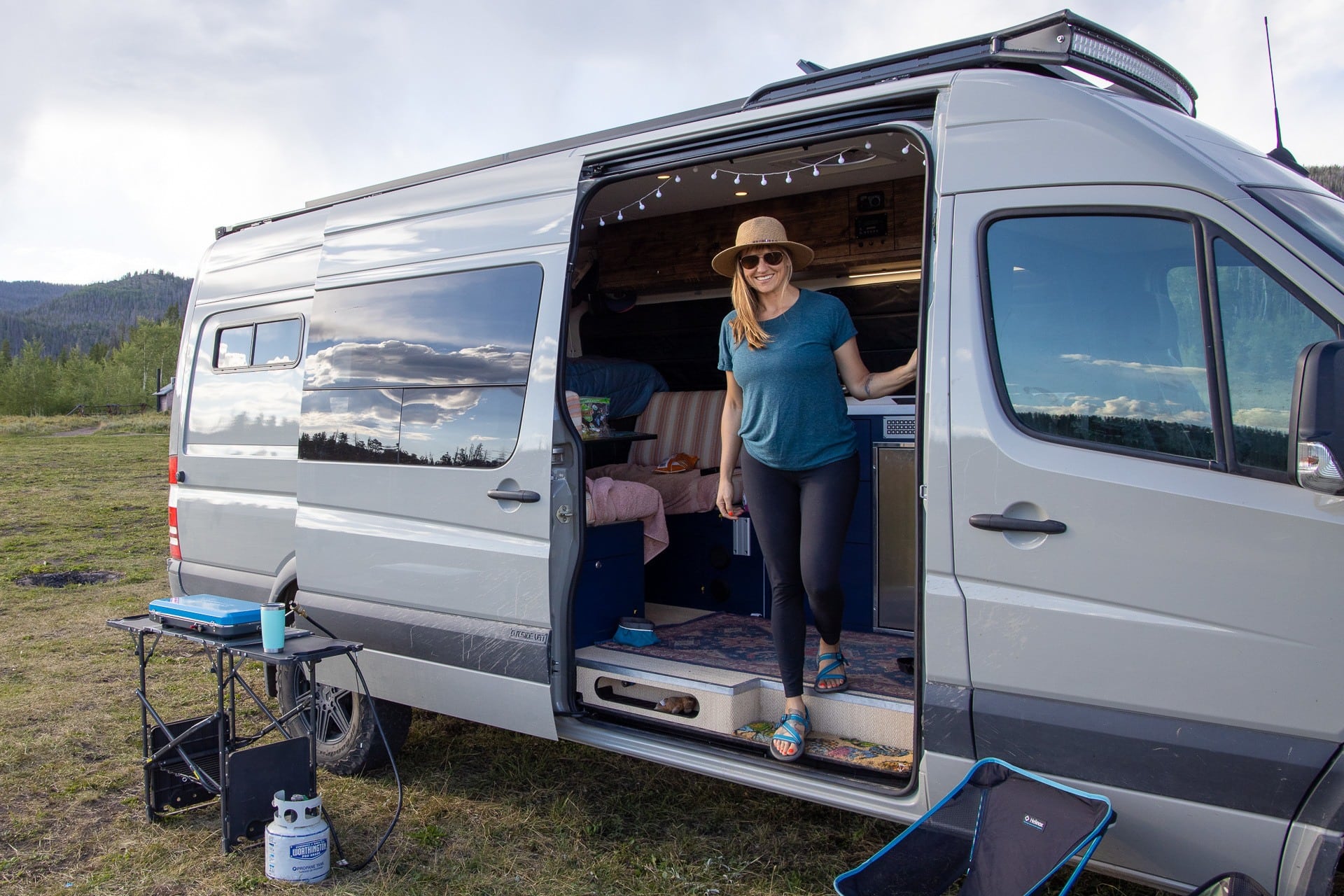 Downsizing your closet for van life might seem overwhelming if it's your first time planning an extended road trip. When I packed up my apartment and moved into my first Sprinter Van back in 2016, I had no idea where to start. The result was clothing overflowing out of every cabinet and a lot of excess stuff that I never wore. My van felt cluttered, and all that space could have been used for something else that brought me more joy.
Now that I've been doing van life on and off for the last six years, I've learned exactly what van life clothing I need to get by. I feel good about what I'm wearing, feel prepared for nearly any adventure, and my van doesn't feel cluttered with clothing.
---
How to Downsize Your Van Wardrobe
The kind of lifestyle you'll be living will impact the sort of clothing you need to bring. If you anticipate spending a lot of time in urban areas, you might feel inclined to be more fashionable over functional. I understand that fashion brings some people a lot of joy, but I'll be talking less about fashion and more about functional, comfortable, packable clothing that will make your life on the road easier.
Of course, you might have a situation that requires you to have specific clothing, like if you'll be working from the road for example, so the idea is that after reading these packing tips, you'll be able to discern what items you need to bring, including some special pieces if that's important to you.
A good rule of thumb to follow is if you don't wear it a lot at home, you'll probably never wear it on the road. You're going to be spending a lot of time in the clothing you do bring, so it's important that you really love it and that it's comfortable. Otherwise, it will just end up taking up space in your van and collecting dust.
Another consideration when packing for van life is that you'll also want to pack for the specific activities you enjoy. If you want to hike or bike a lot, bring the clothing and shoes you need to be comfortable doing that. Also keep in mind the weather and seasons you'll be traveling in – if you are chasing powder in the winter, pack accordingly, or know when you'll be swapping out your winter and summer gear.
---
Van Life Clothing Tips
For fabrics, if you plan to spend a lot of time doing outdoor activities, quick-dry, athletic-style fabrics are great because you can give them a quick rinse and hand wash them when needed, and they don't get super stinky after one use. It's okay, and actually expected, to wear things multiple times between washes, as this will reduce the amount of time you have to spend in the laundromat or hand washing your laundry.
Generally, easy-to-clean, machine-washable, wrinkle-free materials are best. For me, dry cleaning items are a no-go. With undergarments, you'll also want to pay attention to fabrics. Again, quick dry means you can easily hand wash, which can help buy you a few extra days in between trips to the laundromat.
In addition to easy-to-wash fabrics, I recommend keeping things simple by sticking to solid colors and patterns that coordinate with your other pieces so you can mix and match. That way, you'll also easily be able to layer your items as the weather gets colder so you can be prepared for all seasons.
Think multipurpose and versatile, you'll save space and time getting ready, too.
And finally, choose pieces that aren't bulky; your storage space will quickly seem even smaller once you start packing your stuff in. This is especially noticeable with jackets and larger sweaters.
---
How to Organize Your Van Life Clothing
I've been using packing cubes for a while, and they're great for categorizing different types of clothing. You can keep tops in one, bottoms in another, and city-style clothes in a third. Then have another one for underwear and socks. If you're sharing your van with a partner, color-code your packing cubes to make it even easier to distinguish whose clothes are whose.
The cube limits the amount of stuff you can squeeze in – once it's full, that's it, and it prevents you from having to dig through everything to find what you're looking for. Besides the packing cubes, I do keep one small duffel bag in the garage with seasonal wear – like warmer wintery stuff – that I will swap out when the weather starts to turn.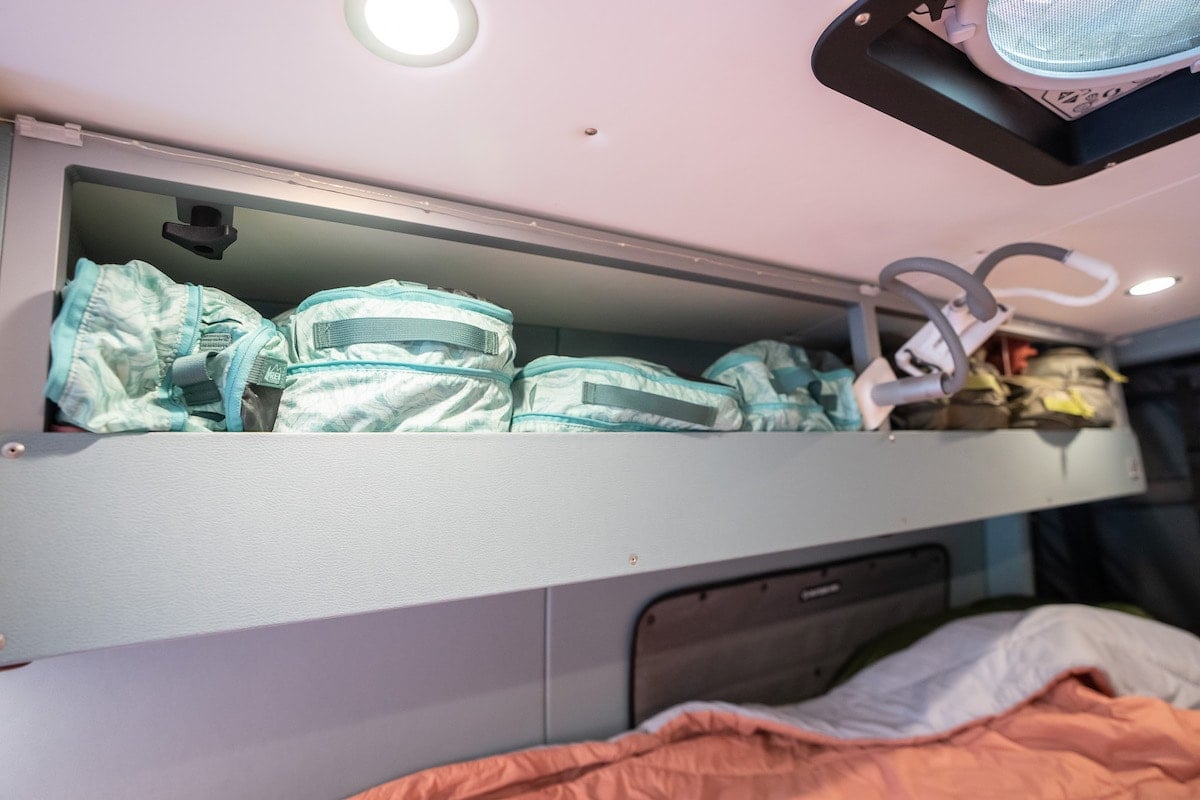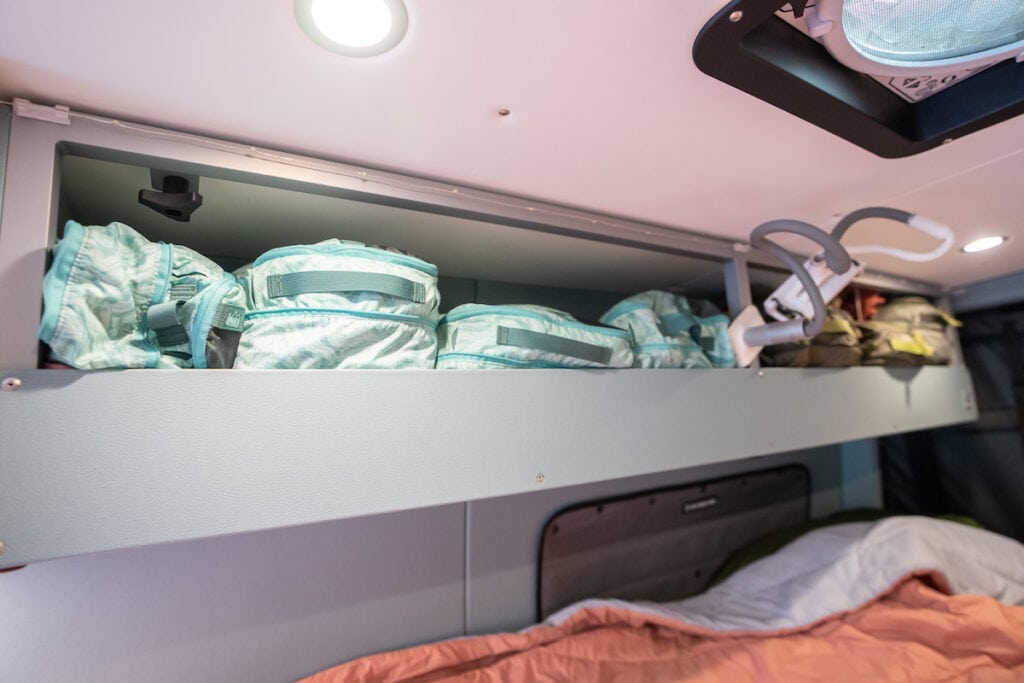 ---
Van Life Shirts & Tops
Most of my shirts are made of synthetic materials that dry quickly, don't stink, and don't wrinkle. I choose looser fabrics to keep me cool when I'm being active and stick to colors that hide dirt. Once I find a piece I like, I usually buy it in a few different colors. Almost all of my short sleeve shirts are the Patagonia Cool Capilene Tees with different colors and designs. I know I like the way they fit and feel, so I'm never favoring one shirt over another.
Here are the shirts & tops I pack in my van:
Many of these items can be found in our What To Wear Hiking blog post – I love clothing that you can easily go from trail-to-town in.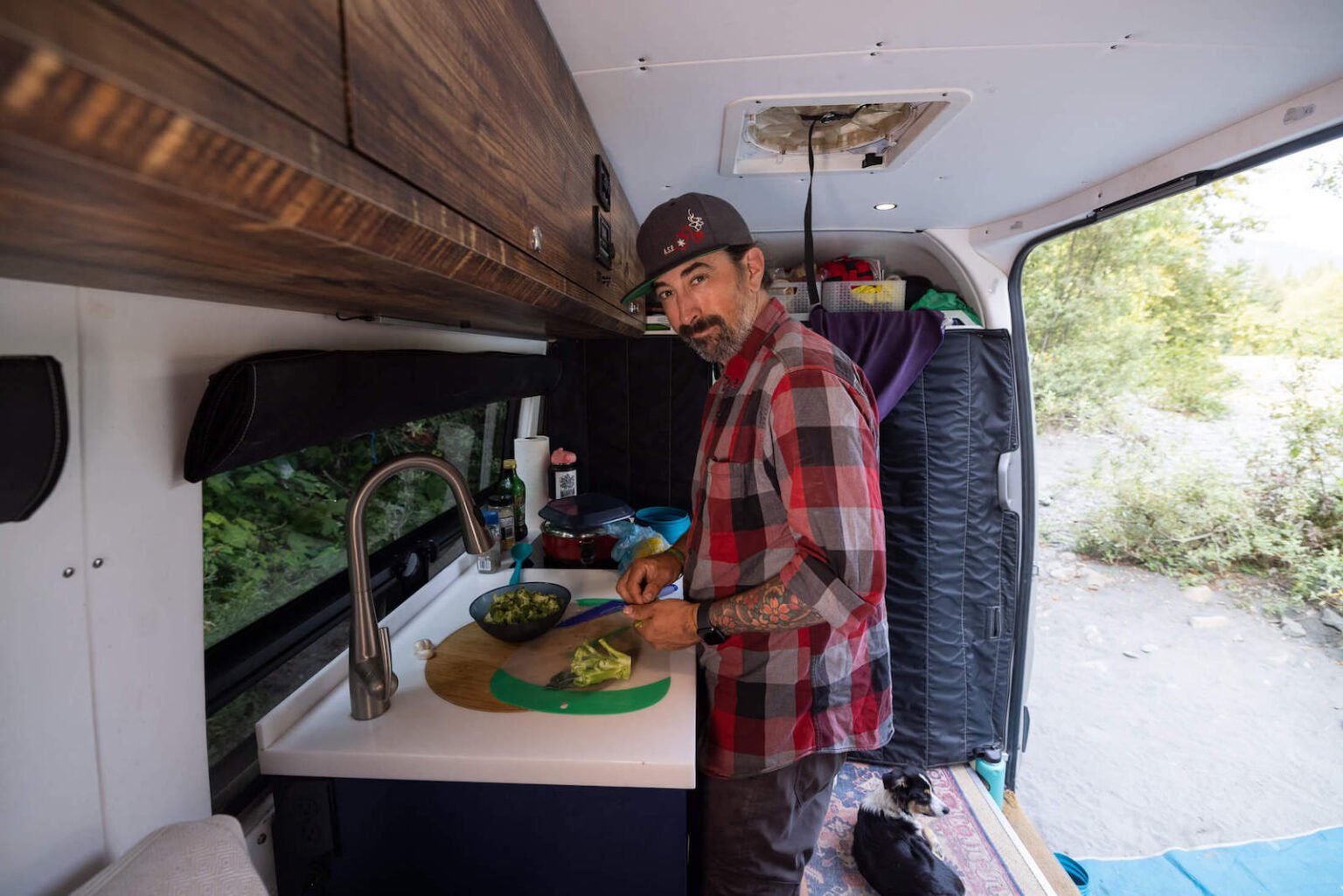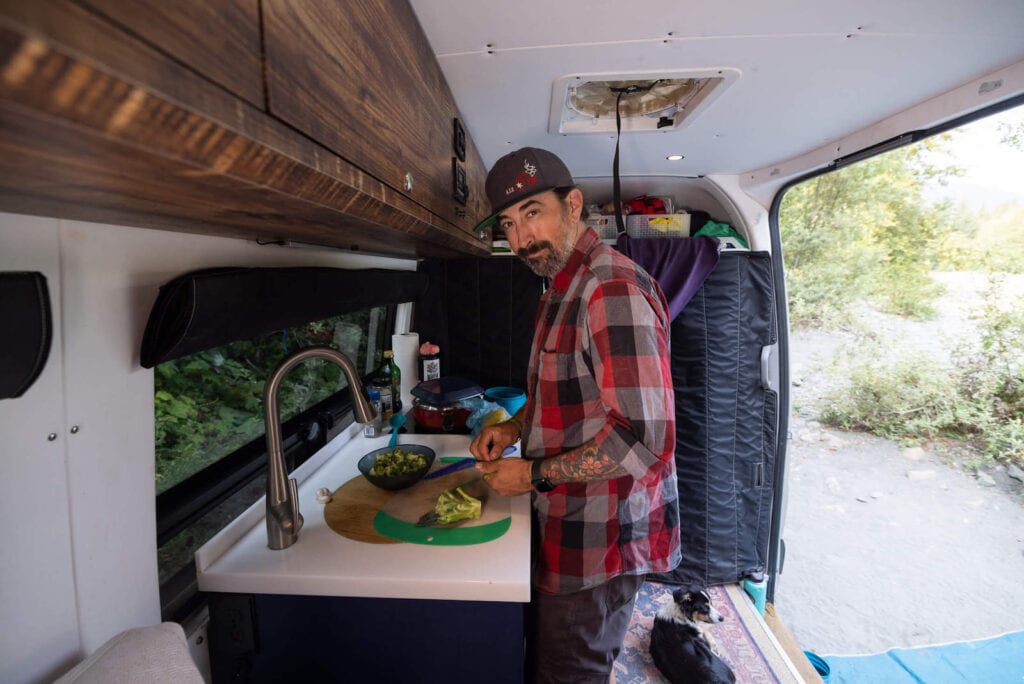 ---
Van Life Pants & Shorts
If you hike a lot, you'll want to focus on functional shorts and pants that are comfortable on the trail. I try to keep the colors of my pants basic and solid – usually black. That way, they go with any color top I want. I prefer leggings, but if that's not your style, look for something basic that you'll enjoy wearing day after day.
Here are the pants & shorts I pack in my van:
For more legwear recommendations, check out our roundup of the best women's hiking pants.
Van Life Undergarments
Undergarments take up very little room and you don't want "no clean underwear" being the reason you have to spend the day at the laundromat. This is also why you'll want underwear that are made of moisture-wicking, quick-dry material, so you can wash them in the sink if necessary. Comfort is key. You want to be able to sweat and move and not be constantly adjusting. For bras, I wear a sports bra every day, and I only have 1 normal bra that I wear for city outings.
Here are the undergarments I pack in my van:
For additional underwear recommendations, check out our guide to the best women's underwear for outdoor adventures.
---
Van Life Outerwear
Evenings in the mountains (even in summer) can be really chilly. It's important that you have a warm jacket and waterproof layers for rain. I personally get cold, and with the transition of seasons, I need to layer up. In order to keep my packing cubes organized, I keep bulkier, seasonal outerwear that I'm not wearing every day in a duffel bag in our van garage.
Here are the outwear pieces I pack for van life:
To see more outerwear recommendations, check out our posts on the best women's rain jackets and synthetic down jackets.
Van Life Accessories
Start with 3 hats you really like – including a baseball hat for hiking, a sun hat for keeping the sun off your face when you are at camp, and a warm beanie for nights. For people who like to spend time on the water, bring a swimsuit or two that you love and a rashguard to protect your skin. Finally, every van lifer needs a cute fanny pack. Once you go hands-free, you'll never go back to a normal purse.
Here are the van life accessories I pack: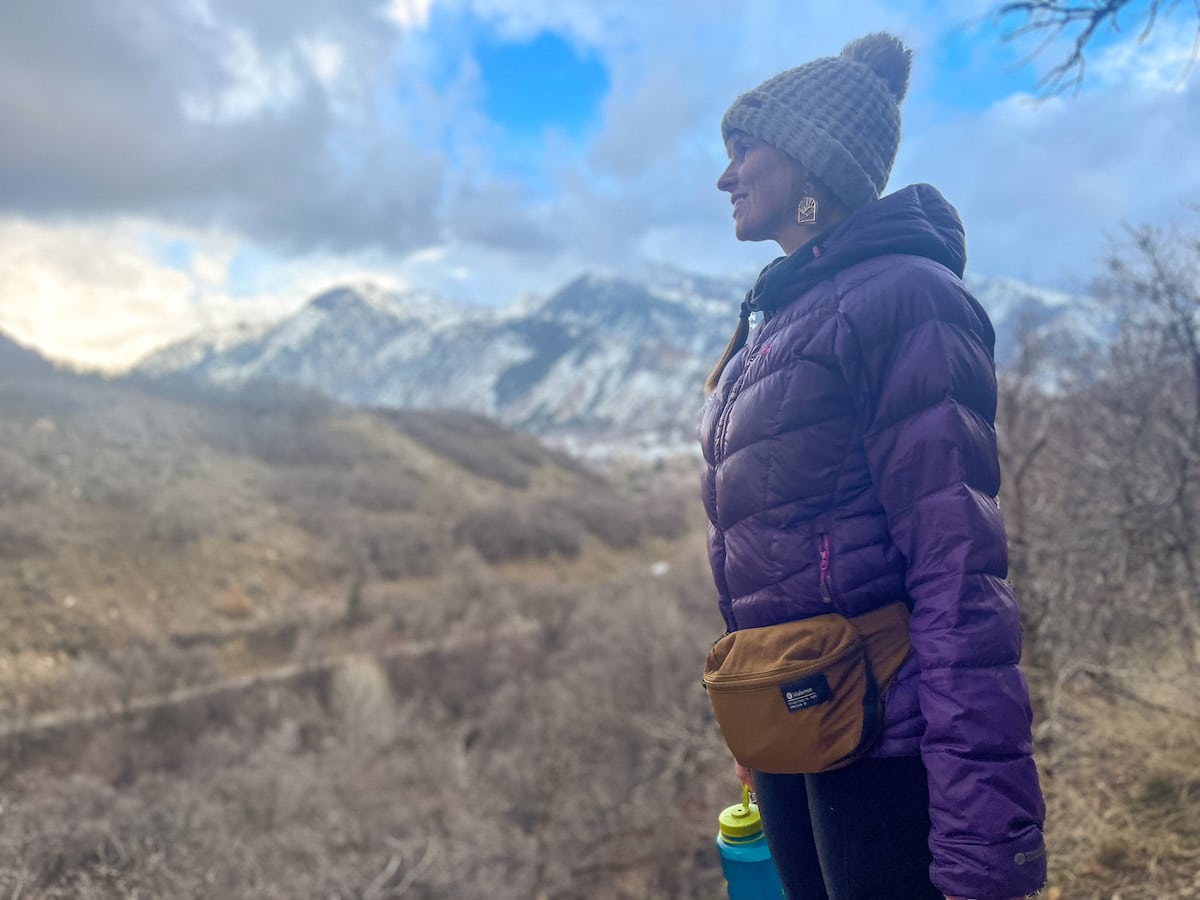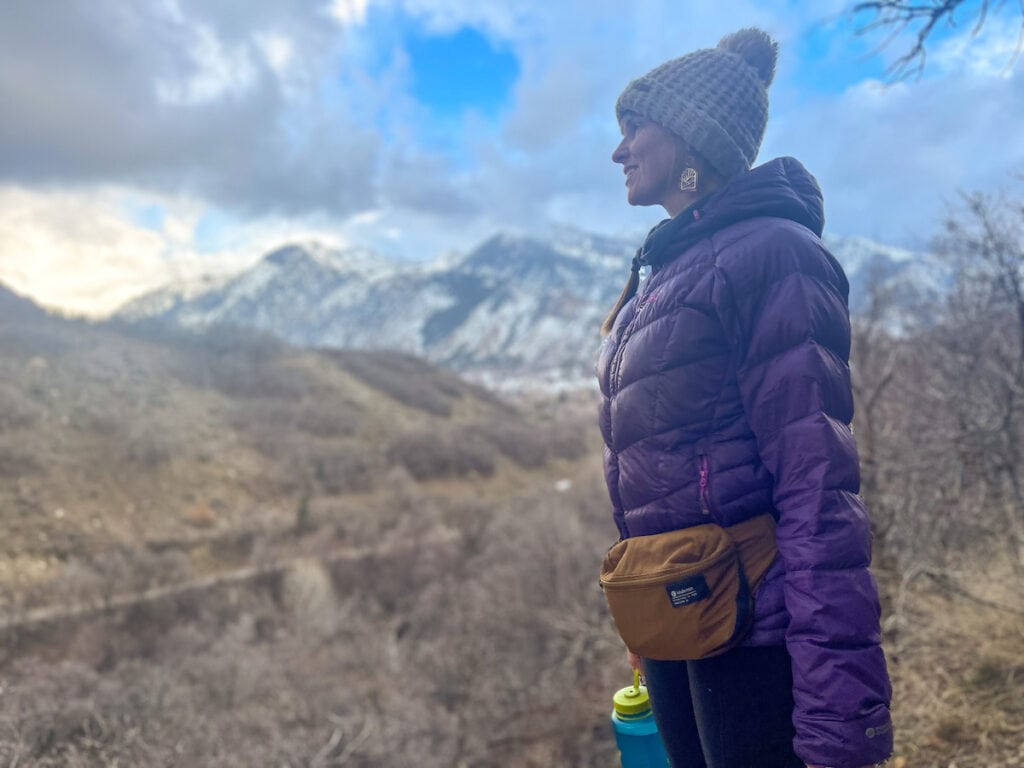 For additional fanny pack recommendations, check out our roundup of the best fanny packs for hiking & travel.
---
Van Life Shoes
Shoes take up a surprising amount of room, so it's important to pair them down to what you really need. To give you an idea, we have a large rectangular hamper for our shoes in our van and it's full.
Most days, you'll find me in sandals or my low-ankle hiking shoe. For longer hikes and backpacking trips, I also keep my heartier hiking boots in the van.
In addition, I have a pair of closed-toe water shoes that I wear when I'm doing river activities and a pair of cuter strappy sandals that I can dress up.
Because shoes take up so much room and aren't able to be compressed down, it's especially important to only bring what you need and will actually wear when packing for van life.
Here are the shoes I pack in my van:
To get more shoe recommendations, check out our roundup of the best women's hiking shoes.
---
"Going-Out Clothes"
We don't go out all that often, and very rarely do we "dress up." Still, I like to keep a couple of options in the van for unexpected occasions, concerts, or for going out to a nice dinner. For this, I have a couple of nicer tops, a warmer sweater for evenings, and one sundress.
I try to buy these items from sustainable outdoor brands to minimize my impact and buy long-lasting clothing.
Here are the "going out" clothes I pack in my van:
Looking for additional life gear recs? Here's our top picks:
Are we missing anything from our van life clothing packing list? Let us know in the comments, and be sure to sign up for our weekly van life newsletter!