Where to camp in Moab: Best Campgrounds & Glamping (+ Airbnb Options)
Moab, Utah is a epicenter for outdoor adventure activities. You can visit 2 National Parks, hike, rock climb, go white water rafting, and mountain bike all within one vacation. In this blog post, we share recommendations for where to stay in Moab whether you are looking for the best Moab campgrounds, a cool glamping spot, or a cozy Airbnb option.
Best Moab Campgrounds on Public Land
Arches National Park Campground
Arches National Park is famous for its night sky, just one of the many reasons you should stay in the park. Devils Garden Campground features 50 sites which are $25 per night and can accommodate up to 10 people. When I drove through last Spring I was impressed by the views and how spread out some of the sites were. Note that the campground fills up very quickly during peak season so make sure to book far in advance on their reservation website. Devil's Garden Campground will also be closed March 1st to November 30th, 2017 due to the road construction.
Canyonlands National Park Campgrounds
Canyonlands National Park has two campgrounds; one at The Needles and one at Island in the Sky. The Willow Flat campground, in the Island in the Sky area of Canyonlands, is only 30 minutes from Moab, Utah and offers 12 sites that are all available first-come, first-serve.
The Squaw Flat Campground, in the Needles District of Canyonlands, is over an hour from Moab, Utah but it does offer 26 campsites on 2 loops. Loop A is open year-round and loop B is only open Spring through the Fall. You can reserve campsite in Loop A on recreation.gov, campsite on Loop B are available first-come, first-serve.
Canyonlands, unlike Arches National Park, offers ample opportunities for remote backcountry camping. Permits are required for backcountry camping, and more information can be found on the Canyonlands website.

Dead Horse Point State Park Campground
Dead Horse Point sits 2,000 feet above a twist in the Colorado River and Canyonlands National Park. Sunset views up here really can't be beat, making it one of the best Moab campgrounds. The Kayenta campgrounds, which is nestled in a grove of juniper trees, offers 21 sites for $35 a night. Reservations can be made online. All sites are lightly shaded, have campfire rings, and they even have RV electrical hook-ups available. And best part yet? Numerous trails lead directly from the campground to explore the park.

Moab BLM Campgrounds
The Bureau of Land Management maintains 24 campgrounds in the Moab area. Closest to Moab, UT is Goose Island Campground (which is the only one on the river that has cell service or 3G access, if that matters). The largest is Big Bend Campground (about 15 minutes from Moab, UT) with 23 sites. All campsites are first come, first serve and many are right on the river. During the busy season, the campgrounds will be full by noon, so make sure you arrive early to snag a spot. All BLM campgrounds are open year-round, have vault toilets and fire rings. Unlike other dispersed BLM camping in Southern Utah, these BLM sites are not free. Individual sites are $15 per night. Check out this handy map of all BLM campgrounds.
The Sand Flats recreation area just east of town near the Slickrock Bike Trail also has a ton of camping. Sites here are nicely spread out and cost $15 per night, but I should note this area is very popular with ATVers and can get noisy.
Free Moab campgrounds
Campsites can be expensive and can add up quickly, especially if you're planning a long trip. Moab is surrounded by public land and is a goldmine for dispersed camping. Dispersed camping, aka free campsites, are available if you venture a little further out of town. One of the closest free campgrounds to Moab is Willow Springs road, just north of the turnoff to Dead Horse Point. Use our ultimate guide to finding free campsites in the US to help you find an awesome free campsite during your next trip to Moab.
Popular Private Moab Campgrounds
During the busy season, the private campgrounds in Moab can be a little pricey, but they are great in a pinch when everything else is full or you want to stay right in town.
Up The Creek Campground
Up the Creek Campground offers tent only sites beside a perennial stream and underneath large cottonwood trees. They also offer fully furnished luxury tents with a queen bed or two twins! One of the best things about Up The Creek is their location, they are just two blocks from Main Street which means you can go grab dinner and a beer or catch some live music at Woody's Tavern and stroll back to your campsite at the end of the night.
ACT Campground
Whether you want an RV site, a tent site or even a cabin-style room, ACT Campground in Moab is another popular option! Most recently they've added an Aistream trailer and a 30 foot Yurt as additional accommodation options. Our favorite part of ACT is that they have a common area kitchen for all guests that includes two gas ranges, sinks and eating areas. The campground strives to be as environmentally friendly as possible, utilizing solar power, recycling their waste, and implementing efforts to conserve water.
Best Camping near Moab In the Summer Heat
If you find yourself in Moab in the middle of summer, expect temperatures to be sweltering. Your best bet to escape the heat is to head east of Moab up into the La Sal mountains.
Warner Lake is an awesome public campground to beat the summer heat, with an elevation of 9,200 feet. It has 22 sites that can be reserved online. Note that in 2017, there is no drinking or washing water available at Warner Campground, so bring your own.
Best Glamping in Moab
If you don't want to camp, Dead Horse Point also has three new yurts. I stayed in one 2 years ago the night before my White Rim Trail biking trip, and it was awesome. Our Yurt had a deck and grill and room for 6 people to sleep. Rates vary from $99-120 per night depending on the season.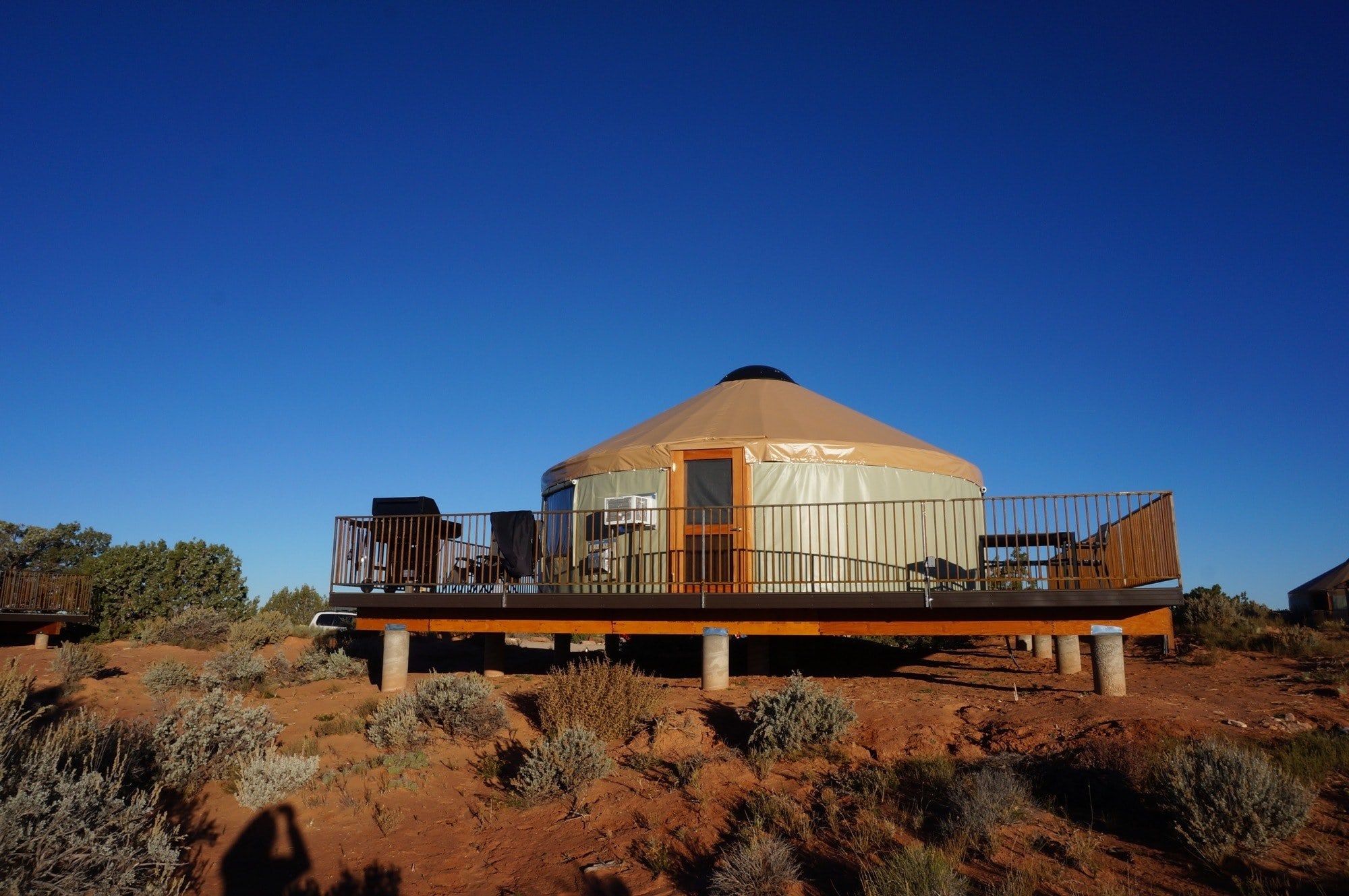 Moab AirBnB Options
** and if you are new to AirBnB, save $40 off your first stay by signing up at this link **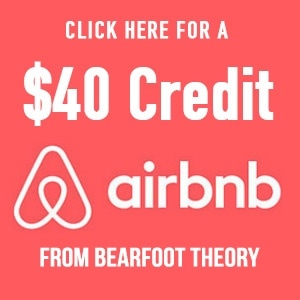 Only 3 miles from the Moab city center this small guest suite hidden in a quiet country neighborhood will give you the ultimate opportunity to rest and relax before another day of adventures. For only $49 a night, you'll get a cute little studio surrounding by trees, making you forget you're in the desert.
 In case you want to be right in the heart of town, this 1 bedroom modern duplex rental is just a block from Main Street. That means you can park once and walk just 5 minutes to rent bikes at Chile Pepper's bike shop to get you all around town for plenty of adventures. The open air patio with BBQ is great for enjoying evenings under the stars.
  Heading on an adventure with a group? This desert townhouse is just minutes from the center of Moab. This AirBnB rental has 3 bedrooms for only $150 a night. It even includes access to a pool and jacuzzi, a must if you plan to visit in the hot summer months!
GOT QUESTIONS? WHERE ARE YOUR FAVORITE PLACES TO STAY IN MOAB? LEAVE A COMMENT BELOW, TWEET ME, OR WRITE ME A POST ON FACEBOOK.

Bearfoot Theory is a big proponent of Leave No Trace. Learn how to reduce your impact on the environment so we can save these special places for future generations of adventurers.