Three Awesome Hikes in Escalante
Grand Staircase-Escalante National Monument is one of those places in Utah that a lot of people have never heard of. It often gets overshadowed by the places with National Park status such as Zion, Bryce, and Arches. But that doesn't mean that Escalante should fall to the bottom of your list.
During my first visit to Escalante in October, I was shocked to find waterfalls, icy rivers, endless miles of slick rock, isolated camping, and some of the craziest canyons I've ever traveled through. In three days, I crammed in as many highlights as I could, and I still feel like I only scraped the surface.
If you are planning your first trip to Escalante and want to do some hiking, here's three trail options to get you started. All of these hikes are non-technical, so all you need is water, your hiking shoes, and a camera, and you'll be ready to explore some of Utah's finest landscapes.
Getting to Escalante National Monument
Grand Staircase-Escalante National Monument is a 3.5-hour drive from Las Vegas. It's in close proximity to the Grand Canyon, Zion National Park, and Bryce National Park with far fewer crowds. Ther are four visitor centers for Escalante; one in Big Water, Cannonville, Kanab and the town of Escalante.

The Hikes
(1) Lower Calf Creek Falls
The trail to Lower Calf Creek Falls is one of the more accessible hikes in Escalante, as the trailhead is directly on the main highway. This 6 mile round-trip trail travels through a broad but beautiful canyon, leading to a soaring 126-foot waterfall. A majority of the trail is flat and easy, making it a great hike for beginners.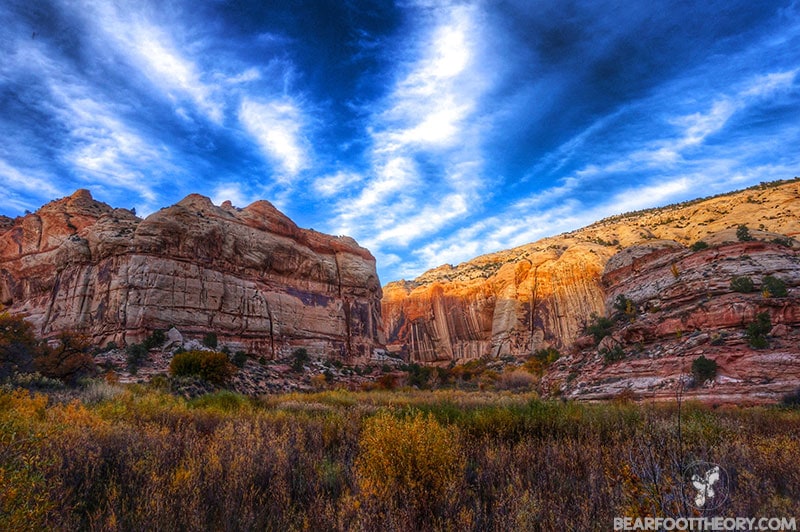 Once you reach the falls, you'll be tempted by the inviting pool that forms below the waterfall, but be prepared to brave the cold. And even those who aren't up for a swim will be mesmerized by the amphitheater's colorful walls.
Getting to Lower Calf Creek Falls
The trailhead is located 15 miles from the town of Escalante on Highway 12. Park at the Calf Creek Recreation Area, see map above.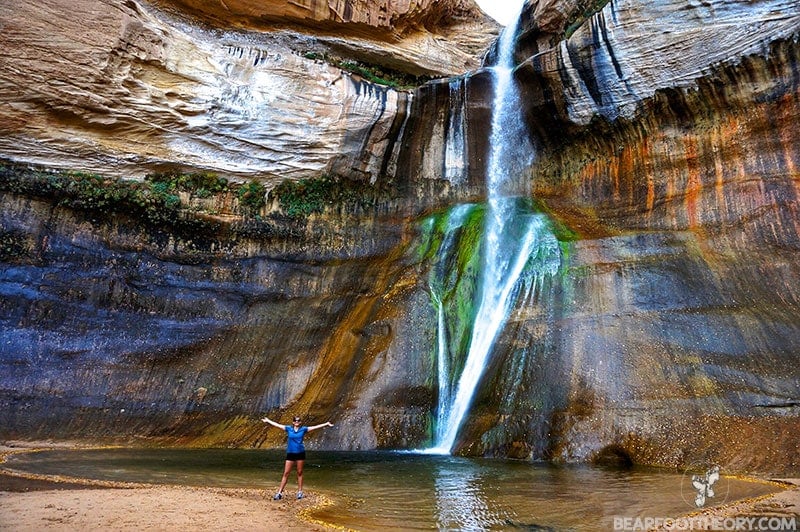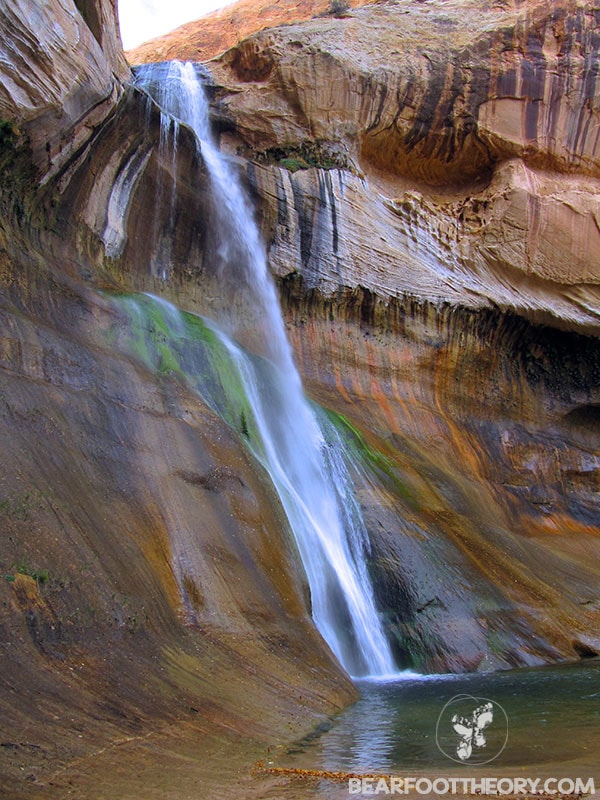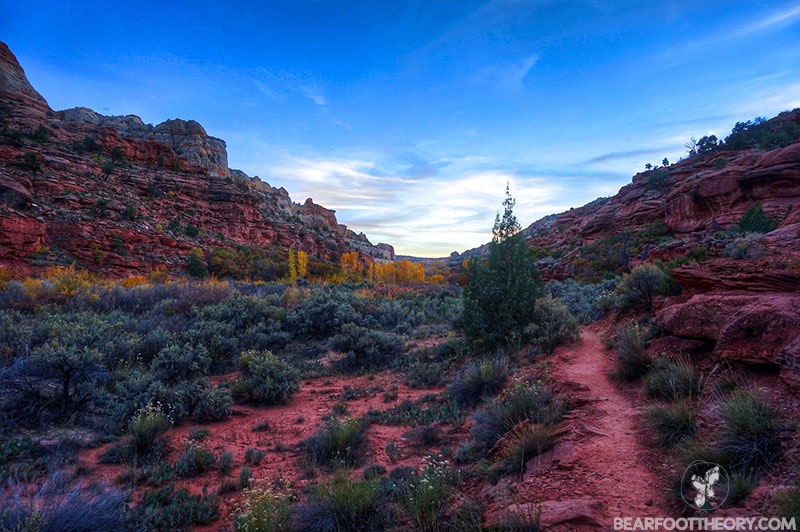 (2) Neon Canyon / Golden Cathedral
This is a moderately challenging hike in Escalante, mostly due to the distance and the ascent as you make your way back to the trailhead. There are also a few navigational challenges, but as long as you have a map and pay close attention to your surroundings, you should be ok. This 9 mile round trip trail begins with an immediate and steep descent down into a slickrock bowl. After this initial descent, the elevation change becomes gradual again until the last drop down to the Escalante River. As you make your way towards the Escalante River, you are treated with vast views of the red landscape that makes up the National Monument. Notice the rock cairns (small stacks of rocks) that mark the location of the trail. Keep an eye on these, since they will let you know that you are still on track with the trail.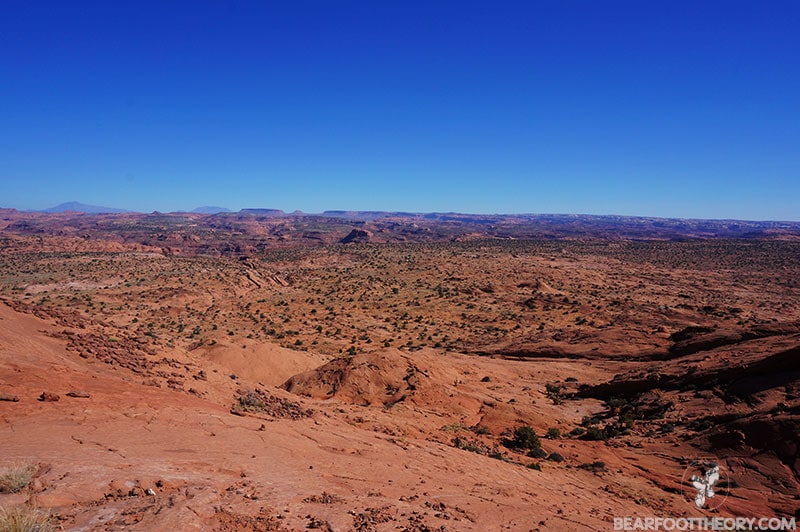 Once you reach the Escalante River, be prepared to wade downriver, eventually crossing, sometimes in knee-deep water. The current wasn't swift, but conditions can change depending on the time of year. I suggest bringing a pair of Tevas or other water sandals that you can change into once you get to this point. Also feel free to pick up a walking stick that you can use to probe the river bottom and help maintain your balance.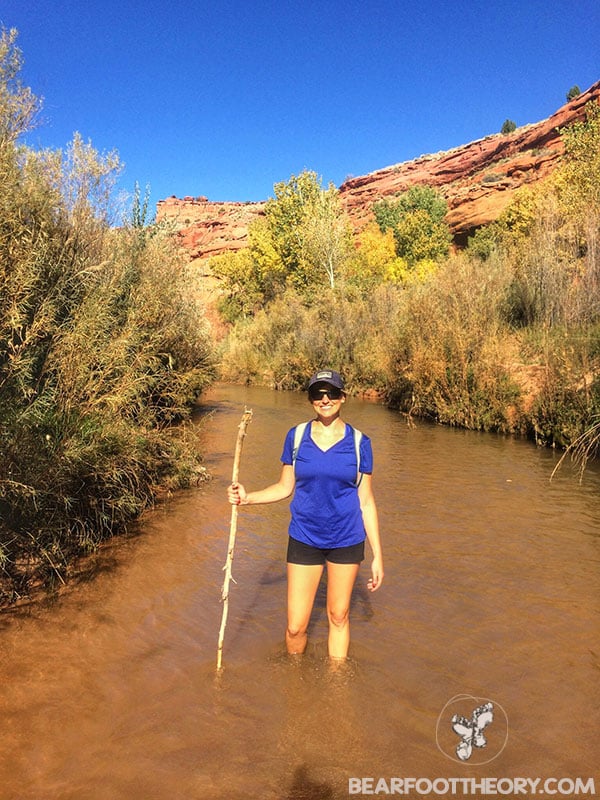 After a few crossings, keep an eye out on the left for the opening to Neon Canyon. This is where the landscape really starts to get interesting. As you travel deeper into Neon Canyon, you'll find huge boulders scattered throughout, and canyon walls rapidly rise, making you feel very small.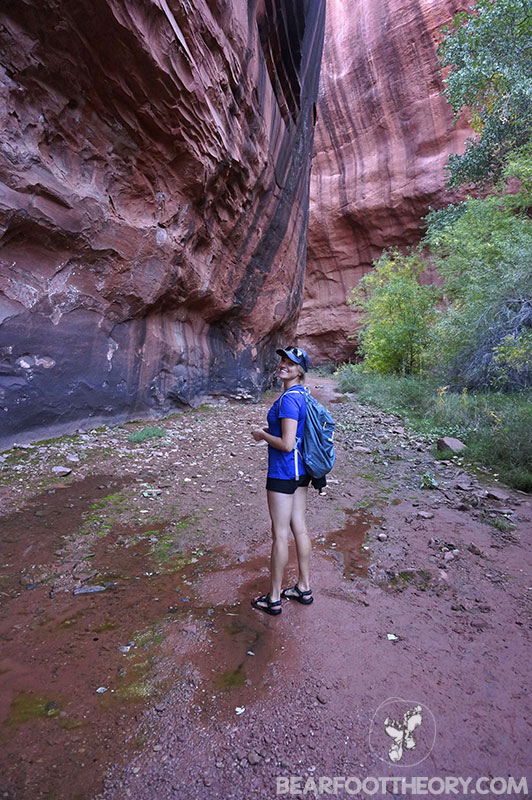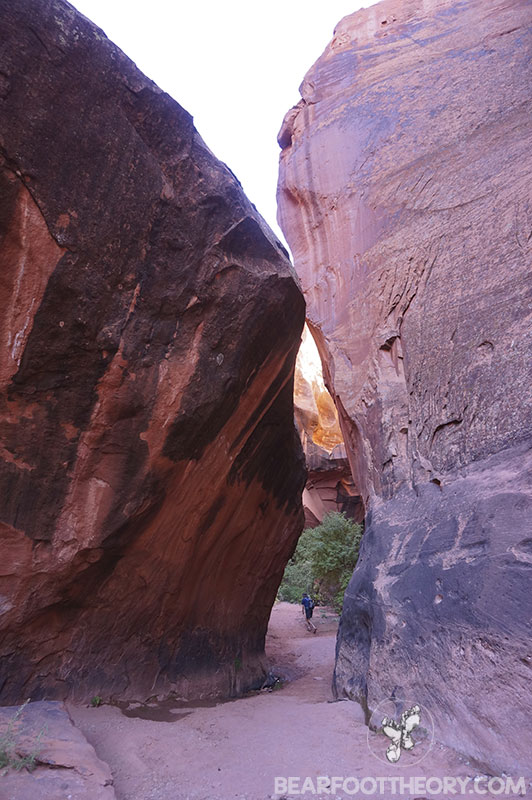 The grand finale of this hike is the Golden Cathedral, located at the end of Neon Canyon. This is a mind-blowing grotto whose ceiling contains two cavernous holes. If you arrive at the right time of day when the sun is at the right angle, the sun beams through the holes lighting up the canyon walls and emerald pool below.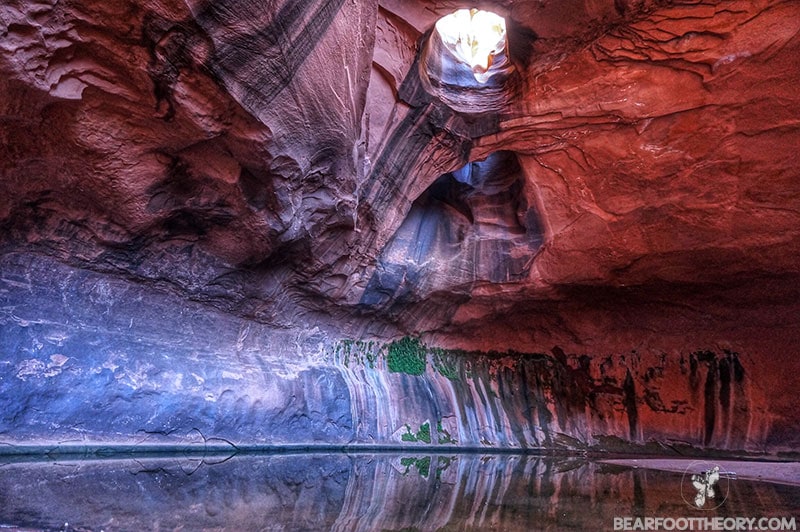 Once you are ready to head back, retrace your footsteps, fording the Escalante River again until you get back to the main trail. Then start your ascent back up.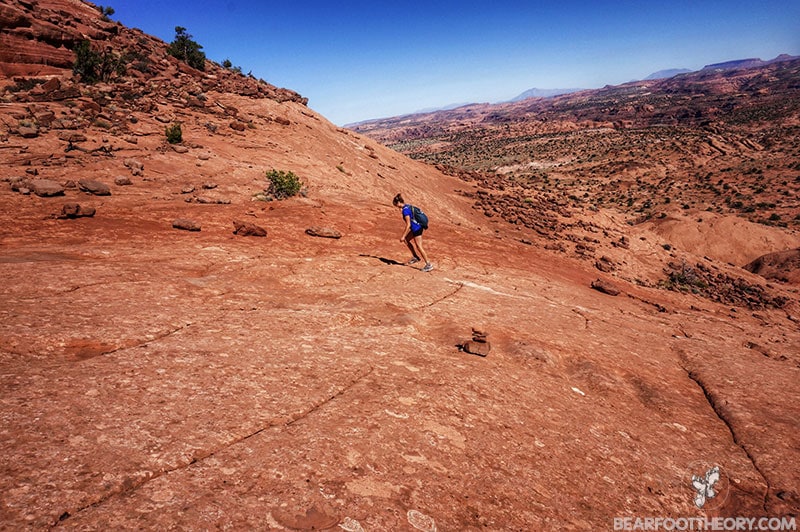 Be sure to give yourself plenty of time. This hike took longer than we expected and with our 112:30 pmstart, we ended up making the final push in the dark. Avoid this by starting early and bring a headlamp just in case.
Getting to Neon Canyon & Golden Cathedral
The trailhead to Neon Canyon takes some effort to get to, but it is worth it. First, you must drive 16.3 miles down Hole-in-the-Rock Road. Hold-in-the-Rock Road intersects with HWY 12. After driving 16.3 miles down Hole-in-the-Rock Road, take a left on Egypt Bench Road and drive another 9.9 miles down Egypt Bench Road. This took us over an hour in a Toyota 4-Runner, and I would not suggest attempting Egypt Bench Road unless you have a 4WD, high-clearance vehicle.
(3) Peek-a-boo and Spooky Gulches

Escalante is also home to some of the narrowest non-technical and easily accessible slot canyons in Southern Utah. Peek-a-boo and Spooky Gulches are just a short hike from the trailhead and can be explored in just a few hours.
When you first hit the trail, you will follow the frequent rock cairns down into Dry Fork Coyote Gulch. Once down into the dry bed, turn right, go about 100 yards, and Peek-a-boo Gulch will be there on your left.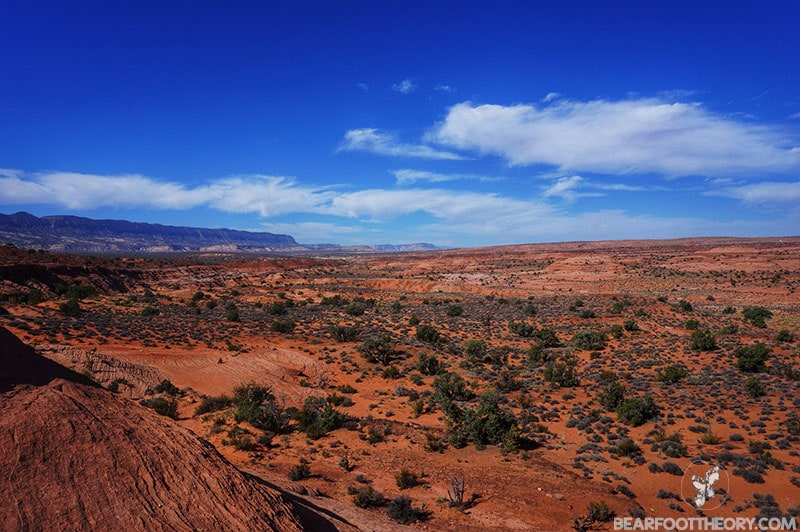 The initial entrance into Peek-a-boo requires stretching those legs and a bit of fancy footwork, but once you are in, the canyon is easy, taking about 30 minutes to reach the end.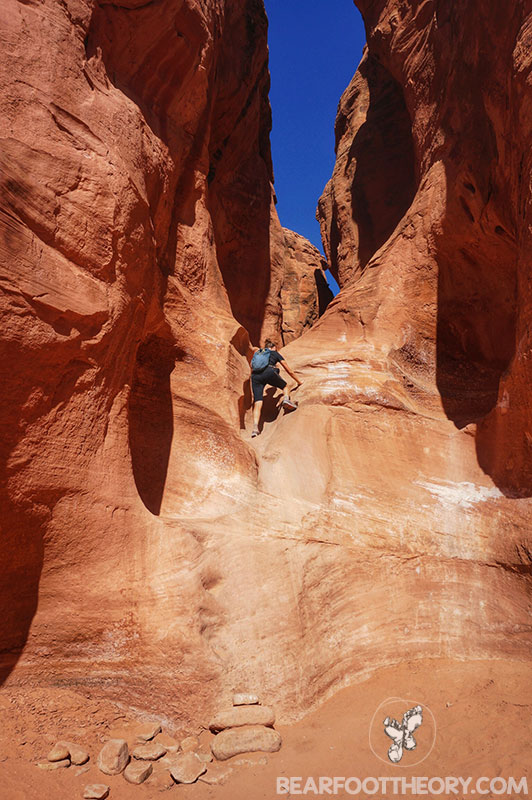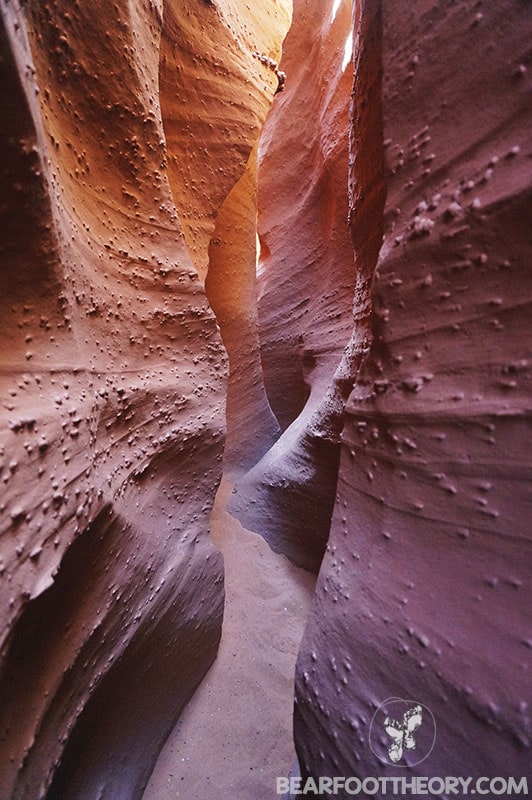 Rather than turning around and heading back the way you came, go right when you exit Peek-a-boo and follow a low ridge for about 15 minutes until you reach a sandy wash.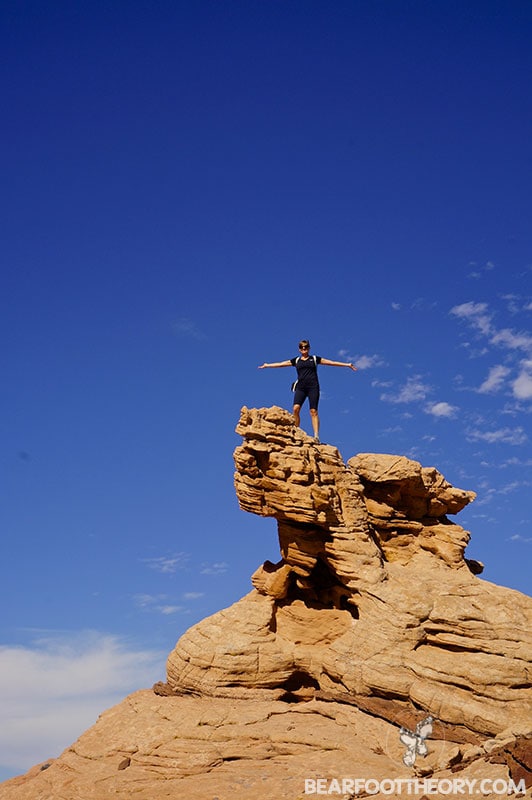 Here you should turn right again and follow the wash until you reach the top end of the second slot canyon called Spooky Gulch. This slot canyon is longer, darker, more narrow, and slightly more technical than Peek-a-boo.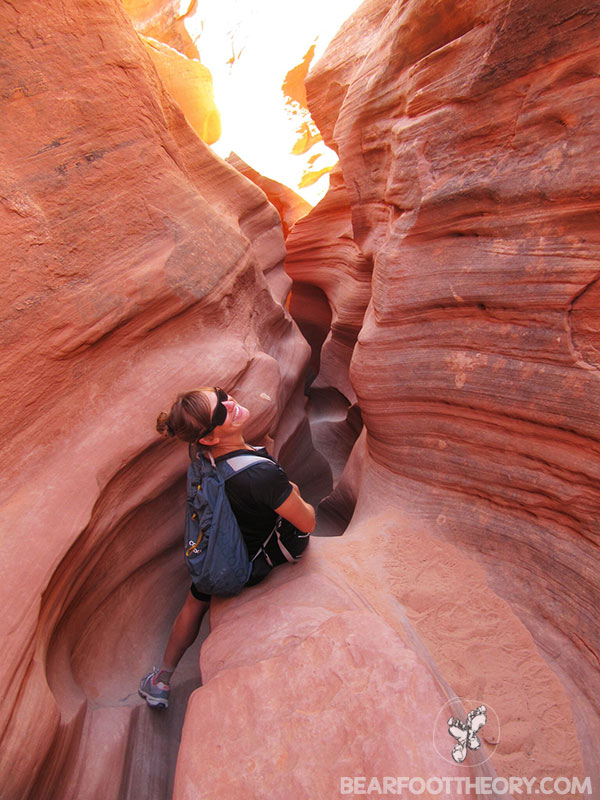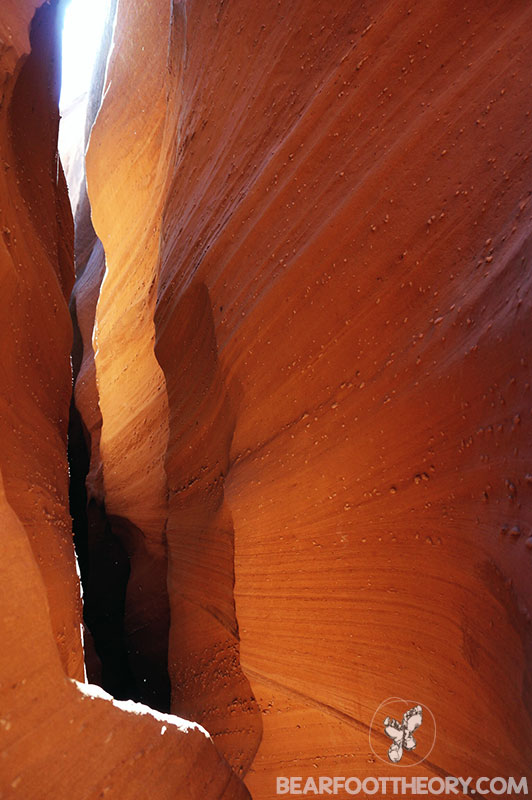 The sandstone patterns and textures in these two slot canyons offered some pretty remarkable photo ops. Visit in midday for the best sunlight. Also in Spooky Gulch, there were a few spots that were a little tricky, so if at any point you feel uncomfortable, simply turn around and come back down Peek-a-boo instead.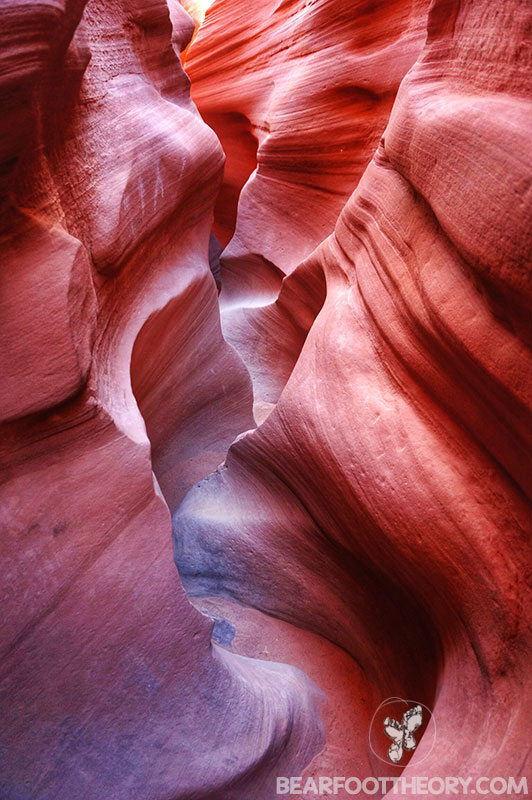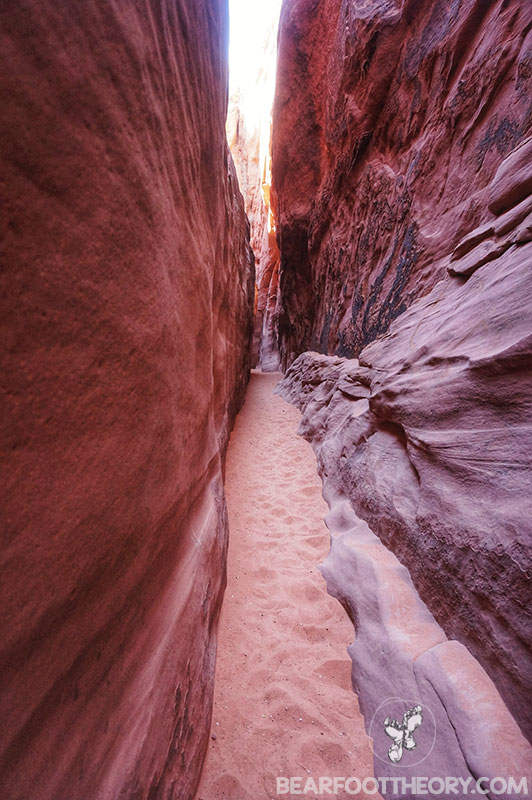 There is also a third slot canyon called Brimstone Gulch that we didn't have time to explore. I hear that this often has deep pools of water that make passage impossible during certain seasons. This is also the narrowest of the three slot canyons. If you are feeling adventurous, go explore Brimstone until it gets too narrow or wet to continue.
Getting to Peek-A-Boo & Spooky Gulches
To get to the Dry Fork Coyote Gulch trailhead you'll drive 26 miles down Hole-in-the-Rock Road. Make a left on the dirt road headed towards Dry Fork Coyote Gulch. When you come to the fork, go left and reach the road's end and trailhead parking at 1.7 miles. A 4WD vehicle is recommended for this hike. However, a regular car under normal conditions can make it most of the way there. At whatever point it gets too rough on the road to Dry Fork Coyote Gulch, park and walk the rest of the way to the trailhead. It might add a little bit of distance to your hike, but once you are hiking in those slot canyons, you'll have no regrets.
Where to Stay in Escalante
There are two main established car campgrounds within Escalante National Monument. The first is at the Lower Calf Creek Falls Trailhead . Sites here are $15 per night and are first-come, first-served. The other is the Deer Creek Campground located 9 miles southeast of Boulder on the Burr Trail, which is a paved county road. Sites here are $10 per night and also first-come, first-served.
If you are looking for something a little more off-the-beaten-path, one of the really great things about Escalante is that it is managed but Bureau of Land Management (BLM) and there are numerous free campsites scattered throughout the monument. All of these are primitive sites with no facilities or restrooms. You must pack out your trash and the BLM asks that you only camp in already disturbed areas. That means if it looks like someone has set up there before, you are allowed to camp there too. Most of these primitive sites were quite obvious. Some of them had signs indicating camping was allowed, as well as established fire rings (check on current fire regulations at the Visitors Center before heading out). A free overnight permit is required for dispersed camping outside of developed campgrounds.
Our first night we found an awesome secluded spot off a dirt road south of Highway 12 between Calf Creek Falls and Hole-in-the-Rock Road. No fires were allowed at this site, but the view of the vast desert landscape was gorgeous.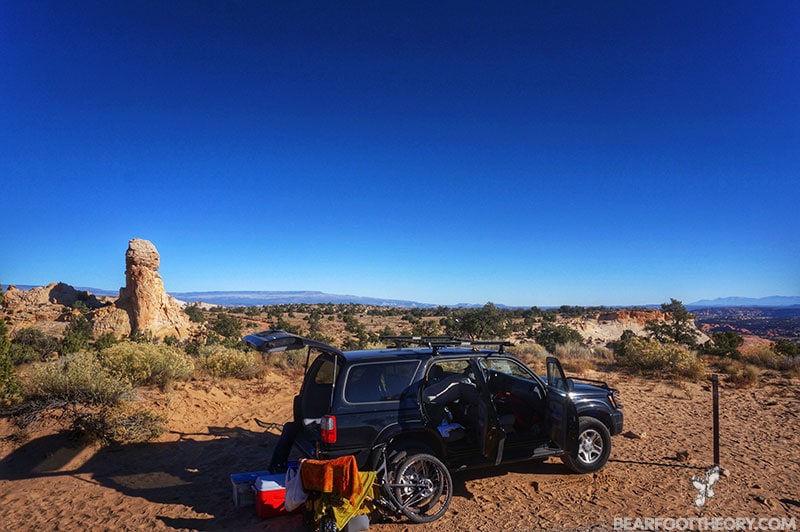 The second night, we camped right at the Neon Canyon trailhead. It was late when we made it back to the car, and we didn't feel like driving and searching in the dark. Luckily there was only one other camper van parked at the trailhead, and the sites were spaced out enough that we still had privacy. There was also an established fire ring here, so we were able to sit by the fire and enjoy some spectacular stargazing.
If you would rather stay in a hotel, check out these options on Trip Advisor, which include a couple of B&Bs. There are also some really unique AirBnB's in the local area.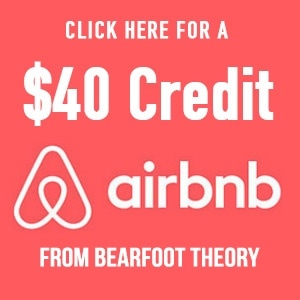 Other Important Info about Escalante
Amenities in the town of Escalante are pretty limited. There is a General's Store where you can buy basic groceries and ice. There are also a few restaurants. However, it is good to come prepared with a majority of what you think you will need (including any late night beverages that you might want while sitting next to the fire).
It's always a good idea to stop by the Escalante National Monument Visitors Center, which is located on the west end of town on the main drag. They have maps and trail descriptions and can give you an idea of current trail and road conditions.
All of the trails listed here are described in detail in the book "Wow Guides: Utah Canyon Country." This is an excellent book with beautiful photos. I highly recommend you pick this up if you are headed to Escalante or anywhere else in Southern Utah. In addition to helping us narrow down which hikes we wanted to do, the book also contains maps and full descriptions of each trail. Before heading out each morning, I would take a picture of each trail map with my phone, which we found ourselves referring to during the hikes.
Need more inspiration to start planning that desert adventure? Follow my Southern Utah board on Pinterest!
Follow Bearfoot Theory I Kristen Bor's board SOUTHERN UTAH on Pinterest.
Got questions about these hikes in Escalante or suggestions for other cool spots to check out? Let me know in the comments below.