5 Incredible Grand Staircase-Escalante Hikes
Discover the best Grand Staircase Escalante hikes with these epic hiking trails including waterfalls, slot canyons, views, and more.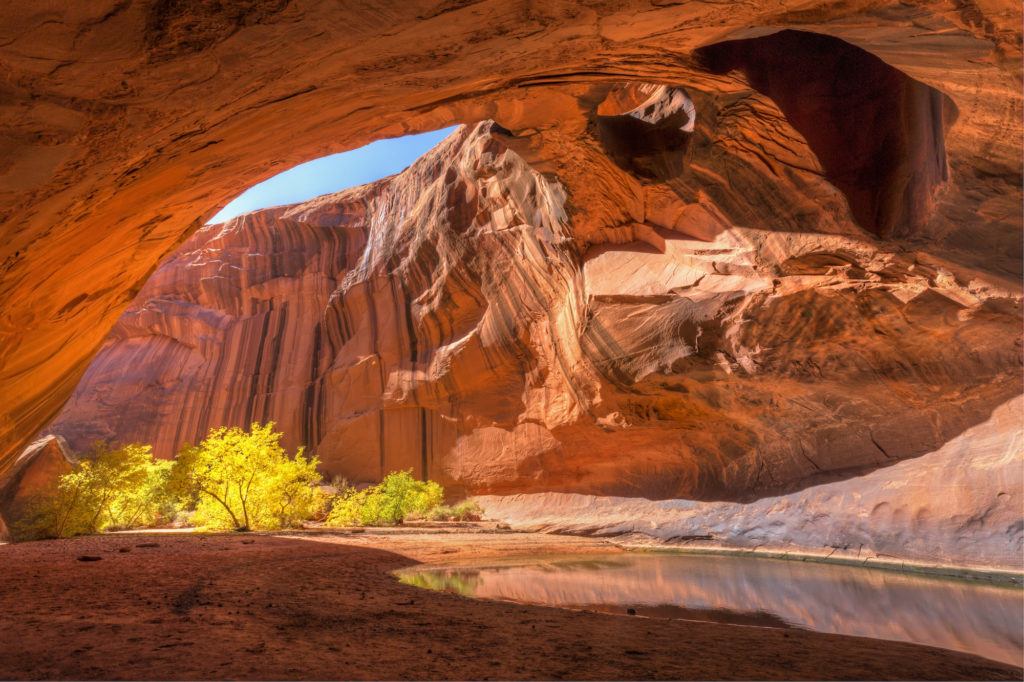 Grand Staircase-Escalante National Monument is one of those places in Utah that a lot of people have never heard of. It often gets overshadowed by Utah's National Parks including Zion, Bryce, and Arches. But that doesn't mean that Escalante should fall to the bottom of your list. There are some amazing Grand Staircase-Escalante hikes that any outdoor enthusiast will enjoy.
During my first visit to Escalante, I was shocked to find waterfalls, desert rivers, endless miles of slickrock, isolated camping, and some of the craziest canyons I've ever traveled through. I've been back many times since for camping, hiking, and backpacking, and I even packrafted the Escalante River.
If you are planning your first trip to Escalante and want to do some hiking, here are five trail options to get you started. All of these hikes are non-technical so all you need is your normal day hiking essentials (and a camera!) and you'll be ready to explore some of Utah's finest landscapes.
Ready to explore Utah's canyon country? Here are five great hikes in Grand Staircase-Escalante for first-time visitors
Important Reminder: As it goes in all of the destinations we share, please practice good trail etiquette and remember to Leave No Trace. This means packing out all of your garbage (including toilet paper) and following the established rules. In the desert, this also means learning how to protect cryptobiotic soil and how it has a huge impact on our ecosystems.
How to get to Grand Staircase-Escalante National Monument
Grand Staircase-Escalante is located near the Grand Canyon, Zion National Park, and Bryce National Park, but it has far fewer crowds.
It spans a huge area (over 1.8 million acres) and has 4 different visitors centers located in Kanab (also home to the famous Wave hike), Big Water, Cannonville, and the town of Escalante.
For the purposes of the hikes mentioned in this blog post, you'll want to base yourself in the town of Escalante which gives you direct access to Hole-in-the-Rock road where most of the best hiking in Escalante in located.
The town of Escalante is located 278 miles (5 hours) from Salt Lake City or 303 miles (5 hours) from Las Vegas.
The 5 Grand Staircase-Escalante hiking trails detailed below are all marked on this map. Click the icons on the map to get more info on each point of interest.
In Escalante, you'll find a small grocery store, a couple of gas stations, a few restaurants, and lodging options. There is also tons of free camping which I'll discuss below.
---
Best Hikes In Grand Staircase-Escalante
1. Lower Calf Creek Falls
Length: 6.7 miles roundtrip
Elevation gain: 866 ft
Trail type: Out & back
Difficulty: Moderate
Dogs allowed: On-leash
The trail to Lower Calf Creek Falls is one of the more accessible and popular hikes in Grand Staircase-Escalante partly because the trailhead is directly on the main highway (unlike most of the other trails in Escalante that require driving on a dirt road). 
This 6.7-mile round-trip trail travels through a broad but beautiful canyon leading to the soaring a 126-foot waterfall. The majority of the trail is flat and easy to follow, making it a great hike for beginners or first-time visitors.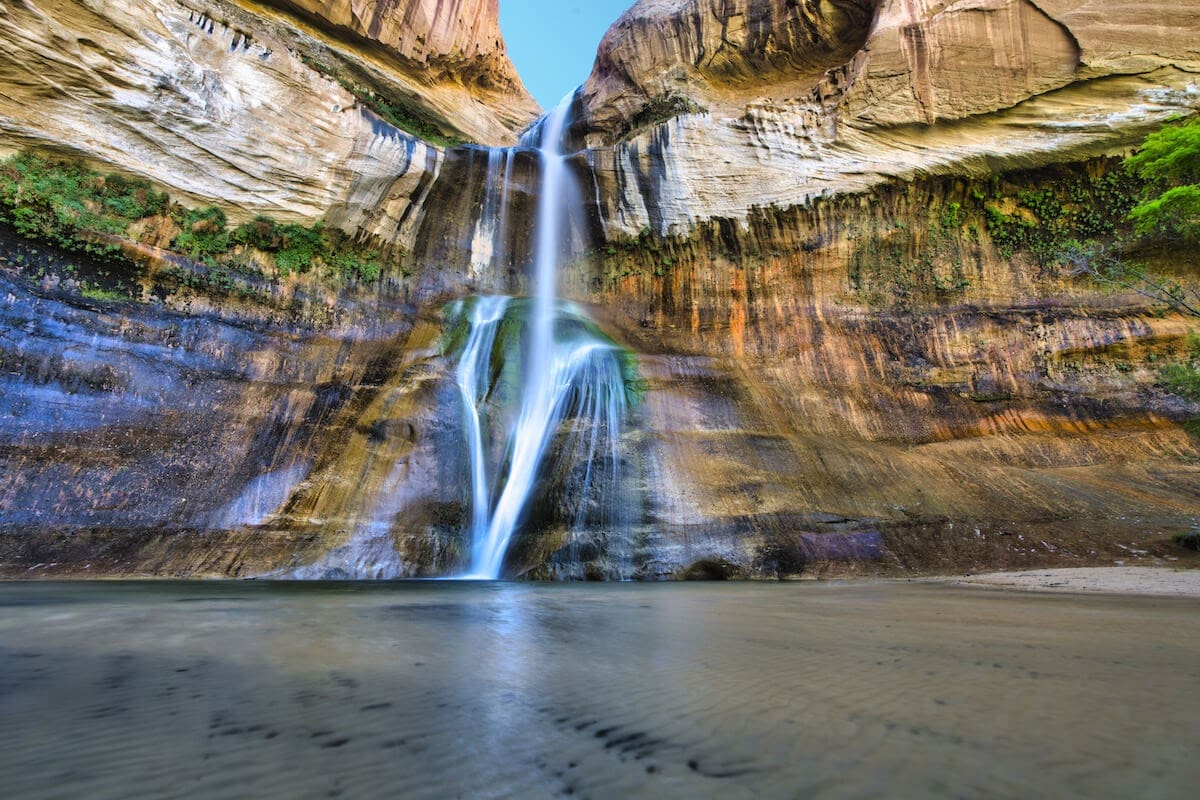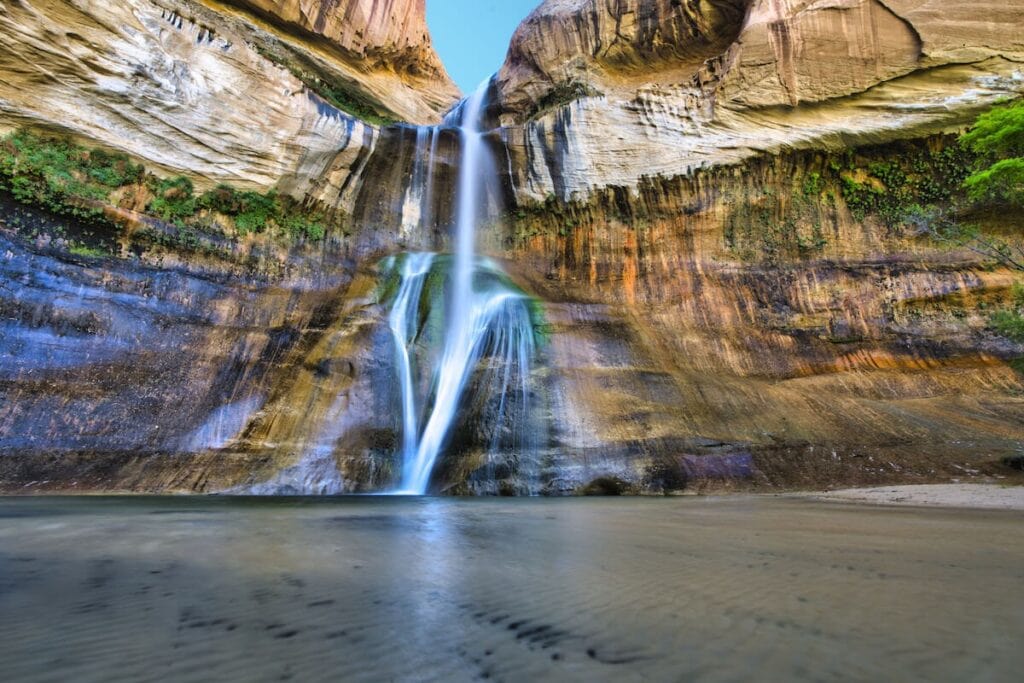 Once you reach the falls, you'll be tempted by the inviting pool that forms below the waterfall, but be prepared to brave the cold. The water was FREEZING everytime I've been there. Even if you aren't up for a swim, you'll be mesmerized by the amphitheater's colorful walls.
How to get to Lower Calf Creek Falls trailhead:
The Lower Calf Creek Falls trailhead is located 16 miles from the town of Escalante on Highway 12. There is a parking area at the Calf Creek campground where you'll also find the trailhead.
2. Upper Calf Creek Falls
Length: 2.1 miles roundtrip
Elevation gain: 606 feet
Trail type: Out & back
Difficulty: Moderate
Dogs allowed: Yes
If you're looking for a shorter hike in Grand Staircase-Escalante that still lands you at a beautiful waterfall, check out Upper Calf Creek Falls. This trail is located up river from Lower Calf Creek Falls and traverses over slickrock for one mile. The trail ends at a desert oasis with a beautiful waterfall cascading into a crystal clear pool.
This trail is very exposed with no shade until you get to the river, so bring plenty of water and sun protection. The trail is also not clearly defined as you descend down to the falls, so you'll want to keep an eye out for trail makers (also known as cairns)
Getting to Upper Calf Creek Falls
The Upper Calf Creek Falls trailhead is located about 21 miles from the town of Escalante on Highway 12. There is a small parking area on the left side of the highway as you travel north. It's easy to miss so keep an eye out.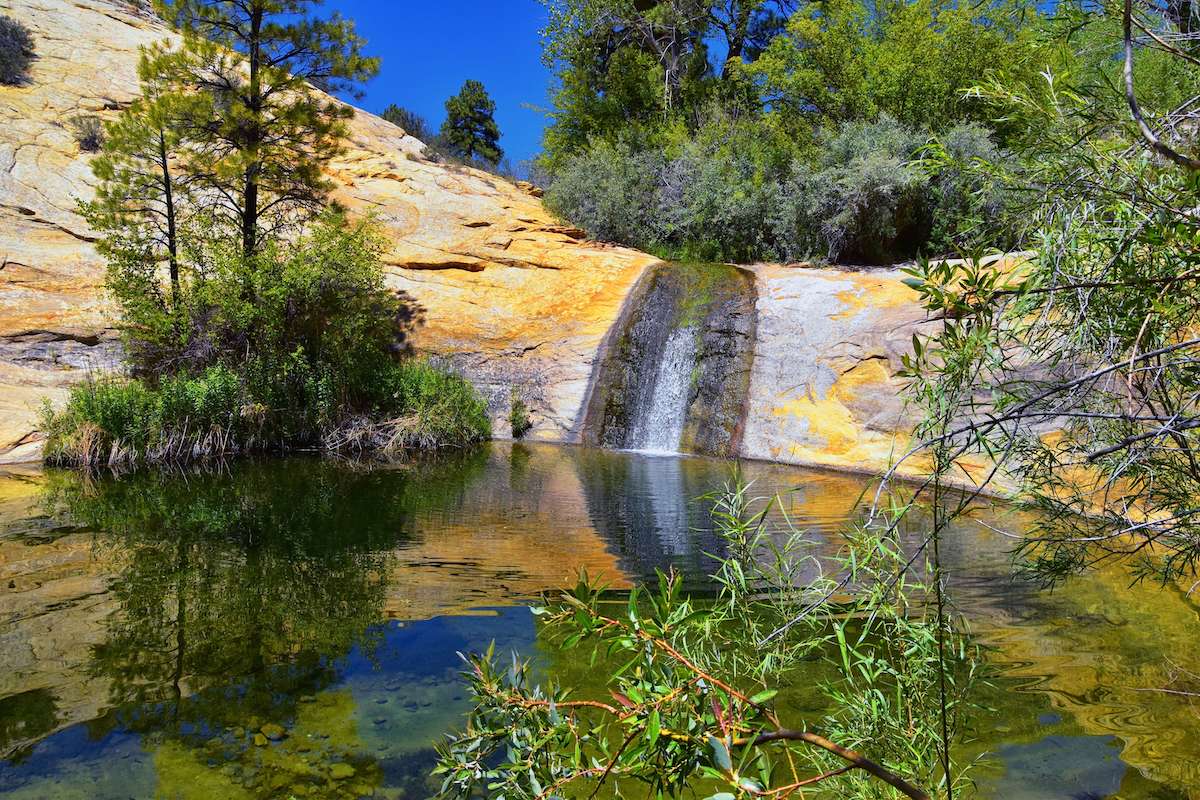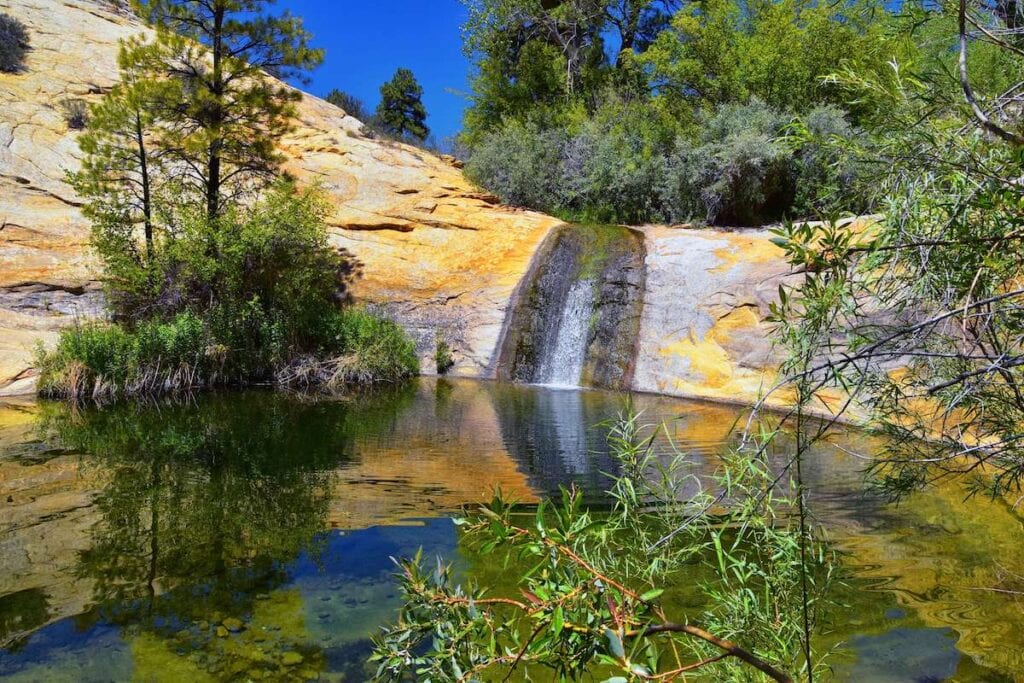 3. Golden Cathedral & Neon Canyon
Length: 9.1 miles roundtrip
Elevation gain: 1,581 ft
Trail type: Out & back
Difficulty: Moderate
Dogs allowed: On-leash
This is a moderately challenging hike in Grand Staircase-Escalante mostly due to the distance and the ascent as you make your way back to the trailhead. I've done it twice – once as a round-trip day hike and another time as the start of my Escalante River packrafting trip.
Navigation to on this Escalante hike can also be a bit tricky, so make sure you have a map or GPS app downloaded to your phone and pay close attention to your surroundings.
The 9-mile round trip Golden Cathedral & Neon Canyon trail begins with an immediate and steep descent down into a slickrock bowl. After this initial descent, the elevation change becomes gradual again until the last drop down to the Escalante River.
As you make your way towards the Escalante River, you are treated with vast views of the red landscape that makes up the National Monument. Notice the rock cairns that mark the location of the trail. Keep an eye on these, since they will let you know that you are still on track with the trail.
Once you reach the Escalante River, be prepared to wade downriver and eventually cross it, sometimes in knee-deep water. The current wasn't swift when I visited, but conditions can change depending on the time of year. I suggest bringing a pair of Tevas or other water sandals that you can change into once you get to this point.
Also, feel free to pick up a walking stick that you can use to gauge the depth of the river and help maintain your balance or bring your own trekking poles.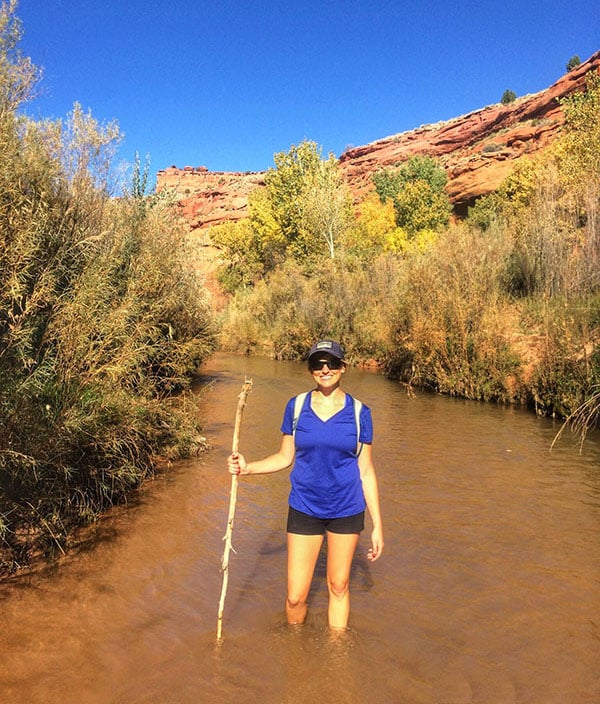 After a few crossings, keep an eye out on the left for the opening to Neon Canyon. This is where the landscape really starts to get interesting. As you travel deeper into Neon Canyon, you'll find huge boulders scattered throughout and canyon walls that rapidly rise on either side, making you feel very small.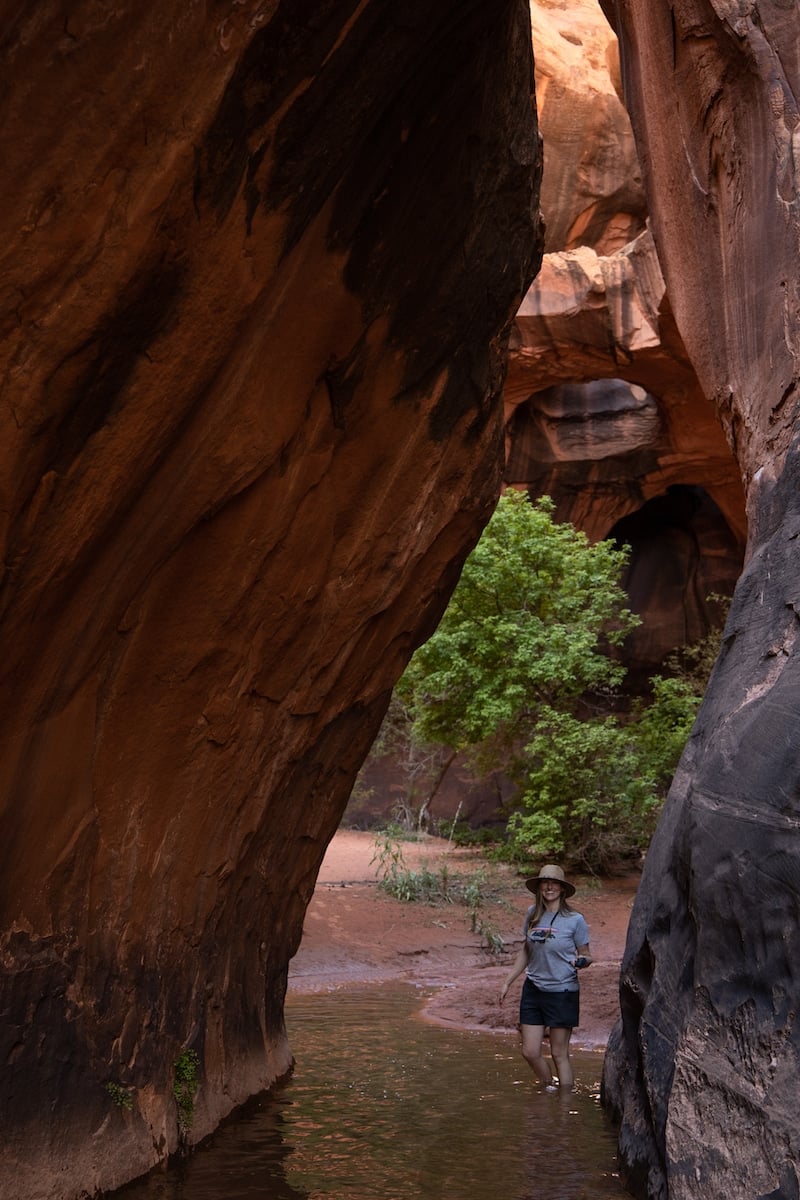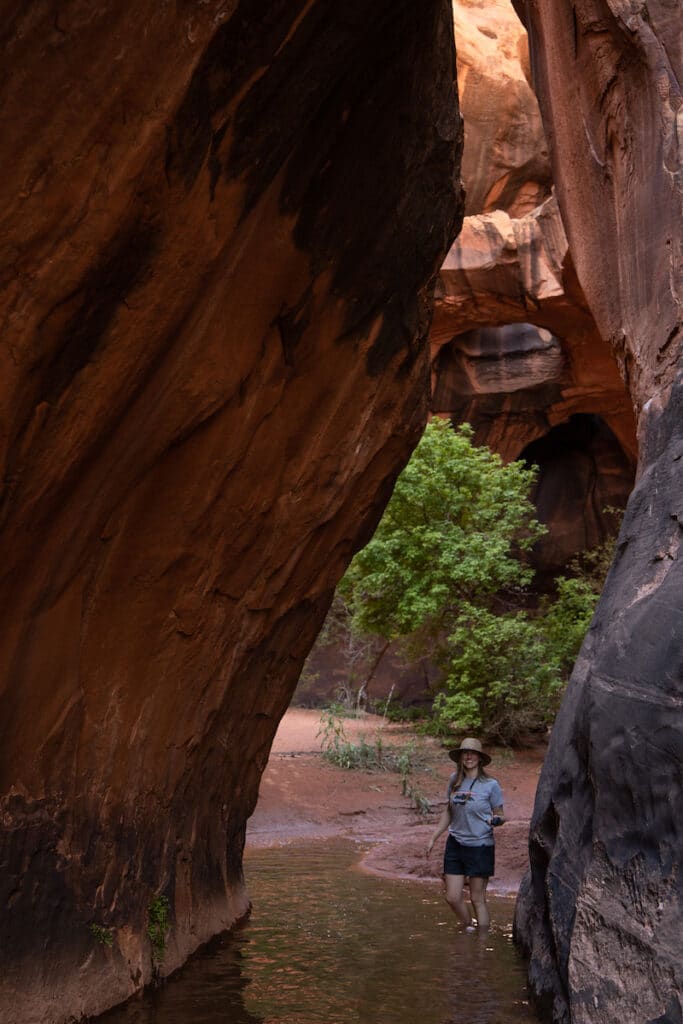 The grand finale of this hike is the Golden Cathedral, located at the end of Neon Canyon. This is a mind-blowing grotto with a ceiling punctured by two cavernous holes. If you arrive at the right time of day when the sun is at the right angle, the sunbeams through the holes lighting up the canyon walls and emerald pool below.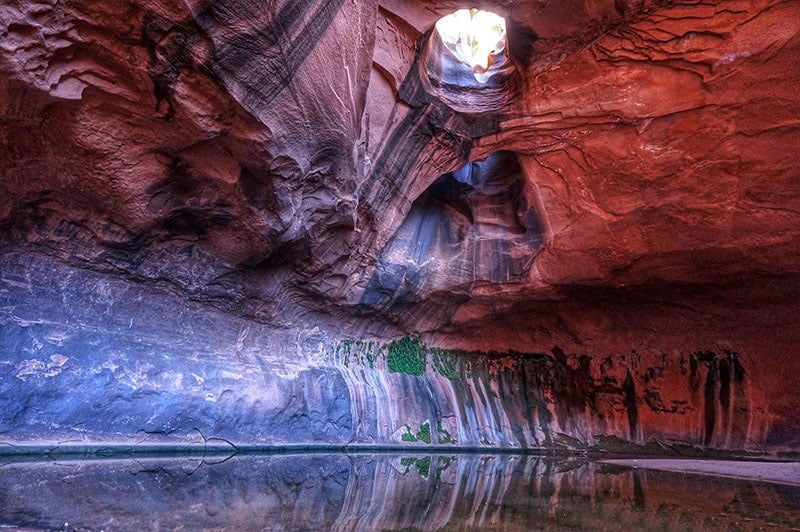 Once you are ready to head back, retrace your footsteps, fording the Escalante River again until you get back to the main trail. Then start your ascent back up.
Be sure to give yourself plenty of time. This hike took longer than we expected and with our 12:30 pm start, we ended up making the final push in the dark which was not ideal considering the trail is hard enough to follow in the day time. Avoid this by starting early and bring a headlamp just in case.
Getting to the Golden Cathedral & Neon Canyon trailhead
The trailhead to Neon Canyon takes some effort to get to, but it's worth it. First, you'll drive 16.3 miles down Hole-in-the-Rock Road which intersects with HWY 12, then take a left on Egypt Bench Road and drive another 9.9 miles. This took us over an hour in a Toyota 4-Runner and I would not suggest attempting Egypt Bench Road unless you have a 4WD, high-clearance vehicle.
Recommended Hiking Packing List
Below are a few of my favorite pieces of day hiking gear and recommendations:
4. Peek-a-boo Canyon and Spooky Canyon
Length: 5.7 miles
Elevation gain: 633 ft
Trail type: Loop or out & back
Difficulty: Moderate
Dogs allowed: No
Escalante is also home to some of the narrowest non-technical and easily accessible slot canyons in Southern Utah. Peek-a-boo and Spooky Canyons are just a short hike from the trailhead and can be explored in just a few hours.
When you first hit the trail, you will follow frequent rock cairns down into Dry Fork Coyote Gulch. Once down into the dry bed, turn right, go about 100 yards, and Peek-a-boo Canyon will be there on your left.
The initial entrance into Peek-a-boo requires stretching those legs and a bit of fancy footwork, but once you are in, the canyon is easy, taking about 30 minutes to reach the end.
Rather than turning around and heading back the way you came, go right when you exit Peek-a-boo and follow a low ridge for about 15 minutes until you reach a sandy wash. Here, turn right again and follow the wash until you reach the top end of the second slot canyon called Spooky Gulch. This slot canyon is longer, darker, more narrow, and slightly more technical than Peek-a-boo.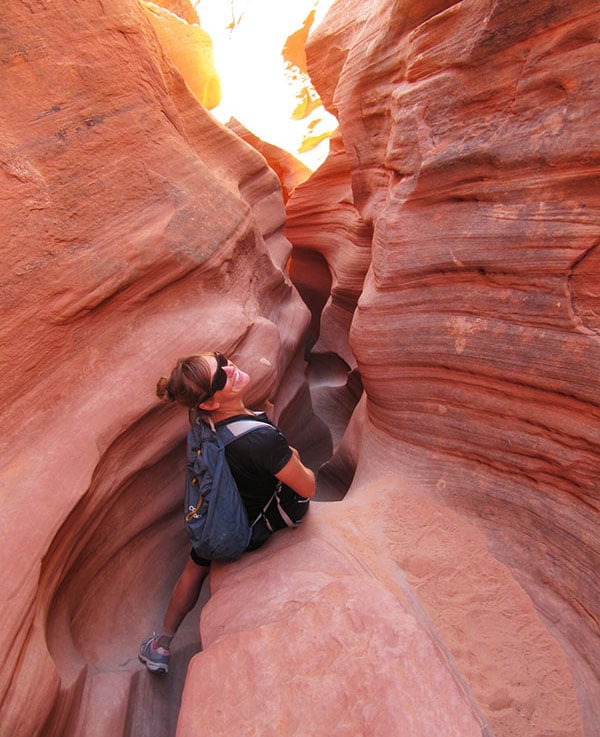 The sandstone patterns and textures in these two slot canyons offer some pretty remarkable photo ops, so try to visit midday for the best sunlight. Also, in Spooky Canyon there were a few spots that were a little tricky, so if at any point you feel uncomfortable, simply turn around and come back down Peek-a-boo instead.
There is also a third slot canyon in the area called Brimstone Gulch that we didn't have time to explore. I hear that this often has deep pools of water that make passage impossible during certain seasons. This is also the narrowest of the three slot canyons so if you are feeling adventurous, go explore Brimstone until it gets too narrow or wet to continue.
For this Escalante hike, I highly recommend packing light while bringing adequate water, snacks and sun protection. The canyons get very narrow, and with a big, bulky backpack you will find it difficult to pass through.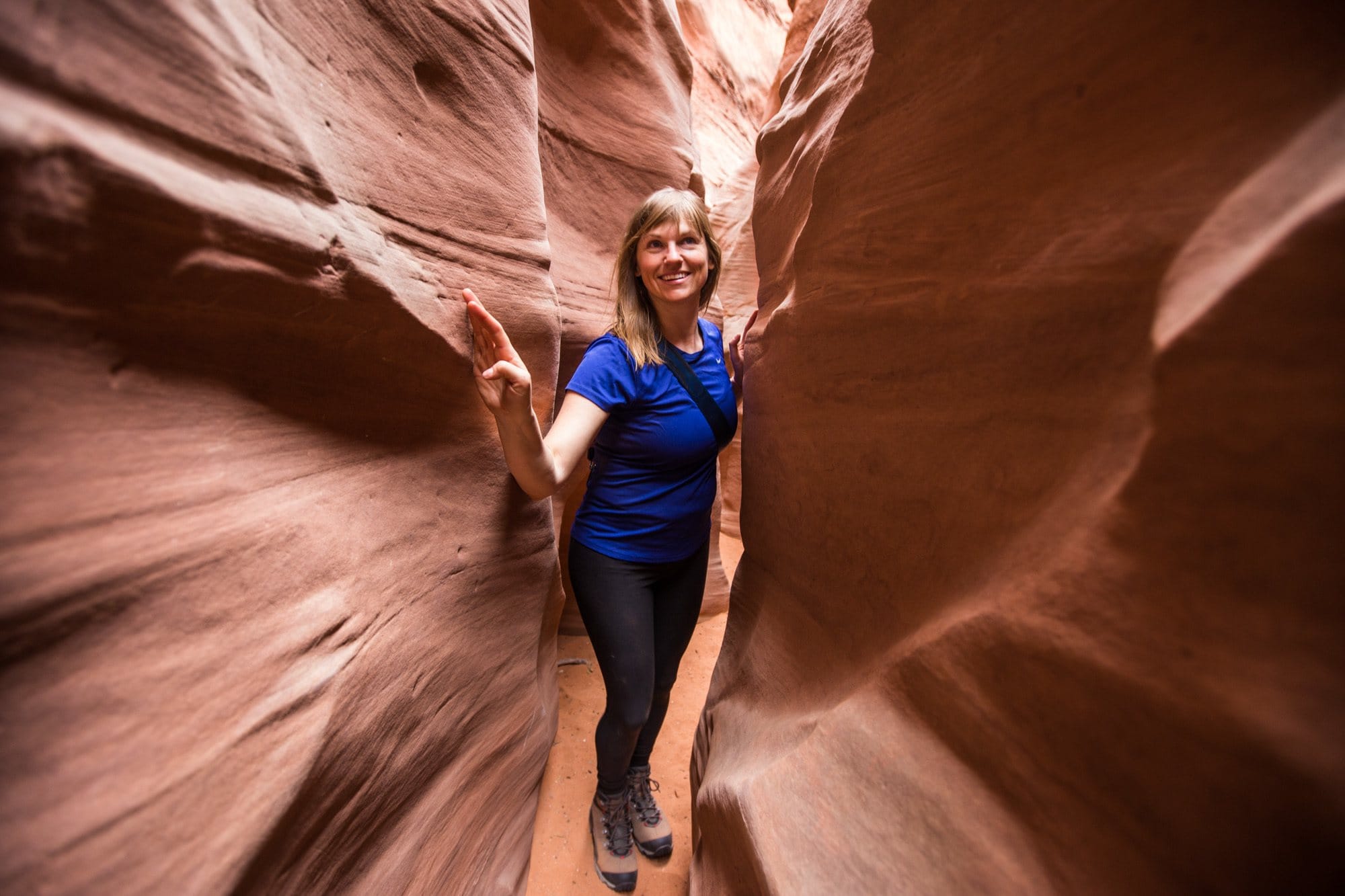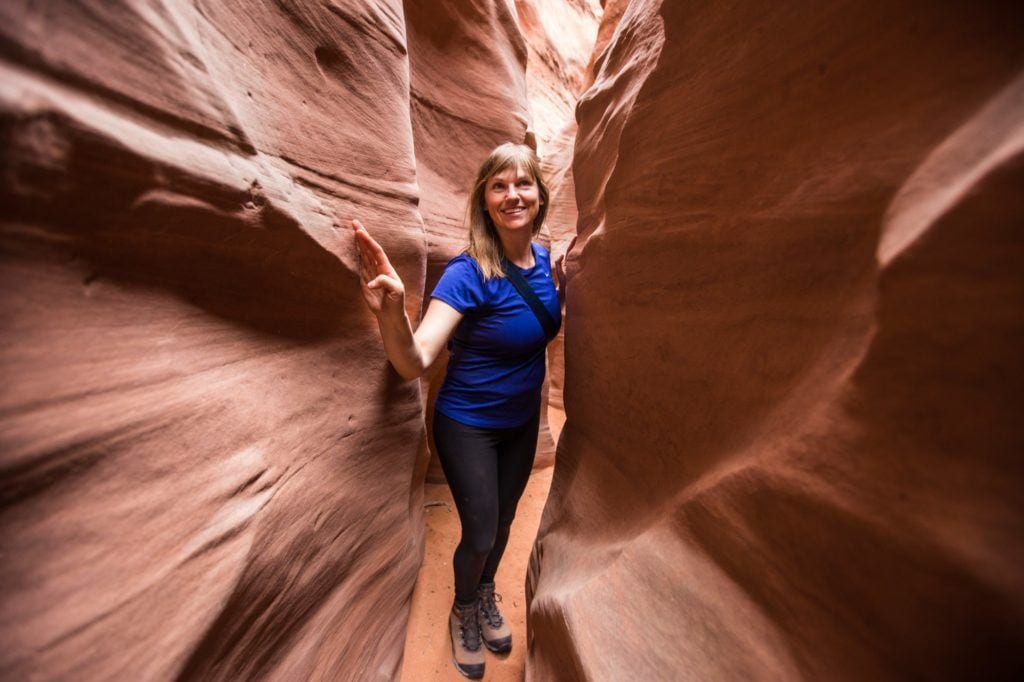 Getting to Peek-a-boo and Spooky Canyons
To get to the Lower Dry Fork trailhead that provides access to Peek-a-book and Spooky Canyon, drive 26 miles down Hole-in-the-Rock Road. Make a left on the dirt road headed towards Dry Fork Coyote Gulch. When you come to the fork, go left and reach the road's end and trailhead parking at 1.7 miles.
A 4WD vehicle is recommended for this hike. However, a regular car under normal conditions can make it most of the way there. At whatever point it gets too rough on the road to Dry Fork Coyote Gulch, park and walk the rest of the way to the trailhead. It might add a little bit of distance to your hike, but once you are hiking in those slot canyons, you'll have no regrets!
5. Zebra Canyon
Length: 5.2 miles roundtrip
Elevation gain: 377 ft
Trail type: Out & back
Difficulty: Moderate
Dogs allowed: On leash
Zebra Canyon is a popular hike in Escalante and for good reason. The trail starts off with a 45 minute hike to the entrance, which is quite exposed, so bring plenty of water, a sun hat, and sunscreen. But as you hike into Zebra slot canyon, you'll find some shade and will start to see beautiful pink and white stripes along the canyon walls. It becomes narrower and narrower and depending on time of year and recent weather, you may encounters pools of water that can reach waist deep. Like Peek-a-boo and Spooky, you'll want a small backpack so you can squeeze through the narrow passageways.
If you want to make this hike longer, you can do the Tunnel Slot canyon loop, which adds an additional 1.4 miles and is typically filled with water. Connect back into Zebra Canyon via Harris Wash.
Getting to Zebra Canyon trailhead
Drive down Hole-in-the-Rock Road just outside Escalante for about 8 miles. The Zebra Canyon Trailhead and parking area will be on the right. This trailhead is more accessible than Peek-a-boo and Spooky Canyon if you don't have a car with 4WD.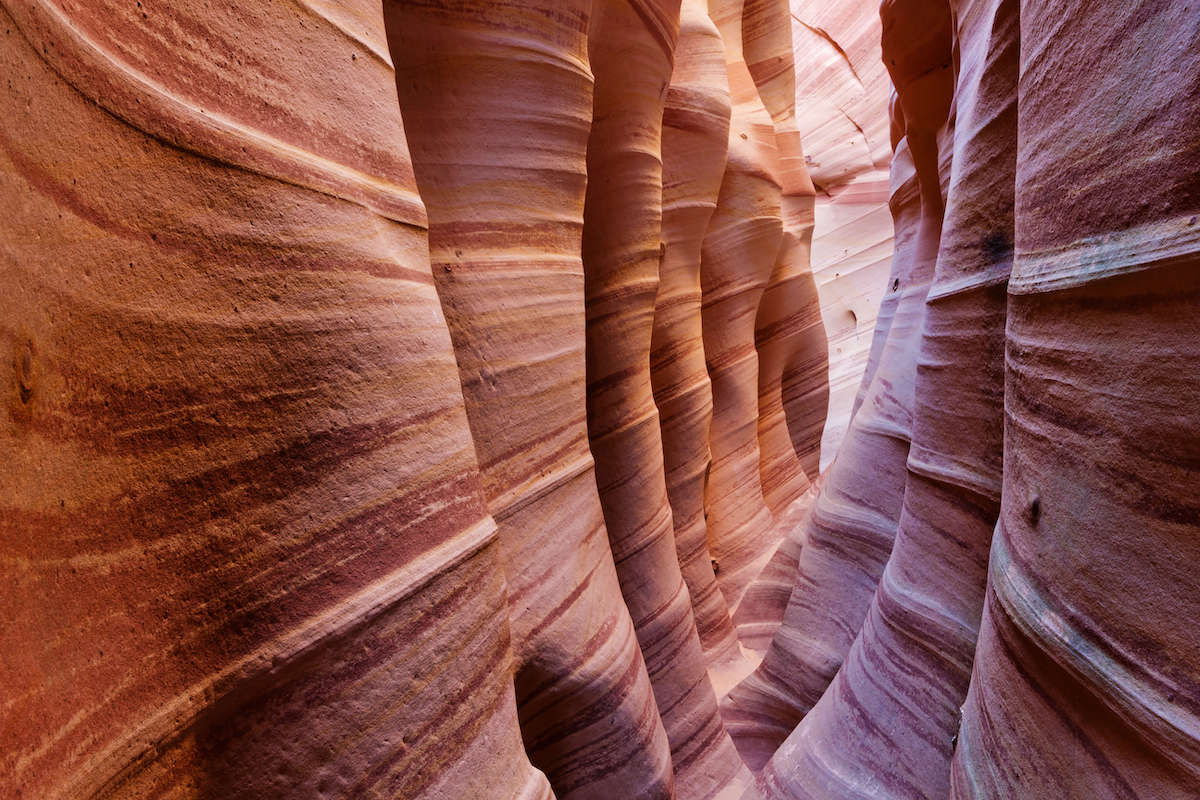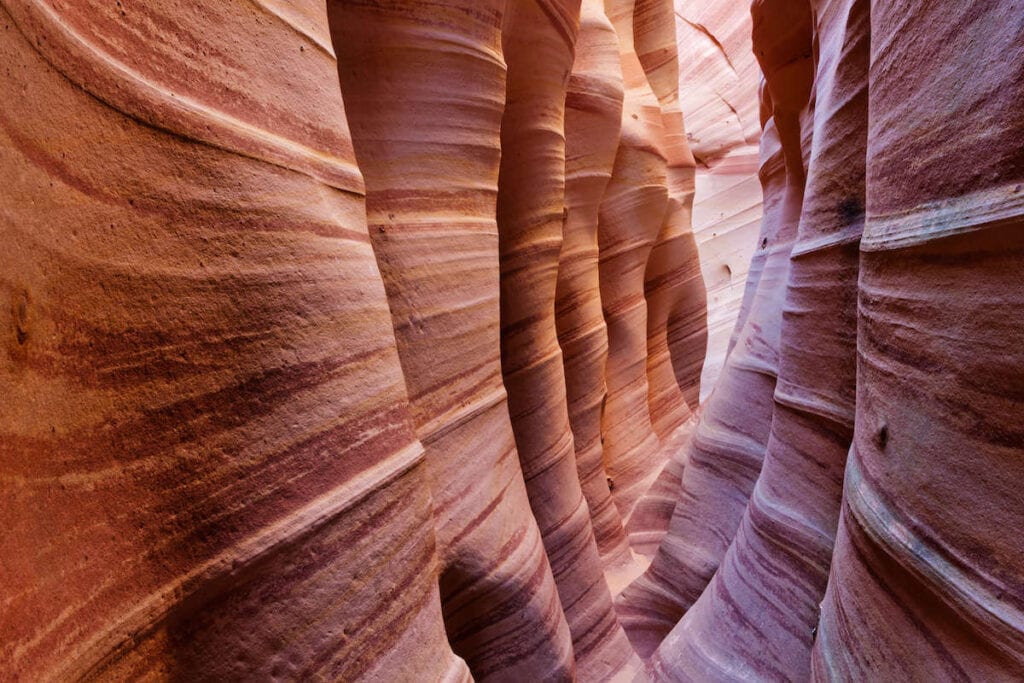 Read More
Desert Hiking Tips
---
Camping in Grand Staircase-Escalante
Campgrounds in Escalante
There are two main established car campgrounds within Escalante National Monument. The first is Calf Creek Campground at the Lower Calf Creek Falls Trailhead. The 13 sites here are $15 per night and are first-come, first-served. Try to get there early because sites get snatched up fast!
The other car campground is the Deer Creek Campground located 9 miles southeast of Boulder on the Burr Trail, which is a paved county road. The 7 first-come, first-served campsites here are $10 per night and there's no potable water available so be sure to bring your own.
Dispersed Camping in Escalante
If you are looking for something a little more off-the-beaten-path, one of the really great things about Escalante is that it is managed by the Bureau of Land Management (BLM) and there are numerous free campsites scattered throughout the monument.
All of these are primitive sites with no facilities or restrooms. You must pack out your trash and the BLM asks that you only camp in already disturbed areas. That means if it looks like someone has set up there before, you are allowed to camp there too. Most of these primitive sites are quite obvious. Some of them have signs indicating camping is allowed and have established fire rings (check on current fire regulations at the Visitors Center before heading out).
A free overnight permit is required for dispersed camping outside of developed campgrounds.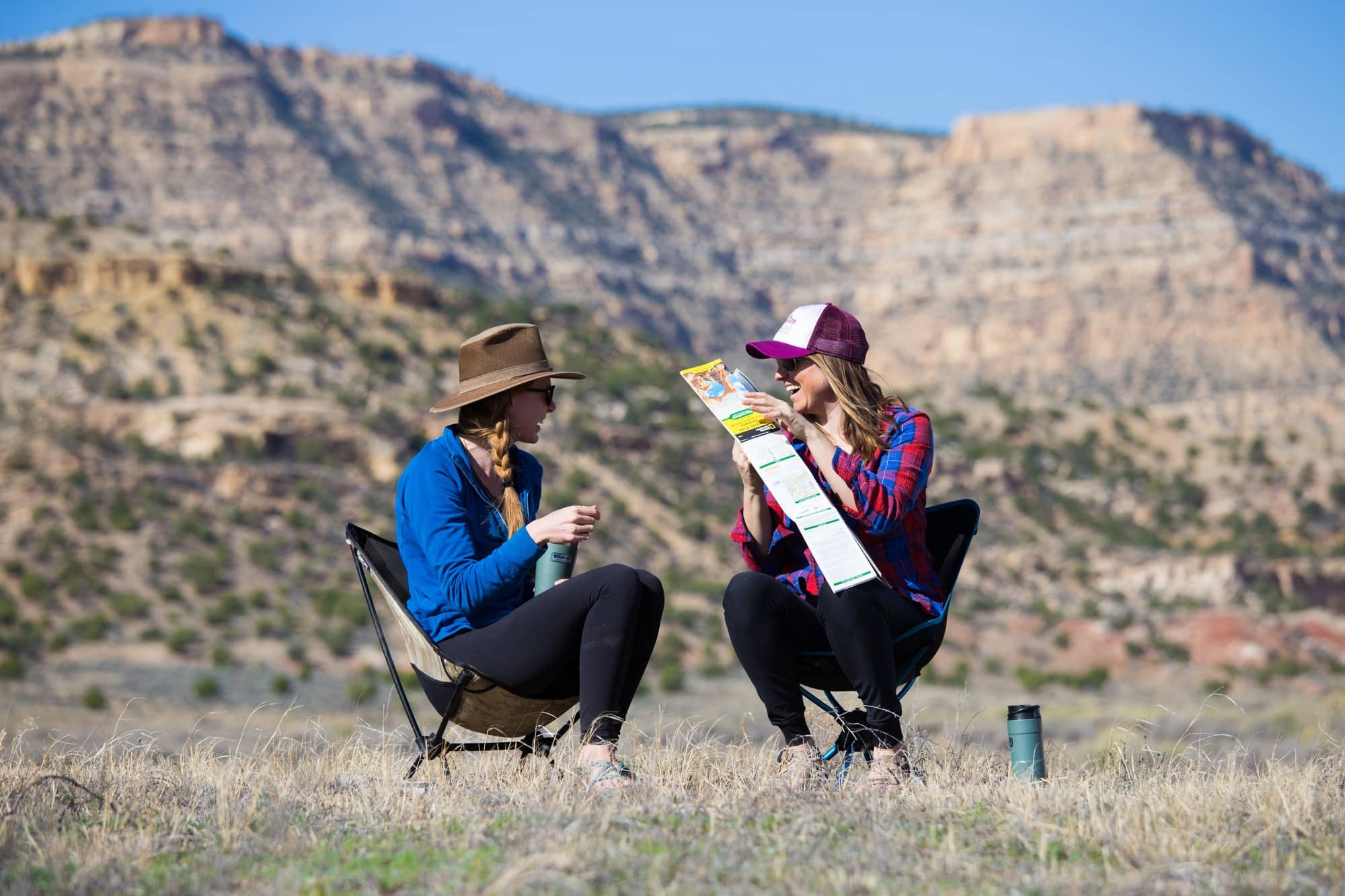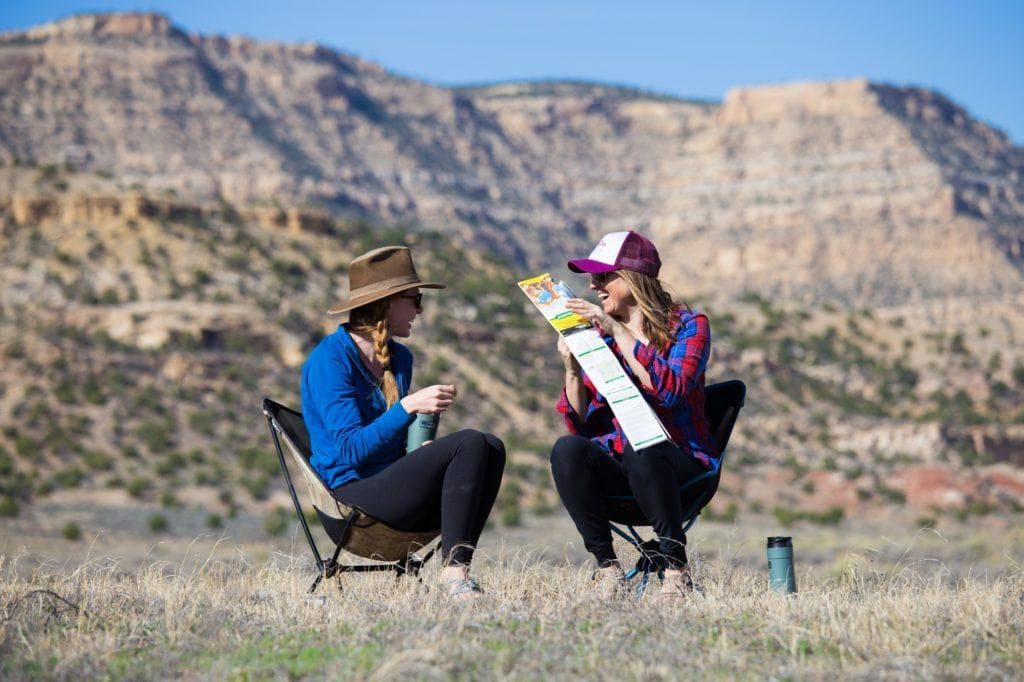 Overnight Backcountry Trips in Escalante
If day hiking in Escalante makes you want to you explore further, there are some amazing backcountry trips in Escalante. Coyote Gulch is a great 13-22 mile backpacking trip (depending on your route) located right off Hole-in-the-Rock Road. The trail travels in the river bed through a deep canyon with camping along the sandy benches on each side. I did this as a 2-day / 1-night trip which you can read about in my detailed backpacking guide to Coyote Gulch.
---
Additional Tips for Hiking in Grand Staircase-Escalante
Amenities in the towns of Escalante are pretty limited. There is a General Store in Escalante where you can buy basic groceries and ice and there are also a few restaurants. However, it is good to come prepared with everything you might need including food, water, ice, and car camping gear.
It's always a good idea to stop by one of the four Escalante National Monument Visitors Center. They have maps and trail descriptions and can give you an idea of current trail and road conditions.
All of the trails listed here are described in detail in the book "Wow Guides: Utah Canyon Country." This is an excellent book with beautiful photos. I highly recommend you pick this up if you are headed to Escalante or anywhere else in Southern Utah.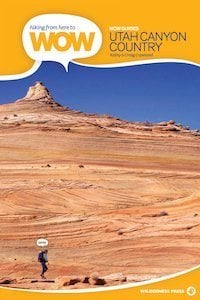 ---
What questions do you have about hiking in Grand Staircase-Escalante? What are your favorite hikes in the area? Let us know in the comments below!
Save this post to Pinterest