Trail Guide: Backpacking Coyote Gulch in Southern Utah
Ever since moving to Utah, I'd been wanting to backpack Coyote Gulch in Utah's Escalante National Monument. Finally, I had a chance to do it with my friend Kat Carney earlier this Spring, and it did not disappoint. It was kind of like Paria Canyon, another gorgeous trail in Escalante, except Coyote Gulch can be backpacked in 2-3 days and isn't as logistically challenging. Here in this guide, I share the details of my trip and all of the info you need to plan your own backpacking trip to Coyote Gulch.
Coyote Gulch Trail Basics
Coyote Gulch is a slot canyon in the middle of Utah's massive red rock country. Coyote Gulch is a great backpacking trip for beginners due to the fairly level terrain, water availability, and the fact that you can hike it in 1-2 nights. The trail showcases towering canyon walls, a large mystic arch, a natural bridge and numerous waterfalls along the route – a collection of geologic features that you'd be hard pressed to find on another trail. A majority of the trail is in the stream bed meaning your feet will be wet the entire time.
Short on time? There are a ton of options when it comes to your route, and you can even conquer the best parts of Coyote Gulch in a long day hike if desired.
Here's some other important things to note:
Distance: 13-22 miles depending on your route (our route was 15 miles)

Campfires are not allowed in Glen Canyon National Recreation Area.

Leave fido at home, dogs are not allowed.

Group size is limited to 12 people

Coyote Gulch can be prone to flash floods. It is very important that you check the weather before you head out.

Please remember to Leave No Trace. That includes packing out your toilet paper. There was a ton of used TP on the trail. It's disgusting and no one should have to look at or pack out someone else's nasty toilet paper.
Learn how to Leave No Trace when you are camping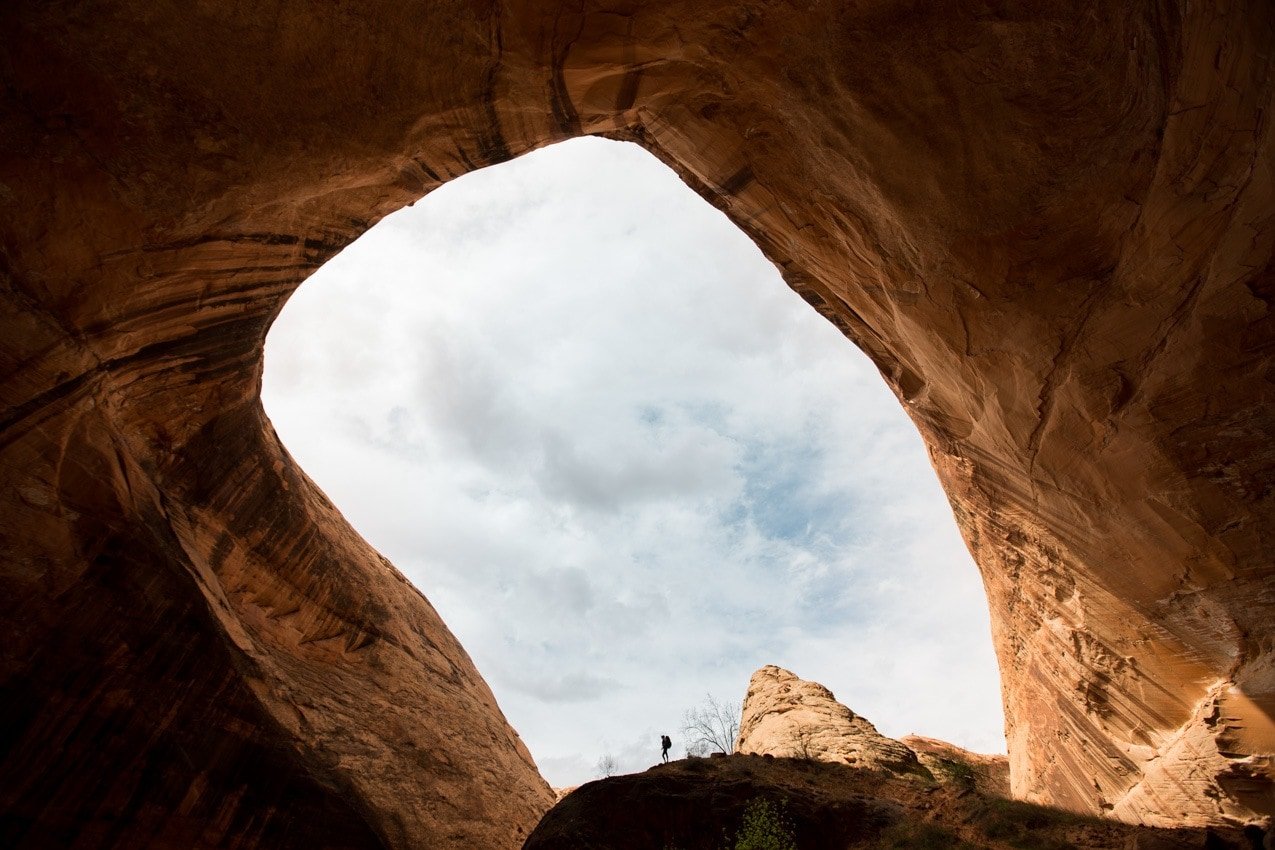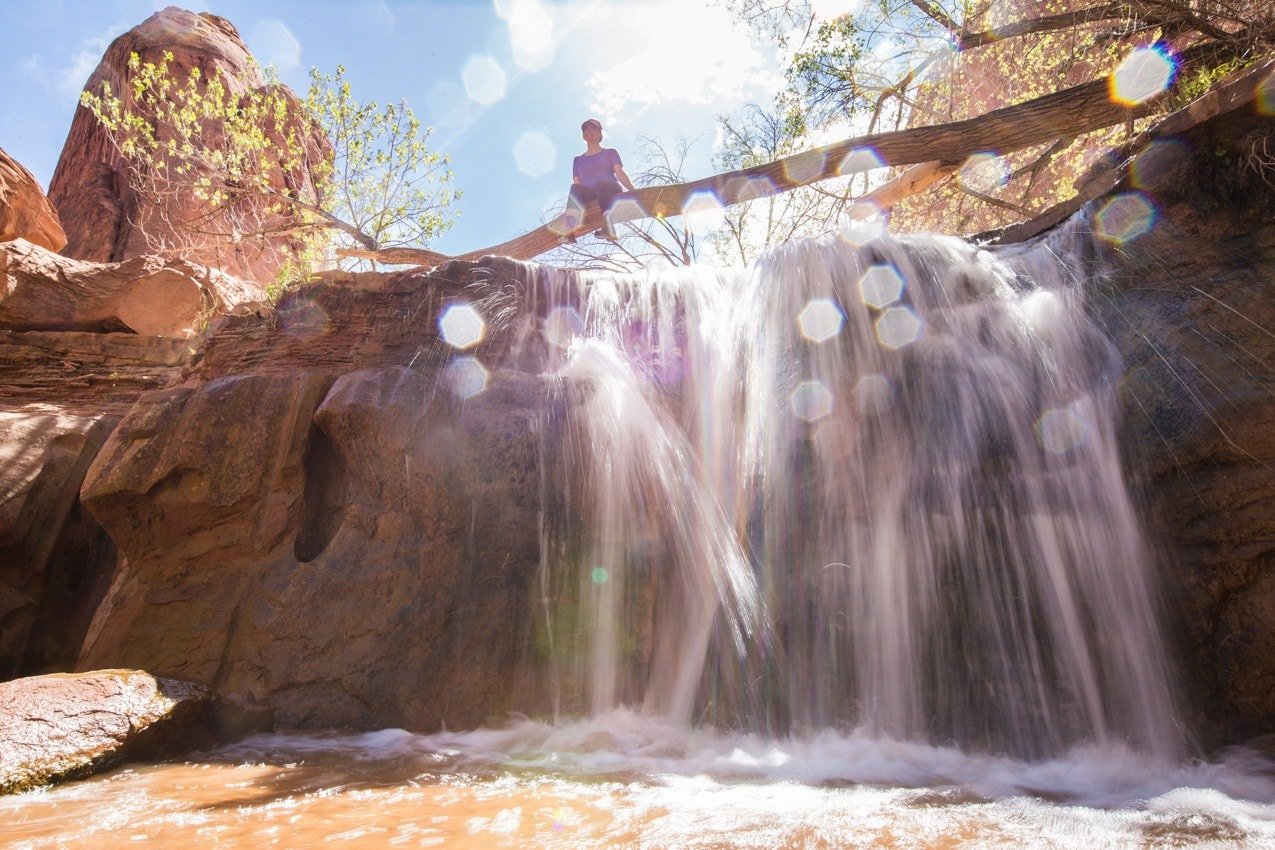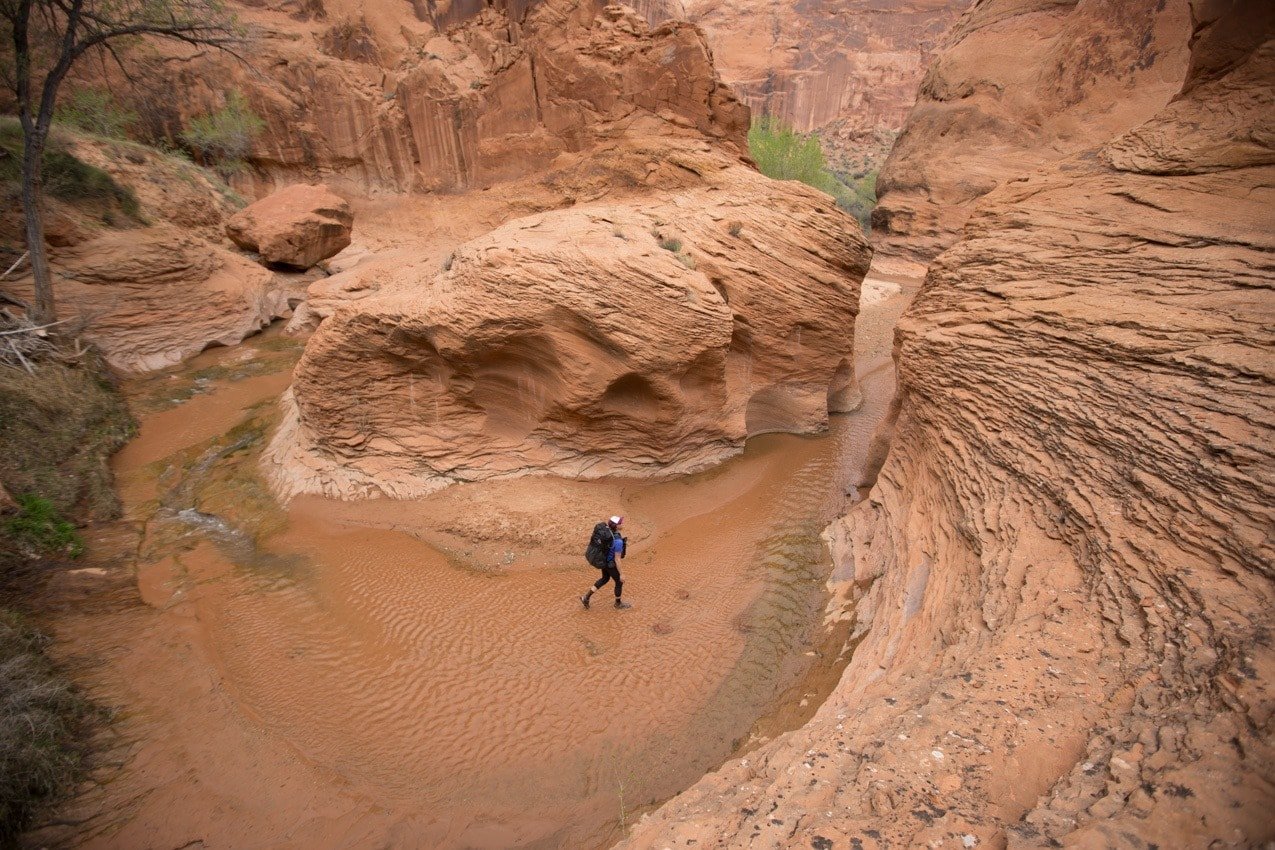 Coyote Gulch YouTube Video
Watch my YouTube video from our overnight backpacking trip in Coyote Gulch!
Getting to Coyote Gulch
Coyote Gulch sits on the edge of Escalante National Monument and Glen Canyon National Recreation Area.  All of the trailheads are located just east of the small town of Escalante, UT off of Hole in the Rock Road, which starts at mile 64.8 on HWY 12.
From Escalante, UT you'll take HWY 12 east for five miles, and as the highway makes a left curve, the unpaved Hole in the Rock Road will be on the right side of the road. There should be a sign near the curve that says "Hole in the Rock Road."  Turn right off of Hwy 12 here.
From the turnoff onto Hole in the Rock Road, you'll want to reset your trip odometer, so you can determine your distance, as there are very few marked trailheads and parking lots off of Hole in the Rock Road. Be warned, Hole in the Rock Road is about as washbord as it gets, and the further you drive, the rougher it gets.
You don't necessarily need 4wd, but you could check the status of the road at the Rangers Station in Escalante (where you'll also get your permit) before you set out. After a rainstorm, the road can get muddy and rutted.  Depending on your vehicle and how crowded the road is it can take anywhere from 45-90 minutes to reach the trailheads once you've turned onto Hole in the Rock Road.
Best Time to Backpack Coyote Gulch
Spring (March to June) or Fall (September to October) are perfect for hiking Coyote Gulch. Generally, in the late summer it can get incredibly hot in Utah's desert, and in the winter it gets very cold so it is important to check the weather before heading out.
Another consideration is water levels. Because Coyote Gulch is a slot canyon, it does experience flash floods. Avoid hiking Coyote Gulch if a rainstorm is eminent.
Coyote Gulch is also a very popular trail, so you should avoid the peak of Spring Break and right after school gets out if you are hoping for any solitude.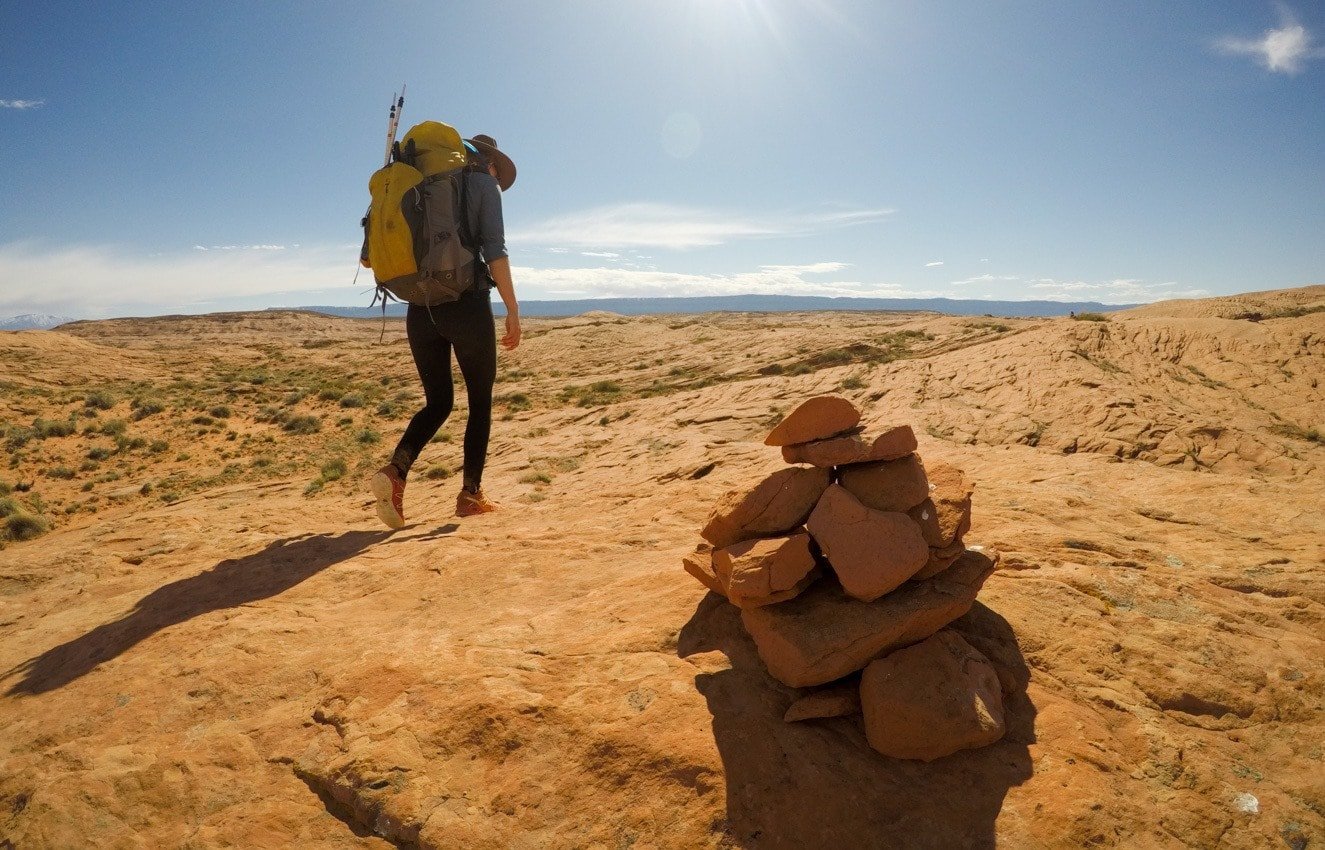 Coyote Gulch Backpacking Permits
Backcountry permits are required if you plan to camp. You can obtain a permit at the Escalante Interagency Visitor Center in the town of Escalante or at either Crack in the Wall or Hurricane Wash trailheads. Permits are not required for day-hiking Coyote Gulch but for your own safety, you are encouraged to sign the trail register before beginning from any of the trailheads.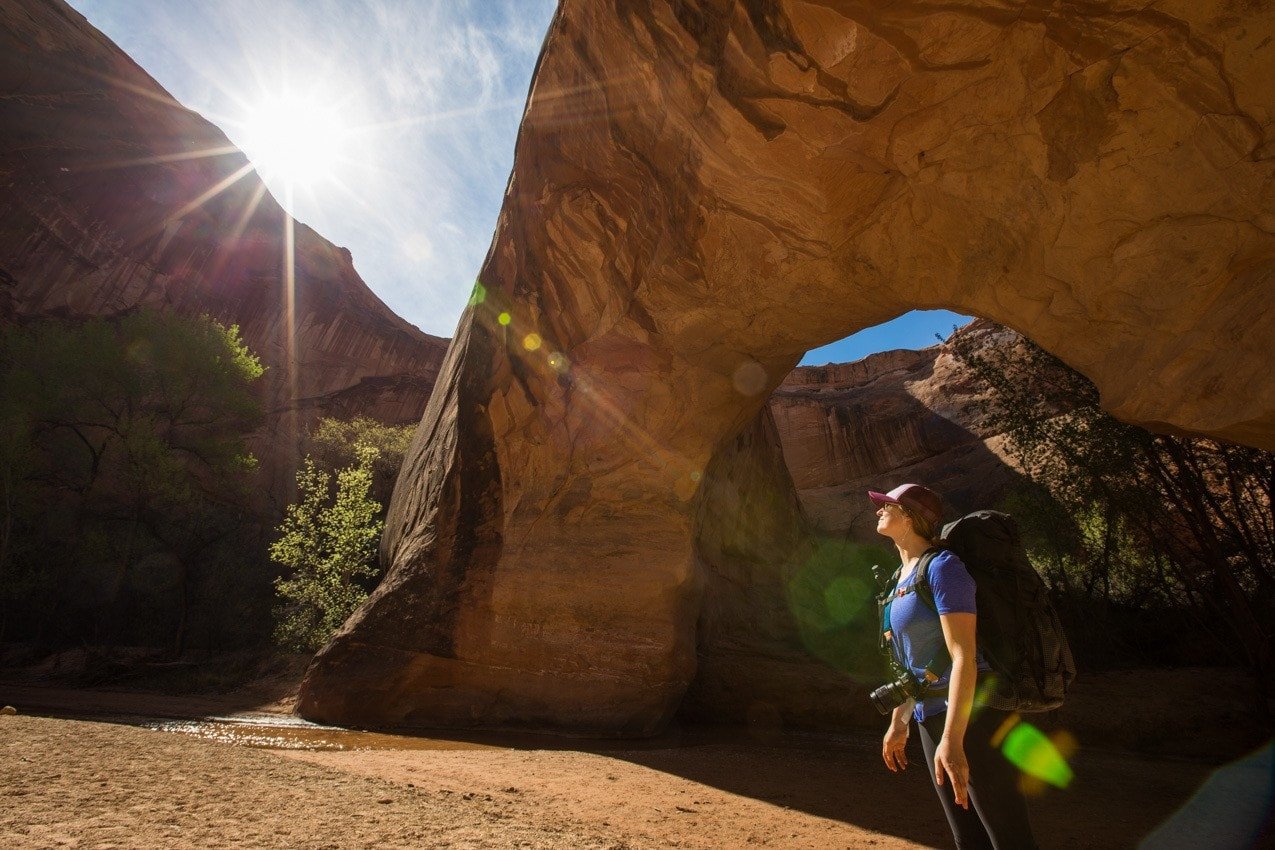 The Top Trailheads and Routes for Exploring Coyote Gulch
There are numerous ways to hike Coyote Gulch as either a round-trip route or a one-way route. We chose to hike one-way from Hurricane Wash (where I parked my car) to Crack in the Wall (where a friend parked their car).
If you have two cars and can do a shuttle, then I'd highly suggest doing a one-way route. I personally liked the direction we walked from Hurricane Wash to Crack jn the Wall, even though exiting Crack in the Wall meant we left the steepest uphill to the end. The pros of hiking this direction were that you get the boring scenery out of the way first and leave some of the best scenery and waterfalls for last.
Trailhead #1: Hurricane Wash
This is where we started our Coyote Gulch hike. This is the easiest trailhead for accessing Coyote Gulch which means it is also very popular. The trailhead is 33.8 miles down Hole-in-the-Rock Road at a large pull-off on the right. You'll cross the road and walk along the wash to a trail register. From this trailhead, you'll be hiking in dry sandy wash (with no water availability) for about 5.5 miles before you reach the river and enter Coyote Gulch.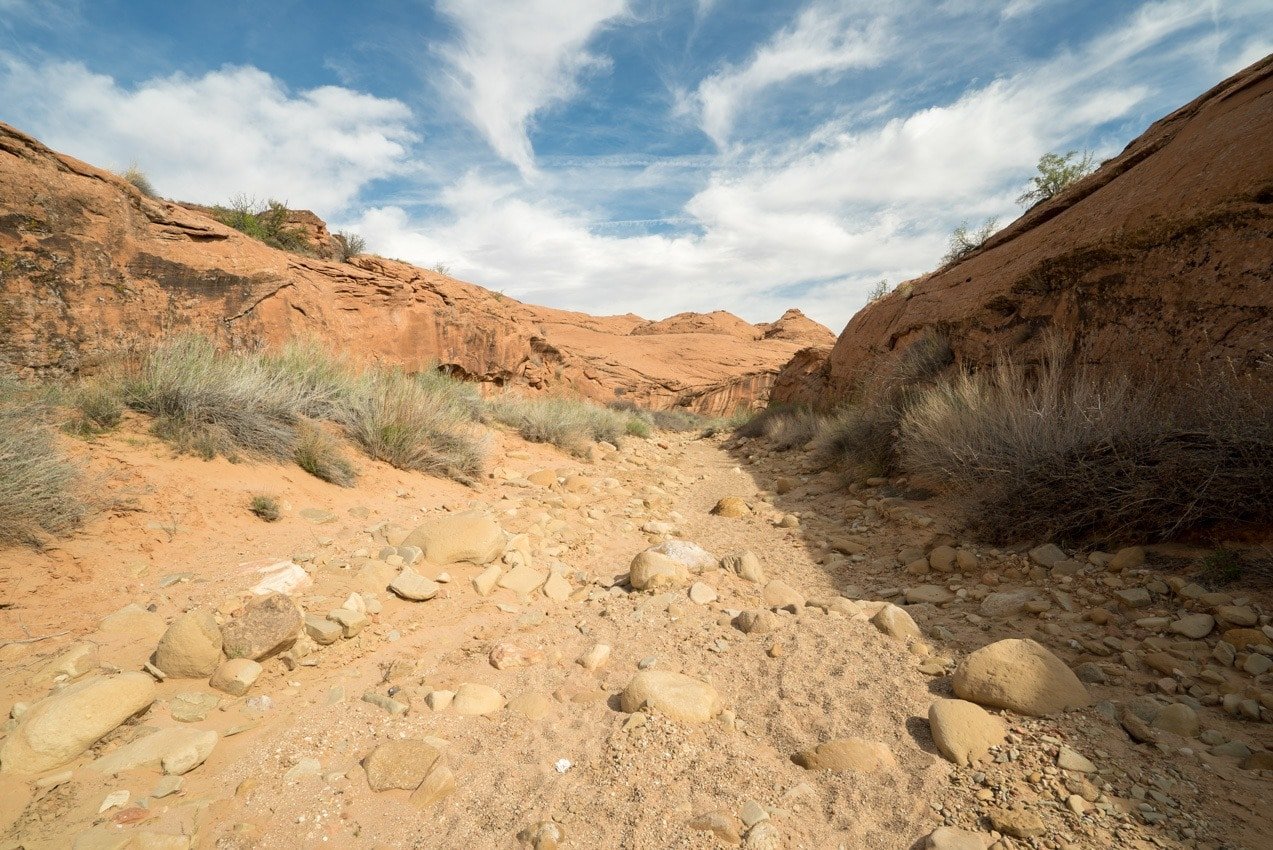 Shortly after reaching the river, the canyon quickly narrows and you'll start to notice campsites on benches on both sides of the river. You can camp wherever you want in the canyon, and I'd suggest you keep going until you reach Jacob Hamblin Arch at 7 miles. There are some nice (but non-private, and non-shady campsites across from the arch), and one of the better campsites, if it's available, is just around the corner.
We decided to continue on in search of more privacy, but once you get past here, there aren't too many great campsites until you get to Coyote Natural Bridge at mile 8.5, where we chose to stay.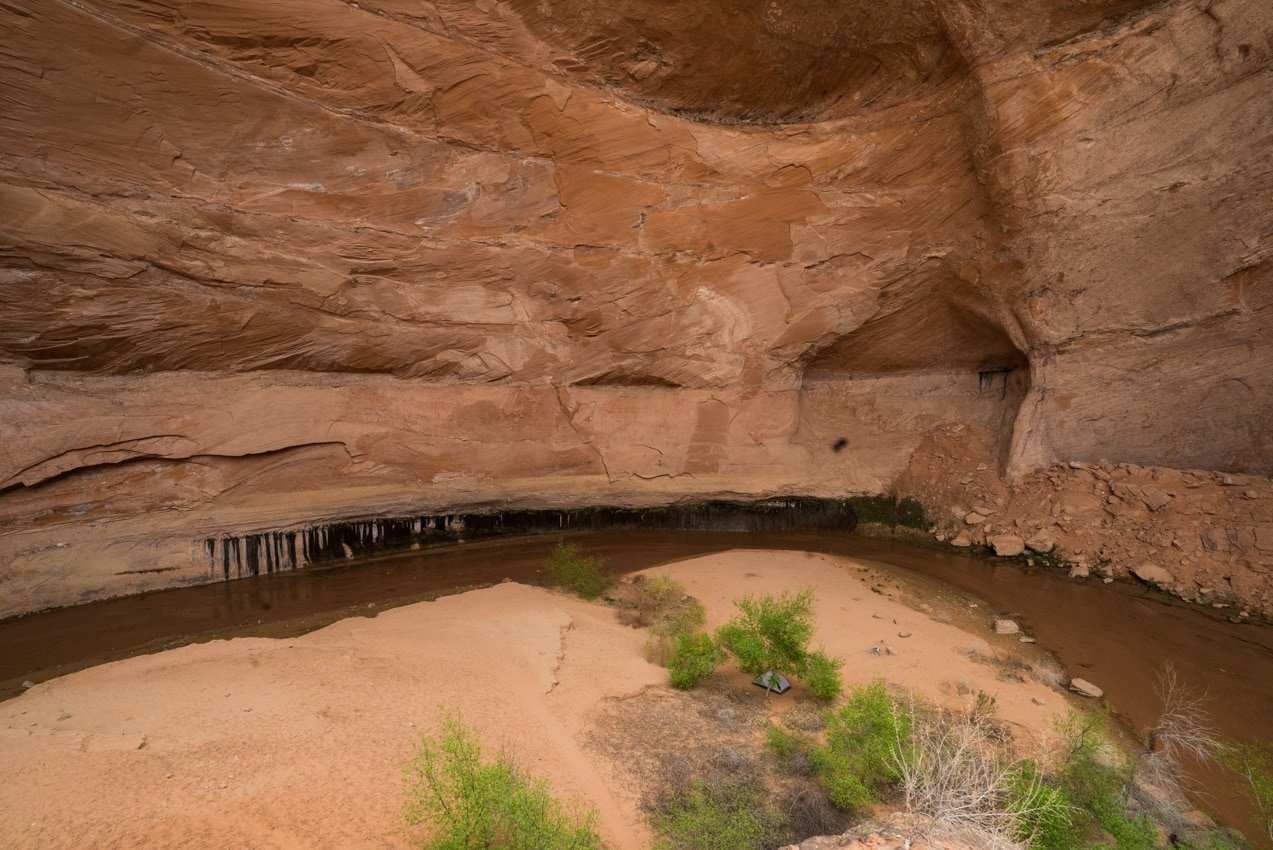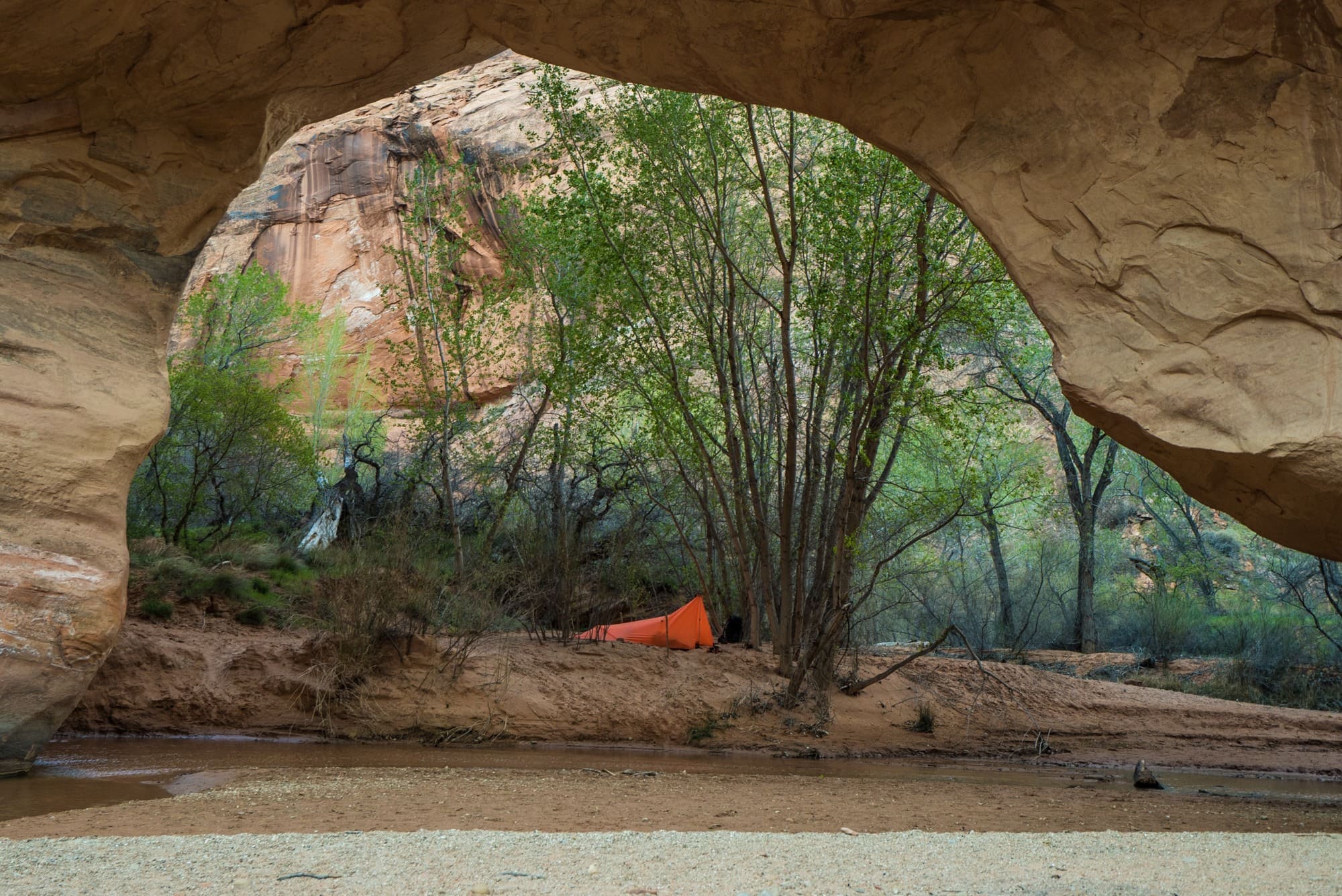 The second day, I thought the scenery in Coyote Gulch got even better. From mile 11 to mile 13, where we turned right to go up towards Crack in the Wall (see the next section), there were a number of gorgeous waterfalls to play around in and the canyon walls were absolutely massive.
Just make sure to pay attention to your surroundings at mile 13. The sandy trail up to Crack in the Wall is on your right and wouldn't be hard to miss. If you continue 0.4 miles past that junction, you'll reach the Escalante River.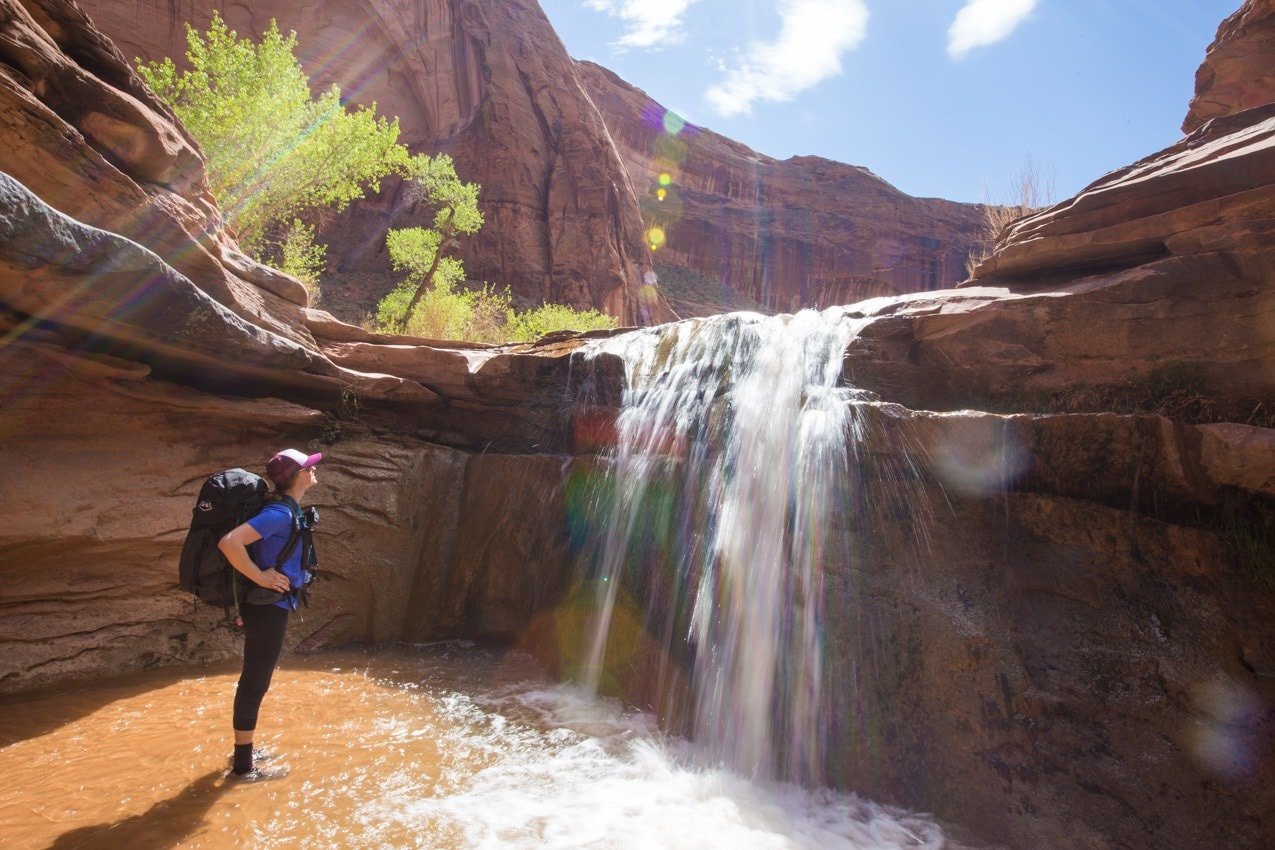 Trailhead #2: Crack in the Wall off Fortymile Ridge
This was our exit trailhead, and where we finished our hike. This trailhead is 36.1 miles down Hole-in-the-Rock road at a BLM sign that reads, "40 Mile Bench". From the sign, you then drive 7 miles to the trailhead. Be prepared, the last two miles of this road is through deep sand and is not suitable for low-clearance vehicles.
If you choose to exit this route like we did, one of the last sections of trail is a sandy 700 climb. It wasn't too bad, but it can be strenuous to climb for beginners or those not used to climbing on sand, and you'll want to make sure you have plenty of water.
The stream bed is 2.5 miles (one way) from the Crack in the Wall Trailhead. And just in case you were curious, yes, there is a "Crack in the Wall" that will require you to slither through an 18-inch wide crack! You will need a rope though to pull your bags up once you are above the Crack, as it's way to narrow to shimmy through with your big backpack.
If you want to hike as much of Coyote Gulch as you can as a dayhike, this is a good trailhead choice that allows you to see all of the waterfalls. The Natural Bridge would be a good turn-around point for a day-hike starting and ending here, which would be 13 miles round trip.
One thing to note about the Crack in the Wall trailhead, is the last bit before the parking lot is not that easy to follow. You'll see a bunch of big rock cairns that mark the trail. These are for navigation, so please don't make new cairns for fun, as it can confuse hikers. As always, I'd also suggest having a trail map, and I generally like to save a trail guide to my phone for reference.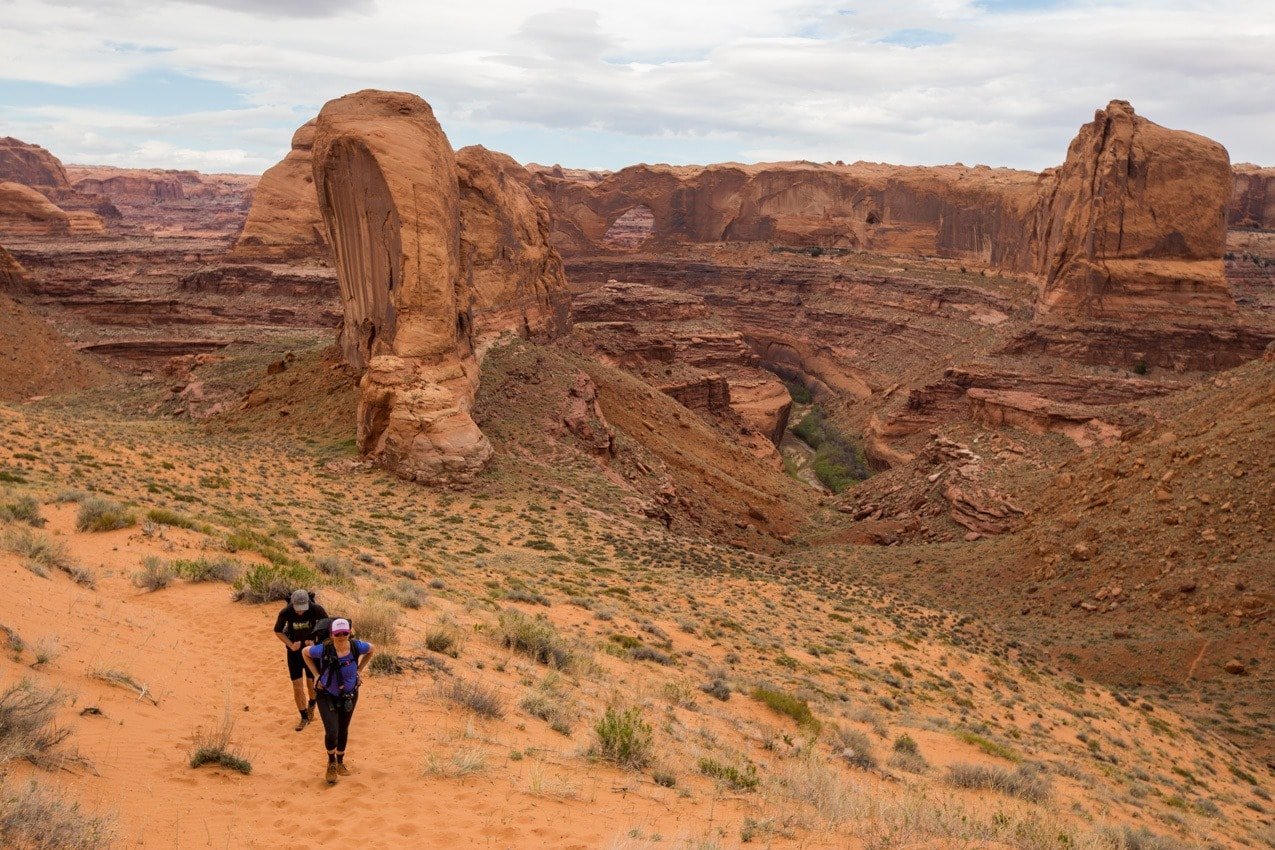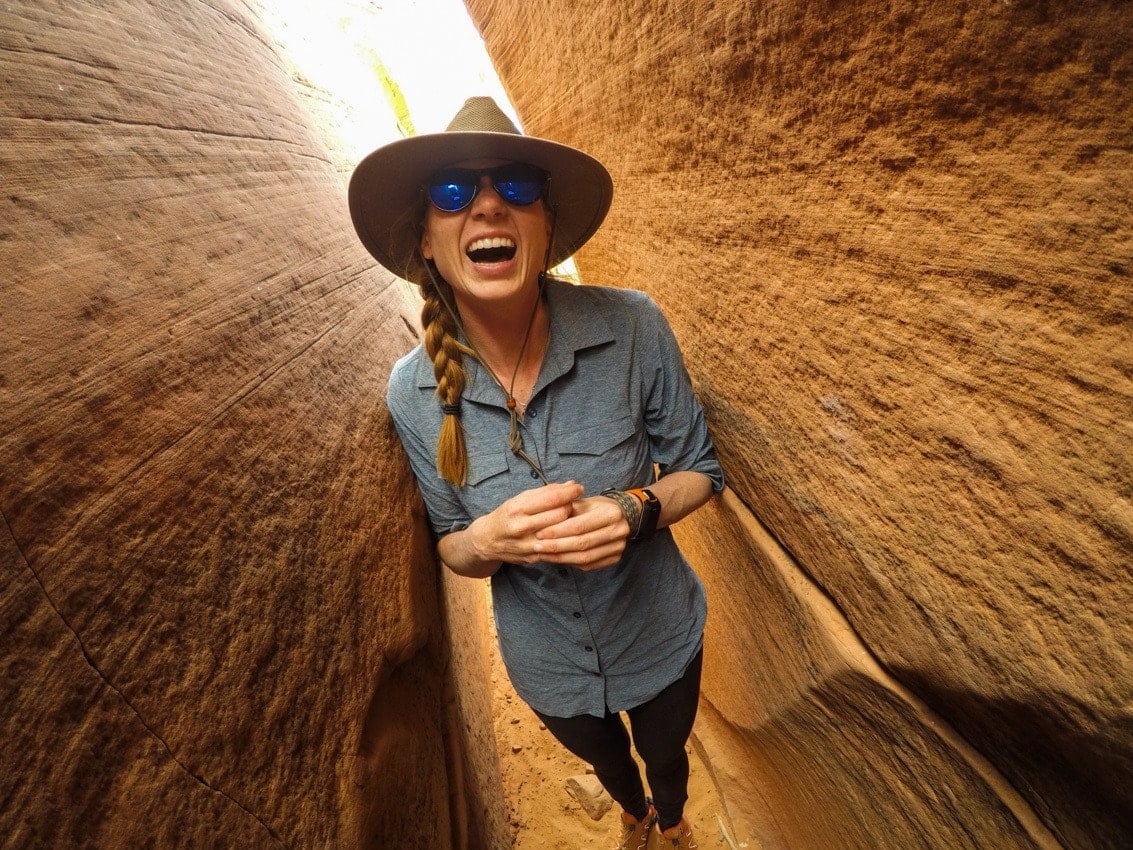 Trailhead #3: Red Well
We didn't do this trailhead, so I don't know too much about it. According to the map, it's 30.7 miles down the Hole-in-the-Rock Road, and you'll see a BLM sign that says, "Red Well 1.5 mi." You can follow this track towards the trailhead and trail register.
Trailhead #4: Forty-mile Ridge Water Tanks Trailhead
Only have a day to explore and feeling a little more adventurous? The quickest way down into Coyote Gulch is the Water Tanks trailhead which drops you into the Gulch right at Jacob Hamblin Arch. The route requires a short scramble, and you'll want a rope. My friend Kristin the awesome solo female traveler behind Be My Travel Muse recently did this hike by herself and wrote up a detailed Coyote Gulch day hiking guide on her blog. Make sure to check it out if you are looking to day hike.
Water Availability in Coyote Gulch
Before you start your hike, I'd recommend packing in at least 3 liters, especially in the warmer summer months. Then once you are down in the Gulch, water is available year-round in the canyon. The safest place to fill up your water bottles is at one of the numerous natural rock springs where water seeps right out of the canyon walls. The most reliable spring is located just around the corner from Jacob Hamblin Arch at mile 7 on the left if you are hiking from Hurricane Wash. Make sure to have a full 3 liters when you leave this spring.
We also found another spring on the left side of the river just before starting our hike up to Crack in the Wall. Our guidebook also said there was a spring near the Natural Bridge, but we couldn't find one there.
Don't forget to pack a lightweight water filter or water purification tablets just in case you need to drink water from the river.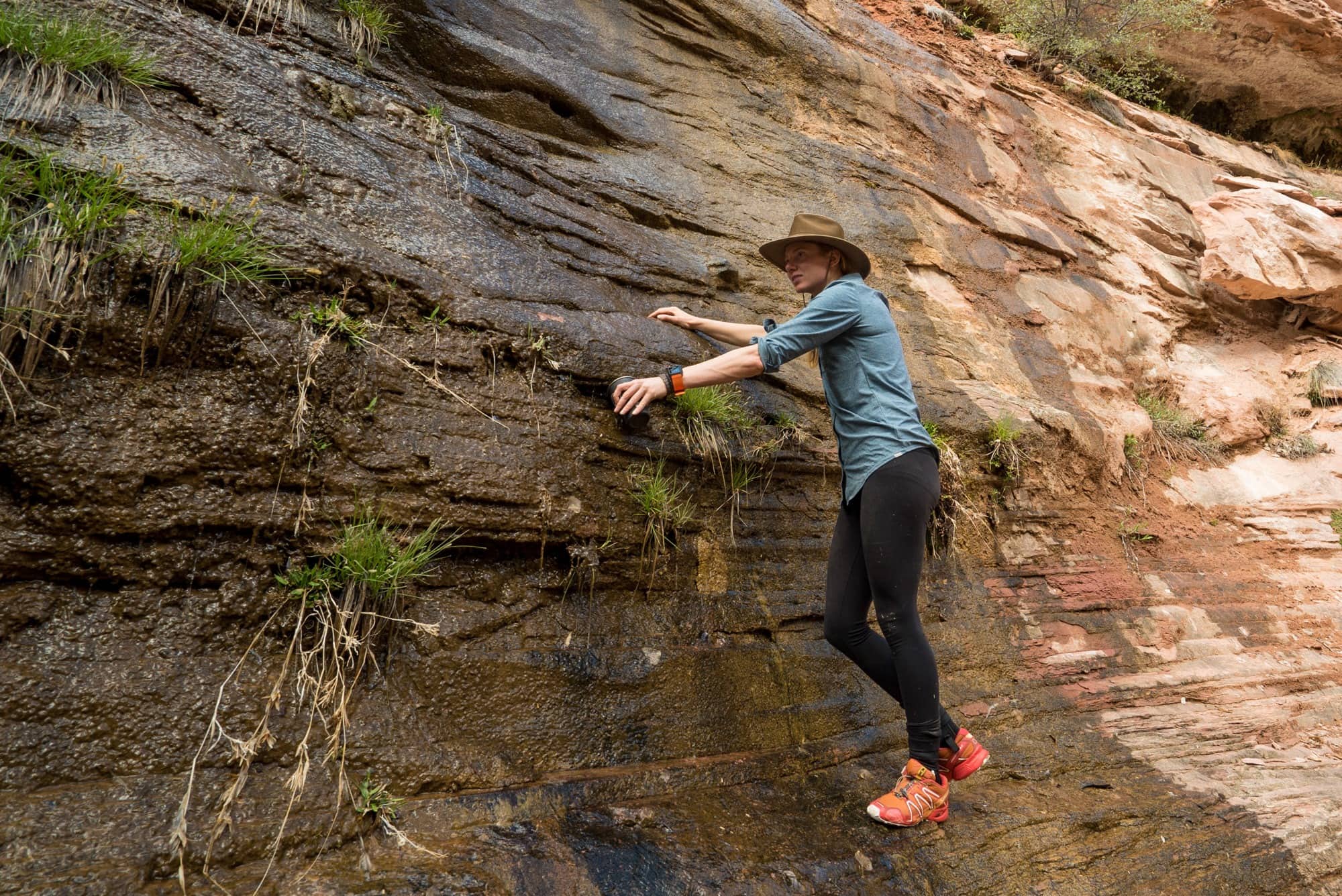 Backpacking Gear for Coyote Gulch
Like any backpacking trip, you should always check the weather before you start your Coyote Gulch hike so you pack accordingly. In addition to your normal backpacking gear, there are a few special gear considerations for Coyote Gulch backpacking trip.
Shoes: Depending on the time of year, much of your hike will likely be through ankle-deep water. I'd recommend an old pair of tennis shoes and some neoprene socks for hiking and then a comfy pair of sandals for camp so your feet can dry out at night.
Rope: Bring a 10 foot rope if you plan to enter or exit via Crack in the Wall. You can use it to hoist your bags up and over the crack.
Wag Bags: You are required to pack out your poop in Coyote Gulch. This rule was instituted due to the number of people hiking in Coyote Gulch. Imagine if everyone was pooping in the watershed, it would be really gross. When you pick up your permit at the  Escalante Interagency Visitor Center (755 W Main St, Escalante, UT 84726), the ranger will provide each person in your group with your own wag bag. If you've never used a wag bag….the bag you poo in contains a special blend of polymers that instantly breaks down the waste and turns it into a deoderized gel. You seal that bag up and then this goes inside a second securely sealed ziplock bag that keeps it all contained. Once you are back in civilization, the entire wag bag goes into the garbage. If you don't stop at the visitors center and instead get your permit at the trailhead, you'll be responsible for providing your own wag bag, like this one called the Restop 2. Please follow the rules, as its essential for keeping the area clean for everyone else.
Clothes: Check our post on What to Wear Hiking
Other Backpacking Gear: Check out our 3 Day Backpacking Checklist to ensure you are ready to go before heading out!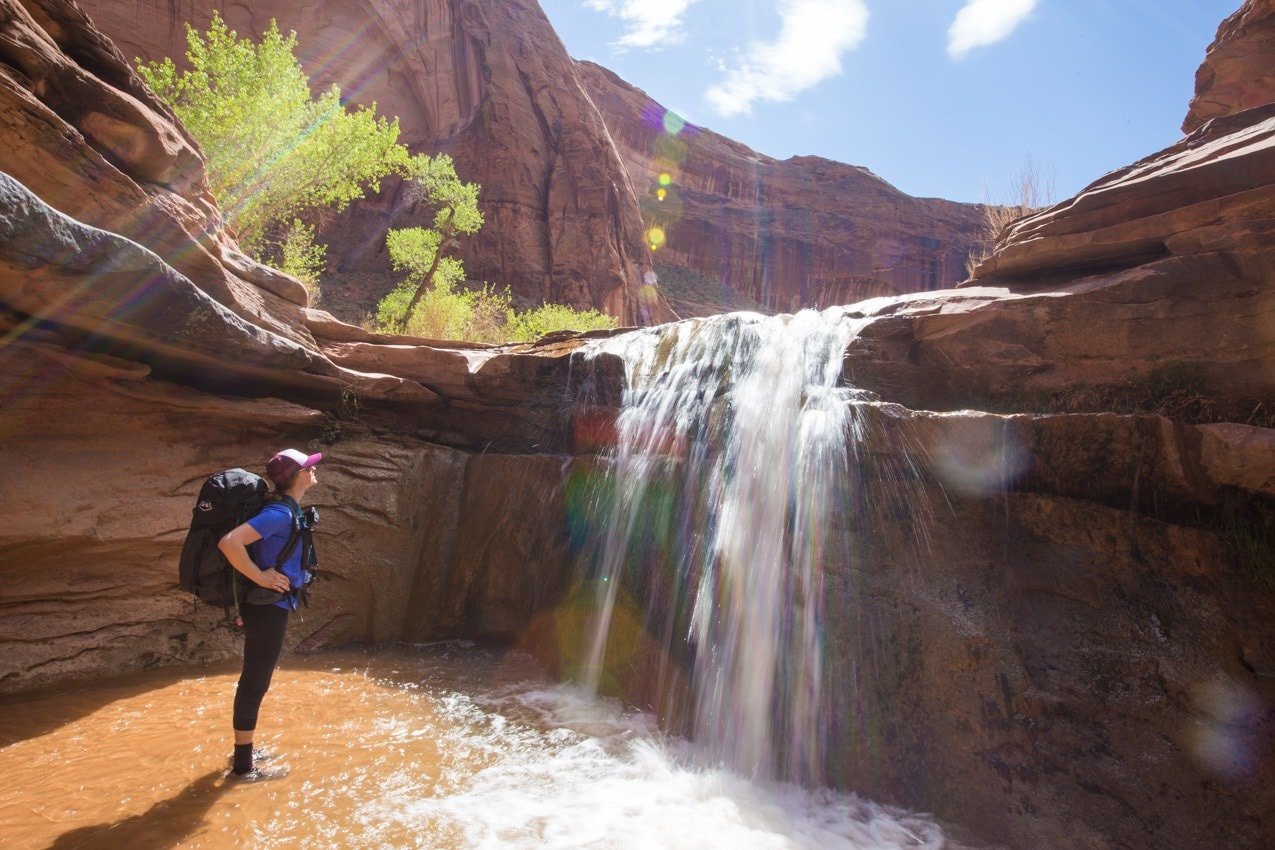 Nearby Resources aka the Nearest Town
Escalante, UT is the closest town to the trailhead. Escalante is also only 50 miles east of Bryce Canyon National Park which makes Bryce Canyon & Coyote Gulch a great combo for a Spring getaway. The town of Escalante is rather small but does have all basic services for visitors. Escalante Outfitters is an outfitter with some backpacking basics. If you are in need of a shower and hot meal, they also offer cabins, tent sites, and delicious homemade pizza.
WHAT IS YOUR FAVORITE BACKPACKING ROUTE IN UTAH? GOT QUESTIONS ABOUT COYOTE GULCH? LEAVE A COMMENT BELOW, TWEET ME, OR WRITE ME A POST ON FACEBOOK.