Hiking the Zion Narrows: A Complete Guide
Hiking the Narrows is the best adventure in Zion National Park. Learn about permits, campsites, getting to the trailhead, the best time to visit & more.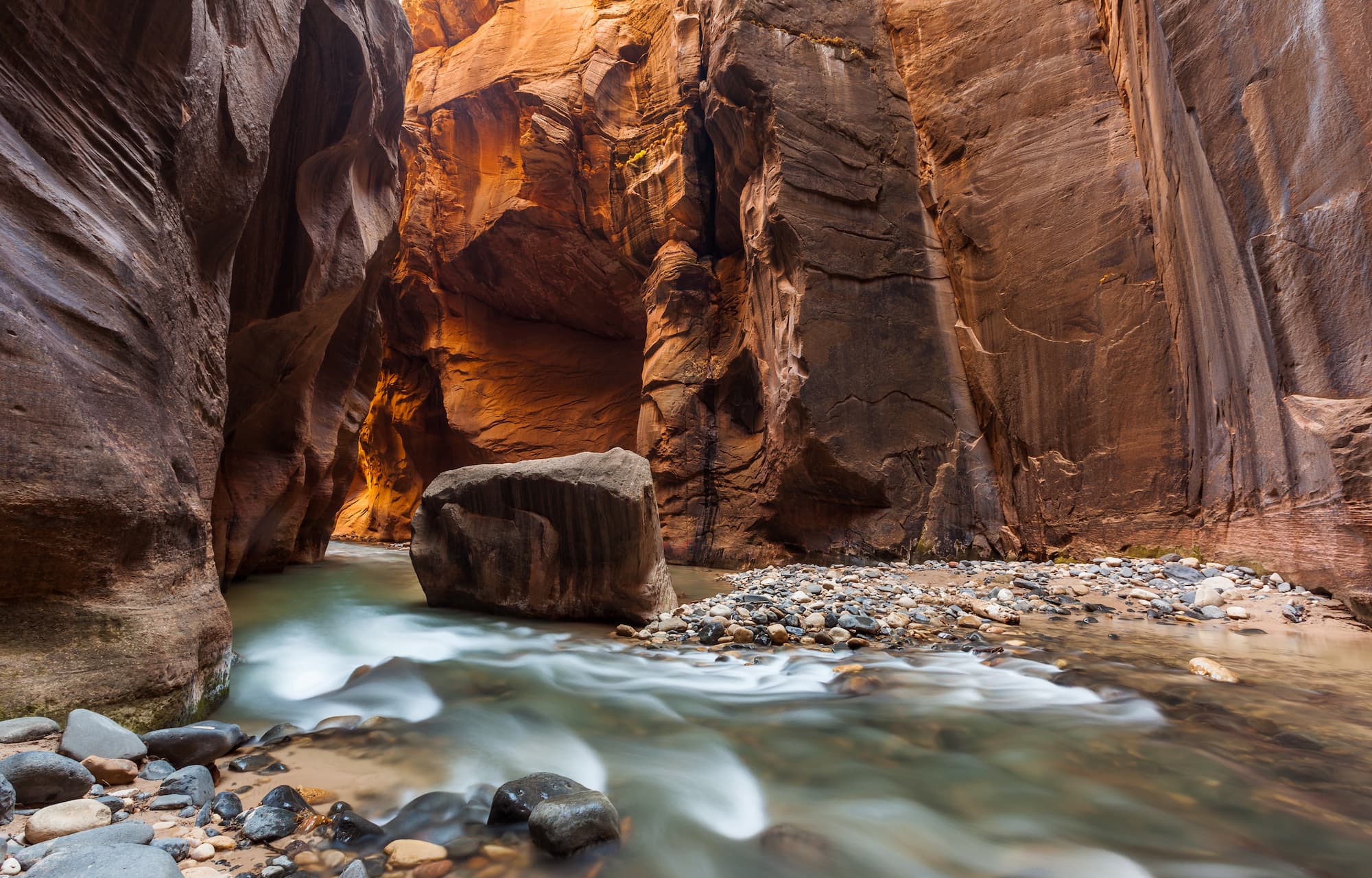 Hiking the Zion Narrows in Zion National Park is an adventure that should be on every hiker's bucket list. With its steep canyon walls, turquoise water, secluded camping, and a trail that runs right through the riverbed, the Narrows is one of the most unique trails in the country and certainly one of the best in Southern Utah.
The Narrows can be done as a bottom-up day hike or as a top-down overnight backpacking trip. Like most overnight backpacking trips, though, hiking the Narrows requires some planning ahead to secure permits, set up transportation, and gather the right gear to make the trip a success. I backpacked the Narrows a few years ago and had a blast, so in this post, I share all the important tips and information to help you plan your overnight trip through this amazing canyon.
Ready to experience the unique adventure of hiking the Zion Narrows? In this guide, you'll find everything you need to know about planning a successful hike through this natural wonder.
As it goes in all of the destinations we share, please practice good trail etiquette and remember to Leave No Trace. This means packing out all of your garbage, being respectful to others, and following the established rules.
Zion Narrows Basics
The Zion Narrows is located in Zion National Park. It's a section of the North Fork of the Virgin River that lies in between Chamberlain Ranch to the north and the Temple of Sinawava in the south. This 16-mile section of the river is known as 'the Narrows' because it runs through the narrowest part of Zion Canyon. With towering walls on either side that stretch up thousands of feet, some parts of this gorge span less than 20 ft across.
The Zion Narrows is one of the most popular areas of Zion National Park and it can be experienced in several ways. There is a wheelchair-accessible Riverside Walk that crosses the opening of the Narrows. You can also hike through the Narrows as an out-and-back day hike from the bottom-up or as an overnight backpacking trip from the top-down. In this post, we're mainly covering the latter – how to hike the Narrows as a backpacking trip from the top-down. For more information about day hiking in the Narrows, visit our Zion National Park Travel Guide.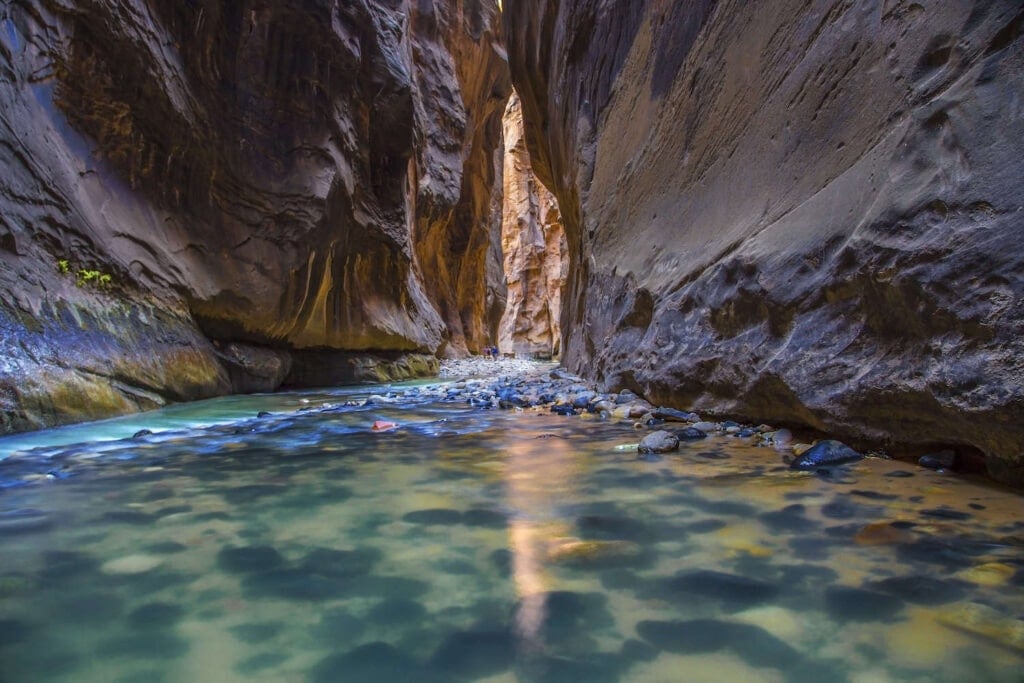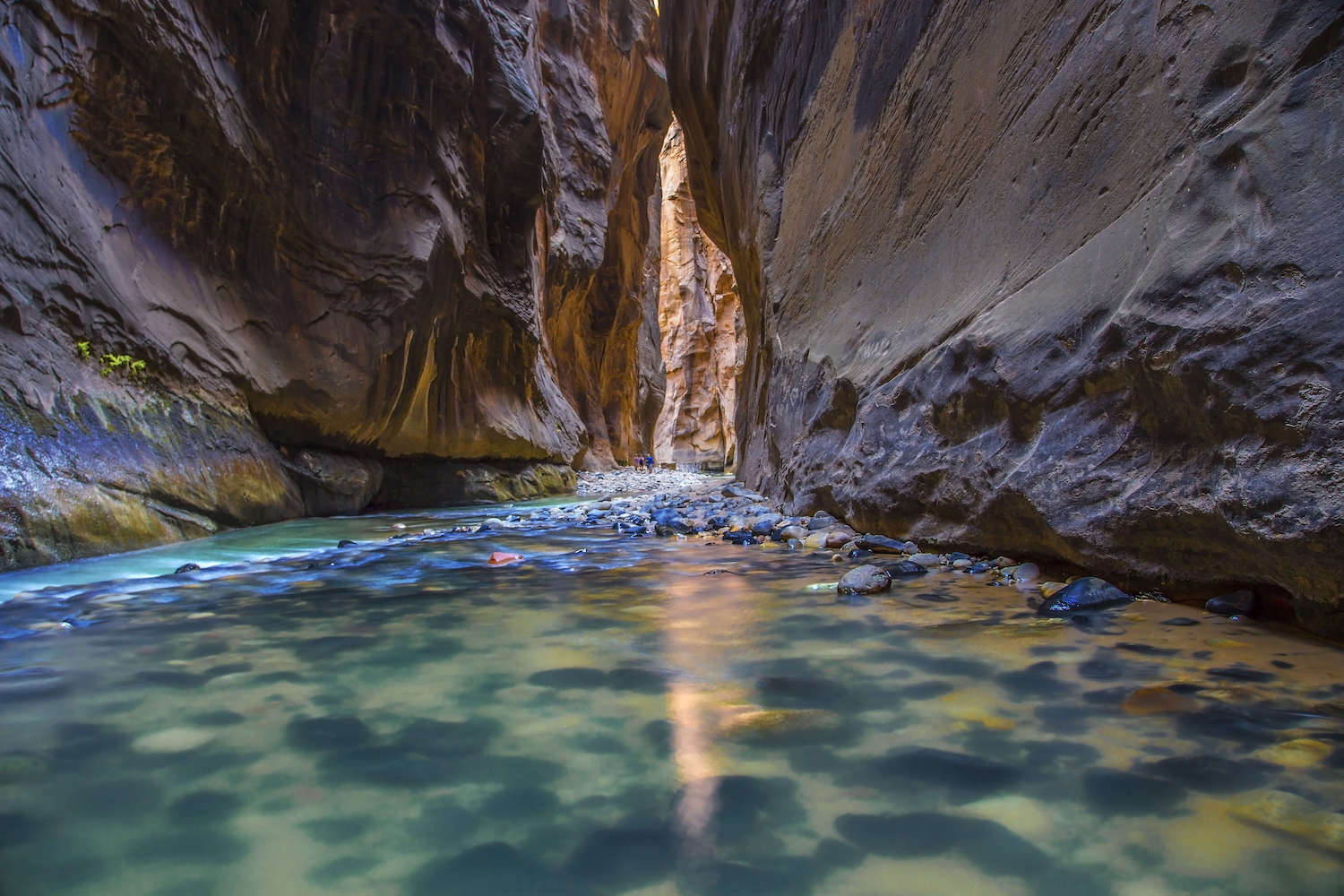 ---
Hiking The Zion Narrows: Top-Down Route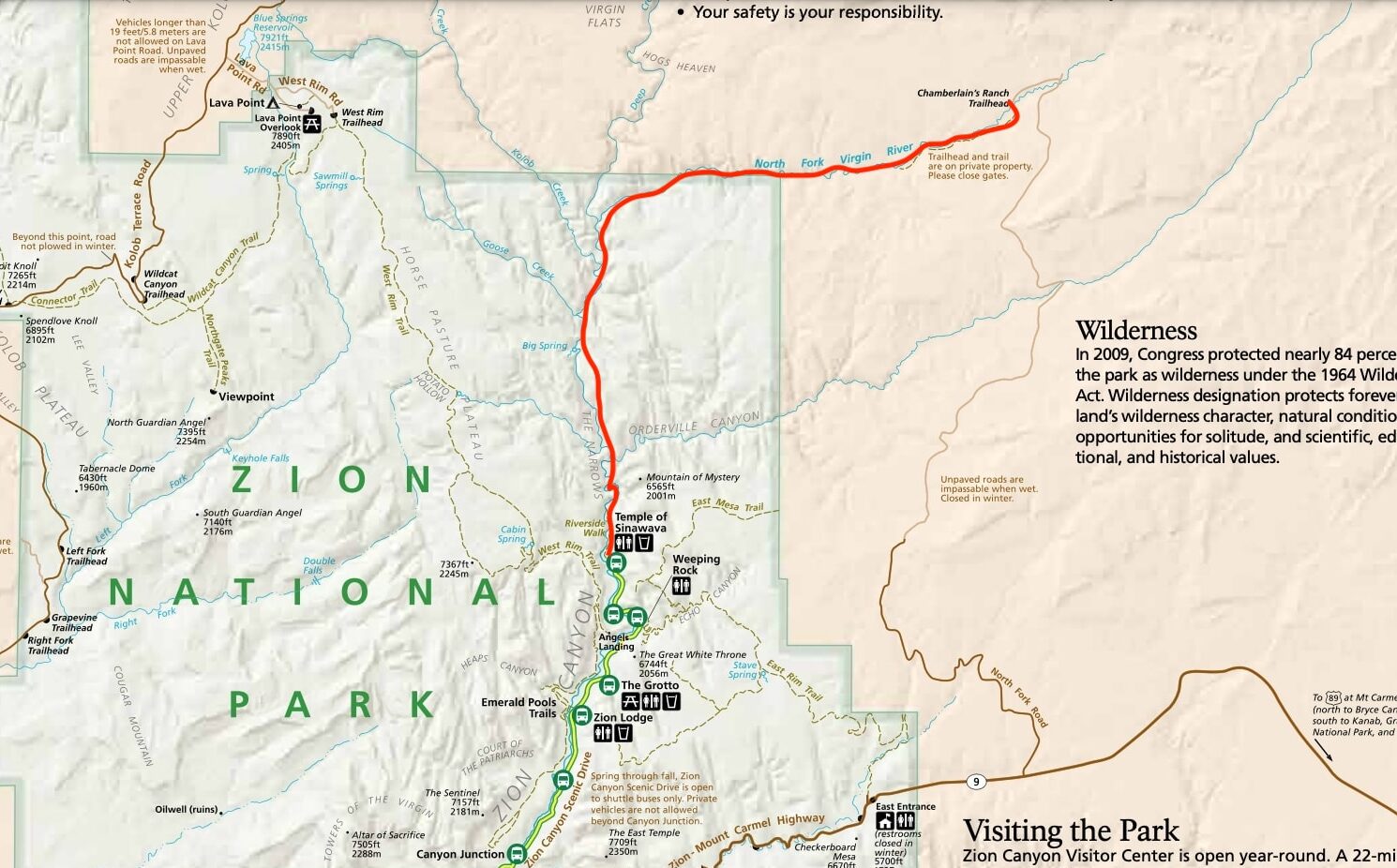 The top-down Zion Narrows route is a 16-mile hike that can be done as an overnight backpacking trip or as a strenuous day hike. Whether backpacking or day hiking, this route requires a permit from the National Park Service and a shuttle to the start at Chamberlain Ranch (more information on transportation is below).
The top-down route allows you to explore a larger portion of the canyon and experience the subtleties of the canyon as it shifts from an open pasture to the deepest and darkest slot canyons that you see in the photos. You will also have the canyon mostly to yourself for the first 2/3 of the hike, encountering very few day hikers. The top-down route took us 15 hours in total, spread across two days, and we made numerous stops for swimming, snacks, and photos.
With a lighter day pack, you could potentially hike the top-down Zion Narrows route in as little as 12 hours, but you would need to be on the trail very early in the morning and you would have very little time to stop and explore. For that reason, unless you are an ultra-speedy hiker, I recommend doing the top-down route only as an overnight backpacking trip. If you prefer to hike at a more enjoyable pace, consider opting for the bottom-up out-and-back route.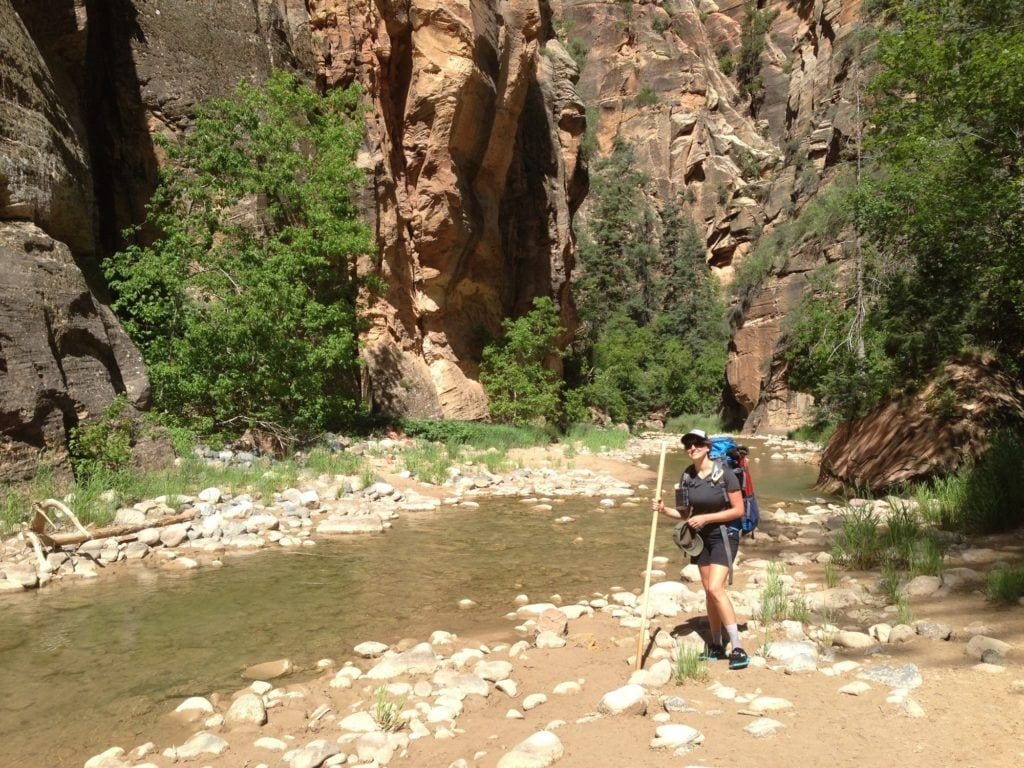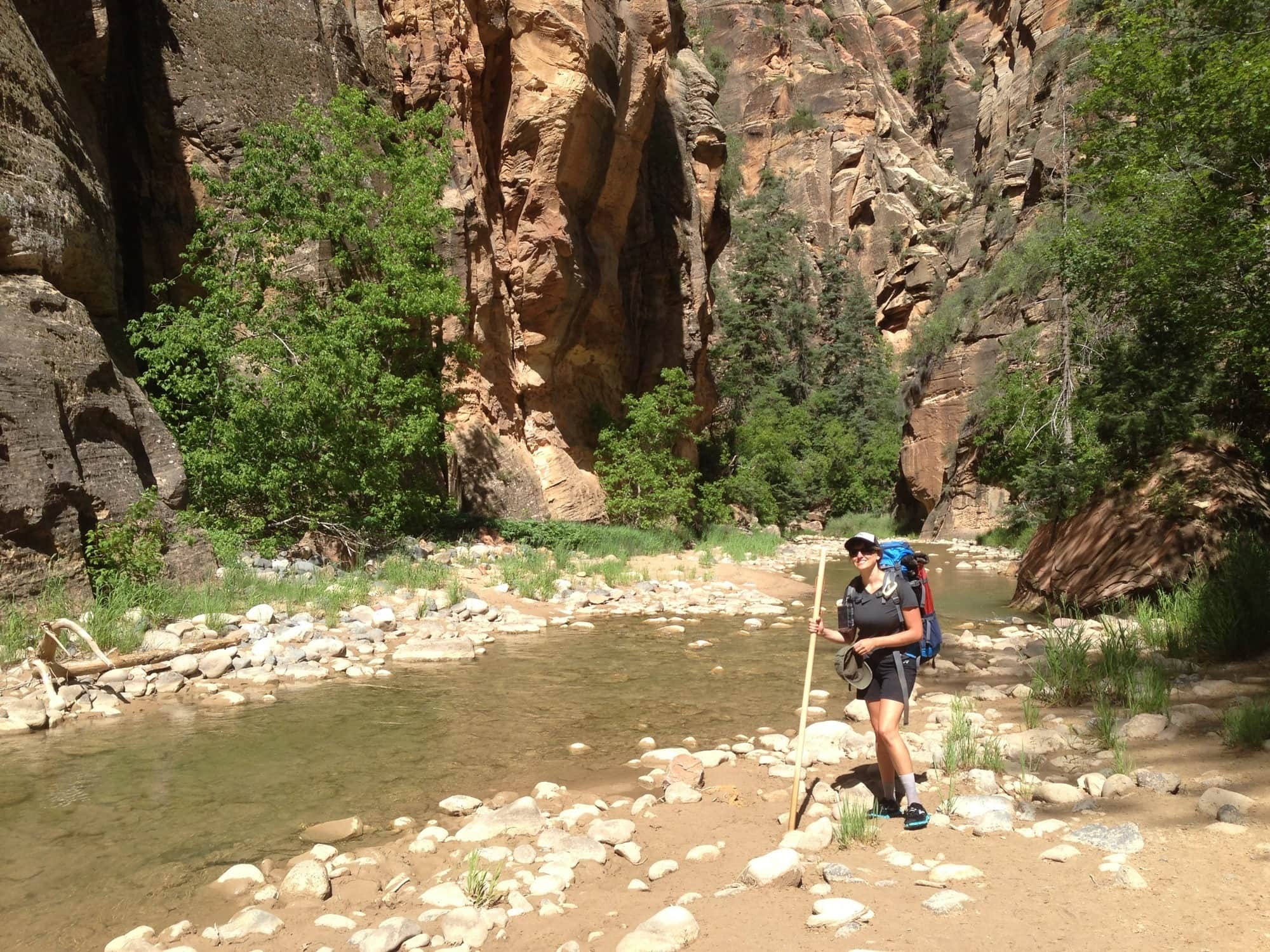 ---
The Best Time to Hike the Zion Narrows
The best time of year to hike the Zion Narrows is in May, June, late September, and October. Water levels tend to be lower in the late spring and fall and temperatures are comfortable. Water levels in July and August are good for hiking, but those months are hot and the risk of thunderstorms is high. Always check the weather forecast before attempting the Narrows.
Hiking the Narrows should be avoided when rains are predicted, as the danger of flash flooding can be very real. The bottom-up day hike may also be attempted in the winter and spring months, but a dry suit is necessary due to the cold water temperatures. No matter what time of year you hike the Narrows, before beginning your hike, you need to check the water levels on the US Geological Survey (USGS) website. The National Park Service considers conditions ideal when the flow is less than 70 cubic feet per second and they close the Narrows if the flow goes over 150 cubic feet per second.
On the USGS graph, the blue line indicates current discharge, while the yellow triangles represent the average water flow over the last 32 years. When I backpacked the Narrows in early June, water levels were at 36 cubic feet per second, and only once did we encounter a waist-deep pool.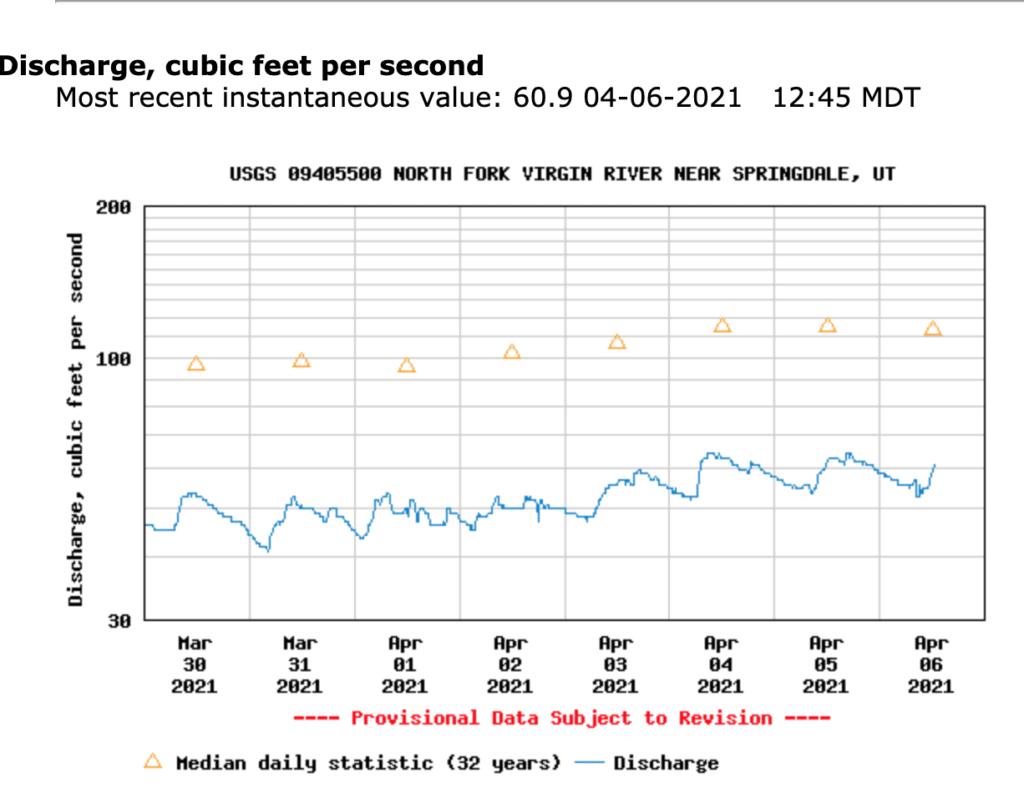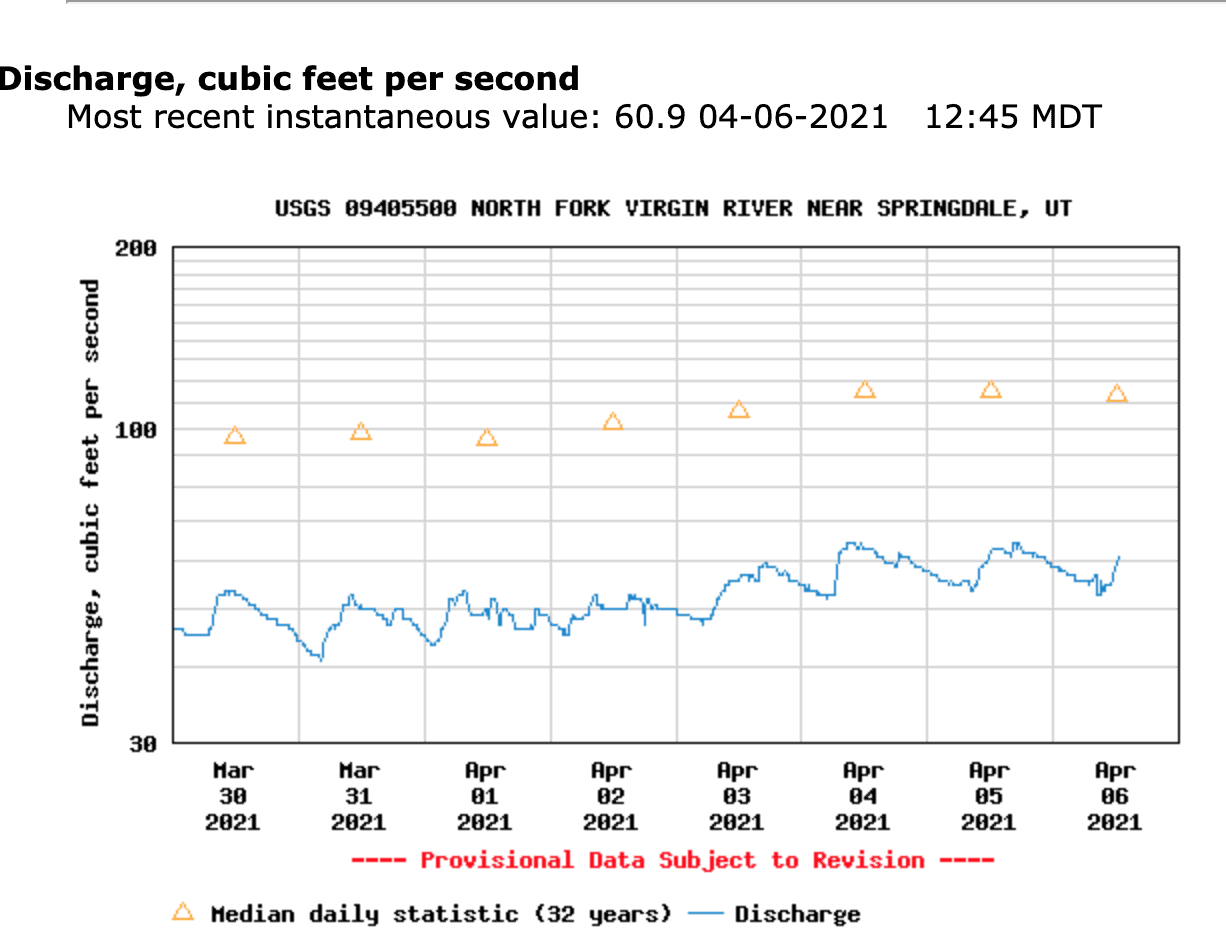 Toxic Cyanobacteria in The Narrows
Toxic cyanobacteria is present in varying concentrations throughout the three major tributaries of the Virgin River including the North Fork where the Narrows is located. This harmful bacteria can be dangerous – and even fatal – to humans and pets. The National Park Service closely monitors the levels of cyanobacteria in Zion National Park and issues Danger Advisories when the presence of this bacteria is high. Always check the current conditions alerts before planning a backpacking trip through the Narrows.
Note: Water filters do not remove cyanotoxins and there is NO SAFE WAY to treat water from the Virgin River. Plan to hike in with all the water you need, or talk to a ranger to locate the safe side springs to refill along the way.
---
Permit Process for Hiking the Zion Narrows
* Due to the Pandemic, temporary changes have been made to the Zion Narrows permit process. These changes have been reflected below.
Online Reservations For Overnight Trips
Online reservations for hiking the Narrows are available during a two-month time frame. On the 5th of every month at 10:00 am MT, reservations become available for the following month. For example, a permit for a trip in September is available online on August 5th. Make sure to set a reminder in your calendar, as the permits often get swooped up immediately for hikes during busy months. If slots are still available after the 5th of every month, reservations can be made until 5:00 pm MT on the day before your trip.
Even if you make an advanced reservation for your Narrows hike, you will still need to visit the Zion Canyon Visitors Center permit office in person to pick up your permit before setting off. They will go over the rules and regulations, including prohibitions on fires and other safety measures. Also, everyone hiking the Narrows is required to pack out any solid human waste using the bags provided by the permit office. The permit office typically opens at 7am during the summer months and 8am during the winter months. This and additional permit information will be provided in your reservation confirmation email. Keep in mind the permit office's hours if you are catching a morning shuttle up to Chamberlain Ranch.
Getting a permit is the most difficult part of planning your overnight backpacking trip through the Zion Narrows. There are only 12 campsites in the Narrows, meaning only 12 backcountry permits are issued for each day. To make a reservation, visit Zion's online Wilderness Reservation System.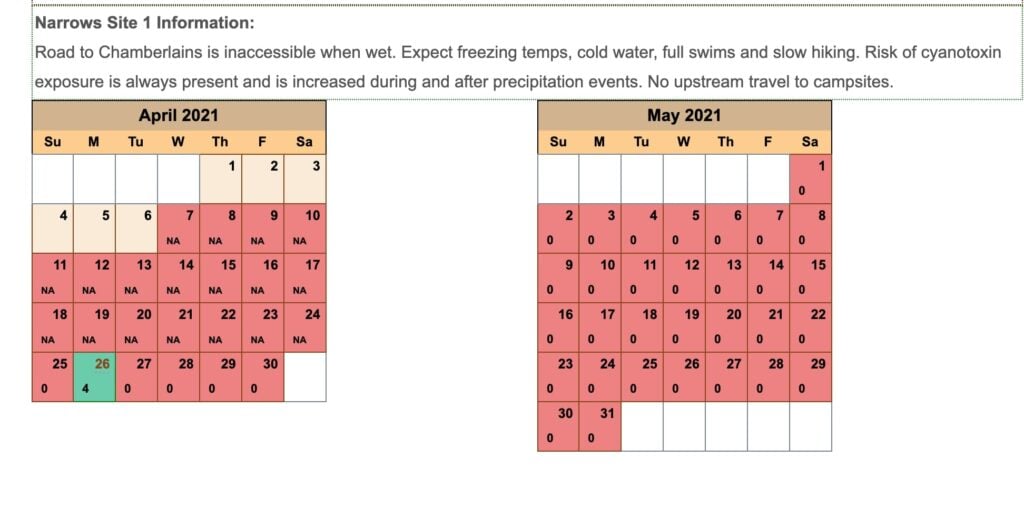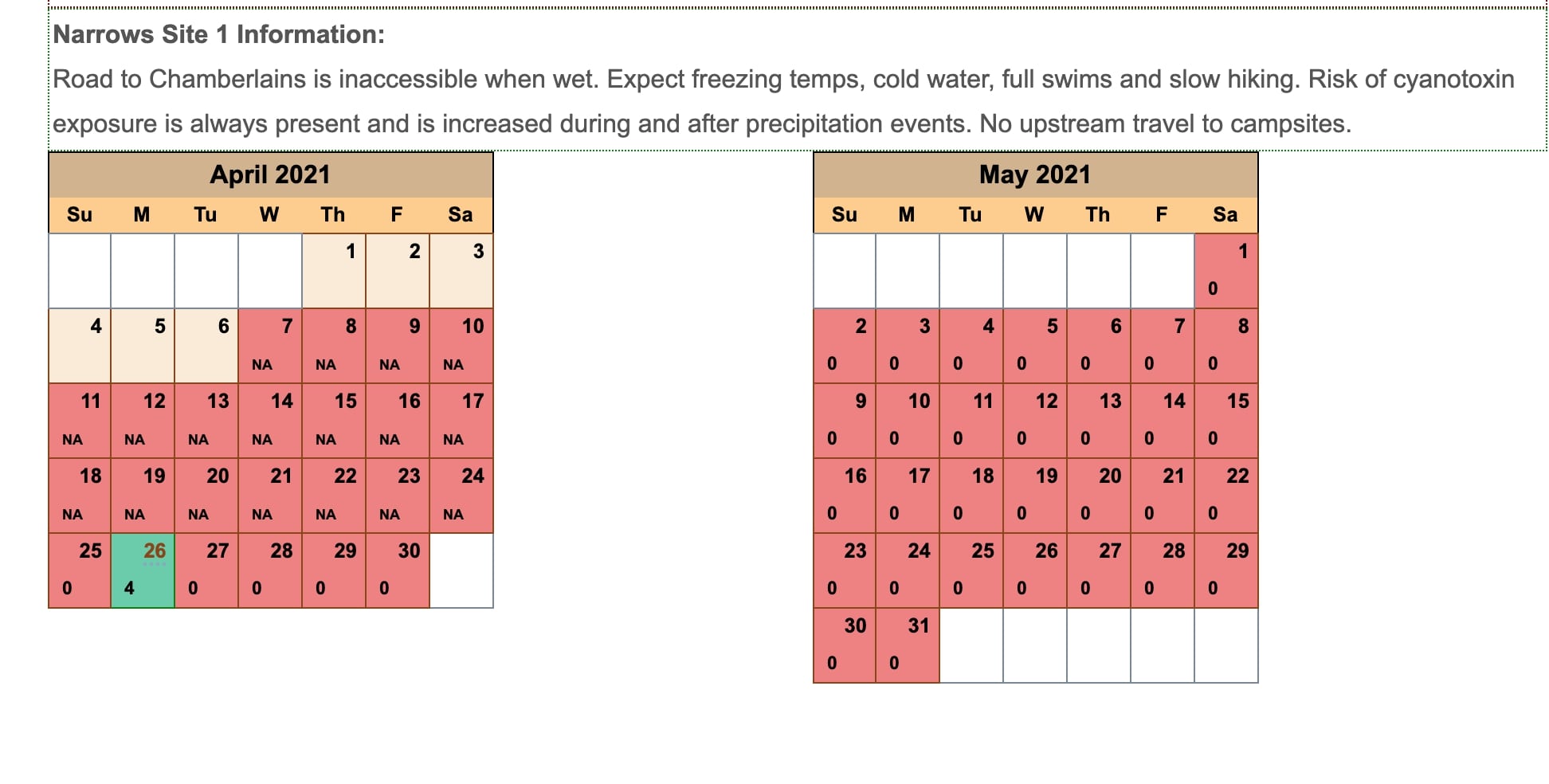 On the drop-down menu, you will see a list of all of the backcountry campsites that are available for advanced reservation as well as the maximum group size in parenthesis for each campsite. Once you select a site, a two-month calendar will pop up:
Dates appearing in green indicate that online permits are available for that date.
Dates appearing in red with a 0 have no available permits
Dates appearing in red with a number other than 0 indicate walk-in availability. These permits can be obtained 1 day before the date.
If your desired date is green, click it and complete the reservation form. There is a reservation fee of $5 per site.
If there are no sites available for your desired dates, there is still a way for you to obtain a permit. The first thing you should do is continue to check the online reservation system. If there are cancellations at any of the sites, this will be reflected in the calendar's availability.
When we backpacked the Zion Narrows, I was checking the reservation system the entire week before our trip and there were no permits available. However, the morning before we left for Zion, there was a cancellation for Site #7 in the Narrows and I was able to score a last-minute permit. So keep checking back, as things do open up!
Walk-up Permits For Overnight Trips
If you are unable to get a permit through a cancellation, there is still hope. You'll notice the drop-down menu on the online Wilderness Reservation System only lists Sites 1, 3, 5, 7, 9, and 12 as available for advanced reservations.
This means that Sites 2, 4, 6, 8, 10, and 11 are held for first-come-first-serve walk-up permits. Walk-up permits are issued starting the day before when the permit office opens at the Zion Canyon Visitors Center (check opening hours depending on the season). Plan on being the first in line the day before your desired backpacking trip and you might just get lucky. Just remember if you are successful in getting a walk-up permit, make sure to call the shuttle companies immediately to reserve a shuttle to Chamberlain Ranch (information below).
Zion Narrows Campsites
In terms of choosing a campsite, you really can't go wrong. All of them are isolated, riverside sites with beautiful views of the canyon. The location of each campsite is indicated on the map below. From my quick observations during our trip, I determined my favorite sites to be:
Campsite #1 – Near the confluence of a big creek. Really nice views. A downside is that it leaves a lot of mileage for day 2.
Campsite #6- Huge riverside rock for sunbathing and several nice swimming holes.
Campsite #7 – Set up on a bench above the river. A short hike uphill, but very private. Small beach with a nice swimming hole.
Campsite #8 – Very cool spot in a narrow part of the canyon. Set right on the river next to a large cave.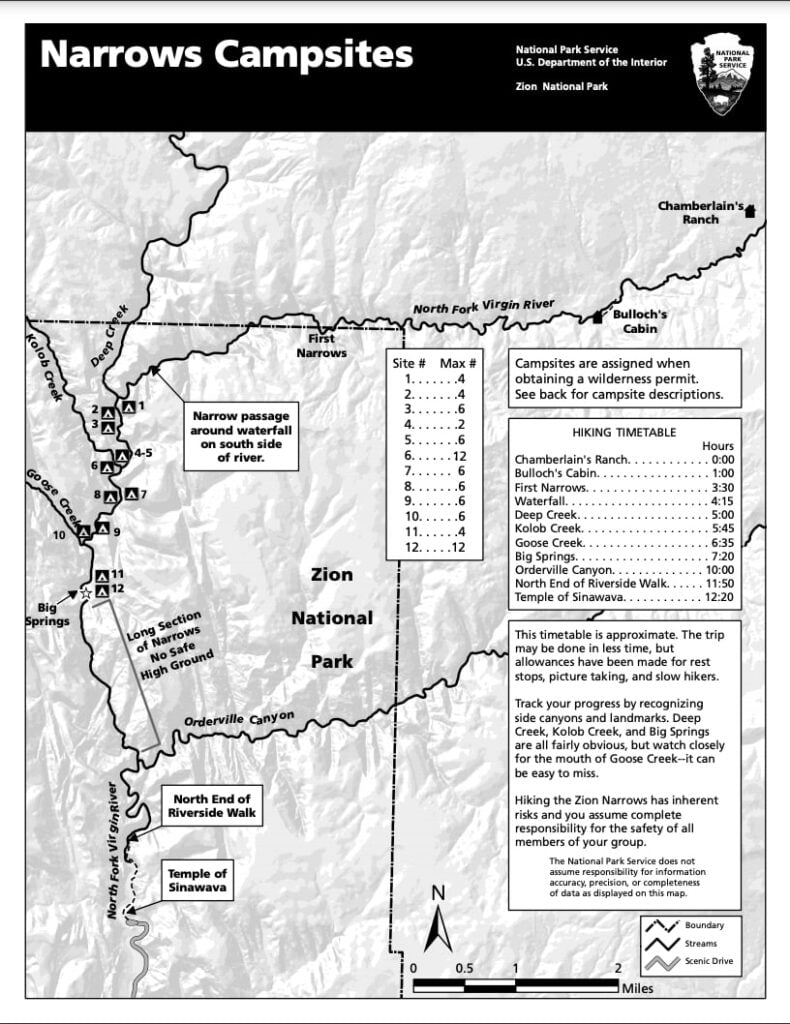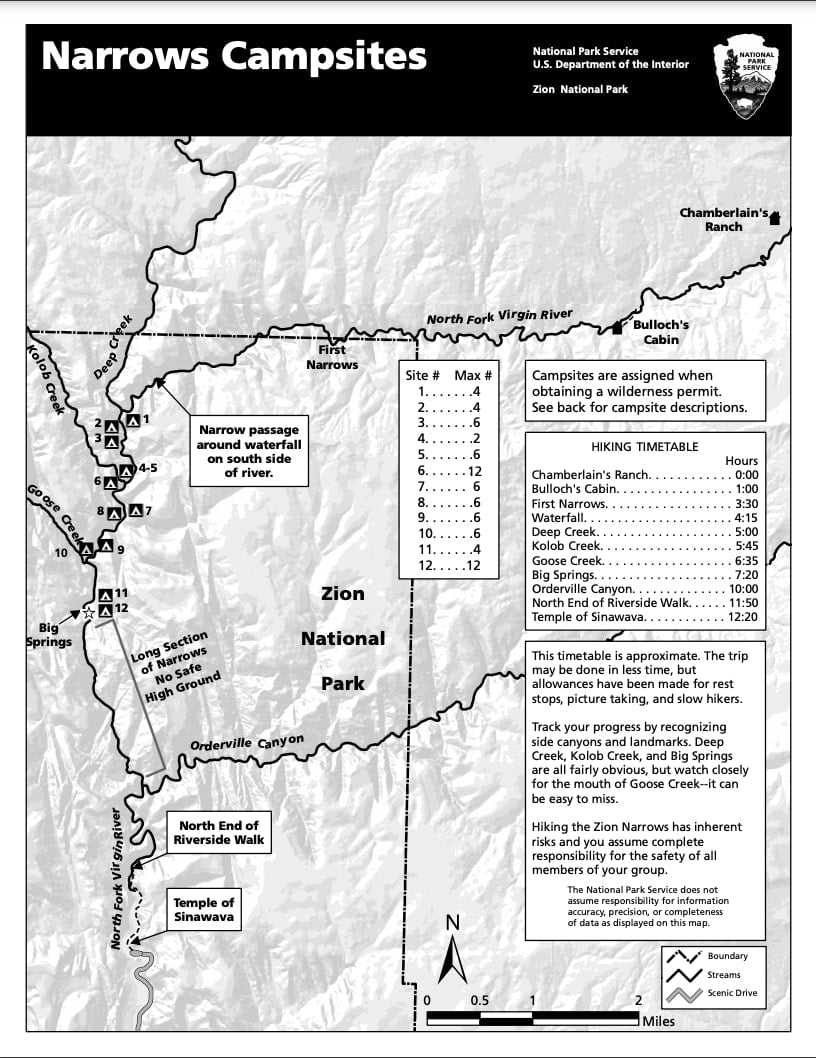 Top-Down Day Hike Permits for the Zion Narrows
You also need a permit to day hike the Zion Narrows from the top-down. Remember, you do NOT need a permit for day hiking the Narrows from the bottom-up. The top-down day hike is listed as a "canyoneering" permit and can be reserved here.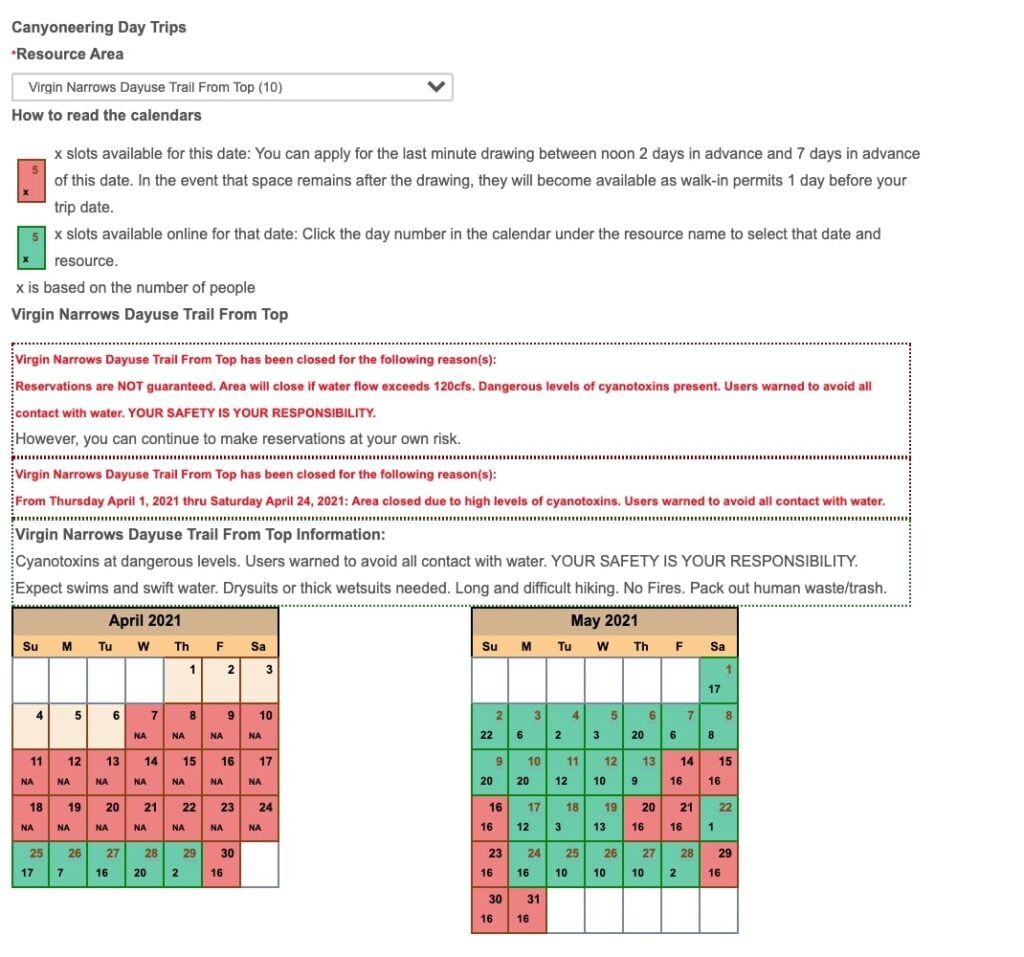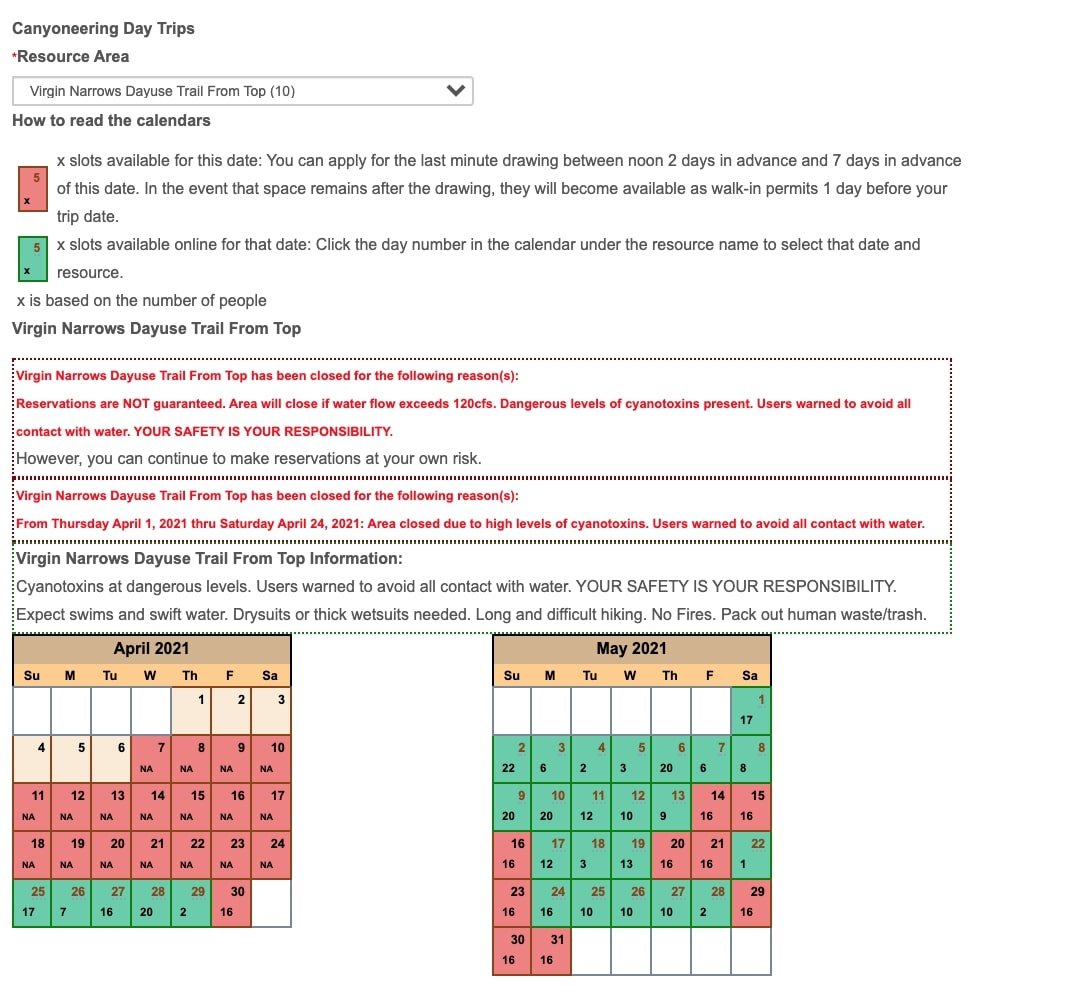 In the drop-down menu, select "Virgin Narrows Day Use Trail from Top," and the two-month availability calendar will pop up. From here, the process of reserving the permit is the same as for the backpacking permit. Through this lottery, you can apply for a permit between 2 days (until noon) and 7 days in advance of your trip. There is a $5 application fee for the last-minute drawing.
If no top-down day hiking permits are available for your desired date through the advanced permit system, then your next option is to enter the Online Last Minute Drawing. To enter, go to the Last Minute Drawing site, log in or create an account, and choose "Virgin Narrows Day Use Trail from Top" from the drop-down menu. On the next page, it will show you the available dates, the number of permits available, and the number of people who have already entered the lottery. Choose the date you would like, enter your information, and cross your fingers. There is a $5 fee to enter that is non-refundable, even if you are unsuccessful. The last-minute drawing runs 2 days prior to the requested trip date at 1pm MST.
---
What Gear to Bring for the Zion Narrows
Preparing for the Zion Narrows is a little bit different than a normal backpacking trip since you'll be (happily) slogging through 16 miles of river. Nothing ruins a trip faster than a soaked sleeping bag or damaged camera, so before heading out, you'll need to put some thought into how to waterproof your stuff. Which shoes to wear for hiking the Narrows is also an important consideration.
In addition to the suggestions below, be sure to check out our Backpacking Checklist for other overnight gear you may want to bring and What To Wear Hiking for clothing recommendations.
Heavy Duty Trash Compactor Bag
Trash compactor bags are a cheap and reliable solution for keeping all of your stuff inside your pack dry. Compactor bags are extra-thick and don't tear or rip easily. Simply open up a compactor bag and use it to line the inside of your backpack. Then place all of your items inside the compactor bag. This way, if you end up wading through some deep pools and the bottom of your pack gets wet, the stuff inside should stay totally dry.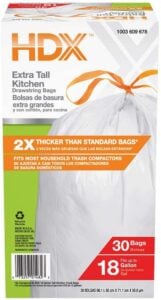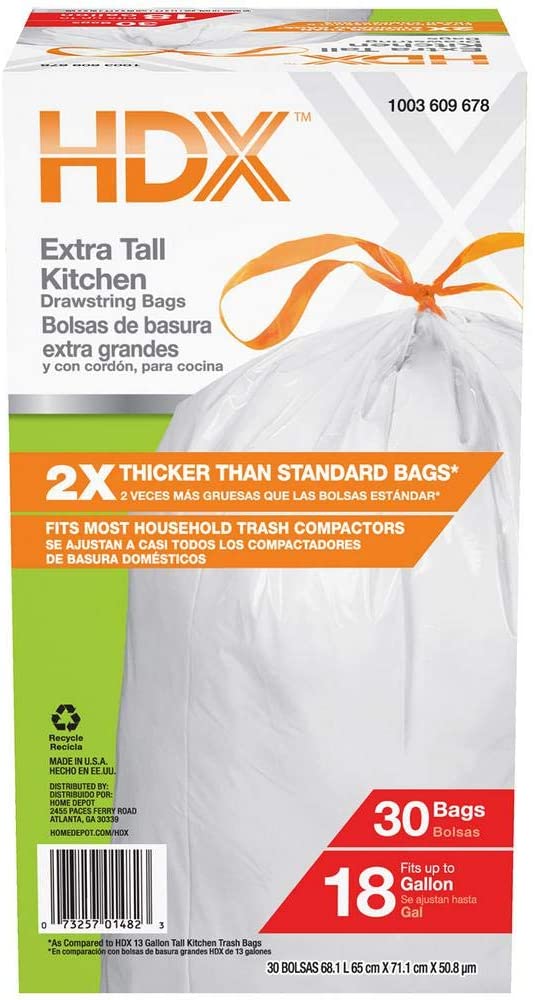 Dry Bag
If you have any larger electronics or other items that you want to strap to the outside of your bag, pick up a 3 or 5 liter Sea to Summit dry bag. These super-strong dry bags roll down and easily clip to the outside of your pack.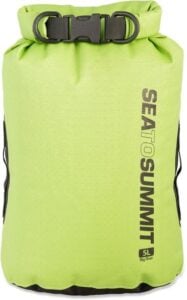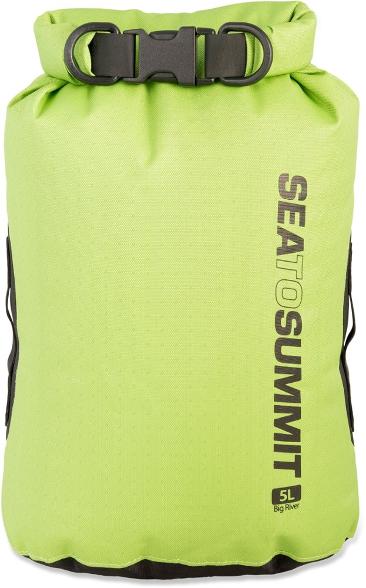 Check price: REI / Backcountry
Shoes for Hiking the Narrows
Hiking boots will get heavy and waterlogged, making it very difficult to walk. So ditch the boots and sport an old pair of tennis shoes instead. I hiked all 16 miles of the Narrows in a 2-year old pair of Brooks tennis shoes that I wore daily to the gym. They were light, provided enough support, and I came home blister-free. When making your shoe choice, the most important thing is that they are closed-toe, closed-heel. Avoid hiking sandals at all costs or you'll be stopping constantly to dig the little pebbles and rocks out. You'll also end up with stubbed toes and cut-up feet.
If you don't have old tennis shoes to spare, the Oboz Sawtooth X Low Hiking Shoes (non-waterproof version) are a great option. They're lightweight, have good traction, and they're breathable so they'll have more of a chance to dry out. They come in a men's version as well.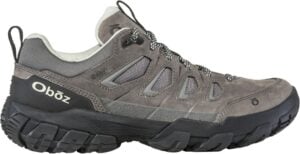 Check price: REI
If you are uncomfortable hiking in regular tennis shoes or if the water is chilly, you can stop by Zion Rock Outfitters in Springdale and try on a pair of their rental canyoneering shoes. These shoes have grippy rubber on the soles to prevent slipping and they are lined with neoprene to help keep your feet warm.
Neoprene Socks
If the water temperatures are slated to be cold or you are prone to getting cold feet, I highly recommend packing a pair of Neoprene socks. These socks act as a wet suit for your feet and help keep warmth trapped inside. The Simms Neoprene Wading Socks offer 2.5mm of insulation and are designed to fit snugly so that they don't bunch up while walking. They also come in a men's version.
Pro tip: These socks are thicker than normal socks, so be sure to try them on with your hiking shoes before your trip to make sure they fit and are comfortable.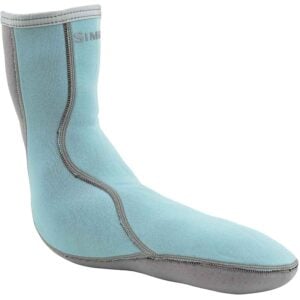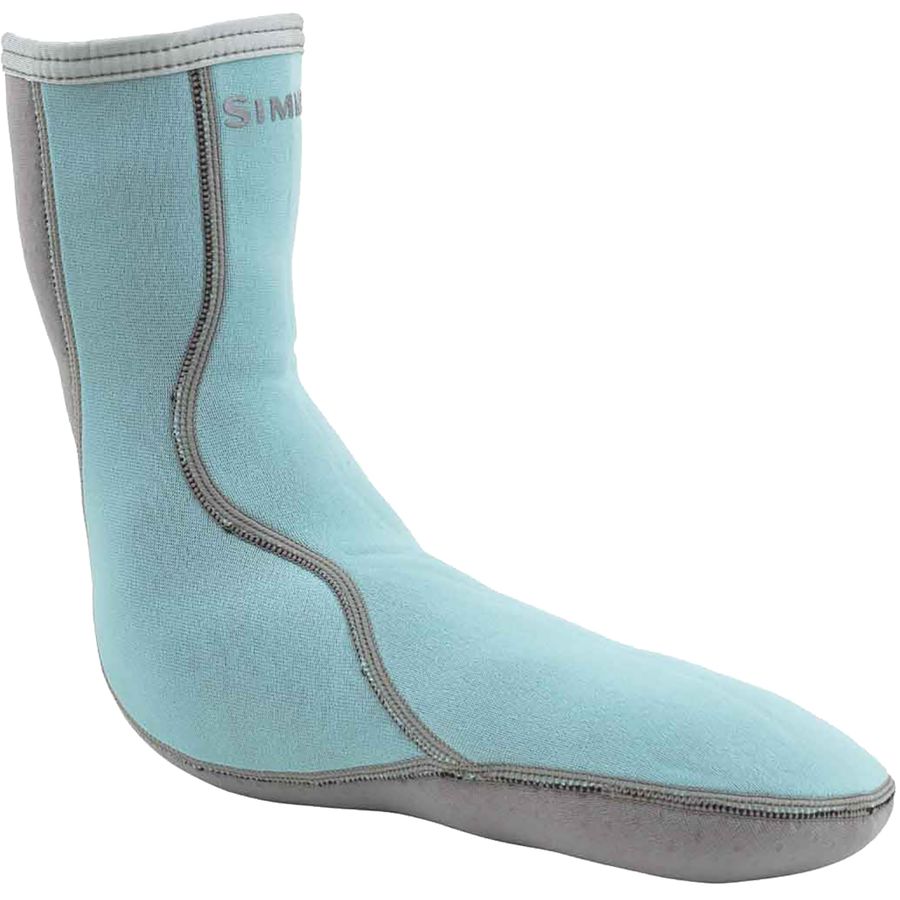 Check price: Backcountry
Extra socks
While hiking the Narrows, your feet will almost always be wet, so it's a good idea to pack some extra socks so that you can keep them warm and cozy while at camp and after you exit the canyon. I love the Darn Tough Hiker Micro Crew Cushion Socks because they dry quickly and are very durable.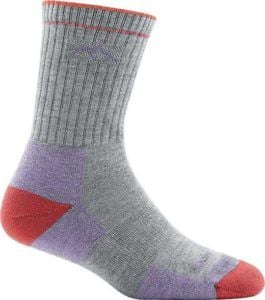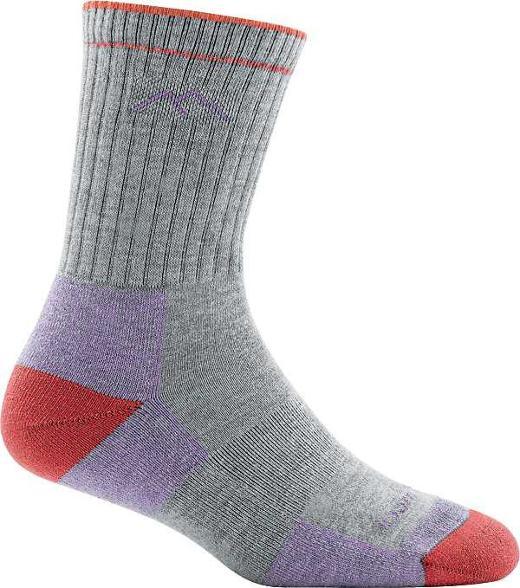 Check price: REI / Backcountry
Trekking Poles or Hiking Stick
If you are going to follow just one piece of advice in this post, this should be it: man was I happy that I rented a hiking stick from Zion Rock Guides in Springdale for $6 a day! You will be crossing the river every few minutes and some of these crossings can be swift and deep.
Trekking poles or a walking stick provides a great deal of balance and stability and will also give you more confidence in your footing. For more information about choosing trekking poles, head over to our guide on the Best Trekking Poles & Why You Should Use Them.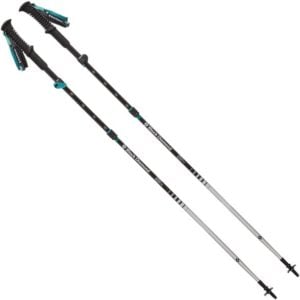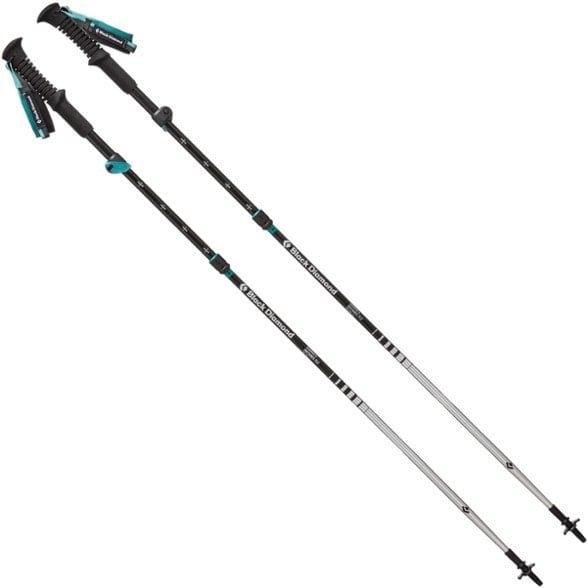 Check price: Backcountry / REI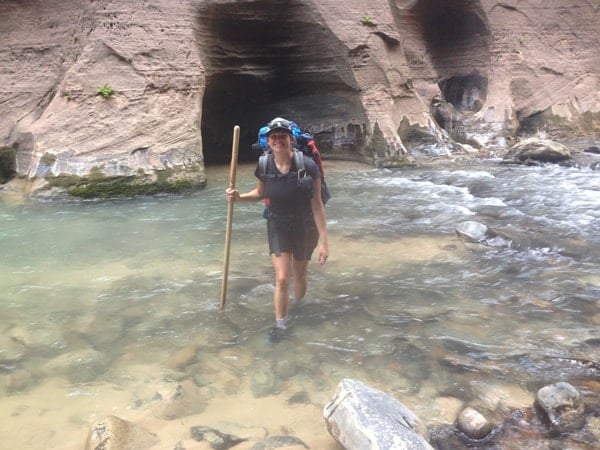 ---
Transportation for Hiking the Zion Narrows
Getting to Chamberlain Ranch
For the top-down Zion Narrows route, the drive to the trailhead from Zion's main canyon takes about 1 hour and 15 minutes and much of it is on a dirt road. Since the last thing you are going to want to do at the end of your hike is to carpool back to the top to pick up your car, I would highly recommend using one of the outfitter companies in town that offer shuttle service from Zion Canyon to Chamberlain Ranch.
Shuttle prices range from $35-$60 a person or more depending on how many people in the group and depart either from the outfitter's office or from the Zion National Park Visitors Center. Departure times vary, but most offer a first departure time around 6:30 am and a second departure around 9:30 am. As soon as you know the dates of your Narrows hike, you should call to reserve your space in the shuttle. Shuttles do fill up in advance and if there is no space, then you are pretty much out of luck.
When you call to reserve your space, tell them you need a ride from Zion Canyon to Chamberlain Ranch. I would also suggest taking the earliest departure possible. This will allow you to get on the trail earlier, giving you more time to stop, as well as to hang out at your awesome riverside camp.
Four companies that offer shuttle service are:
Exiting the Narrows
When exiting the Narrows, the trail ends at the Riverside Walk Trail in the main Zion Canyon. Follow the paved Riverside Walk Trail for 20 minutes to the Temple of Sinawava shuttle stop where the Zion National Park shuttle stops every 10 minutes. Hop on and take this shuttle back to the Zion Visitors Center or your desired destination within the Park.
---
What If You Don't Get A Narrows Permit?
If you fail to obtain a permit through all of the methods outlined above, don't be bummed. The bottom-up Zion Narrows hike, which does not require a permit, is an excellent alternative. It requires less planning, less equipment, and if you get an early start, you will still cover the best ground in the Narrows while beating the crowds.
This route starts at the north end of the Riverside Walk trail at the Temple of Sinawava in the heart of Zion Canyon. It's easily accessible using the Park's free shuttle service. The bottom-up route is an out-and-back hike and can be as easy or as strenuous as you want since there is no specific turnaround point. You hike up as far as you like and then when you are ready to head back, just turn around and hike back the same way you came.
You do not need a permit to hike the Narrows from the bottom-up. Therefore, it is a more plausible option for those who haven't been able to plan in advance or get a permit, as well as those who are not interested in backpacking. I recommend getting an early start. The first 1.5 miles as you hike up from the Riverside Walk Trail can be very crowded with families, especially in the afternoon, and the further you hike up, the fewer people you will encounter.
That wraps up everything you need to know about hiking the Zion Narrows including how to get a permit and the best gear to bring. What questions do you still have? Have you hiked the Zion Narrows? What was your experience like? Let us know in the comments!