Southern Utah is one of the most unique areas of the western US (and lucky for me, not too far from where I live). It's packed with adventures for outdoor lovers and boasts some epic views. Slot canyons, arches, hoodoos, waterfalls – just to name a few. It's definitely on my list of great places to visit, but the arid desert climate means intense, dry heat and bright sun. So, it requires some preparation to make sure you've got everything you need to feel comfortable and stay safe in Southern Utah.
With the right gear, clothing, sun protection, and hydration, you'll be well prepared for an amazing desert adventure. In this blog post, I share my complete Southern Utah packing list with my top suggestions for all of this and more. Then, when you're done reading this, be sure to check out all of our Utah travel blogs to help plan your trip.
Here's my Southern Utah packing list, complete with hiking apparel and gear for your next southwest adventure!
Things to Keep in Mind Packing for Southern Utah
Before I get into my apparel suggestions, I'll share a few important things to be aware of as you pack for your trip. First things first, Southern Utah is very, very dusty. And, the red desert dust gets on everything, everywhere. So, it's best to rule out packing white clothing items, unless you're okay with them turning a nice rusty-orange color pretty much instantly.
Aside from the dust (that you'll come to know real quickly), desert evenings can get chilly. Deserts are known for being extreme, and it's not uncommon to have really high temperatures and really low temperatures on the same day. So, it's a good idea to pack extra layers to throw on after the sun goes down. This is especially true in the colder months, when weather can be surprisingly wintery.
Other than the temps and dust, it's smart to be prepared with ample sun protection, especially if you're visiting in summer. Utah has the highest rate of skin cancer in the US with more than 300 sunny days a year. And, you're most likely going to spend all of your days out having fun in the sun. Rather than missing out on the beautiful places to visit in Utah, my advice is to pack plenty of sunscreen and wear clothing that reduces your exposure to the sun. Plus, the intense heat and sun can be really draining, depending on the time of year. So with this in mind, you'll preserve more energy to keep on keepin' on.
For more info on weather, see this blog post on the best times to visit Southern Utah.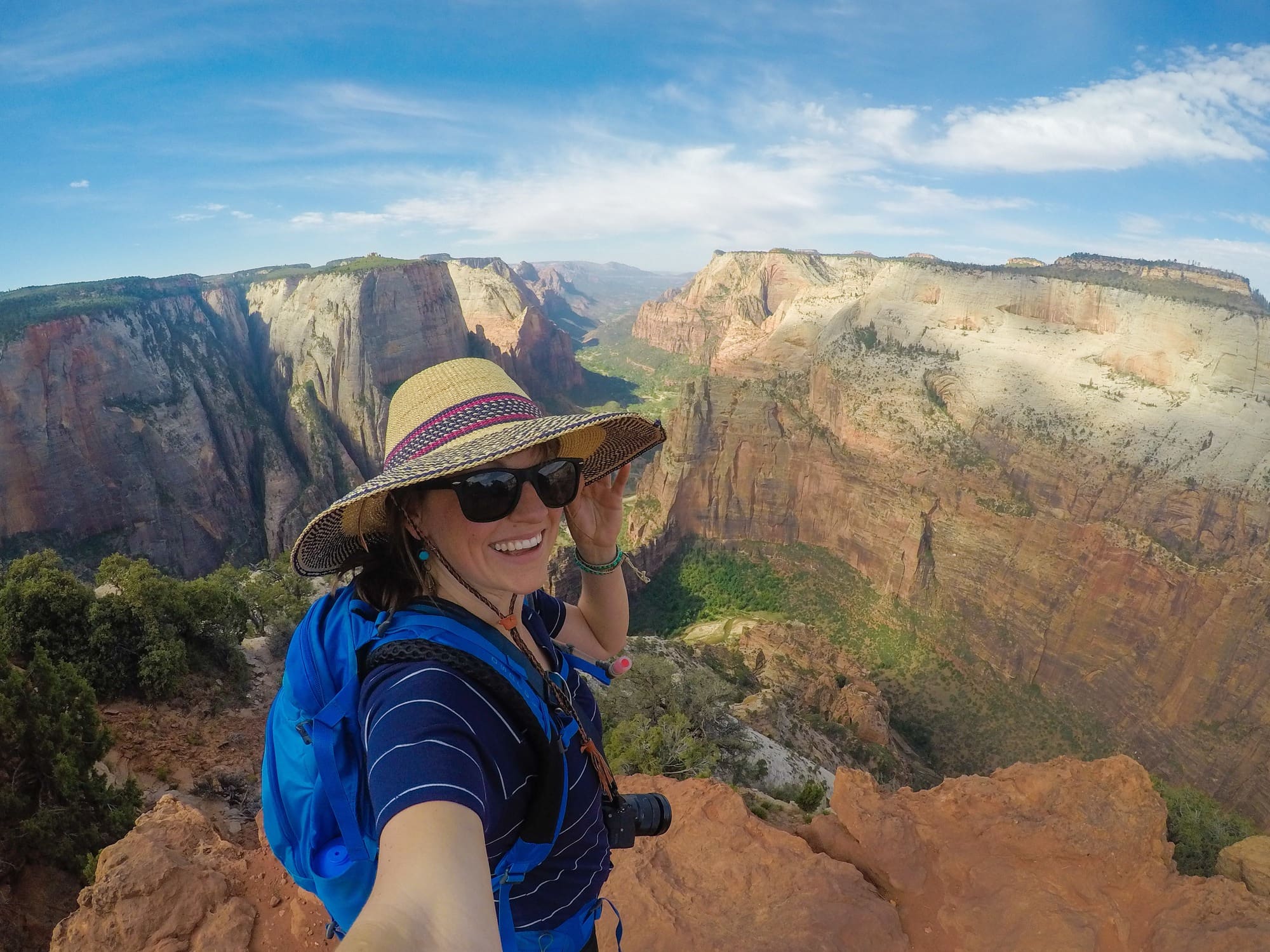 What to Wear Hiking in Southern Utah
Short Sleeve Hiking Shirt
Pack a lightweight hiking shirt that will wick sweat, dry quick, and keep you cool. The Patagonia Capilene Cool Lightweight Shirt is one of our favorites. It does all of the above while being super lightweight and packable. It's ideal for your Southern Utah packing list because of its ventilation and odor control design that helps prevent stinky buildup in the fabric, making it perfect for hot days and long hikes. Plus it's Fair Trade Certified and utilizes recycled materials.
Check price: REI / Patagonia / Backcountry
Long Sleeve Hiking Shirt
For extra sun protection, go with the Patagonia Capilene Cool Long Sleeve Shirt. I have fair skin and have recently gotten into the habit of wearing long sleeve shirts when I hike, even on hot summer days, in order to protect my skin. It's quick-drying, prevents odor, and is rated for 50+ UPF sun protection. It also breathes really well, so you won't get too hot even in the sun. Safe to say, you could wear this on your whole trip and hand-wash it when you need to freshen it up. Plus, like the Patagonia tee above, this piece is made from recycled materials and is Fair Trade Certified.
Check price: REI / Backcountry
Hiking Shorts
You'll want a pair of comfortable hiking shorts for those warm desert days. We love The North Face Aphrodite Shorts because they're super comfy, lightweight, have a wide waistband, and just the right amount of stretch to them. They're also just the right length and have pockets which are always handy, plus they dry quick. We've worn these hiking, rafting, and lounging and they're always just right.
Check price: REI / Backcountry
Hiking Pants
On cool days or when the sun goes down, you'll want to put on another layer, like these prAna Halle Hiking Pants. They're light and stretchy enough for you to keep moving on the trail but durable enough to stand up to the elements. They layer well over a pair of long underwear if the temps really drop too.
Check price: REI / Backcountry
Light Warm Layer
No matter what time of year you're heading to Southern Utah, packing a flannel is always a good idea. When you need an extra layer, the REI Wallace Lake flannel is a solid choice. It's soft on your skin, yet durable for hiking and camping. And, it's available in seven different colors, so take your pick.
Check price: REI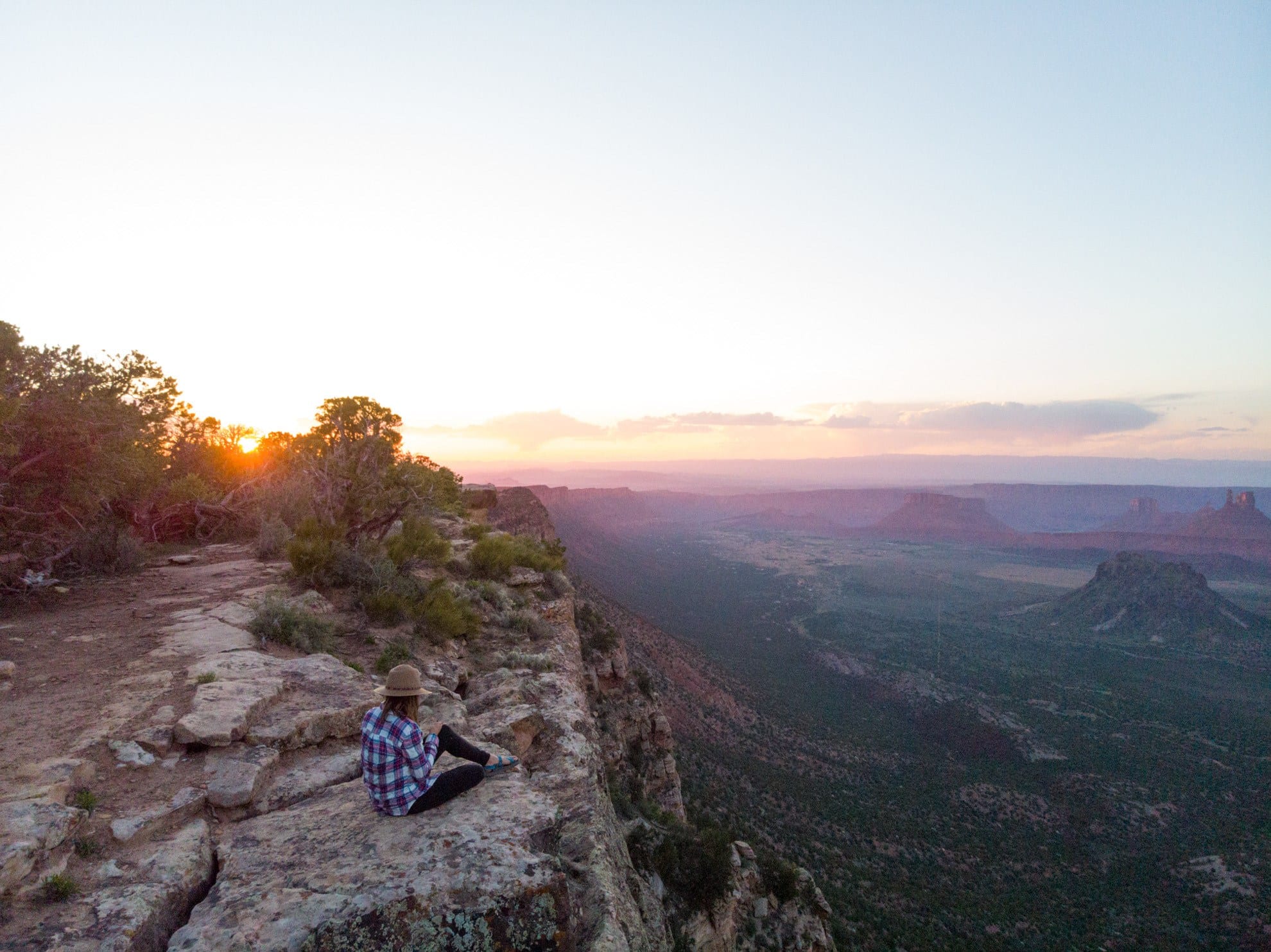 Warm Jacket
If you are traveling in the shoulder season, nights in the desert can get pretty cold and you'll likely need a warm jacket (you can skip this if you're visiting Southern Utah in mid-summer). I always have an insulated puffy jacket with me, and one of my favorites is the Patagonia Nano Puff Jacket. It's super lightweight, warm, and made with eco-friendly materials (recycled ripstop nylon in this case). And, it's packable so it's easy to bring along on any adventure.
Check price: REI / Patagonia / Backcountry
Wide Brimmed Sun Hat
Wearing a well-brimmed hat in the sun will reduce your exposure and help keep your head cool. The best hat for your Southern Utah trip is a hat you'll actually wear, so pick one out based on your style – the wider the brim the better out in the desert. My absolute favorite sun hat is the Wallaroo Women's Sedona Hat pictured below. It's crushable making for easy packing, doesn't get too hot when hiking, and it has a drawstring in the brim that allows you to tighten the hat if it's windy.
*DISCOUNT CODE: Save 20% on the Wallaroo Sedona hat when you use the code BEARFOOT20 at checkout.
Check price: Wallaroo Hats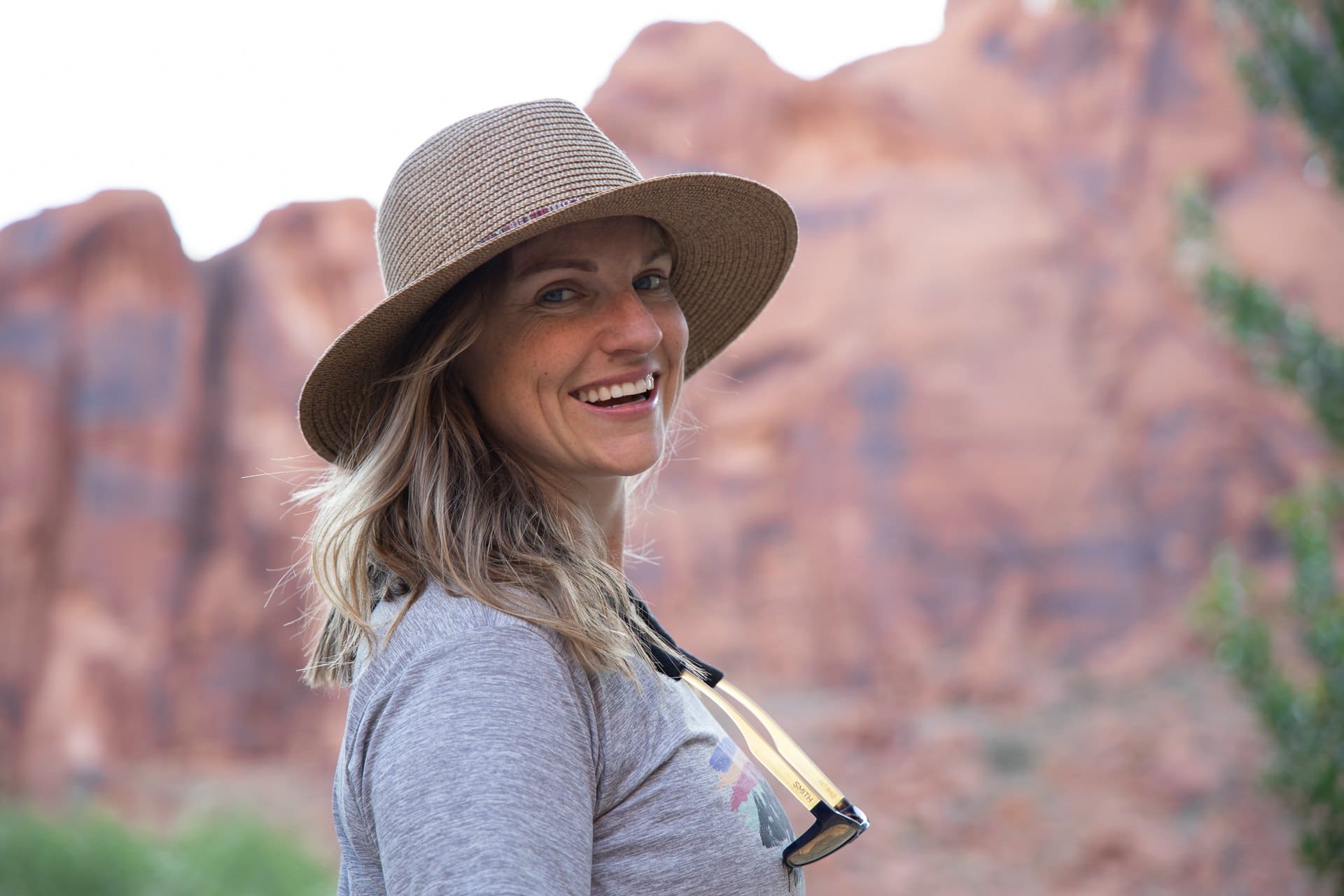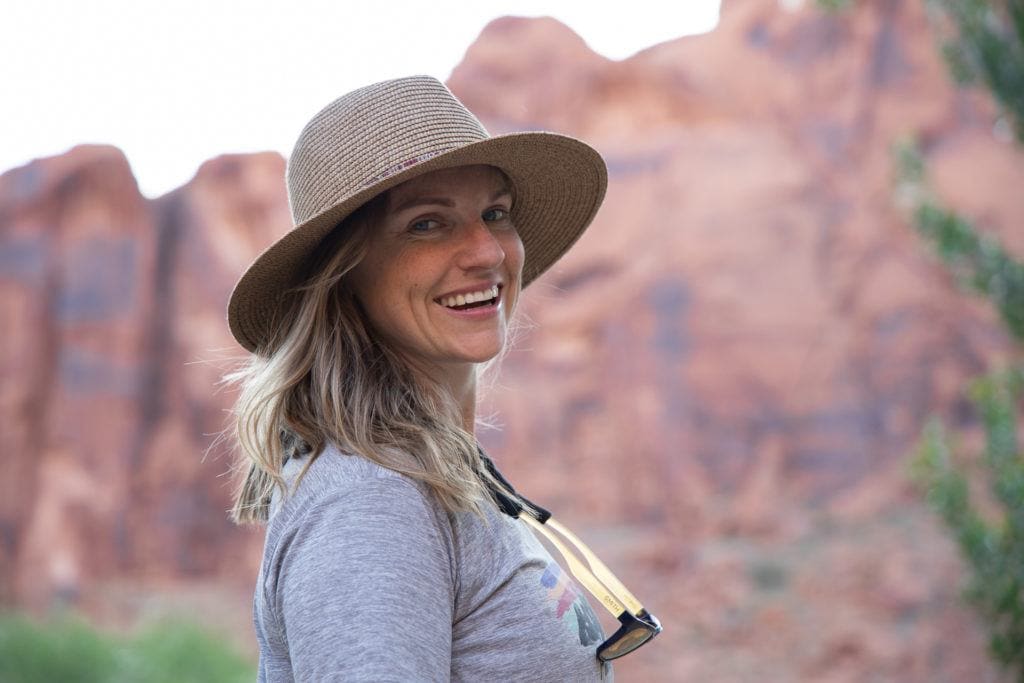 Polarized Sunglasses
Another must-have item for a Southern Utah trip is a good pair of sunglasses. One of my favorite reasonably priced pair of sunglasses are the SunCloud Patrol Polarized sunglasses. With 100% UV protection, these are great sunglasses for hiking in Utah to protect your eyes from the sun.
Check price: REI
Sunscreen
Aside from covering up with sun protective clothing, the next step to protect your skin is wearing safe sunscreen. We've been loving Think Sport's Naturally Tinted Mineral Sunscreen because it blends in well, doesn't leave white residue, and most importantly it's eco-friendly, reef-friendly, and free of harmful chemicals. Be sure to bring this along on your adventures so you can reapply as needed – the Utah sun can be brutal!
Check price: Amazon
Hiking Shoes
The Oboz Arete Low hiking shoes are perfect for Southern Utah. They're lightweight and breathable, making them great for warm weather. Plus the tempest outsole is super grippy which will help you navigate across rocky and sandy terrain. The Oboz Arete is comfortable from day one, so you won't need to endure a stiff break-in period. Oboz also has some waterproof hiking boot options that we love, although I personally recommend the non-waterproof for Southern Utah. If you'd like more info on the Oboz Arete's you can read my full review here.
Check price: REI / Backcountry
Hiking Sandals
One of the best parts of visiting Southern Utah is getting to explore the unique waterfalls and rivers. Rather than wearing your hiking shoes or flip flops, I recommend packing a water sandal that can also double as a camp shoe. These Teva Universal Trail Sandals are a durable option that will carry you from the trail to the river. They're lightweight, comfortable, and provide great traction with their Vibram soles to prevent slipping. Even better, the straps on these new sandals are made of 100% recycled plastic! Check out my complete review of these sandals for more info.
Check price: REI / Backcountry
Outdoor Gear to Pack for Southern Utah
Travel Backpack or Duffel Bag
Whether you'll be flying in or road tripping, you'll need a reliable travel pack to carry everything in. The Osprey Porter 46 Travel Pack is one of the best packs. It's comfortable and spacious enough for all your essentials and has attachments for a separate day pack too. Plus, it meets the criteria for carry-on restrictions if you'll be flying into Utah. After you finish this post, check out my other post with the best carry-on travel backpacks.
Check price: REI / Backcountry
Day Pack
Once you get to your destination in Southern Utah, you'll need a rugged, durable day hiking pack, like the Osprey Tempest 20. With just the right amount of room, it has several pockets to store everything you need for a day outside. You can attach a helmet or trekking poles to the exterior and integrate your hydration reservoir. Overall, the Osprey Tempest 20 Pack is a good all-around day pack to add to your Southern Utah packing list.
Check price: REI / Backcountry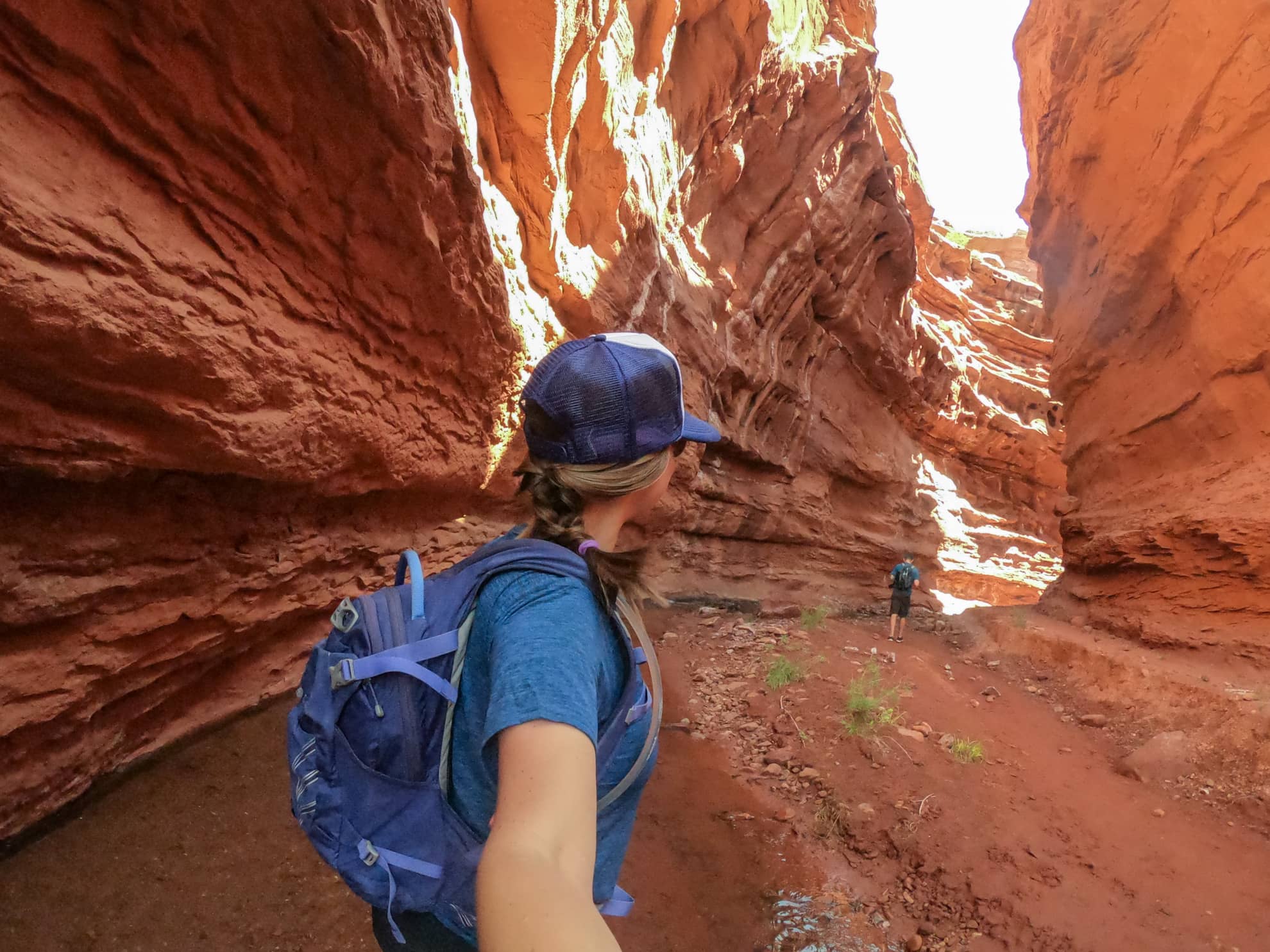 Hydration Reservoir
One of the most important things to remember when you're out exploring Southern Utah is to stay hydrated. The Osprey Hydraulics Reservoir is a reliable, BPA free reservoir available in 1.5, 2, and 3 L. I recommend the 3L reservoir if you'll be heading out for a full day (it's amazing how thirsty you get down here!). This hydration reservoir is designed to keep a low profile, so your pack will still be comfortable.
Check price: REI / Backcountry
GPS & Satellite Communicator
Throughout most of the wild places in Southern Utah, there's very spotty cell service or none at all. You may want to consider carrying a satellite communicator like the Garmin inReach Mini 2-way Satellite Communicator. This tiny handheld device has 2-way texting, SOS, and tracking capabilities. It could be a life-saver (literally) if you need help and you're out of cell reception. I feel a little more comfortable when I'm off-grid knowing I have an emergency device like this.
Check price: REI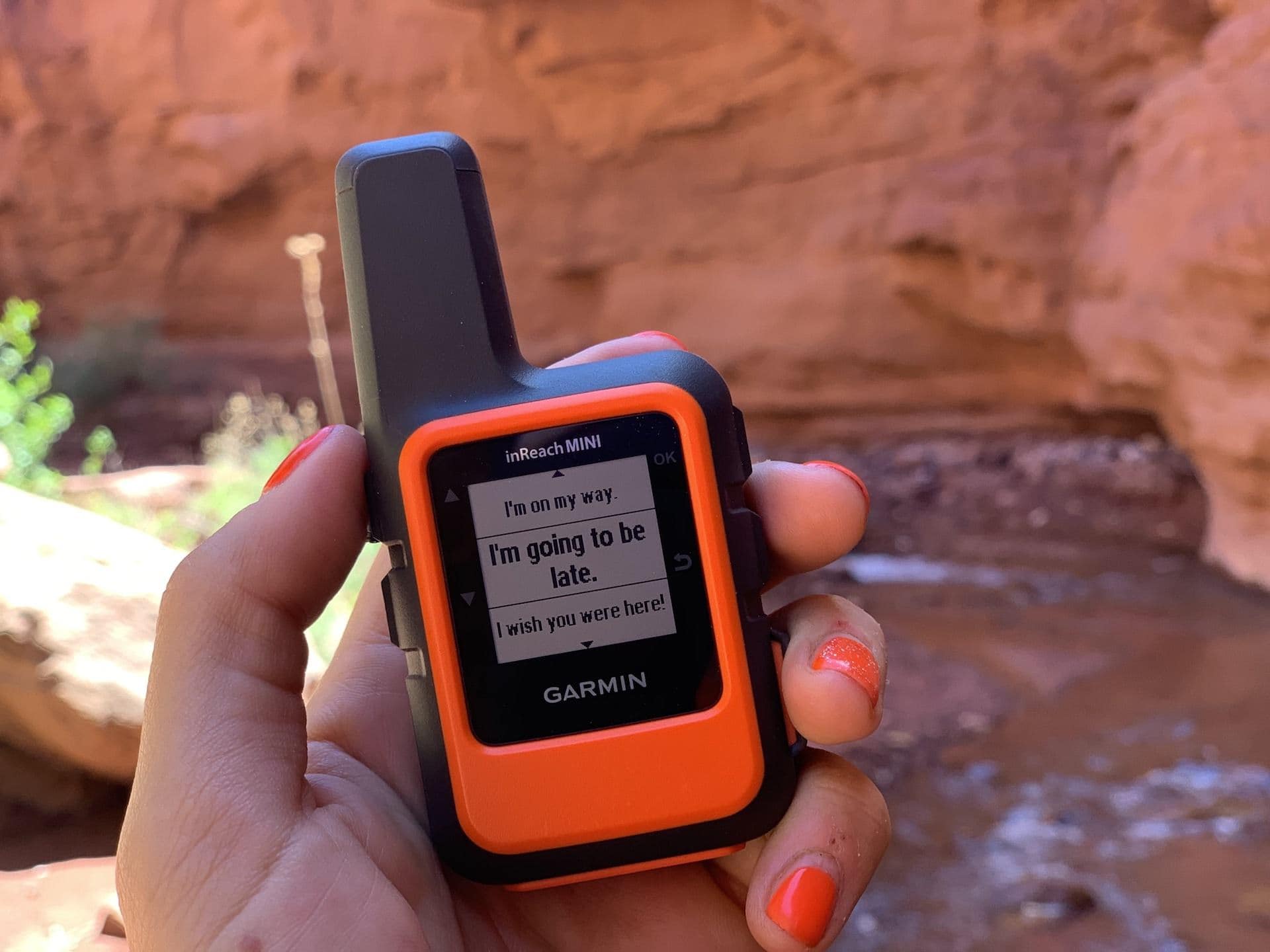 Utah Recreation & Trail Map
You'll find that the trails and points of interest are not always obvious or well-marked throughout the desert, so I suggest bringing a physical map on your Utah trip. This Utah Recreation Map details public lands, backroads, national parks, and wildlife areas. A good topo map is also smart to add to your Southern Utah packing list if you'll be hiking, as it's best not to solely rely on your phone or GPS device. If you'll be doing a full Utah road trip and want more maps and information, I highly recommend Benchmark's Utah Road & Recreation Atlas.
Check price: Amazon
Camping Tent
If you're interested in camping while you're in Southern Utah, you won't regret it. Sleeping outside under the stars is the best way to experience it to the fullest. So, you'll need to add a sturdy 3-season tent to your Southern Utah packing list, like The North Face Eco Trail Tent. While this tent is a little heavy for backpacking, it's an ideal car camping tent, being spacious, well-ventilated, and easy to set up. I like that it has two doors for easy access in and out and that there's mesh up top for stargazing on clear weather nights with the fly off. Another feature is that the bottom part of the tent is solid, rather than being 100% mesh. This is helpful in the dusty Southern Utah desert, as the solid fabric will help keep out more dirt than mesh if it gets windy.
Check price: REI / Backcountry
If you'd like to learn more about what to pack for your Southern Utah adventure, check out some of our other helpful resources:
---
I hope this helps you dial in the gear you need for your Southern Utah packing list! Got any questions? Where are you most excited about visiting? Let us know in the comments below.