6-Day California Central Coast Road Trip Itinerary
Plan a California coast road trip from Ventura to Cambria with this itinerary packed with outdoor adventure, amazing food, and unique places to stay.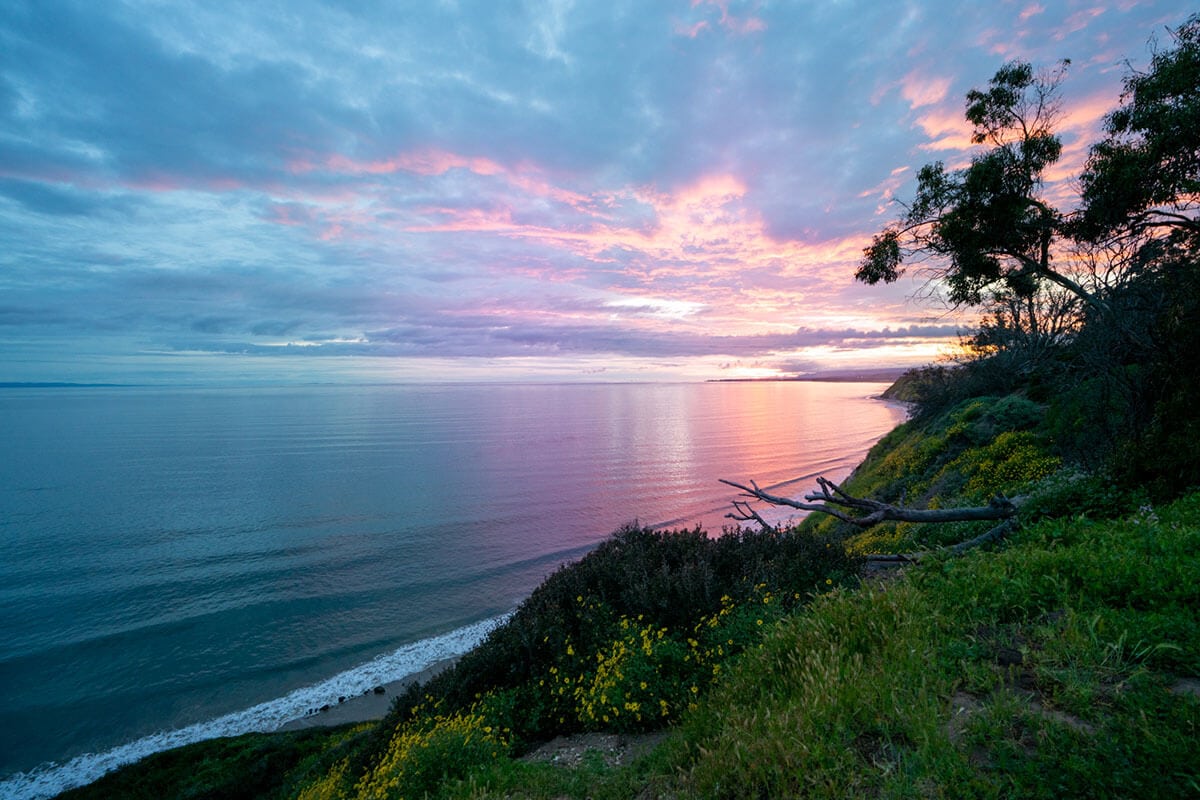 A California Coast road trip is a rite of passage for any outdoor adventure traveler, and the central coast of California is particularly iconic. This stretch of the Pacific Coast Highway provides incredible ocean views, beautiful sights, easy access to quaint California beach towns, and of course, endless opportunities for outdoor adventure.
A few years ago, I joined forces with Visit California in search of the best adventures along the Central California Coast. I've compiled what I discovered into this itinerary along with recommendations from the rest of the Bearfoot Theory team who have spent lots of time exploring this region.
This itinerary combines outdoor adventures with top-notch opportunities to experience the local culture of the Central California Coast from Ventura to Cambria, with information on visiting additional destinations like Big Sur, Monterey, and Santa Cruz if you have the time.
From sea-to-spoon and farm-to-fork meals to hikes with sweeping views, boutique hotels, and hidden gems that are just off the beaten path, this itinerary will not disappoint.
Be sure to check out the video of my Central California Coast Road Trip below as well.
Join our community for access to our free member resources!
Download Handy Outdoor Packing Checklists & Trip Planning Guides
---
Central California Coast Road Trip Basics
What is the Central California Coast?
Most people are familiar with Northern California (San Francisco and above) and Southern California (Los Angeles south), but what is the Central California coast?
While there's no exact definition of what makes up the Central California Coast, it's commonly accepted that this section stretches between Ventura County in the south to Santa Cruz in the north.
In between Ventura and Santa Cruz, there is an amazing array of stunning beaches, wild mountainsides, small coastal towns, great restaurants, the famous Big Sur, and so much more.
Here are the top destinations on the central coast of California at a glance from south to north:
Ventura
Ojai
Santa Barbara
Avila Beach
Pismo Beach
San Luis Obispo
Montaña del Oro State Park
Morro Bay
Cambria/San Simeon
Big Sur
Carmel by the Sea
Monterey
Santa Cruz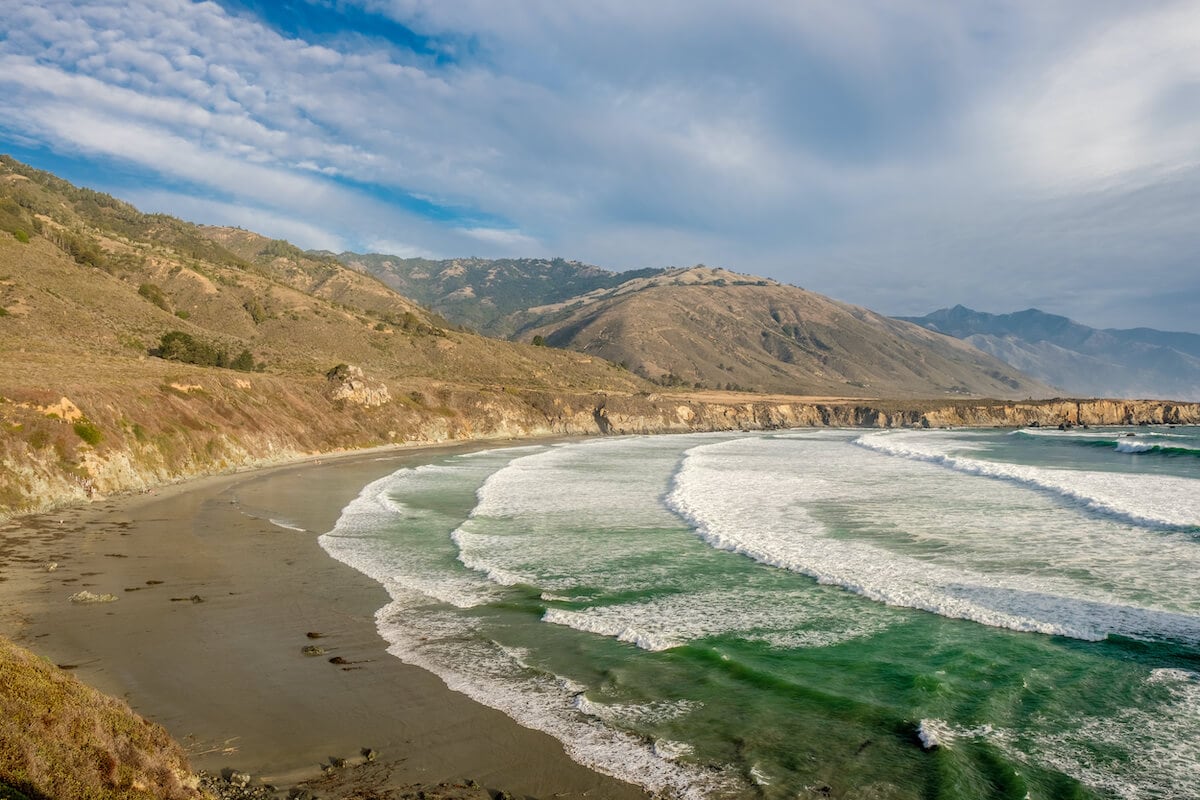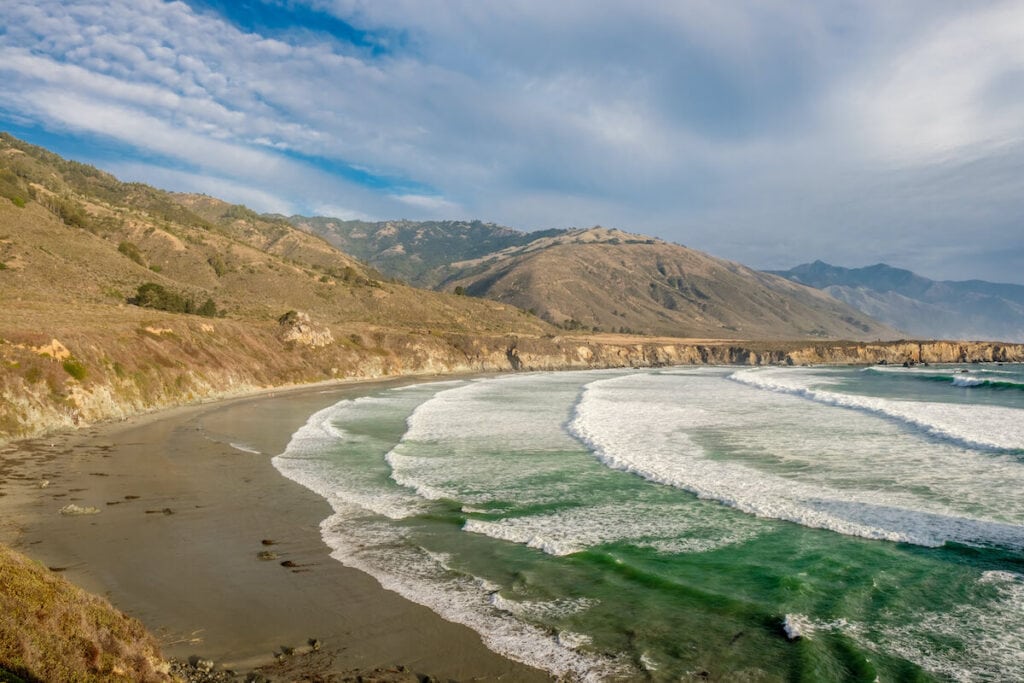 How much time do you need to road trip the Central California Coast?
This itinerary is for 6 days, which is a good amount of time to get a feel for the region, although if you have more time you can certainly dive deeper. If you only have a weekend, I recommend picking one area to explore – like Ojai, Santa Barbara, or Big Sur for example.
My biggest tip – don't rush it. The Central California Coast operates at a slower pace and is meant to be enjoyed at a slower pace as well. Use the information here to customize your own trip based on your priorities and the amount of time you have.
Best Way to Explore the Central California Coast
You'll definitely want a car or campervan for any central California coast road trip. If you plan on staying in hotels or accommodations, a car will be fine. A rental car can be picked up in Ventura or the Los Angeles area if you're going south to north or in San Francisco if you're going north to south.
If you want to experience some of California's best campgrounds, I highly recommend renting a campervan. Not only will this allow you to be more flexible, but you really can't beat camping on the beach! Check out our list of campervan rental companies for ideas.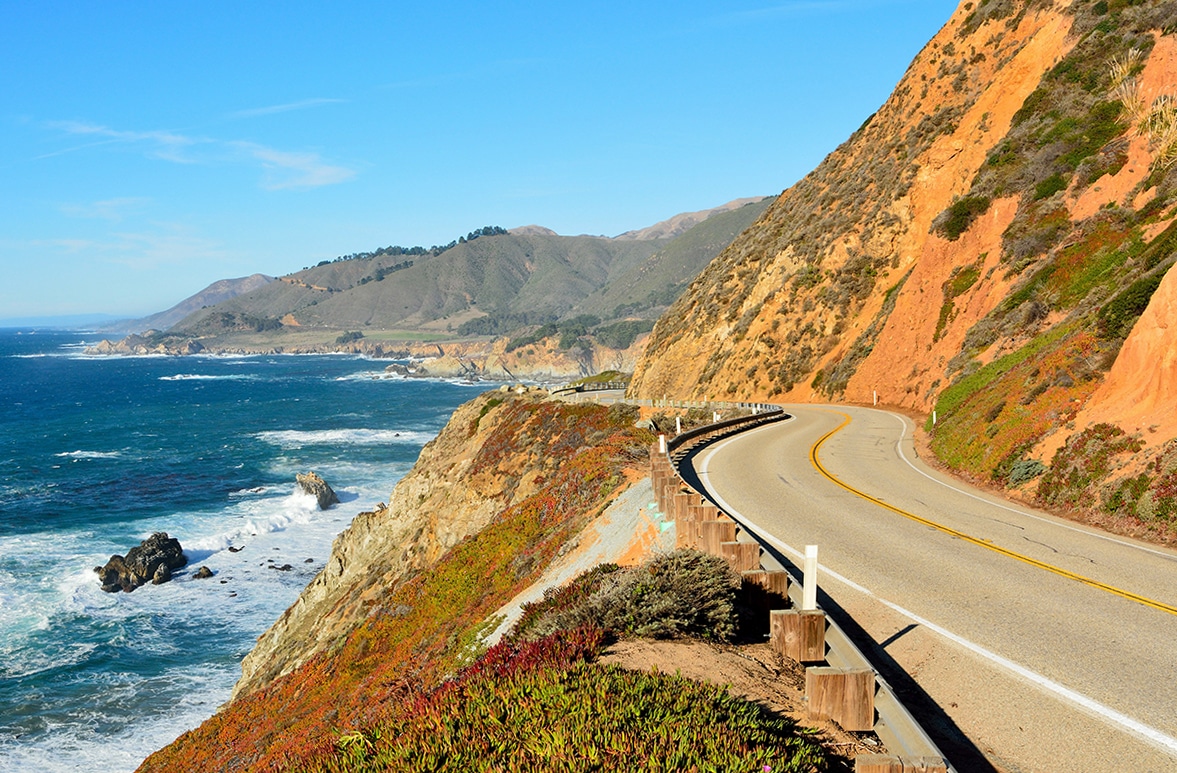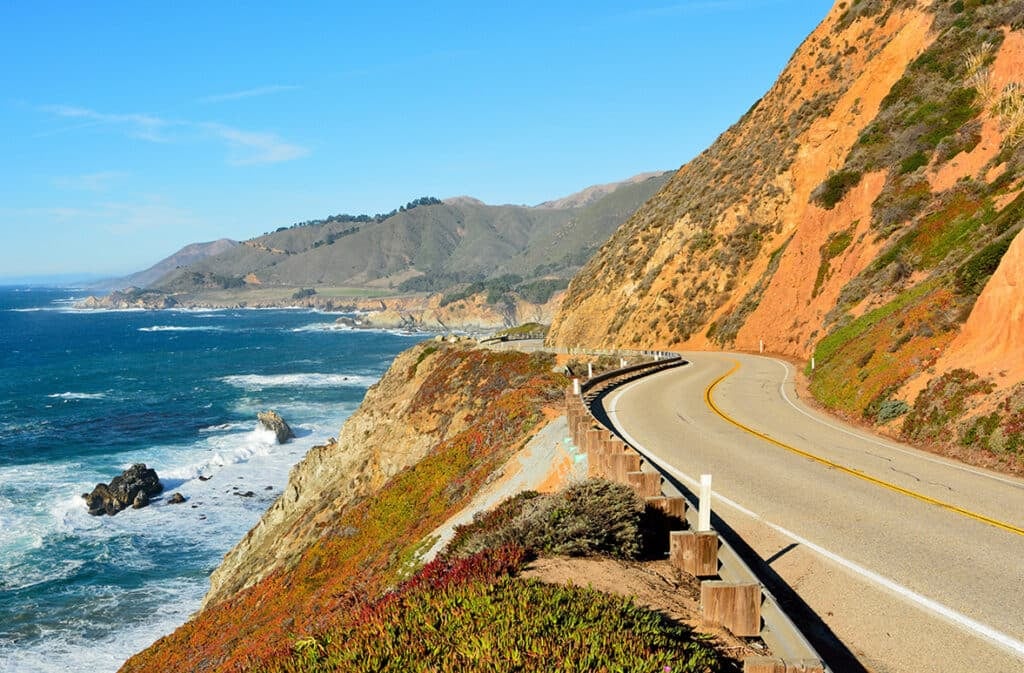 Best Time for a California Central Coast Road Trip
California is known for its sunny weather and mild climate, so you can really plan a road trip any time of the year. Here are a few considerations based on the season:
Spring is a great time to plan a California Central Coast road trip, especially if you want to see California's beautiful springtime wildflower blooms. Temps can still be a bit chilly, though, so pack layers and be prepared for windy days.
Summer is typically the busiest time of year for California, so you'll see lots of crowds and will need to make camping or hotel reservations in advance. The weather tends to be great, though, with temperatures in the 70s and little to no rain.
Fall in central California brings fewer crowds and cooler temps, making it a great time to visit. Days are often clear as well whereas in summer you may experience "June gloom" where the coast is often shrouded in clouds.
Winter on the California coast can be really nice if you enjoy cooler temperatures and a more laid-back vibe. Some places do close for the winter and the days are shorter so you'll have less daylight to explore, so that's something to keep in mind when you plan your trip.
---
Central California Coast Road Trip Itinerary
There are infinite ways to explore the central California Coast with so many things to see and do. Below is my 6-day itinerary with a few options for extending or customizing your trip.
Day 1: Arrive in Ventura
Day 2: Ventura
Day 3: Ojai
Day 4: Santa Barbara
Day 5: Avila Beach and Cambria
Day 6: Morro Bay
If you have more time, continue on to Big Sur, Monterey Bay, and Santa Cruz which I'll touch on below as well.
Day 1: Explore Downtown Ventura & Hit the Beach
We started our California road trip in the energetic beach town of Ventura. Ventura is known for its iconic beach boardwalk where you can walk, pedal, or skate past bustling shops, restaurants, and wide-open sandy beaches that lead right down the Pacific Ocean.
There is no shortage of things to do in Ventura, but here's how we spent our days exploring this iconic coastal town:
Morning
Grab a quick bite and morning coffee at Palm & Boy Coffee in the center of downtown Ventura. This cozy indoor and outdoor café is a great spot for people-watching as you slowly perk up and begin your day.
With coffee in hand, walk a couple of blocks towards the beach to the Visit Ventura Visitors and Convention Center. Here you'll find lots of inspiration and ideas to plan out your day. We suggest chatting with one of the super-friendly folks who work at the Tourism Center.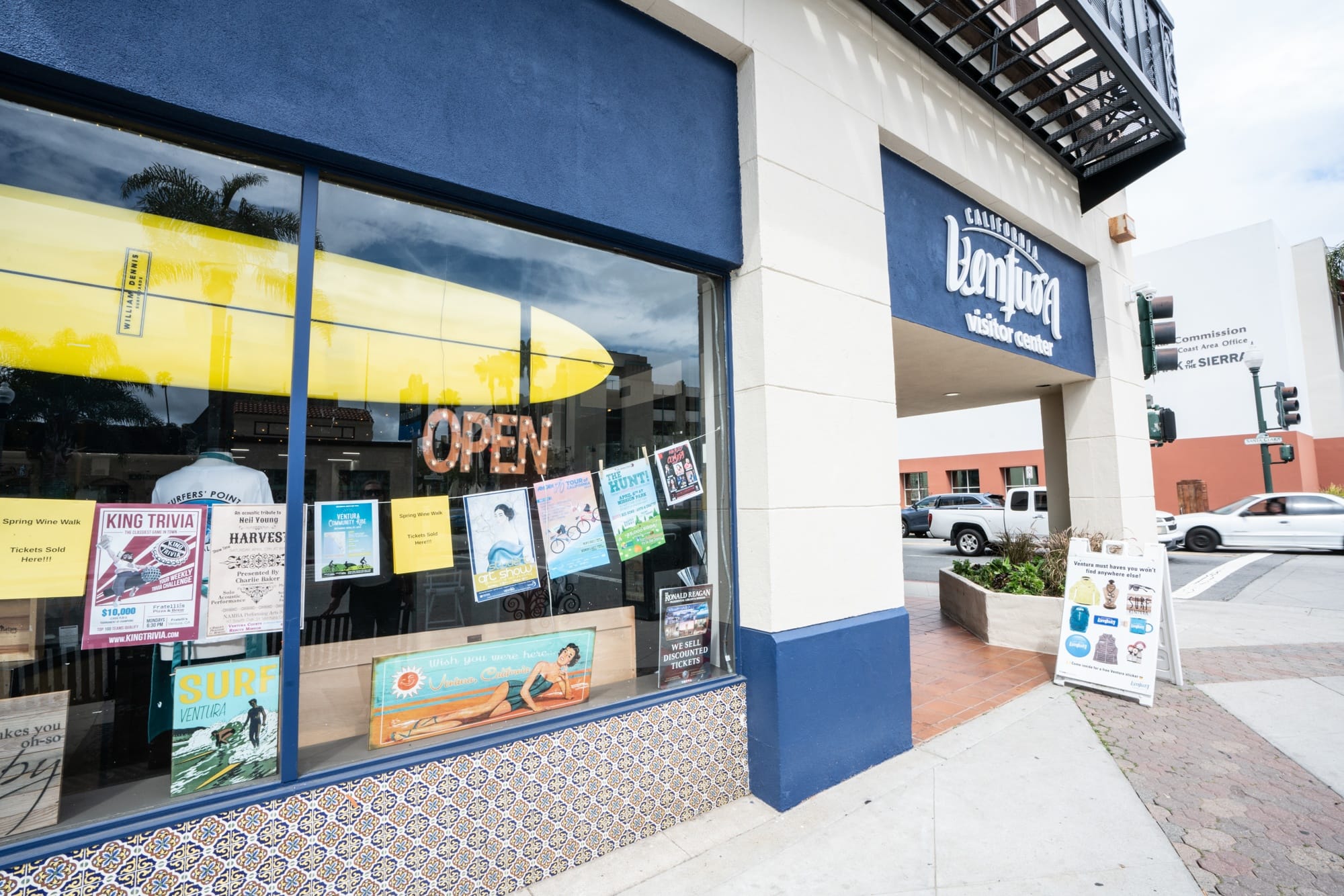 The morning and early afternoon in coastal California can be a bit overcast depending on the time of year, which makes it the ideal time to pop in and out of Ventura's unique and colorful shops. Check out Passport Habits, an eclectic travel-themed shop, located on East Main Street in downtown Ventura, Jockamo Records, Iron & Resin, and the Patagonia Flagship store to name a few.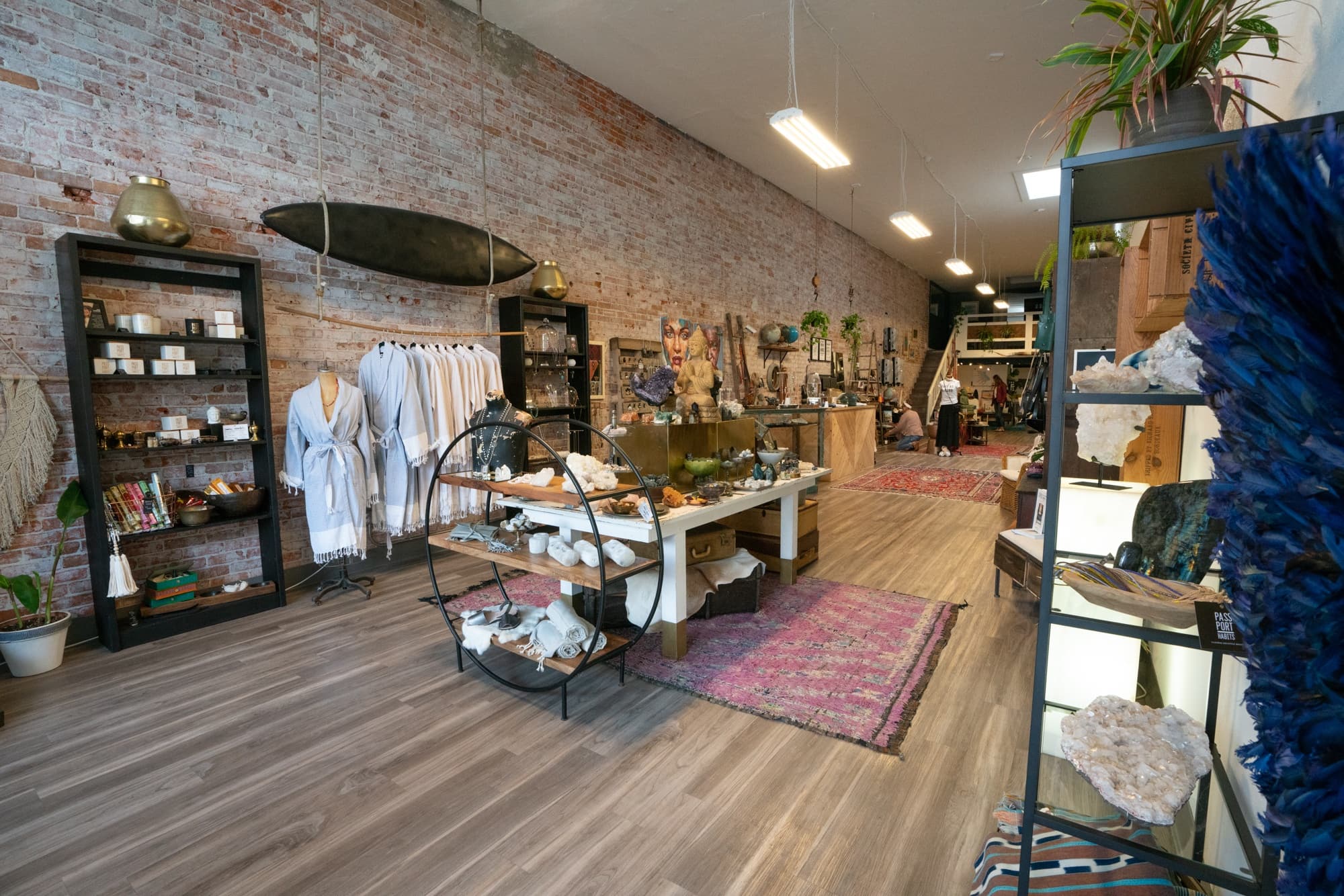 Afternoon
For lunch, chow down some tacos at Beach House Tacos at the historic Ventura Pier. If the weather is nice, head to the beach in the afternoon. Alternatively, Grant Park is a great place to spot wildflower blooms and get a city-wide view if you aren't keen on heading down to the water.
If you're into beer tasting, walk back into town and cool off with a round of beers at the Ventura Coast Brewing Co., a cool, laid-back brewery with indoor/outdoor seating and a friendly local crowd. The beers and tacos will hold you over until it's time for a late dinner – after sunset, of course.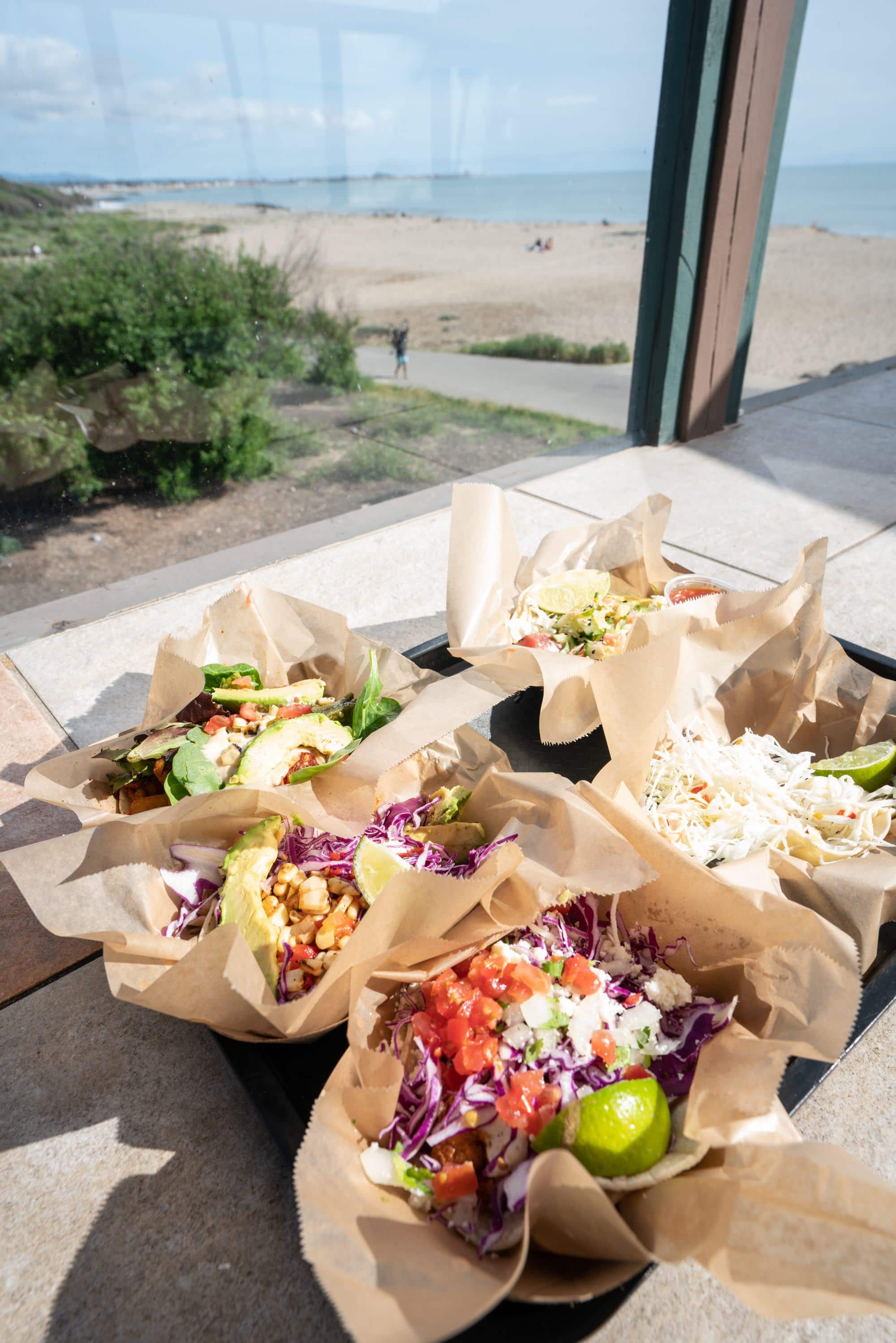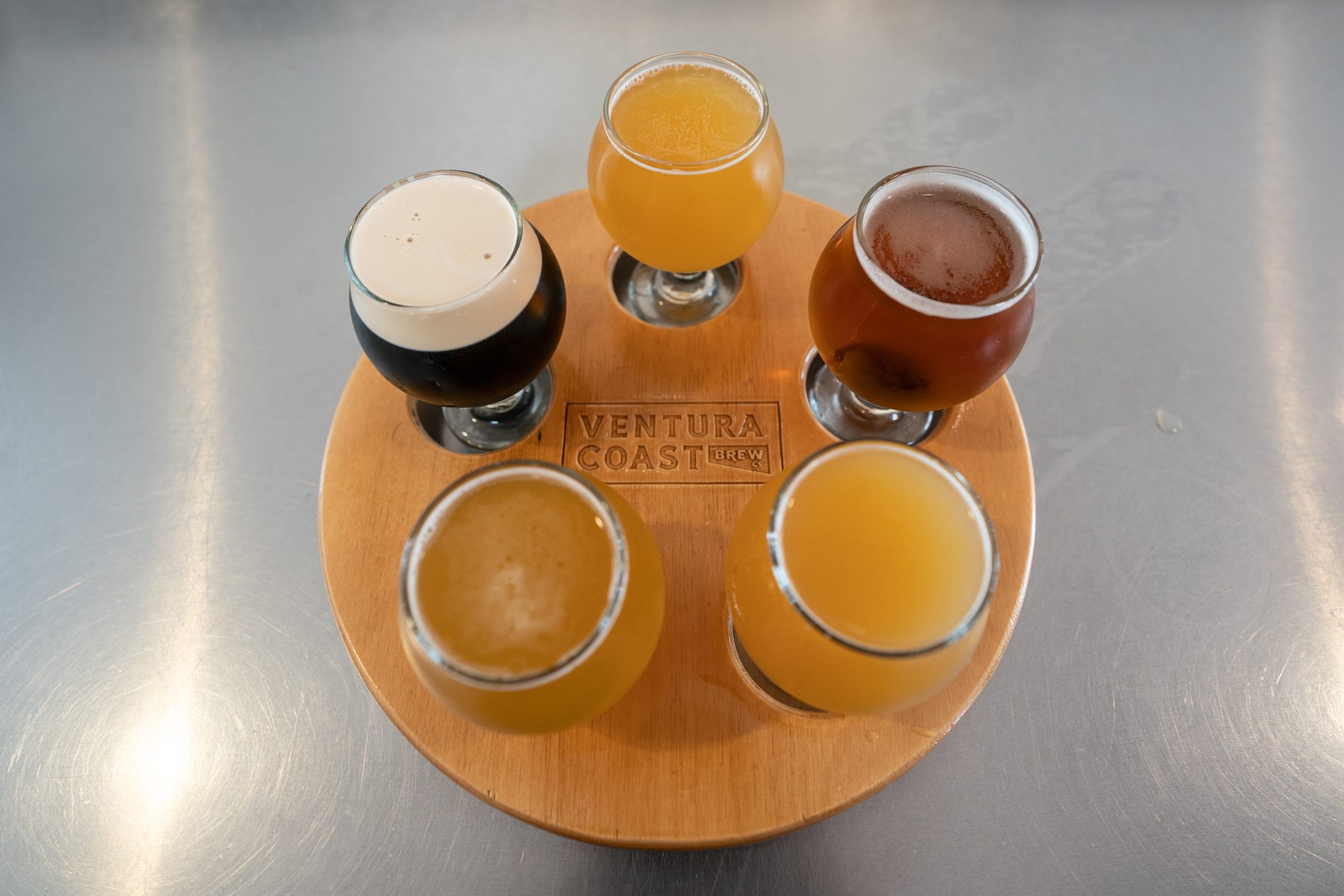 Evening
Surfer's Point is a prime beachfront spot to watch the sky shift to shades of pink, orange, purple, and blue over the horizon line. I recommend scoring a seat on the rocks near the estuary. You might even be rewarded with a show from local surfers taking on the world-class waves.
After watching the sunset, head to Rumfish & Vino for dinner. This gastropub serves Central American-inspired food with several vegan options and a great outdoor patio. If you want something a little more casual, check out Fluid State Beer Garden, which serves pizza and creative bar food.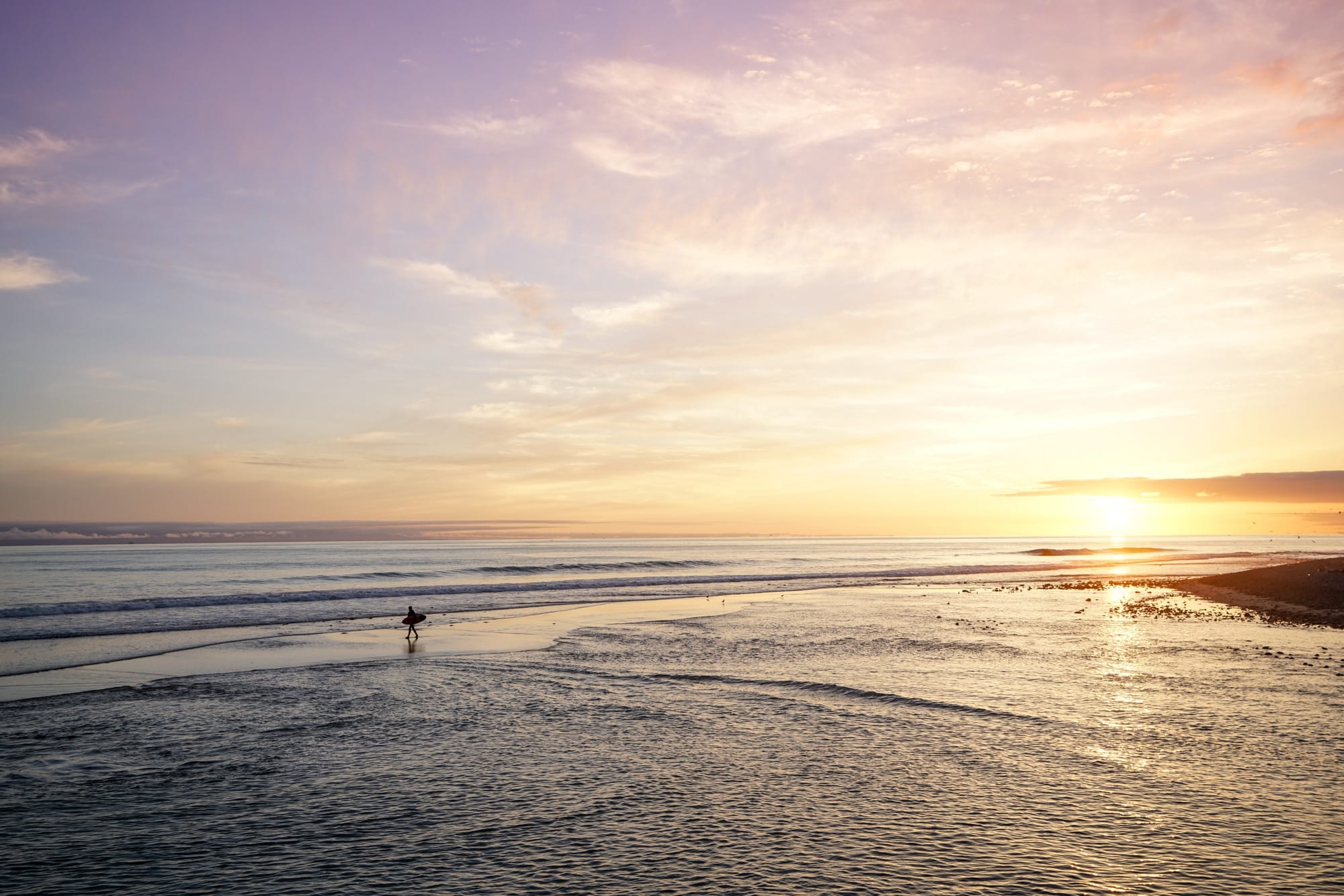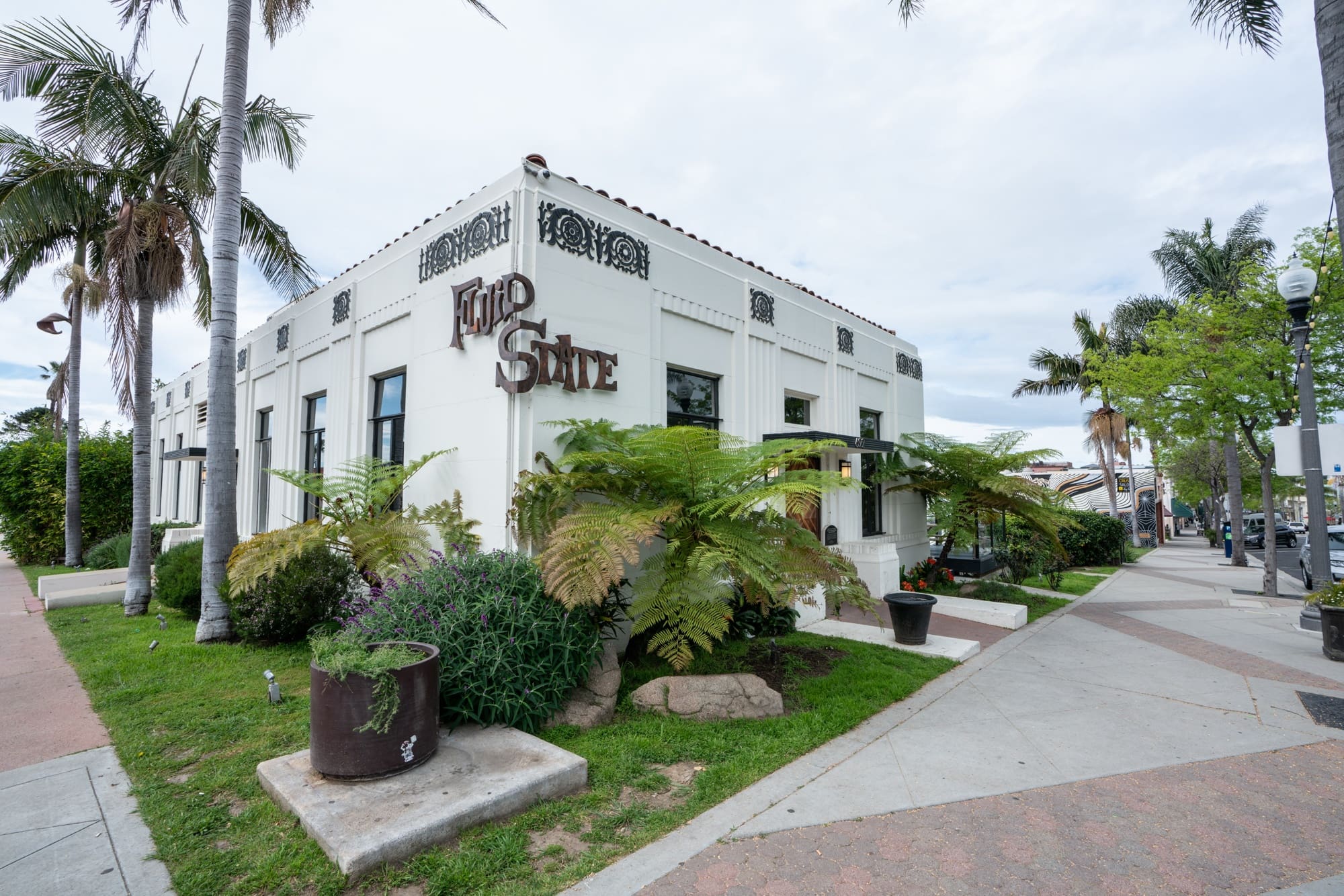 Faria Beach Campground: This campground is situated in a quiet and scenic beachfront spot off the Pacific Coast Highway. Many of the sites have unobstructed views of the Pacific Ocean and Channel Islands National Park. You'll want to book in advance to score sites 6-13 which have the most space and the best views (although there are no hookups at these specific site numbers). This campground is best for camper vans and truck campers because it's on pavement and campsites are more like parking spaces.
Waypoint Ventura Vintage Trailer Hotel & RV Park: If you want a unique experience, book a vintage trailer at Waypoint Ventura Vintage Trailer Hotel & RV Park. These trailers have been impeccably remodeled for a luxurious vintage stay. You can also bring your own camper, but they have criteria for what vans and campers they accept.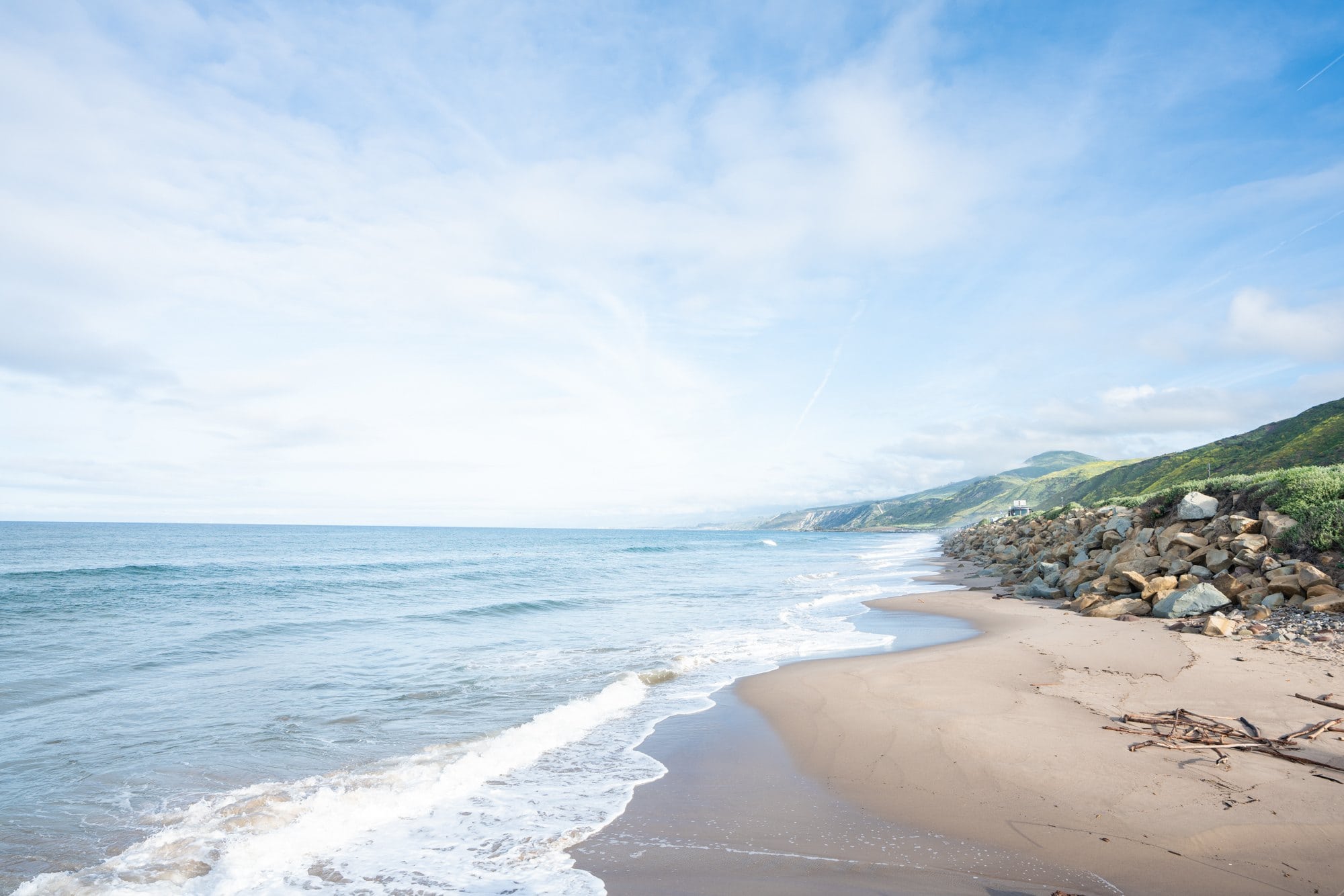 Day 2: Ventura Area Activities
After getting a taste of what Ventura has to offer, it's time to really explore!
Morning
If you're looking for a place to grab a tasty and nourishing breakfast, head to Harvest Cafe. They serve delicious vegetarian and vegan food as well as a variety of coffee drinks.
After you've eaten breakfast, fill your backpack with snacks, water, and sunscreen to get ready for a day of biking on the local bike paths. You can rent bikes at Bike Depot, which is located right on the outskirts of downtown Ventura.
The friendly staff at Bike Depot can give you suggestions on where to ride. Ventura is an extremely bike-friendly city with well-marked paths that lead in and out of town, connecting you to must-see sights around Ventura.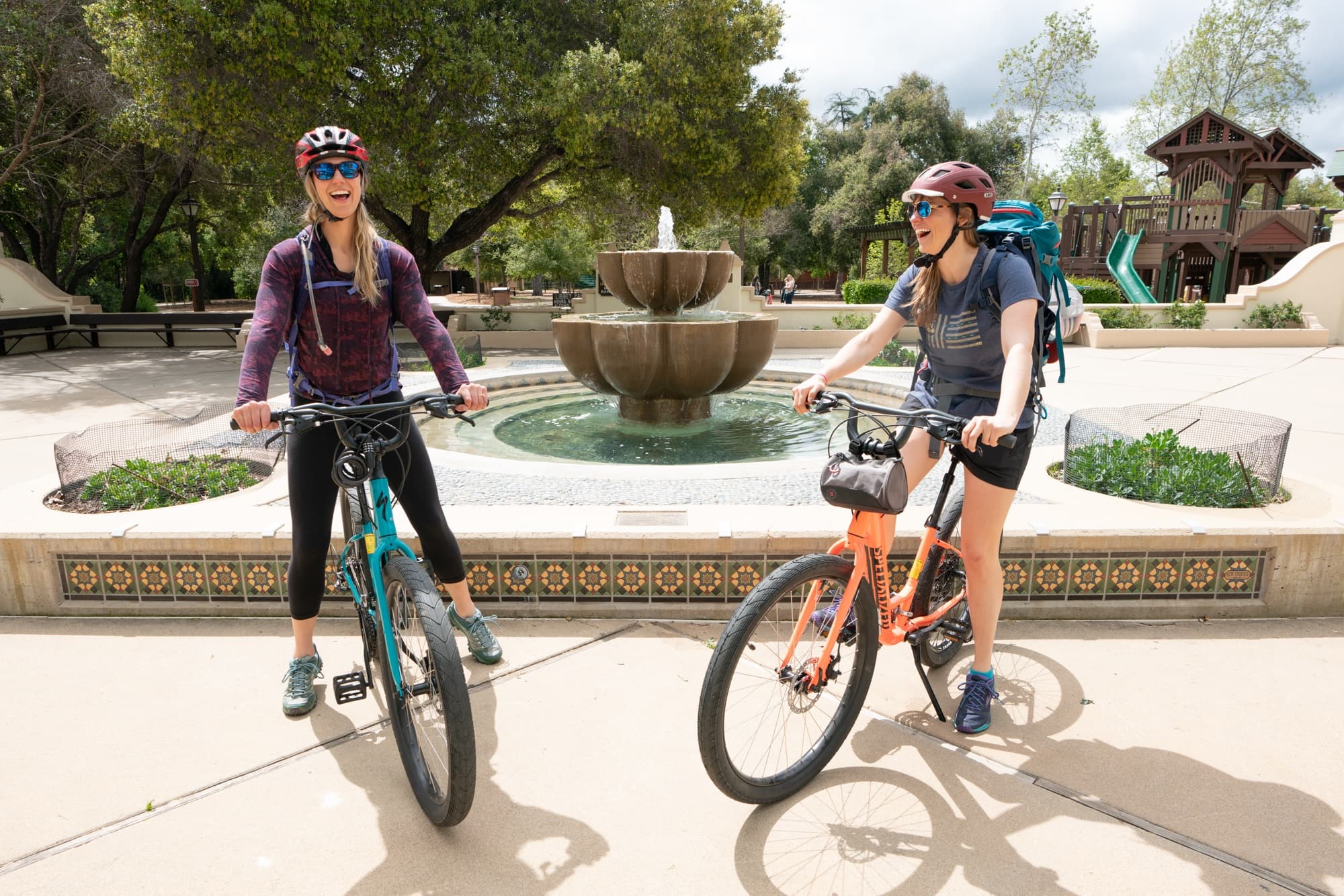 Ventura bike route suggestions
Ventura River Trail to Ojai: This 17-mile one-way paved path runs all the way from downtown Ventura to Ojai. It's a nice way to get some exercise and see a different side of Ventura, especially in the spring when everything is green.
Of course, you don't have to pedal the full 34 miles out and back to enjoy it! If you're looking for a fun stop along the way, check out Ventura Spirits Company. The tasting room is open for drop-ins Monday through Friday 12 pm – 5pm and by reservation on the weekends.
Ventura Coastal Bike Trail: During the warmer months when the River Trail gets too hot, you'll be better off riding the Ventura Coastal Bike Trail to catch a cooling ocean breeze. Take a bike map with you from the Bike Depot, since the coastal trail has some sections that are on the street.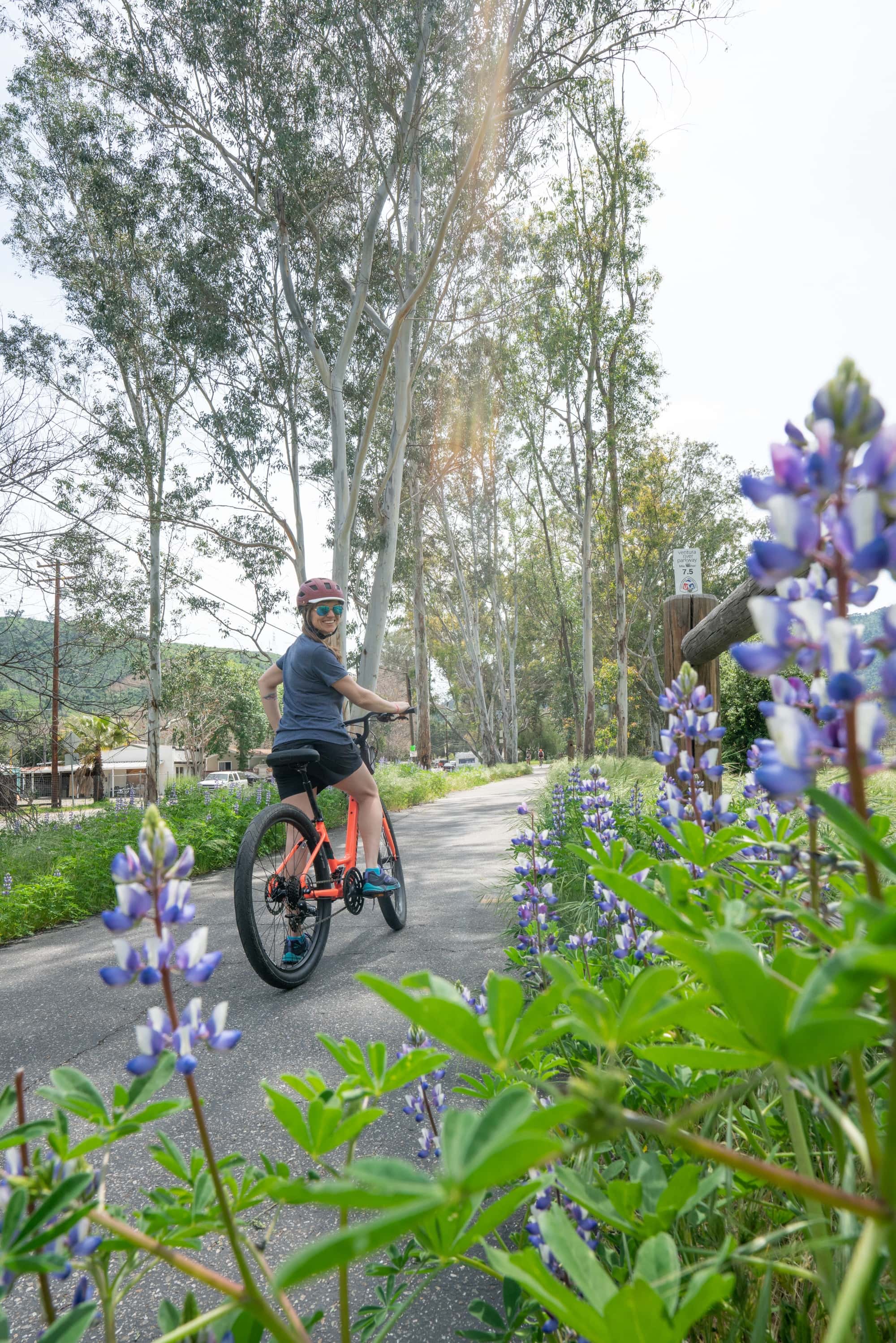 Afternoon
When you return from your ride, make time to visit the Art City Studios, located right around the corner from Bike Depot for a taste of Ventura's local character and culture.
This world-famous sculpture studio and garden is owned by sculptor Paul Lindhard whose mission is to support and bring together local and global artists in an inspiring outdoor space.
You can walk around the artist studios, chat with the sculptors about their work, and browse the gallery. If you get the chance, go see if Ramon is around to check out his incredible stonework!
Evening
By this time, you'll be ready for a cold drink, so quench your thirst at Topa Topa Brewery for happy hour drinks. Then head to one of Ventura's lively restaurants like Social Tap or Rice By Mama, two eateries that the locals rave about.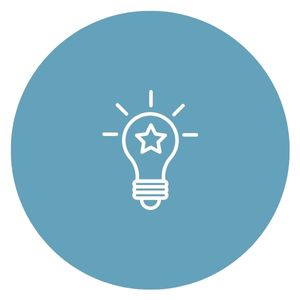 Tip: If you're looking to expand your vacation with another day of sightseeing I recommend heading out to the Channel Islands National Park. Anacapa & Santa Cruz Islands are the most popular for day trips to hike, kayak, and/or snorkel. Check out the Channel Islands Adventure Company for sea cave kayaking tours on Santa Cruz Island. Camping is also available on both islands.
Day 3: Explore Ojai
Leaving the coastal vibes of Ventura, head inland for a day to the charming SoCal town of Ojai.
Downtown Ojai is quaint, unique, and easy to explore with many shops and restaurants in walking distance. Outside the downtown area, you'll find beautiful open spaces for hiking plus olive oil tasting in local olive orchards, wine tasting, and more.
Morning
The 30-minute drive from Ventura to Ojai is very scenic as it transitions from beach town to bucolic landscapes filled with farms, wineries, and mountains.
Whether it's a sunny day or not, you'll have fun exploring Ojai. I loved it for the local flavors and handmade culture that thrives in this town.
Stores like FiG Curated Living, Bungalow by FiG, and Bart's Books provide a quintessential Ojai vibe that is a must-see while you're there.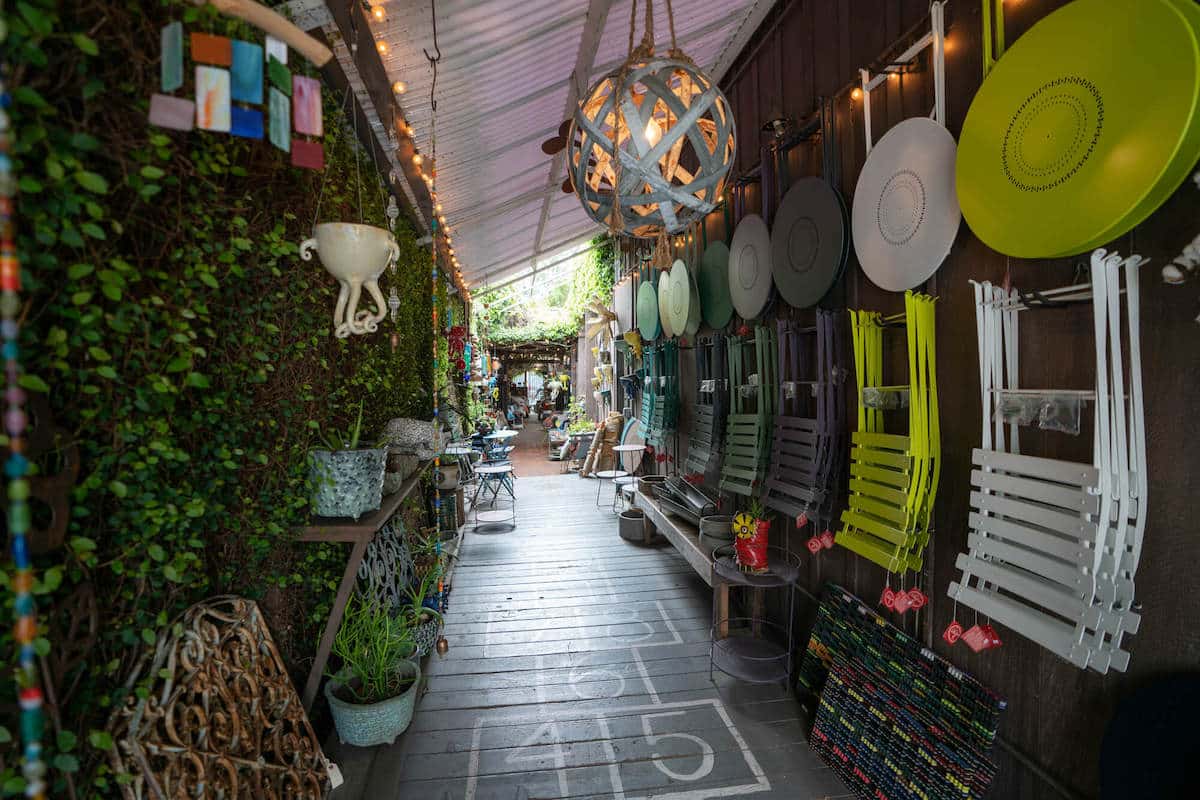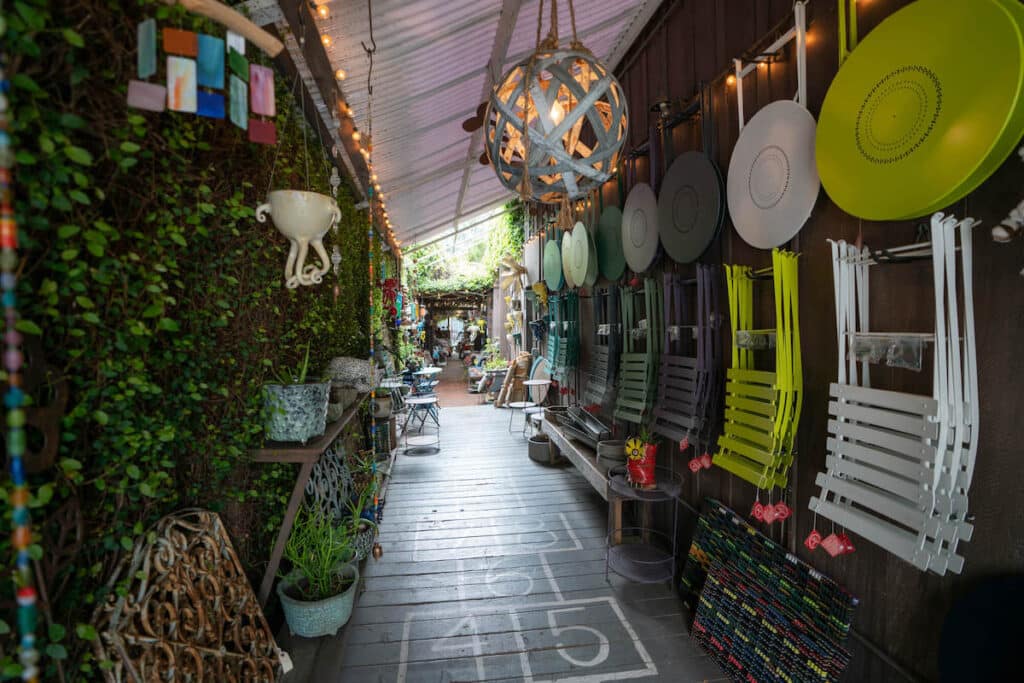 For lunch, take a break from browsing the shops and refuel over at Hip Vegan for a nourishing meal made from 100% vegan ingredients. It's a little off the main drag but has a phenomenal menu that'll hit the spot when you're craving classic California health food.
If you're just looking for a little energy kick don't miss Revel Jun Bar. Jun is like Kombucha but made with green tea & honey instead of black tea & sugar.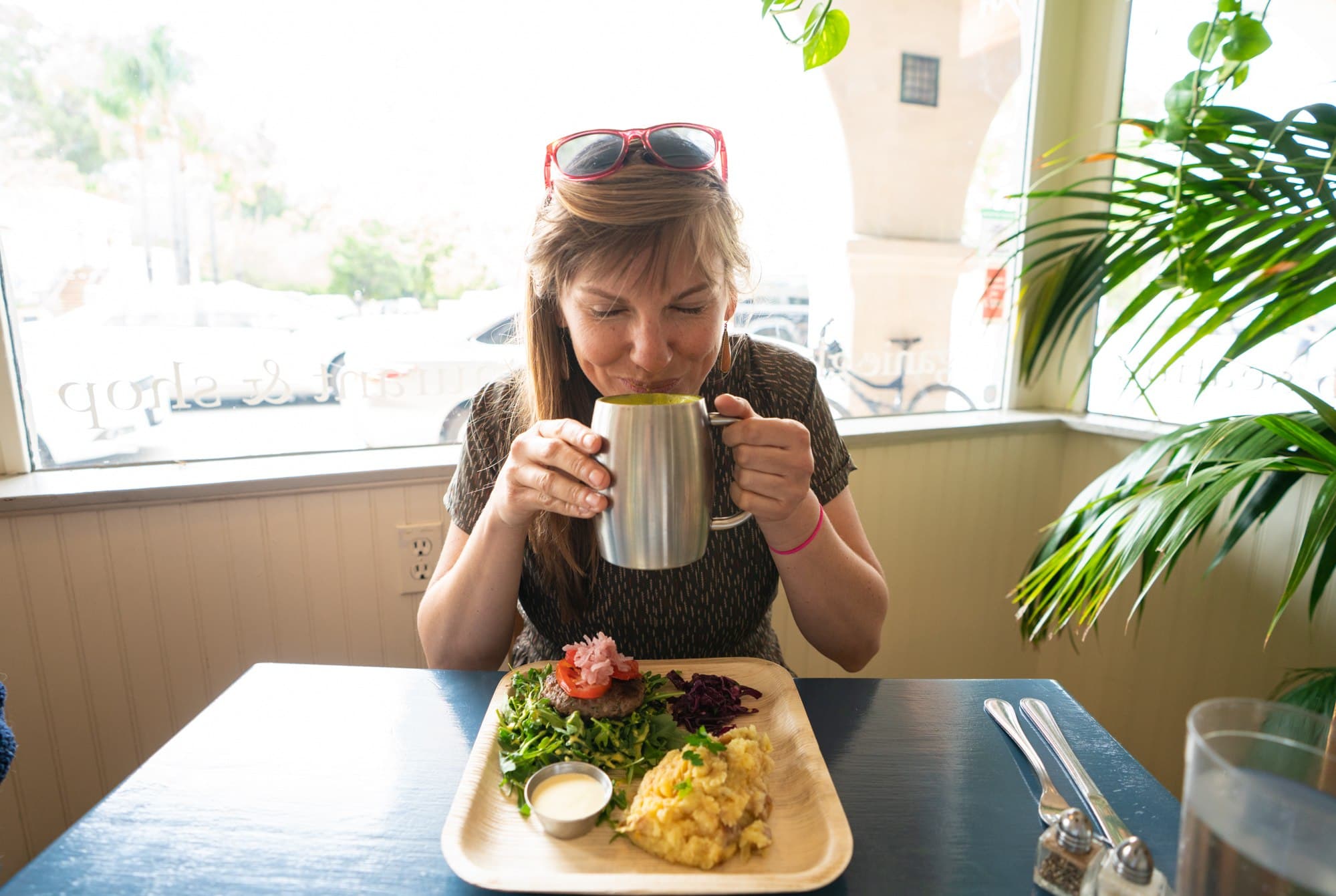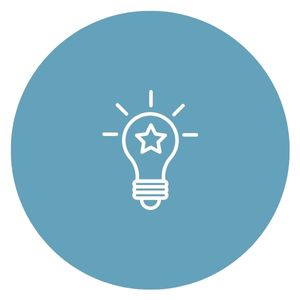 Tip: If you're in town on Sunday don't miss the bountiful Ojai Farmer's Market. It's from 9-1 pm rain or shine at 300 E. Matilija Street. Grab picnic supplies and head out on a picnic hike, visit a local winery, or go olive oil tasting at Ojai Olive Oil Co.
Afternoon
After lunch, drive to the outskirts of town to spend your afternoon at the beautiful Lake Casitas.
There are plenty of hiking trails, bike paths, picnic areas, and view points. You can also rent a boat or bring your own kayak or SUP. There's a $10 entry fee for vehicles, however, it does vary depending on holidays and weekends — check the Lake Casitas website for updated information.
There's also camping at Lake Casitas if you want to spend more time there.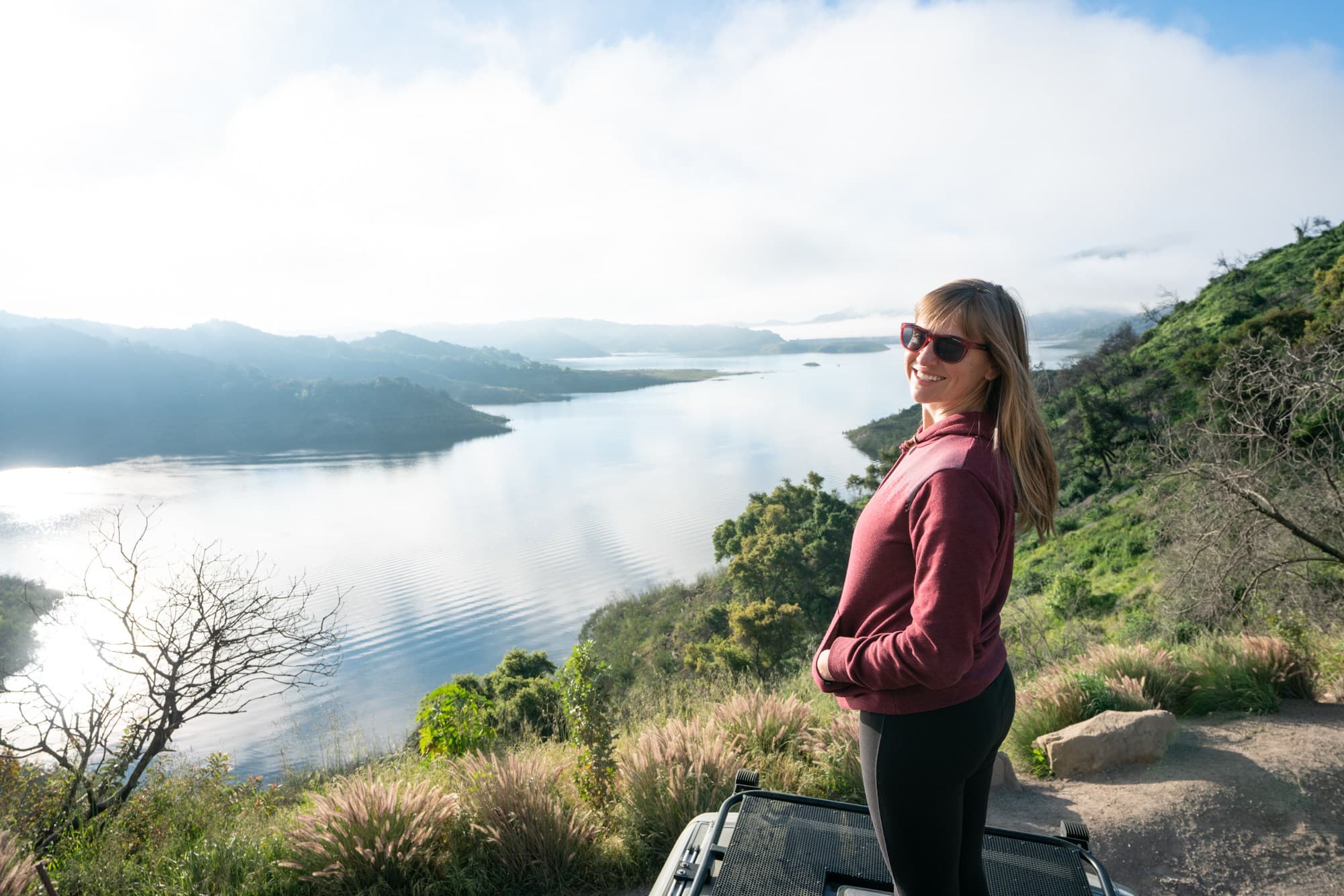 Evening
After visiting the reservoir, drive back into town so you can hit up some of Ojai's best wineries. Our favorites were the Majestic Oak Winery and Tasting Room and The Ojai Vineyard Tasting Room.
Beer lovers can sip on some pours at the Ojai Beverage Company, or as the locals call it, OBC, or at the Ojai Valley Brewery.
For dinner, check out Ojai Rotie, The Nest, Ojai Pizza, or Nocciola.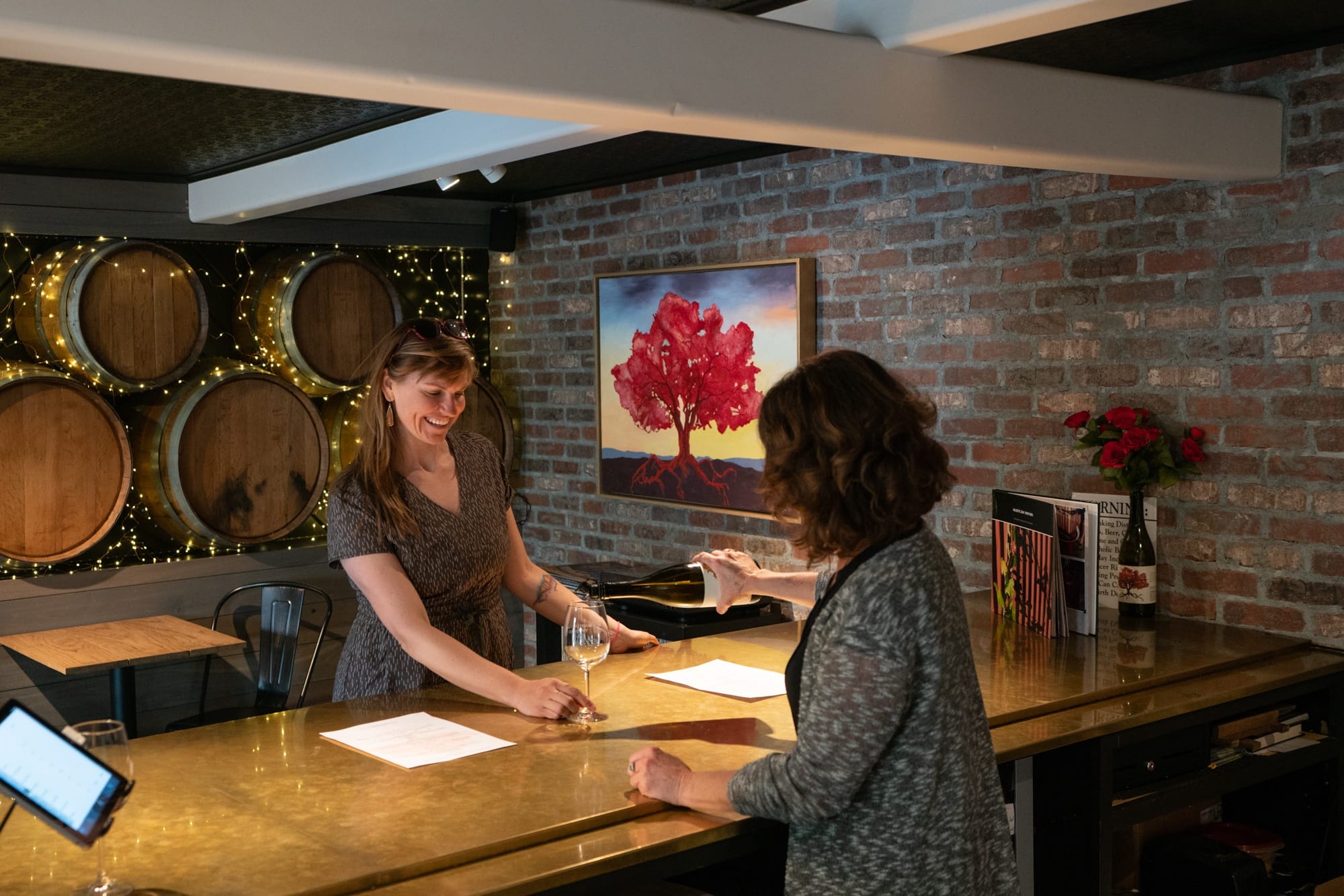 Emerald Iguana Inn: This boutique hotel is located in the heart of Ojai. It has a relaxed yet upscale vibe and beautiful rooms decorated in a tranquil, Southwestern style. I highly recommend enjoying a soak in their hot tub or a swim in the pool. Their sister hotel, the Blue Iguana Inn, is equally wonderful and is located on the bike path so you can bike right into town on one of their rental bikes.
Caravan Outpost: For a unique stay that matches Ojai's eclectic vibe, book an Airstream at Caravan Outpost. Each Airstream is beautifully decorated and surrounded by lush gardens.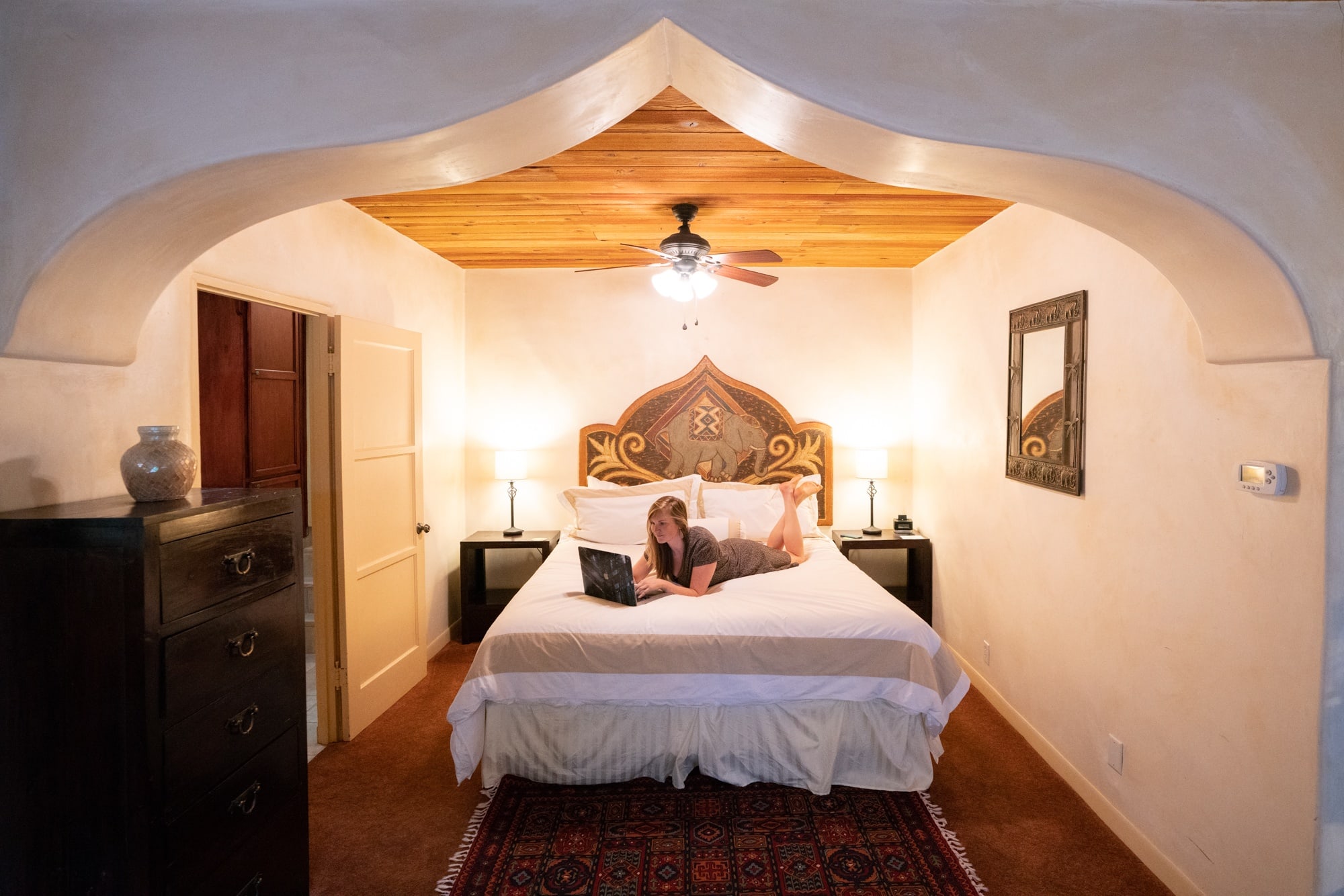 Read More
More Road Trip Inspiration
Day 4: Head to Santa Barbara
The next stop on your central California coast road trip is sunny Santa Barbara, California where there are tons of things to do depending on your interests.
Important: It is illegal to park oversized vehicles – including vans and RVs – on the streets in Santa Barbara. Learn more about where to park your oversized vehicle here.
Morning
In the morning, grab breakfast near where you're staying. The options are endless but a few favorites include The Daily Grind, Handlebar Coffee Roasters, and Alessia Patisserie & Cafe. Then walk or bike on the beachfront coastal path from Butterfly Beach, where the famous Biltmore Hotel is, all the way to the West Beach/Marina area.
Afternoon
Next, head downtown to the Santa Barbara Public Market and sample some of the Asian fare at Empty Bowl. Get the curry soup, you won't regret it! Or for those craving tacos, hit one of the many taquerias near Milpas Street, including Julia Child's favorite taco stand, La Super-Rica Taqueria.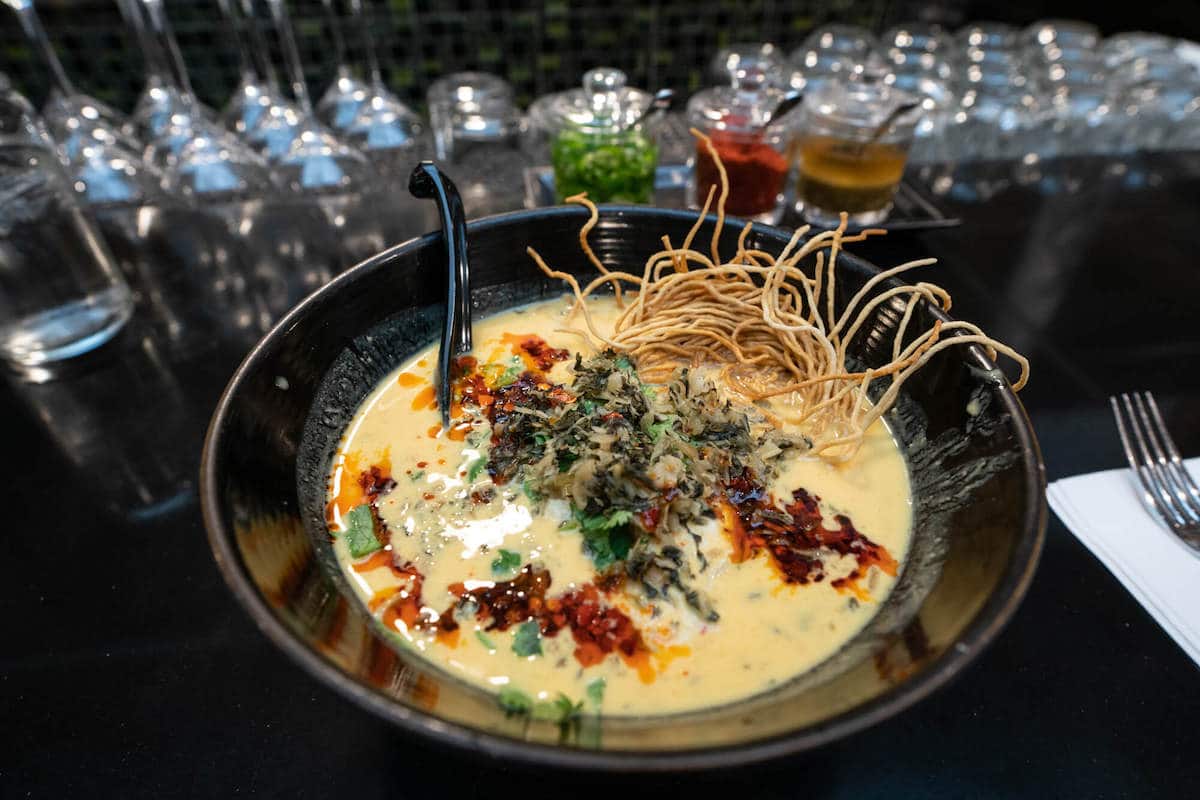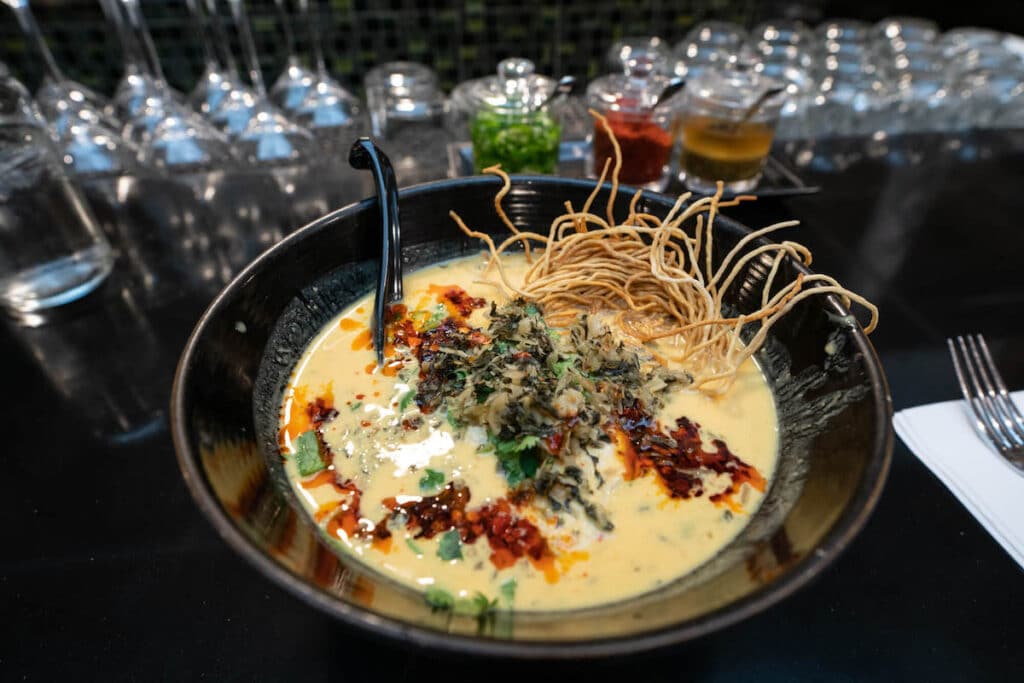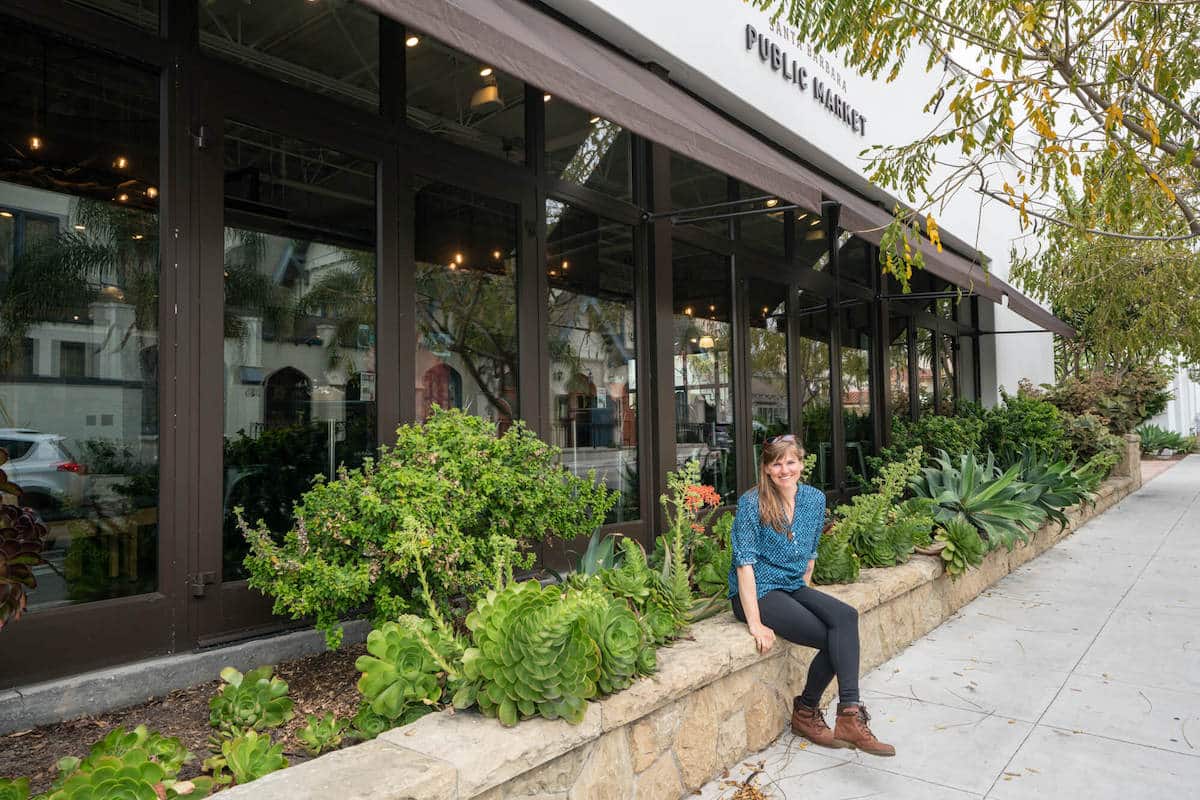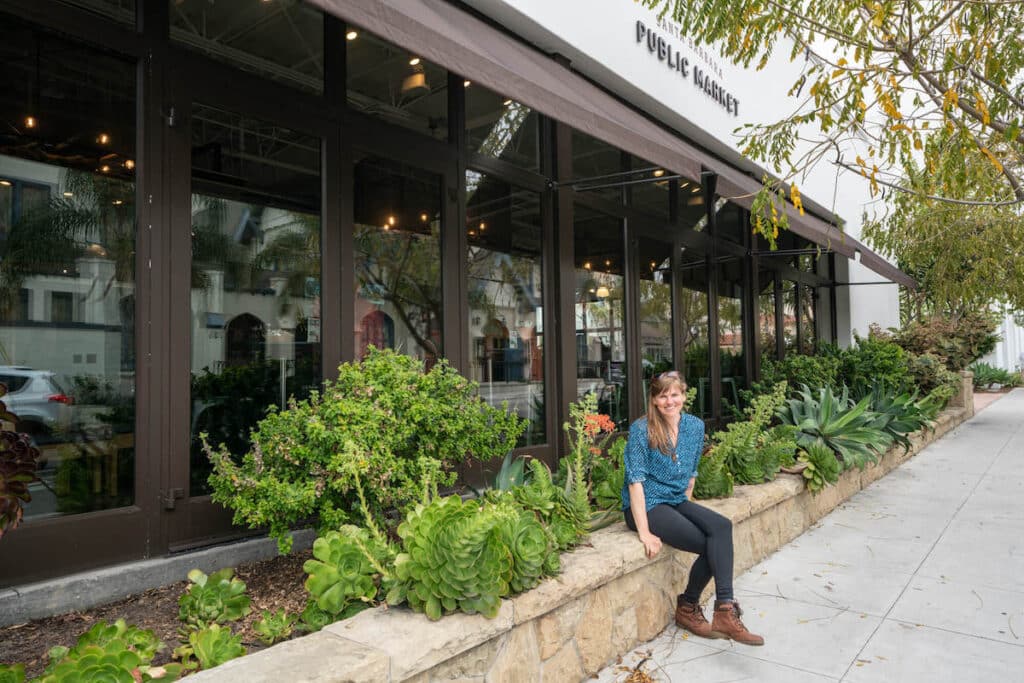 Wash down lunch with a stop at one of Santa Barbara's many urban wineries or breweries in the Funk Zone. A few Bearfoot Theory team favorites for wine tasting include Carr, Pali, and Municipal Winemakers (locally known as Muni). For local beer, check out Topa Topa, Figueroa Mountain, and Rincon Brewery.
Evening
After sampling Santa Barbara's eats and treats, make sure you save some time to get to Hendry's Beach before sunset. It's a dog-friendly spot with towering seaside bluffs and plenty of space to meander along the shoreline with your furry friend.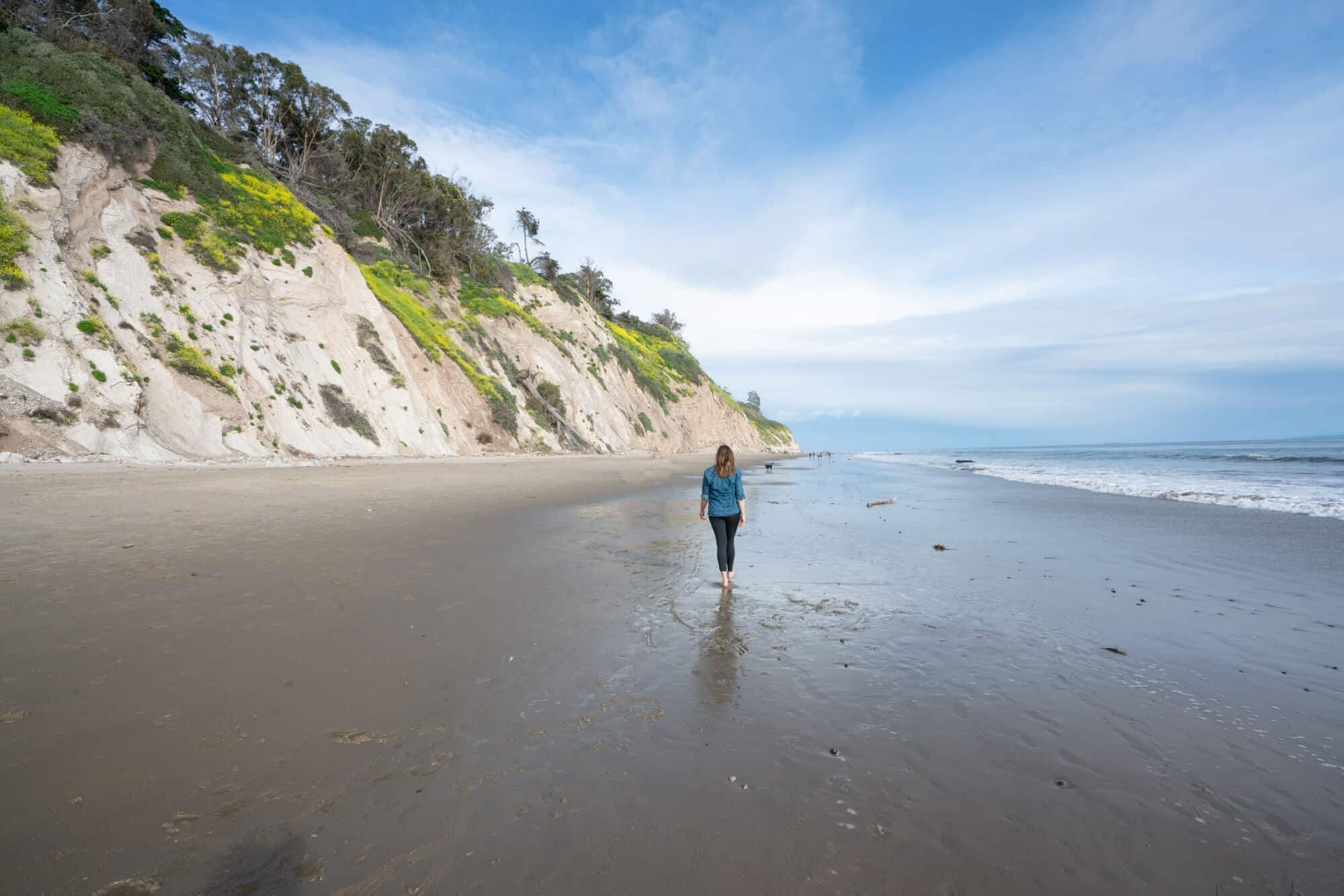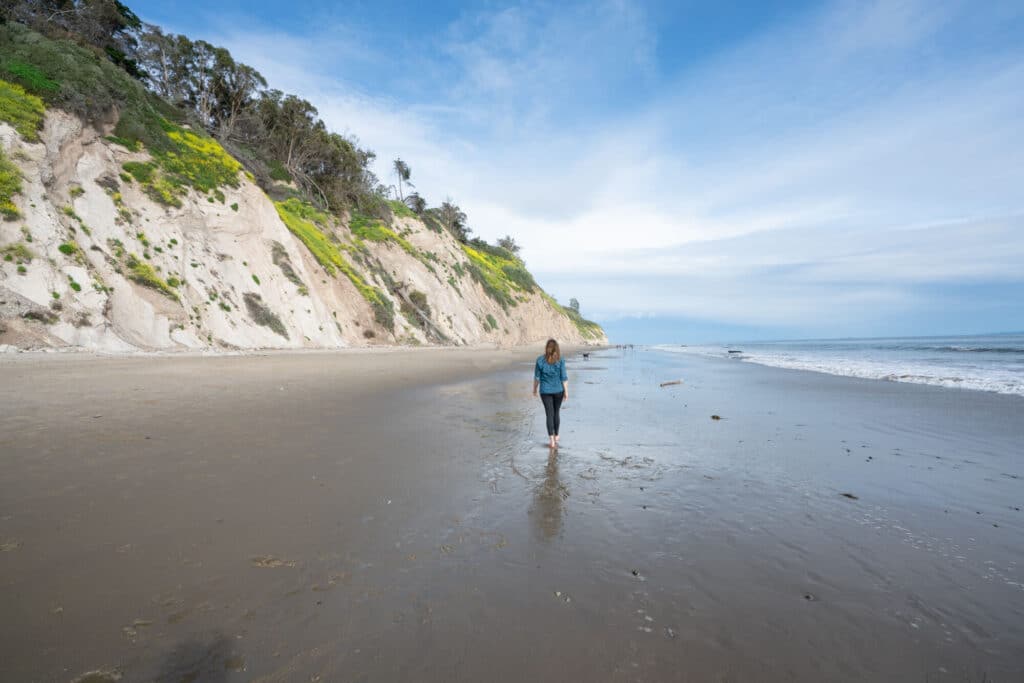 Here you'll also find the Boathouse Restaurant which is pretty much the best place in Santa Barbara to grab happy hour.
While you're over in the Mesa neighborhood, you'll also want to get a different viewpoint of Hendry's Beach from above at Douglas Preserve. This is a prime spot to watch the sunset over the Pacific.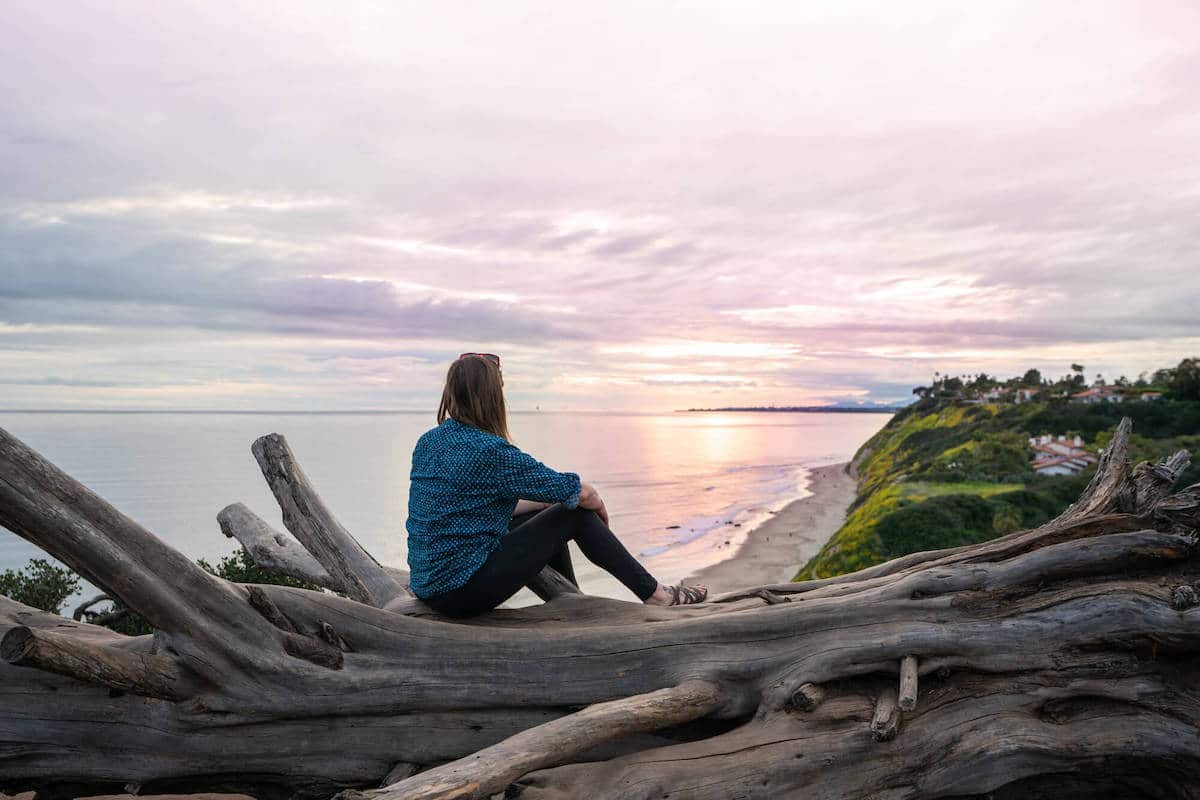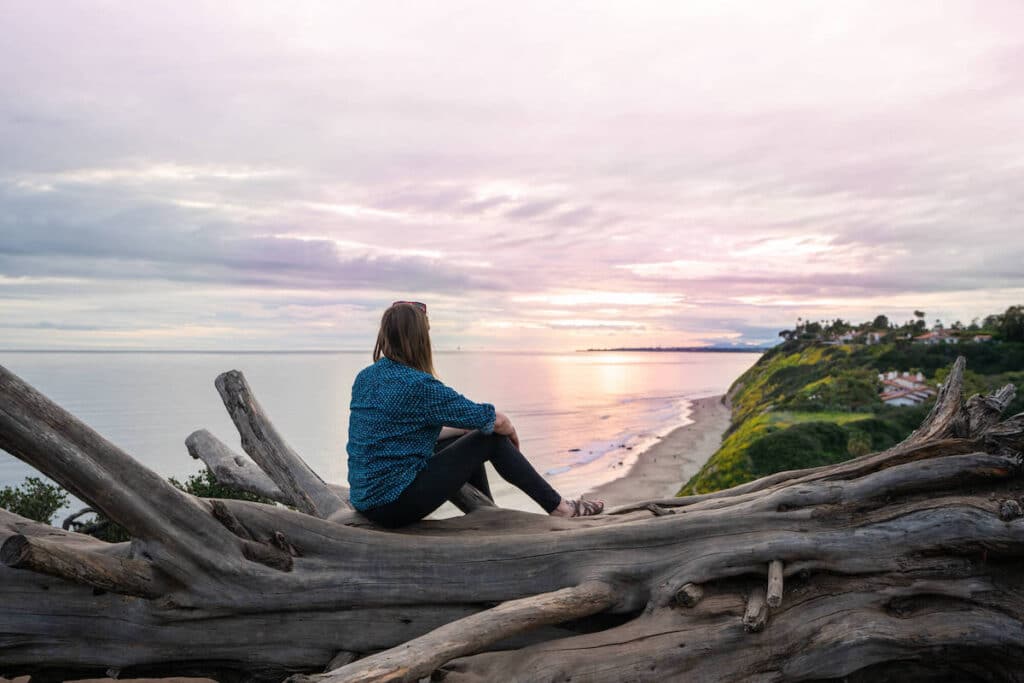 If you're looking for a great atmosphere, try Zaytoon (Lebanese & Middle Eastern cuisine) for dinner where you can sit around fire pits while listening to live music.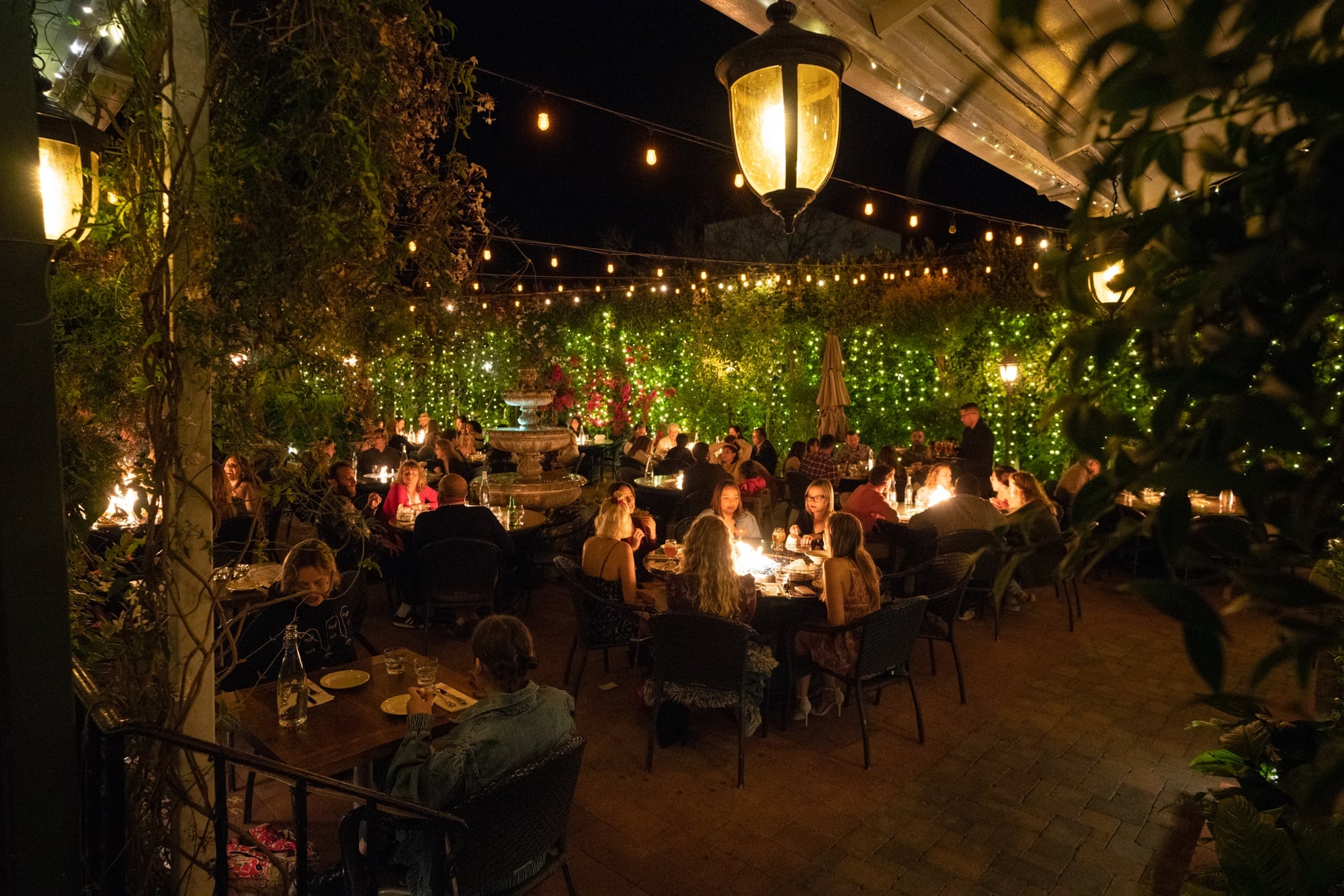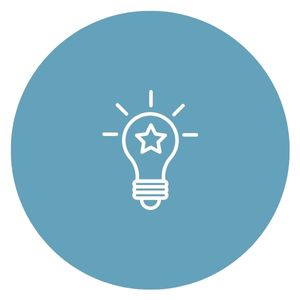 Tip: If you're looking to expand your stay in the Santa Barbara area I recommend checking out the town of Los Olivos which is in the Santa Ynez Valley. Santa Barbara Wine Country Tours offers biking & van tours to the valley for a day of wine tasting and exploration.
Where to Stay in Santa Barbara
Hotel Santa Barbara: A historic hotel located right downtown, Hotel Santa Barabra is definitely a splurge, but worth it if you want to be within walking distance of everything.
Camping: Refugio State Beach is 25 minutes north of Santa Barbara and has a small campground along oceanfront cliffs. Carpinteria State Beach is 20 minutes south of Santa Barbara and has a nice beachside campground along the sand. These are your best bets if you want to camp.
Day 5: Avila Beach + Cambria
Located midway between San Francisco and Los Angeles is San Luis Obispo County, otherwise known as SLO Cal.
Many people love this part of the Central Coast for its picturesque California beach towns that are more laid back than those closer to city life.
Morning
On your way out of Santa Barbara on Highway 154, take a quick detour up Painted Cave Road. Follow the winding road up to a scenic lookout where you can pull off the road into a dirt parking lot. Soak up the breathtaking panoramic views of the city and coast from this unique vantage point.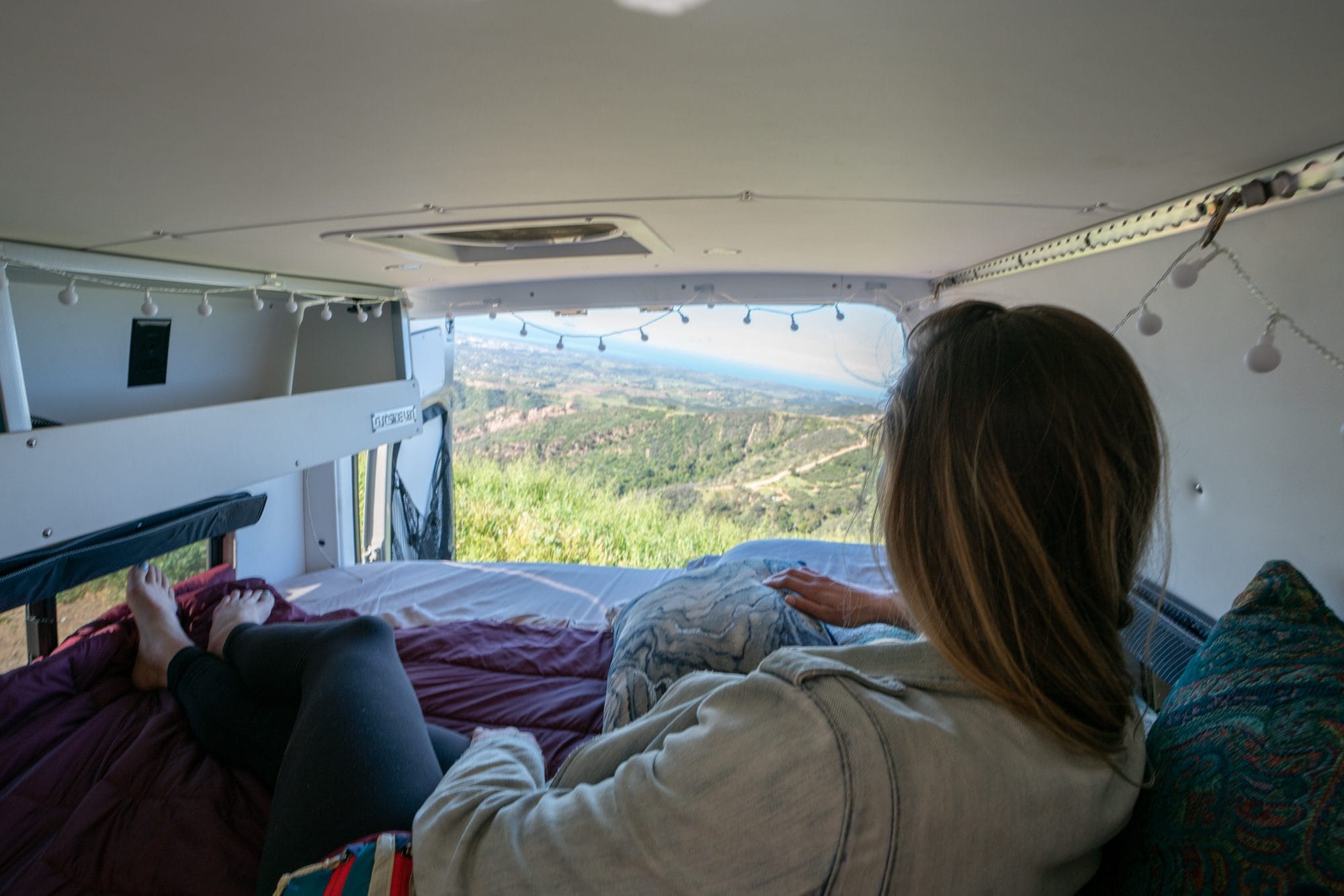 From Painted Cave Road, it's only a short drive to Cold Springs Tavern, a divey local favorite tucked away in the hills. This biker bar is famous for its BBQ Tri-Tip Sandwich and live music on the weekends.
If you have time, the area surrounding the tavern is full of great hikes. I recommend using All Trails or another hiking app to look up a well-rated hike that suits your experience and preference.
As you continue north on Highway 101, I highly recommend grabbing a bite at Bob's Well Bread Bakery in Los Alamos, which is known for its artisan baked goods and mouthwatering sandwiches. Stop and eat in their courtyard or take it go.
Afternoon
Continue your drive for another 40 minutes up the 101 to get to the colorful town of Avila Beach. Take some time to scope out the vibrant downtown scene and then head straight over to Avila Beach Paddle Sports, situated right outside of town.
Get set up with a kayak or paddleboard for the afternoon, but before you get going, chat with the staff to get some insight on how to best scout out the seals and sea otters that live in the bay.
I recommend paddling all the way out to see the Port San Luis Lighthouse. This is a historic area right above a sandy beach that has wildflowers, eucalyptus trees, old maritime structures, and most importantly, a wooden swing!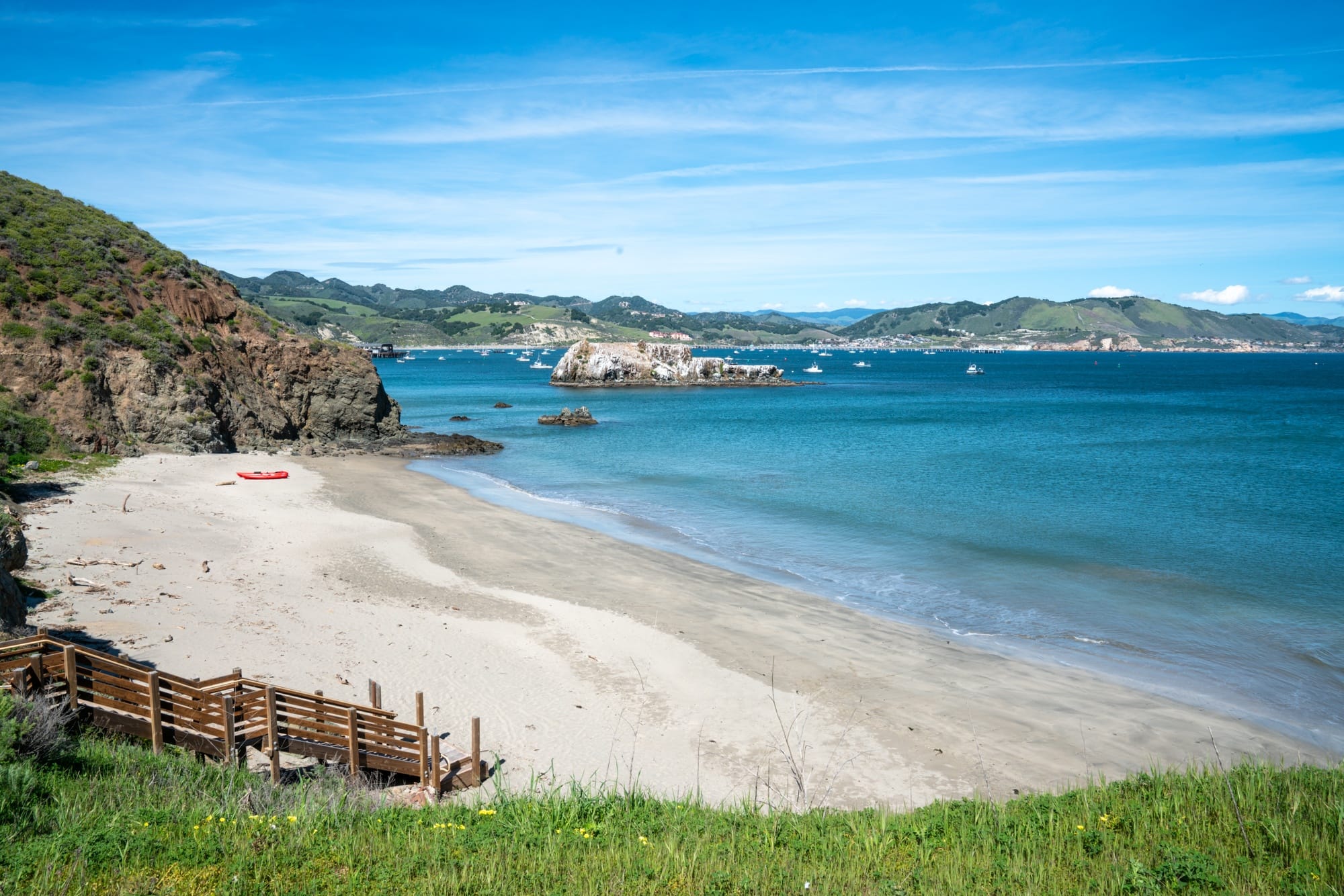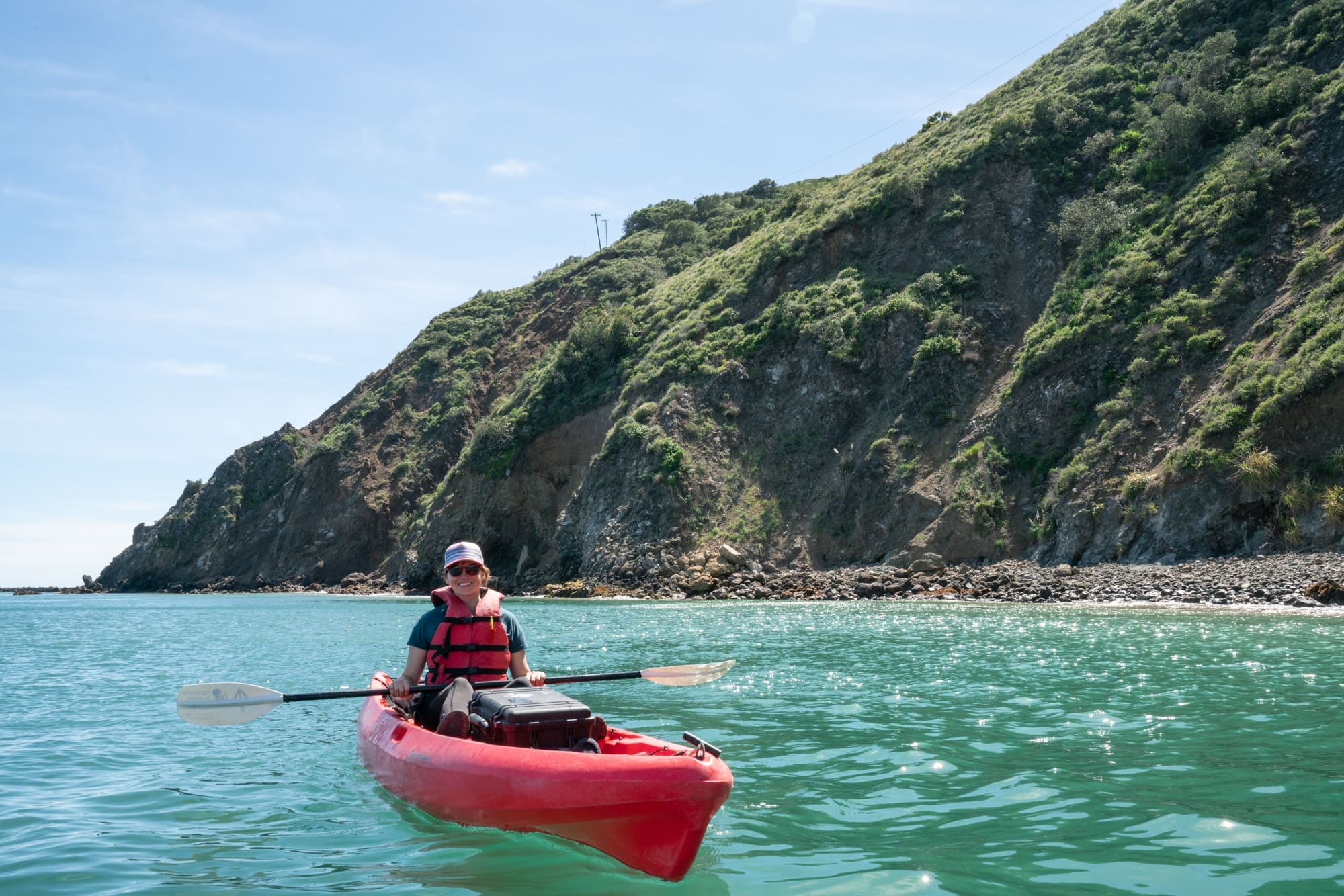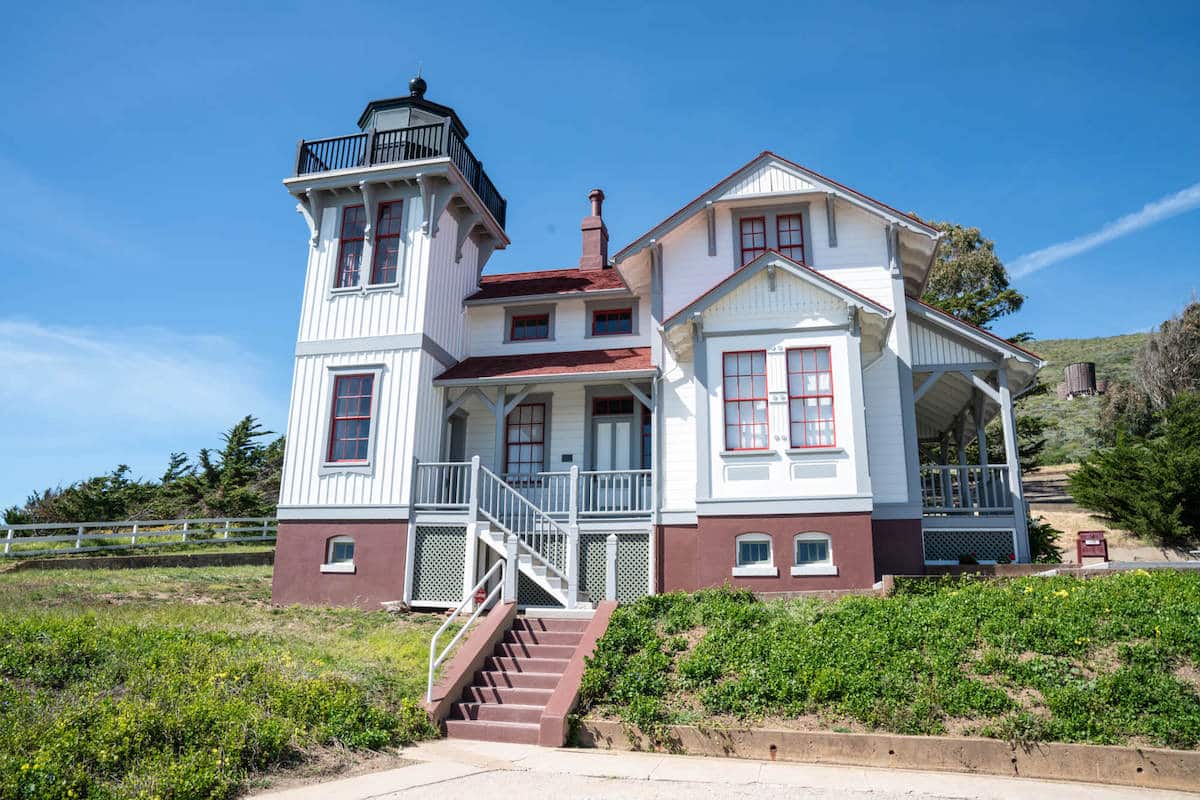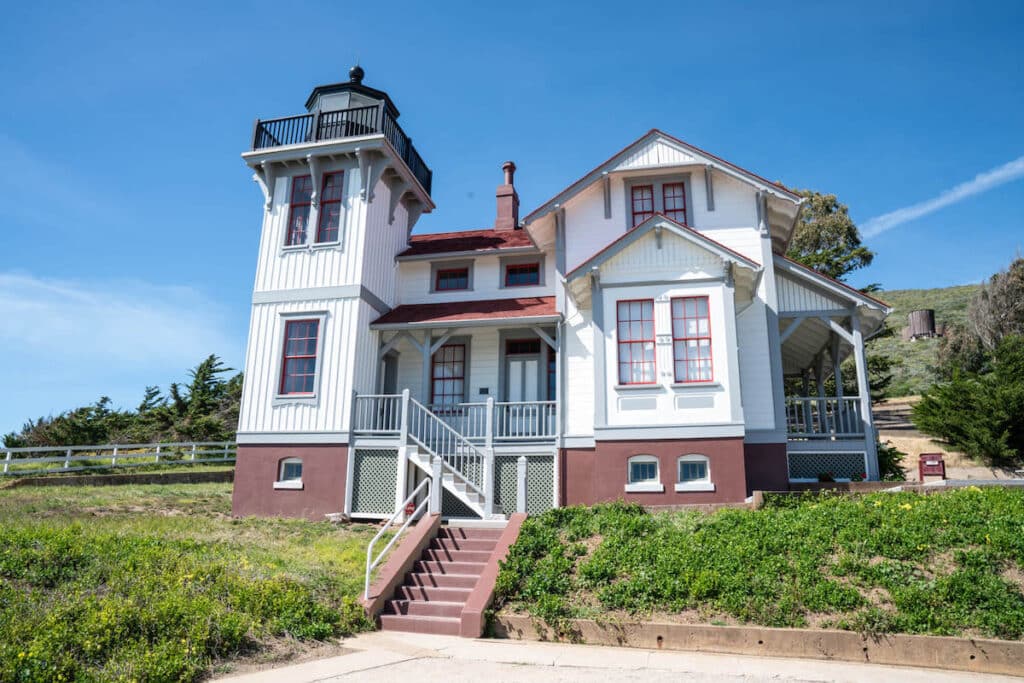 If you're hungry when you get back, head to Fat Cats Cafe. It's a local favorite and conveniently located across the parking lot from the Paddle Sports storefront.
Evening
Hop back in the car and coast up Route 1 to Cambria. Time your arrival to catch the sunset in Cambria at Moonstone Beach where you can walk along the beach boardwalk. You can also continue a few miles up the Pacific Coast Highway to San Simeon for a good chance to see elephant seals bask in the rookeries.
Cap off your day with dinner at Robin's, which offers mouthwatering comfort food in a restored adobe home. It's a favorite spot among locals and visitors.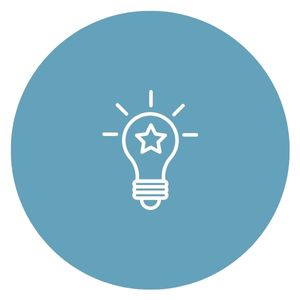 Tip: If you have an extra day, Montaña de Oro State Park has amazing beachfront hiking and a great campground or you can head north to San Simeon to see elephant seals and Hearst Castle (be sure to make a reservation). The historic town of San Luis Obispo is also a stone's throw away.
Cambria Beach Lodge: I highly recommend staying at Cambria Beach Lodge – a beach-inspired boutique hotel with a low-key vibe and elevated minimalist design that's located on the scenic Moonstone Beach Drive with beautiful views of the sparkling Pacific Ocean from the hotel. I loved the natural aesthetic, the soothing colors, and the small details that made a big impact. Spend as much time here as you can! It'll leave you feeling relaxed and inspired.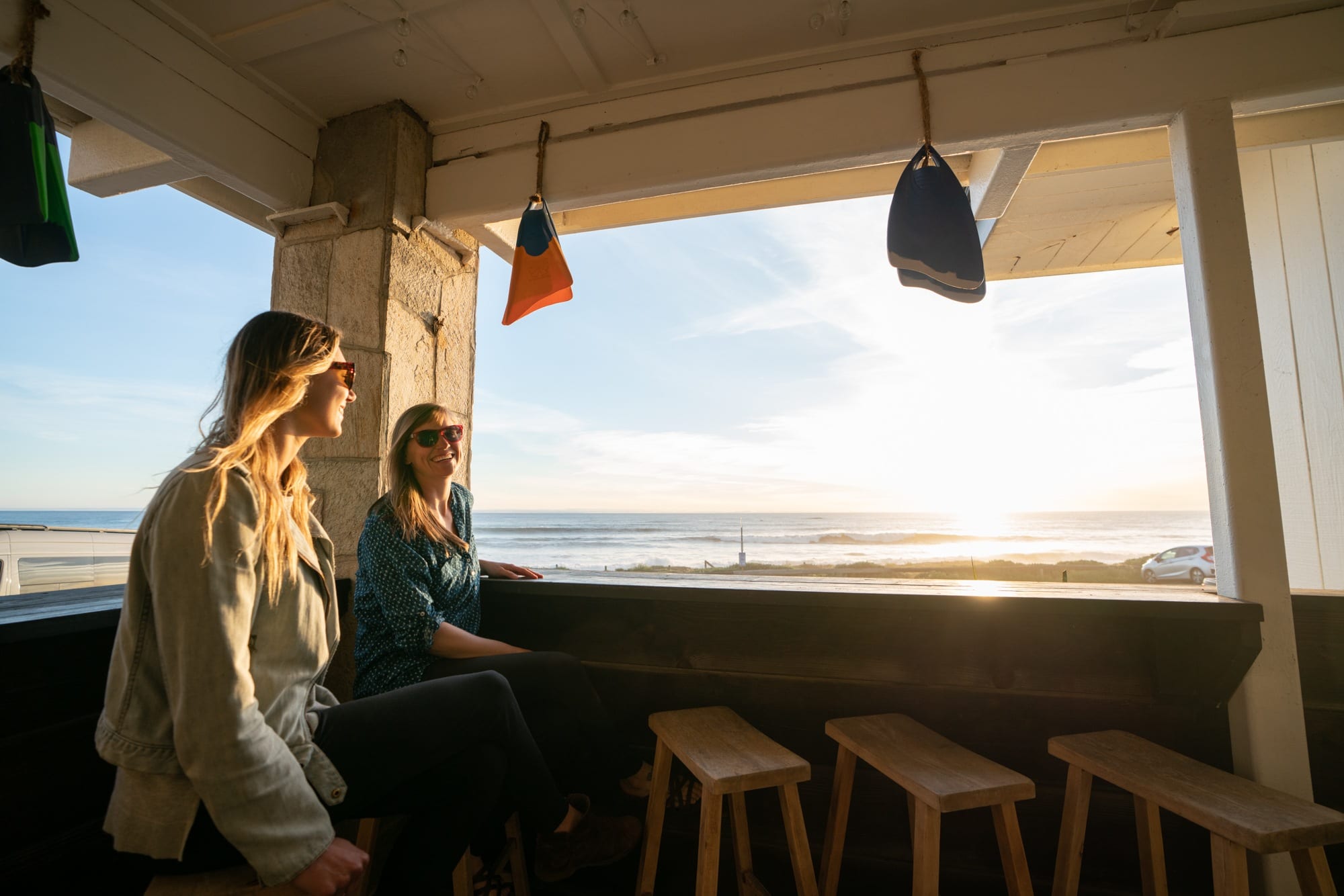 Day 6: Morro Bay + Tin City
Make the final day of your central California coastal road trip an adventurous one that's full of exploration in Morro Bay and Tin City in nearby Paso Robles.
Morning
Drive 30 minutes back down from Cambria to Morro Bay on the Pacific Coast Highway where you can soak in the coastal views and get a glimpse of famed Morro Rock as you make your way into the downtown area.
Stop at Frankie & Lola's for a hearty and classic breakfast. Don't fill up too much, though, because whale watching is next. Depending on the time of year, swells can get big and the boat ride can be a bit rocky.
Morro Bay Whale Watching offers guided tours on the open water to give you a glimpse of SLO Cal's most famous visitors.
If you time it right, you can catch:
Humpbacks on their northbound migration from late March through April into May
Blue Whales from April through the summer
Gray whales from March to May
Or catch them all going southbound from December through February.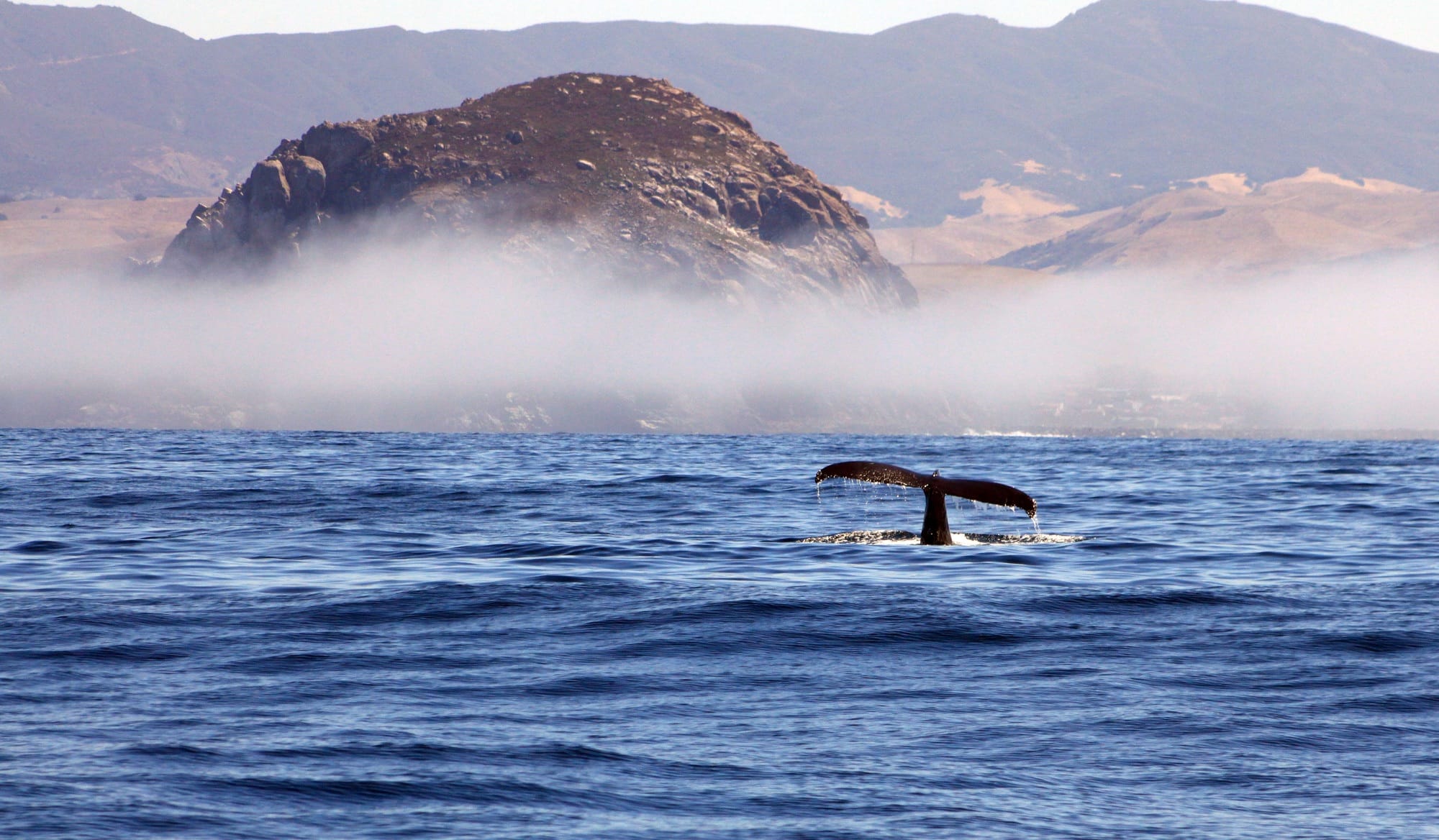 Afternoon
Once you've made your way back to land, grab a nourishing California-style vegetarian lunch to go at Shine Café and head out for a short but scenic hike at Black Hill Trail in Morro Bay State Park.
This is a moderate 2.5-mile hike that can be cut short if you want to drive up to the parking lot near the hilltop instead.
It's an enjoyable and moderate hike with just over 500 feet of elevation gain that ultimately has you topping off with 360-degree views of the coast, city, and hills behind you.
Eat your lunch here and snap a few pics. Make sure you bring sunscreen, bug spray, sun protection, and plenty of water as there is very little shade.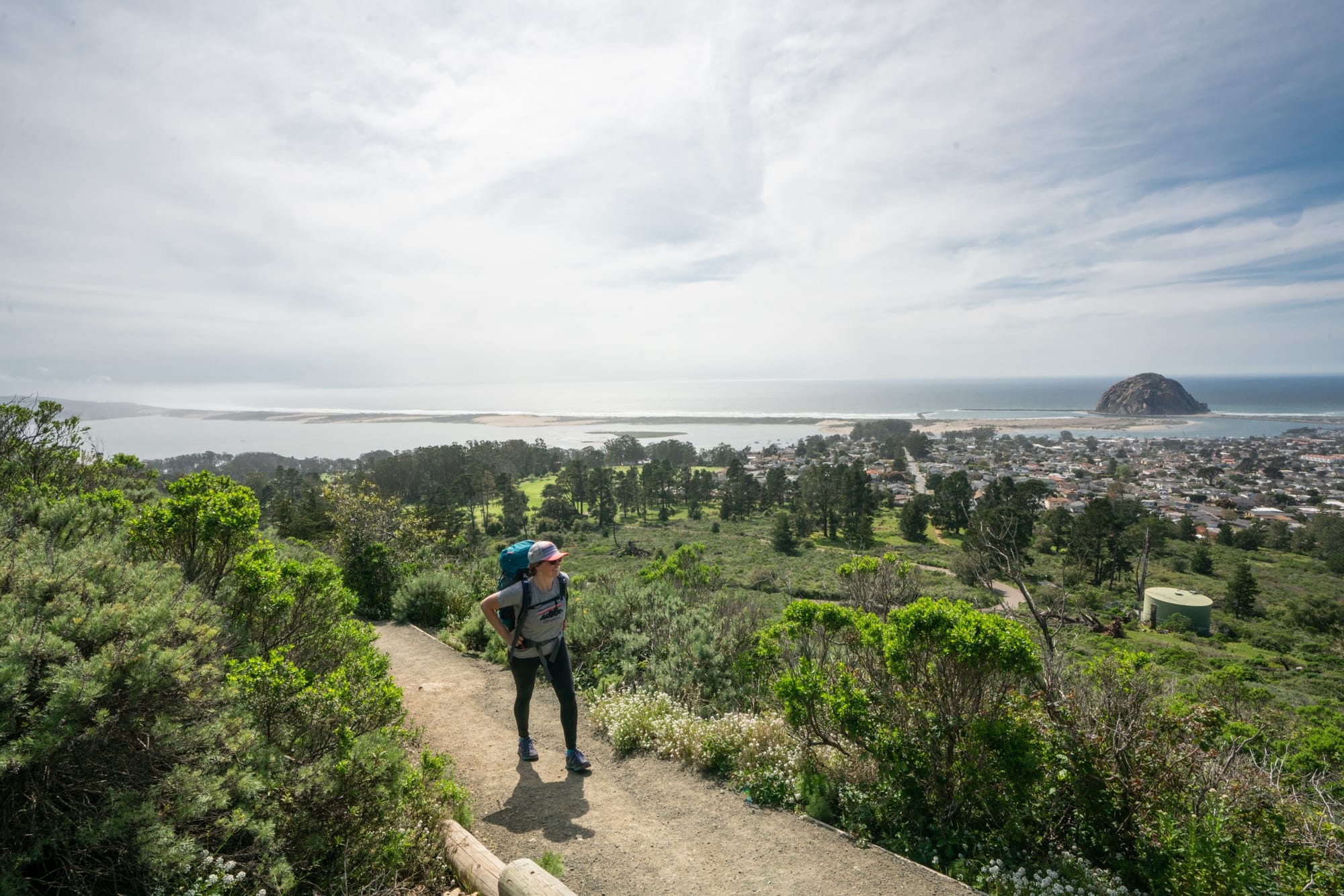 To wrap up your road trip, cruise out to Tin City in Paso Robles. Located in Central California Wine Country, Tin City is a cool and eclectic place to walk around and sample the local brews, wine, and food that the region is known for.
Check out Barrelhouse Brewing Co. (where they also have live music in the summer!), Tin City Cidery, and a variety of food trucks.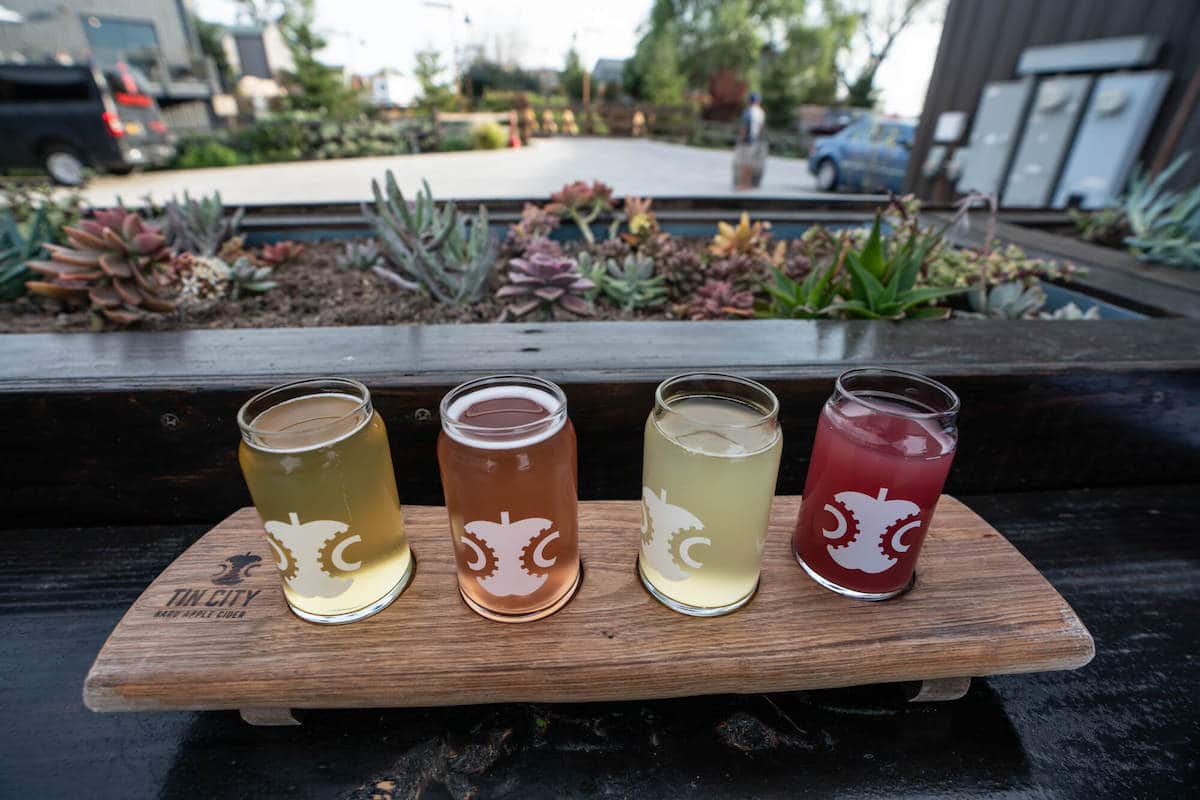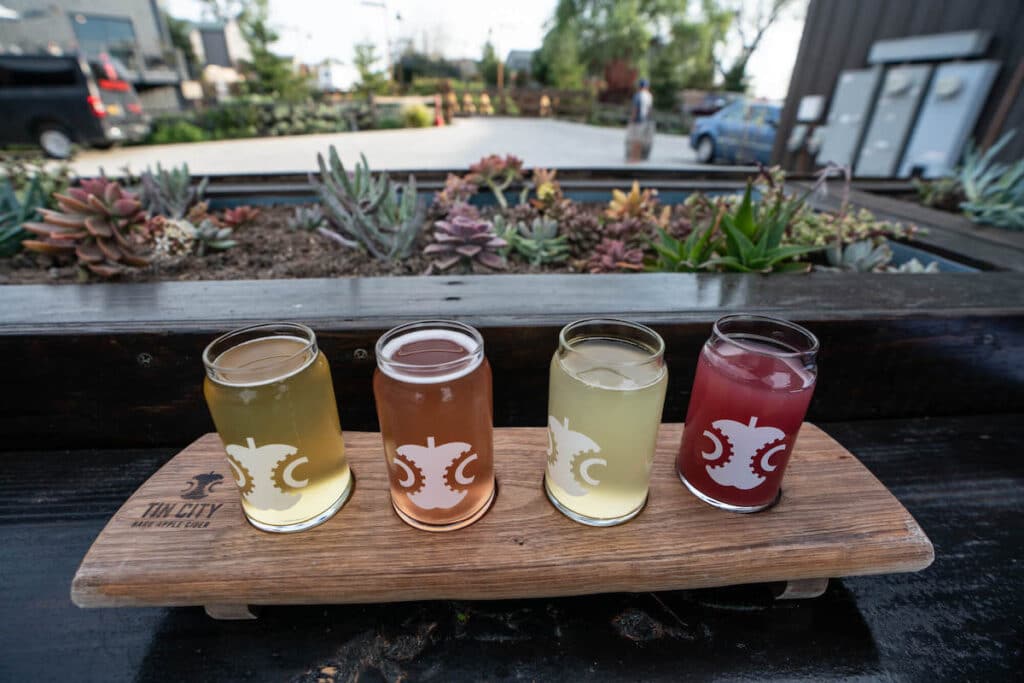 Evening
When you're ready to eat dinner, grab a bite from one of the food trucks at Tin City, or go to the historic downtown of Paso Robles to scope out the different restaurants this vibrant city has to offer.
You can dine al fresco and enjoy the night, as many of the restaurants have outdoor seating and a view of the square.
Fill up on something tasty and take your time as you enjoy the last night of your central California coast road trip before your return home.
---
Extending Your California Central Coast Road Trip
If you want to extend your trip, you can easily make your road trip a one-way adventure and drive all the way to San Francisco. This will allow you to check off even more of California's coastal gems like Big Sur, Monterey, and Santa Cruz.
Here's an extended itinerary:
Day 7: Head up Highway 1 to Big Sur, stopping to see the famous McWay Falls and do some hiking (see our full Big Sur guide for more).
Day 8: Start the morning with a hike at Big Sur River Gorge before driving up the coast to Carmel-by-the-Sea and Monterey. Be sure to stop for photos!
Day 9: Explore the many hiking and biking trails and sights around Monterey, including the world-famous Monterey Bay Aquarium. If you want to get out on the water, book a whale-watching tour or go kayaking with sea otters.
Day 10: Drive north through Santa Cruz, stopping for a walk and lunch along the Santa Cruz Beach Boardwalk. Continue on to the cozy town of Half Moon Bay where you can stretch your legs on one of the many beaches.
Day 11: Finish in San Francisco! You could spend another week exploring San Fran, but if it's your first time, you'll definitely want to take a picture at the Golden Gate Bridge and stroll around Golden Gate Park. Find more of our favorite outdoorsy things to do in San Francisco here.
---
What to Pack for Your Central California Coast Road Trip
What you pack will really depend on what kind of trip you're planning. To start, be sure to check out our Road Trip Essentials Packing List.
If you want to car camp or stay in a camper van, here are some camping resources:
Car Camping Essentials Packing List
Below are a few of my favorite pieces of car camping gear and recommendations for the road:
If you plan on hiking or doing a lot of outdoor activities, check out these gear guides for our favorite gear recommendations: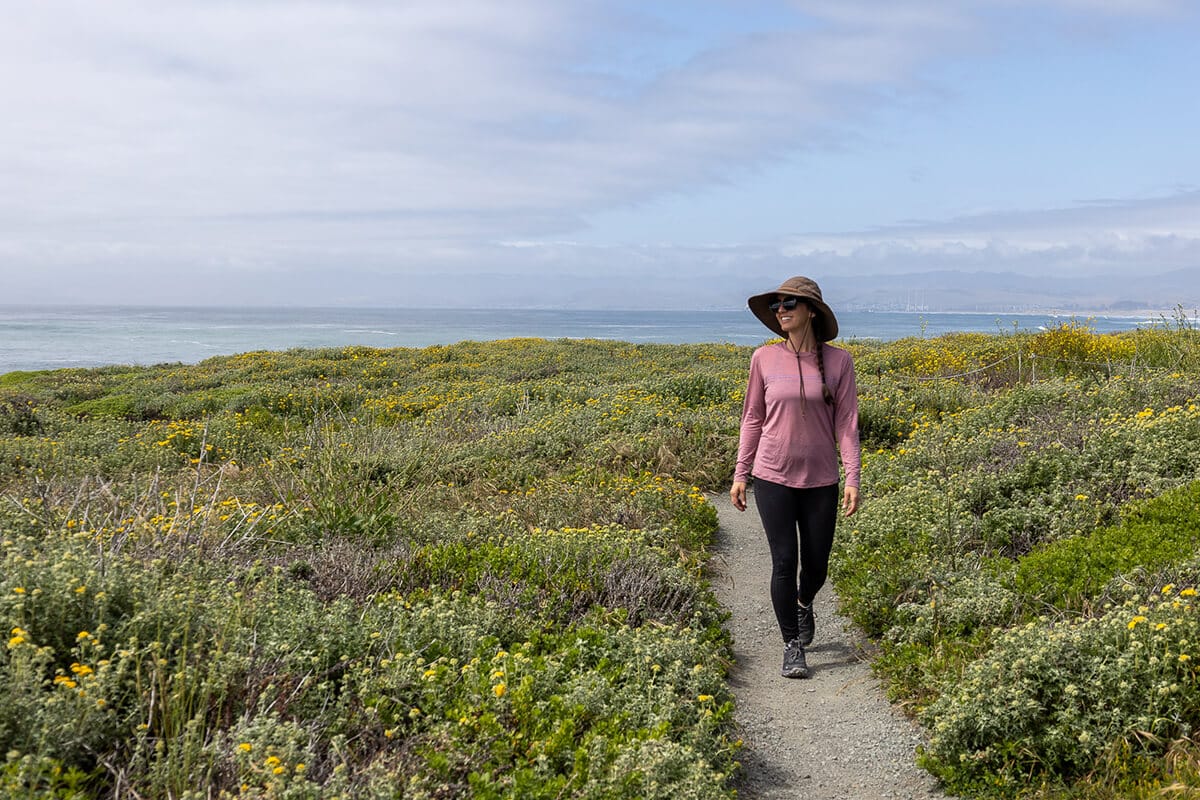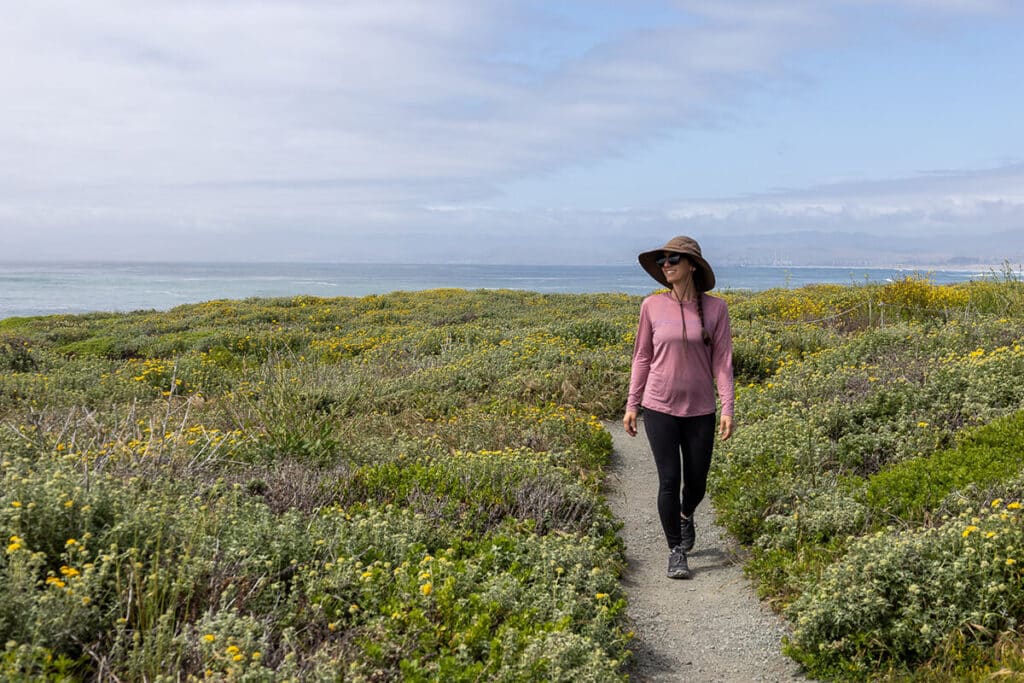 Save this post to Pinterest
Make the most of your visit to California. Use these related posts to help plan your epic road trip:
Got any questions about doing a California Central Coast road trip? Do you have any tips or favorite stops to add? Let us know in the comments below.