Best Time to Visit California's Central Coast
Learn about the best time to visit California's Central Coast, plus the best activities to do in each season when you're there.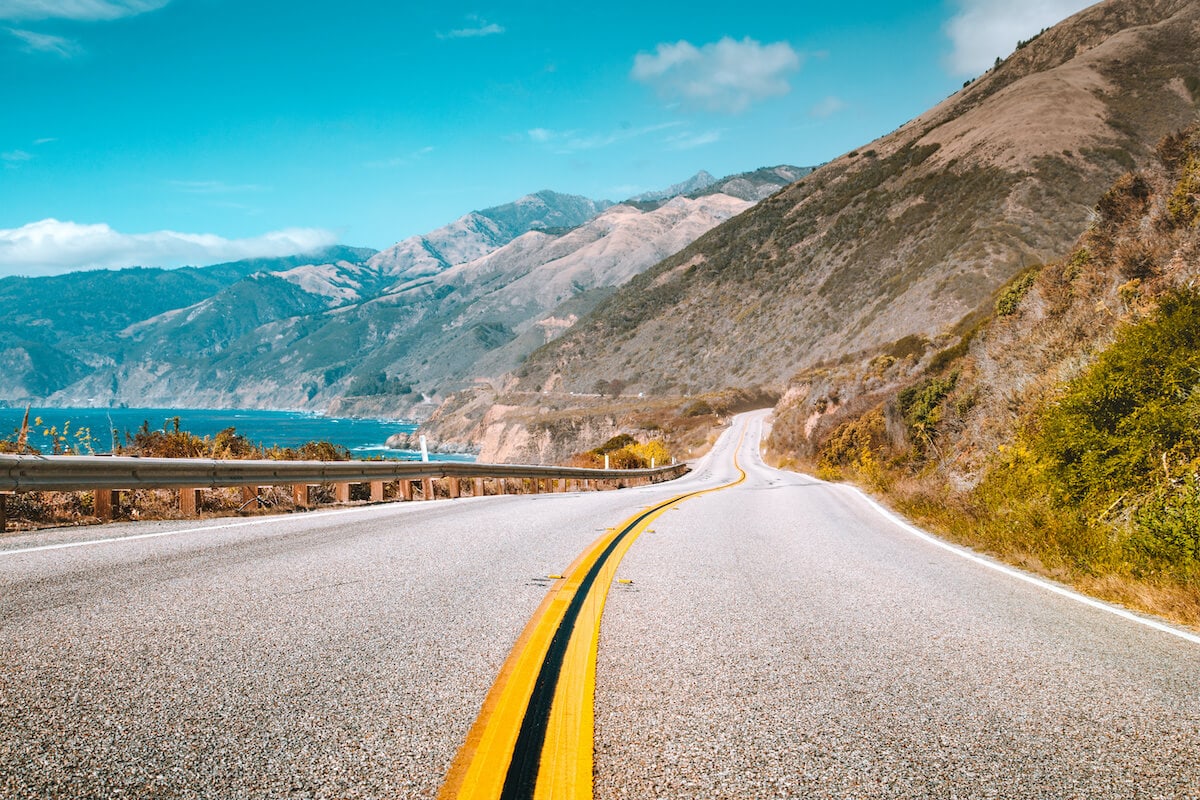 Located between California's two fast-paced major cities, Los Angeles and San Francisco, the Central California Coast happily moves at a little slower pace. Known for sleepy beach towns, vibrant wildflowers, spotting marine wildlife, and its rugged Big Sur coastline, visiting the Central Coast of California is a great weekend (or longer!) getaway spot. During my trip to California's Central Coast, we got to soak in its laid back vibe, natural beauty, and road trip for miles along stretches of beautiful coastline.
Just because there are almost 300 days of sunshine each year on the Central Coast doesn't mean there aren't some great tips for how to make the most of your trip here, no matter what season you choose to visit. Whether it's a visit to one the world-famous wineries, beach hopping, or a lowkey getaway to hang around one of the local surf towns, we're sharing our best advice to help you do the California Central Coast right.
Planning a Central Coast road trip? Here's all you need to know about the best time to visit the California Central Coast.
Where is the California Central Coast?
The California Central Coast begins just north of Los Angeles and runs more than 300 miles to just south of San Francisco. The Central Coast can be broken up into four smaller regions: Ventura, Santa Barbara, San Luis Obispo, and Big Sur/Monterey. Some people regard the Central Coast as one of the most beautiful drives in the world – and I'd have to agree. The Central Coast is best for road trips – you can read my 6 day California Central Coast Road Trip Itinerary here. Most visitors will fly into Los Angeles or San Francisco and rent a car to drive the Central Coast. If you'd like drive the entire Central Coast, I recommend flying into one city and out of the other to save yourself the time of having to double back on your route. You can also look at flying into San Luis Obispo, but this a smaller, regional airport.
Visiting the California Central Coast in Spring
During our April visit, we were spoiled by warm and sunny weather with slimmer crowds. For that reason, it makes spring one of the best times to visit the California Central Coast. The rainy winter season leads to a dramatic burst of wildflowers and lush landscapes that you won't see any other time of year. Temperatures can range from 50 degrees to mid 70s during the day with full sun, but there can also be patches of rain. So, pack accordingly (we've got a list for that)! You may have heard the saying "May Gray, June Gloom" for California. During these months, there's a good chance the coastline will be engulfed in fog, but this can offer a uniquely moody landscape.
Things to Do in the Spring on the California Central Coast
Bike the Ventura River Trail out to Ojai for the best weather and green landscape during springtime
Enjoy beachfront camping at Faria Beach Campground – reservations are highly recommended
Photograph the sunset at Moonstone Beach and stay a few nights at the Cambria Beach Lodge
Take a hike to see the wildflowers bloom in the foothills of Santa Barbara. We recommend Rattlesnake Canyon or Inspiration Point trails.
Drive or bike the 17-mile Pebble Beach Road near Monterey (Note: driving this road will cost $10.75/vehicle, but biking this road is free)
Visit Montaña de Oro State Park – its name, "Mountain of Gold", comes from the golden wildflowers that bloom each spring
Beat the summer crowds and hang out at sunny Avila Beach for a day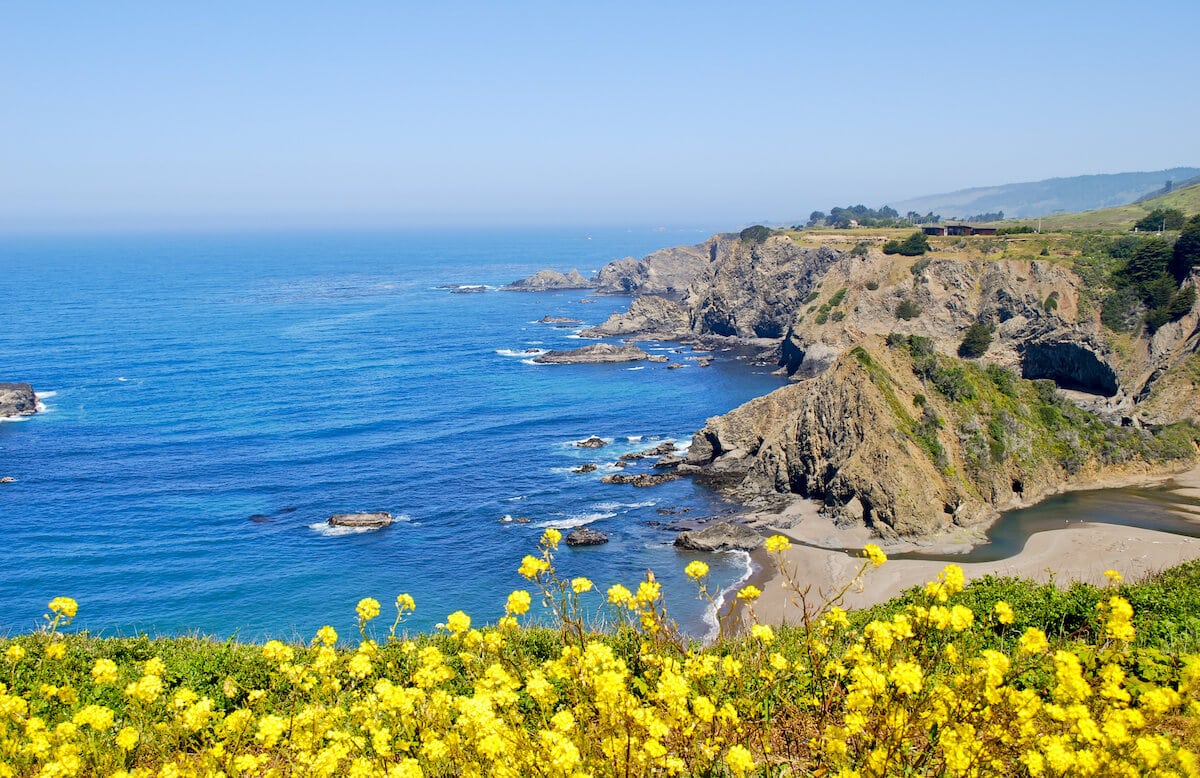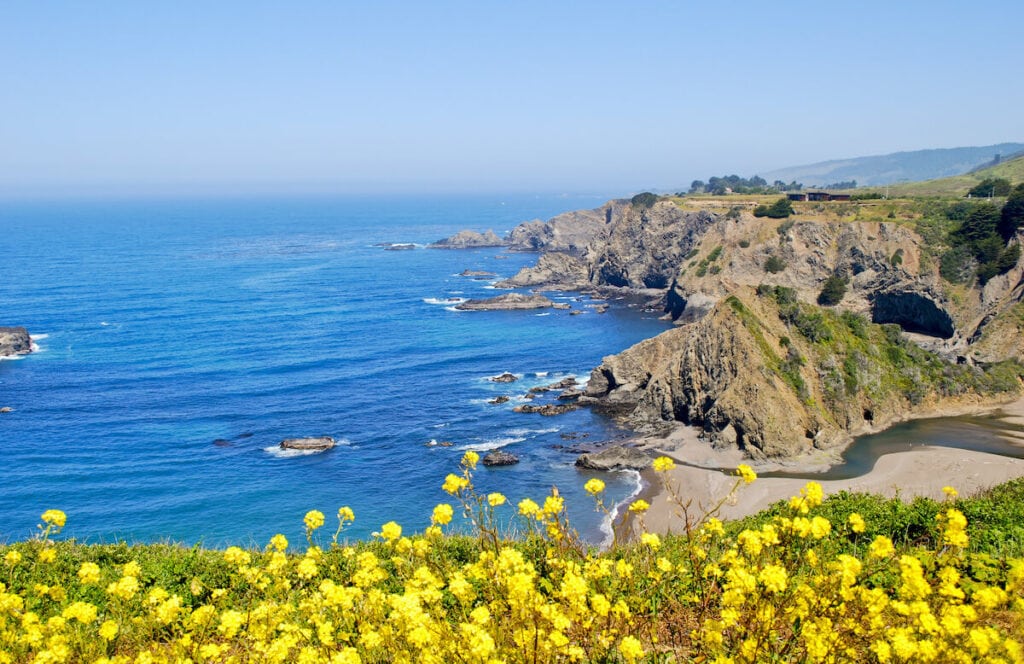 Visiting the California Central Coast in Summer
Summer is California's high season, when visitors start rolling in and places fill up fast. Despite the crowds, this is also one of the best times to visit the Central Coast of California, which tends to be a less popular destination in comparison to its southern and northern counterparts. Temperatures are warm and sunny, sometimes varying 20 degrees from day to night, so pack layers. The coast is cooler and more enjoyable during the summer, plus, there's a lot going on in the downtown areas. It's not hard to choose your own adventure during this season, but here's what we suggest:
Things to Do in the Summer on the California Central Coast
Head out to Channel Islands National Park. Bring a wetsuit and go snorkeling!
Backpack the Trans Catalina Trail
Go on a whale watching tour off the coast of Santa Barbara for your best chance of seeing blue, humpback and minke whales.
Walk around the Santa Cruz Beach Boardwalk, known as the Coney Island of the West
Learn to surf in Cayucos, one of the best sleepy surfer towns on the Central Coast
Go sea kayaking at Avila Beach Paddlesports to see the magical Port San Luis Lighthouse and sea otters. Read our beginner kayakers guide here.
Eat olallieberry pie from Linn's Bakery – what's an olallieberry? It's a mix between raspberries and blackberries!
Spend the day sunbathing at Pismo Beach or rent a beach cruiser to pedal along the coast
Enjoy the breeze and the scenery as you bike along the Ventura Pacific Coast Bikeway, from Ventura to Santa Barbara
Go camping at Lake Casitas. As an alternative to the beach, this oasis is several miles inland, and you can still be out on the water, or go hiking and biking, too.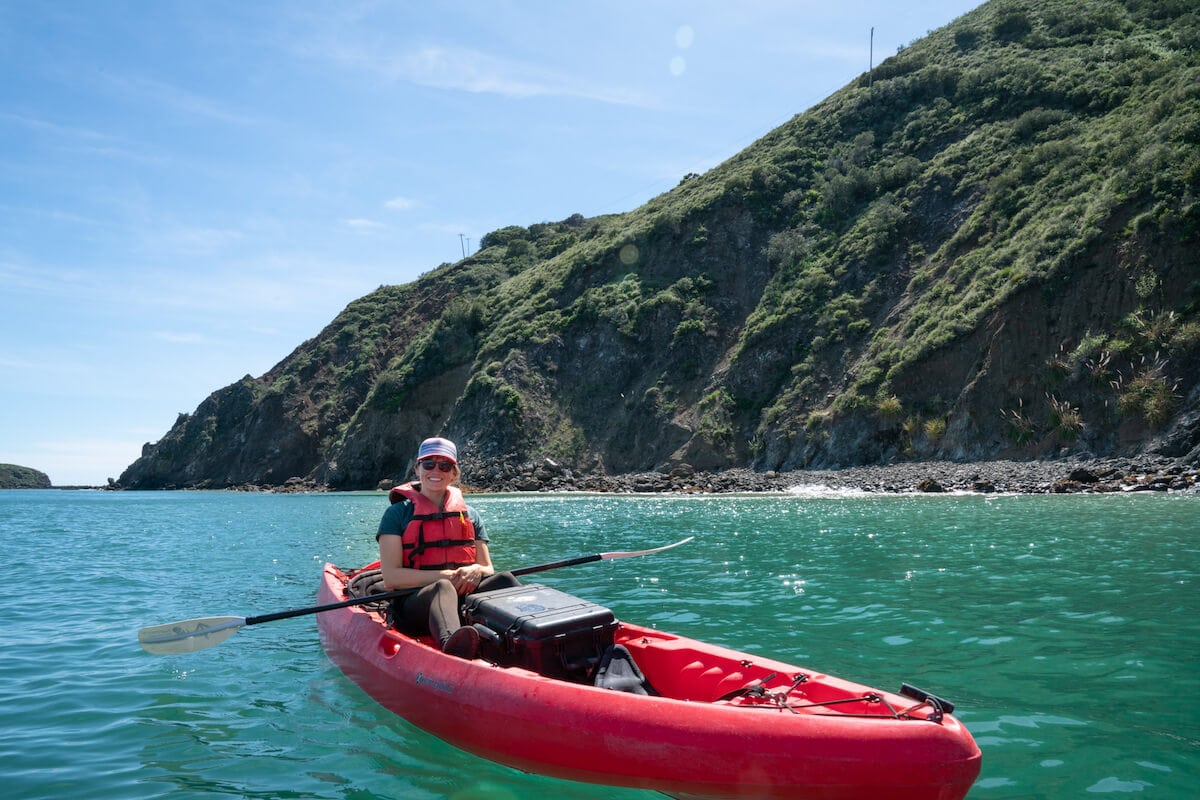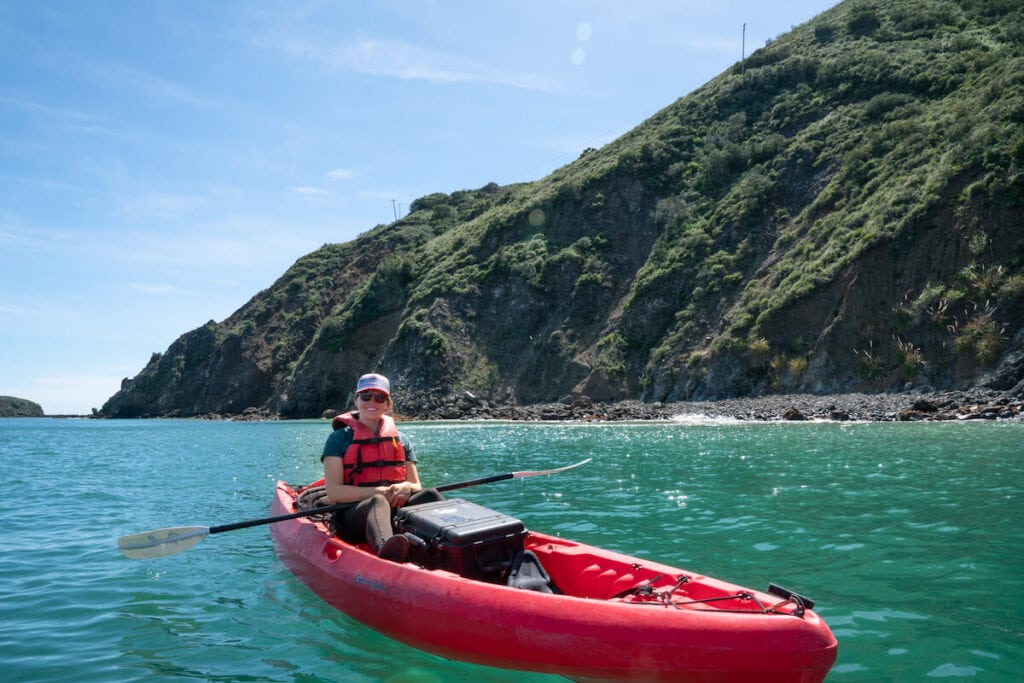 Visiting the California Central Coast in Fall
During the fall, crowds thin out at the beach and the weather stays sunny and warm well into September and early October. If you're into wine, this is your best time to visit the California Central Coast to catch harvest season at the wineries. You might even see some fall colors! Regardless of where you go, the peak tourist season will have ended, which makes it a great time for outdoor enthusiasts to soak in the Central Coast's natural beauty.
Things to Do in the Fall on the California Central Coast
Head out to Tin City in Paso Robles for local wine, breweries, and farm-to-table food. This is also a big time for live music, fairs, and other events in the area.
Drive inland to Solvang, which feels like stepping into another country. This town is full of Danish architecture and culture
Visit Light at Sen­so­rio, an outdoor art installation exhibit near Paso Robles
Visit the Old Mission Santa Barbara to take a step back in time
Watch the sunset over the Pacific from Douglas Lookout at Hendry's Beach in Santa Barbara
Take a tour (and stomp some grapes!) at the Samsara Winery, Goleta's first winery where they make the wine onsite, on the outskirts of Santa Barbara
From October to March, visit Sweet Springs Nature Preserve to see Monarch Butterflies
Drive Highway 1 through Big Sur, stopping at iconic points like McWay Falls and Bixby Creek Bridge. (Big Sur note: sections of this road often close due to rockslides. Please be sure to check road conditions ahead of time).
Snag an oceanfront campsite at secluded Jalama Beach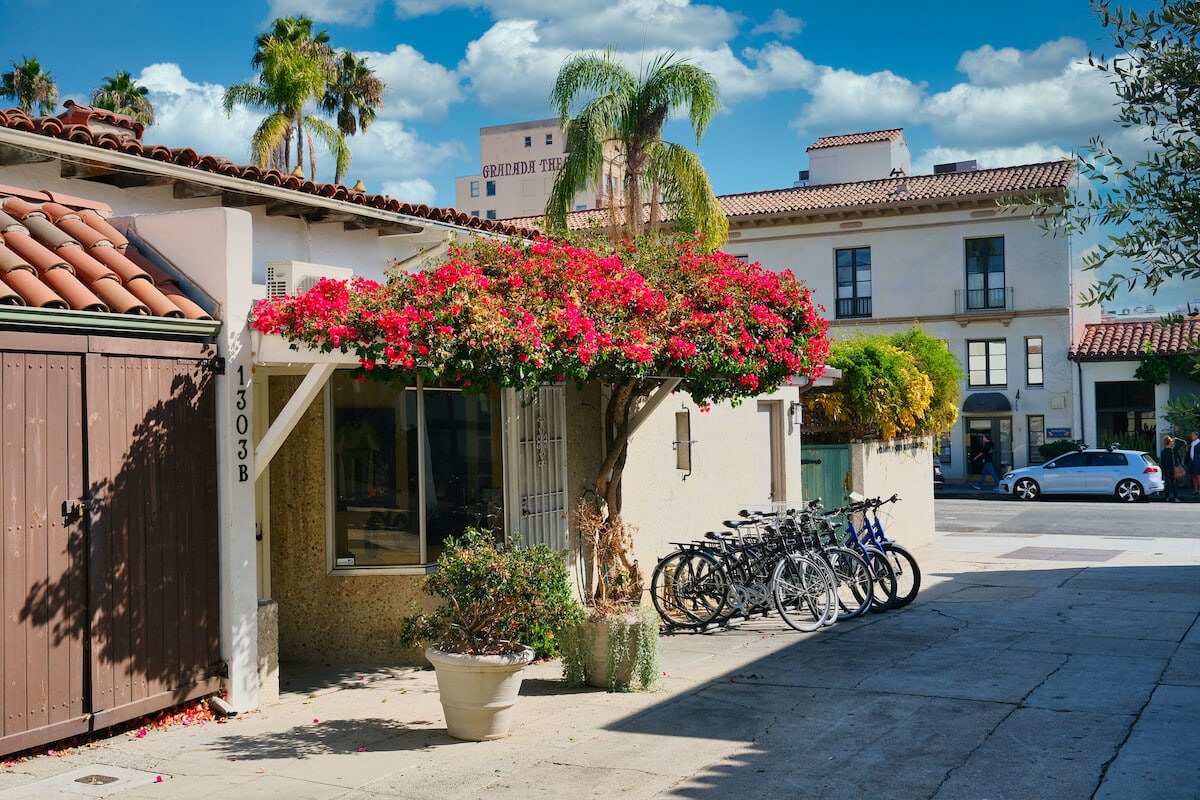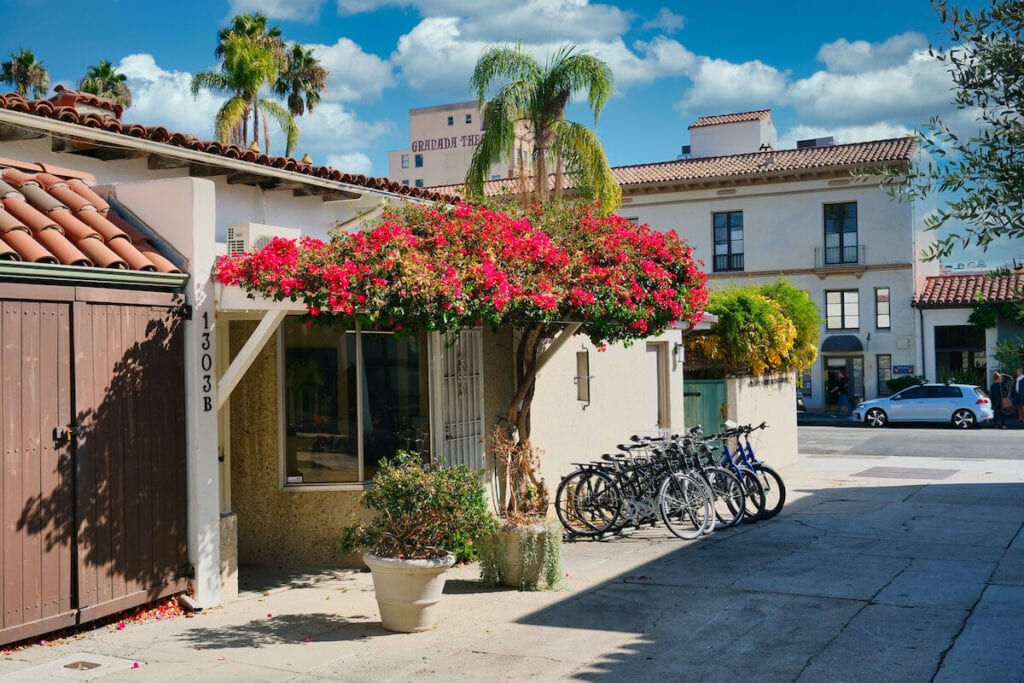 Visiting the California Central Coast in Winter
California's Central Coast is beautiful all year-round, but there are a few things you want to avoid doing in the winter. This is the rainy season, so be prepared and aware that mudslides are more likely to occur and can result in road closures as you approach the Big Sur area. During the colder months, temperatures are cool to mild, so you'll be better off centering your trip around inland activities. If you are looking for no crowds, winter is the best time to visit the California Central Coast.
Things to Do in the Winter on the California Central Coast
Go whale watching in Morro Bay to see orcas, grey whales, or humpbacks during their southern migration
From January to March, visit Piedras Blanca Elephant Seal Rookery to see hundreds of elephant seals flopping on the beach
Visit the famous Monterey Bay Aquarium to see sea creatures like kelp, jellyfish, and sea otters up close
Go a bit inland and spend a day or two exploring Ojai or San Luis Obispo, where you can hike, eat, drink and take in the local culture
Visit the quirky Bubblegum Alley in San Luis Obispo
Take a tour of Hearst Castle, an opulent hilltop estate built in 1919 (please note: as of June 2021, Hearst Castle is closed due to COVID)
Soak in hot springs near Santa Barbara after a short hike along the Hot Springs Canyon Trail (please make sure to read up on proper hot springs etiquette beforehand)
During December, Santa Barbara and many other beach towns and cities, celebrate the holidays with light shows on the water. Check out the Santa Barbara Parade of Lights from Stearns Wharf to feel a little festive