Things To Do in Big Sur: A Complete Travel Guide
Here are the top things to do in Big Sur, California including camping, hiking, restaurants, sightseeing, and more.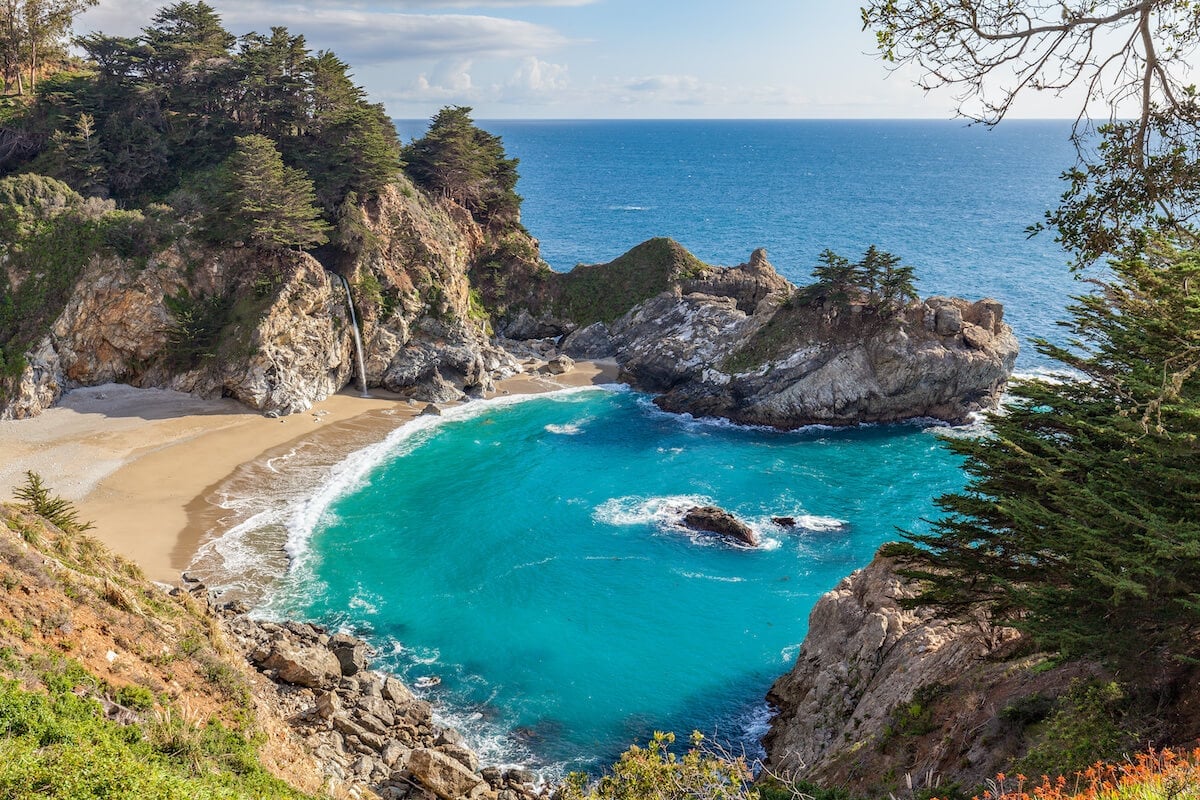 There are plenty of things to do in Big Sur, especially if you want to spend some time outside in nature, and we've got you covered with this guide.
Big Sur is one of the most magical places we've been. On this rugged stretch of coastline, you can camp and hike among the pine trees while taking in views of the strikingly blue ocean below. It's a place where water falls into the sea and where people go to get away, decompress, and find inspiration.
Here are the top things to do in Big Sur including camping, hiking, sightseeing, and more.
Important Reminder: As it goes in all of the destinations we share, please practice good trail etiquette and remember to Leave No Trace. This means packing out all of your garbage (including toilet paper), being respectful to others on busy trails, and following the established rules.
Where is Big Sur?
Big Sur is about 5 ½ hours north of Los Angeles and 2 ½ hours south of San Francisco. A car is highly recommended for exploring this region since getting to Big Sur via public transportation is very difficult (although it's not impossible – there is a public transportation option from Monterey or Carmel to Big Sur).
If coming from out of state, the closest airport to Big Sur is the Monterey Airport (22 miles away), followed by the San Jose Airport (76 miles away), the San Francisco Airport (99 miles away), and the Oakland Airport (103 miles away). The Monterey Airport is the smallest of all these so you'll likely be able to find more flight options at lower prices at the other airports listed here. As mentioned, a car is highly recommended for exploring this region which you can book for pickup at any of these airports.
Note: Be sure to fill up on gas before heading to Big Sur – there are very few gas stations in the area, and prices tend to be $2-$3 more than surrounding areas.
Getting to Big Sur from the South
When heading to Big Sur from the south, we highly recommend the coastal route rather than taking the 5 freeway. When you leave Los Angeles, take the 101 to the 1 for a beautiful, scenic, coastal drive that will take you through Ventura, Santa Barbara, Pismo Beach, Morro Bay, Cambria, and more scenic small coastal towns with lots of beautiful viewpoints and places to stop along the way.
Getting to Big Sur from the North
There are a few different routes that will lead to Big Sur when coming from the North depending on where you're starting. However, every route from the north will eventually take you through Monterey and Carmel-By-The-Sea before you get to Big Sur 45 minutes later, and both are worth a stop or at least a drive through if you have time. Monterey has the world-famous Monterey Aquarium and Carmel-By-The-Sea has the famous 17-mile Drive, which you can drive for $10.75/car (as of September 2021) or bike for free. If you are short on time, skip the 17-Mile Drive since you will get plenty of jaw-dropping views along Highway 1 to Big Sur.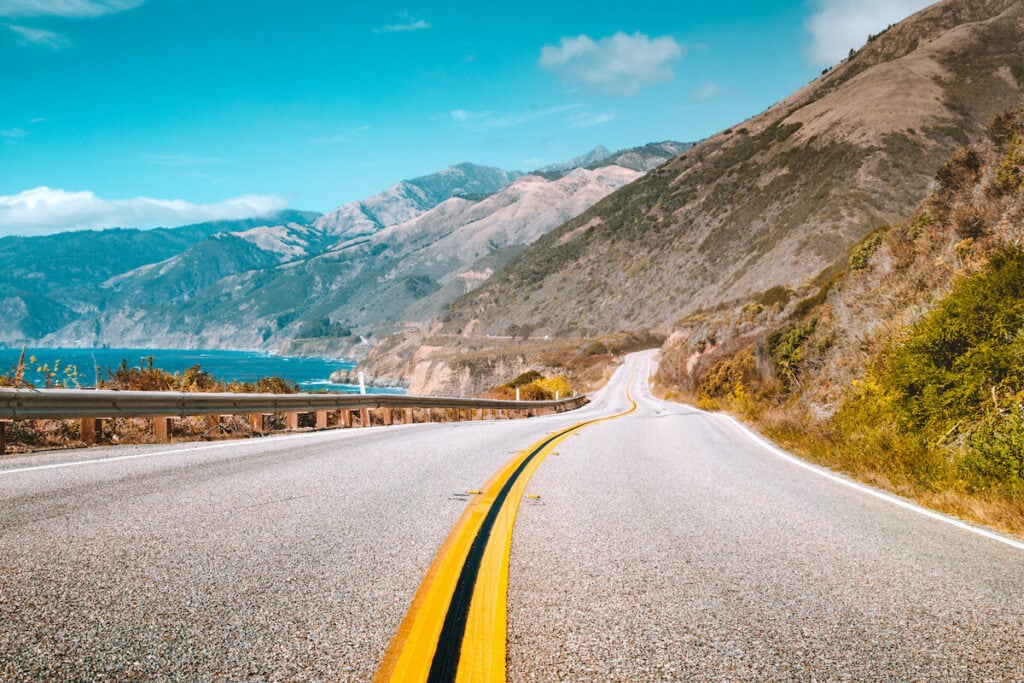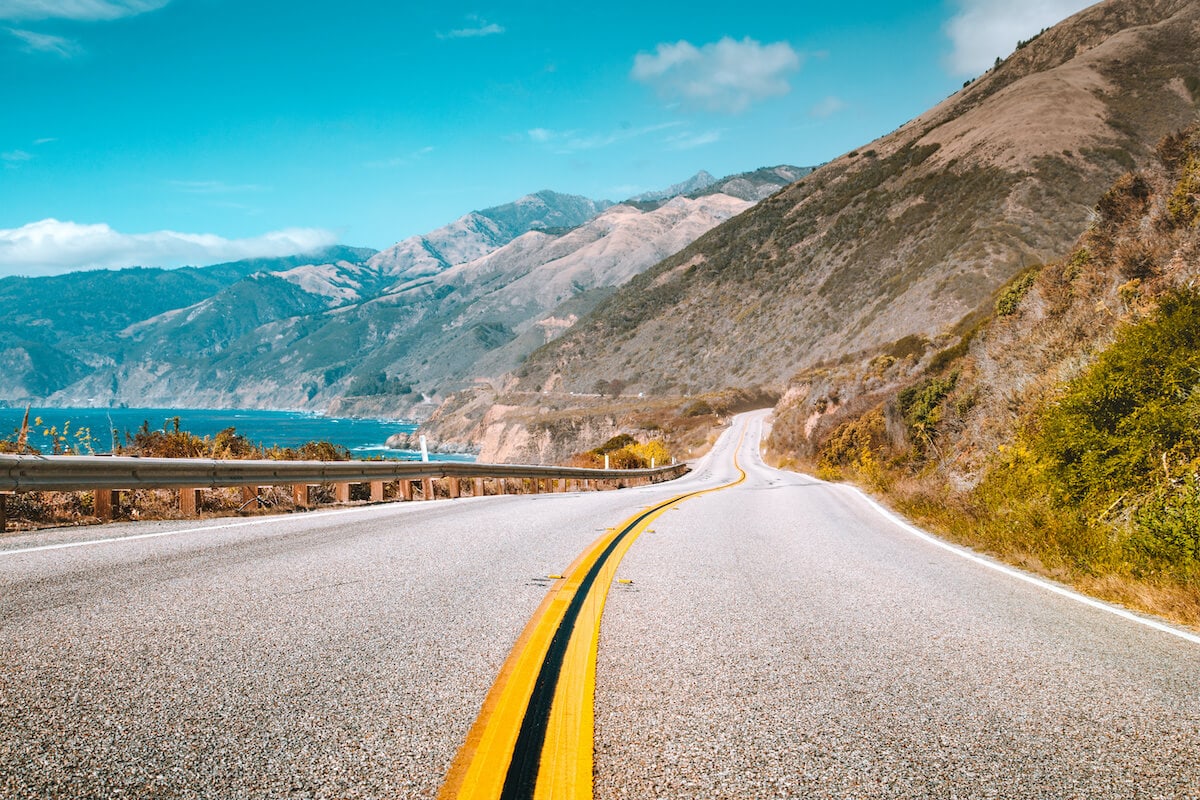 Best Time to Visit Big Sur
Big Sur is a destination that can be visited year-round. Summer, from about June – August, is the high season and should be avoided if possible due to the number of people that visit during that time. Campsites book out months in advance and you'll notice the crowds when you hike, stop at viewpoints, try to grab a bite to eat, or look for parking at trailheads.
Spring and Fall are the best times to visit Big Sur because the weather is still nice and the crowds are fewer. Wildflowers bloom from March-May and turn the hills into a blanket of greens, purples, oranges, and yellows with wildflowers and butterflies. A marine layer (fog rolling in from the cold ocean) is common in late spring and early summer (May– June), so you may have a better chance of clear weather outside of those months, especially in late Summer and early Fall.
A visit to Big Sur in the Winter is doable but you might see some rain (precipitation is highest from December – March) and temperatures average in the low 60s during the day and the low 40s at night. One other thing to consider in the winter is that the sun sets around 5pm leaving you with shorter days for hiking but longer evenings for dinners around the campfire. Mudslides (due to the rain) are also common in the winter, often shutting down sections of Highway 1. Always check Highway 1 road conditions before starting your trip.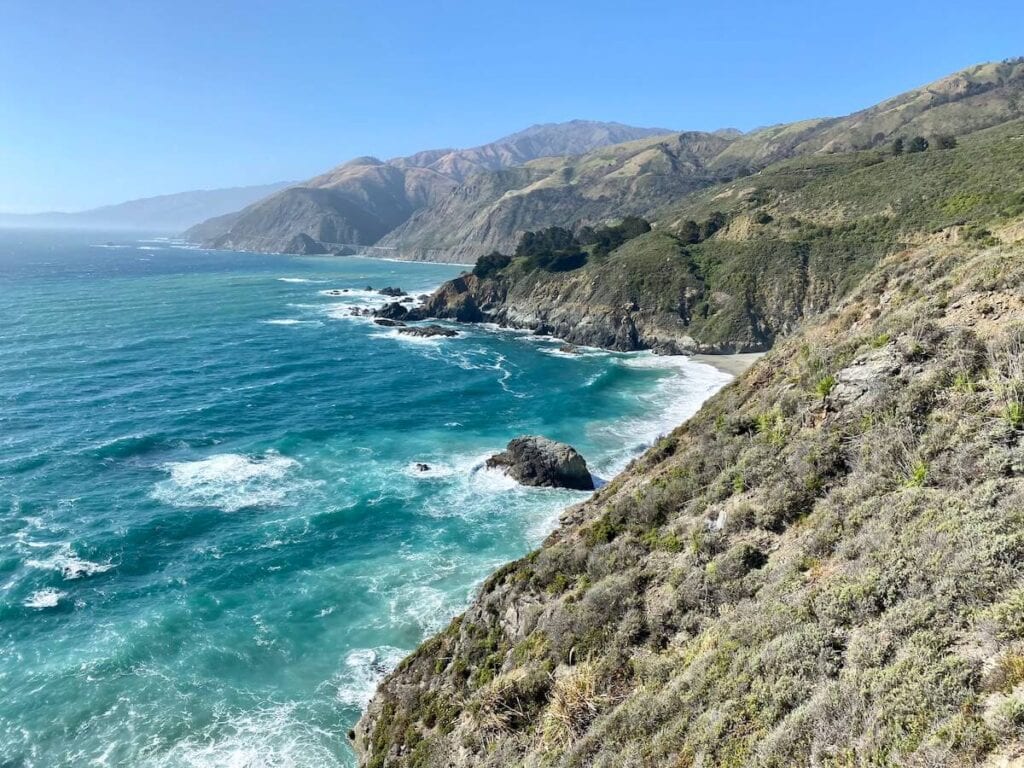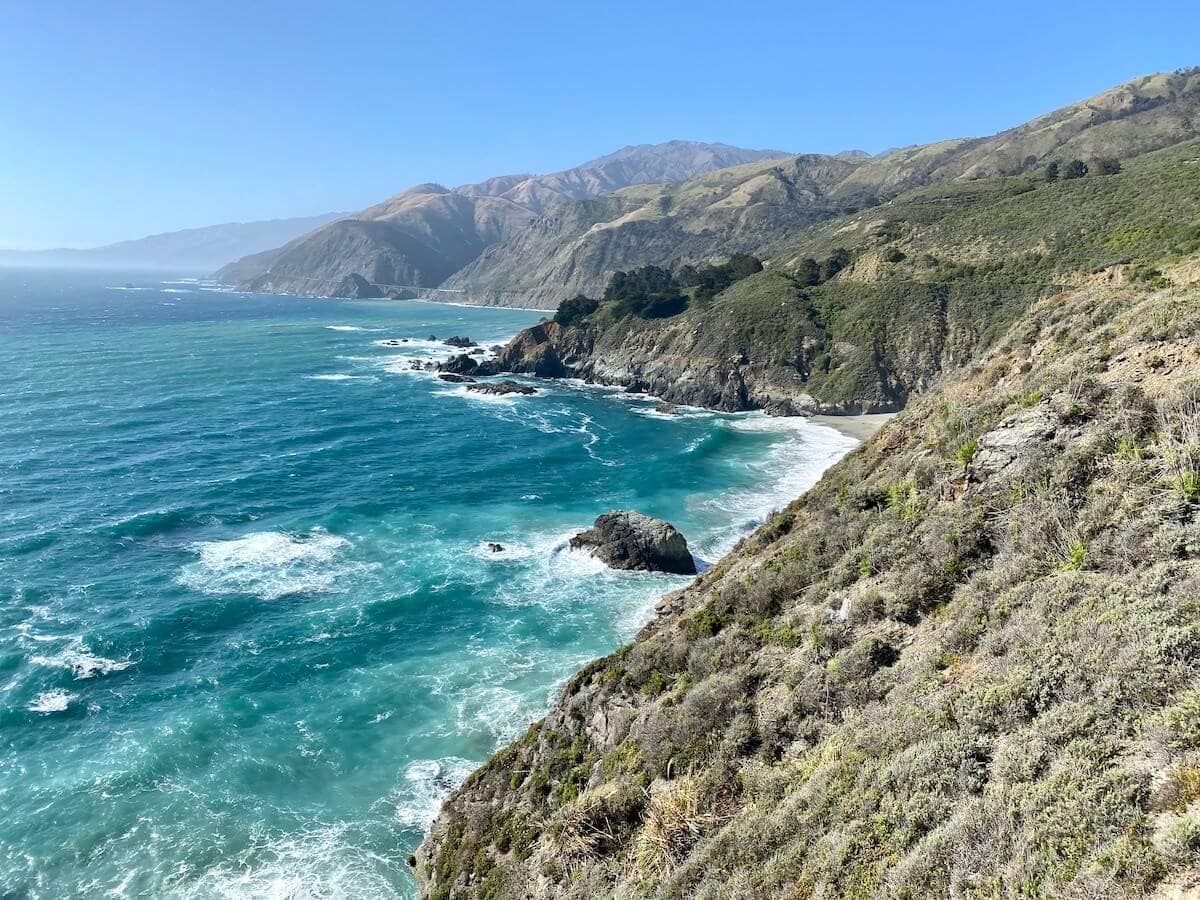 Big Sur Camping
There are four State Park campgrounds and two National Forest campgrounds in Big Sur, all of which are beautiful places to camp and to base yourself for your stay in this region.
Reservations for the state park campgrounds listed below can be made up to 6 months in advance on the Recreation.gov website. Campgrounds in Big Sur tend to book up immediately once reservations open so plan ahead and be ready. If you don't get a campsite initially, keep checking the website for cancellations.
Want to check out all the Big Sur camping options in one place? Bearfoot Theory readers get a FREE 30-day membership to The Dyrt PRO, one of our favorite apps for finding campgrounds (if you're signing up on mobile, use the code "Bearfoot"). You can read reviews, view photos, save campgrounds you're interested in, view maps offline, use road trip planning tools, and more!
Pfeiffer Big Sur State Park & Campground
Pfeiffer Big Sur is the largest campground with the most amenities in Big Sur. It has 189 campsites and accommodates car campers and RVs as well as hikers and bikers and also has larger group campsites. The Big Sur Lodge is located here along with a general store, showers, and more. The Big Sur River flows right through the campground with many sites alongside. A variety of hiking trails can be accessed directly from the campground as well.
Pfeiffer Big Sur Campground Amenities
Food service at the Big Sur Lodge
Camp store
Restrooms with flush toilets
Showers
Drinking Water
RV dump station
Day use areas
For more Pfeiffer Big Sur Campground info, click here.
Andrew Molera State Park
Whereas Pfeiffer Big Sur Campground is located on the east side of the highway in the trees alongside the mountains, Andrew Molera State Park is located on the west side of the highway along the beach. The campground area is beautiful – campsites are in an open field with low trees and wide-open views of the sky with the beach and a variety of hiking trails in close walking distance. The campsites are ¼ mile away from the parking lot and are hike-in only, meaning you'll have to walk in and carry your camping gear from your parked vehicle. There are 24 sites, some in the sun, some in the shade.
Andrew Molera Campground Amenities:
For more Andrew Molera State Park camping info, click here.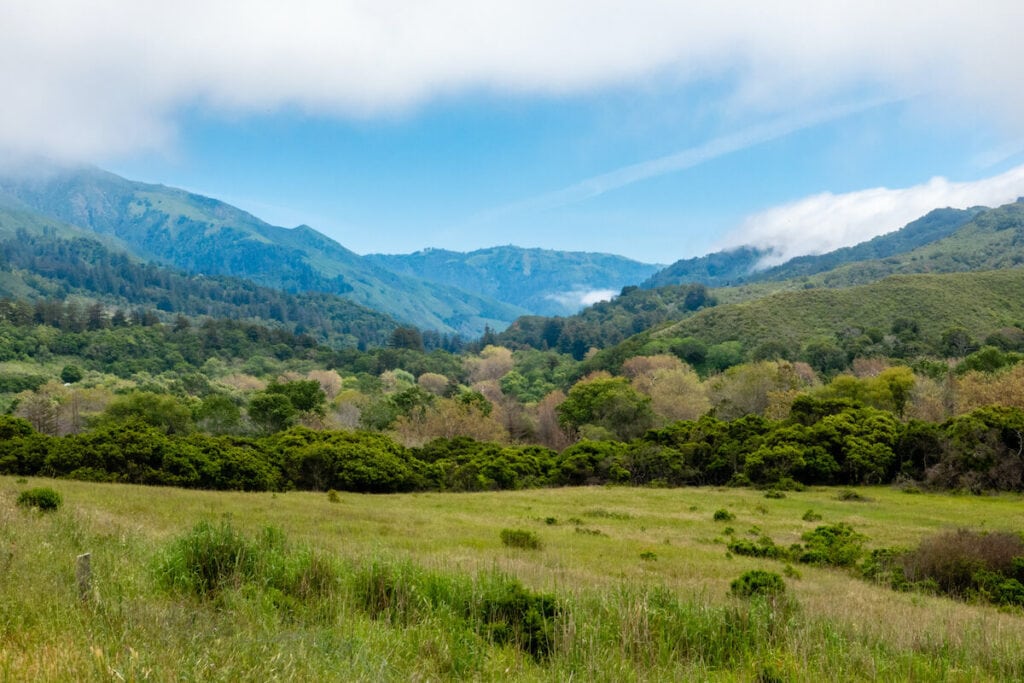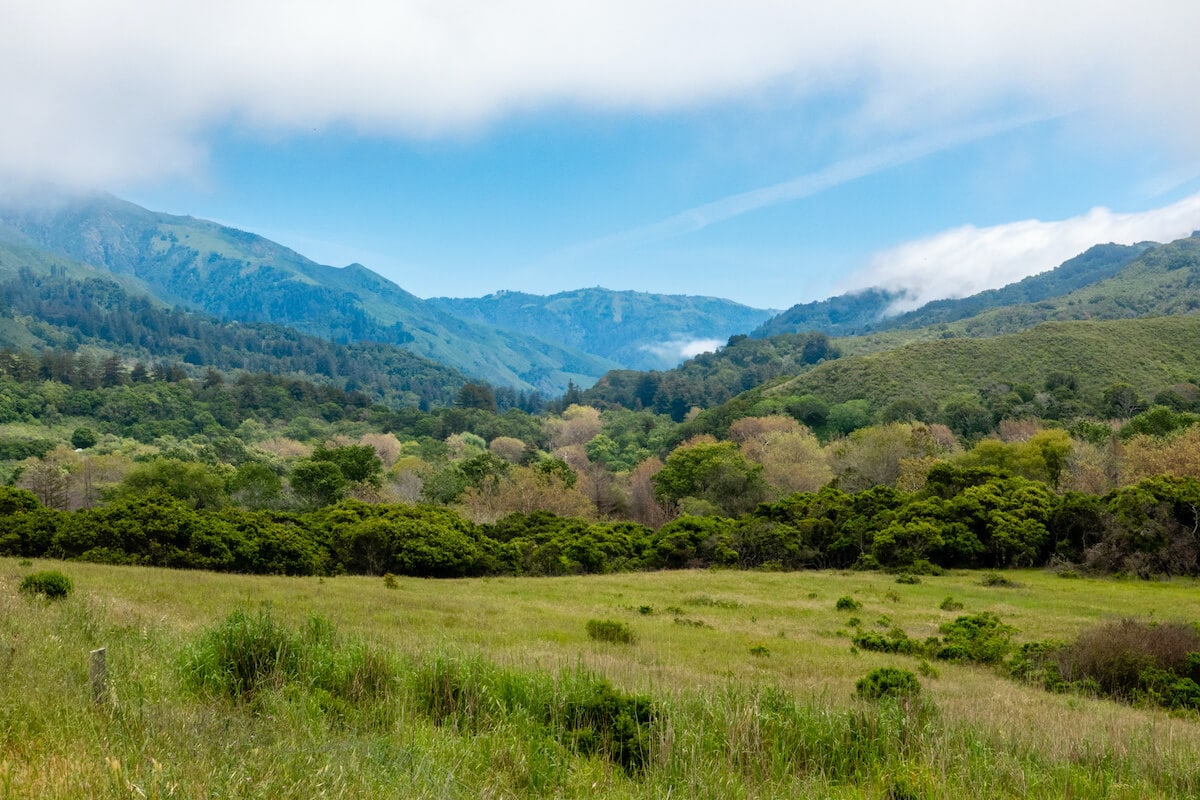 Julia Pfeiffer Burns State Park
Julia Pfeiffer Burns State Park only has two campsites but they are some of the most picturesque campsites we've ever seen, which is why they're also extremely popular rear round and thus, very difficult to reserve. The two campsites are located next to one another on the west side of the highway and are perched on a cliff directly over the ocean. The views are incredible, to say the least, and a stay at one of these campsites is a very special opportunity. Both sites are hike-in only with no vehicle access permitted.
Julia Pfeiffer Burns State Park is where you'll find the famous McWay Falls viewpoint. At the time of writing in September 2021, all the hiking trails in Julia Pfeiffer Burns State Park east of HWY 1 are closed due to fire damage and debris flows from rains.
Julia Pfeiffer Burns Campground Amenities
Picnic table
Fire ring
Pit toilets
Running water available across the highway along with restrooms
For more Julia Pfeiffer Burns State Park camping info, click here.
Limekiln State Park & Campground
Limekiln State Park and Campground are located at the southern end of Big Sur. This area has beautiful views of the Big Sur Coast and was once the site of a limekiln operation where pure lime, an ingredient in cement, was extracted from limestone. The campground itself is nestled back into a canyon on the east side of the highway with most campsites situated along Limekiln Creek as well as a few RV sites near the ocean. Limekiln creek runs through the campground and three hiking trails follow its three tributaries through the redwood forest. The kilns that were used in the late 1880s can still be seen.
Limekiln Campground Amenities
Tent camping
RV camping
Restrooms with flush toilets
Showers
Hiking Trails
Day use area
Picnic Tables
Fire Rings
For more Limekiln State Park camping info, click here.
Kirk Creek Campground
Kirk Creek Campground is unique in that it sits on a bluff overlooking the Pacific Ocean on the west side of the highway. Each of its 33 campsites has ocean views. You may even see whales while enjoying your camp coffee during their migration from November – February. From the campground, you can walk to a nearby rocky beach and access a hiking trail that begins on the east side of the highway. Other than that, you'll need to hop in your car to access hiking trails and sites of interest in the Big Sur area like Sand Dollar Beach which lies 5 miles to the south.
Kirk Creek Campground Amenities
Tables
Campfire rings
Grills
Tent camping
RV camping
No hookups
Pit toilets
For more Kirk Creek Campground info, click here.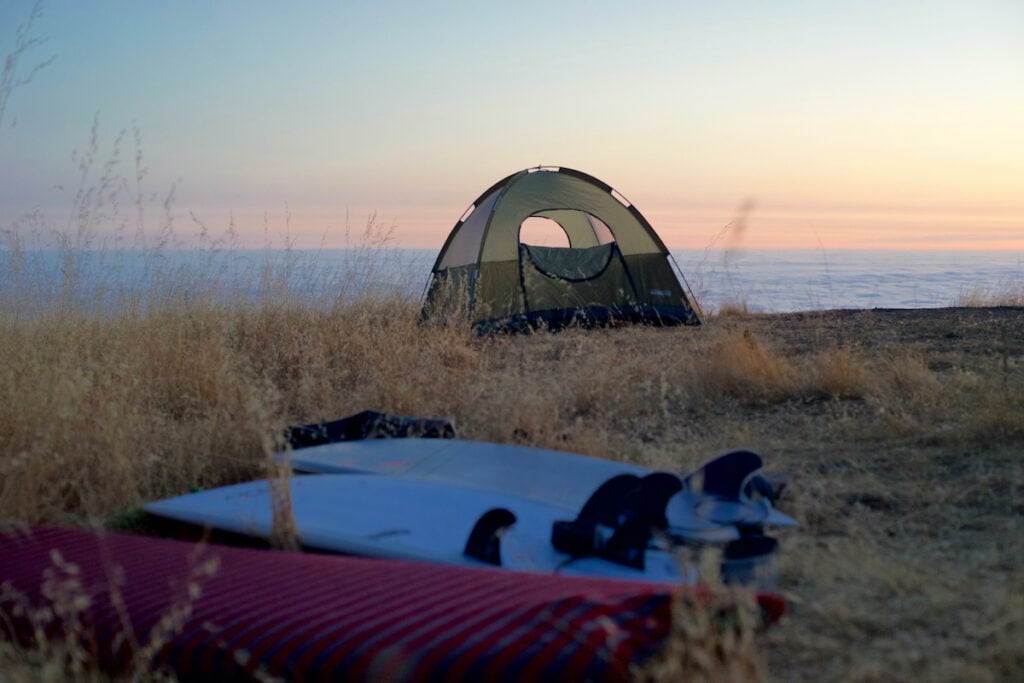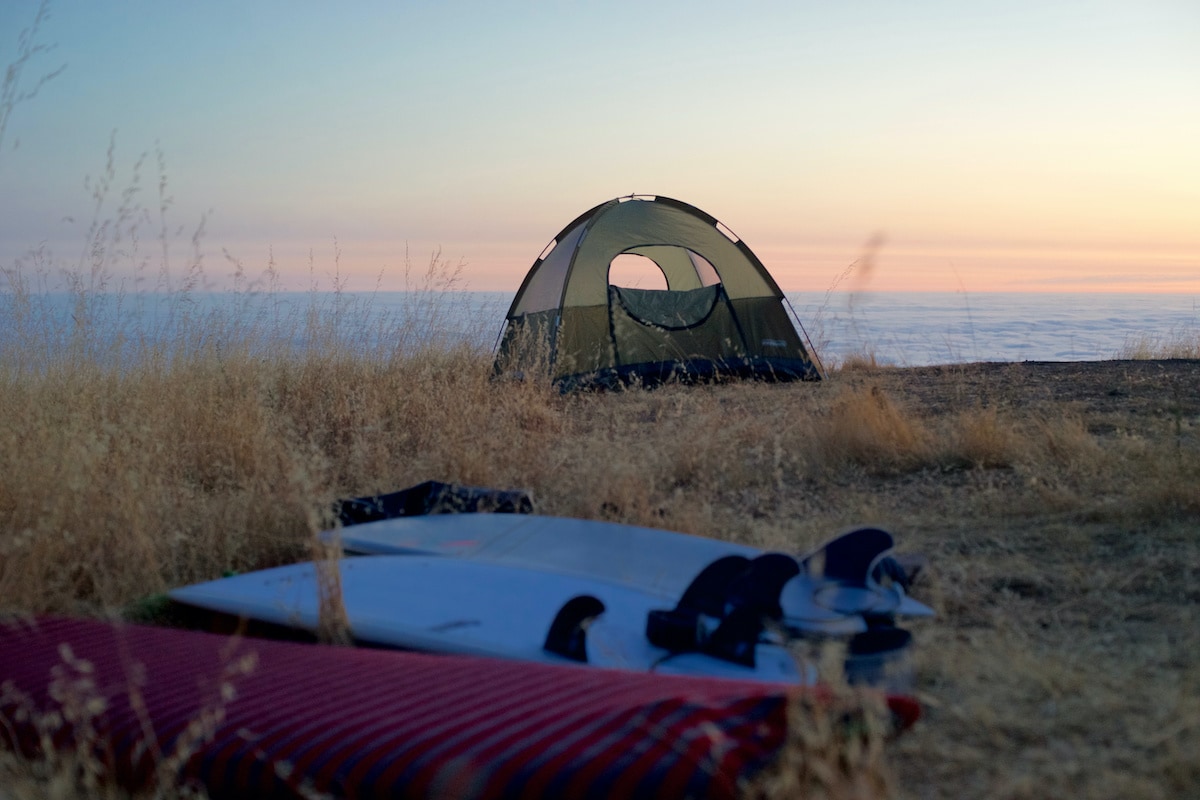 Plaskett Creek Campground
Plaskett Creek Campground is the southernmost campground in the Big Sur area – it's about half an hour south of McWay Falls and Julia Pfeiffer Burns State Park. This campground is on the east side of the highway and sits under a canopy of Monterey Pine, Cypress, and Cedar Trees. It's within walking distance from Sand Dollar Beach, the largest sandy beach in the area. There are trails along the beach and more can be accessed by car. This campground has 43 individual sites and 3 large group sites.
Plasket Creek Campground Amenities
Tent camping
RV camping
Group sites
Tables
Campfire Rings
Grills
Restrooms with flush toilets
Drinking water
No hookups
For more Plaskett Creek Campground info, click here.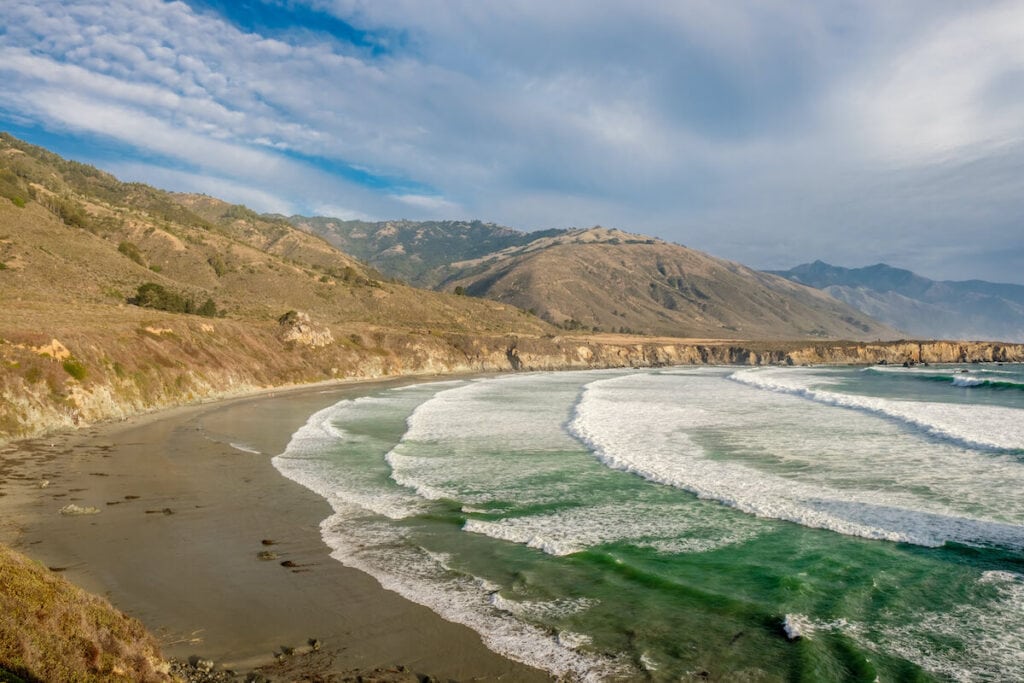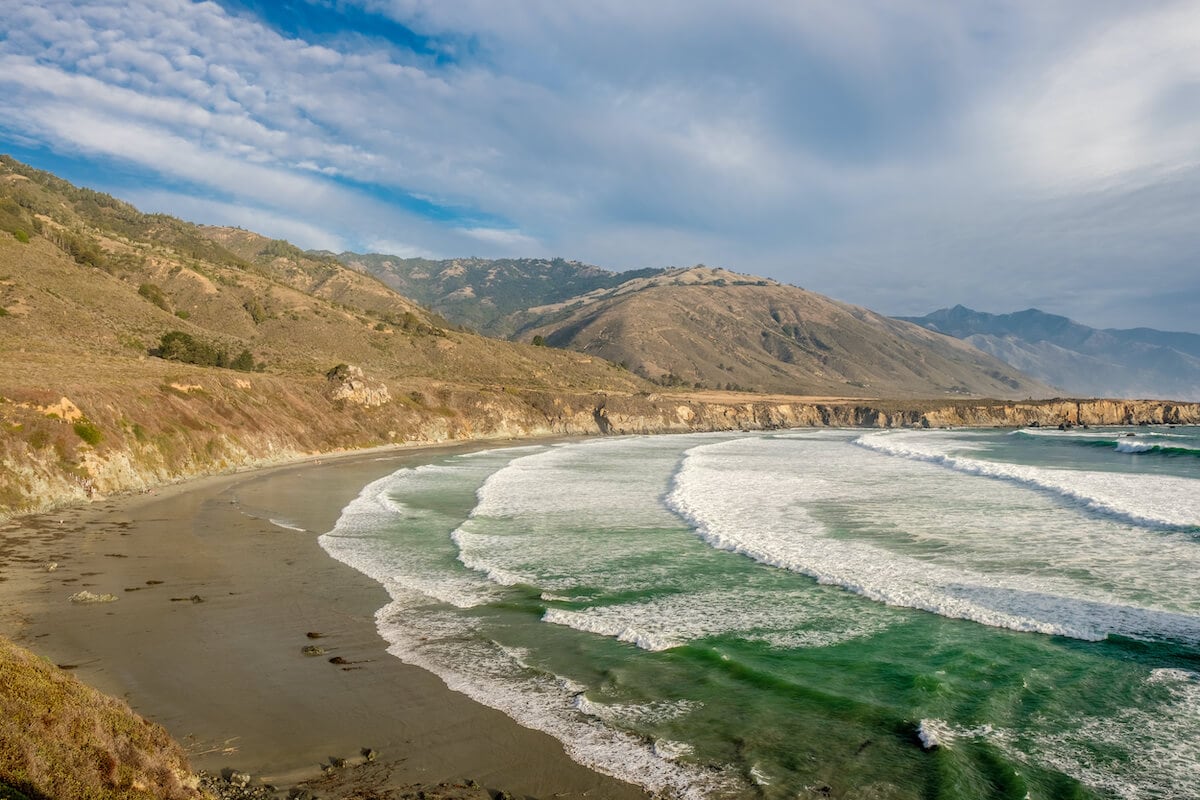 Big Sur Hiking
Big Sur is a wonderful place for hiking, and you'll find trails for all levels here.
Tips for Hiking in Big Sur
Before you set out, here are a few helpful tips that will make hiking in Big Sur more pleasant, especially if it's your first time hiking in the area.
There is a $10 day use fee at the Big Sur State Parks (if you are not camping at one), but the fee allows you access to all California State Parks for that day. If you plan to do multiple Big Sur State Park hikes, try to lump them into the same day.
Many of the hikes in Big Sur, especially the ones that head east into the mountains, go uphill pretty steeply and are exposed to the sun. Read up on the hike before you set off so you know what you're getting into and make sure to bring plenty of water and sun protection.
Poison oak is abundant in Big Sur, especially along the rivers and creeks. It is recognizable and red during the summer and fall, but during the winter and spring, it's green, blends in with other plants, and is easy to miss. Get familiar with what poison oak looks like and keep an eye out as you hike and as you wander around camp.
The weather can change quickly so bring a daypack and pack layers including a lightweight rain jacket so you're prepared. What may start as a cloudy day due to a marine layer can turn into a hot sunny day once the fog burns off and vice versa.
There generally is no cell phone service in the Big Sur area and WiFi is scarce (and slow when you can find it), so do your research before you arrive. Download resources to your phone, save info on the hikes you want to do, or purchase a guidebook so you have the info you need once you're out of service. Read our guide to the best hiking apps to help plan your hikes and download offline maps.
As with any hike, wear sturdy hiking shoes and comfortable clothing, and be sure to pack the essentials.
Best Hikes in Big Sur
In recent years, some of the hiking trails and lookouts in Big Sur have been closed due to past fires and storm damage. Check the official California Department of Parks & Recreation website for Big Sur to see up-to-date closure information.
Here are some of our favorite Big Sur hikes.
Valley View & Pfeiffer Falls Trail
This 2 mile roundtrip trail begins at Pfeiffer Big Sur Campground and climbs up through Redwood and Oak Trees. The views of the Big Sur River Valley below and Andrew Molera State Park across the way are beautiful, as is Pfeiffer Falls, a 60 ft waterfall just off the trail.
Waterfall Overlook Trail/McWay Falls
McWay Falls – a waterfall that drops straight onto a beautiful beach cove – is the most popular and iconic site in Big Sur. The Waterfall Overlook Trail, as the name implies, is a short .5 mile roundtrip trail to an overlook of McWay Falls. Note that there is no beach access to McWay Falls. The cliffs are hazardous and attempting to get to the beach is a citable offense.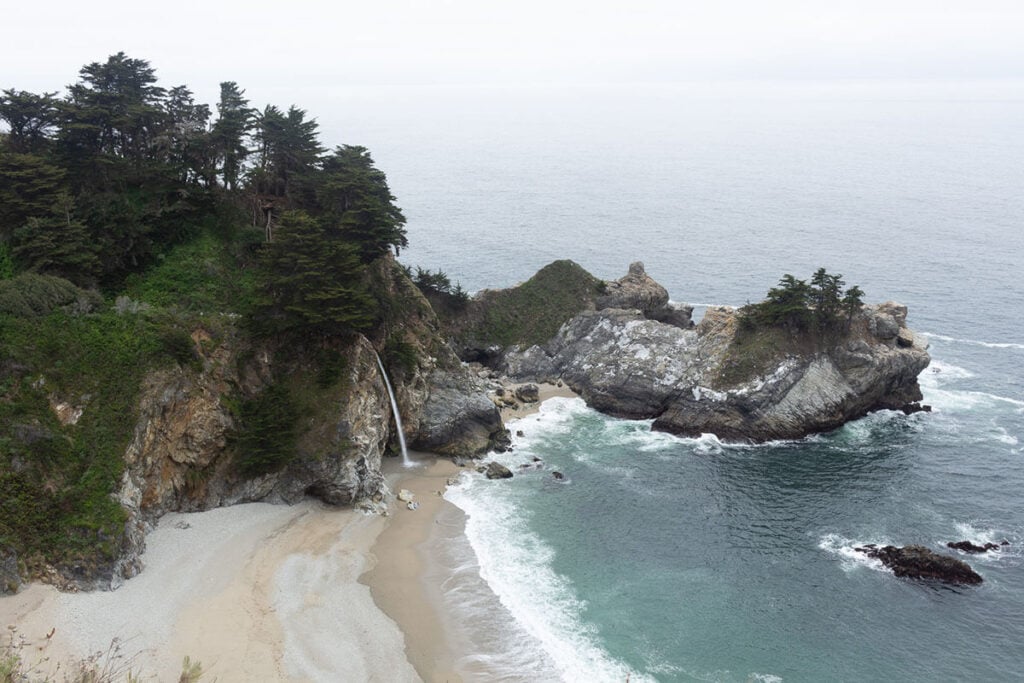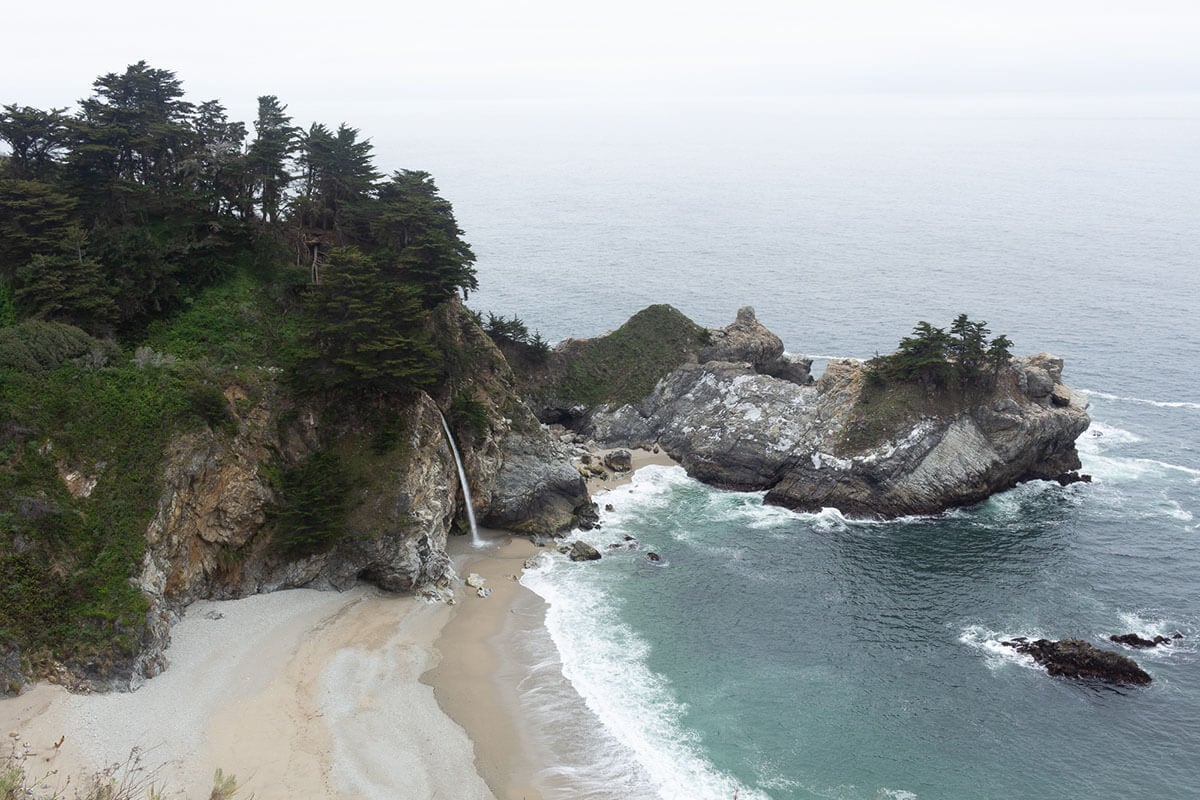 Creamery Meadows to Bluffs, Panorama, & Ridge Trail Loop
This 8.2-mile roundtrip hike is easily one of my favorites in the Big Sur area. It combines 3 trails into a loop to give you the best of Andrew Molera State Park. From the parking area, take the Creamery Meadows trail to the Bluff Trail. From there, you'll continue onto the Panorama Trail and then loop back along the Ridge Trail. The views are amazing as you look across the rolling hills and circle back along the coast.
This is a long, all-day hike so bring layers, sun protection, plenty of water, and a lunch. There's a lookout bench near a pygmy redwood forest at the far end of the hike where you can enjoy lunch before heading back.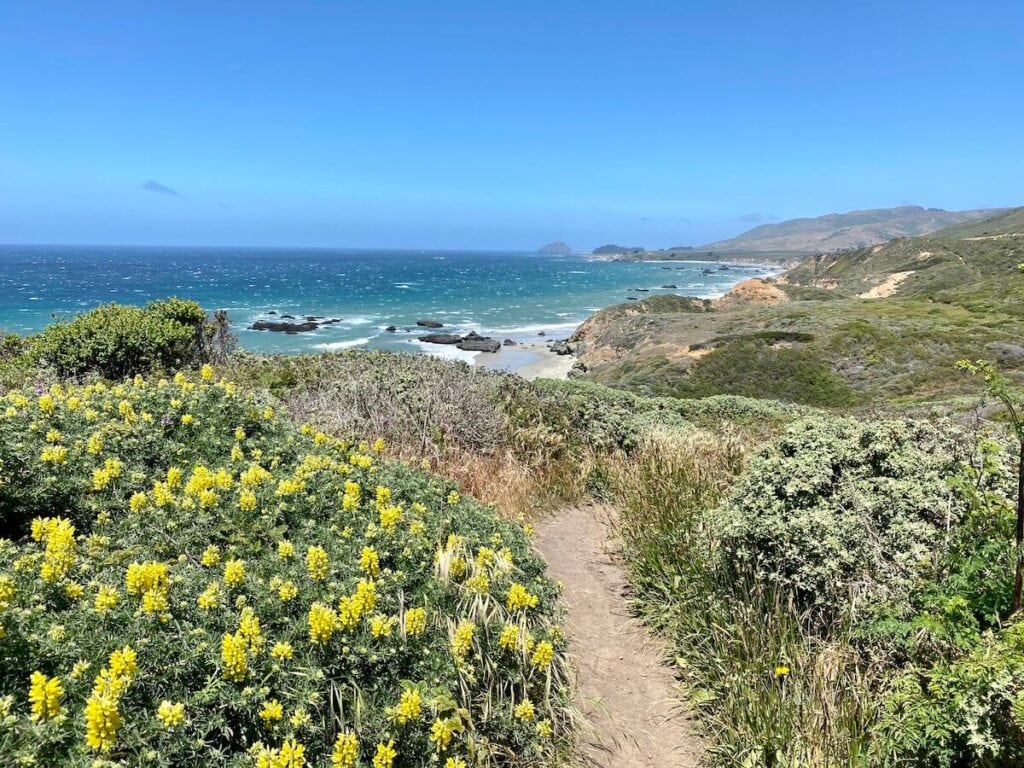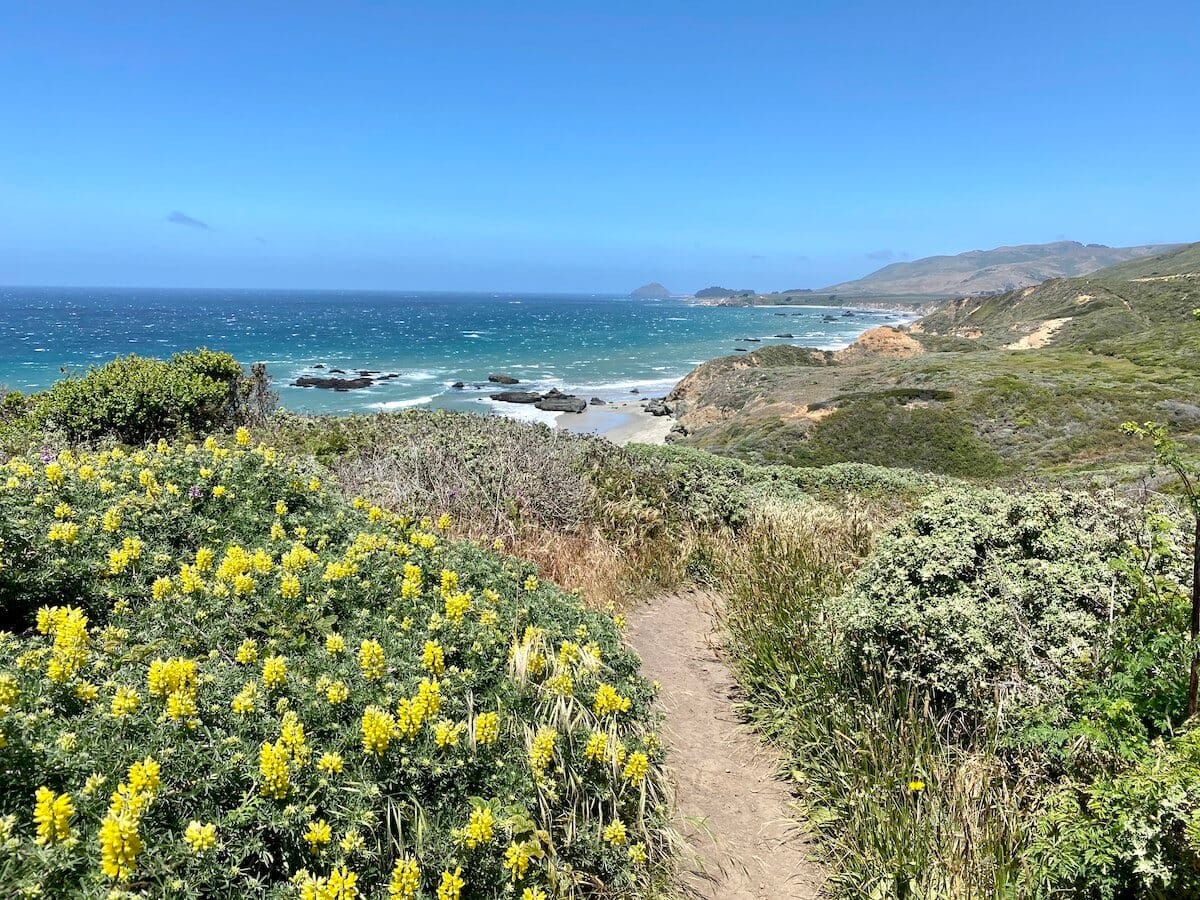 Mt. Manuel Trail
If you want a challenging, strenuous all-day hike that takes you up into the Los Padres National Forest, the 8-mile roundtrip trek to Mt. Manuel might be the trail for you. This trail begins at Pfeiffer Big Sur Campground and climbs up out of the river valley into the mountains to the east. The trail is sunny and exposed and is uphill nearly the entire way out, so be sure to bring lots of water and sun protection and set out early in the day.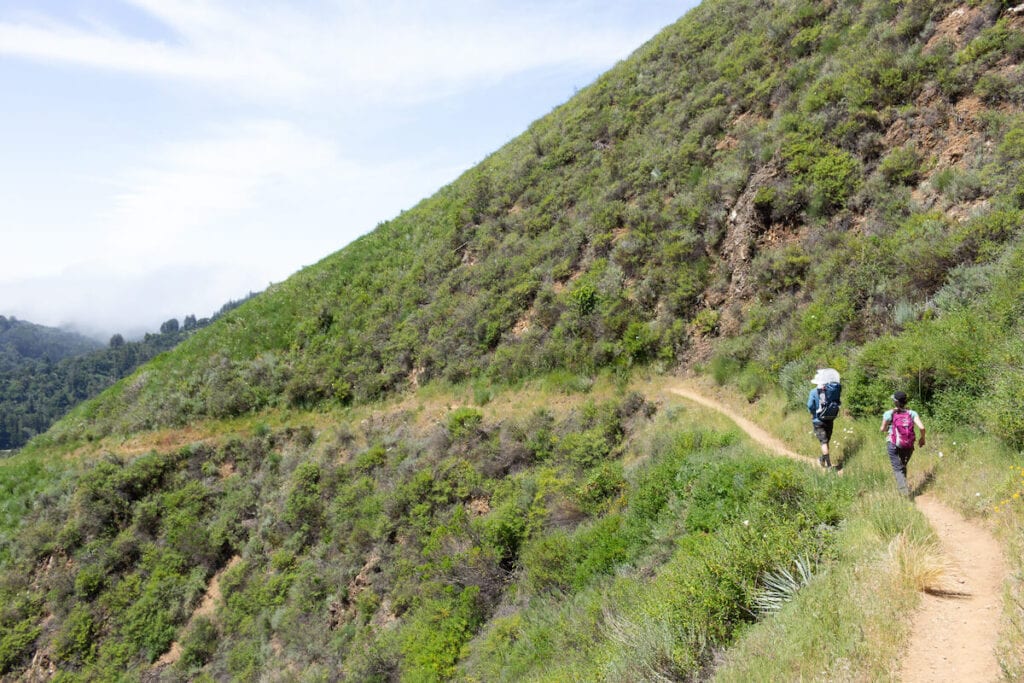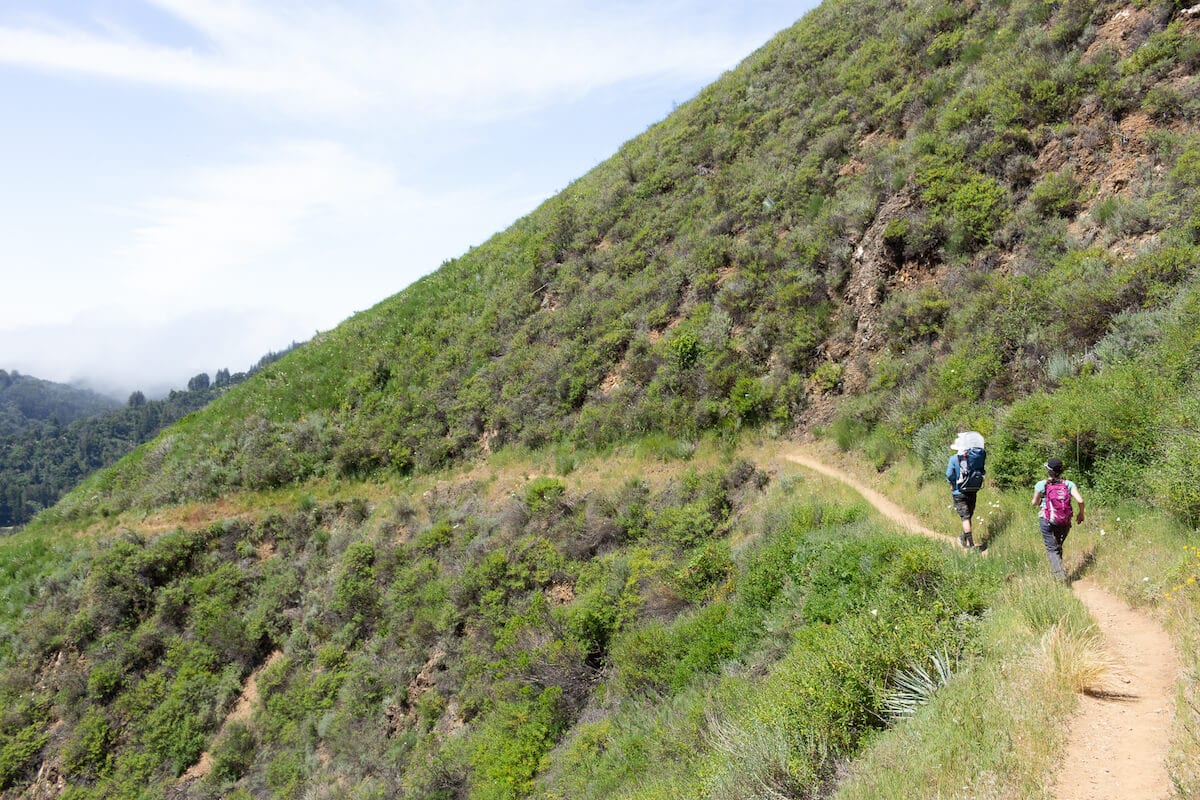 Big Sur River Gorge Trail
The 1/2 mile round trip Big Sur River Gorge is accessed via a paved trail inside Pfeiffer Big Sur State Park. Once you get to the river, you can venture further by wading and climbing over large rocks and logs. You may find some nice swimming holes and places to relax alongside the water – just be sure to watch for poison oak. This is a perfect outdoor adventure on a warm sunny day when you want to go for a swim.
Pine Ridge Trail
If you are looking for a quick backpacking trip in Big Sur, the Pine Ridge Trail is an awesome spot. Starting from Big Sur Station, this out-and-back hike includes gorgeous rolling hills that weave through pine, oak, and redwood trees. As you head up and into the forest, you will swap ocean views for meandering hills and the Big Sur River.
There are several campsite locations along the trail for you to choose from, depending on how far you'd like to hike (Redwood is the farthest campsite, 12 miles from the trailhead): Terrace Creek, Barlow Flat, Sykes, and Redwood. No advanced permits are required, but you must self-register at the trailhead and pay a $10 per day fee (ex. if you are staying 1 night, you would pay $20). This trail was closed for 4.5 years (and just reopened in April 2021) due to wildfire damage and capacity limits, so please keep the Leave No Trace principles top of mind if you choose to backpack in Big Sur.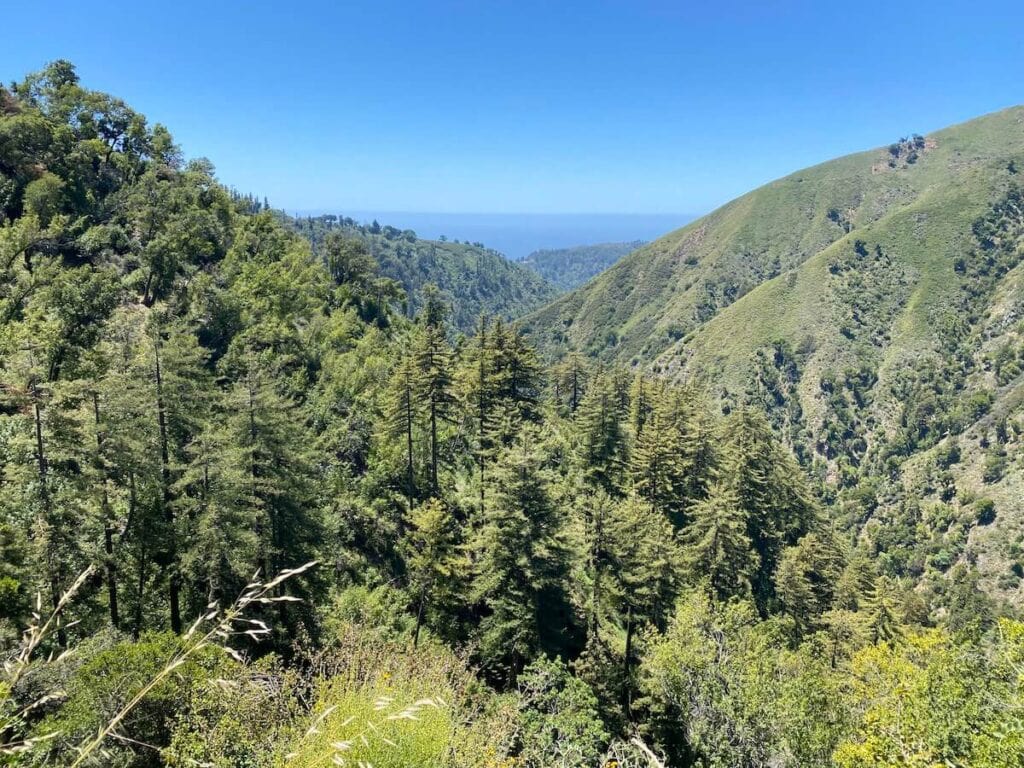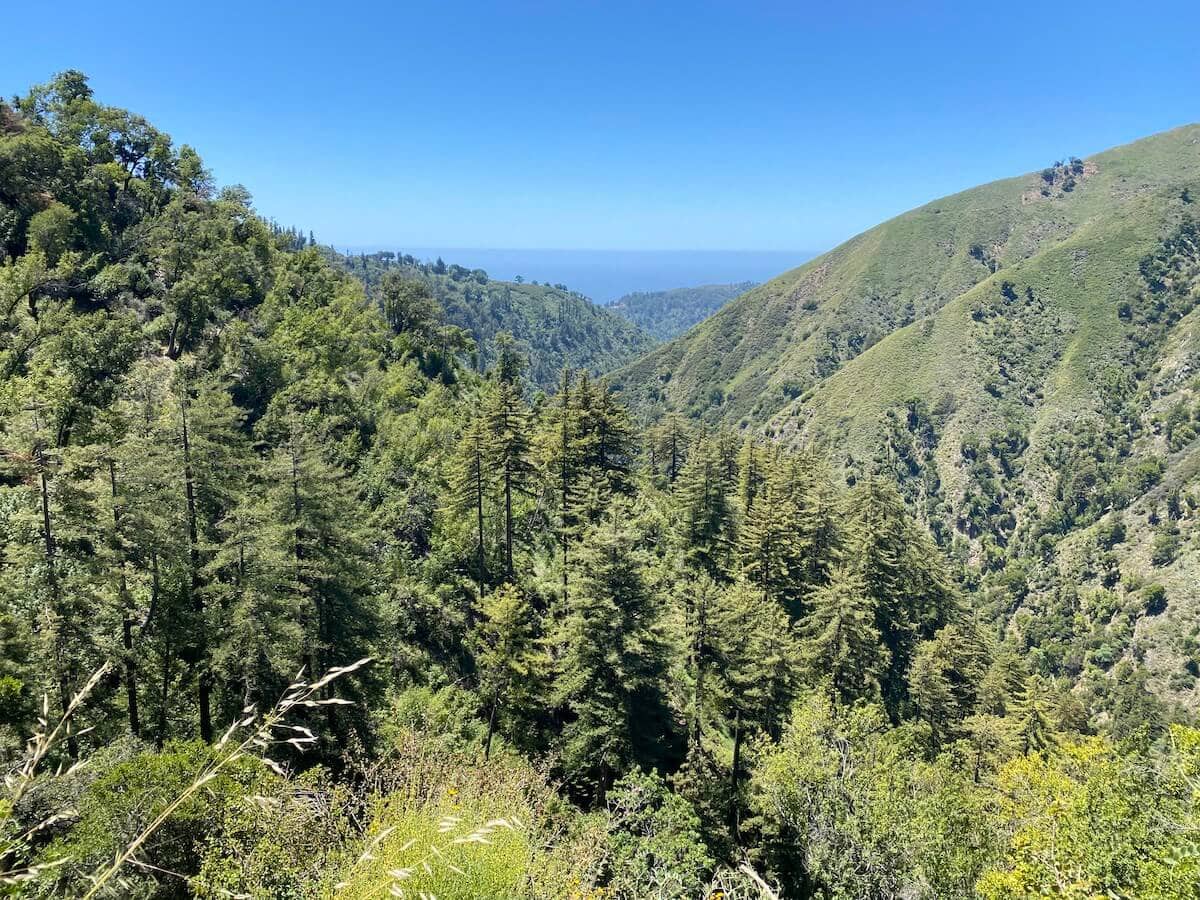 Where to Eat in Big Sur
Big Sur Bakery
If you ask anyone who has been to Big Sur where to eat in the area, they'll surely say the Big Sur Bakery. This iconic little spot is a favorite of all who visit. They're known for their grab-and-go pastries, in particular their scones. You can also dine in or enjoy your food on one of their two lovely patios but expect a wait if it's crowded.
Big Sur Deli
The Big Sur Deli is another great grab-and-go option with a variety of ready-to-go delicious sandwiches and prepared foods on offer as well as sandwiches made to order. They also have a great selection of craft beer, cider, and other beverages as well as snacks, grocery items, and souvenirs.
Nepenthe/Cafe Kevah
If you are looking for an upscale sit down spot perched cliffside with epic views of the coastline, Nepenthe is the place to go. This is a popular spot and they do not accept reservations, so be prepared to wait if you arrive at peak times. If you are looking for something more casual (or just want to check out the view), Cafe Kevah is located on the outside terrace just below Nepenthe and serves coffee, breakfast, sandwiches, and homemade baked goods. There is a gift shop also attached to these restaurants.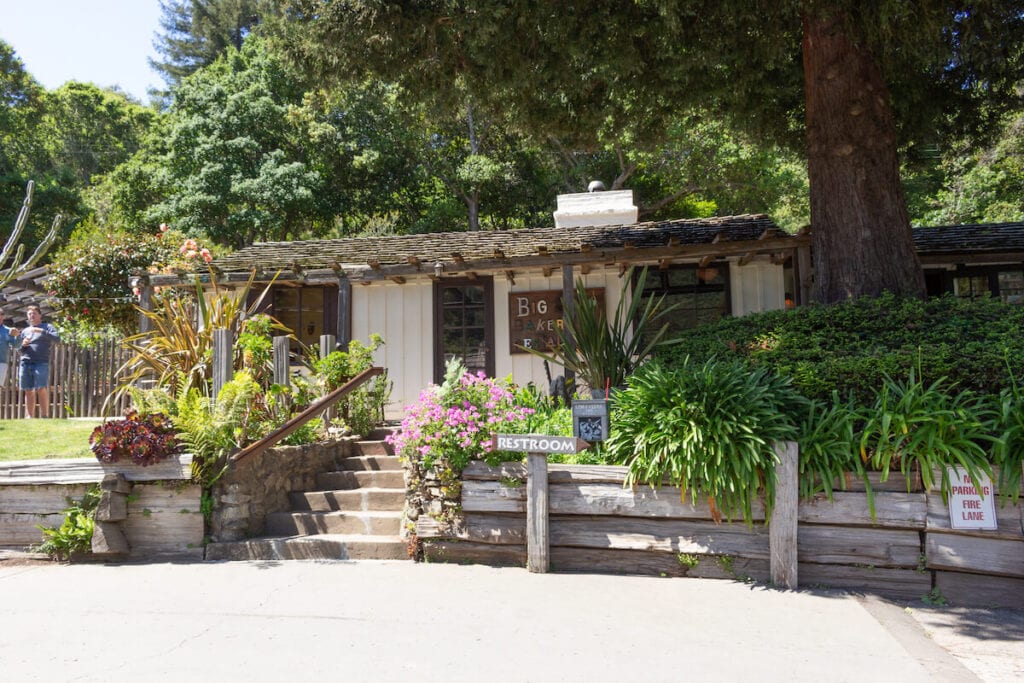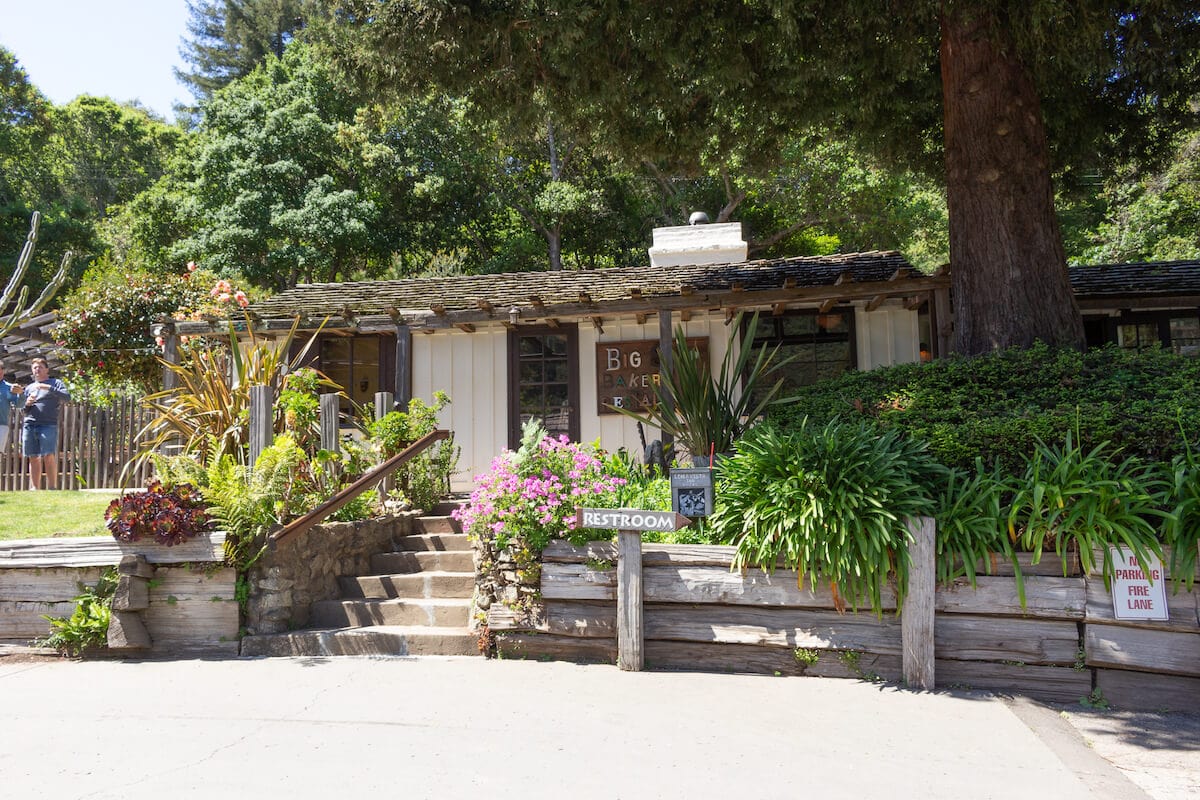 Must See Sights in Big Sur
McWay Falls
McWay Falls is the famous waterfall that flows directly onto a beach and into the ocean that you've likely seen in photos. It really is a beautiful sight and is one of the main Big Sur attractions. You can't actually go down to the beach to see the waterfall up close, but the viewpoints along Highway 1 give you a beautiful view of the waterfall and the cove. Depending on the tides, the waterfall will pour into the ocean or on the beach.
Pfeiffer Beach
We weren't actually able to get to Pfieffer Beach during our trip to Big Sur because every time we tried (and we tried multiple times), it was full. Parking is very limited and fills up quickly. From Highway 1, you'll take a 2-mile drive down Sycamore Canyon road (it's windy and narrow so RVs are not allowed) to reach the parking area. At this point, you'll either be extremely lucky and snag a spot, or you'll be turned around to try your luck next time. It's worth it if you're able to visit though – you'll find tidepools, a natural rock arch, and a beautiful beach cove. Parking is $12/car (as of September 2021) and isn't included in the State Park day pass fee.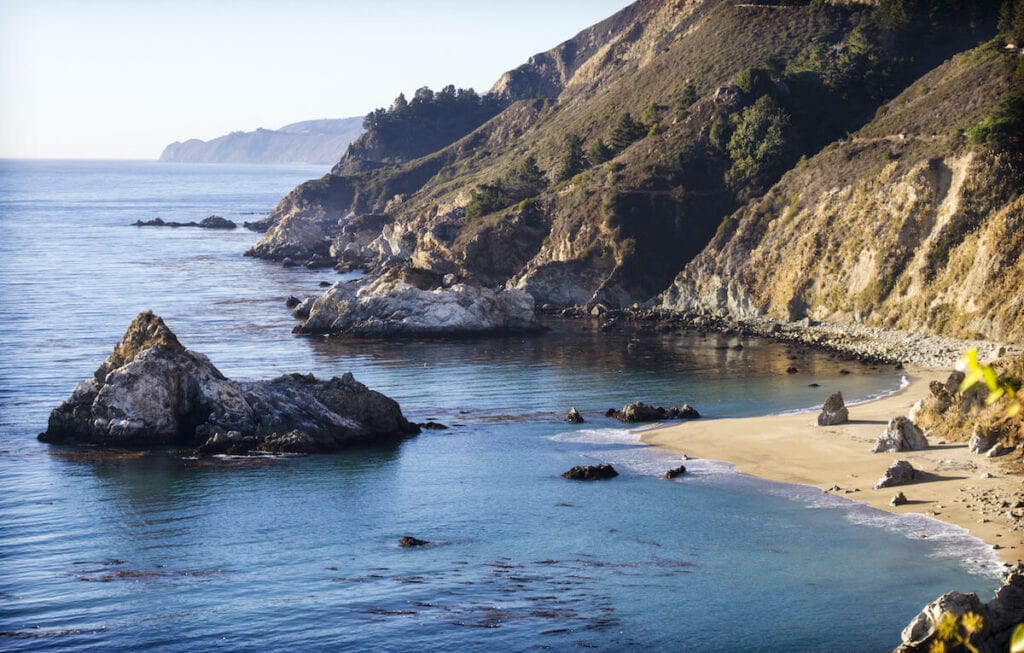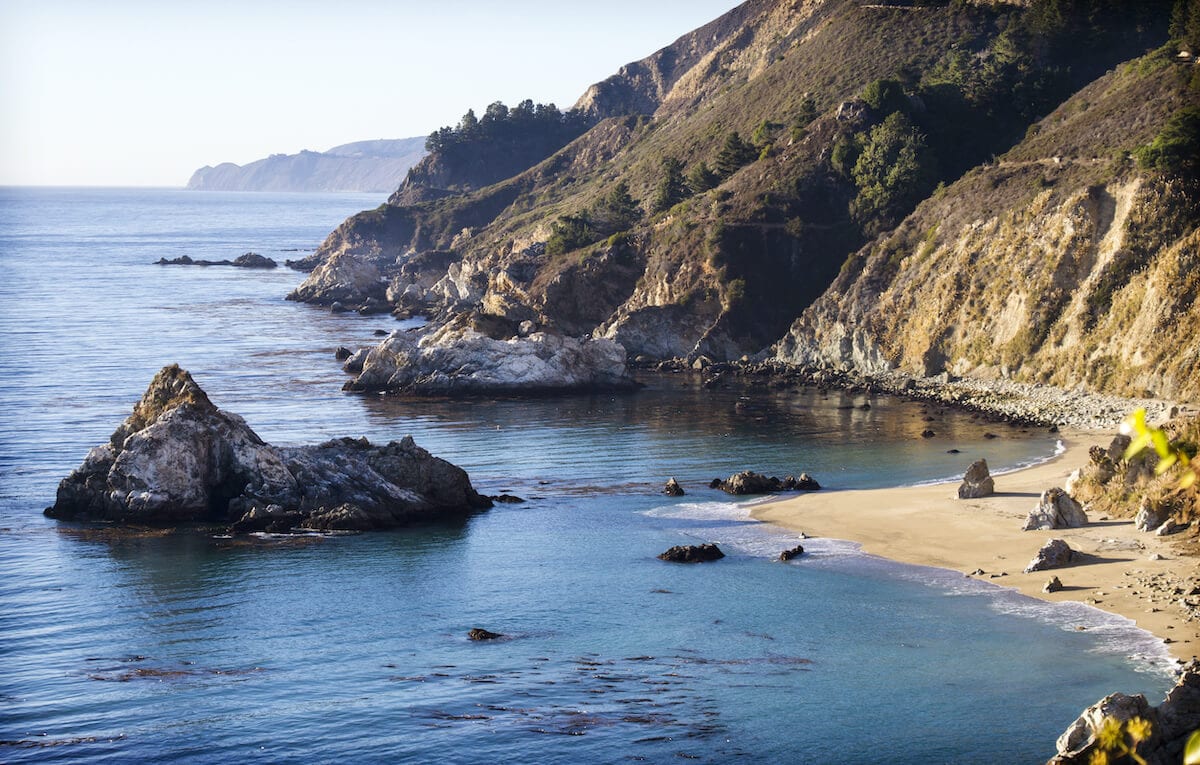 Henry Miller Memorial Library
The Henry Miller Memorial Library is a non-profit arts center, book store, and music venue. It's an awesome spot to pick up a book and lounge in their backyard, or catch a live music show. The building is dedicated to the late Henry Miller, a longtime Big Sur resident.
Bixby Bridge
Bixby Bridge is an iconic sight just 15 minutes north of Big Sur. You'll find a few viewpoints and turnouts where you can safely pull your car off the road to see the bridge and snap some photos on both the south side and the north side of the bridge.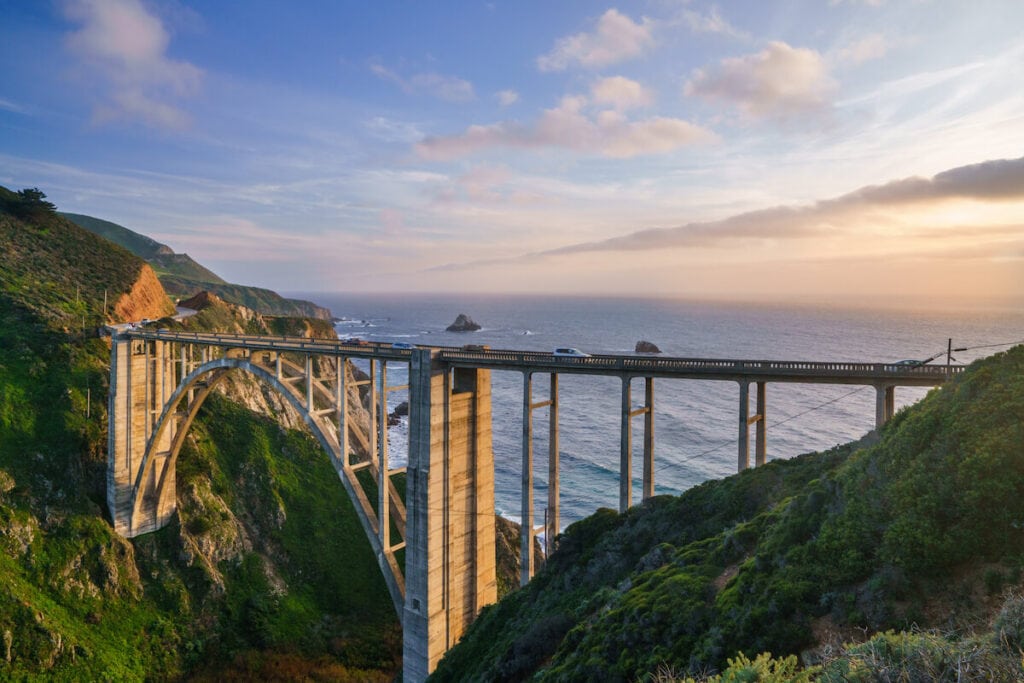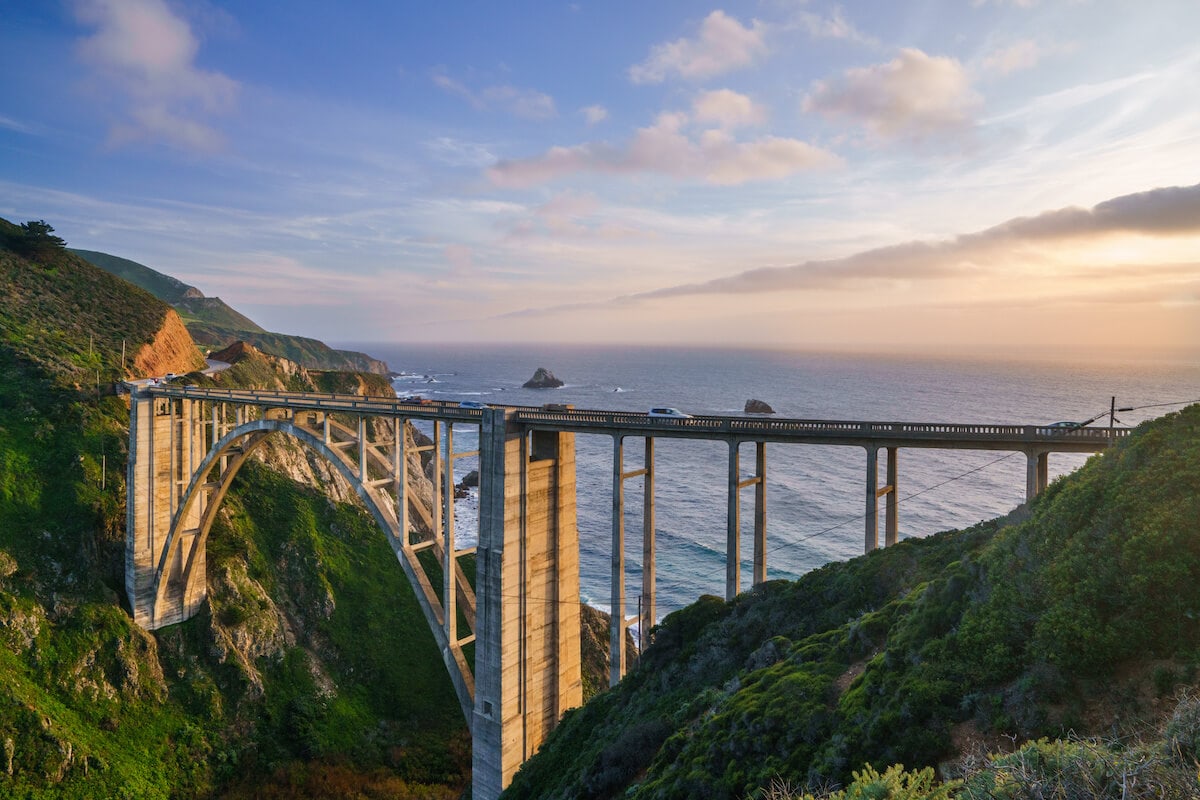 Day Trips from Big Sur
Depending on how much time you have, Big Sur can be a great base for exploring the area. There is so much to see and do on this stretch of coastline, here are some of our favorites:
Salmon Creek Falls
Salmon Creek Falls is about a 1-hour drive south of Big Sur and is a nice stop on the way up. It's a 5-mile roundtrip hike to a beautiful set of waterfalls. You'll see a pull-out on the right side of Highway 1 if you're driving north with a sign for Salmon Creek Falls where you can park. At times, this is a great spot for a swim, however, at the time of writing, this trail is closed due to an algal bloom that has made the water unsafe. Check the Forest Service page for the Salmon Creek trail for updates before heading out.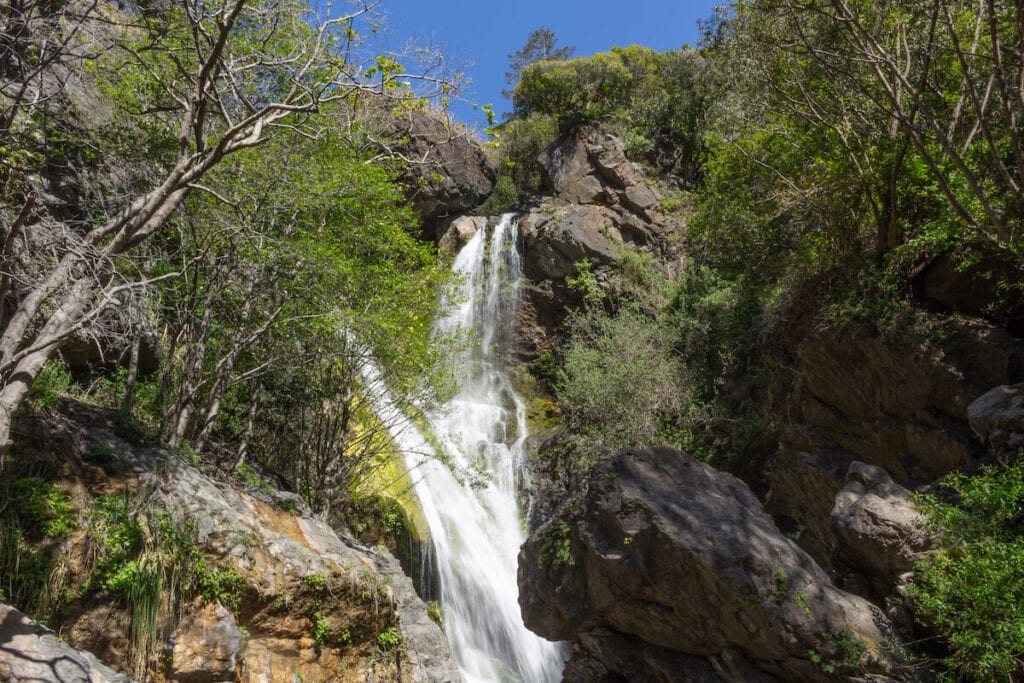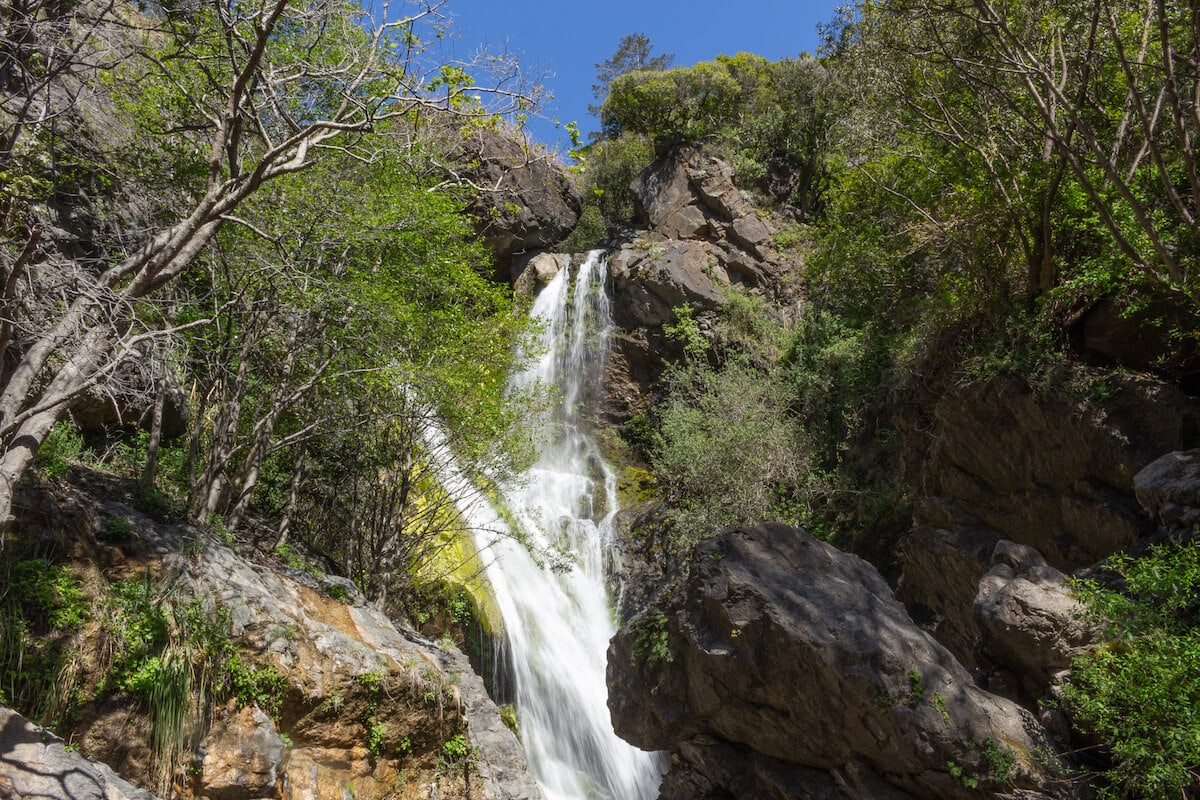 Point Lobos State Natural Reserve
Point Lobos is a 30-minute drive north of Big Sur, just south of Carmel-by-the-Sea. It's a spectacular seaside destination in itself for hiking and wildlife viewing. Numerous trails along the bluffs, headlands, and coves will reveal beautifully blue water enjoyed by seals, sea lions, sea otters, and a variety of seabirds. The Point Lobos Foundation has a handy trail map.
Note that dogs are not allowed in Point Lobos.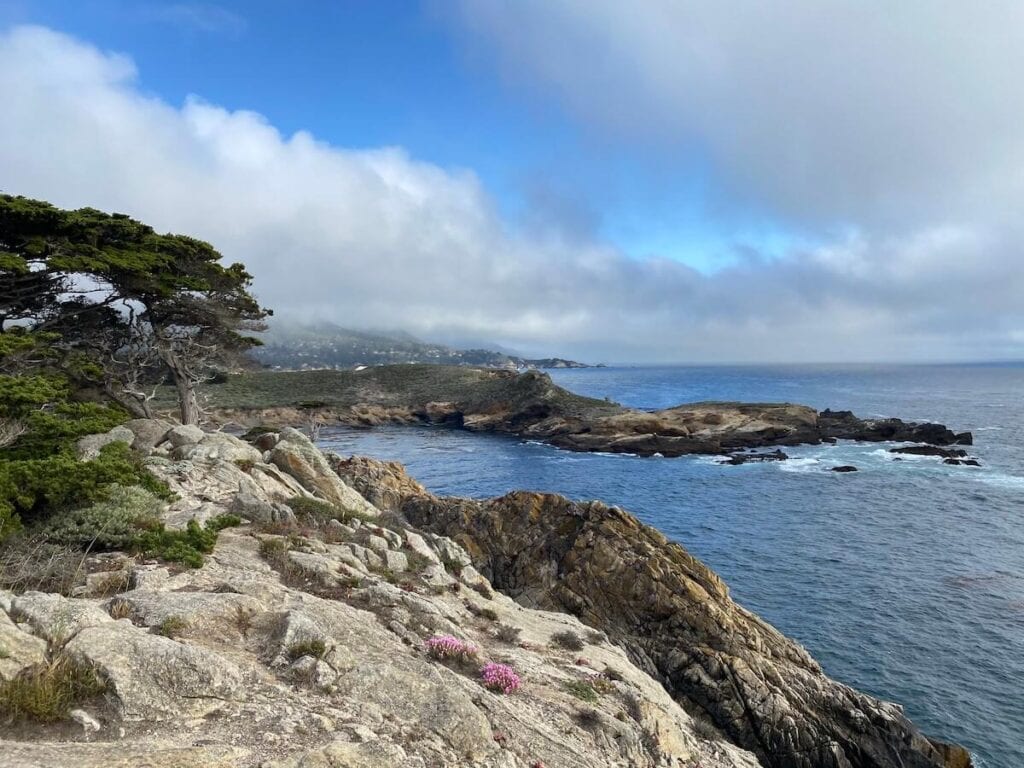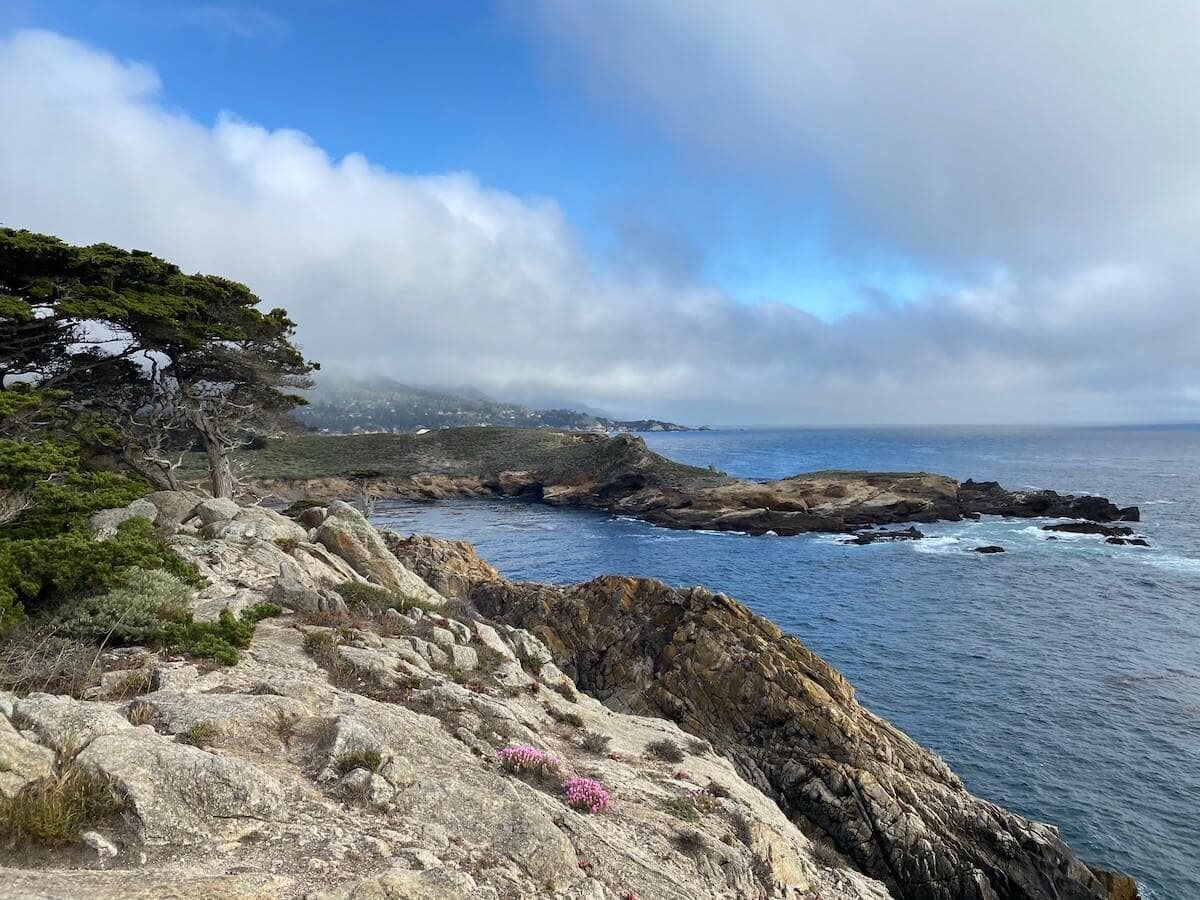 Sand Dollar Beach
Sand Dollar Beach is about an hour south of Big Sur, just north of Plaskett Creek Campground. It's a half-mile-long, crescent-shaped sandy beach perfect for a stroll. From the Sand Dollar Beach Day Use area, you'll find a quarter-mile trail (each way) down to the beach with a few nice viewpoints as well.
Garrapata State Park & Garrapata Beach
Garrapata Beach is located on the northern section of Big Sur coastline, about a 25-minute drive from central Big Sur and just 15 minutes south of Carmel-by-the-Sea. You'll find a sandy section at the southern end of the beach and some hiking trails that will take you inland into the park. Garrapata means tick, so do your best to avoid ticks and be sure to check for them after your visit. See the official Garrapata State Beach site for more info.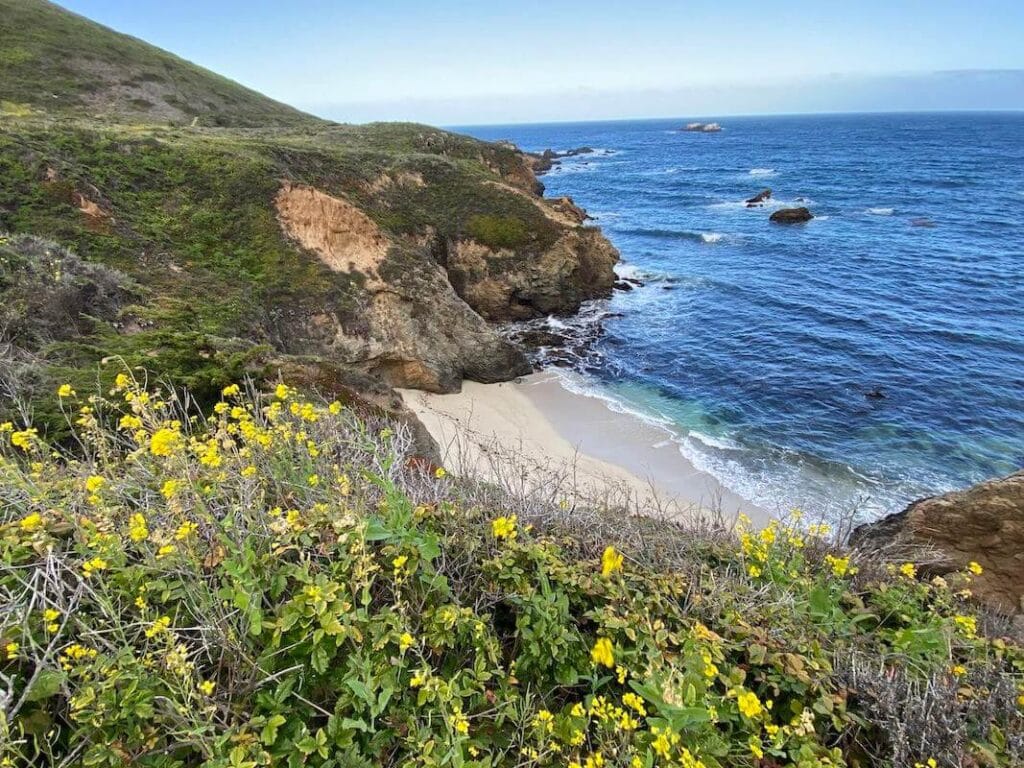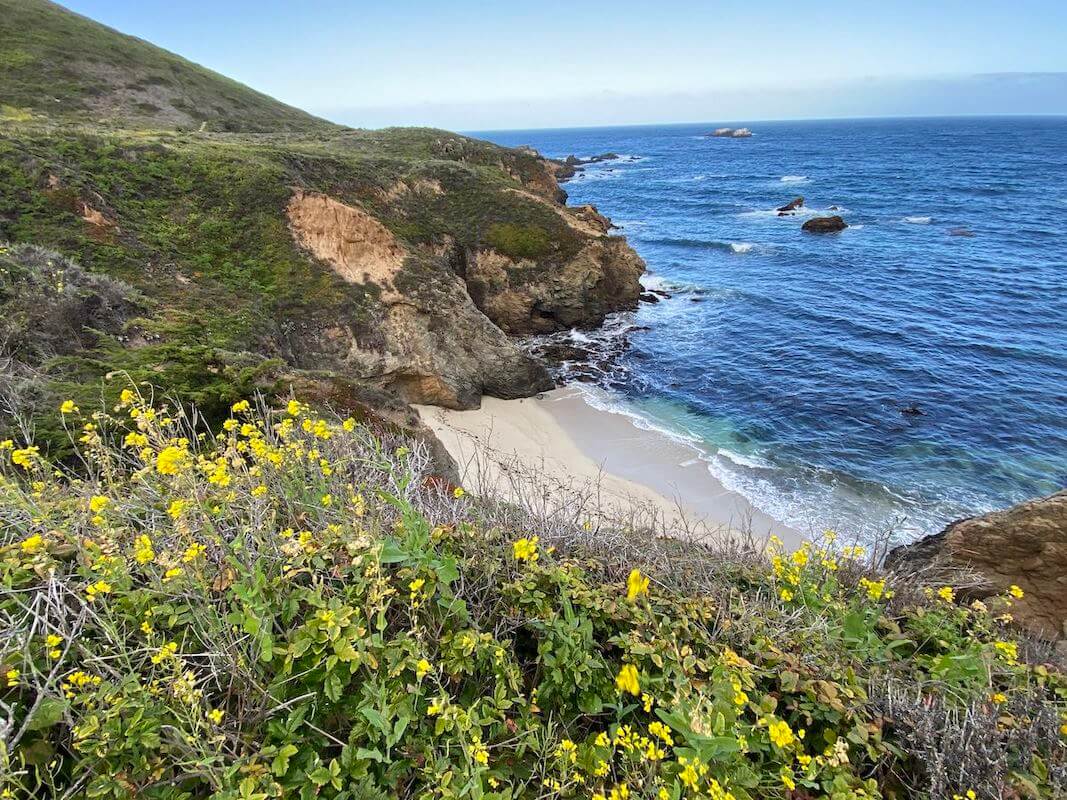 We hope this gives you a good overview of some of the wonderful things to do in Big Sur and gives you some ideas for planning your trip!
Do you have any questions about visiting Big Sur or any tips to share? Leave a comment below!