A couple of years ago, I had plans to spend Thanksgiving in Joshua Tree National Park but thanks to an unlikely spell of torrential rain, my plans got thwarted. Ever since, I've been wanting to reignite my Joshua Tree mission and explore the best Joshua Tree hikes that this beautiful National Park has to offer.
Here are the three best Joshua Tree hikes for first-time visitors and few more tips to help you make the most of your trip.
Important Reminder: As it goes in all of the destinations we share, please practice good trail etiquette and remember to Leave No Trace. This means packing out all of your garbage (including toilet paper) and following the established rules. In the desert, this also means learning how to protect cryptobiotic soil and how it has a huge impact on our ecosystems.
An Intro to Joshua Tree National Park
Joshua Tree National Park is made up of 794,000 acres that straddle the Mojave and Colorado deserts. The first time I drove through the western gate into the Park it felt like I was stepping into one of Dr. Suess's books with the spiny Joshua trees shaking their pom-poms across the valley floor.
Legend has it that Mormon pioneers saw the outstretched arms of the trees and were reminded of the biblical character Joshua who was to lead them to the promised land. The name stuck.
Hiking in Joshua Tree is an amazing experience. There are unique landscapes, incredible views, desert life, and an otherworldly feel. If you don't have the time to scour every inch of it, though, this post includes three of the best Joshua Tree hikes for first-time visitors that will highlight the best of what the national park has to offer.
All three of these Joshua Tree hiking trails are easily accessible, moderate in length, and require little more than some water, a map, and comfortable hiking clothes. I've also included some recommendations for accommodations if you'd rather stay in a bed as opposed to camping in the national park.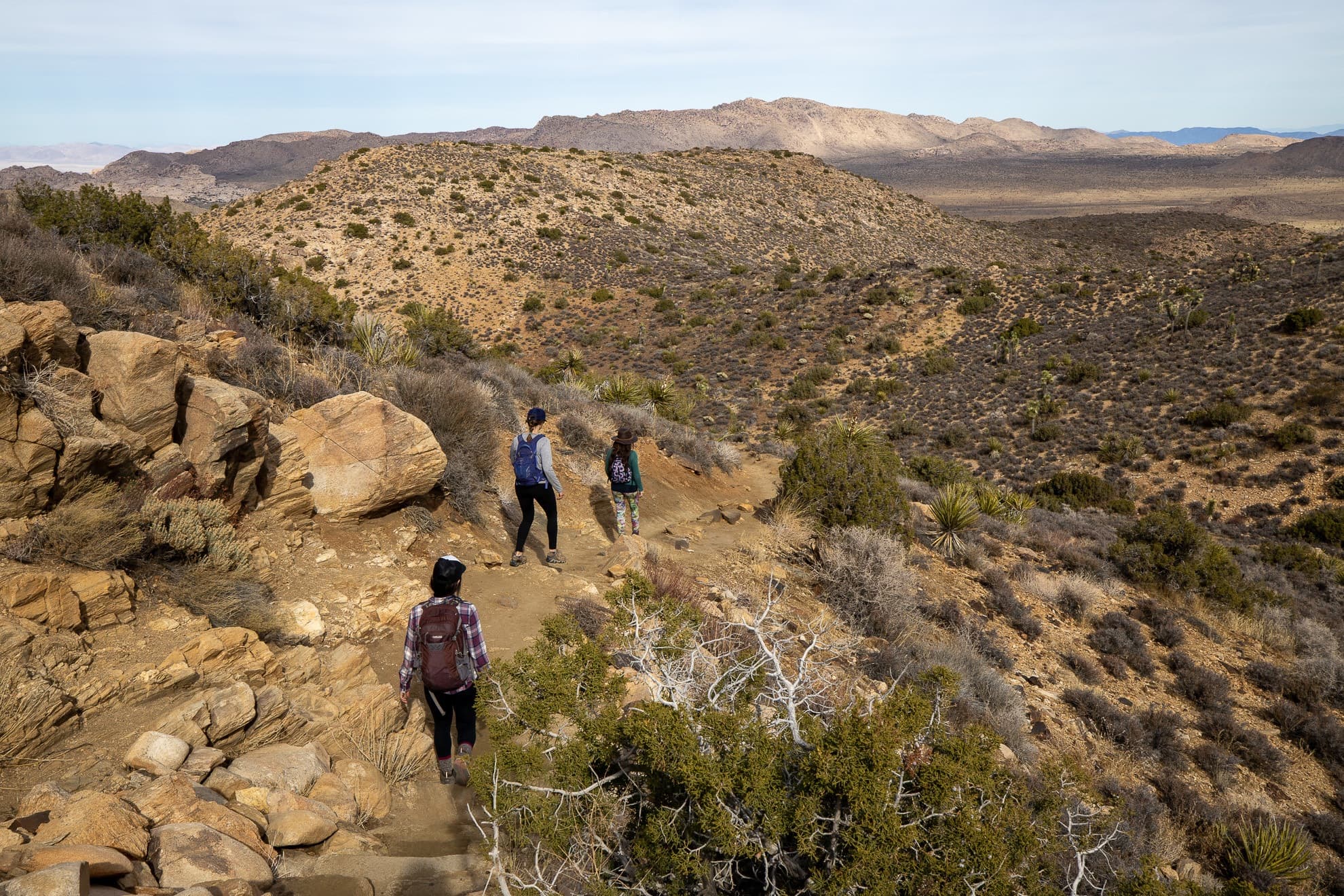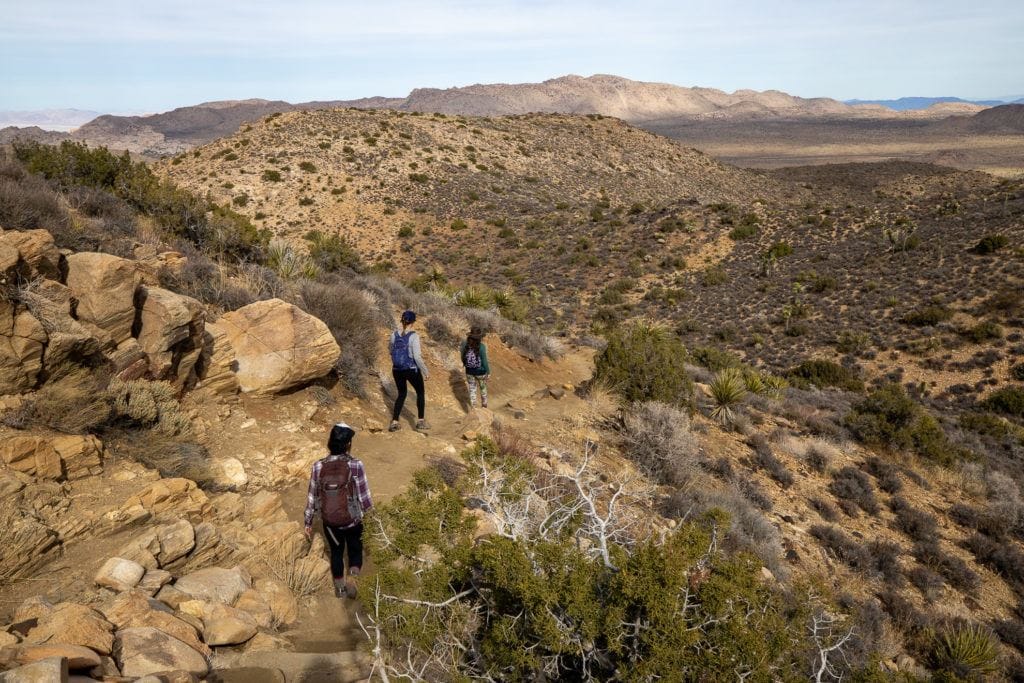 ---
Joshua Tree National Park Layout
The West and North entrances of Joshua Tree off of Interstate 62 open up to the Mojave side of the park while the southeast entrance off of Interstate 10 opens up to the Colorado Desert. This is important to know because the scenery is dramatically different between the high and low deserts.
The west side of the park near the Mojave Desert stands above 3,000 feet and is covered with expansive Joshua Tree groves that are speckled with gigantic piles of monzogranite boulders. The hikes in this guide are located in this area of the park.
Conversely, the east side of the park sits well below the Mojave Desert and is covered in creosote bushes, a signature plant of the park that produces small yellow flowers in spring and summer. The towering mountain peaks of Cottonwood, Eagle, and Coxcomb provide a dramatic backdrop to this region.
Both sides of the Park are memorable, but if you're limited on time make sure to hit the west side first.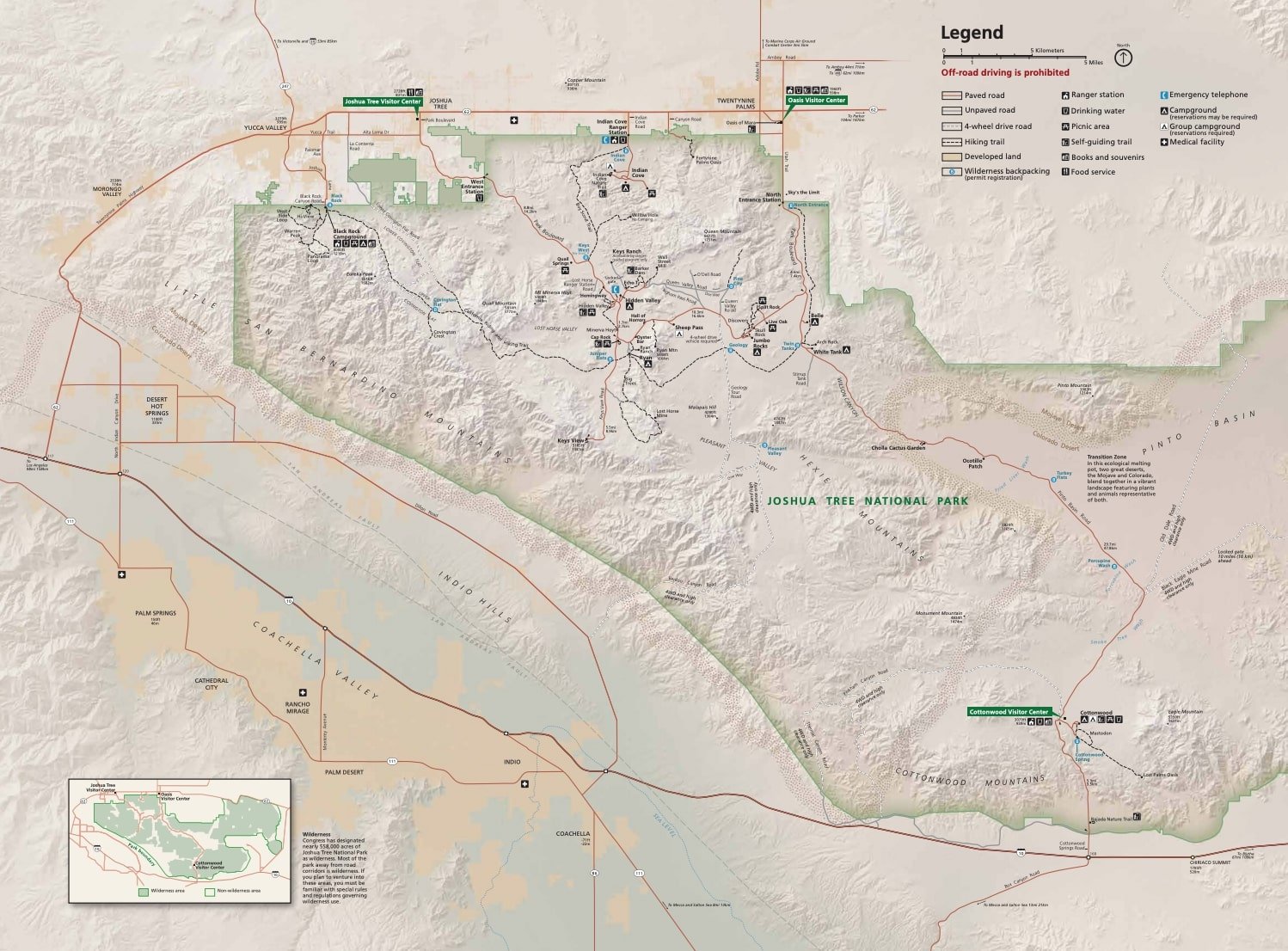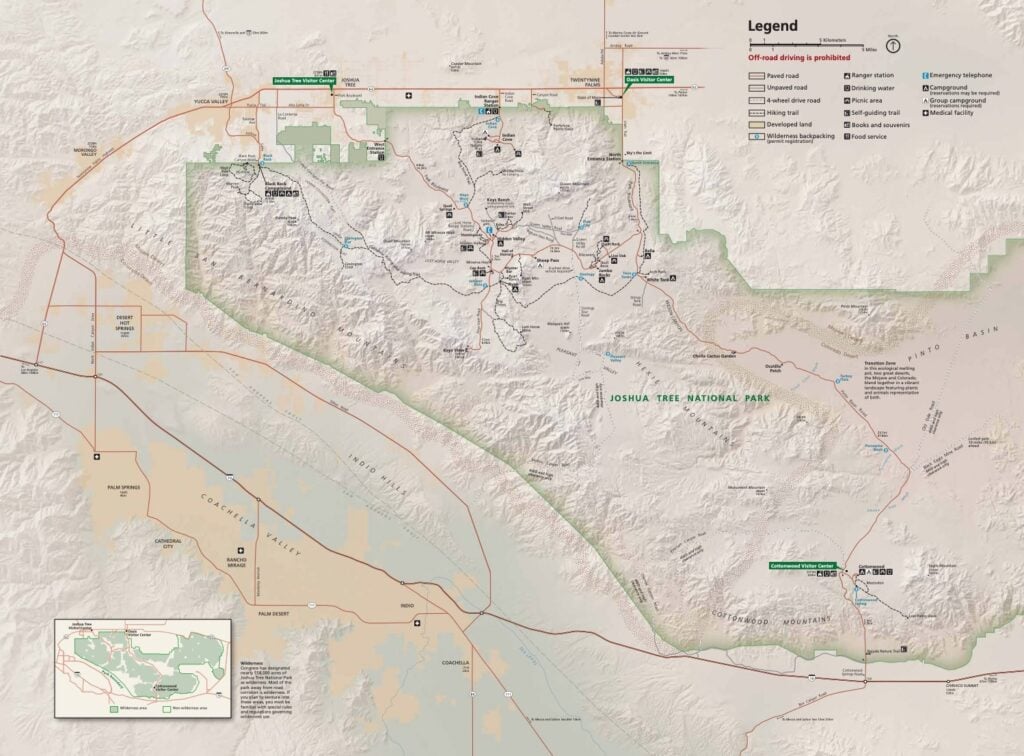 ---
Best Time to Visit Joshua Tree
While Joshua Tree National Park can be visited year-round, temperatures are most pleasant in the fall and spring months of October-November and March-May when daytime temps are in the 70's. Spring typically brings an abundance of wildflowers, which turns the desert into a colorful bloom.
Winter is also a great time to visit the park because of fewer crowds, however, evenings can get quite chilly, so be sure to pack warm camping gear if you're car camping.
Summers in Joshua Tree tend to be very hot with daytime temps of 90's or above with little to no shade. If you plan on hiking in Joshua Tree in the summer bring lots of water and protect yourself from the sun.
---
Best Joshua Tree Hikes
Now for the best hikes in Joshua Tree. In my opinion, these are the top three hikes in the park where you can experience unique scenery, views, and more. These three hikes are circled in red on the map below.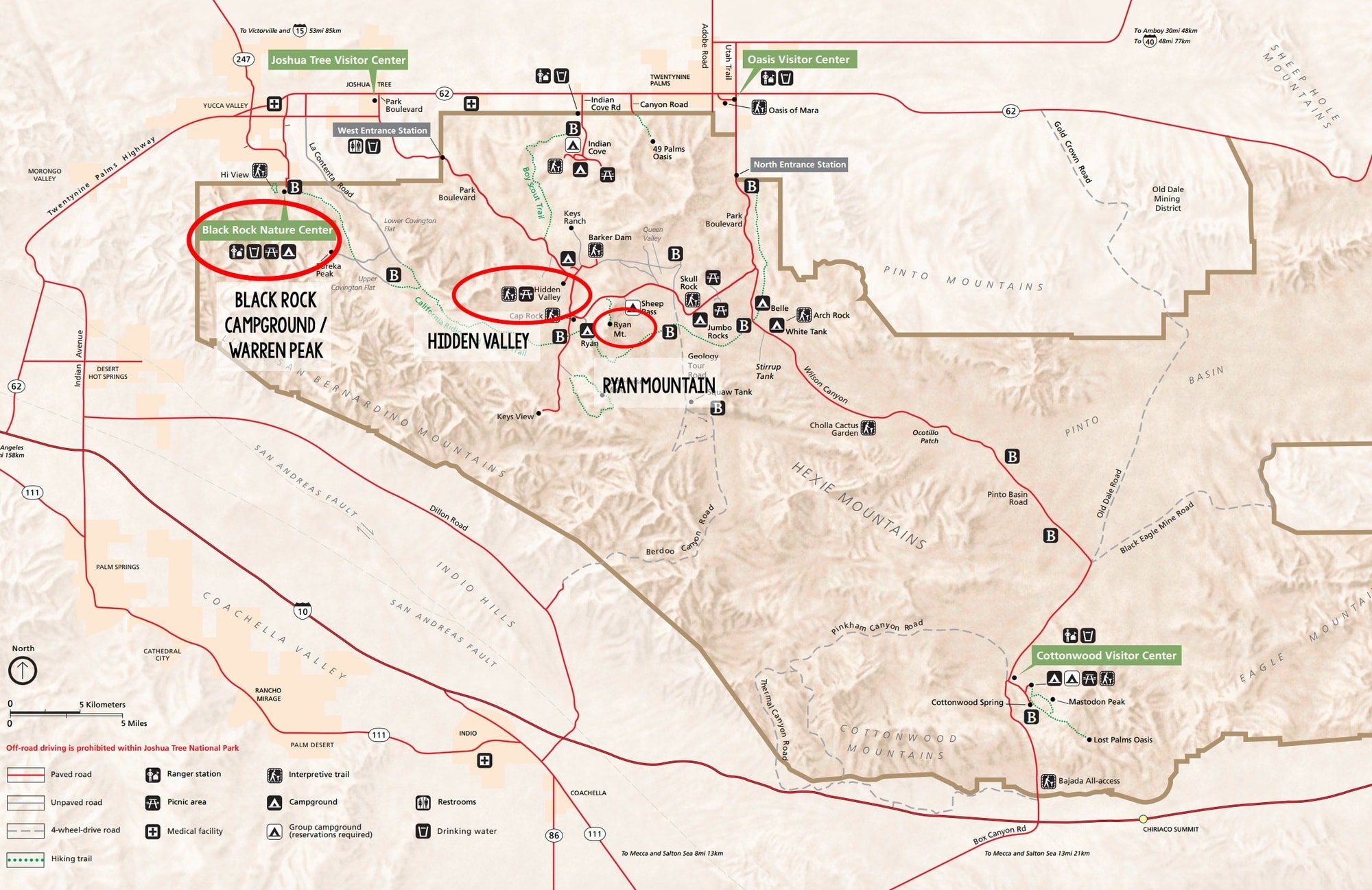 1. Warren Peak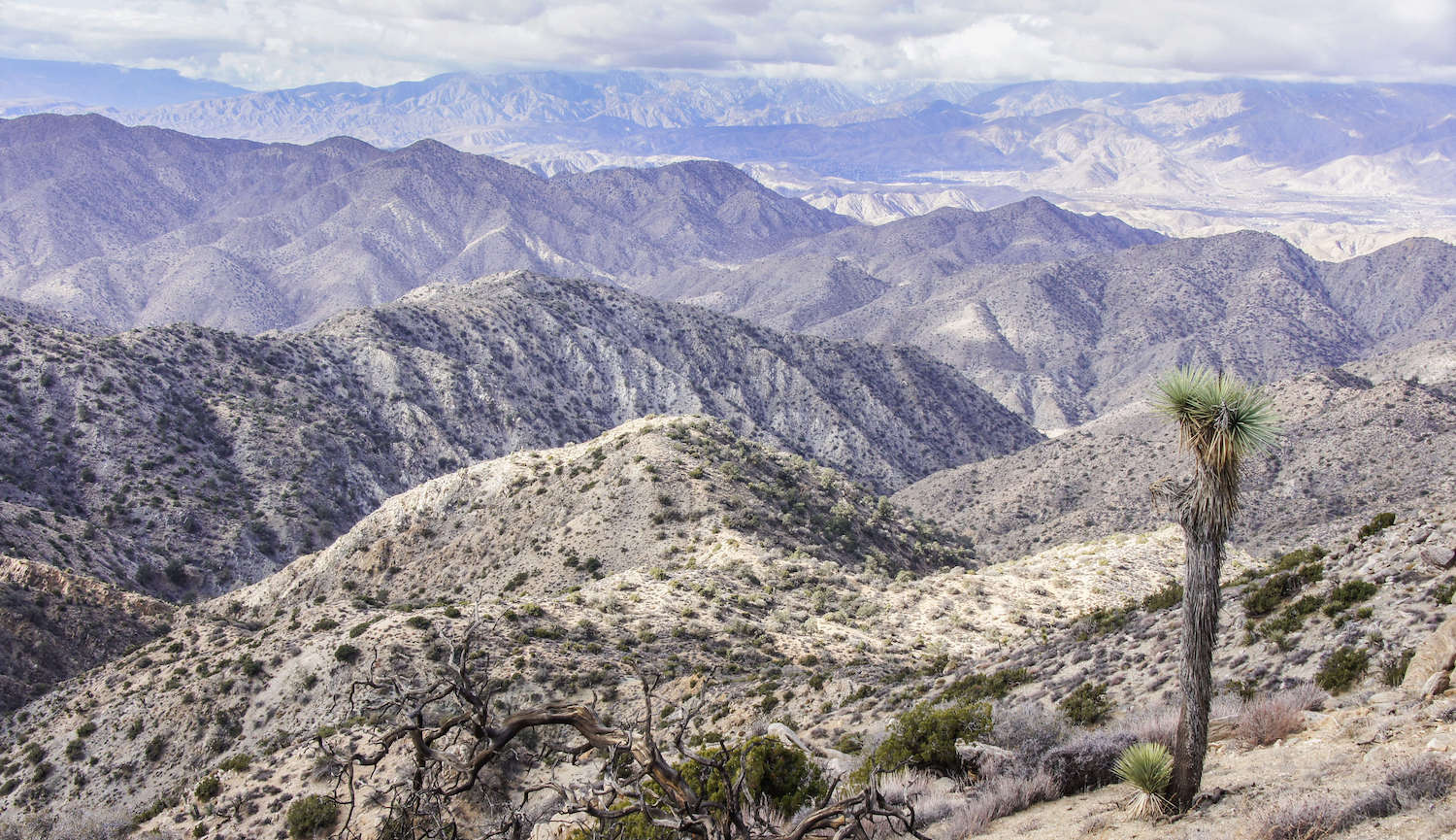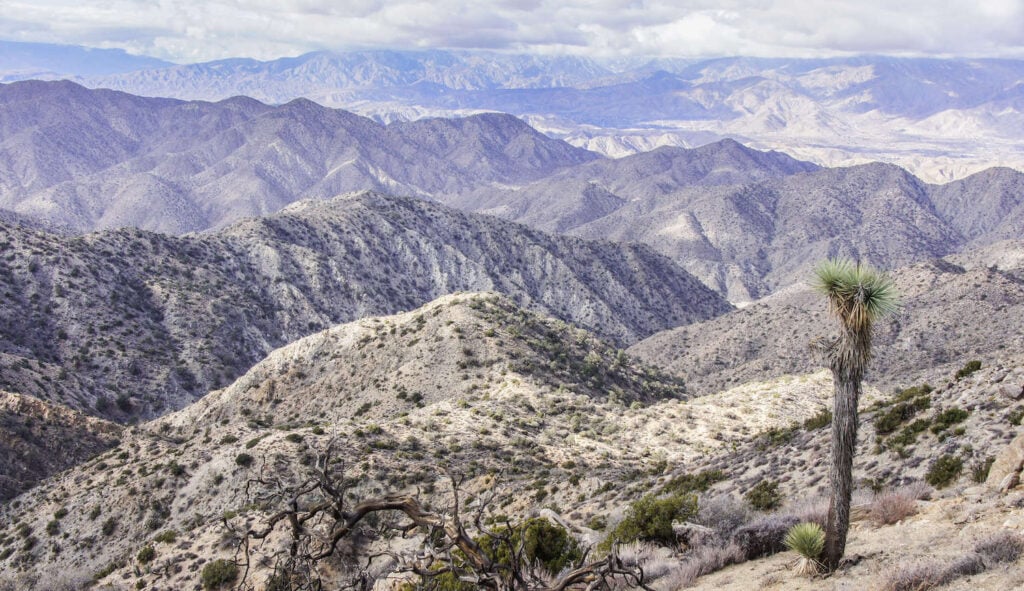 Warren Peak Trail Stats
Distance: 6.0 miles
Elevation Gain: 1,000 feet
Time: 3.0 hrs
Difficulty: Moderate
Trailhead start: Black Rock Campground
Warren Peak is located in the northwest corner of the park adjacent to the Black Rock Campground. It's a 6-mile round trip hike that is a great place to start your Joshua Tree adventure, especially if you're coming from the West as it's the first stop off of CA-62. (Don't make the same mistake that I did and camp at the Black Rock Campground. The campground is nice and clean but is a bit removed from the park and is located much closer to civilization than most of your other options.)
The trail up to Warren Peak starts on the Black Rock Canyon Trail, which can be a challenging find. To find the trail, walk directly east of the Ranger station through all of the campsites at Black Rock Canyon Campground and across a section of dense shrubs about the size of a football field. When you hit the trail you'll know it. It's wide, sandy, and flanked by black brush. Take a right once you hit the trail and start heading up the hill. Along the way, you'll pass a number of Joshua trees, Mojave yucca, and some huge blocks of black and grey gneiss.
Make sure to stay right as you work your way up. You will pass up a number of opportunities to turn left, but if you have your eyes set on the peak, keep right.
Once you hit a post in the ground with a PL and a WP painted on it you are about 80% of the way there with the most difficult portion of the hike to go. The last 20% takes you up a fairly steep grade that will undoubtedly get your heart pumping. There may even be one or two places where you have to scramble on all fours. As you climb higher and higher the view of the surrounding mountains will get bigger and bigger. The payoff atop the 5,103-foot peak is a 360° view of Southern California's tallest mountains.
*If you are looking for additional hiking trails near Black Rock Canyon, Eureka Peak is another nice option, but it's a solid 6-hour trek, offers very similar views, and doesn't feel quite as remote with car access available from Covington flat.
Directions to Warren Peak Trail:
From I-10, take CA-62 north 18.3 miles to the town of Yucca Valley. Turn right onto Kickapoo Trail and then take a left onto Onaga Trail. Drive on Onaga trail for 2.4 miles and turn right onto Joshua Lane. Joshua Lane dead ends into San Marino Drive. Take a right when you hit San Marino. San Marino quickly turns into Black Rock Canyon Road. The trail is directly east of the ranger station past the campgrounds and through 100 yards of brush.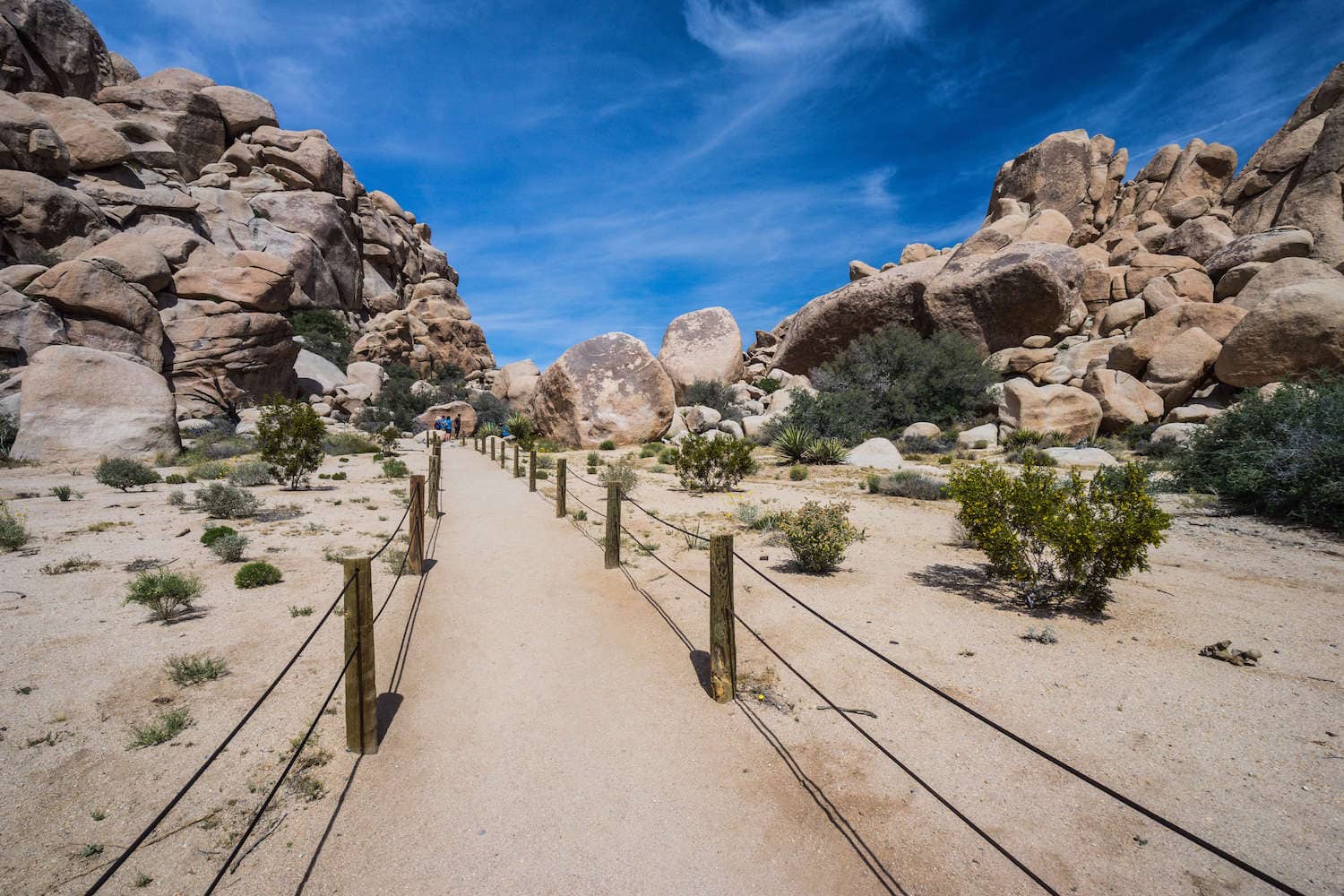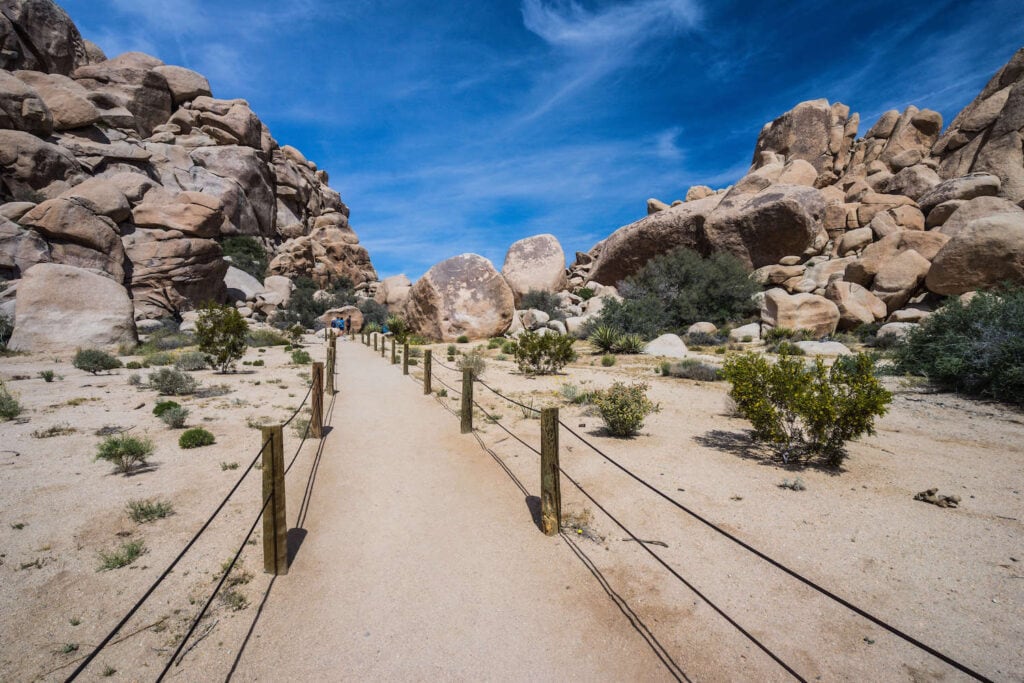 Distance: 1.0 mile
Elevation Gain: flat
Time: 30 minutes to 3 hours
Difficulty: Easy
Trailhead start: Hidden Valley Campground
Hidden Valley Trail is located off of Park Boulevard 12 miles southeast of the west entrance. It looks a bit like a real-life Bedrock from the Flinstones with huge piles of white tank monzogranite piled up in every direction. The trail is rumored to have been a famous hideout for cattle rustlers and you can see why as you work your way through the trail. The huge stacks of boulders that create distracting acoustics that make it difficult to determine where anyone is.
While the loop is only 1 mile long, you can easily spend hours exploring the rock formations, which are very easy to climb. The white tank monzogranite has a very solid and tacky surface, but be careful as it's often easier to go up than come down, especially without climbing equipment.
The trail is well-groomed and much more popular than the trail to Warren Peak.
From CA-62 take Park Boulevard (which turns into Quail Springs Road before changing back to Park Boulevard) for 14 miles until you see the Hidden Valley Campground on your left. The nature trail is just a bit further up the road on your right. Parking is available at the trailhead.
3. Ryan Mountain Trail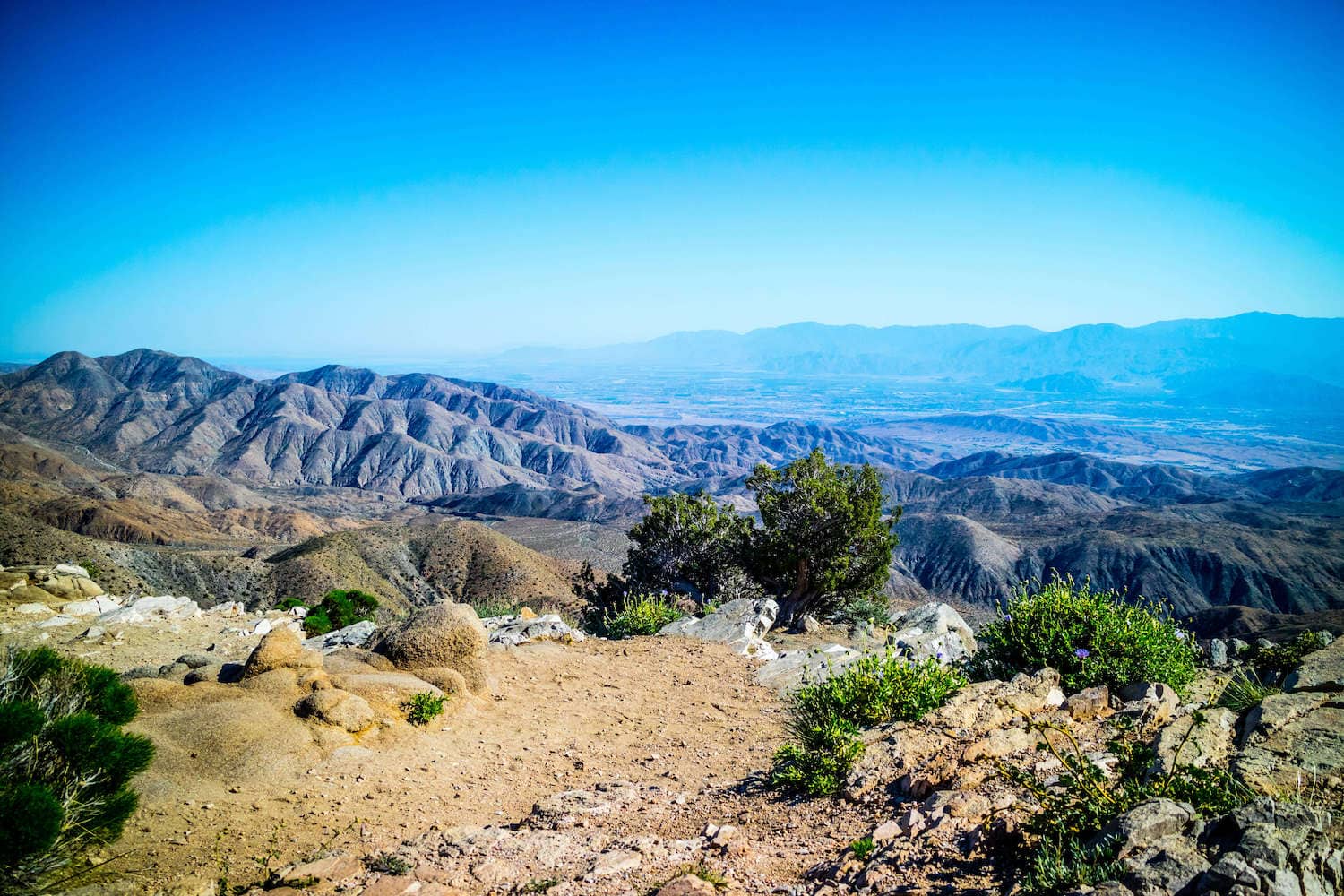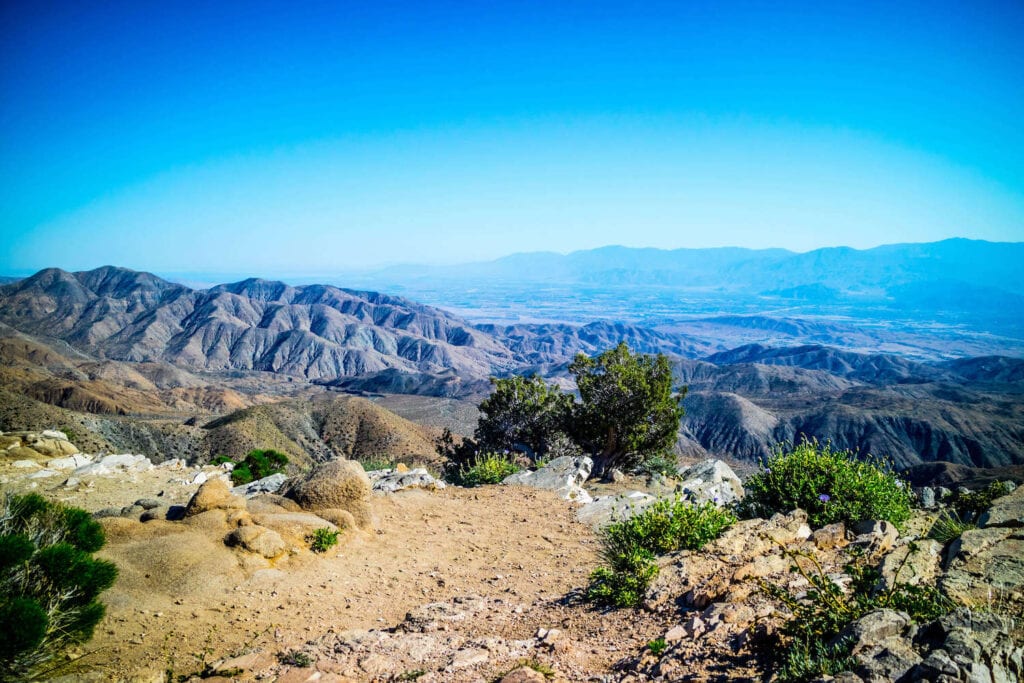 Ryan Mountain Trail Stats
Distance: 3 miles
Elevation Gain: 1,075 feet
Time: 2 hrs
Difficulty: Moderate
Ryan Mountain is located 3 miles south of the Hidden Valley trail off of Park Boulevard. There is no signage that points the way until you are right on top of the Ryan Campground so just keep following signs to Keys View. The 5,470 ft peak offers some of the best panoramic vistas of the park including views of San Jacinto, San Gorgonio, Wonderland of the Rocks, and Pleasant Valley.
The march onward and upward to the top gets going as soon as you leave the parking lot. The trail has 1,075 feet of elevation gain that is moderately steep but very well maintained with great foot-holds. In fact, an impressive stone staircase winds up and around the vast majority of the mountain.
As you climb, the drama builds. The views change from the expansive desert floors of the Queen and Lost Horse Valleys to the rich red and orange stone piles of Wonderland of Rocks. The payoff at the top includes huge views of the San Gorgonio and the San Jacinto Mountains.
Directions to Ryan Mountain Trail:
From CA-62 take Park Boulevard (which turns into Quail Springs Road before changing back to Park Boulevard) for 16.7 miles until you see the Ryan Mountain Campground on your right. The trail is just a bit further up the road on the right-hand side. Parking is available at the trailhead.
---
What to Pack for Your Joshua Tree Hikes
Below are a few hiking gear recommendations and tips for what to bring on your Joshua Tree hikes. For a more complete list, be sure to read our What To Wear Hiking post.
Hiking boots or trail runners. The terrain in Joshua Tree is reasonably flat, so you don't need heavy-duty hiking boots for these trails, although lightweight high ankle hiking boots or shoes will help keep sand and dirt out.
Hiking layers – mornings and evenings might be cool but expect the days to be warm
A brimmed hat to keep the sun off your face, and a beanie to keep you warm for early morning hikes or post-sunset outings
Trekking pole(s) – optional for these trails since the terrain is flat and not rocky.
Sun protection – the desert sun can be brutal even if it doesn't seem super hot, protect your skin!
Water – Carry plenty of extra water, especially if hiking during the summer months.
A trail map from the Joshua Tree National Parks Visitor Center
---
Where to Stay in Joshua Tree
There are no hotels inside of Joshua Tree National Park but there are a couple of nice B&B's in the town of Joshua Tree, ample camping, and a ton of great Airbnb vacation rentals available within a short drive of each of these hiking trails.
Hotels
Two good hotel options outside of Joshua Tree are Joshua Tree Inn and Spin & Margie's Desert Hideaway (two-night minimum stay). Both are reasonably priced, clean, and full of personality.
Joshua Tree Campgrounds
There are nine campgrounds inside Joshua Tree National Park and all are clean, well-manicured, and far enough from the big city to have some of the best views of the night sky that you may ever see.
There are roughly 500 developed campsites within the park. Most of the campsites are available on a first-come-first-served basis, however, I highly recommend booking in advance since sites fill up quickly on the weekends between October and May. Reservations can be made up to 6 months in advance and additional information on Joshua Tree camping can be found here.
Joshua Tree Airbnb's
Airbnb is also a great option for Joshua Tree accommodations and there are tons of vacation rentals available right near the entrance.
---
Joshua Tree Town Guide
The town of Joshua Tree itself has a very cool vibe and I highly recommend including a pre-trip visit or post-trip celebration in your itinerary to explore the town. Here are a few of my favorite places to visit in Joshua Tree town.
Joshua Tree Coffee Company
On 29 Palms HWY, Joshua Tree Coffee Company is a little hidden behind Pie for the People. They have the best vanilla latte I've ever had. Their nitro cold brew is also not to be missed.
Pie for the People
This is arguably the most unique pizza joint I've ever been to! Check out their menu, which includes red sauce, white sauce, and pesto sauce-based pizzas and pizza names like "David Bowie", "HWY 62 Revisited", "The Chip", and "Barry White." And what better way to re-enter society after 3 days of hiking than pizza?
The Natural Sister's Cafe
This vegetarian cafe is open daily with vegan options available, tons of great smoothies, and fresh juices.
Nomad Ventures
In case you forgot any gear or food for the trail, Nomad Ventures has you covered. It is by far one of the best gear shops I've ever been to outside of a large city and their prices are competitive. Honestly, I stop every time I am in town just to check out the sale racks!
---
Additional Joshua Tree National Park Resources
If you're planning on spending more time in Joshua Tree, here are a few resources for finding more hikes and things to do in the Park: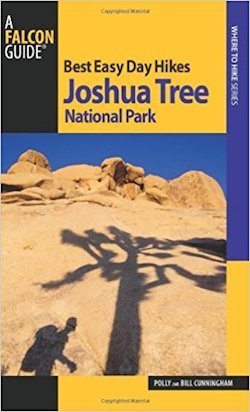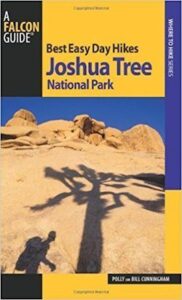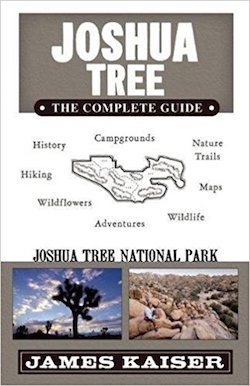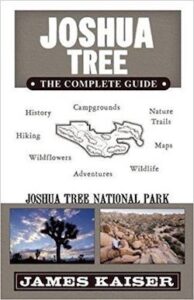 Hike the Parks: Joshua Tree – This book includes a wide variety of hikes in Joshua Tree if you want to explore more challenging and remote terrain.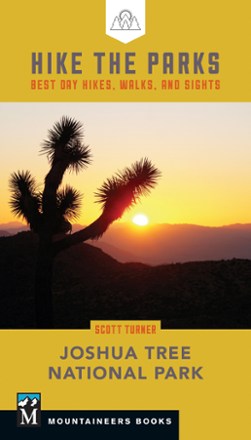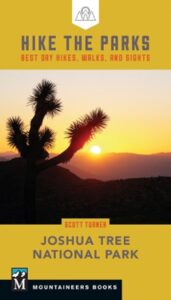 ---
I hope you have as much fun as I did on these Joshua Tree trails. If you hiked any of them, let us know what you thought in the comments below!
Have you been to Joshua Tree? What do you think are the best Joshua Tree hikes? Leave a comment below!