12 Best Outdoorsy Things to do in Los Angeles
Discover the best outdoor activities in LA from cruising the Venice beachfront boardwalk to exploring the Santa Monica mountains and more.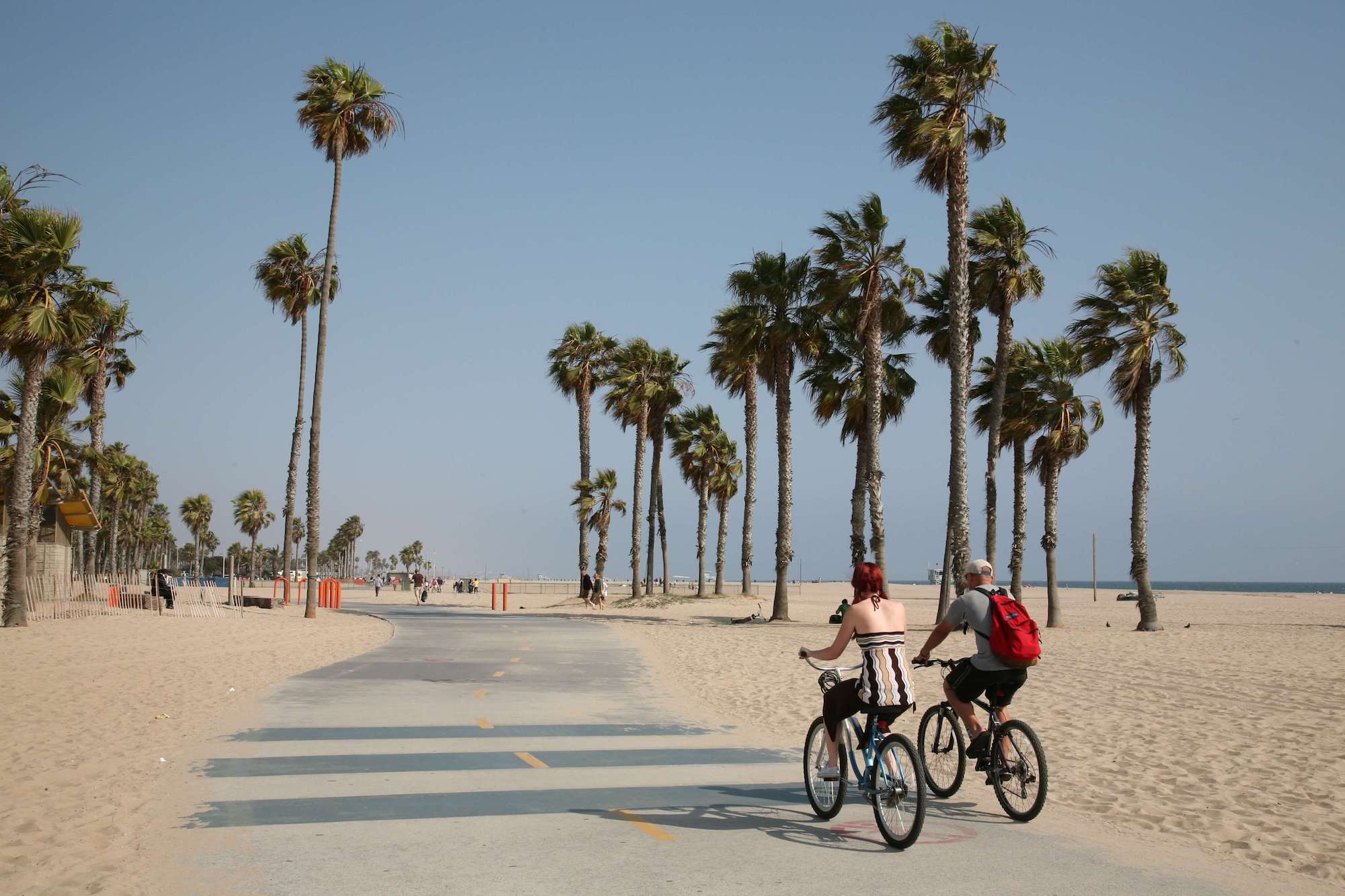 It may be surprising to some, but Los Angeles offers a wide variety of outdoor activities for nature enthusiasts and adventure seekers.
Just beyond the city's bustling streets, there is an abundance of outdoor adventures to be had. From hiking in the nearby mountains, to playing in the ocean, to exploring nearby islands and camping under the stars, there's something for everyone.
Being a California local, I love to explore the the natural beauty around Los Angeles and its surrounding areas every chance I can get. If you look for it, you can easily escape the crowds and quickly be immersed in nature.
In this post, I lay out the 12 best outdoor things to do in Los Angeles so you can step outside the city and explore Southern California's beautiful landscapes.
Important Reminder: As it goes in all of the destinations we share, please practice good trail etiquette and remember to Leave No Trace. This means packing out all of your garbage (including toilet paper), being respectful to others, and following the established rules.
---
1. Hike up to Griffith Park Observatory
Whether you're a local looking for a good workout or a tourist seeking an iconic L.A. experience, the Griffith Observatory is a must-do hike. Not only is it a great challenge, but making it to the top also rewards you with breathtaking vistas of the City of Angels.
Starting from the Fern Dell area, the West Observatory Loop Trail takes you up the Hollywood Hills to the iconic Griffith Observatory. The trail is about 2.5 miles round-trip and well-marked, making it accessible to hikers of various skill levels.
At the top, you'll be greeted with panoramic views of Los Angeles and from the Observatory's vantage point, you can see the sprawling cityscape and the famous Hollywood Sign. This is my favorite panoramic view of Los Angeles city!
I recommend doing this hike in the early morning to avoid the midday heat and to snag a parking spot at the trailhead, which can get busy. Also, make sure to carry enough water and use sun protection as there is not much shade on the trail.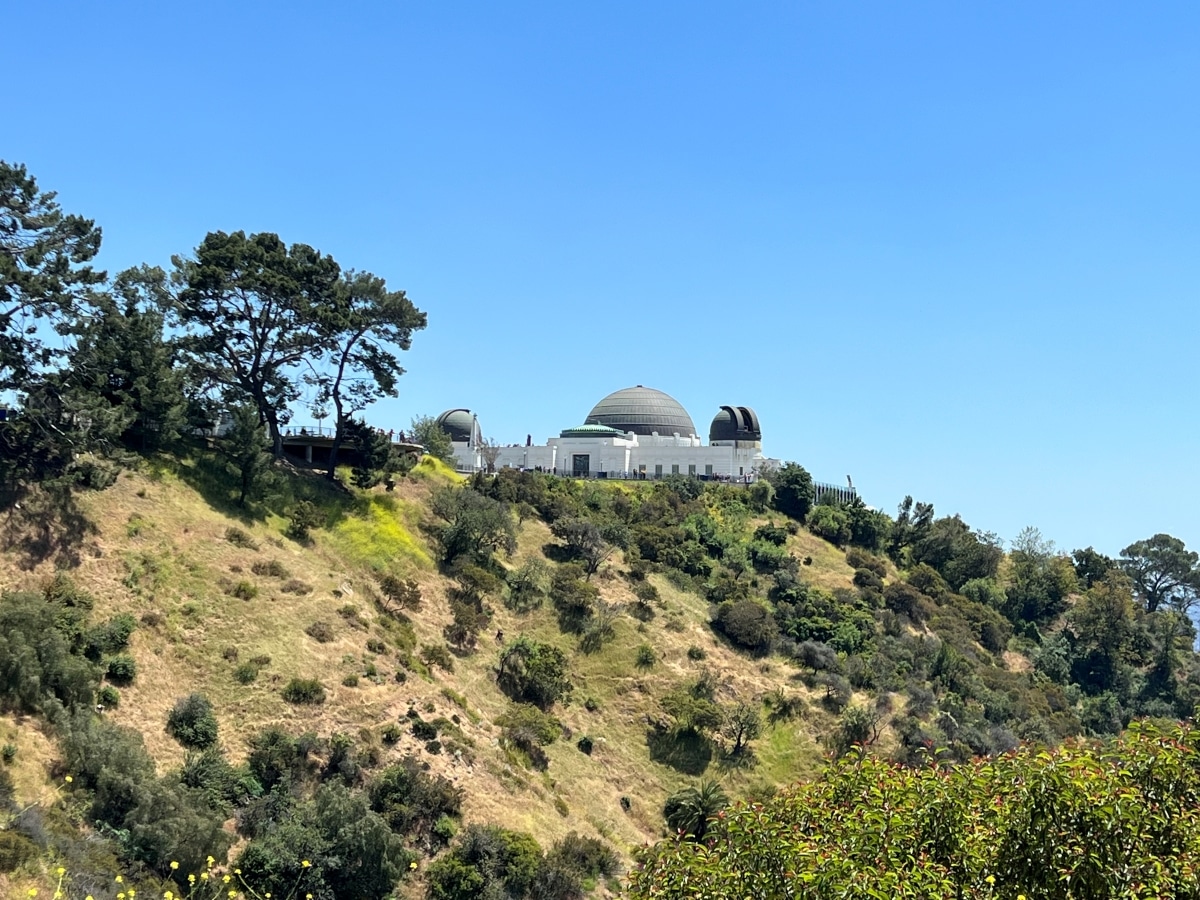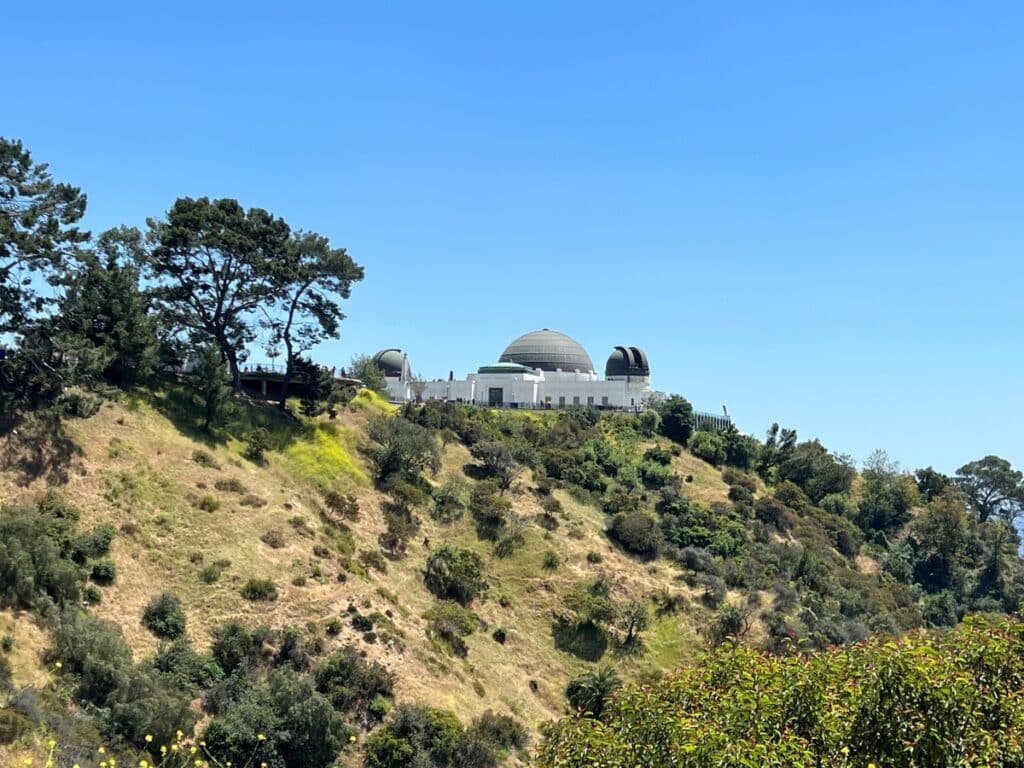 2. Visit the Venice Beachfront and Venice Canals
Venice Beach is an eclectic coastal community that offers a wide array of outdoor activities. Venice Beach is known for its wide sandy shores and beautiful ocean views. I like to simply relax on the beach in the sun and watch the waves roll in.
You can also rent a bicycle and cruise along the scenic Venice Beach Boardwalk, which stretches for miles along the southern California coastline. This paved path is famous for its skateboarders and roller skaters. If you don't want to bike, you can rent (or bring your own) roller skates, skateboards, or even electric scooters to join in the fun.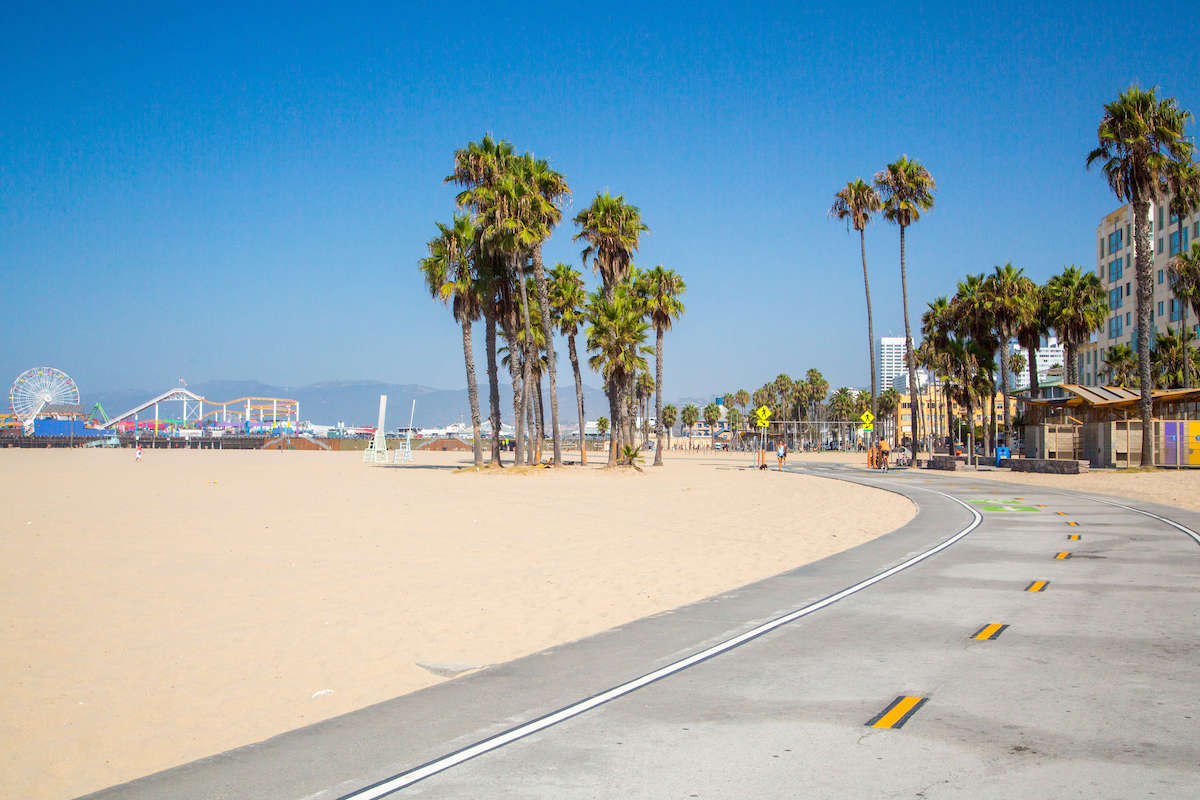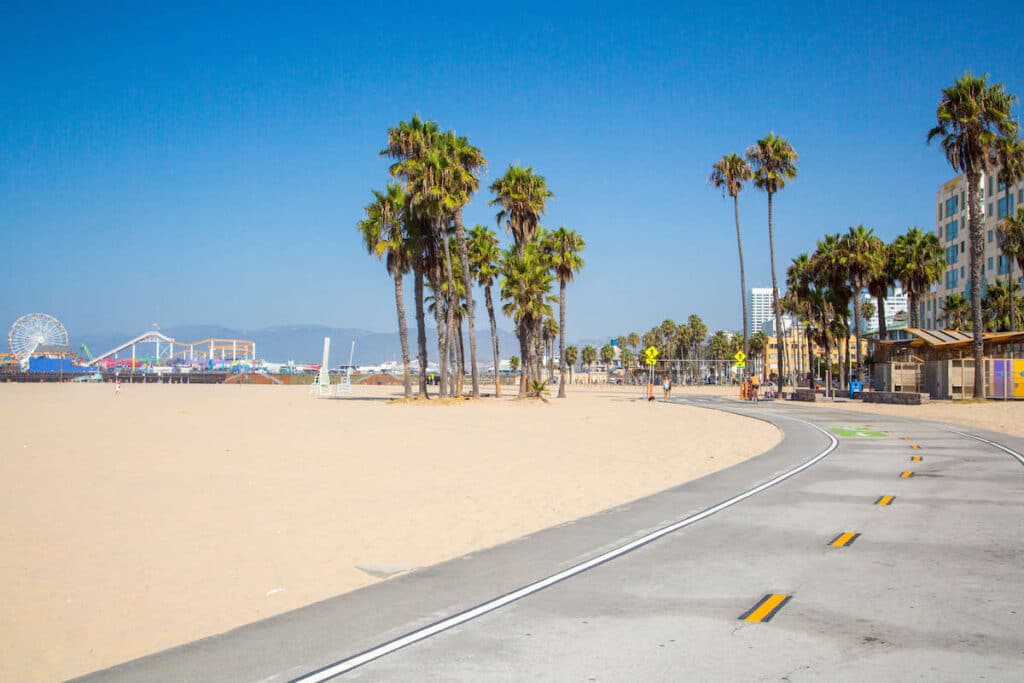 Venice Beach is also home to the iconic Muscle Beach Gym where you can find fitness enthusiasts working out on outdoor gym equipment.
While you're in the area, I also recommend taking a leisurely stroll through the lesser-known Venice Canals. This is a tranquil area just a few blocks from Venice Beach with footbridges and quaint houses. It's a peaceful contrast to the bustling boardwalk and my favorite part of visiting Venice Beach.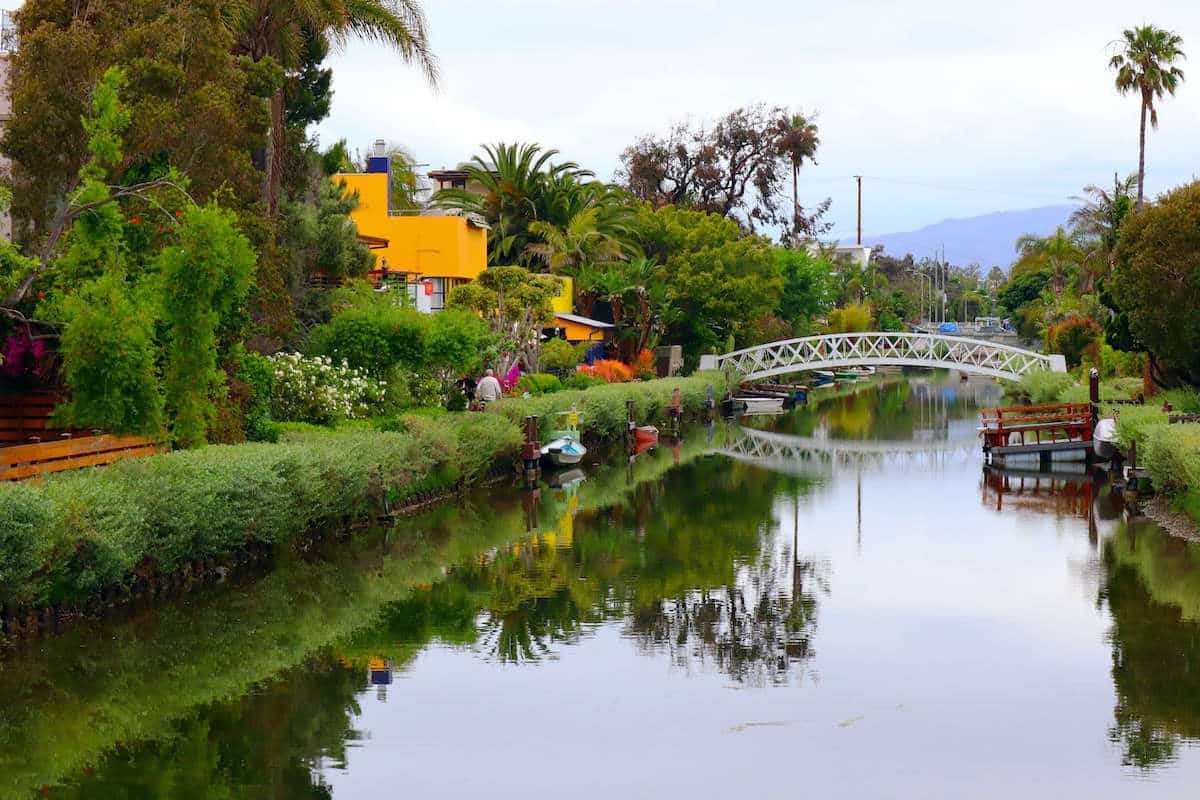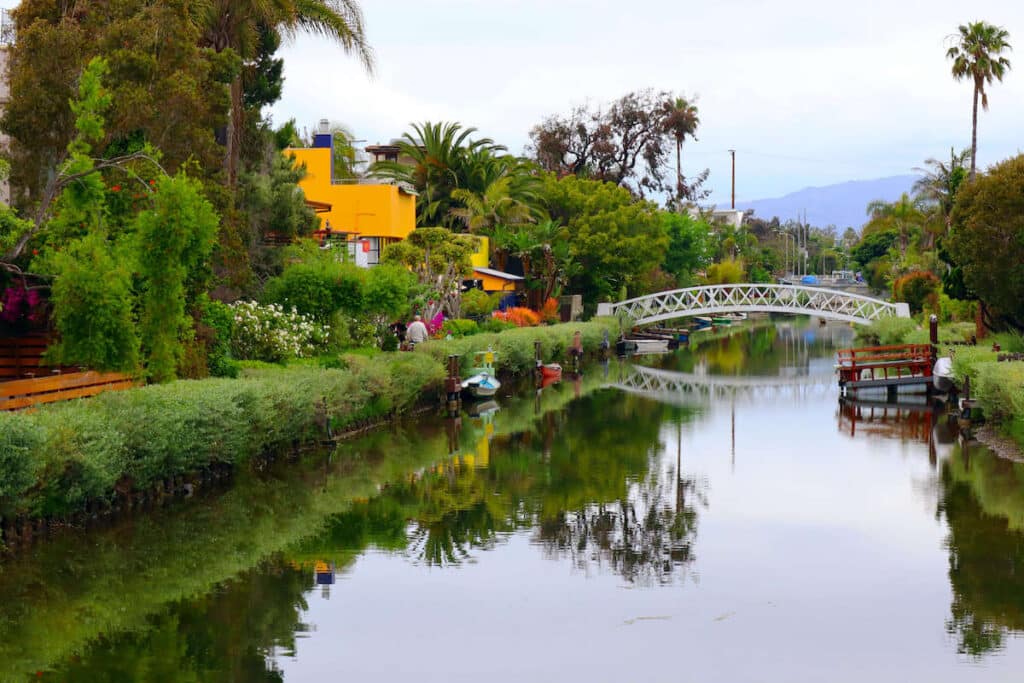 3. Stroll around a weekly farmers market
Los Angeles has no shortage of amazing, fresh food and the numerous weekly farmers markets are a testament to the local farms and fisheries that serve the city.
There are more than a dozen farmers markets that pop up in the streets across Los Angeles each week. The Historic Downtown Farmer's Market on W. 5th St. happens every Sunday as does the celebrity chef-attended Hollywood farmer's market.
Farmer's markets are a great way to spend a morning or afternoon while stocking up on some delicious, local produce and artisan goods.
Los Angeles is home to a number of botanical gardens and hidden oases spread throughout the city that make for great escapes from the fast-paced day-to-day LA life.
The Huntington Library estate northeast of downtown boasts some of the most impressive botanical gardens around LA. Visitors will find 130 acres dedicated to a variety of gardens from Japanese landscaping to native cacti desert gardens and more.
There is also the picturesque Descanso Gardens, which is a great place to see the spring cherry blossoms as well as roses and hundreds of varieties of camellia.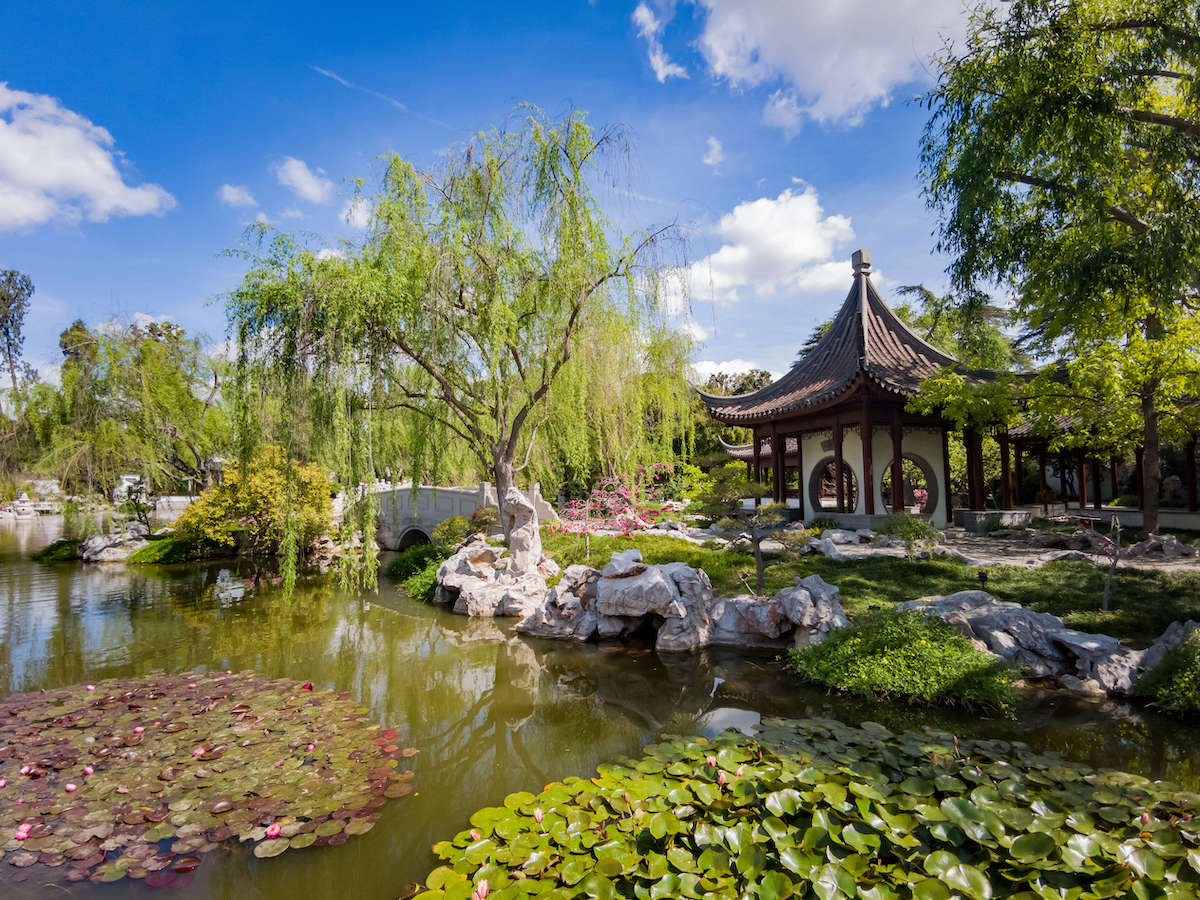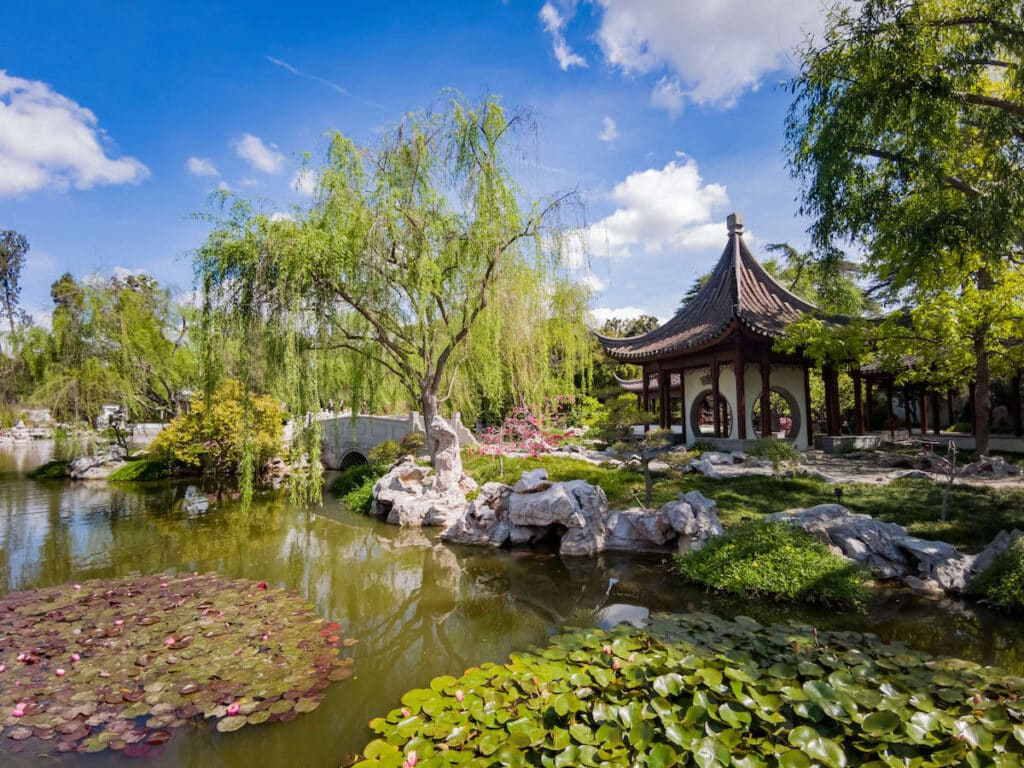 5. Bike the Strand
The Strand bike path, officially known as the Marvin Braude Bike Trail, is a scenic coastal bike route along the stunning Pacific coastline. The Strand stretches for 22 miles, running along the coast from Will Rogers State Beach in the north to Torrance Beach in the south.
The path passes through several popular beach communities including:
The historic Santa Monica Pier
Venice Beach
Marina del Rey
Manhattan Beach
Hermosa Beach
Redondo Beach
Each beach community offers its own unique charm and attractions.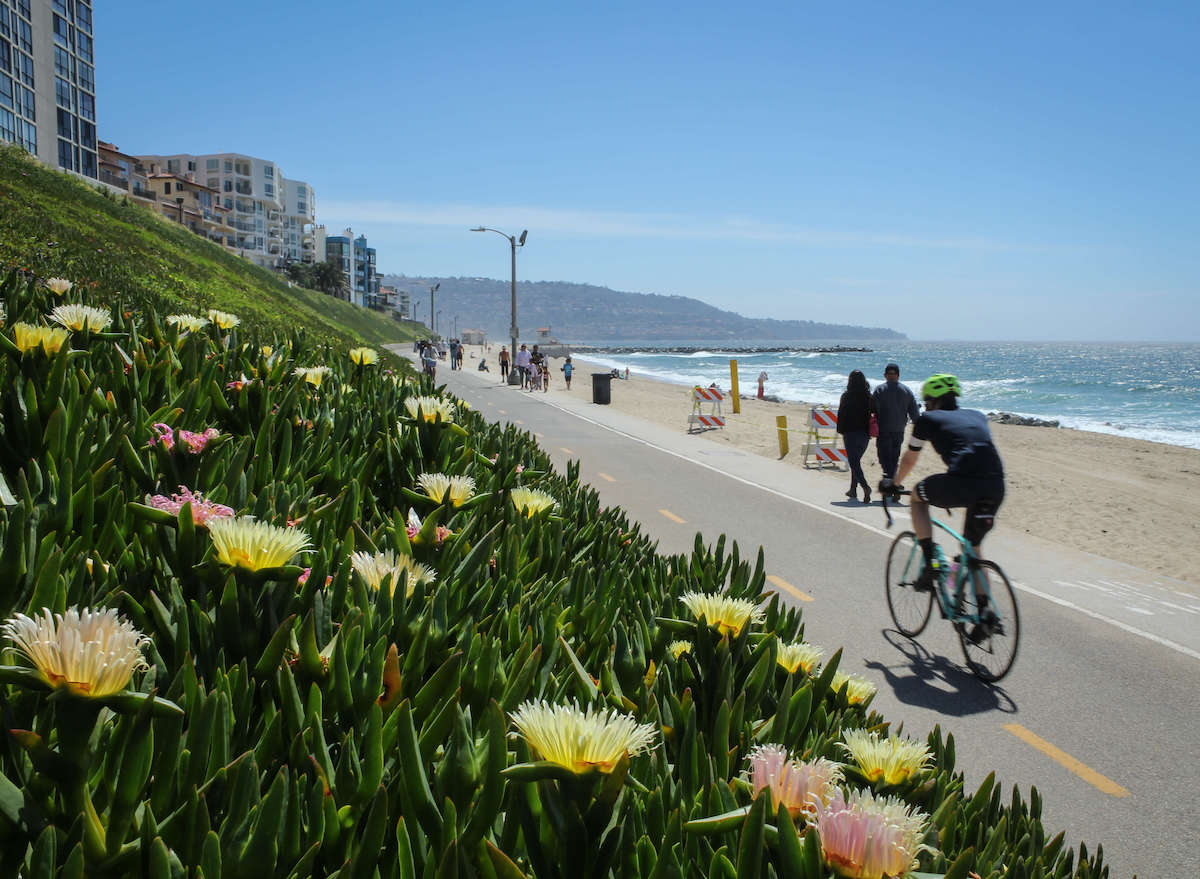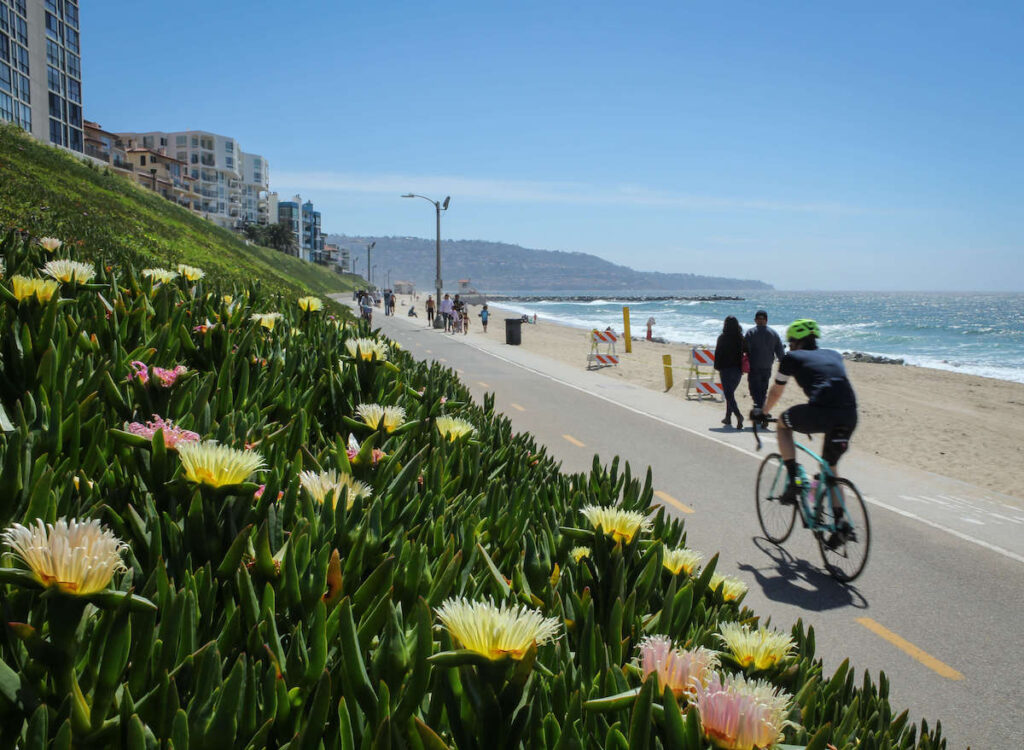 If short on time, you can choose to bike a shorter section. I recommend riding from Santa Monica to Venice Beach, which is one of the most popular sections for its views and charm. For a quieter area, cruise down to Redondo and ride the section between the Redondo Pier and Torrance Beach.
Explore LA by bike (or e-bike!)
Despite its heavy traffic, LA is actually a great city to explore by bike thanks to the numerous bike paths and lanes like The Strand.
If you want to really see the city by bike, book one of these guided or self-guided LA bike tours:
6. Surf the Pacific Waves
The southern Pacific Coast offers excellent surfing conditions year-round, making it a prime destination for surfers of all skill levels. The water temperature is relatively mild, and the coastal geography provides a variety of waves suitable for beginners and advanced surfers alike.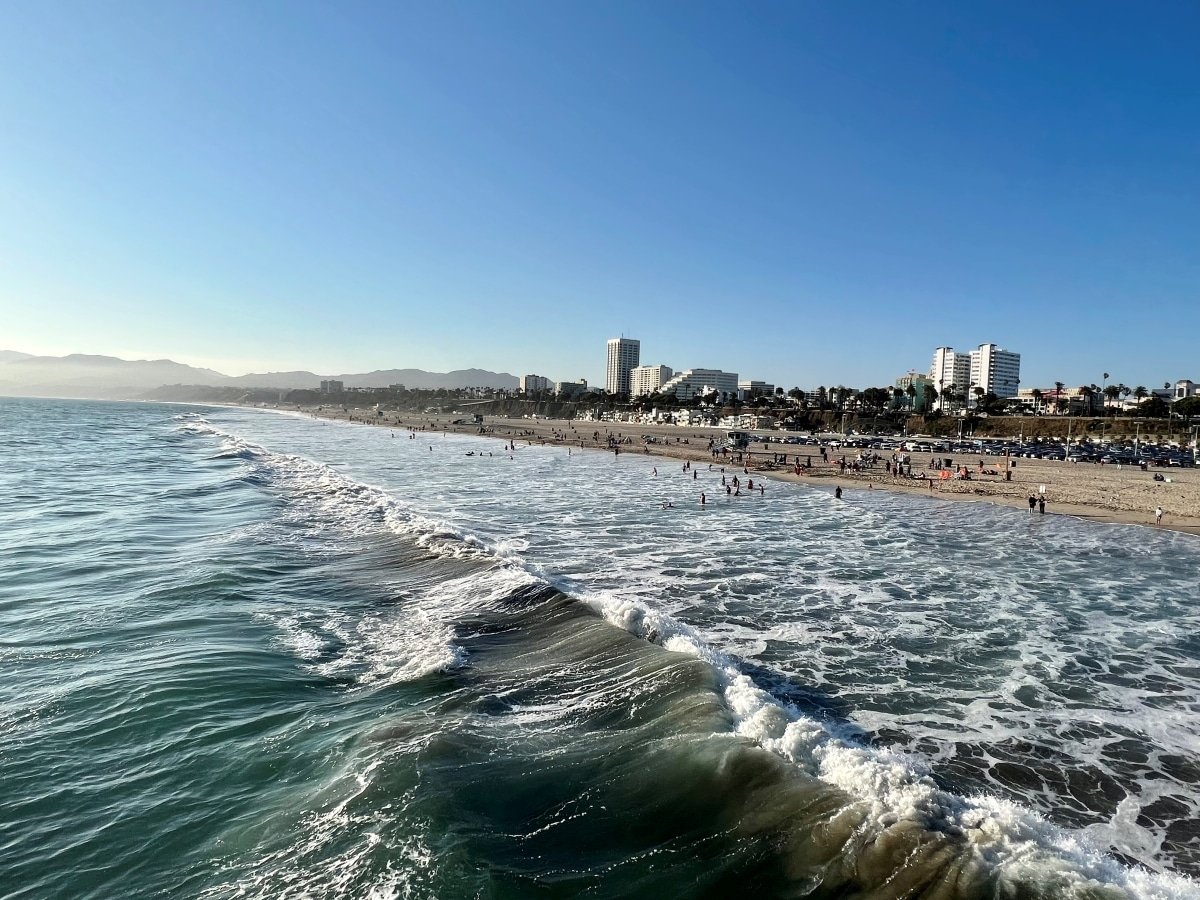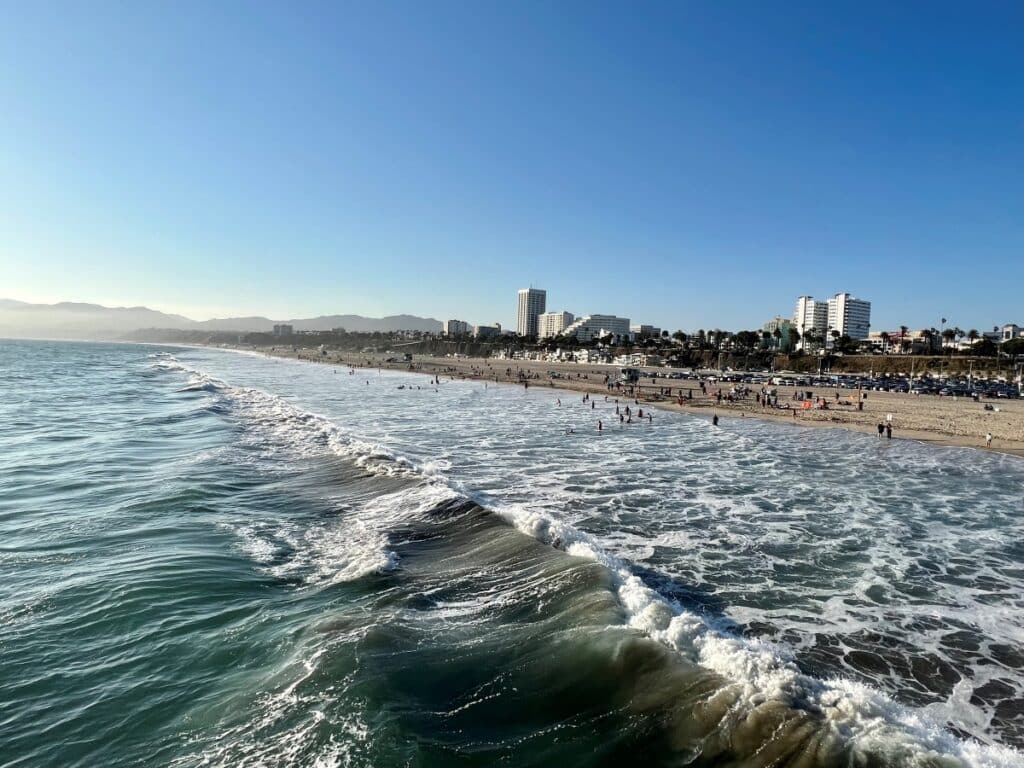 Malibu is perhaps the most famous surf spot near the Los Angeles area. It's known for its long, peeling waves and iconic point breaks like First Point and Second Point. It's suitable for surfers of all levels, but be prepared for crowds, especially on weekends.
Just north of Malibu, Zuma Beach offers a more spacious and relaxed atmosphere. Its consistent waves and ample space are great for beginners and intermediates.
Venice Beach has a lively surf scene with a variety of waves. The breaks are best for beginners and intermediate surfers and you can rent surfboards right on the beach.
Or, if you are like me, you can simply enjoy watching surfers ride some challenging waves from the beach.
If you don't know how to surf but want to check out the waves around Los Angeles, book a lesson with one of these local surfing companies:
7. Explore the Santa Monica Mountains
The Santa Monica Mountains, nestled on the outskirts of Los Angeles, offer countless opportunities for hiking, mountain biking, and horseback riding.
You might even be surprised to learn that there are over 500 miles of trails within the recreation area!
A few popular hikes include:
Topanga State Park and Malibu Creek State Park, both located in the Santa Monica Mountains Recreation Area, also have an extensive network of hiking trails.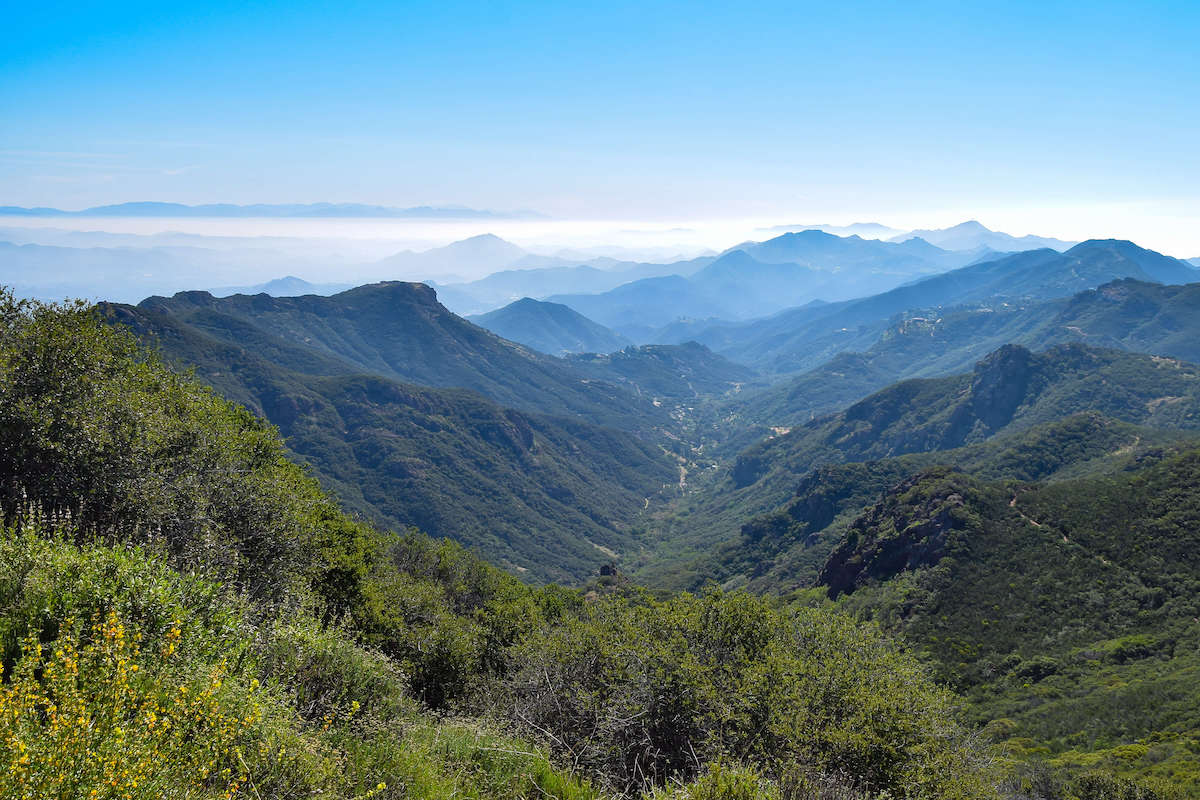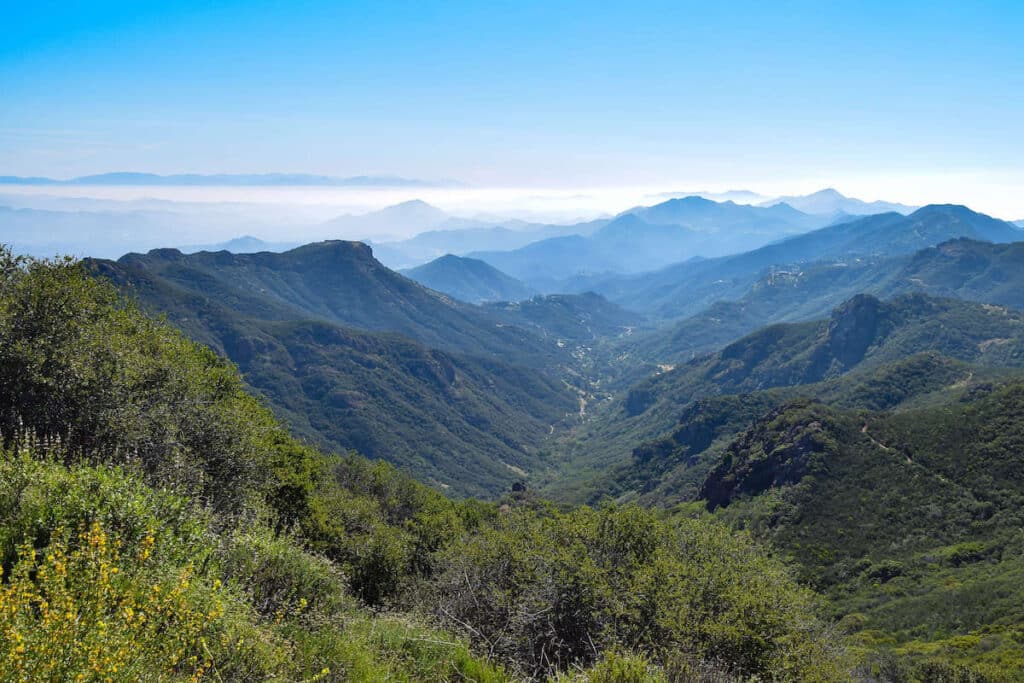 Several campgrounds are scattered throughout the Santa Monica Mountains as well, such as Leo Carrillo State Park and Malibu Creek State Park, offering a nice getaway from the city.
8. Go Horseback Riding in Griffith Park
Horseback riding in Griffith Park is one of the lesser-known outdoor activities in Los Angeles. If you like horses, it's a great way to enjoy the natural beauty of the park.
There are several stables in Griffith Park that offer guided trail rides. You can learn about the history and natural flora and fauna of the area while enjoying the views from horseback.
Book a horseback riding tour of LA
If you want to explore by horseback beyond Griffith Park, these tours head out into the hills for a longer and more adventurous way to see LA:
9. Camp in the Angeles National Forest
Camping in the Angeles National Forest, located just northeast of Los Angeles, offers outdoor lovers a chance to immerse themselves in nature while being within a relatively short drive from the bustling city.
Some popular campgrounds include:
The Angeles National Forest also has an extensive network of hiking trails. Two of the more popular hikes include Bailey Canyon Trail and Josephine Peak Trail.
10. Rock Climb in Joshua Tree National Park
Joshua Tree National Park is an iconic climbing destination known for its unique rock formations. You can find all sorts of cool places to climb like granite monoliths, towering crags, and massive boulders.
Joshua Tree is located about 2 hours east of Los Angeles, so it is a bit of a trek to get there, but there's great camping and also lots of hikes to make the most of your trip.
Since Joshua Tree is in the desert, it's best to visit in the winter, early spring, or late fall for cooler temps.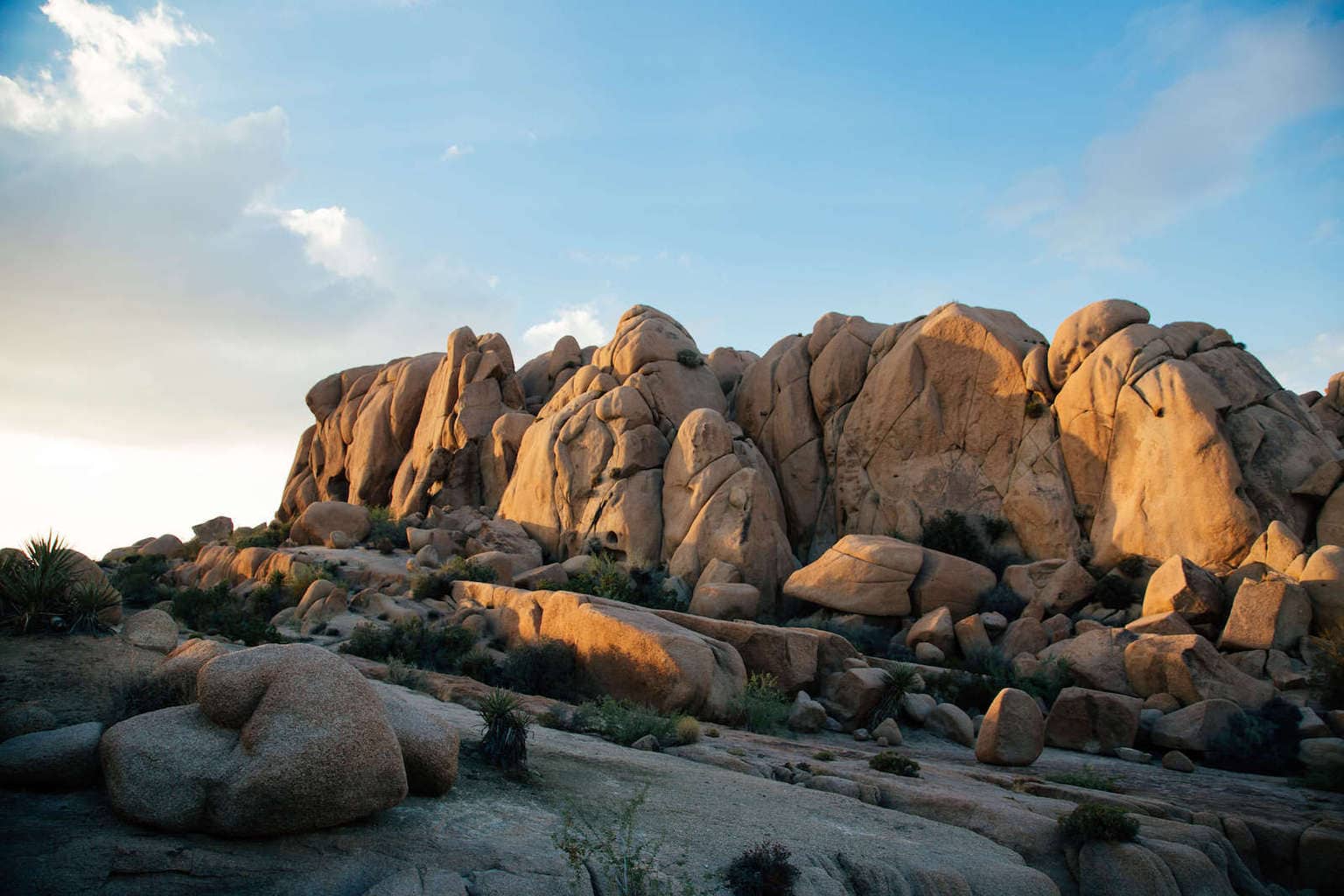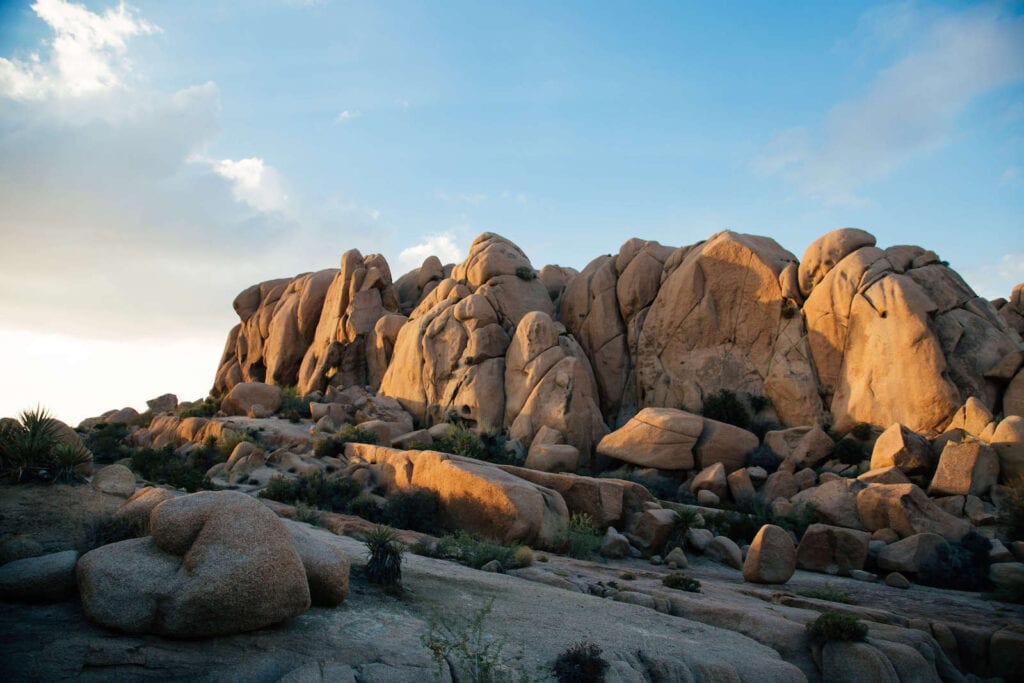 11. Explore Catalina Island
Making a day trip to Catalina Island, located near the Los Angeles coast, is one of the best ways to soak in some island vibes near Los Angeles.
Just an hour's ferry ride away from LA, Catalina Island offers a plethora of outdoor activities and some really epic views that will remind you of a European coastal town.
When I disembarked the ferry at Avalon, I was in awe of the quaint downtown harbor with its cute shops and the surrounding mountains. You have to see it to believe the view!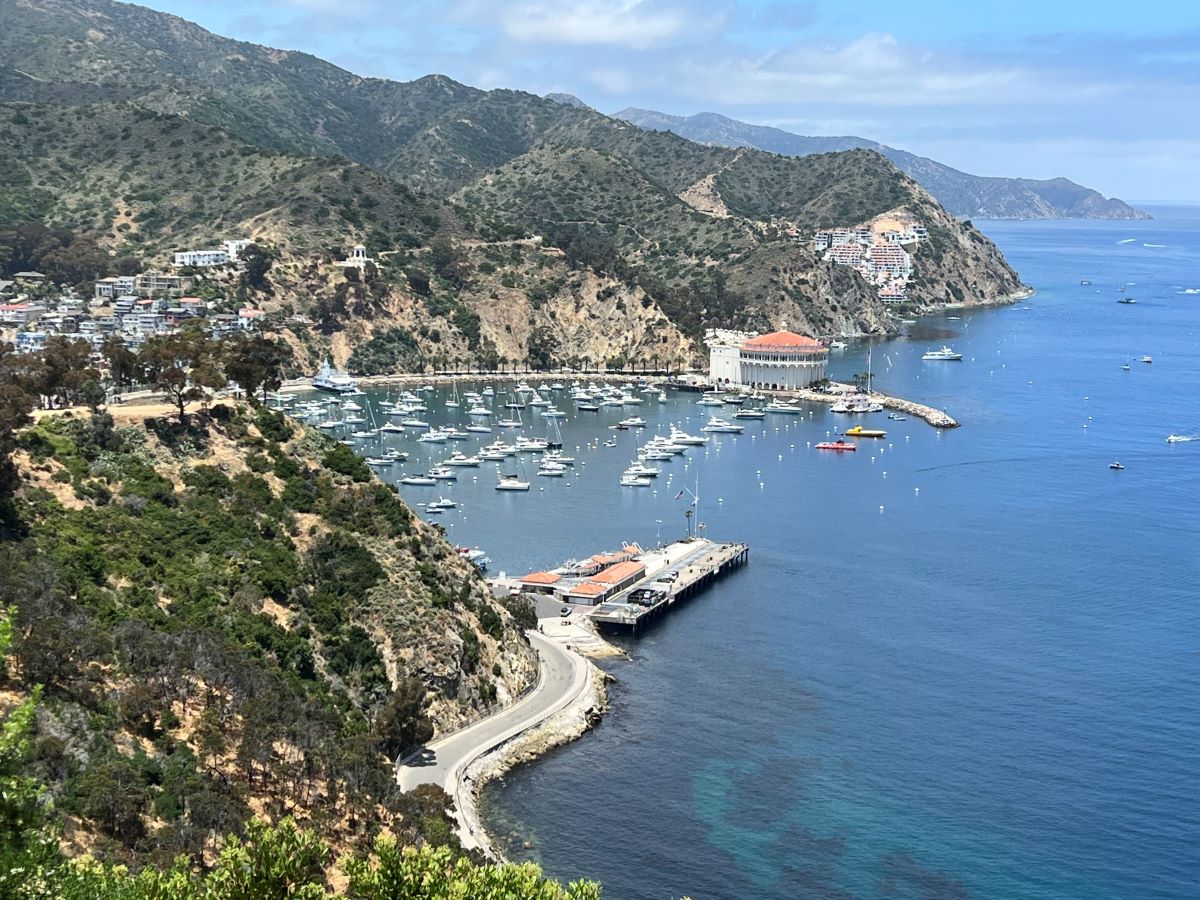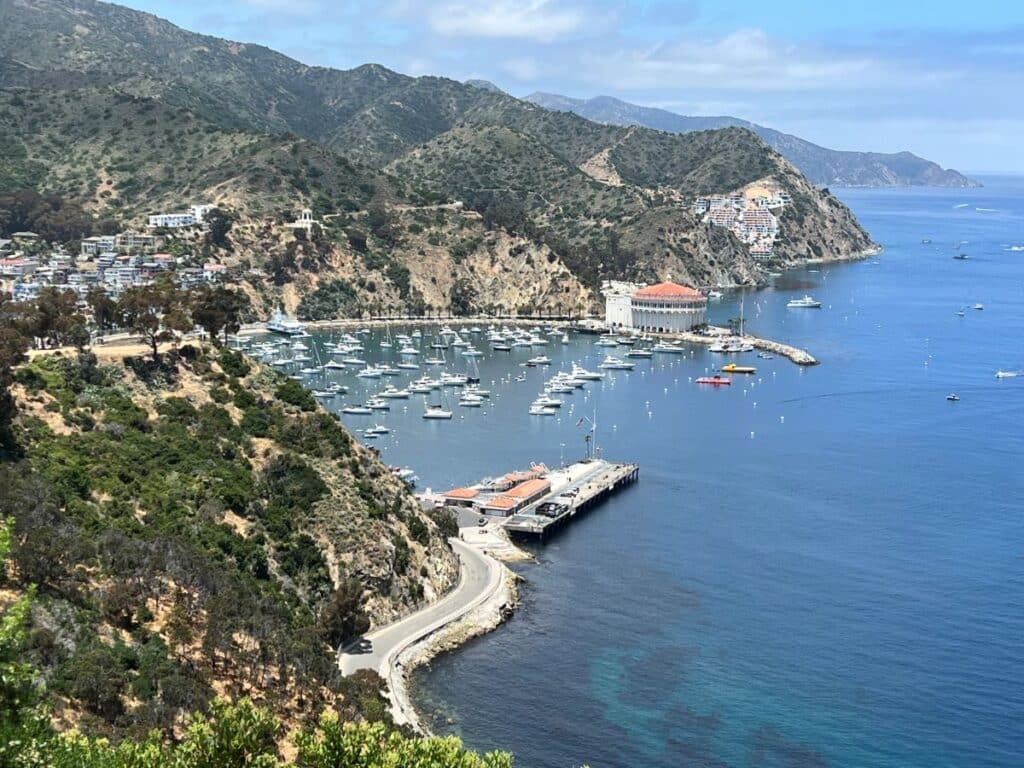 Plan your trip to Catalina Island
There's a ton to see and do on Catalina Island. Here are a few of our top activities:
12. Visit the Channel Islands
Visiting Channel Islands National Park is like stepping into a pristine wilderness just off the coast of Southern California.
This national park is comprised of five rugged and unspoiled islands:
Anacapa
Santa Rosa
San Miguel
Santa Barbara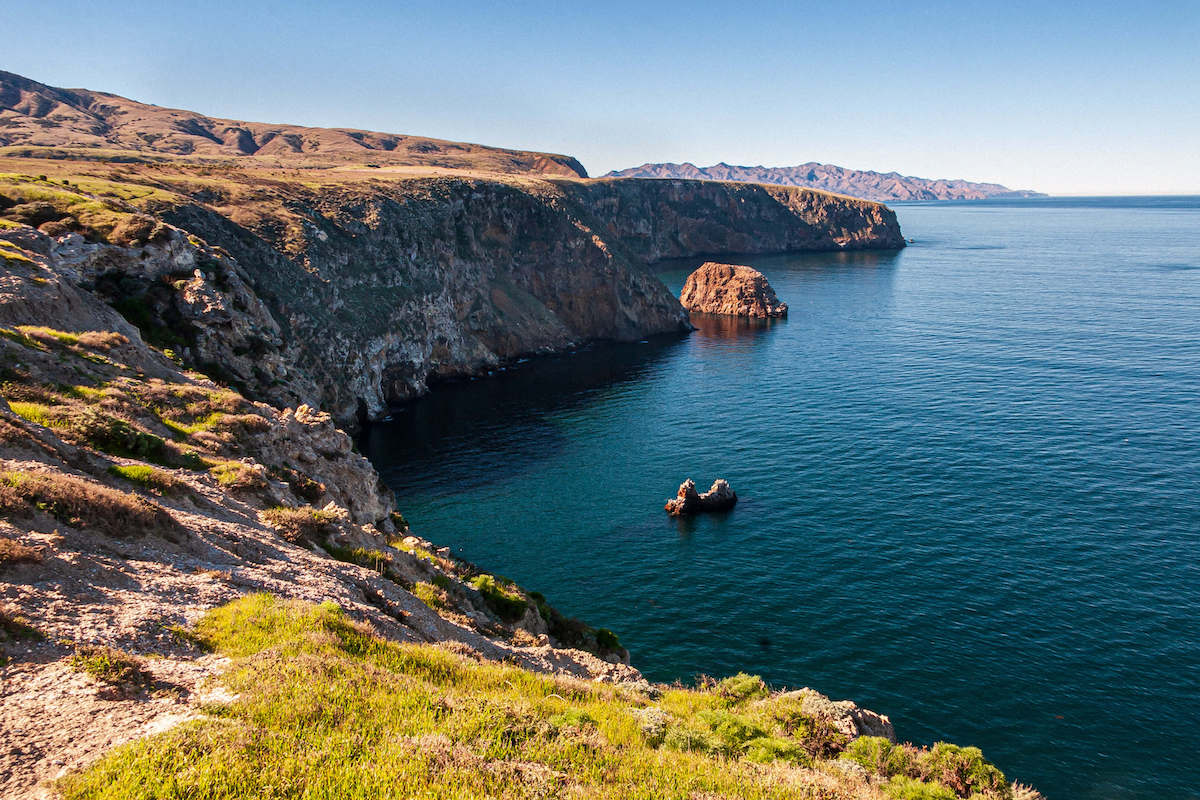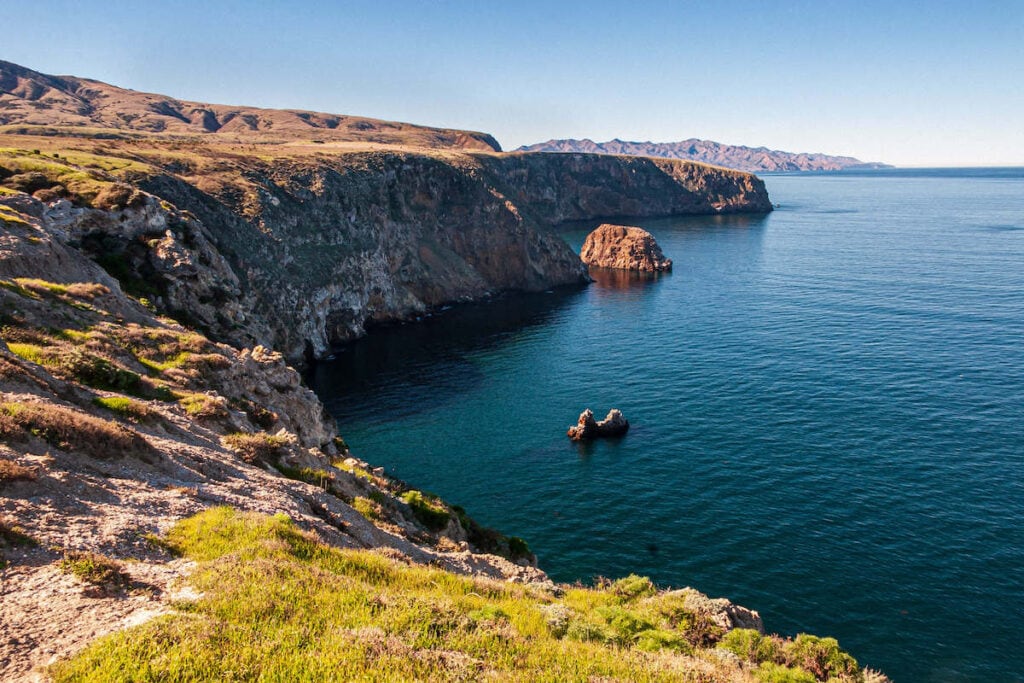 Each island is unique and offers different outdoor activities, so you can choose your destination based on your interests.
To reach the Channel Islands, you'll need to take a ferry or boat from either Ventura or Oxnard on the mainland.
What to do on the Channel Islands
There's a ton to see and do on Catalina Island. Here are a few of our top activities:
HIKING: The largest of the islands, Santa Cruz, offers numerous hiking trails that lead you through diverse ecosystems, including lush canyons, coastal bluffs, and rugged peaks.
KAYAKING: Rent a kayak and explore sea caves and the Islands' stunning coastline.
SNORKEL OR DIVE: The clear waters surrounding the islands make for excellent diving and snorkeling. Kelp forests teem with marine life, and underwater caves and arches provide intriguing places to explore.
CAMPING: Camping is allowed on several of the islands, including Santa Cruz and Santa Rosa. You can choose from both backcountry and established campgrounds. Due to their remote location and limited light pollution, the Channel Islands offer exceptional stargazing opportunities.
Looking for more outdoorsy things to do in California? Check out these blog posts to plan your trip:
Save this post to Pinterest
What are your favorite outdoor activities in Los Angeles? Have you experienced any of these on this list? Which ones are you interested in checking out? Leave a comment below!