Backpacking the Trans Catalina Trail: Permits, Itineraries, Gear and More
Plan a backpacking trip on the Trans-Catalina Trail on Catalina Island with this guide to the best campsites, water availability, gear & more.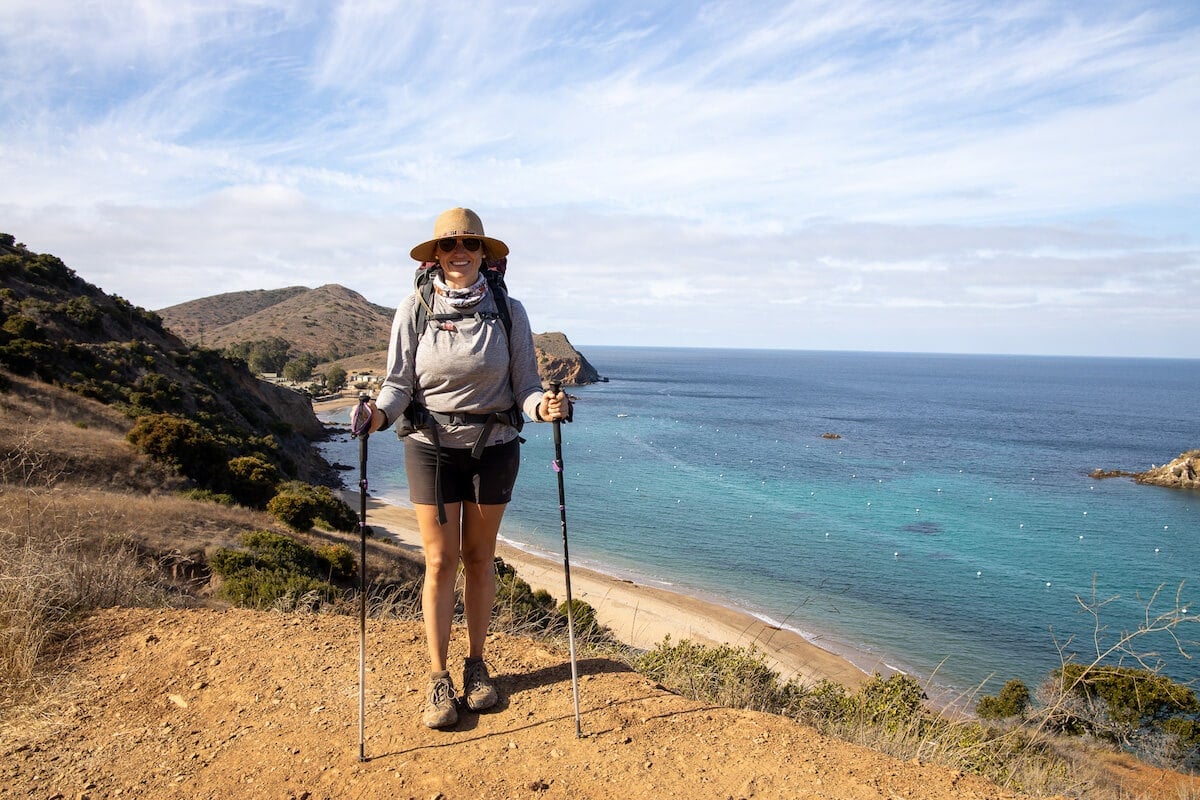 Located only 22 miles off the coast of Southern California, Catalina Island is an inhabited island that offers amazing kelp forest diving, wildlife, and turns out…some pretty epic camping, hiking, and backpacking on the Trans Catalina Trail.
The Trans Catalina Trail is a 40-mile trail that traverses the entire island with amazing beachfront camping, some challenging climbs, non-stop views, solitude (in November when I hiked), and even a couple of restaurants along the way.
I grew up going to Catalina, so when I learned about the Trans Catalina Trail, I knew I had to do it. So I organized trip for Ryan, myself, and another friend, and we spent 5 days transversing the hillsides and coastlines of this California treasure.
It was a fantastic trip that I'd highly recommend for anyone who is looking for outdoor adventure in Southern California. Backpacking the Trans Catalina Trail is also a trip you can do long after backpacking season is typically over in the mountains. In this post, I share everything you need to know about hiking the entire Trans Catalina Trail.
As it goes in all of the destinations we share, please practice good trail etiquette and remember to Leave No Trace. This means packing out all of your garbage, being respectful to others on busy trails, and following the established rules.
---
Trans Catalina Trail Stats & FAQs
The Trans Catalina trail runs East-West along Catalina Island off the coast of California. It's part of the Channel Islands archipelago.
Total Distance: 38.5 miles
Total Elevation Gain Loss: +/-7,940 feet
Difficulty: Challenging
Days needed: 2-5 days
Dogs Allowed: Yes (except for Two Harbors Campground)
Advanced Reservations Required: Yes (see the next section)
Number of Recommended Nights: 4 nights / 5 days (minimum)
Cell Service: Sporadic
TransCatalina Trail Map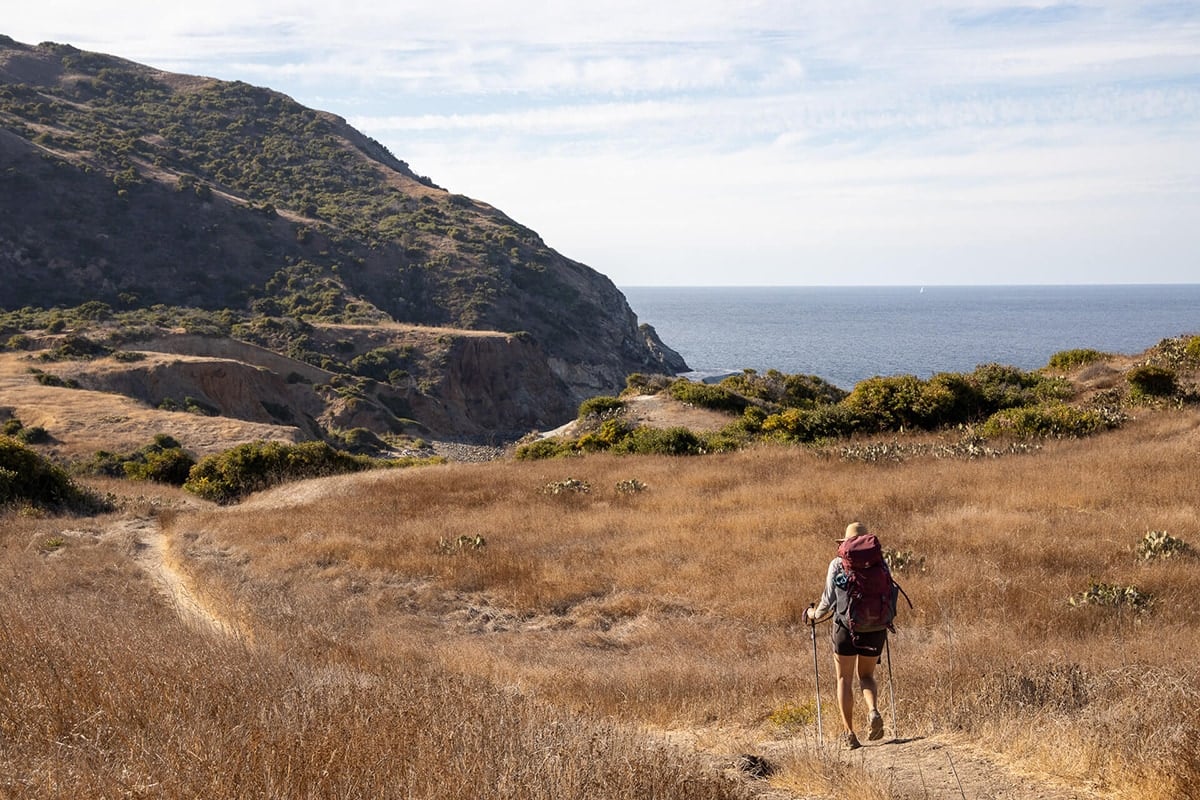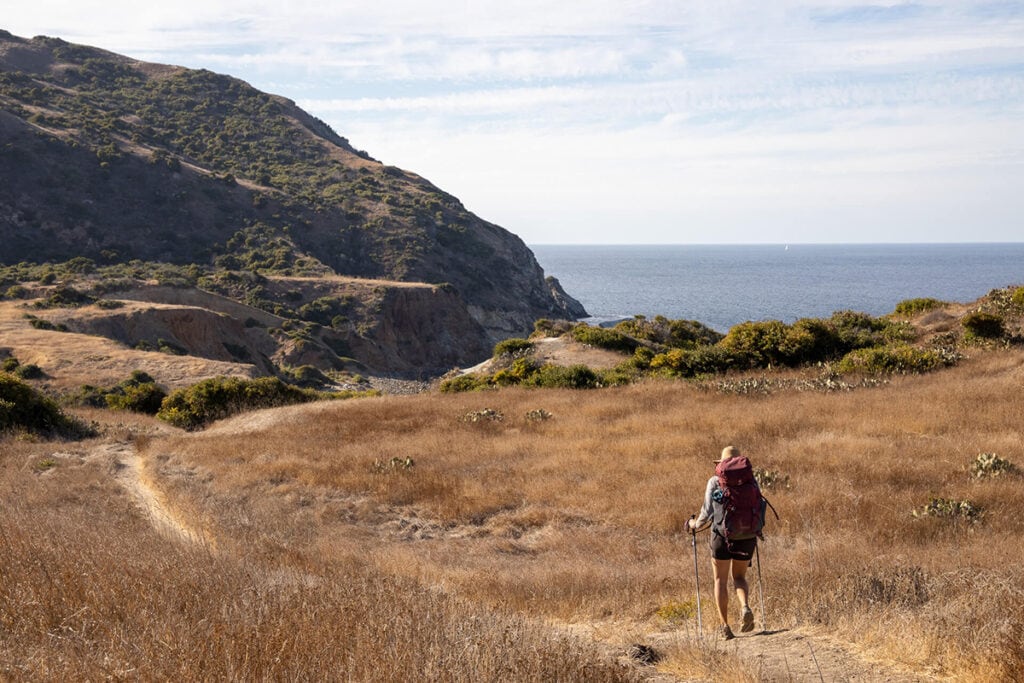 How long is the Trans Catalina Trail?
The full trail 38.5 miles. Hikers typically start in Avalon and end in Two Harbors after hiking a loop around the northwest peninsula of the island.
How many days does it take to hike the TCT?
Most people hike the Trans Catalina Trail in 3-5 days. See below for itinerary options.
How difficult is the Trans Catalina Trail?
the Trans Catalina Trail is no walk in the park — it is hard. Over the course of the trip, there is plenty of up, down, up, down – in total over 7,940 feet in elevation gain/loss.

There is also a lot of sun exposure and no shade along the trail, meaning it can get very hot in peak summer months so be sure to bring sun protection.

With that being said, this hike across Catalina Island takes you through an incredibly unique and beautiful ecosystem, and the experience was more than worth the challenge. There are also some alternative route options you can take if you want to avoid some of the elevation gain and loss or if you simply don't have enough time for the entire route (I share some alternative itineraries below).
Is the Trans Catalina Trail remote?
This is not a traditional wilderness backpacking trip. Some of the hike is right on the road where you will encounter the occasional vehicle.

Also, at the Airport, you'll find a restaurant serving breakfast and lunch and in Two Harbors, they have a full-blown general store, restaurant, and bar.
Is the Trans Catalina Trail well-marked?
Yes, the TCT is well-marked. However, I still recommend picking up a map at the Catalina Island Conservancy shop where you can purchase a detailed Trans Catalina Island Trail map.
What direction should I hike the Trans Catalina Trail?
This one-way trail can be traveled in either direction, but I recommend starting in the town of Avalon and ending your hike at Parson's Landing (returning on the ferry via Two Harbors). In this direction, the views and solitude only improve as you hike.
Do I need a hiking permit for the TCT?
Your camping reservations will serve as your permit to hike the Trans Catalina Trail, so be sure to carry a copy with you. (See more about camping below)

You don't need an additional permit unless you will be day hiking on the island, and in that case, you'll need to request a free permit.
How long does it take to hike the Trans Catalina Trail
The most popular TCT backpacking itinerary is 5 days/4 nights. If you're an experienced hiker, you could do it in 4 days. See more about planning your itinerary below.
What is the water availability?
There is no potable water on the trail in between the campgrounds, but water is available at Black Jack, Little Harbor, and Two Harbors campgrounds. For the last night at Parson's, you'll need to purchase a locker key that gives you access to a 2-gallon jug of water.

I recommend that when you hit the trail each morning, you have at least 3-4 liters of water for the day.
---
Best time of year to hike the TCT
Catalina Island typically sees more than 260 days of sun per year.
My recommendation is to hike between September through early November for the most comfortable temperatures and the highest likelihood of sunshine.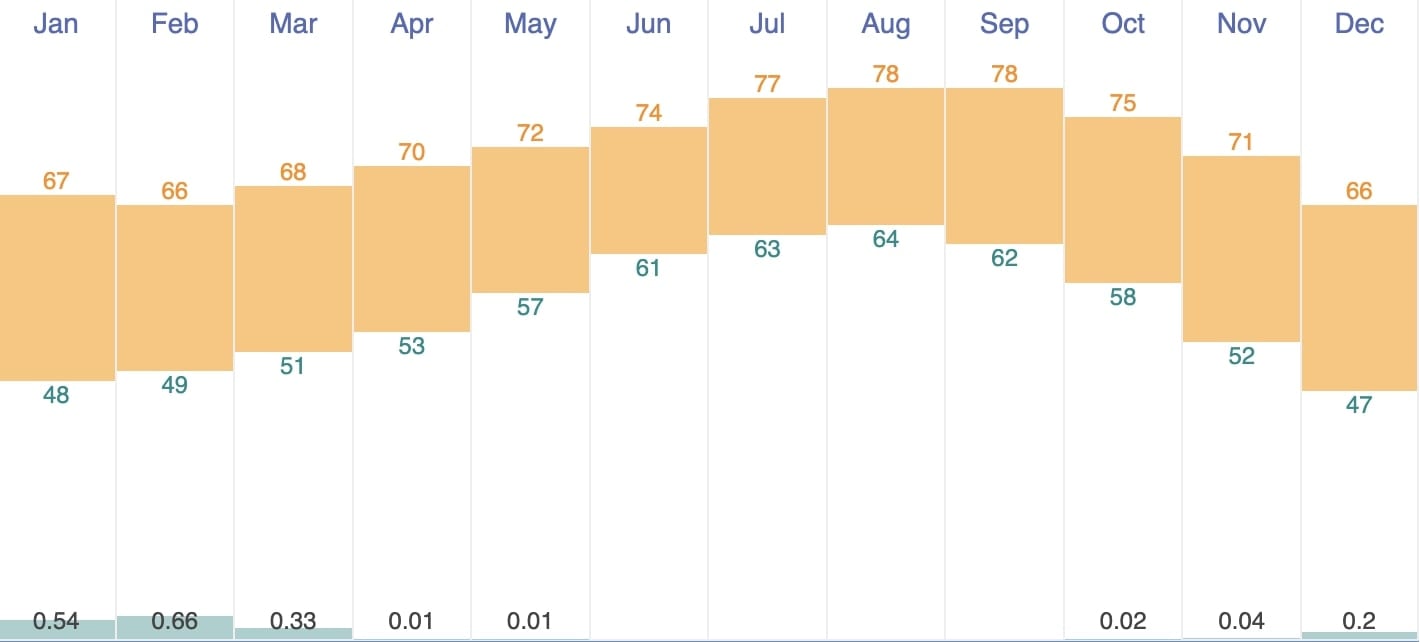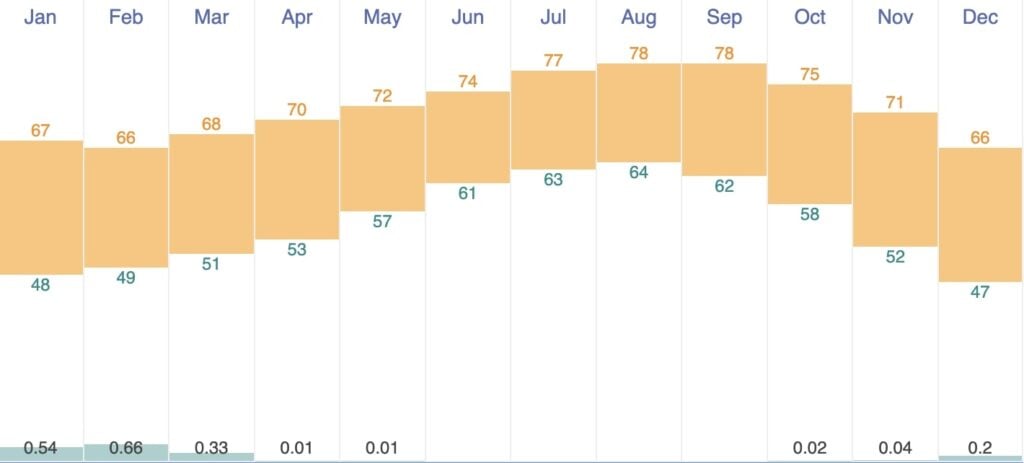 Spring: This is a beautifully vibrant time to hike with green hillsides and a trail full of wildflowers. Views may be obscured by fog.
Summer: With a lack of shade on the trail, the summer months can be very hot and dry. There is no water available between campgrounds on a majority of the trail, and the trail can feel much hotter than the temperature might indicate.
Fall: Comfortable temps and lots of sunshine. The only downside of the fall months is that the landscape is very brown.
Winter: Most of the rainfall on Catalina Island occurs between December and March, and when it rains in California, it can pour. These months are the riskiest for weather, but then again, you could luck out.
You may have heard the saying "May Gray, June Gloom" for California. During these months, there's a good chance Catalina will be engulfed in fog. Hiking temperatures will be comfortable, but you may not get the sunny California views you are hoping for.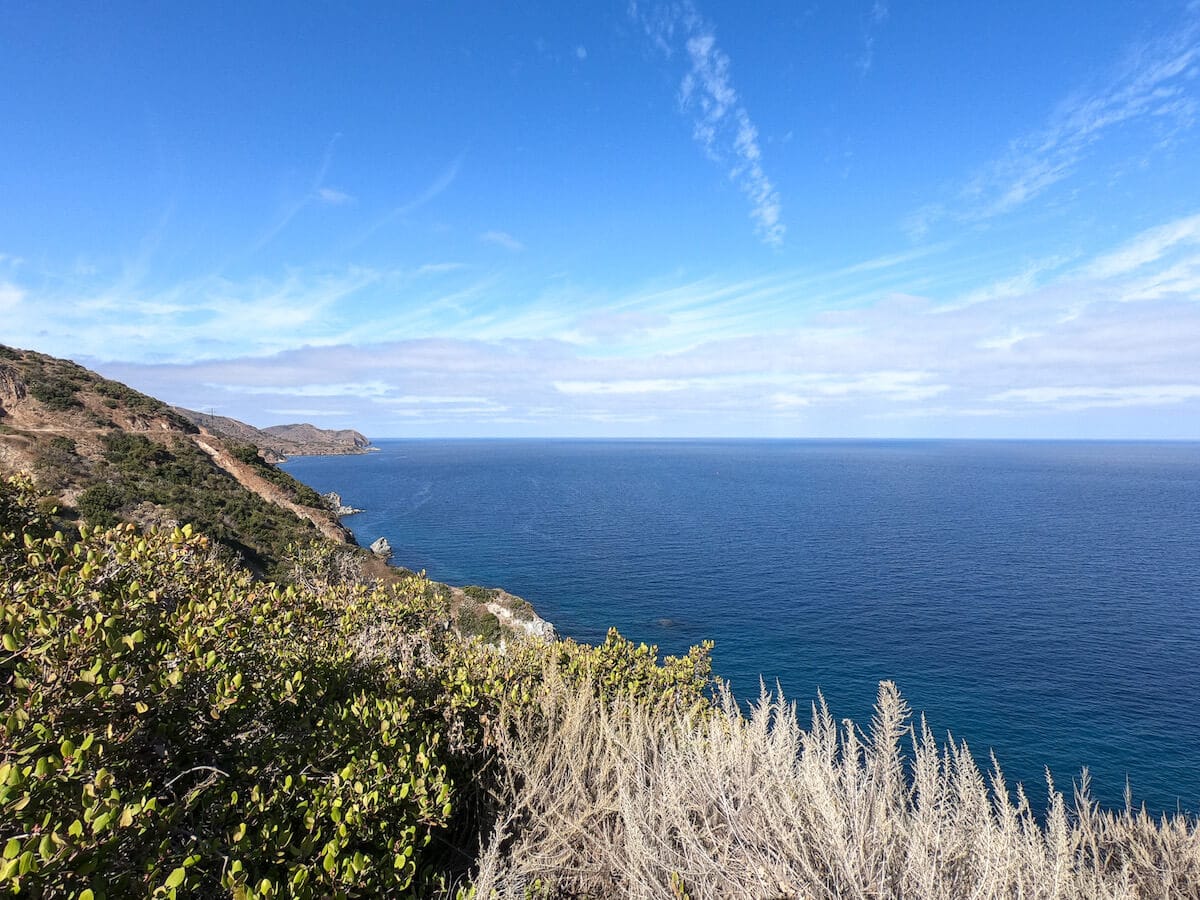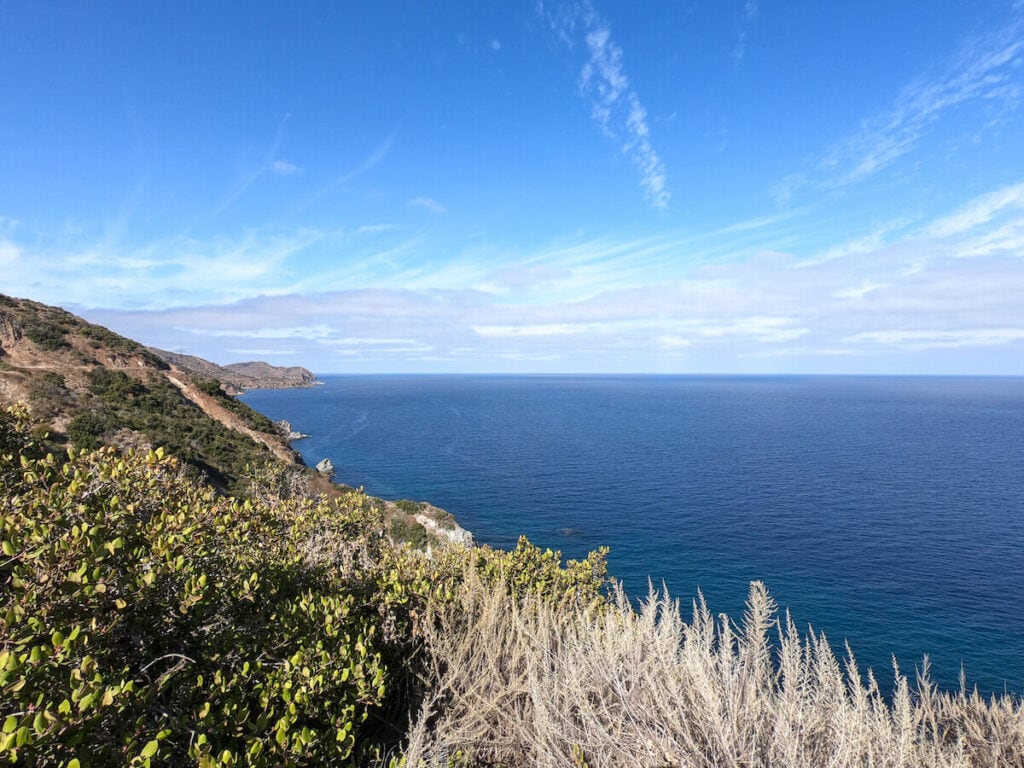 ---
Planning your trip
Backpacking the Trans Catalina Trail does take a good bit of planning between getting there, making campsite reservations, and packing all the necessary gear.
Below I dive into everything you need to know about planning your TCT trip.
Choosing an itinerary
The Trans Catalina Trail can be done in 3-5 days. A 3-day trek will be quite challenging with lots of elevation gain and longer days.
We wanted to take our time and enjoy the incredible scenery, so we chose a 5-day itinerary, which allowed us to move at a relaxed pace and really take in the experience.
Here are three different Trans Catalina trail itineraries:
3-DAY ITINERARY:
Day 1: Avalon to Blackjack Campground (10.7 miles/+2,930 ft)
Day 2: Blackjack to Two Harbors Campground (14.5 miles/+2,526 ft)
Day 3: Two Harbors Campground to Parsons Landing and back to Two Harbors (13.6 miles/+2,289 ft)
4-DAY ITINERARY:
Day 1: Avalon to Blackjack Campground (10.7 miles/+2,930 ft)
Day 2: Blackjack to Little Harbor Campground (8.3 miles/+987 ft)
Day 3: Little Harbor to Two Harbors Campground (5.3 miles/+1,369 ft)
Day 4: Two Harbors Campground out to Parsons Landing and back to Two Harbors (13.6 miles/+2,289 ft)
5-DAY ITINERARY:
This is the itinerary we did.
Day 1: Avalon to Black Jack Campground (10.7 miles/+2,930 ft)
Day 2: Black Jack to Little Harbor Campground (consider neighboring Shark Harbor for more solitude) (8.3 miles/+987 ft)
Day 3: Little Harbor to Two Harbors Campground (5.3 miles/+1,369 ft)
Day 4: Two Harbors to Parson's Landing Campground via the TCT (6.7 miles/+1,773 ft)
Day 5: Parson's Landing to Two Harbors via the road and Lion's Head (6.9 miles/+516 ft)
Down below in the trip report, I go into detail about each day's trek.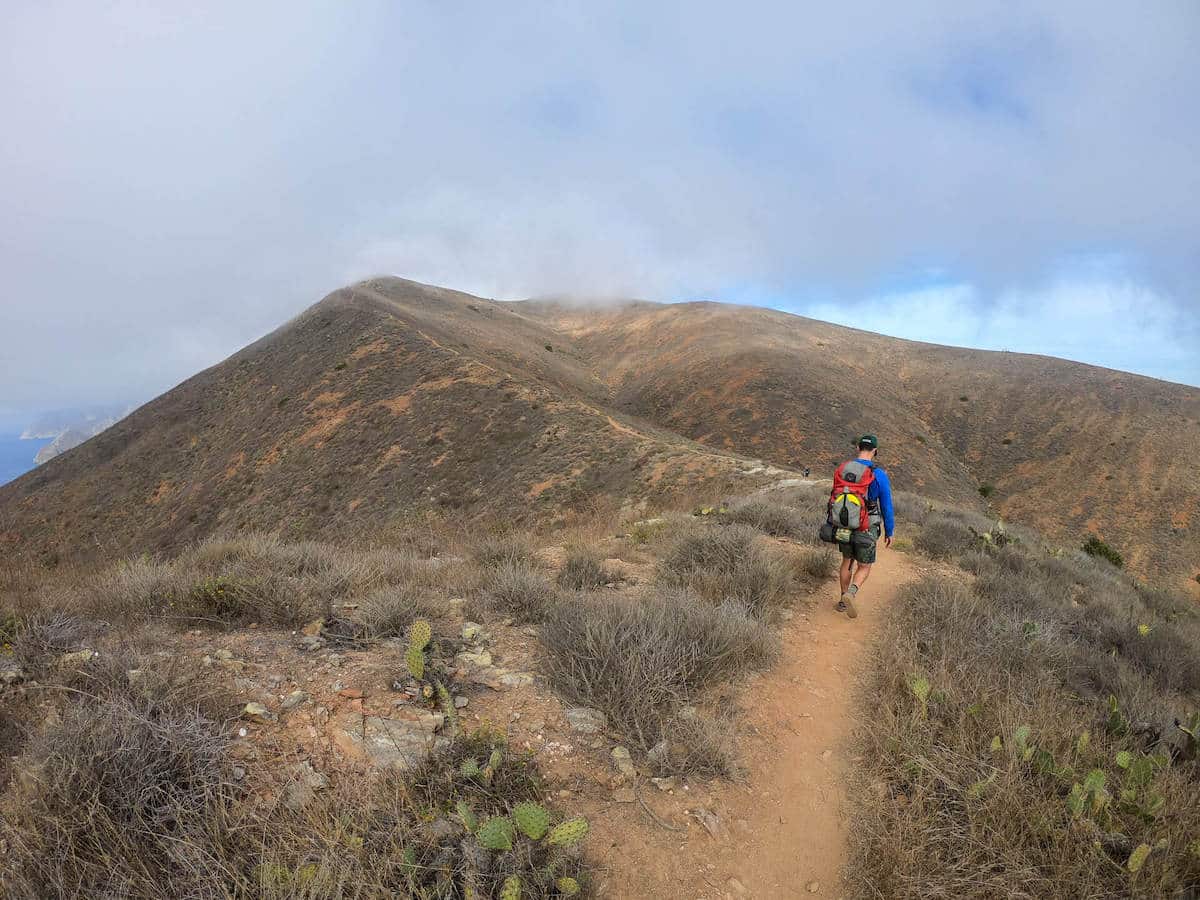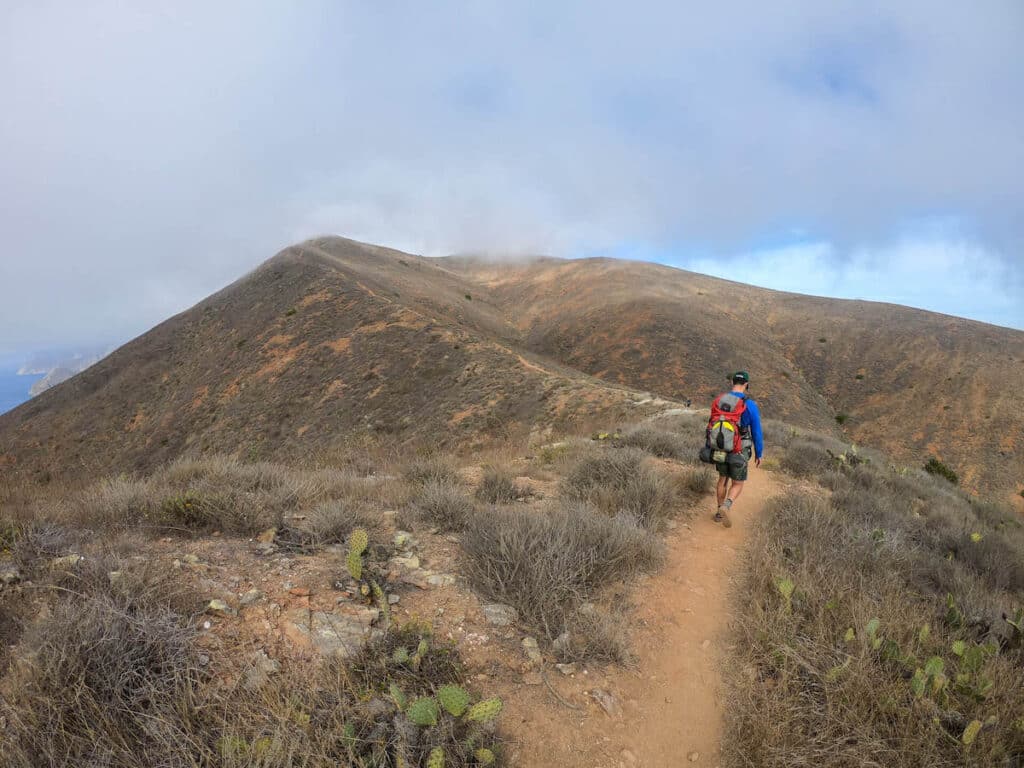 Crunched for time?
If you want to experience the Trans Catalina Trail but don't have time to do the whole thing, here are a few alternative options:
Take the ferry directly to Two Harbors and hike the 5-mile stretch from Two Harbors to Little Harbor and back. My friends and I all agreed this was the most scenic section of the trail. Little Harbor is also rated "One of the Best Campgrounds in the West" by Sunset Magazine. This would be a simple 1-2 night getaway.
Another option would be to take the ferry directly to Two Harbors and hike to Parson's Landing. This was my favorite campground of the trip and would make a great base camp for a couple of nights, with a day hike to Starlight Beach.
Making campsite reservations
There is no free/dispersed camping on Catalina Island, so you need to make campground reservations before you start your trip.
Campsites do book up during the busy summer months, so don't delay in making your plans, especially if you are headed to Catalina on a weekend. Campsites can be booked up to a year in advance.
The five campsites along the Trans Catalina Trail are:
Hermit Gulch
Black Jack Campground
Little Harbor Campground
Two Harbors Campground
Parson's Landing Campground
You can book your Catalina Island campsites online. Keep in mind that since you will be staying at a different campsite each night, you'll need a separate reservation for each night.
You can also reserve all of your campsites over the phone. Before you call, browse the official website which has a ton of information about each campsite. When you know which sites you want, the reservation specialists can help set up your itinerary over the phone based on availability for your entire trip. To book a reservation over the phone, call (310) 510-4205.
Campground Amenities: All of the campgrounds have chemical toilets and most have cold water showers. The only campground that doesn't have potable water is Parson's Landing. You can choose to purchase a key at Two Harbors Visitor's Center which will give you access to a locker with potable water and firewood at Parson's Landing.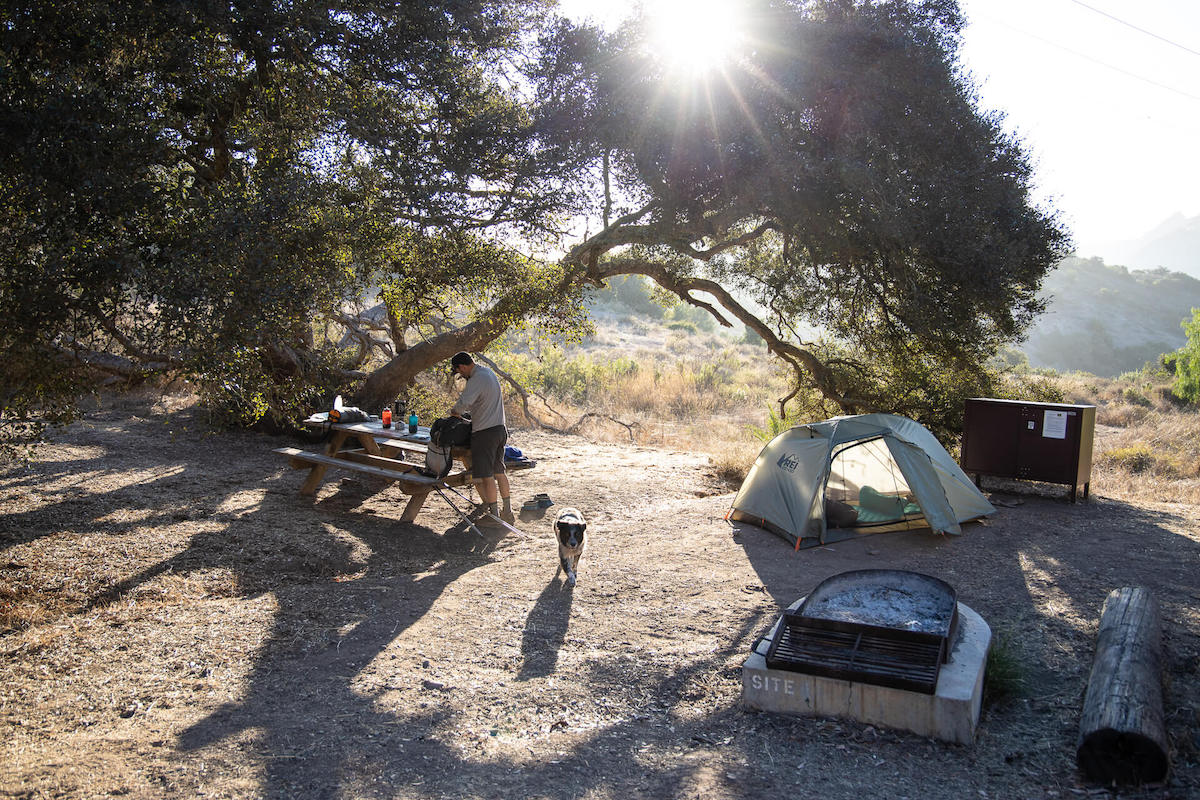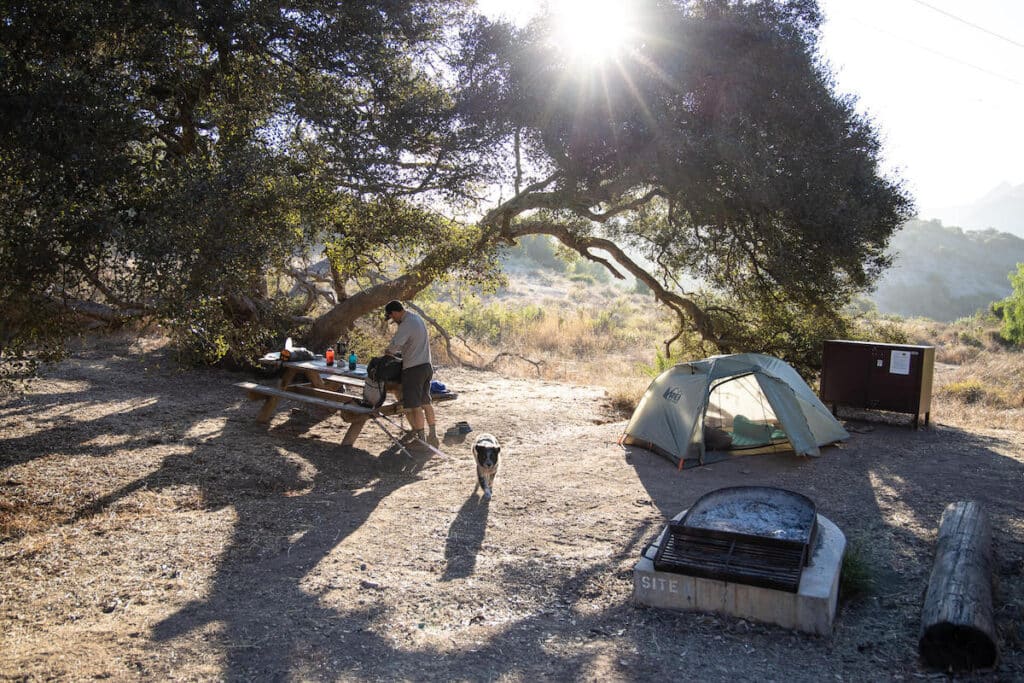 Getting to Catalina Island
Getting to the island is an adventure in itself with the opportunity to encounter some big marine life like whales and dolphins during the 60-90 minute boat ride.
Be aware that the seas can get rough, so if you are prone to seasickness, plan ahead. I highly recommend taking ginger pills for seasickness and wearing Sea Bands.
There are two ferry operators that offer daily departures to Catalina Island:
Catalina Express offers daily departures to Avalon from Long Beach, San Pedro, and Dana Point. However, they only provide service to San Pedro from Two Harbors for your return trip.
Catalina Flyer offers daily departures to Avalon from Newport Beach. They do not offer ferry service to/from Two Harbors.
Another option for getting to Catalina Island is a 15-minute helicopter ride from Long Beach to Avalon which runs up to $179 per person each way.
FERRY TIMINGS: There are a couple of options for timing your ferry rides to and from Catalina.
Arrival: You have two options for arriving on the island:
The first is to take the earliest ferry of the day so you get to the island as early as possible. The earliest ferry leaves Long Beach at 6:00 am. Ferries from and San Pedro and Dana Point are later in the morning. It's roughly an hour's ride to Avalon, so remember, you have an 11-mile day ahead of you so time is of the essence!
Alternatively, if can leave the night before and stay in a hotel if it's in your budget. Avalon has a limited number of hotels to choose from. You can also camp for a night in the Hermit Gulch Campground which is just a short walk from Avalon.
Departure: The Catalina Express doesn't run every day from Two Harbors to San Pedro, so be sure to check their schedule before planning your trip.
I recommend getting a late afternoon ferry from Two Harbors, so you can have a nice chill morning at Parson's Landing campsite.
If you don't want to sail to San Pedro from Two Harbors, the Wildland Express is a bus shuttle service between Two Harbors and Avalon. Reservations are required.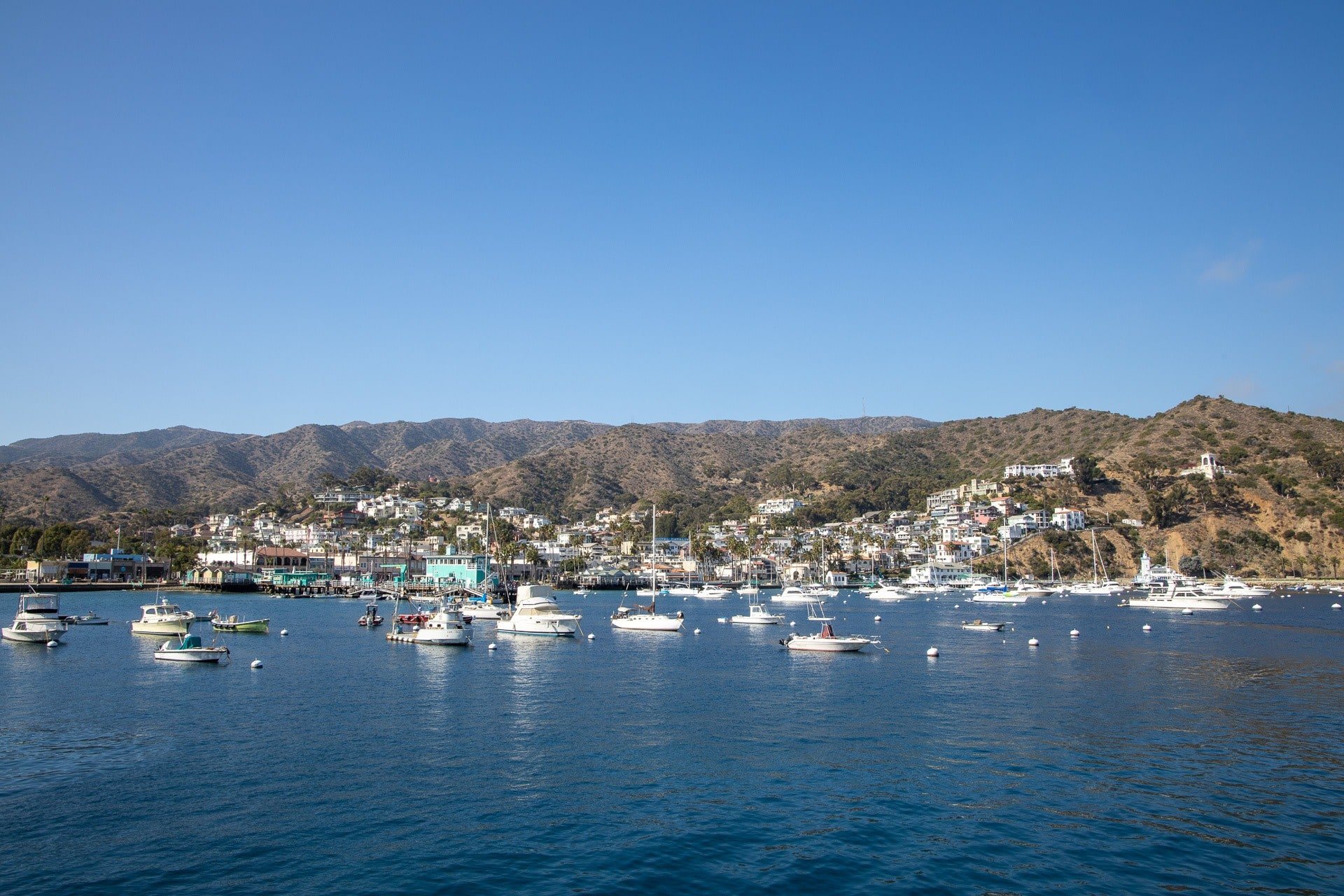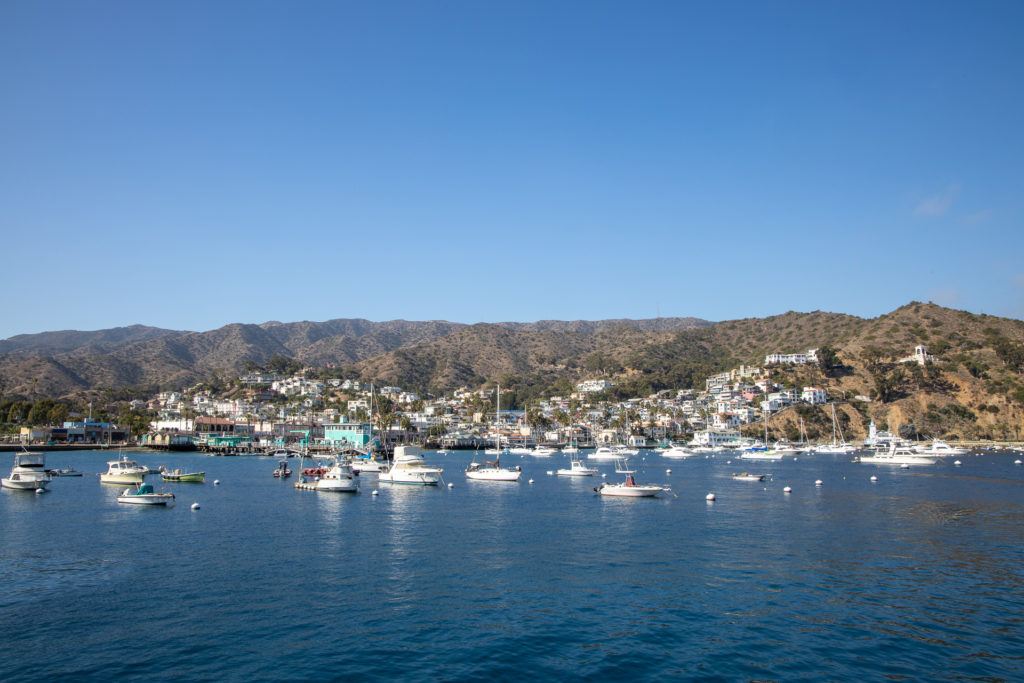 Navigating the trail
The TCT is pretty well-marked, but I still highly recommend stopping in the Catalina Island Conservancy shop to pick up a detailed Trans Catalina Island Trail map.
While most of the trail was well marked, there were a few areas where we got confused on the route, so having a hard copy of the map absolutely came in handy.
The map also indicates the location of water sources, bathrooms, food, and other amenities along the trail.
---
My TCT Trip Report
I hiked the Trans Catalina Trail in 5 days. Here's my detailed trip report.
Day 1: Avalon to Black Jack campground (10.7 miles)
Potable Water Availability: In Avalon and at Black Jack Campground
Best Campsite at Black Jack: #1 (most secluded)
We opted to take an early ferry from Long Beach. Once we got to Avalon, our first stop was the Catalina Conservancy office (it's on the way to the trailhead). There, we grabbed a map, learned a little bit about the wildlife and island, and asked our last-minute questions about the route. (Note that they don't open till 8:00 am).
Next, we filled up water in town at one of several spigots. Also, if you need any last-minute forgotten items there is Vons Express right down the road from the ferry terminal. However, it's not like a big grocery store on the mainland and it's expensive, so you'll want to bring most of what you plan on eating with you. Check out this post on Lightweight Vegan Backpacking Food Ideas for my favorite easy trail meals.
We took our time walking along the waterfront and grabbed breakfast, which meant we got a late start on the trail.
To shave off a little bit of mileage, we hiked up above Avalon along Stage Road and met up with the Trans Catalina Trail near Haypress Reservoir.
It was a steep ascent along a fairly well-traveled road. Once we finally connected with the trail, it was up-down-up-down-up.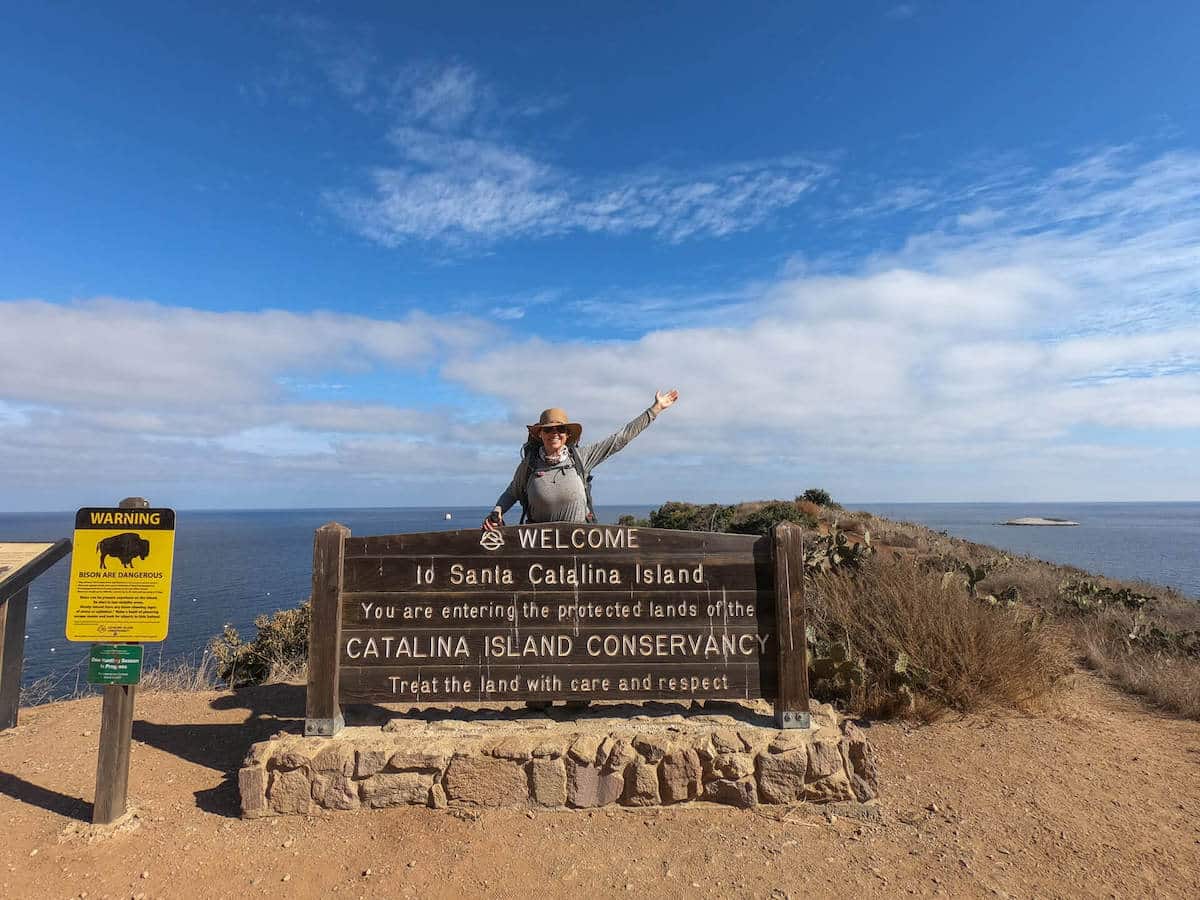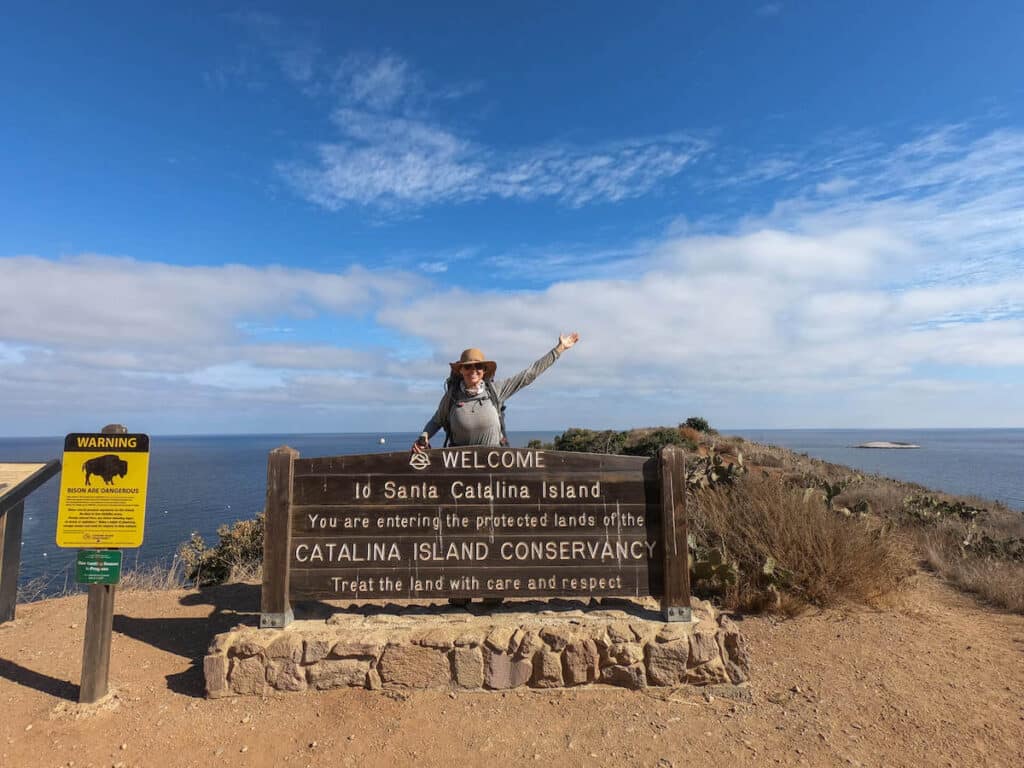 This part of the trail is the longest stretch you'll go without seeing the ocean. It's also very hot and dry. I was glad to have trekking poles, sun protection, and plenty of water.
We arrived at our campsite (Black Jack #1) right at sundown after 5 straight hours of hiking.
At the time of our visit, no campfires were allowed due to severe drought conditions. However, at other times of the year, you can pay for a locker full of firewood before you leave Avalon.
If campfires are allowed while you're there and you decide to have one, be sure you understand safe campfire practices.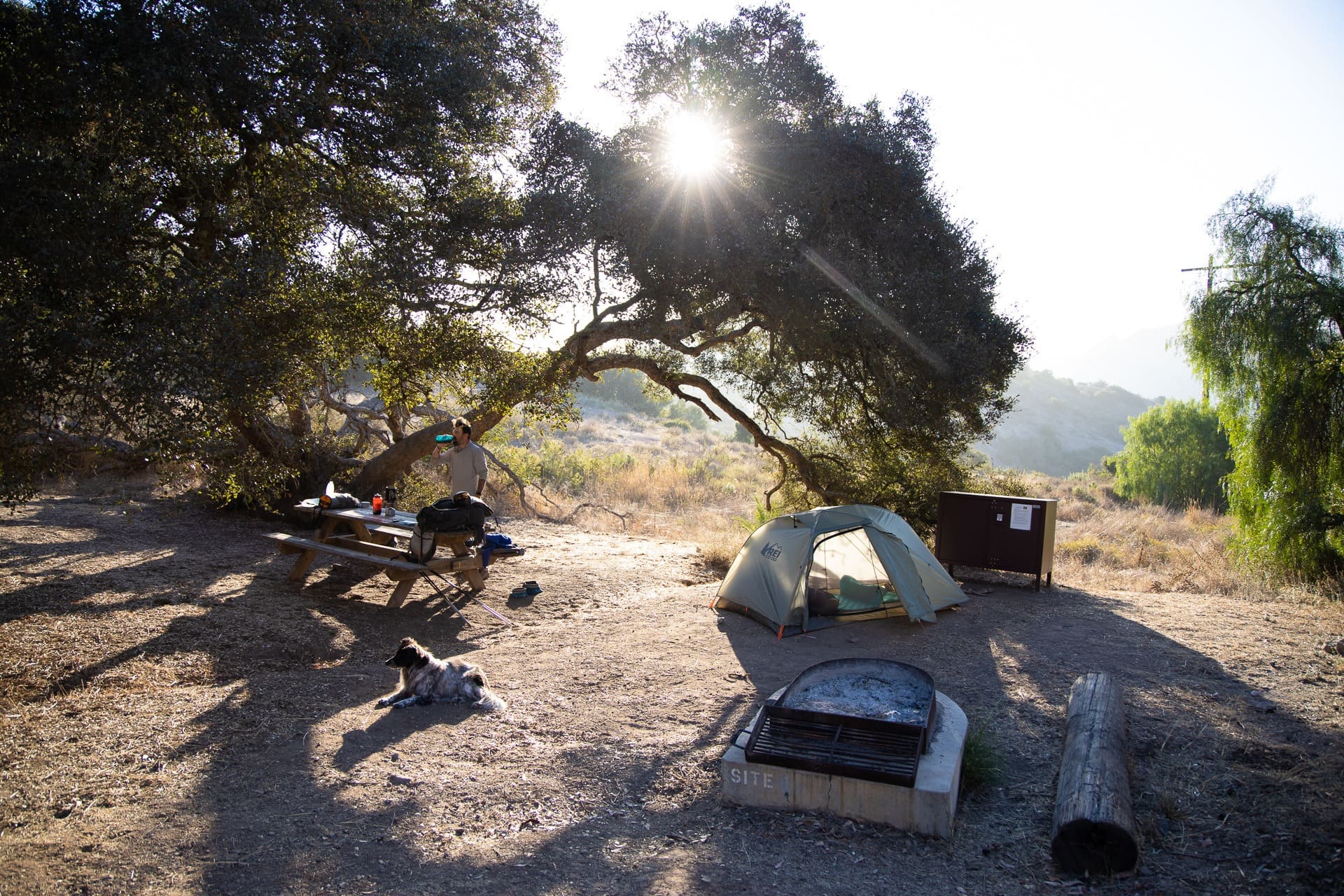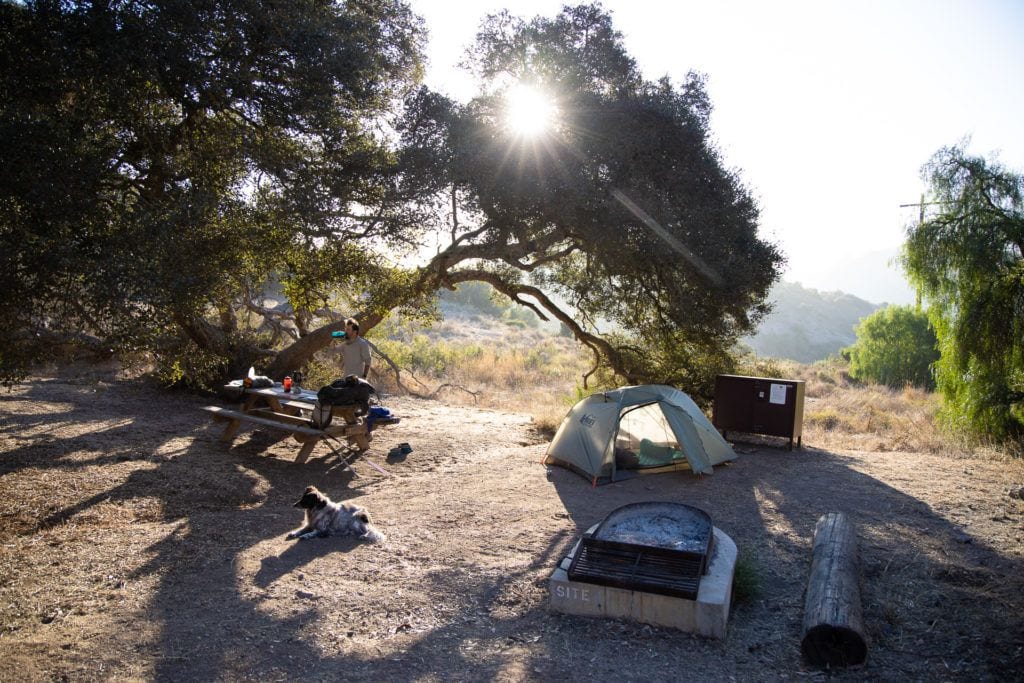 Day 2: Black Jack to Two Harbors (8.2 miles)
Potable Water Availability: At Black Jack Campground, the Airport, and Little Harbor
Best Campsite at Little Harbor: LH12, SH 8, SH 9, SH 10
For Firewood at Two Harbors: Call 310-510-4205 the day before your arrival and place an order. It's $10 per small bundle (which burns for approximately 1.5 hours).
Rise and shine! One of the best parts of today's hike is that you get a quick break after a short 2.25 miles when you arrive at the Catalina Island Airport.
The Airport in the Sky Restaurant (in the airport) opens at 8:30 am and is open year-round for breakfast burritos, freshly baked cookies, and more.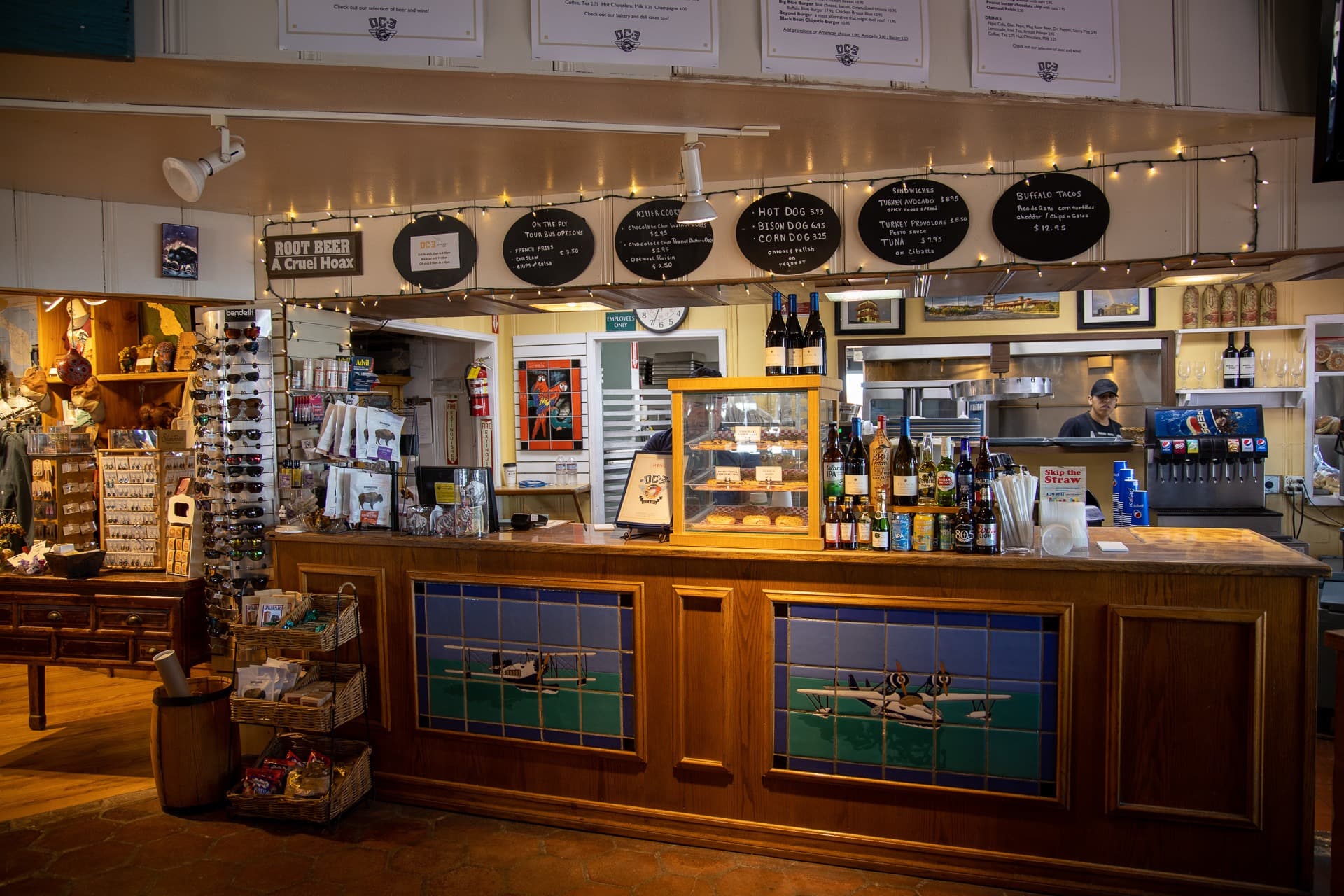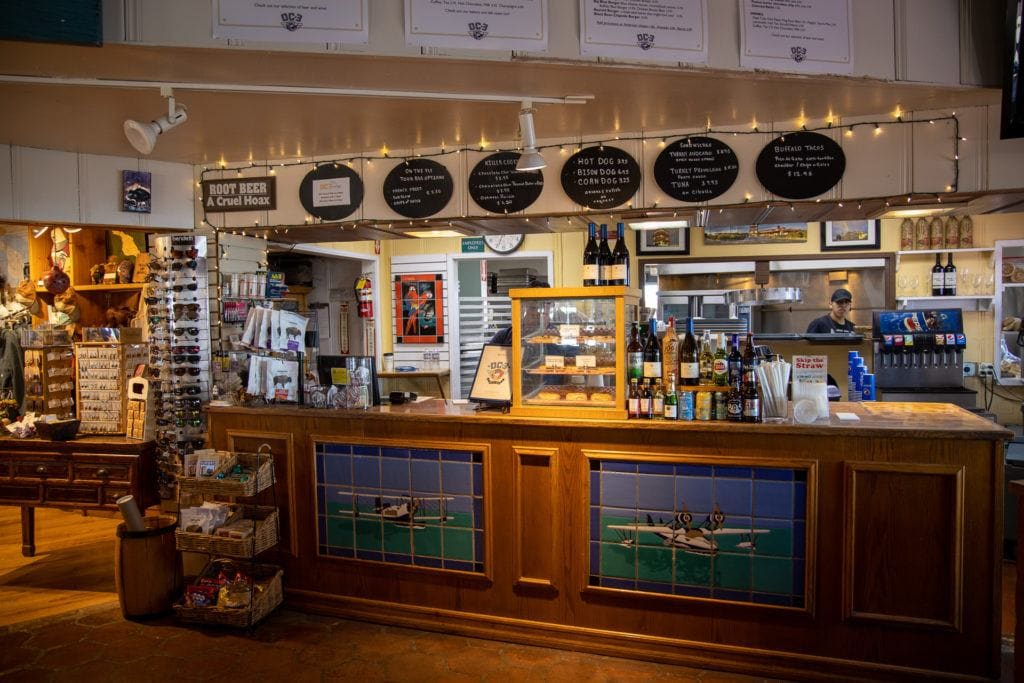 From the airport, it's a little more than 5 miles to Little Harbor. Along the way, you'll notice a VERY green patch of land, which is actually home to the Santa Catalina Island Vineyard. Don't get too excited…they don't offer tastings, but it is still a pretty unique sight to see.
You'll also notice some very nice buildings which comprise the El Rancho Escondido – the former working Arabian Horse Ranch owned by the Wrigley family (as in the founder of Wrigley's gum). The family that owns the vineyard and winery is working to restore the ranch.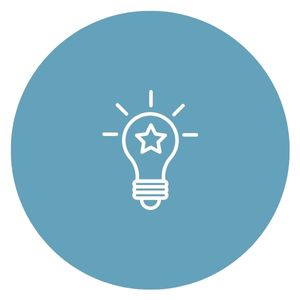 Once you start walking downhill, you'll know you are getting close to Little Harbor which consists of two gorgeous tiny coves – Shark Harbor and Little Harbor – your home for night two.
We had campsite LH10, which was right on the beach. The best site, in my opinion, was LH12, which was beachfront and had more privacy.
For maximum solitude, snag one of the spots next door at Shark Harbor – LH Shark A, B, or C. I'm not sure what the water situation was over there, so you may want to bring a large reservoir so you can carry it back to your campsite.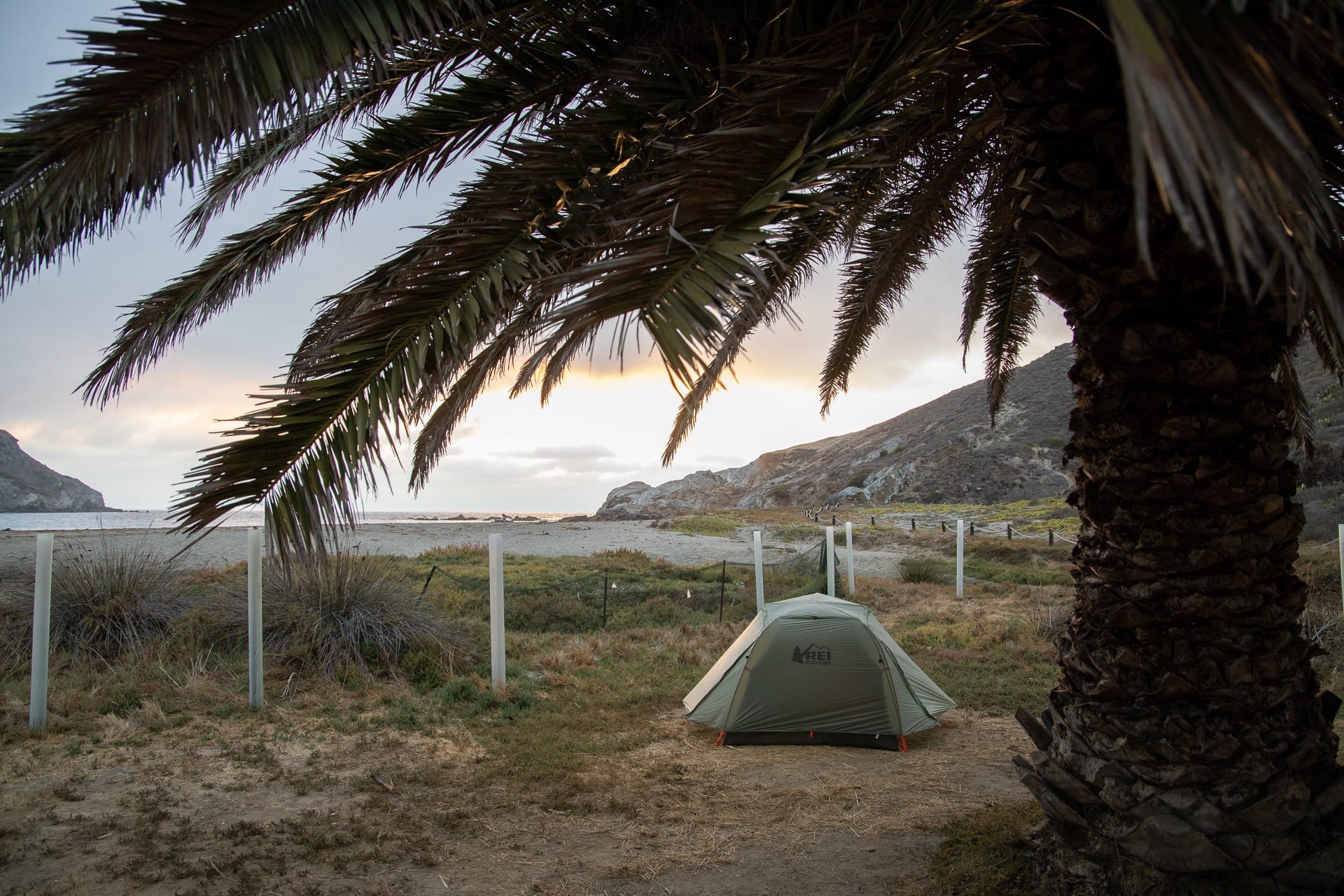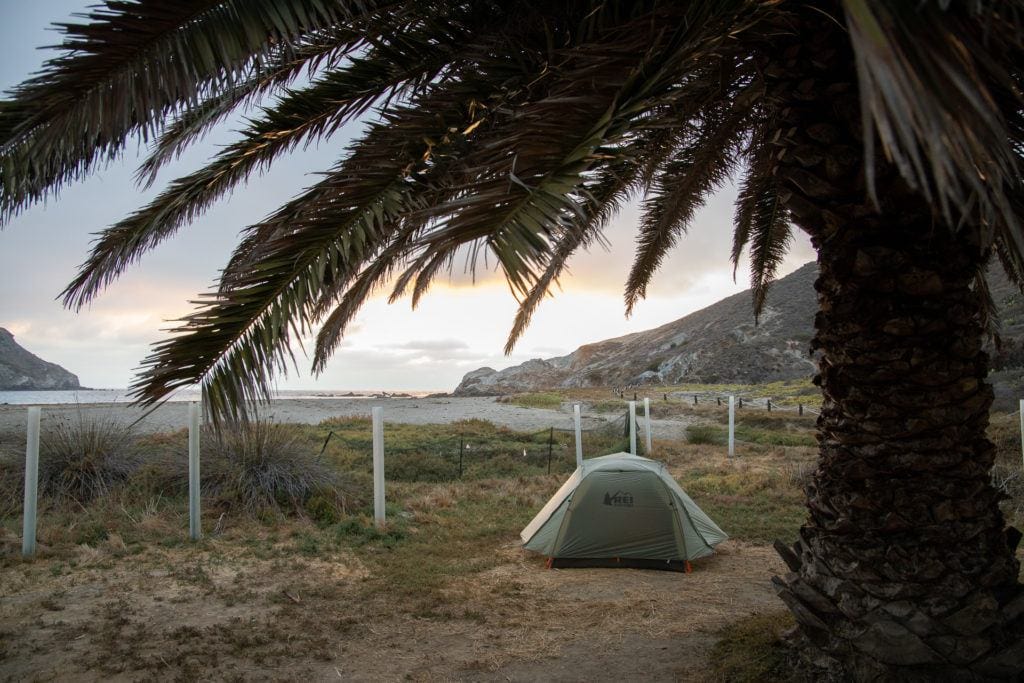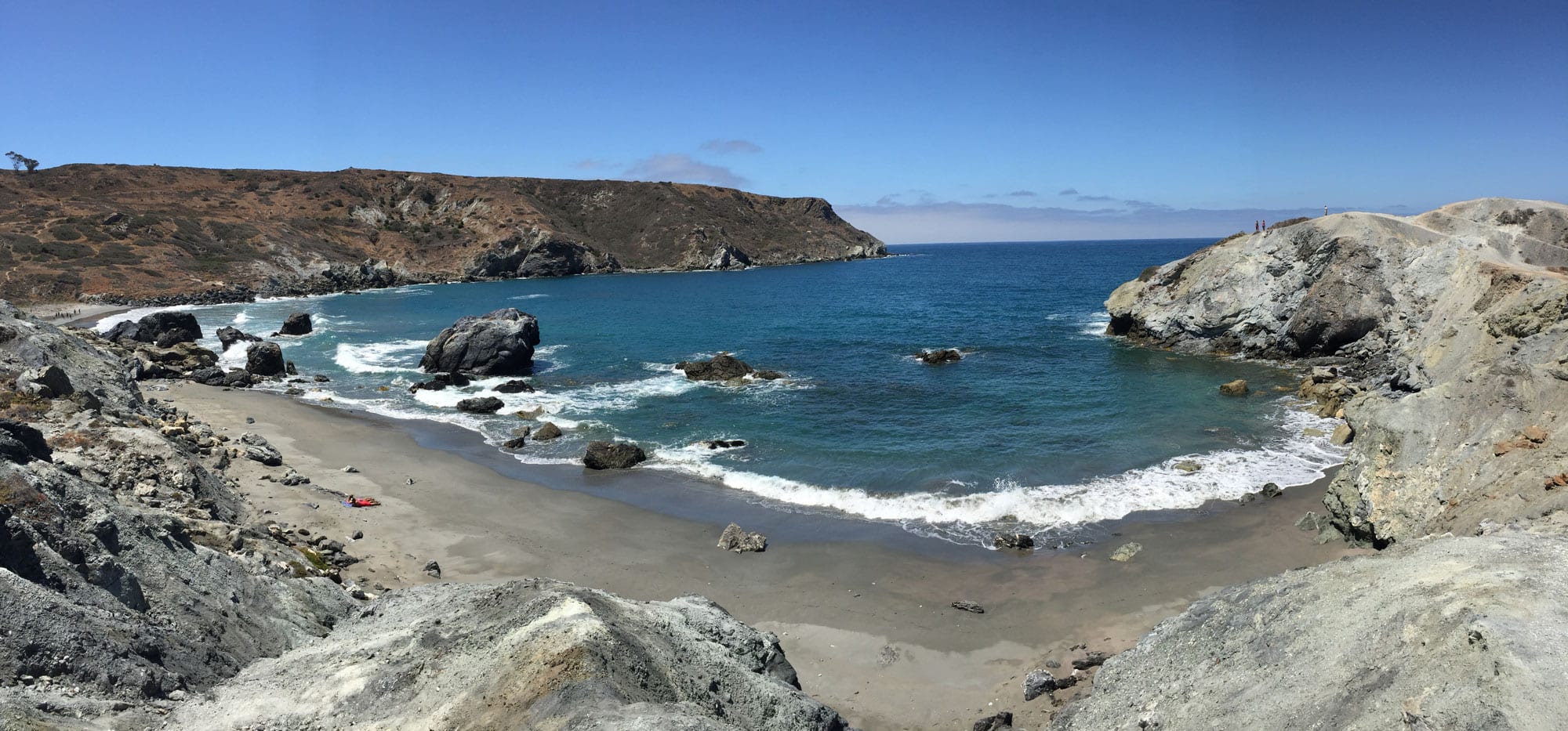 Apparently, the snorkeling and fishing in this area are among the best on the island. At a minimum, you should strip off your boots and soak your feet in the sand and water.
This is also the last place you'll have a sunset view on the TCT since it's the last campsite that faces west.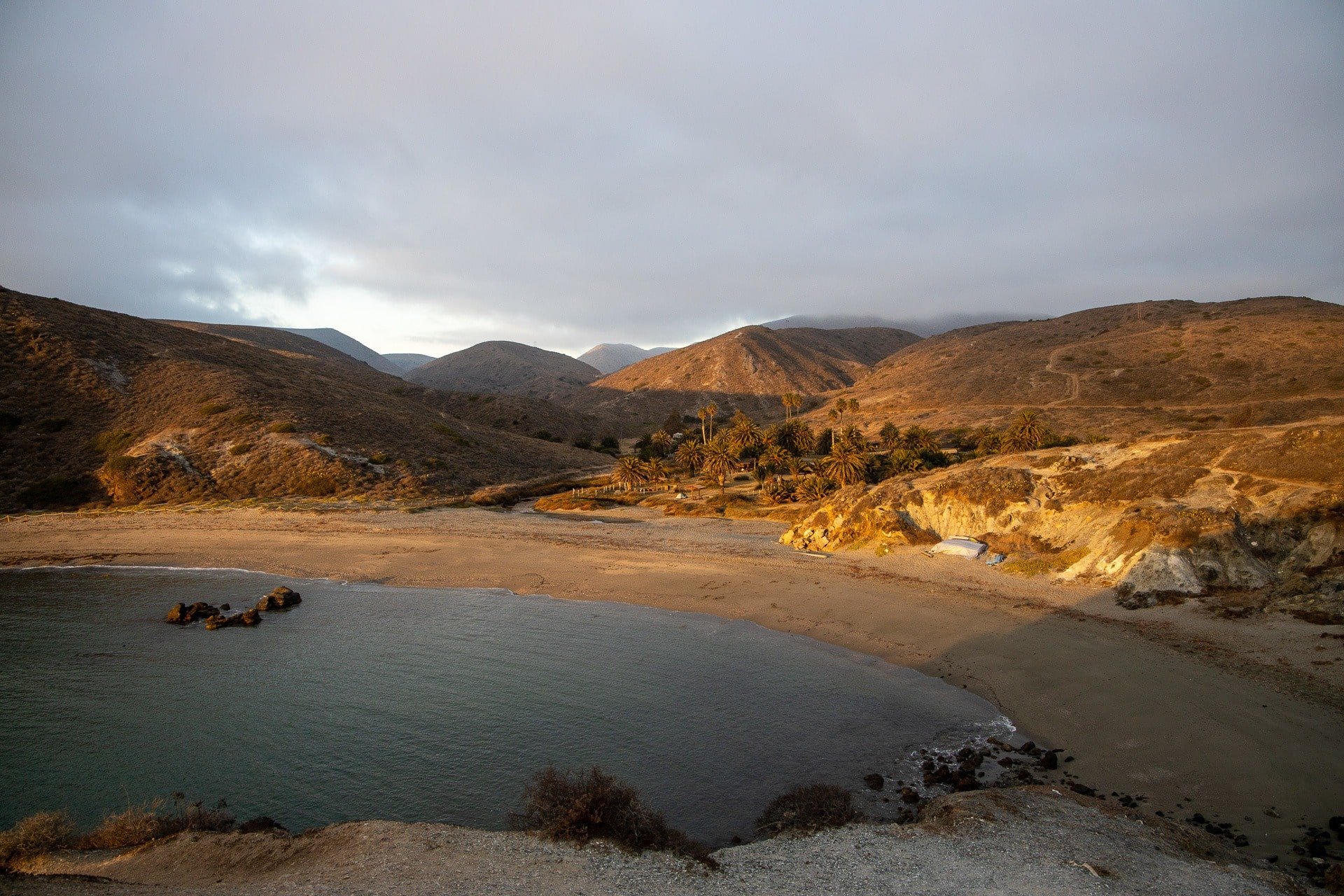 Day 3: Little Harbor to Two Harbors Campground (5.3 miles)
Potable Water Availability: At Little Harbor Campground/ at Two Harbors Campground, you can purchase a 2.5-gallon jug from the ranger (we were told the tap water here is mineral-rich and doesn't taste good)
Best Campsite at Two Harbors: 11, 1, 2, 3, 4, 5
For Firewood at Two Harbors: Purchase when you check in at the Two Harbors Visitors Center
After leaving Little Harbor, the hike to Two Harbors is no joke — it is a difficult vertical climb, but you'll be rewarded with some of the best views of the entire trip.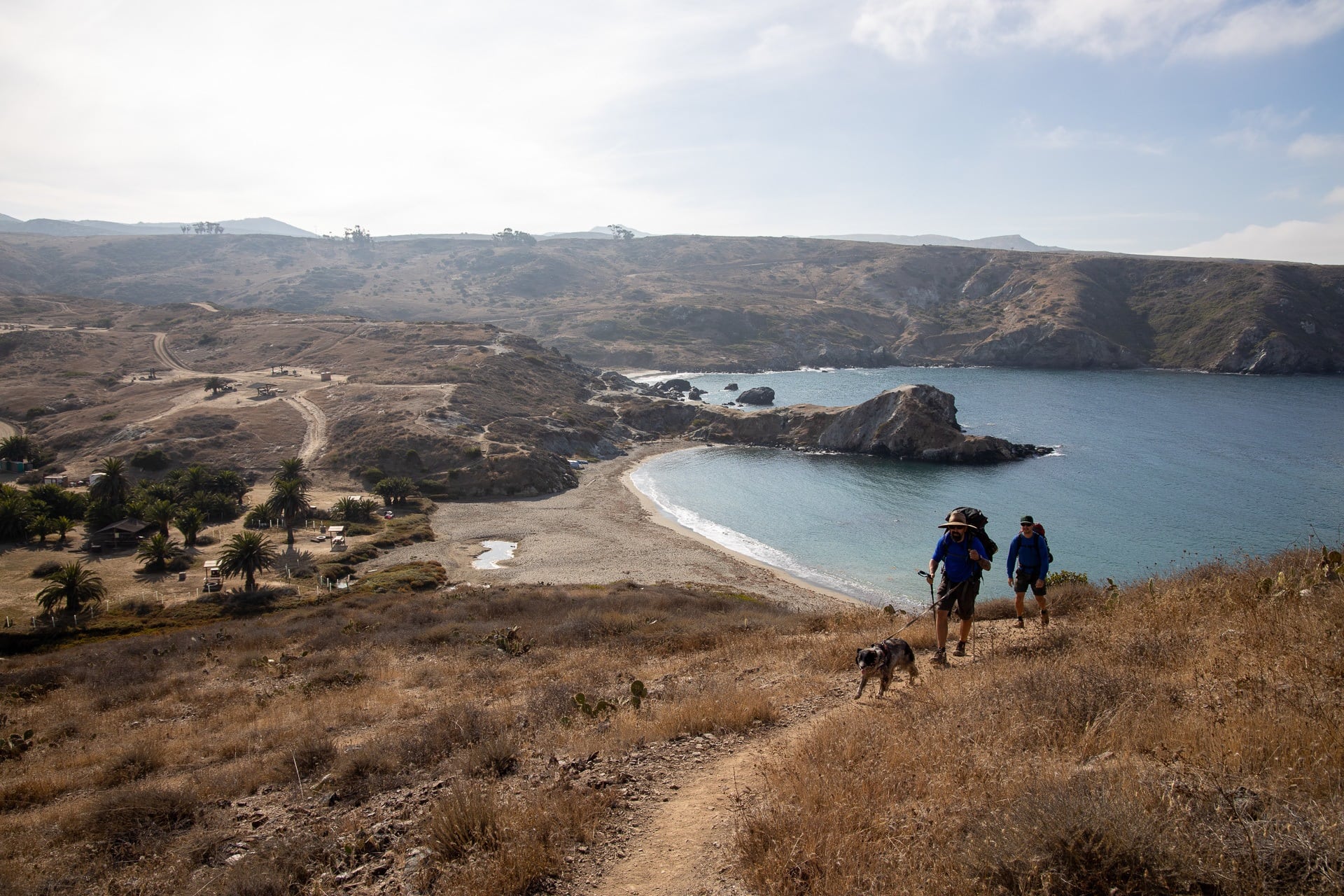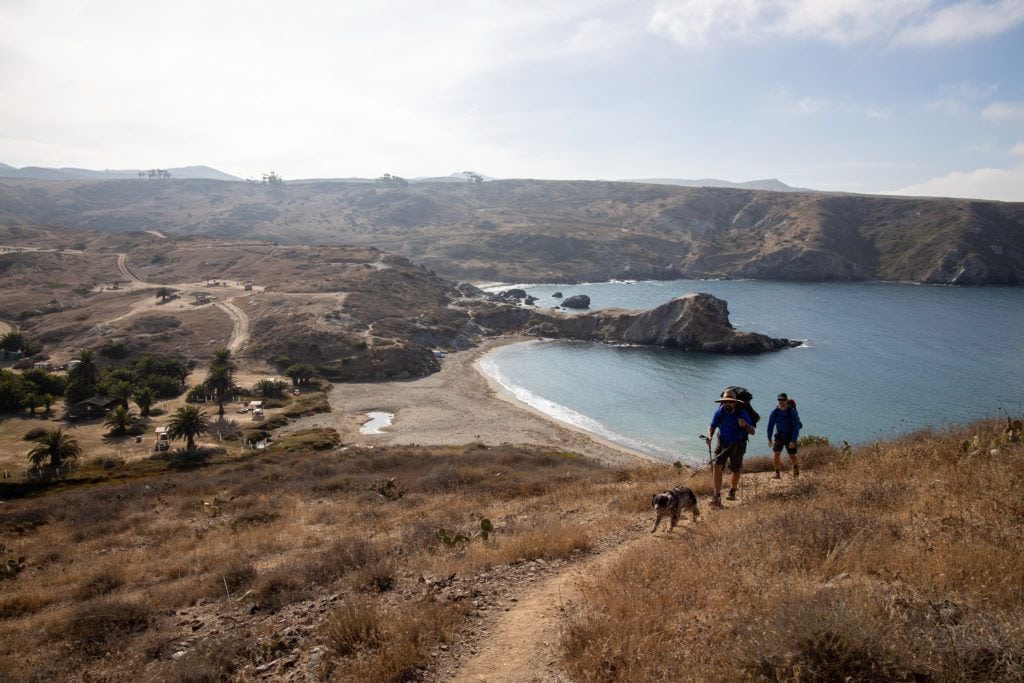 As you are approaching Two Harbors you'll be able to stand on top of the ridge and literally see both sides of the ocean encompassing the western end of the island.
We also encountered a large herd of bison up on this ridge.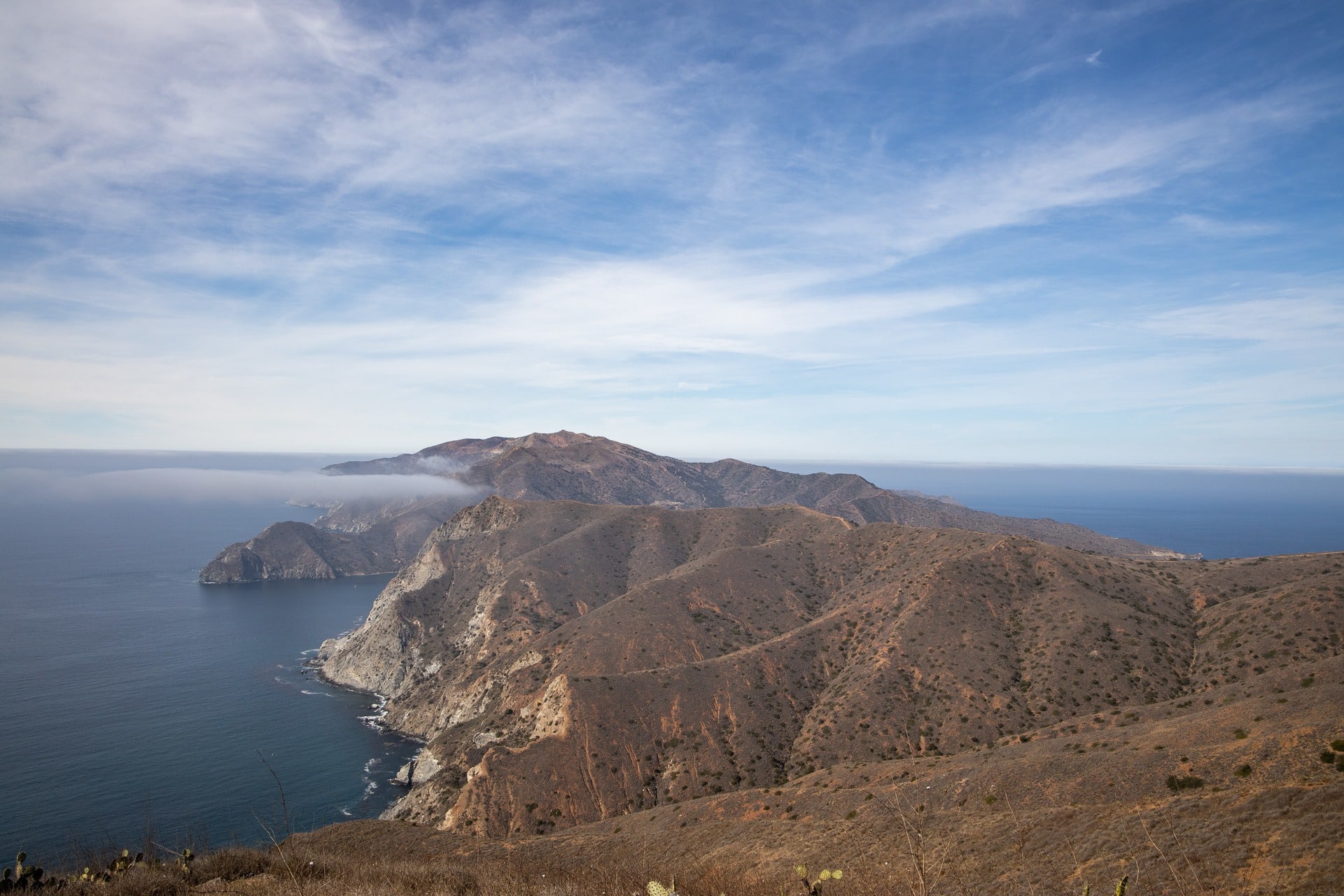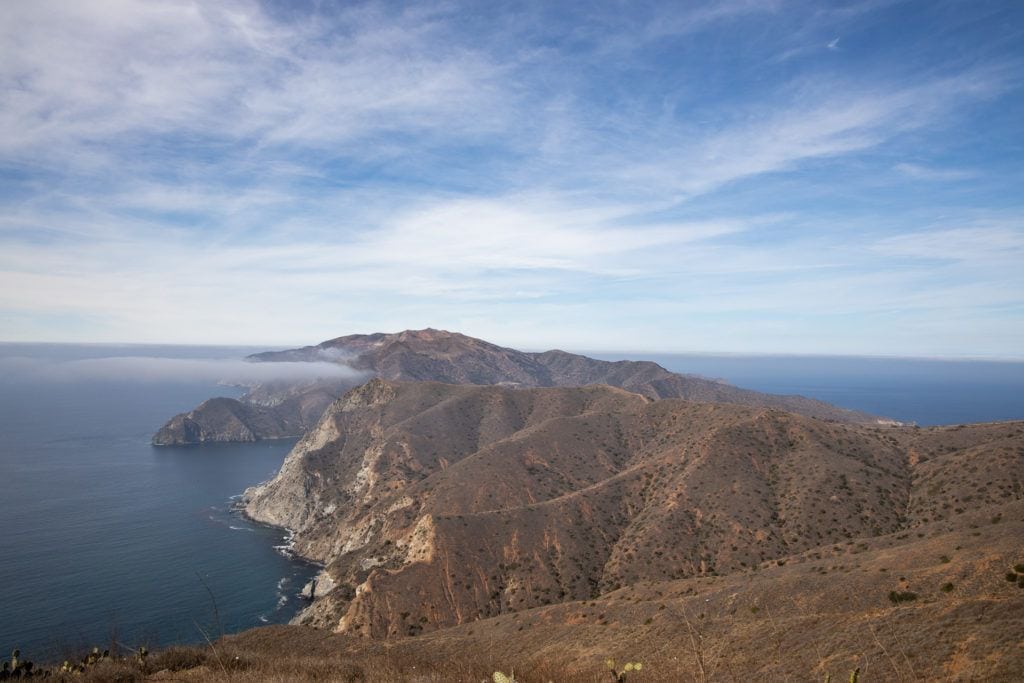 When you hit Two Harbors head to the cute little grocery store for a reward treat. Whether that's hand-scooped ice cream or a granola bar, you'll have plenty of time to take a break here and even grab lunch if you want.
You'll see the small pier that you'll return to two days later when you are ready to board the Catalina Express back to the mainland.
Checking in for the Two Harbors campground can be completed at the little building attached to the pier.
IMPORTANT: This is also where you will want to confirm your Parson's Landing campsite and get your Parson's storage key for water/firewood. As a reminder, there is no potable water at Parson's so you need to make sure you purchase the appropriate number of keys for your group so you have enough water for the rest of the journey. Each locker comes with 1 bundle of wood and 2 gallons of water. Keys are not part of your Parson's Landing camping reservation, so you will need to purchase one in advance or when you get to the Two Harbors Visitor Center. It's recommended that you plan for 1 gallon of water per day per person.
We had Site #11 at Two Harbors, which had a fantastic view and felt fairly private. It was a small site however with only enough flat space for 1 small tent.
Coin-operated hot showers are available in Two Harbors if you feel like you need a bit of a clean-up! (There are cold showers available for free).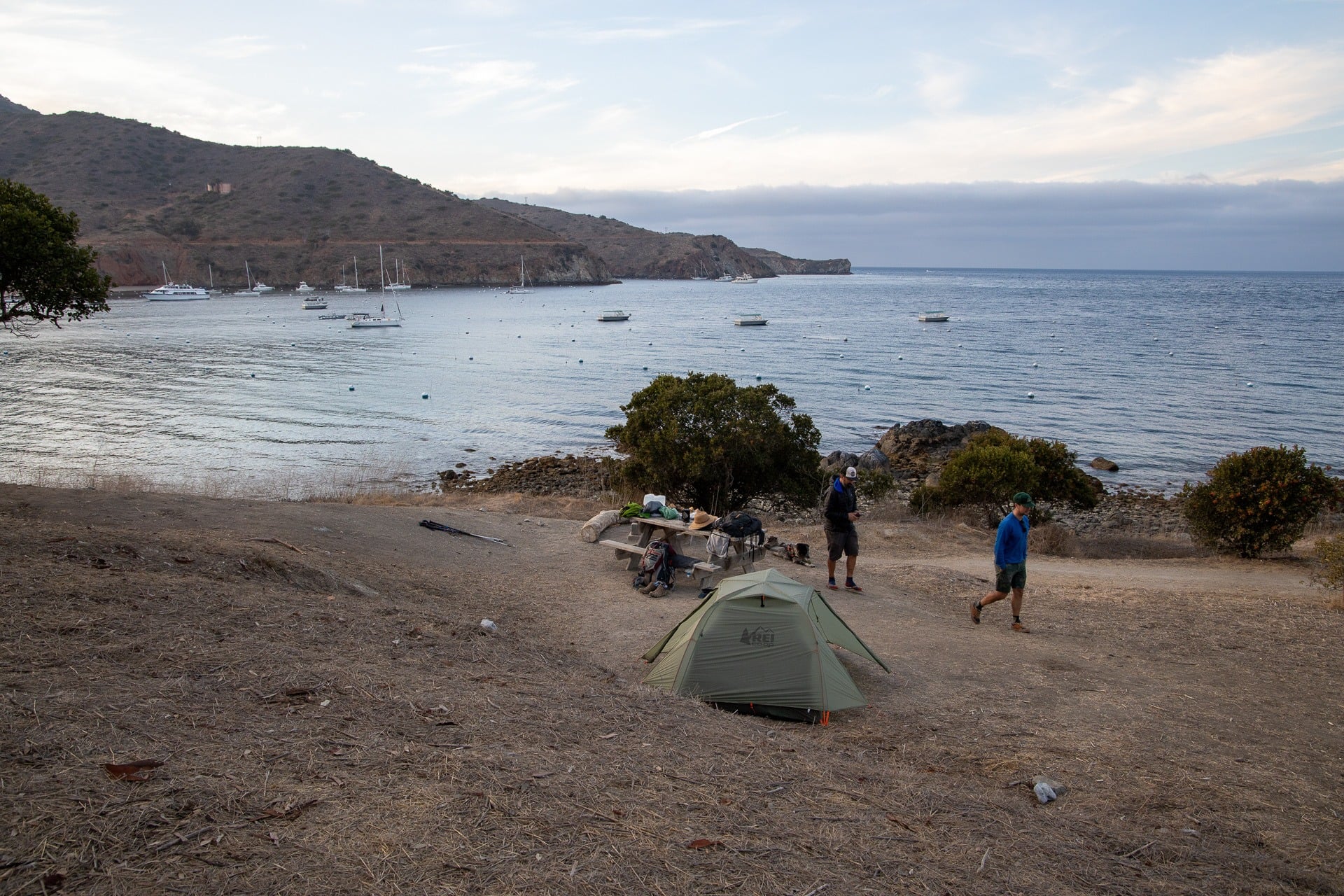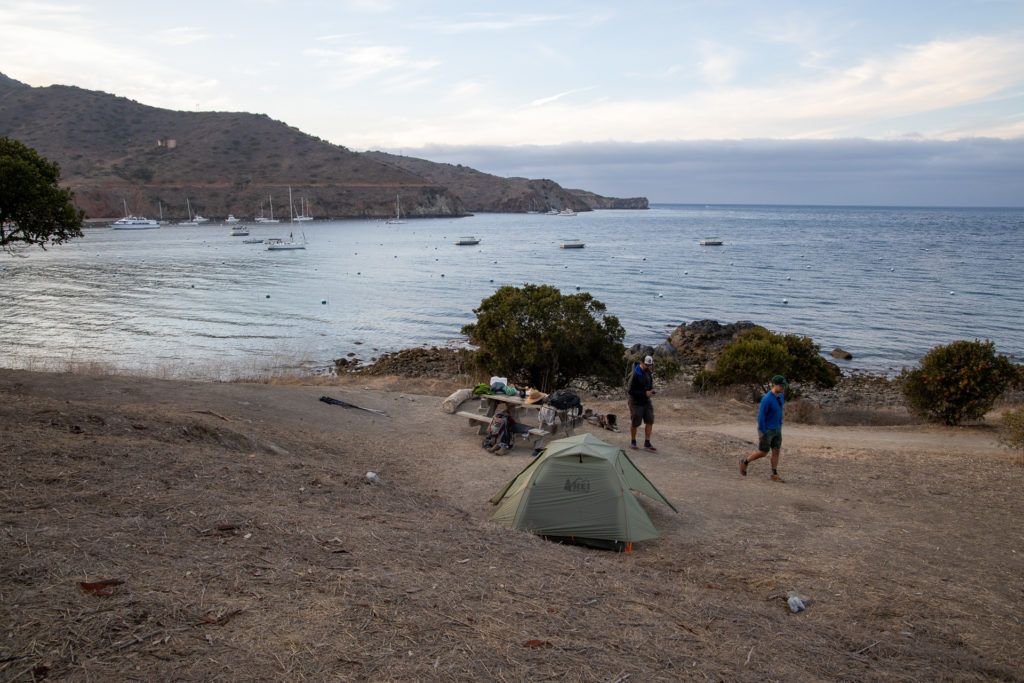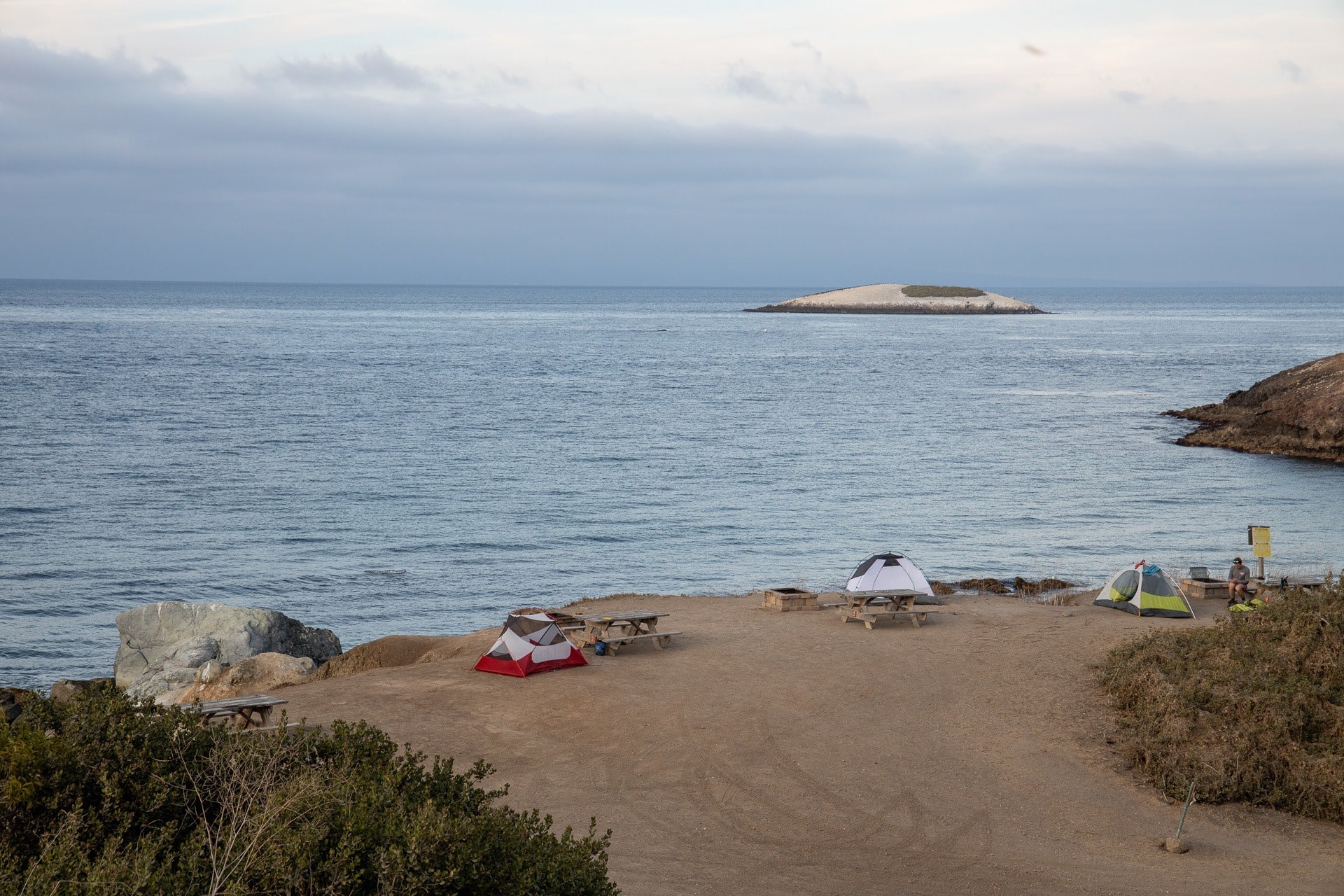 Day 4: Two Harbors to Parson's Landing campground via the TCT (6.6 miles)
Potable Water Availability: For Parson's Landing, you'll need to purchase a locker key at Two Harbors before you start the hike which comes with 2 gallons of water and 1 small bundle of firewood
Best Campsite at Parson's Landing: 1, 2, 8
Leaving Two Harbors, you have two different options. The first is to hike through Cat Harbor and continue up and over the steep Silver Peak Trail, which is the official TCT route.
On this route, you'll gain 1800 feet of elevation in 3 miles and then drop right back down to sea level where you'll reach Parson's Landing.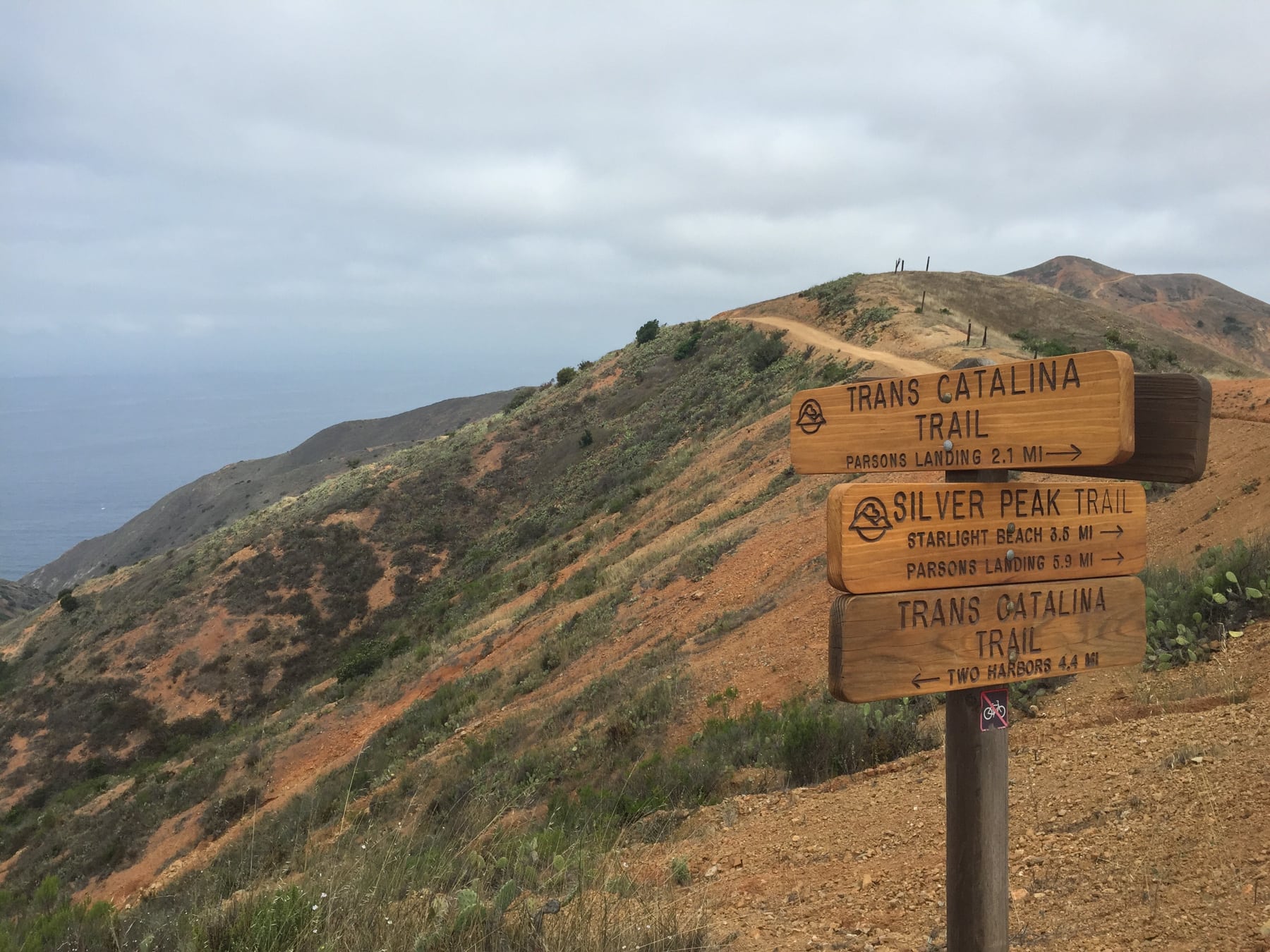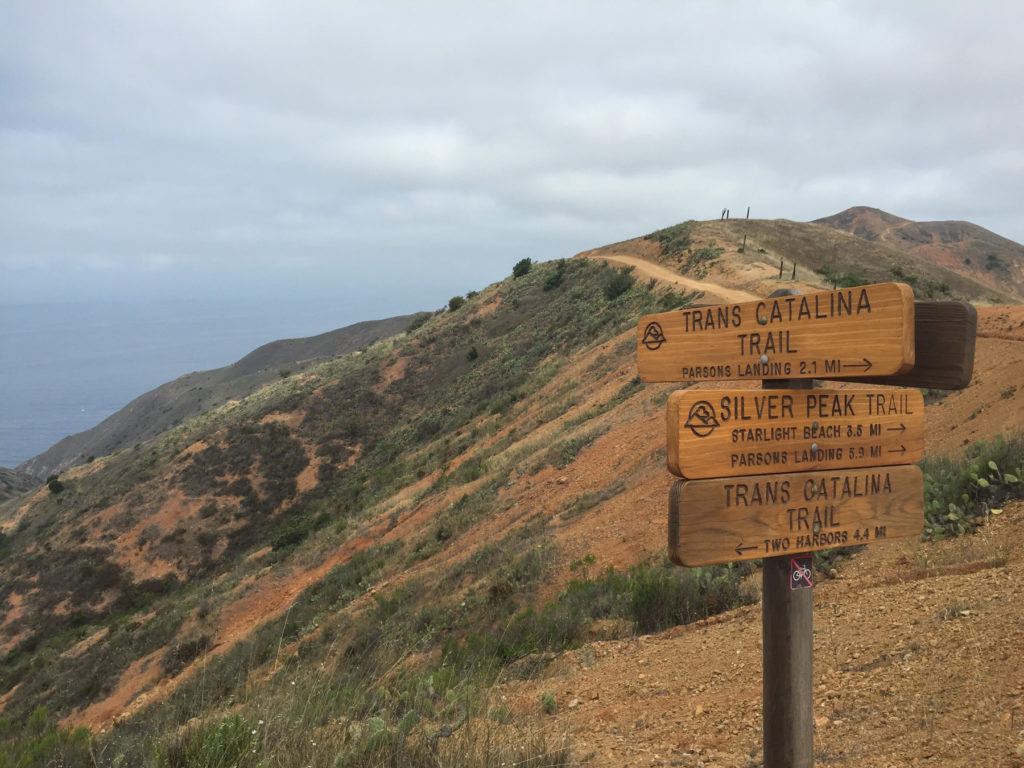 The other option is to take the cruisy route – 8 miles along a dirt road that hugs the coastline the entire way. This is the route we chose in both directions. It felt a little like cheating, but it meant we had more time to relax and enjoy our amazing campsite at Parson's Landing. Plus, we heard the descent from the high route was a killer on the knees.
We hiked the road on a Thursday and only encountered a couple of cars. Along the way, you'll pass a few children's camps, but otherwise, it was pretty quiet in November with non-stop views.
There are only eight primitive beachfront campsites at Parson's so you are going to feel that you are at a private beach.
We got lucky with site 1 which had the most protection from the wind and was very private. It was also the shadiest, which is good or bad, depending on the time of year and how much sun you want.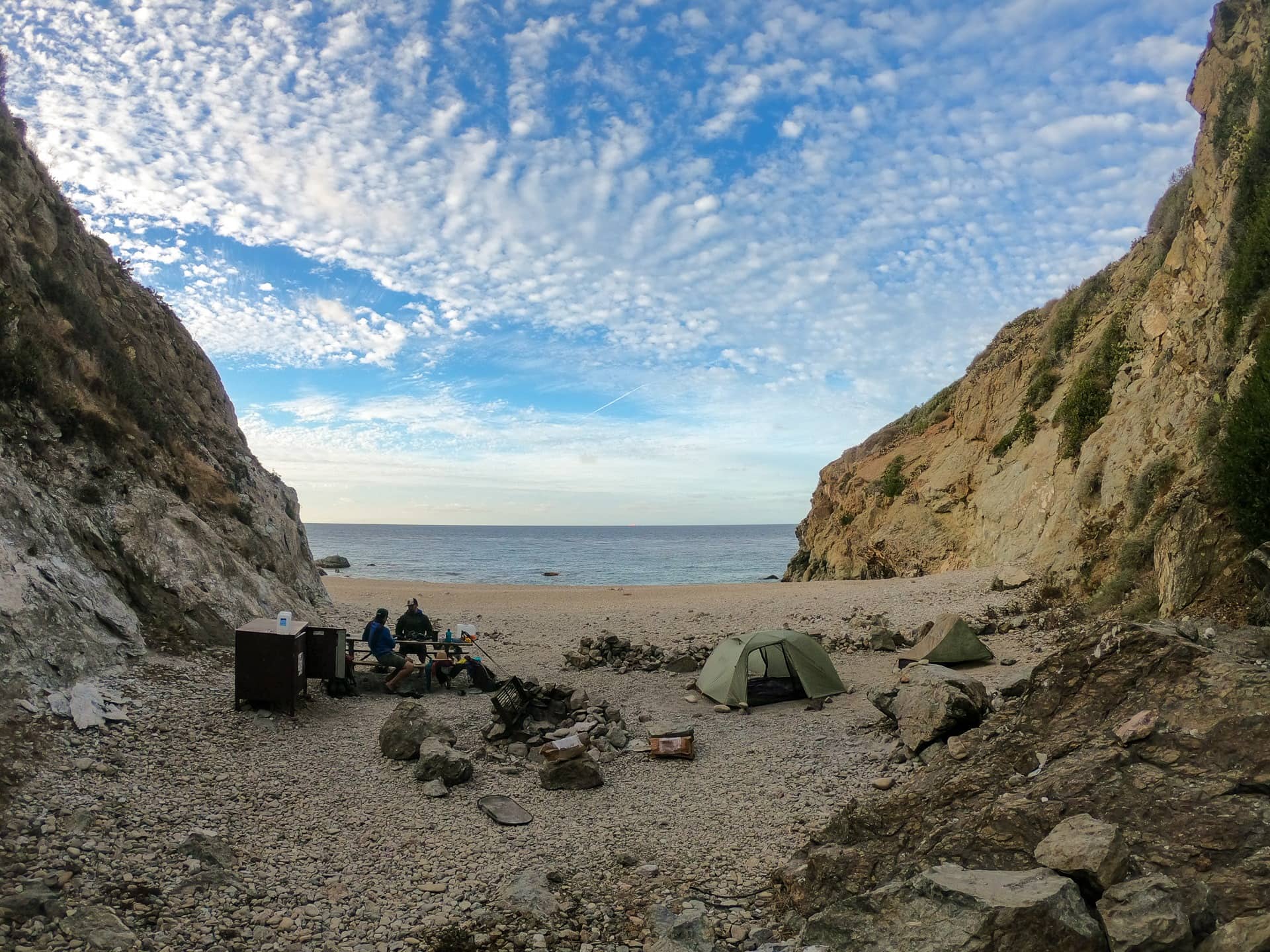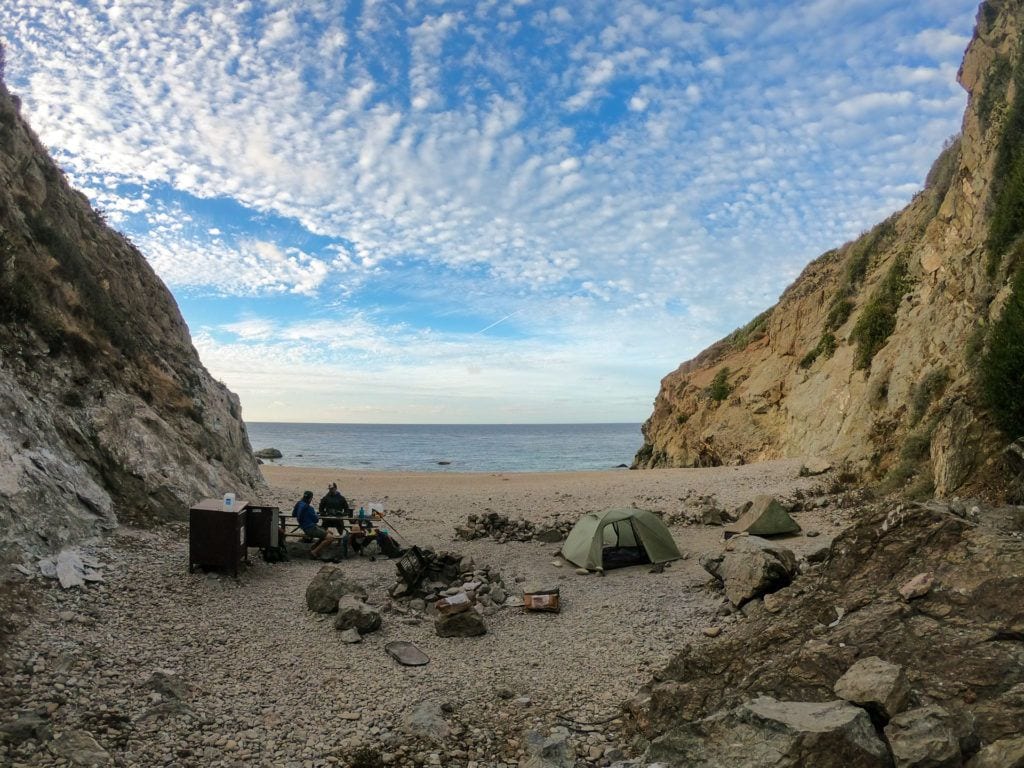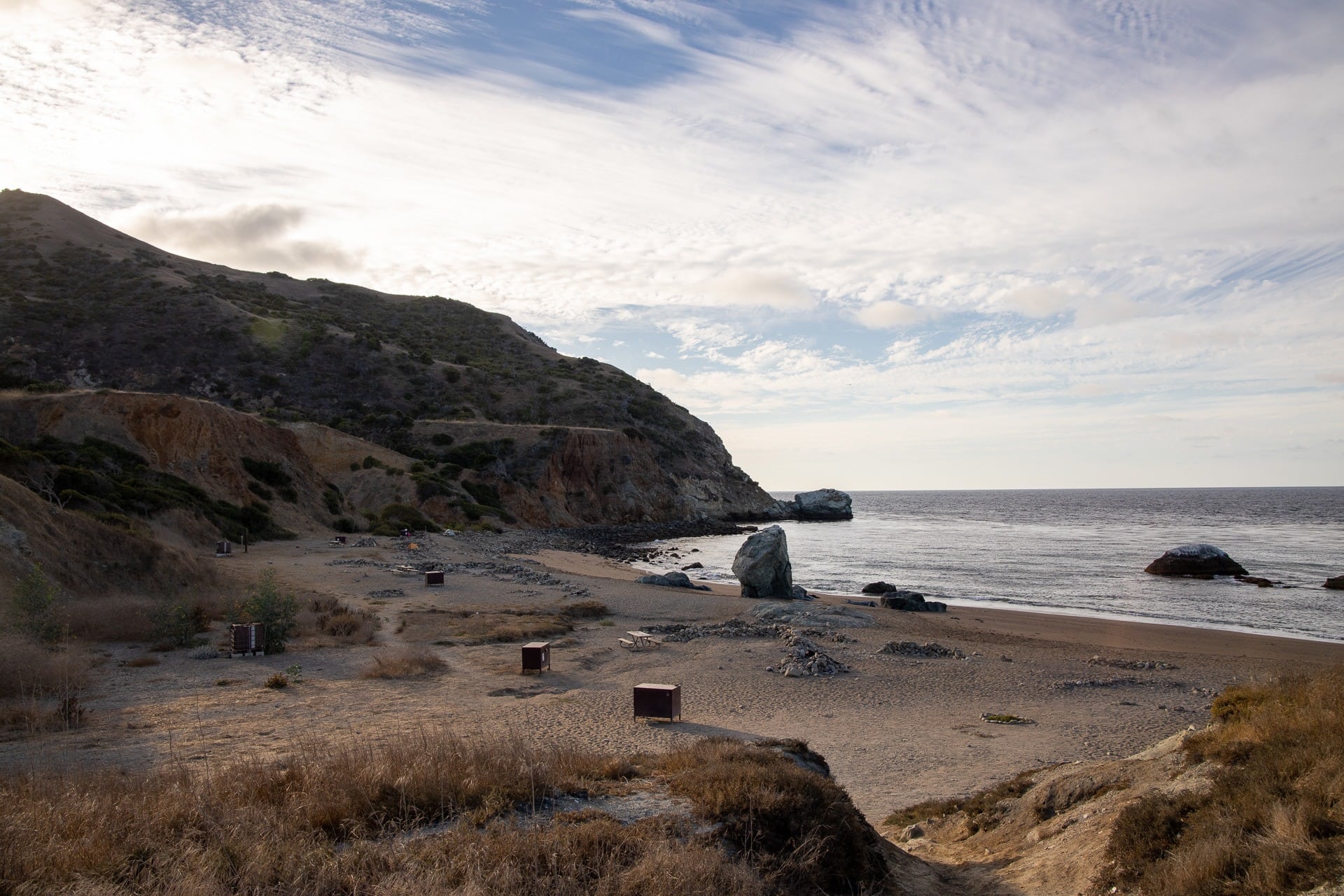 Optional Hike to Starlight Beach
From Parson's, it is 5 more miles to Starlight Beach – 10 miles roundtrip. If you're into bragging rights and you have the energy, you can continue on to the very far end of Catalina Island.
We didn't do this, but BFT Contributor Kim Vawter (who wrote the original version of this trail guide) did. We talked to a couple of other folks on the trail who made it to Starlight and said it was nice, but they weren't sure it was worth the extra 10 miles.
If you do decide to go, make sure you store all of your food and water in your fox box at Parson's before you go and take a headlamp.
I'd also only recommend this in the summer months when the days are longer or if you plan to spend two full nights at Parson's.
Day 5: Parson's Landing to Two Harbors via the road and Lion's Head (7.7 miles)
You've officially completed the Trans Catalina Trail! Congratulations. Now you just have to hike the 7.7 miles back to Two Harbors to catch your ferry. One of the highlights of this section is passing the picturesque Emerald Bay.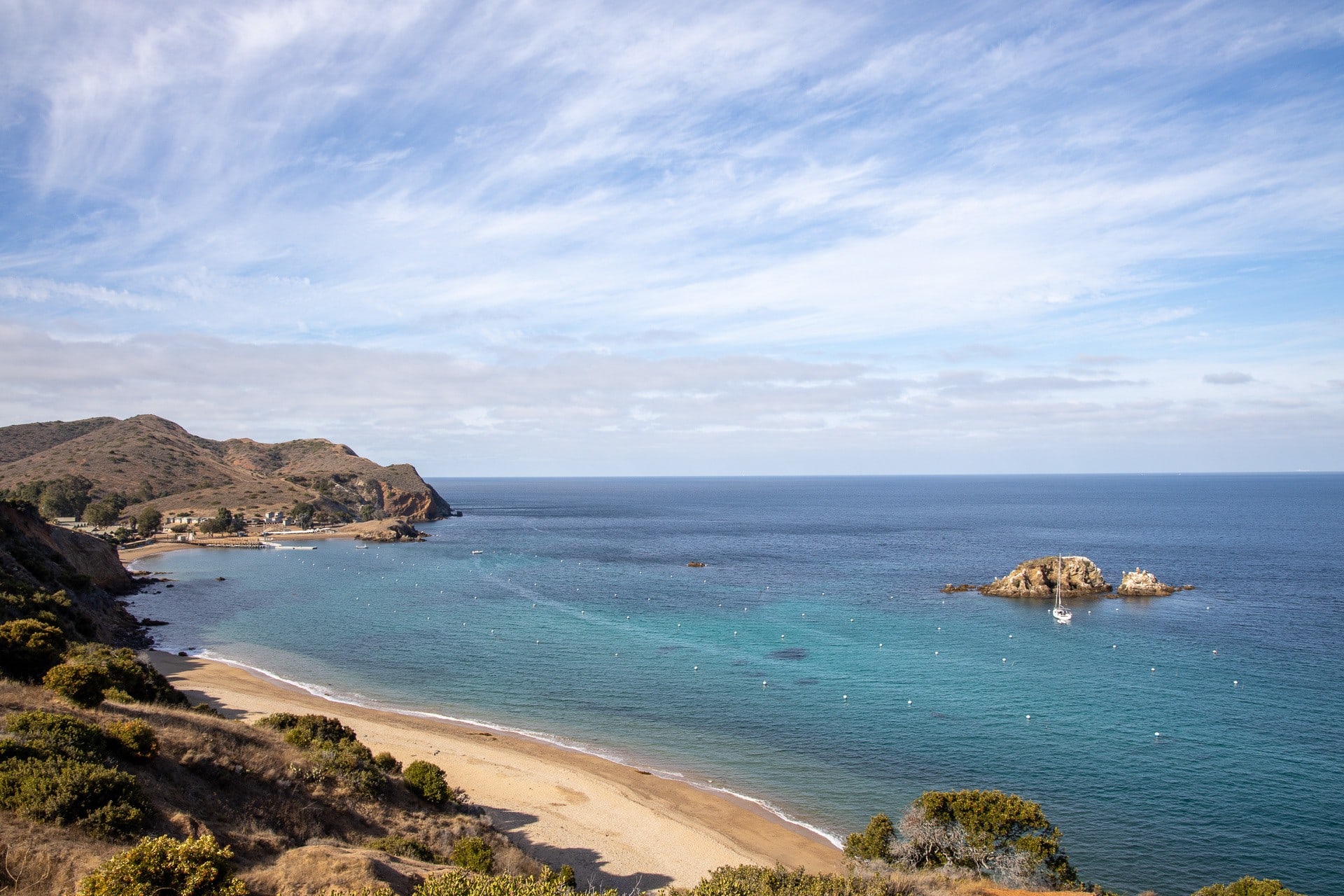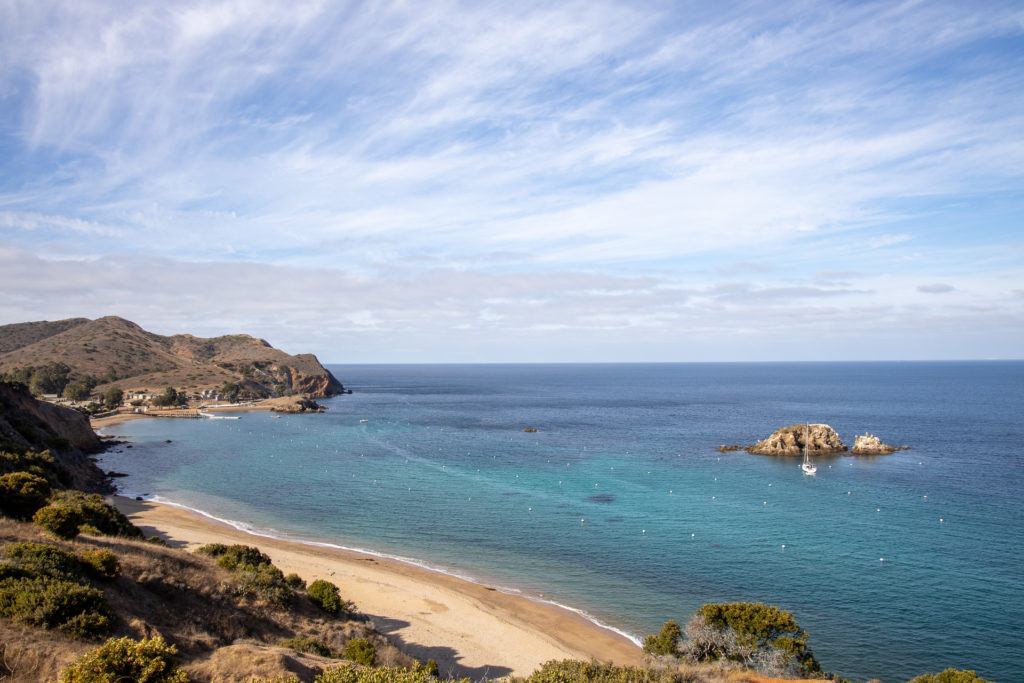 Make sure you time this last leg of your trip right so you don't miss your ferry in Two Harbors.
I highly recommend arriving in town with at least an hour's buffer before your ferry boarding so you can enjoy a cold beverage at the Harbor Reef Restaurant. Grab a seat outside on the patio bar and let all the tension in your muscles melt away.
If you are feeling you need some time in the actual water you can also camp another evening at Two Harbors and rent snorkel equipment or kayaks for the day.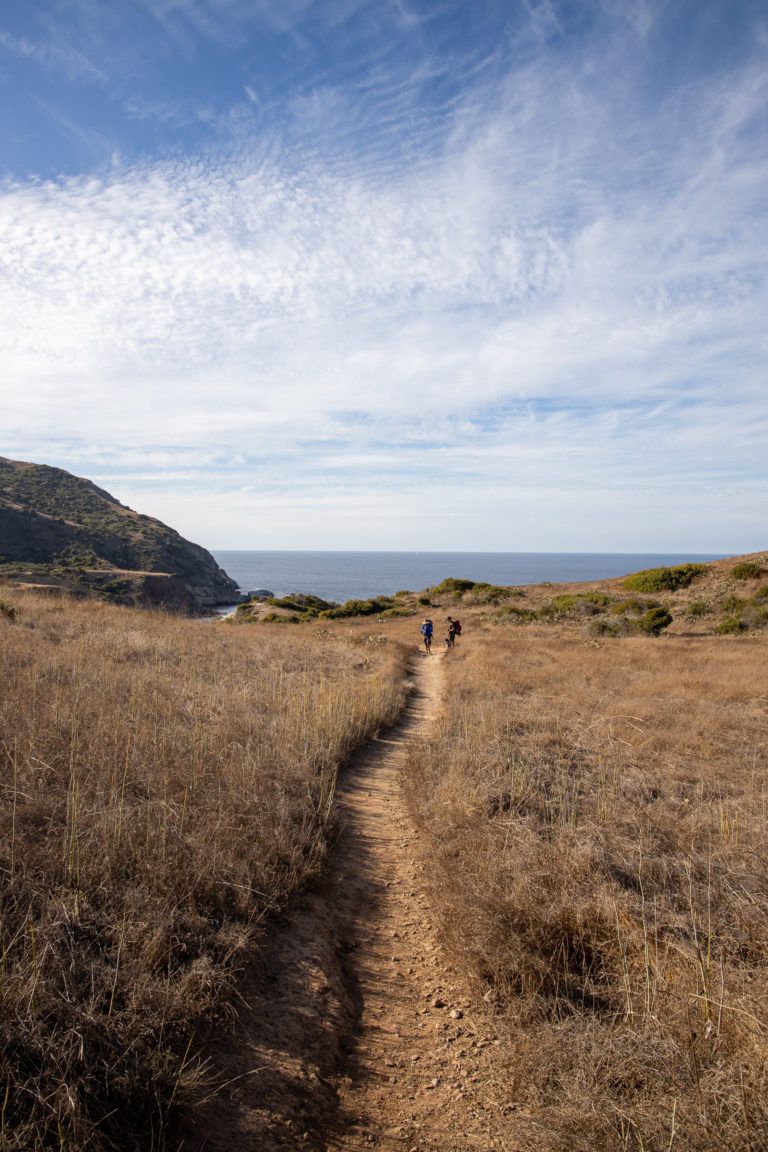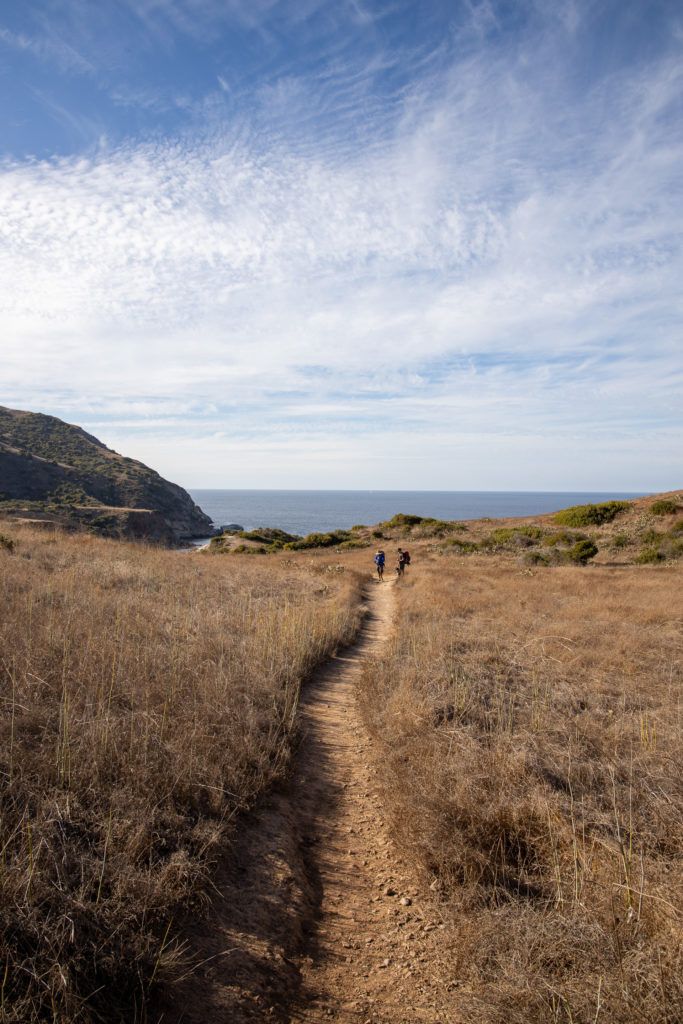 Leave No Trace on the Trans Catalina Trail
There are a few important considerations in addition to your typical Leave No Trace recommendations when backpacking the Trans Catalina Trail:
There is wildlife all over Catalina Island, including the island fox, bison, and some fairly aggressive ravens. Never leave your food unattended. Most of the campsites have fox boxes (the same as bear bins) where you can safely store your food and water.
The bison are dangerous! Don't approach them for photos or any other reason. They can run 35 mph and are fully capable of taking you down. They are on the trail and in the campgrounds, so stay alert and keep an eye out for any aggressive behavior.
There are bathrooms. Please use them! And if nature calls when you are not near a bathroom, be sure to follow Leave No Trace guidelines for going to the bathroom and pack out your toilet paper.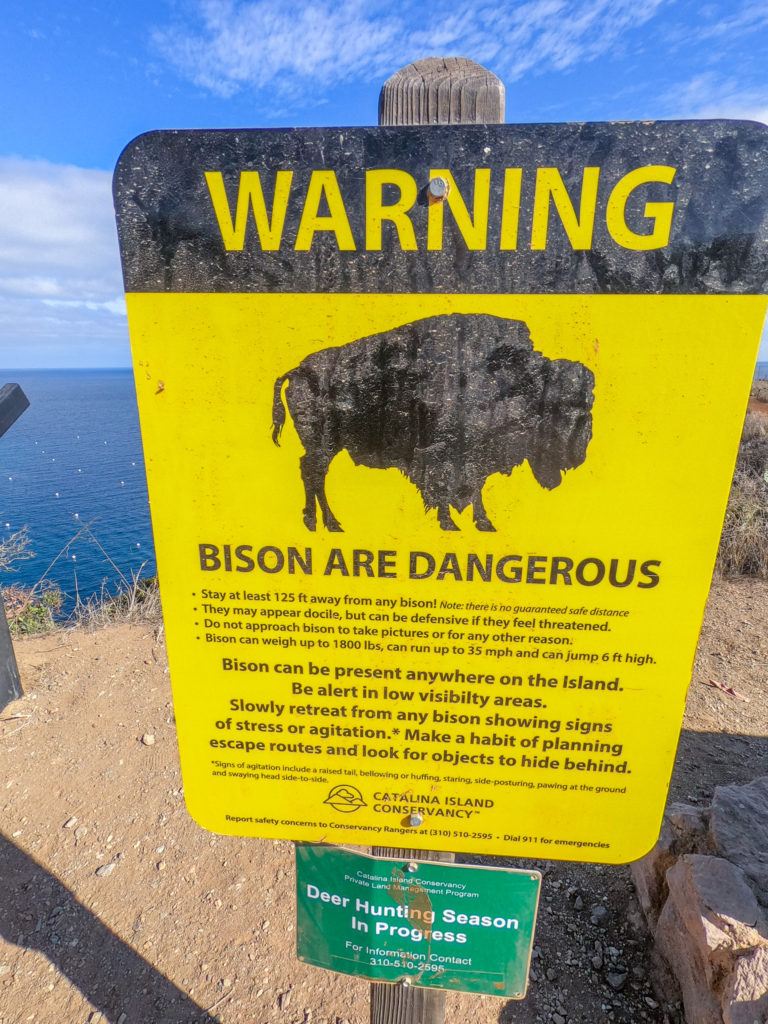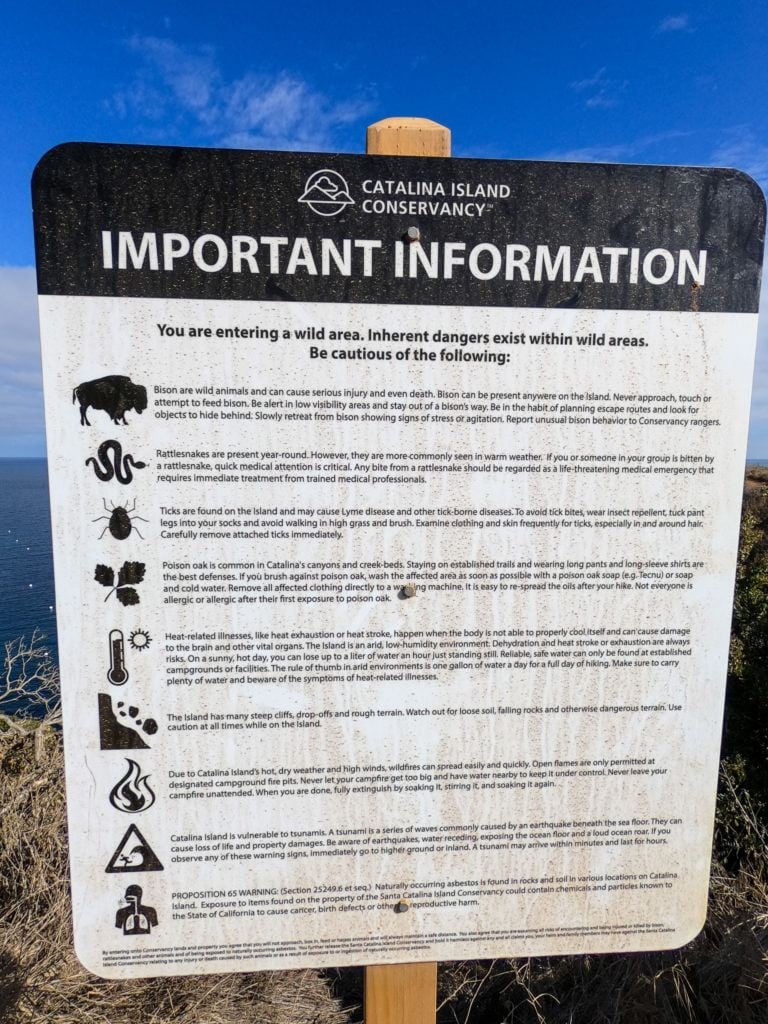 ---
Trans Catalina Backpacking Gear
Start with this 3-day backpacking checklist. Below I also recommend some specific pieces of gear that will be helpful on your TCT hike.
With the fox boxes at the campsites, you don't need a bear canister.
Note that in November, evenings were very cold. I was happy to have a beanie, long pants, and a warm jacket for the evenings.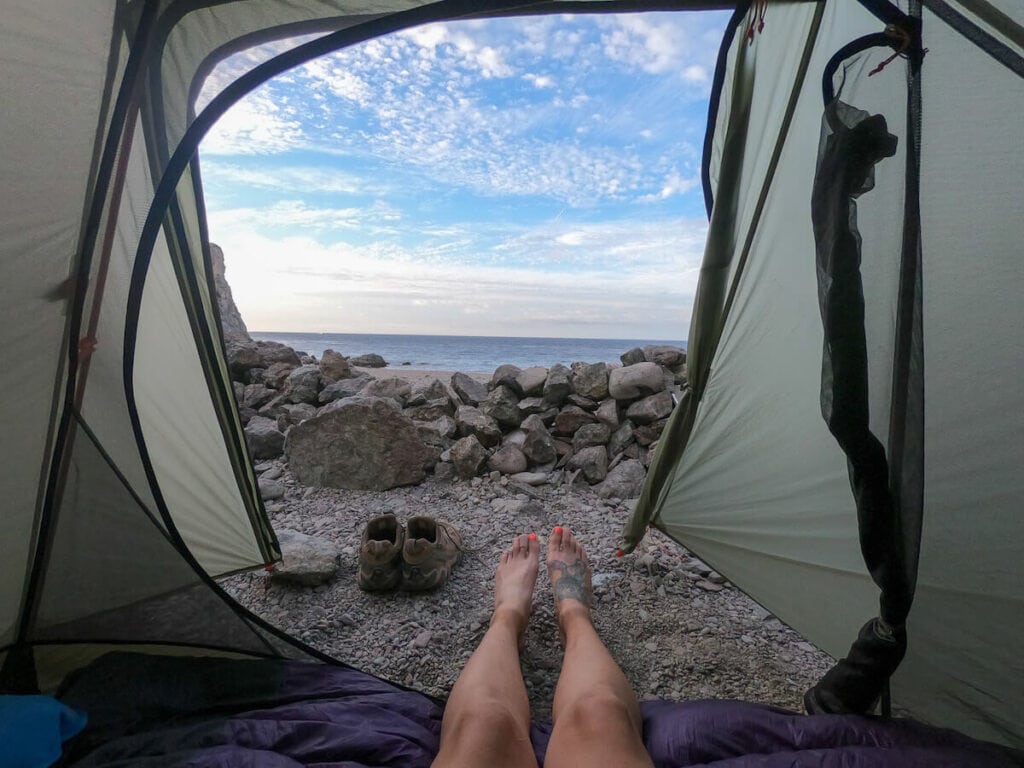 Save this post to Pinterest
Looking for more backpacking trails? Check out some more of our favorite routes:
Would you like to backpack the Trans-Catalina Trail? Share your comments, questions, and experiences below.