Best Things To Do In Yosemite National Park
Discover the best things to do in Yosemite National Park including camping, hiking, biking, rafting, and tips for your visit.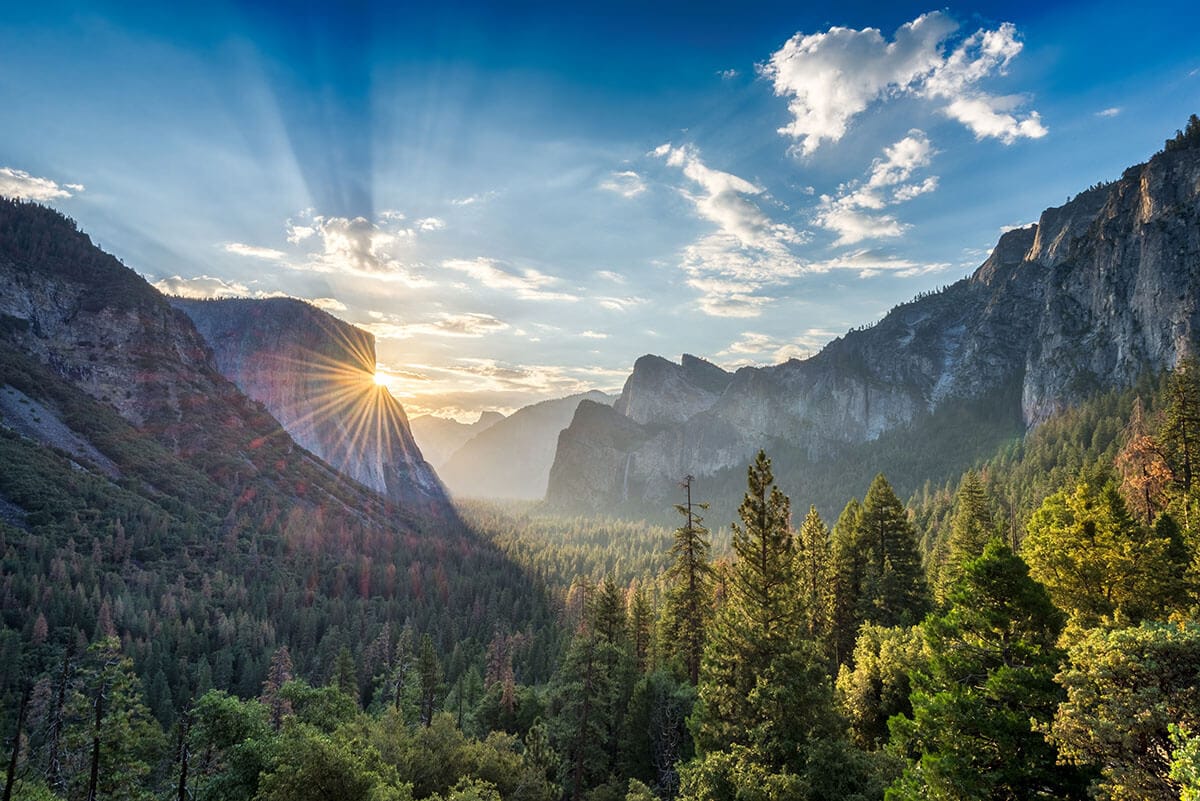 Yosemite National Park is one of the oldest and most iconic US National Parks and offers sweeping valley views, dramatic rock formations, towering waterfalls, giant sequoias, and abundant wildlife. These features make Yosemite one of the most jaw-dropping travel destinations for hikers, backpackers, climbers, and road trippers. In this blog post, we help you plan your adventure with tips for camping, wildlife, and other things to do in Yosemite National Park.
Before we dive in, here's just a bit of history. President Lincoln signed the Yosemite Land Grant in 1864, making it the first government-protected land in the country. Twenty-six years later, Yosemite became the nation's 3rd National Park, in part from the conservation advocacy efforts of outdoorsman John Muir (who the John Muir Trail, a 220-mile thru-hike that passes through Yosemite National Park, is named after). It's also important to mention that Yosemite is the native land of the Ahwahnechee people who lived in the Valley for centuries before Europeans arrived.
Looking for the best things to do in Yosemite National Park? This complete guide has you covered!
Important Reminder: As it goes in all of the destinations we share, please practice good trail etiquette and remember to Leave No Trace. This means packing out all of your garbage (including toilet paper), being respectful to others on busy trails, and following the established rules.
2023 Yosemite Reservations & Closures
For the 2023 season, there are several important considerations to keep in mind when planning your Yosemite hiking trip:
There are no reservations needed to enter Yosemite National Park in 2023.
In 2023, Glacier Point Road will have 30-minute delays due to road construction.
Tuolumne Meadows Campground is closed until 2024 or 2025 for rehabilitation.
Find camping at sold out campgrounds
Try The Dyrt PRO free for 30 days
The Dyrt Alerts will help you get reservations at sold-out campgrounds across the US by sending you an alert when your desired dates become available.
• Select campgrounds and the dates you want to camp
• The Dyrt repeatedly scans for cancellations
• When your campsite becomes available you'll get a Dyrt Alert sent to your phone!
Use the code BEARFOOT to get 30 days free!
---
Where is Yosemite National Park?
Yosemite National Park is located in the High Sierra of California, roughly 5 hours east of San Francisco and 5-6 hours north of Los Angeles. Driving to Yosemite National Park is highly recommended because of the expanse of the park – having your own vehicle is a necessity, especially since park shuttles will not be running in 2021.
The closest major airport is in Fresno, only 2 hours and 20 minutes away from Yosemite Valley. Stockton (2.5 hours), Oakland (3.5 hours), Sacramento (3.5 hours), and San Jose (4 hours) are also good options to check flight prices and rent a car.
Best Time to Visit Yosemite National Park
Although Yosemite National Park is open year-round, some parts of the park are inaccessible by car due to snow from approximately November through May, and tire chains may be required on open roads from around October to April (depending on yearly conditions). You can check current road closures and conditions here. 
For those reasons, May to October is the best time to visit Yosemite National Park for most travelers. From spring through fall, it's best to arrive at the park before 9am to avoid delays at the entrance station – it is not uncommon to wait an hour or two to enter the park if you arrive after 9am, especially on weekends.
Springtime is best for gushing waterfalls, vibrant flower blooms, and viewing the park's unique moon rainbows. Yosemite's summer heat is perfect for rafting down the Merced River, or taking a swim in one of the many bodies of water in the park (no swimming is allowed near waterfalls, of course). Please note that Yosemite can be quite hazy or smoky from late summer into fall, and has been affected by California wildfires in recent years.
Cooler temperatures, fewer crowds, and beautiful fall foliage are reasons to visit the park in the fall. Visiting Yosemite National Park in winter is a unique opportunity for those wanting to test out downhill or cross-country skiing. Seeing Yosemite Valley blanketed in snow, or seeing Horsetail Falls glowing orange in February is also magical, although hiking options in winter are limited.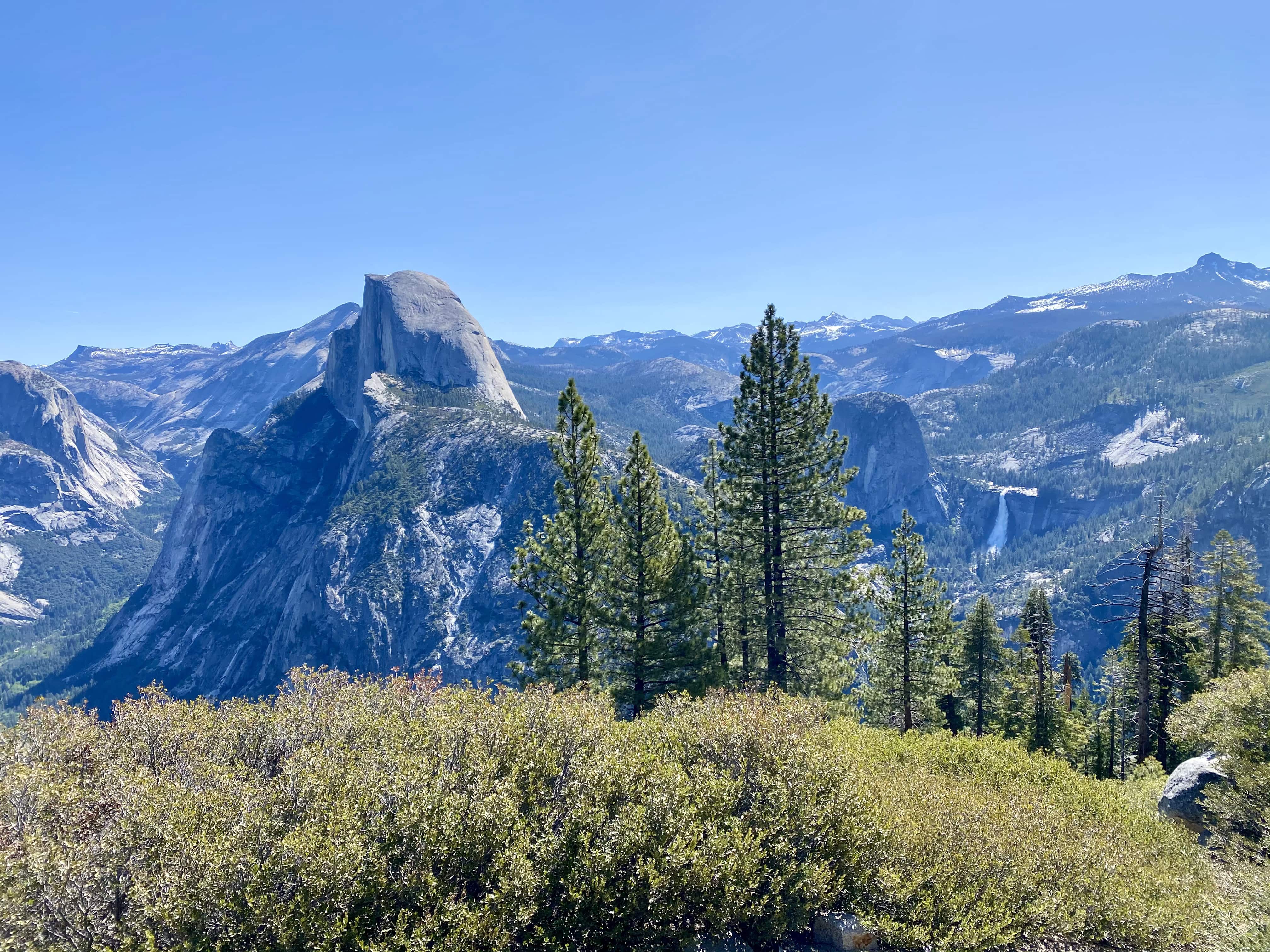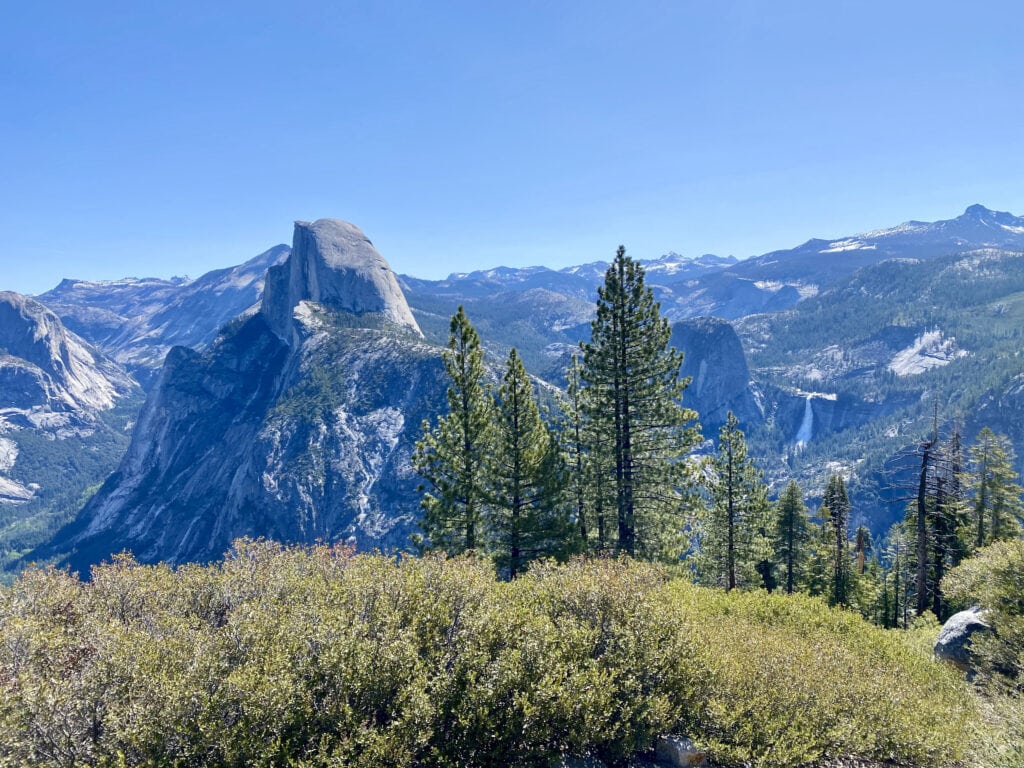 Yosemite Lodging
Staying within Yosemite National Park is best to save yourself the time and hassle of driving in and out of the park each day – the closest towns for hotels and Airbnbs are an hour (or longer) away from Yosemite Valley. Yosemite lodging options within the park range from simple tent cabins to standard hotel rooms and one more luxurious hotel option.
The Yosemite Valley Lodge is one of the most popular hotels due to its central location by Yosemite Falls and year-round availability. The Ahwahnee Hotel is the "crown jewel" of luxury national park lodges with a gorgeous dining room and stunning views. Curry Village features standard hotel rooms, wood cabins, and canvas tent accommodations. For a more rustic camping experience, Housekeeping Camp offers three-sided concrete structures with canvas roofs, beds, and privacy curtains.
Reservations are available 366 days in advance and are strongly recommended year-round. Click here for the full list of Yosemite lodging options and instructions for booking.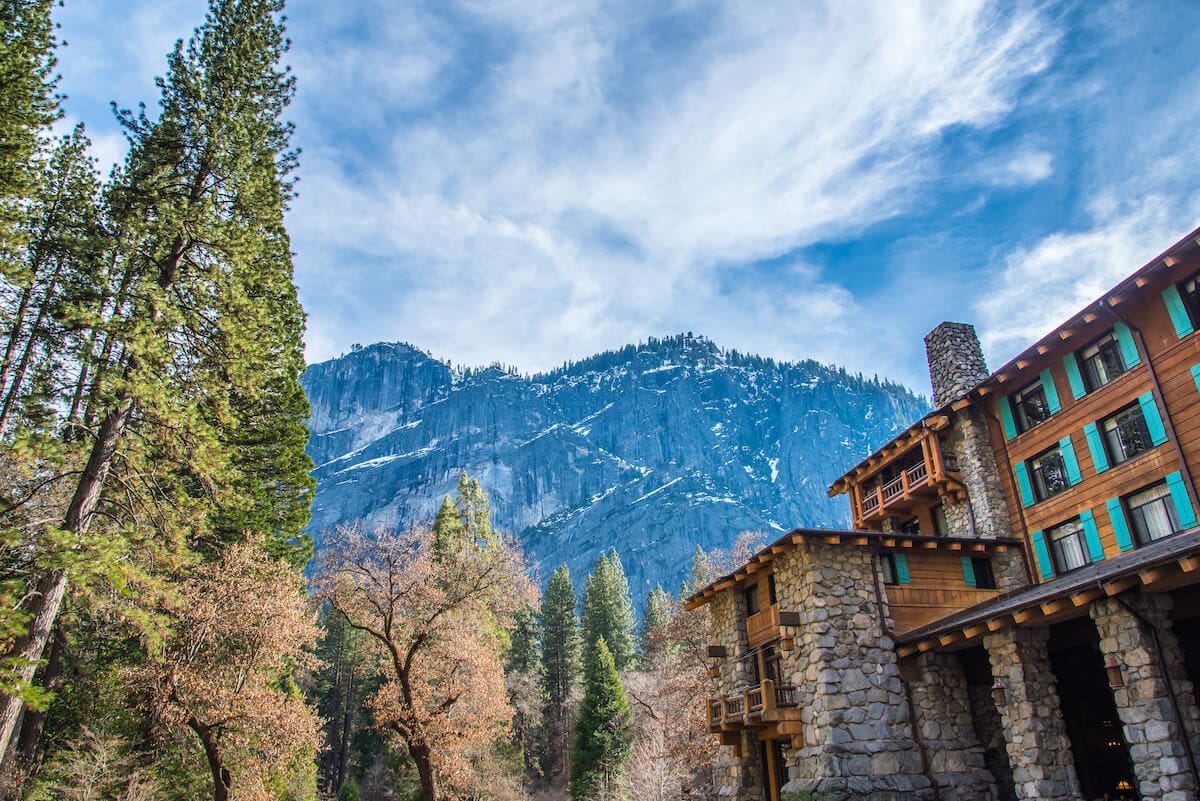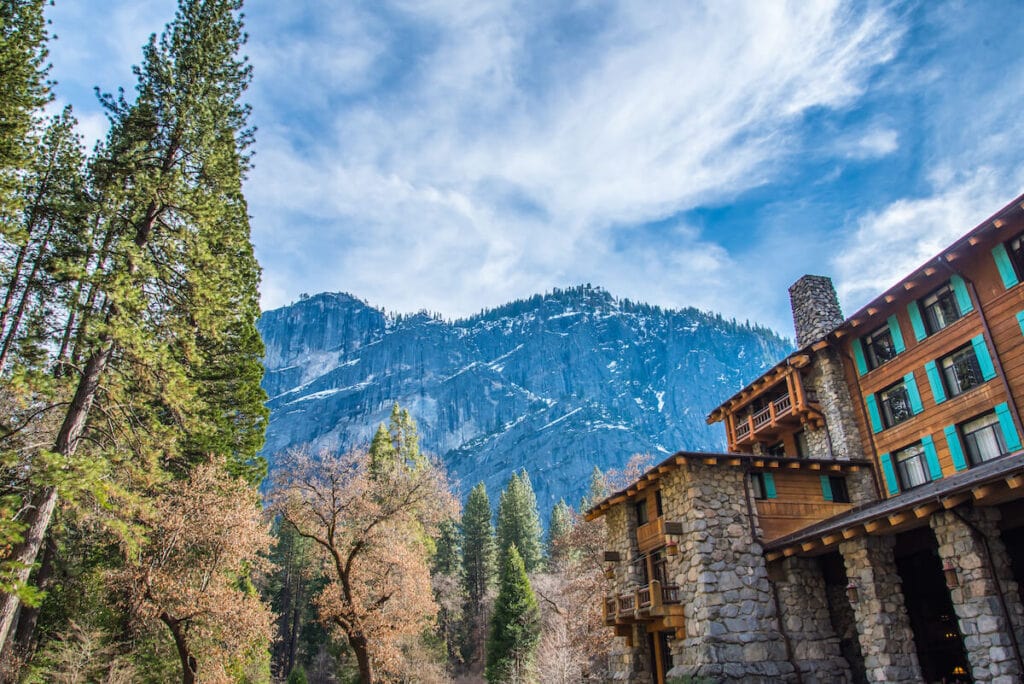 Yosemite Camping
Yosemite National Park has 13 established campgrounds, 10 of which can accommodate RVs or trailers. No campsites in Yosemite have RV hookups. At the time of writing in June 2021, all campsites require advance reservations, no first-come, first-serve sites are available, and there are no showers available at campgrounds within the park, aside from showers in Housekeeping Camp which are available to guests only.
Campground reservations open at 7am PST on the 15th of every month, 5 months prior to your arrival. So, if you are looking to book a campsite between May 15-June 14, you would need to be online at 7am PST on January 15th to book. Be aware that nearly all reservations for the months of May-September are filled the first day they become available, usually within minutes after 7am.
The campgrounds within Yosemite Valley (Upper Pines, Lower Pines, North Pines, and Camp 4) are the hardest to reserve because of their central location in the park. Camp 4 is a walk-in only campground, and campsites are available only by daily lottery, one day prior to your arrival date.
Wawona and Bridalveil Creek campgrounds are located south of Yosemite Valley; Wawona is currently only open for RVs/trailers with toilets, because bathroom facilities are not available at the campground. Tuolumne Meadows is the only campground slated to open for 2021 north of Yosemite Valley. The benefits of staying in a campground outside of Yosemite Valley are these campgrounds are much quieter, easier to reserve, and offer more solitude.
For the most up-to-date Yosemite camping information, click here.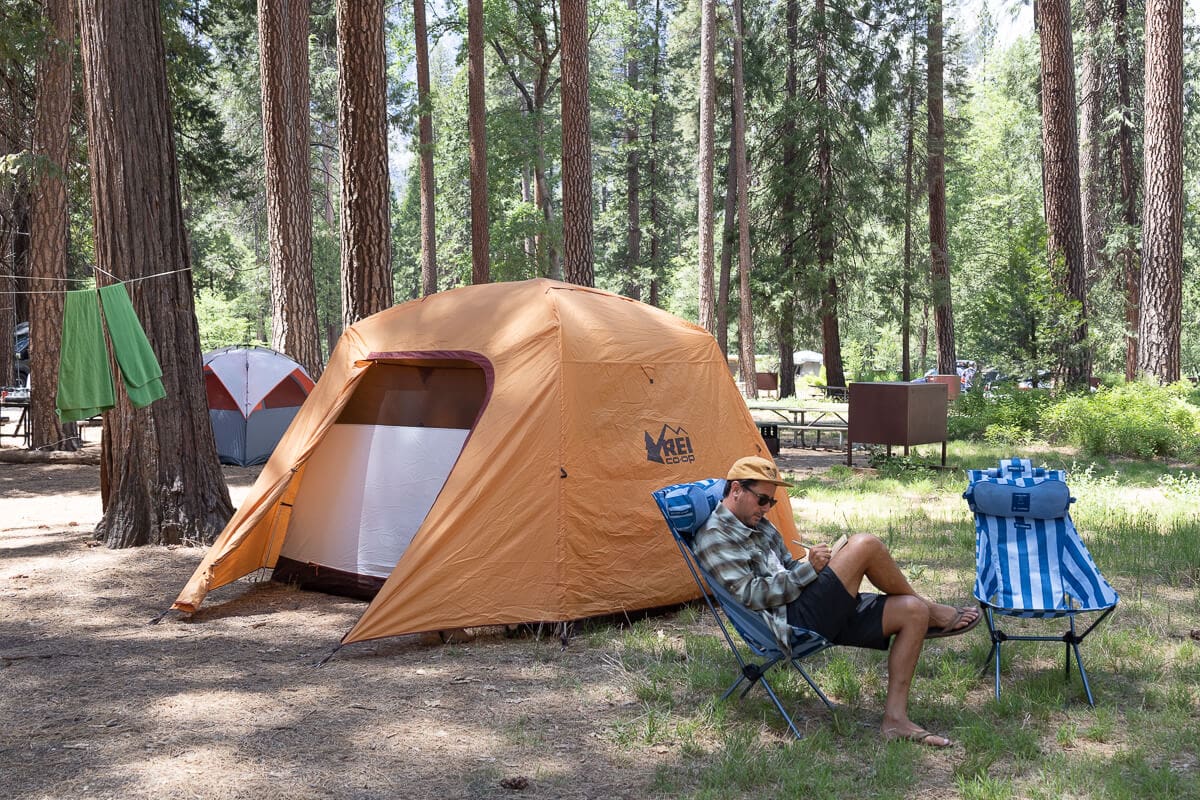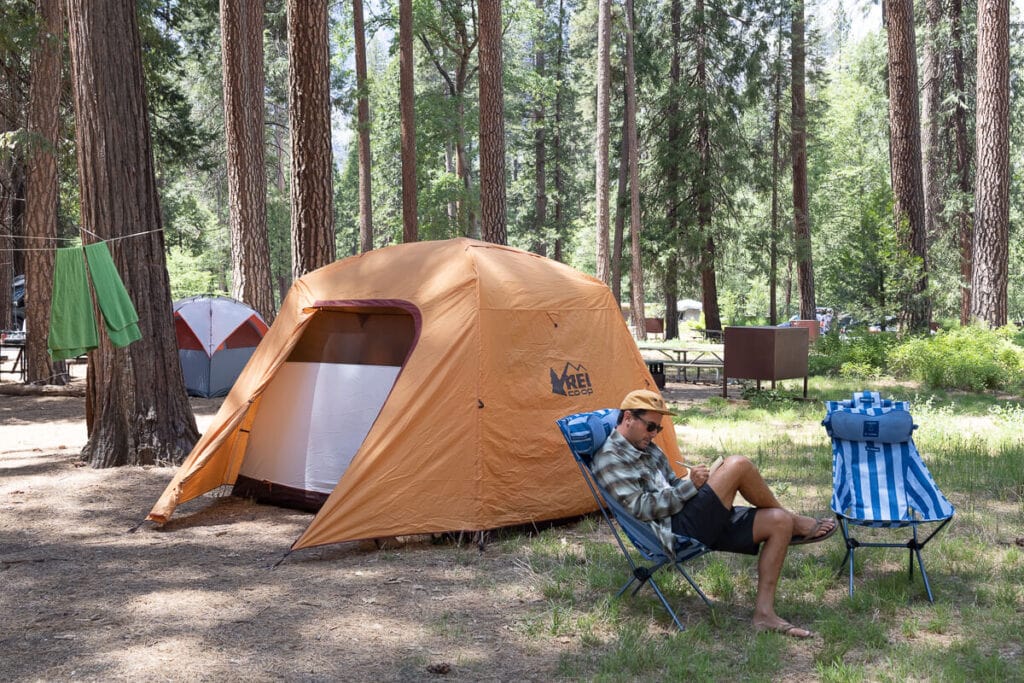 Wildlife in Yosemite National Park
Yosemite National Park is home to diverse wildlife including American black bears, deer, rattlesnakes, over 200 species of birds, and various fish. Black bears are commonly spotted in the park and properly storing your food while exploring the park is important for your safety (and the bear's safety).
You can only store food inside your vehicle (out of sight, with windows completely closed) during daylight hours. All food must be stored in food lockers at night; food lockers are provided at every campsite and cabin in the park. Food may be stored out of sight in hard-sided trailers and RVs, as long as windows, doors, and vents are closed when you're not inside. To learn about how to handle wildlife encounters, read our guide here.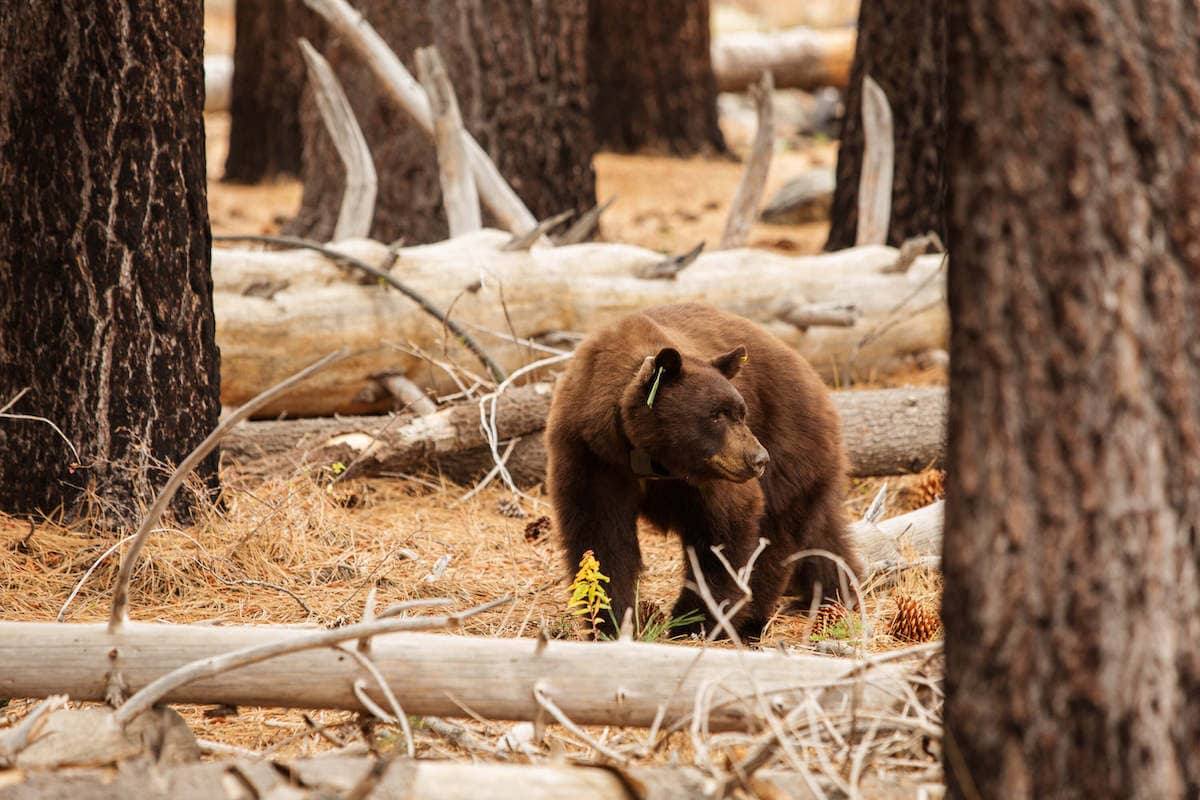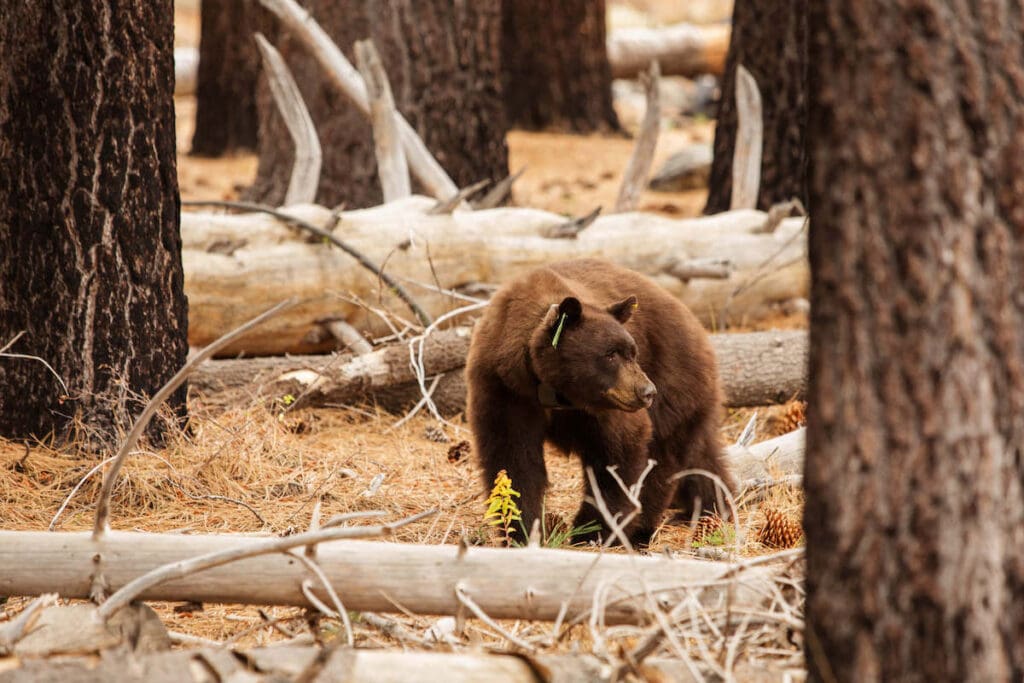 Things to Do in Yosemite National Park
Yosemite Hiking
From sweeping valley views to ancient sequoia forests, hiking in Yosemite is truly stunning. The park has over 750 miles of trails to explore with a wide range of elevation, ecological zones, and views. Yosemite hikes can range from short, paved paths to half or full-day treks with large elevation changes.
The main hiking areas in Yosemite are Yosemite Valley, Glacier Point Road, and Mariposa Grove. I recommend planning your Yosemite hikes to be centralized to one (or maybe two) areas of the park per day to maximize your time on trails. There are numerous hiking trails outside of these areas as well, so if you are looking for more solitude within the park, hikes around Hetch Hetchy and Tuolumne Meadows are usually less crowded. To learn more about the best hikes in Yosemite, read our guide here.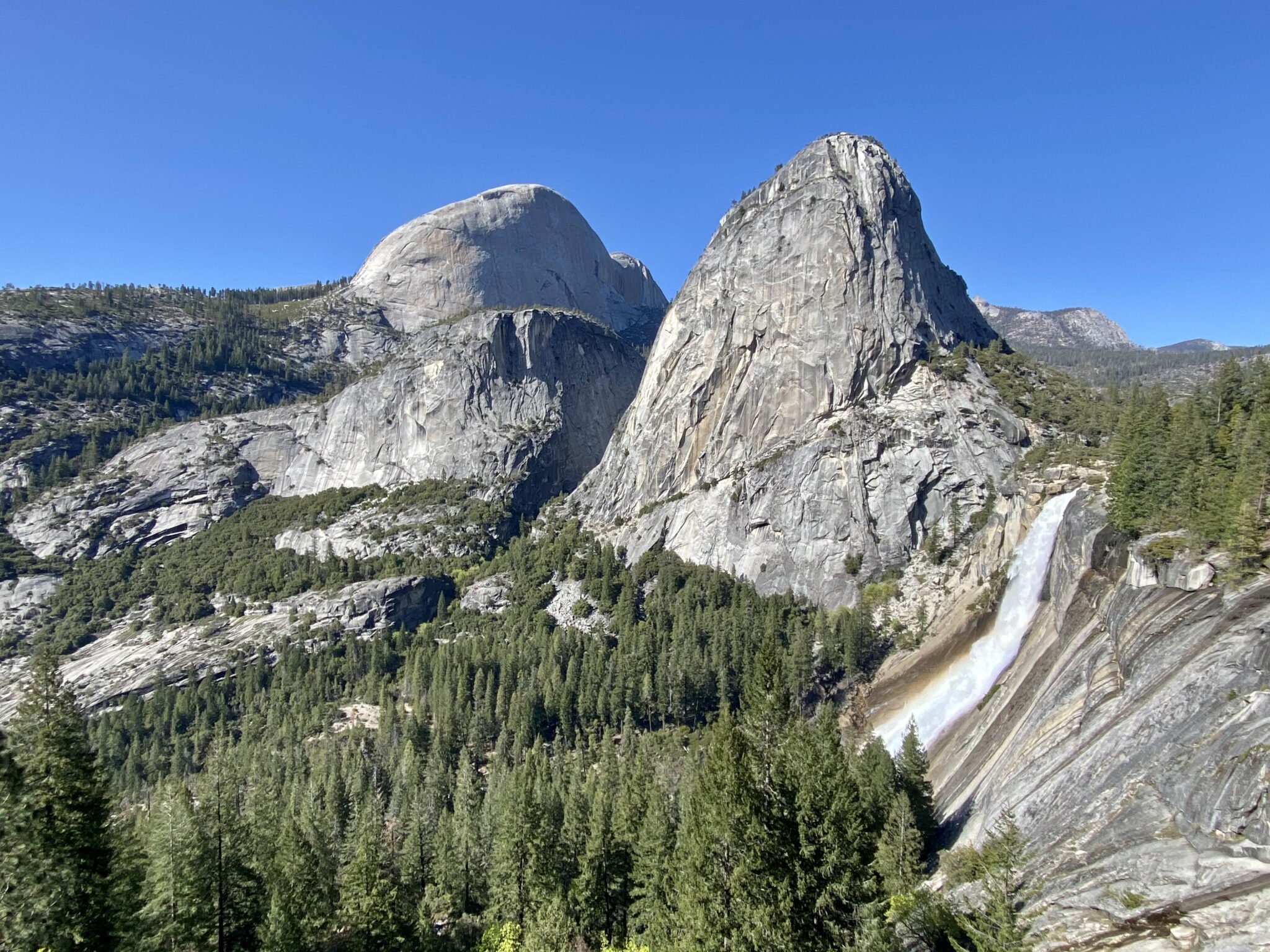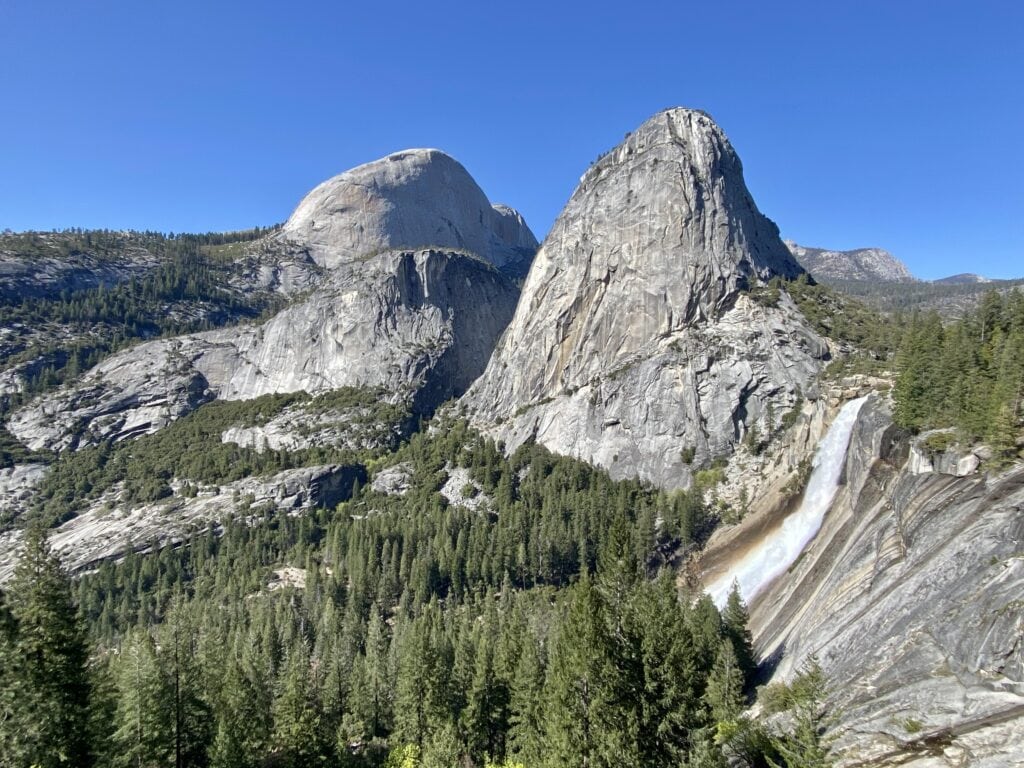 Yosemite Backpacking
Overnight backpacking requires a permit year-round in Yosemite National Park. As of July 2023, 60% of the daily allotted permits can be reserved 24 weeks in advance, and 40% are available online starting two weeks before your desired start date. No same-day permits are issued – you must reserve at least four days in advance. Once you have a backpacking reservation, you must pick up your wildness permit in person at a wilderness station. Bear canisters are required for all overnight backpacking trips within the park.
Popular overnight backpacking trails vary from alpine lakes in the high country to loops that ascend and descend around popular Yosemite Valley destinations. For detailed trail information and to request permits, click here.
Yosemite Outdoor Adventures
Yosemite National Park offers incredibly varied outdoor adventures from rafting to climbing to biking. Yosemite is one of the world's greatest rock climbing destinations, with big walls like El Capitan and tons of crack climbing. Yosemite Mountaineering School offers rock climbing lessons for beginners.
There are over 12 miles of paved bike paths in Yosemite Valley; additionally, bikers can bike on all regular roads. Bikes are available for rent on a first-come, first-serve basis at Curry Village, Yosemite Village, and Yosemite Valley Lodge. Yosemite also offers a free bike share program for bike loans up to 2 hours. If you have your own bike, we recommend bringing it because it is nice to be able to ride to the market, to trail heads, and to destinations within the park without having to get in your car.
Rafting the Merced River is a popular summer activity in Yosemite National Park. Most people put in at Stoneman Bridge (near Curry Village) and take out at Sentinel Beach Picnic Area, but always check water levels prior. Kayaking is popular at Tenaya Lake, although if you have more experience, kayakers can also use the Merced and Tuolumne rivers.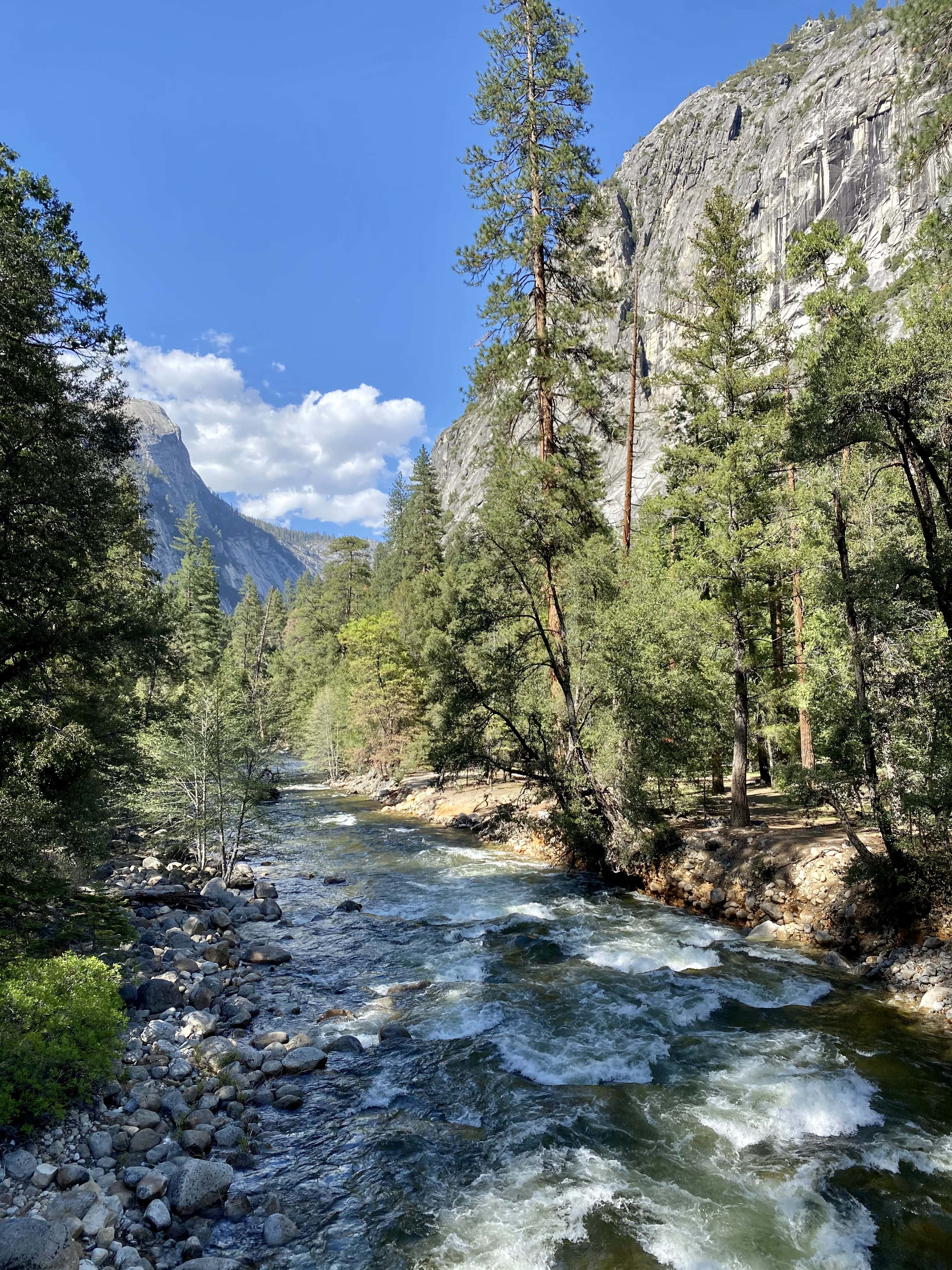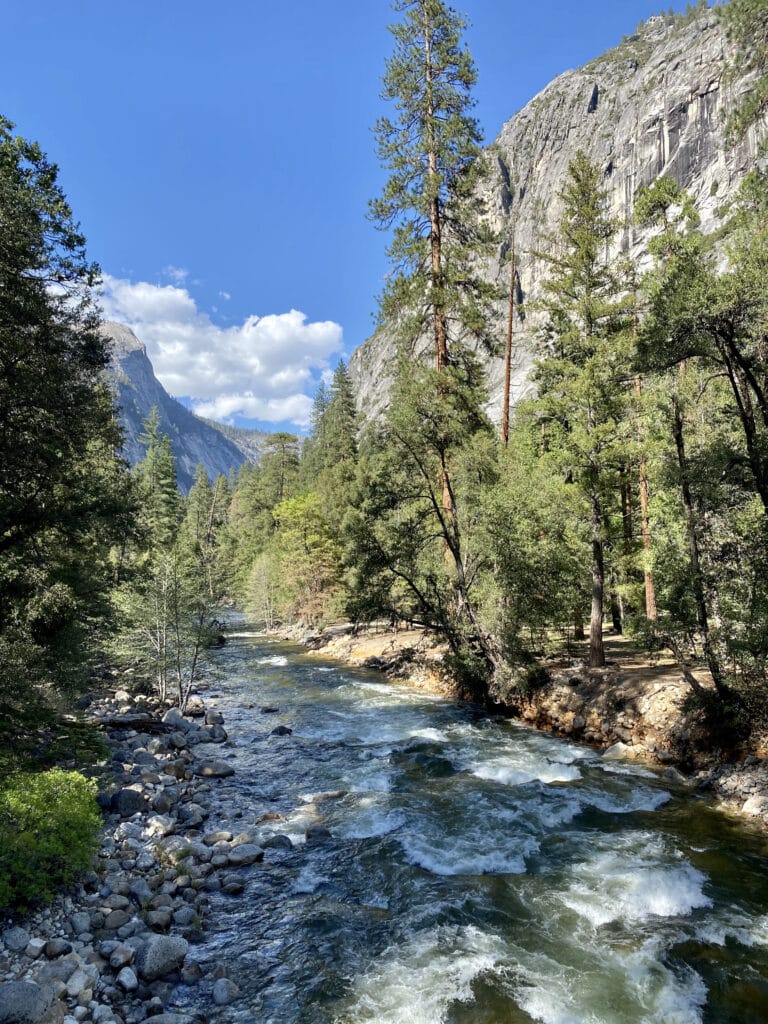 Yosemite Scenic Drives and Viewpoints
Although all drives through Yosemite National Park are beautiful, the most famous scenic drive is along Tioga Road, a 46-mile drive from Crane Flat to Tioga Pass. Olmsted Point is a popular pull-off along this road. Tioga Road is open seasonally, usually from late May or early June until November. This pass connects the Eastern Sierras to Yosemite and makes tacking on a side road trip to Mammoth Lakes much easier.
Tunnel View is another stunning viewpoint along Wawona Road, south of Yosemite Valley. From this road pull-off, you can see El Capitan on the left, Bridalveil Falls on the right, and Half Dome in the back.
Glacier Point is the perfect spot to catch the sunset and stargaze in the park. Sitting at 7,214ft, you will get amazing views of the high country, and incredible views of Yosemite Valley, including Half Dome, Nevada Falls, Vernal Falls, and Yosemite Falls.
For picnics in the park, El Capitan Meadow provides picnic tables, grills, and pit toilets. This is a great place to spot rock climbers ascending the wall. Sentinel Beach is a popular spot to set up a hammock or sit on the beach along the river, with views of Yosemite Falls in the background. Nearby, Sentinel Bridge is famous for its view of Half Dome reflected in the Merced River and Yosemite Falls.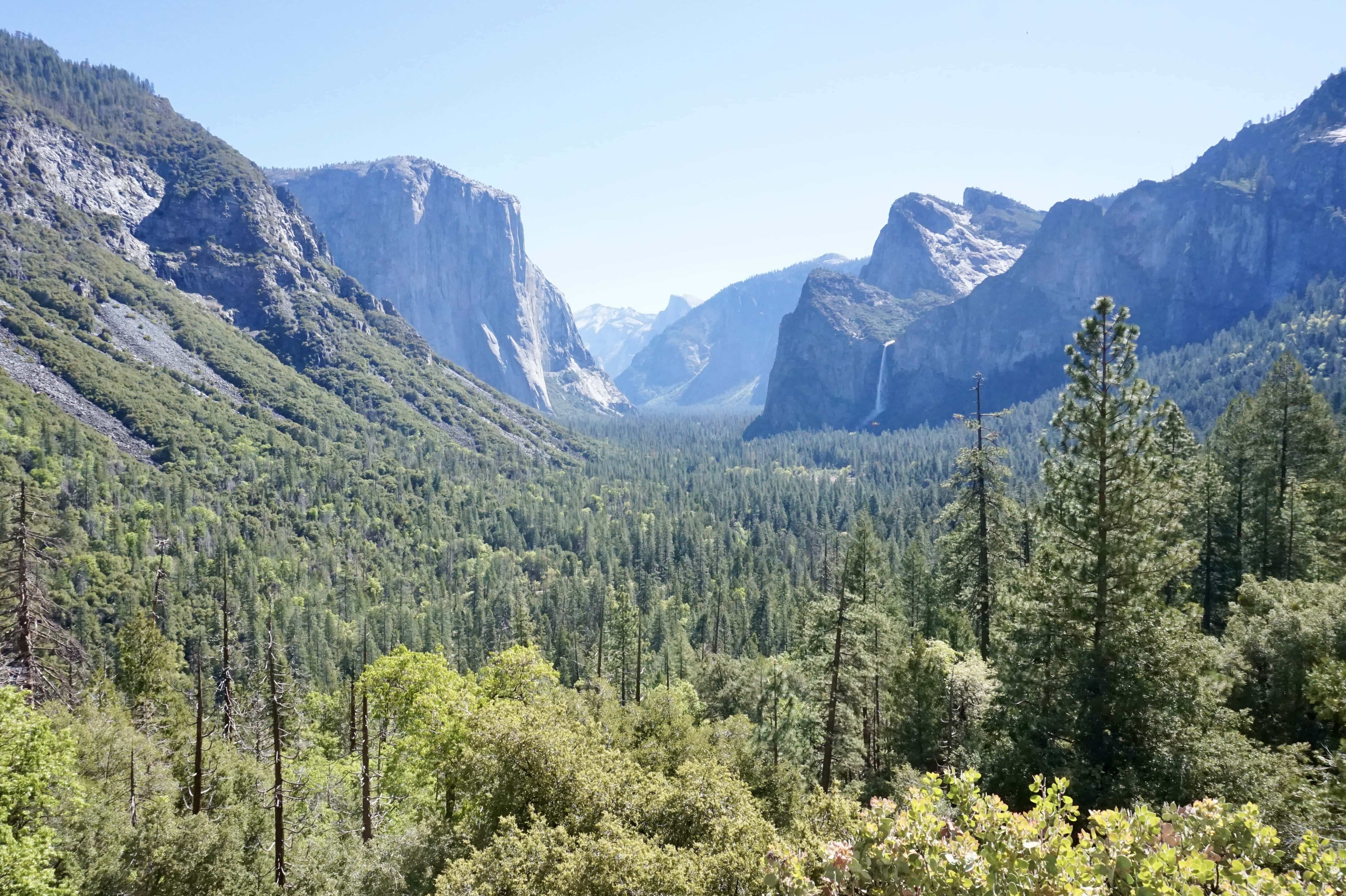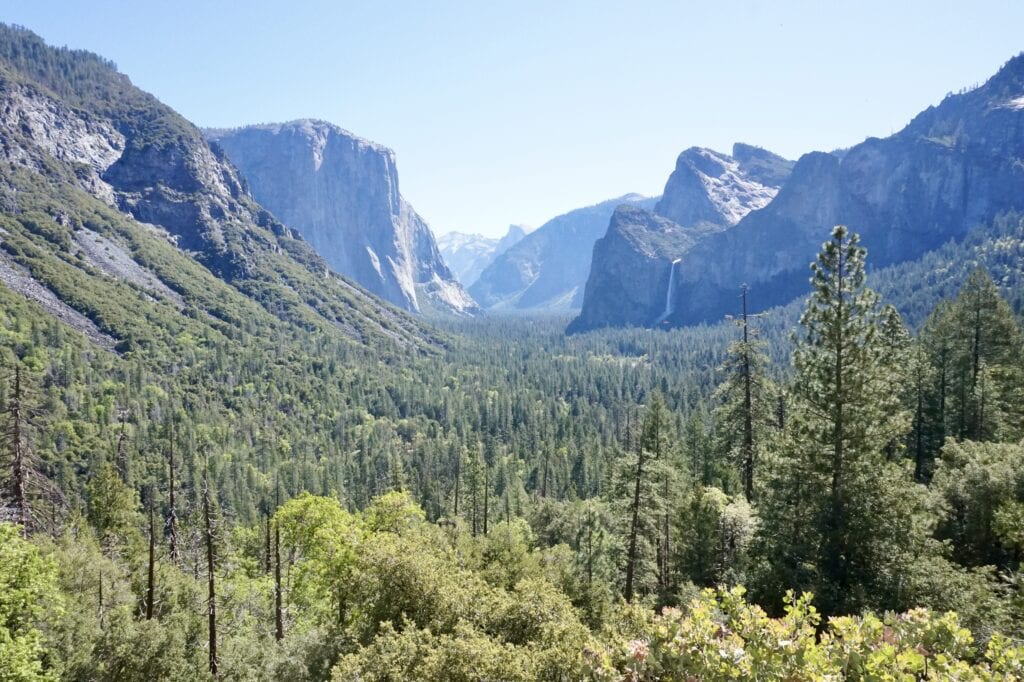 What to Pack for Yosemite National Park
Yosemite's weather can vary wildly, not only from season to season but depending on what area of the park you're in. Due to elevation changes in the park, I recommend bringing a lightweight down jacket on any adventure. When I visited in early May it was over 75 degrees in the sun, but as soon as the sun went behind the clouds or I was hiking at elevation, I was happy to have a layer to throw on. A good daypack, packed with your day hiking essentials, is a must for any Yosemite hikes. In the summer, you'll want to make sure you have adequate sun protection as well.
You will likely get sprayed with mist hiking to Yosemite Falls or along the Mist Trail to Vernal/Nevada Falls, so consider packing a rain shell or poncho, especially if you are hiking in cooler temperatures. Many popular hikes are steep, and I highly recommend using trekking poles to save your knees and help you stabilize on slick, rocky terrain.
Are you planning a trip to Yosemite National Park or have you been? Share your questions, comments, and experiences below!