Hotel Review: Cambria Beach Lodge on the Central California Coast
Read my hotel review of the Cambria Beach Lodge, a botique hotel on the central Cali coast, with info on rooms, amenities & the best nearby actvities.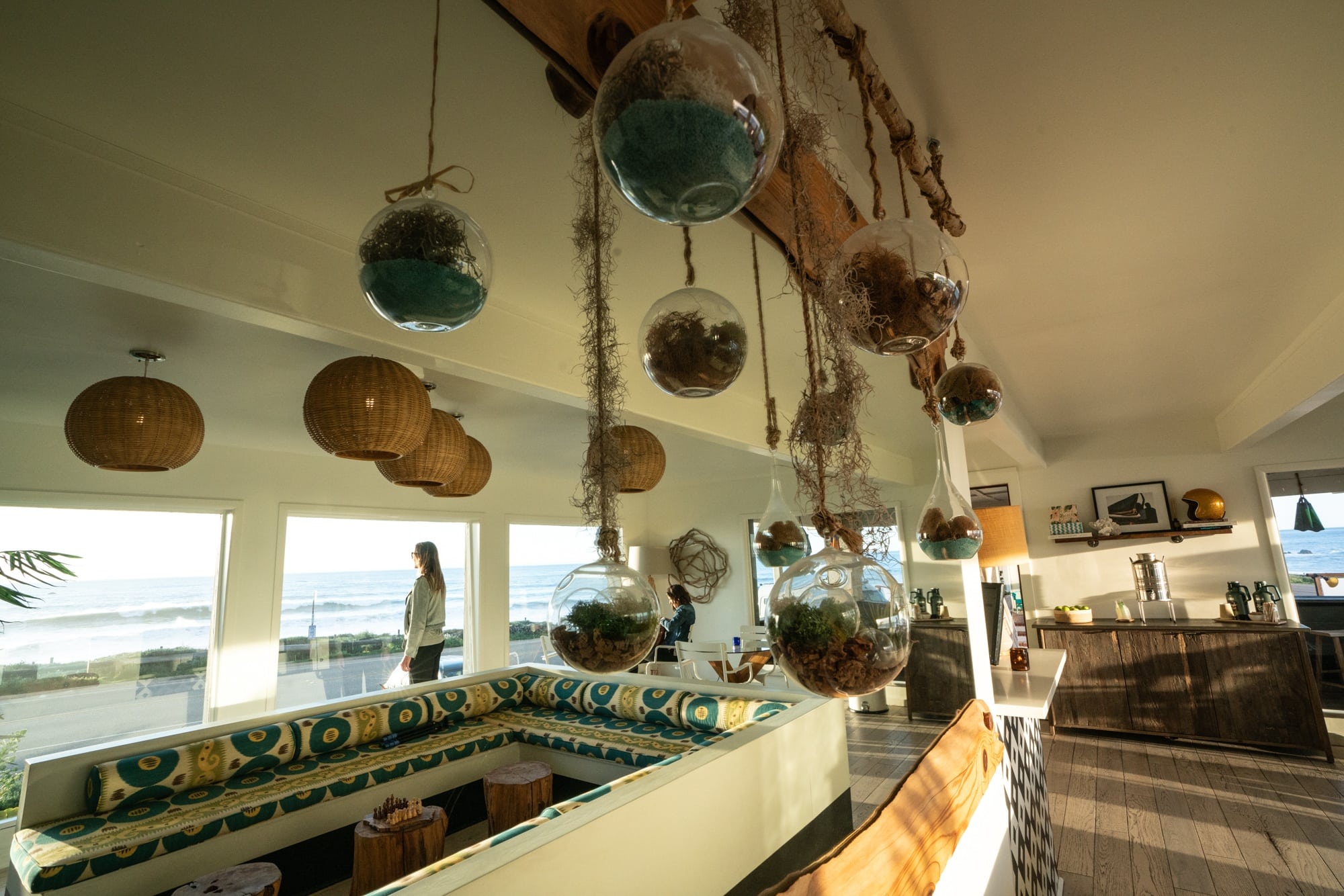 HOTEL REVIEW: CAMBRIA BEACH LODGE ON THE CENTRAL CALIFORNIA COAST
During our epic six day Central California Coast Road Trip, we drove up to the scenic coastal town of Cambria to stay at the Cambria Beach Lodge on Moonstone Beach. This seaside spot can easily be overshadowed by its more famous neighbors, like Big Sur, Santa Barbara and Los Angeles. However, Cambria is a haven for anyone who loves an unspoiled natural beach with beautiful views and fewer crowds.
After a two-night stay at the Cambria Beach Lodge, a thoughtfully designed oceanfront boutique hotel, we can certainly vouch for why we think this SLOCal beach town is well worth the stop.
Ready to make your reservation? Here's our hotel review of the Cambria Beach Lodge on the Central California Coast.
Where is Cambria Beach Lodge?
Located on the picturesque Moonstone Beach Drive in Cambria, California, the Cambria Beach Lodge is an easily accessible beachside hideaway. Directly off Cabrillo Highway, CA-1, it sits just south of Big Sur (about 3 hours) and north of Morro Bay. To the east is wine country and the city of Paso Robles, to the west, just steps from your front door, is the Pacific Ocean.
Rooms at Cambria Beach Lodge
Enter any one of the rooms at Cambria Beach Lodge and it's easy to see how they were inspired by the ocean. Sun-bleached wood floors contrast against white walls with turquoise accents for an all around serene and natural look. Although the design trends towards minimal, there are tiny details that make a big impact; which makes your stay all the more fun.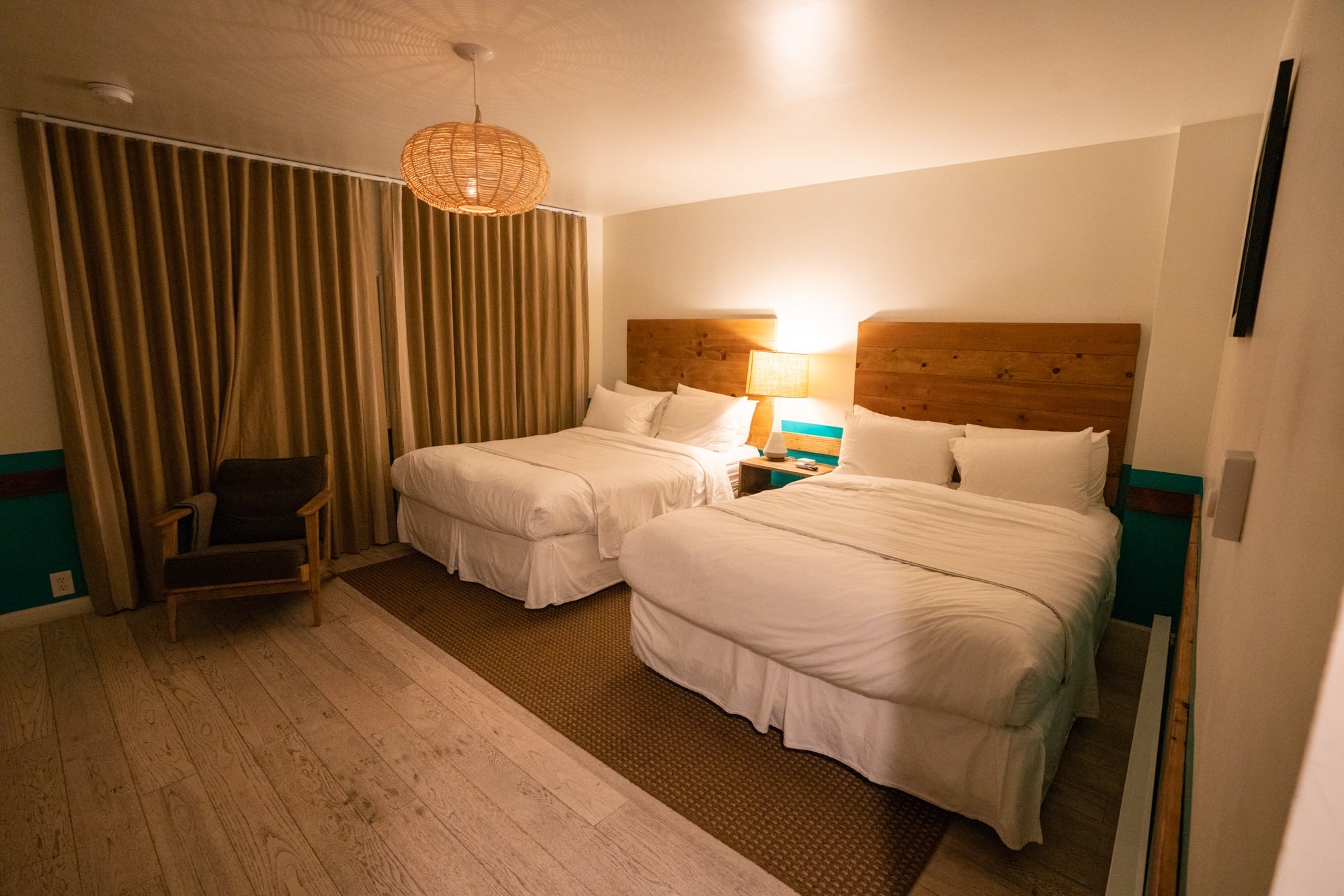 We stayed in the Deluxe Queen Room that was just the right size: big enough to feel spacious and small enough to feel cozy but not cramped. When it got cold after sunset, it was easy and comforting to flip on the electric fireplace and warm things up on a chilly spring night in Cambria.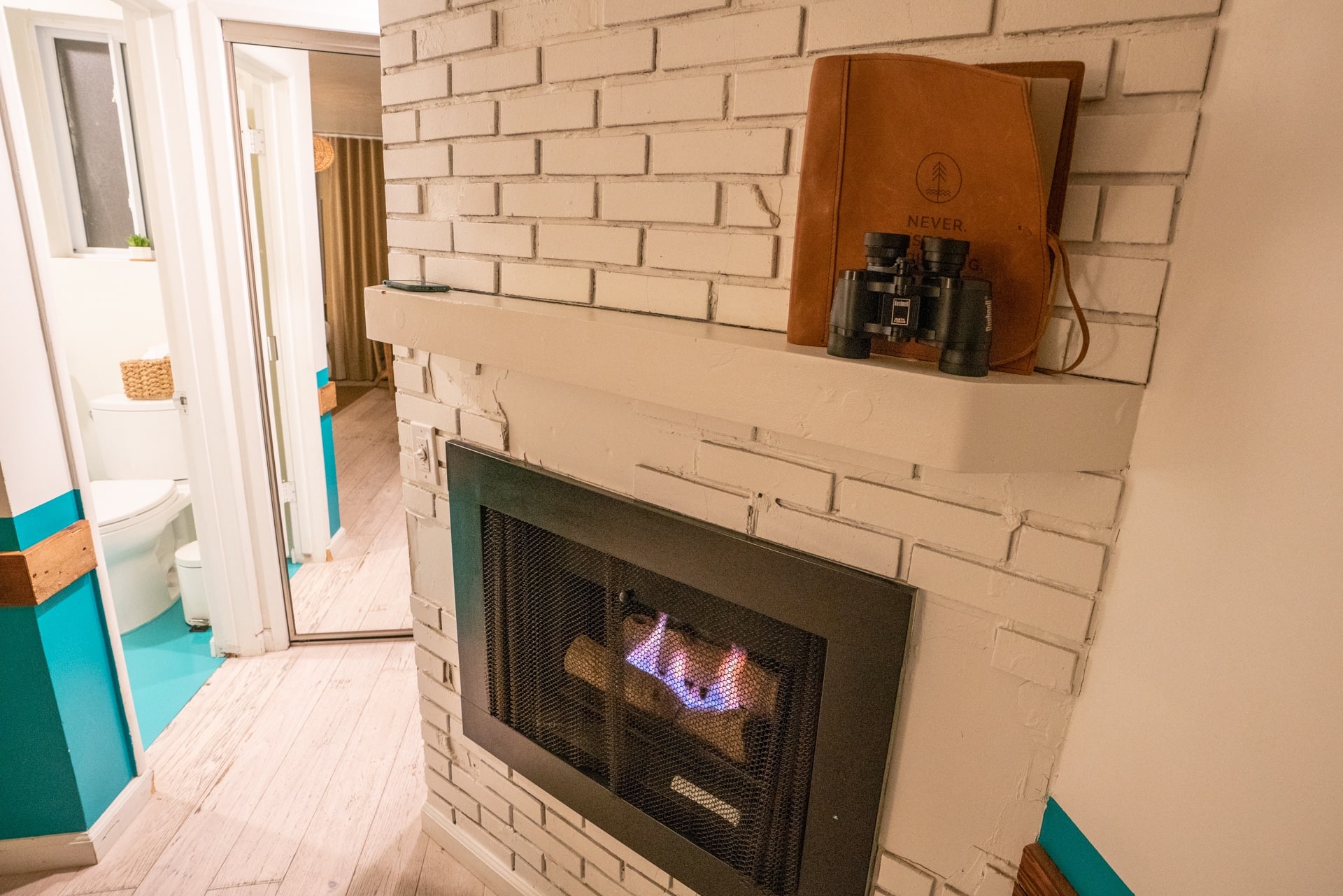 If you want to go bigger, they offer several different size rooms, ranging from a simple Double King to a Deluxe Ocean View or Beach House complete with your own kitchen. Most rooms, including the one we stayed in, were arranged in a row on ground level, with the parking lot and front desk just a few steps away. The set up felt like a cool, retro motel that had gotten a modern update, and kept things more casual and beachy — encouraging you to get out and explore.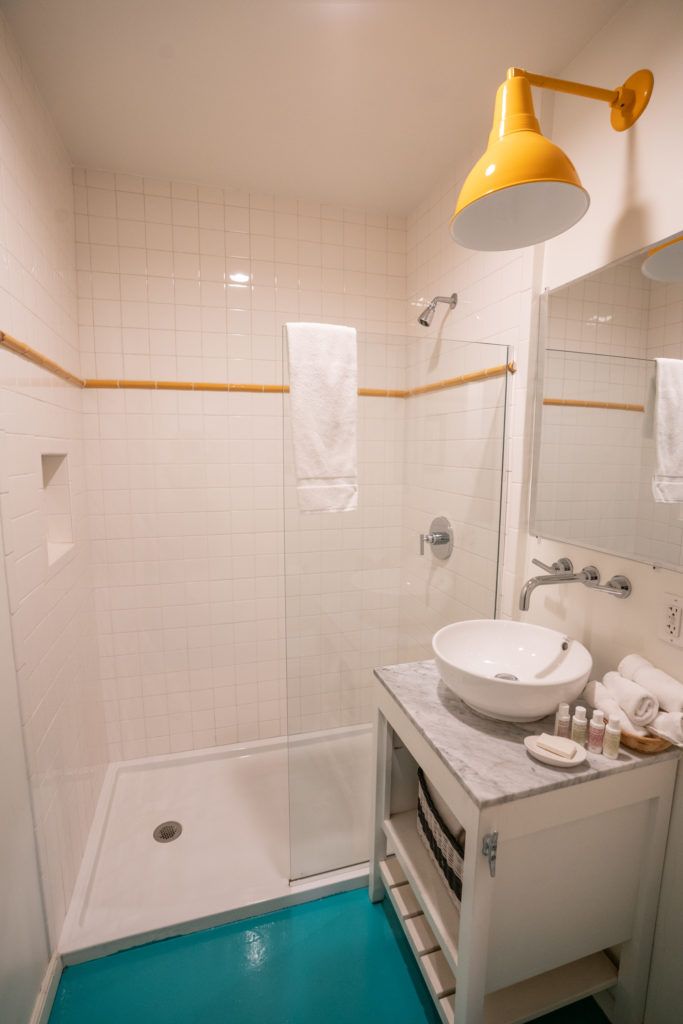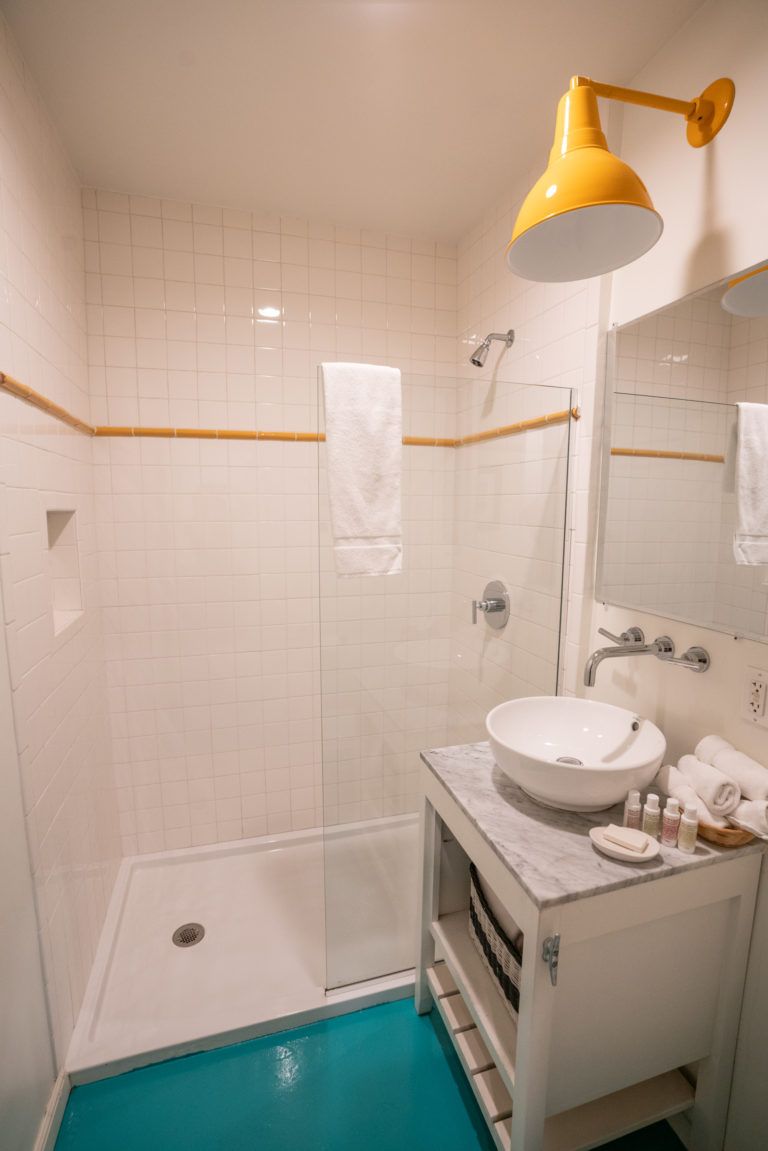 Cambria Beach Lodge Amenities
Much like the décor, Cambria Beach Lodge's amenities were also a highlight. On the walls, the lodge features beautiful artwork from Iron and Resin, a Ventura-based lifestyle brand and fellow SLOCal locals, and cozy Faribault wool blankets to keep you warm, draped over the Mid-Century Modern style furniture. Besides that, there were plenty of other creature comforts we loved.
Flat screen T.V. in each room
Boutique bath amenities from Malin & Goetz
"Adventure Tools" in place of the usual niceties you'd find at most hotels. Ours included a leatherbound guide to the lodge and the region with the words Never Stop Exploring stamped on front, a notebook, pen, and more packable items like a tube of sunscreen and surf wax. Hanging in the closet was a burlap tote bag for shopping sprees or beach days.
Locally-curated minibar that included artisan goods and SLOCal wine
Complimentary Linus Bikes available for guests to use. Hop on and cruise down the beachside pathways or explore downtown Cambria for a day.
Light continental breakfast from 7:30-10:00 am (we missed this both days due to our early start)
Binoculars provided in every room that can be used to spot whales off-shore
Private sky deck located in the front, above the hotel with unobstructed ocean views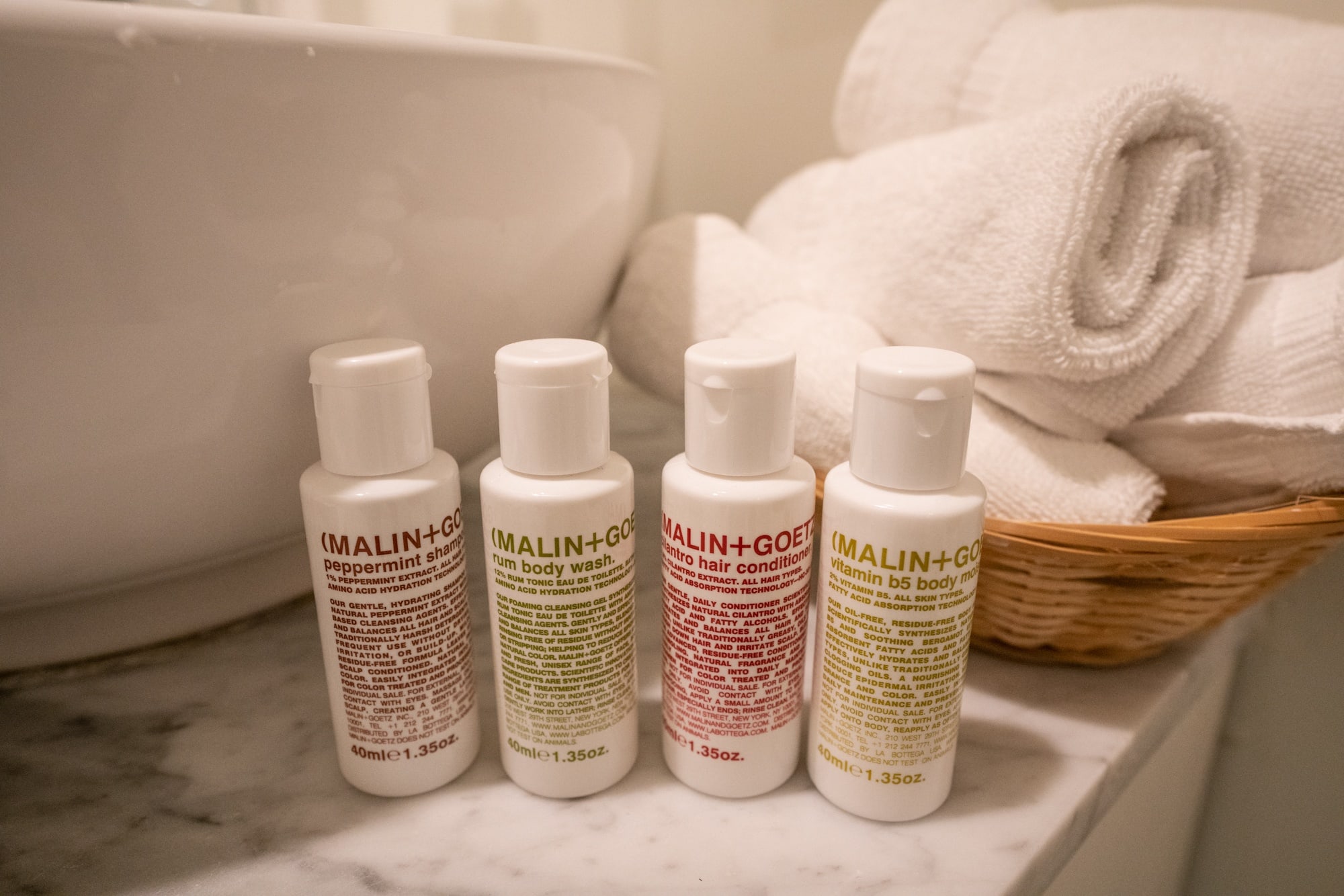 There is a daily service fee of $7/day that covers the cost of cleaning, breakfast, wifi, and use of the bikes.
Dog-friendliness at the Cambria Beach Lodge
This is good news for dog owners who love to bring their canine companion along for the ride. Cambria Beach Lodge is a dog-friendly hotel with one exception: Dogs under 40lbs are welcome for $50 per pet, per stay. Although Charlie didn't join us for our central California coast road trip, it would have been easy to bring him to the Beach Lodge with the hotel's close proximity to the waterfront, walkways, and the motel-style set up, so you don't have to walk your dog indoors down a hallway or an elevator.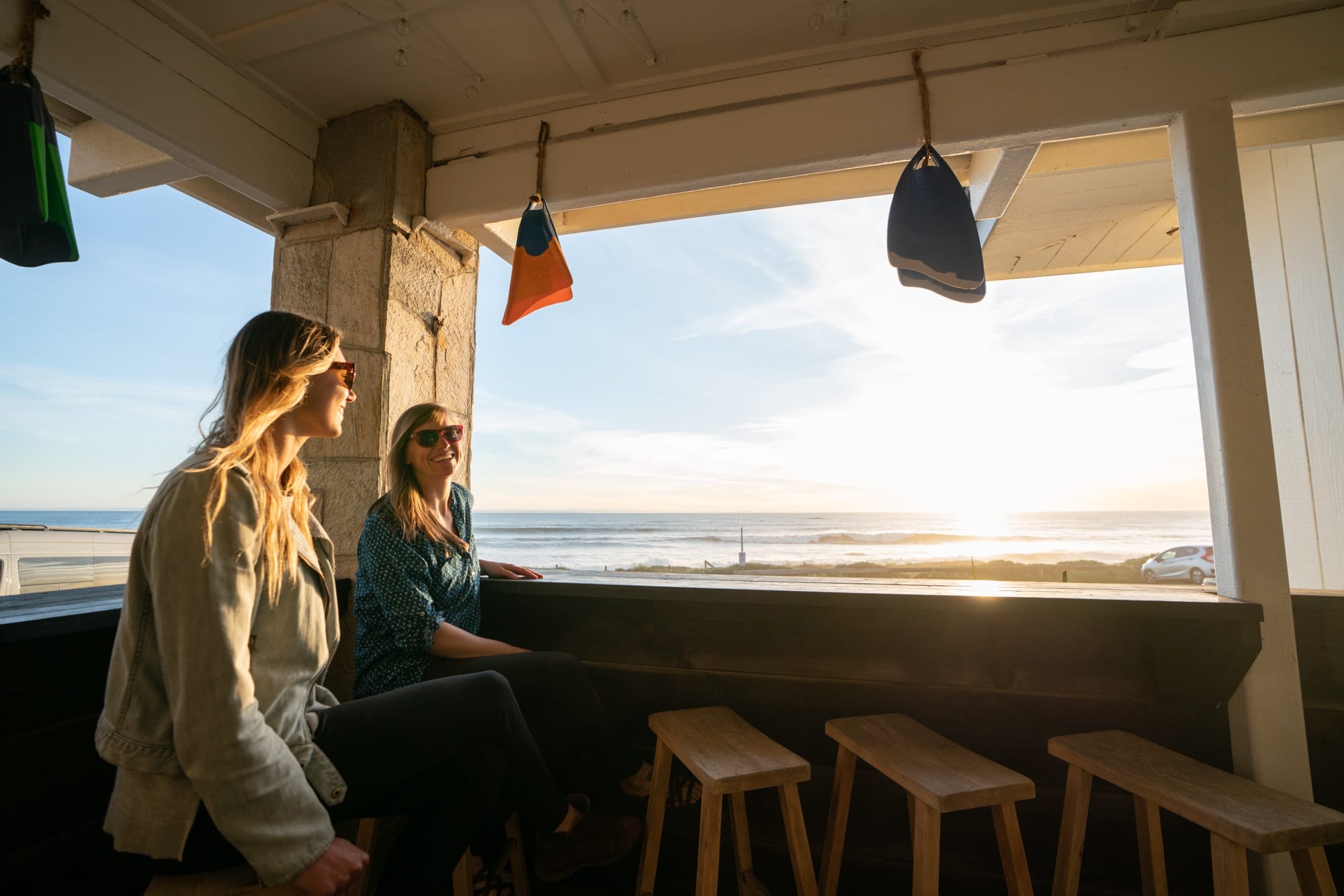 Activities Near Cambria Beach Lodge
There's a lot to do in and around Cambria, which might seem obvious with a town motto like this one: 'Pines by the Sea'. This stretch of California Coastline is packed with unspoiled beaches, pine forests, and small town charm. Here are a few things to check out while you're staying at the Cambria Beach Lodge.
Located directly across the street, Moonstone Beach is a quintessential California coastline that's open to the public. Go surfing, boating, swimming, or just take in the seascape from your beach blanket.
Not far from downtown Cambria is Paso Robles. It's a fun spot in the heart of wine country that's chock full of fresh food, wine tasting, and local craft brews. We highly suggest checking out Tin City!
There's farm-to-table California cuisine, local artists, and antiques in the former boomtown of Cambria. If you like architecture, there's a lot of unique design to take in on a walk through town. It might be small but it's worth checking out.
Another beachfront locale that's worth a visit for the Elephant Seals alone, San Simeon is a gorgeous natural beach with a pier and downtown area that's also a popular spot for renting a sea kayak and exploring the area's caves.
Just north of San Simeon is the famous Hearst Castle. A behemoth of architecture, history, and popular culture, the Hearst Castle is a must-see if you're headed up the coast.
A few hours up California 1 and you'll find yourself in picturesque Big Sur. Not to mention, a drive through northern SLOCal has rugged cliffs, incredible views, and pristine waterfalls that is worth the road trip alone!
The boardwalk that is directly across the street from the Cambria Beach Lodge.
Reservations at the Cambria Beach Lodge
The Cambria Beach Lodge is a small, boutique hotel, and reservations are recommended. Make a reservation online here.
Want to travel cheaper? Consider visiting the Cambria Beach Lodge in the off-season. When we visited in April, rooms were less than $200 a night. Summer prices are significantly higher.
Thank you to the Cambria Beach Lodge for hosting us.