5 Outdoor Idaho Adventures to Experience
Many people believe that Idaho is nothing more than potatoes and hicks, and many of the locals are perfectly happy with notion. It keeps the crowds at bay, leaving the 37 million acres of public lands open to explore. At the same time, Boise has recently blossomed into a very cool city with a vibrant local music scene, tons of bike trails, and new breweries, putting Idaho's capital on the map as a new outdoor destination.
With a newly redesigned airport and an increasing number of direct flights, Boise is becoming more accessible every year. So when planning your next vacation, here's a list of 5 activities that you can easily incorporate into an outdoor Idaho weekend.
1) Hot Springs
Idaho has more soakable hot springs than any other state, with approximately 130 natural pools that are just the right temperature. Near Boise, there are two types of hot springs. The first are wild, undeveloped hot springs on public lands, many of which require a short hike. These are generally free, except for a few springs where a small parking fee is required. Camping is also available at many of these hot springs. Popular wild hot springs within a 1.5 hour drive of Boise include Skinnydipper Hot Springs and Campground Hot Springs. For those willing to venture a little further, the Idaho Hot Springs website features soaks from all around the state. Just be aware that nudity at some (including Skinnydipper, as the name indicates) can be common.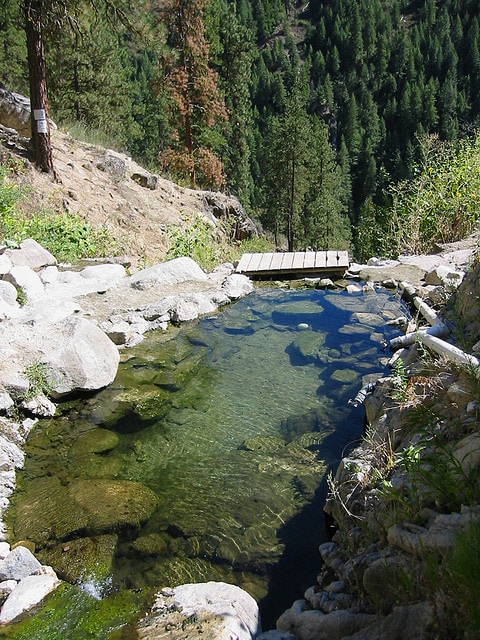 Skinnydipper Hot Springs (Photo credit: Ben Amstutz)
If going all-natural isn't your thing, then you should consider exploring the commercial hot springs around Boise. The newest commercial hot springs near Boise are The Springs in Idaho City. A quick 45 minute drive up beautiful highway 21 leads you to this geothermal hot springs retreat where you can relax in an outdoor spa-like atmosphere. There are a variety of pools ranging from cold to extra hot, as well as an aromatherapy steam room. And what's even better is that they have pool side wait-staff serving beer, wine, and food, so no need to get out when you need a refill. An all-day pass costs $16, and if you aren't up for the drive home, The Springs website provides a list of nearby lodging and campgrounds.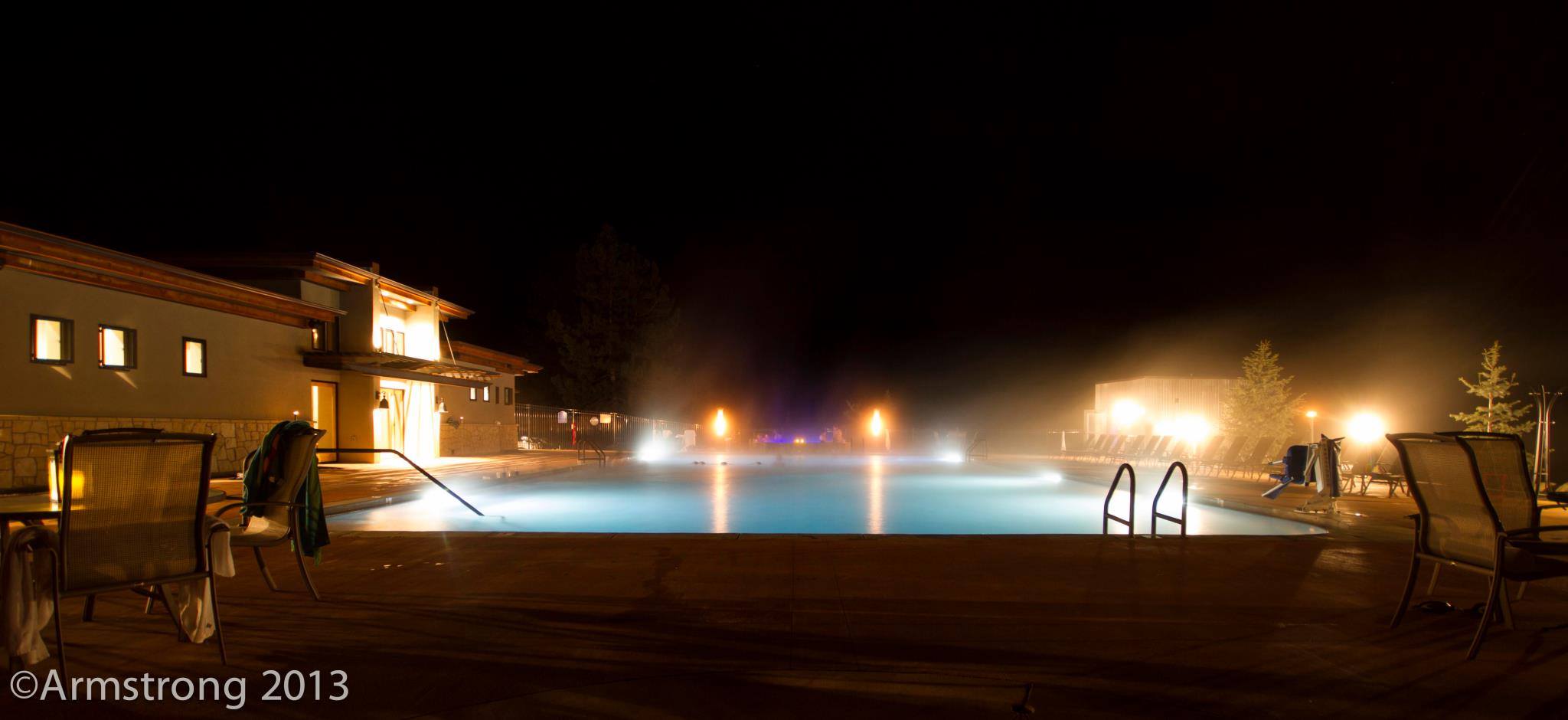 2) Biking
Whether you are a road biker or a mountain biker, Boise has something for you. For those who prefer dirt, the Boise Foothills which overlook town have over 130 miles of trails to explore. Terrain varies and offers something for beginners to the most experienced mountain bikers, and many of the trails can be accessed by riding straight from downtown. The Ridge to Rivers program, a partnership managed by multiple outdoor Idaho agencies, has an excellent website with descriptions and basic maps of all of the trails, including these suggested mountain bike loops. You can also purchase a detailed map of the Foothill system at one of the many outdoor shops in town.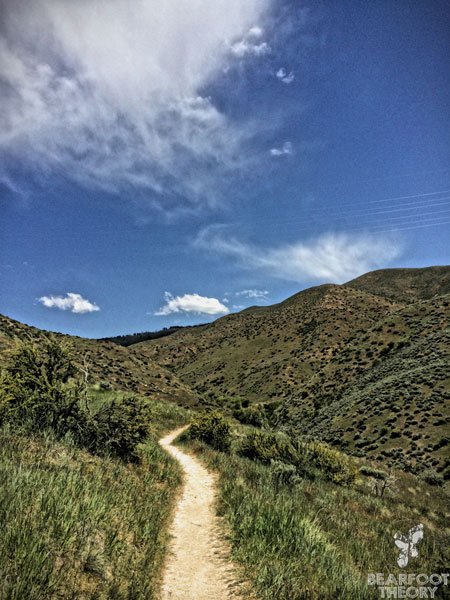 The Upper Hulls Gulch Trail in the Boise Foothills
If you are more comfortable on paved ground, spend a day exploring the Boise Greenbelt on bike. This 25 mile paved path follows the edge of the Boise River all the way across town, passing through some of Boise's coolest parks, including Julia Davis and Ann Morrison Park, where you can rest, have a picnic, or even take a dip in the river. A map of the Greenbelt can be found here.
One of the many bridges on the Greenbelt crossing the Boise River
3) Hiking
The Boise Foothills are also perfect for hiking, and it is not hard to find solitude. A short drive up Rocky Canyon Road leads to the Five Mile Creek Trailhead and the Orchard Gulch trailhead, which link together forming a nice loop.
If you are looking for something a little more challenging that will get you a bit deeper in the forest, head up Bogus Basin Road and hike up Freddy's Stack Rock Trail to Stack Rock. Stack Rock, an outdoor Idaho icon, is a huge pyramid shaped granite rock that is so big it can be seen from town. Once you reach Stack Rock, kick up your feet for a while and enjoy the beautiful view of the valley below.
Stack Rock
4) Rafting
Idaho has more miles of whitewater than any other state in the lower 48, and there is something for every comfort level. Cascade Raft and Kayak and the Payette River Company offer half and full day trips from the Boise area ranging from $45-110 per person.
Rafting on the Salmon River
If you prefer a lazier day, float down the Boise River from Barber Park to Ann Morrison Park. Rafts and inner tubes can be rented at Epley's Boise River Rentals right at the put-in. Just keep in mind that alcohol is not allowed on the river, and people do get ticketed.
One last option for the birders out there. Just 20 miles south of Boise is the Morley Nelson Snake River Birds of Prey National Conservation Area. The region is managed by the Bureau of Land Management and is home to falcons, eagles, hawks, owls, and other large predatory birds. Idaho Guide Service offers one and two day float trips through this volcanic canyon with fantastic bird-watching opportunities. The best time of year is mid-March through June when the 800 pairs of raptors come to the area to mate and raise young.
5) Scenic drives
In less than a three hour jaunt from Boise, you can be in the heart of the Sawtooth Mountains. The site of the jagged craggy peaks are worth the trip alone. From Boise take Highway 21 north to the small funky town of Stanley where the outdoor opportunities are endless. Think world-class hiking, fishing, and biking. Or you can simply find a nice riverside spot to relax and take in the beautiful scenery.
If you have some extra time and want to make a weekend out of it, drive south from Stanley over Galena Summit to Sun Valley. Stop at Sun Valley's famous Bald Mountain ski resort and ride the gondola up to the top to experience panoramic views of some of Idaho's tallest peaks. Sun Valley also has some fantastic restaurants, such as the cozy Trail Creek Cabin, as well as fun nightlife, making it a great place to shack up for a night.
View of the Sawtooth Mountains from Highway 21
This is just a sliver of what Idaho has to offer. If you have questions about any of the outdoor Idaho adventures mentioned here or if there is something I missed, please join the conversation by commenting below.
Follow Bearfoot Theory I Outdoor Lifestyle Blog's board IDAHO OUTDOORS on Pinterest.