California Road Trip: 15 Stops For Outdoor Adventure
Start planning your next adventure with this roundup of the best California road trip stops.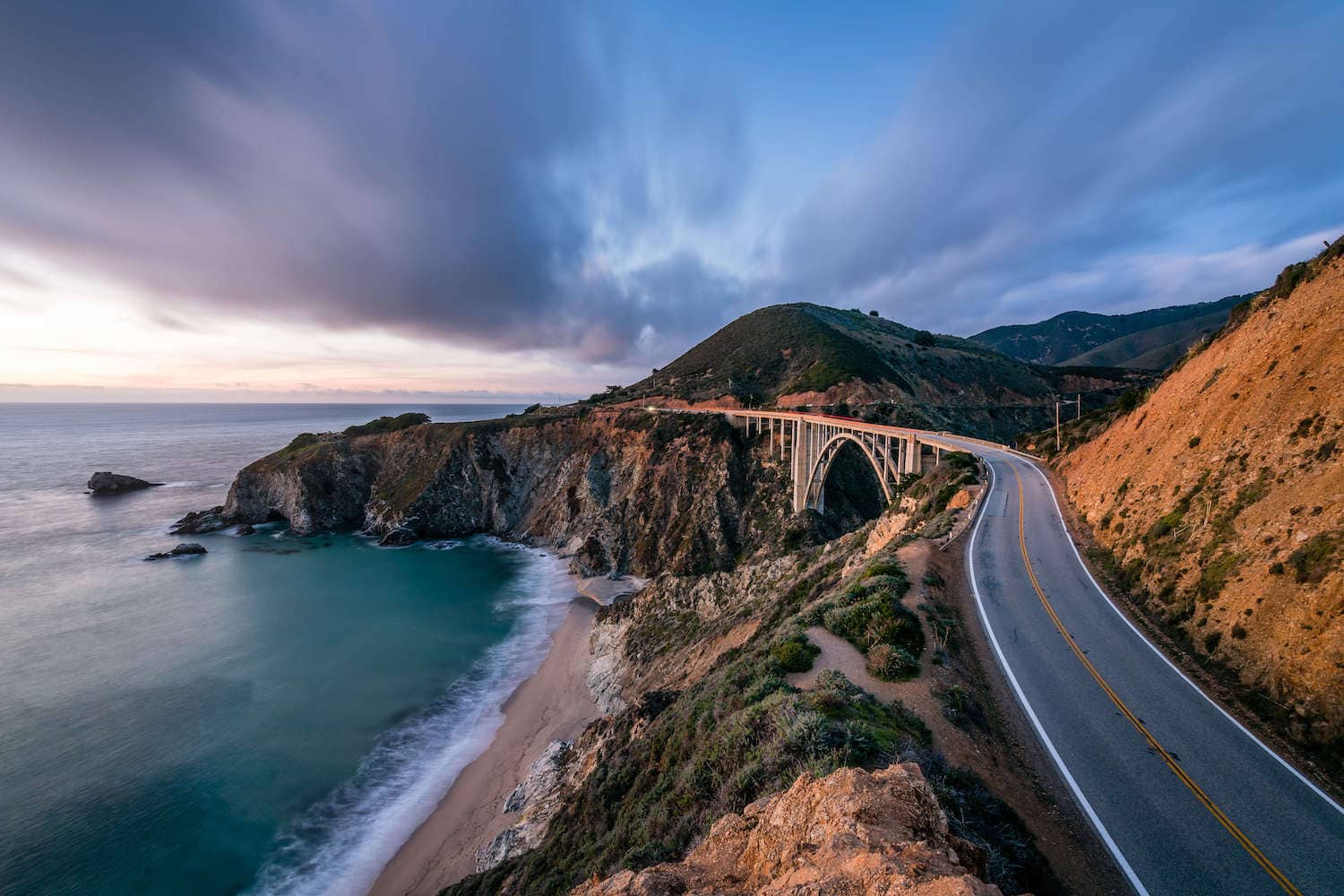 A California road trip is on many adventurer's bucket lists. There are endless opportunities for outdoor fun in the Golden State including hiking, backpacking, kayaking, swimming, biking not to mention 9 National Parks – more than any other state. Wherever you go, there is adventure for everyone.
But with so much to offer, how do you choose the best road trip stops? In this post, we share our favorite California road trip destinations including some well-known spots as well as a few off-the-beaten-path gems. So pack your bathing suit and hiking boots, it's time to hit the road!
Start planning your California road trip with these 15 must-visit stops for outdoor adventurers.
Important Reminder: As it goes in all of the destinations we share, please practice good trail etiquette and remember to Leave No Trace. This means packing out all of your garbage (including toilet paper), being respectful to others, and following the established rules.
California Road Trip Stops – Mapped
Find camping at sold out campgrounds
Try The Dyrt PRO free for 30 days
The Dyrt PRO is one of our favorite apps for finding campsites.
The Dyrt Alerts will help you get reservations at sold-out National & State Parks across the US by sending you an alert when your desired dates become available.
• Select sold-out campgrounds and the dates you want to camp
• The Dyrt repeatedly scans for cancellations
• When your campsite becomes available you'll get a Dyrt Alert sent to your phone so you can book your campsite!
Use the code BEARFOOT to get 30 days free!
---
Coastal California Road Trip Stops
1. Highway 1
Highway 1 is one of California's most popular road trip highlights, and for good reason. Stretching for 656 miles from Los Angeles to just north of Fort Bragg, Highway 1 hugs the Pacific coast and offers incredible views of rugged coastline and desolate beaches. It also passes through small coastal towns and provides plenty of opportunities for hiking and sightseeing.
Many people drive the full length of Highway 1 for their California road trip adventure, but you can also do a shorter stretch to make room for other stops. Check out our guide to the best time to visit California's Central Coast to start planning.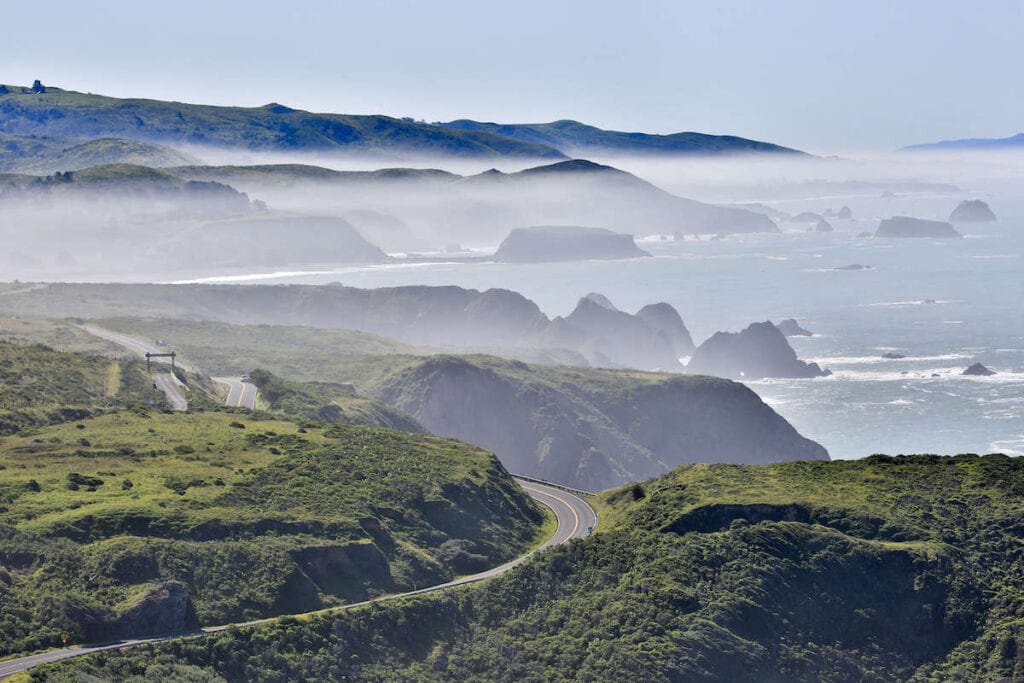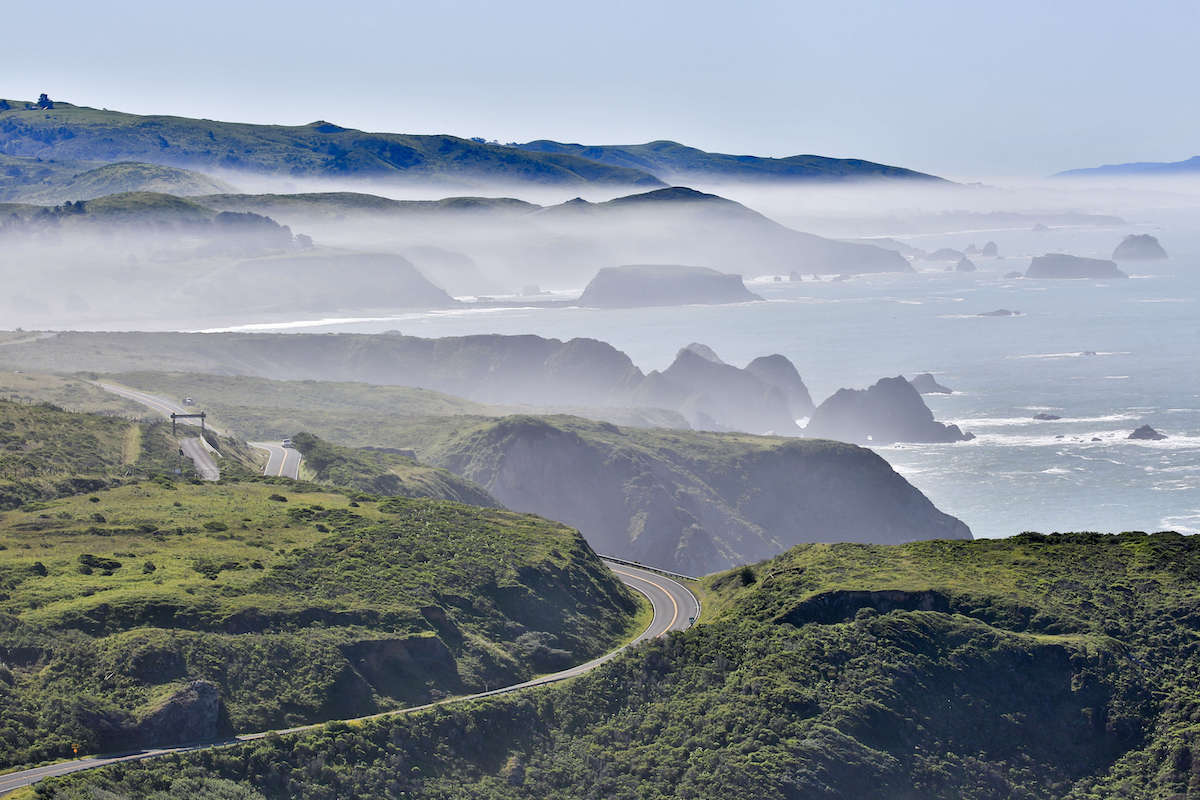 2. Ojai
Located in the lush hills above Ventura, Ojai is a small town with lots to do and see. While slightly touristy, the boutiques, restaurants, and shops that line the main street are fun to visit and explore. If you're ready for outdoor adventure, grab some bikes and head to the Ojai Valley Trail. This paved and gravel path meanders through the stunning Ojai Valley and eventually ends in the oceanside town of Ventura 15 miles away. There are also tons of hiking trails in Valley View Preserve just a few miles outside of town.
For more things to do and see in Ojai, check out day 3 of our Central California Coast Road Trip Itinerary.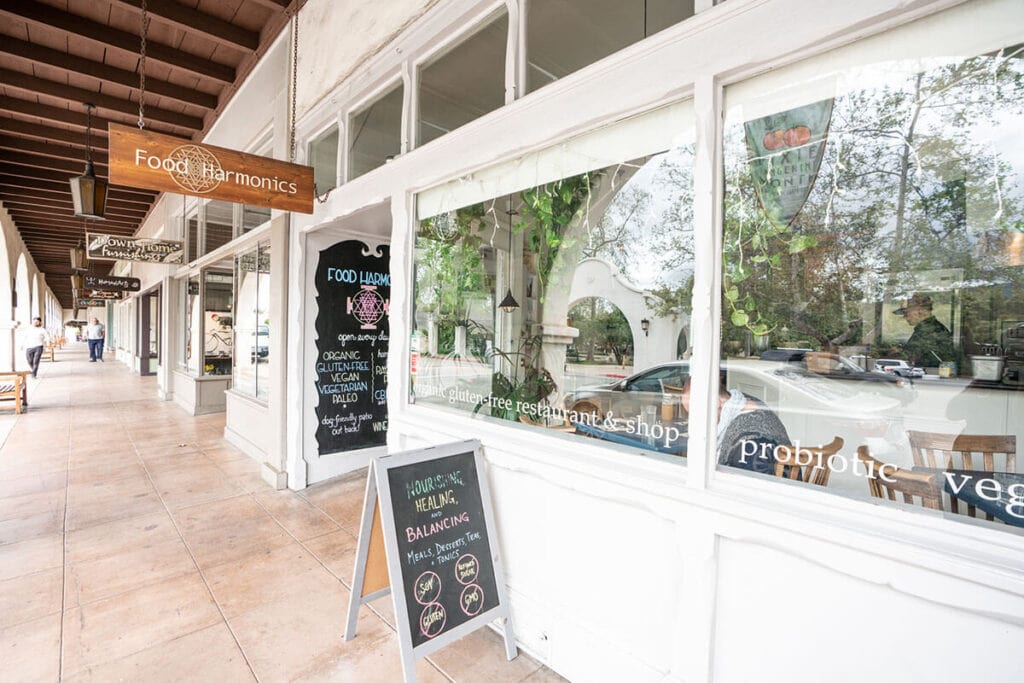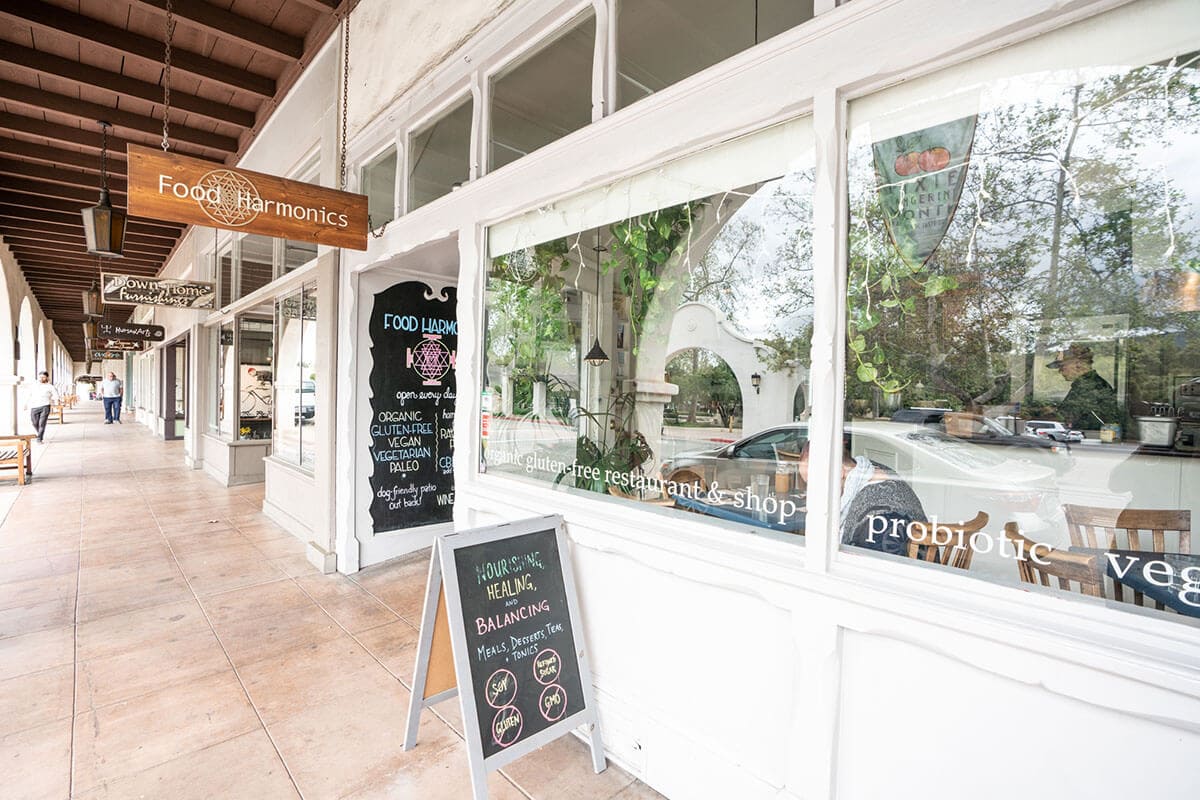 3. Santa Barbara
Santa Barbara is a beautiful coastal town that's full of Mediterranean style architecture, cute boutiques and restaurants, and outdoor adventure for everyone. Spend the day at one of the city's beautiful beaches, walk the pier, bike the coastal bike path, hike in the Santa Ynez Mountains for expansive views of town, and wind down with dinner and drinks in the Funk Zone where you'll find plenty of local wineries and breweries to choose from. For some history, visit Mission Santa Barbara and the Presidio.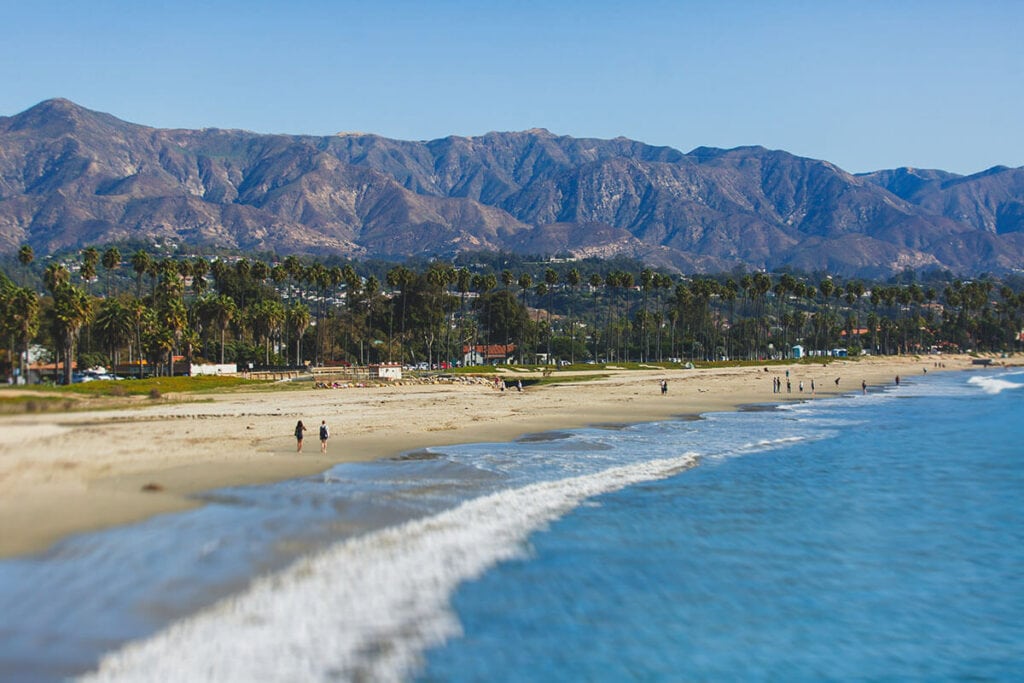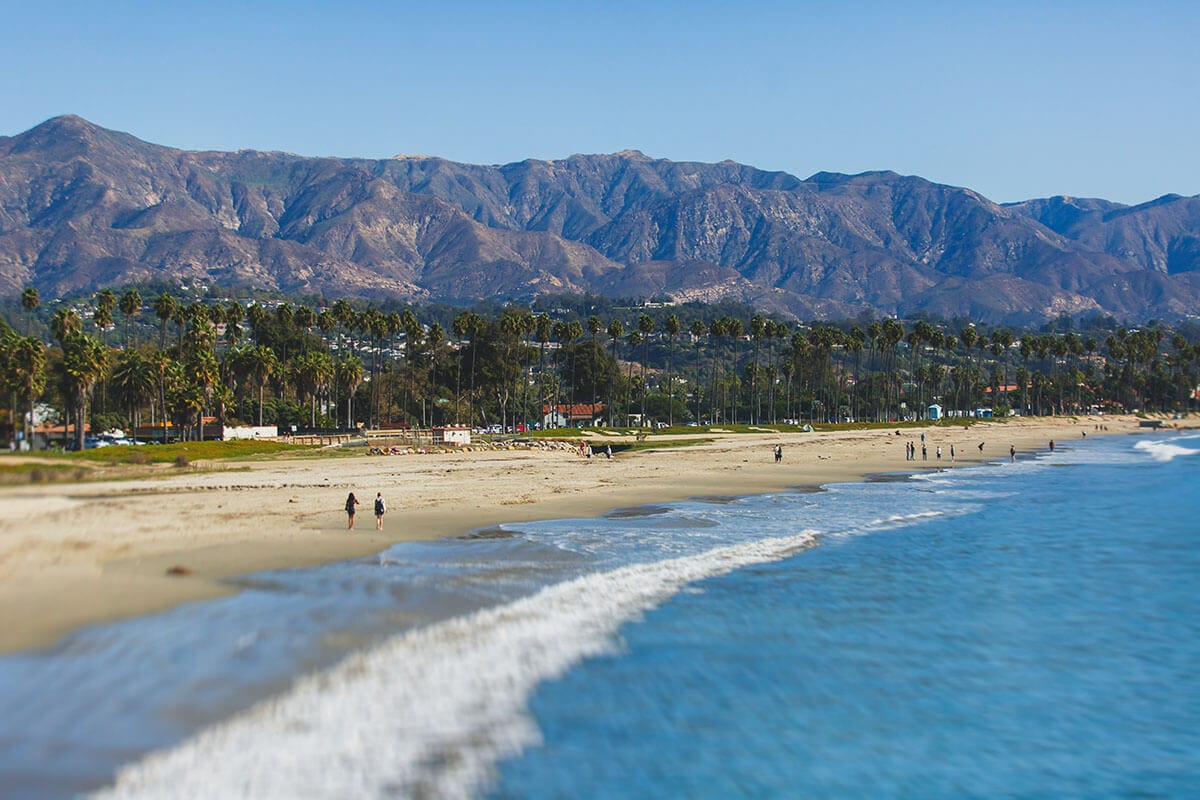 4. Big Sur
While the entire drive along Highway 1 is scenic, you will be blown away by Big Sur. This stretch of road will have you perched high alongside cliffs with expansive views of the Pacific Ocean below. Big Sur is a great place to spend a few days on your California road trip with lots of hiking trails and beautiful beaches all among coast redwood trees and other pines.
Grab breakfast to go at the Big Sur Bakery and visit Julia Pfeiffer Burns State Park where you'll see the famous McWay Falls drop into the ocean. Andrew Molera State Park has some of our favorite hiking trails in the area. As for beaches, watch for wildlife at Garrapata State Park and lake a long walk on Sand Dollar Beach. Pfeiffer Beach is a popular destination as well but can be difficult to access due to limited parking. Big Sur is very popular so be sure to book your campsites or other lodging in advance.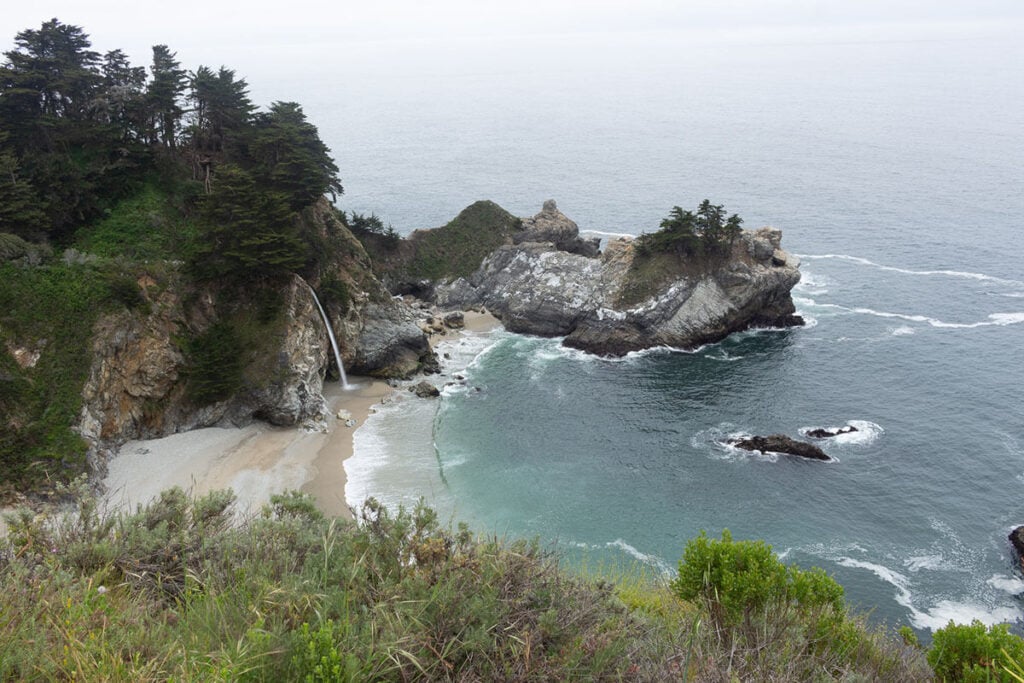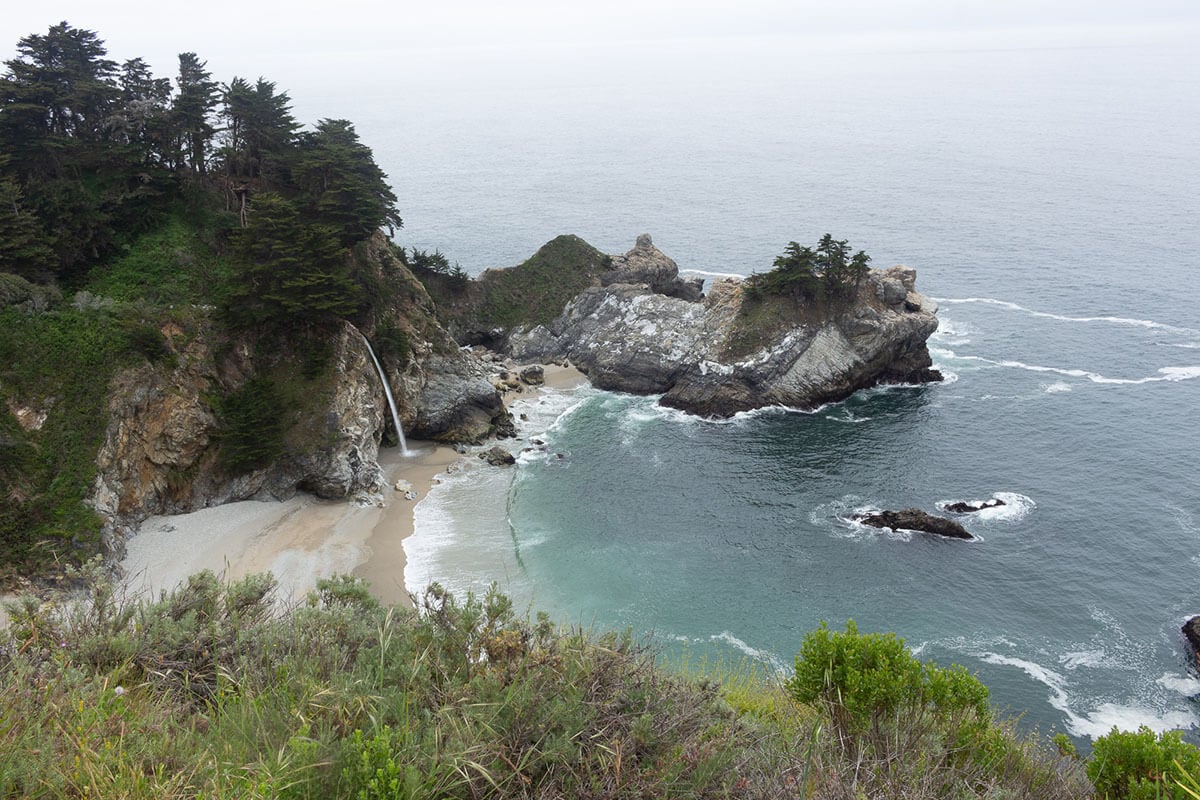 5. Monterey
Monterey is a small seaside town on the California coast that is famous for its world-renowned aquarium as well as its dedication to creating a sustainable and eco-friendly community. At the Monterey Aquarium, see marine life up close as you learn about regional marine habitats, ongoing research, and conservation efforts including the Sustainable Seafood Watch Program. Tickets are available online and should be reserved well ahead of time (in-person tickets are not available for 2021).
If you want to stretch your legs, check out the free self-guided audio walking tour along Cannery Row or the Monterey Bay Coastal Recreation Trail to learn more about the natural and human history of the area. Other outdoor activities in Monterey include mountain biking or hiking at Fort Ord National Monument, whale watching, tide-pooling, kayaking, surfing, scuba diving, or just relaxing at one of Monterey's many beautiful sandy beaches.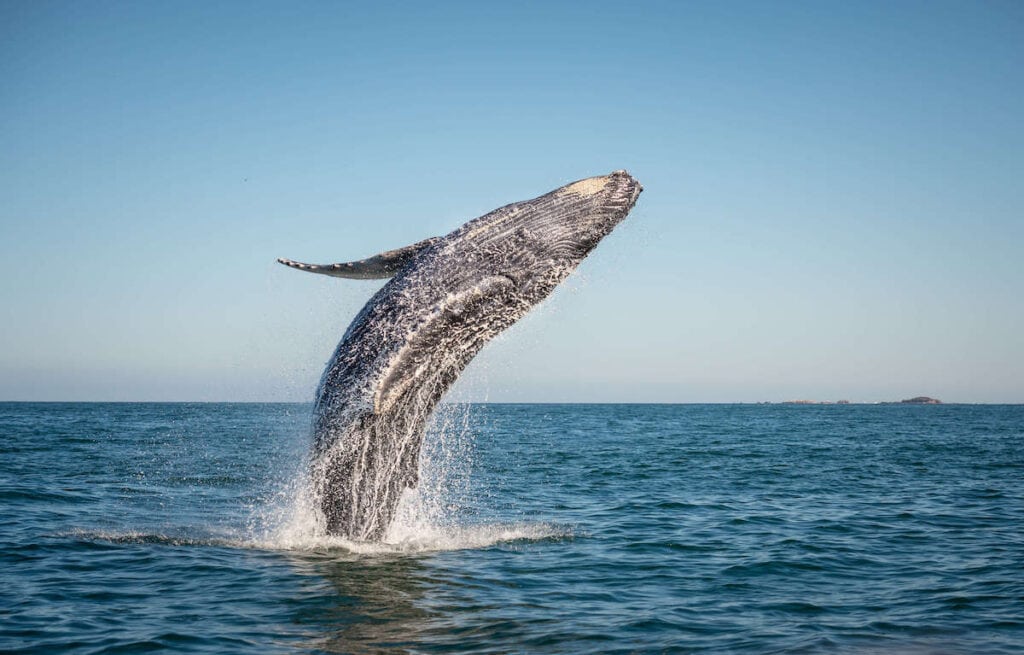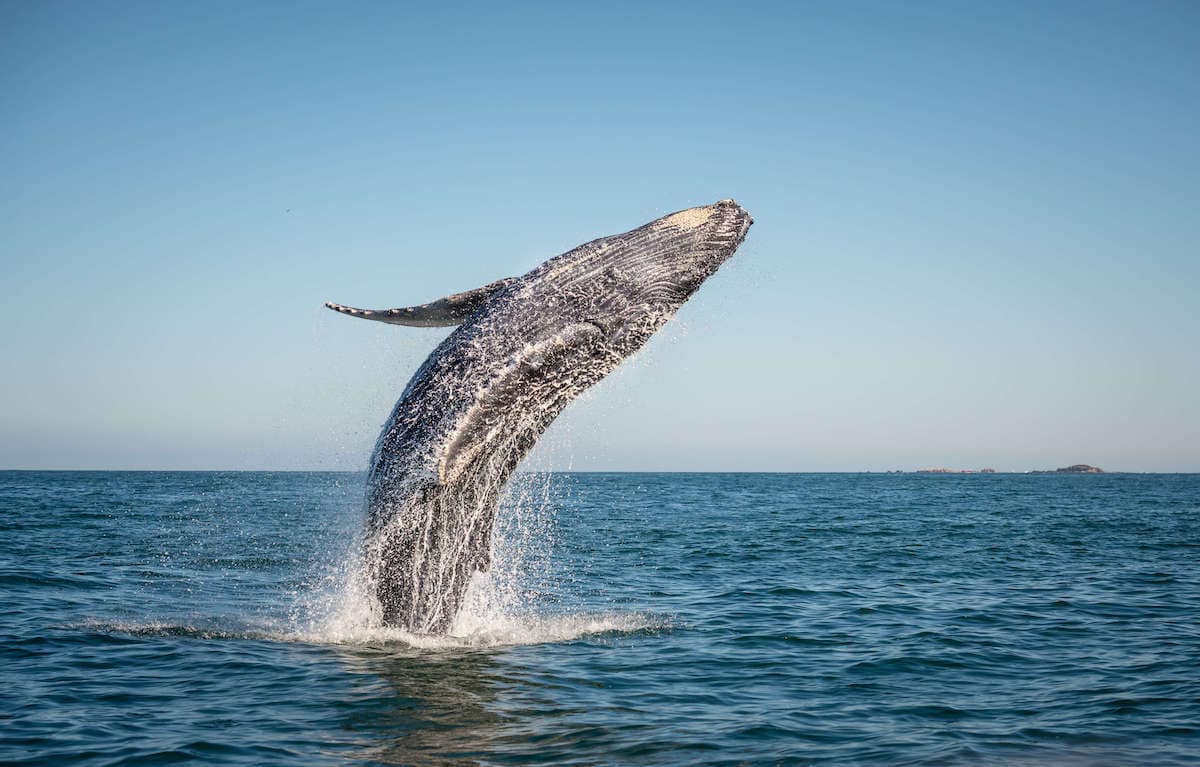 6. The Redwoods
A road trip to California wouldn't be complete without a stop to experience California's majestic redwood trees. There are several places along the northern California coast where you can view old-growth redwood forests, but one of the best is Humboldt Redwoods State Park which has the largest expanse of ancient redwoods left on the planet. Within the park, drive the impressive 31-mile Avenue of the Giants, hike along one of the many hiking trails, swim in the Eel river, and spend the night among the redwoods at one of the picturesque campsites.
Farther north are the Redwood National and State Parks, a string of protected beaches, grasslands, and forests. Hike through dense old-growth forest at Jedediah Smith Redwoods State Park, visit the magical Fern Canyon in Prairie Creek Redwoods State Park, look for Roosevelt elk in Elk Prairie, and marvel at the towering trees along the Lady Bird Johnson Grove Trail in Redwood National Park.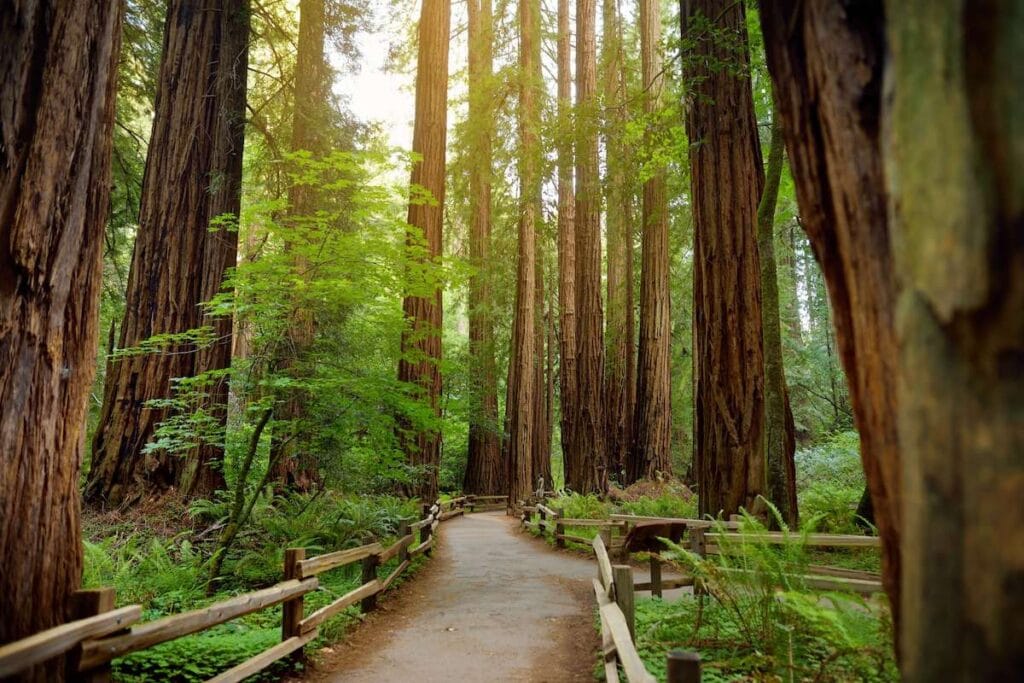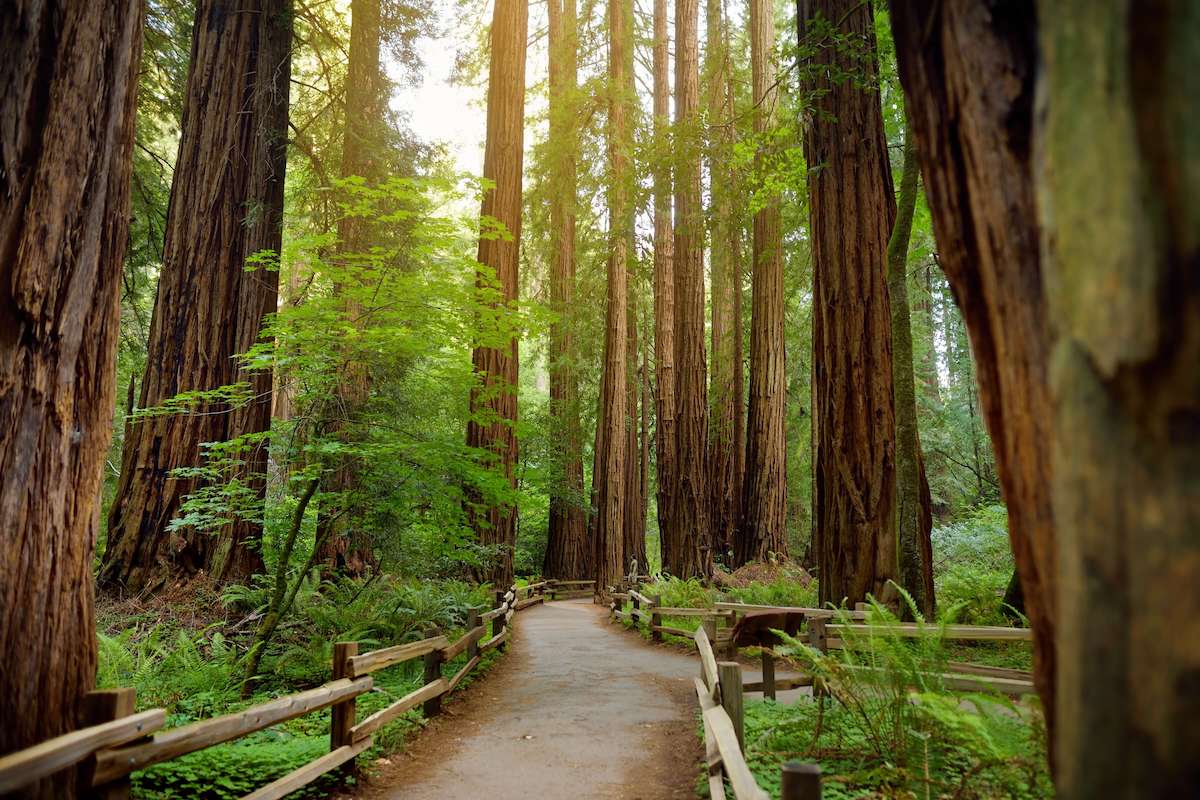 ---
Southern California Road Trip Stops
7. Joshua Tree National Park
Joshua Tree National Park is a must-visit on any southern California road trip. Located about 2 hours east of Los Angeles, Joshua Tree is famous for its unique desert landscape strewn with huge boulders and Dr. Suess-like Joshua Trees. There is plenty to do and see in the park including numerous hikes, backpacking routes, bouldering and climbing, star-gazing, and even wildflower viewing in the spring months. Joshua Tree can get busy so be sure to book your campsite ahead of time.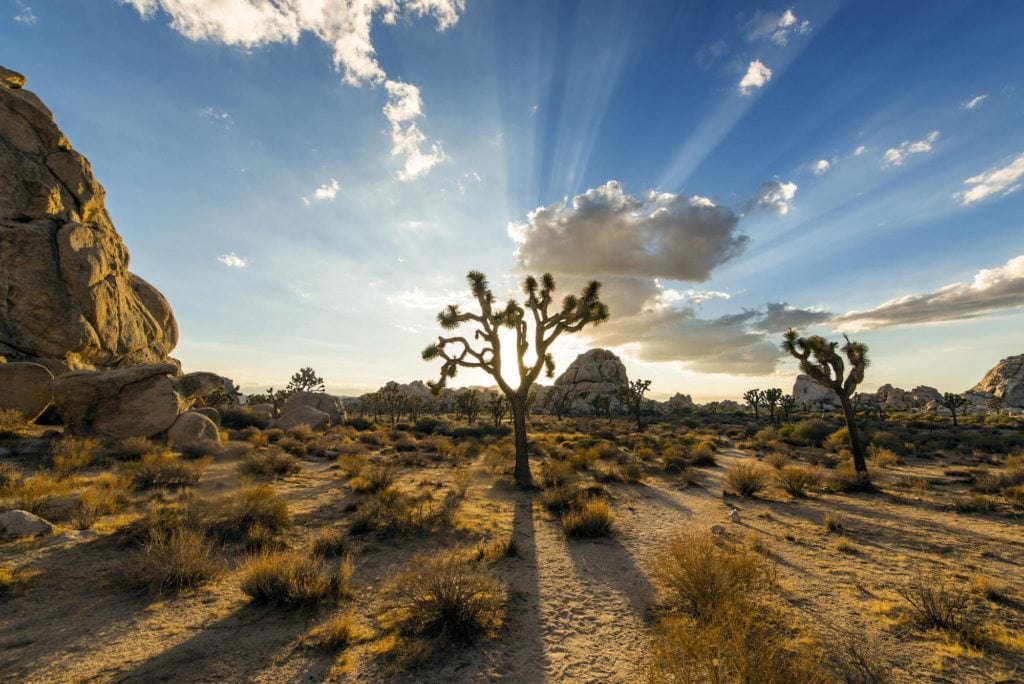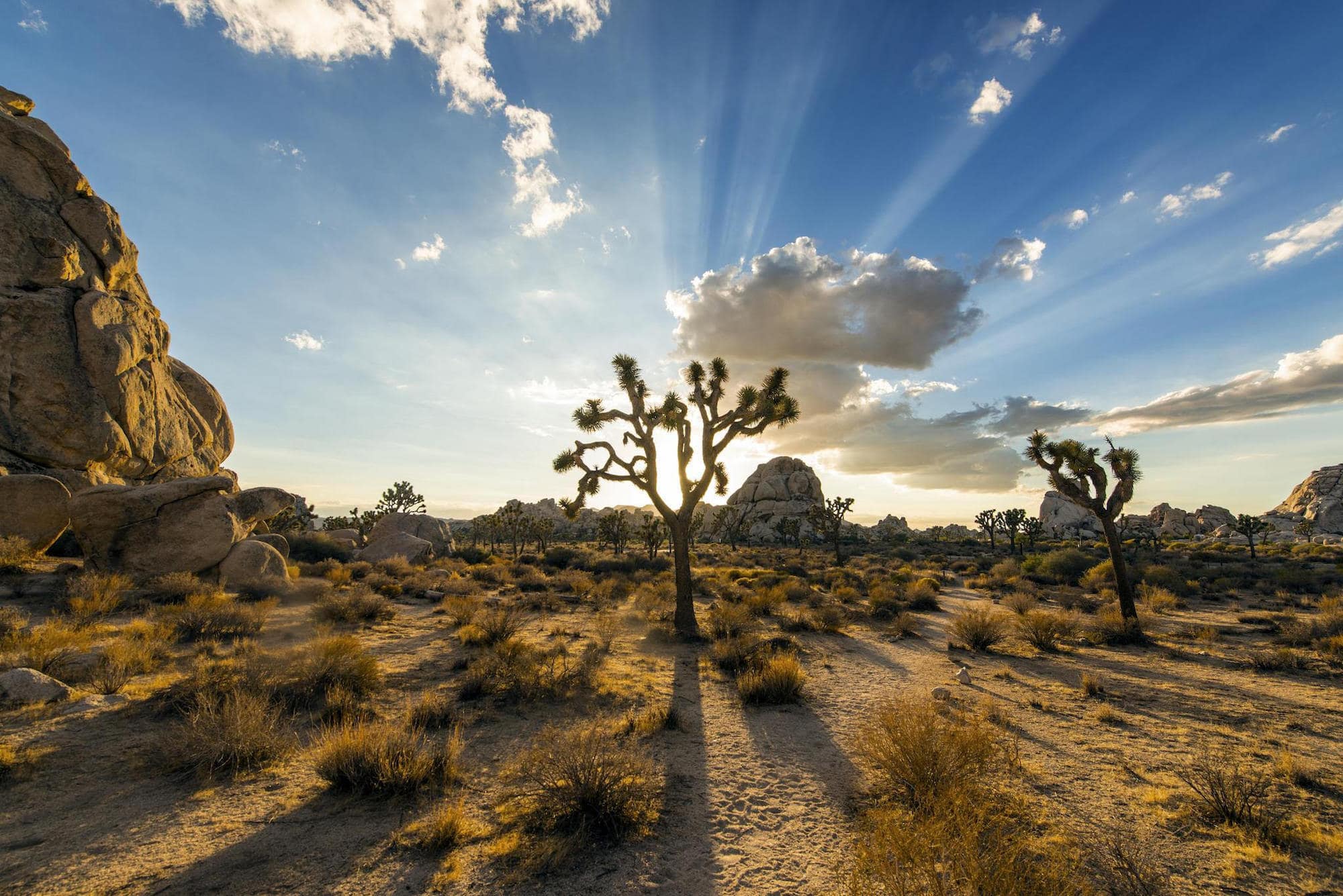 8. Death Valley National Park
Visit the lowest point in North America: Badwater Basin in Death Valley National Park. At 282 ft below sea level, this salt flat is a unique and surreal experience. In fact, most of Death Valley is a unique experience. Take in the sweeping vistas atop Dante's View, hike along the ridges of the Mesquite sand dunes, visit the mineral colored hills on Artist's Drive, and explore the hidden oasis of Darwin Falls, among many other outdoor adventures.
You'll want to spend a least a few days in Death Valley, so be sure to follow our 3-Day Death Valley National Park Itinerary to hit all the best spots!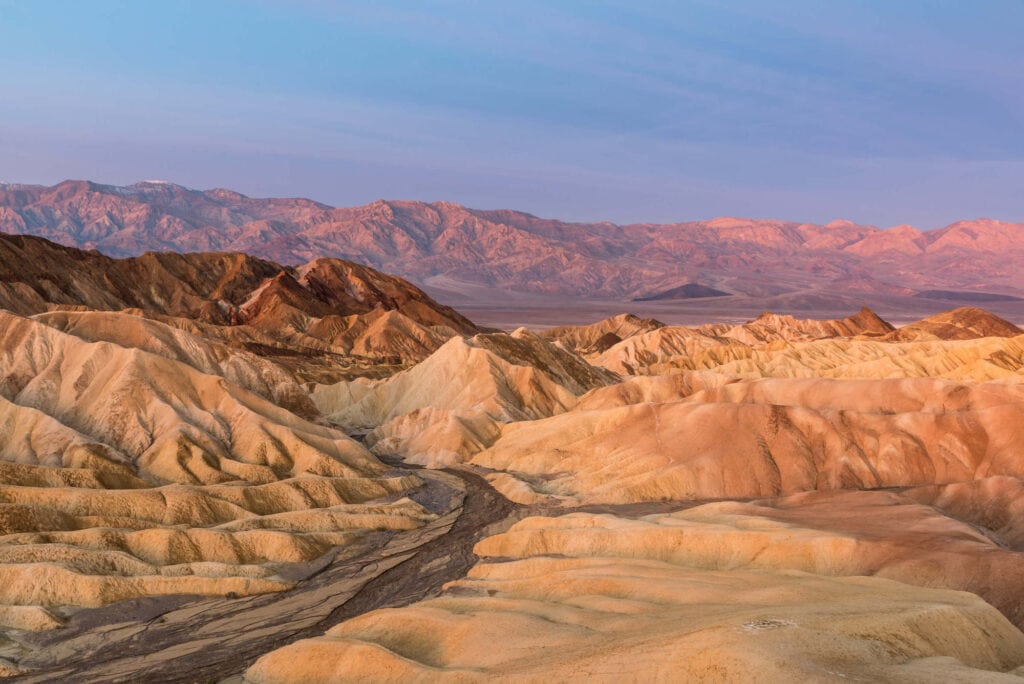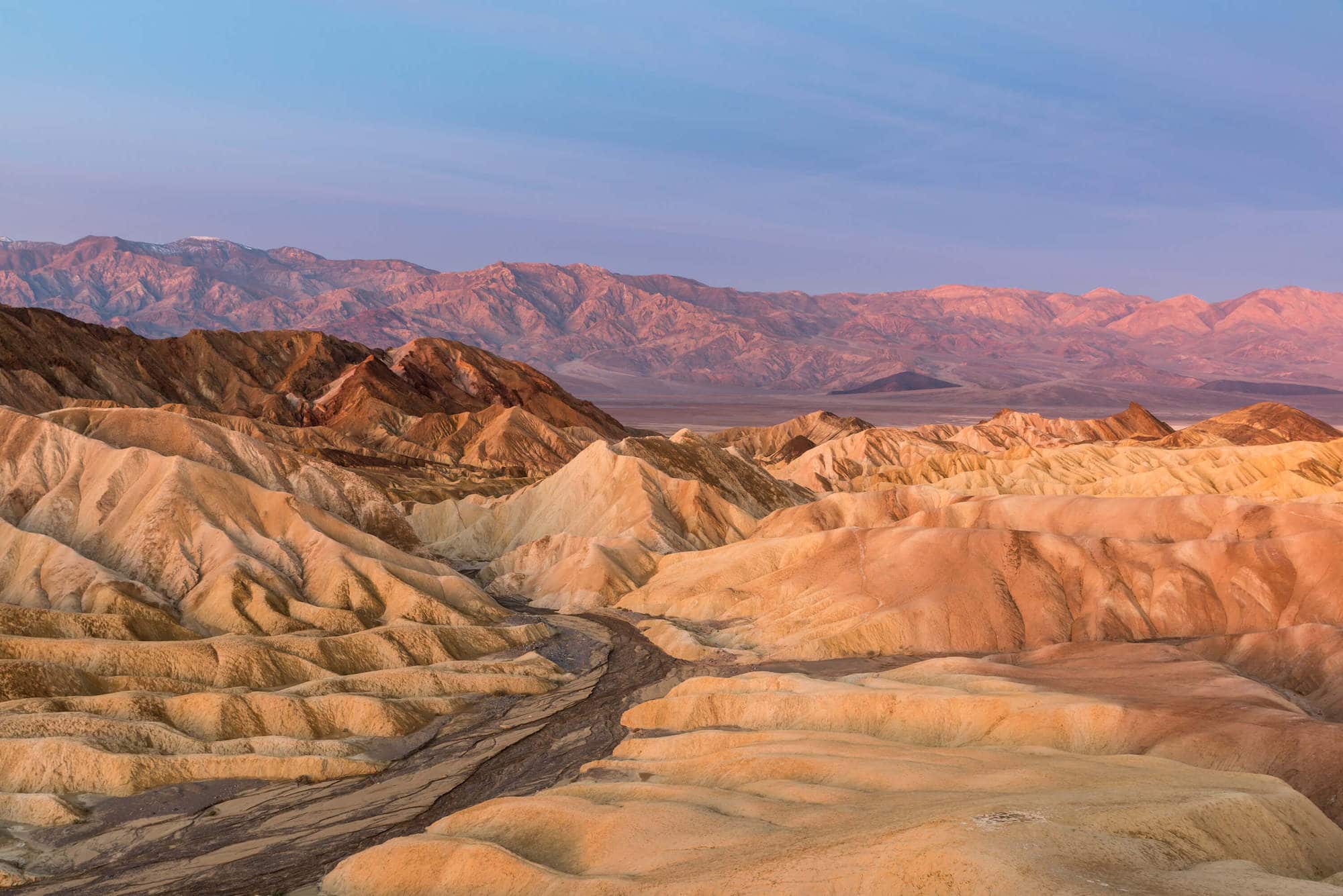 ---
High Sierra Road Trip Stops
9. Sequoia & Kings Canyon National Parks
Located in the southern Eastern Sierra Nevada mountain range, Sequoia and Kings Canyon National Parks are two separate parks, but due to their proximity to one another, they're often visited together.
Sequoia National Park is home to two notable natural wonders: Mt. Whitney, the highest peak in the lower 48 states at 14,505 feet above sea level and the General Sherman Tree, the largest tree in the world by volume. Both are impressive sights!
Kings Canyon National Park to the north of Sequoia is also home to the giant trees including the largest remaining grove on the planet at Redwood Canyon. The landscape in Kings Canyon rivals that of Yosemite with towering granite canyon walls, lush meadows, and the picturesque King River that flows throughout the park.
While both parks together make up a whopping 865,964 acres, over 90% of that land is designated wilderness with no roads or vehicle access. There are numerous opportunities for incredible overnight backpacking trips in the backcountry, though, if you want to plan for that on your California road trip.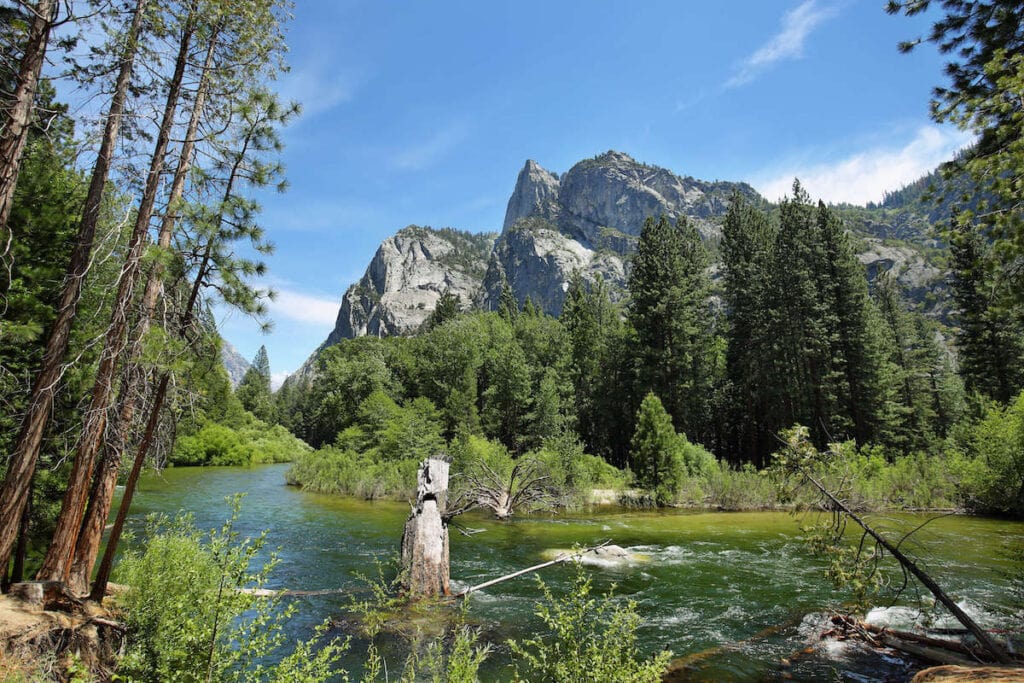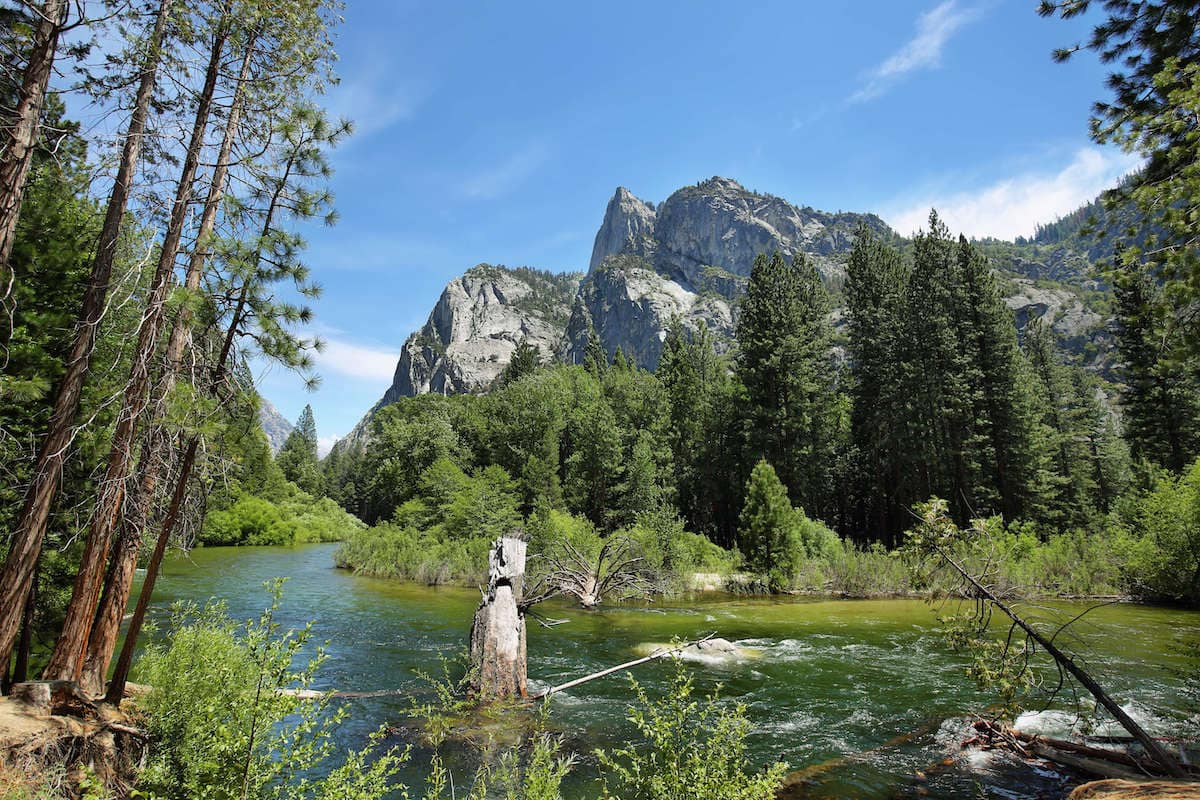 10. Yosemite National Park
Yosemite is famed for its stunning scenery, towering granite cliff walls (including the monoliths of El Capitan and Half Dome), gushing waterfalls, and endless opportunities for hiking, climbing, and sightseeing. The overlooks at Tunnel View and Glacier Point are jaw dropping and once you visit those, grab your hiking shoes and hit the trails. We've rounded up the Best Hikes in Yosemite and put together a complete guide on Things to do in Yosemite so you can make the most of your visit.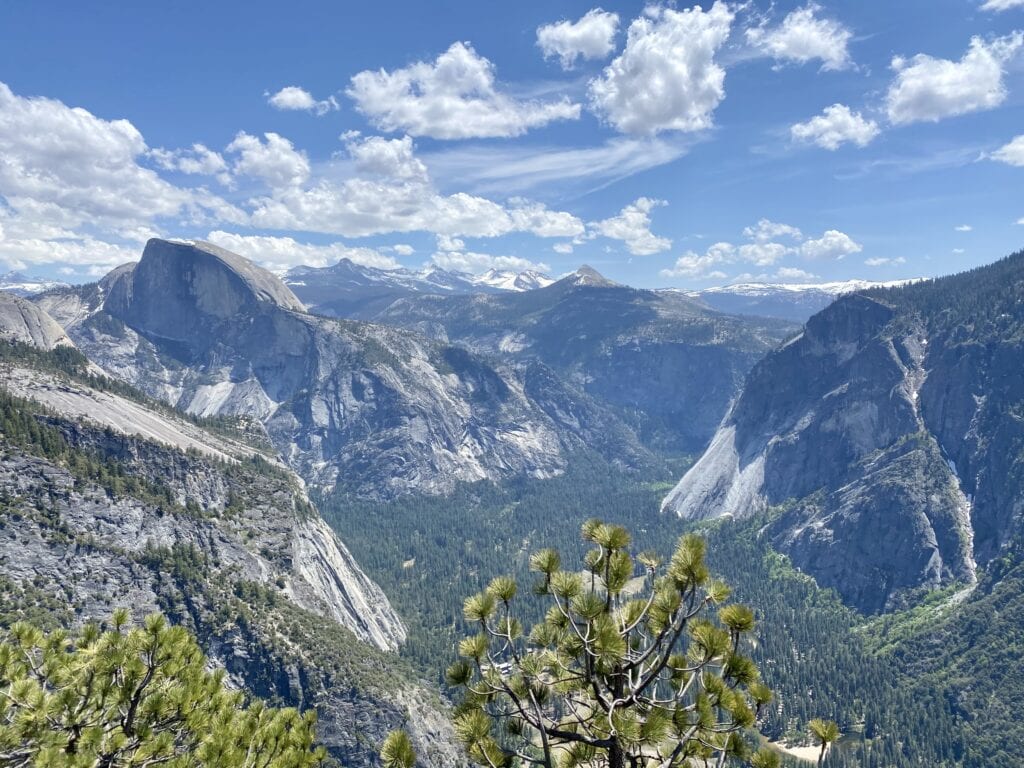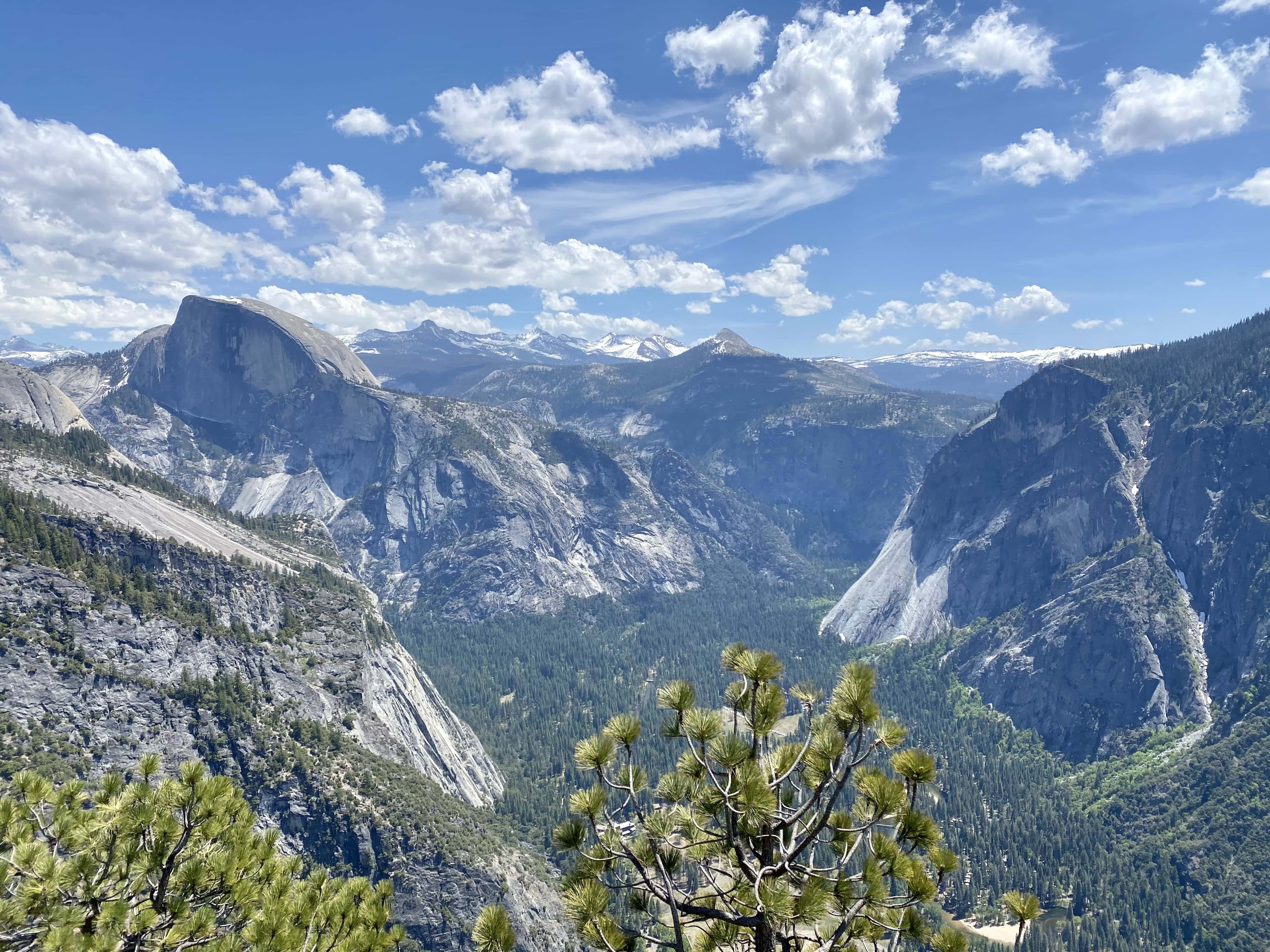 11. Lake Tahoe
Lake Tahoe is an outdoor adventure stop for everyone with summer water-based activities like kayaking, stand-up paddle boarding, and swimming as well as trail adventures including hundreds of miles of hiking paths and mountain biking singletrack. There are also plenty of great restaurants to eat at, music venues, shops, and more.
While the shores of Lake Tahoe do tend to get busy in the summer, it's still worth a stop on your California road trip to take a dip in the crystal clear water and enjoy a hike on one of the many trails. Kristen visited Lake Tahoe several years ago for a Phish concert, but ended up staying for two weeks! I've visited the area several times to mountain bike and one of my favorite rides is the epic 24-mile Tahoe Rim & Flume Trail.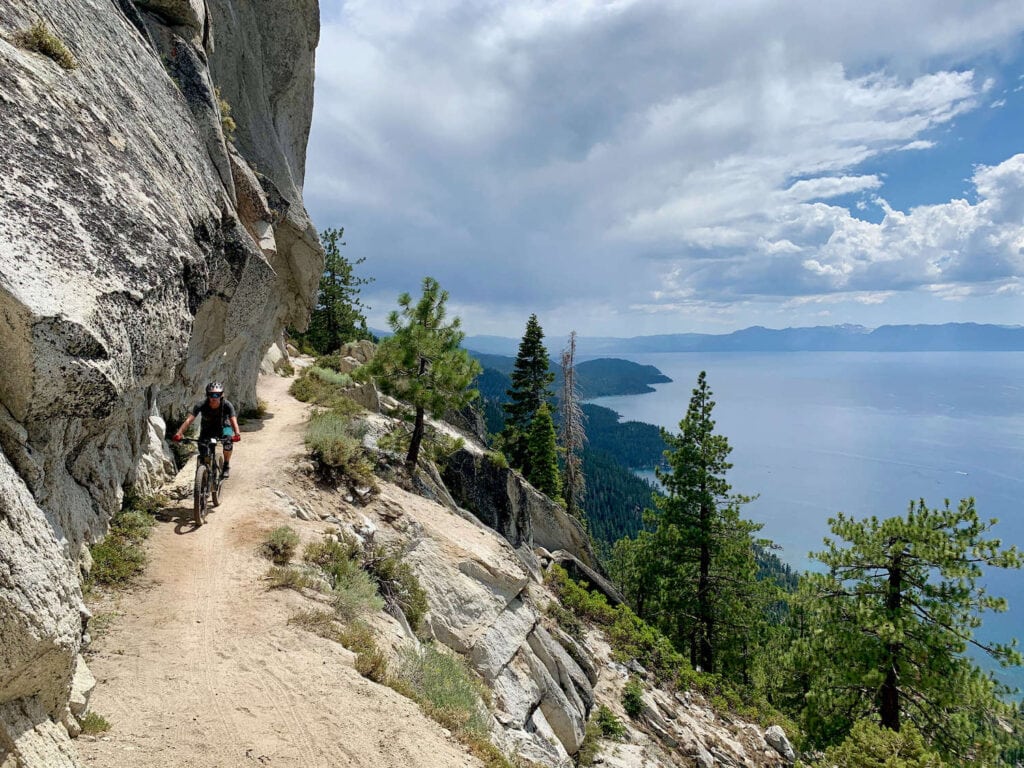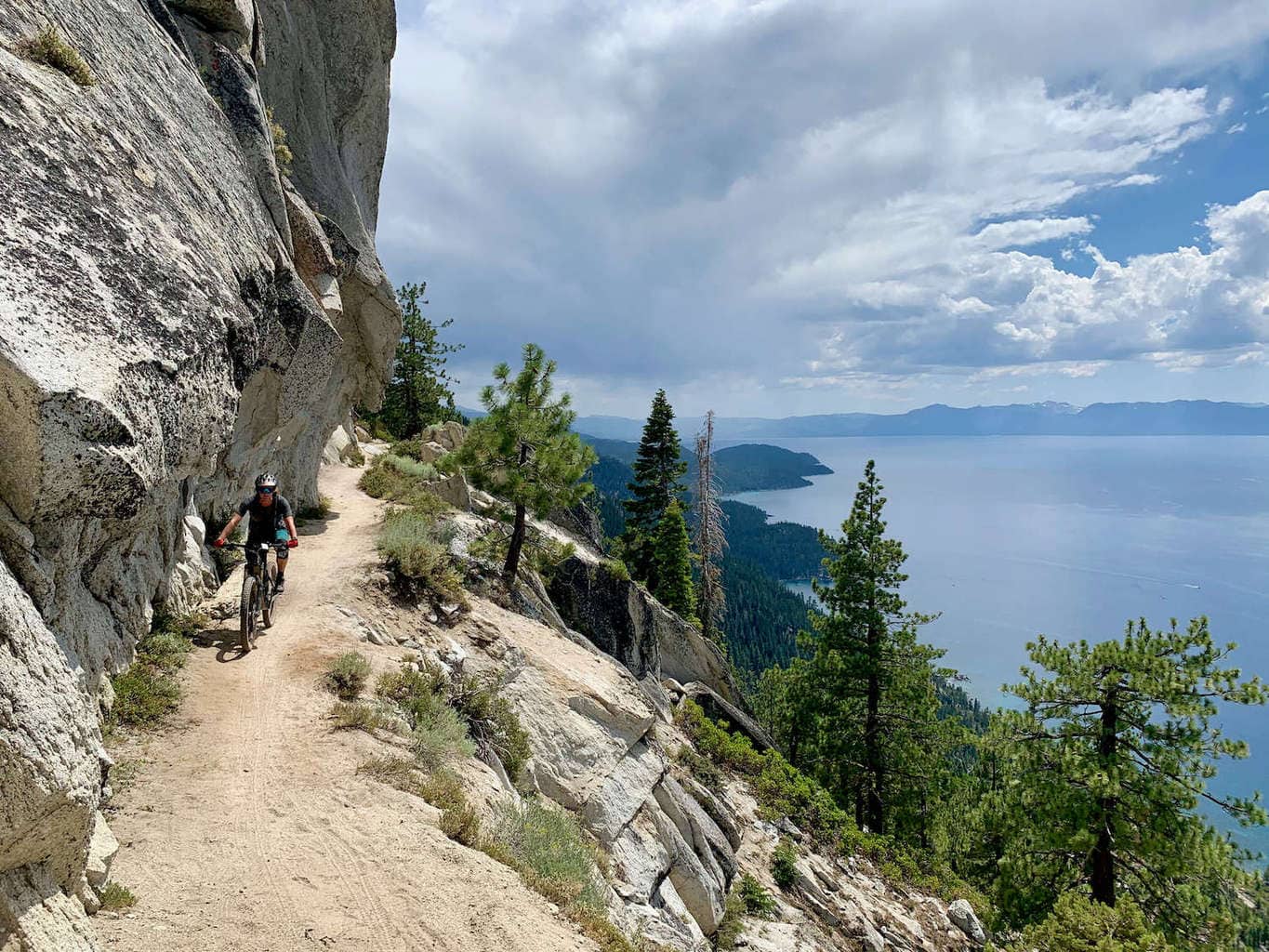 12. Mammoth Lakes, CA
Mammoth Lakes is a small ski resort town nestled at the base of the Eastern Sierra Nevada mountain range. It's a year-round destination with outdoor adventure for every season. Summer and fall are the best times to visit if you plan on hiking. Mammoth Lakes has some of the best access to backcountry trails and alpine lakes in the Eastern Sierra! Check out our post on the Best Hikes in Mammoth Lakes for a local's recommendation on the most scenic trails.
If you're a mountain biker, Mammoth Lakes is also home to the Mammoth Mountain Bike Park which has over 80 miles of singletrack to explore. If you're not into mountain biking, you can still take the gondola to the top and enjoy the incredible views out over the Minarets and the backside of Yosemite Valley.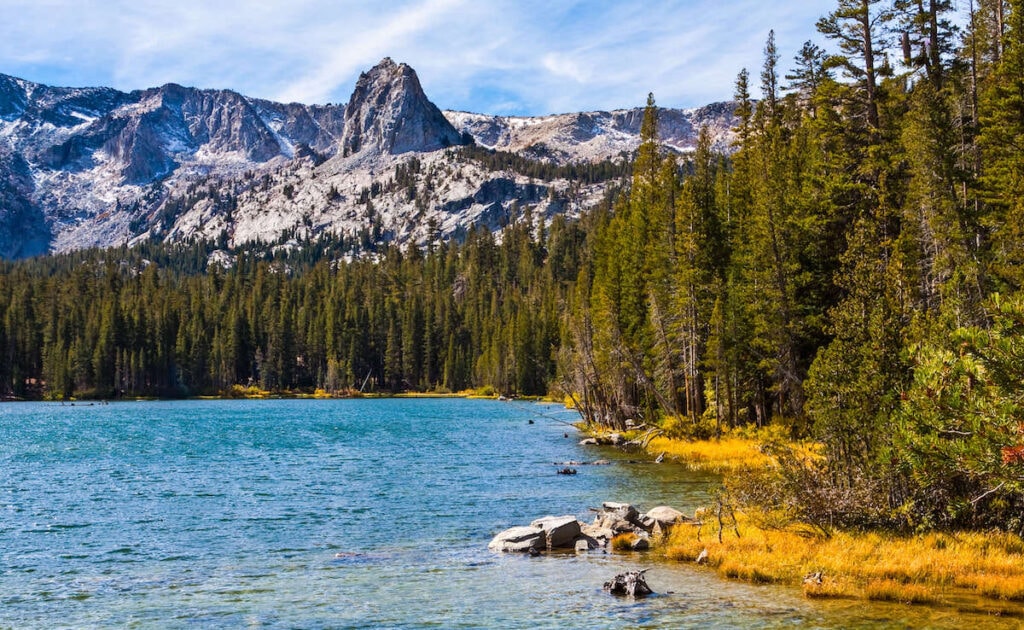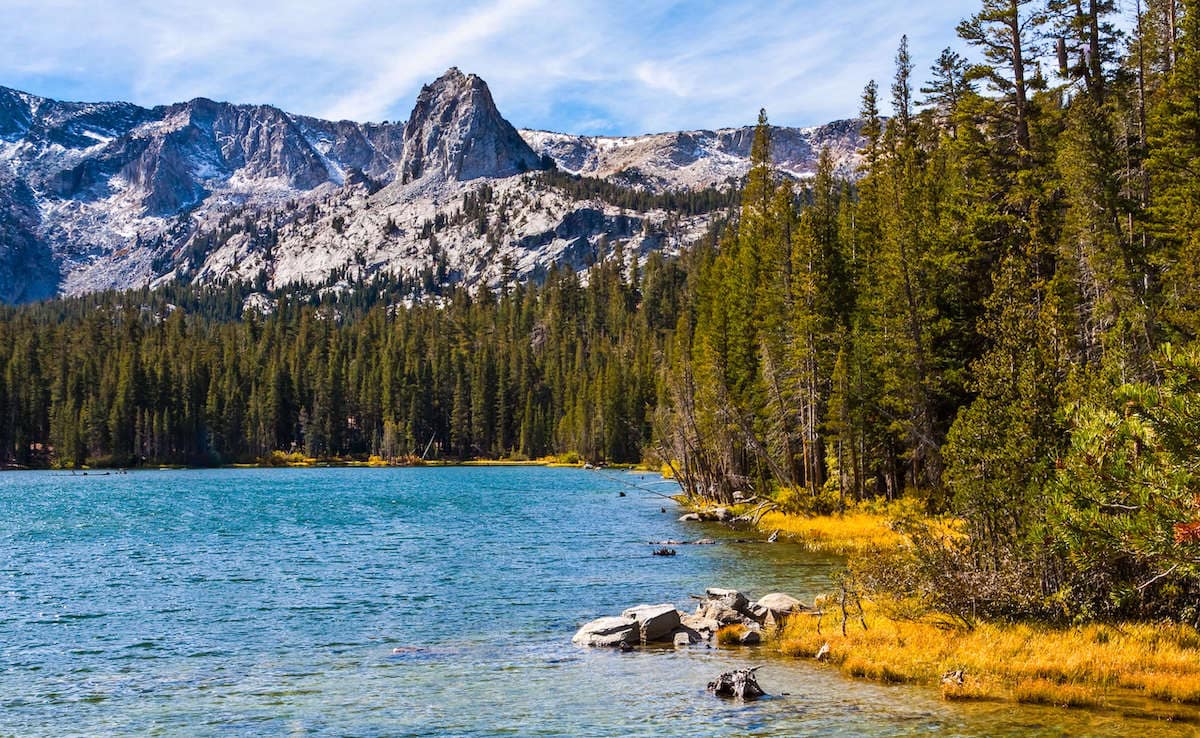 13. Ancient Bristlecone Forest
Walk among some of the oldest trees in the world at the Ancient Bristlecone Forest above Bishop, California. Some of these trees exceed 4000 years of age and are characterized by their twisted and gnarled trunks and limbs that have been shaped by years of harsh wind.
Visit the Schulman Grove Visitor Center to learn more about these amazing trees and then hike along one of the nearby self-guided hiking trails. You'll be hiking above 10,000ft, so be sure to bring sun protection and lots of water.
You can also visit the Patriarch Grove 13-miles north on a rough dirt road, which is home to the largest Bristlecone in the world, the Patriarch Tree.
The road into the Ancient Bristlecone Forest is closed in the winter due to snow. Also, make sure you have a full tank of gas before setting off.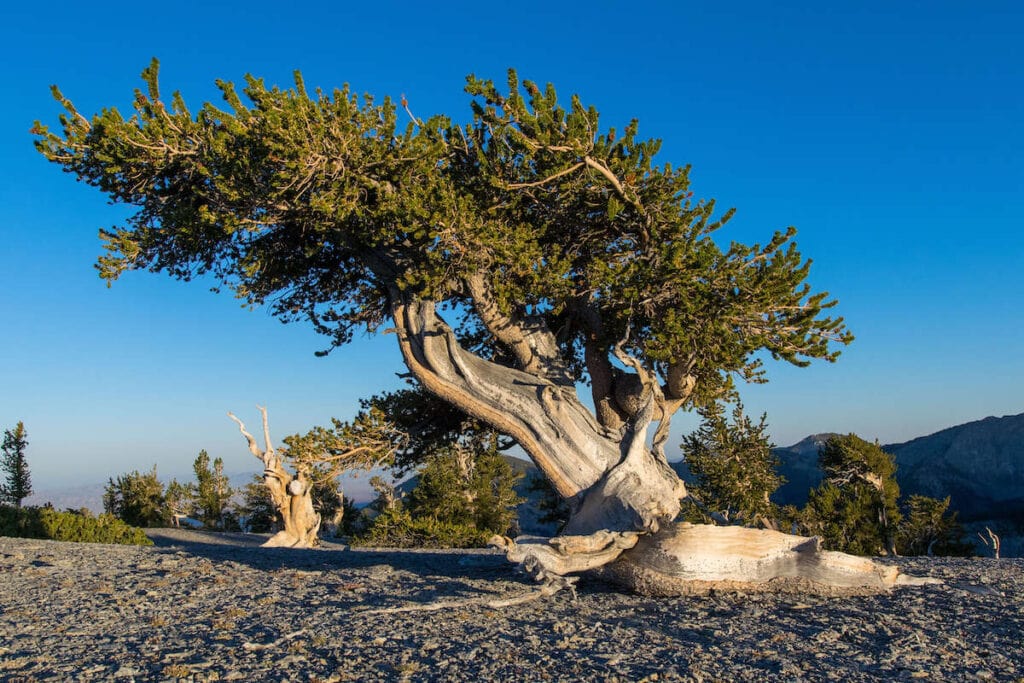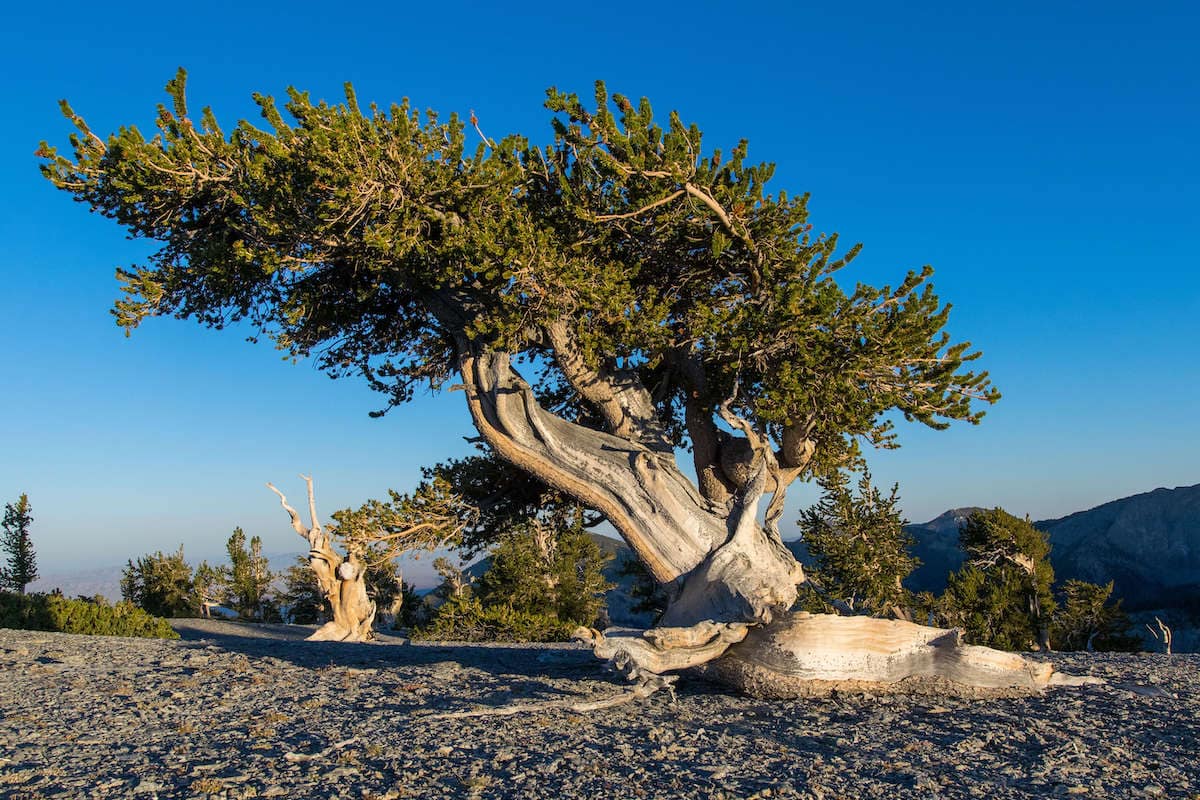 ---
Northern California Road trip stops
14. Lassen Volcanic National Park
Lassen Volcanic National Park is an intriguing stop for any northern California road trip. Rich in hydrothermal sites including roaring fumaroles (steam and volcanic-gas vents), bubbling mud pots, boiling pools, and steaming ground, it's a one-of-a-kind destination. Visit Bumpass Hell and Sulphur Works to get a glimpse of volcanism in action and take a walk along one of the short loops to explore steam vents and boiling pools.
Always stay on the main hiking trails to avoid getting severely burned or injured. Some cauldrons can reach temperatures of over 125 degrees!
Once you've visited the hydrothermal sites, Lassen Volcanic National Park is also home to many coldwater lakes for swimming or paddleboarding, numerous trails for day hiking, and opportunities for backcountry wilderness backpacking.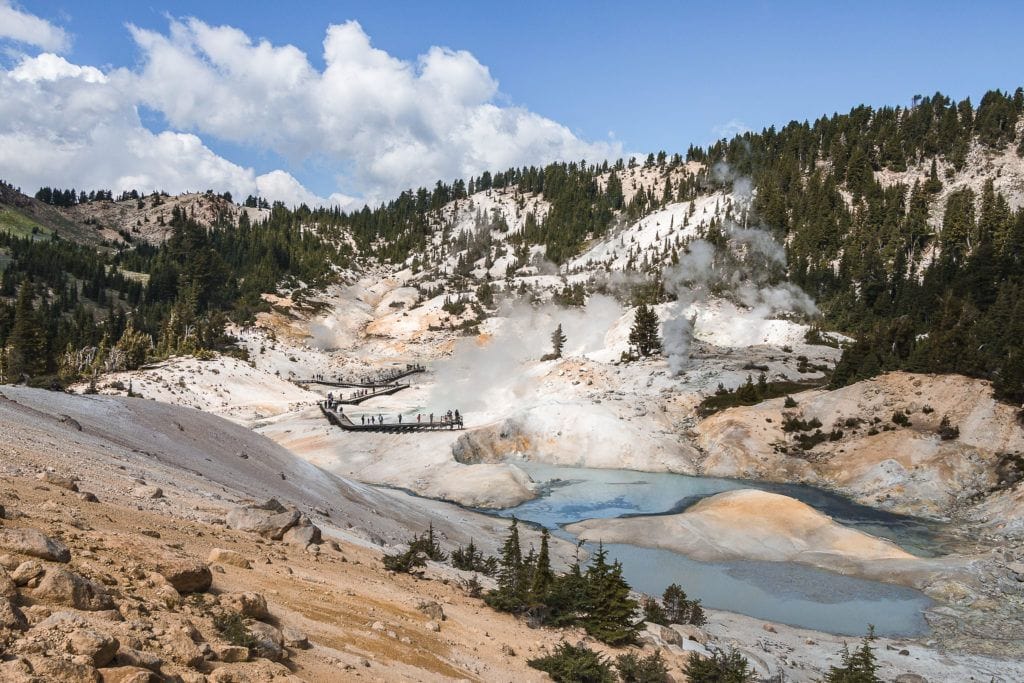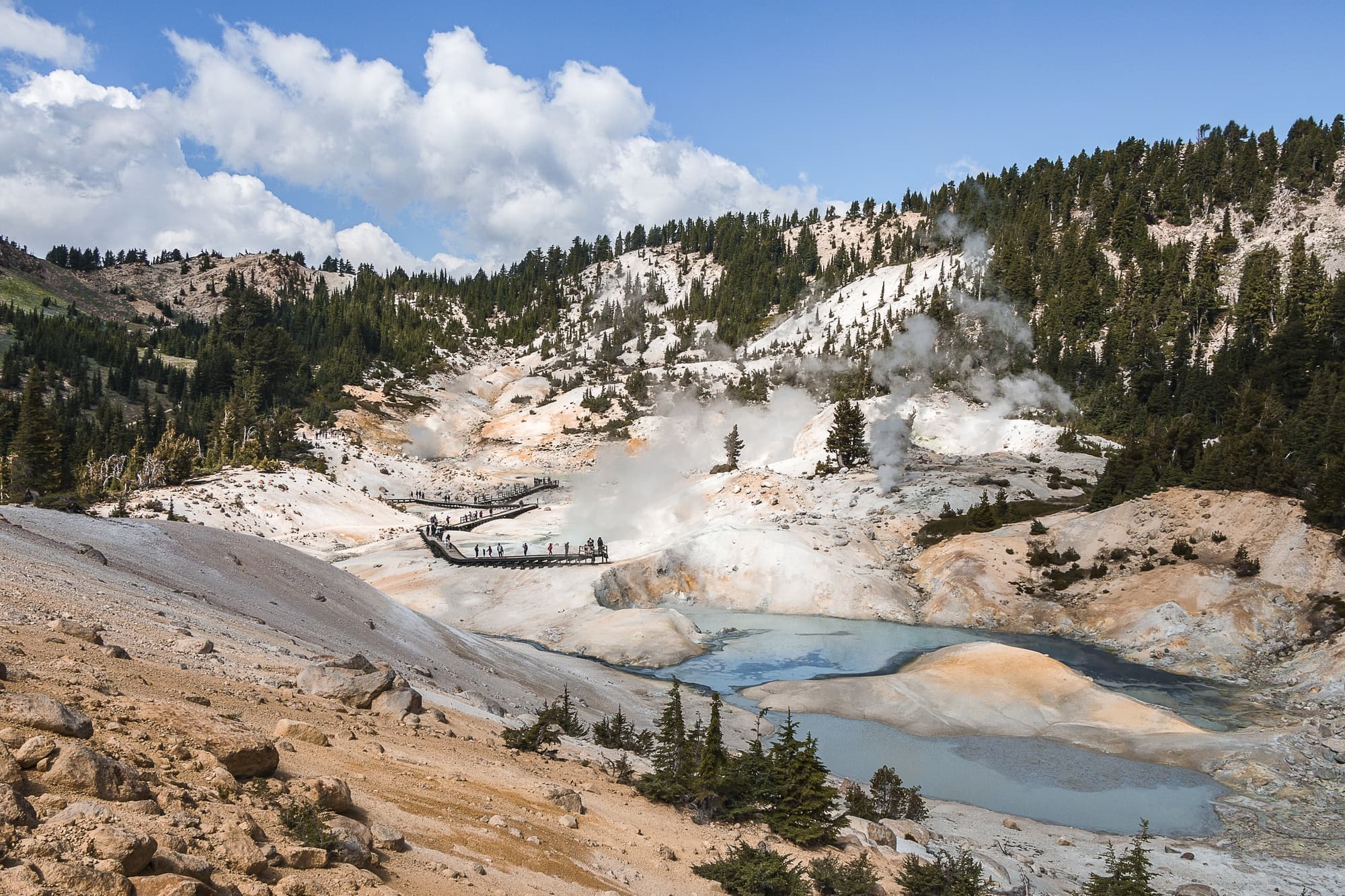 15. Lava Beds National Monument
Located in northern California near the Oregon state line, Lava Beds National Monument is home to many interesting geological and historical sites. With more than 800 caves, several Native American rock art depictions, historic battlefields, and volcanic landscapes, there's high desert outdoor adventure for everyone.
One of the most popular ways to explore the area is through the numerous caves and lava tubes. These caves were formed thousands of years ago as lava flowed from Medicine Lake Volcano and cooled throughout the surrounding plains. There are caves for all levels of exploration from least challenging to most challenging. Be sure to bring proper equipment like flashlights, helmets, warm clothing layers, and maps.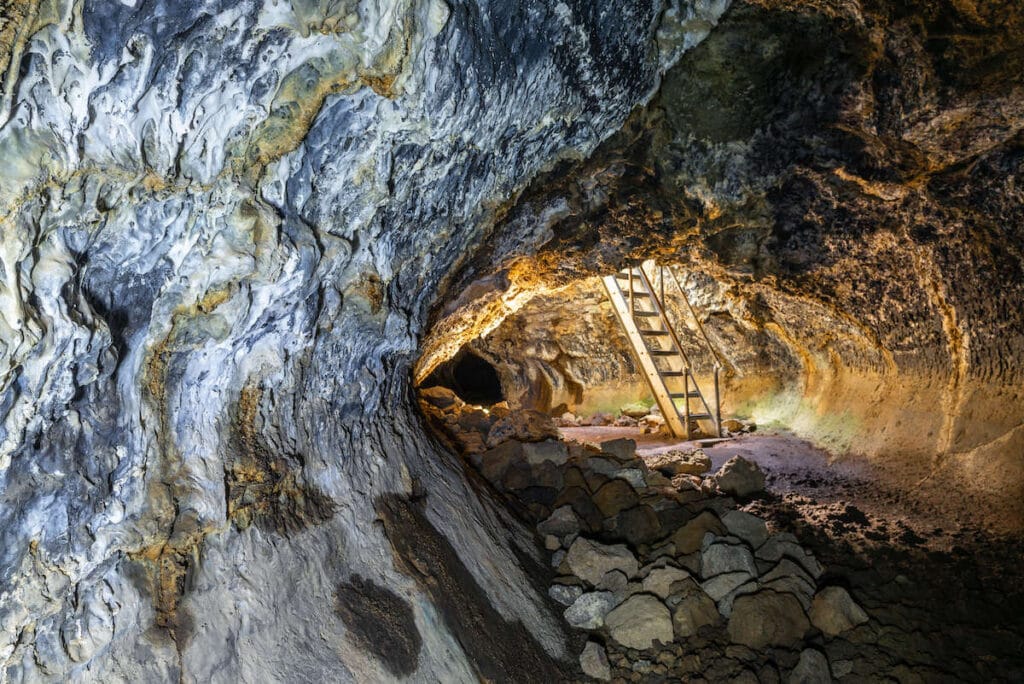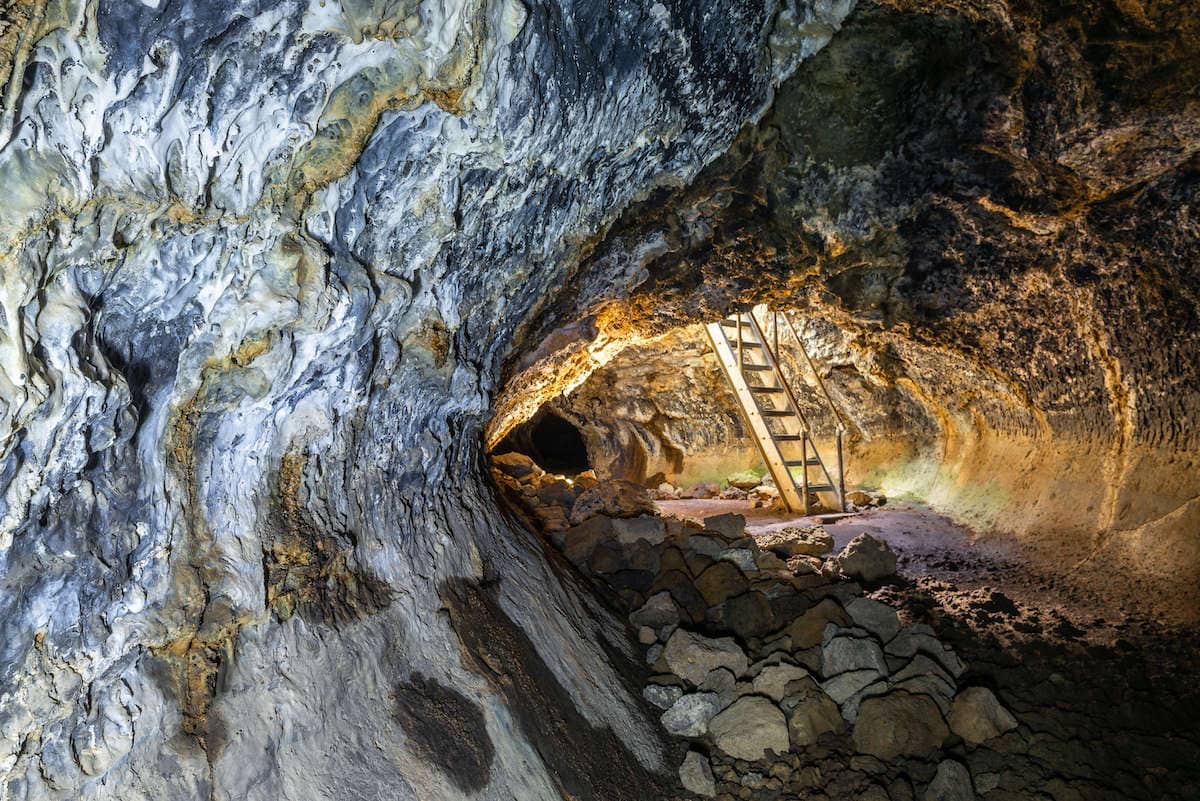 What are your favorite California road trip stops? Which ones are on your bucket list? Let us know in the comments below!