NEMO Roamer Double Sleeping Pad Review
The NEMO Roamer Double Sleeping Pad is essential for sleeping comfortably on car camping trips and we break down everything you need to know.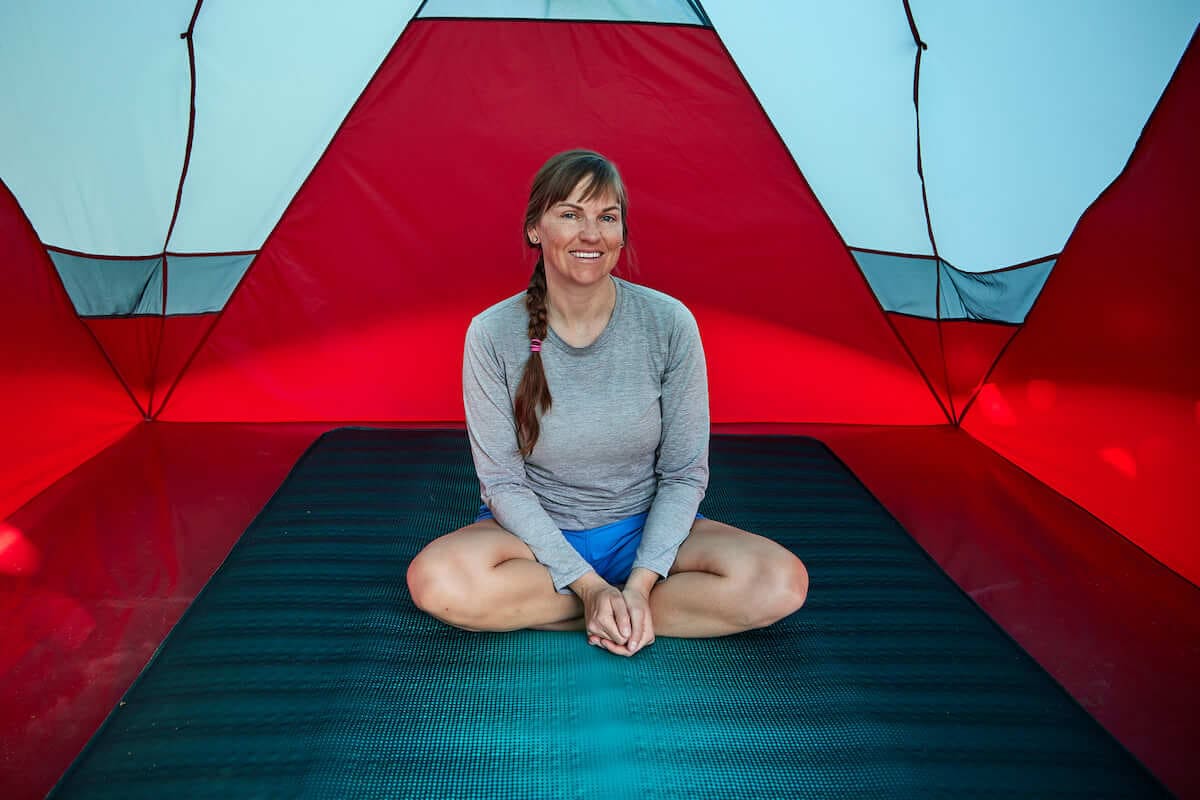 If you're looking to make your car camping experience a little plusher, the NEMO Roamer Double Sleeping Pad, reviewed in this post, is so comfortable that you'll actually look forward to getting in your tent at night.
For years while car camping, I slept on an ultralight backpacking-style sleeping pad. As I've gotten older, however, getting a good night's rest has become essential to how I feel overall, and consecutive nights of being uncomfortable can really put a damper on my camping experience.
I recently spent a week car camping on Maui and a good sleep was a non-negotiable because I wanted to be up at dawn to make the most of each day. On this trip, I left my ultralight backpacking pad at home and instead packed the NEMO Roamer Double, a 2-person sleeping pad that is 4-inches thick. It was quite bulky to put in my checked luggage, but once we got set up at camp, I knew it was a worthwhile addition to my packing list.
In this NEMO Roamer Sleeping Pad Review, I share the pad's pros and cons, details on how easy it is to blow up, and my personal experience using this double sleeping pad.
Sponsored by REI Co-op
REI Co-op is our favorite outdoor gear retailer and a long-time supporter of our work here at Bearfoot Theory. We appreciate their 1-year return policy, their Member-only coupons, and the fact that REI Members receive 10% back on their purchases every year. We only recommend products we truly love and think you will love too.
Nemo Roamer Double Sleeping Pad Specs
Best for: Car camping with a partner, car camping with a dog*
Inflation: Self-inflating
Shape: Rectangular
Insulation Type: Open-cell foam
R-Value: 6
Packed Size: 11 x 26 inches
Pad Thickness: 4 inches
Inflated Size: 78 x 52 inches
Weight: 7 lbs. 8 oz.
Price: $399.95
Other sizes: 1-Person
* use caution and put a blanket down so your dog isn't walking directly on it with their nails.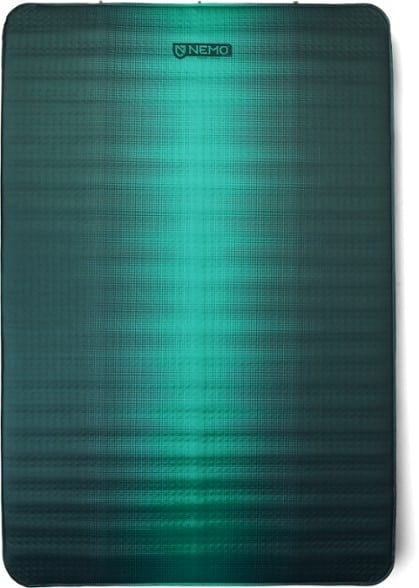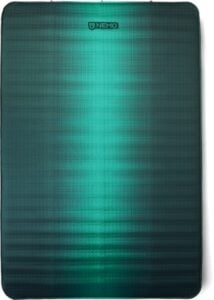 Pros
4-inch thick pad makes it so much more comfortable than a lightweight sleeping pad
Memory foam top layer makes it feel more similar to your mattress at home
Packs down smaller than the competition
Easy to inflate and deflate and holds air well
The Double size means you only have to pack one sleeping pad for two people
Cons
It's a pricey investment (consider buying when it's on sale)
Bulkier and heavier than a backpacking pad, so use is limited to car camping
NEMO Roamer Double Sleeping Pad Review
Inflated Size
When inflated, the NEMO Roamer Double measures 78 x 52 inches, which is slightly larger than the dimensions of a typical full-size bed (75 x 54 inches). A length of 78 inches for the Double Roamer means a person 6'5 feet tall can fit on this without their feet dangling off – pretty impressive!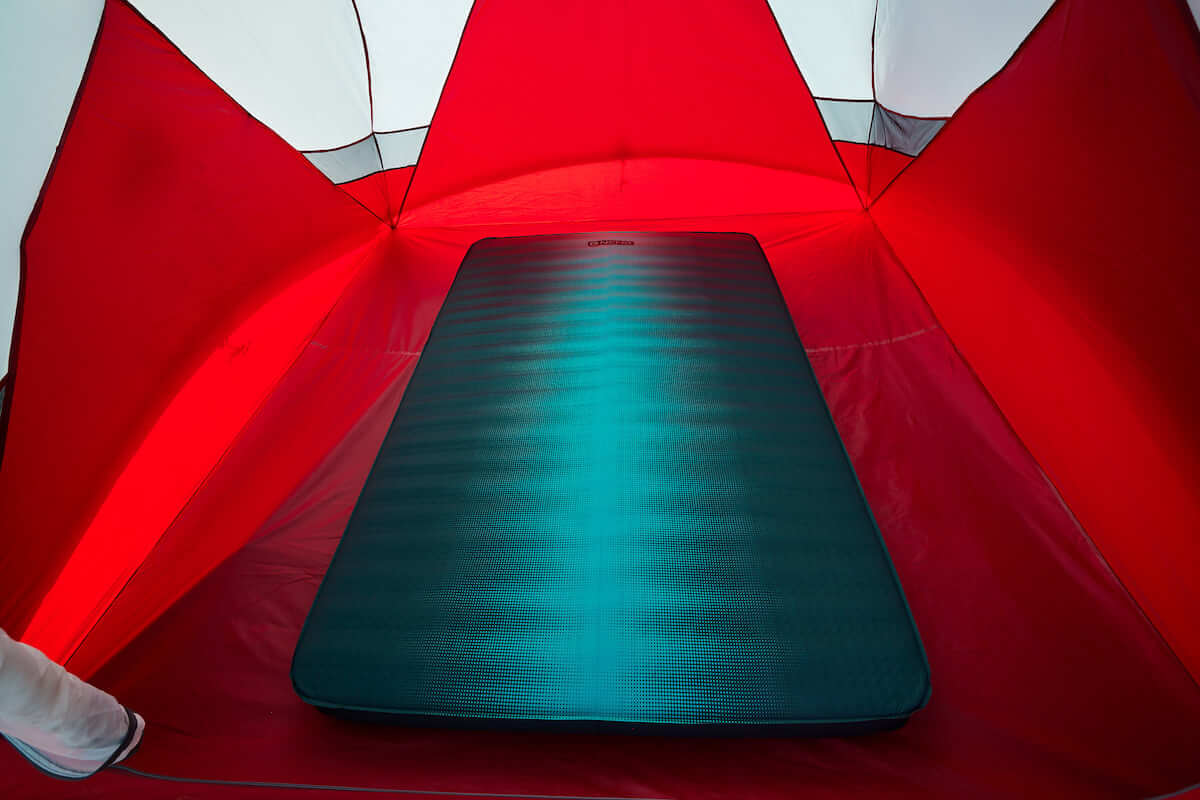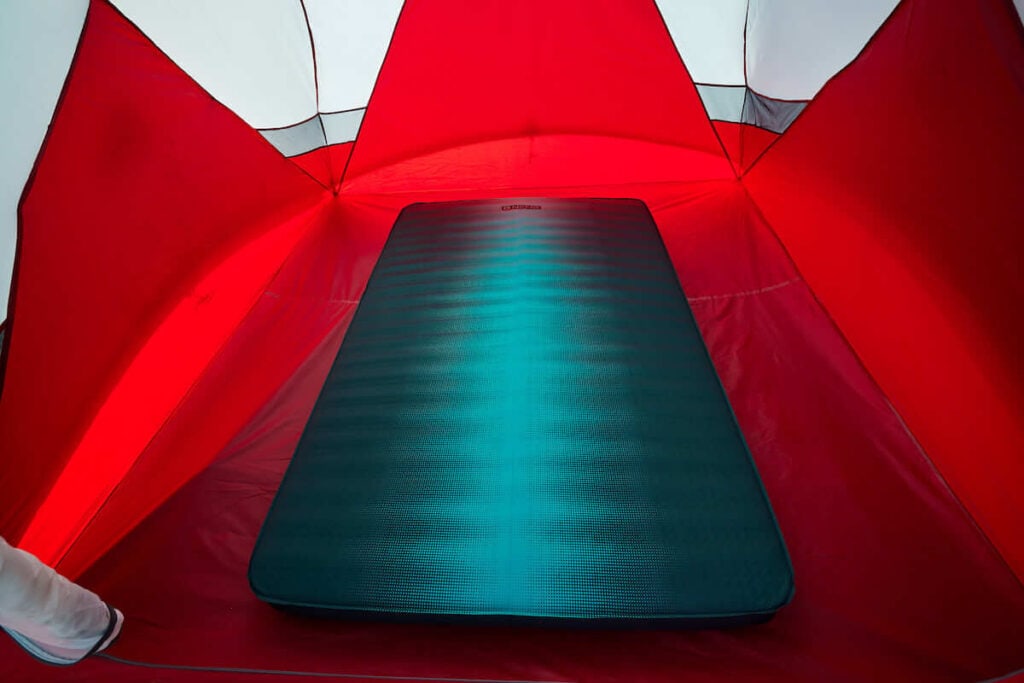 I slept on this for a week with my partner Ryan, who is six feet tall, and never at any point did I feel like it wasn't big enough. I also never felt that I had to sleep uncomfortably close to the edge of the pad to have enough space. I also felt like there was plenty of room for a full-sized pillow without it hanging halfway off the top.
There were a couple of instances where one of us rolled over onto the other person's side. That's one downside of any 2-person sleeping pad is there is nothing to prevent one person from hogging the bed compared to having two separate sleeping pads. If that is a deal breaker for you, the NEMO Roamer also comes in a 1-person size.
I'm not sure how well this would fit in a 2-person tent, so you'll want to check the dimensions of your tent first. We used this pad in the 4-person MSR Habitude Tent and had extra room on both sides for our luggage.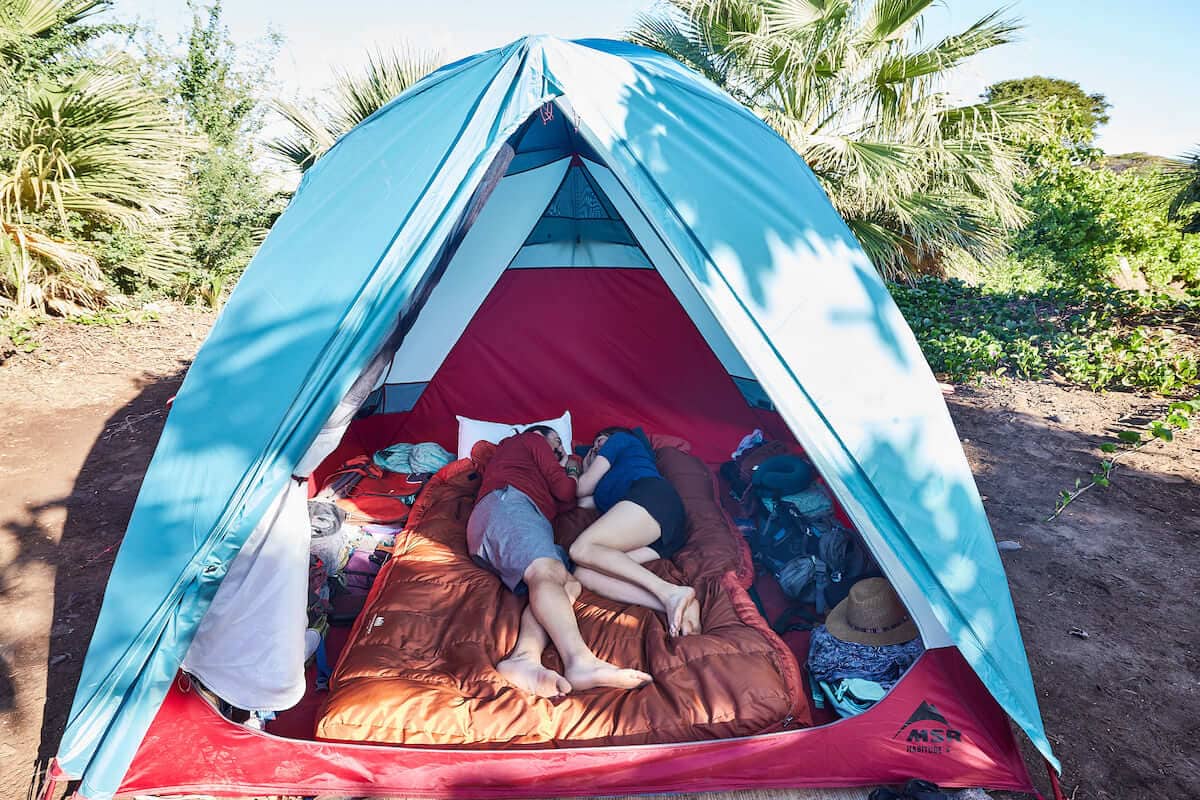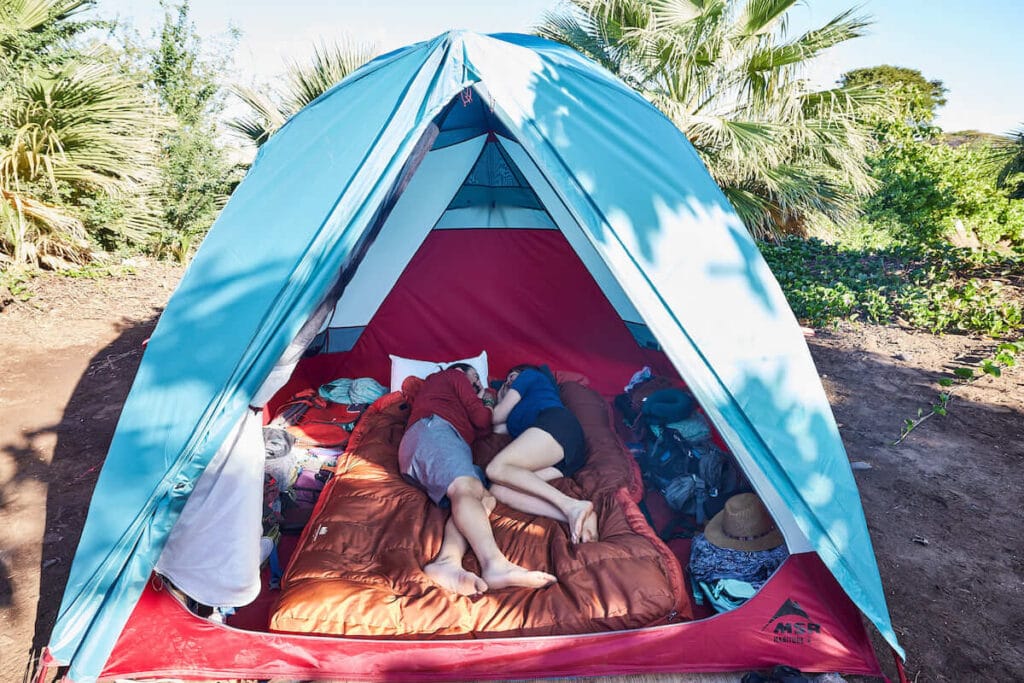 Packed Size
When packed away, the NEMO Double Roamer is a fairly large package that feels comparable to the size of 2 yoga mats.
Here's how the NEMO Double Roamer stacks up against similar car camping sleeping pads:
| | | | | |
| --- | --- | --- | --- | --- |
| Product | Weight | Packed Size | Inflated Size | Thickness |
| NEMO Double Roamer | 7 lbs. 8 oz. | 11 x 26 in. | 78 x 52 in. | 4 in. |
| Exped MegaMat Duo 10 | 9 lbs. 14.7 oz. | 11.8 x 27.6 in. | 77.6 x 52 in. | 3.9 in. |
| HEST Dually (Long) | 26 lbs. | 78 x 25 x 7.8 in. | 78 x 50 in. | 3.9 in. |
When you compare it to the Exped MegaMat, the Double Roamer is nearly 3 pounds lighter and has a slightly smaller packed size. Compared to the HEST Dually, another popular car camping mattress, the Double Roamer is 2-inches wider and a whopping 18 pounds lighter. I chose the NEMO Double Roamer over these two because it was the lightest and smallest option that still delivers the same inflated size (or larger).
For road trips and car camping, if you're tight on space, I personally think it's worth sacrificing another piece of gear to make space for the NEMO Roamer Double in your vehicle. Bringing it to Hawaii was a bit of a stretch, but I was able to fit it in a large checked bag along with my tent and sleeping bag.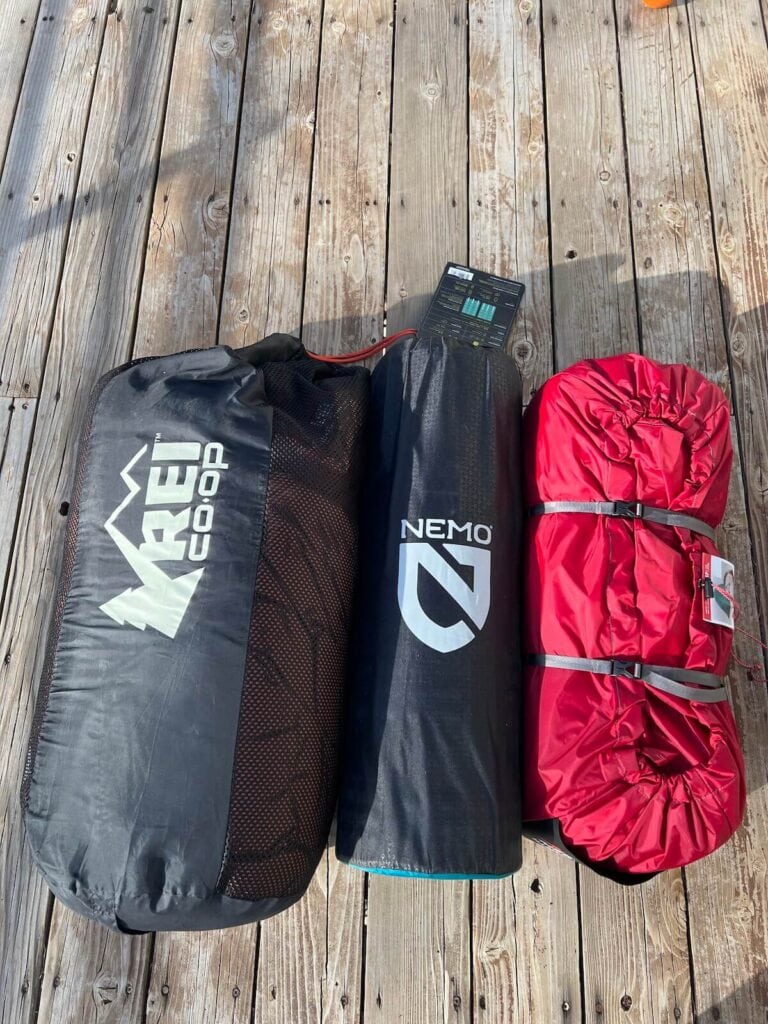 Comfort
Both of us woke up quite impressed after our first night. We slept well, and the memory foam topper masks the fact that this is an inflatable sleeping pad. The premium 50-denier stretch fabric coating on top is also soft to the touch so you could sleep with a quilt or blanket without a barrier between you and the pad without it feeling scratchy.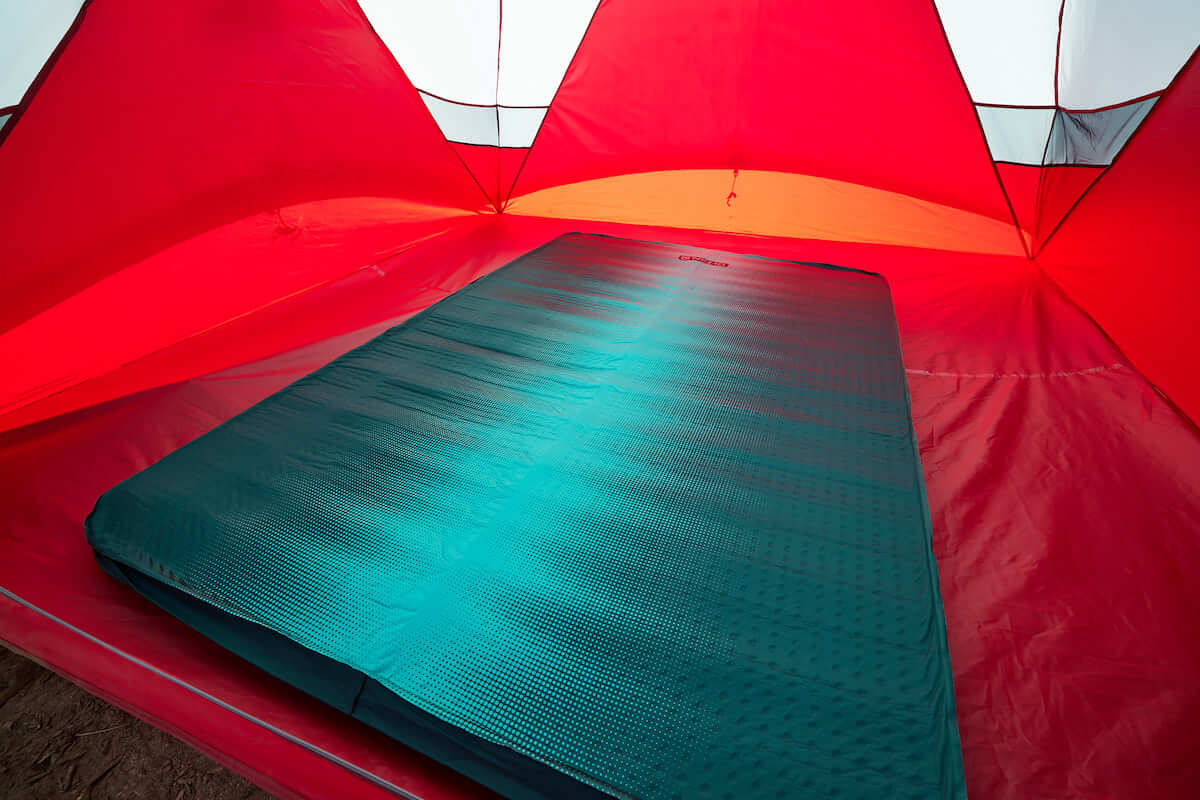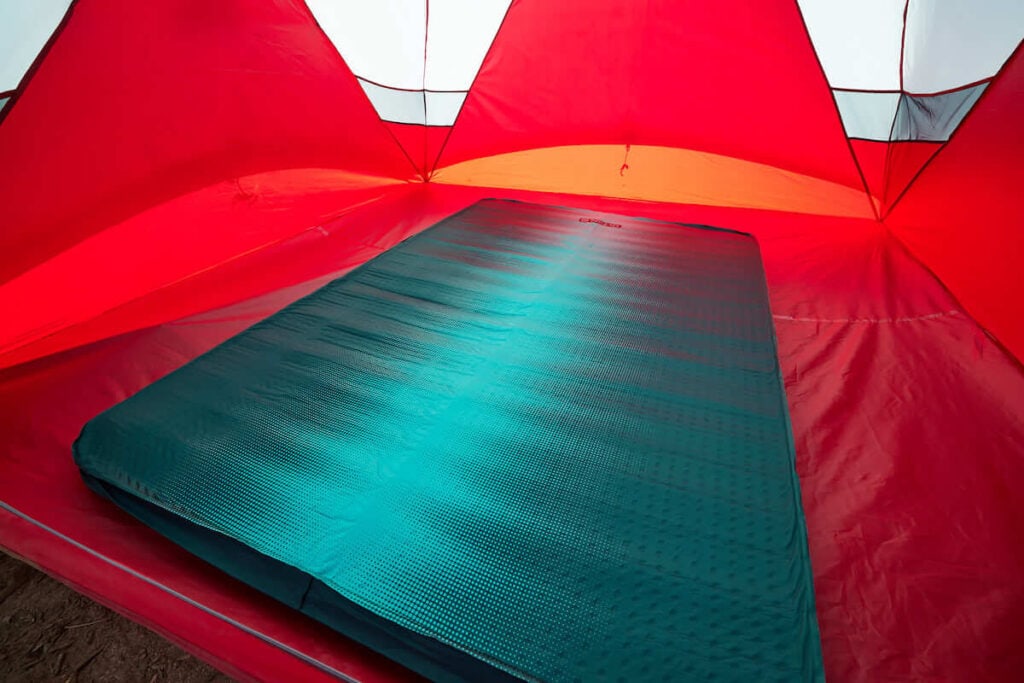 The NEMO Double Roamer is also comfortable to sit on whether you are changing your clothes, reading a book, or trying to organize your tent.
Whether you are a back, side, or stomach sleeper, the thickness of this pad means you will not be able to feel the ground underneath. Even if there are small rocks under your tent, this pad is thick enough to where they shouldn't be bothersome. Also, I often sleep on my side, and my arm never fell asleep as it commonly does on thinner backpacking pads.
The middle valve is also used to make micro adjustments to the firmness of the pad. If you want it a little softer, just apply a little pressure on the valve with your finger and it will let a little bit of air out.
One thing I did notice with this two-person sleeping pad is if the other person moves significantly, it pushes air around, and even with the memory foam topper you can slightly feel the other person's movements through the pad. For instance, I noticed that the pad felt a little bit stiffer when Ryan was lying down next to me compared to when he wasn't. It wasn't a huge deal, but that's worth mentioning if you're a light sleeper. This wouldn't be an issue with the one-person version.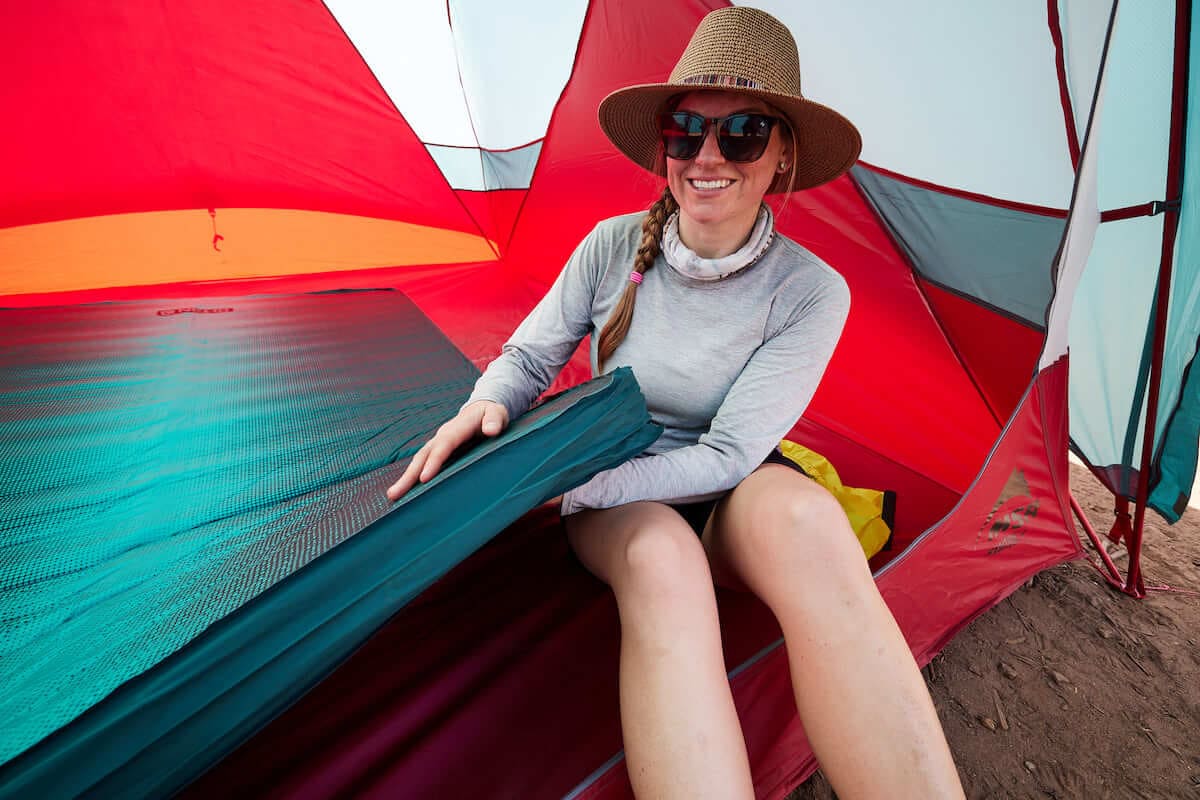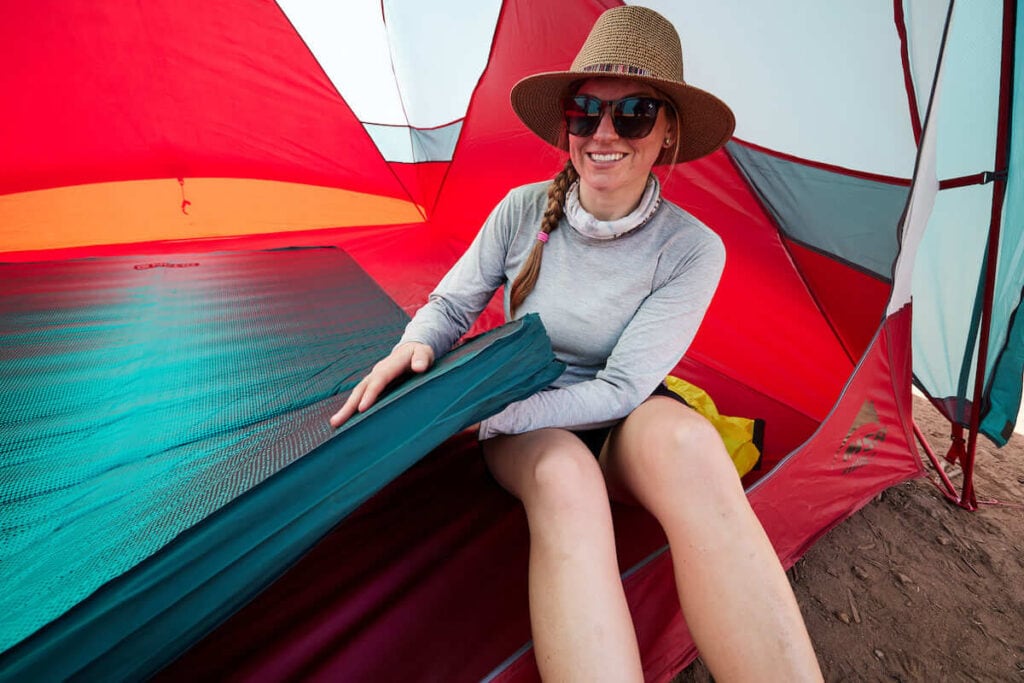 Durability
The NEMO Double Roamer held air very well. Over the course of 6-days with 30-degree temperature swings, we never had to top it off.
We never used it outside of our tent, but the sleeping pad is lined with 100% post-consumer recycled 75-denier polyester to provide a durable outer coating that should make it more difficult to puncture. However, with any of my sleeping pads, I personally like to play it safe by always putting it on top of a groundsheet to prevent wear and tear.
In the case that you do spring a leak, it also comes with a patch kit and NEMO offers a lifetime warranty for product defects.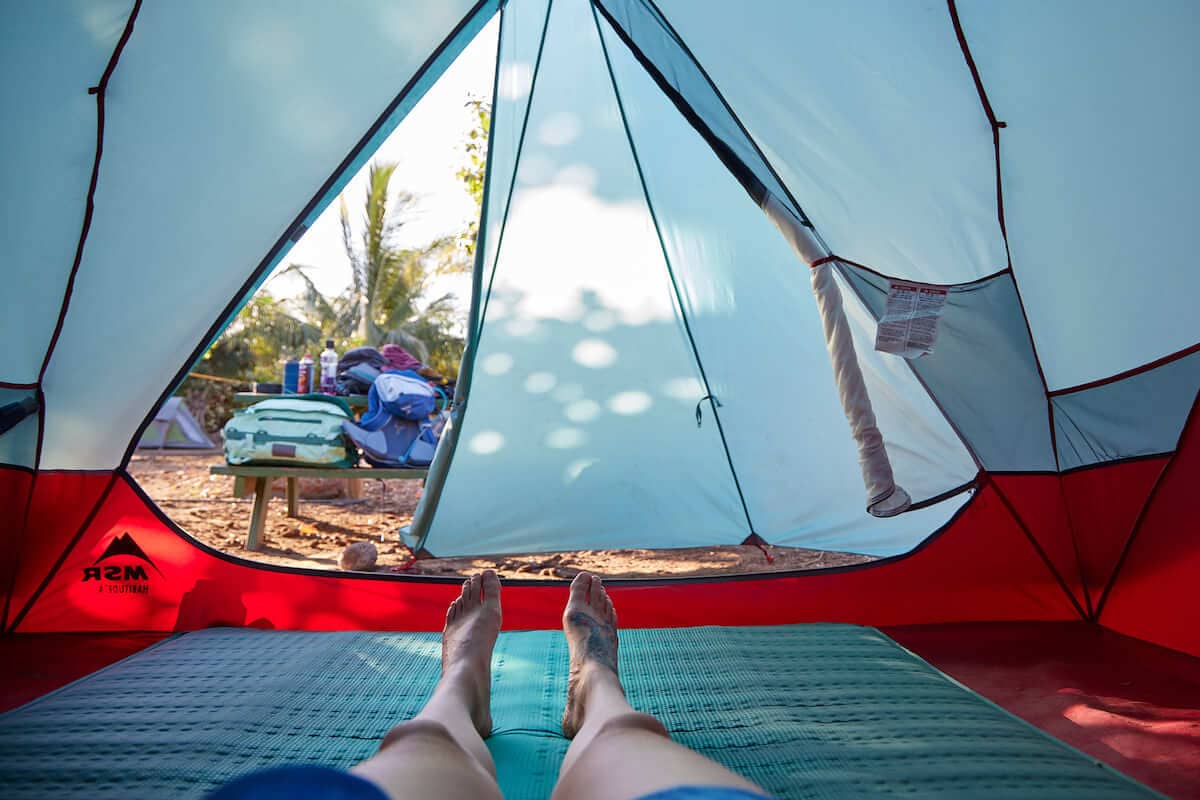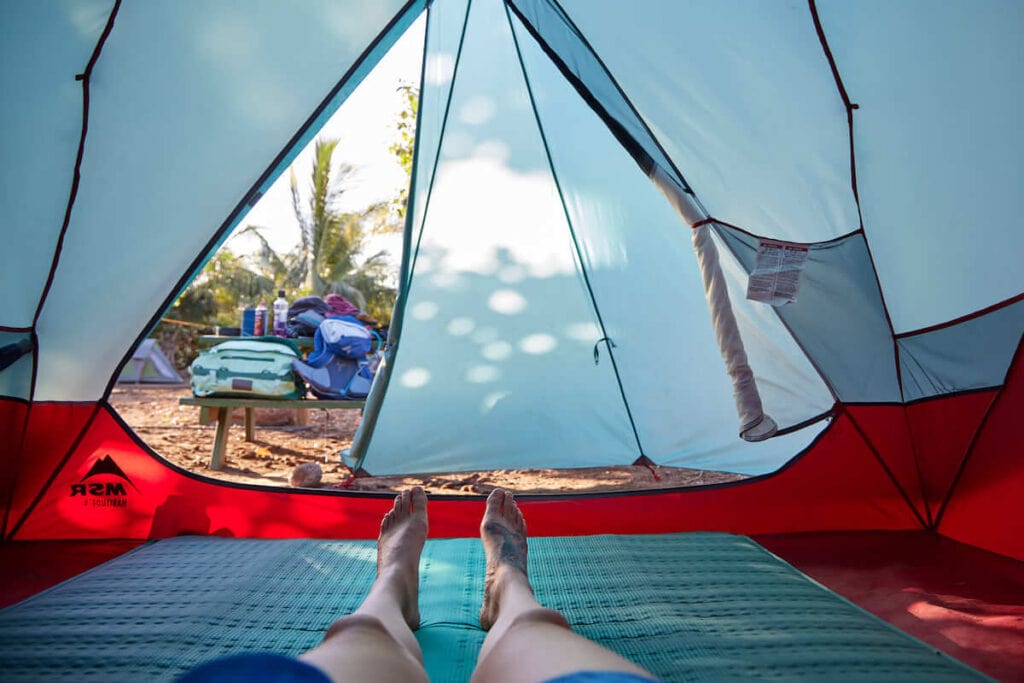 Insulation
I can't speak yet to the insulation factor of this pad since I used it in Hawaii when it never dropped below 60 in the evenings. With that said, the NEMO Double Roamer lists the R-value as 6.0, which means that it should insulate you from extremely cold ground temperatures. For reference, a three-season backpacking pad will typically have R-value ranging from 2.0 to 4.0, and the higher the R-value, the higher the insulation.
How to Inflate & Deflate the NEMO Roamer Sleeping Pad
Inflating the NEMO Roamer
One of the biggest concerns with a car camping sleeping pad of this size is how much effort it takes to blow it up.
I assumed a 4-inch thick pad would take a while to blow up and that I'd likely be completely out of breath by the time I was done, but the NEMO Double Roamer uses some pretty simple technology that makes blowing it up really quick and easy.
The directions for inflating the pad are printed near the valve, although it took me a minute to interpret the drawings. Each represents the three valves and whether they should be opened or closed at each step of inflating or deflating. For example, step 1 of inflating is to open the first valve, keep the second valve closed and open the third valve. This initiates the self-inflation. For the second step, you close the second and third valves and attach the bag to the first valve.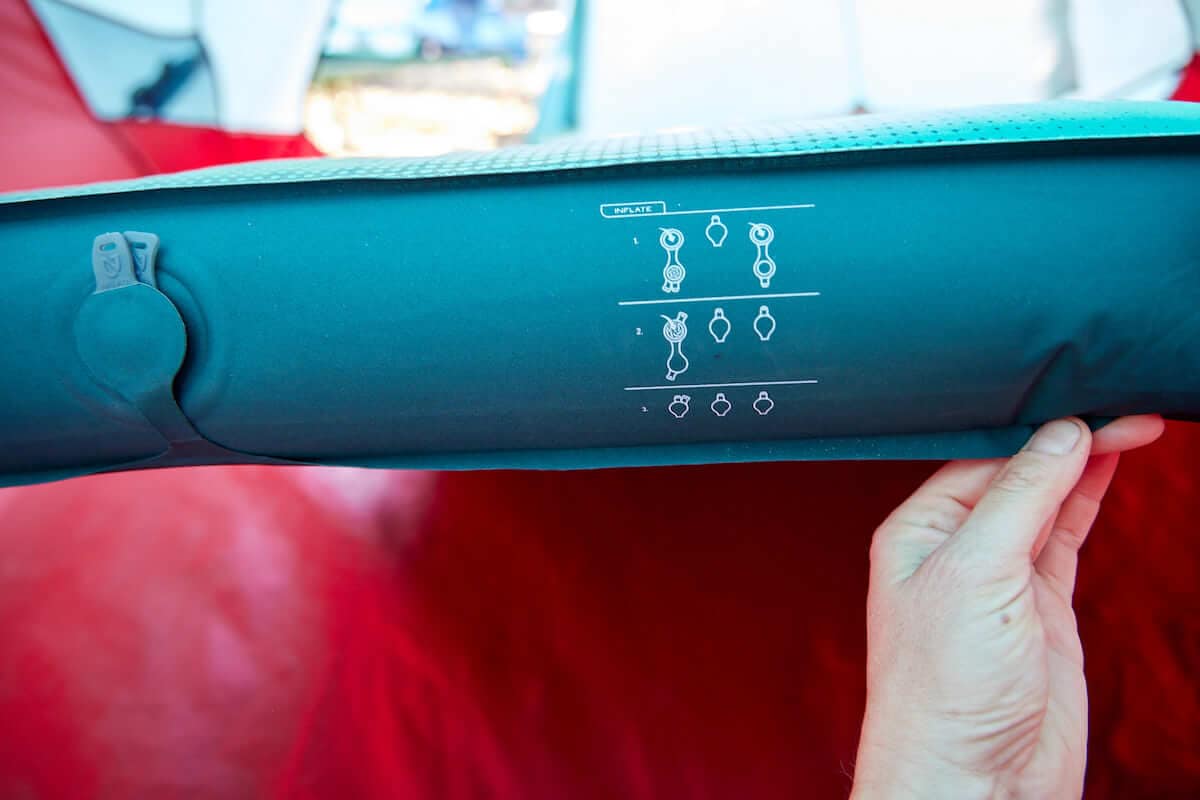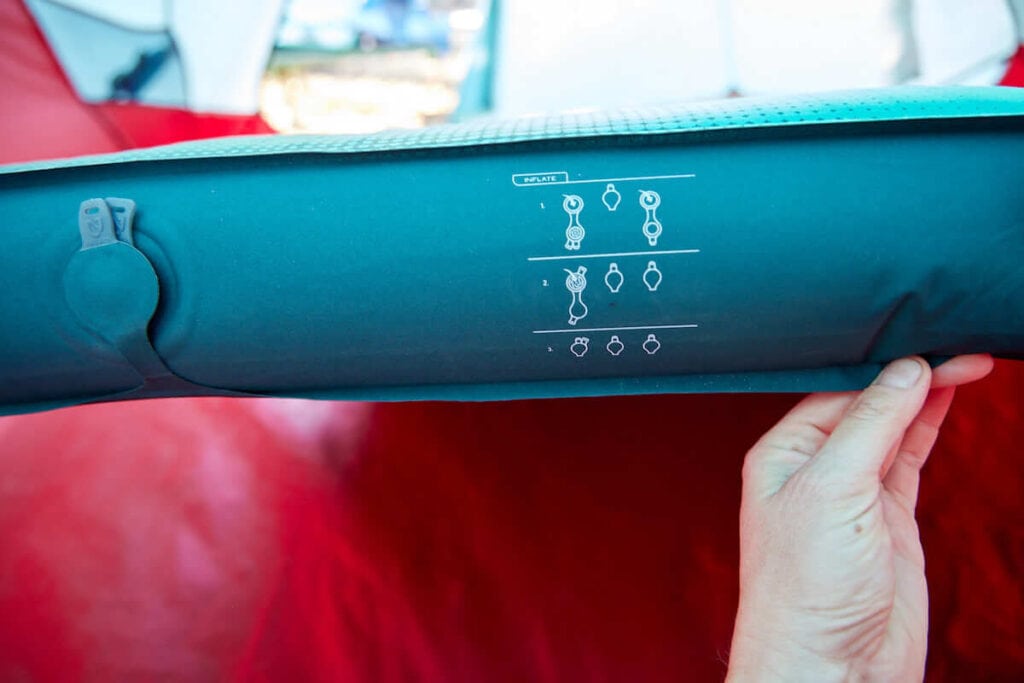 I've had self-inflating pads before, and I'm typically not impressed with their ability to get the job done. With the Double Roamer, however, the pad noticeably began to expand within seconds of me opening the valves.
After 10 minutes, it was about 2/3 full and I impatiently decided to top it off so I could set up the rest of my bed. To finish inflating it, attach the included Vortex pump sack to the valve. For efficiency, blow air from your mouth into the opening, close the bag and roll down the top. This forces air into the valve. When it's full, no more air will go in.
Overall, inflating the NEMO Roamer Double mattress was quick, simple, and didn't feel like the workout I expected.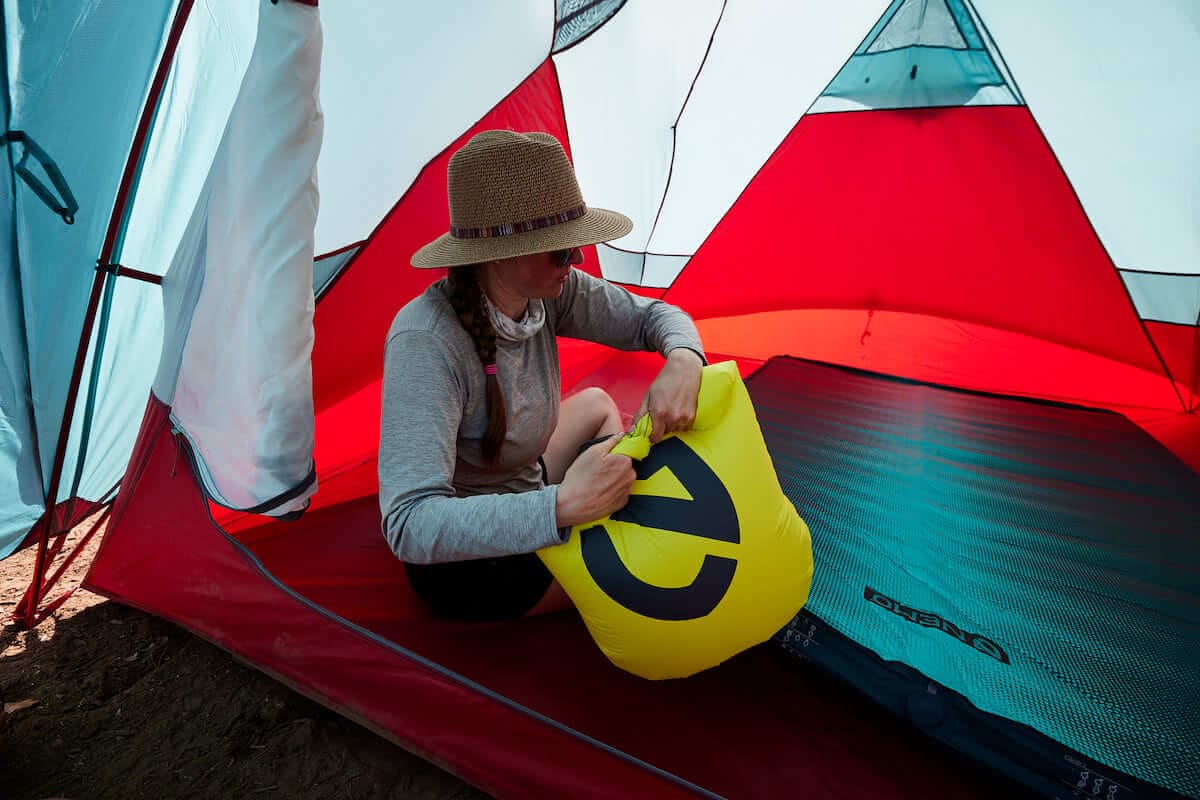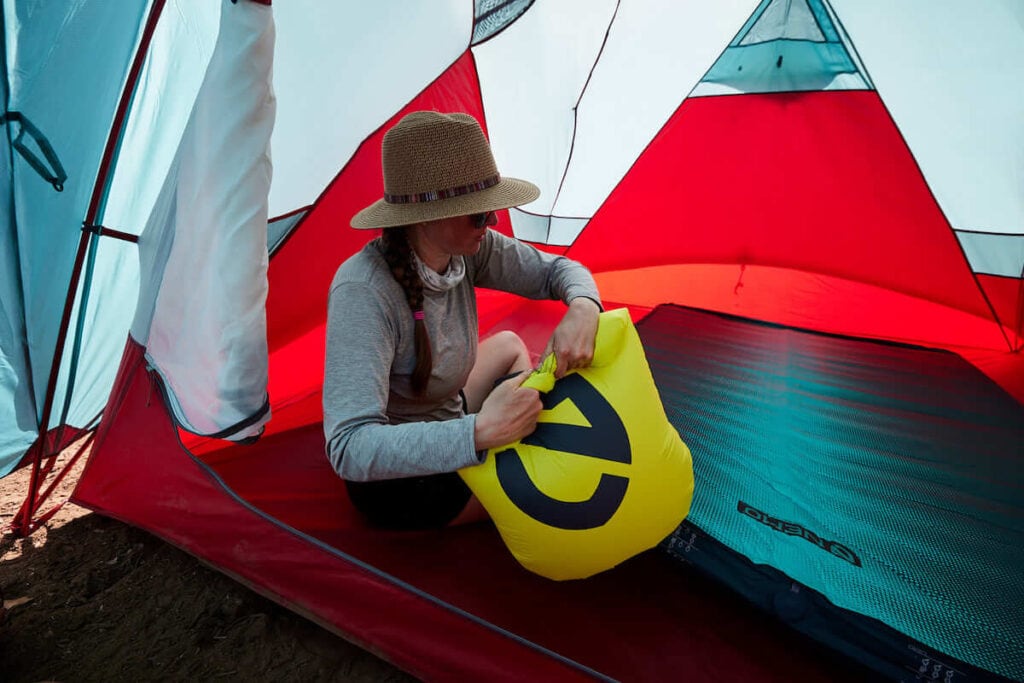 Deflating the NEMO Roamer
With the one-way deflation dump valve, deflating the NEMO Roamer Double was very easy. If you open up the dump valve while you're packing up the rest of your camp, the air quickly escapes and by the time you're ready to roll up the pad, it should be mostly deflated. To get the rest of the air out, follow the instructions printed on the pad next to the valves.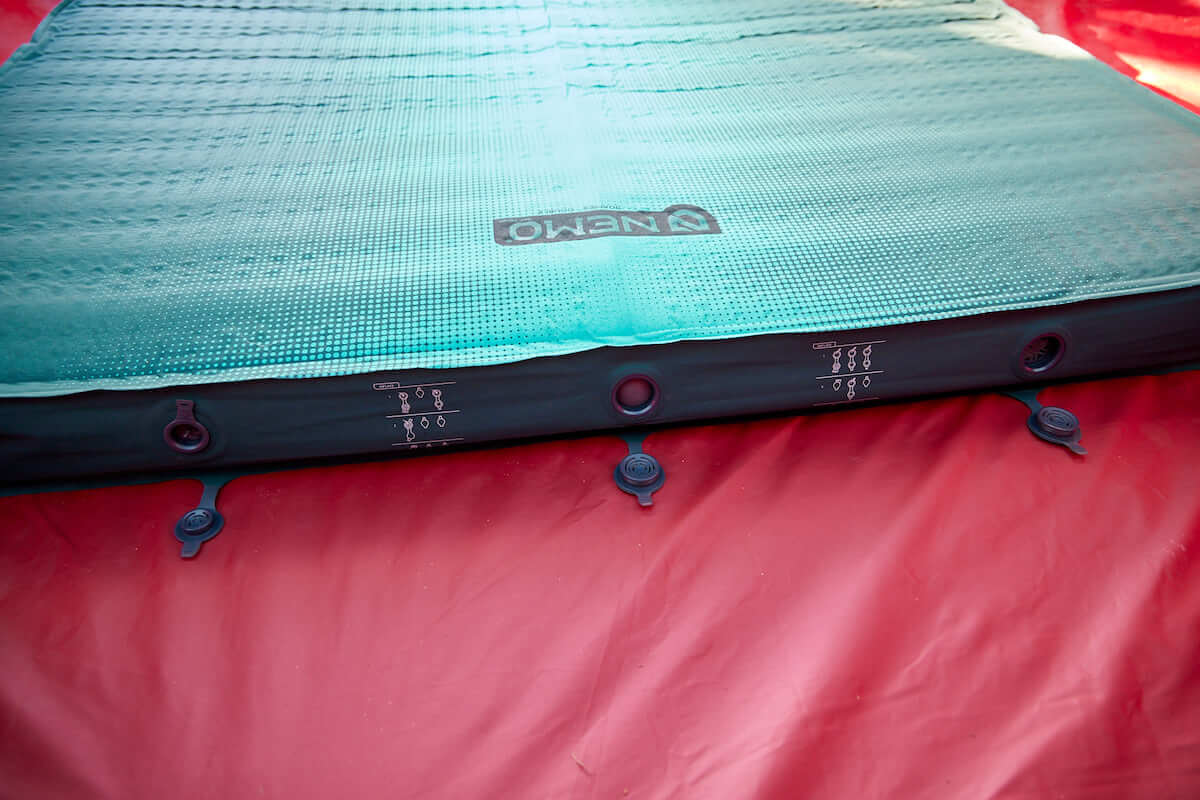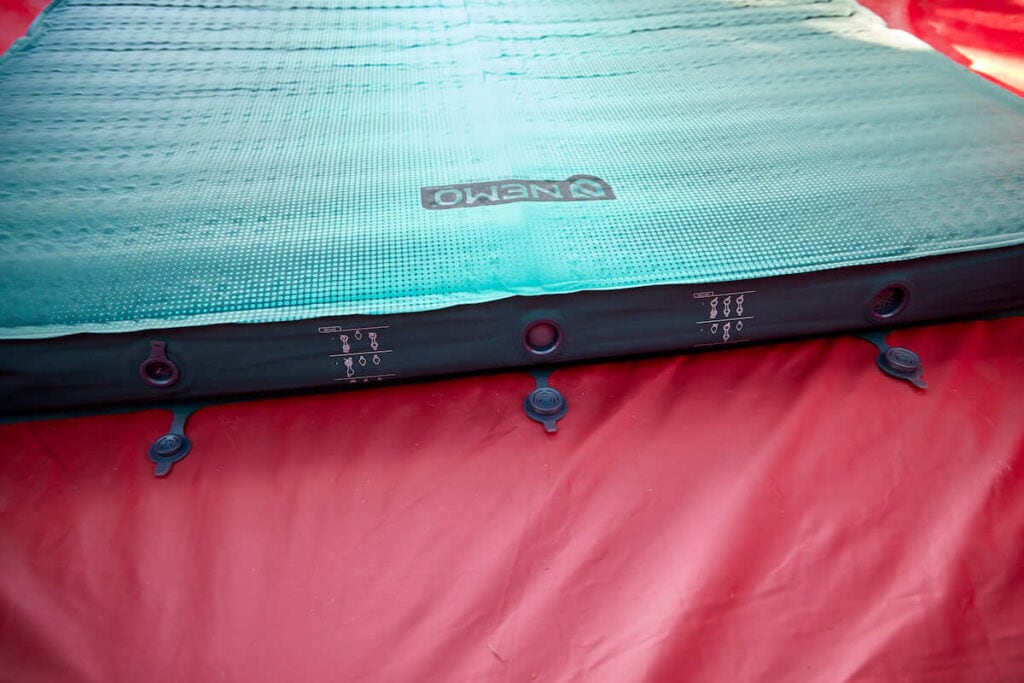 To store it, fold it in half and then roll it up pushing out any last bits of air.
When I finished rolling it up, it still felt like there was a bit of air left in it, but that didn't cause any issues storing it. The zippered duffel bag it comes in is plenty large for the pad so putting it away should never be a struggle.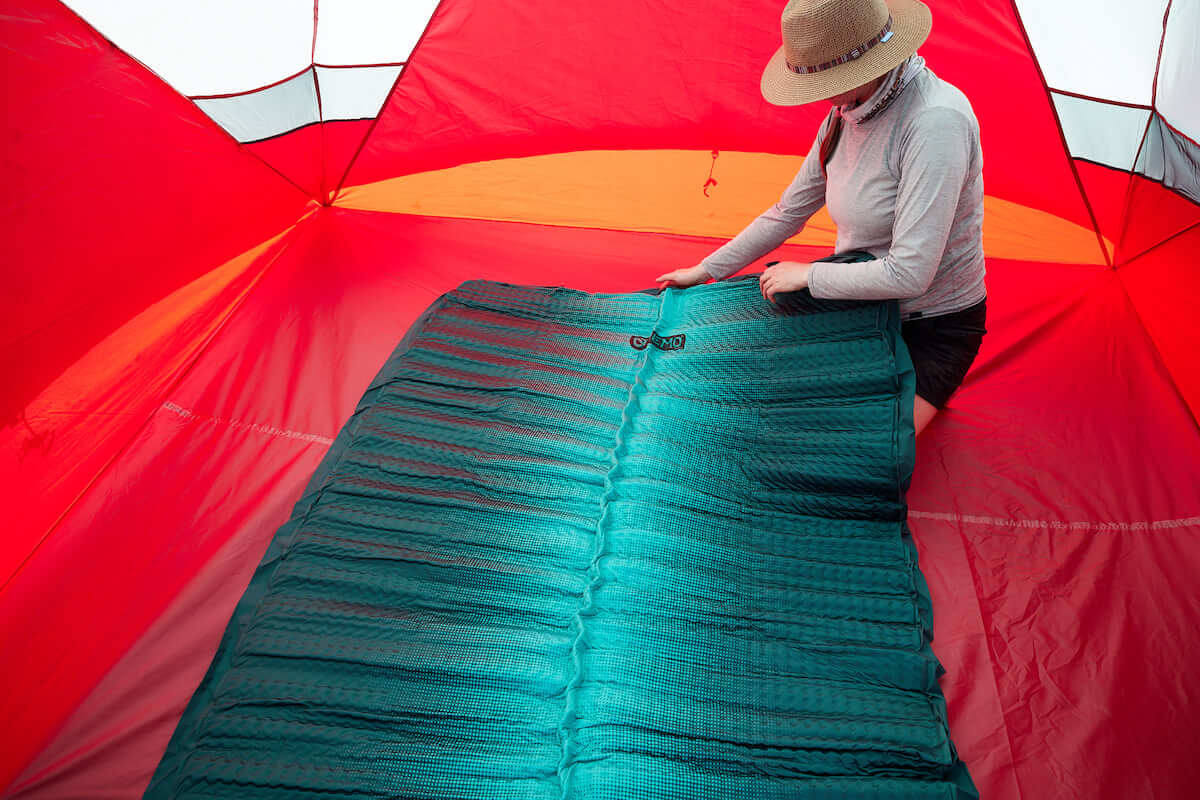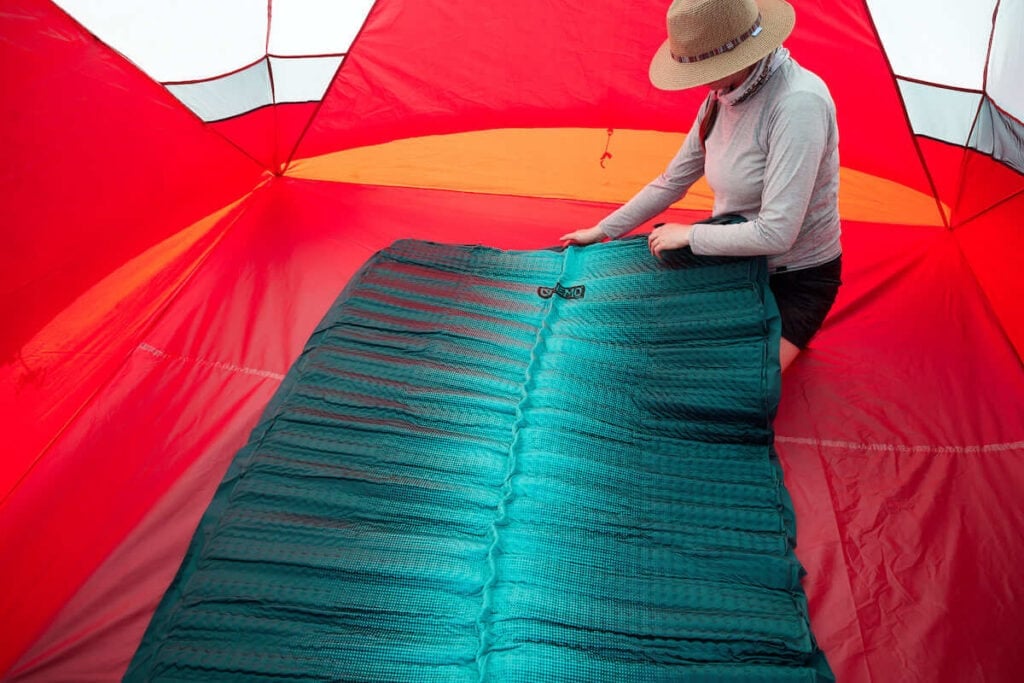 After testing the NEMO Roamer Double Sleeping Pad, I can't imagine a car camping road trip without it. For more gear recommendations, check out our car camping essentials blog post.
Thanks for reading our Nemo Roamer Sleeping Pad review! Have questions about the Nemo Roamer Double? Leave us a comment below!