Cold Weather Camping: Tips for Staying Warm this Winter
Intrigued about cold-weather camping, but not sure you're up for it? Read our best tips for staying warm and cozy this winter.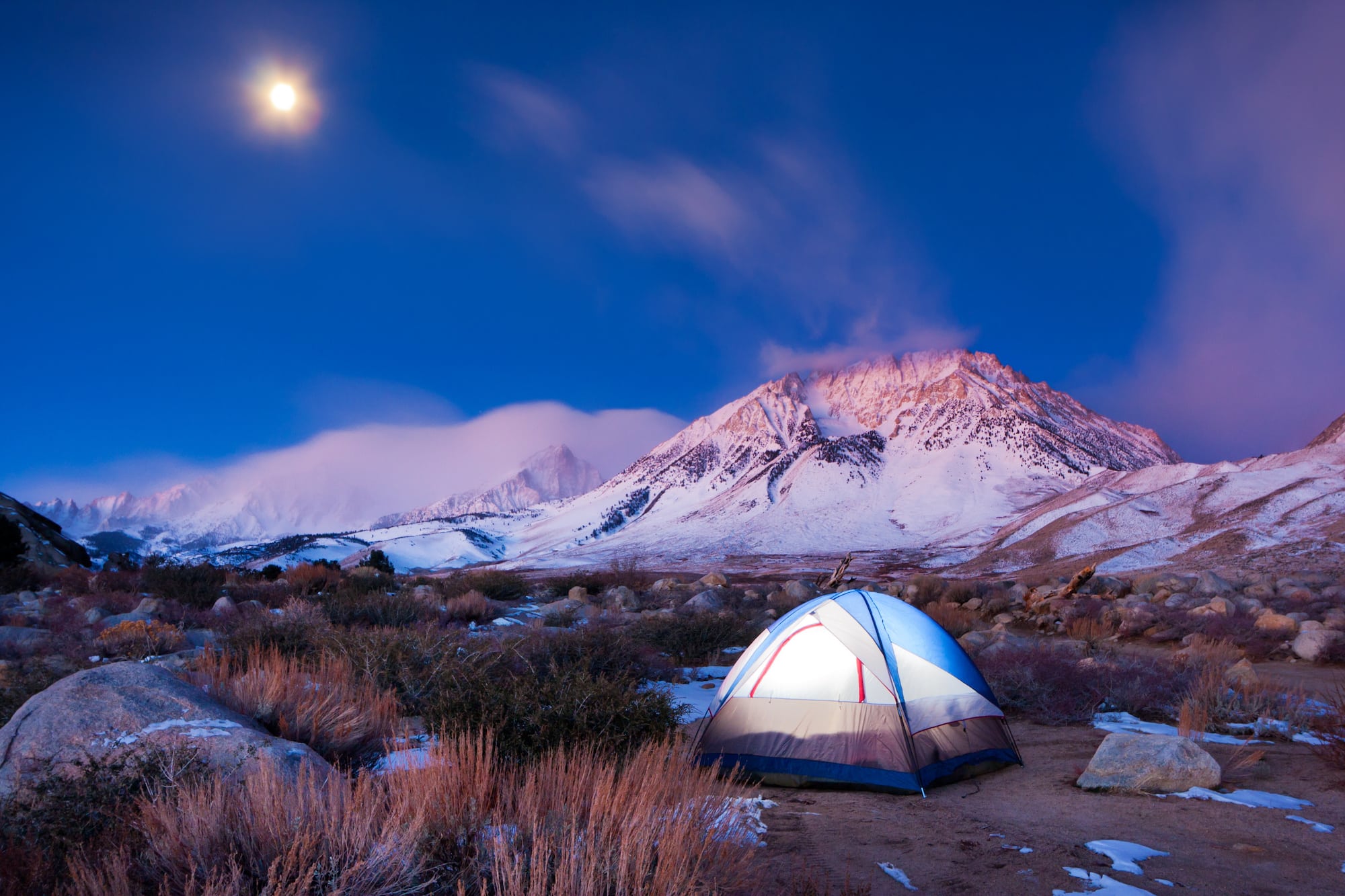 Warm summer nights and cool, crisp fall weekends aren't the only times of the year you can enjoy camping outdoors. Winter is a great time to get outside as well. Just because the temps start to drop doesn't mean you need to pack all your camping gear away and call it a day. Cold weather camping can be a great way to enjoy all four seasons outdoors. At Bearfoot Theory, we do our best to not be fair-weather outdoor adventurers, but lovers of the outdoors in all kinds of climates.
So, if you think you need to go easy on the camping when the temps drop, then think again. To successfully stay outside and have fun camping in the winter all you need is a good attitude and a few good tips for staying warm in cold weather or winter camping.
1. Layer up
To stay warm, it's important to wear the right layers for cold weather like quick-drying, breathable, and temperature-regulating merino wool or sustainable synthetic base layers followed by insulated mid and outer layers. Opt for outer layers that have strategically-placed ventilation like pit zips so you don't get damp and sweaty.
Check out our post on cold-weather layering basics for details and suggestions on what to wear when hiking and camping in the winter.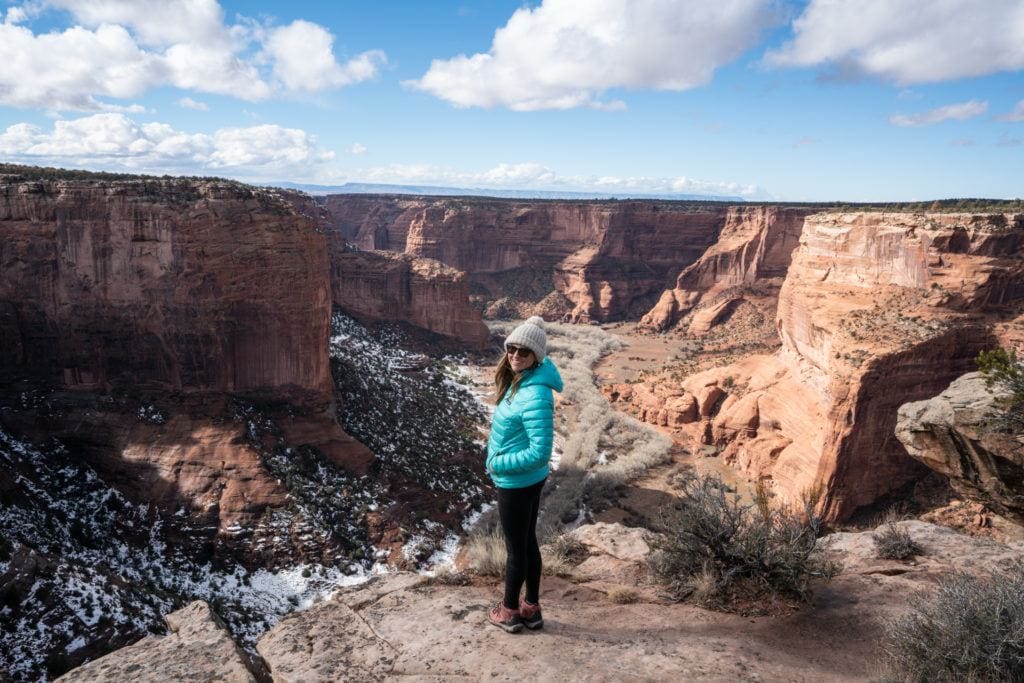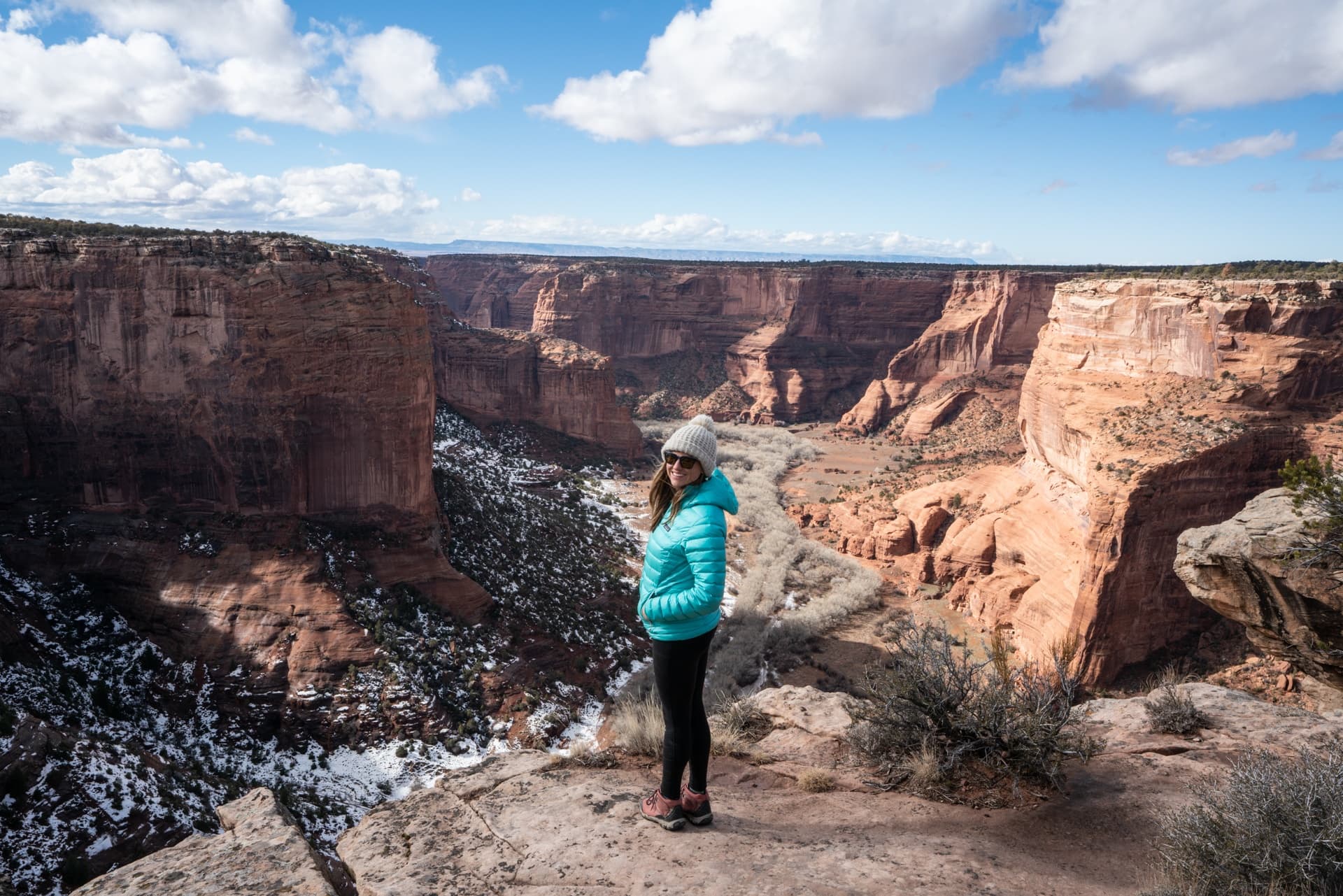 2. Keep your feet and core warm
Try to keep your feet and core as warm and toasty as possible since these areas regulate our temperature the most. Warm wool socks and a quality base layer like the Icebreaker 200 Oasis are essential.
If your feet and hands tend to freeze up, invest in heated socks and heated gloves.
The right materials should wick moisture and dry quickly, but if you return to camp sweaty from a hike and your base layers are still damp, be sure to change into something dry.
3. Keep your head covered
We tend to lose most of our heat through our head, so wear a beanie and/or a hood during the day, and do the same at night or use your sleeping bag to cover your head so that it's not exposed to the cold.
A Polar Buff is also handy for keeping your face warm as you sleep. If it's cold and windy while you're hiking, a buff can protect your face from chafing and windburn too.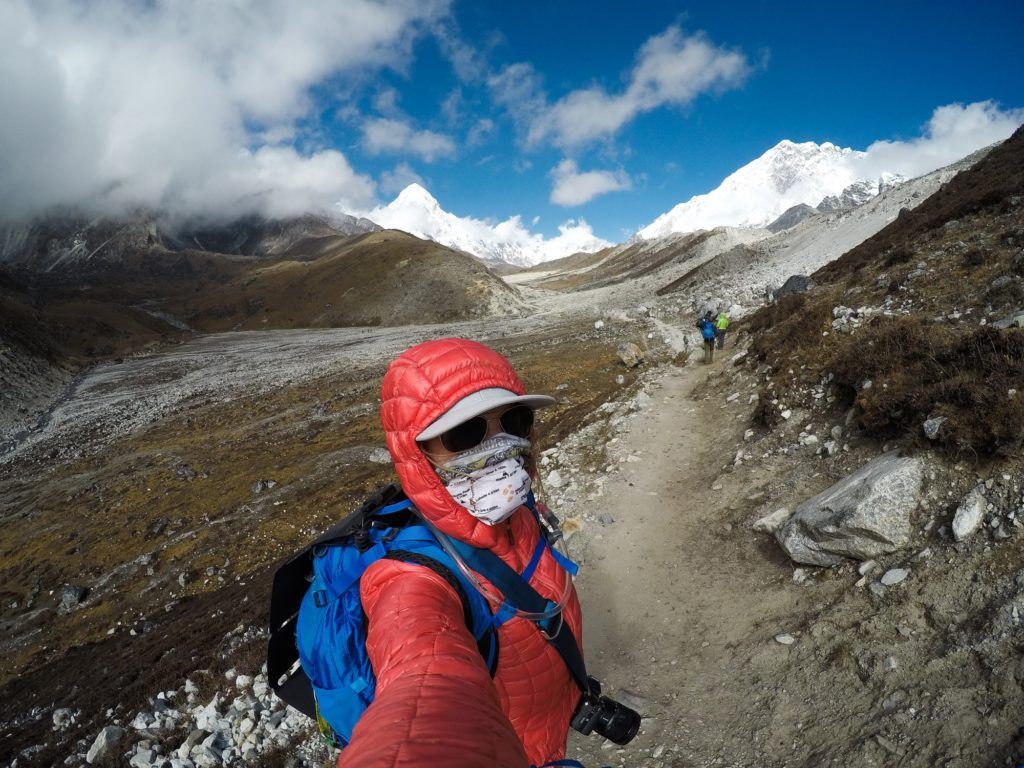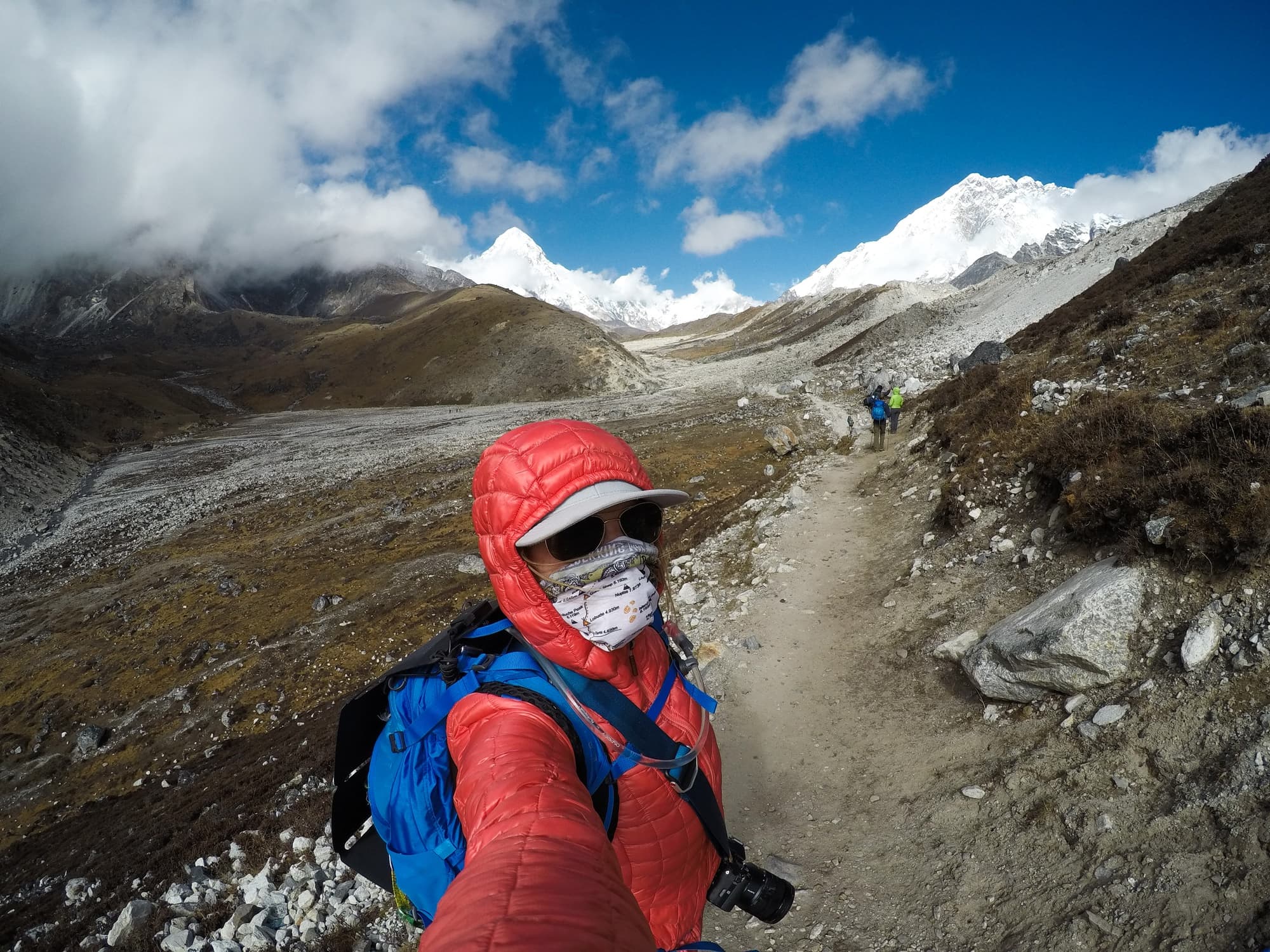 4. Bring extra clothes to sleep in
Bring a separate set of clothes to sleep in so that you don't have to wear damp clothes you spent the day hiking in to bed. Wearing dry clothes at night is important to help you stay warm when temps drop even further and to help you get a good night's sleep.
A warm pair of long johns, a cozy long-sleeve top, and a pair of warm wool socks should do the trick with extra layers to add on for when you emerge from your tent.
5. Pack waterproof outer layers
Pack waterproof clothing like gaiters, ponchos, boots, and rain jackets to ward off hypothermia. Even if there isn't any snow or precipitation in the forecast be prepared and bring quick-drying rain gear just in case.
If it looks like the weather will be wet, check out our tips for hiking in the rain.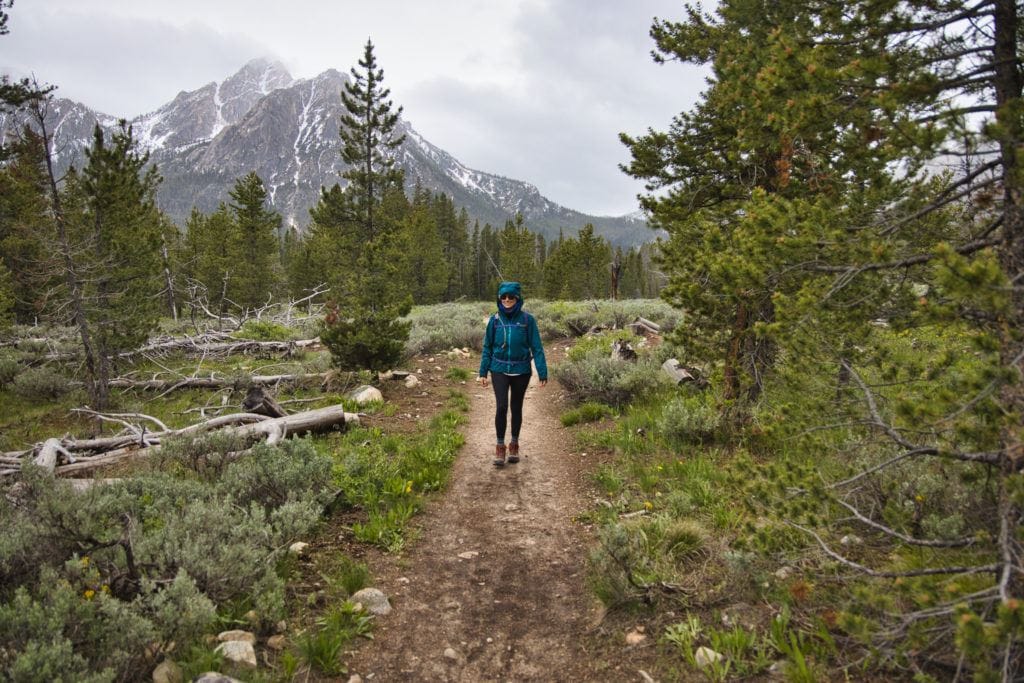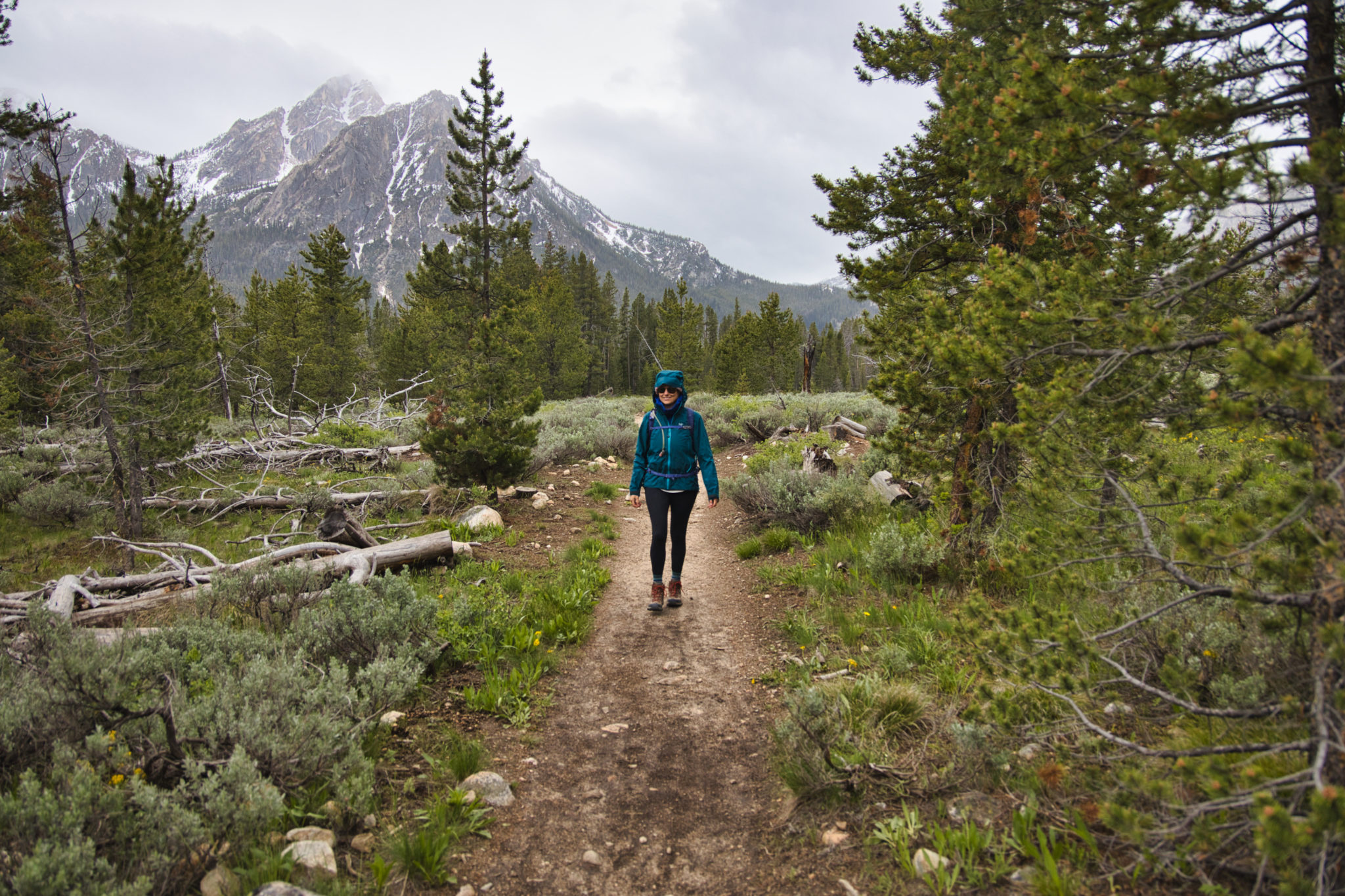 6. Keep clothes inside your sleeping bag
Put your clothes for the next day in your sleeping bag with you to keep them warm before you put them on in the morning. This way you don't have to start your day by pulling on freezing cold layers.
7. Try a sleeping bag liner
A sleeping bag liner extends the life of your sleeping bag by protecting it from wear and tear and it also helps to keep you warm on extra chilly nights. It's a good product to have for any camping or backpacking trip but it's especially handy when camping in winter.
Look for a liner that is lightweight and packable with an added warmth of 10-15 degrees F.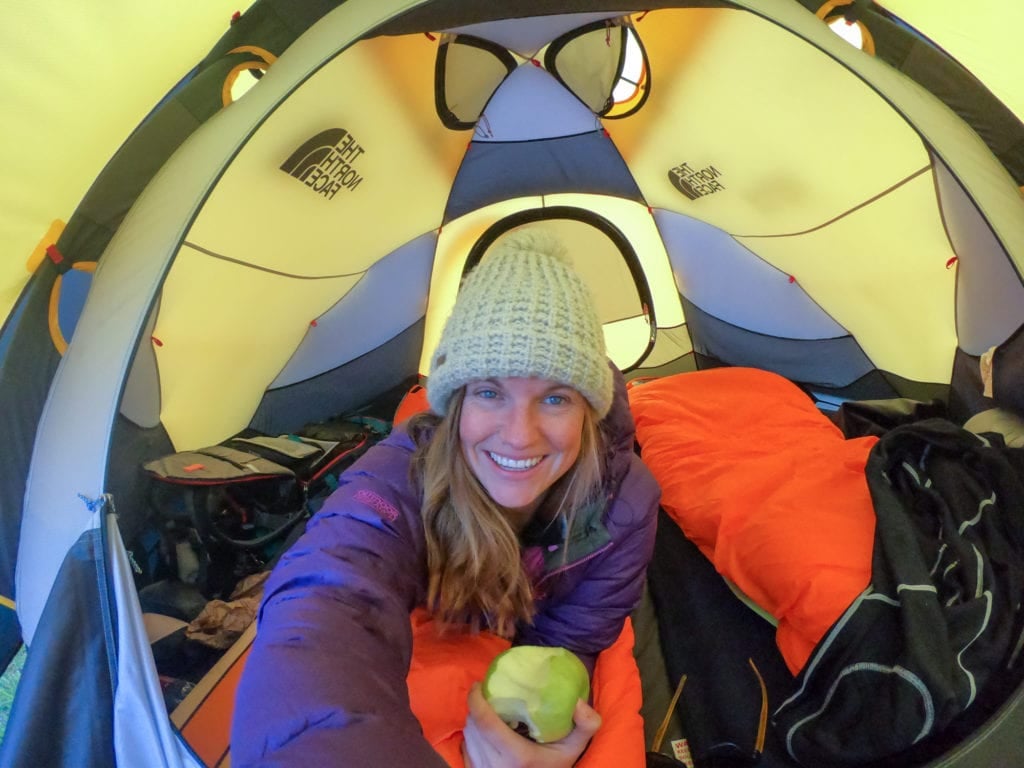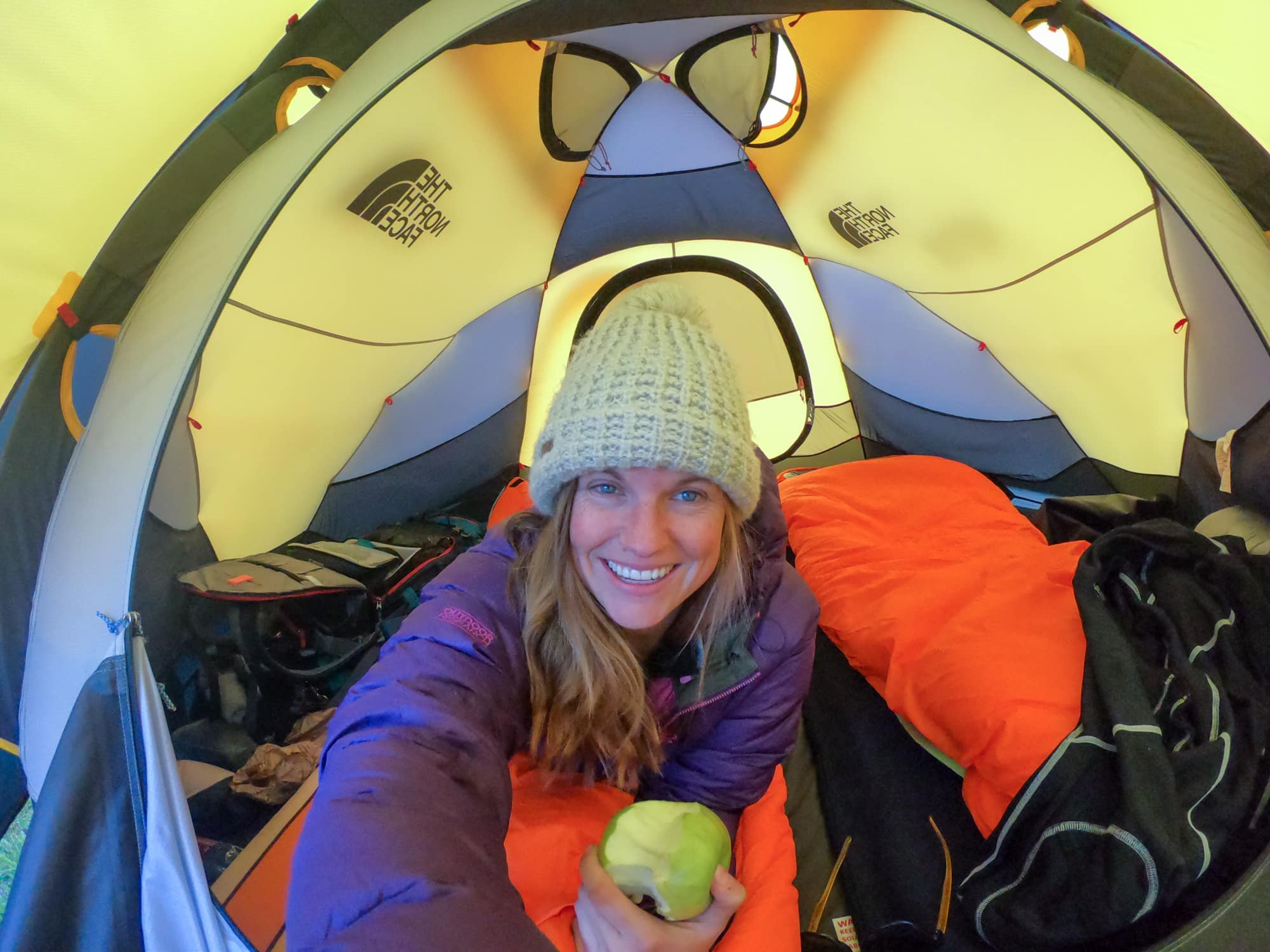 8. Pack a pair of socks just for sleeping in
Leave an extra pair of warm, wool socks in your tent. Never take them out and only put them on just as you are going to sleep. To keep your feet uber warm in extreme cold try a pair of down booties, like our favorites from Enlightened Equipment.
9. Check your sleeping bag size
Make sure that your sleeping bag is the right size. If it's too big, it won't trap your body heat well. If you aren't able to swap out your sleeping bag, try to stuff any extra clothing or other items that can help insulate the foot box to keep heat from escaping.
>> Check out the best backpacking sleeping bags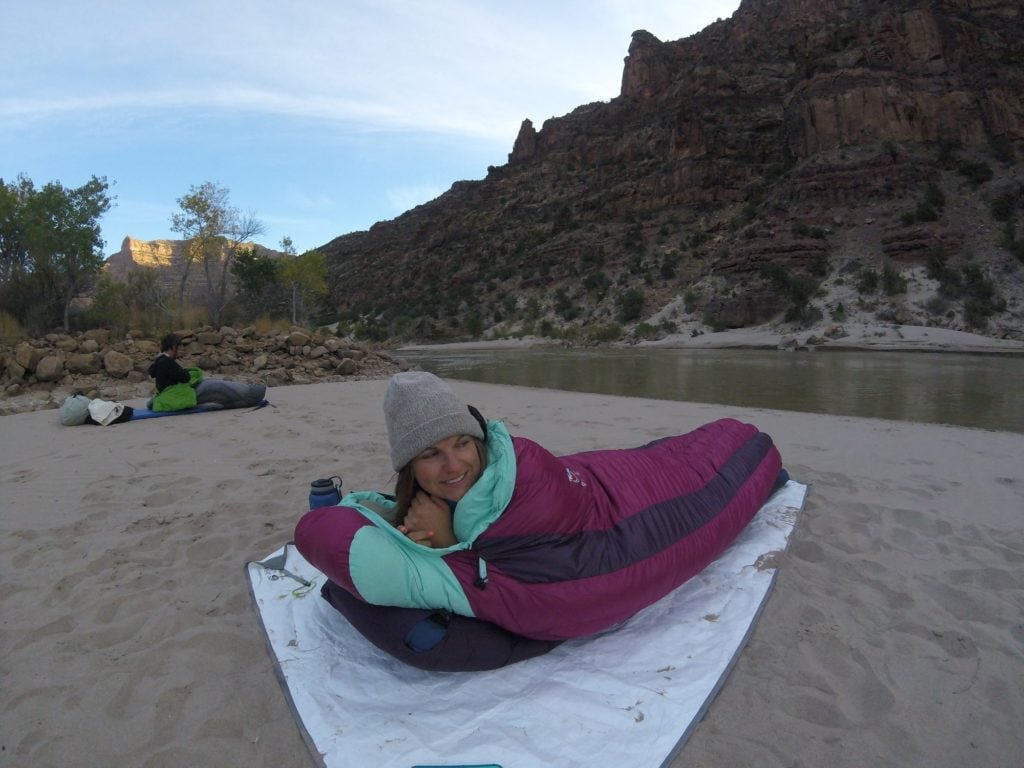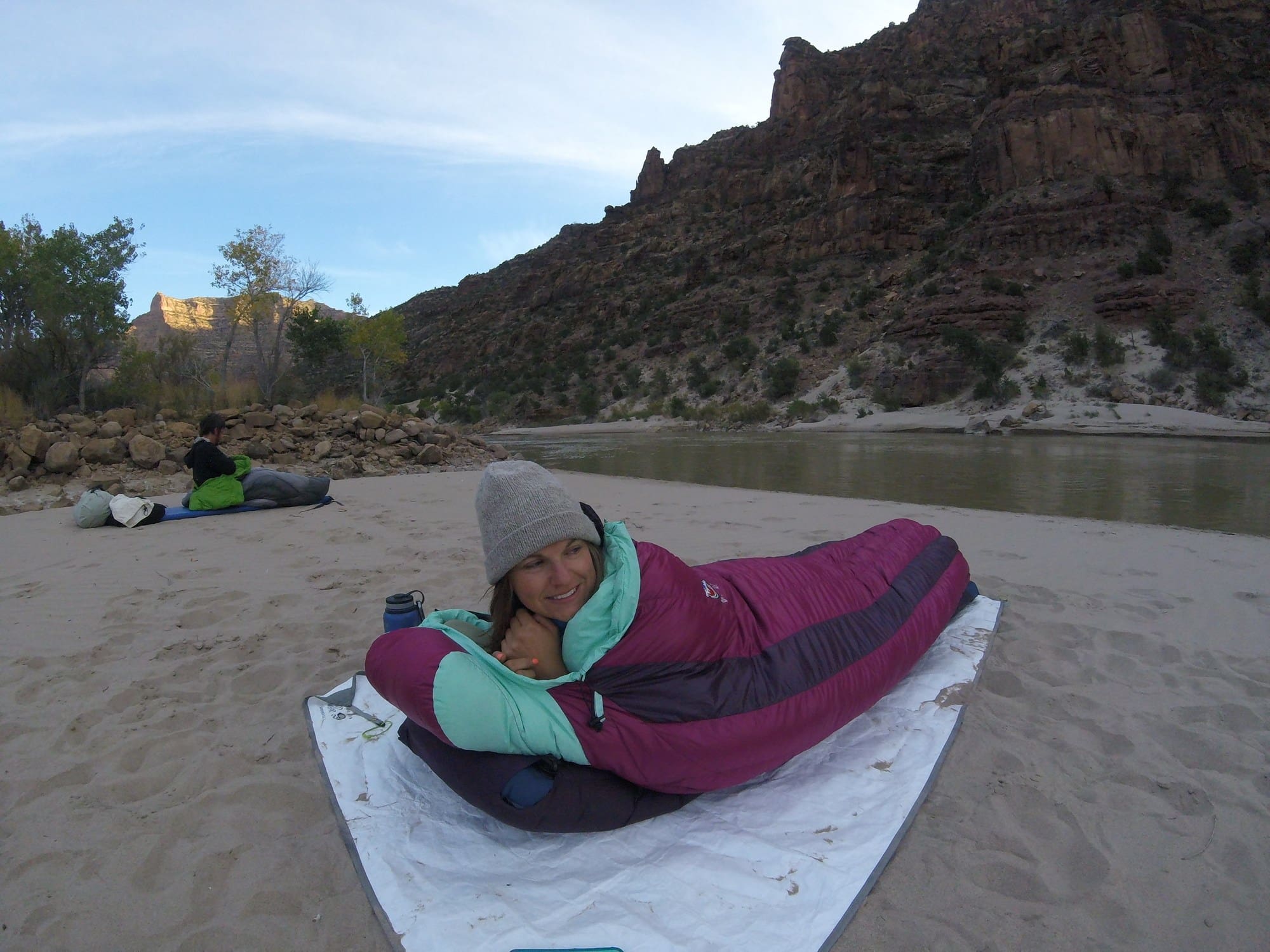 10. Check your sleeping bag temperature rating
Always make sure that the temperature rating of your sleeping bag is lower than the actual air temperature. Think of it this way: a 20-degree sleeping bag won't keep you as warm as you would like it to when it's actually 20 degrees outside.
So, a good rule of thumb for cold weather camping is to prepare for even chillier temperatures when it comes to your gear ratings.
11. Stake a tarp above your tent
Hang a tarp over your tent to trap additional heat and keep you protected from the elements. Adding a tarp as an extra layer will catch snow and ice as it falls and can protect your rain fly from condensation that can freeze overnight.
You should also always use a footprint underneath, which also helps insulate your temp from the cold ground.
12. Opt for an insulated sleeping pad
Get a sleeping pad with added insulation. Some sleeping pads contain down inside the material and others have a synthetic layer to stay warm. Another option is to look for a sleeping pad with an R-value of at least 4, which signifies it's appropriate for cold-weather camping.
You can't go wrong with the Therm-a-Rest Trail Pro Sleeping Pad. It has an R-value of 4.4 and provides a good amount of insulation from the cold ground. If you're a cold sleeper and want something even warmer, try the NEMO Roamer Sleeping Pad. It's a super warm and luxuriously comfortable sleeping pad with an R-Value of 6. This is what I use on my car camping trips, although I haven't gotten the chance to test it in winter yet.
>> Read Next: The Best Sleeping Pads for Backpacking
13. Choose calorie-dense foods
Eat snacks that are high in fat and protein throughout the day to keep your internal body temperature higher. Plan a nice, hot, calorie-dense meal for dinner too. Calorie-dense foods take longer to digest and create more heat.
>> Read Next: Best Hiking Snacks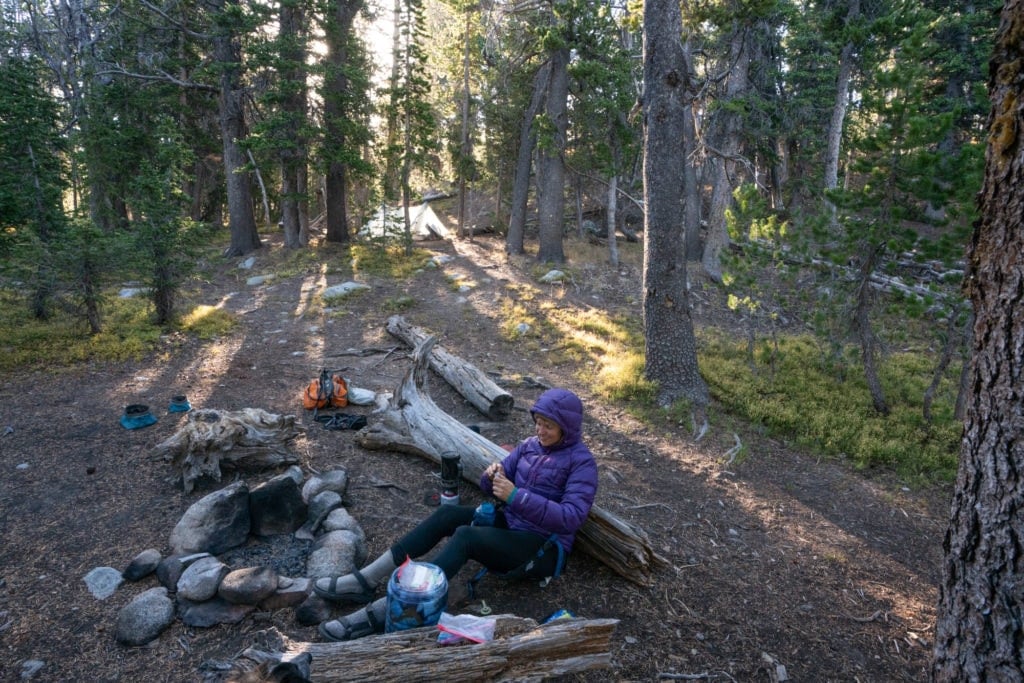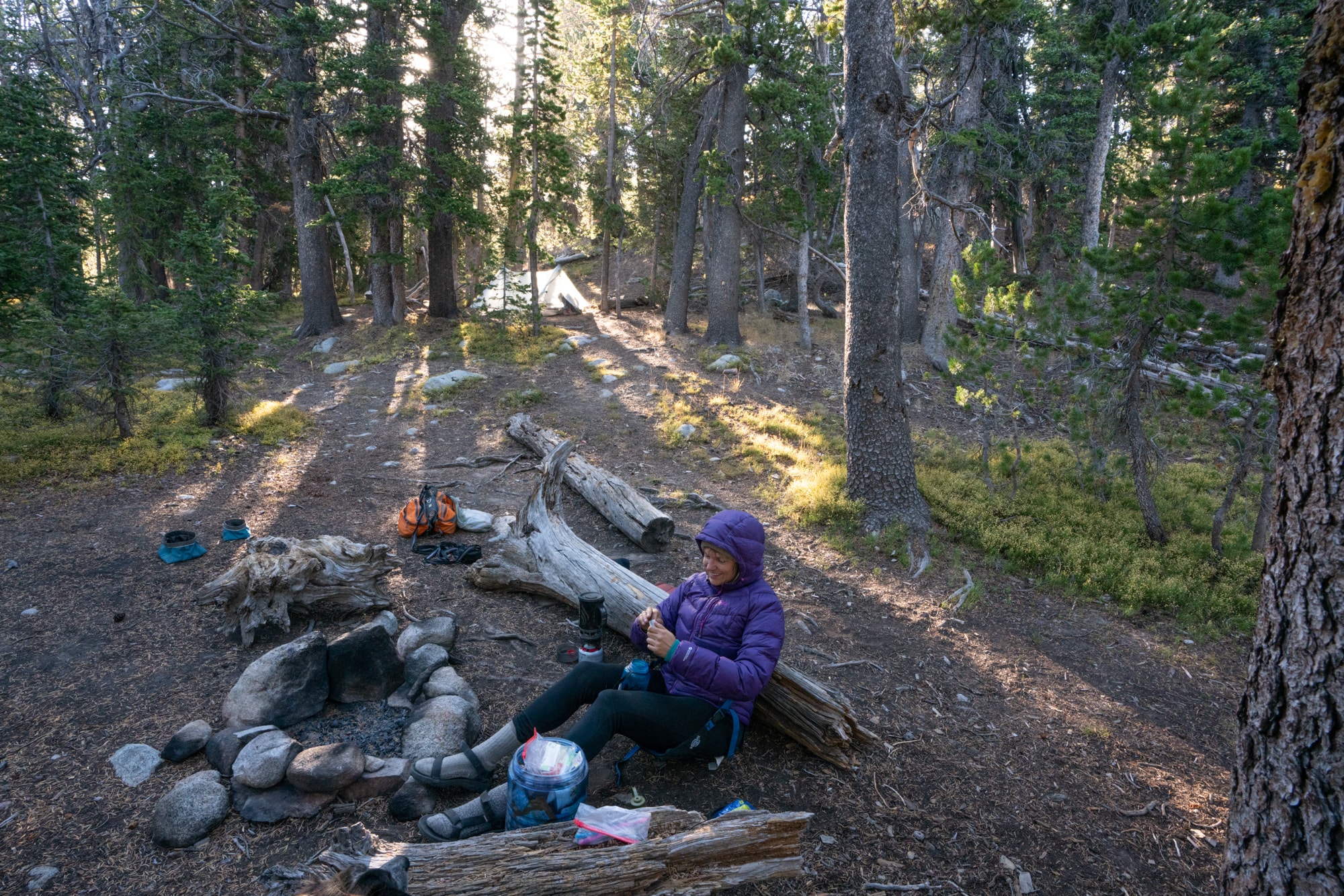 14. Sleep with a hot water bottle
If possible, fill a water bottle like Nalgene with hot water and wrap it up in a shirt to put it in your sleeping bag at night to give off heat & provide warmth against your body. Hand warmers are also a great addition if you prefer not using water.
15. Drink hot liquids & stay hydrated
Drink plenty of hot liquids like coffee and tea in the morning to warm you up and throughout the day to keep you warm. Stay hydrated and bring plenty of drinking water too. It's easy to assume that you don't need as much water when camping in the winter since you aren't sweating as much in colder temps, but the opposite is true.
You can use NUUN Sport Hydration Tablets to make sure you're getting all the electrolytes you need.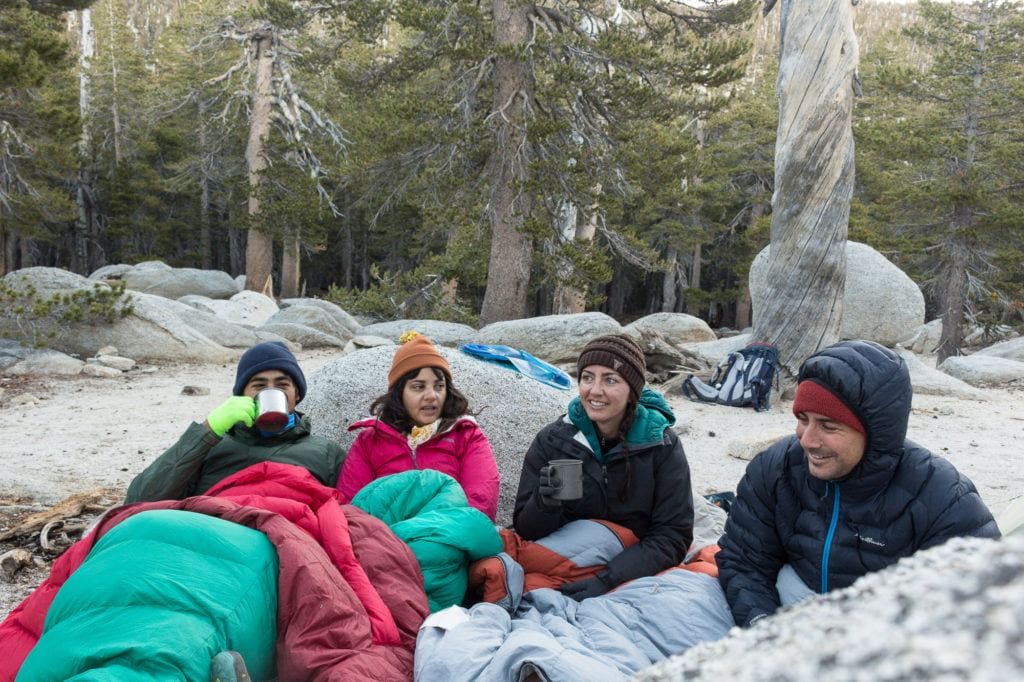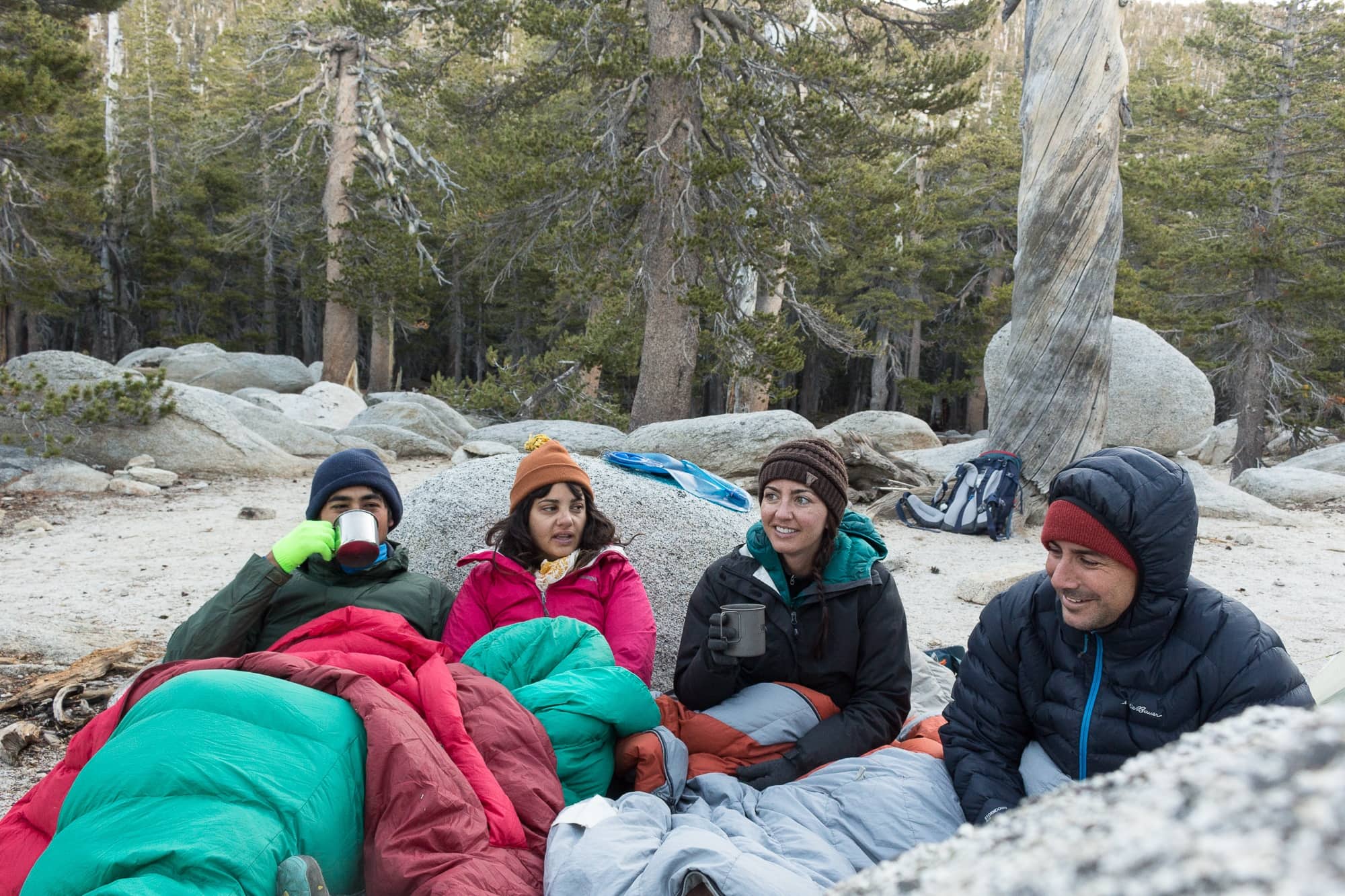 16. Don't try to hold it
Going to the bathroom in the cold can be a pain, but if you gotta go, just go! This tip is especially for the middle of the night when you wake up and have to pee but try to resist getting out of your warm cozy tent to brave the cold. It takes more energy to hold it in and will prevent you from sleeping soundly, so just get it over with. It'll feel so good when you get back to your cozy bed and can sleep the rest of the night in comfort. Alternatively, pack a pee bottle (a Nalgene works well) so you can pee in your tent.
Make sure to pack out your toilet paper or even better, bring a Kula Cloth to wipe with.
17. Get moving
Get warm the old-fashioned way by doing jumping jacks before you hop in your tent or do some crunches to help you warm up once you are inside. Then, in the morning, give yourself a few minutes to wiggle around and stretch inside your sleeping bag and tent before going outside.
During the day, get warm by going for a hike (get our tips for winter hiking here) or heading out snowshoeing. It's also a good idea to use an insulated drinking hose for your hydration pack so it doesn't freeze.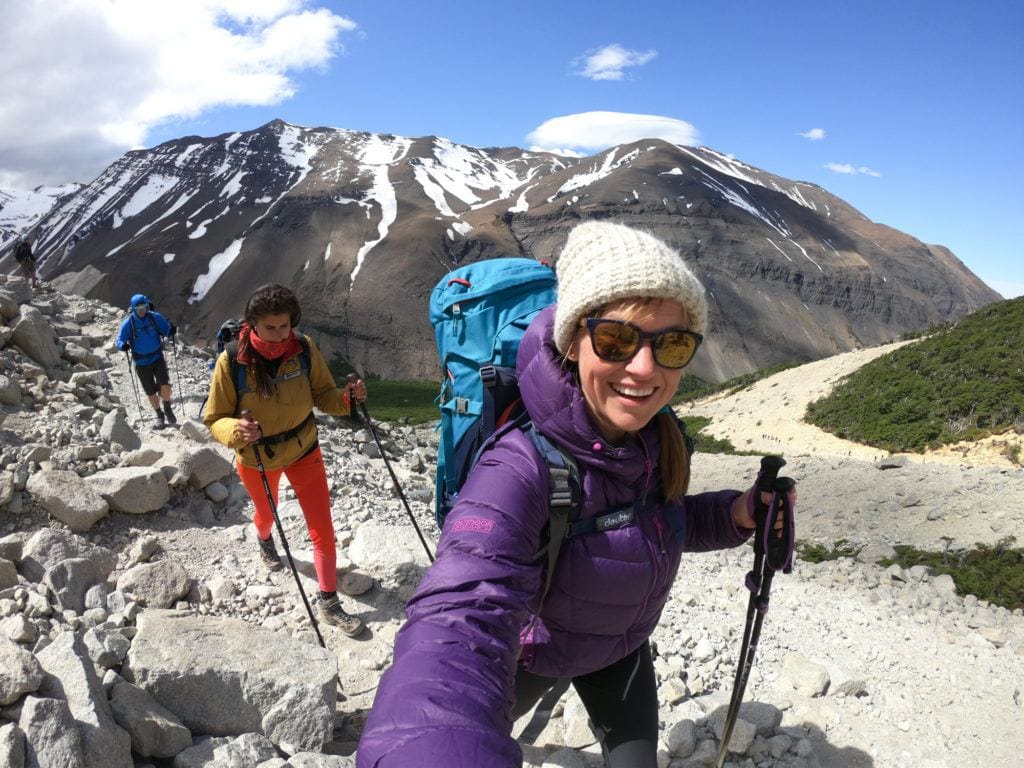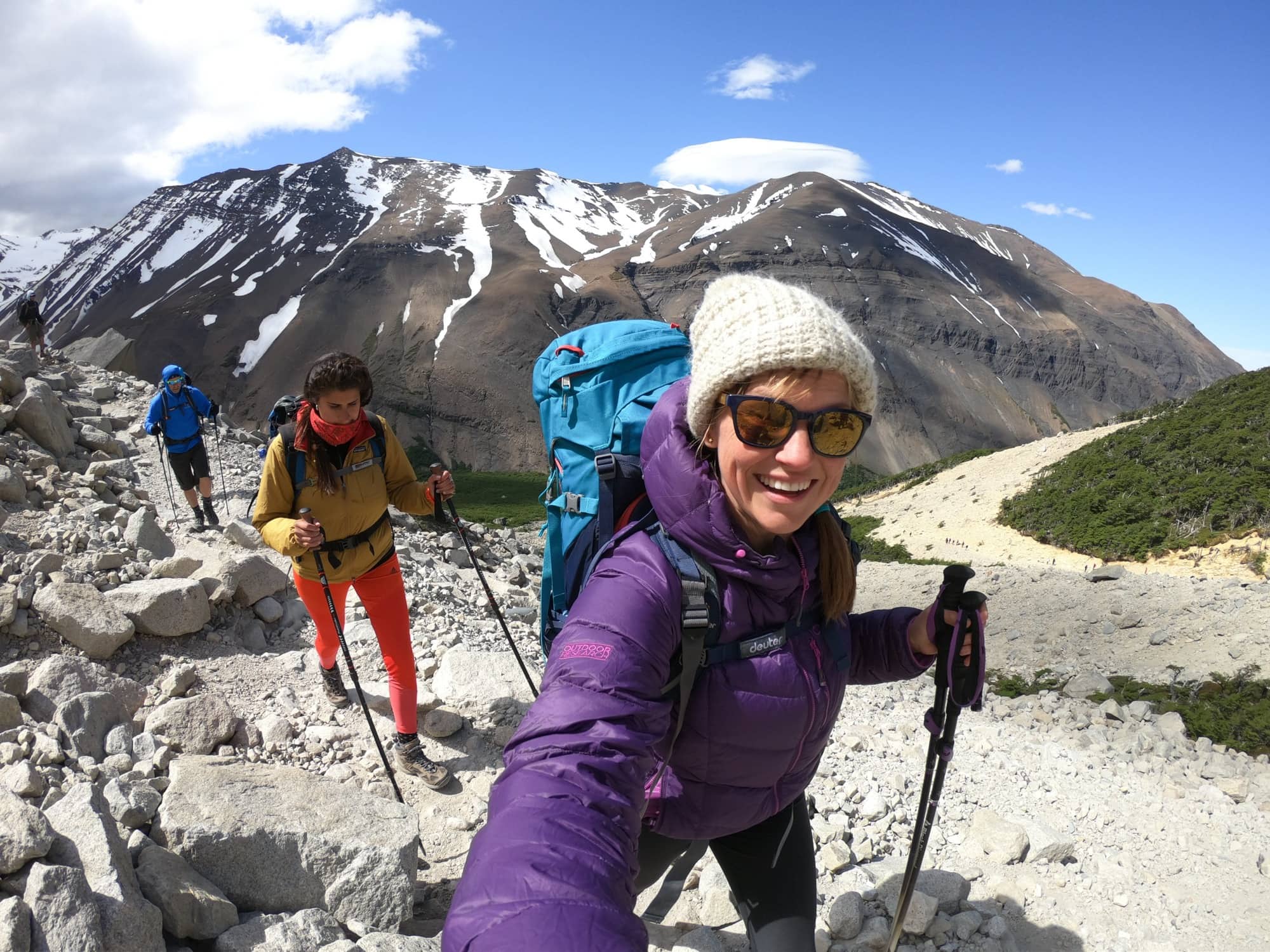 18. Keep your phone and electronics warm
Your batteries will drain faster in colder environments. Store your cell phone and other electronics inside your sleeping bag or wrap them in an insulated synthetic or down jacket to save battery. Keep your phone in airplane mode when not needed and turn it off at night to conserve power as well.
19. Bring the right camp stove
Not all camp stoves are created equal when it comes to cold weather camping. Canister stoves (ex. Jet Boil) rely on pressurized fuel canisters to generate heat and don't work well in colder temperatures. In temperatures 20F and lower, the pressure inside the canister decreases, making it harder for the fuel to properly flow, making it produce less heat or even fail to work at all.
If you'll be camping in cold weather, you have a few options for camp stoves:
Heat up the fuel canister before cooking by placing it in your sleeping bag or sticking it in your jacket ahead of time
Buy a canister stove that has wind-blocking protection, like the MSR WindBurner
Bring a stove that uses different fuels, such as liquid fuel or a compact wood-burning stove. I have the MSR Whisper Lite Universal Backpacking Stove which can be used with both canisters and liquid fuel, making it versatile no matter what kind of adventure I'm on.
Note: It is extremely dangerous to cook inside of your tent due to the flammable material and carbon monoxide risk. Always cook outside of your tent in a well-ventilated area.
>> Read Next: Best Backpacking Stoves
20. Make a fire
When you're camping in cold weather, fires aren't just for evenings, they're nice to have in the mornings too. Keep a fire going when you're hanging out at camp to help you stay warm. Just be sure to follow our tips for having a safe campfire.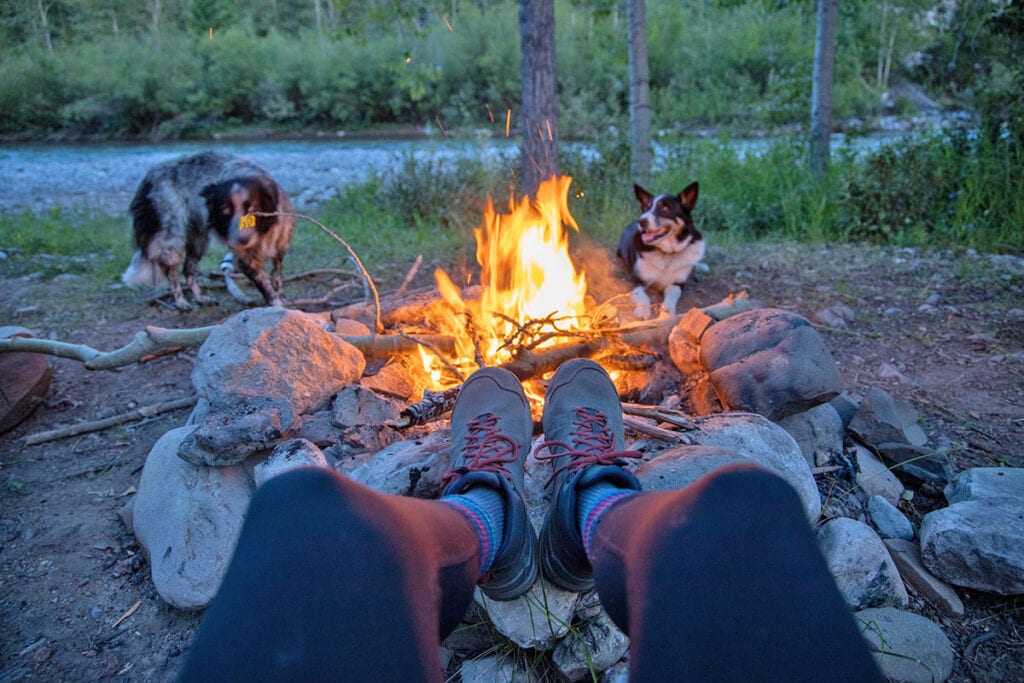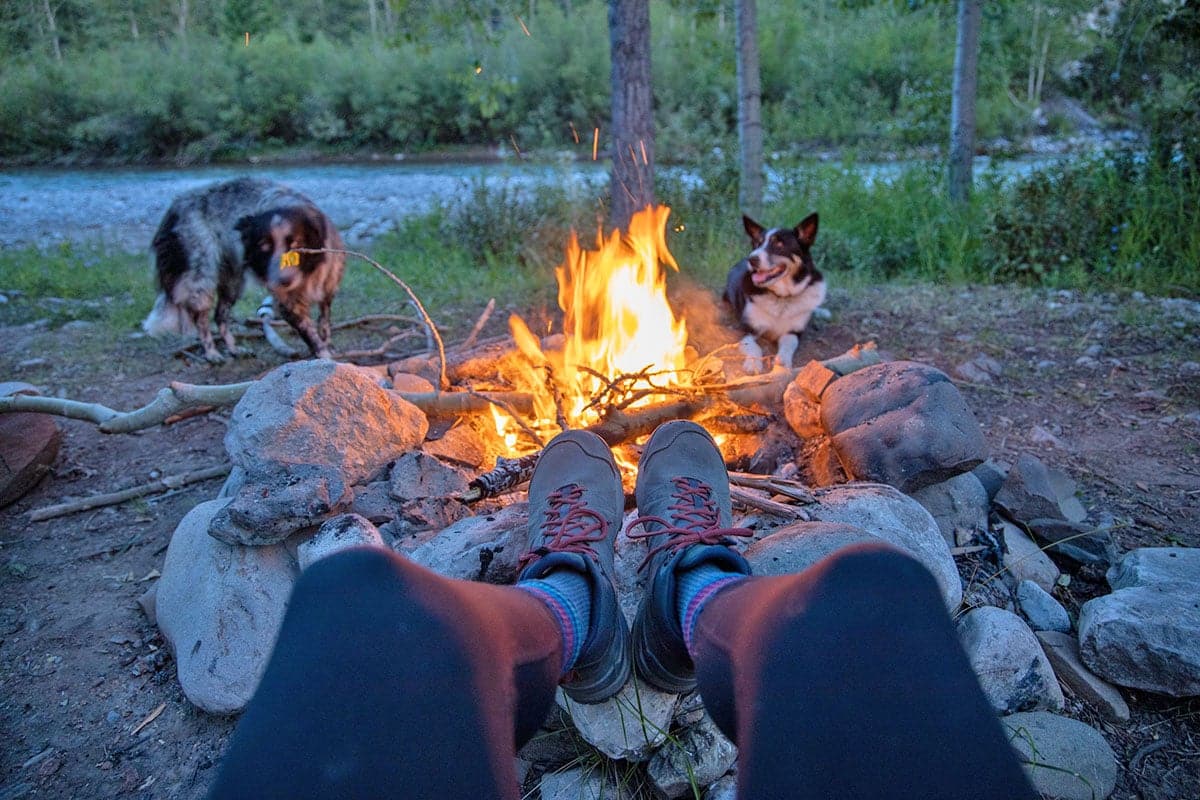 21. Pack a mylar blanket 'just in case'
If you're heading somewhere really cold, it's a good idea to bring an emergency kit with a mylar thermal blanket just in case. That way you have it as a last resort option if you can't get warm in your sleeping bag.
You can also use the mylar blanket underneath your tent for added insulation.
>> Read Next: How to Build a Hiking First Aid Kit
22. Invest in a 4-season tent
Most tents, especially lightweight backpacking tents, are only meant to only be used during the spring, summer, and fall seasons when temperatures and conditions are typically good, aside from an occasional rainstorm.
Four-season tents, on the other hand, are designed for colder temperatures and wintery conditions like wind, rain, and snow. If you're only going to be winter camping once or twice, you can probably make do with your regular camping tent, as long as you take extra precautions for warmth like using a tarp overhead and a ground tarp.
Four-season tents are typically more expensive and heavier, however, if you plan on doing a lot of winter camping, adding one to your cold-weather camping gear can greatly improve your winter-season adventures.
If you're looking for places to camp, whether paid campgrounds or free dispersed camping, try The Dyrt PRO FREE for 90 days. It's one of our favorite apps for finding campgrounds – you can read reviews, view photos, save campgrounds you're interested in, and view their database even when offline and out of service.
Related posts:
Have you ever been camping in the winter? Where is your favorite place to go cold weather camping? Leave a comment below.